And They Lived Happily Ever After?
A Look Inside the Life of Stroke 9
Backstage Pass Special by Debbie Seagle

RNW: Are there any really great, really bad or really funny moments that you can remember from those days of the self booked tours and the old converted ambulance (their mode of transportation while touring)?
Greg: One good one we had was our ambulance had a pretty bad exhaust problem. It smoked a lot and a lot of that smoke wound up in the cabin, where we all were. So one time we were all going to this gig down here, down at Cal Poly. Was that the one? Cal Poly, San Luis Obispo. We had like eight guys stuck in there and we had gone out the night before in Hollywood so everyone was pretty hung over. One of our buddies was there extremely, like hung over and the van was filling up with smoke and weíre just rolling onto campus. Weíre asking directions, like where is the stage? And heís like, "Box." Weíre like, what? "Get me a box." What?
RNW: Get him a box NOW!
Greg: Yeah, and he whips the door open and there are students walking around and he just pukes - sprays out the side of the ambulance and these kids are walking to class at 9:30 in the morning. Weíre like, "Do you know where the stage is?" Thereís a guy puking, thereís smoke pouring out all over, then we blew the PA out at the gig.
Eric: So that was memorable.
Greg: We felt like real pros that day, let me tell ya! So thatís like the polar opposite of playing a gig with a tour bus.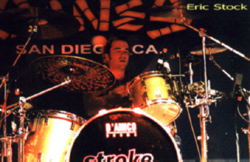 Eric: Its much more difficult to vomit here, these windows are hard to get open.
Greg: We did have an incident.
Eric: We bottomed on one of these hills. With these hills they (tour buses) get stuck. The back wheels were spinning freely and we were perched on this thing.
RNW: So you all had to get out and push?
Greg: Well we did!
Eric: We tried to and a crowd gathered, and heckling began and everyone was giving their two cents. (Imitating an old man) "Why donít you put this under that tire and put that . . ." And everyoneís just . . .
Greg: And there was a Middle School right there that just let out while we were there.
RNW: Naturally!
Greg: And weíre signing autographs
Eric: Pushing the bus. Signing autographs, and trying to push the bus at the same time.
Greg: So our transportation problems are getting better . . . but its not 100%.
Eric: Weíre still a do-it-yourself kind of band. Ya know, that approach, even today. We got some boards, put them under the tires and pushed the bus.
RNW: Sometimes you gotta do that . . .
Eric: Keep it real.
RNW: What about this story about how the song BINGO was inspired? Something about you waking up in an apartment with a mattress on top of you?
Greg: BINGO was just when we were much younger and we had played a frat party and made $300. And so, we never had that much money so we decided to spend it all in one night and went drinking. We wound up in the tenderloin in San Francisco, trying to buy pot off a guy. And it was just, it was oregano wrapped up in a bloody kleenex and he wanted to sell it to us. And it was just so disgusting and we were like Uhhgk, his name was BINGO. Itís funny, its kind of like a new friend we found in Chicago named Lucky. But that was an entirely different story.
RNW: Is the word out with the street people that they need to find you if you come to town or what?
Greg: Its like the shadiest, weirdest street characters just gravitate toward us. Very exciting - edgy.
RNW: (To Eric) Where does the nickname "Cha-cha" come from?
Eric: That was my sisterís doing actually. One Christmas, many years ago, she got me a subscription to The Modern Drummer, the magazine. Something I was reading on the toilet. And she gave it to me as a subscription and it just showed up and Cha-cha was the name on the thing so it kind of got out, started as a joke. I donít go by it as much any more. It didnít really stick with these guys, but once in a while, you know.
RNW: Did you like acting in the movie "EdTV?"
Eric: Acting?
RNW: Acting like a bar band!
Greg: I donít really think you could say it was our big screen debut or anything. It was an awesome experience though.
RNW: Working with Ron Howard, I would imagine would be pretty interesting. What are the differences between acting in motion pictures and being a touring musician.
Greg: Oh God, its a lot harder to be an actor.
Eric: Oh yeah!
Greg: That was terrible. I donít know how anybody can do that.
RNW: Scheduling and such?
Eric: 15 hours of work in one day equals about a minute and a half of screen time. Just shooting again and again, taking it over with different angles.
Greg: Just waiting. Thereís so much just standing around and waiting. It was brutal. We were, like the main stars have their stand ins and all that stuff, so they just roll in and do their thing. We got to kick back a lot, but the poor extras had to stand in this room all day - hot, terrible. I donít know how they do it.
Eric: They feed them - they get the bad food line. Theyíre all corralled like little sheep and eating prison food. And weíre over there with the filet mignon . . . "Did you get the filet?" So we got a nice deal on that.
RNW: Kind of like being in steerage on the Titanic?
Eric: Yeah, it was.
Greg: And they have to do like, a thousand of those gigs to get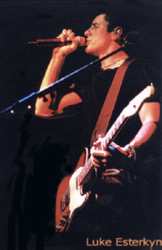 their SAG (Screen Actors Guild) card and Luke blows in, cause Luke says something, and he got his like, on the spot. They rushed him through. "Oh this guy is saying something?" Cause Luke says something after the song. And theyíre like, "Quick, get him a SAG card!" And it was DONE. And these extras are like, huh?
Eric: Yeah, they work for like $60-70 for a full day! Nothing really, just to get their break. Itís sad.
RNW: But that sounds like being a musician, if you think about it, in the beginning.
Eric: It is, but thereís a lot more people, especially in LA.
Greg: Like in a band. In a band you can always make your own demo and sell it and at least get a little gratification that way. If you are an actor, you donít do anything until they pick you.
RNW: Any plans for doing television or any other things like that.
Eric: Oh yeah. Like me personally, Iím just using music as a stepping stone to get to movies. Just, I didnít tell the guys yet. Well, I just told Greg now . . .
RNW: Okay, so youíre out of here, huh?
Greg: Yeah, I think you could be the next Sean Connery.
RNW: (Looking at Greg) Of all the names you could have picked, I donít think I would have pulled Sean Connery out of my hat!
Greg: Thatís because I was just watching "Entrapment."
RNW: Oh, okay, thatís a good movie.
Greg: Yeah, Kathryn Zeta-Jones!
Eric: No we really donít know. (Looking at Greg) Do you have any other plans for TV or sitcoms?
Greg: Weíre doing "Good Morning Arizona" on Wednesday.
Eric: Yeah, we still do a lot of morning shows.
RNW: I just donít understand why they put musicians on morning shows - morning radio, morning television.
Greg: Six in the morning for housewives? They love watching Stroke 9!
RNW: I canít imagine, you guys are probably zombies.
Greg: We are also playing in the background of the ESPN pre-Superbowl show on the night before - Saturday night.
RNW: Really?
Eric: Yeah, and then weíre going to the game, cause weíre playing. And I donít even like football, but its . . .
RNW: Well, youíre not going to get to meet Madonna, cause she canceled out.
Greg: She was going to be there? Wow, Madonna was going to be there? Oh, Iím glad I didnít know because now Iím not that upset. But that would have been awesome.
Eric: Sugar Ray will be there.
Greg: (Sarcastically) Yeah, Iím sure weíre going to be hob knobbing with all those people.
RNW: So the band is doing a national tour, through 2000, right?
Eric/Greg: Yeah.
RNW: Any plans to do any international things?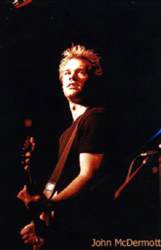 Greg: Yeah, we just heard something the other day about possibly going to Europe in April, sometime before May, because I think our album is being released there in the next couple of months.
Eric: Weíll do a promotional tour of England, Italy and Spain I think. Maybe France.
Greg: Iíll believe it when Iím on that trans-Atlantic - the Concorde.
RNW: Well, youíve got the bus, the Concorde is next.
Eric: This IS the Concorde with wings . . .
Greg: The bus floats - we can drive the bus over.
RNW: Well, okay, that would be neat. You wonít have to remove your suit cases or anything.
Greg: Exactly.
RNW: A little of the success of the Rock N World web site has to do with the interaction of the fans and our bringing the musicians and the music to the fans. It helps them to understand a little bit more about how the music gets put together, what goes on behind the scenes, what their favorite musicians are really like. Are they larger than life heroes, do they have families, etc. One of the things I normally do before I interview someone is go look at their web site, look at the fan sites, hear what the fans say about the interaction with the band. You guys actually have some very interesting Q & A. Who works with the web site the most? Do you take turns?
Eric: Gregís been doing it primarily.
Greg: Yeah, the site that we have up now has been up for a long time, since way before . . . probably around the time we were getting signed. Or maybe the summer after that. But before we started getting a lot of hits, the Q & A section, we used to be able to answer it because we would get like one question a week, if that. And now its just like over the top. We were going to try to answer them, but its hard because a lot of it is like "How old are you", "Are you single," that kind of stuff. But we have a new site coming up in the next month or so, so its going to be a lot better. The siteís been great.
RNW: The fan interaction is important.
Greg: Its totally important, its something we want to keep going but we feel bad when we see these questions just piling up. We have a cell modem and this thing is hard and it doesnít work as well, so weíre just going to go to a threaded message board and do more updates from the road on our end and jump in on certain conversations, but not try to answer every single question.