And They Lived Happily Ever After?
A Look Inside the Life of Stroke 9
Backstage Pass Special by Debbie Seagle

While reading the press kit on this most recent assignment with Stroke 9, I was reminded of one of my favorite childrenís movies "Willie Wonka & The Chocolate Factory." Those who have seen it may recall the very end when the beloved Willie Wonka places his fabulous chocolate factory in the hands of young Charlie. And hereís the pay-off line folks . . . he looks at the bewildered boy and says "Donít forget what happened to the man who suddenly got everything he always wanted." And Charlie asks "What?" With a huge smile on his face Wonka replies "He lived happily ever after . . ." Pass me a tissue . . . those of you who didnít catch the movie donít have any idea what Iím talking about, but the gist of this is, in the movie, Charlie was the one who worked hard and made sacrifices, while others didnít work for what they wanted.
Now, fast forward to the present day . . . Many of us grow up wanting to be a rock star. Most of us grew up jumping up and down on our beds, playing air guitar and singing into our hair brushes. (Come on now, its just me, Iím not going to tell anybody. You did sing into your hair brush, didnít you?) But how many of us were willing to take it a step further and really go out and earn the right to be called a rocker? Okay, Iím bringing this home now. Enter Stroke 9, currently on tour to promote their first major label CD, "Nasty Little Thoughts," which has spawned the addictive single "Little Black Back Pack."
Three of the four band members went to school together and had more than a passing interest in music. In their senior year of high school, Greg (bass, previously the drummer) and Luke (vocals, guitar) had a class called "Rock Band," in which they were to produce a six song demo for a final grade (grade unknown!) Although everyone went their own way for college, during summers back in California, Luke and Greg wanted to get the band back together. After several line up changes, stretched over approximately eight years, Eric Stock (drums) joined the band and in 1998 they were signed to Cherry/Universal Records, after a bidding war that included most of the major labels.
How do a group of guys that love to play music together get to this point? Maybe it was moving into Lukeís garage to seriously write songs together, or maybe it was playing gigs in any café, club or party that would have them. They self produced two CDs, "Boy Meets Girl," and "Bumper to Bumper" and in 1996 booked their own North American tour. This took a lot of guts, considering they had no hit single, and no established band to tour with. To support themselves while on this tour, they would go to shopping malls and ask kids to listen to their album on their discman. They would try to sell enough CDs during the day to keep moving on down the road. (Okay, just a quick check now, how many of us would have cashed out by now - raise your hand.)
Not being afraid to work for what they dreamed of paid off in the long run. Steadily the group was building a following and the record labels began to catch wind of it. Their signing in 1998 and subsequent role in that yearís Ron Howard film "EdTV" have been the next level of a long and labor intensive "over night" success. Heavy on charisma, musicianship and harmonies that grab at you, they exhibit a chemistry that is normally seen in bands who have achieved the status of "veteran."
For a peek inside their world, come along as I talk with Greg Gueldner and Eric Stock in their humble little home on wheels:
RNW: Whatís changed for you now that you have your careers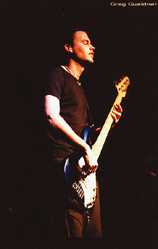 being watched over by a major label? Has the process changed? Have you been influenced at all since you went from a self released project to . . .
(Eric taps on the walls of the plush tour bus)
RNW: The tour bus is nice.
Eric: Youíre sitting in it! This is life.
RNW: Yeah, its not exactly a cargo van or an ambulance.
Greg: Yeah, it doesnít suck. This is life, this is it. I mean, this changes everything. Just to be able to sit out here before a show is just unbelievable, you know? Its like, this is the part, I never, it was always a thought in my head, getting the tour bus, when I was younger and everything. But now that its really here, its like wow. This is amazing. Being in a tour bus is like the coolest thing in the world.
Eric: The first step is getting a road crew. Guys to set up and tear down. That was the first sign.
RNW: It is very cool to have someone carry your gear and tune things.
Eric: I feel lucky with that because being a drummer, thereís more to do . . .
RNW: Then youíve had a really hard time. Youíre really doing well then - youíre looking for the guy with the drum key and youíre going "yay!"
Eric: But now, with this and that together, that is the ultimate dream for anyone who plays in a band.
Greg: Tour bus (motions around), road crew.
Eric: Its amazing.
Greg: Weíve only been in this thing for four days and weíre still very, very excited.
RNW: You still havenít felt cramped in the little sleeping compartments?
Greg: Its just until we get individual tour buses, thatíll be the next step (laughs).
RNW: Do the Stones have individual tour buses? (All laugh)
Greg: I think they have individual jumbo jets.
RNW: Iím sure. It seems like you guys have pretty much paid your dues for your ten year "over night" success. Things have changed since your self booked national tour, huh? That was kind of a labor of love, I think.
Greg: That was a lot of work, yeah.

Continue