And They Lived Happily Ever After?
A Look Inside the Life of Stroke 9
Backstage Pass Special by Debbie Seagle

RNW: What do you guys think you'll be doing in a year? How far do you think you are going to go with this in a year's time?
Eric: I think, I hope we'll still be on this record. You know, touring on that. We think, and the label thinks that there are still a few more solid hits on there, to keep it going. The longer we're touring and supporting that record, the better. So when the next one comes out, word will already be out.
RNW: Well, you're "Buzzworthy" on Mtv, do you have any kind of personal goals, like "If I make it to Leno, I've made it." "If my mom sees me on Conan, then I've made it." You know, everyone has those kind of things.
Eric: That definitely would be one of them, yeah. Being on the TV on a talk show would be great. We hope to be doing that. Maybe in a couple of months, when the next single comes out.
RNW: Sound tracks maybe?
Eric: That would be cool. I'd rather be on TV like Saturday Night Live.
RNW: Now that would be fun!
Greg: It would be awesome to get a number one song too. That would be killer!
RNW: How about platinum?
Greg: That would be cool. We cracked the top 100 and it was like, awesome. We cracked the top ten on the song, and that was cool.
Eric: Even on the modern rock chart, we're the only debut act that's in the top ten modern rock tracks. Being that this is our first record, we're not platinum, but all the other bands are on their second or third record and have already done it. That's pretty impressive. You know, sort of coming out of the gate. There with the big boys.
RNW: You are definitely home town boys, shooting to super stardom in Northern California, now starting to spread. And just from what I have heard and what I have read about what you have done in the Bay Area, it sounds like you have a pretty wild ride ahead of you.
Greg: Well, its been a long time.
RNW: You mean that ten year "overnight" success?
Greg: Yeah, hopefully, we can do it as long as people will have us.
So what happened to the men who suddenly got everything they always wanted? Stay tuned to find out!
---
Stroke 9 are:
Luke Esterkyn: Lead vocals, guitars
Greg Gueldner: Bass
John McDermott: Lead guitar, vocals
Eric Stock: Drums
---

Listen to or purchase "Nasty Little Thoughts"
---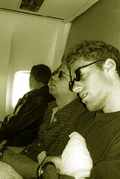 Check out the current tour schedule for Stroke 9
---

Visit the official Stroke 9 website
---
FAN SPEAK/Fan Comments for Stroke 9:
Fanspeak removed due to spam and abuse