Back to Part 1
RNW: Iíve heard you say in other interviews that this new album documents the changes that effected your lives since the release of the first CD.
TF: Right.
RNW: Tell me a little bit about that transition in your life and how its chronicled in the CD.
TF: Well you know, albums basically are a document of artistsí lives at that given time and more than ever before, thatís what it is because our lives completely changed in everything about them from years ago to last year when we recorded this. Our perspectives on the way the world works completely, we became more aware of everything and we became more aware of communication between people and reading between the lines with stuff. The first record might be a little more straight forward and this oneís got some more underlying themes in it. In fact the lyrics stepped back a little bit, you know, like a third person perspective this time, such as on "On The Roof." And, you know, being on the road for two years, that definitely changes you and we also were faced with this year of coming back off the road and are people going to care any more, you know. We made a great first record, now can we make another second one, be a career band?
RNW: I wouldnít worry about that sophomore jinx.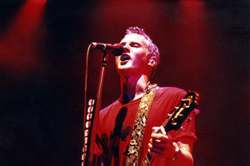 TF: But we had to prove it to ourselves. You know, thatís why a lot of the songs on this record deal with, you know, caution. Thatís what "Promise" is all about. "I promise not to TRY not to f*** with you mind." Iím not going to try, but I just might. Weíre going to be very careful going into the next phase because things get f***ed up very easily.
RNW: I hear you, but Iíve listened to the whole disk and I can tell you, the whole sophomore thing, forget about it.
TF: Thank you very much.
RNW: Okay, here it is, I like it better than the first one.
TF: I do too, you know? Iím hoping that people will. Thatís what weíre trying to do. Weíre trying to grow with each album and improve as people and as musicians because I think as you learn more about the world, obviously, youíre going to project more varied emotions in your music. And thatís just what weíre doing.
RNW: There was one thing that I was thinking about when you were just answering the last question. If the CD is reflective of your awakenings to different things because of the changes in your life that the first CD caused, do think that its more reflective of your increased knowledge of the music business or of the world, just from touring and seeing so many things.
TF: All of the above. I mean, the world, certainly the business. I think just, we did some growing as human beings, as any human beings would from the ages of 21 or 22, where weíre at now.
RNW: Oh, right, right.
TF: So the last tour and the whole experience of the last two or three years was kind of our university, you know? We always say that that was like college and this is now the real world, with this record and everything beyond. Because that kind of threw us in there. We kind of got out to be on our own, but now weíve got to really capitalize on it and take what weíve learned and turn it into something.
RNW: You learn a lot of things that first time, donít you?
TF: Oh yes, definitely.
RNW: Now, I understand, tell me if this is wrong, that you come from kind of a music business background.
TF: Yeah.
RNW: Your dad is in the music business?
TF: Thatís true. My father is a record producer and my step-mom works at Virgin Records. Iíve kind of been in that environment for a while.
RNW: Right. So, that being the case though, did you still find any surprises about the music business once you were totally embroiled in it?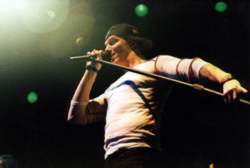 TF: I completely did, because you know, beyond advice my parents gave, we kind of did this on our own. I left college to join Eve 6 - it was called a different band name back then - and we just did it on our own. We sort of separated it. Every now and again, weíd come to my parents and ask for advice, but for the most part, we were doing it on our own and learning things the hard way. At the time we had kind of a manager who is a great person but had a lot of problems with lying and stuff like that. You learn how to deal with stuff like that. Dealing with keeping things close to you and good and so, I guess, Iím sure Iíve been brought up, and I got some precautionary advice through the years, but for the most part we did it on our own. That, I think, makes for a richer band environment because weíre learning things the hard way. If everything was given to us or told to us, I donít think Iíd be here right now, to be honest with you.
RNW: I understand. So are you ready for the huge stretch of touring you are getting ready to do when the CD hits the stores?
TF: Oh definitely, I mean, weíve been touring for the last month now, just getting ready for it.
RNW: Warming up?
TF: Touring with Goldfinger and I know this next two weeks, like I said, is going to be insane, so . . .
RNW: Oh yeah!
TF: But we love insanity though. Insanity is a good thing.
RNW: I know that you guys like to play video games while you are on tour and everybody has different things that they do to pass the time on the bus and what not. Anything else that you guys like to do between gigs? Do you web surf, do you read?
TF: Yeah, we do as much normalcy as possible when we are off the stage because we all have girlfriends, weíre not all out there trying to get all the chicks like we were on the last tour, (both laugh) so we were trying to live as normal a life as you can, you know? I read books, play videos. The things that take our minds off the band. When we donít need to be thinking about the band, which is not most of the time, Iíll tell you, weíre thinking about the band most of the time. But when weíre not, anything that can be an escape. I like to read books, philosophy books, I read a bunch of stuff.
RNW: Really? You love philosophy?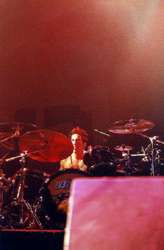 TF: But, we play video games, we watch movies, just the good thing is weíre all best friends anyway, you know? We hand out regardless. Even when we are in L.A. (home), we hang out constantly, regardless, weíre always together and thatís what I think is going to really ultimately lead to our longevity is the fact that weíre friends. Thereís no enemies in the band at all. We all love each other and it really is a family.
RNW: It helps if you are all on the same bus.
TF: Yeah, but Iím saying beyond that, obviously youíve got to hang out when you are on the bus, but beyond that, its good that weíre best friends because weíre not going to break up in two years because one of us hates the other one (laughs).
RNW: No Yoko Onos or anything?
TF: No Yoko Onos. All the girlfriends are fine. They all love what weíre doing.
RNW: Okay, cool.
TF: Yeah!
RNW: Thatís a good thing. Its interesting that you should say that you like philosophy.
TF: Why is that interesting?
RNW: Well, normally when I interview someone I usually send them a little thank you and I usually choose a book because I know that a lot of my friends that are on tour get bored on the road and they like to read.
TF: Okay.
RNW: But I have a good philosophy book for you.
TF: Good, what book is it?
RNW: Its a Kahlil Gibran book. Iíll bring it to the gig tomorrow.
TF: That would be awesome.
RNW: Yeah, you can take that on the road with you.
TF: Iím always looking for good stuff to read.
RNW: Oh I love Kahlil Gibran, heís wonderful.
TF: Thatís great.