Eve 6 Does It Again With
"Horrorscope"
by Debbie Seagle
Los Angeles pop/punk rockers Eve 6 are gearing up to release "Horrorscope," the follow-up to their platinum plus self titled debut, on July 25th, 2000. Of course the question with any sophomore release is, "Can they do it again?" (assuming they did it the first time). We spent some time investigating just that, and found our success meter pointing to "yes." For those of you who couldn't stop singing their 1998 hits "Inside Out" and "Leech," you won't be disappointed. "Horrorscope" is more of the hook filled songs, bursting with atomic energy and clever, sarcastic lyrics.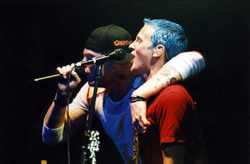 This CD is a diary of the band's growth and progression after their uncanny whirlwind success, which they began experiencing while still in high school and being signed to a record deal with RCA. The first single, "Promise" is lyricist Max Collins' look at being unsure about new relationships and life in general, vowing not to make promises to anyone. Already in the Billboard top ten on the Modern Rock charts after just being released at the beginning of June, there are at least three other tracks on the CD that are solid singles. Be sure to check out the tongue in cheek look at suicide on the track "On The Roof Again," and the extremely catchy, almost soulful "Jet Pack." For those of you who like an occassional ballad, "Here's To The Night" offers a brief breather from the otherwise high energy hijinx.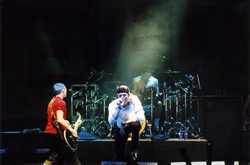 What about the live show, you may ask? Well we checked that out too and found some extra dimensions for Eve 6 fans to revel in. First of all, Max has a little too much energy inside to stay behind the bass for long stretches of time, so the new live show will see a touring bassist join them and Max will be pacing and pleasing you with his decidedly libido charged antics and charisma. Jon and Tony follow suit with an action packed show that combines the hits you came to love from their first CD with those that are sure to becomes new friends. This disk is a summer party must, without a clunker in the entire project.
Okay, we know WHAT they're doing these days, but we haven't covered HOW they are doing, have we? Not wanting to leave any stone unturned here, lets check in with drummer Tony Fagenson on the eve of the CD release and get caught up all the latest news:
---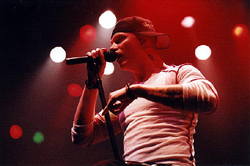 (Debbie Seagle for) Rock N World: Hi Tony, welcome to the Rock N World. Things must be pretty crazy for you right now.
Tony Fagenson: This is the most hectic two weeks ever. We've got Leno next week, we're doing Kevin & Bean in L.A. next week, we're flying to Chicago and Atlanta, we're flying to Japan, its just a mad house but we love the insanity.
RNW: Like people say, you've got the insanity for a period of time, just enjoy the ride.
TF: Exactly. Make the most out of it.
RNW: The fans are eagerly awaiting the release of your second CD on the 25th of July, "Promise" is already starting to heat up and I understand you had a lot of fun shooting the video with the fan involvement.
TF: Oh yeah, definitely.
RNW: Can you tell me a little bit about that?
TF: Sure. We knew from very early on as we were in the studio making this record that we wanted out first video to involve our fans because they've really come up to the shows and really shown us the love over the last years, so we wanted to get them in involved. We put a thing on the web site and about 500 or so fans gave us their number and all that stuff, and we got em down. It was shot at an intersection in Norwalk, California, and we were in the middle of this intersection with bars all around it, full of fans on top of cars going crazy, and the idea behind the video is that its different moments of kids quitting their summer jobs to come see us play in the intersection.
RNW: Cool!
TF: Its a big party, its a lot of fun.
RNW: There's a lot of talk on all of the BBs about the video and the fans' excitement about being in the video. There a little bit pissed off, they haven't seen it on MTV yet. Do you know if it has aired?
TF: Well, I'm in very close contact with all the fans and it was supposed to start playing last Monday but it actually just started playing yesterday (06/20/00). So I believe that that anger is going to dissipate very soon.
RNW: So they'll be soothed any time now, huh?
RNW: I know that they were saying that they were seeing the commercials and they were going nuts.
TF: Yeah, cause they were getting little pieces. Little pieces of the video.
RNW: Well I listened to the CD and I liked "Promise" but I've also picked about four other singles that I want you to do.
TF: Wonderful, thank you. What were your picks?
RNW: If you don't mind . . .
TF: I don't mind!
RNW: Well, the ballad, I kind of like "Here's To The Night," I think that's a pretty cool song.
TF: Definitely.
RNW: Just for rockers, I like "Sunset Strip Bitch,"
TF: Cool
RNW: and I like "Jet Pack."
TF: Cool, well all three of those are definitely in single contention. We're obviously trying not to think too much about it now, while we're getting this one out, but they definitely are so we'll take your input.
RNW: Okay, like it (my input) means anything, okay, cool . . .
TF: It does.