Back to Part I
RNW: And it makes the project more interesting for the consumer too, the music fans.
Robby: "Well we have this bizarre concept of trying to make good albums. I donít think a lot of people do that any more. I know that sounds ridiculous, I donít think that no one does, but I think a lot of people just write a bunch of songs and hope they have those two that are going to sell records for them. And I donít think weíve ever really felt that way. Weíve always tried to make sure that our records have gone enough interesting places that you could sit and listen to 40 minutes worth of music, which is really difficult I think, sort of."
RNW: If its all the same, it would be really difficult.
Robby: "You know, in this day and age, like I said, most of . . . I donít want to offend any bands."
RNW: Do you want me to stop the tape (laugh)?

Robby: "No, youíll get what Iím saying. Like most bands have a couple of songs that are sort of unique from the record and very, very produced and very calculated. And the rest of the record seems to be full of one sort of music. Thatís what Iíve noticed, so those records get boring, you know? You want to take people on a - not to sound pretentious, too pretentious anyway - you want to take people on sort of a trip through your record. A journey through your record so it remains interesting as does a book or a movie."
RNW: Right, because your character and a little bit of who you are is going to be reflected in what you are putting out anyway.
Robby: "Exactly."
RNW: So youíre kind of telling them your story or someone elseís story?
Robby: "Exactly."
RNW: Okay, next question: Lilly says "Iíve heard you say that you would change the bandís name if you could. What would you change it to?"
Robby: "I would change it to something other than Goo Goo Dolls."
RNW: I liked Sex Maggots (the band's first name) myself, but thatís me, I donít know.
Robby: "I think thatís the only thing that we could have named it that was like, worse, actually. You know, I mean we did take a step up. Not too much but you know, we jumped up on the curb."
RNW: I donít know, I think that shakes people up. Thereís something to be said about that.
Robby: "Yeah, well it did back then, Iíll tell ya."
RNW: Jonie wants to know why it took so long for you to catch on in the mainstream.
Robby: "I think in the first few records we made, they werenít records that could have worked in the mainstream. Actually these last three records we made, I donít think could have existed in the mainstream that existed when we were putting out our earlier records. I think we just sort of came around to where radio was coming around to, completely coincidentally, trust me."
RNW: The mainstream is pretty much a moving target though, isnít it?
Robby: "Yeah, you canít really say Iím going to do this sort of thing and Iím pretty sure itís going to be successful, when it comes to the sort of world we try to live within, musically. You know, weíre just making records, guitar records."
RNW: "I donít think hooks and singles really come into the song writing process, am I right?"
Robby: "Well, the hooks do. The hooks always have, but singles, we never wanted to pick a song on a record and say 'okay, weíre going to work on these two songs as singles.' Then you tend to deny a lot of the record. Songs that we put together for records in the past and we never thought would be singles became singles. Like, whatís a good example? Like "Long Way Down." We never, ever thought that would be a single. But it ends up being one, interestingly enough. Cool song, but who would have known that radio would have played it?"
RNW: You never know . . .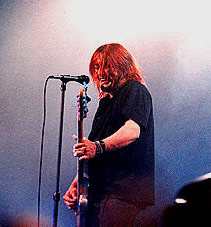 Robby: "Exactly, thatís my point I guess. All you can do is do what you do, and do it as well as you can."
RNW: Amanda says: "Iím sure a lot of things have changed for you since you became so successful. What do you miss most about being a regular guy from Buffalo?"
Robby: "I guess the thing I miss the most is, like I said, being able to have some stability. Iím not complaining, because I think thatís a really rude thing to do when you are blessed with life like we have, but I will say that I think the thing I miss the most is being able to have that sort of physical relationship with people and your things, and your community and circle of friends and stuff like that. I think thatís probably the toughest part. All the traveling."
RNW: Having a house and a dog?
Robby: "Yeah, just the things that make you you."
RNW: Summer softball league and such?
Robby: "Yeah, or whatever. Like, its funny, I carry a suitcase that I only use on days off. Itís just full of the stuff I need to be me. Itís cool. I have all my little toys and all my little things that I like to have around my house and now Iíll take that suitcase and drop it in my new living room and on I go."
RNW: Just a couple questions of my own now Robby - Iíve noticed that the last two times I have seen your shows the ticket prices have been really reasonable, allowing younger fans to participate a lot more. Has this been a conscious effort on the part of the band?
Robby: "Yeah, we never wanted to make things too expensive so obviously kids couldnít come in. But I think that along with Leviís helping us out in the summer and MP3 helping us out on this trip, weíve been able to keep the ticket prices down and still bring a big rock show to town."
RNW: Youíre pretty much unique in that respect.
Robby: "You want to try to keep things reasonable and we do our best to do that."
RNW: Tell me about this toy drive you are doing on the 1st, 2nd and 3rd of December.
Robby: "Sure, weíre collecting toys for three days and you get a signed 8x10 if you bring a wrapped toy (to one of these concerts in Buffalo, NY). Once we collect all the toys, weíre going to leave half of them in the city of Buffalo for some kids there and then weíre going to, the Navy has offered to take half of them to Bosnia with us and we can help out some kids there who are probably in a pretty bizarre situation right now. I would imagine it would be tough to be a kid over there right now."
RNW: Absolutely. Well, I know you need to be going. I will be there tonight at the show.
Robby: "Cool, do you have passes and stuff?"
RNW: Well, I have interviews and Iím going to be photographing a couple sets.
Robby: "Okay, so youíll be back here."
RNW: So, Iíll be hanging out and I have a little gift (a book) to bring you for taking the time to talk with me this afternoon. I'll find you.
Robby: "Oh, no problem. Iím the short guy with the red hair."
RNW: Yeah, youíre the one I can never get a good shot of. Every time I photograph you, you look like a sheep dog with your hair hanging in your eyes.
Robby: "Thatís groovy, thatís just the way I like it!"
RNW: Okay, see ya.
Robby: "Later dude."
RNW: Thanks, bye.
And there you have it . . . just another groovy day in the Rock n World!
Listen to songs from the Goo Goo Dolls and Buy their music online.
Check out the Goo Goo Dolls Official Site for the latest info
Vote for the Goo Goo Dolls in the Rock n World 2nd annual Top 100 albums of all time.
Fan Speak? Please leave your comments about this feature.
Fan Speak:

Posted by Maria:
Robby is so amazing....this article really captures the true him!!!
---
Posted by Amy:
wow. i never knew robby was that sweet! on the outside he looks kinda... nine-inch-naily... but he's not! he collects pezz! that rulez. so does robby. i'm glad there's an interview with just robby. usually it's all johnny... i like him 2, but... p.s. robby is NOT QUEER. or not too bad anyway. :o)
---
Posted by Jennie:
I WANT TO MARRY JOHN, ROBBY AND MIKE! I WILL MARRY THEM ALL AT ONCE! IT COULD BE FUN! Love ya guys -- YOU ROCK!
---
Posted by Robby:
cant Erin Im queer
---
Posted by KimFrank40@hotmail.com:
Robby everything you say is so f*ckin' cute! You rock! Keep doing what you're doing.
---
Posted by Erin:
Will You Marry Me Robby Takac?
---
Posted by Lauren:
I liked it, but I wish you'd have an interveiw with John Rzeznik...
---
Posted by GOO GOO DOLLS ARE FAGS :
.
---
Posted by mary:
i love you john rzeznik
---
Posted by punkprincess:
i think that was a great interview and like the idea of him singing in a video
---
Posted by metallica7:
holy shyt...their are Goo Goo Dolls fans. I'll be damned
---

Posted by Livewire:
That was a wonderful interview. Thanx. Would you be able to get and Interview with John Rzeznik though?? GOO GOO DOLLS RULE!!
---
Posted by virus:
i love robby and this was a great interview. i would have liked to know if he might take a step up to lead singer duties, maybe just for one video. that would be dope. thanks...virus

Continue