Hey Robby - Got A Minute?
Your Interview with Robby Takac of the
Goo Goo Dolls
(As told by Debbie Seagle)
Well . . . well . . . well . . . You just never know who you are going to run into in the Rock n World. You never know when you are going to find yourself in someone's neighborhood, even if it takes an airplane, a subway and a taxi cab to get into that neighborhood! Always thinking of you guys, I have been searching for the perfect little something to tuck in your holiday stockings this year and I just happened to stumble across it . . . or did he stumble into me? Yeah, that's what happened . . . here I am, minding my own business back stage on the MP3 Technology Tour recently when down the halls comes Robby Takac of the Goo Goo Dolls, riding on a beach bicycle, an infectious grin on his face. I stop him to tell him I like his bike and he can't contain his delight when he confides that "It's not mine, I stole it from him," as he motions towards a group of people stooped over a cache of audio equipment.
Some of you regular Rock n World readers may remember the Goo Goo Dolls feature we ran this summer when we asked you to be the armchair interviewers and tell us what you would ask the members of the band if you had the chance. Of course there is no way to guarantee that we can make your dreams come true . . . but I've always said that anything can happen in the Rock n World. Now, as luck would have it, and completely by coincidence, I happen to find myself in the same city and the same building with Robby Takac. And, you wouldn't believe what I have in my brief case . . . the Goo Goo Dolls interview questions! What are the chances? (Its my job to make sure those chances are pretty good!) Those of you who took the time to put your imaginations to work and submitted virtual questions to Robby this summer are now going to be calling me your best friend . . . and those of you who didn't - shame on you! Don't you feel like you missed the train?
So, Rock n World readers, here is my little stocking stuffer to you. Your interview with Robby, just the way you wanted it. I had it pretty easy. I didn't have to do the usual preparation for an interview. I could get used to this! Your questions for Robby were taken from the web site feature and I used them to have a great conversation with him. It turns out he was very happy to hear what our readers had to say when they reached into the cyber void at him. Now here he comes, reaching back at ya . . .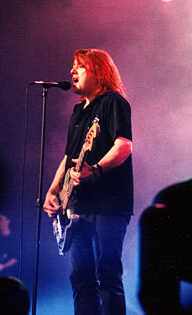 "So what is he like" you ask? Well, while some rock stars are dark and brooding, Robby Takac is the kind of guy that makes you want to run out onto the playground with him and swing upside down on the monkey bars. The barefoot Goo bass man seems to have the spirit of a child who just wants to have fun. He is funny, thoughtful and serious about making music. I can't wipe the stupid grin off my face as we talk. Pull up a chair and get comfortable, here's how it went:
Debbie Seagle/Rock N World: The first question is from Nigel, and Nigel wants to know when you will be doing your next album, and the overwhelming opinion is - Lets hear some rockers!
Robby Takac: "Well I think, I know that weíre gonna start writing for the new record probably soon, like within the next month. We have to sort of land ourselves first, sleep in the same bed for a little while. Start concerning ourselves more with real life than this odd world that weíve been put in for the past five years, you know? This isnít the real world and I think us sitting here and writing songs about this is sort of inappropriate. Iíve always sort of felt that, so every time we come back from tour we sit down and try to regroup a little bit before we start making decisions about what our next move is going to be."
RNW: Are you most comfortable doing that back home or do you get away to Jamaica or something?
Robby: "It just depends where home is. Home is always Buffalo and someplace. Thatís sort of the way its been working for us over the last bit. The business end of this makes us be in a lot of different places so weíll probably spend most of our time between Buffalo and Los Angeles."
RNW: What about the comment about the rockers? Do you have any good rockers left in you?
Robby: "Well, thatís generally what I do, period."
RNW: I know. Iíve noticed that about you.
Robby: "For me its sort of more of the same. For John, John is going to move as he always does, in both directions. I think Dizzy had some of the heaviest stuff, as well as some of the most melodic and interesting acoustically put together songs that weíve ever done. I think that thatís sort of what we try to do with every record. We try to push the walls up in both directions, instead of just going one way or the other because you tend to limit yourself at that point, I think."

Continue