TONIC - Heads on Straight


by Linda Spielman
In the fall of 1996 a friend and I planned a roadtrip to NYC to see a band at Irving Plaza. What would normally take us seven hours by car was taking well over 10 hours due to horrible weather. Because we were running so late, we were not too concerned about missing the first of three bands playing. We had never heard of them, and figured we'd make it in time to see the other two bands in which we were driving all this distance, in the worst possible weather known to man. Call it dedication, call it stupidity, call it the lure of a concert in The Big Apple. We were hell-bent on getting there. Even though our travels took longer than expected, we still managed to arrive at Irving Plaza way ahead of the scheduled start of the show. Still not much interested in the first band, we made ourselves comfortable at the bar and met up with some friends. We finally decided to make our way towards the stage and at least give this opening band the courtesy of our attention. As Tonic took the stage and started playing that night we all stood there with our mouths wide open throughout the whole set. A lot of us had never heard of Tonic before, but their energy and music just blew us away. The consensus after the show was Tonic far upstaged anyone who came after them that night at Irving Plaza. Being so intrigued and impressed with this band, I ran out and bought their CD. At the time, it was only about eight or nine dollars at the local record store. Little did I realize, I along with my friends had seen this little known band on the verge of becoming a major success in the music industry.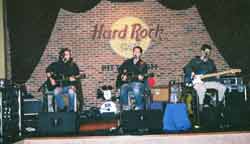 Let's fast forward about seven years. After seeing Tonic perform over 30 times with everyone from the Goo Goo Dolls, to their own headlining tours, I was anxiously waiting to see if an acoustic show would still have the energy I experienced from that first show back in 1996. More importantly, I wanted to see if the success Tonic had achieved had changed them from the appreciative, funny, humble, enthusiastic guys I have had the pleasure to meet and being around several times over the last seven years. As I made my way through the Hard Rock Cafe in Pittsburgh to meet up with their tour manager before the show, I noticed Jeff Russo and Dan Lavery talking with the staff and hanging out. Sitting in a corner booth relaxing was Emerson Hart who I was scheduled to meet with.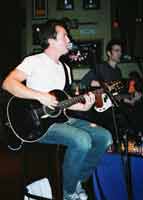 Being a fan of a band, and then having to interview that same band can be a bit unnerving. Emerson was as gracious and funny as I remembered, and probably the most focused and honest about his music, the band and the industry as I can recall.
With the enormous success of "Lemon Parade" and "Sugar", Tonic took a bit of a break before recording their third album. The almost two year wait had many fans and critics anxiously waiting to hear what "Head On Straight" would produce. Hart, Russo and Lavery enlisted famed producer Bob Rock to bring the album together. "We headed to Hawaii to work with Bob because that is where he lives and has his studio. And twist out arms to spend a lengthy stay in Hawaii," as Hart joked. The final product lyrically has some of the most reflective emotions musically Hart has written to date. However, not all of Tonic's songs are penned solely by Hart. Russo and Lavery have also been instrumental in writing a handful of tracks both on "Head On Straight" and "Sugar". As with any good band, communication and combined efforts produce some of the best material. "I usually will write something and come up with the melody and structure of the songs. Once I bring those to the table and start playing them, Dan and Jeff will then give me their ideas and input to help better enhance the song. It's always a group effort from start to finish," as Hart explained.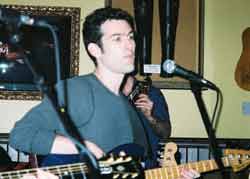 Although "Head On Straight" is an album the band is very proud of, Universal Records hardly touched it with promotion. With limited airplay and lack of label support, the album still sold well through the devoted fan-base the band has acquired over the years. "The label never really gave this album the support it deserved," Hart noted. And like many of their peers such as Better Than Ezra and Dishwalla, Tonic succumbed to the now corporate music industry and were dropped by their label. As a welcomed surprise to the band and thumb our nose at the label retort, Tonic was acknowledged in 2003 by the National Academy of Recording Arts & Sciences with two Grammy nominations. Nominations included Best Rock Performance by a Duo or Group for the track "Take Me As I Am" and Best Rock Album for "Head On Straight". Although Hart believes some of the recognition for the nominations was largely due in part to working with Bob Rock, others may tend to say & think Rock had a great musical canvas to work with from the start. The combining of those two elements are what made the Academy take notice in the end.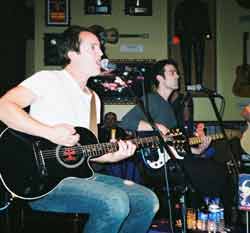 Despite the lack of support from their former label from the onset release of "Head On Straight", Lavery, Russo and Hart have always been about getting out there and playing for the masses. "I think Dan & Jeff would agree that our fans over the years have always stood by us and our music. That's a major driving force that makes us continue to play. I was going to get in my car and do this acoustic tour by myself originally. However, Dan and Jeff were as enthusiastic about doing this as I was, label or not."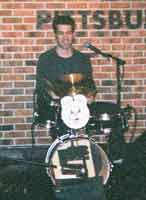 Seven years ago, I stood in amazement at my first Tonic show. This acoustic tour yet again, proved the talent the band to withstand the test of time. The show gathered a collection of many Tonic favorites such as 'Sugar', 'Mountain', 'Head On Straight', 'On Your Feet Again', 'Lemon Parade', 'Casual Affair' and 'If You Could Only See'. Most of the set consisted of the standard of lineup of Hart on guitar/lead vocals, Russo on guitar/backing vocals and Lavery on bass/backing vocals. However as Hart informs the audience, "We also have the best drum set $98 can buy," referring to a toy store kit which Lavery and Russo took turns playing on certain songs. The guys also involved the audience by playing Name That Tune. Hart busted out a Bob Marley inspired version of "Space Cowboy" by the debated Steve Miller or Steve Miller Band depending of which member of Tonic you talk to. As Lavery and Russo chimed in with chords from Led Zeppelin, The Beatles and Def Leppard the inevitable happened, someone screamed "Free Bird". Said Tonic fan insisted the band had played the song many years back when playing the Viper Room in LA. However, Russo quickly informed Hart that "we never played Free Bird at the Viper." And once again, my jaw was on the floor with another great show by the band.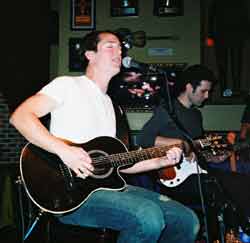 Hart seems to be even more focused on his music and his band than ever before. So what can we expect in the future from the band? First of all, plans are in the works to possibly release the acoustic tour as a live album. Hart is unsure of details as of yet, but would like to see that come pass. As for another album, "I would love to record another record with these guys, whether it's on an indie label or as a signed band," Hart enthused. Currently, the acoustic tour is about to end, Lavery and Russo will go back to LA, Hart will go back to his new home in Nashville to continue writing. However, just because there's a distance in miles between the members, does not mean the band will cease existing. Hart is quick to elaborate on the schedule, "We all take turns traveling. Dan & Jeff will fly to Nashville for a period of time. Then when it's my turn, I fly out to LA. It gives us the space to live our separate lives and continue with the band as we always have."
The guys in Tonic have always been about their fans as much as their music. They still truly appreciate the fans that have made the journey with them, and are humbled by the people who have stood by their music from day one.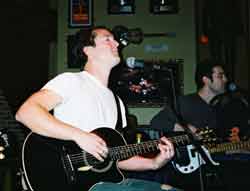 More Tonic



Photos by Linda Spielman