The TONIC For Your Winter Blahs By: Debbie Seagle

Your personal road dog practitioner is in the house with a cure for your winter blahs! For those of you who live for the sunshine of summer and feel a little cranky when the days get short and the nights are cold, help is on the way. What would you say if I told you that a musical medicine show has just pulled into your town with an amazing elixir that can cure your colds, un-chap your lips, make your hair thick and shiny again and get rid of that annoying itch in your wool underclothes? Why, for the price of (insert your currency here) you too could own a bottle of this amazing potion. What is this miracle drug, you ask? Its known as "an invigorating, restorative or refreshing agent." A little thing we DRís (Doctors of Rockology) like to call a "TONIC."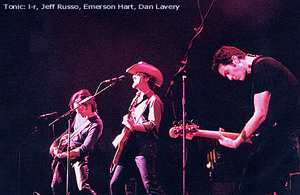 I was fortunate to have sampled this music therapy recently, and I have to say, Iím feeling much better. Want "in" on this action? Well, you came to the right place, because Iíve got the scoop, Iíve got the pix, and best of all I have the backstage pass! So, Iím going to let you in on the latest hot vibe out of Los Angeles and then we are going behind the scenes to talk to the bandís bass man, Dan Lavery to find out more about TONIC and what makes this dynamic band tick . . .
While on safari at the MP3 Technology Tour in October and November of this year I had my first dose of live performance from TONIC. Preceded by a series of rising artists on the concert bill, there was a decided shift in the energy field when TONIC took the stage for their set. A little change of mood, prompted by the incense that was burning on the corners of the drum platform and stage. It signaled the audience that they were about to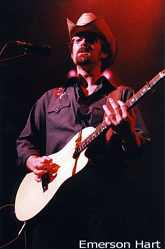 experience something as satisfying as those exotic curls of scented smoke, and just as encompassing. The best way to describe this band is the way they describe themselves Ė as a guitar band whoís primary focus is old-school song writing, energetic melodies and the blending of tones that some say create the largest rock sound you could ever hope to hear in a live performance.
TONICís appearance on stage at this particular concert was made all the more dramatic by the choice of their first song, their number one smash hit from the platinum CD Lemon Parade, "Open Up Your Eyes." This tune could more aptly be named "Open Up the Skies," since thatís what seemed to happen when the chorus exploded in waves of guitar euphoria. In many cases, a band can reach platinum status in CD sales but cannot duplicate the trademark sound in a live performance, leaving their fans unfulfilled. This is not the case with TONIC, whoís musicianship surpassed my expectations (actually, during sound check) of their live performance chops. All the elements are there: the music, the lyrics, and lets face it boys & girls - looking at them is not exactly like getting a poke in the eye with a sharp stick.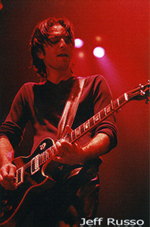 There is the proverbial good and bad news about all this. After you check the band out, the first thing you will want to know is "where can I see this for myself?" The bad news is that they just finished the MP3 Technology Tour at the end of November and are not currently on tour. The good news is that they have every intention of getting back out on the trail after the first of the year, and I donít just mean stomping around the old USA. If the band has its way, they plan on some serious globe trotting in support of their new CD, which could land them in places like Oz or the far east. In the Rock N World, all things are possible . . .
At this point, lets back track a bit and look at TONICís biography. So who are these guys? Let me give you a couple of hints, and I guarantee that even if you donít think you know them, you will change your mind. Emerson Hart (lead singer and song writer, rhythm guitar) joined forces with Jeff Russo (lead guitar and backing vocals) in 1994. They started jamming at the famous Kibbitz Room of Canterís Deli Ė a Los Angeles hot spot that has also played host to the Wallflowers, Slash and the Freewheelers Ė and met up with their original bassist, Dan Rothchild and drummer, Kevin Shepard. With all the players assembled, they created the platinum project Lemon Parade in 1996. Right after the CD hits the streets, the first change takes place in the band, with bassist Dan Rothchild leaving and being replaced by an old friend of Emerson & Jeffís, Dan Lavery. (Donít let all the Dans confuse you, just stick with me on this).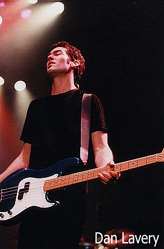 The band toured in support of the Lemon Parade CD for two and a half years while it paid dividends of two #1 hits Ė "If You Could Only See" and "Open Up Your Eyes." Billboard Magazine named "If You Could Only See" the most played rock song of 1997 and "A Casual Affair" was a top ten rock track. At the end of 1998 drummer Kevin Shepard leaves the band and the trio decide to enlist the help of Pete Maloney, a former band mate of bassist Dan Lavery. with the history between Dan and Pete, the bandís rhythm section is now as fluid as mercury, and just as unstoppable.
Emerson, Jeff and Dan began their collaboration on the new CD Sugar, which appeared in stores on November 9th of this year. North America received a sneak preview of the new music when the rock anthem "You Wanted More" was included in the sound track for the summer movie smash "American Pie." This song was hanging out in the Top 10 months before the Sugar CD saw the light of day.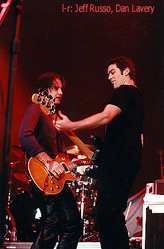 Sugar showcases the fact that this is a band whoís style is a fusion of multiple influences. At times it is easy to pick them out, (Skynyrd, Led Zeppelin, Pixies, Clash) and at others you really have to listen for hints of Irish folk melodies dating back centuries. The rhythms frame the melodies of the songs in a way that makes you want to wade through them. "We tried really hard not to overreach on the new stuff," says Hart. "We realized that weíre a guitar band, plain and simple. Thatís how we started and we wanted to stay true to that." Adding even more of a creative stamp to their project, the band produced the CD themselves and experimented with many different tones and viewpoints to come up with the openness in the tunes that allowed them to proceed in many different directions.
The project is a mixture of tight rockers like "Top Falls Down," "Queen" or "Knock Down Walls," anthems like "You Wanted More" and "Mean To Me" and the tender,romantic ballads "Waltz With Me" and "Love A Diamond." Add to that mix the sensual yet light hearted southern rocking "Sugar" and the British pop influenced "Sunflower" and you have something for every mood and any occasion. *, **
In this humble music servantís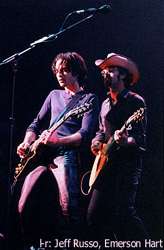 opinion, TONIC has looked the sophomore curse in the eye and smashed it over the head with a platinum Les Paul.
---
*<Reader Recommendations: Serve this main course with a light, unassuming white wine, a full bodied merlot, a series of tequila shooters or your favorite Irish beer.>
---
**<Consumer Advisory for Dudes: Warning: use of this product could find you having breakfast in the morning with someone wearing your pajama top.>
---
Well, are you all ready to meet Dan Lavery? Then walk this
way . . .
---
Visit MP3.com and Sample the live concert experience of TONIC
Visit the Official Tonic Web Site
---
| | |
| --- | --- |
| Check out Lemon Parade | Check out Sugar |
---
After you check out the band, let us know what you think!
Long time fan? Share your band experiences:
Fanspeak removed due to spam and abuse