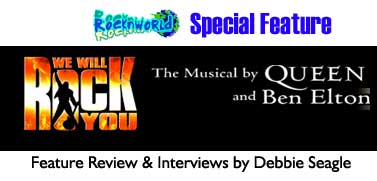 Show Review | Paul Crook Interview | Ty Taylor Interview | Photos | Fan Comments | Links

"Brian has touched every guitar player alive and every guitar player who's about to play he's touched." - Paul Crook

"You're going to hear the music done in a way that a lot of Queen fans would want to hear it done" - Ty Taylor

We Will Rock You – Rock Opera
Saturday, December 18, 2004
Las Vegas, NV (USA)
Whether you grew up in the 70s or 80s loving them, or discovered them in the 90's and beyond, there aren't many people who aren't familiar with the music of British mega-band Queen. The arena titans, fronted by the larger than life Freddie Mercury have found their way into just about everyone's home and consciousness through the various uses of their music even today – "We Will Rock You," "We Are The Champions," "Another One Bites The Dust," "Don't Stop Me Now," "Killer Queen" and of course the song that Mike Myers brought to a whole new generation of music fans in Wayne's World – "Bohemian Rhapsody". Who will ever forget that famous Gremlin scene with Mike and Dana Carvey paying homage?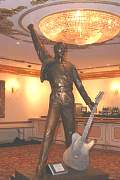 Queen had it all – Talent, charisma, stage presence. They could all write songs, sing and play in a world class league. Unfortunately, the one thing they didn't have was the ability to stay together as a unit due to the untimely and very sad death of their front man Freddie to AIDS. When Freddie died, Queen's live act died too. The other three members made the decision not to replace Freddie and to not continue as Queen. Since that time, Queen fans the world over have clung tight to their recordings and listened to them knowing that the band would never be the same. Perhaps one of the worst things about this situation was the thought of never hearing live Queen music again. Live performance was their forte, their crowning (no pun intended) achievement, but now it was gone.
Depressing, isn't it? Well Queen fans, take heart! What would you say if I told you there was a place where you could go to hear live Queen music played again and to celebrate the band's work and Freddie's life? Just four words for you ba-by: WE WILL ROCK YOU! This smash hit rock opera started in London in May of 2002 and it plays to sold out crowds every night! In 2003 the show opened in Melbourne, Australia and in 2004 it arrived in Spain, Russia, Germany, Canada and finally in the United States at the Paris Hotel in Las Vegas. The production is the brain child of Brian May, Roger Taylor and Ben Elton, a London based author and comic writer who's career achievements include best selling novels and iconic British TV such as The Young Ones and Blackadder.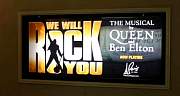 As a Queen fan myself, where do I begin to tell you about this fantastic experience? Right off, let me tell you that this IS live Queen music. Not played by Queen, but each musician in the show is hand picked by Brian May and Roger Taylor and they work with them to make sure that the sound is just right. Many theatre goers think the cast is singing to recorded Queen tracks. Those of you who have been lucky enough to hear Queen live will flash back and those of you who have never experienced it will be in heaven. Even if you were never a rabid Queen fan, or never even heard of them, you will love the experience for its high energy and celebration of music. The show is jam packed with greatest hits such as "Radio Ga Ga," "I Want To Break Free, Somebody To Love," "Killer Queen," "Under Pressure," "It's a Kind Of Magic," "I Want It All" and many, many more, all performed by world-class singers, dancers and musicians who are bursting with energy and the excitement of the music.
So how do they put all this together you ask? Well, of course there's the story . . .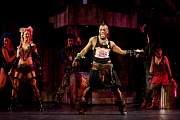 Globalization is complete. Everywhere, the kids watch the same movies, wear the same fashions and think the same thoughts. It's a safe, happy Ga Ga world. Unless you are a rebel. Unless you want to rock! On planet Mall (once called Earth), all musical instruments are banned. The company computers generate the tunes and the kids download them. It is an age of Boy Bands and Girl Bands – nothing is left to chance and hits are scheduled years in advance. BUT, resistance is growing. Underneath the gleaming cities, down in the lower depths live the Bohemians. Rebels who believe that there was once a Golden Age when the kids formed their own bands and wrote their own songs. They call that time "The Rhapsody."
Legend persists that somewhere on Planet Mall instruments still exist. Somewhere, the mighty axe of a great and hairy guitar god lies buried deep in the rock. The Bohemians need a hero to find this axe and draw it from the stone. Is the one who calls himself Galileo that man? But the Ga Ga Cops are also looking for Galileo and if they get to him first, they will drag him before the Killer Queen and consign him to oblivion across the "Seven Seas of Rye" . . .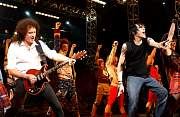 Follow the story, by all means, but go for the music. It brought a tear to this old Queen fan's eyes. One after the other you are hit with the music that several generations have grown up with, performed impeccably by those who play it and those who sing it. Particularly moving is a sequence in the show when the song No One But You is performed. It is a beautiful tribute to all the rockers who died too young but gave so much. Six huge plasma screens hidden in the darkness flash photos of these legends, making it look like they are looking in on the show and giving it their nod. A finer tribute I couldn't imagine, a respect for rocks roots and history. Of course the shows are all slightly adapted in each country they play in to fit the location and the fan base, but throughout all of them you can live the glory days of Queen.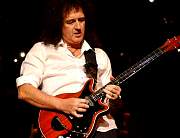 Not only was this reporter lucky enough to see the London and Las Vegas shows several times, but I was privileged to see a rare performance in the show by the REAL DEAL, Brian May! Dropping in on the Vegas crowd on December 18th of 2004, he made the fantasy complete by giving up "Bohemian Rhapsody" and "The Show Must Go On" to his minions. Now THAT's a finale!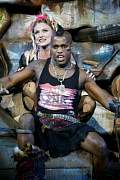 This was just too good to experience for myself, and I wanted to bring you all along but since I couldn't, I've done the next best thing. I sought out a cast member and a band member to talk to so you could get a feel for the show from the inside out. Ty Taylor, who plays "Britney Spears" in the Las Vegas production and Paul Crook, who plays Brian's guitar parts were nice enough to sit down with me and invite you into their world. Enjoy the little insider treat my dearies! As the icing on the cake, many of you know that we have asked our readers to submit questions to Brian May and they are on their way to him now. We will be waiting anxiously to see when he will have time in his busy schedule to drop in on us in the Rocknworld. We are all dying to know more about the "Queen Tour" that has been announced for the UK this year. Who's on it? What are they playing? Are they recording? Will they come to the USA????? I've counted fans in 33 countries that have voiced their desire for a Queen tour to come to their country. We'll wait and see what this year holds. In the meantime, prime the pump and make a pilgrimage to one of the WWRY locations near you. Its worth the trip and it is my pleasure to say that Freddie and Queen live on . . .
Continue... Read Paul Crook Interview
We Will Rock You Section of Queen Online

Paris Las Vegas info page for We Will Rock You

Tickets for We Will Rock You Las Vegas
---