.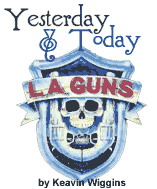 L.A. Guns, now here is a Rock –N- Roll story. It's got it all; fame, success, great music, drama, breakups, determination, recrimination, dedication and vision. Through the group's almost 20-year history a lot has happened. They have survived roster changes; changing music scenes, label shakeups, strong personalities and the riggers of the Rock –n- Roll lifestyle. Through it all Tracii Guns has been the group's anchor, players may come and go but Tracii always held steadfast to the band, moving it forward, sometimes by the force of sure will. While most people would grow jaded under that kind of pressure, Tracii has kept his head and is remarkably down to earth. His main motivating factor is to make music, not the money and fame that sometimes go along with it. Because of this L.A. Guns is still together today, while other band's that started out in the Hollywood scene at the same time are all but a memory or have one original member carrying on the band in name only (see Guns N' Roses).
.
In 1983 the Los Angeles music scene was bursting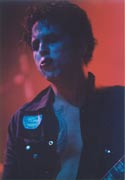 wide open. To the amazement of many locals, badboys Motley Crue were finding major label success with their sophomore album "Shout at the Devil", Quiet Riot came out of nowhere and hit number one on the album charts with their debut "Mental Health". The Hollywood strip was the place to be and literally hundreds of new bands were forming, hoping to catch some of the momentum of the day. Groups like Ratt, Poison and Megadeth were born of that scene. While most of these groups were going for more of a polished sleaze sound (Megadeth excepted) Tracii Guns set out to create a band rooted more in the punk scene than the Hollywood metal wave. When asked about his influences he will tell you Led Zeppelin and AC/DC are high on the list but groups like The Misfits, Black Flag and Circle Jerks also turned him on. Unlike most of the "rock" groups on the strip at the time, Tracii formed L.A. Guns not wanting a record deal, he just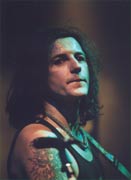 wanted to rock n roll. In the early days, members came and went including bass players Ole Beich and Mick Cripps, drummers Rob Gardner and Nickey Alexander, vocalists Michael Jagosz, Paul Black and a Midwestern transplant named Axl Rose.
Axl's stay in L.A. Guns was short lived; he soon left the band to form Hollywood Rose. A little time passes and Tracii and Axl's paths cross again. They combined their groups to create a new band, now if you are paying attention to names here you can guess what the name of that new band ended up being, Guns 'N' Roses. But like their collaborations in the past Tracii and Axl were on different wave length and Tracii soon left GNR due to musical differences to reform L.A. Guns. We know what happened with GNR after that, a dark curly haired axeman named Slash stepped in to fill Tracii's shoes and the band caught the attention of Tom Zutaut, an A&R exec at Geffen and were soon in the studio recording their major label debut.

Meanwhile, L.A. Guns was building up its repertoire and playing the L.A. music scene. Paul Black was the voice, Nickey Alexander pounded the skins, Mick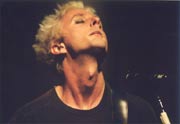 Cripps provided the bottom end and Tracii held it all together with his six string prowess. More personnel shuffling was in the cards for L.A. Guns, Mick switched to guitar, Faster Pussycat's Kelly Nickels took over bass duty and vocalist Paul Black was let go due to a monkey on his back that got in the way of the band moving forward. As luck would have it, that magical ingredient that was needed to pull it all together entered the story in the form of vocalist Phil Lewis. Phil was a known quantity from his work as frontman in the British group Girl whose former guitarist Phil Collen had left to join Def Leppard, as that group's star was rising. The timing seemed perfect, the combination of Phil's voice and Tracii's guitar brought forth the perfect frontline for the band and they soon found themselves with a record deal from Polygram Records.

1987 was a rather strange time for music. Bon Jovi and Def Leppard were ruling the airwaves with their highly produced polished sound. Bands like Poison were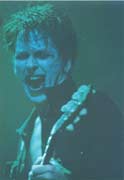 breaking wide open with their pretty boy glam look and raunchy "good time" songs. And Geffen was doing all they could to break Guns 'N' Roses to no avail, it appeared that "Appetite for Destruction" was going to be a failure as it languished on record store shelves for months until David Geffen convinced MTV to air the "Welcome to the Jungle" video at 3:00 AM one morning and then all hell broke loose. It was under this backdrop that L.A. Guns entered the studio to record their self titled debut album.

"L.A. Guns" hit the streets on January 4th 1988 and from the first note it showed that the band had something different to offer than the other "heavy" bands of the day. With his early Punk influence, Tracii dug deep and with his bandmates produced an incredible collection of "raw" sounding songs that came from the mean streets of Hollywood where they had struggled for five years to make a name for themselves. Where other bands of the day were going in for overproduced and manufactured pop disguised as rock, L.A. Guns delivered good solid and honest hard rock –n-roll. The album had such a street edge to it, it made "Appetite for Destruction" sound over produced in comparison. The songs had strong melodies and great hooks but the "vibe" was rawer and purer rock than the darlings of MTV at the time made up of what some disparaging called "Happy Metal" bands. This endeared the band to an underground audience but the mainstream took notice as well. Offsetting the rockers were two beautiful compositions, the instrumental "Cry
No More" which is immediately followed by the somber ballad co-written by Tracii and Paul Black called "One Way Ticket" which really showcased not only the wealth of Tracii's song writing ability, it gave Phil a platform to really shine with his heartfelt vocals that were so filled with pure emotion that when listening to it, the listener feels as if Phil is bearing his heartbroken soul. On the more bawdy side, "Sex Action" got heavy airplay on MTV despite its raunchiness but it was pure L.A. Guns and the other single from the album, "One More Reason" became one of the best anti-love songs of the era. The album became an instant classic, earned the band a "gold record" and the fact that the band to this day still includes many of its songs in their live set is a testament to its quality.

With a major label debut album under their belt, the band hit the road to bring their music to the people. Former W.A.S.P. drummer Steve Riley was brought in to replace Nickey Alexander and the band spent most of 1988 touring, promoting the album and learning that all of those stories about "rock bands on the road" were indeed true.
After a year of baptism by fire on the road the band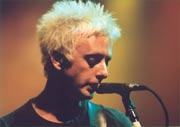 entered the recording studio to produce a new album. Inspired by all they had experienced since the release of their debut, the band was in rare form and easily by passed the sophomore curse. The band even called on veteran rockers Robin Zander and Rick Nielsen of Cheap Trick to make a special guest appearance. The resulting album "Cocked & Loaded" showed the group maturing yet they still kept their street credentials intact. Upon release on August 4, 1989 the CD steadily gained momentum. While some critics never got it (some never do) others heralded the album as the seminal hard rock release for the year. The album art did spark some controversy, it seems some people were turned off by the rendering of a naked woman riding the grip of a gun, nevertheless "Never Enough" became a hard rock radio and MTV favorite but it was the album's slower song, "The Ballad of Jayne," a tribute to actress Jayne Mansfield, that hit the charts running, landing in the Top 40 and pushing the album to platinum status.

What do you do when you have a hit album? You tour and the band hit the road once more. After successfully spending 1990 on the road, 1991 was another busy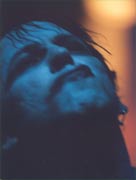 year for the group, in June they released their third album "Hollywood Vampires". The disc once again showed the band progressing musically, Tracii spread his wings a bit venturing into other style of music with his guitar parts, but the music stayed true to the basic L.A. Guns formula just a bit more polished. The opening track "Over The Edge" was featured in the summer blockbuster film "Point Break" and the singles for "Kiss My Love Goodbye" and "It's Over Now" got a decent amount of airplay. Unfortunately, despite critical praise for the album and three hit singles, "Hollywood Vampires" failed to do as well as its predecessor.


Click Here for the conclusion and a Video Interview with Tracii and Phil

Photos by Keavin Wiggins
Copyright 2002 Iconoclast Entertainment Group
All Rights Reserved

.