.

Yesterday & Today - L.A. Guns - Part II
by Keavin Wiggins
.

Tracii took a little time off from the group in 1991 to take part in the supergroup "Contraband" that also featured Michael Schenker, Ratt's Bobby Blotzer, Vixon's Share Pedersen and Richard Black from Shark Island. The supergroup was to be short-lived like most projects that Schenker is involved with and Tracii returned his full attention to L.A. Guns.

The band release a 5 song EP in 1992 called "Cuts"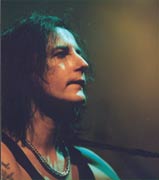 which included a L.A. Guns style cover of the James Brown classic "Papa's Got a Brand New Bag", an ode' to Tracii's punk roots with a cover of Generation X's "Night of the Cadillacs" and an equally impressive interpretation of Bowie's "Suffragette City". One song on the EP seems to be prophetic though, "Ain't the Same 92". Paul Stanley said once that being in a band is like a multiple member marriage. And we know that marriages end everyday for silly reasons, only those involved know the real story but it seemed that Phil Lewis had a falling out with drummer Steve Riley and Phil gave him his walking papers. When asked what happened, Riley contends that he was fired after hitting Lewis over the head with a newspaper. Only in Rock –N- Roll!

In 1994 L.A. Guns regrouped in the studio and recorded their fourth full-length album "Vicious Circle" with Michael "Bones" Gershima on drums. A revolution in music called "grunge" had happened since the band released their last full length album and the critics and radio lionized most groups that came out in the 80's as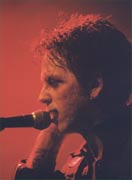 passé'. While Tracii and company did try to incorporate a bit of the grunge feel in this album, forgoing some of the solos that marked their earlier effort while attempting to stay true to their roots, the album hit with a thud when it came out in February of 1995. Polygram provided little support or promotion, concentrating instead on gaining a foothold in the new "grunge" scene, L.A. Guns was one of many hard rock bands on the label that were handled with lukewarm support from the company's publicity department. As a result a less than groundbreaking "club tour" followed and Polygram being the major label that they were decided to part ways with L.A. Guns. In the resulting mayhem Phil Lewis, Mick Cripps and Michael "Bones" Gershima threw in the towel.
It looked like it was to be the end of L.A. Guns but Tracii had other ideas. He got together with former drummer Steve Riley and Kelly Nickels, deciding to give it another go. They found an able vocalist and guitarist in the group Boneyard and recruited them to join the new L.A. Guns. Now with former Boneyard/Cherry Street vocalist Chris Van Dahl, Tracii and Johnny Crypt on six-string, Kelly Nickels on bass and Steve Riley on drums the group was ready for a comeback. They lined up a deal with CMC International and began recording what was to become their six full-length album.
Unfortunately, the recording didn't go off without a hitch, as Kelly decided to partways with the group half way through. Instead of bringing more new blood into the group, Johnny Crypt took over on bass, leaving Tracii the solo axeman in the band.

The new album "American Hardcore" hit the streets on Oct 29, 1996 and showed a turning point for the group. The group took things a bit heavier this time around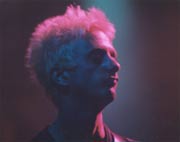 with vocalist Van Dahl sounding closer to Pantera than the L.A. Guns of yesteryear and Tracii's guitars took on a hard edged tone. The new L.A. Guns spent the next year on the road promoting the album. 1997 brought mermers of a possible return of Phil Lewis to the group, however Phil had other ideas and L.A. Guns was in search for another frontman once again. They found the throat in the form of Ralph Saenz whose claim to fame was fronting The Atomic Punks, a Van Halen tribute band. This lineup produced an EP titled "Wasted" which hit the streets in September of 1998 and included a new version of "The Ballad of Jayne".

This lineup was to be short lived as Ralph Saenz decided to pursue a solo career leaving the group high n' dry half way through the "Rock Never Stops" tour with Warrant, Slaughter, Quiet Riot and Firehouse. Tracii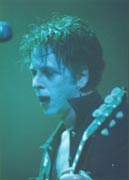 and band then recruited Love/Hate frontman Jizzy Pearl to take over on vocals and they lined up a deal with Parris Records. But more personnel shakeups were in the works when Johnny Crypt left the band. At the time the new lineup was recording "Shrinking Violet" Cleopatra approached Tracii and Steve about reuniting with Phil, Kelly and Mick and rerecording a number of their past hits and some new songs for what was to become "Greatest Hits & Black Beauties". The money was right and it seemed like a good time to try to work together again. Meanwhile the Jizzy Pearl fronted version of the group did go out on the road during the summer of 1999 in support of "Shrinking Violet" with Poison, Great White, and Ratt on the "Exiled From The Mainstream" tour.

The band returned home from the tour and the reunion became official when Steve Riley, Phil Lewis, Kelly Nickels, and Mick Cripps reunited with Tracii for a reunion tour in October of '99. Their first night back together was captured for posterity on "Live: A Night On The Strip." Cleopatra came a callin again and asked the band to rerecord their most successful album,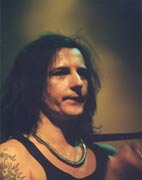 "Cocked and Loaded". Tracii now thinks that it was a mistake since the original album was still readily available but the new version "Cocked and Re-loaded" hit the streets on Aug 1, 2000. That experience in the studio proved fruitful and the band soon returned to churn out an entirely new studio album. The band inked a deal with Spitfire Records. Some more bumps were in store for the group as Kelly Nichols and Mick Cripps announced they couldn't commit to the group and left. Filling those vacancies have proven to be a game musical chairs. Mick did play on the album and a bassist named Muddy was brought in to replace Kelly.
"Man in the Moon" was released by Spitfire on April 24, 2001 and musically seemed to pick up where "Hollywood Vampires" left off. L.A. Guns was back! A promotional tour followed the album release and the single "Man In The Moon" caught the attention of hard rock radio helping the group sell twice as many albums as they expected.

L.A. Guns enter 2002 primed and ready to go. Muddy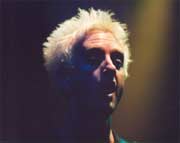 left the group in late 2001 and was replaced by Adam Hamilton who had previously played with CC Deville, Joe 90 and NO 9. The band has mapped out a U.S. tour for early 2002 and is expected to enter the studio later this year hoping to have a new album out on Spitfire in September. Tracii recently told fans on his website that for the first time in his career his label asked if he could make the next album heavier with more rippin guitar solos and Tracii is more than happy to accommodate them.

Through the ups and downs, L.A. Guns have endured to rock another day. When you meet Tracii in person, it's really amazing how down to earth and levelheaded he is after all he had been through. He seems genuine in his passion for music and making music seems to be the driving force in his life. Sure his old bandmate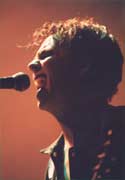 Axl enjoyed far more success but you know what? Who do you think is happier? As long as there is a Tracii Guns there will be an L.A. Guns, a band that came from the streets of Hollywood, who never lost sight of who they were, carried on through the changes in popular taste and continue to do what they do best… ROCK!

We Salute You—L.A. Guns for never giving up or selling out! You guys earned your spot in rock history and the best part is the story isn't over yet…


Video Interview

Click here to check out the "All Access" special with L.A. Guns. An exclusive video interview with Tracii and Phil.


Do you want more?

Purchase L.A. Guns music online and hear samples!

Visit the official L.A. Guns site for all the latest

Keavin Wiggins is the Managing Editor of the iconoFAN Network.

Photos by Keavin Wiggins
Copyright 2002 Iconoclast Entertainment Group
All Rights Reserved

.