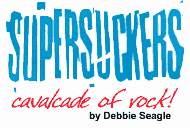 RNW: So like any other overnight success I've ever known it's been over ten years in the making for you folks. Now you're coming more into the public eye, you've done things like Woodstock 2000, Leno, done some Farm Aid and now I understand you are going to be doing a couple of gigs at the Olympics?
Eddie: Yeah, coming up here actually real soon in about a week or so.
RNW: That's kind of cool.
Eddie: Yeah, it is kind of cool. And you're right, you always read about these overnight successes and this band has been going on for fourteen years and we really yet have to dent the surface of the conception of popular rock n roll, when they write the book of this year for rock n roll that we've been a part of, we'll probably be a footnote to it or an antidote in someone else's story. But it's been a great ride and that's the goal, just to have a career, something we can do until we are sixty-five.
RNW: You know, if you are playing your music and you're eatin and paying your bills, all good! And anything after that is cake.
Eddie: It's total gravy.
RNW: Now, you've toured with bands like Social Distortion, Bad Religion, Motorhead and the Ramones. You said you wanted to be like Motorhead, growing up that must have been one of your influences. Any really cool memories or on the road stories you have to share with people about being inside the rock world and was it any different from when you were, you know, in grade school or high school in your garage playing music together? You have been together and known each other that long, right?
Eddie: Yeah, we've known each other since about we were ten years old, so we're kind of an aberration. Every time we've done something like that, when we got on the tour with the Ramones and we show up for day one, you're sixteen years old again immediately and you're looking there and you're like "oh my god, there's Johnny Ramone, he's standing right there!" And then later on in the tour I needed a pick and Johnny Ramones was like "here, use this one" and I'm like "ah no, I'll break this" and he's like "naw man, you'll never break this pick. I don't break these picks" and I'm like "I'll tell you, if I use this pick, I'm gonna break it" and he's like "here try it" and of course I used it and broke it like in second song and after the show, I went up and I showed it to him and was like "see I told you" and he like "man, you're a f***in animal!" To have Johnny Ramone call you an animal is pretty great!
RNW: You know what, it doesn't get any better than that!
Eddie: It doesn't, it really doesn't.
RNW: Now on to the real reason we are talking besides you being a great conversationalist and really fun to talk with. Tell me about the new record coming out on March 12th, "Must've Been Live".
Eddie: Well this record it just sort of came about by surprise. It was gonna be something that we'd have for ourselves really. These were recordings that we made, not to really put out for anybody to hear, we were recording the country sets to hear how we were doing because it was such a new thing and our soundman dug up these recordings not to long ago and said "man, you should listen to some of this". Sure as s***, it was pretty good, so at first we thought, we'll just bootleg it out on the internet or something to give it to the fans and as we started playing it for more and more people it became pretty obvious that people thought this should be a real release and then with us starting Mid-Fi it's been the perfect opportunity to get that going and to get people this cool music.
RNW: So it's kind of a country, rock crossover?
Eddie: This is like our live country show. We only did for a tour basically and then we've done sporadic country shows here and there. We put out a country records in 97 or 98, I can't remember and our fans were like, "awwkk, what is this crap?" And then slowly over the last few years it's actually become our most popular record. So that's kind of a nice little we got to have the last laugh sort of feeling but it's not about that. It's about showing people the similarities between these two musics that with just three chords and some honest lyrics, they're basically the same thing and people were asking for something, so this is a good way to show people what we sounded like on those tours and give the people who loved that record a little something extra. And of course, while we do the country tours I'm sure that we'll be done, I'm sure we'll probably come up with new material for a whole other country record.
RNW: For people who want to get a taste of your hard rockers, I'm thinking the "The Evil Powers of Rock n Roll"?
Eddie: Yeah, I think that's our high water mark so far. It's really nice to have that feeling because we didn't feel like that on our rock record prior to that, we felt like we came up short on the one previous to that. So we were kind of feeling, "ah-oh, what if our best rock days are behind us?" and then we made "The Evil Powers of Rock n Roll" and we were, just kind of sit back, I mean we still listen to that record and go "yeah, that's gonna be tough to beat". So we plan on beating it!
RNW: Absolutely! You've got plenty of time and plenty of inspiration to make more things up.
Eddie: Exactly, and we have, to use the technical term, we have an ass load of new songs that we are ready to unleash.
RNW: That's fantastic! Good luck to you on the release of "Must've Been Live" and good luck to you on your upcoming tour. I hope that we can meet up with you on one of those and do a live review and get some good live shots.
Eddie: That would be great! Thanks for helping us spread the word!
RNW: When we find good music, we definitely like to spread the word!
Eddie: Thanks so much!





Visit the Official Supersucker website for more info on the band, photo's, news, tour dates, mp3's and more

Purchase Supersuckers music online!