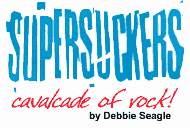 This is Debbie Seagle your roving reporter, Iím here today speaking with Eddie Spaghetti, lead vocalist / acoustic guitarist for the hard rock, country, blues infusion band The Supersuckers. Weíre speaking with Eddie today because this is the eve of the release of their new album on their own record label, Mid-Fi Recordings. On March 12th weíll see the release of ďMust've Been LiveĒ; a 19-track, 70-minute CD for pure bootleg dynamite.
RNW: While I was doing my research, prior to speaking with you I found it kind of difficult to classify the Supersuckers. Maybe you can help me out, I work with all different genres of music and when I look at you folks, you look like good olí boys to me but you donít sound like good olí boys.
(laughs)
RNW: So itís kind of different, how do you classify the Supersuckers?
Eddie: I donít know, thatís a rough one because especially with this sort of country alter ego that we have. When we first started making music we just thought of ourselves as a hard rock band. This was the late 80ís when you either metal I guess or punk or something. When I record came out and the reviews started coming in, they were calling us a punk band and that kind of surprised us, ďA punk band? Weíre not a punk band!Ē We just wanted to be like Motorhead. We always stood by the fact that we are a rock Ďn roll band and when people would start spitting on us and acting sort of late 70ís punk, we would always make fun of them, single them out and say this is a rock Ďn roll show. Then of course we made the country record and that sort of threw everything for a loop. People started calling us ďsouthern rockĒ or ďsouthern friedĒ or whatever and I really donít like southern rock you know.
RNW: I donít classify you as Lynyrd Skynyrd kind of stuff.
Eddie: No I donít like 38 Special. I consider rock Ďn roll to be very urban, from the city and our country music to be from the desert, very western and not southern at all.
RNW: But youíre not ďhonky tonkĒ either and I know, Iíve worked with Roger Klein out from your area in Arizona and heís very roadhouse, very honky tonk.
Eddie: Yeah, our country side is definitely more tongue in cheek. When we made our country record we wanted it to be distinctly western, we looked to artists like Marty Robbins and then like a Bakersfield sort of a sound and uh to sort of emulate that but the song writing was the same. The same sort of elements that are in our rock songs are in our country songs, there is a lot of tongue in cheek, a lot of comedy and a lot of not Weird Al Yankovich type comedy but sort of like biting sarcasm. I think lyrically itís been the same for us no matter what kind of music we are making. It tough, primarily we are a rock n roll band but we got this kind of country alter-ego.
RNW: I just got done listening to stuff you did live in I think it was Sweden and that was just like a rippen rock show.
Eddie: I remember recording that. I havenít heard it, I saw that itís on the website. I should probably listen to it.
RNW: Yeah, itís great. Itís a great way to introduce people who havenít heard of you or have heard of you and not heard your music. Itís a good little selection there that I think Iím gonna hook people into because it gave me a really good feel for what you guys are all about.
Eddie: Yeah, live rock shows are usually froght with problems just due to the recording quality because we are so loud and itís hard to record without a concerted effort to use like a mobile truck or whatever. We actually had one at that show so it might sound pretty good.
RNW: It does. I have a quote here and I canít say whether it is attributable to you or not but let me read it and then I want to get some of your thoughts on it. The quote is ďI truly believe that a band is defined by their limitations. What they canít or wonít do is just as important as what they can do.Ē Is that you?
Eddie: Yeah, thatís me.
RNW: What canít or wonít you do?
Eddie: Well you know we canít play really good. (laughs)
RNW: I wouldnít say that.
Eddie: No, itís the truth. There are musicians out there that are MUSICIANS that really work hard and practice a lot to be very depth and nibble, they can read music and they can do all these fancy words that I donít even know the meanings of. Part of what our esthetic has been in the words of Johnny Ramone, you know, you never practice to remain somewhat remedial is key because when you first start making up songs and playing them in your band together there is this magical feeling like ďoh my god, I canít believe weíre doing this!Ē and I like to retain that as much as possible and itís funny to people and it reads funny to say we donít practice, we really donít, it kind of part of the esthetic to remain somewhat remedial and caveman about making rock n roll because thatís what good rock n roll is all about.
RNW: Yeah it is, itís a guttural emotional type of thing. Sometimes the best music is the balls out--go for itówhat ever comes out type of thing.
Eddie: Exactly, and I tried to continue to make up quality songs, you canít fudge that. But as far as being a musician goes, thatís overrated. A lot of times bands will get where they practice a lot and start experimenting with all sorts of new stuff and it just winds up making the band sound like ass.
RNW: (laughs) ok, weíve covered what you canít do but what about what you wonít do? Iím a little more interested in that, Iím kind of amused by the fact that everything that I read and see about you guys kind of gives me feeling that you have kind of a special relationship there with the Devil.
(laughs)
RNW: What wonít you do?
Eddie: Well Iíd never go tour under any sort of Christian flagship. That pretty much goes without saying. For me our relationship with the Devil has been a really fun relationship. For me the whole God, Devil, Heaven, Hell thing is a bit like the Easter Bunny and Santa Claus and Candyland Lane or whatever it is. I just donít buy any of it. Of course, Iím gonna side with the Devil where all the good artwork is, he gets all the chicks and has the best drugs and it seems that he is having all the fun to me.
RNW:.. The people that are your fans now, what are they looking for? What attracts them to you?
Eddie: I think in general the people that find the Supersuckers are, as I said before, people that have embraced rock n roll as their personal savior. The person that has heard all the rock n roll there is to hear and is looking deep down, under the surface, and have put their ear to the ground to find something that moves them. Bands like us, and there is a lot of bands kind of at our level, that I think make really great rock n roll music and whenever somebody says rock n roll is dead, I can rattle off ten bands that are active, working right now bands that kick ass, that arenít on the radio, theyíre not on MTV and they are touring in a van, down by the river in a city near you. And the kind of people that seek these bands out, theyíve heard all their favorite bands, they started at the very beginning of rock n roll and researched it all, and they found bands like us, Rocket from the Crypt, New Bomb Turks, Hangmen, and The Gaza Strippers, you know, the list goes on and on for me.
RNW: Yeah, you bring up a really good point about all of these bands that accept rock n roll as their personal savior, that are not in the mainstream media, that are not on, you know, total request, that are not pals with the ďin-crowdĒ but are down home rockers and what do we do about that, what do we do about letting people know about that? You folks have started your own record label, am I right? Mid-Fi Records?
Eddie: Correct, Yes.
RNW: Now, youíre the only talent on that label right now, am I correct?
Eddie: Yeah.
RNW: Are you at all thinking about joining together with some of these bands that you mentioned to bring that out?
Eddie: Yeah, that is definitely a goal of ours. Of course, for us to go and promise these bands something who are often times, theyíre friends of ours and weíve toured and worked with them a lot, Iíd hate to promise them things and then fail. Like any record label has done to them, probably over and over again. Weíre gonna work out the bugs on ourselves, see if we can take it and then hopefully we will be able to put together what I like to call a ďcavalcade of rockĒ, you know these bands that I think need to be heard. I donít have any sort of avant-garde taste by any means, every time I try to make up a song, I try to make up a hit song. Itís just a hit on sort of a different level than say a, whatís on the radio I guess. Iím not trying to be tricky or better than anybody, Iím just a regular dude trying to make some kick ass rock n roll. And a lot of bands are like that and they should be heard.
RNW: I think youíre succeeding in the kick ass rock n roll and I think if you can bring a cavalcade or rock n roll to people, dude you could start your own church.
Eddie: Yeah, it would be dynamite.
RNW: There is such a need for it.
Eddie: Yeah, I agree and I think that every new band that comes along that is inspired by us or bands that are what I could consider our peers is just one step closer to blanketing the whole area.
RNW: So what was this like, starting your own record label?
Eddie: Well, itís been sort of an ongoing learning process about what I call the other side of the mic. A lot of words that we heard through the years like marketing, demographic, and all these sorts of weird words that all of a sudden make sense or you understand. Thatís both a blessing and a curse I guess. The good side is we have the ability now to get hopefully more music out to our fans, who are the coolest people in the world. Thatís what we are hoping to be able to achieve is to release the hounds on everybody. Like weíve got all these little things that weíve always done and would like the people to hear, you know labels want things to fit into certain pockets and some of the stuff just doesnít like this live country record for example, I donít think would ever see the light of day on any other label but our own. So thatís the good side. The bad side is itís work! We didnít get into this work, we got into this to not work.
RNW: (laughs) Money for nothing and your chicks for free!
Eddie: Exactly! So there is some work involved, hopefully itís going to wind up being super rewarding just like playing a live show, we didnít think that youíd walk off the stage completely soaked in sweat and have to have a plastic bag for your sweaty cloths in your van next to your head while you sleep. But that stuff happens.
RNW: Thatís the rock n roll lifestyle.
Eddie: Exactly.
---