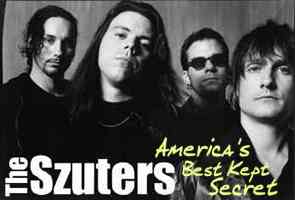 A Music Evangelist Special by Keavin Wiggins
---

America's Best Kept Secret!

Now that is a bold statement. But in the case of the Szuters it is appropriate. I first discovered their unique sound a couple of years ago. A friend from Japan sent me a copy of their debut album stating "You gotta check these guys out!" It is safe to say that the Szuters have remained in heavy rotation in my cd player ever since. In fact The Szuters were one of the reasons that Rock n World was created. We wanted to give great under rated bands more exposure. Part of the way we do that is with the Artist of the Month Special, if any band has earned that title it is the Szuters.

Founded by brothers Mike and CJ Szuter in Cleveland Ohio, the Szuters captured the best of the midwestern pop sound and combined it with a 90's alternative edge. The Szuters have achieved one of the hardest feats in music, creating a sound all their own. Struggling to come up with a band to compare them to is an exercise in futility. The bands singer and guitarist Mike Szuter has an exceptionally unique voice and guitar sound. C.J. fills out the guitar sound as other half of the Szuters duel lead guitar team. The bottom end is aided by one the hardest hitting drummers since John Bonham, John Fedevich. Craig Martini the bands bassist lends his exceptional skill to filling out the bands overall sound with his great chops. All members of the band take up the task of backing vocals resulting in the Szuters powerful harmonies. Once exposed to The Szuters it only takes hearing a couple bars of any of their songs for the listener to easily identify its source as the Szuters.

It was this unique sound that caught the ears of Paul Gilbert, who happened upon a demo from the band. The former guitarist for Mr. Big was so impressed he dialed the number on the inside of the cassette case and offered the Szuters a recording contract on the JVC label in Japan.

Paul Gilbert helped the Szuters produce one the finest debut albums of the 90's. And the band quickly captured an audience in the land of the rising sun. With tracks like Friend's like these, Mr. Norton, and If I can't have you, the Szuters created a modern day master piece. Being eternal workaholics the band didn't rest on their laurels, they quickly released a follow up album called American Pop. The draw back of having a dynamic debut album is accomplishing the task of toping yourself. The Szuter did that with ease, American Pop picked up where the debut left off. American Pop contained exceptional harmonies and melodies on tracks like Life Goes on, Cigarette, Isabella, and She tells everybody, not to mention the hard driving yet melodic guitars. The Szuters easily captured our nod for best independent Pop album for 1998.

While the Japanese fans got a taste of the Szuters, fans state side were stuck special ordering their CD's as imports. In walks Steve Rainz president of Decompression Records. Steve fell witness to the same magic that captivated Paul Gilbert and in turn signed the Szuters to his label. The result was the bands US debut - Last Band Standing.

The album is a cross section of the best elements of the Szuter sound, from the college radio alternative hit Cigarette, to the harmony rich Farther Falling Star

and ex-ok

. Last Band Standing is a great example of the evolution of the Szuters, with each new release the band appears to be expanding their musical reach. This album is already a top contender for the best pop album of 1999 here at Rock n World.
Not Just a Studio Band!
I had the unique pleasure of catching up with the band at a recent show at the Coconut Teaser in Hollywood. Having only been exposed to their music on CD, I was interested to see if they could reproduce their sound live. I was not disappointed, despite the handicap of a terrible PA ( it might have just been the sound man), the band pulled off a great 45 minute set of mostly newer material. The show opener Antichrist Theme set the ball rolling as the band captivated the audience with songs like Annika, High School Varsity Superstar, Farther Falling Star, Dim the Lights, and old favorite If I can't have you, and closed with a cover of She Sheila.
After the show I discussed many topics with Mike Szuter ranging from his trip in April to Japan to play bass on the Paul Gilbert Tour to the bands plans for the future. The Szuters will be back in the studio in May to record a new album for JVC. Mike was kind enough to play me a demo of a couple of the new tracks, all that can be said is it is their best music yet. Being a prolific song writer Mike says he writes music almost every time he picks up his guitar, and if he remembers the song the next day he takes it to the band. While most bands run out of fresh material by their third of forth album The Szuters keep cranking out great new music which should keep their fans happy for years to come.
It's the Music Stupid!
One thing has to be said about this band, while many musicians are in the game for the money, sex or fame, The Szuters are in it for their love of music. You can hear it in every note the band plays. While at this point super stardom eludes them, The band keeps making the music they love. It is the authors hope that success does find this band, they truly deserve it. Indeed, The Szuters are America's Best Kept Secret, all you have to do is listen to any of their albums to understand this. Now it is up to you, we have let you in on the secret. All you have to do is get all three of their albums and discover their magic for yourself, then do like we have, spread the secret to everyone you know. What good are secrets if you can't tell people about them?
Real Audio Courtesy of Decompression Records
Farther Falling Star
Ex-OK
Both tracks are from Last Band Standing Available on Decompression Records.


Vital Stats on the Szuter's
Members
Mike Szuter - Vocals, Guitar
C.J. Szuter - Guitar, Vocals
John Fedevich - Drums
Craig Martini - Bass
Albums
The Szuters 1996 JVC/VICTOR (Japan)
American Pop 1998 JVC/VICTOR (Japan) Review
Last Band Standing - 1998 Decompression Records (US)
US CD, and other Merch Click Here
More Info
Artist Feature for the Szuters.
Szuters at Decompression Records