Static-X interview
by Debbie Seagle


RNW: I see that "Wisconsin Death Trip" went platinum.
TC: Yeah.
RNW: Congratulations! Do you expect the same from "Machine?"
TC: You know, you never know. If it does just as good, I'll be extremely happy. Hopefully it does just as good, if not better. And I think we have momentum on our side, so it may do better.
RNW: The touring helps.
TC: Definitely.
RNW: Having a new CD out when you are going on a high profile tour like you have coming up is a really good combination of events.
TC: Hopefully it all adds up and the record does really good.
RNW: What advice do you have for people out there that want to make it like you have in the music business? Now that you are on the other side, looking out.
TC: The one thing I always stress is if you aren't having fun doing what you do, don't do it. Cause the odds are against you and you are going to face a lot of disappointment and if you're doing it solely for the purpose of wanting to be famous and you don't really enjoy playing music, you are setting yourself up for major disappointment. I know a lot of people out in Hollywood, just bitter old rejected musicians.
RNW: So its not just money for nothing and your chicks for free?
TC: Right! Its not that easy. It's a lot of crappy gigs, a lot of crap, put it that way. A lot of crap you've got to deal with. Even now things are pretty good, but there's still crap you've got to deal with on a daily basis. After 22 months doing it, the only thing that makes it worth it is those 40 minutes to an hour you get on stage. You just play your heart out. And if it wasn't for that time I get to run around like an idiot on stage every night, it wouldn't be worth it to me.
RNW: So it is worth the price?
TC: Yeah, those 40 minutes to an hour that I get to play makes everything else I have to do worth it.
RNW: You probably have a good support system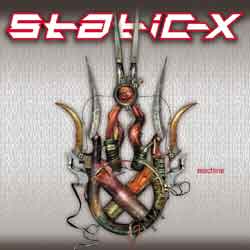 within the band for dealing with the different types of issues that come up. I had a good time reading some of the road notes on your web site. I thought I would die laughing about some of the things that have been happening to you guys. I won't elaborate on that, I'll just let the readers go and take a look for themselves, but do you also have a good support system with home and family? I know that that is hard on musicians.
TC: My family has always been there for me, from day one. They are very supportive and there when I need someone to talk to.
RNW: What about the band? Do you all hang out when you aren't playing music?
TC: Oh yeah. After a show we'll all hang out. Like, during the day, we're all kind of busy doing interviews and whatever, and doing things on our own. But we're actually a very close band. We hardly ever get into arguments or anything really. When one does arise, its taken care of rather easily and quickly.
RNW: So when it does happen, is it over song writing, or production, or touring issues?
TC: No, its usually over somebody leaving their socks in the corridor or leaving a mess in the back lounge (on the bus) or something.
RNW: That sounds more like brothers fighting at home.
TC: Right, yeah, exactly!
RNW: So its all good is what you're saying?
TC: Yeah.
RNW: Well I hope it continues to be all good for you. You have a promising new record coming out and a promising new tour to sell it with. It looks like the summer is going to be hot for you guys. Happy trails. Have a safe outing and much luck with your new CD!
TC: Thank you. And you have fun in sunny California.
RNW: Always!


Do you want more Static-X?
Purchase "Machine " and other Static-X music online!
Visit the official Static-X site for all the latest .
Click below to see real video clips from the Static-X home video - Clip 1 - Clip 2 - Clip 3
Debbie Seagle is the Special Features Editor for the IconoFAN Network.