Static-X interview
by Debbie Seagle


RNW: With all of the bands that there are to be put in front of somebody who could do something for you, put in front of the A&R guys, its sometimes luck of the draw. I mean, you all have to be talented to get where you are, but just to be able to get into that group of people that get shown to somebody who can make a difference is fabulous.
TC: It was a great stroke of luck I guess.
RNW: But then the talent has to take you from there and it seems like you guys have been able to do that, so thatís an accomplishment on your side. Youíve done an awful lot of touring on the first album.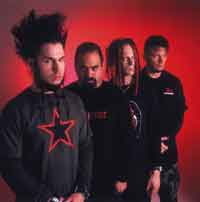 TC: Yes, awful being the operative word.
RNW: Do you not like touring?
TC: Um, no, donít get me wrong. I do love touring, its just when you get to the 20th and the 22nd month of it, you know? It starts wearing on ya.
RNW: Its definitely a different life style and you do find yourself needing a vacation from that.
TC: Oh yeah, absolutely. By the end of it, we were all ready to just kill ourselves, die and go home.
RNW: You just want to sit in your own living room and watch TV.
TC: Iím telling ya, the day I got home was Sunday, and I sat around in my living room in my underwear, watching football all day. It was great! (laughs) I hadnít been able to do that in almost two years.
RNW: Isnít that the perfect day?
TC: Yeah, it was great!
RNW: I wouldnít mind doing that . . .
Youíve toured with an awful lot of bands too. Youíve really gotten a good cross section of bands in your genre and around your genre. Do you have a favorite band that youíve toured with, or a favorite road story?
TC: I think the most fun weíve had was probably, if I had to single out one band, I guess it would be Fear Factory. Cause we did several tours with those guys and they were the first band to take us out. And they really taught us a lot about how to tour.
RNW: About production and what have you?
TC: Yeah, and just how to carry yourselves out there, as a band and as professionals. They really taught us a lot and we had a lot of fun with those guys too. Iíve known Dino for a long time. Iíve known Dino back home in the old death metal days when we used to play in the back yards in south-central (Los Angeles) and Watts.
RNW: Wow, thatís a scene, huh?
TC: It was definitely a scene, yeah.
RNW: Now you also did two stints with Ozzfest, right?
TC: Oh yeah.
RNW: Thatís the ultimate gig for hanging out with your brothers and playing music.
TC: Oh yeah, its like summer camp.
RNW: I know. Everyone I talk to, from Pantera and others on the main stage, on down to the first act on the third stage are like, weíre just so glad to be here and playing with our brothers. Weíre having a ball grilling out and hanging out and playing and traveling and seeing the fans. Itís a really good experience. I understand though, that out of that came a to-do with video rights to a performance. What was the story there, and what was it like to deal with Sharon Osbourne? She carries a pretty big stick as far as Ozzfest is concerned.
TC: Are you referring to the home video?
RNW: Yes.
TC: Yeah, I really donít know whatís going on with that. All I know is that its got something to do with the legal rights and weíre not getting clearance on them for some reason or another. And, not much we can do about it really. So its just sitting there.
RNW: Up to the courts now?
TC: No, I donít think weíre going to go that far, you know? I think at this point, weíre just considering it a loss. Thereís nothing we can really do about it. And the sad thing is, we were just caught in the cross fire between her and another party, but I wonít go into details.
RNW: No, thatís cool. You donít have to go into it any further. I understand.
Youíve changed guitarists since your first album. Now you have a new guitarist and a new CD coming out called ďMachine.Ē How does ďMachineĒ compare to ďWisconsin Death TripĒ and what will the fans find most interesting about it?
TC: Well, you know how I refer to the music as ďevil disco?Ē This time around, its more evil and less disco.
RNW: Okay, so a heavier sound?
TC: Yeah, this record came out a lot darker, a lot more aggressive.
RNW: Is there a reason for that? Kind of a change in your thinking and song writing styles?
TC: Yeah, I think touring for 22 months had a lot to do with it. We were all pretty strung out and angry about touring. And then, you know, plus touring with Pantera. That influence did a bit too.
RNW: Tell me a little bit about the first single, ďThis Is Not.Ē Did you do a video for that?
TC: Yeah, we did. We shot a live video for that in LA, right before we went out on tour. We did a couple of warm up shows at a couple of clubs that we used to play all the time. Back when we were a local band. So, we shot a video for it, and itís a high energy live video. Its really cool. We just got the final cut for it a couple of days ago.
RNW: What is the premise for the song ďThis Is Not?Ē
TC: Its one of those touring things, you know, where you are sitting on the bus for 14 hours, middle of the night, and one of those long drives. Youíre like, I want to go home.
RNW: So you all arenít doing the video games and all of those things that keep you busy for those 14 hour drives?
TC: Well, for me, some games I canít play while the bus is moving cause Iíll get motion sick.
RNW: Oh man, been there. I canít read in a bus. That just makes me totally sick.
TC: Yeah, I canít do that.
RNW: Then you are bummin man.
TC: Yeah, sit back and watch a movie man. Thatís about all I can do really, watch TV.
RNW: You need to get books on tape or something, cause there is nothing worse than that motion sickness!
For those who havenít seen you live, what can they expect from a Static Ė X show? Whatís the experience?
TC: You can expect lots of energy, heavy guitars, disco beats and screaming and what-not. And above all, they will have a good time.
RNW: Fan participation?
TC: Iíll go over there and beat them over the head (laughs).
RNW: Iím sure that some of the fans would like that!
TC: Yeah, Iíve met a few.
RNW: Lot of crowd surfing and things like that?
TC: Oh yeah.
RNW: Tell me whatís going on with your current tour. I see youíll be headed for Europe and parts unknown. Do you look forward to any place in particular?
TC: In Europe?
RNW: Anywhere.
TC: Thereís a few places we havenít been to before like Belgium and Sweden that Iím looking forward to. And Amsterdam is always fun (laughs).
RNW: Oh yeah, I understand Amsterdam is a fun town . . . And you will be coming back here in June right?
TC: Yeah, the Pantera tour starts June 20th, I believe, and will make its way through until about the end of July I think. Iím really looking forward to that tour. Itíll be great to get to see Morbid Angel, Slayer and Pantera for a month.
RNW: Thatís quite a line up.
TC: Its going to be great.
RNW: Do you feel a lot of camaraderie with those types of tours?
TC: Definitely. Particularly for me. Iím just a huge fan of all those bands. As soon as Iím done playing, Iím jumping back into the crowd and watching the show, you know?
RNW: Well, thatís the best place to see it from. Youíve got to get into the mosh pit. Where do you think the music of Static Ė X is headed in the next five or ten years? Or, for that matter, where do you think rock is headed in general?
TC: I donít know. I havenít looked that far ahead, you know? Iím living in the now. I think I speak for the rest of the band, I donít think any of us expected to get as far as weíve gotten, so to be where we are now, weíre just like, wow. And weíre seeing where it takes us.