One Second Thought.. Have you ever thought you have nailed down an artists and dismissed them only to discover that your original perception was wrong? That's what this series is all about, a second look at artists that have been written off in the past but upon closer examination are worthy of attention!


Sixpence None The Richer
by Marc Wiggins
I have to admit that I was not overly enthusiastic when asked to write a review for Sixpence None The Richer's New CD, "Divine Discontent." My only exposure to this band were the pop hits, "Kiss Me" and "There She Goes." These songs seemed to saturate the radio waves in 1999 and 2000 and I was honestly annoyed after the millionth play, hour after hour. Radio has a way of destroying music with its repetitive nature. Its a peculiar talent of these stations in the ironic way they hide great music by simply overplaying what is often the less stellar tracks from most CDs. It's amazing how the best music from some very well known bands remain undiscovered. This must have been the case with Sixpence None The Richer's past albums.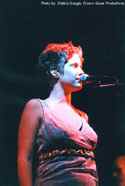 Even upon first listening to "Divine Discontent," I quickly realized that I had just made a rare discovery that one can only hope for once, maybe twice a year. Though the hits mentioned above were pleasant songs, I was expecting a typical CD full of overdubbed pop songs with repetitive lyrics. Instead, I was presented with a collection of richly textured songs, many with beautiful (a word I never use) melodies and all of them with intelligent lyrics. "Divine Discontent" has a clean "live band" feel with a confident use of acoustic instrumentation as well as perfect use of orchestral pieces in several of the songs. Many of the songs have a lively rock feel to them while others take a step back and lull you into a picturesque dream. Whatever the pace, all songs are devoted more to a profoundly introspective tone with multifaceted music and lyrics that will carry you in several directions at once.
The CD seems to be about the joys, pains and insecurities we find in our relationships in life and with God. The entire spectrum of emotions are well crafted in the insightful and poetic lyrics that collaborate with the listener to achieve a uniquely personal meaning.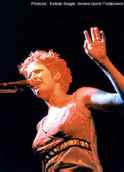 Sixpence is a Christian band that is proud of its beliefs yet remains accessible to a mainstream audience. Where I find much of the other Christian music one-dimensional, artificially joyous and with simple answers; this CD from Sixpence addresses our feelings of uncertainty, regret and fulfillment with honest questions and means of comfort. Given the complexity of the subject matter, the lyrics are often left open to interpretation. In many of the songs that deal with relationships, one can take them as a melody about her and a significant other or with God. Amazingly, this is done with all the spiritual context left solidly in place and not watered down to please a wider audience.
In addition to twelve original songs is a cover of Crowded House's "Don't Dream Its Over." For the record, I usually view remakes of classic songs as a form of blasphemy. New interpretations of old favorites are almost always disappointing, if not downright desecrating. Even the few good covers (and there a very few of them) cannot seem to meet the expectations and charm of the original. Needless to say, I went in expecting to dislike Sixpence's version of "Don't Dream Its Over."
However, Sixpence has succeeded where so many others have failed by recreating this classic and making it their own. The two versions are quite different in mood. Yet there isn't the inclination to pick at the differences. Where Crowded House's version is more somber, Leigh Nash's voice injects a sweetness that's irresistible, and the lighter instrumental tone adds an element of irony that wasn't in the original.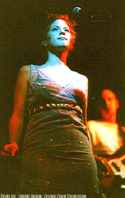 "Divine Discontent" was originally recorded in the spring of 2000 but was not released until now because of legal and financial issues related to the sale of Squint, Sixpense's former label. The two and a half years of uncertainty for the band was perhaps a blessing in disguise. Earlier this year, they recorded four more songs and added several string sections to many of the songs. The voice, lyrics and acoustic quality of their music is outstanding but the strings add so much texture, beauty and depth that Sixpence fans will forgive the long wait.
"Divine Discontent" is a great CD as it passes all three of my tests: First, I can play the entire CD without skipping over songs (too many other CDs have only a few goods songs with the rest as filler). Second, I usually let the CD run again immediately after its first play. And finally, I liked it so much that I went out and got all of their previous albums.
Many of the songs in Sixpence None The Richer's "Divine Discontent" have the potential to be hits and it will be nice to hear this level of depth and quality on the radio. I give this one an A.





Want More



Marc Wiggins is on special assignment to the iconoFAN Network.
Photos by Debbie Seagle
Copyright 1999-2002 Groove Quest Productions
All Rights Reserved