Sixpence None The Richerís Leigh Nash talks with Rock N Worldís Debbie Seagle about family, success, and life on the road . . .
The past two years have been just shy of paranormal for Sixpence None the Richer. Widely hailed as the artist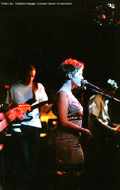 development story of 1998, Sixpenceís climb to stardom in becoming the breakthrough story of 1999. What began seven years ago as the brainchild of two teenagers from Texas is now an international triumph.
After relying on a small but devoted fan base for the last several years, this once obscure rock band is on the verge of becoming a household name. With their Grammy nominated self-titled album climbing The Billboard 200 sales chart, and the #1 hit "Kiss Me" leading the way at several formats in the US, Canada and the UK, Sixpence is cherishing every moment of hard-won acceptance.
The forming of Sixpence was set in motion in 1989 when a 16-year-old Matt Slocum heard 13-year-old Leigh sing in a small town just south of Austin, Texas. Three years later, they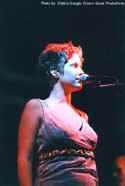 were signed to a small, independent label and cutting their debut album, The Fatherless and the Widow. Sixpence began to evolve into a dedicated touring act and has shared the stage with a wide range of artists including The Proclaimers, 10,000 Maniacs and The Smithereens.
Now, with their second single from their self titled album ("There She Goes") being certified gold, a current 30 day tour with Better than Ezra and a new project on the horizon, Leigh Nash takes a moment to talk with Rock N Worldís Feature Editor Debbie Seagle about family, success and life on the road . . .

Rock N World: The readers at Rock N World are interested in what its like to be a performer and to finally reach a measure of success or a goal. Whatís it like behind the scenes. A lot of times all we see is glitz & glamour, MTV Awards, etc., and thatís not really what its like, so I would like to talk a little about things like your early influences. I see that you began your career or knew that you wanted to sing at an early age, 12 or 13 years old. To begin as early as that, you must have had a very supportive family.
Leigh Nash: "I did, yeah. I had a wonderful family, and without them, I wouldnít have had the confidence to go out and I had very little to begin with, so I was a really nervous stage performer but their huge support helped me, I guess get just enough courage to go up and actually do it. And I still appeared to be very nervous and was inside but did everything and it helped and theyíve been supportive at every stage. Iíve definitely had some horrible times when things looked very, very bad for our futures in this band and music and so they continued to support me through that, emotionally, which is great."
RNW: Was there music in the home when you were growing up? Were your parents musical?
LN: "No, no my dad can sing really well and mom, they love to sing but theyíre not really singers. Certainly not by trade, but my dad is gifted as a singer but he never really got to pursue that in his life. But they are great people and my dad is extremely interesting. He has an artistís spirit, I think thatís where I got my sort of flighty side."
RNW: Your will to perform?
LN: "Yeah, a little bit out there."
RNW: And siblings?
LN: "My sister is very grounded and very smart. Sheís an accountant so weíre like night and day but we get along very well."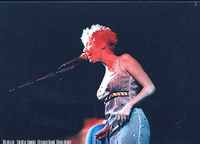 RNW: Do you get to see them very much?
LN:: "Well, when I go home I go home for long periods of time, when I can. I miss them a lot. Iím very, very close to all of them so I go home every time we have a break and Iíll stay, a lot of times Iíll just fly into Texas, even though we live in Nashville, and fly out the next time we have a show. But Iím married, so I want to be with him more than anything else so when I go home, heís with me or else I go and be with him."
RNW: If you could name one moment or one occurrence in the last year, which has been a total whirlwind for you Iím sure, where you felt like you reached a major goal or a milestone in your musical career, what would that be? What stands out for you?
LN: "This has happened so gradually the last couple of years or the last year and a half, but I guess if you put it into very specific terms, like a major dream came true when we got to play David Letterman, that was a really big deal for me and for everybody else too. We also love Conan OíBrien, we got to do that show and that was really fun, but Letterman was definitely a peak."
RNW: I thought it was pretty exciting that you had your song (Kiss Me) played at the royal wedding.
LN: "Yeah, that was cool. It was amazing."
RNW: Two hundred million people, thatís some pretty good exposure!
LN: "Yeah, we felt pretty far removed from that situation because we were in Europe and we got a fax from the BBC the day before the wedding, letting us know they were going to use it in the broadcast. We never got to see it, but we were thrilled and we were definitely, it lifted our spirits, but we were in Italy and far away from home. When the wedding actually took place we were flying from Rome to New York, so it was just a fog like a lot of things are, youíve got to really cherish it. I think a lot of things, down the road when weíre older will start to really picture, wow, that really happened!"
RNW: For all artists it has to be a thrill. To know that Mattís words and your voice came together and made something special to someone, that they wanted to make it a part of their life and their wedding, whether it was the royal family or Jane and John Doe down the street. I think that is probably a really enriching feeling.
LN: "Yeah, it is."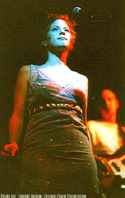 RNW: Besides having an continuing successful music career, do you have any more goals that you set for yourself, something that you want to do in the next couple of years?
LN: "..I think its yet to be seen. I want to be the best that I can and hopefully be getting better as a vocalist and a communicator of words and music, and thatís really, I just want to be getting better. I donít know, weíll just see as opportunities come."
RNW: Now youíre doing some writing?
LN: "I am, but I donít write on the road. Too much is going on. So when I get home, I havenít been home at all in a long time, so I havenít been able to do any of that. I definitely time when Iím home to do that."
RNW: What is your favorite memory or experience from Lilith Fair? Do you think that it will continue in some form?
LN: "Lets see, my favorite memory was getting to see the Pretenders in a small little acoustic set in the open air, but it was really close. Really close to them and I got to see them in concert for the very first time the night before. It was really, really wonderful to be that up close and listen to her play that new material and I could tell how important it was to her that people connected with that the same as they did older songs and of course that takes some doing, but I thought that night they sounded really great, they know where they stand. That was my favorite moment. And then, Iím not sure what will happen if the Lilith Fair canít really continue under the same name out of respect to Sarah (McLachlin), all that sheís done, and maybe its probably best to be on the back burner for a while, certainly for her."
RNW: She definitely deserves a break. Certainly she has a right to that after three years.
LN: "So maybe its time for everybody to take a break from it for a while so that it doesnít become old hat, no fun any more, not special because it happens every summer. I think it will be back, that for sure."
RNW: Do you think Sarah will bring it back, or someone like Sheryl Crow, or someone else will pick up the torch?
LN: "No, I donít think so, especially because its Sarahís deal. So I think sheíll do it, maybe much later but I think definitely again, in a few years."
RNW: What do you think is the biggest hurdle women face in the music industry today?
LN: "Well, today there are fewer hurdles I think, than there were, certainly years ago, but I think one of the hurdles was totally conquered by Sarah and the Lilith Fair in how promoters didnít let a stigma that you canít have more than one woman on a bill. And I was talking with a lady, actually, a couple hours ago who used to sing in the 70s and 80s with a jazz band and she was saying that its so nice for singers right now, for female singers to be themselves. She said you can sing any way you want to and thereís a lot more freedom, and I really havenít thought about that before. Right now in this time in music thereís just every range of singers and there are pretty much, you know, a lot more categories there, definitely more encouraging for people or artists who want freedom artistically, to be themselves."
RNW: I know you are married. Does your husband ever tour with the band?
LN: "Yeah, he was out on this trip for the first two and a half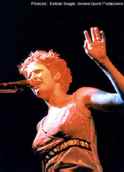 weeks, and heís back on Saturday for the rest of the tour. He was gone two weeks and itís been a horrible two weeks! I canít wait until he comes back but we are really a very happy couple, very loving and stable. That is my gift, or the biggest one that Iíve had so far is him and couldnít have made it through the rough years of the band with out him. The thing Iím most proud of, to this point, is my relationship with him because itís very solid and happy. Iím proud of our characters and that weíve been given this gift to able to be together and know how to handle that responsibility."
RNW: When you are apart, how do you keep the closeness? Do you email each other every day? I know a lot of people who are touring now are faxing or emailing. When I talk to people they all have their own different little things for keeping up with not only their spouses, but their kids. Itís difficult being on the road, isnít it?
LN: "It is, it is, but I hear people talk a lot about how thereís an adjustment period when you get back together after being away for days or weeks or months but thereís not an adjustment period at all with us so the connection never goes away. I canít understand that. I guess I can understand it in my relationship it doesnít exist, so there no rekindling that has to go on and weíve been married, it will be four years in May, so it depends on how you look at it."
RNW: Was it love at first sight?
LN: "Yeah, well, I saw his picture and I read an interview, he was in a band when I first met him and I thought he was so funny. His answers all the ones that really cracked me up and I thought he was pretty cute. You know I was 16, I donít know, I was really, really young but I had a crush on him and I met him. We were at a friendís house and this guy kinda thought that Mark and I would like each other and he invited Mark to come from Minneapolis to Chicago to meet me and Mark took a map and drove."
RNW: He must have been interested!
LN: "I found out later he had a picture of me, this is kinda creepy but where the speedometer is in his car, he had it there before he met me so its kinda frightening I guess. At the time I thought it was a little bit weird. But I saw him that night, and like I said, I was really young and he was kinda dating a lot of people and then like a year later, I saw him at a festival that both of us were playing together and we laid eyes on each other and that was it, so I guess it was timing."
RNW: I read in the band biography that you moved to Nashville in 1996. Why the move to Nashville, why not LA or New York? Youíre not a country band, although growing up in Texas Iím sure you had a lot of country influences.
LN: "I did. Matt felt as though he had made friends there and relationships and our record label was there, so it made a lot of sense. So he and Dale moved out and were roommates for about four or five months before Mark and I did and I got married in May and then immediately after the wedding we had gone to Nashville and Mark wanted to start producing so it made sense to move to Nashville and it is a meeting point between my parents and his. It was very hard because I was only 19 and very close to my parents. It was hard to be away. I missed them really, really bad and got home sick but I was very happy with my husband."
RNW: It looks like you have a 30 day tour going on now with Better Than Ezra and then youíre in Europe for a while, the UK in December . . .
LN: "Right, weíre gonna be in Europe on December 5th."
RNW: Are you going to get to have a couple of weeks off before you get to Australia and Asia and other places after the New Year?
LN: "Yeah, thereíll be at least a month to be off and write and weíre not sure what weíre going to do yet. We see our next album as being so much of a departure from this one that weíve been promoting for such a long time. Its very dear to our hearts but weíre kind of struggling with how much longer to keep it up."
RNW: So, no more singles from this CD?
LN: "Thereíll be one more, its kind of in the labelís hands."
RNW: Track seven or eleven? Those are my picks . . .
LN: "Well, I would have to look at it. Itís Love, I think that might be number eleven."
RNW: Yes it is! Thatís great, its a good song. Now, with the new album coming out, is the material already written?
LN: "Ah, some of it is. Weíre playing three new songs tonight but we havenít even starting recording them yet. I would imagine we will have some time in the spring so I guess weíll start recording them then."
RNW: Most bands are like families, each member has kind of a label. You have your trouble maker, the clown, the task master, the leader the follower. If you could characterize the members of this band, what kind of labels would you give each one of them?
LN: "Well its funny because we were talking about that today. Sean, the guy who came to the door a little while ago is my little Princess. Or heís my Princess, my little lady friend. And then Justin, we call him Mr. Positive. Heís a very, very negative guy, thatís why we call him Mr. Positive."
RNW: Is that why heís sleeping through the Kiss Me video?
LN: "That was the director, he just kind of sensed that he would be the one. He did a good job. Letís see, Dale is very eccentric, I think we decided that if he were a muppet he would be the Cookie Monster, he wanted that."
RNW: Now Matt seems to me to be a very deep fellow, just based on his orchestrations and lyrics.
LN: "Matt is very sweet, heís like night and day. One day heíll be as silly as ĎIím 13í or very, very well thought out."
RNW: You need someone like that in every band. And what about you?
LN: "Iím sort of, because Iím the only girl, a little bit of a matriarch I guess. I donít mother them, at all, but maybe sort of a center. Just being female, Iím pretty calm all the time, I like to have a good time, and I love to laugh and I think its a nice balance. And, I enjoy getting a lot of attention from them and Iím lucky, very lucky."
RNW: You are, very lucky in your career, your family, in many ways. It sounds like you have everything to look forward to. Congratulations on all your success and many more to come. Thanks for spending this time with me.
Click here to listen to sound samples and buy Sixpence None the Richer Music online
Click here to view current tour dates for Sixpence None The Richer
Click here to visit the Sixpence None The Richer Official Web Site