.


.

Author's Introduction

I don't usually like to get too personal in my write-ups of bands, but every once in a while I'll hear a new band and get a "buzz" about them and then my internal need to be a musical evangelist comes out. I want to spread the good news to everyone far and near and once I heard Bird3 I got an immediate buzz and it has only intensified over the past year. Besides, Bird3 is one the best birthday presents I have ever received.

You see last March I got a call from Traci Harper, the publicist at the time for the Tories and Dishwalla and she told me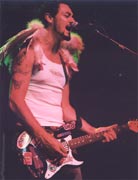 she had this new band that she was working with that I would absolutely love. While most publicist are known to blow smoke, Traci usually only takes on musical clients that she truly believes in and she and I are on pretty much the same wave-length musically, so if she tells me a band is great, I can trust her judgment. At the time I was in this relationship that I really didn't want to be in and was agonizing over spending my upcoming birthday with this girlfriend, so when Traci invited me to a showcase for this new band at the Viper Room that happened to fall on my birthday, I jumped at the chance. "Awesome," I thought. "I get to check out a new band and get out of this date that I'd been dreading for weeks!" (You wonder why I'm still single). Thank God for that bad relationship, because normally working is the last thing I want to do on my birthday and if I hadn't been searching for an excuse to break that date, I might not have had the chance to discover Bird3; one of the true musical highlights of 2001.
Now that you know about the background on why this band was selected to be featured here, read on and discover why we named them best new artist of 2001 and runner up for album of the year. Strap yourself in and get ready for take off as I tell you a little about this band that gave me such a "buzz" when I first heard them and why I think music fans the world over will feel the same way once they hear the band that is Bird3.
- Keavin Wiggins 2-11-02

The perfect fit.
Bird3 is:
Bird – Vocals, Guitar
Greg Coates – Bass
Michael P. Miley - Drums
"All the pieces fit and I'm not worried that I'll finish it," sings Bird in the opening bars of "Fit", the song that kicks off the self-titled debut from Long Beach, California's Bird3. In deed with Bird3 (or just Bird for short) all the pieces do seem to fit; a charismatic frontman, who takes hold of the audience with his rambunctious stage antics, smooth vocals, distorted guitars, introspective lyrics and melodic hooks. An accomplished drummer who has worked with renowned musicians like Carlos Santana, who can give any would be challengers a run for their money and a bass player who approaches his playing style as more of a lead instrument than simply holding down the bottom end. Together they form one of the most dynamic yet commercially viable modern rock bands to hit the scene in years.

If you hear the story of how Bird3 came to be a band and how in sync they are with each other than you might begin to think that fate had something to do with bringing these three individuals together.
.

Bird


It started typical enough; a singer/songwriter leaves his Midwestern home to come to California in search of fame and fortune. I'm not talking about Axl Rose, this is the story of Bird.

Born in Neuquen, Argentina, during his earliest years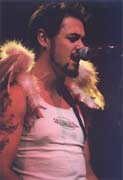 Bird traveled the world with his family living in places as far reaching as Kenya, Jerusalem and England, until they settled down in the United States in 1987. As a young child his father gave him his first exposure to music and then while he was in England, Bird got his first taste of rock. Artists like David Bowie, The Bee Gees, The Beatles and Pink Floyd lit a spark in him that caused Bird to one day give up his childhood aspirations of becoming a tennis pro and take up the rock – n – roll dream instead. He began his musical journey his junior year in High School, he picked up the guitar for the first time and discovered he had a natural talent as a singer/songwriter and the act of making music had a transcending effect over him.

Bird seemed to have a rare gift for songwriting. While many musicians laboriously work to come up with potential hit songs, Bird appears able to tap a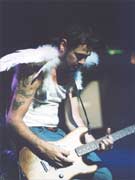 mysterious source within himself to create his songs. Most bands are lucky to come up with one of two song worthy of hit single status on each album, down the line Bird was to discover the natural ability to blend melodies in such away that almost all of his songs would have chart topping ability.

After High School he spent one year at Clarke College in Iowa studying opera, but the call of the wild and rock beckoned and he answered. He left college and got his start in the Chicago rock scene with his first band Hummer (which featured a couple of members of Material Issue at one point), who took the town by storm playing all the notable venues while making a real name for themselves in Chicago music circles. But after a few years of selling out shows and opening for well-known bands when they passed through Chicago, Bird made a fateful decision. "There's a very small community of record executives in the Windy City so my chances were slim to none to get a deal there."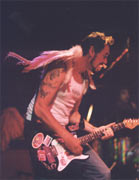 recalls Bird. " I decided after a few years that there was no hope for my career there. I packed my bags one day and I moved out to the city where my dreams could become a reality, Los Angeles."
Once in Los Angeles Bird started a group called Lint that quickly attracted a local audience. They paid their dues for two years playing the famous clubs of Hollywood and eventually recording an album. But Lint wasn't to be Bird's destiny; he disbanded the group and then set out to find partners to create a new band…
.
Michael Miley
Michael P. Miley or known to friends as fans as simply Miley seems like he was born with drum sticks in his hands as he approaches his craft with a talent and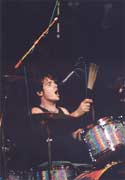 maturity that is not found is most drummers even twice his age. He's a key component to the Bird3 power-trio as his playing out shines most of his contemporaries with Miley's ability to blend several different influences into his performances ranging from the classic pounding of The Who's Keith Moon, to the eclectic drumming styles used in African, Blues, Jazz, Calypso, Brazilian, Funk and modern hard rock and alternative music. Not to say he is a showboat, like his bandmates Greg and Bird, the talents of all three are displayed in the music but they also manage to keep focused on the overall song structure and melody. That's part of what makes Bird3 such a great band, their music fits nicely into today's modern rock scene with plenty of hooks and addictive melodies but you also hear the unquestionable talents of all three members who add their own flair to each song, helping the band differentiate themselves from most groups on the modern rock scene today.
Miley grew up with music as a major part of his life; his mother exposed him to a wide variety of music from a young age along with his father who was also a guitar player. Miley remembers back to his childhood and the unquestionable impact his family's love for music had on him, "some of my earliest influences were bands like Pink Floyd, Fleetwood Mac, The Eagles, Paul McCartney and Wings, Jackson Browne, Boz Skaggs, Toto, Warren Zevon, Hendrix, and, of course, The Beatles. I remember my dad sitting my sister and I down and playing Pink Floyd's 'The Wall', front to back. My dad's emotional enthusiasm conveyed to me that there was more to music than just the sound it makes."

At the tender age of five, Miley heard two songs that would light the fire of drumming aspirations in his young heart, "Phil Collin's 'In the Air Tonight' with that humongous drum fill and unyielding groove literally scared the hell out of me! I thought, 'Wow! I want to do that!'" but it was the second song Toto's "Hold the Line" that would really get under Miley's skin, "Something about the thickness of the groove on Toto's hit, 'Hold the Line', at a young age, hit me and hooked me for life." Reflects Miley. "I had my dad show me a basic beat and he told me that it'd be in every song I heard in one way or another; so I listened…and listened…to this day!"
From the beginning, Miley showed a love for diverse music, listening to everything from AC/DC and Motley Crue to Rush, U2, Madonna and Michael Jackson. Knowing the fire has been lit in him, Miley's parents gave him a drum set for his ninth birthday and he basically learned the instrument on his own by playing along to records and songs on the radio, it wasn't until he had already been playing for years that he received his first formal training on the drums. He was a sophomore in high school when he decided to quit football and join the school's jazz band. That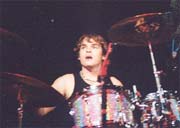 experience opened up a whole new world of music for him, "I was introduced to the genius of Miles Davis, as well as the avant-garde stylings of Frank Zappa (it should be noted that these artists produced some of the best drummers ever from their bands). Paralleling this, I was hanging out with my friends listening to Led Zeppelin, The Doors, The Jimi Hendrix Experience, Jane's Addiction, The Who, Run D.M.C, N.W.A. and the Beastie Boys. My ears were always open; always listening to what the musicians were doing."
His exposure to different music only increased while he was in college. He started out studying "Big Band" drumming as part of the Jazz Band at Fullerton Junior College and he ultimately transferred to Long Beach State University where he began studying African, Brazilian and Caribbean music. He became so proficient in these styles that he was called on to teach the Brazilian "Samba Band" his senior year. But it was one of his teachers, Chalo Eduardo, that got Miley started as a professional drummer. "He threw me on gigs with him, sitting in with artists like Santana, Ricky Martin and Mickey Hart and other members of The Grateful Dead (whom we toured with)." Remembers Miley "To play in front of 40,000 people was beyond a dream for me at that point; and gave me a taste of that special energy. " The seed was sown.
From there he began playing with a wide variety of musicians in several different styles of music ranging from Blues to Funk, Calypso and Jazz. He readily

admits he was a "gig whore" who couldn't get enough. His experience ranged from a tour with the Hollywood Symphony playing drums and percussion to playing blues and gospel with Bourbon Jones and punk/funk with a group called Shave. He co-founded the group Fiya Bahl, which later became Delta Nove. But he was still searching for musicians that would provide a perfect fit for his talents and love for showmanship; in June of 1999 he found them.
.
Click Here for the Conclusion
.
Photos by Keavin Wiggins
Copyright 2002 Iconoclast Entertainment Group
All Rights Reserved by Copyright holders.