.


.

Greg Coates

Greg says that his love for music began when he was just a baby, he remembers a blue bell that hung over his crib that chimed when the crib was rocked, "This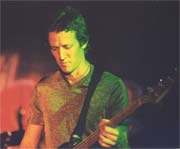 chiming planted the seed of music in my soul, needing nourishment and growth." Says Greg "From that point on I wanted to share the music I felt with the rest of the world." But it was Jimi Hendrix that would put rock n roll into his blood. He remembers hearing Hendrix's version of "The Star-Spangled Banner" on the Woodstock soundtrack and that set him on the path to rock. He started playing air guitar with a tennis racket to the likes of The Who, Hendrix and Santana. His older sister began taking him to concerts and his friends turned him on to bands like KISS, AC/DC, Queen, Led Zeppelin, Boston, and Pink Floyd.
Greg remembers his first attempt at playing music was trying to copy Keith Moon on a friend's drum set at the age of seven. Even before he entered junior high, he started playing the guitar and banjo; the seductive beckoning of music began calling his name.

Like Miley, Greg gained exposure to a wide variety of music at a young age ranging from classic rock to jazz and world music. In high school he played percussion, the upright and electric bass in the school bands as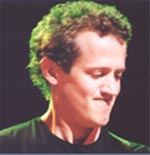 well as gigging with bands on the club scene. But it was Jazz that really fired Greg's musical ambitions, "Upon hearing Miles Davis' 'Bitches Brew' and a bootleg of a 1984 King Crimson concert, I was completely blown away." Remembers Greg years later. "There was an immediate and urgent quality to these improvisational recordings that inspired me to become a better musician." But some people close to Greg say that his real ambition was to be in Van Halen.
Before leaving high school, Greg had developed an amazing proficiency on the bass; his style owed more to the freeform feel of Jazz than the simple scales and modes used in rock and pop. Like the jazz greats that inspired him, Greg approached his playing of the bass guitar as a lead instrument, playing complex and musically intricate bass lines while most rock bassist settle for playing off the guitarist leads plucking out the root notes of chords and maybe adding a little flavor by playing the accompanying scales. Greg's exposure to Jazz and his early childhood love of bands like the Who and the Jimi Hendrix experience helped him breakout of the simplistic mindset of most rock bassist and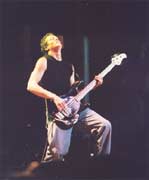 develop a progressive style that would mark his playing from then on. Even at a young age his talents were recognized, he won awards from the Lion's and Rotary clubs of the State of Michigan and the Louis Armstrong Award for jazz performance. He was firmly on the road to a career in music.
He didn't have to travel far to further his quest as a musician, in fact a source for his further musical education was literally just up the road, "At the time I was living in Kalamazoo, Michigan, home of the Gibson guitar factory. I was able to learn a lot about electric and acoustic string instruments from former employees who were building and repairing on their own." He also began writing, arranging and recording music with his best friend, Dave " Pot Roast " Hathaway.
After graduation from High School, Greg headed west to the college town of San Luis Obispo, California in 1994. He took his previous musical experience and found fellow musicians and began playing in bands, performing his original songs. For work he took the skills he learned at the Gibson factory in Kalamazoo and put them to use designing and building custom string instruments.

He stayed in San Luis Obispo for about a year and then decided to head south to the Los Angeles suburb of Long Beach with it's thriving musical and art culture. It was in the Long Beach music scene that Greg ran into a gifted singer songwriter named Brett Bixby, the two musicians seemed to be on the same page musically so they formed a band called twelvehourmary and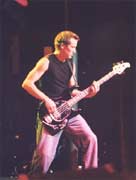 began playing shows on the Long Beach, Orange County and Los Angeles music circuits pursuing a record deal and stardom. After a couple of years Greg changed directions by becoming a music teacher, studio musician and jamming with a variety of bands ranging from classic rock, modern rock, jazz and even country. "My performances with these and many other groups led to showcasing for major record labels and publishing companies in Los Angeles and New York," remembers Greg. "Performing also led to national touring, creating a bit of a buzz around me. Constant gigging and studio work in and around the Los Angeles area led to calls from management and A& R representatives. My break came when one such representative called regarding a bassist without limitation."

The Birth of Bird3
Fate seemed to be smiling on Bird, Miley and Greg, in June of 1999 these three musicians joined forces to create modern rock's newest power-trio.

Greg tells the story of how he was first introduced to Bird "I drove to Hollywood to hear songs from a singer/songwriter named 'Bird' and was astonished by the variety, maturity, energy and simplicity of his songs. After jamming with Bird I was convinced I had found a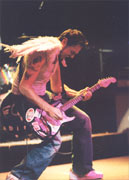 prime opportunity to stretch out musically and become part of a great band." There was only one hitch, Greg wasn't convinced that the drummer Bird was using was quite up to musical snuff for the band and music he envisioned would evolve from his partnership with Bird. Greg then remembered a gifted drummer he had known from the Long Beach music scene named Michael Miley. "I had known Miley from the Long Beach scene and realized I needed his versatile and dynamic style of drumming to form the rhythm section of 'Bird3'".
Previous to Bird3 Miley and Greg had made a pact to one day play together, once they had met Bird and heard his music they knew that this was the band they were destined to be part of. "We all played effortlessly together from the first downbeat; it was definitely magical." Says Miley of his first time playing with Bird and Greg. "They played me 19 songs and I thought the songwriting was untouchable; and, thankfully, Bird was down to earth. With his soulful, caressing voice and thick guitar tone, combined with Greg's power and musicianship on the low-end, I knew my job was to provide a relentless and sensitive foundation for, essentially, this 'power trio.'"
Bird reflects on that day, "The three of us jammed for like two hours and that was it. We all knew it was right from the first time, that it was just magic. It was like they were me on those different instruments. They play exactly how I would play. My songs sound the same now as they always have, but they now have a fire. These guys bring an awesome fire and energy and power to my music."
From there they began rehearsing and made their live debut as a band in January 2000 at the legendary Roxy on Sunset Strip. From that day a buzz began with several record company beginning to pay attention to this new power-trio from Long Beach. The band eventually decided to ink a deal with Immergent Records, a label launched by 5.1 Entertainment Group - a company co-founded by veteran producer Ken Callait (Fleetwood Mac).
For the recording of their debut album, the band went to A&M Studios in Los Angeles and then flew to Atlanta to record at the "Monkeyboy" studio in the home of producer Nick Didia who co-produced the album with the band and Richard Dashut (Fleetwood Mac, Elton John, BTO, Bob Welch). Legendary A&R man for A&M Records, Mark Mazzetti acted as executive producer with Nick Didia using his talents to mix the band's self-titled debut.

The resulting album had two distinct personalities. The first half of the CD is comprised of 5 surefire hit singles, from the modern rocker "Fit" to the Foo Fighter'esq "Mess" and the punk popish "Girl Next Door" to the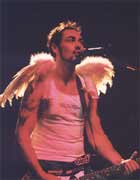 irresistible song about the agony of discovering you can not relive your youth, "Forgot Your Name" to the heartfelt ballad "Glow". Beginning with the sixth track "Air Crisp" the band explores its more progressive side mixing elements of The Who with the Smashing Pumpkins and progressive rock and jazz.

First Flight
Most musicians who really know their way around their instruments have a tendency to get locked into a virtuoso mindset and as a result their songs suffer. Sure they may be able to blow the minds of fellow musicians but the average rock listener is usually after a more cohesive melodic approach to songwriting. Bird3 provides the best of both worlds. Their songs have as many hooks as any top 40 hit but at the same time there is a solid foundation of world-class musicianship that gives the songs a musical integrity not found on most modern chart topping hit singles.

Their debut album was released in June of 2001 to critical praise, within weeks the momentum began to build as the band landed supporting slots on two major tours. They first hit the road opening for Veruca Salt, winning over fans from coast to coast. From their they joined The Cult, Stabbing Westward, and Monster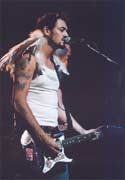 Magnet on the "Beyond Good and Evil Tour" mesmerizing audiences at every stop. After the Cult tour they played an unforgettable show at the House of Blues in Los Angeles where they upstaged headliner "Lennon"; after Bird3's high-energy performance half the audience left before Lennon could take the stage. Then last summer they introduced themselves to punk and alternative fans during a string of dates on the Vans Warped Tour.


The Long Flight Ahead.


Unfortunately, despite a wealth of potential hit singles on their album, thus far the band's label has been unable to come up with the muscle required to break the band on radio and thus expose them to a larger audience. That coupled with the lack of budget for a music video to break the band on MTV, the group has been forced to make their reputation on the road. While that may prove to be a blessing in disguise as the band's high energy live performances always seem to win the hearts and ears of those lucky enough to witness them, the band seems to be sitting on an untapped goldmine with their debut album, which could easily be a multi-platinum success if enough resources were devoted to breaking it. Sadly, very few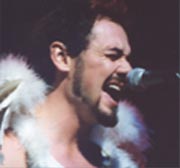 independent labels have the money or influence that the major labels do when it comes to breaking artists, even a label like Immergent, which has so many prominent music industry people involved with their operation. But you never can tell, a few years ago an independent startup label called "Wind-Up Records" managed to break their first release by an unknown band called Creed, with their debut selling over four million copies. So it can be done, it just takes money, promotion, talent and luck. The songs are there, it's now simply a matter of people hearing them and falling in love with this band.

As I write this the band is hard at work creating the music that will comprise their sophomore album, the new film staring American Pie's Tara Reid is about to be released featuring the band's song "Forgot Your Name" and the second single from their debut is about to be released to radio. So it is possible that in the coming months, Bird3 will break wide-open and gain the mass audience they so richly deserve.

I consider myself fortunate to have discovered this band when I did, like I said at the beginning they were the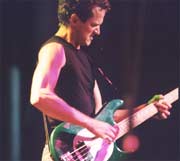 best birthday present I ever received. So if the gods of rock-n-roll are paying attention, March 21st 2002 is coming up fast and if I can have just one birthday wish this year, it is for the rest of the world to discover the magic of Bird3!


More Bird3
Visit the Official Bird3 Web Site
---
Listen To/Purchase Bird3 Music



Photos by Keavin Wiggins
Copyright 2002 Iconoclast Entertainment Group
All Rights Reserved
Keavin Wiggins is the founder and Managing Editor of the iconoFAN Network