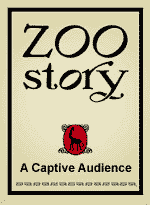 .
Every once in a while a new group appears on the rock scene that transcends the current status quo, who refuse to give in to trends and set out to quite simply make the best music they can. Zoo Story is one such band. Their breakthrough debut album encompasses so many different field of rock that it is impossible to pigeon hole them. I had the opportunity to meet the members of this remarkable group at their recent show at the Gig on Melrose in Hollywood. I loved their music from the first listen but I came away with a deeper appreciation of them as musicians after talking to them and witnessing their live performance. What can I saw these guys embody everything that is cool about rock. So I will leave you with the following transcript of my conversation with Zoo Story and be sure to use the links that follow so you can check out their music for yourself.
Zoo Story is:
Randy Coleman - Vocals/Guitar
Kevin Shepard - Drums
Carlos Rivera - Guitar
Nick Sample - Bass

The Interview:
RNW: Ok the obligatory question; how did the group come together?
Carlos: Fate, I believe.
Kevin: It was a situation where Randy and I used to play together in a band called "Yellow Belly" years ago. We've known each other since grammar school. And for whatever reason Yellow Belly wasn't meant to be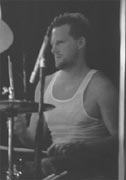 and we ended up going our separate ways. I ended up joining a band called "Radio Flyer" which then became "Tonic", I played with them for quite some time. Randy went off to go and study to get his masters in theater. I ended up meeting Charley, Carlos, who had just moved out here [L.A.] to go and get his masters at USC in composition. He happened to be best friends with a roommate of Randy's. I think what the story is, they were both like 'You play music', 'you play music, ok awesome let's try it'. I got a call one day and it happened to be at a time of my life it was perfect; Randy was like "Do you want to play on this recording we're doing?" And it was these two guys [Randy and Carlos]. I said "Of course, Absolutely" so me and Dan Lavery of Tonic went down and played on what became ultimately a demo. I think what happened was it just felt so right, we talk about that feeling of being a kid again, when you first start to play music and that fire that kind of grows inside you. It was ultimately; it was like we had to make this thing a band. In that process we needed a bass player obviously because Dan Lavery was with Tonic. We tried out various people and we talked to this guy at our label Jed Ojeda about needing a bass player and before we could finish the sentence he brought up Nick Sample's name, Who I had played with before at The Mint. Actually it wasn't at The Mint it was down at Santa Monica Boardwalk we did like a blues thing. I remember his name being mentioned and the first thing that came out of mouth was "butter". It's just like butter man, to play with and that's a really good thing for those that don't know.
Carlos: Melted Butter
Kevin: He came down and we played together. It was cool cuz we were like "Nick let's just jam a little bit, just kind of feel it out" and he was like "No, let's play the songs". From that moment on it all of us, you know the stories of how Zeppelin got into a room, they were just like "Oh My God", not to sound cliché but that's what happened. We were just like "This is what it's supposed to be".
Randy: It just all worked and it feels good too.
RNW: Now did you and Randy know you were going to play together again?
Kevin: No
RNW: You grew up together, did you guys every think you would one day play in a band together?
Randy: You mean after we split our ways in Yellow Belly?
RNW: Yeah:
Randy: You know I gave up music. I was kind of burnt out on the whole music thing, so I started pursuing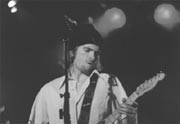 acting and I went back to school at Cal Arts and got my Masters Degree in Theater and really surrendered and gave up music. That's actually when I started to really write because I didn't care anymore; I wasn't writing for anybody, I was just writing for myself. By the time I finished Cal Arts I had two things. I had a master's degree in theater and some songs. I had just met Carlos so it was all very serendipitous. Kevin was on hiatus from Tonic. We got together and went into the studio with Carlos, low and behold about six months later Kevin left Tonic and we've been playing together ever since.
RNW: You took your name from the Edward Albee play, what attracted you to that name?
Randy: I just like those two words. I came up with the name; it was name I had remembered from Cal Arts. To be totally honest, I hadn't even read the play yet. I've read it since. I just said, "What do you guys think of Zoo Story?" Because it seemed like every one-word name that we came up with was taken. So I said all right let's get two words then. I just thought, well what about Zoo Story, and after a period of time people started to dig the idea of it. And um [pause]… I love it because the zoo to me is a place where you know, the dichotomy of the zoo it's a place that brings people together it's also kind of a prison for animals, yet they are also helping the animals. It has that dichotomy, that duality. And the story that's really up to you, how you want to perceive, what your zoo experience is.
RNW: How does your songwriting process go? Is there one chief songwriter?
Nick:: Randy is the main writer. As they were saying we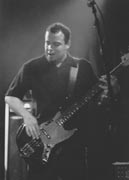 then bring the colors and the brushes to the canvas. He tells us what he's looking at and we start painting the picture.
Kevin: Thing that's great about this, I think I can speak for everybody, there hasn't been a time where he's brought in something and one of us has gone, "I don't get it, I don't really know what to play." It's been like, he brings it in and we all start naturally playing to it and it becomes a song. I think for me personally, his writing, his voice, the whole thing just strikes a chord within me. I naturally play the way that he's writing. So it's been cool, it's been really great.


Click here for the conclusion


Keavin Wiggins is the Managing Editor of the iconoFAN Network
Live Photos by Keavin Wiggins Copyright 2001 Iconoclast Entertainment Group. Logo and album art Copyright Zoo Story / 3:33 Music Group. All Rights Reserved by Copyright holders.