Back to Part I
RNW: We talked about this a bit before I turned the tape recorder on, Mantaray has a bit of a middle eastern feel to it. Was that intentional?
Carlos: No, Mantaray if anything is a riff that Randy kind of came up with in a sketchy way and I helped define it but it was more like aÖ for some reason it just fit the song really well. Shoot, I donít know.. Randy?
Randy: Yeah, I brought in this riff. For me since I not so technically schooled in music, I just hit the guitar and start playing, if it sounds good to me, I bring it to these guys and we work with it. It think it was, unbeknownst to myself, I think it took me awhile to realize that that riff is in 6/8 and the song is in 4. But that riff is in 6, or 3 right?
Carlos: Yeah itís 6.
Randy: Which I think is kind of fascinating, king of cool. I remember these guys, both Kevin and Charley didnít even want to put the riff in the song.
Carlos: Thatís because it was so short at one point.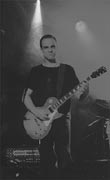 Randy: They were questioning it. It actually kind of pissed me off cuz I really (everyone laughs) .. that was really part of my vision for the song.
Kevin: Weíre still trying to get rid of it.
RNW: Thatís a great way to start the album, it just grabs you right from the start.
Randy and Carlos: Great!
Kevin: Keavin, thanks man, thatís great to hear.
RNW: Now with your music, I tried to pigeon hole you guys into one area but youíre like the UN of music, you go from one genre to another. What were the main influences there?
Randy: Were you successful?
RNW: The closest thing I could come up with was the harder edge of Tonic mixed with U2.
Randy: You see my favorite bands, the bands that influenced me were bands like Led Zeppelin, Queen, The Beatles, The DoorsÖ these were all bands that to me you could not pigeonhole, they were bands that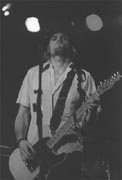 were very hard, very edgy and very rock and then they would have accessible pop tunes and they would have songs that had Eastern influences, Classical influences, Jazz or Blues. So my thing is, I love eclectic bands; bands that bring in different influences but there is still that core sound that makes them who they are. Thatís what I try to achieve with these guys in this band.
Kevin: Those bands were all bands that 1) we grew up with 2) they crossed genres. I mean absolutely had no fear about putting out a country song and a rock song on the same record or an operatic song on the same record. To me, that gives the kind of depth that makes listening to their albums a journey, which is what always struck me and was always the best thing for me about music. I donít think we set out thinking we want to achieve this kind of thing. Itís been pretty much organic in that the music just kind of takes on its own life. We just bring to it whatever we have.
RNW: Is that why you guys decided to go with a record company like 3:33 because they give you more artistic freedom, not like the major labels saying ďHey you gotta do this kind of music.Ē?
Randy: I really liked 3:33 because our music spoke to their hearts and they werenít just seeing dollar signs.
Kevin: And also we had such a great experience with them. Itís one of those things, you hear a lot of people complaining about their situation with the record company but you know I think weíve taken on the attitude that we are exactly where we are supposed to be at this time. Itís much bigger than we are and the second we start thinking weíre bigger then it we are probably done anyway.
RNW: Favorite Tracks from the CD?
Nick: Gorgeous has been mine for a long time.
Carlos: Iíll take gorgeous, right now.
Kevin: I just love it, the music. I donít even look at it anymore as individual songs; I love it.
Randy: I would say ode to the rock star .. When Blind Sympathy first came to me, we called it rock star but it became Blind Sympathy.
Kevin: One of my favorites isnít even on the record. Itís a song called shallow. Weíve got quite a few that hopefully will make it on the next record.
RNW: A couple more and Iíll let you go. [to Randy]You guys capture a real visual sound by that I mean your music conquers up a lot of images in the mind when you listen to it. Did your theater background really help in the songwriting process?
Randy: I would have to say absolutely. Anything in terms of striving to find a deeper truth, expressing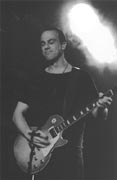 yourself as an artist; whether that be painting, acting or singing I would definitely say that Cal Arts definitely helped me find my voice and helped me find my vision.
RNW: Ok, last question. Any major tour plans?
Carlos: Weíll find that outÖ
Kevin: You give us a major tour and weíll go.
Carlos: Exactly, thatís our major tour plan.
Kevin: Weíre finding that out in the next couple of weeks. Weíre just getting a plan going. Weíre all about taking this and playing it for as many people as we can.
RNW: Any dream tours you guys can think of?
Carlos: Opening for the Beatles reunion tour.
Kevin: U2 would be a great tour.
Randy: Iíd love to open up for my hero, Bono.
Kevin: The thing about this music to me is it kind of goes back to the whole thing about crossing genres, I think we could play with a lot of different people and it would be a cool show.
Nick: Opening up for Sting wouldnít be too bad either. (At this point the bandís publicist walks on stage and asks us to wrap it up since the band was set to start in a couple minutes.)
RNW: Alright guys, thanks a lot and good luck with the album:


The Full Zoo Story
Visit the Official Zoo Story Web Site
---
Listen To/Purchase Zoo Story's CD
CD Will be in Stores on July 24th.

Keavin Wiggins is the Managing Editor of the iconoFAN Network
Live Photos by Keavin Wiggins Copyright 2001 Iconoclast Entertainment Group. Logo and album art Copyright Zoo Story / 3:33 Music Group. All Rights Reserved by Copyright holders.