Back to part I
.
RNW: Cool, letís get into the album. Can you tell us a little about each song letís start with ďLeft BehindĒ

James: ďLeft BehindĒ thatís the Dave Smally, Down by Law positive to the core, the really cheesy but itís basically really summing up what weíre done as a band for the past year. I think those lyrics are awesome because I take everything weíve done really personally and thatís kind of like a pick me up kind of song, driving nine hours to play to three people sucks, it that kind of song to get us through that s***.

RNW: ďBelle SaidĒ?

James: ďBelle SaidĒ is just about stupid girls who say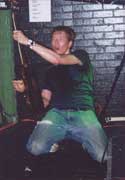 they are gonna do a lot of s*** and just donít put up or put out which ever one you want (laughs)
RNW: Iím sure a lot of people can relate to that one!
(laughs)
RNW: ďJust WonderiníĒ?
James: A cheesy pop song about meeting a girl at a show and itís like there is no bones about that one, it is what it is.
RNW: Thatís your first single isnít it?
James: Yeah
RNW:That my favorite track on the CD.
James: Cool man thank you.
RNW: ďMak it up to YouĒ?
James: Thatís a song Bob had to do with those lyrics and canít really say what thatís about. Thatís his stuff, I donít know.
RNW: ďJust a SongĒ?
James: ďJust a SongĒ, that song had a lot of different, we had a lot of different takes on that song. We kept changing it but eventually it turned into kind of a really cool metaphor about a girl who is cheating on her dude. Kind a like a girl that cheating on her dude with all these guys, itís another like cheating girlfriend.
(laughs)
RNW: Lot of experience with that! ďRunaroundĒ?
James: That song sounds really dark but itís actually a real positive song. Itís about this girl who gets f***ed around by this guy and the song is about how she is trying to prove herself to the world.
RNW: ďNo Free RidesĒ?
James: I imagine thatís about a girl! Who would think?
(laughs)
James: Thatís more of a relationship song. Itís about how the girl is stringing the guy along and we got some good metaphors in there about the disparities of the relationship.
RNW: ďOne DayĒ?
James: thatís just about not getting old, just being a young suburban terrorist kid hellion, f***in s*** up. Itís just about staying young.
RNW: ďCan't Slow Me DownĒ?
James: Thatís about being on tour and not like letting past heartaches get in your way. Itís like a f*** you to anybody thatís dicked you over in the past. You know being a girl or (laughs) being a whatever itís just like a real positive f*** off song.
RNW: ďAlong for the RideĒ?
James: Thatís about us driving around kind of like trying not to wreck the van and stuff (laughs)
RNW: Ah just partying on the road?

James: Yeah just partying on the road. We booze it up a lot after shows and itís just kind of like, I have to say that sometimes we do the unthinkable thatís drive while weíre under the influence. So itís kind of like, Thatís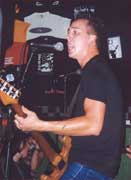 bad I know but it happens. Itís about how it happens and how it sucks..
RNW: Ok Iíll make sure to leave before you guysÖ
(laughs)
James: No itís bad, donít do that!
RNW: ďHello November A.MĒ?
James: A.M. is just the country version of the F.M. basically weíre big fans of country music we wanted to do something in that genre of music and we thought we could pull it off as a country song and itís worked we were able to do it.
RNW: ďHello November F.MĒ?
James: F.M. is the pop-punk version of the A.M. Thatís just about how I was taking a walk in my neighborhood at two in the morning, it was one of those soul searching kind of walks where you discover things about yourselfÖ Whew that was hard..
RNW: Oh youíve never gone through the songs like that before.
James: No and itís hard cuz sometimes you just canít explain it.
RNW: We like to break down the songs cuz people like to know.

James: Yeah, Iíd like to know that about bands I listen to and I can imagine asking some bands about their lyrics. I canít imagine what they would say, like ďf***
Off!Ē I canít tell you what thatís about, cuz I donít know Iím just putting words together that fit.
RNW: Like asking Robert Plant whatís Kashmir all about?
James: (laughs) yeah and the Immigrant song, Jimmy can you relate this to me? (laughs)
RNW: What do you guys have in store next? The album comes out later this month.
James: The album comes out September 18th (rescheduled to be release Sept 25th) then touring, touring nonstop. Weíre really excited about having a full body of work and taking it out to people. The next year weíre just gonna work, keep touring and THEN kind of sit back and see what have we done in the past year. We canít even question that now, weíre still like such a new band to a lot of people.
RNW: Final question. I use this in all of my interviews. What do you want people to take away from your music.
James: Just a good time, you know. If they can read more into it and actually walk away with something more thatís good but if all we can give them is a good time, thatís fine with us.
.
More River City High
Visit the Official River City High Web Site
---
Check out the Big Wheel Records' website for more info, tour dates and sound samples
---
Listen To/Purchase "River City High Won't Turn Down"
---

antiGUY is the editor in doubt for antiMUSIC.com

Live Photos by Phil Dis Copyright 2001 Iconoclast Entertainment Group. All Rights Reserved.