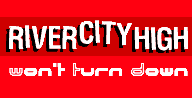 By antiGUY

.
For this edition of Melody Makers we are going to take a look at River City High. These Richmond Virginia rockers are already making a name for themselves with their melodic mix of their classic rock influences and todayís pop-punk scene. They deliver high-energy shows everywhere they go (which is pretty much all over North America at the moment!). Their full-length debut ďRiver City High Wonít Turn DownĒ hit stores in September and is already introducing fans from across North America to the bandís addictive sound. We recently caught up with the band when they played Chain Reaction in Anaheim, Ca. I had a chance to talk with frontman James about the band and the new album, so read on to learn more about the band and then use the links to check out more on the band and the new CD!


RNW: How did River City High Come together?

James: Me and Mark played in come Richmond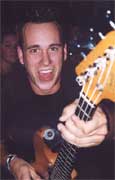 [Virginia] bands. We were fans of each others bands and basically once those bands kind of died out we knew that we needed to be together and play rock and just attack it full on and thatís what happened. We are destined to take over the world together I guess.
RNW: Where did the name come from?
James: River City is basically Richmond, itís on the James river and were to trying to think of what we could do with it. Like River City what? We thought that River City High would be a pretty cool name. We are basically paying homage to Richmond.
RNW: Whatís the Richmond music scene like?
James: Itís awesome man, there an abnormally large amount of talented people and Richmondís such a small town that itís really strange how it works out, there is like a lot of bands that start there, so many influential bands, more bands that actually get big. There are more bands that people pay homage to that are like from Richmond. There were all kind of bands that died in the 90ís that people use as a reference point now.
RNW: Possibly the next Seattle?
James: (laughs) We always thought that it would be. In the mid 90ís it was like the cool scene, we thought it was like for sure at least the next Berkley. It just kind of died out but now there are about five or six real strong bands that tour a lot out of Richmond but itís not as strong as it was in the 90ís.
RNW: Who are your main influences? Besides Zeppelin?
James: Zeppelin would be a huge influence, Bob Segar, Tom Petty. We like a lot of rock, like American Rock n Roll, you know. We also listen to a lot of punk rock and we make sure we listen to a lot of Rock n Roll because thatís what we love. The Beach Boys, Beatles you know.
RNW: What about the punk-pop scene, like Blink-182?

James: Yeah you know what as a band we got the new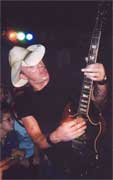 Blink-182 and the new FenixTX at the same time this
summer and we were f***in blown away by both of those albums man. They are so good. The FenixTX album is f***in awesome!
RNW: Yeah, I saw them a few months back. Actually it was right here. (Chain Reaction in Anaheim, Ca)
James: Did you see them? How was it?
RNW: It was awesome.
James: I saw them on the Warped tour, I was so stoked man! That album is f***ing awesome! The Blink album is great, so much better than there other albums. They are at their peek at everything right now.
RNW: I heard a rumor you might be playing some shows with them [Blink-182]
James: Weíre doing some support slots, weíre really excited about it.
RNW: How would you describe your music to someone who has never heard it?
James: Umm, just poppy rock n roll.
RNW: Like Power-pop?
James: Yeah power-pop. Itís hard to see out of the box youíre way too subjective.
RNW: So you guys werenít aiming for a certain genre to fit into?
James: No it just kind of like happened. I just say it was good if anybody asked! (laughs)
RNW: You guys have been on tour nonstop for the past year or so.
James: Yeah weíre been on tour like crazy.
RNW: You played with Juliana Theory, New Found Glory and the Warped Tour. What was the most memorable tour?
James: Juliana Theory is f***ing awesome. Those guys are like our best friends. Theyíre blowing up right now. Itís perfect for them, right now, this is their time.

We were like so happy to be along for the ride. It was such a cool tour, those guys are amazing musicians their awesome. The New Found Glory tour, that was awesome, incredible, that was right when they were breaking big. There was like over a thousand people every night, we were just as blown away as anyone else was with how many people were there. It was really cool watching them like come of age, like watching them realize all the work that they have done come together at one time. That was exciting as hell, man.
RNW: Any shows stick out in your mind? Any one show?
James: We did our first headlining show in Pittsburgh a few weeks ago and over 300 kids came and that for us was like really really exciting, it was really cool. Also the last day on the Warped tour we got to play the main stage. That was insane dude! 15 thousand people, you know you canít f*** with that! It was so huge!
RNW: That was the biggest show youíve done so far?
James: Thatís the biggest by far.
RNW: We almost had someone covering that Pittsburgh show but she had to cancel out at the last minute.
James: Which one, the one that we played?
RNW: Yeah.
James: Oh that show was awesome dude, that show was great!
RNW: Ok, did the constant touring help you guys out when it came time to record the new album?
James: Oh God yeah. We went from being like a kind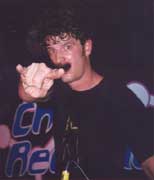 of like disjointed songwriting kind of thing to like a tight four piece rock n roll band. We know each other so well that it comes through in the songs and everything the band does. Like being together, being in each otherís heads all the time helped out in the studio, made everything go smoother. The songs came in different ways then we ever thought possible because we knew each other a lot better.
RNW: What is your song writing process like?
James: It changes all the time. Sometimes we jam a song out at practice. Sometime me and Mark, me and Mark wrote half the album out by ourselves. We have a bunch of different methods and they all work equally as well.

Continue

antiGUY is the editor in doubt for antiMUSIC.com
Live Photos by Phil Dis Copyright 2001 Iconoclast Entertainment Group. All Rights Reserved.