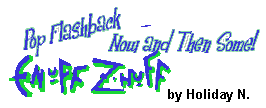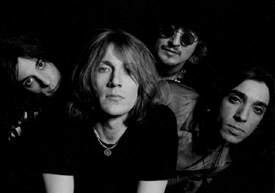 For any talented rock band to stay alive throughout such a vicious backlash that was the rock world in the Nineties is a commendable task. To do it by releasing 10 albums in 11 years, touring constantly without major label support, and all while keeping the main core and body of the band and its music intact is almost unheard of. Chicagoans by birth, and most likely, eventually by death, but most decidedly British at heart, Enuff Z'Nuff have consistently been a rock and roll factory since 1989, gaining their share of hard luck stories. Mixing power pop savvy with unavoidably foot tapping Beatlesque hard driving rhythms, their soaring consistency has continually won over even the most jaded of critics and fans from all walks of life.
Anchored by Chicago's very own "Odd Couple" of rock, Donnie Vie and Chip Z'Nuff, Enuff Z'Nuff have painstakingly carved their niche in the music world over the last 11 years. They have done so by becoming brothers with a do or die tenacity. As with all good teams, they have learned to roll with the punches by exploiting their strengths, while constantly trying to at least round each other's weaknesses. They seem to be constantly playing an almost comedic "good cop, bad cop" routine while keeping an eye and a true rein on each other like the siblings they have grown to be. They continually have exuded a sense of deep love of working together over the years no matter how deep the lows were, or how blurry some of the highs seemed.
With Chip's almost fatherly—if your father happened to be Keith Richards—laidback attitude, he has always been more than happy to be the band's PR man. One, however, gets the feeling when talking and dealing with him that he's sincere, and has seemed to have long dropped any act that you seem to find with younger bands. A true love of what he does combined with a wisdom from experience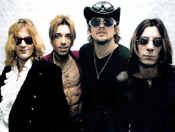 really seem to emanate from him. Always quick with a warm genuine smile, even when he's hurried, and always a few minutes to chat with any fan, who often refer to Chip's speaking voice as legendary. He strives hard to constantly make sure the band is giving back a bit to the fans, handling the business for the band from his home, which lends him the air of being the more stable one in the band. He does let loose once in a while with a penchant for shocking people, although in a mild, mostly non offending way. (He has been known to show up on occasion in a dress, for example, or wearing odd feather boas and different looking hats.) Everyone gets the message that he's just having fun, and being, well, Chip.
Donnie, however, tends to be somewhat of an enigma. Sharing Chip's penchant to shock people, Donnie's casual offhanded, sometimes biting remarks repeatedly unflap the unflappable, yet he always leaves the group surrounding him laughing, usually after turning the joke on himself. Exit Donnie, stage left. He is a rock star, and will not let you forget it. Spend a minute alone with him, somewhat away from the music and the industry, though, and you see that an entirely different Donnie is always lurking just beneath the surface of that clownish stage persona of his. An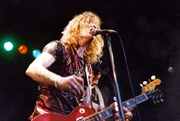 uncharacteristic shyness seems to envelope him at times. Glimmers of the man who writes those soul wrenching love songs, blistering harmonies, and genius sharp tongued commentary peep out at you, catching you always when you least expect them.
His songwriting genius lay in his ability to step into others' shoes and write from original and intelligent viewpoints consistently. The constant insecurity and anger that is a foundation of his frantically paced songwriting and determined drive partially stems from the fact that even after eleven years, and ten albums, and more accolades than you can shake a stick at, he and his bandmates can barely get arrested in the blue collar neighborhood the band grew up and still reside in. Ignoring the neighbors and plowing forth, while being lauded as the songwriting masters of crunchy pop rock/metal, the blue collar duo have over time played each other's differing personalities, playing "good cop, bad cop" to the hilt, pushing ever onward with a dizzying pace of a discography and smoking live shows.
In a world nowadays with all of the blaringly dominant American commercialization and constant loops and samples in music, listening to Enuff Z'Nuff's music, from the pumping melodic guitar driven rock to its melancholy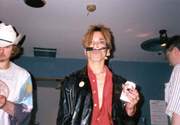 wistful piano, both always coupled with brilliant beautifully harmonized beautifully sung lyrics, is a completely fresh breath of air. Throughout the last decade, they have continued to make music driven by both their frustration and their undying belief in their own talent. Their music constantly draws on their own experience along with images and sounds past, combining the thrilling pop harmonies of the Beatles and Queen with the crunch of their hometown heroes Cheap Trick and even borrowing a thing or two from David Bowie and Sweet, among others. Songwriter Vie's always relevant, emotionally charged lyrics and inspired piano playing reminiscent of Burt Bacharach and Elton John, coupled with bassist Z'Nuff's solid trademarked bounce reminiscent of a guy named Paul on the 4, 8 and 12 string bass have kept this band up and running throughout the Nineties. With trends changing practically minute by minute in this instant gratification world, this is a band that has stuck to its guns, thumbing their noses at anyone who dare dismiss them.
Starting with their debut eponymous album released by Atco in 1989, the critics stood up and took notice. As David Wild said it best in Rolling Stone, the album's catchy lyrics and pop metal sensibilities dared to ask the
question, "What if the Beatles were a horny, hard partying hair band?" Despite the acclaim and some commercial and MTV success, their glam rock look belied the amazing dynamics of their sound, and many people made the mistake of lumping them with other bands of the day. Sales weren't disastrous, but were not what Atco had hoped for.
In 1991 their follow up album "Strength" was almost a double album, weighing in with 18 tracks, that really showcased the band's burgeoning abilities.
Powerfully produced and beautifully well rounded, it seemed the band had toned down their glam style and enjoyed some success again with touring and radio play of their singles "Baby Loves You" and "Mother's Eyes". Rolling Stone once again gave them a nod and proclaimed them Best New Artist of 1991. The album's thunderous critical acclaim, however, wasn't enough to satisfy the higher up executives at Atco. With the proliferation of grunge running rampant in the industry, sales were not what the label had expected once again, and amidst a company shake-up, Enuff Z'Nuff was dropped from the label. With so much chaos surrounding the band, personalities began to erupt. The cliched rigors of rock and roll were starting to take their tolls and cracks were starting to emerge within the band.
It was during this turmoil that they were knocked by the blow of losing their drummer, Vikki Fox, who jumped ship in 1993 to join forces with Vince Neil's short lived solo band. The band quickly joined forces with a new drummer, the charismatic and solid drummer Ricky Parent, the band embarked on a short lived deal with Clive Davis and Arista as their next label. Their next album "Animals With Human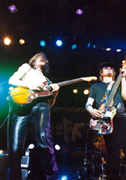 Intelligence" was once again applauded, and was often referred to "criminally underrated" by many members of the press and the band's colleagues alike. The psychedelic crunchy album garnered many fans, such as Slash, then still with Guns and Roses, making an uncredited appearance on the album, playing sitar on the stoner track, "Takin' A Ride". Robert Plant even spoke up and told MTV at the time that he thought Enuff Z'Nuff was the perfect blending of pop and metal. The album, however, had no virtually airplay, crucial mistakes in the marketing plan were made during a time when airwaves were clogged with grunge and pop acts. At the time, the single "Right By Your Side" sounded out of place, although a powerful and moving song. Enuff Z'Nuff, in complete disgust with the whole industry, asked to be released from their contract. Arista willingly let them go, seemingly glad to be rid of them. Now, it seemed, there was no place anywhere for Enuff Z'Nuff in any scene, as in 1994, whiz kid guitarist Derek Frigo, son of the respected jazz violinist Johnny Frigo, also left the band amongst strife and rampant drug use. Once again faced with having to look for a new member and a new record deal at the same time, and with rock being declared dead at every door they knocked on, Vie and Z'Nuff struggled to comprehend and come to grips with what had happened to them over those short turbulent years.
The frustration was spilling over to their personal lives, and amidst divorces and addictions, they somehow managed to release "1985", a collection of old songs they had recorded years earlier. The album had a decidedly different flavor this time around, calling on good Sixties' Motown. Again, to the angst this time of the fans and the band, more good reviews, but lacking sales. Distributed through indie label Caroline, and released on their own label, Z'Nuff was getting more savvy in their industry ways. Having been demoted from the majors, the Z'Nuff camp, who were now joined by old friend Geno Martino on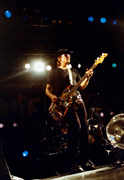 guitar, hankered down in the studio. Then in 1995, driven by their frustration, and throwing themselves into their music to chase away the demons, the band seemed to start to come out of the fog that had surrounded them for so many years. Donnie locked himself away in the studio for days and weeks on end, honing his craft, concurrently suffering from a deep depression of sorts over the worrisome fate of his band. From this depression, creative spurt, call it what you will, exploded the dark recesses and crunchy deeper vein of "Tweaked" that only had been glimpsed in brief shining moments in the band's repetoire up until that point. The album was the first with the indie label, Mayhem. The press and the fans were wowed by the gritty, stripped down steeliness of the album. The bouncy "It's Alright" balanced by the plaintive "Has Jesus Closed His Eyes", the whole album's different feel convinced the fans to be patient, as there was now clearly more in store for them ahead. If there was ever a question about Enuff Z'Nuff sticking around at that point, the band was now sending out a resounding "HELL, YES!" as their answer.