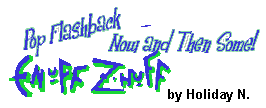 The band, longtime fans and industry supporters lifted their hands in frustration this time, as the promotion on this turning point of an album could not have even gotten the band arrested at the time. The frustration of seeing British acts such as Oasis, The Verve and Supergrass reaching dizzying heights on the charts, while Enuff Z'Nuff was trying to figure out how to keep themselves going seemed almost to be an insult. Great critical reviews now seemed to almost mock the band. The band struck out on a tour, but with little tour support or promotion, it was a rough time in the band's history. It seemed at times, their only crime was being too good, or having ever having had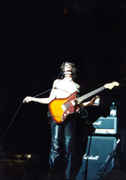 a past. Once again, the band went through another lineup change, they lost their guitarist Geno, and replaced him with Jon Monaco, or as fans now know him, just Monaco. His local playing in a band called "Pinch" caught the band's eye, and when they heard his voice, and realized he could sing backup, and do so well, he was in. His humourous, sarcastic but harmless bulldog personality rounded out the band as well.
The band had taken a few years to master the indie ropes, trying again with the "Peach Fuzz" in 1996 on Mayhem, again a critically successful collection of older songs and demos drawing again on influences such as Sabbath and the unavoidable Beatlesque vibes, as well as punkier vibes such as Bowie. Early the next year, they had a bit of a break that almost was, when after the acceptance of their bluesy "Bring It On Home" off of the band's '93 release "Animals" for the movie soundtrack of Cameron Crowe's smash movie "Jerry Maguire". The song was used, but later cut out due to time restraints, although the band did retain a credit in the titles at the end of the movie.
In 1997 the band put their studio expertise to use again, going behind the console to record the eclectic but definitely low key, experimental "Seven". The album previously known in Japan under the moniker of "Chip and Donnie", titled 'Brothers'. It seemed that here they were starting to finally relish their freedom and gain their confidence again in the indie circuit. It was a backhand of their own for those who still thought of them merely as a one hit wonder glam band. They were definitely bravely running towards their influences instead of away from them on this album. Bucking their stereotype, the album's selection weaved widely. An acoustic country song "Clown on the Town" graced the set list, as well as a nod to The Psychedelic Furs with "I Won't Let You Go", and the haunting "It's No Good", drawn on from Donnie's real life problems with his girlfriend at the time. It seems that while their overall style never appeared to change drastically from album to album, the diversity that the boys easily pulled off live and on the albums was definitely becoming a cornerstone of the band, and becoming more and more solid and undeniable with each release. Their cult band status was not to be denied now, but unfortunately, still lacking tour support and promotion, touring was at a minimum, and plagued with problems.
Still, they had managed to get good recordings at some of their shows over the years, and released "Live" in 1998, their requisite live compilation that had been recorded in the band's glittering heyday in Philadelphia in 1990. Again the release was trumpeted with the same old song and dance of little or no promotion anywhere yet solid reviews, with the dutiful exception of Japan and the folks at Pony Canyon, their Japanese label. 1998 was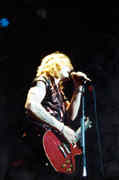 proving to be a busy year for them. They once again sequestered themselves in the studio and emerged arguably their strongest showing to date. With help from hometown heavyweight industry friends such as James Young of Styx fame, longtime friend and influence Rick Nielsen of Cheap Trick, and grunge rock superstar Billy Corgan all adding to the mix, "Paraphernalia" was the seeming overall confirmation that Enuff Z'Nuff DID rock, and rock right up there with the best they did. Busting at the seams, its fourteen tracks were stacked high with powerful beats, dripping with talent. From the opening circusy strains of "Freak" to the eerily Cobain-ish "Save Me", the album was an all out assault on the industry, mocking it with a sense of "Is that all you've got?" Clearly and strongly emotive, yet sharply written, and with the almost butterflied feeling one would get riding a great big rock and roll roller coaster, this LP churned with an newfound energy that had been long time no see in the Z'Nuff dynasty.
Charged with the knowledge that they had completed one of their masterpieces, they released the album in Japan, and quickly savored a tour of the island of the sun to a series of sold out shows. Returning stateside, they quickly inked a deal with Spitfire Records to release the album. Upon release in the US and the rest of the world in 1999, with plenty of advance reviews screaming their praises and amazement in the little band that could, the album briefly made a foray in to the Billboard 200 chart upon release. That was something the band had not seen since their days in the majors. Buoyed on by that promising sign, the band radiated a new confidence and tightness in their live shows stateside, and with all of the signs finally pointing towards an industry-wide softening towards melodic rock and pop metal, things appeared to be looking up for Enuff Z'Nuff.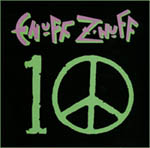 Hungry for their next big break from the industry, and certainly not a band to sit back and rest on their laurels, they have confidently charged back with another new album, "Ten", an album previously released on Pony Canyon in Japan. After their long and storied history, fans cried out, it was almost too good to be true. Another writing feat for the boys from the South Side. A renewed push in promotion has been helping the band recently ease more into the spotlight again, recently filming a video for 'There Goes My Heart', their first single from "Ten". While again enjoying some radio play in Japan, they're also gaining ground again in the movie soundtrack industry. Their song "Wake Up" from the new album is set to be included in the upcoming quirky comedic suspense movie starring Stephen Baldwin entitled "Dead Awake". The movie is currently in production and is set for a release early next year.
With the industry now poised to make a huge push for British rock with bands like Supergrass and Travis waiting in the wings, as well as the already underway industry push for the techno/house club culture that seems to seeping in, it's a Newer Wave British invasion of all sorts that everyone's been gearing for. In the imminent upcoming years, how ever many trends may come and go, I am sure Z'Nuff will still be still in Blue Island writing and rocking away, running from whatever demons it may be chasing them. Donnie will, I'm sure, be still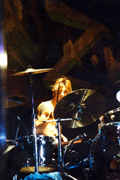 singing in the best Lennon-esque voice this side of Julian, and Chip will be warmly greeting the fans, the press, anyone who wants a minute, in that endearing gruff south side accent of his, bouncing merrily away with his bass. Ricky will be off charming the pants off the girls in the front row batting his sticks as easily as he bats those criminally beautiful eyelashes of his, while Monaco will be easily furrowing his brow as he nails the underharmonies of each and every tune, effortlessly flinging off a solo at the same time. Hopefully, at the end of every show, they'll go back to the old days, as they work out the last drawn out orgasm of their live extended version of their "New Thing/Revolution/Fly High Michelle" medley for their blistering, throbbing gasp of an encore. Rock dead? I don't think these guys are listening to the hype.
The Band:

DONNIE VIE
Singer, Lead Guitar,
Slide, Harmonica, Piano


CHIP ZNUFF
1962 Hofner "Beatle" Bass,
Guitars, Singer


RICKY PARENT
Drums and
Percussion


MONACO
Lead Guitar
and Magic
Want more Enuff Z'nuff

Visit the official home page for news, reviews, real audio, videos, mp3's, pictures, tour dates and more!

Listen to Real Audio for every Enuff Z'nuff Song!

Credits:

Holiday is a staff writer for the iconoFAN network.
Photos Courtesy Enuffznuff.com
Live Photos by Kumiko "Tootsie" Ishida.

illustrations by Misako Hasegawa