from Zeppelin to Dreamland
by Keavin Wiggins

"We come from the land of the ice and snow, from the midnight sun where the hot springs flow….Valhalla, I am coming." Like the mythic subject matter of the Led Zeppelin classic, Robert Plant's unmistakable talent and falsetto howls has placed him among the few musical artists that have made their indelible stamp on music history and helped change the course of rock n roll.
Despite being dismissed by the press during the 12 years of their reign as the biggest rock band in the world, Led Zeppelin made a spiritual connection with the people who really mattered, the fans and helped usher in the age of hard rock. Their heavy blues offered a counter balance to other legendary bands of the day like Black Sabbath, in helping to broaden the scope of what was acceptable in hard rock. For over thirty years Robert Plant's distinct and powerful vocals provided the inspiration for would be vocalist and garage bands the world over. The mix of Robert's high register vocals, Jimmy Page's beautifully distorted blues riffs, John Bonham's merciless drums and John Paul Jones undeniably mesmerizing baselines were the combination that was needed to produce a legendary band whose influence and impact on rock can still be felt and heard today.
With the release of Robert Plant's new album "Dreamland" it provided a perfect opportunity for us to take a look at his career and the road he traveled to become a "Legend".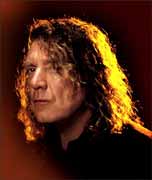 Robert Plant came into the world on August 20, 1948, in a post war ravaged England. Biographers set the city of Robert's birth as West Bromwich, Staffordshire; a rural suburb of Birmingham. It is notable that another man who would also use his vocal power to put hard rock firmly on the musical map, Ozzy Osbourne was born a few months later in Birmingham. Unlike Ozzy, Robert was not raised in the bleak blue-collar city itself but instead was brought up in the more rural suburb of the industrial city, in a town called Kidderminister, that was located in the heart of the west Midlands, an area sometimes referred to as the "Black Country".
At the age of 13, Robert discovered the new form of music that was making its way to England from across the Atlantic, a style of music adapted from rhythm and blues better known as American Rock N' Roll and the king of the new art form Elvis Presley. Within a couple of years Robert was belting out the blues with Birmingham musicians at night while apprenticing to become an accountant during the day. The latter, a vocational path encouraged by his parents who frowned upon Robert's desire to be a rhythm and blues singer. Fortunately for music fans the world over, a quiet life full of ledgers and balance sheets were not to be Robert's destiny, his heart and desires were elsewhere-- He wanted to make rock n roll!
Robert left home at the age of 16 to pursue his dream, he later reflected on this period of his life in Stephen Davis' biography of Led Zeppelin Hammer of the Gods, "I decided that if I didn't get anywhere by the time I was twenty, I would pack it in. Of course it didn't really matter what happened because I wouldn't have packed it in anyway. The whole scene was amazement, enlightenment, a total trip out. You just cannot reproduce those moments… You can't give up something you really believe in for financial reasons. If you die by the roadside—so be it. But at least you know you've tried. Ten minutes in the music scene was the equal of one hundred years outside of it."
While on this quest for stardom, Robert was involved with a number of British blues groups but it was in one called "The Crawling King Snakes" that he would meet a drummer who would not only become one of his closest friends but would also join him on the same path to superstardom, his name was John Bonham.
Over the next few years Robert and Bonham (affectionately called Bonzo by his friends) would work together in other bands. Robert was searching for the perfect vehicle to achieve his dreams but it proved elusive for some time. He did make first professional recording with a band called "Tennessee Teens", who recorded a cover of the Rascals "You Better Run". The single was released by CBS records but didn't reach a large audience. CBS also released a couple of singles under Robert's name in 1966 and 1967 but they to failed to make him a star, despite landing in the top twenty charts in Birmingham.
After that, Robert made a brief foray away from the blues and into the "San Francisco" sound with his group the "Band of Joy", which would go through three incarnations; for the third lineup, Robert called upon his friend Bonzo to play drums and from that point on Bonham and Plant were joined together in a pact of music and friendship. Although the Band of Joy enjoyed some notoriety and even broke out of the Birmingham scene and played clubs in London, the group was short-lived and Robert and Bonzo briefly went their separate ways.
Robert joined a group called Hobbstweedle who derived their name from fantasy author J.R.R. Tolkien's "Lord of the Rings" trilogy. It was in Hobbstweedle that Robert caught the attention of one Terry Reid, a man who then told the Yardbirds guitarist Jimmy Page about "The Wild Man of Blues from the Black Country". As fate would have it, Page was looking to fill the vacancies left in the Yardbirds when rest of the members quit, leaving him with the task of recruiting an entirely new group if he wanted to carry on . Page was looking for a talented vocalist to front his group and the blues belter his friend Terry Reid described sounded like a perfect fit. So Page went to the "Black Country" to hear this vocalist perform. He was blown away by Plant's vocals and stage presence but was weary to take him on because something obviously had to be wrong with his personality since he had not already become a star. So Page asked Plant to spend sometime with him at his flat back home and they both discovered a mutual respect for the blues and folk music. More importantly, they hit it off personally as well. The band needed a drummer still, having hired the studio musician John Paul Jones to fill the bassist slot and Robert recommended his friend John Bonham.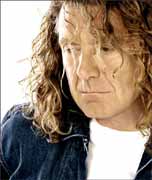 When the four musicians got together in the same room to play for the very first time they later described the experience as magical, as if they knew from the first few notes that fate had brought them together to make music. They initially went on the road as "The New Yardbirds" to fulfill an obligation Page's previous band had committed to before their break up to tour Scandinavia. But during that tour they knew they had something far different than the psychedelic blues of the Yardbirds. They sounds was heavier, in ways more primitive and in other ways more dynamic than the brand of blues the Yardbirds had become famous for. The group needed a name and Jimmy remembered a name that came up in a conversation between the Yardbirds road manager Richard Cole and Keith Moon and John Entwistle of the Who. At the time of the discussion that took place at the "Salvation" disco in New York, Moon and Entwistle were burnt out on the whole scene with The Who and were talking about the desire to form a band with Jimmy Page and Steve Winwood. Entwistle joked "Yeah. We'll call it Lead Zeppelin. Because it will go over like a f***ing Lead Balloon." Laughter followed and Cole told Jimmy about the discussion later. So when the time came to change the band's name from The New Yardbirds they finally settled on "Led Zeppelin" after short stints as "Mad Dogs" and "Whoopee Cushion". Legend has it they changed the world "lead" to "led" so that Americans wouldn't pronounce the name "Leed Zeppelin".
Because of Jimmy Page's experience and reputation from working with the Yardbirds and as a studio musician, Led Zeppelin didn't have to take the normal route of playing gigs to secure a record deal. They really had their choice of record companies to go with, and they settled on Atlantic who offered them an unheard of amount of creative freedom.
They did, however, play several dates in England that received a lukewarm reception from the crowds. The British fans just weren't ready for Led Zeppelin's thundering power chords and Robert's blue-eyed blues wails. They were used to the subtler blues vocal styling of Steve Winwood, Peter Green and Rod Stewart, who were all big stars by that time. But across the Atlantic a whole generation of fans were looking for something new and powerful to counter the "flower-power" music that their older brothers and sisters subscribed to. Even before Led Zeppelin's first album was released in the States, the band embarked on a successful tour of the US, winning over fans at every stop. Thus began Led Zeppelin's meteoric rise to superstardom. After conquering America, they returned to England where many British fans had caught on to the Led Zeppelin magic and erroneously thought that they were in fact an American group.
The young Bonham and Plant took to the mayhem on the road like a moth to a flame. The first few tours were sated in decadence and a debauchery that would become legendary. Led Zeppelin's first album was hit, although critics at the time didn't know what to make of the group, they couldn't see the writing on the wall that a new superstar group had hit their shores and were the mark of things to come. Zeppelin's use of heavy blues in the music and mythological imagery in the lyrics endeared them to millions of fans who were seeking music that spoke for them and the mentality of the "me" generation that evolved as a result of the hang-over from the hippies "flower power" they followed. With each subsequent tour and album, Led Zeppelin's star rose higher and they became the most popular rock group of the 70's.
Page and Jones were both veterans of the music scene and were older than Bonham and Plant. Robert's youthful exuberance eventually gave way to maturity as he literally grew up on the road with Led Zeppelin. The road to superstardom was not all easy for Plant, who would suffer two tragic loses that would forever change him. In July of 1977, at the height of their reign as the kings of rock, Robert's son Karac died from a severe respiratory virus. That loss was really the beginning of the end of Led Zeppelin in many fans eyes, as some whispered about a "curse" that had been placed on the band and they speculated that Jimmy, Robert and John Bonham had sold their souls to the devil in order to become an overnight success and the devil had began to call in his marker from the bewildered musicians. At the time, Jimmy Page dismissed these rumors and accused those who spread them of having bad taste. But at that point the twine that held the group together began to unwind. The cost of success, which led to money, power and fame, also burnt a path to addiction and excess which would soon take a deadly toll on the group.

Photos Courtesy Universal Music
Copyright Universal Music - All Rights Reserved by Copyright holder.