from Zeppelin to Dreamland
by Keavin Wiggins

Return to Part I of the special
On September 25, 1980, Robert suffered the second great loss of his life. His best friend and bandmate John Bonham was found dead in a bedroom in Jimmy Page's house in Windsor, England. The cause of death was later attributed to alcohol poisoning; the night previous to his death John had consumed over "forty measures" of Vodka during a twelve-hour period and had choked to death on his own vomit. Bonham's death struck a devastating blow to Robert, Jimmy and John Paul Jones. They decided they could not in good conscience carry on Led Zeppelin without Bonham and dissolved the group. (editors note: you really have to respect them for this, the history of rock is filled with bands who tragically lost members but were never same. They could have continued but it wouldn't have been Led Zeppelin without Bonham)
It took Robert two years to officially get back on a musical track. In 1982 he released his first solo album "Pictures at Eleven". Divorcing himself from his past with Led Zeppelin, Robert solo direction showed a remarkable change in style from the wailing vocals that so characterized Led Zeppelin. His more subtle approached proved to work well for him, yet some diehard fans were disappointed in the mellower temperament Plant employed. On the other hand, it also made Robert's music more accessible to those that found Led Zeppelin's music too loud or too heavy. To the critics, Robert's approach to music wasn't so much removed from his past like he was trying to reinvent himself; instead they viewed the change as coming from a more mature and experienced Robert Plant.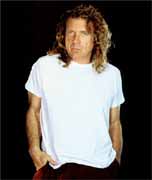 For his second solo album, 1983's "Principle of Moments", Robert continued on his path away from hard rock to a more mainstream melodic rock. The album's first single "Big Log" became an instant hit on MTV with its accompanying video being aired night and day on the new cable music channel and the single landed in the American Top 20. The second single, "In the Mood" really demonstrated that Robert had undertaken a new musical path. In the eyes of fans and critics, the soulfully melodic mid tempo "In the Mood" marked the real turning point for Robert musically. For those who early on dismissed his vocal talents, they were silenced when they heard this more eclectic side to Plant, who proved he was comfortable showcasing his voice and ability in diverse ways.
While "Principle of Moments" was riding high in the charts, Robert returned to a project he had began in 1981 to delve into the roots of rock and R&B. That project called The Honeydrippers, featured Robert on vocals and a variety of guest musicians including Jimmy Page, Jeff Beck, Nile Rodgers, Paul Shaffer (David Letterman Band), Wayne Pedziwiatr (John Lennon, Carole King, Michael Jackson), and Dave Weckl (Chick Corea's Elektric Band). In 1984, the only Honeydrippers recordings were released in the form of an EP titled, "The Honeydrippers, Vol. 1". The EP spawned two hit singles, the first one a cover of the old Phil Phillips R&B standard "Sea of Love," which climbed to number 3 on the American pop charts and the second single, a jump-bluesy number by Roy Brown called "Rockin' at Midnight," also became a hit. To support the Honeydrippers EP, Robert teamed up with a group of notable musicians to embark on a tour. The touring lineup included among others the Stray Cats' Brian Setzer. However, the Honeydrippers was a short-lived project for Robert who soon returned to his solo career.
In 1985 Robert once again changed directions with his third solo album, "Shaken 'N' Stirred". While his first two albums contained more mainstream-minded music, Robert became more experimental with his sound on this album, dabbling in elements of sythn-pop and new wave, a direction that won the ears of musicians but left most fans confused and yearning for more "hits".
Three years later Robert returned with an album closer to his rock roots with "Now & Zen". He seemed to have come to terms with his past as the Led Zeppelin frontman and instead of running away from the style that made him a star he once again embraced the rockier side of his musical personality. This translated well to fans and critics alike. As a result the album produced a hit single, "Tall Cool One", that even featured Jimmy Page on guitar. While the music on "Now & Zen" wasn't nearly as heavy as Led Zeppelin's, it did follow a similar path and fans that had matured since the heyday of Led Zeppelin found Robert's brand of rock on the album appealing. Critics agreed and many to this day believe that this was Robert best solo effort.
Robert carried on with the return to his roots with his 1990 album, "Manic Nirvana", which included a collection of songs in the same rocking style as "Now & Zen" but the album somehow didn't quite match the intensity and contrasting subtly of the previous album. While it was a worthy release for Robert, the songwriting fell a bit below expectations and the album failed to match the success of "Now & Zen".
In 1993, Robert took another twist in the musical road with the highly reflective and folksy "Fate of Nations". The album contained perhaps some of the most introspective lyrics that Robert had ever written, especially in the song he wrote about his late son Karac called "I Believe". Robert pours his heart out to all who will listen but he doesn't fall into the trap of appearing overly sentimental. The rest of the album is marked by semi-political rantings by Plant, thus the title "Fate of Nations". This would also be the last solo studio album that Robert would produce for almost a decade.
Now we come to the present, after surviving the ups and downs of fame, fortune and misfortune, Robert Plant now returns after a nine-year absence as a solo artist with a new studio album called "Dreamland".

With "Dreamland" it appears that Robert wants to leave his mark on the various music styles that had made an impact on him during his lifetime. Listeners get the full spectrum of influences and amazingly Robert adapts them so well that they don't sound contrived or borrowed, but as natural as when he used to wail the blues with Led Zeppelin. The album's mix of pop and world music gives it a broad appeal, much more so than Robert's more rockin moments. Plant covers a lot of ground including his roots in the blues with "I Believe I'm Fixin' to Die" where he gives us a modern interpretation of the delta blues as well as on his cover of "Hey Joe", where he takes a more folksy blues approach to the song than has ever been attempted before. It's doubtful that any other vocalist could pull off such a task, but Robert seems to accomplish what he set out to do on this album, which appears to be a desire to write a love letter to the music that has been so near and dear to him through the years. He also pulls off a rather convincing cover of Bob Dylan's "One More Cup of Coffee," where he truly takes the song as his own. His more experimental nature comes through on the pensive "Win My Train Fare Home" and he wears his heart on his sleeve with an amazing ballad performance on "Song to the Siren", a definite highlight to Robert's solo if not his entire career. While most artists who survive so many years on the music scene seem to get caught in a cycle of rehashing themselves over and over again, Robert Plant demonstrates on "Dreamland" that he still continues to grow musically even to this day; so his legendary career moves ever onward as Robert's story continues to unfold before our eyes and more importantly our ears.

Visit Robert Plant's official website for more information as well as details on his new album "Dreamland"
Listen to samples from "Dreamland" and Purchase it online.




Photos Courtesy Universal Music
Copyright Universal Music - All Rights Reserved by Copyright holder.