.A Wake Up Call For Those Who Said It Couldn't Be Done: Fisher Proves It Can!
by Debbie Sealge
.
click on photos for full size image
.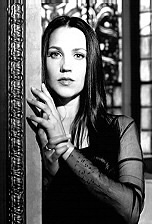 The internet music community, as it struggles through its infancy and develops into its adolescence, has seen its share of controversy and continues to struggle for a respected place in the music industry. The fact remains that the cyber world - the Rocknworld – is growing and changing as it opens up doors to bring music lovers (and purchasers) closer to music makers. Unlike print publications, when you read about a new band, or even a classic favorite on the internet, you can also hear the music, see the musicians and interact with them and your fellow fans. So, when I heard about the Fisher success story, it was no surprise to me. It just confirmed what I already knew about the power of the Rocknworld and the perseverance and dedication of talented musicians. Its an unbeatable combination!
Fisher is, perhaps, the first band to gain a fan base and get radio air play solely based on their presence on the internet. Without even having a record deal, or a full length CD, this hard working duo of Kathy Fisher and Ron Wasserman got wise to the opportunities on the internet and put it to work for them. Placing songs on MP3's website, their song "I Will Love You," a classic piano love ballad, became the most downloaded song on the site with over 2 million downloads. It caught the attention of an afternoon drive DJ in Southern California, who downloaded the song and played it one afternoon on a hunch. The result was amazing. The radio station was flooded with questions about the song and requests for more air play. That was a turning point for Fisher, an artistic pop band who's style is sexy and soulful. There were fans clamoring for a CD, but there was none. Enter Farmclub/Interscope, who recognized the star potential behind this act and inked a deal for their first major label CD, "True North." Due out originally in the beginning of 2001, the production was stepped up and the CD was released in November of 2000 to meet the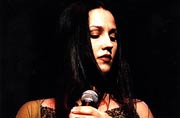 tremendous demand. Presto, the first recorded internet music success story! Sounds easy, huh? Not so! Don't you know that nothing in the music business is that easy? I knew you would want the inside scoop on this victory we can all take a little pride in, so I arranged to meet up with Fisher after their appearance at a holiday charity concert. I think you'll enjoy the insight into this musical couple's journeys on the road to your attention . . .

(Debbie Seagle for) Rocknworld: One of the things that Rocknworld really was founded on was the premise that more people need to be able to discover new talent and new bands. So while we do cover some really established bands and do interview with them, what we really like doing is introducing our viewers to new talent.

Kathy Fisher: God bless ya!

RNW: But, a lot of times we have a problem covering acts as a dotcom, because a lot of times record labels or radio stations will just say "No dotcoms, only print publications."

Ron Wasserman: "We don't want any more advertising! Don't help us!"

KF: "Don't help us promote our act! Go away!"

RNW: Yeah, exactly!

RW: Well we run into some amazing barriers ourselves. I'll give you one quick example. Kathy did the commercials for Verizon (wireless phone service). To the point of where so many called in, because the commercial ran for, like a year, that they had to hand out little scripts to 8,000 service reps. Which we didn't believe, so we tried it, cause I'm on Verizon. So I dial "611" and I say "That girl who's in your commercials . . ." and they say (in a very rehearsed tone) "Why, that is Kathy Fisher and you can get more . . ." and they give the web site. Yet, we tried to contact Verizon and said can we please put up the 30 second spot of the song? Its written by Felix Cavalera . . . "People Everywhere Just Want To Be Free." And we said can we please just put the song up and we'll say it's from the Verizon commercial cause people want to download it. "NO." We get 200,000 hits a month. "NO." So you just shake your head.


Continue

.
Photos by Debbie Seagle. All Rights Reserved.