.A Wake Up Call For Those Who Said It Couldn't Be Done: Fisher Proves It Can!
by Debbie Sealge
.
RNW: Well, we were particularly pleased to hear of your success in promoting your band on the web. Now whose idea was it to go that route?
RW: Ooo-ooo-ooo, that was me! (waving hand over head).
KF: That was Ron!
RNW: I read just a brief biography on your web site. Now, by the way, (pointing to Ron) are you the shy one?
RW: Yeah, I was, but I'm over it.
KF: Yeah, NOW he wants equal footing. NOW!
RW: I still would never put my picture in a CD or have much focus on the video.
RNW: Cause you need that mystique?
RW: No, you know. Its, I'd rather look at her.
RNW: You do make a lovely couple.
KF: He doesn't want to get in the way of my sexuality.
RNW: Oh . . . okay.
RW: Oh, is that what it is?
KF: No, its Ron's theory that you want to see the cute chick on the cover and you know, you don't want some guy going "Over here! Me, me!"
RNW: Are you at least in the liner notes?
RW: She thanked me.
KF: Yes, I did.
RW: I'm a big Pat Benatar fan.
KF: Yeah, you don't see Pat Benatar's husband Spyder posing on the cover.
RNW: Yes, but they have kind of a cool thing going.
KF: They do!
RW: They've got a smart thing going. And the marriage has lasted and the relationship has been very good for them, I think, because, you know, they know their place.
RNW: So (Ron) it was kind of your idea to put things on the web?
RW: It was kind of a necessity. It started because back in 93 I was doing the music and the songs for the show "Power Rangers." And so, a friend of mine said, "You know what? You should get America Online because there's a whole message board about you and you should go interact with these kids." So I signed up and it was a 9600 baud modem I bought. It was soooo slow. But I went, and all of the sudden I started getting a tremendous amount of fan mail.
RNW: There's a world out there!
KF: Fan mail from Power Ranger fans. They called him the mighty Ra.
RNW: That's hard to live up to.
RW: I mean, these kids were deep. Its weird because you have to be real . . . you can never once, like the kids who would be obnoxious, you could never say "Get off my f***ing back!"
KF: Because they're 10.
RW: Right, because they're 10 and that will be the FBI agent.
RNW: Yeah, the under cover person out there looking for you.
RW: So I saw the importance, kind of had internet access, and would just use it once in a while. But the main reason I thought it would be great is because a; I saw that this music thing was about to explode online, and b; shows in LA for us cost like $1,000 to $1,500. Cause we have to hire three other guys, we do all the promotion, clubs in LA are extremely abusive, so we said this is a much better way. I mean, basically, it was free.
KF: Free promotion.
RW: And it was great, so when we finished the indie record and we were sending out for the first 1000 copies, I just started scouring the net, like 12 hours a day, and decided if a front page loaded in 15 seconds, and if you could navigate your way through, we'd put our music on it. I just knew it was going to take off – not us, but I knew the music thing would.
KF: Well we had already had a small taste of it because we had a cut on the "Great Expectations" sound track, and we were the only unsigned artists on the record and Atlantic didn't pick up our option at the end to sign us and give us a deal. They put us on an option for a year after the record came out. But during that time, they had a web site for the "Great Expectations" sound track, so we were like, you know, we should do a little modest site and link to theirs. And that's when we started getting some emails saying "Hey, where's your CD?"
RNW: Did the "Great Expectations" site link to you?
KF: Yes, they were nice enough to do a link to our little modest two page site that just gave basic information. We started mostly emails from Tori Amos fans who bought the sound track because she was in between records and they were hungry for more Tori. And they were like, wow, bought it for Tori and I heard your song, where can I get your full length CD? And we said Ah! We don't have one! So we got enough letters . . .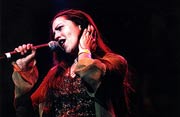 RNW: You better get busy!

KF: Then the big change came when one of the big/top Tori Amos sites in the world did a link for us and did a little feature, and then they all really started coming in. And this was enough to motivate us to go ahead and press like a 1000, but up until then we hesitated because the people we knew that put out indie records were people who just couldn't get a deal to save their lives and the records ended up sitting in their garages for 10 years. You know, no one bought them. So, we didn't want to be that. We either wanted to have an audience that we knew wanted the CD or we'd rather not put anything out. So we got enough requests because of "Great Expectations" experience and once things got rolling on the internet, once Ron planted all those seeds all over the sites, email just started escalating and escalating.

RNW: And that's the key and that's one thing that we like to do. And when I do a column on a new artist, we'll tell readers about the artist, we'll give them places to go to listen to cuts off the CD, we give them the tour schedule and we link back to the artist web site. Then we find their message boards and we tell them to come on in and look at this, route them all back to the artist so these relationships can develop. And that's the great thing about the web. You are able to do that.

RW: Oh it's amazing. We were just gone for 12 days. We hit like 12 cities in 13 days. It was nuts. We came back and finally we got DSL – haven't had it until the day before we left. Why didn't I get it sooner?

RNW: So you are flying at warp speed now?

RW: 485 emails and just I'm really a fast typer now. There were like, 85 junk, but I answered 400 emails. Stayed up late after a radio show in the morning, an almost seven hour flight back from Boston.

KF: I answered five and paid my bills. (laughs)

RNW: First things first, right?

KF: I'm a little slower than Ron.

RW: You get much deeper emails.

KF: I know, but I thought we would need electricity when we got back from the next trip, so I was a little preoccupied.

.

Continue

.
Photos by Debbie Seagle. All Rights Reserved.