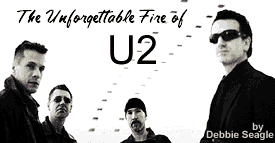 .

"What I like about pop music is its pure joy, and in the end it's harder to make ecstatic, electrifying music. It's the hardest thing in the world. We surrender too easily to the blues. We, if we're not careful, are bleeding allover the world. What's striking about our Eighties music is, it's ecstatic a lot of the time - as gauche as we sometimes came across then."
- Bono
Rolling Stone Magazine, January 18th, 2001


It is said that the journey of a life time begins with the first step, and so this tale begins, in Dublin in the mid 70s, when a young drummer placed an ad on a bulletin board at Mount Temple Comprehensive School seeking fellow musicians interested in forming a band. A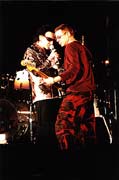 young and ambitious Larry Mullen Jr. was soon to meet with destiny when he was answered by bassist Adam Clayton, a guitar player named Dave Evans (The Edge) and a scrappy upstart named Paul Hewson, now known to the world as "Bono." What they were to form in those early days has been a partnership, a corporation that has lasted over 20 years and has been devoid of the classic public arguments, egos and unrest that fans have seen in other long term bands. The reason is simple. U2 is a band based on respect for each other and for music. Drawing on the energy of punk, progressive politics, charismatic Christianity and their belief that with rock music you can change the world they permanently stamped their names in the rock and roll history books.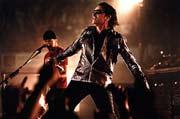 After Mullen's call to arms, the group united and began their artistic collaboration by playing the clubs around Dublin. By 1978, the foursome was making enough waves locally to attract manager Paul McGuinness, who went into debt to support the band until they were actually able to sign their Island Record contract in 1980. Their debut album, "Boy" in 1981 was a wake up call to the world and produced their first anthem, "I Will Follow."
Instead of following the popular flow of music, U2 took it upon themselves to create that flow and continually reinvent themselves throughout their career. A look at their catalog sees them coming full circle with styles that began with Their big arena sound anthems (even before they were playing big arenas) and later infusing electronica and dance influence, hip hop and even techno rap. With their latest release, "All That You Can't Leave Behind," we see the circle meeting where it started - with strong melodies, meaningful lyrics and rhythms that seem to give each song a life of its own - a heart beat. Coming back down from the pop pinnacle to the bare essentials has opened the door for this new century of musical meanderings.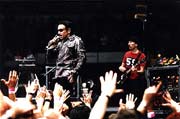 Here is a look at the U2 time line. Where do you come in?
Fall of 1976: The band's four original members, along with Edge's brother Dik, form a band first called "Feedback," then "The Hype."
March 1978: CBS Records finances The Hype's first studio demos; Dik leaves the group, which changes its name to "U2."
December 1979: Billed as "The U2's," the band plays to nine people in Islington, U.K.
March 1980: Island Records signs U2 to its first international recording contract.
February 1981: Rolling Stone proclaims U2 "The Next Big Thing."
March 1981: U2's full length debut, "Boy," including the single "I Will Follow," is released in the United States.
November 1981: Propelled the the single "Gloria," U2's second album, "October," enters the U.S. album charts.
February 1983: U2's "War" album, featuring "Sunday, Bloody Sunday," enters U.K. charts at #1.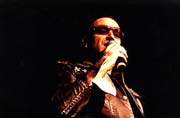 June 1983: The band records a gig at Colorado's Red Rocks Amphitheater; a recording of the show is later released as the live mini-album "Under A Blood Red Sky."
May 1984: U2 teams with producers Brian Eno and Daniel Lanois to record "The Unforgettable Fire," which includes the radio hit "Pride (In The Name of Love)" and becomes U2's first platinum album in America.
July 1985: The band performs at Live Aid to raise money for famine victims in Ethiopia; Bono dances with a girl in the crowd, a breech of the rules that not only inspires an award winning sculpture, but wins the band top honors for Best Live Aid Performance in Rolling Stone's reader poll.
April 1987: The Lanois and Eno produced "Joshua Tree" hits #1 in the United States; the album achieves diamond status (sales of 10 million) in 1999.
Spring 1988: U2 wins Grammys for "Best Rock Performance By a Duo Or Group," and
"The Joshua Tree" is named "Album Of The Year."

Continue