Back to Part I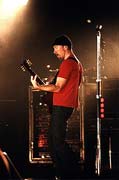 November 1988: Director Phil Joanou's full length tour film "Rattle & Hum" hits theaters around the globe.
November 1991: Originally titled "Hansa Ton," "Achtung Baby" is released, marking the band's third teaming with Eno & Lanois; singles include "One" and "Mysterious Ways."
Summer 1993: "Zooropa" is released; exiled author Salman Rushdie joins the band on-stage at London's Wembley Stadium.
Spring 1997: Weeks before the release of "Pop," the band announces its forthcoming tour dates with a press conference and performance at a Manhattan K-Mart store; ratings for an hour-long ABC TV special on the band are disappointing.
May 1998: U2 performs a Belfast concert supporting the Northern Ireland Peace Accord; the band also appears on an Irish TV fund raiser for victims of the Omagh bombing.
February 1999: Bono receives a Brit Award for his international support of the Jubilee 2000 campaign to cancel Third World debt.
Fall 2000: "All That You Can't Leave Behind" is released.
Spring 2001: U2 comes back to the Grammy winner's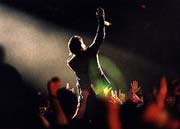 circle with Record Of The Year, Song Of The Year and Best Rock Performance By A Duo Or Group on the strength of their single "Beautiful Day."


Career Turning Point:
Although the band has had many monumental album releases and have earned respect for Bono's campaigns for tolerance and international debt relief, It is agreed by many fans and industry insiders that "The Joshua Tree" spawned such masterpieces as "I Still Haven't Found What I'm Looking For" and "Where The Streets Have No Name" and marked the band's musical summit, second only to the commercial success of "Achtung Baby."


What Are They Doing Now?
Still riding the crest of the wave, U2 are touring the United States at this writing and bringing their "All That You Can't Leave Behind" album to the masses.
This collection of tunes, with their uplifting beat brings the message that there is always something to live for, even in your darkness. It speaks to a love of life and includes a special song ("Stuck in a Moment You Can't Get Out Of") that was written for the late Michael Hutchence. It is an argument between someone who is committing suicide and his angry friend. The smash hit single "Beautiful Day" has taken 2001 Grammy awards and propels U2 into the next century with out a single rest stop.

Who is U2?
Bono: Vocals
Adam Clayton: Bass
Larry Mullen: Drums
The Edge: Guitar
Do you want more U2?
Purchase "All That You Can't Leave Behind" and other U2 music online!
Visit the official U2 site for all the latest plus extensive history and photo archive.

Debbie Seagle is the Special Features Editor for the IconoFAN Network.
Live Photos by Debbie Seagle - Copyright 2001 Groove Quest Productions. Logo photo courtesty U2 and Interscope All Rights Reserved by the Copyright holders.

Contest
Your Turn
Fan Speak. Post your thoughts and comments about U2 or discuss what makes them legends?
Fan Speak:

Posted by Komel "U2 Twin" Malhi:
U2...make life worth livin....
---
Posted by Bono:
The music. No one else sounds like them.
---
Posted by Megan McClure:
It has been said that great artists find their own color and paint it to the world, and this is what I feel U2 have done. U2 have discovered their own color, and have spent over 20 years adding shades and tones to it, but never forgetting its original essence. Coming out of the post punk era, with the belief that their friendship and musical/philisophical vision really could change the temperature of the room, they fused together elements that were considered "uncool"at the time, like using their limitations as advantages, believing in the 60's notion of rock n roll being a positive force in the world, and their experience of charismatic christianity to infuse the rock n roll airwaves with hope peeking out of the darkness and postive rebellion. Their music and lyrics powerfully connect to the human condition and speak of man's desire to be physically, mentally and spiritually whole. It's a pretty tall order for a rock band, but I believe in U2's 25 yrs of existence..they have come the closest out of the myriad popular artists in this world to fulfilling this order.
---