I'd like you to meet Dan Lavery of TONIC By: Debbie Seagle

RNW: You just play it in your sleep now . . .
DL: "Yeah, exactly. I certainly can, but its one of those things where I wanted this record to come out the way we wanted it to come out. I really donít give a f*** whether its critically acclaimed or whether people who arenít TONIC fans like it. I want to hear that the TONIC fans are happy with us. That weíve done something, that they still hang in there with us, and the feed back weíve gotten lately . . . we get a lot of email and its all really good."
RNW: One of the things that I always do before I talk with somebody is I kind of lurk around the web. Because if I want to find out about somebody, I find thatís the best place to do it. Because the fans know every move. They know whatís going on, whatís coming up tour wise, everything. So, Iíll go to message boards and mailing lists and just start watching them, looking around. One of the senses I got from TONIC fans is that they think its absolutely incredible that you guys email.
DL: "We do it man. We take hours sometimes of free time and the email has quadrupled. Its increasing still, so I definitely hope that we can continue to do it. I know that people write me back and say 'I canít believe you responded to me.' and I write back and say 'Look man, I respond to everybody, just please understand when the responses get short because I have very little time sometimes.' Sometimes I have a dozen emails or something and I have an afternoon of doing nothing, Iíll write them back a page."
RNW: That means a lot to people, it really does. And Iíve noticed that a lot of bands are now really paying attention to the interaction with their fans. A lot of guys will do a tour diary, which I think is great and I love reading those. I think fans enjoy reading what happens behind the curtain as much as they enjoy what is in front of the curtain. They like to know that the people they admire are real people.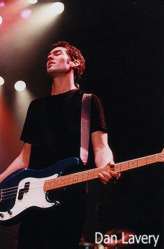 DL: "The internet is actually a little bit prohibitive for some of that stuff, because whatever you do, it can be read by millions of people the next day. So, its a little bit scary actually. Itís funny, sometimes you get email back from people who are amazed you write them, other people comment a little more intelligently, like wow, did you ever think you would be able to talk to people who admire you? And its very interesting. I wrote them back and said 'yeah, I would have been afraid to write Paul Stanley back in that day.' I didnít admire them as much musically as I thought they were f***ing ROCK STARS and I wanted to be them and do what they did. Another funny aspect of email is when someone will say 'You guys are so cool, you write back, no other band has ever written me back. Can I send you a photo of the Goo Goo Dolls and have them sign it and send it back to me?' And Iím like, oh look, Iím being as nice as I can here, but I canít bother the Goo Goo Dolls!"
RNW: What do you think are the differences between the two albums and are these differences an evolution in your writing and playing styles?
DL: "Absolutely thereís some change. I think its still definitely based on, once again, the most important thing being song writing. We tried to make sure the song was always the most important thing. What ever we did musically was to support the song itself. But its important to note, obviously, that the rhythm section is completely different. I played bass and wrote on this record as well as sang and I wasnít on the first record. Our drummer left at the end of last year and we hired the guy who was in my old band to play drums, so we have a rhythm section with history, but its not a history with TONIC. Itís kind of like a whole different band. At the same time, with Emerson being the primary song writer, the melodies, the melodic influences of all the songs are along the same lines. Definitely as players weíve all matured after two and a half years on the road playing together. We had a lot of life experience to write about, things to be happy about, things to be bitter about, things to be sad about. So the album, in my opinion, has a little sense of maturity. Even in the production, producing ourselves, one of the things we tried to do was create a little more air, leave a little more space. The first album was a really hard hitting, jam packed rock and roll album. This one is still a big rock sound but I think it has a little more space to it. Put a little more thought into an easier atmosphere."
RNW: It gives you a chance to be a lot more creative and not give yourself any boundaries. It really comes across. I understand the band started out doing acoustic sets in coffee houses. Do you think that you might ever return to those acoustic roots, maybe do an acoustic album?
DL: "It probably wonít be the next one. But I can see it happening. I mean, we go to radio stations and those two guys play acoustic and I play shaker and sing background vocals. And it sounds pretty cool, we donít mind that at all. So, weíve been asked to do some acoustic sets at really small clubs. Back home thereís an Irish bar around the corner we play at."

RNW: I love the Irish folk influence in your music, its a really cool sound. During the changes with your record label I understand you put out your own CD, a live CD that was pretty cool. How do you think electronic interface, not just with fans but with the music industry itself, has changed the way musicians plot their careers?
DL: "I think its actually become a little more challenging. Now fans arenít necessarily satisfied with just a band that they get the CD of, and they see the booklet for two years, or how ever long until the next record. In our case it was three years. That live EP that we did on the internet was also an enhanced CD, so it had videos on it, it had screen savers, all this different kind of stuff. I think that fans now have expectations like that and links to the web site. Like, I want to go to the bandís web site now that Iím a fan. I want to see them live, I want to see what they have to offer beyond just the music."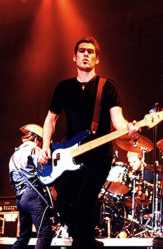 RNW: And youíve got to have a killer web site.
DL: "Youíve got to have a killer web site, youíve got to have some video on there, pictures, youíve got to have stories from the road, some kind of insider info. you canít get unless you are a fan. I think its definitely more of a challenge, but technology will always move forward and to fight it is crazy. You got to figure out how to work with it."
RNW: Have you (not the label) picked the singles for Sugar yet, and do you participate fully in the creative process for the videos?
DL: "The label probably has the strongest say in what the singles will be, but the good thing is, so far weíve come to a consensus - the band and the management and the label always agreed. The band, and myself personally, I love to ask the opinion of all the people on our team because I respect all their opinions. I want to hear what everybody has to say. Thatís how we try to make our collective band. Thatís the way things should be. When we were asked to put "You Wanted More," the first single off the new album, on the American Pie sound track, we were like, we love that song but we donít hear it as a single. Months later its still playing on the charts and weíre really very thankful that they didnít listen to us."
RNW: Sometimes youíre too close to it. You can be too critical of yourself or maybe a little bit the other way around.
DL: "You have to know when to step back and let somebody who you really respect as an expert, let them do their job. Along the lines of that, weíre constantly trying to get more and more involved with the creative process of everything we do. You asked about videos. The first video we really just said you know what, weíre going to do the video that we want to do. Went to the label, at the time it was A&M/Polydor and told them our ideas. We wanted to be on roller skates, with tuxedo t-shirts and have all these vignettes coming down this crazy street. Weíre going to ask Mick Fleetwood to be in it. They were just like, this is so f***ing insane, we love it. So we actually co-directed that video with someone who was the director of photography and we got really involved. It was like the most infamous we could be in that people in the industry, the head of the label of A&M came down and joked with us like 'Iíd like to have you guys direct all my videos.' So definitely get involved in the creative process for videos. We relinquished that director control to the same guy who co-directed us on "You Wanted More." You find people you like to work with, who understand your creative process and then you work a lot better and you still feel as involved."
RNW: I would like to think that they give priority to what you were thinking when the song was being created, what you wanted to get across and what you see as the visual part of that. I think a lot of people, especially if its their first video, they donít get to do that and thatís sad.
DL: "Even on the second CD, we had a lot of latitude. We were able to produce ourselves without our new label knowing us yet. All they knew were the numbers. They came down during the process and said 'Wow, sounds good. Weíve got to be honest with you, we were skeptical.' But they were very pleased."
RNW: Is there a solo tour planned for after the New Year? You mentioned something about Europe, Australia, Japan.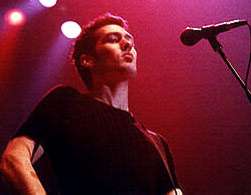 DL: "We would go out on our own if we donít get an offer from somebody that we would like to tour with because weíre going to go out somewhere, somehow. Thereís talk of going to Australia, which I hope happens because that was a great time. And then Iíve heard of some other, I guess I would say bigger bands, that have expressed interest in taking us out, much like the Goo Goo Dolls did this time. If the right people ask, weíd probably do that. Itís all about getting out, so keep your eyes open. And of course, whatever does happen, Iím in charge of updating our web site so its always up there. (www.tonic-online.com)"
RNW: Been there!
DL: "Iíve said that 10 million times!"

And with my questions and allotted time gone, I thanked Dan for his time and wished him a good show. . .

Visit the Back Stage Pass Special for TONIC, complete with biographical information, my impressions of the show, and the Sugar CD.
What do you think?
Fanspeak removed due to spam and abuse