Interview with Jim #4 of Slipknot
by Debbie Seagle

.

The scene backstage at Ozzfest is like a Dating Game scene from Star Wars. In the media tent are all forms of musicians, journalists and fans who are lucky enough to have a VIP pass. As the bands are coming off stage, they file into the media area for pre-arranged interviews with journalists and radio personalities.

As a journalist, you know who you are supposed to meet and what time to expect them, so everyone is always craning their necks, looking for their date in a sea of people dressed in bizarre outfits or very little outfits. Let your mind wonder on that for a while . . .

I'm told by Roadrunner Records that I will probably talk to Paul (bass, #2) of Slipknot for my interview, but I'm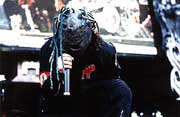 not sure. So, like all the rest of the journalists sweating and drinking gallons of water, I'm looking all around for my 3:00 appointment. Now the obvious hits me and I realize, I have no idea what Paul looks like. I've met several of the other members of the band, but have never seen Paul, so I am milling around the tent saying "Paul?" "Sorry." "Paul?" "Sorry." Finally I find a Roadrunner rep. and I'm told that I will be speaking to Jim (guitar, #4) instead. Okay, I say. What does HE look like? She offers to take me into one of the production offices for the interview and introduce me to Jim personally. Thank God, because by this time, everyone in the media tent thinks I've been stood up for a date or something, and they are offering that they are "not Paul" before I can even ask!
As I have been in the past with this band, I am immediately impressed by Jim's friendly attitude and easy going way. And just so we can get this out of the way, ladies, we can put the ten foot poll away for this one. He's a keeper . . . if you know what I mean.
So without further adieu, lets meet Jim (#4) of Slipknot . . .
(Debbie Seagle for) Rocknworld: So, with Ozzfest in full swing right now, you got any insider stories to share with us? Any moments for your touring scrap book?
Jim: No, its been a pretty tame tour for us so far. I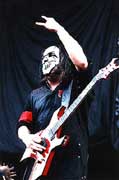 mean, I'm not really partying right now, so as far as party stories or anything like that, no. The most exciting thing I've done is set out in the front with one of my best friends and watch Sabbath.
RNW: Anything to learn from being around Sabbath?
Jim: All the experience?
RNW: Yeah, Sabbath, Manson, etc.
Jim: I just get a kick out of watching Ozzy make faces at Geezer Butler. That's always fun to watch.
RNW: With your new CD "IOWA" coming out, at the end of this summer or early fall, are you sweating out a lot of the tracks at Ozzfest?
Jim: Yeah, we're doing like four of them. We don't have enough time to do any more.
RNW: Which tracks are they?
Jim: We're doing "Disaster Piece," we're doing "Heretic Song," we're doing, what else are we doing? I'm having a total mind fart right now.
RNW: So far, Heretic Song is the only one I've had a glimpse of.
Jim: Yeah, that's all anyone has heard so far. I guess that's going to be like the main single type of thing.
RNW: That will be the first single coming out?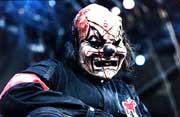 Jim: Yeah.
RNW: What's the fan reaction been to those songs?
Jim: It's been good so far, which is amazing since we don't have a CD out yet, which really is a drag you know? It would be nice to have something for people to get acquainted with other than just the radio version or whatever edit we've got out of Heretic Song.
RNW: What are the obvious differences between the first CD and the new one? We've heard that its even more heavy than the first if that's possible.
Jim: It's heavier, it's a little faster, sonically I think its going to be a little better.
RNW: Did you try some new things?
Jim: A little bit, yeah. Clown and Chris really got to experiment a little more with the drums, you know? Different rooms and different sounds and different things to hit the drums with and you know, different things to use as drums.
RNW: I can only imagine!
Jim: Yeah, you know, and recorded it in a different place too.
RNW: Well in a studio, you can just let your imagination run free.
Jim: Yeah, and it was really cool, so hopefully this one will, I mean obviously the songs are Slipknot, its what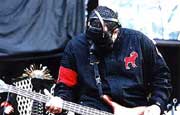 we sound like, but this one's a little more straight forward as far as the metal I think. But you see, I can't always say that either cause there's also songs like "Skin Ticket" and "IOWA" which are on the other side of the spectrum. Skin Ticket actually is my favorite track off the album right now.
RNW: Really?
Jim: Yeah.
RNW: And why is it at the opposite end of the spectrum?
Jim: Well its just the opposite end of the spectrum from, you know, like where Heretic Song is like straight forward metal type of song, Skin Ticket is more experimental. There's a little more going on there than just straight forward – this many times of this arrangement, you know, with the drums straight forward. It's a little more thought provoking.
RNW: There have been some subtle changes, I noticed, to Sid's mask recently. He's gone with the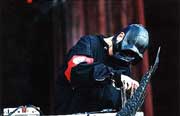 white thing and we've heard other in the band say that you are always thinking about new things to do with your masks. Will that be going down when the new CD hits, and if so, what will the changes be to your mask?
Jim: Well, yeah, we're evolving. That's sort of what bands do. That's what we do. Everything Slipknot has ever done has been an evolution. Obviously the masks are going to evolve. Not everybody's are evolving, but I know I've made some changes with mine and Clown has and Sid has and Paul has. But basically mine's still the same theme of what it was before, its just little more refined.
RNW: I'm always interested in what makes you choose the mask you have. Whether it's a showing of some inner personality thing or a statement about society. What made you choose your mask, and is there a story behind it?
Jim: There's really no story about it. Basically I was wearing a latex bondage hood and it was very painful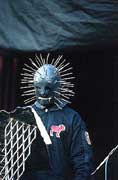 and it sucked so I went out and found a new mask, you know?
RNW: So it didn't take that long for you to decide that wasn't the mask for you?
Jim: No, it took one show. It took like a day of photo shoots with Dean Carr and one show and I was like, you know, this thing sucks. I'm f***ing getting a new mask. I went out and found something that I was into.
RNW: What about your number? (4) Does it mean anything to you or have any significance, or did you all just get lined up and someone said okay, 0-1-2-3-4, etc.?
Jim: Well, everybody kind of picked a number, cause it just kind of fell in. Nobody really argued or fought about it, but since I replaced Josh who was number 4 before me, I took on his number.

Continue