Back to Part I
RNW: Whatís it like when a nine person band sets out to write a song?

Jim: Its really cool. Its actually not as complex as you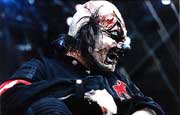 would think. Youíve got main riffs that you go off of, and then everybody just kinda puts their two cents in. It just kind of all falls together.
RNW: Who usually starts it out?
Jim: It depends. It could be either Paul or Joey or Mick or I or Clown actually started one. It just depends. Who ever has got something, weíll just go from there. And if the vibe is there and weíre into working on it at that particular time, then it will end up being a whole song. Like Skin Ticket, the song I was talking about before, thatís how that ended up being a song. And then, thereís always the cachet of riffs, the surplus I guess you could say, of riffs from years past. Those will get brought in and used or changed around or whatever and theyíll end up in songs as well.
RNW: The title of your new CD is ďIOWA.Ē Iowa is the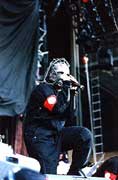 bandís home base, right?
Jim: A-huh.
RNW: I assume you went back there to work on your material. Is Iowa any sort of an influence for this next work, or is it just a title?
Jim: Well, obviously, yeah its an influence in the fact that thatís where we were. Its where weíre from, so thatís the type of values we have. Thatís the type of nothingness we went through, and thatís the s*** that we had to deal with growing up, you know? So, in that aspect, I would say yeah, thatís the influence of it. Thatís why the title is that.
RNW: Is life different for you now when you go home, now that youíve attained the level of success of recognition youíve attained?
Jim: A little bit, but not really. Its still pretty . . .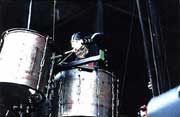 RNW: I think its kind of cool that you can remain pretty incognito.
Jim: Yeah, I mean I can go to the grocery store without anyone messing with me. But it hasnít really changed at all. I go home, the only thing thatís changed is that obviously my style of living has improved a little bit. I actually have a place of my own for the first time in my life, you know? And that doesnít suck, but other than that, its just home. Itís a place where you can go and you can relax and you can just get in focus. Its not like the rat race.
RNW: Not like the LA scene?
Jim: Yeah, its not like a big roller coaster ride. You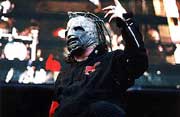 can go back there and you can really sink in, you can breathe. Okay, this is home, Iím comfortable here. Now I can write, or I can, you know, go drive my car or ride my bike or I can do whatever it is thatís my outlet for that day.
RNW: So it sounds like Iowa has a very positive influence in that respect.
Jim: I guess you could say that, yeah. I think itís the center of balance, its both.
RNW: How are your family and friends doing with your success? I know its kind of hard sometimes on family.
Jim: My family, it doesnít really effect them. My mother has been very supportive, so sheís just tickled to death that Iím doing what Iíve always talked about doing since I was begging her to buy me a guitar when I was 13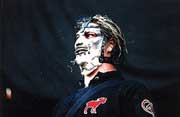 years old.
RNW: 13 huh?
Jim: Begged her and begged her from the time I was about 12 till the time I was 14 I begged and begged for a guitar and finally they bought me one for Christmas and it was a Memphis. It was a Memphis Les Paul Jr. copy.
RNW: Wow. You did a lot better than I did . . . I had some old chump dime store acoustic guitar . . .
Jim: It was a pawn show model, you know?
RNW: Hey, thatís okay. You know Slash started out with a guitar with one string!
Jim: There you go!
RNW: If you could tell your family whatís meant the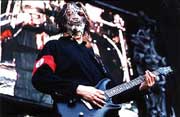 most to you about your success, what would that be?
Jim: Whatís meant the most? Iíd have to say it would be all the people that you get to meet doing this. Cause you know, growing up and doing all this stuff before we got to the level of success that weíve had, these people are surreal. Theyíre just pictures in magazines or images on a television or on a CD cover. Everybody Ė Disturbed, Sabbath, (head) p.e., Machine Head, all these bands that weíve gotten to meet. Its really cool that theyíre actually cool people. Thatís probably the best thing.
RNW: Actually, I could kind of say the same thing myself. Just getting to interview a lot of you folks. Iím in the media tent, just kind of looking around going okay, Iím supposed to interview Jim, or Paul, or Mick. But I donít know what the hell they look like! But coming in here and sitting down with you, its cool.
Jim: Its weird cause it like a circus that you are thrown into and some things catch you off guard and some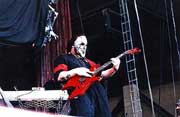 things you just donít expect. I mean, I didnít know what to expect going on tour. When Shawn called me up in 1999 and he told me, hey weíre going to be on Ozzfest, we made it, Steve got us on the tour. I screamed and I was freaking out. And then the bus showed up and I remember the first time the bus showed up at Shawnís house I was just like Ė it sunk in right there Ė like, wow. Weíre really doing this! I just had that tickled butterfly feeling, jumping up for joy, you know? It was just an incredible feeling.
RNW: So how did you get ready for that first Ozzfest? Did you go out and get a new tat and some new threads?
Jim: No, no. I went out some luggage and I kicked drinking pop because everyone was like saying, man you gotta get healthy because touring really tears you up and da-da-da-da-da. So I tried to eat better and all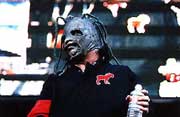 this crap and . . .
RNW: It is rough on ya.
Jim: Well, basically, it just so surreal, it still hasnít really sunk in yet, what weíre doing and whatís going on. Cause everybody, I always thought it would be like me, hanging around with a bunch of famous people. But everybody is so cool and on the same level. Its just like, hey, theyíre people.
RNW: News flash Ė youíre a famous people now too! (laughing)
Jim: Yeah, you know, and it doesnít seem like it. I donít think of myself like that.
RNW: Do you think it ever really does seem like it? Even to people that we think are really, really famous?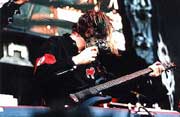 Do you think it ever feels like, wow, Iím really famous?
Jim: Well, Iím sure thereís some people who tend to use that as . . . Iím sure thereís somebody out there whoís like, Iím famous, treat me like it. You know what I mean?
RNW: Youíre right. Iíve met a few like that.
Jim: I havenít met anybody like that yet, but Iím sure thereís that guy out there somewhere.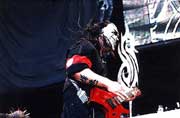 RNW: Yeah, I guess theyíre out there. Definitely out there . . . Thanks for not being one of them, and for taking some time to talk with me today!



Do you want more Slipknot?

Listen to samples and buy Slipknot music online!

Slipknot Tour information and merchandise
Also check out Roadrunnerrecords.com for the latest news, audio and video plus more
Check out our previous Back Stage Pass Special for Slipknot!
Debbie Seagle is the Special Features Editor for the IconoFAN Network.
Live Photos by Debbie Seagle - Copyright 2001 Groove Quest Productions. All Rights Reserved

Your Turn
Fan Speak.
Fan Speak:

Posted by obtuse substance abuse:
Holy swiss- you guys have had this up for 2 years?! Cripes. ---Least I added my two freakin' cents.--- SLIPKNOT is the BEST band.
---
Posted by slipknotisgod:
i hope that they will be a band longer than i live
---
Posted by eligal:
lol, this board is great... likr 5 poeple smackin down this lil freak who keeps comin back for more thinkn hes gonna get sum repect by thowing out random insults 2 killer but ignores every1 else... dont stop the love! cyall later
---
Posted by steven:
slipknot is the best band in the world
---
Posted by People=Sh*t:
Wow, it's been a few months since I've been on here, but I see that Ryan aka "the little one" is still talking out of his ass, which is really amazing seeing as he always has something stuck up it. Just for all the new ppl coming in here, this has been going on for like 2 years now.lol I'm seriously starting to think that Ryan might actually be George Duhhhhhhhhhhhhhbya Bush.
---
Posted by Lausaleiksbarn:
Yeah, us Swiss, we're all A$$ Bandits
---
Posted by Fukk the Vikings :
Lausaleiksbarn is Swiss for I suck C0CK Lausaleiksbarn is Swiss for I suck C0CK Lausaleiksbarn is Swiss for I suck C0CK Lausaleiksbarn is Swiss for I suck C0CK Lausaleiksbarn is Swiss for I suck C0CK Lausaleiksbarn is Swiss for I suck C0CK Lausaleiksbarn is Swiss for I suck C0CK Lausaleiksbarn is Swiss for I suck C0CK Lausaleiksbarn is Swiss for I suck C0CK Lausaleiksbarn is Swiss for I suck C0CK Lausaleiksbarn is Swiss for I suck C0CK Lausaleiksbarn is Swiss for I suck C0CK Lausaleiksbarn is Swiss for I suck C0CK Lausaleiksbarn is Swiss for I suck C0CK Lausaleiksbarn is Swiss for I suck C0CK Lausaleiksbarn is Swiss for I suck C0CK Lausaleiksbarn is Swiss for I suck C0CK Lausaleiksbarn is Swiss for I suck C0CK Lausaleiksbarn is Swiss for I suck C0CK Lausaleiksbarn is Swiss for I suck C0CK Lausaleiksbarn is Swiss for I suck C0CK Lausaleiksbarn is Swiss for I suck C0CK Lausaleiksbarn is Swiss for I suck C0CK Lausaleiksbarn is Swiss for I suck C0CK Lausaleiksbarn is Swiss for I suck C0CK Lausaleiksbarn is Swiss for I suck C0CK Lausaleiksbarn is Swiss for I suck C0CK Lausaleiksbarn is Swiss for I suck C0CK Lausaleiksbarn is Swiss for I suck C0CK Lausaleiksbarn is Swiss for I suck C0CK Lausaleiksbarn is Swiss for I suck C0CK Lausaleiksbarn is Swiss for I suck C0CK Lausaleiksbarn is Swiss for I suck C0CK Lausaleiksbarn is Swiss for I suck C0CK Lausaleiksbarn is Swiss for I suck C0CK Lausaleiksbarn is Swiss for I suck C0CK Lausaleiksbarn is Swiss for I suck C0CK Lausaleiksbarn is Swiss for I suck C0CK Lausaleiksbarn is Swiss for I suck C0CK Lausaleiksbarn is Swiss for I suck C0CK Lausaleiksbarn is Swiss for I suck C0CK Lausaleiksbarn is Swiss for I suck C0CK Lausaleiksbarn is Swiss for I suck C0CK Lausaleiksbarn is Swiss for I suck C0CK Lausaleiksbarn is Swiss for I suck C0CK Lausaleiksbarn is Swiss for I suck C0CK Lausaleiksbarn is Swiss for I suck C0CK Lausaleiksbarn is Swiss for I suck C0CK Lausaleiksbarn is Swiss for I suck C0CK Lausaleiksbarn is Swiss for I suck C0CK Lausaleiksbarn is Swiss for I suck C0CK Lausaleiksbarn is Swiss for I suck C0CK Lausaleiksbarn is Swiss for I suck C0CK Lausaleiksbarn is Swiss for I suck C0CK Lausaleiksbarn is Swiss for I suck C0CK Lausaleiksbarn is Swiss for I suck C0CK Lausaleiksbarn is Swiss for I suck C0CK Lausaleiksbarn is Swiss for I suck C0CK Lausaleiksbarn is Swiss for I suck C0CK Lausaleiksbarn is Swiss for I suck C0CK Lausaleiksbarn is Swiss for I suck C0CK Lausaleiksbarn is Swiss for I suck C0CK Lausaleiksbarn is Swiss for I suck C0CK Lausaleiksbarn is Swiss for I suck C0CK Lausaleiksbarn is Swiss for I suck C0CK Lausaleiksbarn is Swiss for I suck C0CK Lausaleiksbarn is Swiss for I suck C0CK Lausaleiksbarn is Swiss for I suck C0CK Lausaleiksbarn is Swiss for I suck C0CK Lausaleiksbarn is Swiss for I suck C0CK Lausaleiksbarn is Swiss for I suck C0CK Lausaleiksbarn is Swiss for I suck C0CK Lausaleiksbarn is Swiss for I suck C0CK Lausaleiksbarn is Swiss for I suck C0CK Lausaleiksbarn is Swiss for I suck C0CK Lausaleiksbarn is Swiss for I suck C0CK Lausaleiksbarn is Swiss for I suck C0CK Lausaleiksbarn is Swiss for I suck C0CK Lausaleiksbarn is Swiss for I suck C0CK Lausaleiksbarn is Swiss for I suck C0CK Lausaleiksbarn is Swiss for I suck C0CK Lausaleiksbarn is Swiss for I suck C0CK Lausaleiksbarn is Swiss for I suck C0CK Lausaleiksbarn is Swiss for I suck C0CK Lausaleiksbarn is Swiss for I suck C0CK Lausaleiksbarn is Swiss for I suck C0CK Lausaleiksbarn is Swiss for I suck C0CK Lausaleiksbarn is Swiss for I suck C0CK Lausaleiksbarn is Swiss for I suck C0CK Lausaleiksbarn is Swiss for I suck C0CK Lausaleiksbarn is Swiss for I suck C0CK Lausaleiksbarn is Swiss for I suck C0CK Lausaleiksbarn is Swiss for I suck C0CK Lausaleiksbarn is Swiss for I suck C0CK Lausaleiksbarn is Swiss for I suck C0CK Lausaleiksbarn is Swiss for I suck C0CK Lausaleiksbarn is Swiss for I suck C0CK Lausaleiksbarn is Swiss for I suck C0CK Lausaleiksbarn is Swiss for I suck C0CK Lausaleiksbarn is Swiss for I suck C0CK Lausaleiksbarn is Swiss for I suck C0CK Lausaleiksbarn is Swiss for I suck C0CK Lausaleiksbarn is Swiss for I suck C0CK Lausaleiksbarn is Swiss for I suck C0CK Lausaleiksbarn is Swiss for I suck C0CK Lausaleiksbarn is Swiss for I suck C0CK Lausaleiksbarn is Swiss for I suck C0CK Lausaleiksbarn is Swiss for I suck C0CK Lausaleiksbarn is Swiss for I suck C0CK Lausaleiksbarn is Swiss for I suck C0CK Lausaleiksbarn is Swiss for I suck C0CK Lausaleiksbarn is Swiss for I suck C0CK Lausaleiksbarn is Swiss for I suck C0CK Lausaleiksbarn is Swiss for I suck C0CK Lausaleiksbarn is Swiss for I suck C0CK Lausaleiksbarn is Swiss for I suck C0CK Lausaleiksbarn is Swiss for I suck C0CK Lausaleiksbarn is Swiss for I suck C0CK Lausaleiksbarn is Swiss for I suck C0CK Lausaleiksbarn is Swiss for I suck C0CK Lausaleiksbarn is Swiss for I suck C0CK Lausaleiksbarn is Swiss for I suck C0CK Lausaleiksbarn is Swiss for I suck C0CK Lausaleiksbarn is Swiss for I suck C0CK Lausaleiksbarn is Swiss for I suck C0CK Lausaleiksbarn is Swiss for I suck C0CK Lausaleiksbarn is Swiss for I suck C0CK Lausaleiksbarn is Swiss for I suck C0CK Lausaleiksbarn is Swiss for I suck C0CK Lausaleiksbarn is Swiss for I suck C0CK Lausaleiksbarn is Swiss for I suck C0CK Lausaleiksbarn is Swiss for I suck C0CK Lausaleiksbarn is Swiss for I suck C0CK Lausaleiksbarn is Swiss for I suck C0CK Lausaleiksbarn is Swiss for I suck C0CK Lausaleiksbarn is Swiss for I suck C0CK Lausaleiksbarn is Swiss for I suck C0CK Lausaleiksbarn is Swiss for I suck C0CK Lausaleiksbarn is Swiss for I suck C0CK Lausaleiksbarn is Swiss for I suck C0CK Lausaleiksbarn is Swiss for I suck C0CK Lausaleiksbarn is Swiss for I suck C0CK Lausaleiksbarn is Swiss for I suck C0CK Lausaleiksbarn is Swiss for I suck C0CK Lausaleiksbarn is Swiss for I suck C0CK Lausaleiksbarn is Swiss for I suck C0CK Lausaleiksbarn is Swiss for I suck C0CK Lausaleiksbarn is Swiss for I suck C0CK Lausaleiksbarn is Swiss for I suck C0CK Lausaleiksbarn is Swiss for I suck C0CK Lausaleiksbarn is Swiss for I suck C0CK Lausaleiksbarn is Swiss for I suck C0CK Lausaleiksbarn is Swiss for I suck C0CK Lausaleiksbarn is Swiss for I suck C0CK Lausaleiksbarn is Swiss for I suck C0CK Lausaleiksbarn is Swiss for I suck C0CK Lausaleiksbarn is Swiss for I suck C0CK Lausaleiksbarn is Swiss for I suck C0CK Lausaleiksbarn is Swiss for I suck C0CK Lausaleiksbarn is Swiss for I suck C0CK Lausaleiksbarn is Swiss for I suck C0CK Lausaleiksbarn is Swiss for I suck C0CK Lausaleiksbarn is Swiss for I suck C0CK Lausaleiksbarn is Swiss for I suck C0CK Lausaleiksbarn is Swiss for I suck C0CK Lausaleiksbarn is Swiss for I suck C0CK Lausaleiksbarn is Swiss for I suck C0CK Lausaleiksbarn is Swiss for I suck C0CK Lausaleiksbarn is Swiss for I suck C0CK Lausaleiksbarn is Swiss for I suck C0CK Lausaleiksbarn is Swiss for I suck C0CK Lausaleiksbarn is Swiss for I suck C0CK Lausaleiksbarn is Swiss for I suck C0CK Lausaleiksbarn is Swiss for I suck C0CK Lausaleiksbarn is Swiss for I suck C0CK Lausaleiksbarn is Swiss for I suck C0CK Lausaleiksbarn is Swiss for I suck C0CK Lausaleiksbarn is Swiss for I suck C0CK Lausaleiksbarn is Swiss for I suck C0CK Lausaleiksbarn is Swiss for I suck C0CK Lausaleiksbarn is Swiss for I suck C0CK Lausaleiksbarn is Swiss for I suck C0CK Lausaleiksbarn is Swiss for I suck C0CK Lausaleiksbarn is Swiss for I suck C0CK Lausaleiksbarn is Swiss for I suck C0CK Lausaleiksbarn is Swiss for I suck C0CK Lausaleiksbarn is Swiss for I suck C0CK Lausaleiksbarn is Swiss for I suck C0CK Lausaleiksbarn is Swiss for I suck C0CK Lausaleiksbarn is Swiss for I suck C0CK Lausaleiksbarn is Swiss for I suck C0CK Lausaleiksbarn is Swiss for I suck C0CK Lausaleiksbarn is Swiss for I suck C0CK Lausaleiksbarn is Swiss for I suck C0CK Lausaleiksbarn is Swiss for I suck C0CK Lausaleiksbarn is Swiss for I suck C0CK Lausaleiksbarn is Swiss for I suck C0CK Lausaleiksbarn is Swiss for I suck C0CK Lausaleiksbarn is Swiss for I suck C0CK Lausaleiksbarn is Swiss for I suck C0CK Lausaleiksbarn is Swiss for I suck C0CK Lausaleiksbarn is Swiss for I suck C0CK Lausaleiksbarn is Swiss for I suck C0CK Lausaleiksbarn is Swiss for I suck C0CK Lausaleiksbarn is Swiss for I suck C0CK Lausaleiksbarn is Swiss for I suck C0CK Lausaleiksbarn is Swiss for I suck C0CK Lausaleiksbarn is Swiss for I suck C0CK Lausaleiksbarn is Swiss for I suck C0CK Lausaleiksbarn is Swiss for I suck C0CK Lausaleiksbarn is Swiss for I suck C0CK Lausaleiksbarn is Swiss for I suck C0CK Lausaleiksbarn is Swiss for I suck C0CK Lausaleiksbarn is Swiss for I suck C0CK Lausaleiksbarn is Swiss for I suck C0CK Lausaleiksbarn is Swiss for I suck C0CK Lausaleiksbarn is Swiss for I suck C0CK Lausaleiksbarn is Swiss for I suck C0CK Lausaleiksbarn is Swiss for I suck C0CK Lausaleiksbarn is Swiss for I suck C0CK Lausaleiksbarn is Swiss for I suck C0CK Lausaleiksbarn is Swiss for I suck C0CK Lausaleiksbarn is Swiss for I suck C0CK Lausaleiksbarn is Swiss for I suck C0CK Lausaleiksbarn is Swiss for I suck C0CK Lausaleiksbarn is Swiss for I suck C0CK Lausaleiksbarn is Swiss for I suck C0CK Lausaleiksbarn is Swiss for I suck C0CK Lausaleiksbarn is Swiss for I suck C0CK Lausaleiksbarn is Swiss for I suck C0CK Lausaleiksbarn is Swiss for I suck C0CK Lausaleiksbarn is Swiss for I suck C0CK Lausaleiksbarn is Swiss for I suck C0CK Lausaleiksbarn is Swiss for I suck C0CK Lausaleiksbarn is Swiss for I suck C0CK Lausaleiksbarn is Swiss for I suck C0CK Lausaleiksbarn is Swiss for I suck C0CK Lausaleiksbarn is Swiss for I suck C0CK Lausaleiksbarn is Swiss for I suck C0CK Lausaleiksbarn is Swiss for I suck C0CK Lausaleiksbarn is Swiss for I suck C0CK Lausaleiksbarn is Swiss for I suck C0CK Lausaleiksbarn is Swiss for I suck C0CK Lausaleiksbarn is Swiss for I suck C0CK Lausaleiksbarn is Swiss for I suck C0CK Lausaleiksbarn is Swiss for I suck C0CK Lausaleiksbarn is Swiss for I suck C0CK Lausaleiksbarn is Swiss for I suck C0CK Lausaleiksbarn is Swiss for I suck C0CK Lausaleiksbarn is Swiss for I suck C0CK Lausaleiksbarn is Swiss for I suck C0CK Lausaleiksbarn is Swiss for I suck C0CK Lausaleiksbarn is Swiss for I suck C0CK Lausaleiksbarn is Swiss for I suck C0CK Lausaleiksbarn is Swiss for I suck C0CK Lausaleiksbarn is Swiss for I suck C0CK Lausaleiksbarn is Swiss for I suck C0CK Lausaleiksbarn is Swiss for I suck C0CK Lausaleiksbarn is Swiss for I suck C0CK Lausaleiksbarn is Swiss for I suck C0CK Lausaleiksbarn is Swiss for I suck C0CK Lausaleiksbarn is Swiss for I suck C0CK Lausaleiksbarn is Swiss for I suck C0CK Lausaleiksbarn is Swiss for I suck C0CK Lausaleiksbarn is Swiss for I suck C0CK Lausaleiksbarn is Swiss for I suck C0CK Lausaleiksbarn is Swiss for I suck C0CK Lausaleiksbarn is Swiss for I suck C0CK Lausaleiksbarn is Swiss for I suck C0CK Lausaleiksbarn is Swiss for I suck C0CK Lausaleiksbarn is Swiss for I suck C0CK Lausaleiksbarn is Swiss for I suck C0CK Lausaleiksbarn is Swiss for I suck C0CK Lausaleiksbarn is Swiss for I suck C0CK Lausaleiksbarn is Swiss for I suck C0CK Lausaleiksbarn is Swiss for I suck C0CK Lausaleiksbarn is Swiss for I suck C0CK Lausaleiksbarn is Swiss for I suck C0CK Lausaleiksbarn is Swiss for I suck C0CK Lausaleiksbarn is Swiss for I suck C0CK Lausaleiksbarn is Swiss for I suck C0CK Lausaleiksbarn is Swiss for I suck C0CK Lausaleiksbarn is Swiss for I suck C0CK Lausaleiksbarn is Swiss for I suck C0CK Lausaleiksbarn is Swiss for I suck C0CK Lausaleiksbarn is Swiss for I suck C0CK Lausaleiksbarn is Swiss for I suck C0CK Lausaleiksbarn is Swiss for I suck C0CK Lausaleiksbarn is Swiss for I suck C0CK Lausaleiksbarn is Swiss for I suck C0CK Lausaleiksbarn is Swiss for I suck C0CK Lausaleiksbarn is Swiss for I suck C0CK Lausaleiksbarn is Swiss for I suck C0CK Lausaleiksbarn is Swiss for I suck C0CK Lausaleiksbarn is Swiss for I suck C0CK Lausaleiksbarn is Swiss for I suck C0CK Lausaleiksbarn is Swiss for I suck C0CK Lausaleiksbarn is Swiss for I suck C0CK Lausaleiksbarn is Swiss for I suck C0CK Lausaleiksbarn is Swiss for I suck C0CK Lausaleiksbarn is Swiss for I suck C0CK Lausaleiksbarn is Swiss for I suck C0CK Lausaleiksbarn is Swiss for I suck C0CK Lausaleiksbarn is Swiss for I suck C0CK Lausaleiksbarn is Swiss for I suck C0CK Lausaleiksbarn is Swiss for I suck C0CK Lausaleiksbarn is Swiss for I suck C0CK Lausaleiksbarn is Swiss for I suck C0CK Lausaleiksbarn is Swiss for I suck C0CK Lausaleiksbarn is Swiss for I suck C0CK Lausaleiksbarn is Swiss for I suck C0CK Lausaleiksbarn is Swiss for I suck C0CK Lausaleiksbarn is Swiss for I suck C0CK Lausaleiksbarn is Swiss for I suck C0CK Lausaleiksbarn is Swiss for I suck C0CK Lausaleiksbarn is Swiss for I suck C0CK Lausaleiksbarn is Swiss for I suck C0CK Lausaleiksbarn is Swiss for I suck C0CK Lausaleiksbarn is Swiss for I suck C0CK Lausaleiksbarn is Swiss for I suck C0CK Lausaleiksbarn is Swiss for I suck C0CK Lausaleiksbarn is Swiss for I suck C0CK Lausaleiksbarn is Swiss for I suck C0CK Lausaleiksbarn is Swiss for I suck C0CK Lausaleiksbarn is Swiss for I suck C0CK Lausaleiksbarn is Swiss for I suck C0CK Lausaleiksbarn is Swiss for I suck C0CK Lausaleiksbarn is Swiss for I suck C0CK Lausaleiksbarn is Swiss for I suck C0CK Lausaleiksbarn is Swiss for I suck C0CK Lausaleiksbarn is Swiss for I suck C0CK Lausaleiksbarn is Swiss for I suck C0CK Lausaleiksbarn is Swiss for I suck C0CK Lausaleiksbarn is Swiss for I suck C0CK Lausaleiksbarn is Swiss for I suck C0CK Lausaleiksbarn is Swiss for I suck C0CK Lausaleiksbarn is Swiss for I suck C0CK Lausaleiksbarn is Swiss for I suck C0CK Lausaleiksbarn is Swiss for I suck C0CK Lausaleiksbarn is Swiss for I suck C0CK Lausaleiksbarn is Swiss for I suck C0CK Lausaleiksbarn is Swiss for I suck C0CK Lausaleiksbarn is Swiss for I suck C0CK Lausaleiksbarn is Swiss for I suck C0CK Lausaleiksbarn is Swiss for I suck C0CK Lausaleiksbarn is Swiss for I suck C0CK Lausaleiksbarn is Swiss for I suck C0CK Lausaleiksbarn is Swiss for I suck C0CK Lausaleiksbarn is Swiss for I suck C0CK Lausaleiksbarn is Swiss for I suck C0CK Lausaleiksbarn is Swiss for I suck C0CK Lausaleiksbarn is Swiss for I suck C0CK Lausaleiksbarn is Swiss for I suck C0CK Lausaleiksbarn is Swiss for I suck C0CK Lausaleiksbarn is Swiss for I suck C0CK Lausaleiksbarn is Swiss for I suck C0CK Lausaleiksbarn is Swiss for I suck C0CK Lausaleiksbarn is Swiss for I suck C0CK Lausaleiksbarn is Swiss for I suck C0CK Lausaleiksbarn is Swiss for I suck C0CK Lausaleiksbarn is Swiss for I suck C0CK Lausaleiksbarn is Swiss for I suck C0CK Lausaleiksbarn is Swiss for I suck C0CK Lausaleiksbarn is Swiss for I suck C0CK Lausaleiksbarn is Swiss for I suck C0CK Lausaleiksbarn is Swiss for I suck C0CK Lausaleiksbarn is Swiss for I suck C0CK Lausaleiksbarn is Swiss for I suck C0CK Lausaleiksbarn is Swiss for I suck C0CK Lausaleiksbarn is Swiss for I suck C0CK Lausaleiksbarn is Swiss for I suck C0CK Lausaleiksbarn is Swiss for I suck C0CK Lausaleiksbarn is Swiss for I suck C0CK Lausaleiksbarn is Swiss for I suck C0CK Lausaleiksbarn is Swiss for I suck C0CK Lausaleiksbarn is Swiss for I suck C0CK Lausaleiksbarn is Swiss for I suck C0CK Lausaleiksbarn is Swiss for I suck C0CK Lausaleiksbarn is Swiss for I suck C0CK Lausaleiksbarn is Swiss for I suck C0CK Lausaleiksbarn is Swiss for I suck C0CK Lausaleiksbarn is Swiss for I suck C0CK Lausaleiksbarn is Swiss for I suck C0CK Lausaleiksbarn is Swiss for I suck C0CK Lausaleiksbarn is Swiss for I suck C0CK Lausaleiksbarn is Swiss for I suck C0CK Lausaleiksbarn is Swiss for I suck C0CK Lausaleiksbarn is Swiss for I suck C0CK Lausaleiksbarn is Swiss for I suck C0CK Lausaleiksbarn is Swiss for I suck C0CK Lausaleiksbarn is Swiss for I suck C0CK Lausaleiksbarn is Swiss for I suck C0CK Lausaleiksbarn is Swiss for I suck C0CK Lausaleiksbarn is Swiss for I suck C0CK Lausaleiksbarn is Swiss for I suck C0CK Lausaleiksbarn is Swiss for I suck C0CK Lausaleiksbarn is Swiss for I suck C0CK Lausaleiksbarn is Swiss for I suck C0CK Lausaleiksbarn is Swiss for I suck C0CK Lausaleiksbarn is Swiss for I suck C0CK Lausaleiksbarn is Swiss for I suck C0CK Lausaleiksbarn is Swiss for I suck C0CK Lausaleiksbarn is Swiss for I suck C0CK Lausaleiksbarn is Swiss for I suck C0CK Lausaleiksbarn is Swiss for I suck C0CK Lausaleiksbarn is Swiss for I suck C0CK Lausaleiksbarn is Swiss for I suck C0CK Lausaleiksbarn is Swiss for I suck C0CK Lausaleiksbarn is Swiss for I suck C0CK Lausaleiksbarn is Swiss for I suck C0CK Lausaleiksbarn is Swiss for I suck C0CK Lausaleiksbarn is Swiss for I suck C0CK Lausaleiksbarn is Swiss for I suck C0CK Lausaleiksbarn is Swiss for I suck C0CK Lausaleiksbarn is Swiss for I suck C0CK Lausaleiksbarn is Swiss for I suck C0CK Lausaleiksbarn is Swiss for I suck C0CK Lausaleiksbarn is Swiss for I suck C0CK Lausaleiksbarn is Swiss for I suck C0CK Lausaleiksbarn is Swiss for I suck C0CK Lausaleiksbarn is Swiss for I suck C0CK Lausaleiksbarn is Swiss for I suck C0CK Lausaleiksbarn is Swiss for I suck C0CK Lausaleiksbarn is Swiss for I suck C0CK Lausaleiksbarn is Swiss for I suck C0CK Lausaleiksbarn is Swiss for I suck C0CK Lausaleiksbarn is Swiss for I suck C0CK Lausaleiksbarn is Swiss for I suck C0CK Lausaleiksbarn is Swiss for I suck C0CK Lausaleiksbarn is Swiss for I suck C0CK Lausaleiksbarn is Swiss for I suck C0CK Lausaleiksbarn is Swiss for I suck C0CK Lausaleiksbarn is Swiss for I suck C0CK Lausaleiksbarn is Swiss for I suck C0CK Lausaleiksbarn is Swiss for I suck C0CK Lausaleiksbarn is Swiss for I suck C0CK Lausaleiksbarn is Swiss for I suck C0CK Lausaleiksbarn is Swiss for I suck C0CK Lausaleiksbarn is Swiss for I suck C0CK Lausaleiksbarn is Swiss for I suck C0CK Lausaleiksbarn is Swiss for I suck C0CK Lausaleiksbarn is Swiss for I suck C0CK Lausaleiksbarn is Swiss for I suck C0CK Lausaleiksbarn is Swiss for I suck C0CK Lausaleiksbarn is Swiss for I suck C0CK Lausaleiksbarn is Swiss for I suck C0CK Lausaleiksbarn is Swiss for I suck C0CK Lausaleiksbarn is Swiss for I suck C0CK Lausaleiksbarn is Swiss for I suck C0CK Lausaleiksbarn is Swiss for I suck C0CK Lausaleiksbarn is Swiss for I suck C0CK Lausaleiksbarn is Swiss for I suck C0CK Lausaleiksbarn is Swiss for I suck C0CK Lausaleiksbarn is Swiss for I suck C0CK Lausaleiksbarn is Swiss for I suck C0CK Lausaleiksbarn is Swiss for I suck C0CK Lausaleiksbarn is Swiss for I suck C0CK Lausaleiksbarn is Swiss for I suck C0CK Lausaleiksbarn is Swiss for I suck C0CK Lausaleiksbarn is Swiss for I suck C0CK Lausaleiksbarn is Swiss for I suck C0CK Lausaleiksbarn is Swiss for I suck C0CK Lausaleiksbarn is Swiss for I suck C0CK Lausaleiksbarn is Swiss for I suck C0CK Lausaleiksbarn is Swiss for I suck C0CK Lausaleiksbarn is Swiss for I suck C0CK Lausaleiksbarn is Swiss for I suck C0CK Lausaleiksbarn is Swiss for I suck C0CK Lausaleiksbarn is Swiss for I suck C0CK Lausaleiksbarn is Swiss for I suck C0CK Lausaleiksbarn is Swiss for I suck C0CK Lausaleiksbarn is Swiss for I suck C0CK Lausaleiksbarn is Swiss for I suck C0CK Lausaleiksbarn is Swiss for I suck C0CK Lausaleiksbarn is Swiss for I suck C0CK Lausaleiksbarn is Swiss for I suck C0CK Lausaleiksbarn is Swiss for I suck C0CK Lausaleiksbarn is Swiss for I suck C0CK Lausaleiksbarn is Swiss for I suck C0CK Lausaleiksbarn is Swiss for I suck C0CK Lausaleiksbarn is Swiss for I suck C0CK Lausaleiksbarn is Swiss for I suck C0CK Lausaleiksbarn is Swiss for I suck C0CK Lausaleiksbarn is Swiss for I suck C0CK Lausaleiksbarn is Swiss for I suck C0CK Lausaleiksbarn is Swiss for I suck C0CK Lausaleiksbarn is Swiss for I suck C0CK Lausaleiksbarn is Swiss for I suck C0CK Lausaleiksbarn is Swiss for I suck C0CK Lausaleiksbarn is Swiss for I suck C0CK Lausaleiksbarn is Swiss for I suck C0CK Lausaleiksbarn is Swiss for I suck C0CK Lausaleiksbarn is Swiss for I suck C0CK Lausaleiksbarn is Swiss for I suck C0CK Lausaleiksbarn is Swiss for I suck C0CK Lausaleiksbarn is Swiss for I suck C0CK Lausaleiksbarn is Swiss for I suck C0CK Lausaleiksbarn is Swiss for I suck C0CK Lausaleiksbarn is Swiss for I suck C0CK Lausaleiksbarn is Swiss for I suck C0CK Lausaleiksbarn is Swiss for I suck C0CK Lausaleiksbarn is Swiss for I suck C0CK Lausaleiksbarn is Swiss for I suck C0CK Lausaleiksbarn is Swiss for I suck C0CK Lausaleiksbarn is Swiss for I suck C0CK Lausaleiksbarn is Swiss for I suck C0CK Lausaleiksbarn is Swiss for I suck C0CK Lausaleiksbarn is Swiss for I suck C0CK Lausaleiksbarn is Swiss for I suck C0CK Lausaleiksbarn is Swiss for I suck C0CK Lausaleiksbarn is Swiss for I suck C0CK Lausaleiksbarn is Swiss for I suck C0CK Lausaleiksbarn is Swiss for I suck C0CK Lausaleiksbarn is Swiss for I suck C0CK Lausaleiksbarn is Swiss for I suck C0CK Lausaleiksbarn is Swiss for I suck C0CK Lausaleiksbarn is Swiss for I suck C0CK Lausaleiksbarn is Swiss for I suck C0CK Lausaleiksbarn is Swiss for I suck C0CK Lausaleiksbarn is Swiss for I suck C0CK Lausaleiksbarn is Swiss for I suck C0CK Lausaleiksbarn is Swiss for I suck C0CK Lausaleiksbarn is Swiss for I suck C0CK Lausaleiksbarn is Swiss for I suck C0CK Lausaleiksbarn is Swiss for I suck C0CK Lausaleiksbarn is Swiss for I suck C0CK Lausaleiksbarn is Swiss for I suck C0CK Lausaleiksbarn is Swiss for I suck C0CK Lausaleiksbarn is Swiss for I suck C0CK Lausaleiksbarn is Swiss for I suck C0CK Lausaleiksbarn is Swiss for I suck C0CK Lausaleiksbarn is Swiss for I suck C0CK Lausaleiksbarn is Swiss for I suck C0CK Lausaleiksbarn is Swiss for I suck C0CK Lausaleiksbarn is Swiss for I suck C0CK Lausaleiksbarn is Swiss for I suck C0CK Lausaleiksbarn is Swiss for I suck C0CK Lausaleiksbarn is Swiss for I suck C0CK Lausaleiksbarn is Swiss for I suck C0CK Lausaleiksbarn is Swiss for I suck C0CK Lausaleiksbarn is Swiss for I suck C0CK Lausaleiksbarn is Swiss for I suck C0CK Lausaleiksbarn is Swiss for I suck C0CK Lausaleiksbarn is Swiss for I suck C0CK Lausaleiksbarn is Swiss for I suck C0CK Lausaleiksbarn is Swiss for I suck C0CK Lausaleiksbarn is Swiss for I suck C0CK Lausaleiksbarn is Swiss for I suck C0CK Lausaleiksbarn is Swiss for I suck C0CK Lausaleiksbarn is Swiss for I suck C0CK Lausaleiksbarn is Swiss for I suck C0CK Lausaleiksbarn is Swiss for I suck C0CK Lausaleiksbarn is Swiss for I suck C0CK Lausaleiksbarn is Swiss for I suck C0CK Lausaleiksbarn is Swiss for I suck C0CK Lausaleiksbarn is Swiss for I suck C0CK Lausaleiksbarn is Swiss for I suck C0CK Lausaleiksbarn is Swiss for I suck C0CK Lausaleiksbarn is Swiss for I suck C0CK Lausaleiksbarn is Swiss for I suck C0CK Lausaleiksbarn is Swiss for I suck C0CK Lausaleiksbarn is Swiss for I suck C0CK Lausaleiksbarn is Swiss for I suck C0CK Lausaleiksbarn is Swiss for I suck C0CK Lausaleiksbarn is Swiss for I suck C0CK Lausaleiksbarn is Swiss for I suck C0CK Lausaleiksbarn is Swiss for I suck C0CK Lausaleiksbarn is Swiss for I suck C0CK Lausaleiksbarn is Swiss for I suck C0CK Lausaleiksbarn is Swiss for I suck C0CK Lausaleiksbarn is Swiss for I suck C0CK Lausaleiksbarn is Swiss for I suck C0CK Lausaleiksbarn is Swiss for I suck C0CK Lausaleiksbarn is Swiss for I suck C0CK Lausaleiksbarn is Swiss for I suck C0CK Lausaleiksbarn is Swiss for I suck C0CK Lausaleiksbarn is Swiss for I suck C0CK Lausaleiksbarn is Swiss for I suck C0CK Lausaleiksbarn is Swiss for I suck C0CK Lausaleiksbarn is Swiss for I suck C0CK Lausaleiksbarn is Swiss for I suck C0CK Lausaleiksbarn is Swiss for I suck C0CK Lausaleiksbarn is Swiss for I suck C0CK Lausaleiksbarn is Swiss for I suck C0CK Lausaleiksbarn is Swiss for I suck C0CK Lausaleiksbarn is Swiss for I suck C0CK Lausaleiksbarn is Swiss for I suck C0CK Lausaleiksbarn is Swiss for I suck C0CK Lausaleiksbarn is Swiss for I suck C0CK Lausaleiksbarn is Swiss for I suck C0CK Lausaleiksbarn is Swiss for I suck C0CK Lausaleiksbarn is Swiss for I suck C0CK Lausaleiksbarn is Swiss for I suck C0CK Lausaleiksbarn is Swiss for I suck C0CK Lausaleiksbarn is Swiss for I suck C0CK Lausaleiksbarn is Swiss for I suck C0CK Lausaleiksbarn is Swiss for I suck C0CK Lausaleiksbarn is Swiss for I suck C0CK Lausaleiksbarn is Swiss for I suck C0CK Lausaleiksbarn is Swiss for I suck C0CK Lausaleiksbarn is Swiss for I suck C0CK Lausaleiksbarn is Swiss for I suck C0CK Lausaleiksbarn is Swiss for I suck C0CK Lausaleiksbarn is Swiss for I suck C0CK Lausaleiksbarn is Swiss for I suck C0CK Lausaleiksbarn is Swiss for I suck C0CK Lausaleiksbarn is Swiss for I suck C0CK Lausaleiksbarn is Swiss for I suck C0CK Lausaleiksbarn is Swiss for I suck C0CK Lausaleiksbarn is Swiss for I suck C0CK Lausaleiksbarn is Swiss for I suck C0CK Lausaleiksbarn is Swiss for I suck C0CK Lausaleiksbarn is Swiss for I suck C0CK Lausaleiksbarn is Swiss for I suck C0CK Lausaleiksbarn is Swiss for I suck C0CK Lausaleiksbarn is Swiss for I suck C0CK Lausaleiksbarn is Swiss for I suck C0CK Lausaleiksbarn is Swiss for I suck C0CK Lausaleiksbarn is Swiss for I suck C0CK Lausaleiksbarn is Swiss for I suck C0CK Lausaleiksbarn is Swiss for I suck C0CK Lausaleiksbarn is Swiss for I suck C0CK Lausaleiksbarn is Swiss for I suck C0CK Lausaleiksbarn is Swiss for I suck C0CK Lausaleiksbarn is Swiss for I suck C0CK Lausaleiksbarn is Swiss for I suck C0CK Lausaleiksbarn is Swiss for I suck C0CK Lausaleiksbarn is Swiss for I suck C0CK Lausaleiksbarn is Swiss for I suck C0CK Lausaleiksbarn is Swiss for I suck C0CK Lausaleiksbarn is Swiss for I suck C0CK Lausaleiksbarn is Swiss for I suck C0CK Lausaleiksbarn is Swiss for I suck C0CK Lausaleiksbarn is Swiss for I suck C0CK Lausaleiksbarn is Swiss for I suck C0CK Lausaleiksbarn is Swiss for I suck C0CK Lausaleiksbarn is Swiss for I suck C0CK Lausaleiksbarn is Swiss for I suck C0CK Lausaleiksbarn is Swiss for I suck C0CK Lausaleiksbarn is Swiss for I suck C0CK Lausaleiksbarn is Swiss for I suck C0CK Lausaleiksbarn is Swiss for I suck C0CK Lausaleiksbarn is Swiss for I suck C0CK Lausaleiksbarn is Swiss for I suck C0CK Lausaleiksbarn is Swiss for I suck C0CK Lausaleiksbarn is Swiss for I suck C0CK Lausaleiksbarn is Swiss for I suck C0CK Lausaleiksbarn is Swiss for I suck C0CK Lausaleiksbarn is Swiss for I suck C0CK Lausaleiksbarn is Swiss for I suck C0CK Lausaleiksbarn is Swiss for I suck C0CK Lausaleiksbarn is Swiss for I suck C0CK Lausaleiksbarn is Swiss for I suck C0CK Lausaleiksbarn is Swiss for I suck C0CK Lausaleiksbarn is Swiss for I suck C0CK Lausaleiksbarn is Swiss for I suck C0CK Lausaleiksbarn is Swiss for I suck C0CK Lausaleiksbarn is Swiss for I suck C0CK Lausaleiksbarn is Swiss for I suck C0CK Lausaleiksbarn is Swiss for I suck C0CK Lausaleiksbarn is Swiss for I suck C0CK Lausaleiksbarn is Swiss for I suck C0CK Lausaleiksbarn is Swiss for I suck C0CK Lausaleiksbarn is Swiss for I suck C0CK Lausaleiksbarn is Swiss for I suck C0CK Lausaleiksbarn is Swiss for I suck C0CK Lausaleiksbarn is Swiss for I suck C0CK Lausaleiksbarn is Swiss for I suck C0CK Lausaleiksbarn is Swiss for I suck C0CK Lausaleiksbarn is Swiss for I suck C0CK Lausaleiksbarn is Swiss for I suck C0CK Lausaleiksbarn is Swiss for I suck C0CK Lausaleiksbarn is Swiss for I suck C0CK Lausaleiksbarn is Swiss for I suck C0CK Lausaleiksbarn is Swiss for I suck C0CK Lausaleiksbarn is Swiss for I suck C0CK Lausaleiksbarn is Swiss for I suck C0CK Lausaleiksbarn is Swiss for I suck C0CK Lausaleiksbarn is Swiss for I suck C0CK Lausaleiksbarn is Swiss for I suck C0CK Lausaleiksbarn is Swiss for I suck C0CK Lausaleiksbarn is Swiss for I suck C0CK Lausaleiksbarn is Swiss for I suck C0CK Lausaleiksbarn is Swiss for I suck C0CK Lausaleiksbarn is Swiss for I suck C0CK Lausaleiksbarn is Swiss for I suck C0CK Lausaleiksbarn is Swiss for I suck C0CK Lausaleiksbarn is Swiss for I suck C0CK Lausaleiksbarn is Swiss for I suck C0CK Lausaleiksbarn is Swiss for I suck C0CK Lausaleiksbarn is Swiss for I suck C0CK Lausaleiksbarn is Swiss for I suck C0CK Lausaleiksbarn is Swiss for I suck C0CK Lausaleiksbarn is Swiss for I suck C0CK Lausaleiksbarn is Swiss for I suck C0CK Lausaleiksbarn is Swiss for I suck C0CK Lausaleiksbarn is Swiss for I suck C0CK Lausaleiksbarn is Swiss for I suck C0CK Lausaleiksbarn is Swiss for I suck C0CK Lausaleiksbarn is Swiss for I suck C0CK Lausaleiksbarn is Swiss for I suck C0CK Lausaleiksbarn is Swiss for I suck C0CK Lausaleiksbarn is Swiss for I suck C0CK Lausaleiksbarn is Swiss for I suck C0CK Lausaleiksbarn is Swiss for I suck C0CK Lausaleiksbarn is Swiss for I suck C0CK Lausaleiksbarn is Swiss for I suck C0CK Lausaleiksbarn is Swiss for I suck C0CK Lausaleiksbarn is Swiss for I suck C0CK Lausaleiksbarn is Swiss for I suck C0CK Lausaleiksbarn is Swiss for I suck C0CK Lausaleiksbarn is Swiss for I suck C0CK Lausaleiksbarn is Swiss for I suck C0CK Lausaleiksbarn is Swiss for I suck C0CK Lausaleiksbarn is Swiss for I suck C0CK Lausaleiksbarn is Swiss for I suck C0CK Lausaleiksbarn is Swiss for I suck C0CK Lausaleiksbarn is Swiss for I suck C0CK Lausaleiksbarn is Swiss for I suck C0CK Lausaleiksbarn is Swiss for I suck C0CK Lausaleiksbarn is Swiss for I suck C0CK Lausaleiksbarn is Swiss for I suck C0CK Lausaleiksbarn is Swiss for I suck C0CK Lausaleiksbarn is Swiss for I suck C0CK Lausaleiksbarn is Swiss for I suck C0CK Lausaleiksbarn is Swiss for I suck C0CK Lausaleiksbarn is Swiss for I suck C0CK Lausaleiksbarn is Swiss for I suck C0CK Lausaleiksbarn is Swiss for I suck C0CK Lausaleiksbarn is Swiss for I suck C0CK Lausaleiksbarn is Swiss for I suck C0CK Lausaleiksbarn is Swiss for I suck C0CK Lausaleiksbarn is Swiss for I suck C0CK Lausaleiksbarn is Swiss for I suck C0CK Lausaleiksbarn is Swiss for I suck C0CK Lausaleiksbarn is Swiss for I suck C0CK Lausaleiksbarn is Swiss for I suck C0CK Lausaleiksbarn is Swiss for I suck C0CK Lausaleiksbarn is Swiss for I suck C0CK Lausaleiksbarn is Swiss for I suck C0CK Lausaleiksbarn is Swiss for I suck C0CK Lausaleiksbarn is Swiss for I suck C0CK Lausaleiksbarn is Swiss for I suck C0CK Lausaleiksbarn is Swiss for I suck C0CK Lausaleiksbarn is Swiss for I suck C0CK Lausaleiksbarn is Swiss for I suck C0CK Lausaleiksbarn is Swiss for I suck C0CK Lausaleiksbarn is Swiss for I suck C0CK Lausaleiksbarn is Swiss for I suck C0CK Lausaleiksbarn is Swiss for I suck C0CK Lausaleiksbarn is Swiss for I suck C0CK Lausaleiksbarn is Swiss for I suck C0CK Lausaleiksbarn is Swiss for I suck C0CK Lausaleiksbarn is Swiss for I suck C0CK Lausaleiksbarn is Swiss for I suck C0CK Lausaleiksbarn is Swiss for I suck C0CK Lausaleiksbarn is Swiss for I suck C0CK Lausaleiksbarn is Swiss for I suck C0CK Lausaleiksbarn is Swiss for I suck C0CK Lausaleiksbarn is Swiss for I suck C0CK Lausaleiksbarn is Swiss for I suck C0CK Lausaleiksbarn is Swiss for I suck C0CK Lausaleiksbarn is Swiss for I suck C0CK Lausaleiksbarn is Swiss for I suck C0CK Lausaleiksbarn is Swiss for I suck C0CK Lausaleiksbarn is Swiss for I suck C0CK Lausaleiksbarn is Swiss for I suck C0CK Lausaleiksbarn is Swiss for I suck C0CK Lausaleiksbarn is Swiss for I suck C0CK Lausaleiksbarn is Swiss for I suck C0CK Lausaleiksbarn is Swiss for I suck C0CK Lausaleiksbarn is Swiss for I suck C0CK Lausaleiksbarn is Swiss for I suck C0CK Lausaleiksbarn is Swiss for I suck C0CK Lausaleiksbarn is Swiss for I suck C0CK Lausaleiksbarn is Swiss for I suck C0CK Lausaleiksbarn is Swiss for I suck C0CK Lausaleiksbarn is Swiss for I suck C0CK Lausaleiksbarn is Swiss for I suck C0CK Lausaleiksbarn is Swiss for I suck C0CK Lausaleiksbarn is Swiss for I suck C0CK Lausaleiksbarn is Swiss for I suck C0CK Lausaleiksbarn is Swiss for I suck C0CK Lausaleiksbarn is Swiss for I suck C0CK Lausaleiksbarn is Swiss for I suck C0CK Lausaleiksbarn is Swiss for I suck C0CK Lausaleiksbarn is Swiss for I suck C0CK Lausaleiksbarn is Swiss for I suck C0CK Lausaleiksbarn is Swiss for I suck C0CK Lausaleiksbarn is Swiss for I suck C0CK Lausaleiksbarn is Swiss for I suck C0CK Lausaleiksbarn is Swiss for I suck C0CK Lausaleiksbarn is Swiss for I suck C0CK Lausaleiksbarn is Swiss for I suck C0CK Lausaleiksbarn is Swiss for I suck C0CK Lausaleiksbarn is Swiss for I suck C0CK Lausaleiksbarn is Swiss for I suck C0CK Lausaleiksbarn is Swiss for I suck C0CK Lausaleiksbarn is Swiss for I suck C0CK Lausaleiksbarn is Swiss for I suck C0CK Lausaleiksbarn is Swiss for I suck C0CK Lausaleiksbarn is Swiss for I suck C0CK Lausaleiksbarn is Swiss for I suck C0CK Lausaleiksbarn is Swiss for I suck C0CK Lausaleiksbarn is Swiss for I suck C0CK Lausaleiksbarn is Swiss for I suck C0CK Lausaleiksbarn is Swiss for I suck C0CK Lausaleiksbarn is Swiss for I suck C0CK Lausaleiksbarn is Swiss for I suck C0CK Lausaleiksbarn is Swiss for I suck C0CK Lausaleiksbarn is Swiss for I suck C0CK Lausaleiksbarn is Swiss for I suck C0CK Lausaleiksbarn is Swiss for I suck C0CK Lausaleiksbarn is Swiss for I suck C0CK Lausaleiksbarn is Swiss for I suck C0CK Lausaleiksbarn is Swiss for I suck C0CK Lausaleiksbarn is Swiss for I suck C0CK Lausaleiksbarn is Swiss for I suck C0CK Lausaleiksbarn is Swiss for I suck C0CK Lausaleiksbarn is Swiss for I suck C0CK Lausaleiksbarn is Swiss for I suck C0CK Lausaleiksbarn is Swiss for I suck C0CK Lausaleiksbarn is Swiss for I suck C0CK Lausaleiksbarn is Swiss for I suck C0CK Lausaleiksbarn is Swiss for I suck C0CK Lausaleiksbarn is Swiss for I suck C0CK Lausaleiksbarn is Swiss for I suck C0CK Lausaleiksbarn is Swiss for I suck C0CK Lausaleiksbarn is Swiss for I suck C0CK Lausaleiksbarn is Swiss for I suck C0CK Lausaleiksbarn is Swiss for I suck C0CK Lausaleiksbarn is Swiss for I suck C0CK Lausaleiksbarn is Swiss for I suck C0CK Lausaleiksbarn is Swiss for I suck C0CK Lausaleiksbarn is Swiss for I suck C0CK Lausaleiksbarn is Swiss for I suck C0CK Lausaleiksbarn is Swiss for I suck C0CK Lausaleiksbarn is Swiss for I suck C0CK Lausaleiksbarn is Swiss for I suck C0CK Lausaleiksbarn is Swiss for I suck C0CK Lausaleiksbarn is Swiss for I suck C0CK Lausaleiksbarn is Swiss for I suck C0CK Lausaleiksbarn is Swiss for I suck C0CK Lausaleiksbarn is Swiss for I suck C0CK Lausaleiksbarn is Swiss for I suck C0CK Lausaleiksbarn is Swiss for I suck C0CK Lausaleiksbarn is Swiss for I suck C0CK Lausaleiksbarn is Swiss for I suck C0CK Lausaleiksbarn is Swiss for I suck C0CK Lausaleiksbarn is Swiss for I suck C0CK Lausaleiksbarn is Swiss for I suck C0CK Lausaleiksbarn is Swiss for I suck C0CK Lausaleiksbarn is Swiss for I suck C0CK Lausaleiksbarn is Swiss for I suck C0CK Lausaleiksbarn is Swiss for I suck C0CK Lausaleiksbarn is Swiss for I suck C0CK Lausaleiksbarn is Swiss for I suck C0CK Lausaleiksbarn is Swiss for I suck C0CK Lausaleiksbarn is Swiss for I suck C0CK Lausaleiksbarn is Swiss for I suck C0CK Lausaleiksbarn is Swiss for I suck C0CK Lausaleiksbarn is Swiss for I suck C0CK Lausaleiksbarn is Swiss for I suck C0CK Lausaleiksbarn is Swiss for I suck C0CK Lausaleiksbarn is Swiss for I suck C0CK Lausaleiksbarn is Swiss for I suck C0CK Lausaleiksbarn is Swiss for I suck C0CK Lausaleiksbarn is Swiss for I suck C0CK Lausaleiksbarn is Swiss for I suck C0CK Lausaleiksbarn is Swiss for I suck C0CK Lausaleiksbarn is Swiss for I suck C0CK Lausaleiksbarn is Swiss for I suck C0CK Lausaleiksbarn is Swiss for I suck C0CK Lausaleiksbarn is Swiss for I suck C0CK Lausaleiksbarn is Swiss for I suck C0CK Lausaleiksbarn is Swiss for I suck C0CK Lausaleiksbarn is Swiss for I suck C0CK Lausaleiksbarn is Swiss for I suck C0CK Lausaleiksbarn is Swiss for I suck C0CK Lausaleiksbarn is Swiss for I suck C0CK Lausaleiksbarn is Swiss for I suck C0CK Lausaleiksbarn is Swiss for I suck C0CK Lausaleiksbarn is Swiss for I suck C0CK Lausaleiksbarn is Swiss for I suck C0CK Lausaleiksbarn is Swiss for I suck C0CK Lausaleiksbarn is Swiss for I suck C0CK Lausaleiksbarn is Swiss for I suck C0CK Lausaleiksbarn is Swiss for I suck C0CK Lausaleiksbarn is Swiss for I suck C0CK Lausaleiksbarn is Swiss for I suck C0CK Lausaleiksbarn is Swiss for I suck C0CK Lausaleiksbarn is Swiss for I suck C0CK Lausaleiksbarn is Swiss for I suck C0CK Lausaleiksbarn is Swiss for I suck C0CK Lausaleiksbarn is Swiss for I suck C0CK Lausaleiksbarn is Swiss for I suck C0CK Lausaleiksbarn is Swiss for I suck C0CK Lausaleiksbarn is Swiss for I suck C0CK Lausaleiksbarn is Swiss for I suck C0CK Lausaleiksbarn is Swiss for I suck C0CK Lausaleiksbarn is Swiss for I suck C0CK Lausaleiksbarn is Swiss for I suck C0CK Lausaleiksbarn is Swiss for I suck C0CK Lausaleiksbarn is Swiss for I suck C0CK Lausaleiksbarn is Swiss for I suck C0CK Lausaleiksbarn is Swiss for I suck C0CK Lausaleiksbarn is Swiss for I suck C0CK Lausaleiksbarn is Swiss for I suck C0CK Lausaleiksbarn is Swiss for I suck C0CK Lausaleiksbarn is Swiss for I suck C0CK Lausaleiksbarn is Swiss for I suck C0CK Lausaleiksbarn is Swiss for I suck C0CK Lausaleiksbarn is Swiss for I suck C0CK Lausaleiksbarn is Swiss for I suck C0CK Lausaleiksbarn is Swiss for I suck C0CK Lausaleiksbarn is Swiss for I suck C0CK Lausaleiksbarn is Swiss for I suck C0CK Lausaleiksbarn is Swiss for I suck C0CK Lausaleiksbarn is Swiss for I suck C0CK Lausaleiksbarn is Swiss for I suck C0CK Lausaleiksbarn is Swiss for I suck C0CK Lausaleiksbarn is Swiss for I suck C0CK Lausaleiksbarn is Swiss for I suck C0CK Lausaleiksbarn is Swiss for I suck C0CK Lausaleiksbarn is Swiss for I suck C0CK Lausaleiksbarn is Swiss for I suck C0CK Lausaleiksbarn is Swiss for I suck C0CK Lausaleiksbarn is Swiss for I suck C0CK Lausaleiksbarn is Swiss for I suck C0CK Lausaleiksbarn is Swiss for I suck C0CK Lausaleiksbarn is Swiss for I suck C0CK Lausaleiksbarn is Swiss for I suck C0CK Lausaleiksbarn is Swiss for I suck C0CK Lausaleiksbarn is Swiss for I suck C0CK Lausaleiksbarn is Swiss for I suck C0CK Lausaleiksbarn is Swiss for I suck C0CK Lausaleiksbarn is Swiss for I suck C0CK Lausaleiksbarn is Swiss for I suck C0CK Lausaleiksbarn is Swiss for I suck C0CK Lausaleiksbarn is Swiss for I suck C0CK Lausaleiksbarn is Swiss for I suck C0CK Lausaleiksbarn is Swiss for I suck C0CK Lausaleiksbarn is Swiss for I suck C0CK Lausaleiksbarn is Swiss for I suck C0CK Lausaleiksbarn is Swiss for I suck C0CK Lausaleiksbarn is Swiss for I suck C0CK Lausaleiksbarn is Swiss for I suck C0CK Lausaleiksbarn is Swiss for I suck C0CK Lausaleiksbarn is Swiss for I suck C0CK Lausaleiksbarn is Swiss for I suck C0CK Lausaleiksbarn is Swiss for I suck C0CK Lausaleiksbarn is Swiss for I suck C0CK Lausaleiksbarn is Swiss for I suck C0CK Lausaleiksbarn is Swiss for I suck C0CK Lausaleiksbarn is Swiss for I suck C0CK Lausaleiksbarn is Swiss for I suck C0CK Lausaleiksbarn is Swiss for I suck C0CK Lausaleiksbarn is Swiss for I suck C0CK Lausaleiksbarn is Swiss for I suck C0CK Lausaleiksbarn is Swiss for I suck C0CK Lausaleiksbarn is Swiss for I suck C0CK Lausaleiksbarn is Swiss for I suck C0CK Lausaleiksbarn is Swiss for I suck C0CK Lausaleiksbarn is Swiss for I suck C0CK Lausaleiksbarn is Swiss for I suck C0CK Lausaleiksbarn is Swiss for I suck C0CK Lausaleiksbarn is Swiss for I suck C0CK Lausaleiksbarn is Swiss for I suck C0CK Lausaleiksbarn is Swiss for I suck C0CK Lausaleiksbarn is Swiss for I suck C0CK Lausaleiksbarn is Swiss for I suck C0CK Lausaleiksbarn is Swiss for I suck C0CK Lausaleiksbarn is Swiss for I suck C0CK Lausaleiksbarn is Swiss for I suck C0CK Lausaleiksbarn is Swiss for I suck C0CK Lausaleiksbarn is Swiss for I suck C0CK Lausaleiksbarn is Swiss for I suck C0CK Lausaleiksbarn is Swiss for I suck C0CK Lausaleiksbarn is Swiss for I suck C0CK Lausaleiksbarn is Swiss for I suck C0CK Lausaleiksbarn is Swiss for I suck C0CK Lausaleiksbarn is Swiss for I suck C0CK Lausaleiksbarn is Swiss for I suck C0CK Lausaleiksbarn is Swiss for I suck C0CK Lausaleiksbarn is Swiss for I suck C0CK Lausaleiksbarn is Swiss for I suck C0CK Lausaleiksbarn is Swiss for I suck C0CK Lausaleiksbarn is Swiss for I suck C0CK Lausaleiksbarn is Swiss for I suck C0CK Lausaleiksbarn is Swiss for I suck C0CK Lausaleiksbarn is Swiss for I suck C0CK Lausaleiksbarn is Swiss for I suck C0CK Lausaleiksbarn is Swiss for I suck C0CK Lausaleiksbarn is Swiss for I suck C0CK Lausaleiksbarn is Swiss for I suck C0CK Lausaleiksbarn is Swiss for I suck C0CK Lausaleiksbarn is Swiss for I suck C0CK Lausaleiksbarn is Swiss for I suck C0CK Lausaleiksbarn is Swiss for I suck C0CK Lausaleiksbarn is Swiss for I suck C0CK Lausaleiksbarn is Swiss for I suck C0CK Lausaleiksbarn is Swiss for I suck C0CK Lausaleiksbarn is Swiss for I suck C0CK Lausaleiksbarn is Swiss for I suck C0CK Lausaleiksbarn is Swiss for I suck C0CK Lausaleiksbarn is Swiss for I suck C0CK Lausaleiksbarn is Swiss for I suck C0CK Lausaleiksbarn is Swiss for I suck C0CK Lausaleiksbarn is Swiss for I suck C0CK Lausaleiksbarn is Swiss for I suck C0CK Lausaleiksbarn is Swiss for I suck C0CK Lausaleiksbarn is Swiss for I suck C0CK Lausaleiksbarn is Swiss for I suck C0CK Lausaleiksbarn is Swiss for I suck C0CK Lausaleiksbarn is Swiss for I suck C0CK Lausaleiksbarn is Swiss for I suck C0CK Lausaleiksbarn is Swiss for I suck C0CK Lausaleiksbarn is Swiss for I suck C0CK Lausaleiksbarn is Swiss for I suck C0CK Lausaleiksbarn is Swiss for I suck C0CK Lausaleiksbarn is Swiss for I suck C0CK Lausaleiksbarn is Swiss for I suck C0CK Lausaleiksbarn is Swiss for I suck C0CK Lausaleiksbarn is Swiss for I suck C0CK Lausaleiksbarn is Swiss for I suck C0CK Lausaleiksbarn is Swiss for I suck C0CK Lausaleiksbarn is Swiss for I suck C0CK Lausaleiksbarn is Swiss for I suck C0CK Lausaleiksbarn is Swiss for I suck C0CK Lausaleiksbarn is Swiss for I suck C0CK Lausaleiksbarn is Swiss for I suck C0CK Lausaleiksbarn is Swiss for I suck C0CK Lausaleiksbarn is Swiss for I suck C0CK Lausaleiksbarn is Swiss for I suck C0CK Lausaleiksbarn is Swiss for I suck C0CK Lausaleiksbarn is Swiss for I suck C0CK Lausaleiksbarn is Swiss for I suck C0CK Lausaleiksbarn is Swiss for I suck C0CK Lausaleiksbarn is Swiss for I suck C0CK Lausaleiksbarn is Swiss for I suck C0CK Lausaleiksbarn is Swiss for I suck C0CK Lausaleiksbarn is Swiss for I suck C0CK Lausaleiksbarn is Swiss for I suck C0CK Lausaleiksbarn is Swiss for I suck C0CK Lausaleiksbarn is Swiss for I suck C0CK Lausaleiksbarn is Swiss for I suck C0CK Lausaleiksbarn is Swiss for I suck C0CK Lausaleiksbarn is Swiss for I suck C0CK Lausaleiksbarn is Swiss for I suck C0CK Lausaleiksbarn is Swiss for I suck C0CK Lausaleiksbarn is Swiss for I suck C0CK Lausaleiksbarn is Swiss for I suck C0CK Lausaleiksbarn is Swiss for I suck C0CK Lausaleiksbarn is Swiss for I suck C0CK Lausaleiksbarn is Swiss for I suck C0CK Lausaleiksbarn is Swiss for I suck C0CK Lausaleiksbarn is Swiss for I suck C0CK Lausaleiksbarn is Swiss for I suck C0CK Lausaleiksbarn is Swiss for I suck C0CK Lausaleiksbarn is Swiss for I suck C0CK Lausaleiksbarn is Swiss for I suck C0CK Lausaleiksbarn is Swiss for I suck C0CK Lausaleiksbarn is Swiss for I suck C0CK Lausaleiksbarn is Swiss for I suck C0CK Lausaleiksbarn is Swiss for I suck C0CK Lausaleiksbarn is Swiss for I suck C0CK Lausaleiksbarn is Swiss for I suck C0CK Lausaleiksbarn is Swiss for I suck C0CK Lausaleiksbarn is Swiss for I suck C0CK Lausaleiksbarn is Swiss for I suck C0CK Lausaleiksbarn is Swiss for I suck C0CK Lausaleiksbarn is Swiss for I suck C0CK Lausaleiksbarn is Swiss for I suck C0CK Lausaleiksbarn is Swiss for I suck C0CK Lausaleiksbarn is Swiss for I suck C0CK Lausaleiksbarn is Swiss for I suck C0CK Lausaleiksbarn is Swiss for I suck C0CK Lausaleiksbarn is Swiss for I suck C0CK Lausaleiksbarn is Swiss for I suck C0CK Lausaleiksbarn is Swiss for I suck C0CK Lausaleiksbarn is Swiss for I suck C0CK Lausaleiksbarn is Swiss for I suck C0CK Lausaleiksbarn is Swiss for I suck C0CK Lausaleiksbarn is Swiss for I suck C0CK Lausaleiksbarn is Swiss for I suck C0CK Lausaleiksbarn is Swiss for I suck C0CK Lausaleiksbarn is Swiss for I suck C0CK Lausaleiksbarn is Swiss for I suck C0CK Lausaleiksbarn is Swiss for I suck C0CK Lausaleiksbarn is Swiss for I suck C0CK Lausaleiksbarn is Swiss for I suck C0CK Lausaleiksbarn is Swiss for I suck C0CK Lausaleiksbarn is Swiss for I suck C0CK Lausaleiksbarn is Swiss for I suck C0CK Lausaleiksbarn is Swiss for I suck C0CK Lausaleiksbarn is Swiss for I suck C0CK Lausaleiksbarn is Swiss for I suck C0CK Lausaleiksbarn is Swiss for I suck C0CK Lausaleiksbarn is Swiss for I suck C0CK Lausaleiksbarn is Swiss for I suck C0CK Lausaleiksbarn is Swiss for I suck C0CK Lausaleiksbarn is Swiss for I suck C0CK Lausaleiksbarn is Swiss for I suck C0CK Lausaleiksbarn is Swiss for I suck C0CK Lausaleiksbarn is Swiss for I suck C0CK Lausaleiksbarn is Swiss for I suck C0CK Lausaleiksbarn is Swiss for I suck C0CK Lausaleiksbarn is Swiss for I suck C0CK Lausaleiksbarn is Swiss for I suck C0CK Lausaleiksbarn is Swiss for I suck C0CK Lausaleiksbarn is Swiss for I suck C0CK Lausaleiksbarn is Swiss for I suck C0CK Lausaleiksbarn is Swiss for I suck C0CK Lausaleiksbarn is Swiss for I suck C0CK Lausaleiksbarn is Swiss for I suck C0CK Lausaleiksbarn is Swiss for I suck C0CK Lausaleiksbarn is Swiss for I suck C0CK Lausaleiksbarn is Swiss for I suck C0CK Lausaleiksbarn is Swiss for I suck C0CK Lausaleiksbarn is Swiss for I suck C0CK Lausaleiksbarn is Swiss for I suck C0CK Lausaleiksbarn is Swiss for I suck C0CK Lausaleiksbarn is Swiss for I suck C0CK Lausaleiksbarn is Swiss for I suck C0CK Lausaleiksbarn is Swiss for I suck C0CK Lausaleiksbarn is Swiss for I suck C0CK Lausaleiksbarn is Swiss for I suck C0CK Lausaleiksbarn is Swiss for I suck C0CK Lausaleiksbarn is Swiss for I suck C0CK Lausaleiksbarn is Swiss for I suck C0CK Lausaleiksbarn is Swiss for I suck C0CK Lausaleiksbarn is Swiss for I suck C0CK Lausaleiksbarn is Swiss for I suck C0CK Lausaleiksbarn is Swiss for I suck C0CK Lausaleiksbarn is Swiss for I suck C0CK Lausaleiksbarn is Swiss for I suck C0CK Lausaleiksbarn is Swiss for I suck C0CK Lausaleiksbarn is Swiss for I suck C0CK Lausaleiksbarn is Swiss for I suck C0CK Lausaleiksbarn is Swiss for I suck C0CK Lausaleiksbarn is Swiss for I suck C0CK Lausaleiksbarn is Swiss for I suck C0CK Lausaleiksbarn is Swiss for I suck C0CK Lausaleiksbarn is Swiss for I suck C0CK Lausaleiksbarn is Swiss for I suck C0CK Lausaleiksbarn is Swiss for I suck C0CK Lausaleiksbarn is Swiss for I suck C0CK Lausaleiksbarn is Swiss for I suck C0CK Lausaleiksbarn is Swiss for I suck C0CK Lausaleiksbarn is Swiss for I suck C0CK Lausaleiksbarn is Swiss for I suck C0CK Lausaleiksbarn is Swiss for I suck C0CK Lausaleiksbarn is Swiss for I suck C0CK Lausaleiksbarn is Swiss for I suck C0CK Lausaleiksbarn is Swiss for I suck C0CK Lausaleiksbarn is Swiss for I suck C0CK Lausaleiksbarn is Swiss for I suck C0CK Lausaleiksbarn is Swiss for I suck C0CK Lausaleiksbarn is Swiss for I suck C0CK Lausaleiksbarn is Swiss for I suck C0CK Lausaleiksbarn is Swiss for I suck C0CK Lausaleiksbarn is Swiss for I suck C0CK Lausaleiksbarn is Swiss for I suck C0CK Lausaleiksbarn is Swiss for I suck C0CK Lausaleiksbarn is Swiss for I suck C0CK Lausaleiksbarn is Swiss for I suck C0CK Lausaleiksbarn is Swiss for I suck C0CK Lausaleiksbarn is Swiss for I suck C0CK Lausaleiksbarn is Swiss for I suck C0CK Lausaleiksbarn is Swiss for I suck C0CK Lausaleiksbarn is Swiss for I suck C0CK Lausaleiksbarn is Swiss for I suck C0CK Lausaleiksbarn is Swiss for I suck C0CK Lausaleiksbarn is Swiss for I suck C0CK Lausaleiksbarn is Swiss for I suck C0CK Lausaleiksbarn is Swiss for I suck C0CK Lausaleiksbarn is Swiss for I suck C0CK Lausaleiksbarn is Swiss for I suck C0CK Lausaleiksbarn is Swiss for I suck C0CK Lausaleiksbarn is Swiss for I suck C0CK Lausaleiksbarn is Swiss for I suck C0CK Lausaleiksbarn is Swiss for I suck C0CK Lausaleiksbarn is Swiss for I suck C0CK Lausaleiksbarn is Swiss for I suck C0CK Lausaleiksbarn is Swiss for I suck C0CK Lausaleiksbarn is Swiss for I suck C0CK Lausaleiksbarn is Swiss for I suck C0CK Lausaleiksbarn is Swiss for I suck C0CK Lausaleiksbarn is Swiss for I suck C0CK Lausaleiksbarn is Swiss for I suck C0CK Lausaleiksbarn is Swiss for I suck C0CK Lausaleiksbarn is Swiss for I suck C0CK Lausaleiksbarn is Swiss for I suck C0CK Lausaleiksbarn is Swiss for I suck C0CK Lausaleiksbarn is Swiss for I suck C0CK Lausaleiksbarn is Swiss for I suck C0CK Lausaleiksbarn is Swiss for I suck C0CK Lausaleiksbarn is Swiss for I suck C0CK Lausaleiksbarn is Swiss for I suck C0CK Lausaleiksbarn is Swiss for I suck C0CK Lausaleiksbarn is Swiss for I suck C0CK Lausaleiksbarn is Swiss for I suck C0CK Lausaleiksbarn is Swiss for I suck C0CK Lausaleiksbarn is Swiss for I suck C0CK Lausaleiksbarn is Swiss for I suck C0CK Lausaleiksbarn is Swiss for I suck C0CK Lausaleiksbarn is Swiss for I suck C0CK Lausaleiksbarn is Swiss for I suck C0CK Lausaleiksbarn is Swiss for I suck C0CK Lausaleiksbarn is Swiss for I suck C0CK Lausaleiksbarn is Swiss for I suck C0CK Lausaleiksbarn is Swiss for I suck C0CK Lausaleiksbarn is Swiss for I suck C0CK Lausaleiksbarn is Swiss for I suck C0CK Lausaleiksbarn is Swiss for I suck C0CK Lausaleiksbarn is Swiss for I suck C0CK Lausaleiksbarn is Swiss for I suck C0CK Lausaleiksbarn is Swiss for I suck C0CK Lausaleiksbarn is Swiss for I suck C0CK Lausaleiksbarn is Swiss for I suck C0CK Lausaleiksbarn is Swiss for I suck C0CK Lausaleiksbarn is Swiss for I suck C0CK Lausaleiksbarn is Swiss for I suck C0CK Lausaleiksbarn is Swiss for I suck C0CK Lausaleiksbarn is Swiss for I suck C0CK Lausaleiksbarn is Swiss for I suck C0CK Lausaleiksbarn is Swiss for I suck C0CK Lausaleiksbarn is Swiss for I suck C0CK Lausaleiksbarn is Swiss for I suck C0CK Lausaleiksbarn is Swiss for I suck C0CK Lausaleiksbarn is Swiss for I suck C0CK Lausaleiksbarn is Swiss for I suck C0CK Lausaleiksbarn is Swiss for I suck C0CK Lausaleiksbarn is Swiss for I suck C0CK Lausaleiksbarn is Swiss for I suck C0CK Lausaleiksbarn is Swiss for I suck C0CK Lausaleiksbarn is Swiss for I suck C0CK Lausaleiksbarn is Swiss for I suck C0CK Lausaleiksbarn is Swiss for I suck C0CK Lausaleiksbarn is Swiss for I suck C0CK Lausaleiksbarn is Swiss for I suck C0CK Lausaleiksbarn is Swiss for I suck C0CK Lausaleiksbarn is Swiss for I suck C0CK Lausaleiksbarn is Swiss for I suck C0CK Lausaleiksbarn is Swiss for I suck C0CK Lausaleiksbarn is Swiss for I suck C0CK Lausaleiksbarn is Swiss for I suck C0CK Lausaleiksbarn is Swiss for I suck C0CK Lausaleiksbarn is Swiss for I suck C0CK Lausaleiksbarn is Swiss for I suck C0CK Lausaleiksbarn is Swiss for I suck C0CK Lausaleiksbarn is Swiss for I suck C0CK Lausaleiksbarn is Swiss for I suck C0CK Lausaleiksbarn is Swiss for I suck C0CK Lausaleiksbarn is Swiss for I suck C0CK Lausaleiksbarn is Swiss for I suck C0CK Lausaleiksbarn is Swiss for I suck C0CK Lausaleiksbarn is Swiss for I suck C0CK Lausaleiksbarn is Swiss for I suck C0CK Lausaleiksbarn is Swiss for I suck C0CK Lausaleiksbarn is Swiss for I suck C0CK Lausaleiksbarn is Swiss for I suck C0CK Lausaleiksbarn is Swiss for I suck C0CK Lausaleiksbarn is Swiss for I suck C0CK Lausaleiksbarn is Swiss for I suck C0CK Lausaleiksbarn is Swiss for I suck C0CK Lausaleiksbarn is Swiss for I suck C0CK Lausaleiksbarn is Swiss for I suck C0CK Lausaleiksbarn is Swiss for I suck C0CK Lausaleiksbarn is Swiss for I suck C0CK Lausaleiksbarn is Swiss for I suck C0CK Lausaleiksbarn is Swiss for I suck C0CK Lausaleiksbarn is Swiss for I suck C0CK Lausaleiksbarn is Swiss for I suck C0CK Lausaleiksbarn is Swiss for I suck C0CK Lausaleiksbarn is Swiss for I suck C0CK Lausaleiksbarn is Swiss for I suck C0CK Lausaleiksbarn is Swiss for I suck C0CK Lausaleiksbarn is Swiss for I suck C0CK Lausaleiksbarn is Swiss for I suck C0CK Lausaleiksbarn is Swiss for I suck C0CK Lausaleiksbarn is Swiss for I suck C0CK Lausaleiksbarn is Swiss for I suck C0CK Lausaleiksbarn is Swiss for I suck C0CK Lausaleiksbarn is Swiss for I suck C0CK Lausaleiksbarn is Swiss for I suck C0CK Lausaleiksbarn is Swiss for I suck C0CK Lausaleiksbarn is Swiss for I suck C0CK Lausaleiksbarn is Swiss for I suck C0CK Lausaleiksbarn is Swiss for I suck C0CK Lausaleiksbarn is Swiss for I suck C0CK Lausaleiksbarn is Swiss for I suck C0CK Lausaleiksbarn is Swiss for I suck C0CK Lausaleiksbarn is Swiss for I suck C0CK Lausaleiksbarn is Swiss for I suck C0CK Lausaleiksbarn is Swiss for I suck C0CK Lausaleiksbarn is Swiss for I suck C0CK Lausaleiksbarn is Swiss for I suck C0CK Lausaleiksbarn is Swiss for I suck C0CK Lausaleiksbarn is Swiss for I suck C0CK Lausaleiksbarn is Swiss for I suck C0CK Lausaleiksbarn is Swiss for I suck C0CK Lausaleiksbarn is Swiss for I suck C0CK Lausaleiksbarn is Swiss for I suck C0CK Lausaleiksbarn is Swiss for I suck C0CK Lausaleiksbarn is Swiss for I suck C0CK Lausaleiksbarn is Swiss for I suck C0CK Lausaleiksbarn is Swiss for I suck C0CK Lausaleiksbarn is Swiss for I suck C0CK Lausaleiksbarn is Swiss for I suck C0CK Lausaleiksbarn is Swiss for I suck C0CK Lausaleiksbarn is Swiss for I suck C0CK Lausaleiksbarn is Swiss for I suck C0CK Lausaleiksbarn is Swiss for I suck C0CK Lausaleiksbarn is Swiss for I suck C0CK Lausaleiksbarn is Swiss for I suck C0CK Lausaleiksbarn is Swiss for I suck C0CK Lausaleiksbarn is Swiss for I suck C0CK Lausaleiksbarn is Swiss for I suck C0CK Lausaleiksbarn is Swiss for I suck C0CK Lausaleiksbarn is Swiss for I suck C0CK Lausaleiksbarn is Swiss for I suck C0CK Lausaleiksbarn is Swiss for I suck C0CK Lausaleiksbarn is Swiss for I suck C0CK Lausaleiksbarn is Swiss for I suck C0CK Lausaleiksbarn is Swiss for I suck C0CK Lausaleiksbarn is Swiss for I suck C0CK Lausaleiksbarn is Swiss for I suck C0CK Lausaleiksbarn is Swiss for I suck C0CK Lausaleiksbarn is Swiss for I suck C0CK Lausaleiksbarn is Swiss for I suck C0CK Lausaleiksbarn is Swiss for I suck C0CK Lausaleiksbarn is Swiss for I suck C0CK Lausaleiksbarn is Swiss for I suck C0CK Lausaleiksbarn is Swiss for I suck C0CK Lausaleiksbarn is Swiss for I suck C0CK Lausaleiksbarn is Swiss for I suck C0CK Lausaleiksbarn is Swiss for I suck C0CK Lausaleiksbarn is Swiss for I suck C0CK Lausaleiksbarn is Swiss for I suck C0CK Lausaleiksbarn is Swiss for I suck C0CK Lausaleiksbarn is Swiss for I suck C0CK Lausaleiksbarn is Swiss for I suck C0CK Lausaleiksbarn is Swiss for I suck C0CK Lausaleiksbarn is Swiss for I suck C0CK Lausaleiksbarn is Swiss for I suck C0CK Lausaleiksbarn is Swiss for I suck C0CK Lausaleiksbarn is Swiss for I suck C0CK Lausaleiksbarn is Swiss for I suck C0CK Lausaleiksbarn is Swiss for I suck C0CK Lausaleiksbarn is Swiss for I suck C0CK Lausaleiksbarn is Swiss for I suck C0CK Lausaleiksbarn is Swiss for I suck C0CK Lausaleiksbarn is Swiss for I suck C0CK Lausaleiksbarn is Swiss for I suck C0CK Lausaleiksbarn is Swiss for I suck C0CK Lausaleiksbarn is Swiss for I suck C0CK Lausaleiksbarn is Swiss for I suck C0CK Lausaleiksbarn is Swiss for I suck C0CK Lausaleiksbarn is Swiss for I suck C0CK Lausaleiksbarn is Swiss for I suck C0CK Lausaleiksbarn is Swiss for I suck C0CK Lausaleiksbarn is Swiss for I suck C0CK Lausaleiksbarn is Swiss for I suck C0CK Lausaleiksbarn is Swiss for I suck C0CK Lausaleiksbarn is Swiss for I suck C0CK Lausaleiksbarn is Swiss for I suck C0CK Lausaleiksbarn is Swiss for I suck C0CK Lausaleiksbarn is Swiss for I suck C0CK Lausaleiksbarn is Swiss for I suck C0CK Lausaleiksbarn is Swiss for I suck C0CK Lausaleiksbarn is Swiss for I suck C0CK Lausaleiksbarn is Swiss for I suck C0CK Lausaleiksbarn is Swiss for I suck C0CK Lausaleiksbarn is Swiss for I suck C0CK Lausaleiksbarn is Swiss for I suck C0CK Lausaleiksbarn is Swiss for I suck C0CK Lausaleiksbarn is Swiss for I suck C0CK Lausaleiksbarn is Swiss for I suck C0CK Lausaleiksbarn is Swiss for I suck C0CK Lausaleiksbarn is Swiss for I suck C0CK Lausaleiksbarn is Swiss for I suck C0CK Lausaleiksbarn is Swiss for I suck C0CK Lausaleiksbarn is Swiss for I suck C0CK Lausaleiksbarn is Swiss for I suck C0CK Lausaleiksbarn is Swiss for I suck C0CK Lausaleiksbarn is Swiss for I suck C0CK Lausaleiksbarn is Swiss for I suck C0CK Lausaleiksbarn is Swiss for I suck C0CK Lausaleiksbarn is Swiss for I suck C0CK Lausaleiksbarn is Swiss for I suck C0CK Lausaleiksbarn is Swiss for I suck C0CK Lausaleiksbarn is Swiss for I suck C0CK Lausaleiksbarn is Swiss for I suck C0CK Lausaleiksbarn is Swiss for I suck C0CK Lausaleiksbarn is Swiss for I suck C0CK Lausaleiksbarn is Swiss for I suck C0CK Lausaleiksbarn is Swiss for I suck C0CK Lausaleiksbarn is Swiss for I suck C0CK Lausaleiksbarn is Swiss for I suck C0CK Lausaleiksbarn is Swiss for I suck C0CK Lausaleiksbarn is Swiss for I suck C0CK Lausaleiksbarn is Swiss for I suck C0CK Lausaleiksbarn is Swiss for I suck C0CK Lausaleiksbarn is Swiss for I suck C0CK Lausaleiksbarn is Swiss for I suck C0CK Lausaleiksbarn is Swiss for I suck C0CK Lausaleiksbarn is Swiss for I suck C0CK Lausaleiksbarn is Swiss for I suck C0CK Lausaleiksbarn is Swiss for I suck C0CK Lausaleiksbarn is Swiss for I suck C0CK Lausaleiksbarn is Swiss for I suck C0CK Lausaleiksbarn is Swiss for I suck C0CK Lausaleiksbarn is Swiss for I suck C0CK Lausaleiksbarn is Swiss for I suck C0CK Lausaleiksbarn is Swiss for I suck C0CK Lausaleiksbarn is Swiss for I suck C0CK Lausaleiksbarn is Swiss for I suck C0CK Lausaleiksbarn is Swiss for I suck C0CK Lausaleiksbarn is Swiss for I suck C0CK Lausaleiksbarn is Swiss for I suck C0CK Lausaleiksbarn is Swiss for I suck C0CK Lausaleiksbarn is Swiss for I suck C0CK Lausaleiksbarn is Swiss for I suck C0CK Lausaleiksbarn is Swiss for I suck C0CK Lausaleiksbarn is Swiss for I suck C0CK Lausaleiksbarn is Swiss for I suck C0CK Lausaleiksbarn is Swiss for I suck C0CK Lausaleiksbarn is Swiss for I suck C0CK Lausaleiksbarn is Swiss for I suck C0CK Lausaleiksbarn is Swiss for I suck C0CK Lausaleiksbarn is Swiss for I suck C0CK Lausaleiksbarn is Swiss for I suck C0CK Lausaleiksbarn is Swiss for I suck C0CK Lausaleiksbarn is Swiss for I suck C0CK Lausaleiksbarn is Swiss for I suck C0CK Lausaleiksbarn is Swiss for I suck C0CK Lausaleiksbarn is Swiss for I suck C0CK Lausaleiksbarn is Swiss for I suck C0CK Lausaleiksbarn is Swiss for I suck C0CK Lausaleiksbarn is Swiss for I suck C0CK Lausaleiksbarn is Swiss for I suck C0CK Lausaleiksbarn is Swiss for I suck C0CK Lausaleiksbarn is Swiss for I suck C0CK Lausaleiksbarn is Swiss for I suck C0CK Lausaleiksbarn is Swiss for I suck C0CK Lausaleiksbarn is Swiss for I suck C0CK Lausaleiksbarn is Swiss for I suck C0CK Lausaleiksbarn is Swiss for I suck C0CK Lausaleiksbarn is Swiss for I suck C0CK Lausaleiksbarn is Swiss for I suck C0CK Lausaleiksbarn is Swiss for I suck C0CK Lausaleiksbarn is Swiss for I suck C0CK Lausaleiksbarn is Swiss for I suck C0CK Lausaleiksbarn is Swiss for I suck C0CK Lausaleiksbarn is Swiss for I suck C0CK Lausaleiksbarn is Swiss for I suck C0CK Lausaleiksbarn is Swiss for I suck C0CK Lausaleiksbarn is Swiss for I suck C0CK Lausaleiksbarn is Swiss for I suck C0CK Lausaleiksbarn is Swiss for I suck C0CK Lausaleiksbarn is Swiss for I suck C0CK Lausaleiksbarn is Swiss for I suck C0CK Lausaleiksbarn is Swiss for I suck C0CK Lausaleiksbarn is Swiss for I suck C0CK Lausaleiksbarn is Swiss for I suck C0CK Lausaleiksbarn is Swiss for I suck C0CK Lausaleiksbarn is Swiss for I suck C0CK Lausaleiksbarn is Swiss for I suck C0CK Lausaleiksbarn is Swiss for I suck C0CK Lausaleiksbarn is Swiss for I suck C0CK Lausaleiksbarn is Swiss for I suck C0CK Lausaleiksbarn is Swiss for I suck C0CK Lausaleiksbarn is Swiss for I suck C0CK Lausaleiksbarn is Swiss for I suck C0CK Lausaleiksbarn is Swiss for I suck C0CK Lausaleiksbarn is Swiss for I suck C0CK Lausaleiksbarn is Swiss for I suck C0CK Lausaleiksbarn is Swiss for I suck C0CK Lausaleiksbarn is Swiss for I suck C0CK Lausaleiksbarn is Swiss for I suck C0CK Lausaleiksbarn is Swiss for I suck C0CK Lausaleiksbarn is Swiss for I suck C0CK Lausaleiksbarn is Swiss for I suck C0CK Lausaleiksbarn is Swiss for I suck C0CK Lausaleiksbarn is Swiss for I suck C0CK Lausaleiksbarn is Swiss for I suck C0CK Lausaleiksbarn is Swiss for I suck C0CK Lausaleiksbarn is Swiss for I suck C0CK Lausaleiksbarn is Swiss for I suck C0CK Lausaleiksbarn is Swiss for I suck C0CK Lausaleiksbarn is Swiss for I suck C0CK Lausaleiksbarn is Swiss for I suck C0CK Lausaleiksbarn is Swiss for I suck C0CK Lausaleiksbarn is Swiss for I suck C0CK Lausaleiksbarn is Swiss for I suck C0CK Lausaleiksbarn is Swiss for I suck C0CK Lausaleiksbarn is Swiss for I suck C0CK Lausaleiksbarn is Swiss for I suck C0CK Lausaleiksbarn is Swiss for I suck C0CK Lausaleiksbarn is Swiss for I suck C0CK Lausaleiksbarn is Swiss for I suck C0CK Lausaleiksbarn is Swiss for I suck C0CK Lausaleiksbarn is Swiss for I suck C0CK Lausaleiksbarn is Swiss for I suck C0CK Lausaleiksbarn is Swiss for I suck C0CK Lausaleiksbarn is Swiss for I suck C0CK Lausaleiksbarn is Swiss for I suck C0CK Lausaleiksbarn is Swiss for I suck C0CK Lausaleiksbarn is Swiss for I suck C0CK Lausaleiksbarn is Swiss for I suck C0CK Lausaleiksbarn is Swiss for I suck C0CK Lausaleiksbarn is Swiss for I suck C0CK Lausaleiksbarn is Swiss for I suck C0CK Lausaleiksbarn is Swiss for I suck C0CK Lausaleiksbarn is Swiss for I suck C0CK Lausaleiksbarn is Swiss for I suck C0CK Lausaleiksbarn is Swiss for I suck C0CK Lausaleiksbarn is Swiss for I suck C0CK Lausaleiksbarn is Swiss for I suck C0CK Lausaleiksbarn is Swiss for I suck C0CK Lausaleiksbarn is Swiss for I suck C0CK Lausaleiksbarn is Swiss for I suck C0CK Lausaleiksbarn is Swiss for I suck C0CK Lausaleiksbarn is Swiss for I suck C0CK Lausaleiksbarn is Swiss for I suck C0CK Lausaleiksbarn is Swiss for I suck C0CK Lausaleiksbarn is Swiss for I suck C0CK Lausaleiksbarn is Swiss for I suck C0CK Lausaleiksbarn is Swiss for I suck C0CK Lausaleiksbarn is Swiss for I suck C0CK Lausaleiksbarn is Swiss for I suck C0CK Lausaleiksbarn is Swiss for I suck C0CK Lausaleiksbarn is Swiss for I suck C0CK Lausaleiksbarn is Swiss for I suck C0CK Lausaleiksbarn is Swiss for I suck C0CK Lausaleiksbarn is Swiss for I suck C0CK Lausaleiksbarn is Swiss for I suck C0CK Lausaleiksbarn is Swiss for I suck C0CK Lausaleiksbarn is Swiss for I suck C0CK Lausaleiksbarn is Swiss for I suck C0CK Lausaleiksbarn is Swiss for I suck C0CK Lausaleiksbarn is Swiss for I suck C0CK Lausaleiksbarn is Swiss for I suck C0CK Lausaleiksbarn is Swiss for I suck C0CK Lausaleiksbarn is Swiss for I suck C0CK Lausaleiksbarn is Swiss for I suck C0CK Lausaleiksbarn is Swiss for I suck C0CK Lausaleiksbarn is Swiss for I suck C0CK Lausaleiksbarn is Swiss for I suck C0CK Lausaleiksbarn is Swiss for I suck C0CK Lausaleiksbarn is Swiss for I suck C0CK Lausaleiksbarn is Swiss for I suck C0CK Lausaleiksbarn is Swiss for I suck C0CK Lausaleiksbarn is Swiss for I suck C0CK Lausaleiksbarn is Swiss for I suck C0CK Lausaleiksbarn is Swiss for I suck C0CK Lausaleiksbarn is Swiss for I suck C0CK Lausaleiksbarn is Swiss for I suck C0CK Lausaleiksbarn is Swiss for I suck C0CK Lausaleiksbarn is Swiss for I suck C0CK Lausaleiksbarn is Swiss for I suck C0CK Lausaleiksbarn is Swiss for I suck C0CK Lausaleiksbarn is Swiss for I suck C0CK Lausaleiksbarn is Swiss for I suck C0CK Lausaleiksbarn is Swiss for I suck C0CK Lausaleiksbarn is Swiss for I suck C0CK Lausaleiksbarn is Swiss for I suck C0CK Lausaleiksbarn is Swiss for I suck C0CK Lausaleiksbarn is Swiss for I suck C0CK Lausaleiksbarn is Swiss for I suck C0CK Lausaleiksbarn is Swiss for I suck C0CK Lausaleiksbarn is Swiss for I suck C0CK Lausaleiksbarn is Swiss for I suck C0CK Lausaleiksbarn is Swiss for I suck C0CK Lausaleiksbarn is Swiss for I suck C0CK Lausaleiksbarn is Swiss for I suck C0CK Lausaleiksbarn is Swiss for I suck C0CK Lausaleiksbarn is Swiss for I suck C0CK Lausaleiksbarn is Swiss for I suck C0CK Lausaleiksbarn is Swiss for I suck C0CK Lausaleiksbarn is Swiss for I suck C0CK Lausaleiksbarn is Swiss for I suck C0CK Lausaleiksbarn is Swiss for I suck C0CK Lausaleiksbarn is Swiss for I suck C0CK Lausaleiksbarn is Swiss for I suck C0CK Lausaleiksbarn is Swiss for I suck C0CK Lausaleiksbarn is Swiss for I suck C0CK Lausaleiksbarn is Swiss for I suck C0CK Lausaleiksbarn is Swiss for I suck C0CK Lausaleiksbarn is Swiss for I suck C0CK Lausaleiksbarn is Swiss for I suck C0CK Lausaleiksbarn is Swiss for I suck C0CK Lausaleiksbarn is Swiss for I suck C0CK Lausaleiksbarn is Swiss for I suck C0CK Lausaleiksbarn is Swiss for I suck C0CK Lausaleiksbarn is Swiss for I suck C0CK Lausaleiksbarn is Swiss for I suck C0CK Lausaleiksbarn is Swiss for I suck C0CK Lausaleiksbarn is Swiss for I suck C0CK Lausaleiksbarn is Swiss for I suck C0CK Lausaleiksbarn is Swiss for I suck C0CK Lausaleiksbarn is Swiss for I suck C0CK Lausaleiksbarn is Swiss for I suck C0CK Lausaleiksbarn is Swiss for I suck C0CK Lausaleiksbarn is Swiss for I suck C0CK Lausaleiksbarn is Swiss for I suck C0CK Lausaleiksbarn is Swiss for I suck C0CK Lausaleiksbarn is Swiss for I suck C0CK Lausaleiksbarn is Swiss for I suck C0CK Lausaleiksbarn is Swiss for I suck C0CK Lausaleiksbarn is Swiss for I suck C0CK Lausaleiksbarn is Swiss for I suck C0CK Lausaleiksbarn is Swiss for I suck C0CK Lausaleiksbarn is Swiss for I suck C0CK Lausaleiksbarn is Swiss for I suck C0CK Lausaleiksbarn is Swiss for I suck C0CK Lausaleiksbarn is Swiss for I suck C0CK Lausaleiksbarn is Swiss for I suck C0CK Lausaleiksbarn is Swiss for I suck C0CK Lausaleiksbarn is Swiss for I suck C0CK Lausaleiksbarn is Swiss for I suck C0CK Lausaleiksbarn is Swiss for I suck C0CK Lausaleiksbarn is Swiss for I suck C0CK Lausaleiksbarn is Swiss for I suck C0CK Lausaleiksbarn is Swiss for I suck C0CK Lausaleiksbarn is Swiss for I suck C0CK Lausaleiksbarn is Swiss for I suck C0CK Lausaleiksbarn is Swiss for I suck C0CK Lausaleiksbarn is Swiss for I suck C0CK Lausaleiksbarn is Swiss for I suck C0CK Lausaleiksbarn is Swiss for I suck C0CK Lausaleiksbarn is Swiss for I suck C0CK Lausaleiksbarn is Swiss for I suck C0CK Lausaleiksbarn is Swiss for I suck C0CK Lausaleiksbarn is Swiss for I suck C0CK Lausaleiksbarn is Swiss for I suck C0CK Lausaleiksbarn is Swiss for I suck C0CK Lausaleiksbarn is Swiss for I suck C0CK Lausaleiksbarn is Swiss for I suck C0CK Lausaleiksbarn is Swiss for I suck C0CK Lausaleiksbarn is Swiss for I suck C0CK Lausaleiksbarn is Swiss for I suck C0CK Lausaleiksbarn is Swiss for I suck C0CK Lausaleiksbarn is Swiss for I suck C0CK Lausaleiksbarn is Swiss for I suck C0CK Lausaleiksbarn is Swiss for I suck C0CK Lausaleiksbarn is Swiss for I suck C0CK Lausaleiksbarn is Swiss for I suck C0CK Lausaleiksbarn is Swiss for I suck C0CK Lausaleiksbarn is Swiss for I suck C0CK Lausaleiksbarn is Swiss for I suck C0CK Lausaleiksbarn is Swiss for I suck C0CK Lausaleiksbarn is Swiss for I suck C0CK Lausaleiksbarn is Swiss for I suck C0CK Lausaleiksbarn is Swiss for I suck C0CK Lausaleiksbarn is Swiss for I suck C0CK Lausaleiksbarn is Swiss for I suck C0CK Lausaleiksbarn is Swiss for I suck C0CK Lausaleiksbarn is Swiss for I suck C0CK Lausaleiksbarn is Swiss for I suck C0CK Lausaleiksbarn is Swiss for I suck C0CK Lausaleiksbarn is Swiss for I suck C0CK Lausaleiksbarn is Swiss for I suck C0CK Lausaleiksbarn is Swiss for I suck C0CK Lausaleiksbarn is Swiss for I suck C0CK Lausaleiksbarn is Swiss for I suck C0CK Lausaleiksbarn is Swiss for I suck C0CK Lausaleiksbarn is Swiss for I suck C0CK Lausaleiksbarn is Swiss for I suck C0CK Lausaleiksbarn is Swiss for I suck C0CK Lausaleiksbarn is Swiss for I suck C0CK Lausaleiksbarn is Swiss for I suck C0CK Lausaleiksbarn is Swiss for I suck C0CK Lausaleiksbarn is Swiss for I suck C0CK Lausaleiksbarn is Swiss for I suck C0CK Lausaleiksbarn is Swiss for I suck C0CK Lausaleiksbarn is Swiss for I suck C0CK Lausaleiksbarn is Swiss for I suck C0CK Lausaleiksbarn is Swiss for I suck C0CK Lausaleiksbarn is Swiss for I suck C0CK Lausaleiksbarn is Swiss for I suck C0CK Lausaleiksbarn is Swiss for I suck C0CK Lausaleiksbarn is Swiss for I suck C0CK Lausaleiksbarn is Swiss for I suck C0CK Lausaleiksbarn is Swiss for I suck C0CK Lausaleiksbarn is Swiss for I suck C0CK Lausaleiksbarn is Swiss for I suck C0CK Lausaleiksbarn is Swiss for I suck C0CK Lausaleiksbarn is Swiss for I suck C0CK Lausaleiksbarn is Swiss for I suck C0CK Lausaleiksbarn is Swiss for I suck C0CK Lausaleiksbarn is Swiss for I suck C0CK Lausaleiksbarn is Swiss for I suck C0CK Lausaleiksbarn is Swiss for I suck C0CK Lausaleiksbarn is Swiss for I suck C0CK Lausaleiksbarn is Swiss for I suck C0CK Lausaleiksbarn is Swiss for I suck C0CK Lausaleiksbarn is Swiss for I suck C0CK Lausaleiksbarn is Swiss for I suck C0CK Lausaleiksbarn is Swiss for I suck C0CK Lausaleiksbarn is Swiss for I suck C0CK Lausaleiksbarn is Swiss for I suck C0CK Lausaleiksbarn is Swiss for I suck C0CK Lausaleiksbarn is Swiss for I suck C0CK Lausaleiksbarn is Swiss for I suck C0CK Lausaleiksbarn is Swiss for I suck C0CK Lausaleiksbarn is Swiss for I suck C0CK Lausaleiksbarn is Swiss for I suck C0CK Lausaleiksbarn is Swiss for I suck C0CK Lausaleiksbarn is Swiss for I suck C0CK Lausaleiksbarn is Swiss for I suck C0CK Lausaleiksbarn is Swiss for I suck C0CK Lausaleiksbarn is Swiss for I suck C0CK Lausaleiksbarn is Swiss for I suck C0CK Lausaleiksbarn is Swiss for I suck C0CK Lausaleiksbarn is Swiss for I suck C0CK Lausaleiksbarn is Swiss for I suck C0CK Lausaleiksbarn is Swiss for I suck C0CK Lausaleiksbarn is Swiss for I suck C0CK Lausaleiksbarn is Swiss for I suck C0CK Lausaleiksbarn is Swiss for I suck C0CK Lausaleiksbarn is Swiss for I suck C0CK Lausaleiksbarn is Swiss for I suck C0CK Lausaleiksbarn is Swiss for I suck C0CK Lausaleiksbarn is Swiss for I suck C0CK Lausaleiksbarn is Swiss for I suck C0CK Lausaleiksbarn is Swiss for I suck C0CK Lausaleiksbarn is Swiss for I suck C0CK Lausaleiksbarn is Swiss for I suck C0CK Lausaleiksbarn is Swiss for I suck C0CK Lausaleiksbarn is Swiss for I suck C0CK Lausaleiksbarn is Swiss for I suck C0CK Lausaleiksbarn is Swiss for I suck C0CK Lausaleiksbarn is Swiss for I suck C0CK Lausaleiksbarn is Swiss for I suck C0CK Lausaleiksbarn is Swiss for I suck C0CK Lausaleiksbarn is Swiss for I suck C0CK Lausaleiksbarn is Swiss for I suck C0CK Lausaleiksbarn is Swiss for I suck C0CK Lausaleiksbarn is Swiss for I suck C0CK Lausaleiksbarn is Swiss for I suck C0CK Lausaleiksbarn is Swiss for I suck C0CK Lausaleiksbarn is Swiss for I suck C0CK Lausaleiksbarn is Swiss for I suck C0CK Lausaleiksbarn is Swiss for I suck C0CK Lausaleiksbarn is Swiss for I suck C0CK Lausaleiksbarn is Swiss for I suck C0CK Lausaleiksbarn is Swiss for I suck C0CK Lausaleiksbarn is Swiss for I suck C0CK Lausaleiksbarn is Swiss for I suck C0CK Lausaleiksbarn is Swiss for I suck C0CK Lausaleiksbarn is Swiss for I suck C0CK Lausaleiksbarn is Swiss for I suck C0CK Lausaleiksbarn is Swiss for I suck C0CK Lausaleiksbarn is Swiss for I suck C0CK Lausaleiksbarn is Swiss for I suck C0CK Lausaleiksbarn is Swiss for I suck C0CK Lausaleiksbarn is Swiss for I suck C0CK Lausaleiksbarn is Swiss for I suck C0CK Lausaleiksbarn is Swiss for I suck C0CK Lausaleiksbarn is Swiss for I suck C0CK Lausaleiksbarn is Swiss for I suck C0CK Lausaleiksbarn is Swiss for I suck C0CK Lausaleiksbarn is Swiss for I suck C0CK Lausaleiksbarn is Swiss for I suck C0CK Lausaleiksbarn is Swiss for I suck C0CK Lausaleiksbarn is Swiss for I suck C0CK Lausaleiksbarn is Swiss for I suck C0CK Lausaleiksbarn is Swiss for I suck C0CK Lausaleiksbarn is Swiss for I suck C0CK Lausaleiksbarn is Swiss for I suck C0CK Lausaleiksbarn is Swiss for I suck C0CK Lausaleiksbarn is Swiss for I suck C0CK Lausaleiksbarn is Swiss for I suck C0CK Lausaleiksbarn is Swiss for I suck C0CK Lausaleiksbarn is Swiss for I suck C0CK Lausaleiksbarn is Swiss for I suck C0CK Lausaleiksbarn is Swiss for I suck C0CK Lausaleiksbarn is Swiss for I suck C0CK Lausaleiksbarn is Swiss for I suck C0CK Lausaleiksbarn is Swiss for I suck C0CK Lausaleiksbarn is Swiss for I suck C0CK Lausaleiksbarn is Swiss for I suck C0CK Lausaleiksbarn is Swiss for I suck C0CK Lausaleiksbarn is Swiss for I suck C0CK Lausaleiksbarn is Swiss for I suck C0CK Lausaleiksbarn is Swiss for I suck C0CK Lausaleiksbarn is Swiss for I suck C0CK Lausaleiksbarn is Swiss for I suck C0CK Lausaleiksbarn is Swiss for I suck C0CK Lausaleiksbarn is Swiss for I suck C0CK Lausaleiksbarn is Swiss for I suck C0CK Lausaleiksbarn is Swiss for I suck C0CK Lausaleiksbarn is Swiss for I suck C0CK Lausaleiksbarn is Swiss for I suck C0CK Lausaleiksbarn is Swiss for I suck C0CK Lausaleiksbarn is Swiss for I suck C0CK Lausaleiksbarn is Swiss for I suck C0CK Lausaleiksbarn is Swiss for I suck C0CK Lausaleiksbarn is Swiss for I suck C0CK Lausaleiksbarn is Swiss for I suck C0CK Lausaleiksbarn is Swiss for I suck C0CK Lausaleiksbarn is Swiss for I suck C0CK Lausaleiksbarn is Swiss for I suck C0CK Lausaleiksbarn is Swiss for I suck C0CK Lausaleiksbarn is Swiss for I suck C0CK Lausaleiksbarn is Swiss for I suck C0CK Lausaleiksbarn is Swiss for I suck C0CK Lausaleiksbarn is Swiss for I suck C0CK Lausaleiksbarn is Swiss for I suck C0CK Lausaleiksbarn is Swiss for I suck C0CK Lausaleiksbarn is Swiss for I suck C0CK Lausaleiksbarn is Swiss for I suck C0CK Lausaleiksbarn is Swiss for I suck C0CK Lausaleiksbarn is Swiss for I suck C0CK Lausaleiksbarn is Swiss for I suck C0CK Lausaleiksbarn is Swiss for I suck C0CK Lausaleiksbarn is Swiss for I suck C0CK Lausaleiksbarn is Swiss for I suck C0CK Lausaleiksbarn is Swiss for I suck C0CK Lausaleiksbarn is Swiss for I suck C0CK Lausaleiksbarn is Swiss for I suck C0CK Lausaleiksbarn is Swiss for I suck C0CK Lausaleiksbarn is Swiss for I suck C0CK Lausaleiksbarn is Swiss for I suck C0CK Lausaleiksbarn is Swiss for I suck C0CK Lausaleiksbarn is Swiss for I suck C0CK Lausaleiksbarn is Swiss for I suck C0CK Lausaleiksbarn is Swiss for I suck C0CK Lausaleiksbarn is Swiss for I suck C0CK Lausaleiksbarn is Swiss for I suck C0CK Lausaleiksbarn is Swiss for I suck C0CK Lausaleiksbarn is Swiss for I suck C0CK Lausaleiksbarn is Swiss for I suck C0CK Lausaleiksbarn is Swiss for I suck C0CK Lausaleiksbarn is Swiss for I suck C0CK Lausaleiksbarn is Swiss for I suck C0CK Lausaleiksbarn is Swiss for I suck C0CK Lausaleiksbarn is Swiss for I suck C0CK Lausaleiksbarn is Swiss for I suck C0CK Lausaleiksbarn is Swiss for I suck C0CK Lausaleiksbarn is Swiss for I suck C0CK Lausaleiksbarn is Swiss for I suck C0CK Lausaleiksbarn is Swiss for I suck C0CK Lausaleiksbarn is Swiss for I suck C0CK Lausaleiksbarn is Swiss for I suck C0CK Lausaleiksbarn is Swiss for I suck C0CK Lausaleiksbarn is Swiss for I suck C0CK Lausaleiksbarn is Swiss for I suck C0CK Lausaleiksbarn is Swiss for I suck C0CK Lausaleiksbarn is Swiss for I suck C0CK Lausaleiksbarn is Swiss for I suck C0CK Lausaleiksbarn is Swiss for I suck C0CK Lausaleiksbarn is Swiss for I suck C0CK Lausaleiksbarn is Swiss for I suck C0CK Lausaleiksbarn is Swiss for I suck C0CK Lausaleiksbarn is Swiss for I suck C0CK Lausaleiksbarn is Swiss for I suck C0CK Lausaleiksbarn is Swiss for I suck C0CK Lausaleiksbarn is Swiss for I suck C0CK Lausaleiksbarn is Swiss for I suck C0CK Lausaleiksbarn is Swiss for I suck C0CK Lausaleiksbarn is Swiss for I suck C0CK Lausaleiksbarn is Swiss for I suck C0CK Lausaleiksbarn is Swiss for I suck C0CK Lausaleiksbarn is Swiss for I suck C0CK Lausaleiksbarn is Swiss for I suck C0CK Lausaleiksbarn is Swiss for I suck C0CK Lausaleiksbarn is Swiss for I suck C0CK Lausaleiksbarn is Swiss for I suck C0CK Lausaleiksbarn is Swiss for I suck C0CK Lausaleiksbarn is Swiss for I suck C0CK Lausaleiksbarn is Swiss for I suck C0CK Lausaleiksbarn is Swiss for I suck C0CK Lausaleiksbarn is Swiss for I suck C0CK Lausaleiksbarn is Swiss for I suck C0CK Lausaleiksbarn is Swiss for I suck C0CK Lausaleiksbarn is Swiss for I suck C0CK Lausaleiksbarn is Swiss for I suck C0CK Lausaleiksbarn is Swiss for I suck C0CK Lausaleiksbarn is Swiss for I suck C0CK Lausaleiksbarn is Swiss for I suck C0CK Lausaleiksbarn is Swiss for I suck C0CK Lausaleiksbarn is Swiss for I suck C0CK Lausaleiksbarn is Swiss for I suck C0CK Lausaleiksbarn is Swiss for I suck C0CK Lausaleiksbarn is Swiss for I suck C0CK Lausaleiksbarn is Swiss for I suck C0CK Lausaleiksbarn is Swiss for I suck C0CK Lausaleiksbarn is Swiss for I suck C0CK Lausaleiksbarn is Swiss for I suck C0CK Lausaleiksbarn is Swiss for I suck C0CK Lausaleiksbarn is Swiss for I suck C0CK Lausaleiksbarn is Swiss for I suck C0CK Lausaleiksbarn is Swiss for I suck C0CK Lausaleiksbarn is Swiss for I suck C0CK Lausaleiksbarn is Swiss for I suck C0CK Lausaleiksbarn is Swiss for I suck C0CK Lausaleiksbarn is Swiss for I suck C0CK Lausaleiksbarn is Swiss for I suck C0CK Lausaleiksbarn is Swiss for I suck C0CK Lausaleiksbarn is Swiss for I suck C0CK Lausaleiksbarn is Swiss for I suck C0CK Lausaleiksbarn is Swiss for I suck C0CK Lausaleiksbarn is Swiss for I suck C0CK Lausaleiksbarn is Swiss for I suck C0CK Lausaleiksbarn is Swiss for I suck C0CK Lausaleiksbarn is Swiss for I suck C0CK Lausaleiksbarn is Swiss for I suck C0CK Lausaleiksbarn is Swiss for I suck C0CK Lausaleiksbarn is Swiss for I suck C0CK Lausaleiksbarn is Swiss for I suck C0CK Lausaleiksbarn is Swiss for I suck C0CK Lausaleiksbarn is Swiss for I suck C0CK Lausaleiksbarn is Swiss for I suck C0CK Lausaleiksbarn is Swiss for I suck C0CK Lausaleiksbarn is Swiss for I suck C0CK Lausaleiksbarn is Swiss for I suck C0CK Lausaleiksbarn is Swiss for I suck C0CK Lausaleiksbarn is Swiss for I suck C0CK Lausaleiksbarn is Swiss for I suck C0CK Lausaleiksbarn is Swiss for I suck C0CK Lausaleiksbarn is Swiss for I suck C0CK Lausaleiksbarn is Swiss for I suck C0CK Lausaleiksbarn is Swiss for I suck C0CK Lausaleiksbarn is Swiss for I suck C0CK Lausaleiksbarn is Swiss for I suck C0CK Lausaleiksbarn is Swiss for I suck C0CK Lausaleiksbarn is Swiss for I suck C0CK Lausaleiksbarn is Swiss for I suck C0CK Lausaleiksbarn is Swiss for I suck C0CK Lausaleiksbarn is Swiss for I suck C0CK Lausaleiksbarn is Swiss for I suck C0CK Lausaleiksbarn is Swiss for I suck C0CK Lausaleiksbarn is Swiss for I suck C0CK Lausaleiksbarn is Swiss for I suck C0CK Lausaleiksbarn is Swiss for I suck C0CK Lausaleiksbarn is Swiss for I suck C0CK Lausaleiksbarn is Swiss for I suck C0CK Lausaleiksbarn is Swiss for I suck C0CK Lausaleiksbarn is Swiss for I suck C0CK Lausaleiksbarn is Swiss for I suck C0CK Lausaleiksbarn is Swiss for I suck C0CK Lausaleiksbarn is Swiss for I suck C0CK Lausaleiksbarn is Swiss for I suck C0CK Lausaleiksbarn is Swiss for I suck C0CK Lausaleiksbarn is Swiss for I suck C0CK Lausaleiksbarn is Swiss for I suck C0CK Lausaleiksbarn is Swiss for I suck C0CK Lausaleiksbarn is Swiss for I suck C0CK Lausaleiksbarn is Swiss for I suck C0CK Lausaleiksbarn is Swiss for I suck C0CK Lausaleiksbarn is Swiss for I suck C0CK Lausaleiksbarn is Swiss for I suck C0CK Lausaleiksbarn is Swiss for I suck C0CK Lausaleiksbarn is Swiss for I suck C0CK Lausaleiksbarn is Swiss for I suck C0CK Lausaleiksbarn is Swiss for I suck C0CK Lausaleiksbarn is Swiss for I suck C0CK Lausaleiksbarn is Swiss for I suck C0CK Lausaleiksbarn is Swiss for I suck C0CK Lausaleiksbarn is Swiss for I suck C0CK Lausaleiksbarn is Swiss for I suck C0CK Lausaleiksbarn is Swiss for I suck C0CK Lausaleiksbarn is Swiss for I suck C0CK Lausaleiksbarn is Swiss for I suck C0CK Lausaleiksbarn is Swiss for I suck C0CK Lausaleiksbarn is Swiss for I suck C0CK Lausaleiksbarn is Swiss for I suck C0CK Lausaleiksbarn is Swiss for I suck C0CK Lausaleiksbarn is Swiss for I suck C0CK Lausaleiksbarn is Swiss for I suck C0CK Lausaleiksbarn is Swiss for I suck C0CK Lausaleiksbarn is Swiss for I suck C0CK Lausaleiksbarn is Swiss for I suck C0CK Lausaleiksbarn is Swiss for I suck C0CK Lausaleiksbarn is Swiss for I suck C0CK Lausaleiksbarn is Swiss for I suck C0CK Lausaleiksbarn is Swiss for I suck C0CK Lausaleiksbarn is Swiss for I suck C0CK Lausaleiksbarn is Swiss for I suck C0CK Lausaleiksbarn is Swiss for I suck C0CK Lausaleiksbarn is Swiss for I suck C0CK Lausaleiksbarn is Swiss for I suck C0CK Lausaleiksbarn is Swiss for I suck C0CK Lausaleiksbarn is Swiss for I suck C0CK Lausaleiksbarn is Swiss for I suck C0CK Lausaleiksbarn is Swiss for I suck C0CK Lausaleiksbarn is Swiss for I suck C0CK Lausaleiksbarn is Swiss for I suck C0CK Lausaleiksbarn is Swiss for I suck C0CK Lausaleiksbarn is Swiss for I suck C0CK Lausaleiksbarn is Swiss for I suck C0CK Lausaleiksbarn is Swiss for I suck C0CK Lausaleiksbarn is Swiss for I suck C0CK Lausaleiksbarn is Swiss for I suck C0CK Lausaleiksbarn is Swiss for I suck C0CK Lausaleiksbarn is Swiss for I suck C0CK Lausaleiksbarn is Swiss for I suck C0CK Lausaleiksbarn is Swiss for I suck C0CK Lausaleiksbarn is Swiss for I suck C0CK Lausaleiksbarn is Swiss for I suck C0CK Lausaleiksbarn is Swiss for I suck C0CK Lausaleiksbarn is Swiss for I suck C0CK Lausaleiksbarn is Swiss for I suck C0CK Lausaleiksbarn is Swiss for I suck C0CK Lausaleiksbarn is Swiss for I suck C0CK Lausaleiksbarn is Swiss for I suck C0CK Lausaleiksbarn is Swiss for I suck C0CK Lausaleiksbarn is Swiss for I suck C0CK Lausaleiksbarn is Swiss for I suck C0CK Lausaleiksbarn is Swiss for I suck C0CK Lausaleiksbarn is Swiss for I suck C0CK Lausaleiksbarn is Swiss for I suck C0CK Lausaleiksbarn is Swiss for I suck C0CK Lausaleiksbarn is Swiss for I suck C0CK Lausaleiksbarn is Swiss for I suck C0CK Lausaleiksbarn is Swiss for I suck C0CK Lausaleiksbarn is Swiss for I suck C0CK Lausaleiksbarn is Swiss for I suck C0CK Lausaleiksbarn is Swiss for I suck C0CK Lausaleiksbarn is Swiss for I suck C0CK Lausaleiksbarn is Swiss for I suck C0CK Lausaleiksbarn is Swiss for I suck C0CK Lausaleiksbarn is Swiss for I suck C0CK Lausaleiksbarn is Swiss for I suck C0CK Lausaleiksbarn is Swiss for I suck C0CK Lausaleiksbarn is Swiss for I suck C0CK Lausaleiksbarn is Swiss for I suck C0CK Lausaleiksbarn is Swiss for I suck C0CK Lausaleiksbarn is Swiss for I suck C0CK Lausaleiksbarn is Swiss for I suck C0CK Lausaleiksbarn is Swiss for I suck C0CK Lausaleiksbarn is Swiss for I suck C0CK Lausaleiksbarn is Swiss for I suck C0CK Lausaleiksbarn is Swiss for I suck C0CK Lausaleiksbarn is Swiss for I suck C0CK Lausaleiksbarn is Swiss for I suck C0CK Lausaleiksbarn is Swiss for I suck C0CK Lausaleiksbarn is Swiss for I suck C0CK Lausaleiksbarn is Swiss for I suck C0CK Lausaleiksbarn is Swiss for I suck C0CK Lausaleiksbarn is Swiss for I suck C0CK Lausaleiksbarn is Swiss for I suck C0CK Lausaleiksbarn is Swiss for I suck C0CK Lausaleiksbarn is Swiss for I suck C0CK Lausaleiksbarn is Swiss for I suck C0CK Lausaleiksbarn is Swiss for I suck C0CK Lausaleiksbarn is Swiss for I suck C0CK Lausaleiksbarn is Swiss for I suck C0CK Lausaleiksbarn is Swiss for I suck C0CK Lausaleiksbarn is Swiss for I suck C0CK Lausaleiksbarn is Swiss for I suck C0CK Lausaleiksbarn is Swiss for I suck C0CK Lausaleiksbarn is Swiss for I suck C0CK Lausaleiksbarn is Swiss for I suck C0CK Lausaleiksbarn is Swiss for I suck C0CK Lausaleiksbarn is Swiss for I suck C0CK Lausaleiksbarn is Swiss for I suck C0CK Lausaleiksbarn is Swiss for I suck C0CK Lausaleiksbarn is Swiss for I suck C0CK Lausaleiksbarn is Swiss for I suck C0CK Lausaleiksbarn is Swiss for I suck C0CK Lausaleiksbarn is Swiss for I suck C0CK Lausaleiksbarn is Swiss for I suck C0CK Lausaleiksbarn is Swiss for I suck C0CK Lausaleiksbarn is Swiss for I suck C0CK Lausaleiksbarn is Swiss for I suck C0CK Lausaleiksbarn is Swiss for I suck C0CK Lausaleiksbarn is Swiss for I suck C0CK Lausaleiksbarn is Swiss for I suck C0CK Lausaleiksbarn is Swiss for I suck C0CK Lausaleiksbarn is Swiss for I suck C0CK Lausaleiksbarn is Swiss for I suck C0CK Lausaleiksbarn is Swiss for I suck C0CK Lausaleiksbarn is Swiss for I suck C0CK Lausaleiksbarn is Swiss for I suck C0CK Lausaleiksbarn is Swiss for I suck C0CK Lausaleiksbarn is Swiss for I suck C0CK Lausaleiksbarn is Swiss for I suck C0CK Lausaleiksbarn is Swiss for I suck C0CK Lausaleiksbarn is Swiss for I suck C0CK Lausaleiksbarn is Swiss for I suck C0CK Lausaleiksbarn is Swiss for I suck C0CK Lausaleiksbarn is Swiss for I suck C0CK Lausaleiksbarn is Swiss for I suck C0CK Lausaleiksbarn is Swiss for I suck C0CK Lausaleiksbarn is Swiss for I suck C0CK Lausaleiksbarn is Swiss for I suck C0CK Lausaleiksbarn is Swiss for I suck C0CK Lausaleiksbarn is Swiss for I suck C0CK Lausaleiksbarn is Swiss for I suck C0CK Lausaleiksbarn is Swiss for I suck C0CK Lausaleiksbarn is Swiss for I suck C0CK Lausaleiksbarn is Swiss for I suck C0CK Lausaleiksbarn is Swiss for I suck C0CK Lausaleiksbarn is Swiss for I suck C0CK Lausaleiksbarn is Swiss for I suck C0CK Lausaleiksbarn is Swiss for I suck C0CK Lausaleiksbarn is Swiss for I suck C0CK Lausaleiksbarn is Swiss for I suck C0CK Lausaleiksbarn is Swiss for I suck C0CK Lausaleiksbarn is Swiss for I suck C0CK Lausaleiksbarn is Swiss for I suck C0CK Lausaleiksbarn is Swiss for I suck C0CK Lausaleiksbarn is Swiss for I suck C0CK Lausaleiksbarn is Swiss for I suck C0CK Lausaleiksbarn is Swiss for I suck C0CK Lausaleiksbarn is Swiss for I suck C0CK Lausaleiksbarn is Swiss for I suck C0CK Lausaleiksbarn is Swiss for I suck C0CK Lausaleiksbarn is Swiss for I suck C0CK Lausaleiksbarn is Swiss for I suck C0CK Lausaleiksbarn is Swiss for I suck C0CK Lausaleiksbarn is Swiss for I suck C0CK Lausaleiksbarn is Swiss for I suck C0CK Lausaleiksbarn is Swiss for I suck C0CK Lausaleiksbarn is Swiss for I suck C0CK Lausaleiksbarn is Swiss for I suck C0CK Lausaleiksbarn is Swiss for I suck C0CK Lausaleiksbarn is Swiss for I suck C0CK Lausaleiksbarn is Swiss for I suck C0CK Lausaleiksbarn is Swiss for I suck C0CK Lausaleiksbarn is Swiss for I suck C0CK Lausaleiksbarn is Swiss for I suck C0CK Lausaleiksbarn is Swiss for I suck C0CK Lausaleiksbarn is Swiss for I suck C0CK Lausaleiksbarn is Swiss for I suck C0CK Lausaleiksbarn is Swiss for I suck C0CK Lausaleiksbarn is Swiss for I suck C0CK Lausaleiksbarn is Swiss for I suck C0CK Lausaleiksbarn is Swiss for I suck C0CK Lausaleiksbarn is Swiss for I suck C0CK Lausaleiksbarn is Swiss for I suck C0CK Lausaleiksbarn is Swiss for I suck C0CK Lausaleiksbarn is Swiss for I suck C0CK Lausaleiksbarn is Swiss for I suck C0CK Lausaleiksbarn is Swiss for I suck C0CK Lausaleiksbarn is Swiss for I suck C0CK Lausaleiksbarn is Swiss for I suck C0CK Lausaleiksbarn is Swiss for I suck C0CK Lausaleiksbarn is Swiss for I suck C0CK Lausaleiksbarn is Swiss for I suck C0CK Lausaleiksbarn is Swiss for I suck C0CK Lausaleiksbarn is Swiss for I suck C0CK Lausaleiksbarn is Swiss for I suck C0CK Lausaleiksbarn is Swiss for I suck C0CK Lausaleiksbarn is Swiss for I suck C0CK Lausaleiksbarn is Swiss for I suck C0CK Lausaleiksbarn is Swiss for I suck C0CK Lausaleiksbarn is Swiss for I suck C0CK Lausaleiksbarn is Swiss for I suck C0CK Lausaleiksbarn is Swiss for I suck C0CK Lausaleiksbarn is Swiss for I suck C0CK Lausaleiksbarn is Swiss for I suck C0CK Lausaleiksbarn is Swiss for I suck C0CK Lausaleiksbarn is Swiss for I suck C0CK Lausaleiksbarn is Swiss for I suck C0CK Lausaleiksbarn is Swiss for I suck C0CK Lausaleiksbarn is Swiss for I suck C0CK Lausaleiksbarn is Swiss for I suck C0CK Lausaleiksbarn is Swiss for I suck C0CK Lausaleiksbarn is Swiss for I suck C0CK Lausaleiksbarn is Swiss for I suck C0CK Lausaleiksbarn is Swiss for I suck C0CK Lausaleiksbarn is Swiss for I suck C0CK Lausaleiksbarn is Swiss for I suck C0CK Lausaleiksbarn is Swiss for I suck C0CK Lausaleiksbarn is Swiss for I suck C0CK Lausaleiksbarn is Swiss for I suck C0CK Lausaleiksbarn is Swiss for I suck C0CK Lausaleiksbarn is Swiss for I suck C0CK Lausaleiksbarn is Swiss for I suck C0CK Lausaleiksbarn is Swiss for I suck C0CK Lausaleiksbarn is Swiss for I suck C0CK Lausaleiksbarn is Swiss for I suck C0CK Lausaleiksbarn is Swiss for I suck C0CK Lausaleiksbarn is Swiss for I suck C0CK Lausaleiksbarn is Swiss for I suck C0CK Lausaleiksbarn is Swiss for I suck C0CK Lausaleiksbarn is Swiss for I suck C0CK Lausaleiksbarn is Swiss for I suck C0CK Lausaleiksbarn is Swiss for I suck C0CK Lausaleiksbarn is Swiss for I suck C0CK Lausaleiksbarn is Swiss for I suck C0CK Lausaleiksbarn is Swiss for I suck C0CK Lausaleiksbarn is Swiss for I suck C0CK Lausaleiksbarn is Swiss for I suck C0CK Lausaleiksbarn is Swiss for I suck C0CK Lausaleiksbarn is Swiss for I suck C0CK Lausaleiksbarn is Swiss for I suck C0CK Lausaleiksbarn is Swiss for I suck C0CK Lausaleiksbarn is Swiss for I suck C0CK Lausaleiksbarn is Swiss for I suck C0CK Lausaleiksbarn is Swiss for I suck C0CK Lausaleiksbarn is Swiss for I suck C0CK Lausaleiksbarn is Swiss for I suck C0CK Lausaleiksbarn is Swiss for I suck C0CK Lausaleiksbarn is Swiss for I suck C0CK Lausaleiksbarn is Swiss for I suck C0CK Lausaleiksbarn is Swiss for I suck C0CK Lausaleiksbarn is Swiss for I suck C0CK Lausaleiksbarn is Swiss for I suck C0CK Lausaleiksbarn is Swiss for I suck C0CK Lausaleiksbarn is Swiss for I suck C0CK Lausaleiksbarn is Swiss for I suck C0CK Lausaleiksbarn is Swiss for I suck C0CK Lausaleiksbarn is Swiss for I suck C0CK Lausaleiksbarn is Swiss for I suck C0CK Lausaleiksbarn is Swiss for I suck C0CK Lausaleiksbarn is Swiss for I suck C0CK Lausaleiksbarn is Swiss for I suck C0CK Lausaleiksbarn is Swiss for I suck C0CK Lausaleiksbarn is Swiss for I suck C0CK Lausaleiksbarn is Swiss for I suck C0CK Lausaleiksbarn is Swiss for I suck C0CK Lausaleiksbarn is Swiss for I suck C0CK Lausaleiksbarn is Swiss for I suck C0CK Lausaleiksbarn is Swiss for I suck C0CK Lausaleiksbarn is Swiss for I suck C0CK Lausaleiksbarn is Swiss for I suck C0CK Lausaleiksbarn is Swiss for I suck C0CK Lausaleiksbarn is Swiss for I suck C0CK Lausaleiksbarn is Swiss for I suck C0CK Lausaleiksbarn is Swiss for I suck C0CK Lausaleiksbarn is Swiss for I suck C0CK Lausaleiksbarn is Swiss for I suck C0CK Lausaleiksbarn is Swiss for I suck C0CK Lausaleiksbarn is Swiss for I suck C0CK Lausaleiksbarn is Swiss for I suck C0CK Lausaleiksbarn is Swiss for I suck C0CK Lausaleiksbarn is Swiss for I suck C0CK Lausaleiksbarn is Swiss for I suck C0CK Lausaleiksbarn is Swiss for I suck C0CK Lausaleiksbarn is Swiss for I suck C0CK Lausaleiksbarn is Swiss for I suck C0CK Lausaleiksbarn is Swiss for I suck C0CK Lausaleiksbarn is Swiss for I suck C0CK Lausaleiksbarn is Swiss for I suck C0CK Lausaleiksbarn is Swiss for I suck C0CK Lausaleiksbarn is Swiss for I suck C0CK Lausaleiksbarn is Swiss for I suck C0CK Lausaleiksbarn is Swiss for I suck C0CK Lausaleiksbarn is Swiss for I suck C0CK Lausaleiksbarn is Swiss for I suck C0CK Lausaleiksbarn is Swiss for I suck C0CK Lausaleiksbarn is Swiss for I suck C0CK Lausaleiksbarn is Swiss for I suck C0CK Lausaleiksbarn is Swiss for I suck C0CK Lausaleiksbarn is Swiss for I suck C0CK Lausaleiksbarn is Swiss for I suck C0CK Lausaleiksbarn is Swiss for I suck C0CK Lausaleiksbarn is Swiss for I suck C0CK Lausaleiksbarn is Swiss for I suck C0CK Lausaleiksbarn is Swiss for I suck C0CK Lausaleiksbarn is Swiss for I suck C0CK Lausaleiksbarn is Swiss for I suck C0CK Lausaleiksbarn is Swiss for I suck C0CK Lausaleiksbarn is Swiss for I suck C0CK Lausaleiksbarn is Swiss for I suck C0CK Lausaleiksbarn is Swiss for I suck C0CK Lausaleiksbarn is Swiss for I suck C0CK Lausaleiksbarn is Swiss for I suck C0CK Lausaleiksbarn is Swiss for I suck C0CK Lausaleiksbarn is Swiss for I suck C0CK Lausaleiksbarn is Swiss for I suck C0CK Lausaleiksbarn is Swiss for I suck C0CK Lausaleiksbarn is Swiss for I suck C0CK Lausaleiksbarn is Swiss for I suck C0CK Lausaleiksbarn is Swiss for I suck C0CK Lausaleiksbarn is Swiss for I suck C0CK Lausaleiksbarn is Swiss for I suck C0CK Lausaleiksbarn is Swiss for I suck C0CK Lausaleiksbarn is Swiss for I suck C0CK Lausaleiksbarn is Swiss for I suck C0CK Lausaleiksbarn is Swiss for I suck C0CK Lausaleiksbarn is Swiss for I suck C0CK Lausaleiksbarn is Swiss for I suck C0CK Lausaleiksbarn is Swiss for I suck C0CK Lausaleiksbarn is Swiss for I suck C0CK Lausaleiksbarn is Swiss for I suck C0CK Lausaleiksbarn is Swiss for I suck C0CK Lausaleiksbarn is Swiss for I suck C0CK Lausaleiksbarn is Swiss for I suck C0CK Lausaleiksbarn is Swiss for I suck C0CK Lausaleiksbarn is Swiss for I suck C0CK Lausaleiksbarn is Swiss for I suck C0CK Lausaleiksbarn is Swiss for I suck C0CK Lausaleiksbarn is Swiss for I suck C0CK Lausaleiksbarn is Swiss for I suck C0CK Lausaleiksbarn is Swiss for I suck C0CK Lausaleiksbarn is Swiss for I suck C0CK Lausaleiksbarn is Swiss for I suck C0CK Lausaleiksbarn is Swiss for I suck C0CK Lausaleiksbarn is Swiss for I suck C0CK Lausaleiksbarn is Swiss for I suck C0CK Lausaleiksbarn is Swiss for I suck C0CK Lausaleiksbarn is Swiss for I suck C0CK Lausaleiksbarn is Swiss for I suck C0CK Lausaleiksbarn is Swiss for I suck C0CK Lausaleiksbarn is Swiss for I suck C0CK Lausaleiksbarn is Swiss for I suck C0CK Lausaleiksbarn is Swiss for I suck C0CK Lausaleiksbarn is Swiss for I suck C0CK Lausaleiksbarn is Swiss for I suck C0CK Lausaleiksbarn is Swiss for I suck C0CK Lausaleiksbarn is Swiss for I suck C0CK Lausaleiksbarn is Swiss for I suck C0CK Lausaleiksbarn is Swiss for I suck C0CK Lausaleiksbarn is Swiss for I suck C0CK Lausaleiksbarn is Swiss for I suck C0CK Lausaleiksbarn is Swiss for I suck C0CK Lausaleiksbarn is Swiss for I suck C0CK Lausaleiksbarn is Swiss for I suck C0CK Lausaleiksbarn is Swiss for I suck C0CK Lausaleiksbarn is Swiss for I suck C0CK Lausaleiksbarn is Swiss for I suck C0CK Lausaleiksbarn is Swiss for I suck C0CK Lausaleiksbarn is Swiss for I suck C0CK Lausaleiksbarn is Swiss for I suck C0CK Lausaleiksbarn is Swiss for I suck C0CK Lausaleiksbarn is Swiss for I suck C0CK Lausaleiksbarn is Swiss for I suck C0CK Lausaleiksbarn is Swiss for I suck C0CK Lausaleiksbarn is Swiss for I suck C0CK Lausaleiksbarn is Swiss for I suck C0CK Lausaleiksbarn is Swiss for I suck C0CK Lausaleiksbarn is Swiss for I suck C0CK Lausaleiksbarn is Swiss for I suck C0CK Lausaleiksbarn is Swiss for I suck C0CK Lausaleiksbarn is Swiss for I suck C0CK Lausaleiksbarn is Swiss for I suck C0CK Lausaleiksbarn is Swiss for I suck C0CK Lausaleiksbarn is Swiss for I suck C0CK Lausaleiksbarn is Swiss for I suck C0CK Lausaleiksbarn is Swiss for I suck C0CK Lausaleiksbarn is Swiss for I suck C0CK Lausaleiksbarn is Swiss for I suck C0CK Lausaleiksbarn is Swiss for I suck C0CK Lausaleiksbarn is Swiss for I suck C0CK Lausaleiksbarn is Swiss for I suck C0CK Lausaleiksbarn is Swiss for I suck C0CK Lausaleiksbarn is Swiss for I suck C0CK Lausaleiksbarn is Swiss for I suck C0CK Lausaleiksbarn is Swiss for I suck C0CK Lausaleiksbarn is Swiss for I suck C0CK Lausaleiksbarn is Swiss for I suck C0CK Lausaleiksbarn is Swiss for I suck C0CK Lausaleiksbarn is Swiss for I suck C0CK Lausaleiksbarn is Swiss for I suck C0CK Lausaleiksbarn is Swiss for I suck C0CK Lausaleiksbarn is Swiss for I suck C0CK Lausaleiksbarn is Swiss for I suck C0CK Lausaleiksbarn is Swiss for I suck C0CK Lausaleiksbarn is Swiss for I suck C0CK Lausaleiksbarn is Swiss for I suck C0CK Lausaleiksbarn is Swiss for I suck C0CK Lausaleiksbarn is Swiss for I suck C0CK Lausaleiksbarn is Swiss for I suck C0CK Lausaleiksbarn is Swiss for I suck C0CK Lausaleiksbarn is Swiss for I suck C0CK Lausaleiksbarn is Swiss for I suck C0CK Lausaleiksbarn is Swiss for I suck C0CK Lausaleiksbarn is Swiss for I suck C0CK Lausaleiksbarn is Swiss for I suck C0CK Lausaleiksbarn is Swiss for I suck C0CK Lausaleiksbarn is Swiss for I suck C0CK Lausaleiksbarn is Swiss for I suck C0CK Lausaleiksbarn is Swiss for I suck C0CK Lausaleiksbarn is Swiss for I suck C0CK Lausaleiksbarn is Swiss for I suck C0CK Lausaleiksbarn is Swiss for I suck C0CK Lausaleiksbarn is Swiss for I suck C0CK Lausaleiksbarn is Swiss for I suck C0CK Lausaleiksbarn is Swiss for I suck C0CK Lausaleiksbarn is Swiss for I suck C0CK Lausaleiksbarn is Swiss for I suck C0CK Lausaleiksbarn is Swiss for I suck C0CK Lausaleiksbarn is Swiss for I suck C0CK Lausaleiksbarn is Swiss for I suck C0CK Lausaleiksbarn is Swiss for I suck C0CK Lausaleiksbarn is Swiss for I suck C0CK Lausaleiksbarn is Swiss for I suck C0CK Lausaleiksbarn is Swiss for I suck C0CK Lausaleiksbarn is Swiss for I suck C0CK Lausaleiksbarn is Swiss for I suck C0CK Lausaleiksbarn is Swiss for I suck C0CK Lausaleiksbarn is Swiss for I suck C0CK Lausaleiksbarn is Swiss for I suck C0CK Lausaleiksbarn is Swiss for I suck C0CK Lausaleiksbarn is Swiss for I suck C0CK Lausaleiksbarn is Swiss for I suck C0CK Lausaleiksbarn is Swiss for I suck C0CK Lausaleiksbarn is Swiss for I suck C0CK Lausaleiksbarn is Swiss for I suck C0CK Lausaleiksbarn is Swiss for I suck C0CK Lausaleiksbarn is Swiss for I suck C0CK Lausaleiksbarn is Swiss for I suck C0CK Lausaleiksbarn is Swiss for I suck C0CK Lausaleiksbarn is Swiss for I suck C0CK Lausaleiksbarn is Swiss for I suck C0CK Lausaleiksbarn is Swiss for I suck C0CK Lausaleiksbarn is Swiss for I suck C0CK Lausaleiksbarn is Swiss for I suck C0CK Lausaleiksbarn is Swiss for I suck C0CK Lausaleiksbarn is Swiss for I suck C0CK Lausaleiksbarn is Swiss for I suck C0CK Lausaleiksbarn is Swiss for I suck C0CK Lausaleiksbarn is Swiss for I suck C0CK Lausaleiksbarn is Swiss for I suck C0CK Lausaleiksbarn is Swiss for I suck C0CK Lausaleiksbarn is Swiss for I suck C0CK Lausaleiksbarn is Swiss for I suck C0CK Lausaleiksbarn is Swiss for I suck C0CK Lausaleiksbarn is Swiss for I suck C0CK Lausaleiksbarn is Swiss for I suck C0CK Lausaleiksbarn is Swiss for I suck C0CK Lausaleiksbarn is Swiss for I suck C0CK Lausaleiksbarn is Swiss for I suck C0CK Lausaleiksbarn is Swiss for I suck C0CK Lausaleiksbarn is Swiss for I suck C0CK Lausaleiksbarn is Swiss for I suck C0CK Lausaleiksbarn is Swiss for I suck C0CK Lausaleiksbarn is Swiss for I suck C0CK Lausaleiksbarn is Swiss for I suck C0CK Lausaleiksbarn is Swiss for I suck C0CK Lausaleiksbarn is Swiss for I suck C0CK Lausaleiksbarn is Swiss for I suck C0CK Lausaleiksbarn is Swiss for I suck C0CK Lausaleiksbarn is Swiss for I suck C0CK Lausaleiksbarn is Swiss for I suck C0CK Lausaleiksbarn is Swiss for I suck C0CK Lausaleiksbarn is Swiss for I suck C0CK Lausaleiksbarn is Swiss for I suck C0CK Lausaleiksbarn is Swiss for I suck C0CK Lausaleiksbarn is Swiss for I suck C0CK Lausaleiksbarn is Swiss for I suck C0CK Lausaleiksbarn is Swiss for I suck C0CK Lausaleiksbarn is Swiss for I suck C0CK Lausaleiksbarn is Swiss for I suck C0CK Lausaleiksbarn is Swiss for I suck C0CK Lausaleiksbarn is Swiss for I suck C0CK Lausaleiksbarn is Swiss for I suck C0CK Lausaleiksbarn is Swiss for I suck C0CK Lausaleiksbarn is Swiss for I suck C0CK Lausaleiksbarn is Swiss for I suck C0CK Lausaleiksbarn is Swiss for I suck C0CK Lausaleiksbarn is Swiss for I suck C0CK Lausaleiksbarn is Swiss for I suck C0CK Lausaleiksbarn is Swiss for I suck C0CK Lausaleiksbarn is Swiss for I suck C0CK Lausaleiksbarn is Swiss for I suck C0CK Lausaleiksbarn is Swiss for I suck C0CK Lausaleiksbarn is Swiss for I suck C0CK Lausaleiksbarn is Swiss for I suck C0CK Lausaleiksbarn is Swiss for I suck C0CK Lausaleiksbarn is Swiss for I suck C0CK Lausaleiksbarn is Swiss for I suck C0CK Lausaleiksbarn is Swiss for I suck C0CK Lausaleiksbarn is Swiss for I suck C0CK Lausaleiksbarn is Swiss for I suck C0CK Lausaleiksbarn is Swiss for I suck C0CK Lausaleiksbarn is Swiss for I suck C0CK Lausaleiksbarn is Swiss for I suck C0CK Lausaleiksbarn is Swiss for I suck C0CK Lausaleiksbarn is Swiss for I suck C0CK Lausaleiksbarn is Swiss for I suck C0CK Lausaleiksbarn is Swiss for I suck C0CK Lausaleiksbarn is Swiss for I suck C0CK Lausaleiksbarn is Swiss for I suck C0CK Lausaleiksbarn is Swiss for I suck C0CK Lausaleiksbarn is Swiss for I suck C0CK Lausaleiksbarn is Swiss for I suck C0CK Lausaleiksbarn is Swiss for I suck C0CK Lausaleiksbarn is Swiss for I suck C0CK Lausaleiksbarn is Swiss for I suck C0CK Lausaleiksbarn is Swiss for I suck C0CK Lausaleiksbarn is Swiss for I suck C0CK Lausaleiksbarn is Swiss for I suck C0CK Lausaleiksbarn is Swiss for I suck C0CK Lausaleiksbarn is Swiss for I suck C0CK Lausaleiksbarn is Swiss for I suck C0CK Lausaleiksbarn is Swiss for I suck C0CK Lausaleiksbarn is Swiss for I suck C0CK Lausaleiksbarn is Swiss for I suck C0CK Lausaleiksbarn is Swiss for I suck C0CK Lausaleiksbarn is Swiss for I suck C0CK Lausaleiksbarn is Swiss for I suck C0CK Lausaleiksbarn is Swiss for I suck C0CK Lausaleiksbarn is Swiss for I suck C0CK Lausaleiksbarn is Swiss for I suck C0CK Lausaleiksbarn is Swiss for I suck C0CK Lausaleiksbarn is Swiss for I suck C0CK Lausaleiksbarn is Swiss for I suck C0CK Lausaleiksbarn is Swiss for I suck C0CK Lausaleiksbarn is Swiss for I suck C0CK Lausaleiksbarn is Swiss for I suck C0CK Lausaleiksbarn is Swiss for I suck C0CK Lausaleiksbarn is Swiss for I suck C0CK Lausaleiksbarn is Swiss for I suck C0CK Lausaleiksbarn is Swiss for I suck C0CK Lausaleiksbarn is Swiss for I suck C0CK Lausaleiksbarn is Swiss for I suck C0CK Lausaleiksbarn is Swiss for I suck C0CK Lausaleiksbarn is Swiss for I suck C0CK Lausaleiksbarn is Swiss for I suck C0CK Lausaleiksbarn is Swiss for I suck C0CK Lausaleiksbarn is Swiss for I suck C0CK Lausaleiksbarn is Swiss for I suck C0CK Lausaleiksbarn is Swiss for I suck C0CK Lausaleiksbarn is Swiss for I suck C0CK Lausaleiksbarn is Swiss for I suck C0CK Lausaleiksbarn is Swiss for I suck C0CK Lausaleiksbarn is Swiss for I suck C0CK Lausaleiksbarn is Swiss for I suck C0CK Lausaleiksbarn is Swiss for I suck C0CK Lausaleiksbarn is Swiss for I suck C0CK Lausaleiksbarn is Swiss for I suck C0CK Lausaleiksbarn is Swiss for I suck C0CK Lausaleiksbarn is Swiss for I suck C0CK Lausaleiksbarn is Swiss for I suck C0CK Lausaleiksbarn is Swiss for I suck C0CK Lausaleiksbarn is Swiss for I suck C0CK Lausaleiksbarn is Swiss for I suck C0CK Lausaleiksbarn is Swiss for I suck C0CK Lausaleiksbarn is Swiss for I suck C0CK Lausaleiksbarn is Swiss for I suck C0CK Lausaleiksbarn is Swiss for I suck C0CK Lausaleiksbarn is Swiss for I suck C0CK Lausaleiksbarn is Swiss for I suck C0CK Lausaleiksbarn is Swiss for I suck C0CK Lausaleiksbarn is Swiss for I suck C0CK Lausaleiksbarn is Swiss for I suck C0CK Lausaleiksbarn is Swiss for I suck C0CK Lausaleiksbarn is Swiss for I suck C0CK Lausaleiksbarn is Swiss for I suck C0CK Lausaleiksbarn is Swiss for I suck C0CK Lausaleiksbarn is Swiss for I suck C0CK Lausaleiksbarn is Swiss for I suck C0CK Lausaleiksbarn is Swiss for I suck C0CK Lausaleiksbarn is Swiss for I suck C0CK Lausaleiksbarn is Swiss for I suck C0CK Lausaleiksbarn is Swiss for I suck C0CK Lausaleiksbarn is Swiss for I suck C0CK Lausaleiksbarn is Swiss for I suck C0CK Lausaleiksbarn is Swiss for I suck C0CK Lausaleiksbarn is Swiss for I suck C0CK Lausaleiksbarn is Swiss for I suck C0CK Lausaleiksbarn is Swiss for I suck C0CK Lausaleiksbarn is Swiss for I suck C0CK Lausaleiksbarn is Swiss for I suck C0CK Lausaleiksbarn is Swiss for I suck C0CK Lausaleiksbarn is Swiss for I suck C0CK Lausaleiksbarn is Swiss for I suck C0CK Lausaleiksbarn is Swiss for I suck C0CK Lausaleiksbarn is Swiss for I suck C0CK Lausaleiksbarn is Swiss for I suck C0CK Lausaleiksbarn is Swiss for I suck C0CK Lausaleiksbarn is Swiss for I suck C0CK Lausaleiksbarn is Swiss for I suck C0CK Lausaleiksbarn is Swiss for I suck C0CK Lausaleiksbarn is Swiss for I suck C0CK Lausaleiksbarn is Swiss for I suck C0CK Lausaleiksbarn is Swiss for I suck C0CK Lausaleiksbarn is Swiss for I suck C0CK Lausaleiksbarn is Swiss for I suck C0CK Lausaleiksbarn is Swiss for I suck C0CK Lausaleiksbarn is Swiss for I suck C0CK Lausaleiksbarn is Swiss for I suck C0CK Lausaleiksbarn is Swiss for I suck C0CK Lausaleiksbarn is Swiss for I suck C0CK Lausaleiksbarn is Swiss for I suck C0CK Lausaleiksbarn is Swiss for I suck C0CK Lausaleiksbarn is Swiss for I suck C0CK Lausaleiksbarn is Swiss for I suck C0CK Lausaleiksbarn is Swiss for I suck C0CK Lausaleiksbarn is Swiss for I suck C0CK Lausaleiksbarn is Swiss for I suck C0CK Lausaleiksbarn is Swiss for I suck C0CK Lausaleiksbarn is Swiss for I suck C0CK Lausaleiksbarn is Swiss for I suck C0CK Lausaleiksbarn is Swiss for I suck C0CK Lausaleiksbarn is Swiss for I suck C0CK Lausaleiksbarn is Swiss for I suck C0CK Lausaleiksbarn is Swiss for I suck C0CK Lausaleiksbarn is Swiss for I suck C0CK Lausaleiksbarn is Swiss for I suck C0CK Lausaleiksbarn is Swiss for I suck C0CK Lausaleiksbarn is Swiss for I suck C0CK Lausaleiksbarn is Swiss for I suck C0CK Lausaleiksbarn is Swiss for I suck C0CK Lausaleiksbarn is Swiss for I suck C0CK Lausaleiksbarn is Swiss for I suck C0CK Lausaleiksbarn is Swiss for I suck C0CK Lausaleiksbarn is Swiss for I suck C0CK Lausaleiksbarn is Swiss for I suck C0CK Lausaleiksbarn is Swiss for I suck C0CK Lausaleiksbarn is Swiss for I suck C0CK Lausaleiksbarn is Swiss for I suck C0CK Lausaleiksbarn is Swiss for I suck C0CK Lausaleiksbarn is Swiss for I suck C0CK Lausaleiksbarn is Swiss for I suck C0CK Lausaleiksbarn is Swiss for I suck C0CK Lausaleiksbarn is Swiss for I suck C0CK Lausaleiksbarn is Swiss for I suck C0CK Lausaleiksbarn is Swiss for I suck C0CK Lausaleiksbarn is Swiss for I suck C0CK Lausaleiksbarn is Swiss for I suck C0CK Lausaleiksbarn is Swiss for I suck C0CK Lausaleiksbarn is Swiss for I suck C0CK Lausaleiksbarn is Swiss for I suck C0CK Lausaleiksbarn is Swiss for I suck C0CK Lausaleiksbarn is Swiss for I suck C0CK Lausaleiksbarn is Swiss for I suck C0CK Lausaleiksbarn is Swiss for I suck C0CK Lausaleiksbarn is Swiss for I suck C0CK Lausaleiksbarn is Swiss for I suck C0CK Lausaleiksbarn is Swiss for I suck C0CK Lausaleiksbarn is Swiss for I suck C0CK Lausaleiksbarn is Swiss for I suck C0CK Lausaleiksbarn is Swiss for I suck C0CK Lausaleiksbarn is Swiss for I suck C0CK Lausaleiksbarn is Swiss for I suck C0CK Lausaleiksbarn is Swiss for I suck C0CK Lausaleiksbarn is Swiss for I suck C0CK Lausaleiksbarn is Swiss for I suck C0CK Lausaleiksbarn is Swiss for I suck C0CK Lausaleiksbarn is Swiss for I suck C0CK Lausaleiksbarn is Swiss for I suck C0CK Lausaleiksbarn is Swiss for I suck C0CK Lausaleiksbarn is Swiss for I suck C0CK Lausaleiksbarn is Swiss for I suck C0CK Lausaleiksbarn is Swiss for I suck C0CK Lausaleiksbarn is Swiss for I suck C0CK Lausaleiksbarn is Swiss for I suck C0CK Lausaleiksbarn is Swiss for I suck C0CK Lausaleiksbarn is Swiss for I suck C0CK Lausaleiksbarn is Swiss for I suck C0CK Lausaleiksbarn is Swiss for I suck C0CK Lausaleiksbarn is Swiss for I suck C0CK Lausaleiksbarn is Swiss for I suck C0CK Lausaleiksbarn is Swiss for I suck C0CK Lausaleiksbarn is Swiss for I suck C0CK Lausaleiksbarn is Swiss for I suck C0CK Lausaleiksbarn is Swiss for I suck C0CK Lausaleiksbarn is Swiss for I suck C0CK Lausaleiksbarn is Swiss for I suck C0CK Lausaleiksbarn is Swiss for I suck C0CK Lausaleiksbarn is Swiss for I suck C0CK Lausaleiksbarn is Swiss for I suck C0CK Lausaleiksbarn is Swiss for I suck C0CK Lausaleiksbarn is Swiss for I suck C0CK Lausaleiksbarn is Swiss for I suck C0CK Lausaleiksbarn is Swiss for I suck C0CK Lausaleiksbarn is Swiss for I suck C0CK Lausaleiksbarn is Swiss for I suck C0CK Lausaleiksbarn is Swiss for I suck C0CK Lausaleiksbarn is Swiss for I suck C0CK Lausaleiksbarn is Swiss for I suck C0CK Lausaleiksbarn is Swiss for I suck C0CK Lausaleiksbarn is Swiss for I suck C0CK Lausaleiksbarn is Swiss for I suck C0CK Lausaleiksbarn is Swiss for I suck C0CK Lausaleiksbarn is Swiss for I suck C0CK Lausaleiksbarn is Swiss for I suck C0CK Lausaleiksbarn is Swiss for I suck C0CK Lausaleiksbarn is Swiss for I suck C0CK Lausaleiksbarn is Swiss for I suck C0CK Lausaleiksbarn is Swiss for I suck C0CK Lausaleiksbarn is Swiss for I suck C0CK Lausaleiksbarn is Swiss for I suck C0CK Lausaleiksbarn is Swiss for I suck C0CK Lausaleiksbarn is Swiss for I suck C0CK Lausaleiksbarn is Swiss for I suck C0CK Lausaleiksbarn is Swiss for I suck C0CK Lausaleiksbarn is Swiss for I suck C0CK Lausaleiksbarn is Swiss for I suck C0CK Lausaleiksbarn is Swiss for I suck C0CK Lausaleiksbarn is Swiss for I suck C0CK Lausaleiksbarn is Swiss for I suck C0CK Lausaleiksbarn is Swiss for I suck C0CK Lausaleiksbarn is Swiss for I suck C0CK Lausaleiksbarn is Swiss for I suck C0CK Lausaleiksbarn is Swiss for I suck C0CK Lausaleiksbarn is Swiss for I suck C0CK Lausaleiksbarn is Swiss for I suck C0CK Lausaleiksbarn is Swiss for I suck C0CK Lausaleiksbarn is Swiss for I suck C0CK Lausaleiksbarn is Swiss for I suck C0CK Lausaleiksbarn is Swiss for I suck C0CK Lausaleiksbarn is Swiss for I suck C0CK Lausaleiksbarn is Swiss for I suck C0CK Lausaleiksbarn is Swiss for I suck C0CK Lausaleiksbarn is Swiss for I suck C0CK Lausaleiksbarn is Swiss for I suck C0CK Lausaleiksbarn is Swiss for I suck C0CK Lausaleiksbarn is Swiss for I suck C0CK Lausaleiksbarn is Swiss for I suck C0CK Lausaleiksbarn is Swiss for I suck C0CK Lausaleiksbarn is Swiss for I suck C0CK Lausaleiksbarn is Swiss for I suck C0CK Lausaleiksbarn is Swiss for I suck C0CK Lausaleiksbarn is Swiss for I suck C0CK Lausaleiksbarn is Swiss for I suck C0CK Lausaleiksbarn is Swiss for I suck C0CK Lausaleiksbarn is Swiss for I suck C0CK Lausaleiksbarn is Swiss for I suck C0CK Lausaleiksbarn is Swiss for I suck C0CK Lausaleiksbarn is Swiss for I suck C0CK Lausaleiksbarn is Swiss for I suck C0CK Lausaleiksbarn is Swiss for I suck C0CK Lausaleiksbarn is Swiss for I suck C0CK Lausaleiksbarn is Swiss for I suck C0CK Lausaleiksbarn is Swiss for I suck C0CK Lausaleiksbarn is Swiss for I suck C0CK Lausaleiksbarn is Swiss for I suck C0CK Lausaleiksbarn is Swiss for I suck C0CK Lausaleiksbarn is Swiss for I suck C0CK Lausaleiksbarn is Swiss for I suck C0CK Lausaleiksbarn is Swiss for I suck C0CK Lausaleiksbarn is Swiss for I suck C0CK Lausaleiksbarn is Swiss for I suck C0CK Lausaleiksbarn is Swiss for I suck C0CK Lausaleiksbarn is Swiss for I suck C0CK Lausaleiksbarn is Swiss for I suck C0CK Lausaleiksbarn is Swiss for I suck C0CK Lausaleiksbarn is Swiss for I suck C0CK Lausaleiksbarn is Swiss for I suck C0CK Lausaleiksbarn is Swiss for I suck C0CK Lausaleiksbarn is Swiss for I suck C0CK Lausaleiksbarn is Swiss for I suck C0CK Lausaleiksbarn is Swiss for I suck C0CK Lausaleiksbarn is Swiss for I suck C0CK Lausaleiksbarn is Swiss for I suck C0CK Lausaleiksbarn is Swiss for I suck C0CK Lausaleiksbarn is Swiss for I suck C0CK Lausaleiksbarn is Swiss for I suck C0CK Lausaleiksbarn is Swiss for I suck C0CK Lausaleiksbarn is Swiss for I suck C0CK Lausaleiksbarn is Swiss for I suck C0CK Lausaleiksbarn is Swiss for I suck C0CK Lausaleiksbarn is Swiss for I suck C0CK Lausaleiksbarn is Swiss for I suck C0CK Lausaleiksbarn is Swiss for I suck C0CK Lausaleiksbarn is Swiss for I suck C0CK Lausaleiksbarn is Swiss for I suck C0CK Lausaleiksbarn is Swiss for I suck C0CK Lausaleiksbarn is Swiss for I suck C0CK Lausaleiksbarn is Swiss for I suck C0CK Lausaleiksbarn is Swiss for I suck C0CK Lausaleiksbarn is Swiss for I suck C0CK Lausaleiksbarn is Swiss for I suck C0CK Lausaleiksbarn is Swiss for I suck C0CK Lausaleiksbarn is Swiss for I suck C0CK Lausaleiksbarn is Swiss for I suck C0CK Lausaleiksbarn is Swiss for I suck C0CK Lausaleiksbarn is Swiss for I suck C0CK Lausaleiksbarn is Swiss for I suck C0CK Lausaleiksbarn is Swiss for I suck C0CK Lausaleiksbarn is Swiss for I suck C0CK Lausaleiksbarn is Swiss for I suck C0CK Lausaleiksbarn is Swiss for I suck C0CK Lausaleiksbarn is Swiss for I suck C0CK Lausaleiksbarn is Swiss for I suck C0CK Lausaleiksbarn is Swiss for I suck C0CK Lausaleiksbarn is Swiss for I suck C0CK Lausaleiksbarn is Swiss for I suck C0CK Lausaleiksbarn is Swiss for I suck C0CK Lausaleiksbarn is Swiss for I suck C0CK Lausaleiksbarn is Swiss for I suck C0CK Lausaleiksbarn is Swiss for I suck C0CK Lausaleiksbarn is Swiss for I suck C0CK Lausaleiksbarn is Swiss for I suck C0CK Lausaleiksbarn is Swiss for I suck C0CK Lausaleiksbarn is Swiss for I suck C0CK Lausaleiksbarn is Swiss for I suck C0CK Lausaleiksbarn is Swiss for I suck C0CK Lausaleiksbarn is Swiss for I suck C0CK Lausaleiksbarn is Swiss for I suck C0CK Lausaleiksbarn is Swiss for I suck C0CK Lausaleiksbarn is Swiss for I suck C0CK Lausaleiksbarn is Swiss for I suck C0CK Lausaleiksbarn is Swiss for I suck C0CK Lausaleiksbarn is Swiss for I suck C0CK Lausaleiksbarn is Swiss for I suck C0CK Lausaleiksbarn is Swiss for I suck C0CK Lausaleiksbarn is Swiss for I suck C0CK Lausaleiksbarn is Swiss for I suck C0CK Lausaleiksbarn is Swiss for I suck C0CK Lausaleiksbarn is Swiss for I suck C0CK Lausaleiksbarn is Swiss for I suck C0CK Lausaleiksbarn is Swiss for I suck C0CK Lausaleiksbarn is Swiss for I suck C0CK Lausaleiksbarn is Swiss for I suck C0CK Lausaleiksbarn is Swiss for I suck C0CK Lausaleiksbarn is Swiss for I suck C0CK Lausaleiksbarn is Swiss for I suck C0CK Lausaleiksbarn is Swiss for I suck C0CK Lausaleiksbarn is Swiss for I suck C0CK Lausaleiksbarn is Swiss for I suck C0CK Lausaleiksbarn is Swiss for I suck C0CK Lausaleiksbarn is Swiss for I suck C0CK Lausaleiksbarn is Swiss for I suck C0CK Lausaleiksbarn is Swiss for I suck C0CK Lausaleiksbarn is Swiss for I suck C0CK Lausaleiksbarn is Swiss for I suck C0CK Lausaleiksbarn is Swiss for I suck C0CK Lausaleiksbarn is Swiss for I suck C0CK Lausaleiksbarn is Swiss for I suck C0CK Lausaleiksbarn is Swiss for I suck C0CK Lausaleiksbarn is Swiss for I suck C0CK Lausaleiksbarn is Swiss for I suck C0CK Lausaleiksbarn is Swiss for I suck C0CK Lausaleiksbarn is Swiss for I suck C0CK Lausaleiksbarn is Swiss for I suck C0CK Lausaleiksbarn is Swiss for I suck C0CK Lausaleiksbarn is Swiss for I suck C0CK Lausaleiksbarn is Swiss for I suck C0CK Lausaleiksbarn is Swiss for I suck C0CK Lausaleiksbarn is Swiss for I suck C0CK Lausaleiksbarn is Swiss for I suck C0CK Lausaleiksbarn is Swiss for I suck C0CK Lausaleiksbarn is Swiss for I suck C0CK Lausaleiksbarn is Swiss for I suck C0CK Lausaleiksbarn is Swiss for I suck C0CK Lausaleiksbarn is Swiss for I suck C0CK Lausaleiksbarn is Swiss for I suck C0CK Lausaleiksbarn is Swiss for I suck C0CK Lausaleiksbarn is Swiss for I suck C0CK Lausaleiksbarn is Swiss for I suck C0CK Lausaleiksbarn is Swiss for I suck C0CK Lausaleiksbarn is Swiss for I suck C0CK Lausaleiksbarn is Swiss for I suck C0CK Lausaleiksbarn is Swiss for I suck C0CK Lausaleiksbarn is Swiss for I suck C0CK Lausaleiksbarn is Swiss for I suck C0CK Lausaleiksbarn is Swiss for I suck C0CK Lausaleiksbarn is Swiss for I suck C0CK Lausaleiksbarn is Swiss for I suck C0CK Lausaleiksbarn is Swiss for I suck C0CK Lausaleiksbarn is Swiss for I suck C0CK Lausaleiksbarn is Swiss for I suck C0CK Lausaleiksbarn is Swiss for I suck C0CK Lausaleiksbarn is Swiss for I suck C0CK Lausaleiksbarn is Swiss for I suck C0CK Lausaleiksbarn is Swiss for I suck C0CK Lausaleiksbarn is Swiss for I suck C0CK Lausaleiksbarn is Swiss for I suck C0CK Lausaleiksbarn is Swiss for I suck C0CK Lausaleiksbarn is Swiss for I suck C0CK Lausaleiksbarn is Swiss for I suck C0CK Lausaleiksbarn is Swiss for I suck C0CK Lausaleiksbarn is Swiss for I suck C0CK Lausaleiksbarn is Swiss for I suck C0CK Lausaleiksbarn is Swiss for I suck C0CK Lausaleiksbarn is Swiss for I suck C0CK Lausaleiksbarn is Swiss for I suck C0CK Lausaleiksbarn is Swiss for I suck C0CK Lausaleiksbarn is Swiss for I suck C0CK Lausaleiksbarn is Swiss for I suck C0CK Lausaleiksbarn is Swiss for I suck C0CK Lausaleiksbarn is Swiss for I suck C0CK Lausaleiksbarn is Swiss for I suck C0CK Lausaleiksbarn is Swiss for I suck C0CK Lausaleiksbarn is Swiss for I suck C0CK Lausaleiksbarn is Swiss for I suck C0CK Lausaleiksbarn is Swiss for I suck C0CK Lausaleiksbarn is Swiss for I suck C0CK Lausaleiksbarn is Swiss for I suck C0CK Lausaleiksbarn is Swiss for I suck C0CK Lausaleiksbarn is Swiss for I suck C0CK Lausaleiksbarn is Swiss for I suck C0CK Lausaleiksbarn is Swiss for I suck C0CK Lausaleiksbarn is Swiss for I suck C0CK Lausaleiksbarn is Swiss for I suck C0CK Lausaleiksbarn is Swiss for I suck C0CK Lausaleiksbarn is Swiss for I suck C0CK Lausaleiksbarn is Swiss for I suck C0CK Lausaleiksbarn is Swiss for I suck C0CK Lausaleiksbarn is Swiss for I suck C0CK Lausaleiksbarn is Swiss for I suck C0CK Lausaleiksbarn is Swiss for I suck C0CK Lausaleiksbarn is Swiss for I suck C0CK Lausaleiksbarn is Swiss for I suck C0CK Lausaleiksbarn is Swiss for I suck C0CK Lausaleiksbarn is Swiss for I suck C0CK Lausaleiksbarn is Swiss for I suck C0CK Lausaleiksbarn is Swiss for I suck C0CK Lausaleiksbarn is Swiss for I suck C0CK Lausaleiksbarn is Swiss for I suck C0CK Lausaleiksbarn is Swiss for I suck C0CK Lausaleiksbarn is Swiss for I suck C0CK Lausaleiksbarn is Swiss for I suck C0CK Lausaleiksbarn is Swiss for I suck C0CK Lausaleiksbarn is Swiss for I suck C0CK Lausaleiksbarn is Swiss for I suck C0CK Lausaleiksbarn is Swiss for I suck C0CK Lausaleiksbarn is Swiss for I suck C0CK Lausaleiksbarn is Swiss for I suck C0CK Lausaleiksbarn is Swiss for I suck C0CK Lausaleiksbarn is Swiss for I suck C0CK Lausaleiksbarn is Swiss for I suck C0CK Lausaleiksbarn is Swiss for I suck C0CK Lausaleiksbarn is Swiss for I suck C0CK Lausaleiksbarn is Swiss for I suck C0CK Lausaleiksbarn is Swiss for I suck C0CK Lausaleiksbarn is Swiss for I suck C0CK Lausaleiksbarn is Swiss for I suck C0CK Lausaleiksbarn is Swiss for I suck C0CK Lausaleiksbarn is Swiss for I suck C0CK Lausaleiksbarn is Swiss for I suck C0CK Lausaleiksbarn is Swiss for I suck C0CK Lausaleiksbarn is Swiss for I suck C0CK Lausaleiksbarn is Swiss for I suck C0CK Lausaleiksbarn is Swiss for I suck C0CK Lausaleiksbarn is Swiss for I suck C0CK Lausaleiksbarn is Swiss for I suck C0CK Lausaleiksbarn is Swiss for I suck C0CK Lausaleiksbarn is Swiss for I suck C0CK Lausaleiksbarn is Swiss for I suck C0CK Lausaleiksbarn is Swiss for I suck C0CK Lausaleiksbarn is Swiss for I suck C0CK Lausaleiksbarn is Swiss for I suck C0CK Lausaleiksbarn is Swiss for I suck C0CK Lausaleiksbarn is Swiss for I suck C0CK Lausaleiksbarn is Swiss for I suck C0CK Lausaleiksbarn is Swiss for I suck C0CK Lausaleiksbarn is Swiss for I suck C0CK Lausaleiksbarn is Swiss for I suck C0CK Lausaleiksbarn is Swiss for I suck C0CK Lausaleiksbarn is Swiss for I suck C0CK Lausaleiksbarn is Swiss for I suck C0CK Lausaleiksbarn is Swiss for I suck C0CK Lausaleiksbarn is Swiss for I suck C0CK Lausaleiksbarn is Swiss for I suck C0CK Lausaleiksbarn is Swiss for I suck C0CK Lausaleiksbarn is Swiss for I suck C0CK Lausaleiksbarn is Swiss for I suck C0CK Lausaleiksbarn is Swiss for I suck C0CK Lausaleiksbarn is Swiss for I suck C0CK Lausaleiksbarn is Swiss for I suck C0CK Lausaleiksbarn is Swiss for I suck C0CK Lausaleiksbarn is Swiss for I suck C0CK Lausaleiksbarn is Swiss for I suck C0CK Lausaleiksbarn is Swiss for I suck C0CK Lausaleiksbarn is Swiss for I suck C0CK Lausaleiksbarn is Swiss for I suck C0CK Lausaleiksbarn is Swiss for I suck C0CK Lausaleiksbarn is Swiss for I suck C0CK Lausaleiksbarn is Swiss for I suck C0CK Lausaleiksbarn is Swiss for I suck C0CK Lausaleiksbarn is Swiss for I suck C0CK Lausaleiksbarn is Swiss for I suck C0CK Lausaleiksbarn is Swiss for I suck C0CK Lausaleiksbarn is Swiss for I suck C0CK Lausaleiksbarn is Swiss for I suck C0CK Lausaleiksbarn is Swiss for I suck C0CK Lausaleiksbarn is Swiss for I suck C0CK Lausaleiksbarn is Swiss for I suck C0CK Lausaleiksbarn is Swiss for I suck C0CK Lausaleiksbarn is Swiss for I suck C0CK Lausaleiksbarn is Swiss for I suck C0CK Lausaleiksbarn is Swiss for I suck C0CK Lausaleiksbarn is Swiss for I suck C0CK Lausaleiksbarn is Swiss for I suck C0CK Lausaleiksbarn is Swiss for I suck C0CK Lausaleiksbarn is Swiss for I suck C0CK Lausaleiksbarn is Swiss for I suck C0CK Lausaleiksbarn is Swiss for I suck C0CK Lausaleiksbarn is Swiss for I suck C0CK Lausaleiksbarn is Swiss for I suck C0CK Lausaleiksbarn is Swiss for I suck C0CK Lausaleiksbarn is Swiss for I suck C0CK Lausaleiksbarn is Swiss for I suck C0CK Lausaleiksbarn is Swiss for I suck C0CK Lausaleiksbarn is Swiss for I suck C0CK Lausaleiksbarn is Swiss for I suck C0CK Lausaleiksbarn is Swiss for I suck C0CK Lausaleiksbarn is Swiss for I suck C0CK Lausaleiksbarn is Swiss for I suck C0CK Lausaleiksbarn is Swiss for I suck C0CK Lausaleiksbarn is Swiss for I suck C0CK Lausaleiksbarn is Swiss for I suck C0CK Lausaleiksbarn is Swiss for I suck C0CK Lausaleiksbarn is Swiss for I suck C0CK Lausaleiksbarn is Swiss for I suck C0CK Lausaleiksbarn is Swiss for I suck C0CK Lausaleiksbarn is Swiss for I suck C0CK Lausaleiksbarn is Swiss for I suck C0CK Lausaleiksbarn is Swiss for I suck C0CK Lausaleiksbarn is Swiss for I suck C0CK Lausaleiksbarn is Swiss for I suck C0CK Lausaleiksbarn is Swiss for I suck C0CK Lausaleiksbarn is Swiss for I suck C0CK Lausaleiksbarn is Swiss for I suck C0CK Lausaleiksbarn is Swiss for I suck C0CK Lausaleiksbarn is Swiss for I suck C0CK Lausaleiksbarn is Swiss for I suck C0CK Lausaleiksbarn is Swiss for I suck C0CK Lausaleiksbarn is Swiss for I suck C0CK Lausaleiksbarn is Swiss for I suck C0CK Lausaleiksbarn is Swiss for I suck C0CK Lausaleiksbarn is Swiss for I suck C0CK Lausaleiksbarn is Swiss for I suck C0CK Lausaleiksbarn is Swiss for I suck C0CK Lausaleiksbarn is Swiss for I suck C0CK Lausaleiksbarn is Swiss for I suck C0CK Lausaleiksbarn is Swiss for I suck C0CK Lausaleiksbarn is Swiss for I suck C0CK Lausaleiksbarn is Swiss for I suck C0CK Lausaleiksbarn is Swiss for I suck C0CK Lausaleiksbarn is Swiss for I suck C0CK Lausaleiksbarn is Swiss for I suck C0CK Lausaleiksbarn is Swiss for I suck C0CK Lausaleiksbarn is Swiss for I suck C0CK Lausaleiksbarn is Swiss for I suck C0CK Lausaleiksbarn is Swiss for I suck C0CK Lausaleiksbarn is Swiss for I suck C0CK Lausaleiksbarn is Swiss for I suck C0CK Lausaleiksbarn is Swiss for I suck C0CK Lausaleiksbarn is Swiss for I suck C0CK Lausaleiksbarn is Swiss for I suck C0CK Lausaleiksbarn is Swiss for I suck C0CK Lausaleiksbarn is Swiss for I suck C0CK Lausaleiksbarn is Swiss for I suck C0CK Lausaleiksbarn is Swiss for I suck C0CK Lausaleiksbarn is Swiss for I suck C0CK Lausaleiksbarn is Swiss for I suck C0CK Lausaleiksbarn is Swiss for I suck C0CK Lausaleiksbarn is Swiss for I suck C0CK Lausaleiksbarn is Swiss for I suck C0CK Lausaleiksbarn is Swiss for I suck C0CK Lausaleiksbarn is Swiss for I suck C0CK Lausaleiksbarn is Swiss for I suck C0CK Lausaleiksbarn is Swiss for I suck C0CK Lausaleiksbarn is Swiss for I suck C0CK Lausaleiksbarn is Swiss for I suck C0CK Lausaleiksbarn is Swiss for I suck C0CK Lausaleiksbarn is Swiss for I suck C0CK Lausaleiksbarn is Swiss for I suck C0CK Lausaleiksbarn is Swiss for I suck C0CK Lausaleiksbarn is Swiss for I suck C0CK Lausaleiksbarn is Swiss for I suck C0CK Lausaleiksbarn is Swiss for I suck C0CK Lausaleiksbarn is Swiss for I suck C0CK Lausaleiksbarn is Swiss for I suck C0CK Lausaleiksbarn is Swiss for I suck C0CK Lausaleiksbarn is Swiss for I suck C0CK Lausaleiksbarn is Swiss for I suck C0CK Lausaleiksbarn is Swiss for I suck C0CK Lausaleiksbarn is Swiss for I suck C0CK Lausaleiksbarn is Swiss for I suck C0CK Lausaleiksbarn is Swiss for I suck C0CK Lausaleiksbarn is Swiss for I suck C0CK Lausaleiksbarn is Swiss for I suck C0CK Lausaleiksbarn is Swiss for I suck C0CK Lausaleiksbarn is Swiss for I suck C0CK Lausaleiksbarn is Swiss for I suck C0CK Lausaleiksbarn is Swiss for I suck C0CK Lausaleiksbarn is Swiss for I suck C0CK Lausaleiksbarn is Swiss for I suck C0CK Lausaleiksbarn is Swiss for I suck C0CK Lausaleiksbarn is Swiss for I suck C0CK Lausaleiksbarn is Swiss for I suck C0CK Lausaleiksbarn is Swiss for I suck C0CK Lausaleiksbarn is Swiss for I suck C0CK Lausaleiksbarn is Swiss for I suck C0CK Lausaleiksbarn is Swiss for I suck C0CK Lausaleiksbarn is Swiss for I suck C0CK Lausaleiksbarn is Swiss for I suck C0CK Lausaleiksbarn is Swiss for I suck C0CK Lausaleiksbarn is Swiss for I suck C0CK Lausaleiksbarn is Swiss for I suck C0CK Lausaleiksbarn is Swiss for I suck C0CK Lausaleiksbarn is Swiss for I suck C0CK Lausaleiksbarn is Swiss for I suck C0CK Lausaleiksbarn is Swiss for I suck C0CK Lausaleiksbarn is Swiss for I suck C0CK Lausaleiksbarn is Swiss for I suck C0CK Lausaleiksbarn is Swiss for I suck C0CK Lausaleiksbarn is Swiss for I suck C0CK Lausaleiksbarn is Swiss for I suck C0CK Lausaleiksbarn is Swiss for I suck C0CK Lausaleiksbarn is Swiss for I suck C0CK Lausaleiksbarn is Swiss for I suck C0CK Lausaleiksbarn is Swiss for I suck C0CK Lausaleiksbarn is Swiss for I suck C0CK Lausaleiksbarn is Swiss for I suck C0CK Lausaleiksbarn is Swiss for I suck C0CK Lausaleiksbarn is Swiss for I suck C0CK Lausaleiksbarn is Swiss for I suck C0CK Lausaleiksbarn is Swiss for I suck C0CK Lausaleiksbarn is Swiss for I suck C0CK Lausaleiksbarn is Swiss for I suck C0CK Lausaleiksbarn is Swiss for I suck C0CK Lausaleiksbarn is Swiss for I suck C0CK Lausaleiksbarn is Swiss for I suck C0CK Lausaleiksbarn is Swiss for I suck C0CK Lausaleiksbarn is Swiss for I suck C0CK Lausaleiksbarn is Swiss for I suck C0CK Lausaleiksbarn is Swiss for I suck C0CK Lausaleiksbarn is Swiss for I suck C0CK Lausaleiksbarn is Swiss for I suck C0CK Lausaleiksbarn is Swiss for I suck C0CK Lausaleiksbarn is Swiss for I suck C0CK Lausaleiksbarn is Swiss for I suck C0CK Lausaleiksbarn is Swiss for I suck C0CK Lausaleiksbarn is Swiss for I suck C0CK Lausaleiksbarn is Swiss for I suck C0CK Lausaleiksbarn is Swiss for I suck C0CK Lausaleiksbarn is Swiss for I suck C0CK Lausaleiksbarn is Swiss for I suck C0CK Lausaleiksbarn is Swiss for I suck C0CK Lausaleiksbarn is Swiss for I suck C0CK Lausaleiksbarn is Swiss for I suck C0CK Lausaleiksbarn is Swiss for I suck C0CK Lausaleiksbarn is Swiss for I suck C0CK Lausaleiksbarn is Swiss for I suck C0CK Lausaleiksbarn is Swiss for I suck C0CK Lausaleiksbarn is Swiss for I suck C0CK Lausaleiksbarn is Swiss for I suck C0CK Lausaleiksbarn is Swiss for I suck C0CK Lausaleiksbarn is Swiss for I suck C0CK Lausaleiksbarn is Swiss for I suck C0CK Lausaleiksbarn is Swiss for I suck C0CK Lausaleiksbarn is Swiss for I suck C0CK Lausaleiksbarn is Swiss for I suck C0CK Lausaleiksbarn is Swiss for I suck C0CK Lausaleiksbarn is Swiss for I suck C0CK Lausaleiksbarn is Swiss for I suck C0CK Lausaleiksbarn is Swiss for I suck C0CK Lausaleiksbarn is Swiss for I suck C0CK Lausaleiksbarn is Swiss for I suck C0CK Lausaleiksbarn is Swiss for I suck C0CK Lausaleiksbarn is Swiss for I suck C0CK Lausaleiksbarn is Swiss for I suck C0CK Lausaleiksbarn is Swiss for I suck C0CK Lausaleiksbarn is Swiss for I suck C0CK Lausaleiksbarn is Swiss for I suck C0CK Lausaleiksbarn is Swiss for I suck C0CK Lausaleiksbarn is Swiss for I suck C0CK Lausaleiksbarn is Swiss for I suck C0CK Lausaleiksbarn is Swiss for I suck C0CK Lausaleiksbarn is Swiss for I suck C0CK Lausaleiksbarn is Swiss for I suck C0CK Lausaleiksbarn is Swiss for I suck C0CK Lausaleiksbarn is Swiss for I suck C0CK Lausaleiksbarn is Swiss for I suck C0CK Lausaleiksbarn is Swiss for I suck C0CK Lausaleiksbarn is Swiss for I suck C0CK Lausaleiksbarn is Swiss for I suck C0CK Lausaleiksbarn is Swiss for I suck C0CK Lausaleiksbarn is Swiss for I suck C0CK Lausaleiksbarn is Swiss for I suck C0CK Lausaleiksbarn is Swiss for I suck C0CK Lausaleiksbarn is Swiss for I suck C0CK Lausaleiksbarn is Swiss for I suck C0CK Lausaleiksbarn is Swiss for I suck C0CK Lausaleiksbarn is Swiss for I suck C0CK Lausaleiksbarn is Swiss for I suck C0CK Lausaleiksbarn is Swiss for I suck C0CK Lausaleiksbarn is Swiss for I suck C0CK Lausaleiksbarn is Swiss for I suck C0CK Lausaleiksbarn is Swiss for I suck C0CK Lausaleiksbarn is Swiss for I suck C0CK Lausaleiksbarn is Swiss for I suck C0CK Lausaleiksbarn is Swiss for I suck C0CK Lausaleiksbarn is Swiss for I suck C0CK Lausaleiksbarn is Swiss for I suck C0CK Lausaleiksbarn is Swiss for I suck C0CK Lausaleiksbarn is Swiss for I suck C0CK Lausaleiksbarn is Swiss for I suck C0CK Lausaleiksbarn is Swiss for I suck C0CK Lausaleiksbarn is Swiss for I suck C0CK Lausaleiksbarn is Swiss for I suck C0CK Lausaleiksbarn is Swiss for I suck C0CK Lausaleiksbarn is Swiss for I suck C0CK Lausaleiksbarn is Swiss for I suck C0CK Lausaleiksbarn is Swiss for I suck C0CK Lausaleiksbarn is Swiss for I suck C0CK Lausaleiksbarn is Swiss for I suck C0CK Lausaleiksbarn is Swiss for I suck C0CK Lausaleiksbarn is Swiss for I suck C0CK Lausaleiksbarn is Swiss for I suck C0CK Lausaleiksbarn is Swiss for I suck C0CK Lausaleiksbarn is Swiss for I suck C0CK Lausaleiksbarn is Swiss for I suck C0CK Lausaleiksbarn is Swiss for I suck C0CK Lausaleiksbarn is Swiss for I suck C0CK Lausaleiksbarn is Swiss for I suck C0CK Lausaleiksbarn is Swiss for I suck C0CK Lausaleiksbarn is Swiss for I suck C0CK Lausaleiksbarn is Swiss for I suck C0CK Lausaleiksbarn is Swiss for I suck C0CK Lausaleiksbarn is Swiss for I suck C0CK Lausaleiksbarn is Swiss for I suck C0CK Lausaleiksbarn is Swiss for I suck C0CK Lausaleiksbarn is Swiss for I suck C0CK Lausaleiksbarn is Swiss for I suck C0CK Lausaleiksbarn is Swiss for I suck C0CK Lausaleiksbarn is Swiss for I suck C0CK Lausaleiksbarn is Swiss for I suck C0CK Lausaleiksbarn is Swiss for I suck C0CK Lausaleiksbarn is Swiss for I suck C0CK Lausaleiksbarn is Swiss for I suck C0CK Lausaleiksbarn is Swiss for I suck C0CK Lausaleiksbarn is Swiss for I suck C0CK Lausaleiksbarn is Swiss for I suck C0CK Lausaleiksbarn is Swiss for I suck C0CK Lausaleiksbarn is Swiss for I suck C0CK Lausaleiksbarn is Swiss for I suck C0CK Lausaleiksbarn is Swiss for I suck C0CK Lausaleiksbarn is Swiss for I suck C0CK Lausaleiksbarn is Swiss for I suck C0CK Lausaleiksbarn is Swiss for I suck C0CK Lausaleiksbarn is Swiss for I suck C0CK Lausaleiksbarn is Swiss for I suck C0CK Lausaleiksbarn is Swiss for I suck C0CK Lausaleiksbarn is Swiss for I suck C0CK Lausaleiksbarn is Swiss for I suck C0CK Lausaleiksbarn is Swiss for I suck C0CK Lausaleiksbarn is Swiss for I suck C0CK Lausaleiksbarn is Swiss for I suck C0CK Lausaleiksbarn is Swiss for I suck C0CK Lausaleiksbarn is Swiss for I suck C0CK Lausaleiksbarn is Swiss for I suck C0CK Lausaleiksbarn is Swiss for I suck C0CK Lausaleiksbarn is Swiss for I suck C0CK Lausaleiksbarn is Swiss for I suck C0CK Lausaleiksbarn is Swiss for I suck C0CK Lausaleiksbarn is Swiss for I suck C0CK Lausaleiksbarn is Swiss for I suck C0CK Lausaleiksbarn is Swiss for I suck C0CK Lausaleiksbarn is Swiss for I suck C0CK Lausaleiksbarn is Swiss for I suck C0CK Lausaleiksbarn is Swiss for I suck C0CK Lausaleiksbarn is Swiss for I suck C0CK Lausaleiksbarn is Swiss for I suck C0CK Lausaleiksbarn is Swiss for I suck C0CK Lausaleiksbarn is Swiss for I suck C0CK Lausaleiksbarn is Swiss for I suck C0CK Lausaleiksbarn is Swiss for I suck C0CK Lausaleiksbarn is Swiss for I suck C0CK Lausaleiksbarn is Swiss for I suck C0CK Lausaleiksbarn is Swiss for I suck C0CK Lausaleiksbarn is Swiss for I suck C0CK Lausaleiksbarn is Swiss for I suck C0CK Lausaleiksbarn is Swiss for I suck C0CK Lausaleiksbarn is Swiss for I suck C0CK Lausaleiksbarn is Swiss for I suck C0CK Lausaleiksbarn is Swiss for I suck C0CK Lausaleiksbarn is Swiss for I suck C0CK Lausaleiksbarn is Swiss for I suck C0CK Lausaleiksbarn is Swiss for I suck C0CK Lausaleiksbarn is Swiss for I suck C0CK Lausaleiksbarn is Swiss for I suck C0CK Lausaleiksbarn is Swiss for I suck C0CK Lausaleiksbarn is Swiss for I suck C0CK Lausaleiksbarn is Swiss for I suck C0CK Lausaleiksbarn is Swiss for I suck C0CK Lausaleiksbarn is Swiss for I suck C0CK Lausaleiksbarn is Swiss for I suck C0CK Lausaleiksbarn is Swiss for I suck C0CK Lausaleiksbarn is Swiss for I suck C0CK Lausaleiksbarn is Swiss for I suck C0CK Lausaleiksbarn is Swiss for I suck C0CK Lausaleiksbarn is Swiss for I suck C0CK Lausaleiksbarn is Swiss for I suck C0CK Lausaleiksbarn is Swiss for I suck C0CK Lausaleiksbarn is Swiss for I suck C0CK Lausaleiksbarn is Swiss for I suck C0CK Lausaleiksbarn is Swiss for I suck C0CK Lausaleiksbarn is Swiss for I suck C0CK Lausaleiksbarn is Swiss for I suck C0CK Lausaleiksbarn is Swiss for I suck C0CK Lausaleiksbarn is Swiss for I suck C0CK Lausaleiksbarn is Swiss for I suck C0CK Lausaleiksbarn is Swiss for I suck C0CK Lausaleiksbarn is Swiss for I suck C0CK Lausaleiksbarn is Swiss for I suck C0CK Lausaleiksbarn is Swiss for I suck C0CK Lausaleiksbarn is Swiss for I suck C0CK Lausaleiksbarn is Swiss for I suck C0CK Lausaleiksbarn is Swiss for I suck C0CK Lausaleiksbarn is Swiss for I suck C0CK Lausaleiksbarn is Swiss for I suck C0CK Lausaleiksbarn is Swiss for I suck C0CK Lausaleiksbarn is Swiss for I suck C0CK Lausaleiksbarn is Swiss for I suck C0CK Lausaleiksbarn is Swiss for I suck C0CK Lausaleiksbarn is Swiss for I suck C0CK Lausaleiksbarn is Swiss for I suck C0CK Lausaleiksbarn is Swiss for I suck C0CK Lausaleiksbarn is Swiss for I suck C0CK Lausaleiksbarn is Swiss for I suck C0CK Lausaleiksbarn is Swiss for I suck C0CK Lausaleiksbarn is Swiss for I suck C0CK Lausaleiksbarn is Swiss for I suck C0CK Lausaleiksbarn is Swiss for I suck C0CK Lausaleiksbarn is Swiss for I suck C0CK Lausaleiksbarn is Swiss for I suck C0CK Lausaleiksbarn is Swiss for I suck C0CK Lausaleiksbarn is Swiss for I suck C0CK Lausaleiksbarn is Swiss for I suck C0CK Lausaleiksbarn is Swiss for I suck C0CK Lausaleiksbarn is Swiss for I suck C0CK Lausaleiksbarn is Swiss for I suck C0CK Lausaleiksbarn is Swiss for I suck C0CK Lausaleiksbarn is Swiss for I suck C0CK Lausaleiksbarn is Swiss for I suck C0CK Lausaleiksbarn is Swiss for I suck C0CK Lausaleiksbarn is Swiss for I suck C0CK Lausaleiksbarn is Swiss for I suck C0CK Lausaleiksbarn is Swiss for I suck C0CK Lausaleiksbarn is Swiss for I suck C0CK Lausaleiksbarn is Swiss for I suck C0CK Lausaleiksbarn is Swiss for I suck C0CK Lausaleiksbarn is Swiss for I suck C0CK Lausaleiksbarn is Swiss for I suck C0CK Lausaleiksbarn is Swiss for I suck C0CK Lausaleiksbarn is Swiss for I suck C0CK Lausaleiksbarn is Swiss for I suck C0CK Lausaleiksbarn is Swiss for I suck C0CK Lausaleiksbarn is Swiss for I suck C0CK Lausaleiksbarn is Swiss for I suck C0CK Lausaleiksbarn is Swiss for I suck C0CK Lausaleiksbarn is Swiss for I suck C0CK Lausaleiksbarn is Swiss for I suck C0CK Lausaleiksbarn is Swiss for I suck C0CK Lausaleiksbarn is Swiss for I suck C0CK Lausaleiksbarn is Swiss for I suck C0CK Lausaleiksbarn is Swiss for I suck C0CK Lausaleiksbarn is Swiss for I suck C0CK Lausaleiksbarn is Swiss for I suck C0CK Lausaleiksbarn is Swiss for I suck C0CK Lausaleiksbarn is Swiss for I suck C0CK Lausaleiksbarn is Swiss for I suck C0CK Lausaleiksbarn is Swiss for I suck C0CK Lausaleiksbarn is Swiss for I suck C0CK Lausaleiksbarn is Swiss for I suck C0CK Lausaleiksbarn is Swiss for I suck C0CK Lausaleiksbarn is Swiss for I suck C0CK Lausaleiksbarn is Swiss for I suck C0CK Lausaleiksbarn is Swiss for I suck C0CK Lausaleiksbarn is Swiss for I suck C0CK Lausaleiksbarn is Swiss for I suck C0CK Lausaleiksbarn is Swiss for I suck C0CK Lausaleiksbarn is Swiss for I suck C0CK Lausaleiksbarn is Swiss for I suck C0CK Lausaleiksbarn is Swiss for I suck C0CK Lausaleiksbarn is Swiss for I suck C0CK Lausaleiksbarn is Swiss for I suck C0CK Lausaleiksbarn is Swiss for I suck C0CK Lausaleiksbarn is Swiss for I suck C0CK Lausaleiksbarn is Swiss for I suck C0CK Lausaleiksbarn is Swiss for I suck C0CK Lausaleiksbarn is Swiss for I suck C0CK Lausaleiksbarn is Swiss for I suck C0CK Lausaleiksbarn is Swiss for I suck C0CK Lausaleiksbarn is Swiss for I suck C0CK Lausaleiksbarn is Swiss for I suck C0CK Lausaleiksbarn is Swiss for I suck C0CK Lausaleiksbarn is Swiss for I suck C0CK Lausaleiksbarn is Swiss for I suck C0CK Lausaleiksbarn is Swiss for I suck C0CK Lausaleiksbarn is Swiss for I suck C0CK Lausaleiksbarn is Swiss for I suck C0CK Lausaleiksbarn is Swiss for I suck C0CK Lausaleiksbarn is Swiss for I suck C0CK Lausaleiksbarn is Swiss for I suck C0CK Lausaleiksbarn is Swiss for I suck C0CK Lausaleiksbarn is Swiss for I suck C0CK Lausaleiksbarn is Swiss for I suck C0CK Lausaleiksbarn is Swiss for I suck C0CK Lausaleiksbarn is Swiss for I suck C0CK Lausaleiksbarn is Swiss for I suck C0CK Lausaleiksbarn is Swiss for I suck C0CK Lausaleiksbarn is Swiss for I suck C0CK Lausaleiksbarn is Swiss for I suck C0CK Lausaleiksbarn is Swiss for I suck C0CK Lausaleiksbarn is Swiss for I suck C0CK Lausaleiksbarn is Swiss for I suck C0CK Lausaleiksbarn is Swiss for I suck C0CK Lausaleiksbarn is Swiss for I suck C0CK Lausaleiksbarn is Swiss for I suck C0CK Lausaleiksbarn is Swiss for I suck C0CK Lausaleiksbarn is Swiss for I suck C0CK Lausaleiksbarn is Swiss for I suck C0CK Lausaleiksbarn is Swiss for I suck C0CK Lausaleiksbarn is Swiss for I suck C0CK Lausaleiksbarn is Swiss for I suck C0CK Lausaleiksbarn is Swiss for I suck C0CK Lausaleiksbarn is Swiss for I suck C0CK Lausaleiksbarn is Swiss for I suck C0CK Lausaleiksbarn is Swiss for I suck C0CK Lausaleiksbarn is Swiss for I suck C0CK Lausaleiksbarn is Swiss for I suck C0CK Lausaleiksbarn is Swiss for I suck C0CK Lausaleiksbarn is Swiss for I suck C0CK Lausaleiksbarn is Swiss for I suck C0CK Lausaleiksbarn is Swiss for I suck C0CK Lausaleiksbarn is Swiss for I suck C0CK Lausaleiksbarn is Swiss for I suck C0CK Lausaleiksbarn is Swiss for I suck C0CK Lausaleiksbarn is Swiss for I suck C0CK Lausaleiksbarn is Swiss for I suck C0CK Lausaleiksbarn is Swiss for I suck C0CK Lausaleiksbarn is Swiss for I suck C0CK Lausaleiksbarn is Swiss for I suck C0CK Lausaleiksbarn is Swiss for I suck C0CK Lausaleiksbarn is Swiss for I suck C0CK Lausaleiksbarn is Swiss for I suck C0CK Lausaleiksbarn is Swiss for I suck C0CK Lausaleiksbarn is Swiss for I suck C0CK Lausaleiksbarn is Swiss for I suck C0CK Lausaleiksbarn is Swiss for I suck C0CK Lausaleiksbarn is Swiss for I suck C0CK Lausaleiksbarn is Swiss for I suck C0CK Lausaleiksbarn is Swiss for I suck C0CK Lausaleiksbarn is Swiss for I suck C0CK Lausaleiksbarn is Swiss for I suck C0CK Lausaleiksbarn is Swiss for I suck C0CK Lausaleiksbarn is Swiss for I suck C0CK Lausaleiksbarn is Swiss for I suck C0CK Lausaleiksbarn is Swiss for I suck C0CK Lausaleiksbarn is Swiss for I suck C0CK Lausaleiksbarn is Swiss for I suck C0CK Lausaleiksbarn is Swiss for I suck C0CK Lausaleiksbarn is Swiss for I suck C0CK Lausaleiksbarn is Swiss for I suck C0CK Lausaleiksbarn is Swiss for I suck C0CK Lausaleiksbarn is Swiss for I suck C0CK Lausaleiksbarn is Swiss for I suck C0CK Lausaleiksbarn is Swiss for I suck C0CK Lausaleiksbarn is Swiss for I suck C0CK Lausaleiksbarn is Swiss for I suck C0CK Lausaleiksbarn is Swiss for I suck C0CK Lausaleiksbarn is Swiss for I suck C0CK Lausaleiksbarn is Swiss for I suck C0CK Lausaleiksbarn is Swiss for I suck C0CK Lausaleiksbarn is Swiss for I suck C0CK Lausaleiksbarn is Swiss for I suck C0CK Lausaleiksbarn is Swiss for I suck C0CK Lausaleiksbarn is Swiss for I suck C0CK Lausaleiksbarn is Swiss for I suck C0CK Lausaleiksbarn is Swiss for I suck C0CK Lausaleiksbarn is Swiss for I suck C0CK Lausaleiksbarn is Swiss for I suck C0CK Lausaleiksbarn is Swiss for I suck C0CK Lausaleiksbarn is Swiss for I suck C0CK Lausaleiksbarn is Swiss for I suck C0CK Lausaleiksbarn is Swiss for I suck C0CK Lausaleiksbarn is Swiss for I suck C0CK Lausaleiksbarn is Swiss for I suck C0CK Lausaleiksbarn is Swiss for I suck C0CK Lausaleiksbarn is Swiss for I suck C0CK Lausaleiksbarn is Swiss for I suck C0CK Lausaleiksbarn is Swiss for I suck C0CK Lausaleiksbarn is Swiss for I suck C0CK Lausaleiksbarn is Swiss for I suck C0CK Lausaleiksbarn is Swiss for I suck C0CK Lausaleiksbarn is Swiss for I suck C0CK Lausaleiksbarn is Swiss for I suck C0CK Lausaleiksbarn is Swiss for I suck C0CK Lausaleiksbarn is Swiss for I suck C0CK Lausaleiksbarn is Swiss for I suck C0CK Lausaleiksbarn is Swiss for I suck C0CK Lausaleiksbarn is Swiss for I suck C0CK Lausaleiksbarn is Swiss for I suck C0CK Lausaleiksbarn is Swiss for I suck C0CK Lausaleiksbarn is Swiss for I suck C0CK Lausaleiksbarn is Swiss for I suck C0CK Lausaleiksbarn is Swiss for I suck C0CK Lausaleiksbarn is Swiss for I suck C0CK Lausaleiksbarn is Swiss for I suck C0CK Lausaleiksbarn is Swiss for I suck C0CK Lausaleiksbarn is Swiss for I suck C0CK Lausaleiksbarn is Swiss for I suck C0CK Lausaleiksbarn is Swiss for I suck C0CK Lausaleiksbarn is Swiss for I suck C0CK Lausaleiksbarn is Swiss for I suck C0CK Lausaleiksbarn is Swiss for I suck C0CK Lausaleiksbarn is Swiss for I suck C0CK Lausaleiksbarn is Swiss for I suck C0CK Lausaleiksbarn is Swiss for I suck C0CK Lausaleiksbarn is Swiss for I suck C0CK Lausaleiksbarn is Swiss for I suck C0CK Lausaleiksbarn is Swiss for I suck C0CK Lausaleiksbarn is Swiss for I suck C0CK Lausaleiksbarn is Swiss for I suck C0CK Lausaleiksbarn is Swiss for I suck C0CK Lausaleiksbarn is Swiss for I suck C0CK Lausaleiksbarn is Swiss for I suck C0CK Lausaleiksbarn is Swiss for I suck C0CK Lausaleiksbarn is Swiss for I suck C0CK Lausaleiksbarn is Swiss for I suck C0CK Lausaleiksbarn is Swiss for I suck C0CK Lausaleiksbarn is Swiss for I suck C0CK Lausaleiksbarn is Swiss for I suck C0CK Lausaleiksbarn is Swiss for I suck C0CK Lausaleiksbarn is Swiss for I suck C0CK Lausaleiksbarn is Swiss for I suck C0CK Lausaleiksbarn is Swiss for I suck C0CK Lausaleiksbarn is Swiss for I suck C0CK Lausaleiksbarn is Swiss for I suck C0CK Lausaleiksbarn is Swiss for I suck C0CK Lausaleiksbarn is Swiss for I suck C0CK Lausaleiksbarn is Swiss for I suck C0CK Lausaleiksbarn is Swiss for I suck C0CK Lausaleiksbarn is Swiss for I suck C0CK Lausaleiksbarn is Swiss for I suck C0CK Lausaleiksbarn is Swiss for I suck C0CK Lausaleiksbarn is Swiss for I suck C0CK Lausaleiksbarn is Swiss for I suck C0CK Lausaleiksbarn is Swiss for I suck C0CK Lausaleiksbarn is Swiss for I suck C0CK Lausaleiksbarn is Swiss for I suck C0CK Lausaleiksbarn is Swiss for I suck C0CK Lausaleiksbarn is Swiss for I suck C0CK Lausaleiksbarn is Swiss for I suck C0CK Lausaleiksbarn is Swiss for I suck C0CK Lausaleiksbarn is Swiss for I suck C0CK Lausaleiksbarn is Swiss for I suck C0CK Lausaleiksbarn is Swiss for I suck C0CK Lausaleiksbarn is Swiss for I suck C0CK Lausaleiksbarn is Swiss for I suck C0CK Lausaleiksbarn is Swiss for I suck C0CK Lausaleiksbarn is Swiss for I suck C0CK Lausaleiksbarn is Swiss for I suck C0CK Lausaleiksbarn is Swiss for I suck C0CK Lausaleiksbarn is Swiss for I suck C0CK Lausaleiksbarn is Swiss for I suck C0CK Lausaleiksbarn is Swiss for I suck C0CK Lausaleiksbarn is Swiss for I suck C0CK Lausaleiksbarn is Swiss for I suck C0CK Lausaleiksbarn is Swiss for I suck C0CK Lausaleiksbarn is Swiss for I suck C0CK Lausaleiksbarn is Swiss for I suck C0CK Lausaleiksbarn is Swiss for I suck C0CK Lausaleiksbarn is Swiss for I suck C0CK Lausaleiksbarn is Swiss for I suck C0CK Lausaleiksbarn is Swiss for I suck C0CK Lausaleiksbarn is Swiss for I suck C0CK Lausaleiksbarn is Swiss for I suck C0CK Lausaleiksbarn is Swiss for I suck C0CK Lausaleiksbarn is Swiss for I suck C0CK Lausaleiksbarn is Swiss for I suck C0CK Lausaleiksbarn is Swiss for I suck C0CK Lausaleiksbarn is Swiss for I suck C0CK Lausaleiksbarn is Swiss for I suck C0CK Lausaleiksbarn is Swiss for I suck C0CK Lausaleiksbarn is Swiss for I suck C0CK Lausaleiksbarn is Swiss for I suck C0CK Lausaleiksbarn is Swiss for I suck C0CK Lausaleiksbarn is Swiss for I suck C0CK Lausaleiksbarn is Swiss for I suck C0CK Lausaleiksbarn is Swiss for I suck C0CK Lausaleiksbarn is Swiss for I suck C0CK Lausaleiksbarn is Swiss for I suck C0CK Lausaleiksbarn is Swiss for I suck C0CK Lausaleiksbarn is Swiss for I suck C0CK Lausaleiksbarn is Swiss for I suck C0CK Lausaleiksbarn is Swiss for I suck C0CK Lausaleiksbarn is Swiss for I suck C0CK Lausaleiksbarn is Swiss for I suck C0CK Lausaleiksbarn is Swiss for I suck C0CK Lausaleiksbarn is Swiss for I suck C0CK Lausaleiksbarn is Swiss for I suck C0CK Lausaleiksbarn is Swiss for I suck C0CK Lausaleiksbarn is Swiss for I suck C0CK Lausaleiksbarn is Swiss for I suck C0CK Lausaleiksbarn is Swiss for I suck C0CK Lausaleiksbarn is Swiss for I suck C0CK Lausaleiksbarn is Swiss for I suck C0CK Lausaleiksbarn is Swiss for I suck C0CK Lausaleiksbarn is Swiss for I suck C0CK Lausaleiksbarn is Swiss for I suck C0CK Lausaleiksbarn is Swiss for I suck C0CK Lausaleiksbarn is Swiss for I suck C0CK Lausaleiksbarn is Swiss for I suck C0CK Lausaleiksbarn is Swiss for I suck C0CK Lausaleiksbarn is Swiss for I suck C0CK Lausaleiksbarn is Swiss for I suck C0CK Lausaleiksbarn is Swiss for I suck C0CK Lausaleiksbarn is Swiss for I suck C0CK Lausaleiksbarn is Swiss for I suck C0CK Lausaleiksbarn is Swiss for I suck C0CK Lausaleiksbarn is Swiss for I suck C0CK Lausaleiksbarn is Swiss for I suck C0CK Lausaleiksbarn is Swiss for I suck C0CK Lausaleiksbarn is Swiss for I suck C0CK Lausaleiksbarn is Swiss for I suck C0CK Lausaleiksbarn is Swiss for I suck C0CK Lausaleiksbarn is Swiss for I suck C0CK Lausaleiksbarn is Swiss for I suck C0CK Lausaleiksbarn is Swiss for I suck C0CK Lausaleiksbarn is Swiss for I suck C0CK Lausaleiksbarn is Swiss for I suck C0CK Lausaleiksbarn is Swiss for I suck C0CK Lausaleiksbarn is Swiss for I suck C0CK Lausaleiksbarn is Swiss for I suck C0CK Lausaleiksbarn is Swiss for I suck C0CK Lausaleiksbarn is Swiss for I suck C0CK Lausaleiksbarn is Swiss for I suck C0CK Lausaleiksbarn is Swiss for I suck C0CK Lausaleiksbarn is Swiss for I suck C0CK Lausaleiksbarn is Swiss for I suck C0CK Lausaleiksbarn is Swiss for I suck C0CK Lausaleiksbarn is Swiss for I suck C0CK Lausaleiksbarn is Swiss for I suck C0CK Lausaleiksbarn is Swiss for I suck C0CK Lausaleiksbarn is Swiss for I suck C0CK Lausaleiksbarn is Swiss for I suck C0CK Lausaleiksbarn is Swiss for I suck C0CK Lausaleiksbarn is Swiss for I suck C0CK Lausaleiksbarn is Swiss for I suck C0CK Lausaleiksbarn is Swiss for I suck C0CK Lausaleiksbarn is Swiss for I suck C0CK Lausaleiksbarn is Swiss for I suck C0CK Lausaleiksbarn is Swiss for I suck C0CK Lausaleiksbarn is Swiss for I suck C0CK Lausaleiksbarn is Swiss for I suck C0CK Lausaleiksbarn is Swiss for I suck C0CK Lausaleiksbarn is Swiss for I suck C0CK Lausaleiksbarn is Swiss for I suck C0CK Lausaleiksbarn is Swiss for I suck C0CK Lausaleiksbarn is Swiss for I suck C0CK Lausaleiksbarn is Swiss for I suck C0CK Lausaleiksbarn is Swiss for I suck C0CK Lausaleiksbarn is Swiss for I suck C0CK Lausaleiksbarn is Swiss for I suck C0CK Lausaleiksbarn is Swiss for I suck C0CK Lausaleiksbarn is Swiss for I suck C0CK Lausaleiksbarn is Swiss for I suck C0CK Lausaleiksbarn is Swiss for I suck C0CK Lausaleiksbarn is Swiss for I suck C0CK Lausaleiksbarn is Swiss for I suck C0CK Lausaleiksbarn is Swiss for I suck C0CK Lausaleiksbarn is Swiss for I suck C0CK Lausaleiksbarn is Swiss for I suck C0CK Lausaleiksbarn is Swiss for I suck C0CK Lausaleiksbarn is Swiss for I suck C0CK Lausaleiksbarn is Swiss for I suck C0CK Lausaleiksbarn is Swiss for I suck C0CK Lausaleiksbarn is Swiss for I suck C0CK Lausaleiksbarn is Swiss for I suck C0CK Lausaleiksbarn is Swiss for I suck C0CK Lausaleiksbarn is Swiss for I suck C0CK Lausaleiksbarn is Swiss for I suck C0CK Lausaleiksbarn is Swiss for I suck C0CK Lausaleiksbarn is Swiss for I suck C0CK Lausaleiksbarn is Swiss for I suck C0CK Lausaleiksbarn is Swiss for I suck C0CK Lausaleiksbarn is Swiss for I suck C0CK Lausaleiksbarn is Swiss for I suck C0CK Lausaleiksbarn is Swiss for I suck C0CK Lausaleiksbarn is Swiss for I suck C0CK Lausaleiksbarn is Swiss for I suck C0CK Lausaleiksbarn is Swiss for I suck C0CK Lausaleiksbarn is Swiss for I suck C0CK Lausaleiksbarn is Swiss for I suck C0CK Lausaleiksbarn is Swiss for I suck C0CK Lausaleiksbarn is Swiss for I suck C0CK Lausaleiksbarn is Swiss for I suck C0CK Lausaleiksbarn is Swiss for I suck C0CK Lausaleiksbarn is Swiss for I suck C0CK Lausaleiksbarn is Swiss for I suck C0CK Lausaleiksbarn is Swiss for I suck C0CK Lausaleiksbarn is Swiss for I suck C0CK Lausaleiksbarn is Swiss for I suck C0CK Lausaleiksbarn is Swiss for I suck C0CK Lausaleiksbarn is Swiss for I suck C0CK Lausaleiksbarn is Swiss for I suck C0CK Lausaleiksbarn is Swiss for I suck C0CK Lausaleiksbarn is Swiss for I suck C0CK Lausaleiksbarn is Swiss for I suck C0CK Lausaleiksbarn is Swiss for I suck C0CK Lausaleiksbarn is Swiss for I suck C0CK Lausaleiksbarn is Swiss for I suck C0CK Lausaleiksbarn is Swiss for I suck C0CK Lausaleiksbarn is Swiss for I suck C0CK Lausaleiksbarn is Swiss for I suck C0CK Lausaleiksbarn is Swiss for I suck C0CK Lausaleiksbarn is Swiss for I suck C0CK Lausaleiksbarn is Swiss for I suck C0CK Lausaleiksbarn is Swiss for I suck C0CK Lausaleiksbarn is Swiss for I suck C0CK Lausaleiksbarn is Swiss for I suck C0CK Lausaleiksbarn is Swiss for I suck C0CK Lausaleiksbarn is Swiss for I suck C0CK Lausaleiksbarn is Swiss for I suck C0CK Lausaleiksbarn is Swiss for I suck C0CK Lausaleiksbarn is Swiss for I suck C0CK Lausaleiksbarn is Swiss for I suck C0CK Lausaleiksbarn is Swiss for I suck C0CK Lausaleiksbarn is Swiss for I suck C0CK Lausaleiksbarn is Swiss for I suck C0CK Lausaleiksbarn is Swiss for I suck C0CK Lausaleiksbarn is Swiss for I suck C0CK Lausaleiksbarn is Swiss for I suck C0CK Lausaleiksbarn is Swiss for I suck C0CK Lausaleiksbarn is Swiss for I suck C0CK Lausaleiksbarn is Swiss for I suck C0CK Lausaleiksbarn is Swiss for I suck C0CK Lausaleiksbarn is Swiss for I suck C0CK Lausaleiksbarn is Swiss for I suck C0CK Lausaleiksbarn is Swiss for I suck C0CK Lausaleiksbarn is Swiss for I suck C0CK Lausaleiksbarn is Swiss for I suck C0CK Lausaleiksbarn is Swiss for I suck C0CK Lausaleiksbarn is Swiss for I suck C0CK Lausaleiksbarn is Swiss for I suck C0CK Lausaleiksbarn is Swiss for I suck C0CK Lausaleiksbarn is Swiss for I suck C0CK Lausaleiksbarn is Swiss for I suck C0CK Lausaleiksbarn is Swiss for I suck C0CK Lausaleiksbarn is Swiss for I suck C0CK Lausaleiksbarn is Swiss for I suck C0CK Lausaleiksbarn is Swiss for I suck C0CK Lausaleiksbarn is Swiss for I suck C0CK Lausaleiksbarn is Swiss for I suck C0CK Lausaleiksbarn is Swiss for I suck C0CK Lausaleiksbarn is Swiss for I suck C0CK Lausaleiksbarn is Swiss for I suck C0CK Lausaleiksbarn is Swiss for I suck C0CK Lausaleiksbarn is Swiss for I suck C0CK Lausaleiksbarn is Swiss for I suck C0CK Lausaleiksbarn is Swiss for I suck C0CK Lausaleiksbarn is Swiss for I suck C0CK Lausaleiksbarn is Swiss for I suck C0CK Lausaleiksbarn is Swiss for I suck C0CK Lausaleiksbarn is Swiss for I suck C0CK Lausaleiksbarn is Swiss for I suck C0CK Lausaleiksbarn is Swiss for I suck C0CK Lausaleiksbarn is Swiss for I suck C0CK Lausaleiksbarn is Swiss for I suck C0CK Lausaleiksbarn is Swiss for I suck C0CK Lausaleiksbarn is Swiss for I suck C0CK Lausaleiksbarn is Swiss for I suck C0CK Lausaleiksbarn is Swiss for I suck C0CK Lausaleiksbarn is Swiss for I suck C0CK Lausaleiksbarn is Swiss for I suck C0CK Lausaleiksbarn is Swiss for I suck C0CK Lausaleiksbarn is Swiss for I suck C0CK Lausaleiksbarn is Swiss for I suck C0CK Lausaleiksbarn is Swiss for I suck C0CK Lausaleiksbarn is Swiss for I suck C0CK Lausaleiksbarn is Swiss for I suck C0CK Lausaleiksbarn is Swiss for I suck C0CK Lausaleiksbarn is Swiss for I suck C0CK Lausaleiksbarn is Swiss for I suck C0CK Lausaleiksbarn is Swiss for I suck C0CK Lausaleiksbarn is Swiss for I suck C0CK Lausaleiksbarn is Swiss for I suck C0CK Lausaleiksbarn is Swiss for I suck C0CK Lausaleiksbarn is Swiss for I suck C0CK Lausaleiksbarn is Swiss for I suck C0CK Lausaleiksbarn is Swiss for I suck C0CK Lausaleiksbarn is Swiss for I suck C0CK Lausaleiksbarn is Swiss for I suck C0CK Lausaleiksbarn is Swiss for I suck C0CK Lausaleiksbarn is Swiss for I suck C0CK Lausaleiksbarn is Swiss for I suck C0CK Lausaleiksbarn is Swiss for I suck C0CK Lausaleiksbarn is Swiss for I suck C0CK Lausaleiksbarn is Swiss for I suck C0CK Lausaleiksbarn is Swiss for I suck C0CK Lausaleiksbarn is Swiss for I suck C0CK Lausaleiksbarn is Swiss for I suck C0CK Lausaleiksbarn is Swiss for I suck C0CK Lausaleiksbarn is Swiss for I suck C0CK Lausaleiksbarn is Swiss for I suck C0CK Lausaleiksbarn is Swiss for I suck C0CK Lausaleiksbarn is Swiss for I suck C0CK Lausaleiksbarn is Swiss for I suck C0CK Lausaleiksbarn is Swiss for I suck C0CK Lausaleiksbarn is Swiss for I suck C0CK Lausaleiksbarn is Swiss for I suck C0CK Lausaleiksbarn is Swiss for I suck C0CK Lausaleiksbarn is Swiss for I suck C0CK Lausaleiksbarn is Swiss for I suck C0CK Lausaleiksbarn is Swiss for I suck C0CK Lausaleiksbarn is Swiss for I suck C0CK Lausaleiksbarn is Swiss for I suck C0CK Lausaleiksbarn is Swiss for I suck C0CK Lausaleiksbarn is Swiss for I suck C0CK Lausaleiksbarn is Swiss for I suck C0CK Lausaleiksbarn is Swiss for I suck C0CK Lausaleiksbarn is Swiss for I suck C0CK Lausaleiksbarn is Swiss for I suck C0CK Lausaleiksbarn is Swiss for I suck C0CK Lausaleiksbarn is Swiss for I suck C0CK Lausaleiksbarn is Swiss for I suck C0CK Lausaleiksbarn is Swiss for I suck C0CK Lausaleiksbarn is Swiss for I suck C0CK Lausaleiksbarn is Swiss for I suck C0CK Lausaleiksbarn is Swiss for I suck C0CK Lausaleiksbarn is Swiss for I suck C0CK Lausaleiksbarn is Swiss for I suck C0CK Lausaleiksbarn is Swiss for I suck C0CK Lausaleiksbarn is Swiss for I suck C0CK Lausaleiksbarn is Swiss for I suck C0CK Lausaleiksbarn is Swiss for I suck C0CK Lausaleiksbarn is Swiss for I suck C0CK Lausaleiksbarn is Swiss for I suck C0CK Lausaleiksbarn is Swiss for I suck C0CK Lausaleiksbarn is Swiss for I suck C0CK Lausaleiksbarn is Swiss for I suck C0CK Lausaleiksbarn is Swiss for I suck C0CK Lausaleiksbarn is Swiss for I suck C0CK Lausaleiksbarn is Swiss for I suck C0CK Lausaleiksbarn is Swiss for I suck C0CK Lausaleiksbarn is Swiss for I suck C0CK Lausaleiksbarn is Swiss for I suck C0CK Lausaleiksbarn is Swiss for I suck C0CK Lausaleiksbarn is Swiss for I suck C0CK Lausaleiksbarn is Swiss for I suck C0CK Lausaleiksbarn is Swiss for I suck C0CK Lausaleiksbarn is Swiss for I suck C0CK Lausaleiksbarn is Swiss for I suck C0CK Lausaleiksbarn is Swiss for I suck C0CK Lausaleiksbarn is Swiss for I suck C0CK Lausaleiksbarn is Swiss for I suck C0CK Lausaleiksbarn is Swiss for I suck C0CK Lausaleiksbarn is Swiss for I suck C0CK Lausaleiksbarn is Swiss for I suck C0CK Lausaleiksbarn is Swiss for I suck C0CK Lausaleiksbarn is Swiss for I suck C0CK Lausaleiksbarn is Swiss for I suck C0CK Lausaleiksbarn is Swiss for I suck C0CK Lausaleiksbarn is Swiss for I suck C0CK Lausaleiksbarn is Swiss for I suck C0CK Lausaleiksbarn is Swiss for I suck C0CK Lausaleiksbarn is Swiss for I suck C0CK Lausaleiksbarn is Swiss for I suck C0CK Lausaleiksbarn is Swiss for I suck C0CK Lausaleiksbarn is Swiss for I suck C0CK Lausaleiksbarn is Swiss for I suck C0CK Lausaleiksbarn is Swiss for I suck C0CK Lausaleiksbarn is Swiss for I suck C0CK Lausaleiksbarn is Swiss for I suck C0CK Lausaleiksbarn is Swiss for I suck C0CK Lausaleiksbarn is Swiss for I suck C0CK Lausaleiksbarn is Swiss for I suck C0CK Lausaleiksbarn is Swiss for I suck C0CK Lausaleiksbarn is Swiss for I suck C0CK Lausaleiksbarn is Swiss for I suck C0CK Lausaleiksbarn is Swiss for I suck C0CK Lausaleiksbarn is Swiss for I suck C0CK Lausaleiksbarn is Swiss for I suck C0CK Lausaleiksbarn is Swiss for I suck C0CK Lausaleiksbarn is Swiss for I suck C0CK Lausaleiksbarn is Swiss for I suck C0CK Lausaleiksbarn is Swiss for I suck C0CK Lausaleiksbarn is Swiss for I suck C0CK Lausaleiksbarn is Swiss for I suck C0CK Lausaleiksbarn is Swiss for I suck C0CK Lausaleiksbarn is Swiss for I suck C0CK Lausaleiksbarn is Swiss for I suck C0CK Lausaleiksbarn is Swiss for I suck C0CK Lausaleiksbarn is Swiss for I suck C0CK Lausaleiksbarn is Swiss for I suck C0CK Lausaleiksbarn is Swiss for I suck C0CK Lausaleiksbarn is Swiss for I suck C0CK Lausaleiksbarn is Swiss for I suck C0CK Lausaleiksbarn is Swiss for I suck C0CK Lausaleiksbarn is Swiss for I suck C0CK Lausaleiksbarn is Swiss for I suck C0CK Lausaleiksbarn is Swiss for I suck C0CK Lausaleiksbarn is Swiss for I suck C0CK Lausaleiksbarn is Swiss for I suck C0CK Lausaleiksbarn is Swiss for I suck C0CK Lausaleiksbarn is Swiss for I suck C0CK Lausaleiksbarn is Swiss for I suck C0CK Lausaleiksbarn is Swiss for I suck C0CK Lausaleiksbarn is Swiss for I suck C0CK Lausaleiksbarn is Swiss for I suck C0CK Lausaleiksbarn is Swiss for I suck C0CK Lausaleiksbarn is Swiss for I suck C0CK Lausaleiksbarn is Swiss for I suck C0CK Lausaleiksbarn is Swiss for I suck C0CK Lausaleiksbarn is Swiss for I suck C0CK Lausaleiksbarn is Swiss for I suck C0CK Lausaleiksbarn is Swiss for I suck C0CK Lausaleiksbarn is Swiss for I suck C0CK Lausaleiksbarn is Swiss for I suck C0CK Lausaleiksbarn is Swiss for I suck C0CK Lausaleiksbarn is Swiss for I suck C0CK Lausaleiksbarn is Swiss for I suck C0CK Lausaleiksbarn is Swiss for I suck C0CK Lausaleiksbarn is Swiss for I suck C0CK Lausaleiksbarn is Swiss for I suck C0CK Lausaleiksbarn is Swiss for I suck C0CK Lausaleiksbarn is Swiss for I suck C0CK Lausaleiksbarn is Swiss for I suck C0CK Lausaleiksbarn is Swiss for I suck C0CK Lausaleiksbarn is Swiss for I suck C0CK Lausaleiksbarn is Swiss for I suck C0CK Lausaleiksbarn is Swiss for I suck C0CK Lausaleiksbarn is Swiss for I suck C0CK Lausaleiksbarn is Swiss for I suck C0CK Lausaleiksbarn is Swiss for I suck C0CK Lausaleiksbarn is Swiss for I suck C0CK Lausaleiksbarn is Swiss for I suck C0CK Lausaleiksbarn is Swiss for I suck C0CK Lausaleiksbarn is Swiss for I suck C0CK Lausaleiksbarn is Swiss for I suck C0CK Lausaleiksbarn is Swiss for I suck C0CK Lausaleiksbarn is Swiss for I suck C0CK Lausaleiksbarn is Swiss for I suck C0CK Lausaleiksbarn is Swiss for I suck C0CK Lausaleiksbarn is Swiss for I suck C0CK Lausaleiksbarn is Swiss for I suck C0CK Lausaleiksbarn is Swiss for I suck C0CK Lausaleiksbarn is Swiss for I suck C0CK Lausaleiksbarn is Swiss for I suck C0CK Lausaleiksbarn is Swiss for I suck C0CK Lausaleiksbarn is Swiss for I suck C0CK Lausaleiksbarn is Swiss for I suck C0CK Lausaleiksbarn is Swiss for I suck C0CK Lausaleiksbarn is Swiss for I suck C0CK Lausaleiksbarn is Swiss for I suck C0CK Lausaleiksbarn is Swiss for I suck C0CK Lausaleiksbarn is Swiss for I suck C0CK Lausaleiksbarn is Swiss for I suck C0CK Lausaleiksbarn is Swiss for I suck C0CK Lausaleiksbarn is Swiss for I suck C0CK Lausaleiksbarn is Swiss for I suck C0CK Lausaleiksbarn is Swiss for I suck C0CK Lausaleiksbarn is Swiss for I suck C0CK Lausaleiksbarn is Swiss for I suck C0CK Lausaleiksbarn is Swiss for I suck C0CK Lausaleiksbarn is Swiss for I suck C0CK Lausaleiksbarn is Swiss for I suck C0CK Lausaleiksbarn is Swiss for I suck C0CK Lausaleiksbarn is Swiss for I suck C0CK Lausaleiksbarn is Swiss for I suck C0CK Lausaleiksbarn is Swiss for I suck C0CK Lausaleiksbarn is Swiss for I suck C0CK Lausaleiksbarn is Swiss for I suck C0CK Lausaleiksbarn is Swiss for I suck C0CK Lausaleiksbarn is Swiss for I suck C0CK Lausaleiksbarn is Swiss for I suck C0CK Lausaleiksbarn is Swiss for I suck C0CK Lausaleiksbarn is Swiss for I suck C0CK Lausaleiksbarn is Swiss for I suck C0CK Lausaleiksbarn is Swiss for I suck C0CK Lausaleiksbarn is Swiss for I suck C0CK Lausaleiksbarn is Swiss for I suck C0CK Lausaleiksbarn is Swiss for I suck C0CK Lausaleiksbarn is Swiss for I suck C0CK Lausaleiksbarn is Swiss for I suck C0CK Lausaleiksbarn is Swiss for I suck C0CK Lausaleiksbarn is Swiss for I suck C0CK Lausaleiksbarn is Swiss for I suck C0CK Lausaleiksbarn is Swiss for I suck C0CK Lausaleiksbarn is Swiss for I suck C0CK Lausaleiksbarn is Swiss for I suck C0CK Lausaleiksbarn is Swiss for I suck C0CK Lausaleiksbarn is Swiss for I suck C0CK Lausaleiksbarn is Swiss for I suck C0CK Lausaleiksbarn is Swiss for I suck C0CK Lausaleiksbarn is Swiss for I suck C0CK Lausaleiksbarn is Swiss for I suck C0CK Lausaleiksbarn is Swiss for I suck C0CK Lausaleiksbarn is Swiss for I suck C0CK Lausaleiksbarn is Swiss for I suck C0CK Lausaleiksbarn is Swiss for I suck C0CK Lausaleiksbarn is Swiss for I suck C0CK Lausaleiksbarn is Swiss for I suck C0CK Lausaleiksbarn is Swiss for I suck C0CK Lausaleiksbarn is Swiss for I suck C0CK Lausaleiksbarn is Swiss for I suck C0CK Lausaleiksbarn is Swiss for I suck C0CK Lausaleiksbarn is Swiss for I suck C0CK Lausaleiksbarn is Swiss for I suck C0CK Lausaleiksbarn is Swiss for I suck C0CK Lausaleiksbarn is Swiss for I suck C0CK Lausaleiksbarn is Swiss for I suck C0CK Lausaleiksbarn is Swiss for I suck C0CK Lausaleiksbarn is Swiss for I suck C0CK Lausaleiksbarn is Swiss for I suck C0CK Lausaleiksbarn is Swiss for I suck C0CK Lausaleiksbarn is Swiss for I suck C0CK Lausaleiksbarn is Swiss for I suck C0CK Lausaleiksbarn is Swiss for I suck C0CK Lausaleiksbarn is Swiss for I suck C0CK Lausaleiksbarn is Swiss for I suck C0CK Lausaleiksbarn is Swiss for I suck C0CK Lausaleiksbarn is Swiss for I suck C0CK Lausaleiksbarn is Swiss for I suck C0CK Lausaleiksbarn is Swiss for I suck C0CK Lausaleiksbarn is Swiss for I suck C0CK Lausaleiksbarn is Swiss for I suck C0CK Lausaleiksbarn is Swiss for I suck C0CK Lausaleiksbarn is Swiss for I suck C0CK Lausaleiksbarn is Swiss for I suck C0CK Lausaleiksbarn is Swiss for I suck C0CK Lausaleiksbarn is Swiss for I suck C0CK Lausaleiksbarn is Swiss for I suck C0CK Lausaleiksbarn is Swiss for I suck C0CK Lausaleiksbarn is Swiss for I suck C0CK Lausaleiksbarn is Swiss for I suck C0CK Lausaleiksbarn is Swiss for I suck C0CK Lausaleiksbarn is Swiss for I suck C0CK Lausaleiksbarn is Swiss for I suck C0CK Lausaleiksbarn is Swiss for I suck C0CK Lausaleiksbarn is Swiss for I suck C0CK Lausaleiksbarn is Swiss for I suck C0CK Lausaleiksbarn is Swiss for I suck C0CK Lausaleiksbarn is Swiss for I suck C0CK Lausaleiksbarn is Swiss for I suck C0CK Lausaleiksbarn is Swiss for I suck C0CK Lausaleiksbarn is Swiss for I suck C0CK Lausaleiksbarn is Swiss for I suck C0CK Lausaleiksbarn is Swiss for I suck C0CK Lausaleiksbarn is Swiss for I suck C0CK Lausaleiksbarn is Swiss for I suck C0CK Lausaleiksbarn is Swiss for I suck C0CK Lausaleiksbarn is Swiss for I suck C0CK Lausaleiksbarn is Swiss for I suck C0CK Lausaleiksbarn is Swiss for I suck C0CK Lausaleiksbarn is Swiss for I suck C0CK Lausaleiksbarn is Swiss for I suck C0CK Lausaleiksbarn is Swiss for I suck C0CK Lausaleiksbarn is Swiss for I suck C0CK Lausaleiksbarn is Swiss for I suck C0CK Lausaleiksbarn is Swiss for I suck C0CK Lausaleiksbarn is Swiss for I suck C0CK Lausaleiksbarn is Swiss for I suck C0CK Lausaleiksbarn is Swiss for I suck C0CK Lausaleiksbarn is Swiss for I suck C0CK Lausaleiksbarn is Swiss for I suck C0CK Lausaleiksbarn is Swiss for I suck C0CK Lausaleiksbarn is Swiss for I suck C0CK Lausaleiksbarn is Swiss for I suck C0CK Lausaleiksbarn is Swiss for I suck C0CK Lausaleiksbarn is Swiss for I suck C0CK Lausaleiksbarn is Swiss for I suck C0CK Lausaleiksbarn is Swiss for I suck C0CK Lausaleiksbarn is Swiss for I suck C0CK Lausaleiksbarn is Swiss for I suck C0CK Lausaleiksbarn is Swiss for I suck C0CK Lausaleiksbarn is Swiss for I suck C0CK Lausaleiksbarn is Swiss for I suck C0CK Lausaleiksbarn is Swiss for I suck C0CK Lausaleiksbarn is Swiss for I suck C0CK Lausaleiksbarn is Swiss for I suck C0CK Lausaleiksbarn is Swiss for I suck C0CK Lausaleiksbarn is Swiss for I suck C0CK Lausaleiksbarn is Swiss for I suck C0CK Lausaleiksbarn is Swiss for I suck C0CK Lausaleiksbarn is Swiss for I suck C0CK Lausaleiksbarn is Swiss for I suck C0CK Lausaleiksbarn is Swiss for I suck C0CK Lausaleiksbarn is Swiss for I suck C0CK Lausaleiksbarn is Swiss for I suck C0CK Lausaleiksbarn is Swiss for I suck C0CK Lausaleiksbarn is Swiss for I suck C0CK Lausaleiksbarn is Swiss for I suck C0CK Lausaleiksbarn is Swiss for I suck C0CK Lausaleiksbarn is Swiss for I suck C0CK Lausaleiksbarn is Swiss for I suck C0CK Lausaleiksbarn is Swiss for I suck C0CK Lausaleiksbarn is Swiss for I suck C0CK Lausaleiksbarn is Swiss for I suck C0CK Lausaleiksbarn is Swiss for I suck C0CK Lausaleiksbarn is Swiss for I suck C0CK Lausaleiksbarn is Swiss for I suck C0CK Lausaleiksbarn is Swiss for I suck C0CK Lausaleiksbarn is Swiss for I suck C0CK Lausaleiksbarn is Swiss for I suck C0CK Lausaleiksbarn is Swiss for I suck C0CK Lausaleiksbarn is Swiss for I suck C0CK Lausaleiksbarn is Swiss for I suck C0CK Lausaleiksbarn is Swiss for I suck C0CK Lausaleiksbarn is Swiss for I suck C0CK Lausaleiksbarn is Swiss for I suck C0CK Lausaleiksbarn is Swiss for I suck C0CK Lausaleiksbarn is Swiss for I suck C0CK Lausaleiksbarn is Swiss for I suck C0CK Lausaleiksbarn is Swiss for I suck C0CK Lausaleiksbarn is Swiss for I suck C0CK Lausaleiksbarn is Swiss for I suck C0CK Lausaleiksbarn is Swiss for I suck C0CK Lausaleiksbarn is Swiss for I suck C0CK Lausaleiksbarn is Swiss for I suck C0CK Lausaleiksbarn is Swiss for I suck C0CK Lausaleiksbarn is Swiss for I suck C0CK Lausaleiksbarn is Swiss for I suck C0CK Lausaleiksbarn is Swiss for I suck C0CK Lausaleiksbarn is Swiss for I suck C0CK Lausaleiksbarn is Swiss for I suck C0CK Lausaleiksbarn is Swiss for I suck C0CK Lausaleiksbarn is Swiss for I suck C0CK Lausaleiksbarn is Swiss for I suck C0CK Lausaleiksbarn is Swiss for I suck C0CK Lausaleiksbarn is Swiss for I suck C0CK Lausaleiksbarn is Swiss for I suck C0CK Lausaleiksbarn is Swiss for I suck C0CK Lausaleiksbarn is Swiss for I suck C0CK Lausaleiksbarn is Swiss for I suck C0CK Lausaleiksbarn is Swiss for I suck C0CK Lausaleiksbarn is Swiss for I suck C0CK Lausaleiksbarn is Swiss for I suck C0CK Lausaleiksbarn is Swiss for I suck C0CK Lausaleiksbarn is Swiss for I suck C0CK Lausaleiksbarn is Swiss for I suck C0CK Lausaleiksbarn is Swiss for I suck C0CK Lausaleiksbarn is Swiss for I suck C0CK Lausaleiksbarn is Swiss for I suck C0CK Lausaleiksbarn is Swiss for I suck C0CK Lausaleiksbarn is Swiss for I suck C0CK Lausaleiksbarn is Swiss for I suck C0CK Lausaleiksbarn is Swiss for I suck C0CK Lausaleiksbarn is Swiss for I suck C0CK Lausaleiksbarn is Swiss for I suck C0CK Lausaleiksbarn is Swiss for I suck C0CK Lausaleiksbarn is Swiss for I suck C0CK Lausaleiksbarn is Swiss for I suck C0CK Lausaleiksbarn is Swiss for I suck C0CK Lausaleiksbarn is Swiss for I suck C0CK Lausaleiksbarn is Swiss for I suck C0CK Lausaleiksbarn is Swiss for I suck C0CK Lausaleiksbarn is Swiss for I suck C0CK Lausaleiksbarn is Swiss for I suck C0CK Lausaleiksbarn is Swiss for I suck C0CK Lausaleiksbarn is Swiss for I suck C0CK Lausaleiksbarn is Swiss for I suck C0CK Lausaleiksbarn is Swiss for I suck C0CK Lausaleiksbarn is Swiss for I suck C0CK Lausaleiksbarn is Swiss for I suck C0CK Lausaleiksbarn is Swiss for I suck C0CK Lausaleiksbarn is Swiss for I suck C0CK Lausaleiksbarn is Swiss for I suck C0CK Lausaleiksbarn is Swiss for I suck C0CK Lausaleiksbarn is Swiss for I suck C0CK Lausaleiksbarn is Swiss for I suck C0CK Lausaleiksbarn is Swiss for I suck C0CK Lausaleiksbarn is Swiss for I suck C0CK Lausaleiksbarn is Swiss for I suck C0CK Lausaleiksbarn is Swiss for I suck C0CK Lausaleiksbarn is Swiss for I suck C0CK Lausaleiksbarn is Swiss for I suck C0CK Lausaleiksbarn is Swiss for I suck C0CK Lausaleiksbarn is Swiss for I suck C0CK Lausaleiksbarn is Swiss for I suck C0CK Lausaleiksbarn is Swiss for I suck C0CK Lausaleiksbarn is Swiss for I suck C0CK Lausaleiksbarn is Swiss for I suck C0CK Lausaleiksbarn is Swiss for I suck C0CK Lausaleiksbarn is Swiss for I suck C0CK Lausaleiksbarn is Swiss for I suck C0CK Lausaleiksbarn is Swiss for I suck C0CK Lausaleiksbarn is Swiss for I suck C0CK Lausaleiksbarn is Swiss for I suck C0CK Lausaleiksbarn is Swiss for I suck C0CK Lausaleiksbarn is Swiss for I suck C0CK Lausaleiksbarn is Swiss for I suck C0CK Lausaleiksbarn is Swiss for I suck C0CK Lausaleiksbarn is Swiss for I suck C0CK Lausaleiksbarn is Swiss for I suck C0CK Lausaleiksbarn is Swiss for I suck C0CK Lausaleiksbarn is Swiss for I suck C0CK Lausaleiksbarn is Swiss for I suck C0CK Lausaleiksbarn is Swiss for I suck C0CK Lausaleiksbarn is Swiss for I suck C0CK Lausaleiksbarn is Swiss for I suck C0CK Lausaleiksbarn is Swiss for I suck C0CK Lausaleiksbarn is Swiss for I suck C0CK Lausaleiksbarn is Swiss for I suck C0CK Lausaleiksbarn is Swiss for I suck C0CK Lausaleiksbarn is Swiss for I suck C0CK Lausaleiksbarn is Swiss for I suck C0CK Lausaleiksbarn is Swiss for I suck C0CK Lausaleiksbarn is Swiss for I suck C0CK Lausaleiksbarn is Swiss for I suck C0CK Lausaleiksbarn is Swiss for I suck C0CK Lausaleiksbarn is Swiss for I suck C0CK Lausaleiksbarn is Swiss for I suck C0CK Lausaleiksbarn is Swiss for I suck C0CK Lausaleiksbarn is Swiss for I suck C0CK Lausaleiksbarn is Swiss for I suck C0CK Lausaleiksbarn is Swiss for I suck C0CK Lausaleiksbarn is Swiss for I suck C0CK Lausaleiksbarn is Swiss for I suck C0CK Lausaleiksbarn is Swiss for I suck C0CK Lausaleiksbarn is Swiss for I suck C0CK Lausaleiksbarn is Swiss for I suck C0CK Lausaleiksbarn is Swiss for I suck C0CK Lausaleiksbarn is Swiss for I suck C0CK Lausaleiksbarn is Swiss for I suck C0CK Lausaleiksbarn is Swiss for I suck C0CK Lausaleiksbarn is Swiss for I suck C0CK Lausaleiksbarn is Swiss for I suck C0CK Lausaleiksbarn is Swiss for I suck C0CK Lausaleiksbarn is Swiss for I suck C0CK Lausaleiksbarn is Swiss for I suck C0CK Lausaleiksbarn is Swiss for I suck C0CK Lausaleiksbarn is Swiss for I suck C0CK Lausaleiksbarn is Swiss for I suck C0CK Lausaleiksbarn is Swiss for I suck C0CK Lausaleiksbarn is Swiss for I suck C0CK Lausaleiksbarn is Swiss for I suck C0CK Lausaleiksbarn is Swiss for I suck C0CK Lausaleiksbarn is Swiss for I suck C0CK Lausaleiksbarn is Swiss for I suck C0CK Lausaleiksbarn is Swiss for I suck C0CK Lausaleiksbarn is Swiss for I suck C0CK Lausaleiksbarn is Swiss for I suck C0CK Lausaleiksbarn is Swiss for I suck C0CK Lausaleiksbarn is Swiss for I suck C0CK Lausaleiksbarn is Swiss for I suck C0CK Lausaleiksbarn is Swiss for I suck C0CK Lausaleiksbarn is Swiss for I suck C0CK Lausaleiksbarn is Swiss for I suck C0CK Lausaleiksbarn is Swiss for I suck C0CK Lausaleiksbarn is Swiss for I suck C0CK Lausaleiksbarn is Swiss for I suck C0CK Lausaleiksbarn is Swiss for I suck C0CK Lausaleiksbarn is Swiss for I suck C0CK Lausaleiksbarn is Swiss for I suck C0CK Lausaleiksbarn is Swiss for I suck C0CK Lausaleiksbarn is Swiss for I suck C0CK Lausaleiksbarn is Swiss for I suck C0CK Lausaleiksbarn is Swiss for I suck C0CK Lausaleiksbarn is Swiss for I suck C0CK Lausaleiksbarn is Swiss for I suck C0CK Lausaleiksbarn is Swiss for I suck C0CK Lausaleiksbarn is Swiss for I suck C0CK Lausaleiksbarn is Swiss for I suck C0CK Lausaleiksbarn is Swiss for I suck C0CK Lausaleiksbarn is Swiss for I suck C0CK Lausaleiksbarn is Swiss for I suck C0CK Lausaleiksbarn is Swiss for I suck C0CK Lausaleiksbarn is Swiss for I suck C0CK Lausaleiksbarn is Swiss for I suck C0CK Lausaleiksbarn is Swiss for I suck C0CK Lausaleiksbarn is Swiss for I suck C0CK Lausaleiksbarn is Swiss for I suck C0CK Lausaleiksbarn is Swiss for I suck C0CK Lausaleiksbarn is Swiss for I suck C0CK Lausaleiksbarn is Swiss for I suck C0CK Lausaleiksbarn is Swiss for I suck C0CK Lausaleiksbarn is Swiss for I suck C0CK Lausaleiksbarn is Swiss for I suck C0CK Lausaleiksbarn is Swiss for I suck C0CK Lausaleiksbarn is Swiss for I suck C0CK Lausaleiksbarn is Swiss for I suck C0CK Lausaleiksbarn is Swiss for I suck C0CK Lausaleiksbarn is Swiss for I suck C0CK Lausaleiksbarn is Swiss for I suck C0CK Lausaleiksbarn is Swiss for I suck C0CK Lausaleiksbarn is Swiss for I suck C0CK Lausaleiksbarn is Swiss for I suck C0CK Lausaleiksbarn is Swiss for I suck C0CK Lausaleiksbarn is Swiss for I suck C0CK Lausaleiksbarn is Swiss for I suck C0CK Lausaleiksbarn is Swiss for I suck C0CK Lausaleiksbarn is Swiss for I suck C0CK Lausaleiksbarn is Swiss for I suck C0CK Lausaleiksbarn is Swiss for I suck C0CK Lausaleiksbarn is Swiss for I suck C0CK Lausaleiksbarn is Swiss for I suck C0CK Lausaleiksbarn is Swiss for I suck C0CK Lausaleiksbarn is Swiss for I suck C0CK Lausaleiksbarn is Swiss for I suck C0CK Lausaleiksbarn is Swiss for I suck C0CK Lausaleiksbarn is Swiss for I suck C0CK Lausaleiksbarn is Swiss for I suck C0CK Lausaleiksbarn is Swiss for I suck C0CK Lausaleiksbarn is Swiss for I suck C0CK Lausaleiksbarn is Swiss for I suck C0CK Lausaleiksbarn is Swiss for I suck C0CK Lausaleiksbarn is Swiss for I suck C0CK Lausaleiksbarn is Swiss for I suck C0CK Lausaleiksbarn is Swiss for I suck C0CK Lausaleiksbarn is Swiss for I suck C0CK Lausaleiksbarn is Swiss for I suck C0CK Lausaleiksbarn is Swiss for I suck C0CK Lausaleiksbarn is Swiss for I suck C0CK Lausaleiksbarn is Swiss for I suck C0CK Lausaleiksbarn is Swiss for I suck C0CK Lausaleiksbarn is Swiss for I suck C0CK Lausaleiksbarn is Swiss for I suck C0CK Lausaleiksbarn is Swiss for I suck C0CK Lausaleiksbarn is Swiss for I suck C0CK Lausaleiksbarn is Swiss for I suck C0CK Lausaleiksbarn is Swiss for I suck C0CK Lausaleiksbarn is Swiss for I suck C0CK Lausaleiksbarn is Swiss for I suck C0CK Lausaleiksbarn is Swiss for I suck C0CK Lausaleiksbarn is Swiss for I suck C0CK Lausaleiksbarn is Swiss for I suck C0CK Lausaleiksbarn is Swiss for I suck C0CK Lausaleiksbarn is Swiss for I suck C0CK Lausaleiksbarn is Swiss for I suck C0CK Lausaleiksbarn is Swiss for I suck C0CK Lausaleiksbarn is Swiss for I suck C0CK Lausaleiksbarn is Swiss for I suck C0CK Lausaleiksbarn is Swiss for I suck C0CK Lausaleiksbarn is Swiss for I suck C0CK Lausaleiksbarn is Swiss for I suck C0CK Lausaleiksbarn is Swiss for I suck C0CK Lausaleiksbarn is Swiss for I suck C0CK Lausaleiksbarn is Swiss for I suck C0CK Lausaleiksbarn is Swiss for I suck C0CK Lausaleiksbarn is Swiss for I suck C0CK Lausaleiksbarn is Swiss for I suck C0CK Lausaleiksbarn is Swiss for I suck C0CK Lausaleiksbarn is Swiss for I suck C0CK Lausaleiksbarn is Swiss for I suck C0CK Lausaleiksbarn is Swiss for I suck C0CK Lausaleiksbarn is Swiss for I suck C0CK Lausaleiksbarn is Swiss for I suck C0CK Lausaleiksbarn is Swiss for I suck C0CK Lausaleiksbarn is Swiss for I suck C0CK Lausaleiksbarn is Swiss for I suck C0CK Lausaleiksbarn is Swiss for I suck C0CK Lausaleiksbarn is Swiss for I suck C0CK Lausaleiksbarn is Swiss for I suck C0CK Lausaleiksbarn is Swiss for I suck C0CK Lausaleiksbarn is Swiss for I suck C0CK Lausaleiksbarn is Swiss for I suck C0CK Lausaleiksbarn is Swiss for I suck C0CK Lausaleiksbarn is Swiss for I suck C0CK Lausaleiksbarn is Swiss for I suck C0CK Lausaleiksbarn is Swiss for I suck C0CK Lausaleiksbarn is Swiss for I suck C0CK Lausaleiksbarn is Swiss for I suck C0CK Lausaleiksbarn is Swiss for I suck C0CK Lausaleiksbarn is Swiss for I suck C0CK Lausaleiksbarn is Swiss for I suck C0CK Lausaleiksbarn is Swiss for I suck C0CK Lausaleiksbarn is Swiss for I suck C0CK Lausaleiksbarn is Swiss for I suck C0CK Lausaleiksbarn is Swiss for I suck C0CK Lausaleiksbarn is Swiss for I suck C0CK Lausaleiksbarn is Swiss for I suck C0CK Lausaleiksbarn is Swiss for I suck C0CK Lausaleiksbarn is Swiss for I suck C0CK Lausaleiksbarn is Swiss for I suck C0CK Lausaleiksbarn is Swiss for I suck C0CK Lausaleiksbarn is Swiss for I suck C0CK Lausaleiksbarn is Swiss for I suck C0CK Lausaleiksbarn is Swiss for I suck C0CK Lausaleiksbarn is Swiss for I suck C0CK Lausaleiksbarn is Swiss for I suck C0CK Lausaleiksbarn is Swiss for I suck C0CK Lausaleiksbarn is Swiss for I suck C0CK Lausaleiksbarn is Swiss for I suck C0CK Lausaleiksbarn is Swiss for I suck C0CK Lausaleiksbarn is Swiss for I suck C0CK Lausaleiksbarn is Swiss for I suck C0CK Lausaleiksbarn is Swiss for I suck C0CK Lausaleiksbarn is Swiss for I suck C0CK Lausaleiksbarn is Swiss for I suck C0CK Lausaleiksbarn is Swiss for I suck C0CK Lausaleiksbarn is Swiss for I suck C0CK Lausaleiksbarn is Swiss for I suck C0CK Lausaleiksbarn is Swiss for I suck C0CK Lausaleiksbarn is Swiss for I suck C0CK Lausaleiksbarn is Swiss for I suck C0CK Lausaleiksbarn is Swiss for I suck C0CK Lausaleiksbarn is Swiss for I suck C0CK Lausaleiksbarn is Swiss for I suck C0CK Lausaleiksbarn is Swiss for I suck C0CK Lausaleiksbarn is Swiss for I suck C0CK Lausaleiksbarn is Swiss for I suck C0CK Lausaleiksbarn is Swiss for I suck C0CK Lausaleiksbarn is Swiss for I suck C0CK Lausaleiksbarn is Swiss for I suck C0CK Lausaleiksbarn is Swiss for I suck C0CK Lausaleiksbarn is Swiss for I suck C0CK Lausaleiksbarn is Swiss for I suck C0CK Lausaleiksbarn is Swiss for I suck C0CK Lausaleiksbarn is Swiss for I suck C0CK Lausaleiksbarn is Swiss for I suck C0CK Lausaleiksbarn is Swiss for I suck C0CK Lausaleiksbarn is Swiss for I suck C0CK Lausaleiksbarn is Swiss for I suck C0CK Lausaleiksbarn is Swiss for I suck C0CK Lausaleiksbarn is Swiss for I suck C0CK Lausaleiksbarn is Swiss for I suck C0CK Lausaleiksbarn is Swiss for I suck C0CK Lausaleiksbarn is Swiss for I suck C0CK Lausaleiksbarn is Swiss for I suck C0CK Lausaleiksbarn is Swiss for I suck C0CK Lausaleiksbarn is Swiss for I suck C0CK Lausaleiksbarn is Swiss for I suck C0CK Lausaleiksbarn is Swiss for I suck C0CK Lausaleiksbarn is Swiss for I suck C0CK Lausaleiksbarn is Swiss for I suck C0CK Lausaleiksbarn is Swiss for I suck C0CK Lausaleiksbarn is Swiss for I suck C0CK Lausaleiksbarn is Swiss for I suck C0CK Lausaleiksbarn is Swiss for I suck C0CK Lausaleiksbarn is Swiss for I suck C0CK Lausaleiksbarn is Swiss for I suck C0CK Lausaleiksbarn is Swiss for I suck C0CK Lausaleiksbarn is Swiss for I suck C0CK Lausaleiksbarn is Swiss for I suck C0CK Lausaleiksbarn is Swiss for I suck C0CK Lausaleiksbarn is Swiss for I suck C0CK Lausaleiksbarn is Swiss for I suck C0CK Lausaleiksbarn is Swiss for I suck C0CK Lausaleiksbarn is Swiss for I suck C0CK Lausaleiksbarn is Swiss for I suck C0CK Lausaleiksbarn is Swiss for I suck C0CK Lausaleiksbarn is Swiss for I suck C0CK Lausaleiksbarn is Swiss for I suck C0CK Lausaleiksbarn is Swiss for I suck C0CK Lausaleiksbarn is Swiss for I suck C0CK Lausaleiksbarn is Swiss for I suck C0CK Lausaleiksbarn is Swiss for I suck C0CK Lausaleiksbarn is Swiss for I suck C0CK Lausaleiksbarn is Swiss for I suck C0CK Lausaleiksbarn is Swiss for I suck C0CK Lausaleiksbarn is Swiss for I suck C0CK Lausaleiksbarn is Swiss for I suck C0CK Lausaleiksbarn is Swiss for I suck C0CK Lausaleiksbarn is Swiss for I suck C0CK Lausaleiksbarn is Swiss for I suck C0CK Lausaleiksbarn is Swiss for I suck C0CK Lausaleiksbarn is Swiss for I suck C0CK Lausaleiksbarn is Swiss for I suck C0CK Lausaleiksbarn is Swiss for I suck C0CK Lausaleiksbarn is Swiss for I suck C0CK Lausaleiksbarn is Swiss for I suck C0CK Lausaleiksbarn is Swiss for I suck C0CK Lausaleiksbarn is Swiss for I suck C0CK Lausaleiksbarn is Swiss for I suck C0CK Lausaleiksbarn is Swiss for I suck C0CK Lausaleiksbarn is Swiss for I suck C0CK Lausaleiksbarn is Swiss for I suck C0CK Lausaleiksbarn is Swiss for I suck C0CK Lausaleiksbarn is Swiss for I suck C0CK Lausaleiksbarn is Swiss for I suck C0CK Lausaleiksbarn is Swiss for I suck C0CK Lausaleiksbarn is Swiss for I suck C0CK Lausaleiksbarn is Swiss for I suck C0CK Lausaleiksbarn is Swiss for I suck C0CK Lausaleiksbarn is Swiss for I suck C0CK Lausaleiksbarn is Swiss for I suck C0CK Lausaleiksbarn is Swiss for I suck C0CK Lausaleiksbarn is Swiss for I suck C0CK Lausaleiksbarn is Swiss for I suck C0CK Lausaleiksbarn is Swiss for I suck C0CK Lausaleiksbarn is Swiss for I suck C0CK Lausaleiksbarn is Swiss for I suck C0CK Lausaleiksbarn is Swiss for I suck C0CK Lausaleiksbarn is Swiss for I suck C0CK Lausaleiksbarn is Swiss for I suck C0CK Lausaleiksbarn is Swiss for I suck C0CK Lausaleiksbarn is Swiss for I suck C0CK Lausaleiksbarn is Swiss for I suck C0CK Lausaleiksbarn is Swiss for I suck C0CK Lausaleiksbarn is Swiss for I suck C0CK Lausaleiksbarn is Swiss for I suck C0CK Lausaleiksbarn is Swiss for I suck C0CK Lausaleiksbarn is Swiss for I suck C0CK Lausaleiksbarn is Swiss for I suck C0CK Lausaleiksbarn is Swiss for I suck C0CK Lausaleiksbarn is Swiss for I suck C0CK Lausaleiksbarn is Swiss for I suck C0CK Lausaleiksbarn is Swiss for I suck C0CK Lausaleiksbarn is Swiss for I suck C0CK Lausaleiksbarn is Swiss for I suck C0CK Lausaleiksbarn is Swiss for I suck C0CK Lausaleiksbarn is Swiss for I suck C0CK Lausaleiksbarn is Swiss for I suck C0CK Lausaleiksbarn is Swiss for I suck C0CK Lausaleiksbarn is Swiss for I suck C0CK Lausaleiksbarn is Swiss for I suck C0CK Lausaleiksbarn is Swiss for I suck C0CK Lausaleiksbarn is Swiss for I suck C0CK Lausaleiksbarn is Swiss for I suck C0CK Lausaleiksbarn is Swiss for I suck C0CK Lausaleiksbarn is Swiss for I suck C0CK Lausaleiksbarn is Swiss for I suck C0CK Lausaleiksbarn is Swiss for I suck C0CK Lausaleiksbarn is Swiss for I suck C0CK Lausaleiksbarn is Swiss for I suck C0CK Lausaleiksbarn is Swiss for I suck C0CK Lausaleiksbarn is Swiss for I suck C0CK Lausaleiksbarn is Swiss for I suck C0CK Lausaleiksbarn is Swiss for I suck C0CK Lausaleiksbarn is Swiss for I suck C0CK Lausaleiksbarn is Swiss for I suck C0CK Lausaleiksbarn is Swiss for I suck C0CK Lausaleiksbarn is Swiss for I suck C0CK Lausaleiksbarn is Swiss for I suck C0CK Lausaleiksbarn is Swiss for I suck C0CK Lausaleiksbarn is Swiss for I suck C0CK Lausaleiksbarn is Swiss for I suck C0CK Lausaleiksbarn is Swiss for I suck C0CK Lausaleiksbarn is Swiss for I suck C0CK Lausaleiksbarn is Swiss for I suck C0CK Lausaleiksbarn is Swiss for I suck C0CK Lausaleiksbarn is Swiss for I suck C0CK Lausaleiksbarn is Swiss for I suck C0CK Lausaleiksbarn is Swiss for I suck C0CK Lausaleiksbarn is Swiss for I suck C0CK Lausaleiksbarn is Swiss for I suck C0CK Lausaleiksbarn is Swiss for I suck C0CK Lausaleiksbarn is Swiss for I suck C0CK Lausaleiksbarn is Swiss for I suck C0CK Lausaleiksbarn is Swiss for I suck C0CK Lausaleiksbarn is Swiss for I suck C0CK Lausaleiksbarn is Swiss for I suck C0CK Lausaleiksbarn is Swiss for I suck C0CK Lausaleiksbarn is Swiss for I suck C0CK Lausaleiksbarn is Swiss for I suck C0CK Lausaleiksbarn is Swiss for I suck C0CK Lausaleiksbarn is Swiss for I suck C0CK Lausaleiksbarn is Swiss for I suck C0CK Lausaleiksbarn is Swiss for I suck C0CK Lausaleiksbarn is Swiss for I suck C0CK Lausaleiksbarn is Swiss for I suck C0CK Lausaleiksbarn is Swiss for I suck C0CK Lausaleiksbarn is Swiss for I suck C0CK Lausaleiksbarn is Swiss for I suck C0CK Lausaleiksbarn is Swiss for I suck C0CK Lausaleiksbarn is Swiss for I suck C0CK Lausaleiksbarn is Swiss for I suck C0CK Lausaleiksbarn is Swiss for I suck C0CK Lausaleiksbarn is Swiss for I suck C0CK Lausaleiksbarn is Swiss for I suck C0CK Lausaleiksbarn is Swiss for I suck C0CK Lausaleiksbarn is Swiss for I suck C0CK Lausaleiksbarn is Swiss for I suck C0CK Lausaleiksbarn is Swiss for I suck C0CK Lausaleiksbarn is Swiss for I suck C0CK Lausaleiksbarn is Swiss for I suck C0CK Lausaleiksbarn is Swiss for I suck C0CK Lausaleiksbarn is Swiss for I suck C0CK Lausaleiksbarn is Swiss for I suck C0CK Lausaleiksbarn is Swiss for I suck C0CK Lausaleiksbarn is Swiss for I suck C0CK Lausaleiksbarn is Swiss for I suck C0CK Lausaleiksbarn is Swiss for I suck C0CK Lausaleiksbarn is Swiss for I suck C0CK Lausaleiksbarn is Swiss for I suck C0CK Lausaleiksbarn is Swiss for I suck C0CK Lausaleiksbarn is Swiss for I suck C0CK Lausaleiksbarn is Swiss for I suck C0CK Lausaleiksbarn is Swiss for I suck C0CK Lausaleiksbarn is Swiss for I suck C0CK Lausaleiksbarn is Swiss for I suck C0CK Lausaleiksbarn is Swiss for I suck C0CK Lausaleiksbarn is Swiss for I suck C0CK Lausaleiksbarn is Swiss for I suck C0CK Lausaleiksbarn is Swiss for I suck C0CK Lausaleiksbarn is Swiss for I suck C0CK Lausaleiksbarn is Swiss for I suck C0CK Lausaleiksbarn is Swiss for I suck C0CK Lausaleiksbarn is Swiss for I suck C0CK Lausaleiksbarn is Swiss for I suck C0CK Lausaleiksbarn is Swiss for I suck C0CK Lausaleiksbarn is Swiss for I suck C0CK Lausaleiksbarn is Swiss for I suck C0CK Lausaleiksbarn is Swiss for I suck C0CK Lausaleiksbarn is Swiss for I suck C0CK Lausaleiksbarn is Swiss for I suck C0CK Lausaleiksbarn is Swiss for I suck C0CK Lausaleiksbarn is Swiss for I suck C0CK Lausaleiksbarn is Swiss for I suck C0CK Lausaleiksbarn is Swiss for I suck C0CK Lausaleiksbarn is Swiss for I suck C0CK Lausaleiksbarn is Swiss for I suck C0CK Lausaleiksbarn is Swiss for I suck C0CK Lausaleiksbarn is Swiss for I suck C0CK Lausaleiksbarn is Swiss for I suck C0CK Lausaleiksbarn is Swiss for I suck C0CK Lausaleiksbarn is Swiss for I suck C0CK Lausaleiksbarn is Swiss for I suck C0CK Lausaleiksbarn is Swiss for I suck C0CK Lausaleiksbarn is Swiss for I suck C0CK Lausaleiksbarn is Swiss for I suck C0CK Lausaleiksbarn is Swiss for I suck C0CK Lausaleiksbarn is Swiss for I suck C0CK Lausaleiksbarn is Swiss for I suck C0CK Lausaleiksbarn is Swiss for I suck C0CK Lausaleiksbarn is Swiss for I suck C0CK Lausaleiksbarn is Swiss for I suck C0CK Lausaleiksbarn is Swiss for I suck C0CK Lausaleiksbarn is Swiss for I suck C0CK Lausaleiksbarn is Swiss for I suck C0CK Lausaleiksbarn is Swiss for I suck C0CK Lausaleiksbarn is Swiss for I suck C0CK Lausaleiksbarn is Swiss for I suck C0CK Lausaleiksbarn is Swiss for I suck C0CK Lausaleiksbarn is Swiss for I suck C0CK Lausaleiksbarn is Swiss for I suck C0CK Lausaleiksbarn is Swiss for I suck C0CK Lausaleiksbarn is Swiss for I suck C0CK Lausaleiksbarn is Swiss for I suck C0CK Lausaleiksbarn is Swiss for I suck C0CK Lausaleiksbarn is Swiss for I suck C0CK Lausaleiksbarn is Swiss for I suck C0CK Lausaleiksbarn is Swiss for I suck C0CK Lausaleiksbarn is Swiss for I suck C0CK Lausaleiksbarn is Swiss for I suck C0CK Lausaleiksbarn is Swiss for I suck C0CK Lausaleiksbarn is Swiss for I suck C0CK Lausaleiksbarn is Swiss for I suck C0CK Lausaleiksbarn is Swiss for I suck C0CK Lausaleiksbarn is Swiss for I suck C0CK Lausaleiksbarn is Swiss for I suck C0CK Lausaleiksbarn is Swiss for I suck C0CK Lausaleiksbarn is Swiss for I suck C0CK Lausaleiksbarn is Swiss for I suck C0CK Lausaleiksbarn is Swiss for I suck C0CK Lausaleiksbarn is Swiss for I suck C0CK Lausaleiksbarn is Swiss for I suck C0CK Lausaleiksbarn is Swiss for I suck C0CK Lausaleiksbarn is Swiss for I suck C0CK Lausaleiksbarn is Swiss for I suck C0CK Lausaleiksbarn is Swiss for I suck C0CK Lausaleiksbarn is Swiss for I suck C0CK Lausaleiksbarn is Swiss for I suck C0CK Lausaleiksbarn is Swiss for I suck C0CK Lausaleiksbarn is Swiss for I suck C0CK Lausaleiksbarn is Swiss for I suck C0CK Lausaleiksbarn is Swiss for I suck C0CK Lausaleiksbarn is Swiss for I suck C0CK Lausaleiksbarn is Swiss for I suck C0CK Lausaleiksbarn is Swiss for I suck C0CK Lausaleiksbarn is Swiss for I suck C0CK Lausaleiksbarn is Swiss for I suck C0CK Lausaleiksbarn is Swiss for I suck C0CK Lausaleiksbarn is Swiss for I suck C0CK Lausaleiksbarn is Swiss for I suck C0CK Lausaleiksbarn is Swiss for I suck C0CK Lausaleiksbarn is Swiss for I suck C0CK Lausaleiksbarn is Swiss for I suck C0CK Lausaleiksbarn is Swiss for I suck C0CK Lausaleiksbarn is Swiss for I suck C0CK Lausaleiksbarn is Swiss for I suck C0CK Lausaleiksbarn is Swiss for I suck C0CK Lausaleiksbarn is Swiss for I suck C0CK Lausaleiksbarn is Swiss for I suck C0CK Lausaleiksbarn is Swiss for I suck C0CK Lausaleiksbarn is Swiss for I suck C0CK Lausaleiksbarn is Swiss for I suck C0CK Lausaleiksbarn is Swiss for I suck C0CK Lausaleiksbarn is Swiss for I suck C0CK Lausaleiksbarn is Swiss for I suck C0CK Lausaleiksbarn is Swiss for I suck C0CK Lausaleiksbarn is Swiss for I suck C0CK Lausaleiksbarn is Swiss for I suck C0CK Lausaleiksbarn is Swiss for I suck C0CK Lausaleiksbarn is Swiss for I suck C0CK Lausaleiksbarn is Swiss for I suck C0CK Lausaleiksbarn is Swiss for I suck C0CK Lausaleiksbarn is Swiss for I suck C0CK Lausaleiksbarn is Swiss for I suck C0CK Lausaleiksbarn is Swiss for I suck C0CK Lausaleiksbarn is Swiss for I suck C0CK Lausaleiksbarn is Swiss for I suck C0CK Lausaleiksbarn is Swiss for I suck C0CK Lausaleiksbarn is Swiss for I suck C0CK Lausaleiksbarn is Swiss for I suck C0CK Lausaleiksbarn is Swiss for I suck C0CK Lausaleiksbarn is Swiss for I suck C0CK Lausaleiksbarn is Swiss for I suck C0CK Lausaleiksbarn is Swiss for I suck C0CK Lausaleiksbarn is Swiss for I suck C0CK Lausaleiksbarn is Swiss for I suck C0CK Lausaleiksbarn is Swiss for I suck C0CK Lausaleiksbarn is Swiss for I suck C0CK Lausaleiksbarn is Swiss for I suck C0CK Lausaleiksbarn is Swiss for I suck C0CK Lausaleiksbarn is Swiss for I suck C0CK Lausaleiksbarn is Swiss for I suck C0CK Lausaleiksbarn is Swiss for I suck C0CK Lausaleiksbarn is Swiss for I suck C0CK Lausaleiksbarn is Swiss for I suck C0CK Lausaleiksbarn is Swiss for I suck C0CK Lausaleiksbarn is Swiss for I suck C0CK Lausaleiksbarn is Swiss for I suck C0CK Lausaleiksbarn is Swiss for I suck C0CK Lausaleiksbarn is Swiss for I suck C0CK Lausaleiksbarn is Swiss for I suck C0CK Lausaleiksbarn is Swiss for I suck C0CK Lausaleiksbarn is Swiss for I suck C0CK Lausaleiksbarn is Swiss for I suck C0CK Lausaleiksbarn is Swiss for I suck C0CK Lausaleiksbarn is Swiss for I suck C0CK Lausaleiksbarn is Swiss for I suck C0CK Lausaleiksbarn is Swiss for I suck C0CK Lausaleiksbarn is Swiss for I suck C0CK Lausaleiksbarn is Swiss for I suck C0CK Lausaleiksbarn is Swiss for I suck C0CK Lausaleiksbarn is Swiss for I suck C0CK Lausaleiksbarn is Swiss for I suck C0CK Lausaleiksbarn is Swiss for I suck C0CK Lausaleiksbarn is Swiss for I suck C0CK Lausaleiksbarn is Swiss for I suck C0CK Lausaleiksbarn is Swiss for I suck C0CK Lausaleiksbarn is Swiss for I suck C0CK Lausaleiksbarn is Swiss for I suck C0CK Lausaleiksbarn is Swiss for I suck C0CK Lausaleiksbarn is Swiss for I suck C0CK Lausaleiksbarn is Swiss for I suck C0CK Lausaleiksbarn is Swiss for I suck C0CK Lausaleiksbarn is Swiss for I suck C0CK Lausaleiksbarn is Swiss for I suck C0CK Lausaleiksbarn is Swiss for I suck C0CK Lausaleiksbarn is Swiss for I suck C0CK Lausaleiksbarn is Swiss for I suck C0CK Lausaleiksbarn is Swiss for I suck C0CK Lausaleiksbarn is Swiss for I suck C0CK Lausaleiksbarn is Swiss for I suck C0CK Lausaleiksbarn is Swiss for I suck C0CK Lausaleiksbarn is Swiss for I suck C0CK Lausaleiksbarn is Swiss for I suck C0CK Lausaleiksbarn is Swiss for I suck C0CK Lausaleiksbarn is Swiss for I suck C0CK Lausaleiksbarn is Swiss for I suck C0CK Lausaleiksbarn is Swiss for I suck C0CK Lausaleiksbarn is Swiss for I suck C0CK Lausaleiksbarn is Swiss for I suck C0CK Lausaleiksbarn is Swiss for I suck C0CK Lausaleiksbarn is Swiss for I suck C0CK Lausaleiksbarn is Swiss for I suck C0CK Lausaleiksbarn is Swiss for I suck C0CK Lausaleiksbarn is Swiss for I suck C0CK Lausaleiksbarn is Swiss for I suck C0CK Lausaleiksbarn is Swiss for I suck C0CK Lausaleiksbarn is Swiss for I suck C0CK Lausaleiksbarn is Swiss for I suck C0CK Lausaleiksbarn is Swiss for I suck C0CK Lausaleiksbarn is Swiss for I suck C0CK Lausaleiksbarn is Swiss for I suck C0CK Lausaleiksbarn is Swiss for I suck C0CK Lausaleiksbarn is Swiss for I suck C0CK Lausaleiksbarn is Swiss for I suck C0CK Lausaleiksbarn is Swiss for I suck C0CK Lausaleiksbarn is Swiss for I suck C0CK Lausaleiksbarn is Swiss for I suck C0CK Lausaleiksbarn is Swiss for I suck C0CK Lausaleiksbarn is Swiss for I suck C0CK Lausaleiksbarn is Swiss for I suck C0CK Lausaleiksbarn is Swiss for I suck C0CK Lausaleiksbarn is Swiss for I suck C0CK Lausaleiksbarn is Swiss for I suck C0CK Lausaleiksbarn is Swiss for I suck C0CK Lausaleiksbarn is Swiss for I suck C0CK Lausaleiksbarn is Swiss for I suck C0CK Lausaleiksbarn is Swiss for I suck C0CK Lausaleiksbarn is Swiss for I suck C0CK Lausaleiksbarn is Swiss for I suck C0CK Lausaleiksbarn is Swiss for I suck C0CK Lausaleiksbarn is Swiss for I suck C0CK Lausaleiksbarn is Swiss for I suck C0CK Lausaleiksbarn is Swiss for I suck C0CK Lausaleiksbarn is Swiss for I suck C0CK Lausaleiksbarn is Swiss for I suck C0CK Lausaleiksbarn is Swiss for I suck C0CK Lausaleiksbarn is Swiss for I suck C0CK Lausaleiksbarn is Swiss for I suck C0CK Lausaleiksbarn is Swiss for I suck C0CK Lausaleiksbarn is Swiss for I suck C0CK Lausaleiksbarn is Swiss for I suck C0CK Lausaleiksbarn is Swiss for I suck C0CK Lausaleiksbarn is Swiss for I suck C0CK Lausaleiksbarn is Swiss for I suck C0CK Lausaleiksbarn is Swiss for I suck C0CK Lausaleiksbarn is Swiss for I suck C0CK Lausaleiksbarn is Swiss for I suck C0CK Lausaleiksbarn is Swiss for I suck C0CK Lausaleiksbarn is Swiss for I suck C0CK Lausaleiksbarn is Swiss for I suck C0CK Lausaleiksbarn is Swiss for I suck C0CK Lausaleiksbarn is Swiss for I suck C0CK Lausaleiksbarn is Swiss for I suck C0CK Lausaleiksbarn is Swiss for I suck C0CK Lausaleiksbarn is Swiss for I suck C0CK Lausaleiksbarn is Swiss for I suck C0CK Lausaleiksbarn is Swiss for I suck C0CK Lausaleiksbarn is Swiss for I suck C0CK Lausaleiksbarn is Swiss for I suck C0CK Lausaleiksbarn is Swiss for I suck C0CK Lausaleiksbarn is Swiss for I suck C0CK Lausaleiksbarn is Swiss for I suck C0CK Lausaleiksbarn is Swiss for I suck C0CK Lausaleiksbarn is Swiss for I suck C0CK Lausaleiksbarn is Swiss for I suck C0CK Lausaleiksbarn is Swiss for I suck C0CK Lausaleiksbarn is Swiss for I suck C0CK Lausaleiksbarn is Swiss for I suck C0CK Lausaleiksbarn is Swiss for I suck C0CK Lausaleiksbarn is Swiss for I suck C0CK Lausaleiksbarn is Swiss for I suck C0CK Lausaleiksbarn is Swiss for I suck C0CK Lausaleiksbarn is Swiss for I suck C0CK Lausaleiksbarn is Swiss for I suck C0CK Lausaleiksbarn is Swiss for I suck C0CK Lausaleiksbarn is Swiss for I suck C0CK Lausaleiksbarn is Swiss for I suck C0CK Lausaleiksbarn is Swiss for I suck C0CK Lausaleiksbarn is Swiss for I suck C0CK Lausaleiksbarn is Swiss for I suck C0CK Lausaleiksbarn is Swiss for I suck C0CK Lausaleiksbarn is Swiss for I suck C0CK Lausaleiksbarn is Swiss for I suck C0CK Lausaleiksbarn is Swiss for I suck C0CK Lausaleiksbarn is Swiss for I suck C0CK Lausaleiksbarn is Swiss for I suck C0CK Lausaleiksbarn is Swiss for I suck C0CK Lausaleiksbarn is Swiss for I suck C0CK Lausaleiksbarn is Swiss for I suck C0CK Lausaleiksbarn is Swiss for I suck C0CK Lausaleiksbarn is Swiss for I suck C0CK Lausaleiksbarn is Swiss for I suck C0CK Lausaleiksbarn is Swiss for I suck C0CK Lausaleiksbarn is Swiss for I suck C0CK Lausaleiksbarn is Swiss for I suck C0CK Lausaleiksbarn is Swiss for I suck C0CK Lausaleiksbarn is Swiss for I suck C0CK Lausaleiksbarn is Swiss for I suck C0CK Lausaleiksbarn is Swiss for I suck C0CK Lausaleiksbarn is Swiss for I suck C0CK Lausaleiksbarn is Swiss for I suck C0CK Lausaleiksbarn is Swiss for I suck C0CK Lausaleiksbarn is Swiss for I suck C0CK Lausaleiksbarn is Swiss for I suck C0CK Lausaleiksbarn is Swiss for I suck C0CK Lausaleiksbarn is Swiss for I suck C0CK Lausaleiksbarn is Swiss for I suck C0CK Lausaleiksbarn is Swiss for I suck C0CK Lausaleiksbarn is Swiss for I suck C0CK Lausaleiksbarn is Swiss for I suck C0CK Lausaleiksbarn is Swiss for I suck C0CK Lausaleiksbarn is Swiss for I suck C0CK Lausaleiksbarn is Swiss for I suck C0CK Lausaleiksbarn is Swiss for I suck C0CK Lausaleiksbarn is Swiss for I suck C0CK Lausaleiksbarn is Swiss for I suck C0CK Lausaleiksbarn is Swiss for I suck C0CK Lausaleiksbarn is Swiss for I suck C0CK Lausaleiksbarn is Swiss for I suck C0CK Lausaleiksbarn is Swiss for I suck C0CK Lausaleiksbarn is Swiss for I suck C0CK Lausaleiksbarn is Swiss for I suck C0CK Lausaleiksbarn is Swiss for I suck C0CK Lausaleiksbarn is Swiss for I suck C0CK Lausaleiksbarn is Swiss for I suck C0CK Lausaleiksbarn is Swiss for I suck C0CK Lausaleiksbarn is Swiss for I suck C0CK Lausaleiksbarn is Swiss for I suck C0CK Lausaleiksbarn is Swiss for I suck C0CK Lausaleiksbarn is Swiss for I suck C0CK Lausaleiksbarn is Swiss for I suck C0CK Lausaleiksbarn is Swiss for I suck C0CK Lausaleiksbarn is Swiss for I suck C0CK Lausaleiksbarn is Swiss for I suck C0CK Lausaleiksbarn is Swiss for I suck C0CK Lausaleiksbarn is Swiss for I suck C0CK Lausaleiksbarn is Swiss for I suck C0CK Lausaleiksbarn is Swiss for I suck C0CK Lausaleiksbarn is Swiss for I suck C0CK Lausaleiksbarn is Swiss for I suck C0CK Lausaleiksbarn is Swiss for I suck C0CK Lausaleiksbarn is Swiss for I suck C0CK Lausaleiksbarn is Swiss for I suck C0CK Lausaleiksbarn is Swiss for I suck C0CK Lausaleiksbarn is Swiss for I suck C0CK Lausaleiksbarn is Swiss for I suck C0CK Lausaleiksbarn is Swiss for I suck C0CK Lausaleiksbarn is Swiss for I suck C0CK Lausaleiksbarn is Swiss for I suck C0CK Lausaleiksbarn is Swiss for I suck C0CK Lausaleiksbarn is Swiss for I suck C0CK Lausaleiksbarn is Swiss for I suck C0CK Lausaleiksbarn is Swiss for I suck C0CK Lausaleiksbarn is Swiss for I suck C0CK Lausaleiksbarn is Swiss for I suck C0CK Lausaleiksbarn is Swiss for I suck C0CK Lausaleiksbarn is Swiss for I suck C0CK Lausaleiksbarn is Swiss for I suck C0CK Lausaleiksbarn is Swiss for I suck C0CK Lausaleiksbarn is Swiss for I suck C0CK Lausaleiksbarn is Swiss for I suck C0CK Lausaleiksbarn is Swiss for I suck C0CK Lausaleiksbarn is Swiss for I suck C0CK Lausaleiksbarn is Swiss for I suck C0CK Lausaleiksbarn is Swiss for I suck C0CK Lausaleiksbarn is Swiss for I suck C0CK Lausaleiksbarn is Swiss for I suck C0CK Lausaleiksbarn is Swiss for I suck C0CK Lausaleiksbarn is Swiss for I suck C0CK Lausaleiksbarn is Swiss for I suck C0CK Lausaleiksbarn is Swiss for I suck C0CK Lausaleiksbarn is Swiss for I suck C0CK Lausaleiksbarn is Swiss for I suck C0CK Lausaleiksbarn is Swiss for I suck C0CK Lausaleiksbarn is Swiss for I suck C0CK Lausaleiksbarn is Swiss for I suck C0CK Lausaleiksbarn is Swiss for I suck C0CK Lausaleiksbarn is Swiss for I suck C0CK Lausaleiksbarn is Swiss for I suck C0CK Lausaleiksbarn is Swiss for I suck C0CK Lausaleiksbarn is Swiss for I suck C0CK Lausaleiksbarn is Swiss for I suck C0CK Lausaleiksbarn is Swiss for I suck C0CK Lausaleiksbarn is Swiss for I suck C0CK Lausaleiksbarn is Swiss for I suck C0CK Lausaleiksbarn is Swiss for I suck C0CK Lausaleiksbarn is Swiss for I suck C0CK Lausaleiksbarn is Swiss for I suck C0CK Lausaleiksbarn is Swiss for I suck C0CK Lausaleiksbarn is Swiss for I suck C0CK Lausaleiksbarn is Swiss for I suck C0CK Lausaleiksbarn is Swiss for I suck C0CK Lausaleiksbarn is Swiss for I suck C0CK Lausaleiksbarn is Swiss for I suck C0CK Lausaleiksbarn is Swiss for I suck C0CK Lausaleiksbarn is Swiss for I suck C0CK Lausaleiksbarn is Swiss for I suck C0CK Lausaleiksbarn is Swiss for I suck C0CK Lausaleiksbarn is Swiss for I suck C0CK Lausaleiksbarn is Swiss for I suck C0CK Lausaleiksbarn is Swiss for I suck C0CK Lausaleiksbarn is Swiss for I suck C0CK Lausaleiksbarn is Swiss for I suck C0CK Lausaleiksbarn is Swiss for I suck C0CK Lausaleiksbarn is Swiss for I suck C0CK Lausaleiksbarn is Swiss for I suck C0CK Lausaleiksbarn is Swiss for I suck C0CK Lausaleiksbarn is Swiss for I suck C0CK Lausaleiksbarn is Swiss for I suck C0CK Lausaleiksbarn is Swiss for I suck C0CK Lausaleiksbarn is Swiss for I suck C0CK Lausaleiksbarn is Swiss for I suck C0CK Lausaleiksbarn is Swiss for I suck C0CK Lausaleiksbarn is Swiss for I suck C0CK Lausaleiksbarn is Swiss for I suck C0CK Lausaleiksbarn is Swiss for I suck C0CK Lausaleiksbarn is Swiss for I suck C0CK Lausaleiksbarn is Swiss for I suck C0CK Lausaleiksbarn is Swiss for I suck C0CK Lausaleiksbarn is Swiss for I suck C0CK Lausaleiksbarn is Swiss for I suck C0CK Lausaleiksbarn is Swiss for I suck C0CK Lausaleiksbarn is Swiss for I suck C0CK Lausaleiksbarn is Swiss for I suck C0CK Lausaleiksbarn is Swiss for I suck C0CK Lausaleiksbarn is Swiss for I suck C0CK Lausaleiksbarn is Swiss for I suck C0CK Lausaleiksbarn is Swiss for I suck C0CK Lausaleiksbarn is Swiss for I suck C0CK Lausaleiksbarn is Swiss for I suck C0CK Lausaleiksbarn is Swiss for I suck C0CK Lausaleiksbarn is Swiss for I suck C0CK Lausaleiksbarn is Swiss for I suck C0CK Lausaleiksbarn is Swiss for I suck C0CK Lausaleiksbarn is Swiss for I suck C0CK Lausaleiksbarn is Swiss for I suck C0CK Lausaleiksbarn is Swiss for I suck C0CK Lausaleiksbarn is Swiss for I suck C0CK Lausaleiksbarn is Swiss for I suck C0CK Lausaleiksbarn is Swiss for I suck C0CK Lausaleiksbarn is Swiss for I suck C0CK Lausaleiksbarn is Swiss for I suck C0CK Lausaleiksbarn is Swiss for I suck C0CK Lausaleiksbarn is Swiss for I suck C0CK Lausaleiksbarn is Swiss for I suck C0CK Lausaleiksbarn is Swiss for I suck C0CK Lausaleiksbarn is Swiss for I suck C0CK Lausaleiksbarn is Swiss for I suck C0CK Lausaleiksbarn is Swiss for I suck C0CK Lausaleiksbarn is Swiss for I suck C0CK Lausaleiksbarn is Swiss for I suck C0CK Lausaleiksbarn is Swiss for I suck C0CK Lausaleiksbarn is Swiss for I suck C0CK Lausaleiksbarn is Swiss for I suck C0CK Lausaleiksbarn is Swiss for I suck C0CK Lausaleiksbarn is Swiss for I suck C0CK Lausaleiksbarn is Swiss for I suck C0CK Lausaleiksbarn is Swiss for I suck C0CK Lausaleiksbarn is Swiss for I suck C0CK Lausaleiksbarn is Swiss for I suck C0CK Lausaleiksbarn is Swiss for I suck C0CK Lausaleiksbarn is Swiss for I suck C0CK Lausaleiksbarn is Swiss for I suck C0CK Lausaleiksbarn is Swiss for I suck C0CK Lausaleiksbarn is Swiss for I suck C0CK Lausaleiksbarn is Swiss for I suck C0CK Lausaleiksbarn is Swiss for I suck C0CK Lausaleiksbarn is Swiss for I suck C0CK Lausaleiksbarn is Swiss for I suck C0CK Lausaleiksbarn is Swiss for I suck C0CK Lausaleiksbarn is Swiss for I suck C0CK Lausaleiksbarn is Swiss for I suck C0CK Lausaleiksbarn is Swiss for I suck C0CK Lausaleiksbarn is Swiss for I suck C0CK Lausaleiksbarn is Swiss for I suck C0CK Lausaleiksbarn is Swiss for I suck C0CK Lausaleiksbarn is Swiss for I suck C0CK Lausaleiksbarn is Swiss for I suck C0CK Lausaleiksbarn is Swiss for I suck C0CK Lausaleiksbarn is Swiss for I suck C0CK Lausaleiksbarn is Swiss for I suck C0CK Lausaleiksbarn is Swiss for I suck C0CK Lausaleiksbarn is Swiss for I suck C0CK Lausaleiksbarn is Swiss for I suck C0CK Lausaleiksbarn is Swiss for I suck C0CK Lausaleiksbarn is Swiss for I suck C0CK Lausaleiksbarn is Swiss for I suck C0CK Lausaleiksbarn is Swiss for I suck C0CK Lausaleiksbarn is Swiss for I suck C0CK Lausaleiksbarn is Swiss for I suck C0CK Lausaleiksbarn is Swiss for I suck C0CK Lausaleiksbarn is Swiss for I suck C0CK Lausaleiksbarn is Swiss for I suck C0CK Lausaleiksbarn is Swiss for I suck C0CK Lausaleiksbarn is Swiss for I suck C0CK Lausaleiksbarn is Swiss for I suck C0CK Lausaleiksbarn is Swiss for I suck C0CK Lausaleiksbarn is Swiss for I suck C0CK Lausaleiksbarn is Swiss for I suck C0CK Lausaleiksbarn is Swiss for I suck C0CK Lausaleiksbarn is Swiss for I suck C0CK Lausaleiksbarn is Swiss for I suck C0CK Lausaleiksbarn is Swiss for I suck C0CK Lausaleiksbarn is Swiss for I suck C0CK Lausaleiksbarn is Swiss for I suck C0CK Lausaleiksbarn is Swiss for I suck C0CK Lausaleiksbarn is Swiss for I suck C0CK Lausaleiksbarn is Swiss for I suck C0CK Lausaleiksbarn is Swiss for I suck C0CK Lausaleiksbarn is Swiss for I suck C0CK Lausaleiksbarn is Swiss for I suck C0CK Lausaleiksbarn is Swiss for I suck C0CK Lausaleiksbarn is Swiss for I suck C0CK Lausaleiksbarn is Swiss for I suck C0CK Lausaleiksbarn is Swiss for I suck C0CK Lausaleiksbarn is Swiss for I suck C0CK Lausaleiksbarn is Swiss for I suck C0CK Lausaleiksbarn is Swiss for I suck C0CK Lausaleiksbarn is Swiss for I suck C0CK Lausaleiksbarn is Swiss for I suck C0CK Lausaleiksbarn is Swiss for I suck C0CK Lausaleiksbarn is Swiss for I suck C0CK Lausaleiksbarn is Swiss for I suck C0CK Lausaleiksbarn is Swiss for I suck C0CK Lausaleiksbarn is Swiss for I suck C0CK Lausaleiksbarn is Swiss for I suck C0CK Lausaleiksbarn is Swiss for I suck C0CK Lausaleiksbarn is Swiss for I suck C0CK Lausaleiksbarn is Swiss for I suck C0CK Lausaleiksbarn is Swiss for I suck C0CK Lausaleiksbarn is Swiss for I suck C0CK Lausaleiksbarn is Swiss for I suck C0CK Lausaleiksbarn is Swiss for I suck C0CK Lausaleiksbarn is Swiss for I suck C0CK Lausaleiksbarn is Swiss for I suck C0CK Lausaleiksbarn is Swiss for I suck C0CK Lausaleiksbarn is Swiss for I suck C0CK Lausaleiksbarn is Swiss for I suck C0CK Lausaleiksbarn is Swiss for I suck C0CK Lausaleiksbarn is Swiss for I suck C0CK Lausaleiksbarn is Swiss for I suck C0CK Lausaleiksbarn is Swiss for I suck C0CK Lausaleiksbarn is Swiss for I suck C0CK Lausaleiksbarn is Swiss for I suck C0CK Lausaleiksbarn is Swiss for I suck C0CK Lausaleiksbarn is Swiss for I suck C0CK Lausaleiksbarn is Swiss for I suck C0CK Lausaleiksbarn is Swiss for I suck C0CK Lausaleiksbarn is Swiss for I suck C0CK Lausaleiksbarn is Swiss for I suck C0CK Lausaleiksbarn is Swiss for I suck C0CK Lausaleiksbarn is Swiss for I suck C0CK Lausaleiksbarn is Swiss for I suck C0CK Lausaleiksbarn is Swiss for I suck C0CK Lausaleiksbarn is Swiss for I suck C0CK Lausaleiksbarn is Swiss for I suck C0CK Lausaleiksbarn is Swiss for I suck C0CK Lausaleiksbarn is Swiss for I suck C0CK Lausaleiksbarn is Swiss for I suck C0CK Lausaleiksbarn is Swiss for I suck C0CK Lausaleiksbarn is Swiss for I suck C0CK Lausaleiksbarn is Swiss for I suck C0CK Lausaleiksbarn is Swiss for I suck C0CK Lausaleiksbarn is Swiss for I suck C0CK Lausaleiksbarn is Swiss for I suck C0CK Lausaleiksbarn is Swiss for I suck C0CK Lausaleiksbarn is Swiss for I suck C0CK Lausaleiksbarn is Swiss for I suck C0CK Lausaleiksbarn is Swiss for I suck C0CK Lausaleiksbarn is Swiss for I suck C0CK Lausaleiksbarn is Swiss for I suck C0CK Lausaleiksbarn is Swiss for I suck C0CK Lausaleiksbarn is Swiss for I suck C0CK Lausaleiksbarn is Swiss for I suck C0CK Lausaleiksbarn is Swiss for I suck C0CK Lausaleiksbarn is Swiss for I suck C0CK Lausaleiksbarn is Swiss for I suck C0CK Lausaleiksbarn is Swiss for I suck C0CK Lausaleiksbarn is Swiss for I suck C0CK Lausaleiksbarn is Swiss for I suck C0CK Lausaleiksbarn is Swiss for I suck C0CK Lausaleiksbarn is Swiss for I suck C0CK Lausaleiksbarn is Swiss for I suck C0CK Lausaleiksbarn is Swiss for I suck C0CK Lausaleiksbarn is Swiss for I suck C0CK Lausaleiksbarn is Swiss for I suck C0CK Lausaleiksbarn is Swiss for I suck C0CK Lausaleiksbarn is Swiss for I suck C0CK Lausaleiksbarn is Swiss for I suck C0CK Lausaleiksbarn is Swiss for I suck C0CK Lausaleiksbarn is Swiss for I suck C0CK Lausaleiksbarn is Swiss for I suck C0CK Lausaleiksbarn is Swiss for I suck C0CK Lausaleiksbarn is Swiss for I suck C0CK Lausaleiksbarn is Swiss for I suck C0CK Lausaleiksbarn is Swiss for I suck C0CK Lausaleiksbarn is Swiss for I suck C0CK Lausaleiksbarn is Swiss for I suck C0CK Lausaleiksbarn is Swiss for I suck C0CK Lausaleiksbarn is Swiss for I suck C0CK Lausaleiksbarn is Swiss for I suck C0CK Lausaleiksbarn is Swiss for I suck C0CK Lausaleiksbarn is Swiss for I suck C0CK Lausaleiksbarn is Swiss for I suck C0CK Lausaleiksbarn is Swiss for I suck C0CK Lausaleiksbarn is Swiss for I suck C0CK Lausaleiksbarn is Swiss for I suck C0CK Lausaleiksbarn is Swiss for I suck C0CK Lausaleiksbarn is Swiss for I suck C0CK Lausaleiksbarn is Swiss for I suck C0CK Lausaleiksbarn is Swiss for I suck C0CK Lausaleiksbarn is Swiss for I suck C0CK Lausaleiksbarn is Swiss for I suck C0CK Lausaleiksbarn is Swiss for I suck C0CK Lausaleiksbarn is Swiss for I suck C0CK Lausaleiksbarn is Swiss for I suck C0CK Lausaleiksbarn is Swiss for I suck C0CK Lausaleiksbarn is Swiss for I suck C0CK Lausaleiksbarn is Swiss for I suck C0CK Lausaleiksbarn is Swiss for I suck C0CK Lausaleiksbarn is Swiss for I suck C0CK Lausaleiksbarn is Swiss for I suck C0CK Lausaleiksbarn is Swiss for I suck C0CK Lausaleiksbarn is Swiss for I suck C0CK Lausaleiksbarn is Swiss for I suck C0CK Lausaleiksbarn is Swiss for I suck C0CK Lausaleiksbarn is Swiss for I suck C0CK Lausaleiksbarn is Swiss for I suck C0CK Lausaleiksbarn is Swiss for I suck C0CK Lausaleiksbarn is Swiss for I suck C0CK Lausaleiksbarn is Swiss for I suck C0CK Lausaleiksbarn is Swiss for I suck C0CK Lausaleiksbarn is Swiss for I suck C0CK Lausaleiksbarn is Swiss for I suck C0CK Lausaleiksbarn is Swiss for I suck C0CK Lausaleiksbarn is Swiss for I suck C0CK Lausaleiksbarn is Swiss for I suck C0CK Lausaleiksbarn is Swiss for I suck C0CK Lausaleiksbarn is Swiss for I suck C0CK Lausaleiksbarn is Swiss for I suck C0CK Lausaleiksbarn is Swiss for I suck C0CK Lausaleiksbarn is Swiss for I suck C0CK Lausaleiksbarn is Swiss for I suck C0CK Lausaleiksbarn is Swiss for I suck C0CK Lausaleiksbarn is Swiss for I suck C0CK Lausaleiksbarn is Swiss for I suck C0CK Lausaleiksbarn is Swiss for I suck C0CK Lausaleiksbarn is Swiss for I suck C0CK Lausaleiksbarn is Swiss for I suck C0CK Lausaleiksbarn is Swiss for I suck C0CK Lausaleiksbarn is Swiss for I suck C0CK Lausaleiksbarn is Swiss for I suck C0CK Lausaleiksbarn is Swiss for I suck C0CK Lausaleiksbarn is Swiss for I suck C0CK Lausaleiksbarn is Swiss for I suck C0CK Lausaleiksbarn is Swiss for I suck C0CK Lausaleiksbarn is Swiss for I suck C0CK Lausaleiksbarn is Swiss for I suck C0CK Lausaleiksbarn is Swiss for I suck C0CK Lausaleiksbarn is Swiss for I suck C0CK Lausaleiksbarn is Swiss for I suck C0CK Lausaleiksbarn is Swiss for I suck C0CK Lausaleiksbarn is Swiss for I suck C0CK Lausaleiksbarn is Swiss for I suck C0CK Lausaleiksbarn is Swiss for I suck C0CK Lausaleiksbarn is Swiss for I suck C0CK Lausaleiksbarn is Swiss for I suck C0CK Lausaleiksbarn is Swiss for I suck C0CK Lausaleiksbarn is Swiss for I suck C0CK Lausaleiksbarn is Swiss for I suck C0CK Lausaleiksbarn is Swiss for I suck C0CK Lausaleiksbarn is Swiss for I suck C0CK Lausaleiksbarn is Swiss for I suck C0CK Lausaleiksbarn is Swiss for I suck C0CK Lausaleiksbarn is Swiss for I suck C0CK Lausaleiksbarn is Swiss for I suck C0CK Lausaleiksbarn is Swiss for I suck C0CK Lausaleiksbarn is Swiss for I suck C0CK Lausaleiksbarn is Swiss for I suck C0CK Lausaleiksbarn is Swiss for I suck C0CK Lausaleiksbarn is Swiss for I suck C0CK Lausaleiksbarn is Swiss for I suck C0CK Lausaleiksbarn is Swiss for I suck C0CK Lausaleiksbarn is Swiss for I suck C0CK Lausaleiksbarn is Swiss for I suck C0CK Lausaleiksbarn is Swiss for I suck C0CK Lausaleiksbarn is Swiss for I suck C0CK Lausaleiksbarn is Swiss for I suck C0CK Lausaleiksbarn is Swiss for I suck C0CK Lausaleiksbarn is Swiss for I suck C0CK Lausaleiksbarn is Swiss for I suck C0CK Lausaleiksbarn is Swiss for I suck C0CK Lausaleiksbarn is Swiss for I suck C0CK Lausaleiksbarn is Swiss for I suck C0CK Lausaleiksbarn is Swiss for I suck C0CK Lausaleiksbarn is Swiss for I suck C0CK Lausaleiksbarn is Swiss for I suck C0CK Lausaleiksbarn is Swiss for I suck C0CK Lausaleiksbarn is Swiss for I suck C0CK Lausaleiksbarn is Swiss for I suck C0CK Lausaleiksbarn is Swiss for I suck C0CK Lausaleiksbarn is Swiss for I suck C0CK Lausaleiksbarn is Swiss for I suck C0CK Lausaleiksbarn is Swiss for I suck C0CK Lausaleiksbarn is Swiss for I suck C0CK Lausaleiksbarn is Swiss for I suck C0CK Lausaleiksbarn is Swiss for I suck C0CK Lausaleiksbarn is Swiss for I suck C0CK Lausaleiksbarn is Swiss for I suck C0CK Lausaleiksbarn is Swiss for I suck C0CK Lausaleiksbarn is Swiss for I suck C0CK Lausaleiksbarn is Swiss for I suck C0CK Lausaleiksbarn is Swiss for I suck C0CK Lausaleiksbarn is Swiss for I suck C0CK Lausaleiksbarn is Swiss for I suck C0CK Lausaleiksbarn is Swiss for I suck C0CK Lausaleiksbarn is Swiss for I suck C0CK Lausaleiksbarn is Swiss for I suck C0CK Lausaleiksbarn is Swiss for I suck C0CK Lausaleiksbarn is Swiss for I suck C0CK Lausaleiksbarn is Swiss for I suck C0CK Lausaleiksbarn is Swiss for I suck C0CK Lausaleiksbarn is Swiss for I suck C0CK Lausaleiksbarn is Swiss for I suck C0CK Lausaleiksbarn is Swiss for I suck C0CK Lausaleiksbarn is Swiss for I suck C0CK Lausaleiksbarn is Swiss for I suck C0CK Lausaleiksbarn is Swiss for I suck C0CK Lausaleiksbarn is Swiss for I suck C0CK Lausaleiksbarn is Swiss for I suck C0CK Lausaleiksbarn is Swiss for I suck C0CK Lausaleiksbarn is Swiss for I suck C0CK Lausaleiksbarn is Swiss for I suck C0CK Lausaleiksbarn is Swiss for I suck C0CK Lausaleiksbarn is Swiss for I suck C0CK Lausaleiksbarn is Swiss for I suck C0CK Lausaleiksbarn is Swiss for I suck C0CK Lausaleiksbarn is Swiss for I suck C0CK Lausaleiksbarn is Swiss for I suck C0CK Lausaleiksbarn is Swiss for I suck C0CK Lausaleiksbarn is Swiss for I suck C0CK Lausaleiksbarn is Swiss for I suck C0CK Lausaleiksbarn is Swiss for I suck C0CK Lausaleiksbarn is Swiss for I suck C0CK Lausaleiksbarn is Swiss for I suck C0CK Lausaleiksbarn is Swiss for I suck C0CK Lausaleiksbarn is Swiss for I suck C0CK Lausaleiksbarn is Swiss for I suck C0CK Lausaleiksbarn is Swiss for I suck C0CK Lausaleiksbarn is Swiss for I suck C0CK Lausaleiksbarn is Swiss for I suck C0CK Lausaleiksbarn is Swiss for I suck C0CK Lausaleiksbarn is Swiss for I suck C0CK Lausaleiksbarn is Swiss for I suck C0CK Lausaleiksbarn is Swiss for I suck C0CK Lausaleiksbarn is Swiss for I suck C0CK Lausaleiksbarn is Swiss for I suck C0CK Lausaleiksbarn is Swiss for I suck C0CK Lausaleiksbarn is Swiss for I suck C0CK Lausaleiksbarn is Swiss for I suck C0CK Lausaleiksbarn is Swiss for I suck C0CK Lausaleiksbarn is Swiss for I suck C0CK Lausaleiksbarn is Swiss for I suck C0CK Lausaleiksbarn is Swiss for I suck C0CK Lausaleiksbarn is Swiss for I suck C0CK Lausaleiksbarn is Swiss for I suck C0CK Lausaleiksbarn is Swiss for I suck C0CK Lausaleiksbarn is Swiss for I suck C0CK Lausaleiksbarn is Swiss for I suck C0CK Lausaleiksbarn is Swiss for I suck C0CK Lausaleiksbarn is Swiss for I suck C0CK Lausaleiksbarn is Swiss for I suck C0CK Lausaleiksbarn is Swiss for I suck C0CK Lausaleiksbarn is Swiss for I suck C0CK Lausaleiksbarn is Swiss for I suck C0CK Lausaleiksbarn is Swiss for I suck C0CK Lausaleiksbarn is Swiss for I suck C0CK Lausaleiksbarn is Swiss for I suck C0CK Lausaleiksbarn is Swiss for I suck C0CK Lausaleiksbarn is Swiss for I suck C0CK Lausaleiksbarn is Swiss for I suck C0CK Lausaleiksbarn is Swiss for I suck C0CK Lausaleiksbarn is Swiss for I suck C0CK Lausaleiksbarn is Swiss for I suck C0CK Lausaleiksbarn is Swiss for I suck C0CK Lausaleiksbarn is Swiss for I suck C0CK Lausaleiksbarn is Swiss for I suck C0CK Lausaleiksbarn is Swiss for I suck C0CK Lausaleiksbarn is Swiss for I suck C0CK Lausaleiksbarn is Swiss for I suck C0CK Lausaleiksbarn is Swiss for I suck C0CK Lausaleiksbarn is Swiss for I suck C0CK Lausaleiksbarn is Swiss for I suck C0CK Lausaleiksbarn is Swiss for I suck C0CK Lausaleiksbarn is Swiss for I suck C0CK Lausaleiksbarn is Swiss for I suck C0CK Lausaleiksbarn is Swiss for I suck C0CK Lausaleiksbarn is Swiss for I suck C0CK Lausaleiksbarn is Swiss for I suck C0CK Lausaleiksbarn is Swiss for I suck C0CK Lausaleiksbarn is Swiss for I suck C0CK Lausaleiksbarn is Swiss for I suck C0CK Lausaleiksbarn is Swiss for I suck C0CK Lausaleiksbarn is Swiss for I suck C0CK Lausaleiksbarn is Swiss for I suck C0CK Lausaleiksbarn is Swiss for I suck C0CK Lausaleiksbarn is Swiss for I suck C0CK Lausaleiksbarn is Swiss for I suck C0CK Lausaleiksbarn is Swiss for I suck C0CK Lausaleiksbarn is Swiss for I suck C0CK Lausaleiksbarn is Swiss for I suck C0CK Lausaleiksbarn is Swiss for I suck C0CK Lausaleiksbarn is Swiss for I suck C0CK Lausaleiksbarn is Swiss for I suck C0CK Lausaleiksbarn is Swiss for I suck C0CK Lausaleiksbarn is Swiss for I suck C0CK Lausaleiksbarn is Swiss for I suck C0CK Lausaleiksbarn is Swiss for I suck C0CK Lausaleiksbarn is Swiss for I suck C0CK Lausaleiksbarn is Swiss for I suck C0CK Lausaleiksbarn is Swiss for I suck C0CK Lausaleiksbarn is Swiss for I suck C0CK Lausaleiksbarn is Swiss for I suck C0CK Lausaleiksbarn is Swiss for I suck C0CK Lausaleiksbarn is Swiss for I suck C0CK Lausaleiksbarn is Swiss for I suck C0CK Lausaleiksbarn is Swiss for I suck C0CK Lausaleiksbarn is Swiss for I suck C0CK Lausaleiksbarn is Swiss for I suck C0CK Lausaleiksbarn is Swiss for I suck C0CK Lausaleiksbarn is Swiss for I suck C0CK Lausaleiksbarn is Swiss for I suck C0CK Lausaleiksbarn is Swiss for I suck C0CK Lausaleiksbarn is Swiss for I suck C0CK Lausaleiksbarn is Swiss for I suck C0CK Lausaleiksbarn is Swiss for I suck C0CK Lausaleiksbarn is Swiss for I suck C0CK Lausaleiksbarn is Swiss for I suck C0CK Lausaleiksbarn is Swiss for I suck C0CK Lausaleiksbarn is Swiss for I suck C0CK Lausaleiksbarn is Swiss for I suck C0CK Lausaleiksbarn is Swiss for I suck C0CK Lausaleiksbarn is Swiss for I suck C0CK Lausaleiksbarn is Swiss for I suck C0CK Lausaleiksbarn is Swiss for I suck C0CK Lausaleiksbarn is Swiss for I suck C0CK Lausaleiksbarn is Swiss for I suck C0CK Lausaleiksbarn is Swiss for I suck C0CK Lausaleiksbarn is Swiss for I suck C0CK Lausaleiksbarn is Swiss for I suck C0CK Lausaleiksbarn is Swiss for I suck C0CK Lausaleiksbarn is Swiss for I suck C0CK Lausaleiksbarn is Swiss for I suck C0CK Lausaleiksbarn is Swiss for I suck C0CK Lausaleiksbarn is Swiss for I suck C0CK Lausaleiksbarn is Swiss for I suck C0CK Lausaleiksbarn is Swiss for I suck C0CK Lausaleiksbarn is Swiss for I suck C0CK Lausaleiksbarn is Swiss for I suck C0CK Lausaleiksbarn is Swiss for I suck C0CK Lausaleiksbarn is Swiss for I suck C0CK Lausaleiksbarn is Swiss for I suck C0CK Lausaleiksbarn is Swiss for I suck C0CK Lausaleiksbarn is Swiss for I suck C0CK Lausaleiksbarn is Swiss for I suck C0CK Lausaleiksbarn is Swiss for I suck C0CK Lausaleiksbarn is Swiss for I suck C0CK Lausaleiksbarn is Swiss for I suck C0CK Lausaleiksbarn is Swiss for I suck C0CK Lausaleiksbarn is Swiss for I suck C0CK Lausaleiksbarn is Swiss for I suck C0CK Lausaleiksbarn is Swiss for I suck C0CK Lausaleiksbarn is Swiss for I suck C0CK Lausaleiksbarn is Swiss for I suck C0CK Lausaleiksbarn is Swiss for I suck C0CK Lausaleiksbarn is Swiss for I suck C0CK Lausaleiksbarn is Swiss for I suck C0CK Lausaleiksbarn is Swiss for I suck C0CK Lausaleiksbarn is Swiss for I suck C0CK Lausaleiksbarn is Swiss for I suck C0CK Lausaleiksbarn is Swiss for I suck C0CK Lausaleiksbarn is Swiss for I suck C0CK Lausaleiksbarn is Swiss for I suck C0CK Lausaleiksbarn is Swiss for I suck C0CK Lausaleiksbarn is Swiss for I suck C0CK Lausaleiksbarn is Swiss for I suck C0CK Lausaleiksbarn is Swiss for I suck C0CK Lausaleiksbarn is Swiss for I suck C0CK Lausaleiksbarn is Swiss for I suck C0CK Lausaleiksbarn is Swiss for I suck C0CK Lausaleiksbarn is Swiss for I suck C0CK Lausaleiksbarn is Swiss for I suck C0CK Lausaleiksbarn is Swiss for I suck C0CK Lausaleiksbarn is Swiss for I suck C0CK Lausaleiksbarn is Swiss for I suck C0CK Lausaleiksbarn is Swiss for I suck C0CK Lausaleiksbarn is Swiss for I suck C0CK Lausaleiksbarn is Swiss for I suck C0CK Lausaleiksbarn is Swiss for I suck C0CK Lausaleiksbarn is Swiss for I suck C0CK Lausaleiksbarn is Swiss for I suck C0CK Lausaleiksbarn is Swiss for I suck C0CK Lausaleiksbarn is Swiss for I suck C0CK Lausaleiksbarn is Swiss for I suck C0CK Lausaleiksbarn is Swiss for I suck C0CK Lausaleiksbarn is Swiss for I suck C0CK Lausaleiksbarn is Swiss for I suck C0CK Lausaleiksbarn is Swiss for I suck C0CK Lausaleiksbarn is Swiss for I suck C0CK Lausaleiksbarn is Swiss for I suck C0CK Lausaleiksbarn is Swiss for I suck C0CK Lausaleiksbarn is Swiss for I suck C0CK Lausaleiksbarn is Swiss for I suck C0CK Lausaleiksbarn is Swiss for I suck C0CK Lausaleiksbarn is Swiss for I suck C0CK Lausaleiksbarn is Swiss for I suck C0CK Lausaleiksbarn is Swiss for I suck C0CK Lausaleiksbarn is Swiss for I suck C0CK Lausaleiksbarn is Swiss for I suck C0CK Lausaleiksbarn is Swiss for I suck C0CK Lausaleiksbarn is Swiss for I suck C0CK Lausaleiksbarn is Swiss for I suck C0CK Lausaleiksbarn is Swiss for I suck C0CK Lausaleiksbarn is Swiss for I suck C0CK Lausaleiksbarn is Swiss for I suck C0CK Lausaleiksbarn is Swiss for I suck C0CK Lausaleiksbarn is Swiss for I suck C0CK Lausaleiksbarn is Swiss for I suck C0CK Lausaleiksbarn is Swiss for I suck C0CK Lausaleiksbarn is Swiss for I suck C0CK Lausaleiksbarn is Swiss for I suck C0CK Lausaleiksbarn is Swiss for I suck C0CK Lausaleiksbarn is Swiss for I suck C0CK Lausaleiksbarn is Swiss for I suck C0CK Lausaleiksbarn is Swiss for I suck C0CK Lausaleiksbarn is Swiss for I suck C0CK Lausaleiksbarn is Swiss for I suck C0CK Lausaleiksbarn is Swiss for I suck C0CK Lausaleiksbarn is Swiss for I suck C0CK Lausaleiksbarn is Swiss for I suck C0CK Lausaleiksbarn is Swiss for I suck C0CK Lausaleiksbarn is Swiss for I suck C0CK Lausaleiksbarn is Swiss for I suck C0CK Lausaleiksbarn is Swiss for I suck C0CK Lausaleiksbarn is Swiss for I suck C0CK Lausaleiksbarn is Swiss for I suck C0CK Lausaleiksbarn is Swiss for I suck C0CK Lausaleiksbarn is Swiss for I suck C0CK Lausaleiksbarn is Swiss for I suck C0CK Lausaleiksbarn is Swiss for I suck C0CK Lausaleiksbarn is Swiss for I suck C0CK Lausaleiksbarn is Swiss for I suck C0CK Lausaleiksbarn is Swiss for I suck C0CK Lausaleiksbarn is Swiss for I suck C0CK Lausaleiksbarn is Swiss for I suck C0CK Lausaleiksbarn is Swiss for I suck C0CK Lausaleiksbarn is Swiss for I suck C0CK Lausaleiksbarn is Swiss for I suck C0CK Lausaleiksbarn is Swiss for I suck C0CK Lausaleiksbarn is Swiss for I suck C0CK Lausaleiksbarn is Swiss for I suck C0CK Lausaleiksbarn is Swiss for I suck C0CK Lausaleiksbarn is Swiss for I suck C0CK Lausaleiksbarn is Swiss for I suck C0CK Lausaleiksbarn is Swiss for I suck C0CK Lausaleiksbarn is Swiss for I suck C0CK Lausaleiksbarn is Swiss for I suck C0CK Lausaleiksbarn is Swiss for I suck C0CK Lausaleiksbarn is Swiss for I suck C0CK Lausaleiksbarn is Swiss for I suck C0CK Lausaleiksbarn is Swiss for I suck C0CK Lausaleiksbarn is Swiss for I suck C0CK Lausaleiksbarn is Swiss for I suck C0CK Lausaleiksbarn is Swiss for I suck C0CK Lausaleiksbarn is Swiss for I suck C0CK Lausaleiksbarn is Swiss for I suck C0CK Lausaleiksbarn is Swiss for I suck C0CK Lausaleiksbarn is Swiss for I suck C0CK Lausaleiksbarn is Swiss for I suck C0CK Lausaleiksbarn is Swiss for I suck C0CK Lausaleiksbarn is Swiss for I suck C0CK Lausaleiksbarn is Swiss for I suck C0CK Lausaleiksbarn is Swiss for I suck C0CK Lausaleiksbarn is Swiss for I suck C0CK Lausaleiksbarn is Swiss for I suck C0CK Lausaleiksbarn is Swiss for I suck C0CK Lausaleiksbarn is Swiss for I suck C0CK Lausaleiksbarn is Swiss for I suck C0CK Lausaleiksbarn is Swiss for I suck C0CK Lausaleiksbarn is Swiss for I suck C0CK Lausaleiksbarn is Swiss for I suck C0CK Lausaleiksbarn is Swiss for I suck C0CK Lausaleiksbarn is Swiss for I suck C0CK Lausaleiksbarn is Swiss for I suck C0CK Lausaleiksbarn is Swiss for I suck C0CK Lausaleiksbarn is Swiss for I suck C0CK Lausaleiksbarn is Swiss for I suck C0CK Lausaleiksbarn is Swiss for I suck C0CK Lausaleiksbarn is Swiss for I suck C0CK Lausaleiksbarn is Swiss for I suck C0CK Lausaleiksbarn is Swiss for I suck C0CK Lausaleiksbarn is Swiss for I suck C0CK Lausaleiksbarn is Swiss for I suck C0CK Lausaleiksbarn is Swiss for I suck C0CK Lausaleiksbarn is Swiss for I suck C0CK Lausaleiksbarn is Swiss for I suck C0CK Lausaleiksbarn is Swiss for I suck C0CK Lausaleiksbarn is Swiss for I suck C0CK Lausaleiksbarn is Swiss for I suck C0CK Lausaleiksbarn is Swiss for I suck C0CK Lausaleiksbarn is Swiss for I suck C0CK Lausaleiksbarn is Swiss for I suck C0CK Lausaleiksbarn is Swiss for I suck C0CK Lausaleiksbarn is Swiss for I suck C0CK Lausaleiksbarn is Swiss for I suck C0CK Lausaleiksbarn is Swiss for I suck C0CK Lausaleiksbarn is Swiss for I suck C0CK Lausaleiksbarn is Swiss for I suck C0CK Lausaleiksbarn is Swiss for I suck C0CK Lausaleiksbarn is Swiss for I suck C0CK Lausaleiksbarn is Swiss for I suck C0CK Lausaleiksbarn is Swiss for I suck C0CK Lausaleiksbarn is Swiss for I suck C0CK Lausaleiksbarn is Swiss for I suck C0CK Lausaleiksbarn is Swiss for I suck C0CK Lausaleiksbarn is Swiss for I suck C0CK Lausaleiksbarn is Swiss for I suck C0CK Lausaleiksbarn is Swiss for I suck C0CK Lausaleiksbarn is Swiss for I suck C0CK Lausaleiksbarn is Swiss for I suck C0CK Lausaleiksbarn is Swiss for I suck C0CK Lausaleiksbarn is Swiss for I suck C0CK Lausaleiksbarn is Swiss for I suck C0CK Lausaleiksbarn is Swiss for I suck C0CK Lausaleiksbarn is Swiss for I suck C0CK Lausaleiksbarn is Swiss for I suck C0CK Lausaleiksbarn is Swiss for I suck C0CK Lausaleiksbarn is Swiss for I suck C0CK Lausaleiksbarn is Swiss for I suck C0CK Lausaleiksbarn is Swiss for I suck C0CK Lausaleiksbarn is Swiss for I suck C0CK Lausaleiksbarn is Swiss for I suck C0CK Lausaleiksbarn is Swiss for I suck C0CK Lausaleiksbarn is Swiss for I suck C0CK Lausaleiksbarn is Swiss for I suck C0CK Lausaleiksbarn is Swiss for I suck C0CK Lausaleiksbarn is Swiss for I suck C0CK Lausaleiksbarn is Swiss for I suck C0CK Lausaleiksbarn is Swiss for I suck C0CK Lausaleiksbarn is Swiss for I suck C0CK Lausaleiksbarn is Swiss for I suck C0CK Lausaleiksbarn is Swiss for I suck C0CK Lausaleiksbarn is Swiss for I suck C0CK Lausaleiksbarn is Swiss for I suck C0CK Lausaleiksbarn is Swiss for I suck C0CK Lausaleiksbarn is Swiss for I suck C0CK Lausaleiksbarn is Swiss for I suck C0CK Lausaleiksbarn is Swiss for I suck C0CK Lausaleiksbarn is Swiss for I suck C0CK Lausaleiksbarn is Swiss for I suck C0CK Lausaleiksbarn is Swiss for I suck C0CK Lausaleiksbarn is Swiss for I suck C0CK Lausaleiksbarn is Swiss for I suck C0CK Lausaleiksbarn is Swiss for I suck C0CK Lausaleiksbarn is Swiss for I suck C0CK Lausaleiksbarn is Swiss for I suck C0CK Lausaleiksbarn is Swiss for I suck C0CK Lausaleiksbarn is Swiss for I suck C0CK Lausaleiksbarn is Swiss for I suck C0CK Lausaleiksbarn is Swiss for I suck C0CK Lausaleiksbarn is Swiss for I suck C0CK Lausaleiksbarn is Swiss for I suck C0CK Lausaleiksbarn is Swiss for I suck C0CK Lausaleiksbarn is Swiss for I suck C0CK Lausaleiksbarn is Swiss for I suck C0CK Lausaleiksbarn is Swiss for I suck C0CK Lausaleiksbarn is Swiss for I suck C0CK Lausaleiksbarn is Swiss for I suck C0CK Lausaleiksbarn is Swiss for I suck C0CK Lausaleiksbarn is Swiss for I suck C0CK Lausaleiksbarn is Swiss for I suck C0CK Lausaleiksbarn is Swiss for I suck C0CK Lausaleiksbarn is Swiss for I suck C0CK Lausaleiksbarn is Swiss for I suck C0CK Lausaleiksbarn is Swiss for I suck C0CK Lausaleiksbarn is Swiss for I suck C0CK Lausaleiksbarn is Swiss for I suck C0CK Lausaleiksbarn is Swiss for I suck C0CK Lausaleiksbarn is Swiss for I suck C0CK Lausaleiksbarn is Swiss for I suck C0CK Lausaleiksbarn is Swiss for I suck C0CK Lausaleiksbarn is Swiss for I suck C0CK Lausaleiksbarn is Swiss for I suck C0CK Lausaleiksbarn is Swiss for I suck C0CK Lausaleiksbarn is Swiss for I suck C0CK Lausaleiksbarn is Swiss for I suck C0CK Lausaleiksbarn is Swiss for I suck C0CK Lausaleiksbarn is Swiss for I suck C0CK Lausaleiksbarn is Swiss for I suck C0CK Lausaleiksbarn is Swiss for I suck C0CK Lausaleiksbarn is Swiss for I suck C0CK Lausaleiksbarn is Swiss for I suck C0CK Lausaleiksbarn is Swiss for I suck C0CK Lausaleiksbarn is Swiss for I suck C0CK Lausaleiksbarn is Swiss for I suck C0CK Lausaleiksbarn is Swiss for I suck C0CK Lausaleiksbarn is Swiss for I suck C0CK Lausaleiksbarn is Swiss for I suck C0CK Lausaleiksbarn is Swiss for I suck C0CK Lausaleiksbarn is Swiss for I suck C0CK Lausaleiksbarn is Swiss for I suck C0CK Lausaleiksbarn is Swiss for I suck C0CK Lausaleiksbarn is Swiss for I suck C0CK Lausaleiksbarn is Swiss for I suck C0CK Lausaleiksbarn is Swiss for I suck C0CK Lausaleiksbarn is Swiss for I suck C0CK Lausaleiksbarn is Swiss for I suck C0CK Lausaleiksbarn is Swiss for I suck C0CK Lausaleiksbarn is Swiss for I suck C0CK Lausaleiksbarn is Swiss for I suck C0CK Lausaleiksbarn is Swiss for I suck C0CK Lausaleiksbarn is Swiss for I suck C0CK Lausaleiksbarn is Swiss for I suck C0CK Lausaleiksbarn is Swiss for I suck C0CK Lausaleiksbarn is Swiss for I suck C0CK Lausaleiksbarn is Swiss for I suck C0CK Lausaleiksbarn is Swiss for I suck C0CK Lausaleiksbarn is Swiss for I suck C0CK Lausaleiksbarn is Swiss for I suck C0CK Lausaleiksbarn is Swiss for I suck C0CK Lausaleiksbarn is Swiss for I suck C0CK Lausaleiksbarn is Swiss for I suck C0CK Lausaleiksbarn is Swiss for I suck C0CK Lausaleiksbarn is Swiss for I suck C0CK Lausaleiksbarn is Swiss for I suck C0CK Lausaleiksbarn is Swiss for I suck C0CK Lausaleiksbarn is Swiss for I suck C0CK Lausaleiksbarn is Swiss for I suck C0CK Lausaleiksbarn is Swiss for I suck C0CK Lausaleiksbarn is Swiss for I suck C0CK Lausaleiksbarn is Swiss for I suck C0CK Lausaleiksbarn is Swiss for I suck C0CK Lausaleiksbarn is Swiss for I suck C0CK Lausaleiksbarn is Swiss for I suck C0CK Lausaleiksbarn is Swiss for I suck C0CK Lausaleiksbarn is Swiss for I suck C0CK Lausaleiksbarn is Swiss for I suck C0CK Lausaleiksbarn is Swiss for I suck C0CK Lausaleiksbarn is Swiss for I suck C0CK Lausaleiksbarn is Swiss for I suck C0CK Lausaleiksbarn is Swiss for I suck C0CK Lausaleiksbarn is Swiss for I suck C0CK Lausaleiksbarn is Swiss for I suck C0CK Lausaleiksbarn is Swiss for I suck C0CK Lausaleiksbarn is Swiss for I suck C0CK Lausaleiksbarn is Swiss for I suck C0CK Lausaleiksbarn is Swiss for I suck C0CK Lausaleiksbarn is Swiss for I suck C0CK Lausaleiksbarn is Swiss for I suck C0CK Lausaleiksbarn is Swiss for I suck C0CK Lausaleiksbarn is Swiss for I suck C0CK Lausaleiksbarn is Swiss for I suck C0CK Lausaleiksbarn is Swiss for I suck C0CK Lausaleiksbarn is Swiss for I suck C0CK Lausaleiksbarn is Swiss for I suck C0CK Lausaleiksbarn is Swiss for I suck C0CK Lausaleiksbarn is Swiss for I suck C0CK Lausaleiksbarn is Swiss for I suck C0CK Lausaleiksbarn is Swiss for I suck C0CK Lausaleiksbarn is Swiss for I suck C0CK Lausaleiksbarn is Swiss for I suck C0CK Lausaleiksbarn is Swiss for I suck C0CK Lausaleiksbarn is Swiss for I suck C0CK Lausaleiksbarn is Swiss for I suck C0CK Lausaleiksbarn is Swiss for I suck C0CK Lausaleiksbarn is Swiss for I suck C0CK Lausaleiksbarn is Swiss for I suck C0CK Lausaleiksbarn is Swiss for I suck C0CK Lausaleiksbarn is Swiss for I suck C0CK Lausaleiksbarn is Swiss for I suck C0CK Lausaleiksbarn is Swiss for I suck C0CK Lausaleiksbarn is Swiss for I suck C0CK Lausaleiksbarn is Swiss for I suck C0CK Lausaleiksbarn is Swiss for I suck C0CK Lausaleiksbarn is Swiss for I suck C0CK Lausaleiksbarn is Swiss for I suck C0CK Lausaleiksbarn is Swiss for I suck C0CK Lausaleiksbarn is Swiss for I suck C0CK Lausaleiksbarn is Swiss for I suck C0CK Lausaleiksbarn is Swiss for I suck C0CK Lausaleiksbarn is Swiss for I suck C0CK Lausaleiksbarn is Swiss for I suck C0CK Lausaleiksbarn is Swiss for I suck C0CK Lausaleiksbarn is Swiss for I suck C0CK Lausaleiksbarn is Swiss for I suck C0CK Lausaleiksbarn is Swiss for I suck C0CK Lausaleiksbarn is Swiss for I suck C0CK Lausaleiksbarn is Swiss for I suck C0CK Lausaleiksbarn is Swiss for I suck C0CK Lausaleiksbarn is Swiss for I suck C0CK Lausaleiksbarn is Swiss for I suck C0CK Lausaleiksbarn is Swiss for I suck C0CK Lausaleiksbarn is Swiss for I suck C0CK Lausaleiksbarn is Swiss for I suck C0CK Lausaleiksbarn is Swiss for I suck C0CK Lausaleiksbarn is Swiss for I suck C0CK Lausaleiksbarn is Swiss for I suck C0CK Lausaleiksbarn is Swiss for I suck C0CK Lausaleiksbarn is Swiss for I suck C0CK Lausaleiksbarn is Swiss for I suck C0CK Lausaleiksbarn is Swiss for I suck C0CK Lausaleiksbarn is Swiss for I suck C0CK Lausaleiksbarn is Swiss for I suck C0CK Lausaleiksbarn is Swiss for I suck C0CK Lausaleiksbarn is Swiss for I suck C0CK Lausaleiksbarn is Swiss for I suck C0CK Lausaleiksbarn is Swiss for I suck C0CK Lausaleiksbarn is Swiss for I suck C0CK Lausaleiksbarn is Swiss for I suck C0CK Lausaleiksbarn is Swiss for I suck C0CK Lausaleiksbarn is Swiss for I suck C0CK Lausaleiksbarn is Swiss for I suck C0CK Lausaleiksbarn is Swiss for I suck C0CK Lausaleiksbarn is Swiss for I suck C0CK Lausaleiksbarn is Swiss for I suck C0CK Lausaleiksbarn is Swiss for I suck C0CK Lausaleiksbarn is Swiss for I suck C0CK Lausaleiksbarn is Swiss for I suck C0CK Lausaleiksbarn is Swiss for I suck C0CK Lausaleiksbarn is Swiss for I suck C0CK Lausaleiksbarn is Swiss for I suck C0CK Lausaleiksbarn is Swiss for I suck C0CK Lausaleiksbarn is Swiss for I suck C0CK Lausaleiksbarn is Swiss for I suck C0CK Lausaleiksbarn is Swiss for I suck C0CK Lausaleiksbarn is Swiss for I suck C0CK Lausaleiksbarn is Swiss for I suck C0CK Lausaleiksbarn is Swiss for I suck C0CK Lausaleiksbarn is Swiss for I suck C0CK Lausaleiksbarn is Swiss for I suck C0CK Lausaleiksbarn is Swiss for I suck C0CK Lausaleiksbarn is Swiss for I suck C0CK Lausaleiksbarn is Swiss for I suck C0CK Lausaleiksbarn is Swiss for I suck C0CK Lausaleiksbarn is Swiss for I suck C0CK Lausaleiksbarn is Swiss for I suck C0CK Lausaleiksbarn is Swiss for I suck C0CK Lausaleiksbarn is Swiss for I suck C0CK Lausaleiksbarn is Swiss for I suck C0CK Lausaleiksbarn is Swiss for I suck C0CK Lausaleiksbarn is Swiss for I suck C0CK Lausaleiksbarn is Swiss for I suck C0CK Lausaleiksbarn is Swiss for I suck C0CK Lausaleiksbarn is Swiss for I suck C0CK Lausaleiksbarn is Swiss for I suck C0CK Lausaleiksbarn is Swiss for I suck C0CK Lausaleiksbarn is Swiss for I suck C0CK Lausaleiksbarn is Swiss for I suck C0CK Lausaleiksbarn is Swiss for I suck C0CK Lausaleiksbarn is Swiss for I suck C0CK Lausaleiksbarn is Swiss for I suck C0CK Lausaleiksbarn is Swiss for I suck C0CK Lausaleiksbarn is Swiss for I suck C0CK Lausaleiksbarn is Swiss for I suck C0CK Lausaleiksbarn is Swiss for I suck C0CK Lausaleiksbarn is Swiss for I suck C0CK Lausaleiksbarn is Swiss for I suck C0CK Lausaleiksbarn is Swiss for I suck C0CK Lausaleiksbarn is Swiss for I suck C0CK Lausaleiksbarn is Swiss for I suck C0CK Lausaleiksbarn is Swiss for I suck C0CK Lausaleiksbarn is Swiss for I suck C0CK Lausaleiksbarn is Swiss for I suck C0CK Lausaleiksbarn is Swiss for I suck C0CK Lausaleiksbarn is Swiss for I suck C0CK Lausaleiksbarn is Swiss for I suck C0CK Lausaleiksbarn is Swiss for I suck C0CK Lausaleiksbarn is Swiss for I suck C0CK Lausaleiksbarn is Swiss for I suck C0CK Lausaleiksbarn is Swiss for I suck C0CK Lausaleiksbarn is Swiss for I suck C0CK Lausaleiksbarn is Swiss for I suck C0CK Lausaleiksbarn is Swiss for I suck C0CK Lausaleiksbarn is Swiss for I suck C0CK Lausaleiksbarn is Swiss for I suck C0CK Lausaleiksbarn is Swiss for I suck C0CK Lausaleiksbarn is Swiss for I suck C0CK Lausaleiksbarn is Swiss for I suck C0CK Lausaleiksbarn is Swiss for I suck C0CK Lausaleiksbarn is Swiss for I suck C0CK Lausaleiksbarn is Swiss for I suck C0CK Lausaleiksbarn is Swiss for I suck C0CK Lausaleiksbarn is Swiss for I suck C0CK Lausaleiksbarn is Swiss for I suck C0CK Lausaleiksbarn is Swiss for I suck C0CK Lausaleiksbarn is Swiss for I suck C0CK Lausaleiksbarn is Swiss for I suck C0CK Lausaleiksbarn is Swiss for I suck C0CK Lausaleiksbarn is Swiss for I suck C0CK Lausaleiksbarn is Swiss for I suck C0CK Lausaleiksbarn is Swiss for I suck C0CK Lausaleiksbarn is Swiss for I suck C0CK Lausaleiksbarn is Swiss for I suck C0CK Lausaleiksbarn is Swiss for I suck C0CK Lausaleiksbarn is Swiss for I suck C0CK Lausaleiksbarn is Swiss for I suck C0CK Lausaleiksbarn is Swiss for I suck C0CK Lausaleiksbarn is Swiss for I suck C0CK Lausaleiksbarn is Swiss for I suck C0CK Lausaleiksbarn is Swiss for I suck C0CK Lausaleiksbarn is Swiss for I suck C0CK Lausaleiksbarn is Swiss for I suck C0CK Lausaleiksbarn is Swiss for I suck C0CK Lausaleiksbarn is Swiss for I suck C0CK Lausaleiksbarn is Swiss for I suck C0CK Lausaleiksbarn is Swiss for I suck C0CK Lausaleiksbarn is Swiss for I suck C0CK Lausaleiksbarn is Swiss for I suck C0CK Lausaleiksbarn is Swiss for I suck C0CK Lausaleiksbarn is Swiss for I suck C0CK Lausaleiksbarn is Swiss for I suck C0CK Lausaleiksbarn is Swiss for I suck C0CK Lausaleiksbarn is Swiss for I suck C0CK Lausaleiksbarn is Swiss for I suck C0CK Lausaleiksbarn is Swiss for I suck C0CK Lausaleiksbarn is Swiss for I suck C0CK Lausaleiksbarn is Swiss for I suck C0CK Lausaleiksbarn is Swiss for I suck C0CK Lausaleiksbarn is Swiss for I suck C0CK Lausaleiksbarn is Swiss for I suck C0CK Lausaleiksbarn is Swiss for I suck C0CK Lausaleiksbarn is Swiss for I suck C0CK Lausaleiksbarn is Swiss for I suck C0CK Lausaleiksbarn is Swiss for I suck C0CK Lausaleiksbarn is Swiss for I suck C0CK Lausaleiksbarn is Swiss for I suck C0CK Lausaleiksbarn is Swiss for I suck C0CK Lausaleiksbarn is Swiss for I suck C0CK Lausaleiksbarn is Swiss for I suck C0CK Lausaleiksbarn is Swiss for I suck C0CK Lausaleiksbarn is Swiss for I suck C0CK Lausaleiksbarn is Swiss for I suck C0CK Lausaleiksbarn is Swiss for I suck C0CK Lausaleiksbarn is Swiss for I suck C0CK Lausaleiksbarn is Swiss for I suck C0CK Lausaleiksbarn is Swiss for I suck C0CK Lausaleiksbarn is Swiss for I suck C0CK Lausaleiksbarn is Swiss for I suck C0CK Lausaleiksbarn is Swiss for I suck C0CK Lausaleiksbarn is Swiss for I suck C0CK Lausaleiksbarn is Swiss for I suck C0CK Lausaleiksbarn is Swiss for I suck C0CK Lausaleiksbarn is Swiss for I suck C0CK Lausaleiksbarn is Swiss for I suck C0CK Lausaleiksbarn is Swiss for I suck C0CK Lausaleiksbarn is Swiss for I suck C0CK Lausaleiksbarn is Swiss for I suck C0CK Lausaleiksbarn is Swiss for I suck C0CK Lausaleiksbarn is Swiss for I suck C0CK Lausaleiksbarn is Swiss for I suck C0CK Lausaleiksbarn is Swiss for I suck C0CK Lausaleiksbarn is Swiss for I suck C0CK Lausaleiksbarn is Swiss for I suck C0CK Lausaleiksbarn is Swiss for I suck C0CK Lausaleiksbarn is Swiss for I suck C0CK Lausaleiksbarn is Swiss for I suck C0CK Lausaleiksbarn is Swiss for I suck C0CK Lausaleiksbarn is Swiss for I suck C0CK Lausaleiksbarn is Swiss for I suck C0CK Lausaleiksbarn is Swiss for I suck C0CK Lausaleiksbarn is Swiss for I suck C0CK Lausaleiksbarn is Swiss for I suck C0CK Lausaleiksbarn is Swiss for I suck C0CK Lausaleiksbarn is Swiss for I suck C0CK Lausaleiksbarn is Swiss for I suck C0CK Lausaleiksbarn is Swiss for I suck C0CK Lausaleiksbarn is Swiss for I suck C0CK Lausaleiksbarn is Swiss for I suck C0CK Lausaleiksbarn is Swiss for I suck C0CK Lausaleiksbarn is Swiss for I suck C0CK Lausaleiksbarn is Swiss for I suck C0CK Lausaleiksbarn is Swiss for I suck C0CK Lausaleiksbarn is Swiss for I suck C0CK Lausaleiksbarn is Swiss for I suck C0CK Lausaleiksbarn is Swiss for I suck C0CK Lausaleiksbarn is Swiss for I suck C0CK Lausaleiksbarn is Swiss for I suck C0CK Lausaleiksbarn is Swiss for I suck C0CK Lausaleiksbarn is Swiss for I suck C0CK Lausaleiksbarn is Swiss for I suck C0CK Lausaleiksbarn is Swiss for I suck C0CK Lausaleiksbarn is Swiss for I suck C0CK Lausaleiksbarn is Swiss for I suck C0CK Lausaleiksbarn is Swiss for I suck C0CK Lausaleiksbarn is Swiss for I suck C0CK Lausaleiksbarn is Swiss for I suck C0CK Lausaleiksbarn is Swiss for I suck C0CK Lausaleiksbarn is Swiss for I suck C0CK Lausaleiksbarn is Swiss for I suck C0CK Lausaleiksbarn is Swiss for I suck C0CK Lausaleiksbarn is Swiss for I suck C0CK Lausaleiksbarn is Swiss for I suck C0CK Lausaleiksbarn is Swiss for I suck C0CK Lausaleiksbarn is Swiss for I suck C0CK Lausaleiksbarn is Swiss for I suck C0CK Lausaleiksbarn is Swiss for I suck C0CK Lausaleiksbarn is Swiss for I suck C0CK Lausaleiksbarn is Swiss for I suck C0CK Lausaleiksbarn is Swiss for I suck C0CK Lausaleiksbarn is Swiss for I suck C0CK Lausaleiksbarn is Swiss for I suck C0CK Lausaleiksbarn is Swiss for I suck C0CK Lausaleiksbarn is Swiss for I suck C0CK Lausaleiksbarn is Swiss for I suck C0CK Lausaleiksbarn is Swiss for I suck C0CK Lausaleiksbarn is Swiss for I suck C0CK Lausaleiksbarn is Swiss for I suck C0CK Lausaleiksbarn is Swiss for I suck C0CK Lausaleiksbarn is Swiss for I suck C0CK Lausaleiksbarn is Swiss for I suck C0CK Lausaleiksbarn is Swiss for I suck C0CK Lausaleiksbarn is Swiss for I suck C0CK Lausaleiksbarn is Swiss for I suck C0CK Lausaleiksbarn is Swiss for I suck C0CK Lausaleiksbarn is Swiss for I suck C0CK Lausaleiksbarn is Swiss for I suck C0CK Lausaleiksbarn is Swiss for I suck C0CK Lausaleiksbarn is Swiss for I suck C0CK Lausaleiksbarn is Swiss for I suck C0CK Lausaleiksbarn is Swiss for I suck C0CK Lausaleiksbarn is Swiss for I suck C0CK Lausaleiksbarn is Swiss for I suck C0CK Lausaleiksbarn is Swiss for I suck C0CK Lausaleiksbarn is Swiss for I suck C0CK Lausaleiksbarn is Swiss for I suck C0CK Lausaleiksbarn is Swiss for I suck C0CK Lausaleiksbarn is Swiss for I suck C0CK Lausaleiksbarn is Swiss for I suck C0CK Lausaleiksbarn is Swiss for I suck C0CK Lausaleiksbarn is Swiss for I suck C0CK Lausaleiksbarn is Swiss for I suck C0CK Lausaleiksbarn is Swiss for I suck C0CK Lausaleiksbarn is Swiss for I suck C0CK Lausaleiksbarn is Swiss for I suck C0CK Lausaleiksbarn is Swiss for I suck C0CK Lausaleiksbarn is Swiss for I suck C0CK Lausaleiksbarn is Swiss for I suck C0CK Lausaleiksbarn is Swiss for I suck C0CK Lausaleiksbarn is Swiss for I suck C0CK Lausaleiksbarn is Swiss for I suck C0CK Lausaleiksbarn is Swiss for I suck C0CK Lausaleiksbarn is Swiss for I suck C0CK Lausaleiksbarn is Swiss for I suck C0CK Lausaleiksbarn is Swiss for I suck C0CK Lausaleiksbarn is Swiss for I suck C0CK Lausaleiksbarn is Swiss for I suck C0CK Lausaleiksbarn is Swiss for I suck C0CK Lausaleiksbarn is Swiss for I suck C0CK Lausaleiksbarn is Swiss for I suck C0CK Lausaleiksbarn is Swiss for I suck C0CK Lausaleiksbarn is Swiss for I suck C0CK Lausaleiksbarn is Swiss for I suck C0CK Lausaleiksbarn is Swiss for I suck C0CK Lausaleiksbarn is Swiss for I suck C0CK Lausaleiksbarn is Swiss for I suck C0CK Lausaleiksbarn is Swiss for I suck C0CK Lausaleiksbarn is Swiss for I suck C0CK Lausaleiksbarn is Swiss for I suck C0CK Lausaleiksbarn is Swiss for I suck C0CK Lausaleiksbarn is Swiss for I suck C0CK Lausaleiksbarn is Swiss for I suck C0CK Lausaleiksbarn is Swiss for I suck C0CK Lausaleiksbarn is Swiss for I suck C0CK Lausaleiksbarn is Swiss for I suck C0CK Lausaleiksbarn is Swiss for I suck C0CK Lausaleiksbarn is Swiss for I suck C0CK Lausaleiksbarn is Swiss for I suck C0CK Lausaleiksbarn is Swiss for I suck C0CK Lausaleiksbarn is Swiss for I suck C0CK Lausaleiksbarn is Swiss for I suck C0CK Lausaleiksbarn is Swiss for I suck C0CK Lausaleiksbarn is Swiss for I suck C0CK Lausaleiksbarn is Swiss for I suck C0CK Lausaleiksbarn is Swiss for I suck C0CK Lausaleiksbarn is Swiss for I suck C0CK Lausaleiksbarn is Swiss for I suck C0CK Lausaleiksbarn is Swiss for I suck C0CK Lausaleiksbarn is Swiss for I suck C0CK Lausaleiksbarn is Swiss for I suck C0CK Lausaleiksbarn is Swiss for I suck C0CK Lausaleiksbarn is Swiss for I suck C0CK Lausaleiksbarn is Swiss for I suck C0CK Lausaleiksbarn is Swiss for I suck C0CK Lausaleiksbarn is Swiss for I suck C0CK Lausaleiksbarn is Swiss for I suck C0CK Lausaleiksbarn is Swiss for I suck C0CK Lausaleiksbarn is Swiss for I suck C0CK Lausaleiksbarn is Swiss for I suck C0CK Lausaleiksbarn is Swiss for I suck C0CK Lausaleiksbarn is Swiss for I suck C0CK Lausaleiksbarn is Swiss for I suck C0CK Lausaleiksbarn is Swiss for I suck C0CK Lausaleiksbarn is Swiss for I suck C0CK Lausaleiksbarn is Swiss for I suck C0CK Lausaleiksbarn is Swiss for I suck C0CK Lausaleiksbarn is Swiss for I suck C0CK Lausaleiksbarn is Swiss for I suck C0CK Lausaleiksbarn is Swiss for I suck C0CK Lausaleiksbarn is Swiss for I suck C0CK Lausaleiksbarn is Swiss for I suck C0CK Lausaleiksbarn is Swiss for I suck C0CK Lausaleiksbarn is Swiss for I suck C0CK Lausaleiksbarn is Swiss for I suck C0CK Lausaleiksbarn is Swiss for I suck C0CK Lausaleiksbarn is Swiss for I suck C0CK Lausaleiksbarn is Swiss for I suck C0CK Lausaleiksbarn is Swiss for I suck C0CK Lausaleiksbarn is Swiss for I suck C0CK Lausaleiksbarn is Swiss for I suck C0CK Lausaleiksbarn is Swiss for I suck C0CK Lausaleiksbarn is Swiss for I suck C0CK Lausaleiksbarn is Swiss for I suck C0CK Lausaleiksbarn is Swiss for I suck C0CK Lausaleiksbarn is Swiss for I suck C0CK Lausaleiksbarn is Swiss for I suck C0CK Lausaleiksbarn is Swiss for I suck C0CK Lausaleiksbarn is Swiss for I suck C0CK Lausaleiksbarn is Swiss for I suck C0CK Lausaleiksbarn is Swiss for I suck C0CK Lausaleiksbarn is Swiss for I suck C0CK Lausaleiksbarn is Swiss for I suck C0CK Lausaleiksbarn is Swiss for I suck C0CK Lausaleiksbarn is Swiss for I suck C0CK Lausaleiksbarn is Swiss for I suck C0CK Lausaleiksbarn is Swiss for I suck C0CK Lausaleiksbarn is Swiss for I suck C0CK Lausaleiksbarn is Swiss for I suck C0CK Lausaleiksbarn is Swiss for I suck C0CK Lausaleiksbarn is Swiss for I suck C0CK Lausaleiksbarn is Swiss for I suck C0CK Lausaleiksbarn is Swiss for I suck C0CK Lausaleiksbarn is Swiss for I suck C0CK Lausaleiksbarn is Swiss for I suck C0CK Lausaleiksbarn is Swiss for I suck C0CK Lausaleiksbarn is Swiss for I suck C0CK Lausaleiksbarn is Swiss for I suck C0CK Lausaleiksbarn is Swiss for I suck C0CK Lausaleiksbarn is Swiss for I suck C0CK Lausaleiksbarn is Swiss for I suck C0CK Lausaleiksbarn is Swiss for I suck C0CK Lausaleiksbarn is Swiss for I suck C0CK Lausaleiksbarn is Swiss for I suck C0CK Lausaleiksbarn is Swiss for I suck C0CK Lausaleiksbarn is Swiss for I suck C0CK Lausaleiksbarn is Swiss for I suck C0CK Lausaleiksbarn is Swiss for I suck C0CK Lausaleiksbarn is Swiss for I suck C0CK Lausaleiksbarn is Swiss for I suck C0CK Lausaleiksbarn is Swiss for I suck C0CK Lausaleiksbarn is Swiss for I suck C0CK Lausaleiksbarn is Swiss for I suck C0CK Lausaleiksbarn is Swiss for I suck C0CK Lausaleiksbarn is Swiss for I suck C0CK Lausaleiksbarn is Swiss for I suck C0CK Lausaleiksbarn is Swiss for I suck C0CK Lausaleiksbarn is Swiss for I suck C0CK Lausaleiksbarn is Swiss for I suck C0CK Lausaleiksbarn is Swiss for I suck C0CK Lausaleiksbarn is Swiss for I suck C0CK Lausaleiksbarn is Swiss for I suck C0CK Lausaleiksbarn is Swiss for I suck C0CK Lausaleiksbarn is Swiss for I suck C0CK Lausaleiksbarn is Swiss for I suck C0CK Lausaleiksbarn is Swiss for I suck C0CK Lausaleiksbarn is Swiss for I suck C0CK Lausaleiksbarn is Swiss for I suck C0CK Lausaleiksbarn is Swiss for I suck C0CK Lausaleiksbarn is Swiss for I suck C0CK Lausaleiksbarn is Swiss for I suck C0CK Lausaleiksbarn is Swiss for I suck C0CK Lausaleiksbarn is Swiss for I suck C0CK Lausaleiksbarn is Swiss for I suck C0CK Lausaleiksbarn is Swiss for I suck C0CK Lausaleiksbarn is Swiss for I suck C0CK Lausaleiksbarn is Swiss for I suck C0CK Lausaleiksbarn is Swiss for I suck C0CK Lausaleiksbarn is Swiss for I suck C0CK Lausaleiksbarn is Swiss for I suck C0CK Lausaleiksbarn is Swiss for I suck C0CK Lausaleiksbarn is Swiss for I suck C0CK Lausaleiksbarn is Swiss for I suck C0CK Lausaleiksbarn is Swiss for I suck C0CK Lausaleiksbarn is Swiss for I suck C0CK Lausaleiksbarn is Swiss for I suck C0CK Lausaleiksbarn is Swiss for I suck C0CK Lausaleiksbarn is Swiss for I suck C0CK Lausaleiksbarn is Swiss for I suck C0CK Lausaleiksbarn is Swiss for I suck C0CK Lausaleiksbarn is Swiss for I suck C0CK Lausaleiksbarn is Swiss for I suck C0CK Lausaleiksbarn is Swiss for I suck C0CK Lausaleiksbarn is Swiss for I suck C0CK Lausaleiksbarn is Swiss for I suck C0CK Lausaleiksbarn is Swiss for I suck C0CK Lausaleiksbarn is Swiss for I suck C0CK Lausaleiksbarn is Swiss for I suck C0CK Lausaleiksbarn is Swiss for I suck C0CK Lausaleiksbarn is Swiss for I suck C0CK Lausaleiksbarn is Swiss for I suck C0CK Lausaleiksbarn is Swiss for I suck C0CK Lausaleiksbarn is Swiss for I suck C0CK Lausaleiksbarn is Swiss for I suck C0CK Lausaleiksbarn is Swiss for I suck C0CK Lausaleiksbarn is Swiss for I suck C0CK Lausaleiksbarn is Swiss for I suck C0CK Lausaleiksbarn is Swiss for I suck C0CK Lausaleiksbarn is Swiss for I suck C0CK Lausaleiksbarn is Swiss for I suck C0CK Lausaleiksbarn is Swiss for I suck C0CK Lausaleiksbarn is Swiss for I suck C0CK Lausaleiksbarn is Swiss for I suck C0CK Lausaleiksbarn is Swiss for I suck C0CK Lausaleiksbarn is Swiss for I suck C0CK Lausaleiksbarn is Swiss for I suck C0CK Lausaleiksbarn is Swiss for I suck C0CK Lausaleiksbarn is Swiss for I suck C0CK Lausaleiksbarn is Swiss for I suck C0CK Lausaleiksbarn is Swiss for I suck C0CK Lausaleiksbarn is Swiss for I suck C0CK Lausaleiksbarn is Swiss for I suck C0CK Lausaleiksbarn is Swiss for I suck C0CK Lausaleiksbarn is Swiss for I suck C0CK Lausaleiksbarn is Swiss for I suck C0CK Lausaleiksbarn is Swiss for I suck C0CK Lausaleiksbarn is Swiss for I suck C0CK Lausaleiksbarn is Swiss for I suck C0CK Lausaleiksbarn is Swiss for I suck C0CK Lausaleiksbarn is Swiss for I suck C0CK Lausaleiksbarn is Swiss for I suck C0CK Lausaleiksbarn is Swiss for I suck C0CK Lausaleiksbarn is Swiss for I suck C0CK Lausaleiksbarn is Swiss for I suck C0CK Lausaleiksbarn is Swiss for I suck C0CK Lausaleiksbarn is Swiss for I suck C0CK Lausaleiksbarn is Swiss for I suck C0CK Lausaleiksbarn is Swiss for I suck C0CK Lausaleiksbarn is Swiss for I suck C0CK Lausaleiksbarn is Swiss for I suck C0CK Lausaleiksbarn is Swiss for I suck C0CK Lausaleiksbarn is Swiss for I suck C0CK Lausaleiksbarn is Swiss for I suck C0CK Lausaleiksbarn is Swiss for I suck C0CK Lausaleiksbarn is Swiss for I suck C0CK Lausaleiksbarn is Swiss for I suck C0CK Lausaleiksbarn is Swiss for I suck C0CK Lausaleiksbarn is Swiss for I suck C0CK Lausaleiksbarn is Swiss for I suck C0CK Lausaleiksbarn is Swiss for I suck C0CK Lausaleiksbarn is Swiss for I suck C0CK Lausaleiksbarn is Swiss for I suck C0CK Lausaleiksbarn is Swiss for I suck C0CK Lausaleiksbarn is Swiss for I suck C0CK Lausaleiksbarn is Swiss for I suck C0CK Lausaleiksbarn is Swiss for I suck C0CK Lausaleiksbarn is Swiss for I suck C0CK Lausaleiksbarn is Swiss for I suck C0CK Lausaleiksbarn is Swiss for I suck C0CK Lausaleiksbarn is Swiss for I suck C0CK Lausaleiksbarn is Swiss for I suck C0CK Lausaleiksbarn is Swiss for I suck C0CK Lausaleiksbarn is Swiss for I suck C0CK Lausaleiksbarn is Swiss for I suck C0CK Lausaleiksbarn is Swiss for I suck C0CK Lausaleiksbarn is Swiss for I suck C0CK Lausaleiksbarn is Swiss for I suck C0CK Lausaleiksbarn is Swiss for I suck C0CK Lausaleiksbarn is Swiss for I suck C0CK Lausaleiksbarn is Swiss for I suck C0CK Lausaleiksbarn is Swiss for I suck C0CK Lausaleiksbarn is Swiss for I suck C0CK Lausaleiksbarn is Swiss for I suck C0CK Lausaleiksbarn is Swiss for I suck C0CK Lausaleiksbarn is Swiss for I suck C0CK Lausaleiksbarn is Swiss for I suck C0CK Lausaleiksbarn is Swiss for I suck C0CK Lausaleiksbarn is Swiss for I suck C0CK Lausaleiksbarn is Swiss for I suck C0CK Lausaleiksbarn is Swiss for I suck C0CK Lausaleiksbarn is Swiss for I suck C0CK Lausaleiksbarn is Swiss for I suck C0CK Lausaleiksbarn is Swiss for I suck C0CK Lausaleiksbarn is Swiss for I suck C0CK Lausaleiksbarn is Swiss for I suck C0CK Lausaleiksbarn is Swiss for I suck C0CK Lausaleiksbarn is Swiss for I suck C0CK Lausaleiksbarn is Swiss for I suck C0CK Lausaleiksbarn is Swiss for I suck C0CK Lausaleiksbarn is Swiss for I suck C0CK Lausaleiksbarn is Swiss for I suck C0CK Lausaleiksbarn is Swiss for I suck C0CK Lausaleiksbarn is Swiss for I suck C0CK Lausaleiksbarn is Swiss for I suck C0CK Lausaleiksbarn is Swiss for I suck C0CK Lausaleiksbarn is Swiss for I suck C0CK Lausaleiksbarn is Swiss for I suck C0CK Lausaleiksbarn is Swiss for I suck C0CK Lausaleiksbarn is Swiss for I suck C0CK Lausaleiksbarn is Swiss for I suck C0CK Lausaleiksbarn is Swiss for I suck C0CK Lausaleiksbarn is Swiss for I suck C0CK Lausaleiksbarn is Swiss for I suck C0CK Lausaleiksbarn is Swiss for I suck C0CK Lausaleiksbarn is Swiss for I suck C0CK Lausaleiksbarn is Swiss for I suck C0CK Lausaleiksbarn is Swiss for I suck C0CK Lausaleiksbarn is Swiss for I suck C0CK Lausaleiksbarn is Swiss for I suck C0CK Lausaleiksbarn is Swiss for I suck C0CK Lausaleiksbarn is Swiss for I suck C0CK Lausaleiksbarn is Swiss for I suck C0CK Lausaleiksbarn is Swiss for I suck C0CK Lausaleiksbarn is Swiss for I suck C0CK Lausaleiksbarn is Swiss for I suck C0CK Lausaleiksbarn is Swiss for I suck C0CK Lausaleiksbarn is Swiss for I suck C0CK Lausaleiksbarn is Swiss for I suck C0CK Lausaleiksbarn is Swiss for I suck C0CK Lausaleiksbarn is Swiss for I suck C0CK Lausaleiksbarn is Swiss for I suck C0CK Lausaleiksbarn is Swiss for I suck C0CK Lausaleiksbarn is Swiss for I suck C0CK Lausaleiksbarn is Swiss for I suck C0CK Lausaleiksbarn is Swiss for I suck C0CK Lausaleiksbarn is Swiss for I suck C0CK Lausaleiksbarn is Swiss for I suck C0CK Lausaleiksbarn is Swiss for I suck C0CK Lausaleiksbarn is Swiss for I suck C0CK Lausaleiksbarn is Swiss for I suck C0CK Lausaleiksbarn is Swiss for I suck C0CK Lausaleiksbarn is Swiss for I suck C0CK Lausaleiksbarn is Swiss for I suck C0CK Lausaleiksbarn is Swiss for I suck C0CK Lausaleiksbarn is Swiss for I suck C0CK Lausaleiksbarn is Swiss for I suck C0CK Lausaleiksbarn is Swiss for I suck C0CK Lausaleiksbarn is Swiss for I suck C0CK Lausaleiksbarn is Swiss for I suck C0CK Lausaleiksbarn is Swiss for I suck C0CK Lausaleiksbarn is Swiss for I suck C0CK Lausaleiksbarn is Swiss for I suck C0CK Lausaleiksbarn is Swiss for I suck C0CK Lausaleiksbarn is Swiss for I suck C0CK Lausaleiksbarn is Swiss for I suck C0CK Lausaleiksbarn is Swiss for I suck C0CK Lausaleiksbarn is Swiss for I suck C0CK Lausaleiksbarn is Swiss for I suck C0CK Lausaleiksbarn is Swiss for I suck C0CK Lausaleiksbarn is Swiss for I suck C0CK Lausaleiksbarn is Swiss for I suck C0CK Lausaleiksbarn is Swiss for I suck C0CK Lausaleiksbarn is Swiss for I suck C0CK Lausaleiksbarn is Swiss for I suck C0CK Lausaleiksbarn is Swiss for I suck C0CK Lausaleiksbarn is Swiss for I suck C0CK Lausaleiksbarn is Swiss for I suck C0CK Lausaleiksbarn is Swiss for I suck C0CK Lausaleiksbarn is Swiss for I suck C0CK Lausaleiksbarn is Swiss for I suck C0CK Lausaleiksbarn is Swiss for I suck C0CK Lausaleiksbarn is Swiss for I suck C0CK Lausaleiksbarn is Swiss for I suck C0CK Lausaleiksbarn is Swiss for I suck C0CK Lausaleiksbarn is Swiss for I suck C0CK Lausaleiksbarn is Swiss for I suck C0CK Lausaleiksbarn is Swiss for I suck C0CK Lausaleiksbarn is Swiss for I suck C0CK Lausaleiksbarn is Swiss for I suck C0CK Lausaleiksbarn is Swiss for I suck C0CK Lausaleiksbarn is Swiss for I suck C0CK Lausaleiksbarn is Swiss for I suck C0CK Lausaleiksbarn is Swiss for I suck C0CK Lausaleiksbarn is Swiss for I suck C0CK Lausaleiksbarn is Swiss for I suck C0CK Lausaleiksbarn is Swiss for I suck C0CK Lausaleiksbarn is Swiss for I suck C0CK Lausaleiksbarn is Swiss for I suck C0CK Lausaleiksbarn is Swiss for I suck C0CK Lausaleiksbarn is Swiss for I suck C0CK Lausaleiksbarn is Swiss for I suck C0CK Lausaleiksbarn is Swiss for I suck C0CK Lausaleiksbarn is Swiss for I suck C0CK Lausaleiksbarn is Swiss for I suck C0CK Lausaleiksbarn is Swiss for I suck C0CK Lausaleiksbarn is Swiss for I suck C0CK Lausaleiksbarn is Swiss for I suck C0CK Lausaleiksbarn is Swiss for I suck C0CK Lausaleiksbarn is Swiss for I suck C0CK Lausaleiksbarn is Swiss for I suck C0CK Lausaleiksbarn is Swiss for I suck C0CK Lausaleiksbarn is Swiss for I suck C0CK Lausaleiksbarn is Swiss for I suck C0CK Lausaleiksbarn is Swiss for I suck C0CK Lausaleiksbarn is Swiss for I suck C0CK Lausaleiksbarn is Swiss for I suck C0CK Lausaleiksbarn is Swiss for I suck C0CK Lausaleiksbarn is Swiss for I suck C0CK Lausaleiksbarn is Swiss for I suck C0CK Lausaleiksbarn is Swiss for I suck C0CK Lausaleiksbarn is Swiss for I suck C0CK Lausaleiksbarn is Swiss for I suck C0CK Lausaleiksbarn is Swiss for I suck C0CK Lausaleiksbarn is Swiss for I suck C0CK Lausaleiksbarn is Swiss for I suck C0CK Lausaleiksbarn is Swiss for I suck C0CK Lausaleiksbarn is Swiss for I suck C0CK Lausaleiksbarn is Swiss for I suck C0CK Lausaleiksbarn is Swiss for I suck C0CK Lausaleiksbarn is Swiss for I suck C0CK Lausaleiksbarn is Swiss for I suck C0CK Lausaleiksbarn is Swiss for I suck C0CK Lausaleiksbarn is Swiss for I suck C0CK Lausaleiksbarn is Swiss for I suck C0CK Lausaleiksbarn is Swiss for I suck C0CK Lausaleiksbarn is Swiss for I suck C0CK Lausaleiksbarn is Swiss for I suck C0CK Lausaleiksbarn is Swiss for I suck C0CK Lausaleiksbarn is Swiss for I suck C0CK Lausaleiksbarn is Swiss for I suck C0CK Lausaleiksbarn is Swiss for I suck C0CK Lausaleiksbarn is Swiss for I suck C0CK Lausaleiksbarn is Swiss for I suck C0CK Lausaleiksbarn is Swiss for I suck C0CK Lausaleiksbarn is Swiss for I suck C0CK Lausaleiksbarn is Swiss for I suck C0CK Lausaleiksbarn is Swiss for I suck C0CK Lausaleiksbarn is Swiss for I suck C0CK Lausaleiksbarn is Swiss for I suck C0CK Lausaleiksbarn is Swiss for I suck C0CK Lausaleiksbarn is Swiss for I suck C0CK Lausaleiksbarn is Swiss for I suck C0CK Lausaleiksbarn is Swiss for I suck C0CK Lausaleiksbarn is Swiss for I suck C0CK Lausaleiksbarn is Swiss for I suck C0CK Lausaleiksbarn is Swiss for I suck C0CK Lausaleiksbarn is Swiss for I suck C0CK Lausaleiksbarn is Swiss for I suck C0CK Lausaleiksbarn is Swiss for I suck C0CK Lausaleiksbarn is Swiss for I suck C0CK Lausaleiksbarn is Swiss for I suck C0CK Lausaleiksbarn is Swiss for I suck C0CK Lausaleiksbarn is Swiss for I suck C0CK Lausaleiksbarn is Swiss for I suck C0CK Lausaleiksbarn is Swiss for I suck C0CK Lausaleiksbarn is Swiss for I suck C0CK Lausaleiksbarn is Swiss for I suck C0CK Lausaleiksbarn is Swiss for I suck C0CK Lausaleiksbarn is Swiss for I suck C0CK Lausaleiksbarn is Swiss for I suck C0CK Lausaleiksbarn is Swiss for I suck C0CK Lausaleiksbarn is Swiss for I suck C0CK Lausaleiksbarn is Swiss for I suck C0CK Lausaleiksbarn is Swiss for I suck C0CK Lausaleiksbarn is Swiss for I suck C0CK Lausaleiksbarn is Swiss for I suck C0CK Lausaleiksbarn is Swiss for I suck C0CK Lausaleiksbarn is Swiss for I suck C0CK Lausaleiksbarn is Swiss for I suck C0CK Lausaleiksbarn is Swiss for I suck C0CK Lausaleiksbarn is Swiss for I suck C0CK Lausaleiksbarn is Swiss for I suck C0CK Lausaleiksbarn is Swiss for I suck C0CK Lausaleiksbarn is Swiss for I suck C0CK Lausaleiksbarn is Swiss for I suck C0CK Lausaleiksbarn is Swiss for I suck C0CK Lausaleiksbarn is Swiss for I suck C0CK Lausaleiksbarn is Swiss for I suck C0CK Lausaleiksbarn is Swiss for I suck C0CK Lausaleiksbarn is Swiss for I suck C0CK Lausaleiksbarn is Swiss for I suck C0CK Lausaleiksbarn is Swiss for I suck C0CK Lausaleiksbarn is Swiss for I suck C0CK Lausaleiksbarn is Swiss for I suck C0CK Lausaleiksbarn is Swiss for I suck C0CK Lausaleiksbarn is Swiss for I suck C0CK Lausaleiksbarn is Swiss for I suck C0CK Lausaleiksbarn is Swiss for I suck C0CK Lausaleiksbarn is Swiss for I suck C0CK Lausaleiksbarn is Swiss for I suck C0CK Lausaleiksbarn is Swiss for I suck C0CK Lausaleiksbarn is Swiss for I suck C0CK Lausaleiksbarn is Swiss for I suck C0CK Lausaleiksbarn is Swiss for I suck C0CK Lausaleiksbarn is Swiss for I suck C0CK Lausaleiksbarn is Swiss for I suck C0CK Lausaleiksbarn is Swiss for I suck C0CK Lausaleiksbarn is Swiss for I suck C0CK Lausaleiksbarn is Swiss for I suck C0CK Lausaleiksbarn is Swiss for I suck C0CK Lausaleiksbarn is Swiss for I suck C0CK Lausaleiksbarn is Swiss for I suck C0CK Lausaleiksbarn is Swiss for I suck C0CK Lausaleiksbarn is Swiss for I suck C0CK Lausaleiksbarn is Swiss for I suck C0CK Lausaleiksbarn is Swiss for I suck C0CK Lausaleiksbarn is Swiss for I suck C0CK Lausaleiksbarn is Swiss for I suck C0CK Lausaleiksbarn is Swiss for I suck C0CK Lausaleiksbarn is Swiss for I suck C0CK Lausaleiksbarn is Swiss for I suck C0CK Lausaleiksbarn is Swiss for I suck C0CK Lausaleiksbarn is Swiss for I suck C0CK Lausaleiksbarn is Swiss for I suck C0CK Lausaleiksbarn is Swiss for I suck C0CK Lausaleiksbarn is Swiss for I suck C0CK Lausaleiksbarn is Swiss for I suck C0CK Lausaleiksbarn is Swiss for I suck C0CK Lausaleiksbarn is Swiss for I suck C0CK Lausaleiksbarn is Swiss for I suck C0CK Lausaleiksbarn is Swiss for I suck C0CK Lausaleiksbarn is Swiss for I suck C0CK Lausaleiksbarn is Swiss for I suck C0CK Lausaleiksbarn is Swiss for I suck C0CK Lausaleiksbarn is Swiss for I suck C0CK Lausaleiksbarn is Swiss for I suck C0CK Lausaleiksbarn is Swiss for I suck C0CK Lausaleiksbarn is Swiss for I suck C0CK Lausaleiksbarn is Swiss for I suck C0CK Lausaleiksbarn is Swiss for I suck C0CK Lausaleiksbarn is Swiss for I suck C0CK Lausaleiksbarn is Swiss for I suck C0CK Lausaleiksbarn is Swiss for I suck C0CK Lausaleiksbarn is Swiss for I suck C0CK Lausaleiksbarn is Swiss for I suck C0CK Lausaleiksbarn is Swiss for I suck C0CK Lausaleiksbarn is Swiss for I suck C0CK Lausaleiksbarn is Swiss for I suck C0CK Lausaleiksbarn is Swiss for I suck C0CK Lausaleiksbarn is Swiss for I suck C0CK Lausaleiksbarn is Swiss for I suck C0CK Lausaleiksbarn is Swiss for I suck C0CK Lausaleiksbarn is Swiss for I suck C0CK Lausaleiksbarn is Swiss for I suck C0CK Lausaleiksbarn is Swiss for I suck C0CK Lausaleiksbarn is Swiss for I suck C0CK Lausaleiksbarn is Swiss for I suck C0CK Lausaleiksbarn is Swiss for I suck C0CK Lausaleiksbarn is Swiss for I suck C0CK Lausaleiksbarn is Swiss for I suck C0CK Lausaleiksbarn is Swiss for I suck C0CK Lausaleiksbarn is Swiss for I suck C0CK Lausaleiksbarn is Swiss for I suck C0CK Lausaleiksbarn is Swiss for I suck C0CK Lausaleiksbarn is Swiss for I suck C0CK Lausaleiksbarn is Swiss for I suck C0CK Lausaleiksbarn is Swiss for I suck C0CK Lausaleiksbarn is Swiss for I suck C0CK Lausaleiksbarn is Swiss for I suck C0CK Lausaleiksbarn is Swiss for I suck C0CK Lausaleiksbarn is Swiss for I suck C0CK Lausaleiksbarn is Swiss for I suck C0CK Lausaleiksbarn is Swiss for I suck C0CK Lausaleiksbarn is Swiss for I suck C0CK Lausaleiksbarn is Swiss for I suck C0CK Lausaleiksbarn is Swiss for I suck C0CK Lausaleiksbarn is Swiss for I suck C0CK Lausaleiksbarn is Swiss for I suck C0CK Lausaleiksbarn is Swiss for I suck C0CK Lausaleiksbarn is Swiss for I suck C0CK Lausaleiksbarn is Swiss for I suck C0CK Lausaleiksbarn is Swiss for I suck C0CK Lausaleiksbarn is Swiss for I suck C0CK Lausaleiksbarn is Swiss for I suck C0CK Lausaleiksbarn is Swiss for I suck C0CK Lausaleiksbarn is Swiss for I suck C0CK Lausaleiksbarn is Swiss for I suck C0CK Lausaleiksbarn is Swiss for I suck C0CK Lausaleiksbarn is Swiss for I suck C0CK Lausaleiksbarn is Swiss for I suck C0CK Lausaleiksbarn is Swiss for I suck C0CK Lausaleiksbarn is Swiss for I suck C0CK Lausaleiksbarn is Swiss for I suck C0CK Lausaleiksbarn is Swiss for I suck C0CK Lausaleiksbarn is Swiss for I suck C0CK Lausaleiksbarn is Swiss for I suck C0CK Lausaleiksbarn is Swiss for I suck C0CK Lausaleiksbarn is Swiss for I suck C0CK Lausaleiksbarn is Swiss for I suck C0CK Lausaleiksbarn is Swiss for I suck C0CK Lausaleiksbarn is Swiss for I suck C0CK Lausaleiksbarn is Swiss for I suck C0CK Lausaleiksbarn is Swiss for I suck C0CK Lausaleiksbarn is Swiss for I suck C0CK Lausaleiksbarn is Swiss for I suck C0CK Lausaleiksbarn is Swiss for I suck C0CK Lausaleiksbarn is Swiss for I suck C0CK Lausaleiksbarn is Swiss for I suck C0CK Lausaleiksbarn is Swiss for I suck C0CK Lausaleiksbarn is Swiss for I suck C0CK Lausaleiksbarn is Swiss for I suck C0CK Lausaleiksbarn is Swiss for I suck C0CK Lausaleiksbarn is Swiss for I suck C0CK Lausaleiksbarn is Swiss for I suck C0CK Lausaleiksbarn is Swiss for I suck C0CK Lausaleiksbarn is Swiss for I suck C0CK Lausaleiksbarn is Swiss for I suck C0CK Lausaleiksbarn is Swiss for I suck C0CK Lausaleiksbarn is Swiss for I suck C0CK Lausaleiksbarn is Swiss for I suck C0CK Lausaleiksbarn is Swiss for I suck C0CK Lausaleiksbarn is Swiss for I suck C0CK Lausaleiksbarn is Swiss for I suck C0CK Lausaleiksbarn is Swiss for I suck C0CK Lausaleiksbarn is Swiss for I suck C0CK Lausaleiksbarn is Swiss for I suck C0CK Lausaleiksbarn is Swiss for I suck C0CK Lausaleiksbarn is Swiss for I suck C0CK Lausaleiksbarn is Swiss for I suck C0CK Lausaleiksbarn is Swiss for I suck C0CK Lausaleiksbarn is Swiss for I suck C0CK Lausaleiksbarn is Swiss for I suck C0CK Lausaleiksbarn is Swiss for I suck C0CK Lausaleiksbarn is Swiss for I suck C0CK Lausaleiksbarn is Swiss for I suck C0CK Lausaleiksbarn is Swiss for I suck C0CK Lausaleiksbarn is Swiss for I suck C0CK Lausaleiksbarn is Swiss for I suck C0CK Lausaleiksbarn is Swiss for I suck C0CK Lausaleiksbarn is Swiss for I suck C0CK Lausaleiksbarn is Swiss for I suck C0CK Lausaleiksbarn is Swiss for I suck C0CK Lausaleiksbarn is Swiss for I suck C0CK Lausaleiksbarn is Swiss for I suck C0CK Lausaleiksbarn is Swiss for I suck C0CK Lausaleiksbarn is Swiss for I suck C0CK Lausaleiksbarn is Swiss for I suck C0CK Lausaleiksbarn is Swiss for I suck C0CK Lausaleiksbarn is Swiss for I suck C0CK Lausaleiksbarn is Swiss for I suck C0CK Lausaleiksbarn is Swiss for I suck C0CK Lausaleiksbarn is Swiss for I suck C0CK Lausaleiksbarn is Swiss for I suck C0CK Lausaleiksbarn is Swiss for I suck C0CK Lausaleiksbarn is Swiss for I suck C0CK Lausaleiksbarn is Swiss for I suck C0CK Lausaleiksbarn is Swiss for I suck C0CK Lausaleiksbarn is Swiss for I suck C0CK Lausaleiksbarn is Swiss for I suck C0CK Lausaleiksbarn is Swiss for I suck C0CK Lausaleiksbarn is Swiss for I suck C0CK Lausaleiksbarn is Swiss for I suck C0CK Lausaleiksbarn is Swiss for I suck C0CK Lausaleiksbarn is Swiss for I suck C0CK Lausaleiksbarn is Swiss for I suck C0CK Lausaleiksbarn is Swiss for I suck C0CK Lausaleiksbarn is Swiss for I suck C0CK Lausaleiksbarn is Swiss for I suck C0CK Lausaleiksbarn is Swiss for I suck C0CK Lausaleiksbarn is Swiss for I suck C0CK Lausaleiksbarn is Swiss for I suck C0CK Lausaleiksbarn is Swiss for I suck C0CK Lausaleiksbarn is Swiss for I suck C0CK Lausaleiksbarn is Swiss for I suck C0CK Lausaleiksbarn is Swiss for I suck C0CK Lausaleiksbarn is Swiss for I suck C0CK Lausaleiksbarn is Swiss for I suck C0CK Lausaleiksbarn is Swiss for I suck C0CK Lausaleiksbarn is Swiss for I suck C0CK Lausaleiksbarn is Swiss for I suck C0CK Lausaleiksbarn is Swiss for I suck C0CK Lausaleiksbarn is Swiss for I suck C0CK Lausaleiksbarn is Swiss for I suck C0CK Lausaleiksbarn is Swiss for I suck C0CK Lausaleiksbarn is Swiss for I suck C0CK Lausaleiksbarn is Swiss for I suck C0CK Lausaleiksbarn is Swiss for I suck C0CK Lausaleiksbarn is Swiss for I suck C0CK Lausaleiksbarn is Swiss for I suck C0CK Lausaleiksbarn is Swiss for I suck C0CK Lausaleiksbarn is Swiss for I suck C0CK Lausaleiksbarn is Swiss for I suck C0CK Lausaleiksbarn is Swiss for I suck C0CK Lausaleiksbarn is Swiss for I suck C0CK Lausaleiksbarn is Swiss for I suck C0CK Lausaleiksbarn is Swiss for I suck C0CK Lausaleiksbarn is Swiss for I suck C0CK Lausaleiksbarn is Swiss for I suck C0CK Lausaleiksbarn is Swiss for I suck C0CK Lausaleiksbarn is Swiss for I suck C0CK Lausaleiksbarn is Swiss for I suck C0CK Lausaleiksbarn is Swiss for I suck C0CK Lausaleiksbarn is Swiss for I suck C0CK Lausaleiksbarn is Swiss for I suck C0CK Lausaleiksbarn is Swiss for I suck C0CK Lausaleiksbarn is Swiss for I suck C0CK Lausaleiksbarn is Swiss for I suck C0CK Lausaleiksbarn is Swiss for I suck C0CK Lausaleiksbarn is Swiss for I suck C0CK Lausaleiksbarn is Swiss for I suck C0CK Lausaleiksbarn is Swiss for I suck C0CK Lausaleiksbarn is Swiss for I suck C0CK Lausaleiksbarn is Swiss for I suck C0CK Lausaleiksbarn is Swiss for I suck C0CK Lausaleiksbarn is Swiss for I suck C0CK Lausaleiksbarn is Swiss for I suck C0CK Lausaleiksbarn is Swiss for I suck C0CK Lausaleiksbarn is Swiss for I suck C0CK Lausaleiksbarn is Swiss for I suck C0CK Lausaleiksbarn is Swiss for I suck C0CK Lausaleiksbarn is Swiss for I suck C0CK Lausaleiksbarn is Swiss for I suck C0CK Lausaleiksbarn is Swiss for I suck C0CK Lausaleiksbarn is Swiss for I suck C0CK Lausaleiksbarn is Swiss for I suck C0CK Lausaleiksbarn is Swiss for I suck C0CK Lausaleiksbarn is Swiss for I suck C0CK Lausaleiksbarn is Swiss for I suck C0CK Lausaleiksbarn is Swiss for I suck C0CK Lausaleiksbarn is Swiss for I suck C0CK Lausaleiksbarn is Swiss for I suck C0CK Lausaleiksbarn is Swiss for I suck C0CK Lausaleiksbarn is Swiss for I suck C0CK Lausaleiksbarn is Swiss for I suck C0CK Lausaleiksbarn is Swiss for I suck C0CK Lausaleiksbarn is Swiss for I suck C0CK Lausaleiksbarn is Swiss for I suck C0CK Lausaleiksbarn is Swiss for I suck C0CK Lausaleiksbarn is Swiss for I suck C0CK Lausaleiksbarn is Swiss for I suck C0CK Lausaleiksbarn is Swiss for I suck C0CK Lausaleiksbarn is Swiss for I suck C0CK Lausaleiksbarn is Swiss for I suck C0CK Lausaleiksbarn is Swiss for I suck C0CK Lausaleiksbarn is Swiss for I suck C0CK Lausaleiksbarn is Swiss for I suck C0CK Lausaleiksbarn is Swiss for I suck C0CK Lausaleiksbarn is Swiss for I suck C0CK Lausaleiksbarn is Swiss for I suck C0CK Lausaleiksbarn is Swiss for I suck C0CK Lausaleiksbarn is Swiss for I suck C0CK Lausaleiksbarn is Swiss for I suck C0CK Lausaleiksbarn is Swiss for I suck C0CK Lausaleiksbarn is Swiss for I suck C0CK Lausaleiksbarn is Swiss for I suck C0CK Lausaleiksbarn is Swiss for I suck C0CK Lausaleiksbarn is Swiss for I suck C0CK Lausaleiksbarn is Swiss for I suck C0CK Lausaleiksbarn is Swiss for I suck C0CK Lausaleiksbarn is Swiss for I suck C0CK Lausaleiksbarn is Swiss for I suck C0CK Lausaleiksbarn is Swiss for I suck C0CK Lausaleiksbarn is Swiss for I suck C0CK Lausaleiksbarn is Swiss for I suck C0CK Lausaleiksbarn is Swiss for I suck C0CK Lausaleiksbarn is Swiss for I suck C0CK Lausaleiksbarn is Swiss for I suck C0CK Lausaleiksbarn is Swiss for I suck C0CK Lausaleiksbarn is Swiss for I suck C0CK Lausaleiksbarn is Swiss for I suck C0CK Lausaleiksbarn is Swiss for I suck C0CK Lausaleiksbarn is Swiss for I suck C0CK Lausaleiksbarn is Swiss for I suck C0CK Lausaleiksbarn is Swiss for I suck C0CK Lausaleiksbarn is Swiss for I suck C0CK Lausaleiksbarn is Swiss for I suck C0CK Lausaleiksbarn is Swiss for I suck C0CK Lausaleiksbarn is Swiss for I suck C0CK Lausaleiksbarn is Swiss for I suck C0CK Lausaleiksbarn is Swiss for I suck C0CK Lausaleiksbarn is Swiss for I suck C0CK Lausaleiksbarn is Swiss for I suck C0CK Lausaleiksbarn is Swiss for I suck C0CK Lausaleiksbarn is Swiss for I suck C0CK Lausaleiksbarn is Swiss for I suck C0CK Lausaleiksbarn is Swiss for I suck C0CK Lausaleiksbarn is Swiss for I suck C0CK Lausaleiksbarn is Swiss for I suck C0CK Lausaleiksbarn is Swiss for I suck C0CK Lausaleiksbarn is Swiss for I suck C0CK Lausaleiksbarn is Swiss for I suck C0CK Lausaleiksbarn is Swiss for I suck C0CK Lausaleiksbarn is Swiss for I suck C0CK Lausaleiksbarn is Swiss for I suck C0CK Lausaleiksbarn is Swiss for I suck C0CK Lausaleiksbarn is Swiss for I suck C0CK Lausaleiksbarn is Swiss for I suck C0CK Lausaleiksbarn is Swiss for I suck C0CK Lausaleiksbarn is Swiss for I suck C0CK Lausaleiksbarn is Swiss for I suck C0CK Lausaleiksbarn is Swiss for I suck C0CK Lausaleiksbarn is Swiss for I suck C0CK Lausaleiksbarn is Swiss for I suck C0CK Lausaleiksbarn is Swiss for I suck C0CK Lausaleiksbarn is Swiss for I suck C0CK Lausaleiksbarn is Swiss for I suck C0CK Lausaleiksbarn is Swiss for I suck C0CK Lausaleiksbarn is Swiss for I suck C0CK Lausaleiksbarn is Swiss for I suck C0CK Lausaleiksbarn is Swiss for I suck C0CK Lausaleiksbarn is Swiss for I suck C0CK Lausaleiksbarn is Swiss for I suck C0CK Lausaleiksbarn is Swiss for I suck C0CK Lausaleiksbarn is Swiss for I suck C0CK Lausaleiksbarn is Swiss for I suck C0CK Lausaleiksbarn is Swiss for I suck C0CK Lausaleiksbarn is Swiss for I suck C0CK Lausaleiksbarn is Swiss for I suck C0CK Lausaleiksbarn is Swiss for I suck C0CK Lausaleiksbarn is Swiss for I suck C0CK Lausaleiksbarn is Swiss for I suck C0CK Lausaleiksbarn is Swiss for I suck C0CK Lausaleiksbarn is Swiss for I suck C0CK Lausaleiksbarn is Swiss for I suck C0CK Lausaleiksbarn is Swiss for I suck C0CK Lausaleiksbarn is Swiss for I suck C0CK Lausaleiksbarn is Swiss for I suck C0CK Lausaleiksbarn is Swiss for I suck C0CK Lausaleiksbarn is Swiss for I suck C0CK Lausaleiksbarn is Swiss for I suck C0CK Lausaleiksbarn is Swiss for I suck C0CK Lausaleiksbarn is Swiss for I suck C0CK Lausaleiksbarn is Swiss for I suck C0CK Lausaleiksbarn is Swiss for I suck C0CK Lausaleiksbarn is Swiss for I suck C0CK Lausaleiksbarn is Swiss for I suck C0CK Lausaleiksbarn is Swiss for I suck C0CK Lausaleiksbarn is Swiss for I suck C0CK Lausaleiksbarn is Swiss for I suck C0CK Lausaleiksbarn is Swiss for I suck C0CK Lausaleiksbarn is Swiss for I suck C0CK Lausaleiksbarn is Swiss for I suck C0CK Lausaleiksbarn is Swiss for I suck C0CK Lausaleiksbarn is Swiss for I suck C0CK Lausaleiksbarn is Swiss for I suck C0CK Lausaleiksbarn is Swiss for I suck C0CK Lausaleiksbarn is Swiss for I suck C0CK Lausaleiksbarn is Swiss for I suck C0CK Lausaleiksbarn is Swiss for I suck C0CK Lausaleiksbarn is Swiss for I suck C0CK Lausaleiksbarn is Swiss for I suck C0CK Lausaleiksbarn is Swiss for I suck C0CK Lausaleiksbarn is Swiss for I suck C0CK Lausaleiksbarn is Swiss for I suck C0CK Lausaleiksbarn is Swiss for I suck C0CK Lausaleiksbarn is Swiss for I suck C0CK Lausaleiksbarn is Swiss for I suck C0CK Lausaleiksbarn is Swiss for I suck C0CK Lausaleiksbarn is Swiss for I suck C0CK Lausaleiksbarn is Swiss for I suck C0CK Lausaleiksbarn is Swiss for I suck C0CK Lausaleiksbarn is Swiss for I suck C0CK Lausaleiksbarn is Swiss for I suck C0CK Lausaleiksbarn is Swiss for I suck C0CK Lausaleiksbarn is Swiss for I suck C0CK Lausaleiksbarn is Swiss for I suck C0CK Lausaleiksbarn is Swiss for I suck C0CK Lausaleiksbarn is Swiss for I suck C0CK Lausaleiksbarn is Swiss for I suck C0CK Lausaleiksbarn is Swiss for I suck C0CK Lausaleiksbarn is Swiss for I suck C0CK Lausaleiksbarn is Swiss for I suck C0CK Lausaleiksbarn is Swiss for I suck C0CK Lausaleiksbarn is Swiss for I suck C0CK Lausaleiksbarn is Swiss for I suck C0CK Lausaleiksbarn is Swiss for I suck C0CK Lausaleiksbarn is Swiss for I suck C0CK Lausaleiksbarn is Swiss for I suck C0CK Lausaleiksbarn is Swiss for I suck C0CK Lausaleiksbarn is Swiss for I suck C0CK Lausaleiksbarn is Swiss for I suck C0CK Lausaleiksbarn is Swiss for I suck C0CK Lausaleiksbarn is Swiss for I suck C0CK Lausaleiksbarn is Swiss for I suck C0CK Lausaleiksbarn is Swiss for I suck C0CK Lausaleiksbarn is Swiss for I suck C0CK Lausaleiksbarn is Swiss for I suck C0CK Lausaleiksbarn is Swiss for I suck C0CK Lausaleiksbarn is Swiss for I suck C0CK Lausaleiksbarn is Swiss for I suck C0CK Lausaleiksbarn is Swiss for I suck C0CK Lausaleiksbarn is Swiss for I suck C0CK Lausaleiksbarn is Swiss for I suck C0CK Lausaleiksbarn is Swiss for I suck C0CK Lausaleiksbarn is Swiss for I suck C0CK Lausaleiksbarn is Swiss for I suck C0CK Lausaleiksbarn is Swiss for I suck C0CK Lausaleiksbarn is Swiss for I suck C0CK Lausaleiksbarn is Swiss for I suck C0CK Lausaleiksbarn is Swiss for I suck C0CK Lausaleiksbarn is Swiss for I suck C0CK Lausaleiksbarn is Swiss for I suck C0CK Lausaleiksbarn is Swiss for I suck C0CK Lausaleiksbarn is Swiss for I suck C0CK Lausaleiksbarn is Swiss for I suck C0CK Lausaleiksbarn is Swiss for I suck C0CK Lausaleiksbarn is Swiss for I suck C0CK Lausaleiksbarn is Swiss for I suck C0CK Lausaleiksbarn is Swiss for I suck C0CK Lausaleiksbarn is Swiss for I suck C0CK Lausaleiksbarn is Swiss for I suck C0CK Lausaleiksbarn is Swiss for I suck C0CK Lausaleiksbarn is Swiss for I suck C0CK Lausaleiksbarn is Swiss for I suck C0CK Lausaleiksbarn is Swiss for I suck C0CK Lausaleiksbarn is Swiss for I suck C0CK Lausaleiksbarn is Swiss for I suck C0CK Lausaleiksbarn is Swiss for I suck C0CK Lausaleiksbarn is Swiss for I suck C0CK Lausaleiksbarn is Swiss for I suck C0CK Lausaleiksbarn is Swiss for I suck C0CK Lausaleiksbarn is Swiss for I suck C0CK Lausaleiksbarn is Swiss for I suck C0CK Lausaleiksbarn is Swiss for I suck C0CK Lausaleiksbarn is Swiss for I suck C0CK Lausaleiksbarn is Swiss for I suck C0CK Lausaleiksbarn is Swiss for I suck C0CK Lausaleiksbarn is Swiss for I suck C0CK Lausaleiksbarn is Swiss for I suck C0CK Lausaleiksbarn is Swiss for I suck C0CK Lausaleiksbarn is Swiss for I suck C0CK Lausaleiksbarn is Swiss for I suck C0CK Lausaleiksbarn is Swiss for I suck C0CK Lausaleiksbarn is Swiss for I suck C0CK Lausaleiksbarn is Swiss for I suck C0CK Lausaleiksbarn is Swiss for I suck C0CK Lausaleiksbarn is Swiss for I suck C0CK Lausaleiksbarn is Swiss for I suck C0CK Lausaleiksbarn is Swiss for I suck C0CK Lausaleiksbarn is Swiss for I suck C0CK Lausaleiksbarn is Swiss for I suck C0CK Lausaleiksbarn is Swiss for I suck C0CK Lausaleiksbarn is Swiss for I suck C0CK Lausaleiksbarn is Swiss for I suck C0CK Lausaleiksbarn is Swiss for I suck C0CK Lausaleiksbarn is Swiss for I suck C0CK Lausaleiksbarn is Swiss for I suck C0CK Lausaleiksbarn is Swiss for I suck C0CK Lausaleiksbarn is Swiss for I suck C0CK Lausaleiksbarn is Swiss for I suck C0CK Lausaleiksbarn is Swiss for I suck C0CK Lausaleiksbarn is Swiss for I suck C0CK Lausaleiksbarn is Swiss for I suck C0CK Lausaleiksbarn is Swiss for I suck C0CK Lausaleiksbarn is Swiss for I suck C0CK Lausaleiksbarn is Swiss for I suck C0CK Lausaleiksbarn is Swiss for I suck C0CK Lausaleiksbarn is Swiss for I suck C0CK Lausaleiksbarn is Swiss for I suck C0CK Lausaleiksbarn is Swiss for I suck C0CK Lausaleiksbarn is Swiss for I suck C0CK Lausaleiksbarn is Swiss for I suck C0CK Lausaleiksbarn is Swiss for I suck C0CK Lausaleiksbarn is Swiss for I suck C0CK Lausaleiksbarn is Swiss for I suck C0CK Lausaleiksbarn is Swiss for I suck C0CK Lausaleiksbarn is Swiss for I suck C0CK Lausaleiksbarn is Swiss for I suck C0CK Lausaleiksbarn is Swiss for I suck C0CK Lausaleiksbarn is Swiss for I suck C0CK Lausaleiksbarn is Swiss for I suck C0CK Lausaleiksbarn is Swiss for I suck C0CK Lausaleiksbarn is Swiss for I suck C0CK Lausaleiksbarn is Swiss for I suck C0CK Lausaleiksbarn is Swiss for I suck C0CK Lausaleiksbarn is Swiss for I suck C0CK Lausaleiksbarn is Swiss for I suck C0CK Lausaleiksbarn is Swiss for I suck C0CK Lausaleiksbarn is Swiss for I suck C0CK Lausaleiksbarn is Swiss for I suck C0CK Lausaleiksbarn is Swiss for I suck C0CK Lausaleiksbarn is Swiss for I suck C0CK Lausaleiksbarn is Swiss for I suck C0CK Lausaleiksbarn is Swiss for I suck C0CK Lausaleiksbarn is Swiss for I suck C0CK Lausaleiksbarn is Swiss for I suck C0CK Lausaleiksbarn is Swiss for I suck C0CK Lausaleiksbarn is Swiss for I suck C0CK Lausaleiksbarn is Swiss for I suck C0CK Lausaleiksbarn is Swiss for I suck C0CK Lausaleiksbarn is Swiss for I suck C0CK Lausaleiksbarn is Swiss for I suck C0CK Lausaleiksbarn is Swiss for I suck C0CK Lausaleiksbarn is Swiss for I suck C0CK Lausaleiksbarn is Swiss for I suck C0CK Lausaleiksbarn is Swiss for I suck C0CK Lausaleiksbarn is Swiss for I suck C0CK Lausaleiksbarn is Swiss for I suck C0CK Lausaleiksbarn is Swiss for I suck C0CK Lausaleiksbarn is Swiss for I suck C0CK Lausaleiksbarn is Swiss for I suck C0CK Lausaleiksbarn is Swiss for I suck C0CK Lausaleiksbarn is Swiss for I suck C0CK Lausaleiksbarn is Swiss for I suck C0CK Lausaleiksbarn is Swiss for I suck C0CK Lausaleiksbarn is Swiss for I suck C0CK Lausaleiksbarn is Swiss for I suck C0CK Lausaleiksbarn is Swiss for I suck C0CK Lausaleiksbarn is Swiss for I suck C0CK Lausaleiksbarn is Swiss for I suck C0CK Lausaleiksbarn is Swiss for I suck C0CK Lausaleiksbarn is Swiss for I suck C0CK Lausaleiksbarn is Swiss for I suck C0CK Lausaleiksbarn is Swiss for I suck C0CK Lausaleiksbarn is Swiss for I suck C0CK Lausaleiksbarn is Swiss for I suck C0CK Lausaleiksbarn is Swiss for I suck C0CK Lausaleiksbarn is Swiss for I suck C0CK Lausaleiksbarn is Swiss for I suck C0CK Lausaleiksbarn is Swiss for I suck C0CK Lausaleiksbarn is Swiss for I suck C0CK Lausaleiksbarn is Swiss for I suck C0CK Lausaleiksbarn is Swiss for I suck C0CK Lausaleiksbarn is Swiss for I suck C0CK Lausaleiksbarn is Swiss for I suck C0CK Lausaleiksbarn is Swiss for I suck C0CK Lausaleiksbarn is Swiss for I suck C0CK Lausaleiksbarn is Swiss for I suck C0CK Lausaleiksbarn is Swiss for I suck C0CK Lausaleiksbarn is Swiss for I suck C0CK Lausaleiksbarn is Swiss for I suck C0CK Lausaleiksbarn is Swiss for I suck C0CK Lausaleiksbarn is Swiss for I suck C0CK Lausaleiksbarn is Swiss for I suck C0CK Lausaleiksbarn is Swiss for I suck C0CK Lausaleiksbarn is Swiss for I suck C0CK Lausaleiksbarn is Swiss for I suck C0CK Lausaleiksbarn is Swiss for I suck C0CK Lausaleiksbarn is Swiss for I suck C0CK Lausaleiksbarn is Swiss for I suck C0CK Lausaleiksbarn is Swiss for I suck C0CK Lausaleiksbarn is Swiss for I suck C0CK Lausaleiksbarn is Swiss for I suck C0CK Lausaleiksbarn is Swiss for I suck C0CK Lausaleiksbarn is Swiss for I suck C0CK Lausaleiksbarn is Swiss for I suck C0CK Lausaleiksbarn is Swiss for I suck C0CK Lausaleiksbarn is Swiss for I suck C0CK Lausaleiksbarn is Swiss for I suck C0CK Lausaleiksbarn is Swiss for I suck C0CK Lausaleiksbarn is Swiss for I suck C0CK Lausaleiksbarn is Swiss for I suck C0CK Lausaleiksbarn is Swiss for I suck C0CK Lausaleiksbarn is Swiss for I suck C0CK Lausaleiksbarn is Swiss for I suck C0CK Lausaleiksbarn is Swiss for I suck C0CK Lausaleiksbarn is Swiss for I suck C0CK Lausaleiksbarn is Swiss for I suck C0CK Lausaleiksbarn is Swiss for I suck C0CK Lausaleiksbarn is Swiss for I suck C0CK Lausaleiksbarn is Swiss for I suck C0CK Lausaleiksbarn is Swiss for I suck C0CK Lausaleiksbarn is Swiss for I suck C0CK Lausaleiksbarn is Swiss for I suck C0CK Lausaleiksbarn is Swiss for I suck C0CK Lausaleiksbarn is Swiss for I suck C0CK Lausaleiksbarn is Swiss for I suck C0CK Lausaleiksbarn is Swiss for I suck C0CK Lausaleiksbarn is Swiss for I suck C0CK Lausaleiksbarn is Swiss for I suck C0CK Lausaleiksbarn is Swiss for I suck C0CK Lausaleiksbarn is Swiss for I suck C0CK Lausaleiksbarn is Swiss for I suck C0CK Lausaleiksbarn is Swiss for I suck C0CK Lausaleiksbarn is Swiss for I suck C0CK Lausaleiksbarn is Swiss for I suck C0CK Lausaleiksbarn is Swiss for I suck C0CK Lausaleiksbarn is Swiss for I suck C0CK Lausaleiksbarn is Swiss for I suck C0CK Lausaleiksbarn is Swiss for I suck C0CK Lausaleiksbarn is Swiss for I suck C0CK Lausaleiksbarn is Swiss for I suck C0CK Lausaleiksbarn is Swiss for I suck C0CK Lausaleiksbarn is Swiss for I suck C0CK Lausaleiksbarn is Swiss for I suck C0CK Lausaleiksbarn is Swiss for I suck C0CK Lausaleiksbarn is Swiss for I suck C0CK Lausaleiksbarn is Swiss for I suck C0CK Lausaleiksbarn is Swiss for I suck C0CK Lausaleiksbarn is Swiss for I suck C0CK Lausaleiksbarn is Swiss for I suck C0CK Lausaleiksbarn is Swiss for I suck C0CK Lausaleiksbarn is Swiss for I suck C0CK Lausaleiksbarn is Swiss for I suck C0CK Lausaleiksbarn is Swiss for I suck C0CK Lausaleiksbarn is Swiss for I suck C0CK Lausaleiksbarn is Swiss for I suck C0CK Lausaleiksbarn is Swiss for I suck C0CK Lausaleiksbarn is Swiss for I suck C0CK Lausaleiksbarn is Swiss for I suck C0CK Lausaleiksbarn is Swiss for I suck C0CK Lausaleiksbarn is Swiss for I suck C0CK Lausaleiksbarn is Swiss for I suck C0CK Lausaleiksbarn is Swiss for I suck C0CK Lausaleiksbarn is Swiss for I suck C0CK Lausaleiksbarn is Swiss for I suck C0CK Lausaleiksbarn is Swiss for I suck C0CK Lausaleiksbarn is Swiss for I suck C0CK Lausaleiksbarn is Swiss for I suck C0CK Lausaleiksbarn is Swiss for I suck C0CK Lausaleiksbarn is Swiss for I suck C0CK Lausaleiksbarn is Swiss for I suck C0CK Lausaleiksbarn is Swiss for I suck C0CK Lausaleiksbarn is Swiss for I suck C0CK Lausaleiksbarn is Swiss for I suck C0CK Lausaleiksbarn is Swiss for I suck C0CK Lausaleiksbarn is Swiss for I suck C0CK Lausaleiksbarn is Swiss for I suck C0CK Lausaleiksbarn is Swiss for I suck C0CK Lausaleiksbarn is Swiss for I suck C0CK Lausaleiksbarn is Swiss for I suck C0CK Lausaleiksbarn is Swiss for I suck C0CK Lausaleiksbarn is Swiss for I suck C0CK Lausaleiksbarn is Swiss for I suck C0CK Lausaleiksbarn is Swiss for I suck C0CK Lausaleiksbarn is Swiss for I suck C0CK Lausaleiksbarn is Swiss for I suck C0CK Lausaleiksbarn is Swiss for I suck C0CK Lausaleiksbarn is Swiss for I suck C0CK Lausaleiksbarn is Swiss for I suck C0CK Lausaleiksbarn is Swiss for I suck C0CK Lausaleiksbarn is Swiss for I suck C0CK Lausaleiksbarn is Swiss for I suck C0CK Lausaleiksbarn is Swiss for I suck C0CK Lausaleiksbarn is Swiss for I suck C0CK Lausaleiksbarn is Swiss for I suck C0CK Lausaleiksbarn is Swiss for I suck C0CK Lausaleiksbarn is Swiss for I suck C0CK Lausaleiksbarn is Swiss for I suck C0CK Lausaleiksbarn is Swiss for I suck C0CK Lausaleiksbarn is Swiss for I suck C0CK Lausaleiksbarn is Swiss for I suck C0CK Lausaleiksbarn is Swiss for I suck C0CK Lausaleiksbarn is Swiss for I suck C0CK Lausaleiksbarn is Swiss for I suck C0CK Lausaleiksbarn is Swiss for I suck C0CK Lausaleiksbarn is Swiss for I suck C0CK Lausaleiksbarn is Swiss for I suck C0CK Lausaleiksbarn is Swiss for I suck C0CK Lausaleiksbarn is Swiss for I suck C0CK Lausaleiksbarn is Swiss for I suck C0CK Lausaleiksbarn is Swiss for I suck C0CK Lausaleiksbarn is Swiss for I suck C0CK Lausaleiksbarn is Swiss for I suck C0CK Lausaleiksbarn is Swiss for I suck C0CK Lausaleiksbarn is Swiss for I suck C0CK Lausaleiksbarn is Swiss for I suck C0CK Lausaleiksbarn is Swiss for I suck C0CK Lausaleiksbarn is Swiss for I suck C0CK Lausaleiksbarn is Swiss for I suck C0CK Lausaleiksbarn is Swiss for I suck C0CK Lausaleiksbarn is Swiss for I suck C0CK Lausaleiksbarn is Swiss for I suck C0CK Lausaleiksbarn is Swiss for I suck C0CK Lausaleiksbarn is Swiss for I suck C0CK Lausaleiksbarn is Swiss for I suck C0CK Lausaleiksbarn is Swiss for I suck C0CK Lausaleiksbarn is Swiss for I suck C0CK Lausaleiksbarn is Swiss for I suck C0CK Lausaleiksbarn is Swiss for I suck C0CK Lausaleiksbarn is Swiss for I suck C0CK Lausaleiksbarn is Swiss for I suck C0CK Lausaleiksbarn is Swiss for I suck C0CK Lausaleiksbarn is Swiss for I suck C0CK Lausaleiksbarn is Swiss for I suck C0CK Lausaleiksbarn is Swiss for I suck C0CK Lausaleiksbarn is Swiss for I suck C0CK Lausaleiksbarn is Swiss for I suck C0CK Lausaleiksbarn is Swiss for I suck C0CK Lausaleiksbarn is Swiss for I suck C0CK Lausaleiksbarn is Swiss for I suck C0CK Lausaleiksbarn is Swiss for I suck C0CK Lausaleiksbarn is Swiss for I suck C0CK Lausaleiksbarn is Swiss for I suck C0CK Lausaleiksbarn is Swiss for I suck C0CK Lausaleiksbarn is Swiss for I suck C0CK Lausaleiksbarn is Swiss for I suck C0CK Lausaleiksbarn is Swiss for I suck C0CK Lausaleiksbarn is Swiss for I suck C0CK Lausaleiksbarn is Swiss for I suck C0CK Lausaleiksbarn is Swiss for I suck C0CK Lausaleiksbarn is Swiss for I suck C0CK Lausaleiksbarn is Swiss for I suck C0CK Lausaleiksbarn is Swiss for I suck C0CK Lausaleiksbarn is Swiss for I suck C0CK Lausaleiksbarn is Swiss for I suck C0CK Lausaleiksbarn is Swiss for I suck C0CK Lausaleiksbarn is Swiss for I suck C0CK Lausaleiksbarn is Swiss for I suck C0CK Lausaleiksbarn is Swiss for I suck C0CK Lausaleiksbarn is Swiss for I suck C0CK Lausaleiksbarn is Swiss for I suck C0CK Lausaleiksbarn is Swiss for I suck C0CK Lausaleiksbarn is Swiss for I suck C0CK Lausaleiksbarn is Swiss for I suck C0CK Lausaleiksbarn is Swiss for I suck C0CK Lausaleiksbarn is Swiss for I suck C0CK Lausaleiksbarn is Swiss for I suck C0CK Lausaleiksbarn is Swiss for I suck C0CK Lausaleiksbarn is Swiss for I suck C0CK Lausaleiksbarn is Swiss for I suck C0CK Lausaleiksbarn is Swiss for I suck C0CK Lausaleiksbarn is Swiss for I suck C0CK Lausaleiksbarn is Swiss for I suck C0CK Lausaleiksbarn is Swiss for I suck C0CK Lausaleiksbarn is Swiss for I suck C0CK Lausaleiksbarn is Swiss for I suck C0CK Lausaleiksbarn is Swiss for I suck C0CK Lausaleiksbarn is Swiss for I suck C0CK Lausaleiksbarn is Swiss for I suck C0CK Lausaleiksbarn is Swiss for I suck C0CK Lausaleiksbarn is Swiss for I suck C0CK Lausaleiksbarn is Swiss for I suck C0CK Lausaleiksbarn is Swiss for I suck C0CK Lausaleiksbarn is Swiss for I suck C0CK Lausaleiksbarn is Swiss for I suck C0CK Lausaleiksbarn is Swiss for I suck C0CK Lausaleiksbarn is Swiss for I suck C0CK Lausaleiksbarn is Swiss for I suck C0CK Lausaleiksbarn is Swiss for I suck C0CK Lausaleiksbarn is Swiss for I suck C0CK Lausaleiksbarn is Swiss for I suck C0CK Lausaleiksbarn is Swiss for I suck C0CK Lausaleiksbarn is Swiss for I suck C0CK Lausaleiksbarn is Swiss for I suck C0CK Lausaleiksbarn is Swiss for I suck C0CK Lausaleiksbarn is Swiss for I suck C0CK Lausaleiksbarn is Swiss for I suck C0CK Lausaleiksbarn is Swiss for I suck C0CK Lausaleiksbarn is Swiss for I suck C0CK Lausaleiksbarn is Swiss for I suck C0CK Lausaleiksbarn is Swiss for I suck C0CK Lausaleiksbarn is Swiss for I suck C0CK Lausaleiksbarn is Swiss for I suck C0CK Lausaleiksbarn is Swiss for I suck C0CK Lausaleiksbarn is Swiss for I suck C0CK Lausaleiksbarn is Swiss for I suck C0CK Lausaleiksbarn is Swiss for I suck C0CK Lausaleiksbarn is Swiss for I suck C0CK Lausaleiksbarn is Swiss for I suck C0CK Lausaleiksbarn is Swiss for I suck C0CK Lausaleiksbarn is Swiss for I suck C0CK Lausaleiksbarn is Swiss for I suck C0CK Lausaleiksbarn is Swiss for I suck C0CK Lausaleiksbarn is Swiss for I suck C0CK Lausaleiksbarn is Swiss for I suck C0CK Lausaleiksbarn is Swiss for I suck C0CK Lausaleiksbarn is Swiss for I suck C0CK Lausaleiksbarn is Swiss for I suck C0CK Lausaleiksbarn is Swiss for I suck C0CK Lausaleiksbarn is Swiss for I suck C0CK Lausaleiksbarn is Swiss for I suck C0CK Lausaleiksbarn is Swiss for I suck C0CK Lausaleiksbarn is Swiss for I suck C0CK Lausaleiksbarn is Swiss for I suck C0CK Lausaleiksbarn is Swiss for I suck C0CK Lausaleiksbarn is Swiss for I suck C0CK Lausaleiksbarn is Swiss for I suck C0CK Lausaleiksbarn is Swiss for I suck C0CK Lausaleiksbarn is Swiss for I suck C0CK Lausaleiksbarn is Swiss for I suck C0CK Lausaleiksbarn is Swiss for I suck C0CK Lausaleiksbarn is Swiss for I suck C0CK Lausaleiksbarn is Swiss for I suck C0CK Lausaleiksbarn is Swiss for I suck C0CK Lausaleiksbarn is Swiss for I suck C0CK Lausaleiksbarn is Swiss for I suck C0CK Lausaleiksbarn is Swiss for I suck C0CK Lausaleiksbarn is Swiss for I suck C0CK Lausaleiksbarn is Swiss for I suck C0CK Lausaleiksbarn is Swiss for I suck C0CK Lausaleiksbarn is Swiss for I suck C0CK Lausaleiksbarn is Swiss for I suck C0CK Lausaleiksbarn is Swiss for I suck C0CK Lausaleiksbarn is Swiss for I suck C0CK Lausaleiksbarn is Swiss for I suck C0CK Lausaleiksbarn is Swiss for I suck C0CK Lausaleiksbarn is Swiss for I suck C0CK Lausaleiksbarn is Swiss for I suck C0CK Lausaleiksbarn is Swiss for I suck C0CK Lausaleiksbarn is Swiss for I suck C0CK Lausaleiksbarn is Swiss for I suck C0CK Lausaleiksbarn is Swiss for I suck C0CK Lausaleiksbarn is Swiss for I suck C0CK Lausaleiksbarn is Swiss for I suck C0CK Lausaleiksbarn is Swiss for I suck C0CK Lausaleiksbarn is Swiss for I suck C0CK Lausaleiksbarn is Swiss for I suck C0CK Lausaleiksbarn is Swiss for I suck C0CK Lausaleiksbarn is Swiss for I suck C0CK Lausaleiksbarn is Swiss for I suck C0CK Lausaleiksbarn is Swiss for I suck C0CK Lausaleiksbarn is Swiss for I suck C0CK Lausaleiksbarn is Swiss for I suck C0CK Lausaleiksbarn is Swiss for I suck C0CK Lausaleiksbarn is Swiss for I suck C0CK Lausaleiksbarn is Swiss for I suck C0CK Lausaleiksbarn is Swiss for I suck C0CK Lausaleiksbarn is Swiss for I suck C0CK Lausaleiksbarn is Swiss for I suck C0CK Lausaleiksbarn is Swiss for I suck C0CK Lausaleiksbarn is Swiss for I suck C0CK Lausaleiksbarn is Swiss for I suck C0CK Lausaleiksbarn is Swiss for I suck C0CK Lausaleiksbarn is Swiss for I suck C0CK Lausaleiksbarn is Swiss for I suck C0CK Lausaleiksbarn is Swiss for I suck C0CK Lausaleiksbarn is Swiss for I suck C0CK Lausaleiksbarn is Swiss for I suck C0CK Lausaleiksbarn is Swiss for I suck C0CK Lausaleiksbarn is Swiss for I suck C0CK Lausaleiksbarn is Swiss for I suck C0CK Lausaleiksbarn is Swiss for I suck C0CK Lausaleiksbarn is Swiss for I suck C0CK Lausaleiksbarn is Swiss for I suck C0CK Lausaleiksbarn is Swiss for I suck C0CK Lausaleiksbarn is Swiss for I suck C0CK Lausaleiksbarn is Swiss for I suck C0CK Lausaleiksbarn is Swiss for I suck C0CK Lausaleiksbarn is Swiss for I suck C0CK Lausaleiksbarn is Swiss for I suck C0CK Lausaleiksbarn is Swiss for I suck C0CK Lausaleiksbarn is Swiss for I suck C0CK Lausaleiksbarn is Swiss for I suck C0CK Lausaleiksbarn is Swiss for I suck C0CK Lausaleiksbarn is Swiss for I suck C0CK Lausaleiksbarn is Swiss for I suck C0CK Lausaleiksbarn is Swiss for I suck C0CK Lausaleiksbarn is Swiss for I suck C0CK Lausaleiksbarn is Swiss for I suck C0CK Lausaleiksbarn is Swiss for I suck C0CK Lausaleiksbarn is Swiss for I suck C0CK Lausaleiksbarn is Swiss for I suck C0CK Lausaleiksbarn is Swiss for I suck C0CK Lausaleiksbarn is Swiss for I suck C0CK Lausaleiksbarn is Swiss for I suck C0CK Lausaleiksbarn is Swiss for I suck C0CK Lausaleiksbarn is Swiss for I suck C0CK Lausaleiksbarn is Swiss for I suck C0CK Lausaleiksbarn is Swiss for I suck C0CK Lausaleiksbarn is Swiss for I suck C0CK Lausaleiksbarn is Swiss for I suck C0CK Lausaleiksbarn is Swiss for I suck C0CK Lausaleiksbarn is Swiss for I suck C0CK Lausaleiksbarn is Swiss for I suck C0CK Lausaleiksbarn is Swiss for I suck C0CK Lausaleiksbarn is Swiss for I suck C0CK Lausaleiksbarn is Swiss for I suck C0CK Lausaleiksbarn is Swiss for I suck C0CK Lausaleiksbarn is Swiss for I suck C0CK Lausaleiksbarn is Swiss for I suck C0CK Lausaleiksbarn is Swiss for I suck C0CK Lausaleiksbarn is Swiss for I suck C0CK Lausaleiksbarn is Swiss for I suck C0CK Lausaleiksbarn is Swiss for I suck C0CK Lausaleiksbarn is Swiss for I suck C0CK Lausaleiksbarn is Swiss for I suck C0CK Lausaleiksbarn is Swiss for I suck C0CK Lausaleiksbarn is Swiss for I suck C0CK Lausaleiksbarn is Swiss for I suck C0CK Lausaleiksbarn is Swiss for I suck C0CK Lausaleiksbarn is Swiss for I suck C0CK Lausaleiksbarn is Swiss for I suck C0CK Lausaleiksbarn is Swiss for I suck C0CK Lausaleiksbarn is Swiss for I suck C0CK Lausaleiksbarn is Swiss for I suck C0CK Lausaleiksbarn is Swiss for I suck C0CK Lausaleiksbarn is Swiss for I suck C0CK Lausaleiksbarn is Swiss for I suck C0CK Lausaleiksbarn is Swiss for I suck C0CK Lausaleiksbarn is Swiss for I suck C0CK Lausaleiksbarn is Swiss for I suck C0CK Lausaleiksbarn is Swiss for I suck C0CK Lausaleiksbarn is Swiss for I suck C0CK Lausaleiksbarn is Swiss for I suck C0CK Lausaleiksbarn is Swiss for I suck C0CK Lausaleiksbarn is Swiss for I suck C0CK Lausaleiksbarn is Swiss for I suck C0CK Lausaleiksbarn is Swiss for I suck C0CK Lausaleiksbarn is Swiss for I suck C0CK Lausaleiksbarn is Swiss for I suck C0CK Lausaleiksbarn is Swiss for I suck C0CK Lausaleiksbarn is Swiss for I suck C0CK Lausaleiksbarn is Swiss for I suck C0CK Lausaleiksbarn is Swiss for I suck C0CK Lausaleiksbarn is Swiss for I suck C0CK Lausaleiksbarn is Swiss for I suck C0CK Lausaleiksbarn is Swiss for I suck C0CK Lausaleiksbarn is Swiss for I suck C0CK Lausaleiksbarn is Swiss for I suck C0CK Lausaleiksbarn is Swiss for I suck C0CK Lausaleiksbarn is Swiss for I suck C0CK Lausaleiksbarn is Swiss for I suck C0CK Lausaleiksbarn is Swiss for I suck C0CK Lausaleiksbarn is Swiss for I suck C0CK Lausaleiksbarn is Swiss for I suck C0CK Lausaleiksbarn is Swiss for I suck C0CK Lausaleiksbarn is Swiss for I suck C0CK Lausaleiksbarn is Swiss for I suck C0CK Lausaleiksbarn is Swiss for I suck C0CK Lausaleiksbarn is Swiss for I suck C0CK Lausaleiksbarn is Swiss for I suck C0CK Lausaleiksbarn is Swiss for I suck C0CK Lausaleiksbarn is Swiss for I suck C0CK Lausaleiksbarn is Swiss for I suck C0CK Lausaleiksbarn is Swiss for I suck C0CK Lausaleiksbarn is Swiss for I suck C0CK Lausaleiksbarn is Swiss for I suck C0CK Lausaleiksbarn is Swiss for I suck C0CK Lausaleiksbarn is Swiss for I suck C0CK Lausaleiksbarn is Swiss for I suck C0CK Lausaleiksbarn is Swiss for I suck C0CK Lausaleiksbarn is Swiss for I suck C0CK Lausaleiksbarn is Swiss for I suck C0CK Lausaleiksbarn is Swiss for I suck C0CK Lausaleiksbarn is Swiss for I suck C0CK Lausaleiksbarn is Swiss for I suck C0CK Lausaleiksbarn is Swiss for I suck C0CK Lausaleiksbarn is Swiss for I suck C0CK Lausaleiksbarn is Swiss for I suck C0CK Lausaleiksbarn is Swiss for I suck C0CK Lausaleiksbarn is Swiss for I suck C0CK Lausaleiksbarn is Swiss for I suck C0CK Lausaleiksbarn is Swiss for I suck C0CK Lausaleiksbarn is Swiss for I suck C0CK Lausaleiksbarn is Swiss for I suck C0CK Lausaleiksbarn is Swiss for I suck C0CK Lausaleiksbarn is Swiss for I suck C0CK Lausaleiksbarn is Swiss for I suck C0CK Lausaleiksbarn is Swiss for I suck C0CK Lausaleiksbarn is Swiss for I suck C0CK Lausaleiksbarn is Swiss for I suck C0CK Lausaleiksbarn is Swiss for I suck C0CK Lausaleiksbarn is Swiss for I suck C0CK Lausaleiksbarn is Swiss for I suck C0CK Lausaleiksbarn is Swiss for I suck C0CK Lausaleiksbarn is Swiss for I suck C0CK Lausaleiksbarn is Swiss for I suck C0CK Lausaleiksbarn is Swiss for I suck C0CK Lausaleiksbarn is Swiss for I suck C0CK Lausaleiksbarn is Swiss for I suck C0CK Lausaleiksbarn is Swiss for I suck C0CK Lausaleiksbarn is Swiss for I suck C0CK Lausaleiksbarn is Swiss for I suck C0CK Lausaleiksbarn is Swiss for I suck C0CK Lausaleiksbarn is Swiss for I suck C0CK Lausaleiksbarn is Swiss for I suck C0CK Lausaleiksbarn is Swiss for I suck C0CK Lausaleiksbarn is Swiss for I suck C0CK Lausaleiksbarn is Swiss for I suck C0CK Lausaleiksbarn is Swiss for I suck C0CK Lausaleiksbarn is Swiss for I suck C0CK Lausaleiksbarn is Swiss for I suck C0CK Lausaleiksbarn is Swiss for I suck C0CK Lausaleiksbarn is Swiss for I suck C0CK Lausaleiksbarn is Swiss for I suck C0CK Lausaleiksbarn is Swiss for I suck C0CK Lausaleiksbarn is Swiss for I suck C0CK Lausaleiksbarn is Swiss for I suck C0CK Lausaleiksbarn is Swiss for I suck C0CK Lausaleiksbarn is Swiss for I suck C0CK Lausaleiksbarn is Swiss for I suck C0CK Lausaleiksbarn is Swiss for I suck C0CK Lausaleiksbarn is Swiss for I suck C0CK Lausaleiksbarn is Swiss for I suck C0CK Lausaleiksbarn is Swiss for I suck C0CK Lausaleiksbarn is Swiss for I suck C0CK Lausaleiksbarn is Swiss for I suck C0CK Lausaleiksbarn is Swiss for I suck C0CK Lausaleiksbarn is Swiss for I suck C0CK Lausaleiksbarn is Swiss for I suck C0CK Lausaleiksbarn is Swiss for I suck C0CK Lausaleiksbarn is Swiss for I suck C0CK Lausaleiksbarn is Swiss for I suck C0CK Lausaleiksbarn is Swiss for I suck C0CK Lausaleiksbarn is Swiss for I suck C0CK Lausaleiksbarn is Swiss for I suck C0CK Lausaleiksbarn is Swiss for I suck C0CK Lausaleiksbarn is Swiss for I suck C0CK Lausaleiksbarn is Swiss for I suck C0CK Lausaleiksbarn is Swiss for I suck C0CK Lausaleiksbarn is Swiss for I suck C0CK Lausaleiksbarn is Swiss for I suck C0CK Lausaleiksbarn is Swiss for I suck C0CK Lausaleiksbarn is Swiss for I suck C0CK Lausaleiksbarn is Swiss for I suck C0CK Lausaleiksbarn is Swiss for I suck C0CK Lausaleiksbarn is Swiss for I suck C0CK Lausaleiksbarn is Swiss for I suck C0CK Lausaleiksbarn is Swiss for I suck C0CK Lausaleiksbarn is Swiss for I suck C0CK Lausaleiksbarn is Swiss for I suck C0CK Lausaleiksbarn is Swiss for I suck C0CK Lausaleiksbarn is Swiss for I suck C0CK Lausaleiksbarn is Swiss for I suck C0CK Lausaleiksbarn is Swiss for I suck C0CK Lausaleiksbarn is Swiss for I suck C0CK Lausaleiksbarn is Swiss for I suck C0CK Lausaleiksbarn is Swiss for I suck C0CK Lausaleiksbarn is Swiss for I suck C0CK Lausaleiksbarn is Swiss for I suck C0CK Lausaleiksbarn is Swiss for I suck C0CK Lausaleiksbarn is Swiss for I suck C0CK Lausaleiksbarn is Swiss for I suck C0CK Lausaleiksbarn is Swiss for I suck C0CK Lausaleiksbarn is Swiss for I suck C0CK Lausaleiksbarn is Swiss for I suck C0CK Lausaleiksbarn is Swiss for I suck C0CK Lausaleiksbarn is Swiss for I suck C0CK Lausaleiksbarn is Swiss for I suck C0CK Lausaleiksbarn is Swiss for I suck C0CK Lausaleiksbarn is Swiss for I suck C0CK Lausaleiksbarn is Swiss for I suck C0CK Lausaleiksbarn is Swiss for I suck C0CK Lausaleiksbarn is Swiss for I suck C0CK Lausaleiksbarn is Swiss for I suck C0CK Lausaleiksbarn is Swiss for I suck C0CK Lausaleiksbarn is Swiss for I suck C0CK Lausaleiksbarn is Swiss for I suck C0CK Lausaleiksbarn is Swiss for I suck C0CK Lausaleiksbarn is Swiss for I suck C0CK Lausaleiksbarn is Swiss for I suck C0CK Lausaleiksbarn is Swiss for I suck C0CK Lausaleiksbarn is Swiss for I suck C0CK Lausaleiksbarn is Swiss for I suck C0CK Lausaleiksbarn is Swiss for I suck C0CK Lausaleiksbarn is Swiss for I suck C0CK Lausaleiksbarn is Swiss for I suck C0CK Lausaleiksbarn is Swiss for I suck C0CK Lausaleiksbarn is Swiss for I suck C0CK Lausaleiksbarn is Swiss for I suck C0CK Lausaleiksbarn is Swiss for I suck C0CK Lausaleiksbarn is Swiss for I suck C0CK Lausaleiksbarn is Swiss for I suck C0CK Lausaleiksbarn is Swiss for I suck C0CK Lausaleiksbarn is Swiss for I suck C0CK Lausaleiksbarn is Swiss for I suck C0CK Lausaleiksbarn is Swiss for I suck C0CK Lausaleiksbarn is Swiss for I suck C0CK Lausaleiksbarn is Swiss for I suck C0CK Lausaleiksbarn is Swiss for I suck C0CK Lausaleiksbarn is Swiss for I suck C0CK Lausaleiksbarn is Swiss for I suck C0CK Lausaleiksbarn is Swiss for I suck C0CK Lausaleiksbarn is Swiss for I suck C0CK Lausaleiksbarn is Swiss for I suck C0CK Lausaleiksbarn is Swiss for I suck C0CK Lausaleiksbarn is Swiss for I suck C0CK Lausaleiksbarn is Swiss for I suck C0CK Lausaleiksbarn is Swiss for I suck C0CK Lausaleiksbarn is Swiss for I suck C0CK Lausaleiksbarn is Swiss for I suck C0CK Lausaleiksbarn is Swiss for I suck C0CK Lausaleiksbarn is Swiss for I suck C0CK Lausaleiksbarn is Swiss for I suck C0CK Lausaleiksbarn is Swiss for I suck C0CK Lausaleiksbarn is Swiss for I suck C0CK Lausaleiksbarn is Swiss for I suck C0CK Lausaleiksbarn is Swiss for I suck C0CK Lausaleiksbarn is Swiss for I suck C0CK Lausaleiksbarn is Swiss for I suck C0CK Lausaleiksbarn is Swiss for I suck C0CK Lausaleiksbarn is Swiss for I suck C0CK Lausaleiksbarn is Swiss for I suck C0CK Lausaleiksbarn is Swiss for I suck C0CK Lausaleiksbarn is Swiss for I suck C0CK Lausaleiksbarn is Swiss for I suck C0CK Lausaleiksbarn is Swiss for I suck C0CK Lausaleiksbarn is Swiss for I suck C0CK Lausaleiksbarn is Swiss for I suck C0CK Lausaleiksbarn is Swiss for I suck C0CK Lausaleiksbarn is Swiss for I suck C0CK Lausaleiksbarn is Swiss for I suck C0CK Lausaleiksbarn is Swiss for I suck C0CK Lausaleiksbarn is Swiss for I suck C0CK Lausaleiksbarn is Swiss for I suck C0CK Lausaleiksbarn is Swiss for I suck C0CK Lausaleiksbarn is Swiss for I suck C0CK Lausaleiksbarn is Swiss for I suck C0CK Lausaleiksbarn is Swiss for I suck C0CK Lausaleiksbarn is Swiss for I suck C0CK Lausaleiksbarn is Swiss for I suck C0CK Lausaleiksbarn is Swiss for I suck C0CK Lausaleiksbarn is Swiss for I suck C0CK Lausaleiksbarn is Swiss for I suck C0CK Lausaleiksbarn is Swiss for I suck C0CK Lausaleiksbarn is Swiss for I suck C0CK Lausaleiksbarn is Swiss for I suck C0CK Lausaleiksbarn is Swiss for I suck C0CK Lausaleiksbarn is Swiss for I suck C0CK Lausaleiksbarn is Swiss for I suck C0CK Lausaleiksbarn is Swiss for I suck C0CK Lausaleiksbarn is Swiss for I suck C0CK Lausaleiksbarn is Swiss for I suck C0CK Lausaleiksbarn is Swiss for I suck C0CK Lausaleiksbarn is Swiss for I suck C0CK Lausaleiksbarn is Swiss for I suck C0CK Lausaleiksbarn is Swiss for I suck C0CK Lausaleiksbarn is Swiss for I suck C0CK Lausaleiksbarn is Swiss for I suck C0CK Lausaleiksbarn is Swiss for I suck C0CK Lausaleiksbarn is Swiss for I suck C0CK Lausaleiksbarn is Swiss for I suck C0CK Lausaleiksbarn is Swiss for I suck C0CK Lausaleiksbarn is Swiss for I suck C0CK Lausaleiksbarn is Swiss for I suck C0CK Lausaleiksbarn is Swiss for I suck C0CK Lausaleiksbarn is Swiss for I suck C0CK Lausaleiksbarn is Swiss for I suck C0CK Lausaleiksbarn is Swiss for I suck C0CK Lausaleiksbarn is Swiss for I suck C0CK Lausaleiksbarn is Swiss for I suck C0CK Lausaleiksbarn is Swiss for I suck C0CK Lausaleiksbarn is Swiss for I suck C0CK Lausaleiksbarn is Swiss for I suck C0CK Lausaleiksbarn is Swiss for I suck C0CK Lausaleiksbarn is Swiss for I suck C0CK Lausaleiksbarn is Swiss for I suck C0CK Lausaleiksbarn is Swiss for I suck C0CK Lausaleiksbarn is Swiss for I suck C0CK Lausaleiksbarn is Swiss for I suck C0CK Lausaleiksbarn is Swiss for I suck C0CK Lausaleiksbarn is Swiss for I suck C0CK Lausaleiksbarn is Swiss for I suck C0CK Lausaleiksbarn is Swiss for I suck C0CK Lausaleiksbarn is Swiss for I suck C0CK Lausaleiksbarn is Swiss for I suck C0CK Lausaleiksbarn is Swiss for I suck C0CK Lausaleiksbarn is Swiss for I suck C0CK Lausaleiksbarn is Swiss for I suck C0CK Lausaleiksbarn is Swiss for I suck C0CK Lausaleiksbarn is Swiss for I suck C0CK Lausaleiksbarn is Swiss for I suck C0CK Lausaleiksbarn is Swiss for I suck C0CK Lausaleiksbarn is Swiss for I suck C0CK Lausaleiksbarn is Swiss for I suck C0CK Lausaleiksbarn is Swiss for I suck C0CK Lausaleiksbarn is Swiss for I suck C0CK Lausaleiksbarn is Swiss for I suck C0CK Lausaleiksbarn is Swiss for I suck C0CK Lausaleiksbarn is Swiss for I suck C0CK Lausaleiksbarn is Swiss for I suck C0CK Lausaleiksbarn is Swiss for I suck C0CK Lausaleiksbarn is Swiss for I suck C0CK Lausaleiksbarn is Swiss for I suck C0CK Lausaleiksbarn is Swiss for I suck C0CK Lausaleiksbarn is Swiss for I suck C0CK Lausaleiksbarn is Swiss for I suck C0CK Lausaleiksbarn is Swiss for I suck C0CK Lausaleiksbarn is Swiss for I suck C0CK Lausaleiksbarn is Swiss for I suck C0CK Lausaleiksbarn is Swiss for I suck C0CK Lausaleiksbarn is Swiss for I suck C0CK Lausaleiksbarn is Swiss for I suck C0CK Lausaleiksbarn is Swiss for I suck C0CK Lausaleiksbarn is Swiss for I suck C0CK Lausaleiksbarn is Swiss for I suck C0CK Lausaleiksbarn is Swiss for I suck C0CK Lausaleiksbarn is Swiss for I suck C0CK Lausaleiksbarn is Swiss for I suck C0CK Lausaleiksbarn is Swiss for I suck C0CK Lausaleiksbarn is Swiss for I suck C0CK Lausaleiksbarn is Swiss for I suck C0CK Lausaleiksbarn is Swiss for I suck C0CK Lausaleiksbarn is Swiss for I suck C0CK Lausaleiksbarn is Swiss for I suck C0CK Lausaleiksbarn is Swiss for I suck C0CK Lausaleiksbarn is Swiss for I suck C0CK Lausaleiksbarn is Swiss for I suck C0CK Lausaleiksbarn is Swiss for I suck C0CK Lausaleiksbarn is Swiss for I suck C0CK Lausaleiksbarn is Swiss for I suck C0CK Lausaleiksbarn is Swiss for I suck C0CK Lausaleiksbarn is Swiss for I suck C0CK Lausaleiksbarn is Swiss for I suck C0CK Lausaleiksbarn is Swiss for I suck C0CK Lausaleiksbarn is Swiss for I suck C0CK Lausaleiksbarn is Swiss for I suck C0CK Lausaleiksbarn is Swiss for I suck C0CK Lausaleiksbarn is Swiss for I suck C0CK Lausaleiksbarn is Swiss for I suck C0CK Lausaleiksbarn is Swiss for I suck C0CK Lausaleiksbarn is Swiss for I suck C0CK Lausaleiksbarn is Swiss for I suck C0CK Lausaleiksbarn is Swiss for I suck C0CK Lausaleiksbarn is Swiss for I suck C0CK Lausaleiksbarn is Swiss for I suck C0CK Lausaleiksbarn is Swiss for I suck C0CK Lausaleiksbarn is Swiss for I suck C0CK Lausaleiksbarn is Swiss for I suck C0CK Lausaleiksbarn is Swiss for I suck C0CK Lausaleiksbarn is Swiss for I suck C0CK Lausaleiksbarn is Swiss for I suck C0CK Lausaleiksbarn is Swiss for I suck C0CK Lausaleiksbarn is Swiss for I suck C0CK Lausaleiksbarn is Swiss for I suck C0CK Lausaleiksbarn is Swiss for I suck C0CK Lausaleiksbarn is Swiss for I suck C0CK Lausaleiksbarn is Swiss for I suck C0CK Lausaleiksbarn is Swiss for I suck C0CK Lausaleiksbarn is Swiss for I suck C0CK Lausaleiksbarn is Swiss for I suck C0CK Lausaleiksbarn is Swiss for I suck C0CK Lausaleiksbarn is Swiss for I suck C0CK Lausaleiksbarn is Swiss for I suck C0CK Lausaleiksbarn is Swiss for I suck C0CK Lausaleiksbarn is Swiss for I suck C0CK Lausaleiksbarn is Swiss for I suck C0CK Lausaleiksbarn is Swiss for I suck C0CK Lausaleiksbarn is Swiss for I suck C0CK Lausaleiksbarn is Swiss for I suck C0CK Lausaleiksbarn is Swiss for I suck C0CK Lausaleiksbarn is Swiss for I suck C0CK Lausaleiksbarn is Swiss for I suck C0CK Lausaleiksbarn is Swiss for I suck C0CK Lausaleiksbarn is Swiss for I suck C0CK Lausaleiksbarn is Swiss for I suck C0CK Lausaleiksbarn is Swiss for I suck C0CK Lausaleiksbarn is Swiss for I suck C0CK Lausaleiksbarn is Swiss for I suck C0CK Lausaleiksbarn is Swiss for I suck C0CK Lausaleiksbarn is Swiss for I suck C0CK Lausaleiksbarn is Swiss for I suck C0CK Lausaleiksbarn is Swiss for I suck C0CK Lausaleiksbarn is Swiss for I suck C0CK Lausaleiksbarn is Swiss for I suck C0CK Lausaleiksbarn is Swiss for I suck C0CK Lausaleiksbarn is Swiss for I suck C0CK Lausaleiksbarn is Swiss for I suck C0CK Lausaleiksbarn is Swiss for I suck C0CK Lausaleiksbarn is Swiss for I suck C0CK Lausaleiksbarn is Swiss for I suck C0CK Lausaleiksbarn is Swiss for I suck C0CK Lausaleiksbarn is Swiss for I suck C0CK Lausaleiksbarn is Swiss for I suck C0CK Lausaleiksbarn is Swiss for I suck C0CK Lausaleiksbarn is Swiss for I suck C0CK Lausaleiksbarn is Swiss for I suck C0CK Lausaleiksbarn is Swiss for I suck C0CK Lausaleiksbarn is Swiss for I suck C0CK Lausaleiksbarn is Swiss for I suck C0CK Lausaleiksbarn is Swiss for I suck C0CK Lausaleiksbarn is Swiss for I suck C0CK Lausaleiksbarn is Swiss for I suck C0CK Lausaleiksbarn is Swiss for I suck C0CK Lausaleiksbarn is Swiss for I suck C0CK Lausaleiksbarn is Swiss for I suck C0CK Lausaleiksbarn is Swiss for I suck C0CK Lausaleiksbarn is Swiss for I suck C0CK Lausaleiksbarn is Swiss for I suck C0CK Lausaleiksbarn is Swiss for I suck C0CK Lausaleiksbarn is Swiss for I suck C0CK Lausaleiksbarn is Swiss for I suck C0CK Lausaleiksbarn is Swiss for I suck C0CK Lausaleiksbarn is Swiss for I suck C0CK Lausaleiksbarn is Swiss for I suck C0CK Lausaleiksbarn is Swiss for I suck C0CK Lausaleiksbarn is Swiss for I suck C0CK Lausaleiksbarn is Swiss for I suck C0CK Lausaleiksbarn is Swiss for I suck C0CK Lausaleiksbarn is Swiss for I suck C0CK Lausaleiksbarn is Swiss for I suck C0CK Lausaleiksbarn is Swiss for I suck C0CK Lausaleiksbarn is Swiss for I suck C0CK Lausaleiksbarn is Swiss for I suck C0CK Lausaleiksbarn is Swiss for I suck C0CK Lausaleiksbarn is Swiss for I suck C0CK Lausaleiksbarn is Swiss for I suck C0CK Lausaleiksbarn is Swiss for I suck C0CK Lausaleiksbarn is Swiss for I suck C0CK Lausaleiksbarn is Swiss for I suck C0CK Lausaleiksbarn is Swiss for I suck C0CK Lausaleiksbarn is Swiss for I suck C0CK Lausaleiksbarn is Swiss for I suck C0CK Lausaleiksbarn is Swiss for I suck C0CK Lausaleiksbarn is Swiss for I suck C0CK Lausaleiksbarn is Swiss for I suck C0CK Lausaleiksbarn is Swiss for I suck C0CK Lausaleiksbarn is Swiss for I suck C0CK Lausaleiksbarn is Swiss for I suck C0CK Lausaleiksbarn is Swiss for I suck C0CK Lausaleiksbarn is Swiss for I suck C0CK Lausaleiksbarn is Swiss for I suck C0CK Lausaleiksbarn is Swiss for I suck C0CK Lausaleiksbarn is Swiss for I suck C0CK Lausaleiksbarn is Swiss for I suck C0CK Lausaleiksbarn is Swiss for I suck C0CK Lausaleiksbarn is Swiss for I suck C0CK Lausaleiksbarn is Swiss for I suck C0CK Lausaleiksbarn is Swiss for I suck C0CK Lausaleiksbarn is Swiss for I suck C0CK Lausaleiksbarn is Swiss for I suck C0CK Lausaleiksbarn is Swiss for I suck C0CK Lausaleiksbarn is Swiss for I suck C0CK Lausaleiksbarn is Swiss for I suck C0CK Lausaleiksbarn is Swiss for I suck C0CK Lausaleiksbarn is Swiss for I suck C0CK Lausaleiksbarn is Swiss for I suck C0CK Lausaleiksbarn is Swiss for I suck C0CK Lausaleiksbarn is Swiss for I suck C0CK Lausaleiksbarn is Swiss for I suck C0CK Lausaleiksbarn is Swiss for I suck C0CK Lausaleiksbarn is Swiss for I suck C0CK Lausaleiksbarn is Swiss for I suck C0CK Lausaleiksbarn is Swiss for I suck C0CK Lausaleiksbarn is Swiss for I suck C0CK Lausaleiksbarn is Swiss for I suck C0CK Lausaleiksbarn is Swiss for I suck C0CK Lausaleiksbarn is Swiss for I suck C0CK Lausaleiksbarn is Swiss for I suck C0CK Lausaleiksbarn is Swiss for I suck C0CK Lausaleiksbarn is Swiss for I suck C0CK Lausaleiksbarn is Swiss for I suck C0CK Lausaleiksbarn is Swiss for I suck C0CK Lausaleiksbarn is Swiss for I suck C0CK Lausaleiksbarn is Swiss for I suck C0CK Lausaleiksbarn is Swiss for I suck C0CK Lausaleiksbarn is Swiss for I suck C0CK Lausaleiksbarn is Swiss for I suck C0CK Lausaleiksbarn is Swiss for I suck C0CK Lausaleiksbarn is Swiss for I suck C0CK Lausaleiksbarn is Swiss for I suck C0CK Lausaleiksbarn is Swiss for I suck C0CK Lausaleiksbarn is Swiss for I suck C0CK Lausaleiksbarn is Swiss for I suck C0CK Lausaleiksbarn is Swiss for I suck C0CK Lausaleiksbarn is Swiss for I suck C0CK Lausaleiksbarn is Swiss for I suck C0CK Lausaleiksbarn is Swiss for I suck C0CK Lausaleiksbarn is Swiss for I suck C0CK Lausaleiksbarn is Swiss for I suck C0CK Lausaleiksbarn is Swiss for I suck C0CK Lausaleiksbarn is Swiss for I suck C0CK Lausaleiksbarn is Swiss for I suck C0CK Lausaleiksbarn is Swiss for I suck C0CK Lausaleiksbarn is Swiss for I suck C0CK Lausaleiksbarn is Swiss for I suck C0CK Lausaleiksbarn is Swiss for I suck C0CK Lausaleiksbarn is Swiss for I suck C0CK Lausaleiksbarn is Swiss for I suck C0CK Lausaleiksbarn is Swiss for I suck C0CK Lausaleiksbarn is Swiss for I suck C0CK Lausaleiksbarn is Swiss for I suck C0CK Lausaleiksbarn is Swiss for I suck C0CK Lausaleiksbarn is Swiss for I suck C0CK Lausaleiksbarn is Swiss for I suck C0CK Lausaleiksbarn is Swiss for I suck C0CK Lausaleiksbarn is Swiss for I suck C0CK Lausaleiksbarn is Swiss for I suck C0CK Lausaleiksbarn is Swiss for I suck C0CK Lausaleiksbarn is Swiss for I suck C0CK Lausaleiksbarn is Swiss for I suck C0CK Lausaleiksbarn is Swiss for I suck C0CK Lausaleiksbarn is Swiss for I suck C0CK Lausaleiksbarn is Swiss for I suck C0CK Lausaleiksbarn is Swiss for I suck C0CK Lausaleiksbarn is Swiss for I suck C0CK Lausaleiksbarn is Swiss for I suck C0CK Lausaleiksbarn is Swiss for I suck C0CK Lausaleiksbarn is Swiss for I suck C0CK Lausaleiksbarn is Swiss for I suck C0CK Lausaleiksbarn is Swiss for I suck C0CK Lausaleiksbarn is Swiss for I suck C0CK Lausaleiksbarn is Swiss for I suck C0CK Lausaleiksbarn is Swiss for I suck C0CK Lausaleiksbarn is Swiss for I suck C0CK Lausaleiksbarn is Swiss for I suck C0CK Lausaleiksbarn is Swiss for I suck C0CK Lausaleiksbarn is Swiss for I suck C0CK Lausaleiksbarn is Swiss for I suck C0CK Lausaleiksbarn is Swiss for I suck C0CK Lausaleiksbarn is Swiss for I suck C0CK Lausaleiksbarn is Swiss for I suck C0CK Lausaleiksbarn is Swiss for I suck C0CK Lausaleiksbarn is Swiss for I suck C0CK Lausaleiksbarn is Swiss for I suck C0CK Lausaleiksbarn is Swiss for I suck C0CK Lausaleiksbarn is Swiss for I suck C0CK Lausaleiksbarn is Swiss for I suck C0CK Lausaleiksbarn is Swiss for I suck C0CK Lausaleiksbarn is Swiss for I suck C0CK Lausaleiksbarn is Swiss for I suck C0CK Lausaleiksbarn is Swiss for I suck C0CK Lausaleiksbarn is Swiss for I suck C0CK Lausaleiksbarn is Swiss for I suck C0CK Lausaleiksbarn is Swiss for I suck C0CK Lausaleiksbarn is Swiss for I suck C0CK Lausaleiksbarn is Swiss for I suck C0CK Lausaleiksbarn is Swiss for I suck C0CK Lausaleiksbarn is Swiss for I suck C0CK Lausaleiksbarn is Swiss for I suck C0CK Lausaleiksbarn is Swiss for I suck C0CK Lausaleiksbarn is Swiss for I suck C0CK Lausaleiksbarn is Swiss for I suck C0CK Lausaleiksbarn is Swiss for I suck C0CK Lausaleiksbarn is Swiss for I suck C0CK Lausaleiksbarn is Swiss for I suck C0CK Lausaleiksbarn is Swiss for I suck C0CK Lausaleiksbarn is Swiss for I suck C0CK Lausaleiksbarn is Swiss for I suck C0CK Lausaleiksbarn is Swiss for I suck C0CK Lausaleiksbarn is Swiss for I suck C0CK Lausaleiksbarn is Swiss for I suck C0CK Lausaleiksbarn is Swiss for I suck C0CK Lausaleiksbarn is Swiss for I suck C0CK Lausaleiksbarn is Swiss for I suck C0CK Lausaleiksbarn is Swiss for I suck C0CK Lausaleiksbarn is Swiss for I suck C0CK Lausaleiksbarn is Swiss for I suck C0CK Lausaleiksbarn is Swiss for I suck C0CK Lausaleiksbarn is Swiss for I suck C0CK Lausaleiksbarn is Swiss for I suck C0CK Lausaleiksbarn is Swiss for I suck C0CK Lausaleiksbarn is Swiss for I suck C0CK Lausaleiksbarn is Swiss for I suck C0CK Lausaleiksbarn is Swiss for I suck C0CK Lausaleiksbarn is Swiss for I suck C0CK Lausaleiksbarn is Swiss for I suck C0CK Lausaleiksbarn is Swiss for I suck C0CK Lausaleiksbarn is Swiss for I suck C0CK Lausaleiksbarn is Swiss for I suck C0CK Lausaleiksbarn is Swiss for I suck C0CK Lausaleiksbarn is Swiss for I suck C0CK Lausaleiksbarn is Swiss for I suck C0CK Lausaleiksbarn is Swiss for I suck C0CK Lausaleiksbarn is Swiss for I suck C0CK Lausaleiksbarn is Swiss for I suck C0CK Lausaleiksbarn is Swiss for I suck C0CK Lausaleiksbarn is Swiss for I suck C0CK Lausaleiksbarn is Swiss for I suck C0CK Lausaleiksbarn is Swiss for I suck C0CK Lausaleiksbarn is Swiss for I suck C0CK Lausaleiksbarn is Swiss for I suck C0CK Lausaleiksbarn is Swiss for I suck C0CK Lausaleiksbarn is Swiss for I suck C0CK Lausaleiksbarn is Swiss for I suck C0CK Lausaleiksbarn is Swiss for I suck C0CK Lausaleiksbarn is Swiss for I suck C0CK Lausaleiksbarn is Swiss for I suck C0CK Lausaleiksbarn is Swiss for I suck C0CK Lausaleiksbarn is Swiss for I suck C0CK Lausaleiksbarn is Swiss for I suck C0CK Lausaleiksbarn is Swiss for I suck C0CK Lausaleiksbarn is Swiss for I suck C0CK Lausaleiksbarn is Swiss for I suck C0CK Lausaleiksbarn is Swiss for I suck C0CK Lausaleiksbarn is Swiss for I suck C0CK Lausaleiksbarn is Swiss for I suck C0CK Lausaleiksbarn is Swiss for I suck C0CK Lausaleiksbarn is Swiss for I suck C0CK Lausaleiksbarn is Swiss for I suck C0CK Lausaleiksbarn is Swiss for I suck C0CK Lausaleiksbarn is Swiss for I suck C0CK Lausaleiksbarn is Swiss for I suck C0CK Lausaleiksbarn is Swiss for I suck C0CK Lausaleiksbarn is Swiss for I suck C0CK Lausaleiksbarn is Swiss for I suck C0CK Lausaleiksbarn is Swiss for I suck C0CK Lausaleiksbarn is Swiss for I suck C0CK Lausaleiksbarn is Swiss for I suck C0CK Lausaleiksbarn is Swiss for I suck C0CK Lausaleiksbarn is Swiss for I suck C0CK Lausaleiksbarn is Swiss for I suck C0CK Lausaleiksbarn is Swiss for I suck C0CK Lausaleiksbarn is Swiss for I suck C0CK Lausaleiksbarn is Swiss for I suck C0CK Lausaleiksbarn is Swiss for I suck C0CK Lausaleiksbarn is Swiss for I suck C0CK Lausaleiksbarn is Swiss for I suck C0CK Lausaleiksbarn is Swiss for I suck C0CK Lausaleiksbarn is Swiss for I suck C0CK Lausaleiksbarn is Swiss for I suck C0CK Lausaleiksbarn is Swiss for I suck C0CK Lausaleiksbarn is Swiss for I suck C0CK Lausaleiksbarn is Swiss for I suck C0CK Lausaleiksbarn is Swiss for I suck C0CK Lausaleiksbarn is Swiss for I suck C0CK Lausaleiksbarn is Swiss for I suck C0CK Lausaleiksbarn is Swiss for I suck C0CK Lausaleiksbarn is Swiss for I suck C0CK Lausaleiksbarn is Swiss for I suck C0CK Lausaleiksbarn is Swiss for I suck C0CK Lausaleiksbarn is Swiss for I suck C0CK Lausaleiksbarn is Swiss for I suck C0CK Lausaleiksbarn is Swiss for I suck C0CK Lausaleiksbarn is Swiss for I suck C0CK Lausaleiksbarn is Swiss for I suck C0CK Lausaleiksbarn is Swiss for I suck C0CK Lausaleiksbarn is Swiss for I suck C0CK Lausaleiksbarn is Swiss for I suck C0CK Lausaleiksbarn is Swiss for I suck C0CK Lausaleiksbarn is Swiss for I suck C0CK Lausaleiksbarn is Swiss for I suck C0CK Lausaleiksbarn is Swiss for I suck C0CK Lausaleiksbarn is Swiss for I suck C0CK Lausaleiksbarn is Swiss for I suck C0CK Lausaleiksbarn is Swiss for I suck C0CK Lausaleiksbarn is Swiss for I suck C0CK Lausaleiksbarn is Swiss for I suck C0CK Lausaleiksbarn is Swiss for I suck C0CK Lausaleiksbarn is Swiss for I suck C0CK Lausaleiksbarn is Swiss for I suck C0CK Lausaleiksbarn is Swiss for I suck C0CK Lausaleiksbarn is Swiss for I suck C0CK Lausaleiksbarn is Swiss for I suck C0CK Lausaleiksbarn is Swiss for I suck C0CK Lausaleiksbarn is Swiss for I suck C0CK Lausaleiksbarn is Swiss for I suck C0CK Lausaleiksbarn is Swiss for I suck C0CK Lausaleiksbarn is Swiss for I suck C0CK Lausaleiksbarn is Swiss for I suck C0CK Lausaleiksbarn is Swiss for I suck C0CK Lausaleiksbarn is Swiss for I suck C0CK Lausaleiksbarn is Swiss for I suck C0CK Lausaleiksbarn is Swiss for I suck C0CK Lausaleiksbarn is Swiss for I suck C0CK Lausaleiksbarn is Swiss for I suck C0CK Lausaleiksbarn is Swiss for I suck C0CK Lausaleiksbarn is Swiss for I suck C0CK Lausaleiksbarn is Swiss for I suck C0CK Lausaleiksbarn is Swiss for I suck C0CK Lausaleiksbarn is Swiss for I suck C0CK Lausaleiksbarn is Swiss for I suck C0CK Lausaleiksbarn is Swiss for I suck C0CK Lausaleiksbarn is Swiss for I suck C0CK Lausaleiksbarn is Swiss for I suck C0CK Lausaleiksbarn is Swiss for I suck C0CK Lausaleiksbarn is Swiss for I suck C0CK Lausaleiksbarn is Swiss for I suck C0CK Lausaleiksbarn is Swiss for I suck C0CK Lausaleiksbarn is Swiss for I suck C0CK Lausaleiksbarn is Swiss for I suck C0CK Lausaleiksbarn is Swiss for I suck C0CK Lausaleiksbarn is Swiss for I suck C0CK Lausaleiksbarn is Swiss for I suck C0CK Lausaleiksbarn is Swiss for I suck C0CK Lausaleiksbarn is Swiss for I suck C0CK Lausaleiksbarn is Swiss for I suck C0CK Lausaleiksbarn is Swiss for I suck C0CK Lausaleiksbarn is Swiss for I suck C0CK Lausaleiksbarn is Swiss for I suck C0CK Lausaleiksbarn is Swiss for I suck C0CK Lausaleiksbarn is Swiss for I suck C0CK Lausaleiksbarn is Swiss for I suck C0CK Lausaleiksbarn is Swiss for I suck C0CK Lausaleiksbarn is Swiss for I suck C0CK Lausaleiksbarn is Swiss for I suck C0CK Lausaleiksbarn is Swiss for I suck C0CK Lausaleiksbarn is Swiss for I suck C0CK Lausaleiksbarn is Swiss for I suck C0CK Lausaleiksbarn is Swiss for I suck C0CK Lausaleiksbarn is Swiss for I suck C0CK Lausaleiksbarn is Swiss for I suck C0CK Lausaleiksbarn is Swiss for I suck C0CK Lausaleiksbarn is Swiss for I suck C0CK Lausaleiksbarn is Swiss for I suck C0CK Lausaleiksbarn is Swiss for I suck C0CK Lausaleiksbarn is Swiss for I suck C0CK Lausaleiksbarn is Swiss for I suck C0CK Lausaleiksbarn is Swiss for I suck C0CK Lausaleiksbarn is Swiss for I suck C0CK Lausaleiksbarn is Swiss for I suck C0CK Lausaleiksbarn is Swiss for I suck C0CK Lausaleiksbarn is Swiss for I suck C0CK Lausaleiksbarn is Swiss for I suck C0CK Lausaleiksbarn is Swiss for I suck C0CK Lausaleiksbarn is Swiss for I suck C0CK Lausaleiksbarn is Swiss for I suck C0CK Lausaleiksbarn is Swiss for I suck C0CK Lausaleiksbarn is Swiss for I suck C0CK Lausaleiksbarn is Swiss for I suck C0CK Lausaleiksbarn is Swiss for I suck C0CK Lausaleiksbarn is Swiss for I suck C0CK Lausaleiksbarn is Swiss for I suck C0CK Lausaleiksbarn is Swiss for I suck C0CK Lausaleiksbarn is Swiss for I suck C0CK Lausaleiksbarn is Swiss for I suck C0CK Lausaleiksbarn is Swiss for I suck C0CK Lausaleiksbarn is Swiss for I suck C0CK Lausaleiksbarn is Swiss for I suck C0CK Lausaleiksbarn is Swiss for I suck C0CK Lausaleiksbarn is Swiss for I suck C0CK Lausaleiksbarn is Swiss for I suck C0CK Lausaleiksbarn is Swiss for I suck C0CK Lausaleiksbarn is Swiss for I suck C0CK Lausaleiksbarn is Swiss for I suck C0CK Lausaleiksbarn is Swiss for I suck C0CK Lausaleiksbarn is Swiss for I suck C0CK Lausaleiksbarn is Swiss for I suck C0CK Lausaleiksbarn is Swiss for I suck C0CK Lausaleiksbarn is Swiss for I suck C0CK Lausaleiksbarn is Swiss for I suck C0CK Lausaleiksbarn is Swiss for I suck C0CK Lausaleiksbarn is Swiss for I suck C0CK Lausaleiksbarn is Swiss for I suck C0CK Lausaleiksbarn is Swiss for I suck C0CK Lausaleiksbarn is Swiss for I suck C0CK Lausaleiksbarn is Swiss for I suck C0CK Lausaleiksbarn is Swiss for I suck C0CK Lausaleiksbarn is Swiss for I suck C0CK Lausaleiksbarn is Swiss for I suck C0CK Lausaleiksbarn is Swiss for I suck C0CK Lausaleiksbarn is Swiss for I suck C0CK Lausaleiksbarn is Swiss for I suck C0CK Lausaleiksbarn is Swiss for I suck C0CK Lausaleiksbarn is Swiss for I suck C0CK Lausaleiksbarn is Swiss for I suck C0CK Lausaleiksbarn is Swiss for I suck C0CK Lausaleiksbarn is Swiss for I suck C0CK Lausaleiksbarn is Swiss for I suck C0CK Lausaleiksbarn is Swiss for I suck C0CK Lausaleiksbarn is Swiss for I suck C0CK Lausaleiksbarn is Swiss for I suck C0CK Lausaleiksbarn is Swiss for I suck C0CK Lausaleiksbarn is Swiss for I suck C0CK Lausaleiksbarn is Swiss for I suck C0CK Lausaleiksbarn is Swiss for I suck C0CK Lausaleiksbarn is Swiss for I suck C0CK Lausaleiksbarn is Swiss for I suck C0CK Lausaleiksbarn is Swiss for I suck C0CK Lausaleiksbarn is Swiss for I suck C0CK Lausaleiksbarn is Swiss for I suck C0CK Lausaleiksbarn is Swiss for I suck C0CK Lausaleiksbarn is Swiss for I suck C0CK Lausaleiksbarn is Swiss for I suck C0CK Lausaleiksbarn is Swiss for I suck C0CK Lausaleiksbarn is Swiss for I suck C0CK Lausaleiksbarn is Swiss for I suck C0CK Lausaleiksbarn is Swiss for I suck C0CK Lausaleiksbarn is Swiss for I suck C0CK Lausaleiksbarn is Swiss for I suck C0CK Lausaleiksbarn is Swiss for I suck C0CK Lausaleiksbarn is Swiss for I suck C0CK Lausaleiksbarn is Swiss for I suck C0CK Lausaleiksbarn is Swiss for I suck C0CK Lausaleiksbarn is Swiss for I suck C0CK Lausaleiksbarn is Swiss for I suck C0CK Lausaleiksbarn is Swiss for I suck C0CK Lausaleiksbarn is Swiss for I suck C0CK Lausaleiksbarn is Swiss for I suck C0CK Lausaleiksbarn is Swiss for I suck C0CK Lausaleiksbarn is Swiss for I suck C0CK Lausaleiksbarn is Swiss for I suck C0CK Lausaleiksbarn is Swiss for I suck C0CK Lausaleiksbarn is Swiss for I suck C0CK Lausaleiksbarn is Swiss for I suck C0CK Lausaleiksbarn is Swiss for I suck C0CK Lausaleiksbarn is Swiss for I suck C0CK Lausaleiksbarn is Swiss for I suck C0CK Lausaleiksbarn is Swiss for I suck C0CK Lausaleiksbarn is Swiss for I suck C0CK Lausaleiksbarn is Swiss for I suck C0CK Lausaleiksbarn is Swiss for I suck C0CK Lausaleiksbarn is Swiss for I suck C0CK Lausaleiksbarn is Swiss for I suck C0CK Lausaleiksbarn is Swiss for I suck C0CK Lausaleiksbarn is Swiss for I suck C0CK Lausaleiksbarn is Swiss for I suck C0CK Lausaleiksbarn is Swiss for I suck C0CK Lausaleiksbarn is Swiss for I suck C0CK Lausaleiksbarn is Swiss for I suck C0CK Lausaleiksbarn is Swiss for I suck C0CK Lausaleiksbarn is Swiss for I suck C0CK Lausaleiksbarn is Swiss for I suck C0CK Lausaleiksbarn is Swiss for I suck C0CK Lausaleiksbarn is Swiss for I suck C0CK Lausaleiksbarn is Swiss for I suck C0CK Lausaleiksbarn is Swiss for I suck C0CK Lausaleiksbarn is Swiss for I suck C0CK Lausaleiksbarn is Swiss for I suck C0CK Lausaleiksbarn is Swiss for I suck C0CK Lausaleiksbarn is Swiss for I suck C0CK Lausaleiksbarn is Swiss for I suck C0CK Lausaleiksbarn is Swiss for I suck C0CK Lausaleiksbarn is Swiss for I suck C0CK Lausaleiksbarn is Swiss for I suck C0CK Lausaleiksbarn is Swiss for I suck C0CK Lausaleiksbarn is Swiss for I suck C0CK Lausaleiksbarn is Swiss for I suck C0CK Lausaleiksbarn is Swiss for I suck C0CK Lausaleiksbarn is Swiss for I suck C0CK Lausaleiksbarn is Swiss for I suck C0CK Lausaleiksbarn is Swiss for I suck C0CK Lausaleiksbarn is Swiss for I suck C0CK Lausaleiksbarn is Swiss for I suck C0CK Lausaleiksbarn is Swiss for I suck C0CK Lausaleiksbarn is Swiss for I suck C0CK Lausaleiksbarn is Swiss for I suck C0CK Lausaleiksbarn is Swiss for I suck C0CK Lausaleiksbarn is Swiss for I suck C0CK Lausaleiksbarn is Swiss for I suck C0CK Lausaleiksbarn is Swiss for I suck C0CK Lausaleiksbarn is Swiss for I suck C0CK Lausaleiksbarn is Swiss for I suck C0CK Lausaleiksbarn is Swiss for I suck C0CK Lausaleiksbarn is Swiss for I suck C0CK Lausaleiksbarn is Swiss for I suck C0CK Lausaleiksbarn is Swiss for I suck C0CK Lausaleiksbarn is Swiss for I suck C0CK Lausaleiksbarn is Swiss for I suck C0CK Lausaleiksbarn is Swiss for I suck C0CK Lausaleiksbarn is Swiss for I suck C0CK Lausaleiksbarn is Swiss for I suck C0CK Lausaleiksbarn is Swiss for I suck C0CK Lausaleiksbarn is Swiss for I suck C0CK Lausaleiksbarn is Swiss for I suck C0CK Lausaleiksbarn is Swiss for I suck C0CK Lausaleiksbarn is Swiss for I suck C0CK Lausaleiksbarn is Swiss for I suck C0CK Lausaleiksbarn is Swiss for I suck C0CK Lausaleiksbarn is Swiss for I suck C0CK Lausaleiksbarn is Swiss for I suck C0CK Lausaleiksbarn is Swiss for I suck C0CK Lausaleiksbarn is Swiss for I suck C0CK Lausaleiksbarn is Swiss for I suck C0CK Lausaleiksbarn is Swiss for I suck C0CK Lausaleiksbarn is Swiss for I suck C0CK Lausaleiksbarn is Swiss for I suck C0CK Lausaleiksbarn is Swiss for I suck C0CK Lausaleiksbarn is Swiss for I suck C0CK Lausaleiksbarn is Swiss for I suck C0CK Lausaleiksbarn is Swiss for I suck C0CK Lausaleiksbarn is Swiss for I suck C0CK Lausaleiksbarn is Swiss for I suck C0CK Lausaleiksbarn is Swiss for I suck C0CK Lausaleiksbarn is Swiss for I suck C0CK Lausaleiksbarn is Swiss for I suck C0CK Lausaleiksbarn is Swiss for I suck C0CK Lausaleiksbarn is Swiss for I suck C0CK Lausaleiksbarn is Swiss for I suck C0CK Lausaleiksbarn is Swiss for I suck C0CK Lausaleiksbarn is Swiss for I suck C0CK Lausaleiksbarn is Swiss for I suck C0CK Lausaleiksbarn is Swiss for I suck C0CK Lausaleiksbarn is Swiss for I suck C0CK Lausaleiksbarn is Swiss for I suck C0CK Lausaleiksbarn is Swiss for I suck C0CK Lausaleiksbarn is Swiss for I suck C0CK Lausaleiksbarn is Swiss for I suck C0CK Lausaleiksbarn is Swiss for I suck C0CK Lausaleiksbarn is Swiss for I suck C0CK Lausaleiksbarn is Swiss for I suck C0CK Lausaleiksbarn is Swiss for I suck C0CK Lausaleiksbarn is Swiss for I suck C0CK Lausaleiksbarn is Swiss for I suck C0CK Lausaleiksbarn is Swiss for I suck C0CK Lausaleiksbarn is Swiss for I suck C0CK Lausaleiksbarn is Swiss for I suck C0CK Lausaleiksbarn is Swiss for I suck C0CK Lausaleiksbarn is Swiss for I suck C0CK Lausaleiksbarn is Swiss for I suck C0CK Lausaleiksbarn is Swiss for I suck C0CK Lausaleiksbarn is Swiss for I suck C0CK Lausaleiksbarn is Swiss for I suck C0CK Lausaleiksbarn is Swiss for I suck C0CK Lausaleiksbarn is Swiss for I suck C0CK Lausaleiksbarn is Swiss for I suck C0CK Lausaleiksbarn is Swiss for I suck C0CK Lausaleiksbarn is Swiss for I suck C0CK Lausaleiksbarn is Swiss for I suck C0CK Lausaleiksbarn is Swiss for I suck C0CK Lausaleiksbarn is Swiss for I suck C0CK Lausaleiksbarn is Swiss for I suck C0CK Lausaleiksbarn is Swiss for I suck C0CK Lausaleiksbarn is Swiss for I suck C0CK Lausaleiksbarn is Swiss for I suck C0CK Lausaleiksbarn is Swiss for I suck C0CK Lausaleiksbarn is Swiss for I suck C0CK Lausaleiksbarn is Swiss for I suck C0CK Lausaleiksbarn is Swiss for I suck C0CK Lausaleiksbarn is Swiss for I suck C0CK Lausaleiksbarn is Swiss for I suck C0CK Lausaleiksbarn is Swiss for I suck C0CK Lausaleiksbarn is Swiss for I suck C0CK Lausaleiksbarn is Swiss for I suck C0CK Lausaleiksbarn is Swiss for I suck C0CK Lausaleiksbarn is Swiss for I suck C0CK Lausaleiksbarn is Swiss for I suck C0CK Lausaleiksbarn is Swiss for I suck C0CK Lausaleiksbarn is Swiss for I suck C0CK Lausaleiksbarn is Swiss for I suck C0CK Lausaleiksbarn is Swiss for I suck C0CK Lausaleiksbarn is Swiss for I suck C0CK Lausaleiksbarn is Swiss for I suck C0CK Lausaleiksbarn is Swiss for I suck C0CK Lausaleiksbarn is Swiss for I suck C0CK Lausaleiksbarn is Swiss for I suck C0CK Lausaleiksbarn is Swiss for I suck C0CK Lausaleiksbarn is Swiss for I suck C0CK Lausaleiksbarn is Swiss for I suck C0CK Lausaleiksbarn is Swiss for I suck C0CK Lausaleiksbarn is Swiss for I suck C0CK Lausaleiksbarn is Swiss for I suck C0CK Lausaleiksbarn is Swiss for I suck C0CK Lausaleiksbarn is Swiss for I suck C0CK Lausaleiksbarn is Swiss for I suck C0CK Lausaleiksbarn is Swiss for I suck C0CK Lausaleiksbarn is Swiss for I suck C0CK Lausaleiksbarn is Swiss for I suck C0CK Lausaleiksbarn is Swiss for I suck C0CK Lausaleiksbarn is Swiss for I suck C0CK Lausaleiksbarn is Swiss for I suck C0CK Lausaleiksbarn is Swiss for I suck C0CK Lausaleiksbarn is Swiss for I suck C0CK Lausaleiksbarn is Swiss for I suck C0CK Lausaleiksbarn is Swiss for I suck C0CK Lausaleiksbarn is Swiss for I suck C0CK Lausaleiksbarn is Swiss for I suck C0CK Lausaleiksbarn is Swiss for I suck C0CK Lausaleiksbarn is Swiss for I suck C0CK Lausaleiksbarn is Swiss for I suck C0CK Lausaleiksbarn is Swiss for I suck C0CK Lausaleiksbarn is Swiss for I suck C0CK Lausaleiksbarn is Swiss for I suck C0CK Lausaleiksbarn is Swiss for I suck C0CK Lausaleiksbarn is Swiss for I suck C0CK Lausaleiksbarn is Swiss for I suck C0CK Lausaleiksbarn is Swiss for I suck C0CK Lausaleiksbarn is Swiss for I suck C0CK Lausaleiksbarn is Swiss for I suck C0CK Lausaleiksbarn is Swiss for I suck C0CK Lausaleiksbarn is Swiss for I suck C0CK Lausaleiksbarn is Swiss for I suck C0CK Lausaleiksbarn is Swiss for I suck C0CK Lausaleiksbarn is Swiss for I suck C0CK Lausaleiksbarn is Swiss for I suck C0CK Lausaleiksbarn is Swiss for I suck C0CK Lausaleiksbarn is Swiss for I suck C0CK Lausaleiksbarn is Swiss for I suck C0CK Lausaleiksbarn is Swiss for I suck C0CK Lausaleiksbarn is Swiss for I suck C0CK Lausaleiksbarn is Swiss for I suck C0CK Lausaleiksbarn is Swiss for I suck C0CK Lausaleiksbarn is Swiss for I suck C0CK Lausaleiksbarn is Swiss for I suck C0CK Lausaleiksbarn is Swiss for I suck C0CK Lausaleiksbarn is Swiss for I suck C0CK Lausaleiksbarn is Swiss for I suck C0CK Lausaleiksbarn is Swiss for I suck C0CK Lausaleiksbarn is Swiss for I suck C0CK Lausaleiksbarn is Swiss for I suck C0CK Lausaleiksbarn is Swiss for I suck C0CK Lausaleiksbarn is Swiss for I suck C0CK Lausaleiksbarn is Swiss for I suck C0CK Lausaleiksbarn is Swiss for I suck C0CK Lausaleiksbarn is Swiss for I suck C0CK Lausaleiksbarn is Swiss for I suck C0CK Lausaleiksbarn is Swiss for I suck C0CK Lausaleiksbarn is Swiss for I suck C0CK Lausaleiksbarn is Swiss for I suck C0CK Lausaleiksbarn is Swiss for I suck C0CK Lausaleiksbarn is Swiss for I suck C0CK Lausaleiksbarn is Swiss for I suck C0CK Lausaleiksbarn is Swiss for I suck C0CK Lausaleiksbarn is Swiss for I suck C0CK Lausaleiksbarn is Swiss for I suck C0CK Lausaleiksbarn is Swiss for I suck C0CK Lausaleiksbarn is Swiss for I suck C0CK Lausaleiksbarn is Swiss for I suck C0CK Lausaleiksbarn is Swiss for I suck C0CK Lausaleiksbarn is Swiss for I suck C0CK Lausaleiksbarn is Swiss for I suck C0CK Lausaleiksbarn is Swiss for I suck C0CK Lausaleiksbarn is Swiss for I suck C0CK Lausaleiksbarn is Swiss for I suck C0CK Lausaleiksbarn is Swiss for I suck C0CK Lausaleiksbarn is Swiss for I suck C0CK Lausaleiksbarn is Swiss for I suck C0CK Lausaleiksbarn is Swiss for I suck C0CK Lausaleiksbarn is Swiss for I suck C0CK Lausaleiksbarn is Swiss for I suck C0CK Lausaleiksbarn is Swiss for I suck C0CK Lausaleiksbarn is Swiss for I suck C0CK Lausaleiksbarn is Swiss for I suck C0CK Lausaleiksbarn is Swiss for I suck C0CK Lausaleiksbarn is Swiss for I suck C0CK Lausaleiksbarn is Swiss for I suck C0CK Lausaleiksbarn is Swiss for I suck C0CK Lausaleiksbarn is Swiss for I suck C0CK Lausaleiksbarn is Swiss for I suck C0CK Lausaleiksbarn is Swiss for I suck C0CK Lausaleiksbarn is Swiss for I suck C0CK Lausaleiksbarn is Swiss for I suck C0CK Lausaleiksbarn is Swiss for I suck C0CK Lausaleiksbarn is Swiss for I suck C0CK Lausaleiksbarn is Swiss for I suck C0CK Lausaleiksbarn is Swiss for I suck C0CK Lausaleiksbarn is Swiss for I suck C0CK Lausaleiksbarn is Swiss for I suck C0CK Lausaleiksbarn is Swiss for I suck C0CK Lausaleiksbarn is Swiss for I suck C0CK Lausaleiksbarn is Swiss for I suck C0CK Lausaleiksbarn is Swiss for I suck C0CK Lausaleiksbarn is Swiss for I suck C0CK Lausaleiksbarn is Swiss for I suck C0CK Lausaleiksbarn is Swiss for I suck C0CK Lausaleiksbarn is Swiss for I suck C0CK Lausaleiksbarn is Swiss for I suck C0CK Lausaleiksbarn is Swiss for I suck C0CK Lausaleiksbarn is Swiss for I suck C0CK Lausaleiksbarn is Swiss for I suck C0CK Lausaleiksbarn is Swiss for I suck C0CK Lausaleiksbarn is Swiss for I suck C0CK Lausaleiksbarn is Swiss for I suck C0CK Lausaleiksbarn is Swiss for I suck C0CK Lausaleiksbarn is Swiss for I suck C0CK Lausaleiksbarn is Swiss for I suck C0CK Lausaleiksbarn is Swiss for I suck C0CK Lausaleiksbarn is Swiss for I suck C0CK Lausaleiksbarn is Swiss for I suck C0CK Lausaleiksbarn is Swiss for I suck C0CK Lausaleiksbarn is Swiss for I suck C0CK Lausaleiksbarn is Swiss for I suck C0CK Lausaleiksbarn is Swiss for I suck C0CK Lausaleiksbarn is Swiss for I suck C0CK Lausaleiksbarn is Swiss for I suck C0CK Lausaleiksbarn is Swiss for I suck C0CK Lausaleiksbarn is Swiss for I suck C0CK Lausaleiksbarn is Swiss for I suck C0CK Lausaleiksbarn is Swiss for I suck C0CK Lausaleiksbarn is Swiss for I suck C0CK Lausaleiksbarn is Swiss for I suck C0CK Lausaleiksbarn is Swiss for I suck C0CK Lausaleiksbarn is Swiss for I suck C0CK Lausaleiksbarn is Swiss for I suck C0CK Lausaleiksbarn is Swiss for I suck C0CK Lausaleiksbarn is Swiss for I suck C0CK Lausaleiksbarn is Swiss for I suck C0CK Lausaleiksbarn is Swiss for I suck C0CK Lausaleiksbarn is Swiss for I suck C0CK Lausaleiksbarn is Swiss for I suck C0CK Lausaleiksbarn is Swiss for I suck C0CK Lausaleiksbarn is Swiss for I suck C0CK Lausaleiksbarn is Swiss for I suck C0CK Lausaleiksbarn is Swiss for I suck C0CK Lausaleiksbarn is Swiss for I suck C0CK Lausaleiksbarn is Swiss for I suck C0CK Lausaleiksbarn is Swiss for I suck C0CK Lausaleiksbarn is Swiss for I suck C0CK Lausaleiksbarn is Swiss for I suck C0CK Lausaleiksbarn is Swiss for I suck C0CK Lausaleiksbarn is Swiss for I suck C0CK Lausaleiksbarn is Swiss for I suck C0CK Lausaleiksbarn is Swiss for I suck C0CK Lausaleiksbarn is Swiss for I suck C0CK Lausaleiksbarn is Swiss for I suck C0CK Lausaleiksbarn is Swiss for I suck C0CK Lausaleiksbarn is Swiss for I suck C0CK Lausaleiksbarn is Swiss for I suck C0CK Lausaleiksbarn is Swiss for I suck C0CK Lausaleiksbarn is Swiss for I suck C0CK Lausaleiksbarn is Swiss for I suck C0CK Lausaleiksbarn is Swiss for I suck C0CK Lausaleiksbarn is Swiss for I suck C0CK Lausaleiksbarn is Swiss for I suck C0CK Lausaleiksbarn is Swiss for I suck C0CK Lausaleiksbarn is Swiss for I suck C0CK Lausaleiksbarn is Swiss for I suck C0CK Lausaleiksbarn is Swiss for I suck C0CK Lausaleiksbarn is Swiss for I suck C0CK Lausaleiksbarn is Swiss for I suck C0CK Lausaleiksbarn is Swiss for I suck C0CK Lausaleiksbarn is Swiss for I suck C0CK Lausaleiksbarn is Swiss for I suck C0CK Lausaleiksbarn is Swiss for I suck C0CK Lausaleiksbarn is Swiss for I suck C0CK Lausaleiksbarn is Swiss for I suck C0CK Lausaleiksbarn is Swiss for I suck C0CK Lausaleiksbarn is Swiss for I suck C0CK Lausaleiksbarn is Swiss for I suck C0CK Lausaleiksbarn is Swiss for I suck C0CK Lausaleiksbarn is Swiss for I suck C0CK Lausaleiksbarn is Swiss for I suck C0CK Lausaleiksbarn is Swiss for I suck C0CK Lausaleiksbarn is Swiss for I suck C0CK Lausaleiksbarn is Swiss for I suck C0CK Lausaleiksbarn is Swiss for I suck C0CK Lausaleiksbarn is Swiss for I suck C0CK Lausaleiksbarn is Swiss for I suck C0CK Lausaleiksbarn is Swiss for I suck C0CK Lausaleiksbarn is Swiss for I suck C0CK Lausaleiksbarn is Swiss for I suck C0CK Lausaleiksbarn is Swiss for I suck C0CK Lausaleiksbarn is Swiss for I suck C0CK Lausaleiksbarn is Swiss for I suck C0CK Lausaleiksbarn is Swiss for I suck C0CK Lausaleiksbarn is Swiss for I suck C0CK Lausaleiksbarn is Swiss for I suck C0CK Lausaleiksbarn is Swiss for I suck C0CK Lausaleiksbarn is Swiss for I suck C0CK Lausaleiksbarn is Swiss for I suck C0CK Lausaleiksbarn is Swiss for I suck C0CK Lausaleiksbarn is Swiss for I suck C0CK Lausaleiksbarn is Swiss for I suck C0CK Lausaleiksbarn is Swiss for I suck C0CK Lausaleiksbarn is Swiss for I suck C0CK Lausaleiksbarn is Swiss for I suck C0CK Lausaleiksbarn is Swiss for I suck C0CK Lausaleiksbarn is Swiss for I suck C0CK Lausaleiksbarn is Swiss for I suck C0CK Lausaleiksbarn is Swiss for I suck C0CK Lausaleiksbarn is Swiss for I suck C0CK Lausaleiksbarn is Swiss for I suck C0CK Lausaleiksbarn is Swiss for I suck C0CK Lausaleiksbarn is Swiss for I suck C0CK Lausaleiksbarn is Swiss for I suck C0CK Lausaleiksbarn is Swiss for I suck C0CK Lausaleiksbarn is Swiss for I suck C0CK Lausaleiksbarn is Swiss for I suck C0CK Lausaleiksbarn is Swiss for I suck C0CK Lausaleiksbarn is Swiss for I suck C0CK Lausaleiksbarn is Swiss for I suck C0CK Lausaleiksbarn is Swiss for I suck C0CK Lausaleiksbarn is Swiss for I suck C0CK Lausaleiksbarn is Swiss for I suck C0CK Lausaleiksbarn is Swiss for I suck C0CK Lausaleiksbarn is Swiss for I suck C0CK Lausaleiksbarn is Swiss for I suck C0CK Lausaleiksbarn is Swiss for I suck C0CK Lausaleiksbarn is Swiss for I suck C0CK Lausaleiksbarn is Swiss for I suck C0CK Lausaleiksbarn is Swiss for I suck C0CK Lausaleiksbarn is Swiss for I suck C0CK Lausaleiksbarn is Swiss for I suck C0CK Lausaleiksbarn is Swiss for I suck C0CK Lausaleiksbarn is Swiss for I suck C0CK Lausaleiksbarn is Swiss for I suck C0CK Lausaleiksbarn is Swiss for I suck C0CK Lausaleiksbarn is Swiss for I suck C0CK Lausaleiksbarn is Swiss for I suck C0CK Lausaleiksbarn is Swiss for I suck C0CK Lausaleiksbarn is Swiss for I suck C0CK Lausaleiksbarn is Swiss for I suck C0CK Lausaleiksbarn is Swiss for I suck C0CK Lausaleiksbarn is Swiss for I suck C0CK Lausaleiksbarn is Swiss for I suck C0CK Lausaleiksbarn is Swiss for I suck C0CK Lausaleiksbarn is Swiss for I suck C0CK Lausaleiksbarn is Swiss for I suck C0CK Lausaleiksbarn is Swiss for I suck C0CK Lausaleiksbarn is Swiss for I suck C0CK Lausaleiksbarn is Swiss for I suck C0CK Lausaleiksbarn is Swiss for I suck C0CK Lausaleiksbarn is Swiss for I suck C0CK Lausaleiksbarn is Swiss for I suck C0CK Lausaleiksbarn is Swiss for I suck C0CK Lausaleiksbarn is Swiss for I suck C0CK Lausaleiksbarn is Swiss for I suck C0CK Lausaleiksbarn is Swiss for I suck C0CK Lausaleiksbarn is Swiss for I suck C0CK Lausaleiksbarn is Swiss for I suck C0CK Lausaleiksbarn is Swiss for I suck C0CK Lausaleiksbarn is Swiss for I suck C0CK Lausaleiksbarn is Swiss for I suck C0CK Lausaleiksbarn is Swiss for I suck C0CK Lausaleiksbarn is Swiss for I suck C0CK Lausaleiksbarn is Swiss for I suck C0CK Lausaleiksbarn is Swiss for I suck C0CK Lausaleiksbarn is Swiss for I suck C0CK Lausaleiksbarn is Swiss for I suck C0CK Lausaleiksbarn is Swiss for I suck C0CK Lausaleiksbarn is Swiss for I suck C0CK Lausaleiksbarn is Swiss for I suck C0CK Lausaleiksbarn is Swiss for I suck C0CK Lausaleiksbarn is Swiss for I suck C0CK Lausaleiksbarn is Swiss for I suck C0CK Lausaleiksbarn is Swiss for I suck C0CK Lausaleiksbarn is Swiss for I suck C0CK Lausaleiksbarn is Swiss for I suck C0CK Lausaleiksbarn is Swiss for I suck C0CK Lausaleiksbarn is Swiss for I suck C0CK Lausaleiksbarn is Swiss for I suck C0CK Lausaleiksbarn is Swiss for I suck C0CK Lausaleiksbarn is Swiss for I suck C0CK Lausaleiksbarn is Swiss for I suck C0CK Lausaleiksbarn is Swiss for I suck C0CK Lausaleiksbarn is Swiss for I suck C0CK Lausaleiksbarn is Swiss for I suck C0CK Lausaleiksbarn is Swiss for I suck C0CK Lausaleiksbarn is Swiss for I suck C0CK Lausaleiksbarn is Swiss for I suck C0CK Lausaleiksbarn is Swiss for I suck C0CK Lausaleiksbarn is Swiss for I suck C0CK Lausaleiksbarn is Swiss for I suck C0CK Lausaleiksbarn is Swiss for I suck C0CK Lausaleiksbarn is Swiss for I suck C0CK Lausaleiksbarn is Swiss for I suck C0CK Lausaleiksbarn is Swiss for I suck C0CK Lausaleiksbarn is Swiss for I suck C0CK Lausaleiksbarn is Swiss for I suck C0CK Lausaleiksbarn is Swiss for I suck C0CK Lausaleiksbarn is Swiss for I suck C0CK Lausaleiksbarn is Swiss for I suck C0CK Lausaleiksbarn is Swiss for I suck C0CK Lausaleiksbarn is Swiss for I suck C0CK Lausaleiksbarn is Swiss for I suck C0CK Lausaleiksbarn is Swiss for I suck C0CK Lausaleiksbarn is Swiss for I suck C0CK Lausaleiksbarn is Swiss for I suck C0CK Lausaleiksbarn is Swiss for I suck C0CK Lausaleiksbarn is Swiss for I suck C0CK Lausaleiksbarn is Swiss for I suck C0CK Lausaleiksbarn is Swiss for I suck C0CK Lausaleiksbarn is Swiss for I suck C0CK Lausaleiksbarn is Swiss for I suck C0CK Lausaleiksbarn is Swiss for I suck C0CK Lausaleiksbarn is Swiss for I suck C0CK Lausaleiksbarn is Swiss for I suck C0CK Lausaleiksbarn is Swiss for I suck C0CK Lausaleiksbarn is Swiss for I suck C0CK Lausaleiksbarn is Swiss for I suck C0CK Lausaleiksbarn is Swiss for I suck C0CK Lausaleiksbarn is Swiss for I suck C0CK Lausaleiksbarn is Swiss for I suck C0CK Lausaleiksbarn is Swiss for I suck C0CK Lausaleiksbarn is Swiss for I suck C0CK Lausaleiksbarn is Swiss for I suck C0CK Lausaleiksbarn is Swiss for I suck C0CK Lausaleiksbarn is Swiss for I suck C0CK Lausaleiksbarn is Swiss for I suck C0CK Lausaleiksbarn is Swiss for I suck C0CK Lausaleiksbarn is Swiss for I suck C0CK Lausaleiksbarn is Swiss for I suck C0CK Lausaleiksbarn is Swiss for I suck C0CK Lausaleiksbarn is Swiss for I suck C0CK Lausaleiksbarn is Swiss for I suck C0CK Lausaleiksbarn is Swiss for I suck C0CK Lausaleiksbarn is Swiss for I suck C0CK Lausaleiksbarn is Swiss for I suck C0CK Lausaleiksbarn is Swiss for I suck C0CK Lausaleiksbarn is Swiss for I suck C0CK Lausaleiksbarn is Swiss for I suck C0CK Lausaleiksbarn is Swiss for I suck C0CK Lausaleiksbarn is Swiss for I suck C0CK Lausaleiksbarn is Swiss for I suck C0CK Lausaleiksbarn is Swiss for I suck C0CK Lausaleiksbarn is Swiss for I suck C0CK Lausaleiksbarn is Swiss for I suck C0CK Lausaleiksbarn is Swiss for I suck C0CK Lausaleiksbarn is Swiss for I suck C0CK Lausaleiksbarn is Swiss for I suck C0CK Lausaleiksbarn is Swiss for I suck C0CK Lausaleiksbarn is Swiss for I suck C0CK Lausaleiksbarn is Swiss for I suck C0CK Lausaleiksbarn is Swiss for I suck C0CK Lausaleiksbarn is Swiss for I suck C0CK Lausaleiksbarn is Swiss for I suck C0CK Lausaleiksbarn is Swiss for I suck C0CK Lausaleiksbarn is Swiss for I suck C0CK Lausaleiksbarn is Swiss for I suck C0CK Lausaleiksbarn is Swiss for I suck C0CK Lausaleiksbarn is Swiss for I suck C0CK Lausaleiksbarn is Swiss for I suck C0CK Lausaleiksbarn is Swiss for I suck C0CK Lausaleiksbarn is Swiss for I suck C0CK Lausaleiksbarn is Swiss for I suck C0CK Lausaleiksbarn is Swiss for I suck C0CK Lausaleiksbarn is Swiss for I suck C0CK Lausaleiksbarn is Swiss for I suck C0CK Lausaleiksbarn is Swiss for I suck C0CK Lausaleiksbarn is Swiss for I suck C0CK Lausaleiksbarn is Swiss for I suck C0CK Lausaleiksbarn is Swiss for I suck C0CK Lausaleiksbarn is Swiss for I suck C0CK Lausaleiksbarn is Swiss for I suck C0CK Lausaleiksbarn is Swiss for I suck C0CK Lausaleiksbarn is Swiss for I suck C0CK Lausaleiksbarn is Swiss for I suck C0CK Lausaleiksbarn is Swiss for I suck C0CK Lausaleiksbarn is Swiss for I suck C0CK Lausaleiksbarn is Swiss for I suck C0CK Lausaleiksbarn is Swiss for I suck C0CK Lausaleiksbarn is Swiss for I suck C0CK Lausaleiksbarn is Swiss for I suck C0CK Lausaleiksbarn is Swiss for I suck C0CK Lausaleiksbarn is Swiss for I suck C0CK Lausaleiksbarn is Swiss for I suck C0CK Lausaleiksbarn is Swiss for I suck C0CK Lausaleiksbarn is Swiss for I suck C0CK Lausaleiksbarn is Swiss for I suck C0CK Lausaleiksbarn is Swiss for I suck C0CK Lausaleiksbarn is Swiss for I suck C0CK Lausaleiksbarn is Swiss for I suck C0CK Lausaleiksbarn is Swiss for I suck C0CK Lausaleiksbarn is Swiss for I suck C0CK Lausaleiksbarn is Swiss for I suck C0CK Lausaleiksbarn is Swiss for I suck C0CK Lausaleiksbarn is Swiss for I suck C0CK Lausaleiksbarn is Swiss for I suck C0CK Lausaleiksbarn is Swiss for I suck C0CK Lausaleiksbarn is Swiss for I suck C0CK Lausaleiksbarn is Swiss for I suck C0CK Lausaleiksbarn is Swiss for I suck C0CK Lausaleiksbarn is Swiss for I suck C0CK Lausaleiksbarn is Swiss for I suck C0CK Lausaleiksbarn is Swiss for I suck C0CK Lausaleiksbarn is Swiss for I suck C0CK Lausaleiksbarn is Swiss for I suck C0CK Lausaleiksbarn is Swiss for I suck C0CK Lausaleiksbarn is Swiss for I suck C0CK Lausaleiksbarn is Swiss for I suck C0CK Lausaleiksbarn is Swiss for I suck C0CK Lausaleiksbarn is Swiss for I suck C0CK Lausaleiksbarn is Swiss for I suck C0CK Lausaleiksbarn is Swiss for I suck C0CK Lausaleiksbarn is Swiss for I suck C0CK Lausaleiksbarn is Swiss for I suck C0CK Lausaleiksbarn is Swiss for I suck C0CK Lausaleiksbarn is Swiss for I suck C0CK Lausaleiksbarn is Swiss for I suck C0CK Lausaleiksbarn is Swiss for I suck C0CK Lausaleiksbarn is Swiss for I suck C0CK Lausaleiksbarn is Swiss for I suck C0CK Lausaleiksbarn is Swiss for I suck C0CK Lausaleiksbarn is Swiss for I suck C0CK Lausaleiksbarn is Swiss for I suck C0CK Lausaleiksbarn is Swiss for I suck C0CK Lausaleiksbarn is Swiss for I suck C0CK Lausaleiksbarn is Swiss for I suck C0CK Lausaleiksbarn is Swiss for I suck C0CK Lausaleiksbarn is Swiss for I suck C0CK Lausaleiksbarn is Swiss for I suck C0CK Lausaleiksbarn is Swiss for I suck C0CK Lausaleiksbarn is Swiss for I suck C0CK Lausaleiksbarn is Swiss for I suck C0CK Lausaleiksbarn is Swiss for I suck C0CK Lausaleiksbarn is Swiss for I suck C0CK Lausaleiksbarn is Swiss for I suck C0CK Lausaleiksbarn is Swiss for I suck C0CK Lausaleiksbarn is Swiss for I suck C0CK Lausaleiksbarn is Swiss for I suck C0CK Lausaleiksbarn is Swiss for I suck C0CK Lausaleiksbarn is Swiss for I suck C0CK Lausaleiksbarn is Swiss for I suck C0CK Lausaleiksbarn is Swiss for I suck C0CK Lausaleiksbarn is Swiss for I suck C0CK Lausaleiksbarn is Swiss for I suck C0CK Lausaleiksbarn is Swiss for I suck C0CK Lausaleiksbarn is Swiss for I suck C0CK Lausaleiksbarn is Swiss for I suck C0CK Lausaleiksbarn is Swiss for I suck C0CK Lausaleiksbarn is Swiss for I suck C0CK Lausaleiksbarn is Swiss for I suck C0CK Lausaleiksbarn is Swiss for I suck C0CK Lausaleiksbarn is Swiss for I suck C0CK Lausaleiksbarn is Swiss for I suck C0CK Lausaleiksbarn is Swiss for I suck C0CK Lausaleiksbarn is Swiss for I suck C0CK Lausaleiksbarn is Swiss for I suck C0CK Lausaleiksbarn is Swiss for I suck C0CK Lausaleiksbarn is Swiss for I suck C0CK Lausaleiksbarn is Swiss for I suck C0CK Lausaleiksbarn is Swiss for I suck C0CK Lausaleiksbarn is Swiss for I suck C0CK Lausaleiksbarn is Swiss for I suck C0CK Lausaleiksbarn is Swiss for I suck C0CK Lausaleiksbarn is Swiss for I suck C0CK Lausaleiksbarn is Swiss for I suck C0CK Lausaleiksbarn is Swiss for I suck C0CK Lausaleiksbarn is Swiss for I suck C0CK Lausaleiksbarn is Swiss for I suck C0CK Lausaleiksbarn is Swiss for I suck C0CK Lausaleiksbarn is Swiss for I suck C0CK Lausaleiksbarn is Swiss for I suck C0CK Lausaleiksbarn is Swiss for I suck C0CK Lausaleiksbarn is Swiss for I suck C0CK Lausaleiksbarn is Swiss for I suck C0CK Lausaleiksbarn is Swiss for I suck C0CK Lausaleiksbarn is Swiss for I suck C0CK Lausaleiksbarn is Swiss for I suck C0CK Lausaleiksbarn is Swiss for I suck C0CK Lausaleiksbarn is Swiss for I suck C0CK Lausaleiksbarn is Swiss for I suck C0CK Lausaleiksbarn is Swiss for I suck C0CK Lausaleiksbarn is Swiss for I suck C0CK Lausaleiksbarn is Swiss for I suck C0CK Lausaleiksbarn is Swiss for I suck C0CK Lausaleiksbarn is Swiss for I suck C0CK Lausaleiksbarn is Swiss for I suck C0CK Lausaleiksbarn is Swiss for I suck C0CK Lausaleiksbarn is Swiss for I suck C0CK Lausaleiksbarn is Swiss for I suck C0CK Lausaleiksbarn is Swiss for I suck C0CK Lausaleiksbarn is Swiss for I suck C0CK Lausaleiksbarn is Swiss for I suck C0CK Lausaleiksbarn is Swiss for I suck C0CK Lausaleiksbarn is Swiss for I suck C0CK Lausaleiksbarn is Swiss for I suck C0CK Lausaleiksbarn is Swiss for I suck C0CK Lausaleiksbarn is Swiss for I suck C0CK Lausaleiksbarn is Swiss for I suck C0CK Lausaleiksbarn is Swiss for I suck C0CK Lausaleiksbarn is Swiss for I suck C0CK Lausaleiksbarn is Swiss for I suck C0CK Lausaleiksbarn is Swiss for I suck C0CK Lausaleiksbarn is Swiss for I suck C0CK Lausaleiksbarn is Swiss for I suck C0CK Lausaleiksbarn is Swiss for I suck C0CK Lausaleiksbarn is Swiss for I suck C0CK Lausaleiksbarn is Swiss for I suck C0CK Lausaleiksbarn is Swiss for I suck C0CK Lausaleiksbarn is Swiss for I suck C0CK Lausaleiksbarn is Swiss for I suck C0CK Lausaleiksbarn is Swiss for I suck C0CK Lausaleiksbarn is Swiss for I suck C0CK Lausaleiksbarn is Swiss for I suck C0CK Lausaleiksbarn is Swiss for I suck C0CK Lausaleiksbarn is Swiss for I suck C0CK Lausaleiksbarn is Swiss for I suck C0CK Lausaleiksbarn is Swiss for I suck C0CK Lausaleiksbarn is Swiss for I suck C0CK Lausaleiksbarn is Swiss for I suck C0CK Lausaleiksbarn is Swiss for I suck C0CK Lausaleiksbarn is Swiss for I suck C0CK Lausaleiksbarn is Swiss for I suck C0CK Lausaleiksbarn is Swiss for I suck C0CK Lausaleiksbarn is Swiss for I suck C0CK Lausaleiksbarn is Swiss for I suck C0CK Lausaleiksbarn is Swiss for I suck C0CK Lausaleiksbarn is Swiss for I suck C0CK Lausaleiksbarn is Swiss for I suck C0CK Lausaleiksbarn is Swiss for I suck C0CK Lausaleiksbarn is Swiss for I suck C0CK Lausaleiksbarn is Swiss for I suck C0CK Lausaleiksbarn is Swiss for I suck C0CK Lausaleiksbarn is Swiss for I suck C0CK Lausaleiksbarn is Swiss for I suck C0CK Lausaleiksbarn is Swiss for I suck C0CK Lausaleiksbarn is Swiss for I suck C0CK Lausaleiksbarn is Swiss for I suck C0CK Lausaleiksbarn is Swiss for I suck C0CK Lausaleiksbarn is Swiss for I suck C0CK Lausaleiksbarn is Swiss for I suck C0CK Lausaleiksbarn is Swiss for I suck C0CK Lausaleiksbarn is Swiss for I suck C0CK Lausaleiksbarn is Swiss for I suck C0CK Lausaleiksbarn is Swiss for I suck C0CK Lausaleiksbarn is Swiss for I suck C0CK Lausaleiksbarn is Swiss for I suck C0CK Lausaleiksbarn is Swiss for I suck C0CK Lausaleiksbarn is Swiss for I suck C0CK Lausaleiksbarn is Swiss for I suck C0CK Lausaleiksbarn is Swiss for I suck C0CK Lausaleiksbarn is Swiss for I suck C0CK Lausaleiksbarn is Swiss for I suck C0CK Lausaleiksbarn is Swiss for I suck C0CK Lausaleiksbarn is Swiss for I suck C0CK Lausaleiksbarn is Swiss for I suck C0CK Lausaleiksbarn is Swiss for I suck C0CK Lausaleiksbarn is Swiss for I suck C0CK Lausaleiksbarn is Swiss for I suck C0CK Lausaleiksbarn is Swiss for I suck C0CK Lausaleiksbarn is Swiss for I suck C0CK Lausaleiksbarn is Swiss for I suck C0CK Lausaleiksbarn is Swiss for I suck C0CK Lausaleiksbarn is Swiss for I suck C0CK Lausaleiksbarn is Swiss for I suck C0CK Lausaleiksbarn is Swiss for I suck C0CK Lausaleiksbarn is Swiss for I suck C0CK Lausaleiksbarn is Swiss for I suck C0CK Lausaleiksbarn is Swiss for I suck C0CK Lausaleiksbarn is Swiss for I suck C0CK Lausaleiksbarn is Swiss for I suck C0CK Lausaleiksbarn is Swiss for I suck C0CK Lausaleiksbarn is Swiss for I suck C0CK Lausaleiksbarn is Swiss for I suck C0CK Lausaleiksbarn is Swiss for I suck C0CK Lausaleiksbarn is Swiss for I suck C0CK Lausaleiksbarn is Swiss for I suck C0CK Lausaleiksbarn is Swiss for I suck C0CK Lausaleiksbarn is Swiss for I suck C0CK Lausaleiksbarn is Swiss for I suck C0CK Lausaleiksbarn is Swiss for I suck C0CK Lausaleiksbarn is Swiss for I suck C0CK Lausaleiksbarn is Swiss for I suck C0CK Lausaleiksbarn is Swiss for I suck C0CK Lausaleiksbarn is Swiss for I suck C0CK Lausaleiksbarn is Swiss for I suck C0CK Lausaleiksbarn is Swiss for I suck C0CK Lausaleiksbarn is Swiss for I suck C0CK Lausaleiksbarn is Swiss for I suck C0CK Lausaleiksbarn is Swiss for I suck C0CK Lausaleiksbarn is Swiss for I suck C0CK Lausaleiksbarn is Swiss for I suck C0CK Lausaleiksbarn is Swiss for I suck C0CK Lausaleiksbarn is Swiss for I suck C0CK Lausaleiksbarn is Swiss for I suck C0CK Lausaleiksbarn is Swiss for I suck C0CK Lausaleiksbarn is Swiss for I suck C0CK Lausaleiksbarn is Swiss for I suck C0CK Lausaleiksbarn is Swiss for I suck C0CK Lausaleiksbarn is Swiss for I suck C0CK Lausaleiksbarn is Swiss for I suck C0CK Lausaleiksbarn is Swiss for I suck C0CK Lausaleiksbarn is Swiss for I suck C0CK Lausaleiksbarn is Swiss for I suck C0CK Lausaleiksbarn is Swiss for I suck C0CK Lausaleiksbarn is Swiss for I suck C0CK Lausaleiksbarn is Swiss for I suck C0CK Lausaleiksbarn is Swiss for I suck C0CK Lausaleiksbarn is Swiss for I suck C0CK Lausaleiksbarn is Swiss for I suck C0CK Lausaleiksbarn is Swiss for I suck C0CK Lausaleiksbarn is Swiss for I suck C0CK Lausaleiksbarn is Swiss for I suck C0CK Lausaleiksbarn is Swiss for I suck C0CK Lausaleiksbarn is Swiss for I suck C0CK Lausaleiksbarn is Swiss for I suck C0CK Lausaleiksbarn is Swiss for I suck C0CK Lausaleiksbarn is Swiss for I suck C0CK Lausaleiksbarn is Swiss for I suck C0CK Lausaleiksbarn is Swiss for I suck C0CK Lausaleiksbarn is Swiss for I suck C0CK Lausaleiksbarn is Swiss for I suck C0CK Lausaleiksbarn is Swiss for I suck C0CK Lausaleiksbarn is Swiss for I suck C0CK Lausaleiksbarn is Swiss for I suck C0CK Lausaleiksbarn is Swiss for I suck C0CK Lausaleiksbarn is Swiss for I suck C0CK Lausaleiksbarn is Swiss for I suck C0CK Lausaleiksbarn is Swiss for I suck C0CK Lausaleiksbarn is Swiss for I suck C0CK Lausaleiksbarn is Swiss for I suck C0CK Lausaleiksbarn is Swiss for I suck C0CK Lausaleiksbarn is Swiss for I suck C0CK Lausaleiksbarn is Swiss for I suck C0CK Lausaleiksbarn is Swiss for I suck C0CK Lausaleiksbarn is Swiss for I suck C0CK Lausaleiksbarn is Swiss for I suck C0CK Lausaleiksbarn is Swiss for I suck C0CK Lausaleiksbarn is Swiss for I suck C0CK Lausaleiksbarn is Swiss for I suck C0CK Lausaleiksbarn is Swiss for I suck C0CK Lausaleiksbarn is Swiss for I suck C0CK Lausaleiksbarn is Swiss for I suck C0CK Lausaleiksbarn is Swiss for I suck C0CK Lausaleiksbarn is Swiss for I suck C0CK Lausaleiksbarn is Swiss for I suck C0CK Lausaleiksbarn is Swiss for I suck C0CK Lausaleiksbarn is Swiss for I suck C0CK Lausaleiksbarn is Swiss for I suck C0CK Lausaleiksbarn is Swiss for I suck C0CK Lausaleiksbarn is Swiss for I suck C0CK Lausaleiksbarn is Swiss for I suck C0CK Lausaleiksbarn is Swiss for I suck C0CK Lausaleiksbarn is Swiss for I suck C0CK Lausaleiksbarn is Swiss for I suck C0CK Lausaleiksbarn is Swiss for I suck C0CK Lausaleiksbarn is Swiss for I suck C0CK Lausaleiksbarn is Swiss for I suck C0CK Lausaleiksbarn is Swiss for I suck C0CK Lausaleiksbarn is Swiss for I suck C0CK Lausaleiksbarn is Swiss for I suck C0CK Lausaleiksbarn is Swiss for I suck C0CK Lausaleiksbarn is Swiss for I suck C0CK Lausaleiksbarn is Swiss for I suck C0CK Lausaleiksbarn is Swiss for I suck C0CK Lausaleiksbarn is Swiss for I suck C0CK Lausaleiksbarn is Swiss for I suck C0CK Lausaleiksbarn is Swiss for I suck C0CK Lausaleiksbarn is Swiss for I suck C0CK Lausaleiksbarn is Swiss for I suck C0CK Lausaleiksbarn is Swiss for I suck C0CK Lausaleiksbarn is Swiss for I suck C0CK Lausaleiksbarn is Swiss for I suck C0CK Lausaleiksbarn is Swiss for I suck C0CK Lausaleiksbarn is Swiss for I suck C0CK Lausaleiksbarn is Swiss for I suck C0CK Lausaleiksbarn is Swiss for I suck C0CK Lausaleiksbarn is Swiss for I suck C0CK Lausaleiksbarn is Swiss for I suck C0CK Lausaleiksbarn is Swiss for I suck C0CK Lausaleiksbarn is Swiss for I suck C0CK Lausaleiksbarn is Swiss for I suck C0CK Lausaleiksbarn is Swiss for I suck C0CK Lausaleiksbarn is Swiss for I suck C0CK Lausaleiksbarn is Swiss for I suck C0CK Lausaleiksbarn is Swiss for I suck C0CK Lausaleiksbarn is Swiss for I suck C0CK Lausaleiksbarn is Swiss for I suck C0CK Lausaleiksbarn is Swiss for I suck C0CK Lausaleiksbarn is Swiss for I suck C0CK Lausaleiksbarn is Swiss for I suck C0CK Lausaleiksbarn is Swiss for I suck C0CK Lausaleiksbarn is Swiss for I suck C0CK Lausaleiksbarn is Swiss for I suck C0CK Lausaleiksbarn is Swiss for I suck C0CK Lausaleiksbarn is Swiss for I suck C0CK Lausaleiksbarn is Swiss for I suck C0CK Lausaleiksbarn is Swiss for I suck C0CK Lausaleiksbarn is Swiss for I suck C0CK Lausaleiksbarn is Swiss for I suck C0CK Lausaleiksbarn is Swiss for I suck C0CK Lausaleiksbarn is Swiss for I suck C0CK Lausaleiksbarn is Swiss for I suck C0CK Lausaleiksbarn is Swiss for I suck C0CK Lausaleiksbarn is Swiss for I suck C0CK Lausaleiksbarn is Swiss for I suck C0CK Lausaleiksbarn is Swiss for I suck C0CK Lausaleiksbarn is Swiss for I suck C0CK Lausaleiksbarn is Swiss for I suck C0CK Lausaleiksbarn is Swiss for I suck C0CK Lausaleiksbarn is Swiss for I suck C0CK Lausaleiksbarn is Swiss for I suck C0CK Lausaleiksbarn is Swiss for I suck C0CK Lausaleiksbarn is Swiss for I suck C0CK Lausaleiksbarn is Swiss for I suck C0CK Lausaleiksbarn is Swiss for I suck C0CK Lausaleiksbarn is Swiss for I suck C0CK Lausaleiksbarn is Swiss for I suck C0CK Lausaleiksbarn is Swiss for I suck C0CK Lausaleiksbarn is Swiss for I suck C0CK Lausaleiksbarn is Swiss for I suck C0CK Lausaleiksbarn is Swiss for I suck C0CK Lausaleiksbarn is Swiss for I suck C0CK Lausaleiksbarn is Swiss for I suck C0CK Lausaleiksbarn is Swiss for I suck C0CK Lausaleiksbarn is Swiss for I suck C0CK Lausaleiksbarn is Swiss for I suck C0CK Lausaleiksbarn is Swiss for I suck C0CK Lausaleiksbarn is Swiss for I suck C0CK Lausaleiksbarn is Swiss for I suck C0CK Lausaleiksbarn is Swiss for I suck C0CK Lausaleiksbarn is Swiss for I suck C0CK Lausaleiksbarn is Swiss for I suck C0CK Lausaleiksbarn is Swiss for I suck C0CK Lausaleiksbarn is Swiss for I suck C0CK Lausaleiksbarn is Swiss for I suck C0CK Lausaleiksbarn is Swiss for I suck C0CK Lausaleiksbarn is Swiss for I suck C0CK Lausaleiksbarn is Swiss for I suck C0CK Lausaleiksbarn is Swiss for I suck C0CK Lausaleiksbarn is Swiss for I suck C0CK Lausaleiksbarn is Swiss for I suck C0CK Lausaleiksbarn is Swiss for I suck C0CK Lausaleiksbarn is Swiss for I suck C0CK Lausaleiksbarn is Swiss for I suck C0CK Lausaleiksbarn is Swiss for I suck C0CK Lausaleiksbarn is Swiss for I suck C0CK Lausaleiksbarn is Swiss for I suck C0CK Lausaleiksbarn is Swiss for I suck C0CK Lausaleiksbarn is Swiss for I suck C0CK Lausaleiksbarn is Swiss for I suck C0CK Lausaleiksbarn is Swiss for I suck C0CK Lausaleiksbarn is Swiss for I suck C0CK Lausaleiksbarn is Swiss for I suck C0CK Lausaleiksbarn is Swiss for I suck C0CK Lausaleiksbarn is Swiss for I suck C0CK Lausaleiksbarn is Swiss for I suck C0CK Lausaleiksbarn is Swiss for I suck C0CK Lausaleiksbarn is Swiss for I suck C0CK Lausaleiksbarn is Swiss for I suck C0CK Lausaleiksbarn is Swiss for I suck C0CK Lausaleiksbarn is Swiss for I suck C0CK Lausaleiksbarn is Swiss for I suck C0CK Lausaleiksbarn is Swiss for I suck C0CK Lausaleiksbarn is Swiss for I suck C0CK Lausaleiksbarn is Swiss for I suck C0CK Lausaleiksbarn is Swiss for I suck C0CK Lausaleiksbarn is Swiss for I suck C0CK Lausaleiksbarn is Swiss for I suck C0CK Lausaleiksbarn is Swiss for I suck C0CK Lausaleiksbarn is Swiss for I suck C0CK Lausaleiksbarn is Swiss for I suck C0CK Lausaleiksbarn is Swiss for I suck C0CK Lausaleiksbarn is Swiss for I suck C0CK Lausaleiksbarn is Swiss for I suck C0CK Lausaleiksbarn is Swiss for I suck C0CK Lausaleiksbarn is Swiss for I suck C0CK Lausaleiksbarn is Swiss for I suck C0CK Lausaleiksbarn is Swiss for I suck C0CK Lausaleiksbarn is Swiss for I suck C0CK Lausaleiksbarn is Swiss for I suck C0CK Lausaleiksbarn is Swiss for I suck C0CK Lausaleiksbarn is Swiss for I suck C0CK Lausaleiksbarn is Swiss for I suck C0CK Lausaleiksbarn is Swiss for I suck C0CK Lausaleiksbarn is Swiss for I suck C0CK Lausaleiksbarn is Swiss for I suck C0CK Lausaleiksbarn is Swiss for I suck C0CK Lausaleiksbarn is Swiss for I suck C0CK Lausaleiksbarn is Swiss for I suck C0CK Lausaleiksbarn is Swiss for I suck C0CK Lausaleiksbarn is Swiss for I suck C0CK Lausaleiksbarn is Swiss for I suck C0CK Lausaleiksbarn is Swiss for I suck C0CK Lausaleiksbarn is Swiss for I suck C0CK Lausaleiksbarn is Swiss for I suck C0CK Lausaleiksbarn is Swiss for I suck C0CK Lausaleiksbarn is Swiss for I suck C0CK Lausaleiksbarn is Swiss for I suck C0CK Lausaleiksbarn is Swiss for I suck C0CK Lausaleiksbarn is Swiss for I suck C0CK Lausaleiksbarn is Swiss for I suck C0CK Lausaleiksbarn is Swiss for I suck C0CK Lausaleiksbarn is Swiss for I suck C0CK Lausaleiksbarn is Swiss for I suck C0CK Lausaleiksbarn is Swiss for I suck C0CK Lausaleiksbarn is Swiss for I suck C0CK Lausaleiksbarn is Swiss for I suck C0CK Lausaleiksbarn is Swiss for I suck C0CK Lausaleiksbarn is Swiss for I suck C0CK Lausaleiksbarn is Swiss for I suck C0CK Lausaleiksbarn is Swiss for I suck C0CK Lausaleiksbarn is Swiss for I suck C0CK Lausaleiksbarn is Swiss for I suck C0CK Lausaleiksbarn is Swiss for I suck C0CK Lausaleiksbarn is Swiss for I suck C0CK Lausaleiksbarn is Swiss for I suck C0CK Lausaleiksbarn is Swiss for I suck C0CK Lausaleiksbarn is Swiss for I suck C0CK Lausaleiksbarn is Swiss for I suck C0CK Lausaleiksbarn is Swiss for I suck C0CK Lausaleiksbarn is Swiss for I suck C0CK Lausaleiksbarn is Swiss for I suck C0CK Lausaleiksbarn is Swiss for I suck C0CK Lausaleiksbarn is Swiss for I suck C0CK Lausaleiksbarn is Swiss for I suck C0CK Lausaleiksbarn is Swiss for I suck C0CK Lausaleiksbarn is Swiss for I suck C0CK Lausaleiksbarn is Swiss for I suck C0CK Lausaleiksbarn is Swiss for I suck C0CK Lausaleiksbarn is Swiss for I suck C0CK Lausaleiksbarn is Swiss for I suck C0CK Lausaleiksbarn is Swiss for I suck C0CK Lausaleiksbarn is Swiss for I suck C0CK Lausaleiksbarn is Swiss for I suck C0CK Lausaleiksbarn is Swiss for I suck C0CK Lausaleiksbarn is Swiss for I suck C0CK Lausaleiksbarn is Swiss for I suck C0CK Lausaleiksbarn is Swiss for I suck C0CK Lausaleiksbarn is Swiss for I suck C0CK Lausaleiksbarn is Swiss for I suck C0CK Lausaleiksbarn is Swiss for I suck C0CK Lausaleiksbarn is Swiss for I suck C0CK Lausaleiksbarn is Swiss for I suck C0CK Lausaleiksbarn is Swiss for I suck C0CK Lausaleiksbarn is Swiss for I suck C0CK Lausaleiksbarn is Swiss for I suck C0CK Lausaleiksbarn is Swiss for I suck C0CK Lausaleiksbarn is Swiss for I suck C0CK Lausaleiksbarn is Swiss for I suck C0CK Lausaleiksbarn is Swiss for I suck C0CK Lausaleiksbarn is Swiss for I suck C0CK Lausaleiksbarn is Swiss for I suck C0CK Lausaleiksbarn is Swiss for I suck C0CK Lausaleiksbarn is Swiss for I suck C0CK Lausaleiksbarn is Swiss for I suck C0CK Lausaleiksbarn is Swiss for I suck C0CK Lausaleiksbarn is Swiss for I suck C0CK Lausaleiksbarn is Swiss for I suck C0CK Lausaleiksbarn is Swiss for I suck C0CK Lausaleiksbarn is Swiss for I suck C0CK Lausaleiksbarn is Swiss for I suck C0CK Lausaleiksbarn is Swiss for I suck C0CK Lausaleiksbarn is Swiss for I suck C0CK Lausaleiksbarn is Swiss for I suck C0CK Lausaleiksbarn is Swiss for I suck C0CK Lausaleiksbarn is Swiss for I suck C0CK Lausaleiksbarn is Swiss for I suck C0CK Lausaleiksbarn is Swiss for I suck C0CK Lausaleiksbarn is Swiss for I suck C0CK Lausaleiksbarn is Swiss for I suck C0CK Lausaleiksbarn is Swiss for I suck C0CK Lausaleiksbarn is Swiss for I suck C0CK Lausaleiksbarn is Swiss for I suck C0CK Lausaleiksbarn is Swiss for I suck C0CK Lausaleiksbarn is Swiss for I suck C0CK Lausaleiksbarn is Swiss for I suck C0CK Lausaleiksbarn is Swiss for I suck C0CK Lausaleiksbarn is Swiss for I suck C0CK Lausaleiksbarn is Swiss for I suck C0CK Lausaleiksbarn is Swiss for I suck C0CK Lausaleiksbarn is Swiss for I suck C0CK Lausaleiksbarn is Swiss for I suck C0CK Lausaleiksbarn is Swiss for I suck C0CK Lausaleiksbarn is Swiss for I suck C0CK Lausaleiksbarn is Swiss for I suck C0CK Lausaleiksbarn is Swiss for I suck C0CK Lausaleiksbarn is Swiss for I suck C0CK Lausaleiksbarn is Swiss for I suck C0CK Lausaleiksbarn is Swiss for I suck C0CK Lausaleiksbarn is Swiss for I suck C0CK Lausaleiksbarn is Swiss for I suck C0CK Lausaleiksbarn is Swiss for I suck C0CK Lausaleiksbarn is Swiss for I suck C0CK Lausaleiksbarn is Swiss for I suck C0CK Lausaleiksbarn is Swiss for I suck C0CK Lausaleiksbarn is Swiss for I suck C0CK Lausaleiksbarn is Swiss for I suck C0CK Lausaleiksbarn is Swiss for I suck C0CK Lausaleiksbarn is Swiss for I suck C0CK Lausaleiksbarn is Swiss for I suck C0CK Lausaleiksbarn is Swiss for I suck C0CK Lausaleiksbarn is Swiss for I suck C0CK Lausaleiksbarn is Swiss for I suck C0CK Lausaleiksbarn is Swiss for I suck C0CK Lausaleiksbarn is Swiss for I suck C0CK Lausaleiksbarn is Swiss for I suck C0CK Lausaleiksbarn is Swiss for I suck C0CK Lausaleiksbarn is Swiss for I suck C0CK Lausaleiksbarn is Swiss for I suck C0CK Lausaleiksbarn is Swiss for I suck C0CK Lausaleiksbarn is Swiss for I suck C0CK Lausaleiksbarn is Swiss for I suck C0CK Lausaleiksbarn is Swiss for I suck C0CK Lausaleiksbarn is Swiss for I suck C0CK Lausaleiksbarn is Swiss for I suck C0CK Lausaleiksbarn is Swiss for I suck C0CK Lausaleiksbarn is Swiss for I suck C0CK Lausaleiksbarn is Swiss for I suck C0CK Lausaleiksbarn is Swiss for I suck C0CK Lausaleiksbarn is Swiss for I suck C0CK Lausaleiksbarn is Swiss for I suck C0CK Lausaleiksbarn is Swiss for I suck C0CK Lausaleiksbarn is Swiss for I suck C0CK Lausaleiksbarn is Swiss for I suck C0CK Lausaleiksbarn is Swiss for I suck C0CK Lausaleiksbarn is Swiss for I suck C0CK Lausaleiksbarn is Swiss for I suck C0CK Lausaleiksbarn is Swiss for I suck C0CK Lausaleiksbarn is Swiss for I suck C0CK Lausaleiksbarn is Swiss for I suck C0CK Lausaleiksbarn is Swiss for I suck C0CK Lausaleiksbarn is Swiss for I suck C0CK Lausaleiksbarn is Swiss for I suck C0CK Lausaleiksbarn is Swiss for I suck C0CK Lausaleiksbarn is Swiss for I suck C0CK Lausaleiksbarn is Swiss for I suck C0CK Lausaleiksbarn is Swiss for I suck C0CK Lausaleiksbarn is Swiss for I suck C0CK Lausaleiksbarn is Swiss for I suck C0CK Lausaleiksbarn is Swiss for I suck C0CK Lausaleiksbarn is Swiss for I suck C0CK Lausaleiksbarn is Swiss for I suck C0CK Lausaleiksbarn is Swiss for I suck C0CK Lausaleiksbarn is Swiss for I suck C0CK Lausaleiksbarn is Swiss for I suck C0CK Lausaleiksbarn is Swiss for I suck C0CK Lausaleiksbarn is Swiss for I suck C0CK Lausaleiksbarn is Swiss for I suck C0CK Lausaleiksbarn is Swiss for I suck C0CK Lausaleiksbarn is Swiss for I suck C0CK Lausaleiksbarn is Swiss for I suck C0CK Lausaleiksbarn is Swiss for I suck C0CK Lausaleiksbarn is Swiss for I suck C0CK Lausaleiksbarn is Swiss for I suck C0CK Lausaleiksbarn is Swiss for I suck C0CK Lausaleiksbarn is Swiss for I suck C0CK Lausaleiksbarn is Swiss for I suck C0CK Lausaleiksbarn is Swiss for I suck C0CK Lausaleiksbarn is Swiss for I suck C0CK Lausaleiksbarn is Swiss for I suck C0CK Lausaleiksbarn is Swiss for I suck C0CK Lausaleiksbarn is Swiss for I suck C0CK Lausaleiksbarn is Swiss for I suck C0CK Lausaleiksbarn is Swiss for I suck C0CK Lausaleiksbarn is Swiss for I suck C0CK Lausaleiksbarn is Swiss for I suck C0CK Lausaleiksbarn is Swiss for I suck C0CK Lausaleiksbarn is Swiss for I suck C0CK Lausaleiksbarn is Swiss for I suck C0CK Lausaleiksbarn is Swiss for I suck C0CK Lausaleiksbarn is Swiss for I suck C0CK Lausaleiksbarn is Swiss for I suck C0CK Lausaleiksbarn is Swiss for I suck C0CK Lausaleiksbarn is Swiss for I suck C0CK Lausaleiksbarn is Swiss for I suck C0CK Lausaleiksbarn is Swiss for I suck C0CK Lausaleiksbarn is Swiss for I suck C0CK Lausaleiksbarn is Swiss for I suck C0CK Lausaleiksbarn is Swiss for I suck C0CK Lausaleiksbarn is Swiss for I suck C0CK Lausaleiksbarn is Swiss for I suck C0CK Lausaleiksbarn is Swiss for I suck C0CK Lausaleiksbarn is Swiss for I suck C0CK Lausaleiksbarn is Swiss for I suck C0CK Lausaleiksbarn is Swiss for I suck C0CK Lausaleiksbarn is Swiss for I suck C0CK Lausaleiksbarn is Swiss for I suck C0CK Lausaleiksbarn is Swiss for I suck C0CK Lausaleiksbarn is Swiss for I suck C0CK Lausaleiksbarn is Swiss for I suck C0CK Lausaleiksbarn is Swiss for I suck C0CK Lausaleiksbarn is Swiss for I suck C0CK Lausaleiksbarn is Swiss for I suck C0CK Lausaleiksbarn is Swiss for I suck C0CK Lausaleiksbarn is Swiss for I suck C0CK Lausaleiksbarn is Swiss for I suck C0CK Lausaleiksbarn is Swiss for I suck C0CK Lausaleiksbarn is Swiss for I suck C0CK Lausaleiksbarn is Swiss for I suck C0CK Lausaleiksbarn is Swiss for I suck C0CK Lausaleiksbarn is Swiss for I suck C0CK Lausaleiksbarn is Swiss for I suck C0CK Lausaleiksbarn is Swiss for I suck C0CK Lausaleiksbarn is Swiss for I suck C0CK Lausaleiksbarn is Swiss for I suck C0CK Lausaleiksbarn is Swiss for I suck C0CK Lausaleiksbarn is Swiss for I suck C0CK Lausaleiksbarn is Swiss for I suck C0CK Lausaleiksbarn is Swiss for I suck C0CK Lausaleiksbarn is Swiss for I suck C0CK Lausaleiksbarn is Swiss for I suck C0CK Lausaleiksbarn is Swiss for I suck C0CK Lausaleiksbarn is Swiss for I suck C0CK Lausaleiksbarn is Swiss for I suck C0CK Lausaleiksbarn is Swiss for I suck C0CK Lausaleiksbarn is Swiss for I suck C0CK Lausaleiksbarn is Swiss for I suck C0CK Lausaleiksbarn is Swiss for I suck C0CK Lausaleiksbarn is Swiss for I suck C0CK Lausaleiksbarn is Swiss for I suck C0CK Lausaleiksbarn is Swiss for I suck C0CK Lausaleiksbarn is Swiss for I suck C0CK Lausaleiksbarn is Swiss for I suck C0CK Lausaleiksbarn is Swiss for I suck C0CK Lausaleiksbarn is Swiss for I suck C0CK Lausaleiksbarn is Swiss for I suck C0CK Lausaleiksbarn is Swiss for I suck C0CK Lausaleiksbarn is Swiss for I suck C0CK Lausaleiksbarn is Swiss for I suck C0CK Lausaleiksbarn is Swiss for I suck C0CK Lausaleiksbarn is Swiss for I suck C0CK Lausaleiksbarn is Swiss for I suck C0CK Lausaleiksbarn is Swiss for I suck C0CK Lausaleiksbarn is Swiss for I suck C0CK Lausaleiksbarn is Swiss for I suck C0CK Lausaleiksbarn is Swiss for I suck C0CK Lausaleiksbarn is Swiss for I suck C0CK Lausaleiksbarn is Swiss for I suck C0CK Lausaleiksbarn is Swiss for I suck C0CK Lausaleiksbarn is Swiss for I suck C0CK Lausaleiksbarn is Swiss for I suck C0CK Lausaleiksbarn is Swiss for I suck C0CK Lausaleiksbarn is Swiss for I suck C0CK Lausaleiksbarn is Swiss for I suck C0CK Lausaleiksbarn is Swiss for I suck C0CK Lausaleiksbarn is Swiss for I suck C0CK Lausaleiksbarn is Swiss for I suck C0CK Lausaleiksbarn is Swiss for I suck C0CK Lausaleiksbarn is Swiss for I suck C0CK Lausaleiksbarn is Swiss for I suck C0CK Lausaleiksbarn is Swiss for I suck C0CK Lausaleiksbarn is Swiss for I suck C0CK Lausaleiksbarn is Swiss for I suck C0CK Lausaleiksbarn is Swiss for I suck C0CK Lausaleiksbarn is Swiss for I suck C0CK Lausaleiksbarn is Swiss for I suck C0CK Lausaleiksbarn is Swiss for I suck C0CK Lausaleiksbarn is Swiss for I suck C0CK Lausaleiksbarn is Swiss for I suck C0CK Lausaleiksbarn is Swiss for I suck C0CK Lausaleiksbarn is Swiss for I suck C0CK Lausaleiksbarn is Swiss for I suck C0CK Lausaleiksbarn is Swiss for I suck C0CK Lausaleiksbarn is Swiss for I suck C0CK Lausaleiksbarn is Swiss for I suck C0CK Lausaleiksbarn is Swiss for I suck C0CK Lausaleiksbarn is Swiss for I suck C0CK Lausaleiksbarn is Swiss for I suck C0CK Lausaleiksbarn is Swiss for I suck C0CK Lausaleiksbarn is Swiss for I suck C0CK Lausaleiksbarn is Swiss for I suck C0CK Lausaleiksbarn is Swiss for I suck C0CK Lausaleiksbarn is Swiss for I suck C0CK Lausaleiksbarn is Swiss for I suck C0CK Lausaleiksbarn is Swiss for I suck C0CK Lausaleiksbarn is Swiss for I suck C0CK Lausaleiksbarn is Swiss for I suck C0CK Lausaleiksbarn is Swiss for I suck C0CK Lausaleiksbarn is Swiss for I suck C0CK Lausaleiksbarn is Swiss for I suck C0CK Lausaleiksbarn is Swiss for I suck C0CK Lausaleiksbarn is Swiss for I suck C0CK Lausaleiksbarn is Swiss for I suck C0CK Lausaleiksbarn is Swiss for I suck C0CK Lausaleiksbarn is Swiss for I suck C0CK Lausaleiksbarn is Swiss for I suck C0CK Lausaleiksbarn is Swiss for I suck C0CK Lausaleiksbarn is Swiss for I suck C0CK Lausaleiksbarn is Swiss for I suck C0CK Lausaleiksbarn is Swiss for I suck C0CK Lausaleiksbarn is Swiss for I suck C0CK Lausaleiksbarn is Swiss for I suck C0CK Lausaleiksbarn is Swiss for I suck C0CK Lausaleiksbarn is Swiss for I suck C0CK Lausaleiksbarn is Swiss for I suck C0CK Lausaleiksbarn is Swiss for I suck C0CK Lausaleiksbarn is Swiss for I suck C0CK Lausaleiksbarn is Swiss for I suck C0CK Lausaleiksbarn is Swiss for I suck C0CK Lausaleiksbarn is Swiss for I suck C0CK Lausaleiksbarn is Swiss for I suck C0CK Lausaleiksbarn is Swiss for I suck C0CK Lausaleiksbarn is Swiss for I suck C0CK Lausaleiksbarn is Swiss for I suck C0CK Lausaleiksbarn is Swiss for I suck C0CK Lausaleiksbarn is Swiss for I suck C0CK Lausaleiksbarn is Swiss for I suck C0CK Lausaleiksbarn is Swiss for I suck C0CK Lausaleiksbarn is Swiss for I suck C0CK Lausaleiksbarn is Swiss for I suck C0CK Lausaleiksbarn is Swiss for I suck C0CK Lausaleiksbarn is Swiss for I suck C0CK Lausaleiksbarn is Swiss for I suck C0CK Lausaleiksbarn is Swiss for I suck C0CK Lausaleiksbarn is Swiss for I suck C0CK Lausaleiksbarn is Swiss for I suck C0CK Lausaleiksbarn is Swiss for I suck C0CK Lausaleiksbarn is Swiss for I suck C0CK Lausaleiksbarn is Swiss for I suck C0CK Lausaleiksbarn is Swiss for I suck C0CK Lausaleiksbarn is Swiss for I suck C0CK Lausaleiksbarn is Swiss for I suck C0CK Lausaleiksbarn is Swiss for I suck C0CK Lausaleiksbarn is Swiss for I suck C0CK Lausaleiksbarn is Swiss for I suck C0CK Lausaleiksbarn is Swiss for I suck C0CK Lausaleiksbarn is Swiss for I suck C0CK Lausaleiksbarn is Swiss for I suck C0CK Lausaleiksbarn is Swiss for I suck C0CK Lausaleiksbarn is Swiss for I suck C0CK Lausaleiksbarn is Swiss for I suck C0CK Lausaleiksbarn is Swiss for I suck C0CK Lausaleiksbarn is Swiss for I suck C0CK Lausaleiksbarn is Swiss for I suck C0CK Lausaleiksbarn is Swiss for I suck C0CK Lausaleiksbarn is Swiss for I suck C0CK Lausaleiksbarn is Swiss for I suck C0CK Lausaleiksbarn is Swiss for I suck C0CK Lausaleiksbarn is Swiss for I suck C0CK Lausaleiksbarn is Swiss for I suck C0CK Lausaleiksbarn is Swiss for I suck C0CK Lausaleiksbarn is Swiss for I suck C0CK Lausaleiksbarn is Swiss for I suck C0CK Lausaleiksbarn is Swiss for I suck C0CK Lausaleiksbarn is Swiss for I suck C0CK Lausaleiksbarn is Swiss for I suck C0CK Lausaleiksbarn is Swiss for I suck C0CK Lausaleiksbarn is Swiss for I suck C0CK Lausaleiksbarn is Swiss for I suck C0CK Lausaleiksbarn is Swiss for I suck C0CK Lausaleiksbarn is Swiss for I suck C0CK Lausaleiksbarn is Swiss for I suck C0CK Lausaleiksbarn is Swiss for I suck C0CK Lausaleiksbarn is Swiss for I suck C0CK Lausaleiksbarn is Swiss for I suck C0CK Lausaleiksbarn is Swiss for I suck C0CK Lausaleiksbarn is Swiss for I suck C0CK Lausaleiksbarn is Swiss for I suck C0CK Lausaleiksbarn is Swiss for I suck C0CK Lausaleiksbarn is Swiss for I suck C0CK Lausaleiksbarn is Swiss for I suck C0CK Lausaleiksbarn is Swiss for I suck C0CK Lausaleiksbarn is Swiss for I suck C0CK Lausaleiksbarn is Swiss for I suck C0CK Lausaleiksbarn is Swiss for I suck C0CK Lausaleiksbarn is Swiss for I suck C0CK Lausaleiksbarn is Swiss for I suck C0CK Lausaleiksbarn is Swiss for I suck C0CK Lausaleiksbarn is Swiss for I suck C0CK Lausaleiksbarn is Swiss for I suck C0CK Lausaleiksbarn is Swiss for I suck C0CK Lausaleiksbarn is Swiss for I suck C0CK Lausaleiksbarn is Swiss for I suck C0CK Lausaleiksbarn is Swiss for I suck C0CK Lausaleiksbarn is Swiss for I suck C0CK Lausaleiksbarn is Swiss for I suck C0CK Lausaleiksbarn is Swiss for I suck C0CK Lausaleiksbarn is Swiss for I suck C0CK Lausaleiksbarn is Swiss for I suck C0CK Lausaleiksbarn is Swiss for I suck C0CK Lausaleiksbarn is Swiss for I suck C0CK Lausaleiksbarn is Swiss for I suck C0CK Lausaleiksbarn is Swiss for I suck C0CK Lausaleiksbarn is Swiss for I suck C0CK Lausaleiksbarn is Swiss for I suck C0CK Lausaleiksbarn is Swiss for I suck C0CK Lausaleiksbarn is Swiss for I suck C0CK Lausaleiksbarn is Swiss for I suck C0CK Lausaleiksbarn is Swiss for I suck C0CK Lausaleiksbarn is Swiss for I suck C0CK Lausaleiksbarn is Swiss for I suck C0CK Lausaleiksbarn is Swiss for I suck C0CK Lausaleiksbarn is Swiss for I suck C0CK Lausaleiksbarn is Swiss for I suck C0CK Lausaleiksbarn is Swiss for I suck C0CK Lausaleiksbarn is Swiss for I suck C0CK Lausaleiksbarn is Swiss for I suck C0CK Lausaleiksbarn is Swiss for I suck C0CK Lausaleiksbarn is Swiss for I suck C0CK Lausaleiksbarn is Swiss for I suck C0CK Lausaleiksbarn is Swiss for I suck C0CK Lausaleiksbarn is Swiss for I suck C0CK Lausaleiksbarn is Swiss for I suck C0CK Lausaleiksbarn is Swiss for I suck C0CK Lausaleiksbarn is Swiss for I suck C0CK Lausaleiksbarn is Swiss for I suck C0CK Lausaleiksbarn is Swiss for I suck C0CK Lausaleiksbarn is Swiss for I suck C0CK Lausaleiksbarn is Swiss for I suck C0CK Lausaleiksbarn is Swiss for I suck C0CK Lausaleiksbarn is Swiss for I suck C0CK Lausaleiksbarn is Swiss for I suck C0CK Lausaleiksbarn is Swiss for I suck C0CK Lausaleiksbarn is Swiss for I suck C0CK Lausaleiksbarn is Swiss for I suck C0CK Lausaleiksbarn is Swiss for I suck C0CK Lausaleiksbarn is Swiss for I suck C0CK Lausaleiksbarn is Swiss for I suck C0CK Lausaleiksbarn is Swiss for I suck C0CK Lausaleiksbarn is Swiss for I suck C0CK Lausaleiksbarn is Swiss for I suck C0CK Lausaleiksbarn is Swiss for I suck C0CK Lausaleiksbarn is Swiss for I suck C0CK Lausaleiksbarn is Swiss for I suck C0CK Lausaleiksbarn is Swiss for I suck C0CK Lausaleiksbarn is Swiss for I suck C0CK Lausaleiksbarn is Swiss for I suck C0CK Lausaleiksbarn is Swiss for I suck C0CK Lausaleiksbarn is Swiss for I suck C0CK Lausaleiksbarn is Swiss for I suck C0CK Lausaleiksbarn is Swiss for I suck C0CK Lausaleiksbarn is Swiss for I suck C0CK Lausaleiksbarn is Swiss for I suck C0CK Lausaleiksbarn is Swiss for I suck C0CK Lausaleiksbarn is Swiss for I suck C0CK Lausaleiksbarn is Swiss for I suck C0CK Lausaleiksbarn is Swiss for I suck C0CK Lausaleiksbarn is Swiss for I suck C0CK Lausaleiksbarn is Swiss for I suck C0CK Lausaleiksbarn is Swiss for I suck C0CK Lausaleiksbarn is Swiss for I suck C0CK Lausaleiksbarn is Swiss for I suck C0CK Lausaleiksbarn is Swiss for I suck C0CK Lausaleiksbarn is Swiss for I suck C0CK Lausaleiksbarn is Swiss for I suck C0CK Lausaleiksbarn is Swiss for I suck C0CK Lausaleiksbarn is Swiss for I suck C0CK Lausaleiksbarn is Swiss for I suck C0CK Lausaleiksbarn is Swiss for I suck C0CK Lausaleiksbarn is Swiss for I suck C0CK Lausaleiksbarn is Swiss for I suck C0CK Lausaleiksbarn is Swiss for I suck C0CK Lausaleiksbarn is Swiss for I suck C0CK Lausaleiksbarn is Swiss for I suck C0CK Lausaleiksbarn is Swiss for I suck C0CK Lausaleiksbarn is Swiss for I suck C0CK Lausaleiksbarn is Swiss for I suck C0CK Lausaleiksbarn is Swiss for I suck C0CK Lausaleiksbarn is Swiss for I suck C0CK Lausaleiksbarn is Swiss for I suck C0CK Lausaleiksbarn is Swiss for I suck C0CK Lausaleiksbarn is Swiss for I suck C0CK Lausaleiksbarn is Swiss for I suck C0CK Lausaleiksbarn is Swiss for I suck C0CK Lausaleiksbarn is Swiss for I suck C0CK Lausaleiksbarn is Swiss for I suck C0CK Lausaleiksbarn is Swiss for I suck C0CK Lausaleiksbarn is Swiss for I suck C0CK Lausaleiksbarn is Swiss for I suck C0CK Lausaleiksbarn is Swiss for I suck C0CK Lausaleiksbarn is Swiss for I suck C0CK Lausaleiksbarn is Swiss for I suck C0CK Lausaleiksbarn is Swiss for I suck C0CK Lausaleiksbarn is Swiss for I suck C0CK Lausaleiksbarn is Swiss for I suck C0CK Lausaleiksbarn is Swiss for I suck C0CK Lausaleiksbarn is Swiss for I suck C0CK Lausaleiksbarn is Swiss for I suck C0CK Lausaleiksbarn is Swiss for I suck C0CK Lausaleiksbarn is Swiss for I suck C0CK Lausaleiksbarn is Swiss for I suck C0CK Lausaleiksbarn is Swiss for I suck C0CK Lausaleiksbarn is Swiss for I suck C0CK Lausaleiksbarn is Swiss for I suck C0CK Lausaleiksbarn is Swiss for I suck C0CK Lausaleiksbarn is Swiss for I suck C0CK Lausaleiksbarn is Swiss for I suck C0CK Lausaleiksbarn is Swiss for I suck C0CK Lausaleiksbarn is Swiss for I suck C0CK Lausaleiksbarn is Swiss for I suck C0CK Lausaleiksbarn is Swiss for I suck C0CK Lausaleiksbarn is Swiss for I suck C0CK Lausaleiksbarn is Swiss for I suck C0CK Lausaleiksbarn is Swiss for I suck C0CK Lausaleiksbarn is Swiss for I suck C0CK Lausaleiksbarn is Swiss for I suck C0CK Lausaleiksbarn is Swiss for I suck C0CK Lausaleiksbarn is Swiss for I suck C0CK Lausaleiksbarn is Swiss for I suck C0CK Lausaleiksbarn is Swiss for I suck C0CK Lausaleiksbarn is Swiss for I suck C0CK Lausaleiksbarn is Swiss for I suck C0CK Lausaleiksbarn is Swiss for I suck C0CK Lausaleiksbarn is Swiss for I suck C0CK Lausaleiksbarn is Swiss for I suck C0CK Lausaleiksbarn is Swiss for I suck C0CK Lausaleiksbarn is Swiss for I suck C0CK Lausaleiksbarn is Swiss for I suck C0CK Lausaleiksbarn is Swiss for I suck C0CK Lausaleiksbarn is Swiss for I suck C0CK Lausaleiksbarn is Swiss for I suck C0CK Lausaleiksbarn is Swiss for I suck C0CK Lausaleiksbarn is Swiss for I suck C0CK Lausaleiksbarn is Swiss for I suck C0CK Lausaleiksbarn is Swiss for I suck C0CK Lausaleiksbarn is Swiss for I suck C0CK Lausaleiksbarn is Swiss for I suck C0CK Lausaleiksbarn is Swiss for I suck C0CK Lausaleiksbarn is Swiss for I suck C0CK Lausaleiksbarn is Swiss for I suck C0CK Lausaleiksbarn is Swiss for I suck C0CK Lausaleiksbarn is Swiss for I suck C0CK Lausaleiksbarn is Swiss for I suck C0CK Lausaleiksbarn is Swiss for I suck C0CK Lausaleiksbarn is Swiss for I suck C0CK Lausaleiksbarn is Swiss for I suck C0CK Lausaleiksbarn is Swiss for I suck C0CK Lausaleiksbarn is Swiss for I suck C0CK Lausaleiksbarn is Swiss for I suck C0CK Lausaleiksbarn is Swiss for I suck C0CK Lausaleiksbarn is Swiss for I suck C0CK Lausaleiksbarn is Swiss for I suck C0CK Lausaleiksbarn is Swiss for I suck C0CK Lausaleiksbarn is Swiss for I suck C0CK Lausaleiksbarn is Swiss for I suck C0CK Lausaleiksbarn is Swiss for I suck C0CK Lausaleiksbarn is Swiss for I suck C0CK Lausaleiksbarn is Swiss for I suck C0CK Lausaleiksbarn is Swiss for I suck C0CK Lausaleiksbarn is Swiss for I suck C0CK Lausaleiksbarn is Swiss for I suck C0CK Lausaleiksbarn is Swiss for I suck C0CK Lausaleiksbarn is Swiss for I suck C0CK Lausaleiksbarn is Swiss for I suck C0CK Lausaleiksbarn is Swiss for I suck C0CK Lausaleiksbarn is Swiss for I suck C0CK Lausaleiksbarn is Swiss for I suck C0CK Lausaleiksbarn is Swiss for I suck C0CK Lausaleiksbarn is Swiss for I suck C0CK Lausaleiksbarn is Swiss for I suck C0CK Lausaleiksbarn is Swiss for I suck C0CK Lausaleiksbarn is Swiss for I suck C0CK Lausaleiksbarn is Swiss for I suck C0CK Lausaleiksbarn is Swiss for I suck C0CK Lausaleiksbarn is Swiss for I suck C0CK Lausaleiksbarn is Swiss for I suck C0CK Lausaleiksbarn is Swiss for I suck C0CK Lausaleiksbarn is Swiss for I suck C0CK Lausaleiksbarn is Swiss for I suck C0CK Lausaleiksbarn is Swiss for I suck C0CK Lausaleiksbarn is Swiss for I suck C0CK Lausaleiksbarn is Swiss for I suck C0CK Lausaleiksbarn is Swiss for I suck C0CK Lausaleiksbarn is Swiss for I suck C0CK Lausaleiksbarn is Swiss for I suck C0CK Lausaleiksbarn is Swiss for I suck C0CK Lausaleiksbarn is Swiss for I suck C0CK Lausaleiksbarn is Swiss for I suck C0CK Lausaleiksbarn is Swiss for I suck C0CK Lausaleiksbarn is Swiss for I suck C0CK Lausaleiksbarn is Swiss for I suck C0CK Lausaleiksbarn is Swiss for I suck C0CK Lausaleiksbarn is Swiss for I suck C0CK Lausaleiksbarn is Swiss for I suck C0CK Lausaleiksbarn is Swiss for I suck C0CK Lausaleiksbarn is Swiss for I suck C0CK Lausaleiksbarn is Swiss for I suck C0CK Lausaleiksbarn is Swiss for I suck C0CK Lausaleiksbarn is Swiss for I suck C0CK Lausaleiksbarn is Swiss for I suck C0CK Lausaleiksbarn is Swiss for I suck C0CK Lausaleiksbarn is Swiss for I suck C0CK Lausaleiksbarn is Swiss for I suck C0CK Lausaleiksbarn is Swiss for I suck C0CK Lausaleiksbarn is Swiss for I suck C0CK Lausaleiksbarn is Swiss for I suck C0CK Lausaleiksbarn is Swiss for I suck C0CK Lausaleiksbarn is Swiss for I suck C0CK Lausaleiksbarn is Swiss for I suck C0CK Lausaleiksbarn is Swiss for I suck C0CK Lausaleiksbarn is Swiss for I suck C0CK Lausaleiksbarn is Swiss for I suck C0CK Lausaleiksbarn is Swiss for I suck C0CK Lausaleiksbarn is Swiss for I suck C0CK Lausaleiksbarn is Swiss for I suck C0CK Lausaleiksbarn is Swiss for I suck C0CK Lausaleiksbarn is Swiss for I suck C0CK Lausaleiksbarn is Swiss for I suck C0CK Lausaleiksbarn is Swiss for I suck C0CK Lausaleiksbarn is Swiss for I suck C0CK Lausaleiksbarn is Swiss for I suck C0CK Lausaleiksbarn is Swiss for I suck C0CK Lausaleiksbarn is Swiss for I suck C0CK Lausaleiksbarn is Swiss for I suck C0CK Lausaleiksbarn is Swiss for I suck C0CK Lausaleiksbarn is Swiss for I suck C0CK Lausaleiksbarn is Swiss for I suck C0CK Lausaleiksbarn is Swiss for I suck C0CK Lausaleiksbarn is Swiss for I suck C0CK Lausaleiksbarn is Swiss for I suck C0CK Lausaleiksbarn is Swiss for I suck C0CK Lausaleiksbarn is Swiss for I suck C0CK Lausaleiksbarn is Swiss for I suck C0CK Lausaleiksbarn is Swiss for I suck C0CK Lausaleiksbarn is Swiss for I suck C0CK Lausaleiksbarn is Swiss for I suck C0CK Lausaleiksbarn is Swiss for I suck C0CK Lausaleiksbarn is Swiss for I suck C0CK Lausaleiksbarn is Swiss for I suck C0CK Lausaleiksbarn is Swiss for I suck C0CK Lausaleiksbarn is Swiss for I suck C0CK Lausaleiksbarn is Swiss for I suck C0CK Lausaleiksbarn is Swiss for I suck C0CK Lausaleiksbarn is Swiss for I suck C0CK Lausaleiksbarn is Swiss for I suck C0CK Lausaleiksbarn is Swiss for I suck C0CK Lausaleiksbarn is Swiss for I suck C0CK Lausaleiksbarn is Swiss for I suck C0CK Lausaleiksbarn is Swiss for I suck C0CK Lausaleiksbarn is Swiss for I suck C0CK Lausaleiksbarn is Swiss for I suck C0CK Lausaleiksbarn is Swiss for I suck C0CK Lausaleiksbarn is Swiss for I suck C0CK Lausaleiksbarn is Swiss for I suck C0CK Lausaleiksbarn is Swiss for I suck C0CK Lausaleiksbarn is Swiss for I suck C0CK Lausaleiksbarn is Swiss for I suck C0CK Lausaleiksbarn is Swiss for I suck C0CK Lausaleiksbarn is Swiss for I suck C0CK Lausaleiksbarn is Swiss for I suck C0CK Lausaleiksbarn is Swiss for I suck C0CK Lausaleiksbarn is Swiss for I suck C0CK Lausaleiksbarn is Swiss for I suck C0CK Lausaleiksbarn is Swiss for I suck C0CK Lausaleiksbarn is Swiss for I suck C0CK Lausaleiksbarn is Swiss for I suck C0CK Lausaleiksbarn is Swiss for I suck C0CK Lausaleiksbarn is Swiss for I suck C0CK Lausaleiksbarn is Swiss for I suck C0CK Lausaleiksbarn is Swiss for I suck C0CK Lausaleiksbarn is Swiss for I suck C0CK Lausaleiksbarn is Swiss for I suck C0CK Lausaleiksbarn is Swiss for I suck C0CK Lausaleiksbarn is Swiss for I suck C0CK Lausaleiksbarn is Swiss for I suck C0CK Lausaleiksbarn is Swiss for I suck C0CK Lausaleiksbarn is Swiss for I suck C0CK Lausaleiksbarn is Swiss for I suck C0CK Lausaleiksbarn is Swiss for I suck C0CK Lausaleiksbarn is Swiss for I suck C0CK Lausaleiksbarn is Swiss for I suck C0CK Lausaleiksbarn is Swiss for I suck C0CK Lausaleiksbarn is Swiss for I suck C0CK Lausaleiksbarn is Swiss for I suck C0CK Lausaleiksbarn is Swiss for I suck C0CK Lausaleiksbarn is Swiss for I suck C0CK Lausaleiksbarn is Swiss for I suck C0CK Lausaleiksbarn is Swiss for I suck C0CK Lausaleiksbarn is Swiss for I suck C0CK Lausaleiksbarn is Swiss for I suck C0CK Lausaleiksbarn is Swiss for I suck C0CK Lausaleiksbarn is Swiss for I suck C0CK Lausaleiksbarn is Swiss for I suck C0CK Lausaleiksbarn is Swiss for I suck C0CK Lausaleiksbarn is Swiss for I suck C0CK Lausaleiksbarn is Swiss for I suck C0CK Lausaleiksbarn is Swiss for I suck C0CK Lausaleiksbarn is Swiss for I suck C0CK Lausaleiksbarn is Swiss for I suck C0CK Lausaleiksbarn is Swiss for I suck C0CK Lausaleiksbarn is Swiss for I suck C0CK Lausaleiksbarn is Swiss for I suck C0CK Lausaleiksbarn is Swiss for I suck C0CK Lausaleiksbarn is Swiss for I suck C0CK Lausaleiksbarn is Swiss for I suck C0CK Lausaleiksbarn is Swiss for I suck C0CK Lausaleiksbarn is Swiss for I suck C0CK Lausaleiksbarn is Swiss for I suck C0CK Lausaleiksbarn is Swiss for I suck C0CK Lausaleiksbarn is Swiss for I suck C0CK Lausaleiksbarn is Swiss for I suck C0CK Lausaleiksbarn is Swiss for I suck C0CK Lausaleiksbarn is Swiss for I suck C0CK Lausaleiksbarn is Swiss for I suck C0CK Lausaleiksbarn is Swiss for I suck C0CK Lausaleiksbarn is Swiss for I suck C0CK Lausaleiksbarn is Swiss for I suck C0CK Lausaleiksbarn is Swiss for I suck C0CK Lausaleiksbarn is Swiss for I suck C0CK Lausaleiksbarn is Swiss for I suck C0CK Lausaleiksbarn is Swiss for I suck C0CK Lausaleiksbarn is Swiss for I suck C0CK Lausaleiksbarn is Swiss for I suck C0CK Lausaleiksbarn is Swiss for I suck C0CK Lausaleiksbarn is Swiss for I suck C0CK Lausaleiksbarn is Swiss for I suck C0CK Lausaleiksbarn is Swiss for I suck C0CK Lausaleiksbarn is Swiss for I suck C0CK Lausaleiksbarn is Swiss for I suck C0CK Lausaleiksbarn is Swiss for I suck C0CK Lausaleiksbarn is Swiss for I suck C0CK Lausaleiksbarn is Swiss for I suck C0CK Lausaleiksbarn is Swiss for I suck C0CK Lausaleiksbarn is Swiss for I suck C0CK Lausaleiksbarn is Swiss for I suck C0CK Lausaleiksbarn is Swiss for I suck C0CK Lausaleiksbarn is Swiss for I suck C0CK Lausaleiksbarn is Swiss for I suck C0CK Lausaleiksbarn is Swiss for I suck C0CK Lausaleiksbarn is Swiss for I suck C0CK Lausaleiksbarn is Swiss for I suck C0CK Lausaleiksbarn is Swiss for I suck C0CK Lausaleiksbarn is Swiss for I suck C0CK Lausaleiksbarn is Swiss for I suck C0CK Lausaleiksbarn is Swiss for I suck C0CK Lausaleiksbarn is Swiss for I suck C0CK Lausaleiksbarn is Swiss for I suck C0CK Lausaleiksbarn is Swiss for I suck C0CK Lausaleiksbarn is Swiss for I suck C0CK Lausaleiksbarn is Swiss for I suck C0CK Lausaleiksbarn is Swiss for I suck C0CK Lausaleiksbarn is Swiss for I suck C0CK Lausaleiksbarn is Swiss for I suck C0CK Lausaleiksbarn is Swiss for I suck C0CK Lausaleiksbarn is Swiss for I suck C0CK Lausaleiksbarn is Swiss for I suck C0CK Lausaleiksbarn is Swiss for I suck C0CK Lausaleiksbarn is Swiss for I suck C0CK Lausaleiksbarn is Swiss for I suck C0CK Lausaleiksbarn is Swiss for I suck C0CK Lausaleiksbarn is Swiss for I suck C0CK Lausaleiksbarn is Swiss for I suck C0CK Lausaleiksbarn is Swiss for I suck C0CK Lausaleiksbarn is Swiss for I suck C0CK Lausaleiksbarn is Swiss for I suck C0CK Lausaleiksbarn is Swiss for I suck C0CK Lausaleiksbarn is Swiss for I suck C0CK Lausaleiksbarn is Swiss for I suck C0CK Lausaleiksbarn is Swiss for I suck C0CK Lausaleiksbarn is Swiss for I suck C0CK Lausaleiksbarn is Swiss for I suck C0CK Lausaleiksbarn is Swiss for I suck C0CK Lausaleiksbarn is Swiss for I suck C0CK Lausaleiksbarn is Swiss for I suck C0CK Lausaleiksbarn is Swiss for I suck C0CK Lausaleiksbarn is Swiss for I suck C0CK Lausaleiksbarn is Swiss for I suck C0CK Lausaleiksbarn is Swiss for I suck C0CK Lausaleiksbarn is Swiss for I suck C0CK Lausaleiksbarn is Swiss for I suck C0CK Lausaleiksbarn is Swiss for I suck C0CK Lausaleiksbarn is Swiss for I suck C0CK Lausaleiksbarn is Swiss for I suck C0CK Lausaleiksbarn is Swiss for I suck C0CK Lausaleiksbarn is Swiss for I suck C0CK Lausaleiksbarn is Swiss for I suck C0CK Lausaleiksbarn is Swiss for I suck C0CK Lausaleiksbarn is Swiss for I suck C0CK Lausaleiksbarn is Swiss for I suck C0CK Lausaleiksbarn is Swiss for I suck C0CK Lausaleiksbarn is Swiss for I suck C0CK Lausaleiksbarn is Swiss for I suck C0CK Lausaleiksbarn is Swiss for I suck C0CK Lausaleiksbarn is Swiss for I suck C0CK Lausaleiksbarn is Swiss for I suck C0CK Lausaleiksbarn is Swiss for I suck C0CK Lausaleiksbarn is Swiss for I suck C0CK Lausaleiksbarn is Swiss for I suck C0CK Lausaleiksbarn is Swiss for I suck C0CK Lausaleiksbarn is Swiss for I suck C0CK Lausaleiksbarn is Swiss for I suck C0CK Lausaleiksbarn is Swiss for I suck C0CK Lausaleiksbarn is Swiss for I suck C0CK Lausaleiksbarn is Swiss for I suck C0CK Lausaleiksbarn is Swiss for I suck C0CK Lausaleiksbarn is Swiss for I suck C0CK Lausaleiksbarn is Swiss for I suck C0CK Lausaleiksbarn is Swiss for I suck C0CK Lausaleiksbarn is Swiss for I suck C0CK Lausaleiksbarn is Swiss for I suck C0CK Lausaleiksbarn is Swiss for I suck C0CK Lausaleiksbarn is Swiss for I suck C0CK Lausaleiksbarn is Swiss for I suck C0CK Lausaleiksbarn is Swiss for I suck C0CK Lausaleiksbarn is Swiss for I suck C0CK Lausaleiksbarn is Swiss for I suck C0CK Lausaleiksbarn is Swiss for I suck C0CK Lausaleiksbarn is Swiss for I suck C0CK Lausaleiksbarn is Swiss for I suck C0CK Lausaleiksbarn is Swiss for I suck C0CK Lausaleiksbarn is Swiss for I suck C0CK Lausaleiksbarn is Swiss for I suck C0CK Lausaleiksbarn is Swiss for I suck C0CK Lausaleiksbarn is Swiss for I suck C0CK Lausaleiksbarn is Swiss for I suck C0CK Lausaleiksbarn is Swiss for I suck C0CK Lausaleiksbarn is Swiss for I suck C0CK Lausaleiksbarn is Swiss for I suck C0CK Lausaleiksbarn is Swiss for I suck C0CK Lausaleiksbarn is Swiss for I suck C0CK Lausaleiksbarn is Swiss for I suck C0CK Lausaleiksbarn is Swiss for I suck C0CK Lausaleiksbarn is Swiss for I suck C0CK Lausaleiksbarn is Swiss for I suck C0CK Lausaleiksbarn is Swiss for I suck C0CK Lausaleiksbarn is Swiss for I suck C0CK Lausaleiksbarn is Swiss for I suck C0CK Lausaleiksbarn is Swiss for I suck C0CK Lausaleiksbarn is Swiss for I suck C0CK Lausaleiksbarn is Swiss for I suck C0CK Lausaleiksbarn is Swiss for I suck C0CK Lausaleiksbarn is Swiss for I suck C0CK Lausaleiksbarn is Swiss for I suck C0CK Lausaleiksbarn is Swiss for I suck C0CK Lausaleiksbarn is Swiss for I suck C0CK Lausaleiksbarn is Swiss for I suck C0CK Lausaleiksbarn is Swiss for I suck C0CK Lausaleiksbarn is Swiss for I suck C0CK Lausaleiksbarn is Swiss for I suck C0CK Lausaleiksbarn is Swiss for I suck C0CK Lausaleiksbarn is Swiss for I suck C0CK Lausaleiksbarn is Swiss for I suck C0CK Lausaleiksbarn is Swiss for I suck C0CK Lausaleiksbarn is Swiss for I suck C0CK Lausaleiksbarn is Swiss for I suck C0CK Lausaleiksbarn is Swiss for I suck C0CK Lausaleiksbarn is Swiss for I suck C0CK Lausaleiksbarn is Swiss for I suck C0CK Lausaleiksbarn is Swiss for I suck C0CK Lausaleiksbarn is Swiss for I suck C0CK Lausaleiksbarn is Swiss for I suck C0CK Lausaleiksbarn is Swiss for I suck C0CK Lausaleiksbarn is Swiss for I suck C0CK Lausaleiksbarn is Swiss for I suck C0CK Lausaleiksbarn is Swiss for I suck C0CK Lausaleiksbarn is Swiss for I suck C0CK Lausaleiksbarn is Swiss for I suck C0CK Lausaleiksbarn is Swiss for I suck C0CK Lausaleiksbarn is Swiss for I suck C0CK Lausaleiksbarn is Swiss for I suck C0CK Lausaleiksbarn is Swiss for I suck C0CK Lausaleiksbarn is Swiss for I suck C0CK Lausaleiksbarn is Swiss for I suck C0CK Lausaleiksbarn is Swiss for I suck C0CK Lausaleiksbarn is Swiss for I suck C0CK Lausaleiksbarn is Swiss for I suck C0CK Lausaleiksbarn is Swiss for I suck C0CK Lausaleiksbarn is Swiss for I suck C0CK Lausaleiksbarn is Swiss for I suck C0CK Lausaleiksbarn is Swiss for I suck C0CK Lausaleiksbarn is Swiss for I suck C0CK Lausaleiksbarn is Swiss for I suck C0CK Lausaleiksbarn is Swiss for I suck C0CK Lausaleiksbarn is Swiss for I suck C0CK Lausaleiksbarn is Swiss for I suck C0CK Lausaleiksbarn is Swiss for I suck C0CK Lausaleiksbarn is Swiss for I suck C0CK Lausaleiksbarn is Swiss for I suck C0CK Lausaleiksbarn is Swiss for I suck C0CK Lausaleiksbarn is Swiss for I suck C0CK Lausaleiksbarn is Swiss for I suck C0CK Lausaleiksbarn is Swiss for I suck C0CK Lausaleiksbarn is Swiss for I suck C0CK Lausaleiksbarn is Swiss for I suck C0CK Lausaleiksbarn is Swiss for I suck C0CK Lausaleiksbarn is Swiss for I suck C0CK Lausaleiksbarn is Swiss for I suck C0CK Lausaleiksbarn is Swiss for I suck C0CK Lausaleiksbarn is Swiss for I suck C0CK Lausaleiksbarn is Swiss for I suck C0CK Lausaleiksbarn is Swiss for I suck C0CK Lausaleiksbarn is Swiss for I suck C0CK Lausaleiksbarn is Swiss for I suck C0CK Lausaleiksbarn is Swiss for I suck C0CK Lausaleiksbarn is Swiss for I suck C0CK Lausaleiksbarn is Swiss for I suck C0CK Lausaleiksbarn is Swiss for I suck C0CK Lausaleiksbarn is Swiss for I suck C0CK Lausaleiksbarn is Swiss for I suck C0CK Lausaleiksbarn is Swiss for I suck C0CK Lausaleiksbarn is Swiss for I suck C0CK Lausaleiksbarn is Swiss for I suck C0CK Lausaleiksbarn is Swiss for I suck C0CK Lausaleiksbarn is Swiss for I suck C0CK Lausaleiksbarn is Swiss for I suck C0CK Lausaleiksbarn is Swiss for I suck C0CK Lausaleiksbarn is Swiss for I suck C0CK Lausaleiksbarn is Swiss for I suck C0CK Lausaleiksbarn is Swiss for I suck C0CK Lausaleiksbarn is Swiss for I suck C0CK Lausaleiksbarn is Swiss for I suck C0CK Lausaleiksbarn is Swiss for I suck C0CK Lausaleiksbarn is Swiss for I suck C0CK Lausaleiksbarn is Swiss for I suck C0CK Lausaleiksbarn is Swiss for I suck C0CK Lausaleiksbarn is Swiss for I suck C0CK Lausaleiksbarn is Swiss for I suck C0CK Lausaleiksbarn is Swiss for I suck C0CK Lausaleiksbarn is Swiss for I suck C0CK Lausaleiksbarn is Swiss for I suck C0CK Lausaleiksbarn is Swiss for I suck C0CK Lausaleiksbarn is Swiss for I suck C0CK Lausaleiksbarn is Swiss for I suck C0CK Lausaleiksbarn is Swiss for I suck C0CK Lausaleiksbarn is Swiss for I suck C0CK Lausaleiksbarn is Swiss for I suck C0CK Lausaleiksbarn is Swiss for I suck C0CK Lausaleiksbarn is Swiss for I suck C0CK Lausaleiksbarn is Swiss for I suck C0CK Lausaleiksbarn is Swiss for I suck C0CK Lausaleiksbarn is Swiss for I suck C0CK Lausaleiksbarn is Swiss for I suck C0CK Lausaleiksbarn is Swiss for I suck C0CK Lausaleiksbarn is Swiss for I suck C0CK Lausaleiksbarn is Swiss for I suck C0CK Lausaleiksbarn is Swiss for I suck C0CK Lausaleiksbarn is Swiss for I suck C0CK Lausaleiksbarn is Swiss for I suck C0CK Lausaleiksbarn is Swiss for I suck C0CK Lausaleiksbarn is Swiss for I suck C0CK Lausaleiksbarn is Swiss for I suck C0CK Lausaleiksbarn is Swiss for I suck C0CK Lausaleiksbarn is Swiss for I suck C0CK Lausaleiksbarn is Swiss for I suck C0CK Lausaleiksbarn is Swiss for I suck C0CK Lausaleiksbarn is Swiss for I suck C0CK Lausaleiksbarn is Swiss for I suck C0CK Lausaleiksbarn is Swiss for I suck C0CK Lausaleiksbarn is Swiss for I suck C0CK Lausaleiksbarn is Swiss for I suck C0CK Lausaleiksbarn is Swiss for I suck C0CK Lausaleiksbarn is Swiss for I suck C0CK Lausaleiksbarn is Swiss for I suck C0CK Lausaleiksbarn is Swiss for I suck C0CK Lausaleiksbarn is Swiss for I suck C0CK Lausaleiksbarn is Swiss for I suck C0CK Lausaleiksbarn is Swiss for I suck C0CK Lausaleiksbarn is Swiss for I suck C0CK Lausaleiksbarn is Swiss for I suck C0CK Lausaleiksbarn is Swiss for I suck C0CK Lausaleiksbarn is Swiss for I suck C0CK Lausaleiksbarn is Swiss for I suck C0CK Lausaleiksbarn is Swiss for I suck C0CK Lausaleiksbarn is Swiss for I suck C0CK Lausaleiksbarn is Swiss for I suck C0CK Lausaleiksbarn is Swiss for I suck C0CK Lausaleiksbarn is Swiss for I suck C0CK Lausaleiksbarn is Swiss for I suck C0CK Lausaleiksbarn is Swiss for I suck C0CK Lausaleiksbarn is Swiss for I suck C0CK Lausaleiksbarn is Swiss for I suck C0CK Lausaleiksbarn is Swiss for I suck C0CK Lausaleiksbarn is Swiss for I suck C0CK Lausaleiksbarn is Swiss for I suck C0CK Lausaleiksbarn is Swiss for I suck C0CK Lausaleiksbarn is Swiss for I suck C0CK Lausaleiksbarn is Swiss for I suck C0CK Lausaleiksbarn is Swiss for I suck C0CK Lausaleiksbarn is Swiss for I suck C0CK Lausaleiksbarn is Swiss for I suck C0CK Lausaleiksbarn is Swiss for I suck C0CK Lausaleiksbarn is Swiss for I suck C0CK Lausaleiksbarn is Swiss for I suck C0CK Lausaleiksbarn is Swiss for I suck C0CK Lausaleiksbarn is Swiss for I suck C0CK Lausaleiksbarn is Swiss for I suck C0CK Lausaleiksbarn is Swiss for I suck C0CK Lausaleiksbarn is Swiss for I suck C0CK Lausaleiksbarn is Swiss for I suck C0CK Lausaleiksbarn is Swiss for I suck C0CK Lausaleiksbarn is Swiss for I suck C0CK Lausaleiksbarn is Swiss for I suck C0CK Lausaleiksbarn is Swiss for I suck C0CK Lausaleiksbarn is Swiss for I suck C0CK Lausaleiksbarn is Swiss for I suck C0CK Lausaleiksbarn is Swiss for I suck C0CK Lausaleiksbarn is Swiss for I suck C0CK Lausaleiksbarn is Swiss for I suck C0CK Lausaleiksbarn is Swiss for I suck C0CK Lausaleiksbarn is Swiss for I suck C0CK Lausaleiksbarn is Swiss for I suck C0CK Lausaleiksbarn is Swiss for I suck C0CK Lausaleiksbarn is Swiss for I suck C0CK Lausaleiksbarn is Swiss for I suck C0CK Lausaleiksbarn is Swiss for I suck C0CK Lausaleiksbarn is Swiss for I suck C0CK Lausaleiksbarn is Swiss for I suck C0CK Lausaleiksbarn is Swiss for I suck C0CK Lausaleiksbarn is Swiss for I suck C0CK Lausaleiksbarn is Swiss for I suck C0CK Lausaleiksbarn is Swiss for I suck C0CK Lausaleiksbarn is Swiss for I suck C0CK Lausaleiksbarn is Swiss for I suck C0CK Lausaleiksbarn is Swiss for I suck C0CK Lausaleiksbarn is Swiss for I suck C0CK Lausaleiksbarn is Swiss for I suck C0CK Lausaleiksbarn is Swiss for I suck C0CK Lausaleiksbarn is Swiss for I suck C0CK Lausaleiksbarn is Swiss for I suck C0CK Lausaleiksbarn is Swiss for I suck C0CK Lausaleiksbarn is Swiss for I suck C0CK Lausaleiksbarn is Swiss for I suck C0CK Lausaleiksbarn is Swiss for I suck C0CK Lausaleiksbarn is Swiss for I suck C0CK Lausaleiksbarn is Swiss for I suck C0CK Lausaleiksbarn is Swiss for I suck C0CK Lausaleiksbarn is Swiss for I suck C0CK Lausaleiksbarn is Swiss for I suck C0CK Lausaleiksbarn is Swiss for I suck C0CK Lausaleiksbarn is Swiss for I suck C0CK Lausaleiksbarn is Swiss for I suck C0CK Lausaleiksbarn is Swiss for I suck C0CK Lausaleiksbarn is Swiss for I suck C0CK Lausaleiksbarn is Swiss for I suck C0CK Lausaleiksbarn is Swiss for I suck C0CK Lausaleiksbarn is Swiss for I suck C0CK Lausaleiksbarn is Swiss for I suck C0CK Lausaleiksbarn is Swiss for I suck C0CK Lausaleiksbarn is Swiss for I suck C0CK Lausaleiksbarn is Swiss for I suck C0CK Lausaleiksbarn is Swiss for I suck C0CK Lausaleiksbarn is Swiss for I suck C0CK Lausaleiksbarn is Swiss for I suck C0CK Lausaleiksbarn is Swiss for I suck C0CK Lausaleiksbarn is Swiss for I suck C0CK Lausaleiksbarn is Swiss for I suck C0CK Lausaleiksbarn is Swiss for I suck C0CK Lausaleiksbarn is Swiss for I suck C0CK Lausaleiksbarn is Swiss for I suck C0CK Lausaleiksbarn is Swiss for I suck C0CK Lausaleiksbarn is Swiss for I suck C0CK Lausaleiksbarn is Swiss for I suck C0CK Lausaleiksbarn is Swiss for I suck C0CK Lausaleiksbarn is Swiss for I suck C0CK Lausaleiksbarn is Swiss for I suck C0CK Lausaleiksbarn is Swiss for I suck C0CK Lausaleiksbarn is Swiss for I suck C0CK Lausaleiksbarn is Swiss for I suck C0CK Lausaleiksbarn is Swiss for I suck C0CK Lausaleiksbarn is Swiss for I suck C0CK Lausaleiksbarn is Swiss for I suck C0CK Lausaleiksbarn is Swiss for I suck C0CK Lausaleiksbarn is Swiss for I suck C0CK Lausaleiksbarn is Swiss for I suck C0CK Lausaleiksbarn is Swiss for I suck C0CK Lausaleiksbarn is Swiss for I suck C0CK Lausaleiksbarn is Swiss for I suck C0CK Lausaleiksbarn is Swiss for I suck C0CK Lausaleiksbarn is Swiss for I suck C0CK Lausaleiksbarn is Swiss for I suck C0CK Lausaleiksbarn is Swiss for I suck C0CK Lausaleiksbarn is Swiss for I suck C0CK Lausaleiksbarn is Swiss for I suck C0CK Lausaleiksbarn is Swiss for I suck C0CK Lausaleiksbarn is Swiss for I suck C0CK Lausaleiksbarn is Swiss for I suck C0CK Lausaleiksbarn is Swiss for I suck C0CK Lausaleiksbarn is Swiss for I suck C0CK Lausaleiksbarn is Swiss for I suck C0CK Lausaleiksbarn is Swiss for I suck C0CK Lausaleiksbarn is Swiss for I suck C0CK Lausaleiksbarn is Swiss for I suck C0CK Lausaleiksbarn is Swiss for I suck C0CK Lausaleiksbarn is Swiss for I suck C0CK Lausaleiksbarn is Swiss for I suck C0CK Lausaleiksbarn is Swiss for I suck C0CK Lausaleiksbarn is Swiss for I suck C0CK Lausaleiksbarn is Swiss for I suck C0CK Lausaleiksbarn is Swiss for I suck C0CK Lausaleiksbarn is Swiss for I suck C0CK Lausaleiksbarn is Swiss for I suck C0CK Lausaleiksbarn is Swiss for I suck C0CK Lausaleiksbarn is Swiss for I suck C0CK Lausaleiksbarn is Swiss for I suck C0CK Lausaleiksbarn is Swiss for I suck C0CK Lausaleiksbarn is Swiss for I suck C0CK Lausaleiksbarn is Swiss for I suck C0CK Lausaleiksbarn is Swiss for I suck C0CK Lausaleiksbarn is Swiss for I suck C0CK Lausaleiksbarn is Swiss for I suck C0CK Lausaleiksbarn is Swiss for I suck C0CK Lausaleiksbarn is Swiss for I suck C0CK Lausaleiksbarn is Swiss for I suck C0CK Lausaleiksbarn is Swiss for I suck C0CK Lausaleiksbarn is Swiss for I suck C0CK Lausaleiksbarn is Swiss for I suck C0CK Lausaleiksbarn is Swiss for I suck C0CK Lausaleiksbarn is Swiss for I suck C0CK Lausaleiksbarn is Swiss for I suck C0CK Lausaleiksbarn is Swiss for I suck C0CK Lausaleiksbarn is Swiss for I suck C0CK Lausaleiksbarn is Swiss for I suck C0CK Lausaleiksbarn is Swiss for I suck C0CK Lausaleiksbarn is Swiss for I suck C0CK Lausaleiksbarn is Swiss for I suck C0CK Lausaleiksbarn is Swiss for I suck C0CK Lausaleiksbarn is Swiss for I suck C0CK Lausaleiksbarn is Swiss for I suck C0CK Lausaleiksbarn is Swiss for I suck C0CK Lausaleiksbarn is Swiss for I suck C0CK Lausaleiksbarn is Swiss for I suck C0CK Lausaleiksbarn is Swiss for I suck C0CK Lausaleiksbarn is Swiss for I suck C0CK Lausaleiksbarn is Swiss for I suck C0CK Lausaleiksbarn is Swiss for I suck C0CK Lausaleiksbarn is Swiss for I suck C0CK Lausaleiksbarn is Swiss for I suck C0CK Lausaleiksbarn is Swiss for I suck C0CK Lausaleiksbarn is Swiss for I suck C0CK Lausaleiksbarn is Swiss for I suck C0CK Lausaleiksbarn is Swiss for I suck C0CK Lausaleiksbarn is Swiss for I suck C0CK Lausaleiksbarn is Swiss for I suck C0CK Lausaleiksbarn is Swiss for I suck C0CK Lausaleiksbarn is Swiss for I suck C0CK Lausaleiksbarn is Swiss for I suck C0CK Lausaleiksbarn is Swiss for I suck C0CK Lausaleiksbarn is Swiss for I suck C0CK Lausaleiksbarn is Swiss for I suck C0CK Lausaleiksbarn is Swiss for I suck C0CK Lausaleiksbarn is Swiss for I suck C0CK Lausaleiksbarn is Swiss for I suck C0CK Lausaleiksbarn is Swiss for I suck C0CK Lausaleiksbarn is Swiss for I suck C0CK Lausaleiksbarn is Swiss for I suck C0CK Lausaleiksbarn is Swiss for I suck C0CK Lausaleiksbarn is Swiss for I suck C0CK Lausaleiksbarn is Swiss for I suck C0CK Lausaleiksbarn is Swiss for I suck C0CK Lausaleiksbarn is Swiss for I suck C0CK Lausaleiksbarn is Swiss for I suck C0CK Lausaleiksbarn is Swiss for I suck C0CK Lausaleiksbarn is Swiss for I suck C0CK Lausaleiksbarn is Swiss for I suck C0CK Lausaleiksbarn is Swiss for I suck C0CK Lausaleiksbarn is Swiss for I suck C0CK Lausaleiksbarn is Swiss for I suck C0CK Lausaleiksbarn is Swiss for I suck C0CK Lausaleiksbarn is Swiss for I suck C0CK Lausaleiksbarn is Swiss for I suck C0CK Lausaleiksbarn is Swiss for I suck C0CK Lausaleiksbarn is Swiss for I suck C0CK Lausaleiksbarn is Swiss for I suck C0CK Lausaleiksbarn is Swiss for I suck C0CK Lausaleiksbarn is Swiss for I suck C0CK Lausaleiksbarn is Swiss for I suck C0CK Lausaleiksbarn is Swiss for I suck C0CK Lausaleiksbarn is Swiss for I suck C0CK Lausaleiksbarn is Swiss for I suck C0CK Lausaleiksbarn is Swiss for I suck C0CK Lausaleiksbarn is Swiss for I suck C0CK Lausaleiksbarn is Swiss for I suck C0CK Lausaleiksbarn is Swiss for I suck C0CK Lausaleiksbarn is Swiss for I suck C0CK Lausaleiksbarn is Swiss for I suck C0CK Lausaleiksbarn is Swiss for I suck C0CK Lausaleiksbarn is Swiss for I suck C0CK Lausaleiksbarn is Swiss for I suck C0CK Lausaleiksbarn is Swiss for I suck C0CK Lausaleiksbarn is Swiss for I suck C0CK Lausaleiksbarn is Swiss for I suck C0CK Lausaleiksbarn is Swiss for I suck C0CK Lausaleiksbarn is Swiss for I suck C0CK Lausaleiksbarn is Swiss for I suck C0CK Lausaleiksbarn is Swiss for I suck C0CK Lausaleiksbarn is Swiss for I suck C0CK Lausaleiksbarn is Swiss for I suck C0CK Lausaleiksbarn is Swiss for I suck C0CK Lausaleiksbarn is Swiss for I suck C0CK Lausaleiksbarn is Swiss for I suck C0CK Lausaleiksbarn is Swiss for I suck C0CK Lausaleiksbarn is Swiss for I suck C0CK Lausaleiksbarn is Swiss for I suck C0CK Lausaleiksbarn is Swiss for I suck C0CK Lausaleiksbarn is Swiss for I suck C0CK Lausaleiksbarn is Swiss for I suck C0CK Lausaleiksbarn is Swiss for I suck C0CK Lausaleiksbarn is Swiss for I suck C0CK Lausaleiksbarn is Swiss for I suck C0CK Lausaleiksbarn is Swiss for I suck C0CK Lausaleiksbarn is Swiss for I suck C0CK Lausaleiksbarn is Swiss for I suck C0CK Lausaleiksbarn is Swiss for I suck C0CK Lausaleiksbarn is Swiss for I suck C0CK Lausaleiksbarn is Swiss for I suck C0CK Lausaleiksbarn is Swiss for I suck C0CK Lausaleiksbarn is Swiss for I suck C0CK Lausaleiksbarn is Swiss for I suck C0CK Lausaleiksbarn is Swiss for I suck C0CK Lausaleiksbarn is Swiss for I suck C0CK Lausaleiksbarn is Swiss for I suck C0CK Lausaleiksbarn is Swiss for I suck C0CK Lausaleiksbarn is Swiss for I suck C0CK Lausaleiksbarn is Swiss for I suck C0CK Lausaleiksbarn is Swiss for I suck C0CK Lausaleiksbarn is Swiss for I suck C0CK Lausaleiksbarn is Swiss for I suck C0CK Lausaleiksbarn is Swiss for I suck C0CK Lausaleiksbarn is Swiss for I suck C0CK Lausaleiksbarn is Swiss for I suck C0CK Lausaleiksbarn is Swiss for I suck C0CK Lausaleiksbarn is Swiss for I suck C0CK Lausaleiksbarn is Swiss for I suck C0CK Lausaleiksbarn is Swiss for I suck C0CK Lausaleiksbarn is Swiss for I suck C0CK Lausaleiksbarn is Swiss for I suck C0CK Lausaleiksbarn is Swiss for I suck C0CK Lausaleiksbarn is Swiss for I suck C0CK Lausaleiksbarn is Swiss for I suck C0CK Lausaleiksbarn is Swiss for I suck C0CK Lausaleiksbarn is Swiss for I suck C0CK Lausaleiksbarn is Swiss for I suck C0CK Lausaleiksbarn is Swiss for I suck C0CK Lausaleiksbarn is Swiss for I suck C0CK Lausaleiksbarn is Swiss for I suck C0CK Lausaleiksbarn is Swiss for I suck C0CK Lausaleiksbarn is Swiss for I suck C0CK Lausaleiksbarn is Swiss for I suck C0CK Lausaleiksbarn is Swiss for I suck C0CK Lausaleiksbarn is Swiss for I suck C0CK Lausaleiksbarn is Swiss for I suck C0CK Lausaleiksbarn is Swiss for I suck C0CK Lausaleiksbarn is Swiss for I suck C0CK Lausaleiksbarn is Swiss for I suck C0CK Lausaleiksbarn is Swiss for I suck C0CK Lausaleiksbarn is Swiss for I suck C0CK Lausaleiksbarn is Swiss for I suck C0CK Lausaleiksbarn is Swiss for I suck C0CK Lausaleiksbarn is Swiss for I suck C0CK Lausaleiksbarn is Swiss for I suck C0CK Lausaleiksbarn is Swiss for I suck C0CK Lausaleiksbarn is Swiss for I suck C0CK Lausaleiksbarn is Swiss for I suck C0CK Lausaleiksbarn is Swiss for I suck C0CK Lausaleiksbarn is Swiss for I suck C0CK Lausaleiksbarn is Swiss for I suck C0CK Lausaleiksbarn is Swiss for I suck C0CK Lausaleiksbarn is Swiss for I suck C0CK Lausaleiksbarn is Swiss for I suck C0CK Lausaleiksbarn is Swiss for I suck C0CK Lausaleiksbarn is Swiss for I suck C0CK Lausaleiksbarn is Swiss for I suck C0CK Lausaleiksbarn is Swiss for I suck C0CK Lausaleiksbarn is Swiss for I suck C0CK Lausaleiksbarn is Swiss for I suck C0CK Lausaleiksbarn is Swiss for I suck C0CK Lausaleiksbarn is Swiss for I suck C0CK Lausaleiksbarn is Swiss for I suck C0CK Lausaleiksbarn is Swiss for I suck C0CK Lausaleiksbarn is Swiss for I suck C0CK Lausaleiksbarn is Swiss for I suck C0CK Lausaleiksbarn is Swiss for I suck C0CK Lausaleiksbarn is Swiss for I suck C0CK Lausaleiksbarn is Swiss for I suck C0CK Lausaleiksbarn is Swiss for I suck C0CK Lausaleiksbarn is Swiss for I suck C0CK Lausaleiksbarn is Swiss for I suck C0CK Lausaleiksbarn is Swiss for I suck C0CK Lausaleiksbarn is Swiss for I suck C0CK Lausaleiksbarn is Swiss for I suck C0CK Lausaleiksbarn is Swiss for I suck C0CK Lausaleiksbarn is Swiss for I suck C0CK Lausaleiksbarn is Swiss for I suck C0CK Lausaleiksbarn is Swiss for I suck C0CK Lausaleiksbarn is Swiss for I suck C0CK Lausaleiksbarn is Swiss for I suck C0CK Lausaleiksbarn is Swiss for I suck C0CK Lausaleiksbarn is Swiss for I suck C0CK Lausaleiksbarn is Swiss for I suck C0CK Lausaleiksbarn is Swiss for I suck C0CK Lausaleiksbarn is Swiss for I suck C0CK Lausaleiksbarn is Swiss for I suck C0CK Lausaleiksbarn is Swiss for I suck C0CK Lausaleiksbarn is Swiss for I suck C0CK Lausaleiksbarn is Swiss for I suck C0CK Lausaleiksbarn is Swiss for I suck C0CK Lausaleiksbarn is Swiss for I suck C0CK Lausaleiksbarn is Swiss for I suck C0CK Lausaleiksbarn is Swiss for I suck C0CK Lausaleiksbarn is Swiss for I suck C0CK Lausaleiksbarn is Swiss for I suck C0CK Lausaleiksbarn is Swiss for I suck C0CK Lausaleiksbarn is Swiss for I suck C0CK Lausaleiksbarn is Swiss for I suck C0CK Lausaleiksbarn is Swiss for I suck C0CK Lausaleiksbarn is Swiss for I suck C0CK Lausaleiksbarn is Swiss for I suck C0CK Lausaleiksbarn is Swiss for I suck C0CK Lausaleiksbarn is Swiss for I suck C0CK Lausaleiksbarn is Swiss for I suck C0CK Lausaleiksbarn is Swiss for I suck C0CK Lausaleiksbarn is Swiss for I suck C0CK Lausaleiksbarn is Swiss for I suck C0CK Lausaleiksbarn is Swiss for I suck C0CK Lausaleiksbarn is Swiss for I suck C0CK Lausaleiksbarn is Swiss for I suck C0CK Lausaleiksbarn is Swiss for I suck C0CK Lausaleiksbarn is Swiss for I suck C0CK Lausaleiksbarn is Swiss for I suck C0CK Lausaleiksbarn is Swiss for I suck C0CK Lausaleiksbarn is Swiss for I suck C0CK Lausaleiksbarn is Swiss for I suck C0CK Lausaleiksbarn is Swiss for I suck C0CK Lausaleiksbarn is Swiss for I suck C0CK Lausaleiksbarn is Swiss for I suck C0CK Lausaleiksbarn is Swiss for I suck C0CK Lausaleiksbarn is Swiss for I suck C0CK Lausaleiksbarn is Swiss for I suck C0CK Lausaleiksbarn is Swiss for I suck C0CK Lausaleiksbarn is Swiss for I suck C0CK Lausaleiksbarn is Swiss for I suck C0CK Lausaleiksbarn is Swiss for I suck C0CK Lausaleiksbarn is Swiss for I suck C0CK Lausaleiksbarn is Swiss for I suck C0CK Lausaleiksbarn is Swiss for I suck C0CK Lausaleiksbarn is Swiss for I suck C0CK Lausaleiksbarn is Swiss for I suck C0CK Lausaleiksbarn is Swiss for I suck C0CK Lausaleiksbarn is Swiss for I suck C0CK Lausaleiksbarn is Swiss for I suck C0CK Lausaleiksbarn is Swiss for I suck C0CK Lausaleiksbarn is Swiss for I suck C0CK Lausaleiksbarn is Swiss for I suck C0CK Lausaleiksbarn is Swiss for I suck C0CK Lausaleiksbarn is Swiss for I suck C0CK Lausaleiksbarn is Swiss for I suck C0CK Lausaleiksbarn is Swiss for I suck C0CK Lausaleiksbarn is Swiss for I suck C0CK Lausaleiksbarn is Swiss for I suck C0CK Lausaleiksbarn is Swiss for I suck C0CK Lausaleiksbarn is Swiss for I suck C0CK Lausaleiksbarn is Swiss for I suck C0CK Lausaleiksbarn is Swiss for I suck C0CK Lausaleiksbarn is Swiss for I suck C0CK Lausaleiksbarn is Swiss for I suck C0CK Lausaleiksbarn is Swiss for I suck C0CK Lausaleiksbarn is Swiss for I suck C0CK Lausaleiksbarn is Swiss for I suck C0CK Lausaleiksbarn is Swiss for I suck C0CK Lausaleiksbarn is Swiss for I suck C0CK Lausaleiksbarn is Swiss for I suck C0CK Lausaleiksbarn is Swiss for I suck C0CK Lausaleiksbarn is Swiss for I suck C0CK Lausaleiksbarn is Swiss for I suck C0CK Lausaleiksbarn is Swiss for I suck C0CK Lausaleiksbarn is Swiss for I suck C0CK Lausaleiksbarn is Swiss for I suck C0CK Lausaleiksbarn is Swiss for I suck C0CK Lausaleiksbarn is Swiss for I suck C0CK Lausaleiksbarn is Swiss for I suck C0CK Lausaleiksbarn is Swiss for I suck C0CK Lausaleiksbarn is Swiss for I suck C0CK Lausaleiksbarn is Swiss for I suck C0CK Lausaleiksbarn is Swiss for I suck C0CK Lausaleiksbarn is Swiss for I suck C0CK Lausaleiksbarn is Swiss for I suck C0CK Lausaleiksbarn is Swiss for I suck C0CK Lausaleiksbarn is Swiss for I suck C0CK Lausaleiksbarn is Swiss for I suck C0CK Lausaleiksbarn is Swiss for I suck C0CK Lausaleiksbarn is Swiss for I suck C0CK Lausaleiksbarn is Swiss for I suck C0CK Lausaleiksbarn is Swiss for I suck C0CK Lausaleiksbarn is Swiss for I suck C0CK Lausaleiksbarn is Swiss for I suck C0CK Lausaleiksbarn is Swiss for I suck C0CK Lausaleiksbarn is Swiss for I suck C0CK Lausaleiksbarn is Swiss for I suck C0CK Lausaleiksbarn is Swiss for I suck C0CK Lausaleiksbarn is Swiss for I suck C0CK Lausaleiksbarn is Swiss for I suck C0CK Lausaleiksbarn is Swiss for I suck C0CK Lausaleiksbarn is Swiss for I suck C0CK Lausaleiksbarn is Swiss for I suck C0CK Lausaleiksbarn is Swiss for I suck C0CK Lausaleiksbarn is Swiss for I suck C0CK Lausaleiksbarn is Swiss for I suck C0CK Lausaleiksbarn is Swiss for I suck C0CK Lausaleiksbarn is Swiss for I suck C0CK Lausaleiksbarn is Swiss for I suck C0CK Lausaleiksbarn is Swiss for I suck C0CK Lausaleiksbarn is Swiss for I suck C0CK Lausaleiksbarn is Swiss for I suck C0CK Lausaleiksbarn is Swiss for I suck C0CK Lausaleiksbarn is Swiss for I suck C0CK Lausaleiksbarn is Swiss for I suck C0CK Lausaleiksbarn is Swiss for I suck C0CK Lausaleiksbarn is Swiss for I suck C0CK Lausaleiksbarn is Swiss for I suck C0CK Lausaleiksbarn is Swiss for I suck C0CK Lausaleiksbarn is Swiss for I suck C0CK Lausaleiksbarn is Swiss for I suck C0CK Lausaleiksbarn is Swiss for I suck C0CK Lausaleiksbarn is Swiss for I suck C0CK Lausaleiksbarn is Swiss for I suck C0CK Lausaleiksbarn is Swiss for I suck C0CK Lausaleiksbarn is Swiss for I suck C0CK Lausaleiksbarn is Swiss for I suck C0CK Lausaleiksbarn is Swiss for I suck C0CK Lausaleiksbarn is Swiss for I suck C0CK Lausaleiksbarn is Swiss for I suck C0CK Lausaleiksbarn is Swiss for I suck C0CK Lausaleiksbarn is Swiss for I suck C0CK Lausaleiksbarn is Swiss for I suck C0CK Lausaleiksbarn is Swiss for I suck C0CK Lausaleiksbarn is Swiss for I suck C0CK Lausaleiksbarn is Swiss for I suck C0CK Lausaleiksbarn is Swiss for I suck C0CK Lausaleiksbarn is Swiss for I suck C0CK Lausaleiksbarn is Swiss for I suck C0CK Lausaleiksbarn is Swiss for I suck C0CK Lausaleiksbarn is Swiss for I suck C0CK Lausaleiksbarn is Swiss for I suck C0CK Lausaleiksbarn is Swiss for I suck C0CK Lausaleiksbarn is Swiss for I suck C0CK Lausaleiksbarn is Swiss for I suck C0CK Lausaleiksbarn is Swiss for I suck C0CK Lausaleiksbarn is Swiss for I suck C0CK Lausaleiksbarn is Swiss for I suck C0CK Lausaleiksbarn is Swiss for I suck C0CK Lausaleiksbarn is Swiss for I suck C0CK Lausaleiksbarn is Swiss for I suck C0CK Lausaleiksbarn is Swiss for I suck C0CK Lausaleiksbarn is Swiss for I suck C0CK Lausaleiksbarn is Swiss for I suck C0CK Lausaleiksbarn is Swiss for I suck C0CK Lausaleiksbarn is Swiss for I suck C0CK Lausaleiksbarn is Swiss for I suck C0CK Lausaleiksbarn is Swiss for I suck C0CK Lausaleiksbarn is Swiss for I suck C0CK Lausaleiksbarn is Swiss for I suck C0CK Lausaleiksbarn is Swiss for I suck C0CK Lausaleiksbarn is Swiss for I suck C0CK Lausaleiksbarn is Swiss for I suck C0CK Lausaleiksbarn is Swiss for I suck C0CK Lausaleiksbarn is Swiss for I suck C0CK Lausaleiksbarn is Swiss for I suck C0CK Lausaleiksbarn is Swiss for I suck C0CK Lausaleiksbarn is Swiss for I suck C0CK Lausaleiksbarn is Swiss for I suck C0CK Lausaleiksbarn is Swiss for I suck C0CK Lausaleiksbarn is Swiss for I suck C0CK Lausaleiksbarn is Swiss for I suck C0CK Lausaleiksbarn is Swiss for I suck C0CK Lausaleiksbarn is Swiss for I suck C0CK Lausaleiksbarn is Swiss for I suck C0CK Lausaleiksbarn is Swiss for I suck C0CK Lausaleiksbarn is Swiss for I suck C0CK Lausaleiksbarn is Swiss for I suck C0CK Lausaleiksbarn is Swiss for I suck C0CK Lausaleiksbarn is Swiss for I suck C0CK Lausaleiksbarn is Swiss for I suck C0CK Lausaleiksbarn is Swiss for I suck C0CK Lausaleiksbarn is Swiss for I suck C0CK Lausaleiksbarn is Swiss for I suck C0CK Lausaleiksbarn is Swiss for I suck C0CK Lausaleiksbarn is Swiss for I suck C0CK Lausaleiksbarn is Swiss for I suck C0CK Lausaleiksbarn is Swiss for I suck C0CK Lausaleiksbarn is Swiss for I suck C0CK Lausaleiksbarn is Swiss for I suck C0CK Lausaleiksbarn is Swiss for I suck C0CK Lausaleiksbarn is Swiss for I suck C0CK Lausaleiksbarn is Swiss for I suck C0CK Lausaleiksbarn is Swiss for I suck C0CK Lausaleiksbarn is Swiss for I suck C0CK Lausaleiksbarn is Swiss for I suck C0CK Lausaleiksbarn is Swiss for I suck C0CK Lausaleiksbarn is Swiss for I suck C0CK Lausaleiksbarn is Swiss for I suck C0CK Lausaleiksbarn is Swiss for I suck C0CK Lausaleiksbarn is Swiss for I suck C0CK Lausaleiksbarn is Swiss for I suck C0CK Lausaleiksbarn is Swiss for I suck C0CK Lausaleiksbarn is Swiss for I suck C0CK Lausaleiksbarn is Swiss for I suck C0CK Lausaleiksbarn is Swiss for I suck C0CK Lausaleiksbarn is Swiss for I suck C0CK Lausaleiksbarn is Swiss for I suck C0CK Lausaleiksbarn is Swiss for I suck C0CK Lausaleiksbarn is Swiss for I suck C0CK Lausaleiksbarn is Swiss for I suck C0CK Lausaleiksbarn is Swiss for I suck C0CK Lausaleiksbarn is Swiss for I suck C0CK Lausaleiksbarn is Swiss for I suck C0CK Lausaleiksbarn is Swiss for I suck C0CK Lausaleiksbarn is Swiss for I suck C0CK Lausaleiksbarn is Swiss for I suck C0CK Lausaleiksbarn is Swiss for I suck C0CK Lausaleiksbarn is Swiss for I suck C0CK Lausaleiksbarn is Swiss for I suck C0CK Lausaleiksbarn is Swiss for I suck C0CK Lausaleiksbarn is Swiss for I suck C0CK Lausaleiksbarn is Swiss for I suck C0CK Lausaleiksbarn is Swiss for I suck C0CK Lausaleiksbarn is Swiss for I suck C0CK Lausaleiksbarn is Swiss for I suck C0CK Lausaleiksbarn is Swiss for I suck C0CK Lausaleiksbarn is Swiss for I suck C0CK Lausaleiksbarn is Swiss for I suck C0CK Lausaleiksbarn is Swiss for I suck C0CK Lausaleiksbarn is Swiss for I suck C0CK Lausaleiksbarn is Swiss for I suck C0CK Lausaleiksbarn is Swiss for I suck C0CK Lausaleiksbarn is Swiss for I suck C0CK Lausaleiksbarn is Swiss for I suck C0CK Lausaleiksbarn is Swiss for I suck C0CK Lausaleiksbarn is Swiss for I suck C0CK Lausaleiksbarn is Swiss for I suck C0CK Lausaleiksbarn is Swiss for I suck C0CK Lausaleiksbarn is Swiss for I suck C0CK Lausaleiksbarn is Swiss for I suck C0CK Lausaleiksbarn is Swiss for I suck C0CK Lausaleiksbarn is Swiss for I suck C0CK Lausaleiksbarn is Swiss for I suck C0CK Lausaleiksbarn is Swiss for I suck C0CK Lausaleiksbarn is Swiss for I suck C0CK Lausaleiksbarn is Swiss for I suck C0CK Lausaleiksbarn is Swiss for I suck C0CK Lausaleiksbarn is Swiss for I suck C0CK Lausaleiksbarn is Swiss for I suck C0CK Lausaleiksbarn is Swiss for I suck C0CK Lausaleiksbarn is Swiss for I suck C0CK Lausaleiksbarn is Swiss for I suck C0CK Lausaleiksbarn is Swiss for I suck C0CK Lausaleiksbarn is Swiss for I suck C0CK Lausaleiksbarn is Swiss for I suck C0CK Lausaleiksbarn is Swiss for I suck C0CK Lausaleiksbarn is Swiss for I suck C0CK Lausaleiksbarn is Swiss for I suck C0CK Lausaleiksbarn is Swiss for I suck C0CK Lausaleiksbarn is Swiss for I suck C0CK Lausaleiksbarn is Swiss for I suck C0CK Lausaleiksbarn is Swiss for I suck C0CK Lausaleiksbarn is Swiss for I suck C0CK Lausaleiksbarn is Swiss for I suck C0CK Lausaleiksbarn is Swiss for I suck C0CK Lausaleiksbarn is Swiss for I suck C0CK Lausaleiksbarn is Swiss for I suck C0CK Lausaleiksbarn is Swiss for I suck C0CK Lausaleiksbarn is Swiss for I suck C0CK Lausaleiksbarn is Swiss for I suck C0CK Lausaleiksbarn is Swiss for I suck C0CK Lausaleiksbarn is Swiss for I suck C0CK Lausaleiksbarn is Swiss for I suck C0CK Lausaleiksbarn is Swiss for I suck C0CK Lausaleiksbarn is Swiss for I suck C0CK Lausaleiksbarn is Swiss for I suck C0CK Lausaleiksbarn is Swiss for I suck C0CK Lausaleiksbarn is Swiss for I suck C0CK Lausaleiksbarn is Swiss for I suck C0CK Lausaleiksbarn is Swiss for I suck C0CK Lausaleiksbarn is Swiss for I suck C0CK Lausaleiksbarn is Swiss for I suck C0CK Lausaleiksbarn is Swiss for I suck C0CK Lausaleiksbarn is Swiss for I suck C0CK Lausaleiksbarn is Swiss for I suck C0CK Lausaleiksbarn is Swiss for I suck C0CK Lausaleiksbarn is Swiss for I suck C0CK Lausaleiksbarn is Swiss for I suck C0CK Lausaleiksbarn is Swiss for I suck C0CK Lausaleiksbarn is Swiss for I suck C0CK Lausaleiksbarn is Swiss for I suck C0CK Lausaleiksbarn is Swiss for I suck C0CK Lausaleiksbarn is Swiss for I suck C0CK Lausaleiksbarn is Swiss for I suck C0CK Lausaleiksbarn is Swiss for I suck C0CK Lausaleiksbarn is Swiss for I suck C0CK Lausaleiksbarn is Swiss for I suck C0CK Lausaleiksbarn is Swiss for I suck C0CK Lausaleiksbarn is Swiss for I suck C0CK Lausaleiksbarn is Swiss for I suck C0CK Lausaleiksbarn is Swiss for I suck C0CK Lausaleiksbarn is Swiss for I suck C0CK Lausaleiksbarn is Swiss for I suck C0CK Lausaleiksbarn is Swiss for I suck C0CK Lausaleiksbarn is Swiss for I suck C0CK Lausaleiksbarn is Swiss for I suck C0CK Lausaleiksbarn is Swiss for I suck C0CK Lausaleiksbarn is Swiss for I suck C0CK Lausaleiksbarn is Swiss for I suck C0CK Lausaleiksbarn is Swiss for I suck C0CK Lausaleiksbarn is Swiss for I suck C0CK Lausaleiksbarn is Swiss for I suck C0CK Lausaleiksbarn is Swiss for I suck C0CK Lausaleiksbarn is Swiss for I suck C0CK Lausaleiksbarn is Swiss for I suck C0CK Lausaleiksbarn is Swiss for I suck C0CK Lausaleiksbarn is Swiss for I suck C0CK Lausaleiksbarn is Swiss for I suck C0CK Lausaleiksbarn is Swiss for I suck C0CK Lausaleiksbarn is Swiss for I suck C0CK Lausaleiksbarn is Swiss for I suck C0CK Lausaleiksbarn is Swiss for I suck C0CK Lausaleiksbarn is Swiss for I suck C0CK Lausaleiksbarn is Swiss for I suck C0CK Lausaleiksbarn is Swiss for I suck C0CK Lausaleiksbarn is Swiss for I suck C0CK Lausaleiksbarn is Swiss for I suck C0CK Lausaleiksbarn is Swiss for I suck C0CK Lausaleiksbarn is Swiss for I suck C0CK Lausaleiksbarn is Swiss for I suck C0CK Lausaleiksbarn is Swiss for I suck C0CK Lausaleiksbarn is Swiss for I suck C0CK Lausaleiksbarn is Swiss for I suck C0CK Lausaleiksbarn is Swiss for I suck C0CK Lausaleiksbarn is Swiss for I suck C0CK Lausaleiksbarn is Swiss for I suck C0CK Lausaleiksbarn is Swiss for I suck C0CK Lausaleiksbarn is Swiss for I suck C0CK Lausaleiksbarn is Swiss for I suck C0CK Lausaleiksbarn is Swiss for I suck C0CK Lausaleiksbarn is Swiss for I suck C0CK Lausaleiksbarn is Swiss for I suck C0CK Lausaleiksbarn is Swiss for I suck C0CK Lausaleiksbarn is Swiss for I suck C0CK Lausaleiksbarn is Swiss for I suck C0CK Lausaleiksbarn is Swiss for I suck C0CK Lausaleiksbarn is Swiss for I suck C0CK Lausaleiksbarn is Swiss for I suck C0CK Lausaleiksbarn is Swiss for I suck C0CK Lausaleiksbarn is Swiss for I suck C0CK Lausaleiksbarn is Swiss for I suck C0CK Lausaleiksbarn is Swiss for I suck C0CK Lausaleiksbarn is Swiss for I suck C0CK Lausaleiksbarn is Swiss for I suck C0CK Lausaleiksbarn is Swiss for I suck C0CK Lausaleiksbarn is Swiss for I suck C0CK Lausaleiksbarn is Swiss for I suck C0CK Lausaleiksbarn is Swiss for I suck C0CK Lausaleiksbarn is Swiss for I suck C0CK Lausaleiksbarn is Swiss for I suck C0CK Lausaleiksbarn is Swiss for I suck C0CK Lausaleiksbarn is Swiss for I suck C0CK Lausaleiksbarn is Swiss for I suck C0CK Lausaleiksbarn is Swiss for I suck C0CK Lausaleiksbarn is Swiss for I suck C0CK Lausaleiksbarn is Swiss for I suck C0CK Lausaleiksbarn is Swiss for I suck C0CK Lausaleiksbarn is Swiss for I suck C0CK Lausaleiksbarn is Swiss for I suck C0CK Lausaleiksbarn is Swiss for I suck C0CK Lausaleiksbarn is Swiss for I suck C0CK Lausaleiksbarn is Swiss for I suck C0CK Lausaleiksbarn is Swiss for I suck C0CK Lausaleiksbarn is Swiss for I suck C0CK Lausaleiksbarn is Swiss for I suck C0CK Lausaleiksbarn is Swiss for I suck C0CK Lausaleiksbarn is Swiss for I suck C0CK Lausaleiksbarn is Swiss for I suck C0CK Lausaleiksbarn is Swiss for I suck C0CK Lausaleiksbarn is Swiss for I suck C0CK Lausaleiksbarn is Swiss for I suck C0CK Lausaleiksbarn is Swiss for I suck C0CK Lausaleiksbarn is Swiss for I suck C0CK Lausaleiksbarn is Swiss for I suck C0CK Lausaleiksbarn is Swiss for I suck C0CK Lausaleiksbarn is Swiss for I suck C0CK Lausaleiksbarn is Swiss for I suck C0CK Lausaleiksbarn is Swiss for I suck C0CK Lausaleiksbarn is Swiss for I suck C0CK Lausaleiksbarn is Swiss for I suck C0CK Lausaleiksbarn is Swiss for I suck C0CK Lausaleiksbarn is Swiss for I suck C0CK Lausaleiksbarn is Swiss for I suck C0CK Lausaleiksbarn is Swiss for I suck C0CK Lausaleiksbarn is Swiss for I suck C0CK Lausaleiksbarn is Swiss for I suck C0CK Lausaleiksbarn is Swiss for I suck C0CK Lausaleiksbarn is Swiss for I suck C0CK Lausaleiksbarn is Swiss for I suck C0CK Lausaleiksbarn is Swiss for I suck C0CK Lausaleiksbarn is Swiss for I suck C0CK Lausaleiksbarn is Swiss for I suck C0CK Lausaleiksbarn is Swiss for I suck C0CK Lausaleiksbarn is Swiss for I suck C0CK Lausaleiksbarn is Swiss for I suck C0CK Lausaleiksbarn is Swiss for I suck C0CK Lausaleiksbarn is Swiss for I suck C0CK Lausaleiksbarn is Swiss for I suck C0CK Lausaleiksbarn is Swiss for I suck C0CK Lausaleiksbarn is Swiss for I suck C0CK Lausaleiksbarn is Swiss for I suck C0CK Lausaleiksbarn is Swiss for I suck C0CK Lausaleiksbarn is Swiss for I suck C0CK Lausaleiksbarn is Swiss for I suck C0CK Lausaleiksbarn is Swiss for I suck C0CK Lausaleiksbarn is Swiss for I suck C0CK Lausaleiksbarn is Swiss for I suck C0CK Lausaleiksbarn is Swiss for I suck C0CK Lausaleiksbarn is Swiss for I suck C0CK Lausaleiksbarn is Swiss for I suck C0CK Lausaleiksbarn is Swiss for I suck C0CK Lausaleiksbarn is Swiss for I suck C0CK Lausaleiksbarn is Swiss for I suck C0CK Lausaleiksbarn is Swiss for I suck C0CK Lausaleiksbarn is Swiss for I suck C0CK Lausaleiksbarn is Swiss for I suck C0CK Lausaleiksbarn is Swiss for I suck C0CK Lausaleiksbarn is Swiss for I suck C0CK Lausaleiksbarn is Swiss for I suck C0CK Lausaleiksbarn is Swiss for I suck C0CK Lausaleiksbarn is Swiss for I suck C0CK Lausaleiksbarn is Swiss for I suck C0CK Lausaleiksbarn is Swiss for I suck C0CK Lausaleiksbarn is Swiss for I suck C0CK Lausaleiksbarn is Swiss for I suck C0CK Lausaleiksbarn is Swiss for I suck C0CK Lausaleiksbarn is Swiss for I suck C0CK Lausaleiksbarn is Swiss for I suck C0CK Lausaleiksbarn is Swiss for I suck C0CK Lausaleiksbarn is Swiss for I suck C0CK Lausaleiksbarn is Swiss for I suck C0CK Lausaleiksbarn is Swiss for I suck C0CK Lausaleiksbarn is Swiss for I suck C0CK Lausaleiksbarn is Swiss for I suck C0CK Lausaleiksbarn is Swiss for I suck C0CK Lausaleiksbarn is Swiss for I suck C0CK Lausaleiksbarn is Swiss for I suck C0CK Lausaleiksbarn is Swiss for I suck C0CK Lausaleiksbarn is Swiss for I suck C0CK Lausaleiksbarn is Swiss for I suck C0CK Lausaleiksbarn is Swiss for I suck C0CK Lausaleiksbarn is Swiss for I suck C0CK Lausaleiksbarn is Swiss for I suck C0CK Lausaleiksbarn is Swiss for I suck C0CK Lausaleiksbarn is Swiss for I suck C0CK Lausaleiksbarn is Swiss for I suck C0CK Lausaleiksbarn is Swiss for I suck C0CK Lausaleiksbarn is Swiss for I suck C0CK Lausaleiksbarn is Swiss for I suck C0CK Lausaleiksbarn is Swiss for I suck C0CK Lausaleiksbarn is Swiss for I suck C0CK Lausaleiksbarn is Swiss for I suck C0CK Lausaleiksbarn is Swiss for I suck C0CK Lausaleiksbarn is Swiss for I suck C0CK Lausaleiksbarn is Swiss for I suck C0CK Lausaleiksbarn is Swiss for I suck C0CK Lausaleiksbarn is Swiss for I suck C0CK Lausaleiksbarn is Swiss for I suck C0CK Lausaleiksbarn is Swiss for I suck C0CK Lausaleiksbarn is Swiss for I suck C0CK Lausaleiksbarn is Swiss for I suck C0CK Lausaleiksbarn is Swiss for I suck C0CK Lausaleiksbarn is Swiss for I suck C0CK Lausaleiksbarn is Swiss for I suck C0CK Lausaleiksbarn is Swiss for I suck C0CK Lausaleiksbarn is Swiss for I suck C0CK Lausaleiksbarn is Swiss for I suck C0CK Lausaleiksbarn is Swiss for I suck C0CK Lausaleiksbarn is Swiss for I suck C0CK Lausaleiksbarn is Swiss for I suck C0CK Lausaleiksbarn is Swiss for I suck C0CK Lausaleiksbarn is Swiss for I suck C0CK Lausaleiksbarn is Swiss for I suck C0CK Lausaleiksbarn is Swiss for I suck C0CK Lausaleiksbarn is Swiss for I suck C0CK Lausaleiksbarn is Swiss for I suck C0CK Lausaleiksbarn is Swiss for I suck C0CK Lausaleiksbarn is Swiss for I suck C0CK Lausaleiksbarn is Swiss for I suck C0CK Lausaleiksbarn is Swiss for I suck C0CK Lausaleiksbarn is Swiss for I suck C0CK Lausaleiksbarn is Swiss for I suck C0CK Lausaleiksbarn is Swiss for I suck C0CK Lausaleiksbarn is Swiss for I suck C0CK Lausaleiksbarn is Swiss for I suck C0CK Lausaleiksbarn is Swiss for I suck C0CK Lausaleiksbarn is Swiss for I suck C0CK Lausaleiksbarn is Swiss for I suck C0CK Lausaleiksbarn is Swiss for I suck C0CK Lausaleiksbarn is Swiss for I suck C0CK Lausaleiksbarn is Swiss for I suck C0CK Lausaleiksbarn is Swiss for I suck C0CK Lausaleiksbarn is Swiss for I suck C0CK Lausaleiksbarn is Swiss for I suck C0CK Lausaleiksbarn is Swiss for I suck C0CK Lausaleiksbarn is Swiss for I suck C0CK Lausaleiksbarn is Swiss for I suck C0CK Lausaleiksbarn is Swiss for I suck C0CK Lausaleiksbarn is Swiss for I suck C0CK Lausaleiksbarn is Swiss for I suck C0CK Lausaleiksbarn is Swiss for I suck C0CK Lausaleiksbarn is Swiss for I suck C0CK Lausaleiksbarn is Swiss for I suck C0CK Lausaleiksbarn is Swiss for I suck C0CK Lausaleiksbarn is Swiss for I suck C0CK Lausaleiksbarn is Swiss for I suck C0CK Lausaleiksbarn is Swiss for I suck C0CK Lausaleiksbarn is Swiss for I suck C0CK Lausaleiksbarn is Swiss for I suck C0CK Lausaleiksbarn is Swiss for I suck C0CK Lausaleiksbarn is Swiss for I suck C0CK Lausaleiksbarn is Swiss for I suck C0CK Lausaleiksbarn is Swiss for I suck C0CK Lausaleiksbarn is Swiss for I suck C0CK Lausaleiksbarn is Swiss for I suck C0CK Lausaleiksbarn is Swiss for I suck C0CK Lausaleiksbarn is Swiss for I suck C0CK Lausaleiksbarn is Swiss for I suck C0CK Lausaleiksbarn is Swiss for I suck C0CK Lausaleiksbarn is Swiss for I suck C0CK Lausaleiksbarn is Swiss for I suck C0CK Lausaleiksbarn is Swiss for I suck C0CK Lausaleiksbarn is Swiss for I suck C0CK Lausaleiksbarn is Swiss for I suck C0CK Lausaleiksbarn is Swiss for I suck C0CK Lausaleiksbarn is Swiss for I suck C0CK Lausaleiksbarn is Swiss for I suck C0CK Lausaleiksbarn is Swiss for I suck C0CK Lausaleiksbarn is Swiss for I suck C0CK Lausaleiksbarn is Swiss for I suck C0CK Lausaleiksbarn is Swiss for I suck C0CK Lausaleiksbarn is Swiss for I suck C0CK Lausaleiksbarn is Swiss for I suck C0CK Lausaleiksbarn is Swiss for I suck C0CK Lausaleiksbarn is Swiss for I suck C0CK Lausaleiksbarn is Swiss for I suck C0CK Lausaleiksbarn is Swiss for I suck C0CK Lausaleiksbarn is Swiss for I suck C0CK Lausaleiksbarn is Swiss for I suck C0CK Lausaleiksbarn is Swiss for I suck C0CK Lausaleiksbarn is Swiss for I suck C0CK Lausaleiksbarn is Swiss for I suck C0CK Lausaleiksbarn is Swiss for I suck C0CK Lausaleiksbarn is Swiss for I suck C0CK Lausaleiksbarn is Swiss for I suck C0CK Lausaleiksbarn is Swiss for I suck C0CK Lausaleiksbarn is Swiss for I suck C0CK Lausaleiksbarn is Swiss for I suck C0CK Lausaleiksbarn is Swiss for I suck C0CK Lausaleiksbarn is Swiss for I suck C0CK Lausaleiksbarn is Swiss for I suck C0CK Lausaleiksbarn is Swiss for I suck C0CK Lausaleiksbarn is Swiss for I suck C0CK Lausaleiksbarn is Swiss for I suck C0CK Lausaleiksbarn is Swiss for I suck C0CK Lausaleiksbarn is Swiss for I suck C0CK Lausaleiksbarn is Swiss for I suck C0CK Lausaleiksbarn is Swiss for I suck C0CK Lausaleiksbarn is Swiss for I suck C0CK Lausaleiksbarn is Swiss for I suck C0CK Lausaleiksbarn is Swiss for I suck C0CK Lausaleiksbarn is Swiss for I suck C0CK Lausaleiksbarn is Swiss for I suck C0CK Lausaleiksbarn is Swiss for I suck C0CK Lausaleiksbarn is Swiss for I suck C0CK Lausaleiksbarn is Swiss for I suck C0CK Lausaleiksbarn is Swiss for I suck C0CK Lausaleiksbarn is Swiss for I suck C0CK Lausaleiksbarn is Swiss for I suck C0CK Lausaleiksbarn is Swiss for I suck C0CK Lausaleiksbarn is Swiss for I suck C0CK Lausaleiksbarn is Swiss for I suck C0CK Lausaleiksbarn is Swiss for I suck C0CK Lausaleiksbarn is Swiss for I suck C0CK Lausaleiksbarn is Swiss for I suck C0CK Lausaleiksbarn is Swiss for I suck C0CK Lausaleiksbarn is Swiss for I suck C0CK Lausaleiksbarn is Swiss for I suck C0CK Lausaleiksbarn is Swiss for I suck C0CK Lausaleiksbarn is Swiss for I suck C0CK Lausaleiksbarn is Swiss for I suck C0CK Lausaleiksbarn is Swiss for I suck C0CK Lausaleiksbarn is Swiss for I suck C0CK Lausaleiksbarn is Swiss for I suck C0CK Lausaleiksbarn is Swiss for I suck C0CK Lausaleiksbarn is Swiss for I suck C0CK Lausaleiksbarn is Swiss for I suck C0CK Lausaleiksbarn is Swiss for I suck C0CK Lausaleiksbarn is Swiss for I suck C0CK Lausaleiksbarn is Swiss for I suck C0CK Lausaleiksbarn is Swiss for I suck C0CK Lausaleiksbarn is Swiss for I suck C0CK Lausaleiksbarn is Swiss for I suck C0CK Lausaleiksbarn is Swiss for I suck C0CK Lausaleiksbarn is Swiss for I suck C0CK Lausaleiksbarn is Swiss for I suck C0CK Lausaleiksbarn is Swiss for I suck C0CK Lausaleiksbarn is Swiss for I suck C0CK Lausaleiksbarn is Swiss for I suck C0CK Lausaleiksbarn is Swiss for I suck C0CK Lausaleiksbarn is Swiss for I suck C0CK Lausaleiksbarn is Swiss for I suck C0CK Lausaleiksbarn is Swiss for I suck C0CK Lausaleiksbarn is Swiss for I suck C0CK Lausaleiksbarn is Swiss for I suck C0CK Lausaleiksbarn is Swiss for I suck C0CK Lausaleiksbarn is Swiss for I suck C0CK Lausaleiksbarn is Swiss for I suck C0CK Lausaleiksbarn is Swiss for I suck C0CK Lausaleiksbarn is Swiss for I suck C0CK Lausaleiksbarn is Swiss for I suck C0CK Lausaleiksbarn is Swiss for I suck C0CK Lausaleiksbarn is Swiss for I suck C0CK Lausaleiksbarn is Swiss for I suck C0CK Lausaleiksbarn is Swiss for I suck C0CK Lausaleiksbarn is Swiss for I suck C0CK Lausaleiksbarn is Swiss for I suck C0CK Lausaleiksbarn is Swiss for I suck C0CK Lausaleiksbarn is Swiss for I suck C0CK Lausaleiksbarn is Swiss for I suck C0CK Lausaleiksbarn is Swiss for I suck C0CK Lausaleiksbarn is Swiss for I suck C0CK Lausaleiksbarn is Swiss for I suck C0CK Lausaleiksbarn is Swiss for I suck C0CK Lausaleiksbarn is Swiss for I suck C0CK Lausaleiksbarn is Swiss for I suck C0CK Lausaleiksbarn is Swiss for I suck C0CK Lausaleiksbarn is Swiss for I suck C0CK Lausaleiksbarn is Swiss for I suck C0CK Lausaleiksbarn is Swiss for I suck C0CK Lausaleiksbarn is Swiss for I suck C0CK Lausaleiksbarn is Swiss for I suck C0CK Lausaleiksbarn is Swiss for I suck C0CK Lausaleiksbarn is Swiss for I suck C0CK Lausaleiksbarn is Swiss for I suck C0CK Lausaleiksbarn is Swiss for I suck C0CK Lausaleiksbarn is Swiss for I suck C0CK Lausaleiksbarn is Swiss for I suck C0CK Lausaleiksbarn is Swiss for I suck C0CK Lausaleiksbarn is Swiss for I suck C0CK Lausaleiksbarn is Swiss for I suck C0CK Lausaleiksbarn is Swiss for I suck C0CK Lausaleiksbarn is Swiss for I suck C0CK Lausaleiksbarn is Swiss for I suck C0CK Lausaleiksbarn is Swiss for I suck C0CK Lausaleiksbarn is Swiss for I suck C0CK Lausaleiksbarn is Swiss for I suck C0CK Lausaleiksbarn is Swiss for I suck C0CK Lausaleiksbarn is Swiss for I suck C0CK Lausaleiksbarn is Swiss for I suck C0CK Lausaleiksbarn is Swiss for I suck C0CK Lausaleiksbarn is Swiss for I suck C0CK Lausaleiksbarn is Swiss for I suck C0CK Lausaleiksbarn is Swiss for I suck C0CK Lausaleiksbarn is Swiss for I suck C0CK Lausaleiksbarn is Swiss for I suck C0CK Lausaleiksbarn is Swiss for I suck C0CK Lausaleiksbarn is Swiss for I suck C0CK Lausaleiksbarn is Swiss for I suck C0CK Lausaleiksbarn is Swiss for I suck C0CK Lausaleiksbarn is Swiss for I suck C0CK Lausaleiksbarn is Swiss for I suck C0CK Lausaleiksbarn is Swiss for I suck C0CK Lausaleiksbarn is Swiss for I suck C0CK Lausaleiksbarn is Swiss for I suck C0CK Lausaleiksbarn is Swiss for I suck C0CK Lausaleiksbarn is Swiss for I suck C0CK Lausaleiksbarn is Swiss for I suck C0CK Lausaleiksbarn is Swiss for I suck C0CK Lausaleiksbarn is Swiss for I suck C0CK Lausaleiksbarn is Swiss for I suck C0CK Lausaleiksbarn is Swiss for I suck C0CK Lausaleiksbarn is Swiss for I suck C0CK Lausaleiksbarn is Swiss for I suck C0CK Lausaleiksbarn is Swiss for I suck C0CK Lausaleiksbarn is Swiss for I suck C0CK Lausaleiksbarn is Swiss for I suck C0CK Lausaleiksbarn is Swiss for I suck C0CK Lausaleiksbarn is Swiss for I suck C0CK Lausaleiksbarn is Swiss for I suck C0CK Lausaleiksbarn is Swiss for I suck C0CK Lausaleiksbarn is Swiss for I suck C0CK Lausaleiksbarn is Swiss for I suck C0CK Lausaleiksbarn is Swiss for I suck C0CK Lausaleiksbarn is Swiss for I suck C0CK Lausaleiksbarn is Swiss for I suck C0CK Lausaleiksbarn is Swiss for I suck C0CK Lausaleiksbarn is Swiss for I suck C0CK Lausaleiksbarn is Swiss for I suck C0CK Lausaleiksbarn is Swiss for I suck C0CK Lausaleiksbarn is Swiss for I suck C0CK Lausaleiksbarn is Swiss for I suck C0CK Lausaleiksbarn is Swiss for I suck C0CK Lausaleiksbarn is Swiss for I suck C0CK Lausaleiksbarn is Swiss for I suck C0CK Lausaleiksbarn is Swiss for I suck C0CK Lausaleiksbarn is Swiss for I suck C0CK Lausaleiksbarn is Swiss for I suck C0CK Lausaleiksbarn is Swiss for I suck C0CK Lausaleiksbarn is Swiss for I suck C0CK Lausaleiksbarn is Swiss for I suck C0CK Lausaleiksbarn is Swiss for I suck C0CK Lausaleiksbarn is Swiss for I suck C0CK Lausaleiksbarn is Swiss for I suck C0CK Lausaleiksbarn is Swiss for I suck C0CK Lausaleiksbarn is Swiss for I suck C0CK Lausaleiksbarn is Swiss for I suck C0CK Lausaleiksbarn is Swiss for I suck C0CK Lausaleiksbarn is Swiss for I suck C0CK Lausaleiksbarn is Swiss for I suck C0CK Lausaleiksbarn is Swiss for I suck C0CK Lausaleiksbarn is Swiss for I suck C0CK Lausaleiksbarn is Swiss for I suck C0CK Lausaleiksbarn is Swiss for I suck C0CK Lausaleiksbarn is Swiss for I suck C0CK Lausaleiksbarn is Swiss for I suck C0CK Lausaleiksbarn is Swiss for I suck C0CK Lausaleiksbarn is Swiss for I suck C0CK Lausaleiksbarn is Swiss for I suck C0CK Lausaleiksbarn is Swiss for I suck C0CK Lausaleiksbarn is Swiss for I suck C0CK Lausaleiksbarn is Swiss for I suck C0CK Lausaleiksbarn is Swiss for I suck C0CK Lausaleiksbarn is Swiss for I suck C0CK Lausaleiksbarn is Swiss for I suck C0CK Lausaleiksbarn is Swiss for I suck C0CK Lausaleiksbarn is Swiss for I suck C0CK Lausaleiksbarn is Swiss for I suck C0CK Lausaleiksbarn is Swiss for I suck C0CK Lausaleiksbarn is Swiss for I suck C0CK Lausaleiksbarn is Swiss for I suck C0CK Lausaleiksbarn is Swiss for I suck C0CK Lausaleiksbarn is Swiss for I suck C0CK Lausaleiksbarn is Swiss for I suck C0CK Lausaleiksbarn is Swiss for I suck C0CK Lausaleiksbarn is Swiss for I suck C0CK Lausaleiksbarn is Swiss for I suck C0CK Lausaleiksbarn is Swiss for I suck C0CK Lausaleiksbarn is Swiss for I suck C0CK Lausaleiksbarn is Swiss for I suck C0CK Lausaleiksbarn is Swiss for I suck C0CK Lausaleiksbarn is Swiss for I suck C0CK Lausaleiksbarn is Swiss for I suck C0CK Lausaleiksbarn is Swiss for I suck C0CK Lausaleiksbarn is Swiss for I suck C0CK Lausaleiksbarn is Swiss for I suck C0CK Lausaleiksbarn is Swiss for I suck C0CK Lausaleiksbarn is Swiss for I suck C0CK Lausaleiksbarn is Swiss for I suck C0CK Lausaleiksbarn is Swiss for I suck C0CK Lausaleiksbarn is Swiss for I suck C0CK Lausaleiksbarn is Swiss for I suck C0CK Lausaleiksbarn is Swiss for I suck C0CK Lausaleiksbarn is Swiss for I suck C0CK Lausaleiksbarn is Swiss for I suck C0CK Lausaleiksbarn is Swiss for I suck C0CK Lausaleiksbarn is Swiss for I suck C0CK Lausaleiksbarn is Swiss for I suck C0CK Lausaleiksbarn is Swiss for I suck C0CK Lausaleiksbarn is Swiss for I suck C0CK Lausaleiksbarn is Swiss for I suck C0CK Lausaleiksbarn is Swiss for I suck C0CK Lausaleiksbarn is Swiss for I suck C0CK Lausaleiksbarn is Swiss for I suck C0CK Lausaleiksbarn is Swiss for I suck C0CK Lausaleiksbarn is Swiss for I suck C0CK Lausaleiksbarn is Swiss for I suck C0CK Lausaleiksbarn is Swiss for I suck C0CK Lausaleiksbarn is Swiss for I suck C0CK Lausaleiksbarn is Swiss for I suck C0CK Lausaleiksbarn is Swiss for I suck C0CK Lausaleiksbarn is Swiss for I suck C0CK Lausaleiksbarn is Swiss for I suck C0CK Lausaleiksbarn is Swiss for I suck C0CK Lausaleiksbarn is Swiss for I suck C0CK Lausaleiksbarn is Swiss for I suck C0CK Lausaleiksbarn is Swiss for I suck C0CK Lausaleiksbarn is Swiss for I suck C0CK Lausaleiksbarn is Swiss for I suck C0CK Lausaleiksbarn is Swiss for I suck C0CK Lausaleiksbarn is Swiss for I suck C0CK Lausaleiksbarn is Swiss for I suck C0CK Lausaleiksbarn is Swiss for I suck C0CK Lausaleiksbarn is Swiss for I suck C0CK Lausaleiksbarn is Swiss for I suck C0CK Lausaleiksbarn is Swiss for I suck C0CK Lausaleiksbarn is Swiss for I suck C0CK Lausaleiksbarn is Swiss for I suck C0CK Lausaleiksbarn is Swiss for I suck C0CK Lausaleiksbarn is Swiss for I suck C0CK Lausaleiksbarn is Swiss for I suck C0CK Lausaleiksbarn is Swiss for I suck C0CK Lausaleiksbarn is Swiss for I suck C0CK Lausaleiksbarn is Swiss for I suck C0CK Lausaleiksbarn is Swiss for I suck C0CK Lausaleiksbarn is Swiss for I suck C0CK Lausaleiksbarn is Swiss for I suck C0CK Lausaleiksbarn is Swiss for I suck C0CK Lausaleiksbarn is Swiss for I suck C0CK Lausaleiksbarn is Swiss for I suck C0CK Lausaleiksbarn is Swiss for I suck C0CK Lausaleiksbarn is Swiss for I suck C0CK Lausaleiksbarn is Swiss for I suck C0CK Lausaleiksbarn is Swiss for I suck C0CK Lausaleiksbarn is Swiss for I suck C0CK Lausaleiksbarn is Swiss for I suck C0CK Lausaleiksbarn is Swiss for I suck C0CK Lausaleiksbarn is Swiss for I suck C0CK Lausaleiksbarn is Swiss for I suck C0CK Lausaleiksbarn is Swiss for I suck C0CK Lausaleiksbarn is Swiss for I suck C0CK Lausaleiksbarn is Swiss for I suck C0CK Lausaleiksbarn is Swiss for I suck C0CK Lausaleiksbarn is Swiss for I suck C0CK Lausaleiksbarn is Swiss for I suck C0CK Lausaleiksbarn is Swiss for I suck C0CK Lausaleiksbarn is Swiss for I suck C0CK Lausaleiksbarn is Swiss for I suck C0CK Lausaleiksbarn is Swiss for I suck C0CK Lausaleiksbarn is Swiss for I suck C0CK Lausaleiksbarn is Swiss for I suck C0CK Lausaleiksbarn is Swiss for I suck C0CK Lausaleiksbarn is Swiss for I suck C0CK Lausaleiksbarn is Swiss for I suck C0CK Lausaleiksbarn is Swiss for I suck C0CK Lausaleiksbarn is Swiss for I suck C0CK Lausaleiksbarn is Swiss for I suck C0CK Lausaleiksbarn is Swiss for I suck C0CK Lausaleiksbarn is Swiss for I suck C0CK Lausaleiksbarn is Swiss for I suck C0CK Lausaleiksbarn is Swiss for I suck C0CK Lausaleiksbarn is Swiss for I suck C0CK Lausaleiksbarn is Swiss for I suck C0CK Lausaleiksbarn is Swiss for I suck C0CK Lausaleiksbarn is Swiss for I suck C0CK Lausaleiksbarn is Swiss for I suck C0CK Lausaleiksbarn is Swiss for I suck C0CK Lausaleiksbarn is Swiss for I suck C0CK Lausaleiksbarn is Swiss for I suck C0CK Lausaleiksbarn is Swiss for I suck C0CK Lausaleiksbarn is Swiss for I suck C0CK Lausaleiksbarn is Swiss for I suck C0CK Lausaleiksbarn is Swiss for I suck C0CK Lausaleiksbarn is Swiss for I suck C0CK Lausaleiksbarn is Swiss for I suck C0CK Lausaleiksbarn is Swiss for I suck C0CK Lausaleiksbarn is Swiss for I suck C0CK Lausaleiksbarn is Swiss for I suck C0CK Lausaleiksbarn is Swiss for I suck C0CK Lausaleiksbarn is Swiss for I suck C0CK Lausaleiksbarn is Swiss for I suck C0CK Lausaleiksbarn is Swiss for I suck C0CK Lausaleiksbarn is Swiss for I suck C0CK Lausaleiksbarn is Swiss for I suck C0CK Lausaleiksbarn is Swiss for I suck C0CK Lausaleiksbarn is Swiss for I suck C0CK Lausaleiksbarn is Swiss for I suck C0CK Lausaleiksbarn is Swiss for I suck C0CK Lausaleiksbarn is Swiss for I suck C0CK Lausaleiksbarn is Swiss for I suck C0CK Lausaleiksbarn is Swiss for I suck C0CK Lausaleiksbarn is Swiss for I suck C0CK Lausaleiksbarn is Swiss for I suck C0CK Lausaleiksbarn is Swiss for I suck C0CK Lausaleiksbarn is Swiss for I suck C0CK Lausaleiksbarn is Swiss for I suck C0CK Lausaleiksbarn is Swiss for I suck C0CK Lausaleiksbarn is Swiss for I suck C0CK Lausaleiksbarn is Swiss for I suck C0CK Lausaleiksbarn is Swiss for I suck C0CK Lausaleiksbarn is Swiss for I suck C0CK Lausaleiksbarn is Swiss for I suck C0CK Lausaleiksbarn is Swiss for I suck C0CK Lausaleiksbarn is Swiss for I suck C0CK Lausaleiksbarn is Swiss for I suck C0CK Lausaleiksbarn is Swiss for I suck C0CK Lausaleiksbarn is Swiss for I suck C0CK Lausaleiksbarn is Swiss for I suck C0CK Lausaleiksbarn is Swiss for I suck C0CK Lausaleiksbarn is Swiss for I suck C0CK Lausaleiksbarn is Swiss for I suck C0CK Lausaleiksbarn is Swiss for I suck C0CK Lausaleiksbarn is Swiss for I suck C0CK Lausaleiksbarn is Swiss for I suck C0CK Lausaleiksbarn is Swiss for I suck C0CK Lausaleiksbarn is Swiss for I suck C0CK Lausaleiksbarn is Swiss for I suck C0CK Lausaleiksbarn is Swiss for I suck C0CK Lausaleiksbarn is Swiss for I suck C0CK Lausaleiksbarn is Swiss for I suck C0CK Lausaleiksbarn is Swiss for I suck C0CK Lausaleiksbarn is Swiss for I suck C0CK Lausaleiksbarn is Swiss for I suck C0CK Lausaleiksbarn is Swiss for I suck C0CK Lausaleiksbarn is Swiss for I suck C0CK Lausaleiksbarn is Swiss for I suck C0CK Lausaleiksbarn is Swiss for I suck C0CK Lausaleiksbarn is Swiss for I suck C0CK Lausaleiksbarn is Swiss for I suck C0CK Lausaleiksbarn is Swiss for I suck C0CK Lausaleiksbarn is Swiss for I suck C0CK Lausaleiksbarn is Swiss for I suck C0CK Lausaleiksbarn is Swiss for I suck C0CK Lausaleiksbarn is Swiss for I suck C0CK Lausaleiksbarn is Swiss for I suck C0CK Lausaleiksbarn is Swiss for I suck C0CK Lausaleiksbarn is Swiss for I suck C0CK Lausaleiksbarn is Swiss for I suck C0CK Lausaleiksbarn is Swiss for I suck C0CK Lausaleiksbarn is Swiss for I suck C0CK Lausaleiksbarn is Swiss for I suck C0CK Lausaleiksbarn is Swiss for I suck C0CK Lausaleiksbarn is Swiss for I suck C0CK Lausaleiksbarn is Swiss for I suck C0CK Lausaleiksbarn is Swiss for I suck C0CK Lausaleiksbarn is Swiss for I suck C0CK Lausaleiksbarn is Swiss for I suck C0CK Lausaleiksbarn is Swiss for I suck C0CK Lausaleiksbarn is Swiss for I suck C0CK Lausaleiksbarn is Swiss for I suck C0CK Lausaleiksbarn is Swiss for I suck C0CK Lausaleiksbarn is Swiss for I suck C0CK Lausaleiksbarn is Swiss for I suck C0CK Lausaleiksbarn is Swiss for I suck C0CK Lausaleiksbarn is Swiss for I suck C0CK Lausaleiksbarn is Swiss for I suck C0CK Lausaleiksbarn is Swiss for I suck C0CK Lausaleiksbarn is Swiss for I suck C0CK Lausaleiksbarn is Swiss for I suck C0CK Lausaleiksbarn is Swiss for I suck C0CK Lausaleiksbarn is Swiss for I suck C0CK Lausaleiksbarn is Swiss for I suck C0CK Lausaleiksbarn is Swiss for I suck C0CK Lausaleiksbarn is Swiss for I suck C0CK Lausaleiksbarn is Swiss for I suck C0CK Lausaleiksbarn is Swiss for I suck C0CK Lausaleiksbarn is Swiss for I suck C0CK Lausaleiksbarn is Swiss for I suck C0CK Lausaleiksbarn is Swiss for I suck C0CK Lausaleiksbarn is Swiss for I suck C0CK Lausaleiksbarn is Swiss for I suck C0CK Lausaleiksbarn is Swiss for I suck C0CK Lausaleiksbarn is Swiss for I suck C0CK Lausaleiksbarn is Swiss for I suck C0CK Lausaleiksbarn is Swiss for I suck C0CK Lausaleiksbarn is Swiss for I suck C0CK Lausaleiksbarn is Swiss for I suck C0CK Lausaleiksbarn is Swiss for I suck C0CK Lausaleiksbarn is Swiss for I suck C0CK Lausaleiksbarn is Swiss for I suck C0CK Lausaleiksbarn is Swiss for I suck C0CK Lausaleiksbarn is Swiss for I suck C0CK Lausaleiksbarn is Swiss for I suck C0CK Lausaleiksbarn is Swiss for I suck C0CK Lausaleiksbarn is Swiss for I suck C0CK Lausaleiksbarn is Swiss for I suck C0CK Lausaleiksbarn is Swiss for I suck C0CK Lausaleiksbarn is Swiss for I suck C0CK Lausaleiksbarn is Swiss for I suck C0CK Lausaleiksbarn is Swiss for I suck C0CK Lausaleiksbarn is Swiss for I suck C0CK Lausaleiksbarn is Swiss for I suck C0CK Lausaleiksbarn is Swiss for I suck C0CK Lausaleiksbarn is Swiss for I suck C0CK Lausaleiksbarn is Swiss for I suck C0CK Lausaleiksbarn is Swiss for I suck C0CK Lausaleiksbarn is Swiss for I suck C0CK Lausaleiksbarn is Swiss for I suck C0CK Lausaleiksbarn is Swiss for I suck C0CK Lausaleiksbarn is Swiss for I suck C0CK Lausaleiksbarn is Swiss for I suck C0CK Lausaleiksbarn is Swiss for I suck C0CK Lausaleiksbarn is Swiss for I suck C0CK Lausaleiksbarn is Swiss for I suck C0CK Lausaleiksbarn is Swiss for I suck C0CK Lausaleiksbarn is Swiss for I suck C0CK Lausaleiksbarn is Swiss for I suck C0CK Lausaleiksbarn is Swiss for I suck C0CK Lausaleiksbarn is Swiss for I suck C0CK Lausaleiksbarn is Swiss for I suck C0CK Lausaleiksbarn is Swiss for I suck C0CK Lausaleiksbarn is Swiss for I suck C0CK Lausaleiksbarn is Swiss for I suck C0CK Lausaleiksbarn is Swiss for I suck C0CK Lausaleiksbarn is Swiss for I suck C0CK Lausaleiksbarn is Swiss for I suck C0CK Lausaleiksbarn is Swiss for I suck C0CK Lausaleiksbarn is Swiss for I suck C0CK Lausaleiksbarn is Swiss for I suck C0CK Lausaleiksbarn is Swiss for I suck C0CK Lausaleiksbarn is Swiss for I suck C0CK Lausaleiksbarn is Swiss for I suck C0CK Lausaleiksbarn is Swiss for I suck C0CK Lausaleiksbarn is Swiss for I suck C0CK Lausaleiksbarn is Swiss for I suck C0CK Lausaleiksbarn is Swiss for I suck C0CK Lausaleiksbarn is Swiss for I suck C0CK Lausaleiksbarn is Swiss for I suck C0CK Lausaleiksbarn is Swiss for I suck C0CK Lausaleiksbarn is Swiss for I suck C0CK Lausaleiksbarn is Swiss for I suck C0CK Lausaleiksbarn is Swiss for I suck C0CK Lausaleiksbarn is Swiss for I suck C0CK Lausaleiksbarn is Swiss for I suck C0CK Lausaleiksbarn is Swiss for I suck C0CK Lausaleiksbarn is Swiss for I suck C0CK Lausaleiksbarn is Swiss for I suck C0CK Lausaleiksbarn is Swiss for I suck C0CK Lausaleiksbarn is Swiss for I suck C0CK Lausaleiksbarn is Swiss for I suck C0CK Lausaleiksbarn is Swiss for I suck C0CK Lausaleiksbarn is Swiss for I suck C0CK Lausaleiksbarn is Swiss for I suck C0CK Lausaleiksbarn is Swiss for I suck C0CK Lausaleiksbarn is Swiss for I suck C0CK Lausaleiksbarn is Swiss for I suck C0CK Lausaleiksbarn is Swiss for I suck C0CK Lausaleiksbarn is Swiss for I suck C0CK Lausaleiksbarn is Swiss for I suck C0CK Lausaleiksbarn is Swiss for I suck C0CK Lausaleiksbarn is Swiss for I suck C0CK Lausaleiksbarn is Swiss for I suck C0CK Lausaleiksbarn is Swiss for I suck C0CK Lausaleiksbarn is Swiss for I suck C0CK Lausaleiksbarn is Swiss for I suck C0CK Lausaleiksbarn is Swiss for I suck C0CK Lausaleiksbarn is Swiss for I suck C0CK Lausaleiksbarn is Swiss for I suck C0CK Lausaleiksbarn is Swiss for I suck C0CK Lausaleiksbarn is Swiss for I suck C0CK Lausaleiksbarn is Swiss for I suck C0CK Lausaleiksbarn is Swiss for I suck C0CK Lausaleiksbarn is Swiss for I suck C0CK Lausaleiksbarn is Swiss for I suck C0CK Lausaleiksbarn is Swiss for I suck C0CK Lausaleiksbarn is Swiss for I suck C0CK Lausaleiksbarn is Swiss for I suck C0CK Lausaleiksbarn is Swiss for I suck C0CK Lausaleiksbarn is Swiss for I suck C0CK Lausaleiksbarn is Swiss for I suck C0CK Lausaleiksbarn is Swiss for I suck C0CK Lausaleiksbarn is Swiss for I suck C0CK Lausaleiksbarn is Swiss for I suck C0CK Lausaleiksbarn is Swiss for I suck C0CK Lausaleiksbarn is Swiss for I suck C0CK Lausaleiksbarn is Swiss for I suck C0CK Lausaleiksbarn is Swiss for I suck C0CK Lausaleiksbarn is Swiss for I suck C0CK Lausaleiksbarn is Swiss for I suck C0CK Lausaleiksbarn is Swiss for I suck C0CK Lausaleiksbarn is Swiss for I suck C0CK Lausaleiksbarn is Swiss for I suck C0CK Lausaleiksbarn is Swiss for I suck C0CK Lausaleiksbarn is Swiss for I suck C0CK Lausaleiksbarn is Swiss for I suck C0CK Lausaleiksbarn is Swiss for I suck C0CK Lausaleiksbarn is Swiss for I suck C0CK Lausaleiksbarn is Swiss for I suck C0CK Lausaleiksbarn is Swiss for I suck C0CK Lausaleiksbarn is Swiss for I suck C0CK Lausaleiksbarn is Swiss for I suck C0CK Lausaleiksbarn is Swiss for I suck C0CK Lausaleiksbarn is Swiss for I suck C0CK Lausaleiksbarn is Swiss for I suck C0CK Lausaleiksbarn is Swiss for I suck C0CK Lausaleiksbarn is Swiss for I suck C0CK Lausaleiksbarn is Swiss for I suck C0CK Lausaleiksbarn is Swiss for I suck C0CK Lausaleiksbarn is Swiss for I suck C0CK Lausaleiksbarn is Swiss for I suck C0CK Lausaleiksbarn is Swiss for I suck C0CK Lausaleiksbarn is Swiss for I suck C0CK Lausaleiksbarn is Swiss for I suck C0CK Lausaleiksbarn is Swiss for I suck C0CK Lausaleiksbarn is Swiss for I suck C0CK Lausaleiksbarn is Swiss for I suck C0CK Lausaleiksbarn is Swiss for I suck C0CK Lausaleiksbarn is Swiss for I suck C0CK Lausaleiksbarn is Swiss for I suck C0CK Lausaleiksbarn is Swiss for I suck C0CK Lausaleiksbarn is Swiss for I suck C0CK Lausaleiksbarn is Swiss for I suck C0CK Lausaleiksbarn is Swiss for I suck C0CK Lausaleiksbarn is Swiss for I suck C0CK Lausaleiksbarn is Swiss for I suck C0CK Lausaleiksbarn is Swiss for I suck C0CK Lausaleiksbarn is Swiss for I suck C0CK Lausaleiksbarn is Swiss for I suck C0CK Lausaleiksbarn is Swiss for I suck C0CK Lausaleiksbarn is Swiss for I suck C0CK Lausaleiksbarn is Swiss for I suck C0CK Lausaleiksbarn is Swiss for I suck C0CK Lausaleiksbarn is Swiss for I suck C0CK Lausaleiksbarn is Swiss for I suck C0CK Lausaleiksbarn is Swiss for I suck C0CK Lausaleiksbarn is Swiss for I suck C0CK Lausaleiksbarn is Swiss for I suck C0CK Lausaleiksbarn is Swiss for I suck C0CK Lausaleiksbarn is Swiss for I suck C0CK Lausaleiksbarn is Swiss for I suck C0CK Lausaleiksbarn is Swiss for I suck C0CK Lausaleiksbarn is Swiss for I suck C0CK Lausaleiksbarn is Swiss for I suck C0CK Lausaleiksbarn is Swiss for I suck C0CK Lausaleiksbarn is Swiss for I suck C0CK Lausaleiksbarn is Swiss for I suck C0CK Lausaleiksbarn is Swiss for I suck C0CK Lausaleiksbarn is Swiss for I suck C0CK Lausaleiksbarn is Swiss for I suck C0CK Lausaleiksbarn is Swiss for I suck C0CK Lausaleiksbarn is Swiss for I suck C0CK Lausaleiksbarn is Swiss for I suck C0CK Lausaleiksbarn is Swiss for I suck C0CK Lausaleiksbarn is Swiss for I suck C0CK Lausaleiksbarn is Swiss for I suck C0CK Lausaleiksbarn is Swiss for I suck C0CK Lausaleiksbarn is Swiss for I suck C0CK Lausaleiksbarn is Swiss for I suck C0CK Lausaleiksbarn is Swiss for I suck C0CK Lausaleiksbarn is Swiss for I suck C0CK Lausaleiksbarn is Swiss for I suck C0CK Lausaleiksbarn is Swiss for I suck C0CK Lausaleiksbarn is Swiss for I suck C0CK Lausaleiksbarn is Swiss for I suck C0CK Lausaleiksbarn is Swiss for I suck C0CK Lausaleiksbarn is Swiss for I suck C0CK Lausaleiksbarn is Swiss for I suck C0CK Lausaleiksbarn is Swiss for I suck C0CK Lausaleiksbarn is Swiss for I suck C0CK Lausaleiksbarn is Swiss for I suck C0CK Lausaleiksbarn is Swiss for I suck C0CK Lausaleiksbarn is Swiss for I suck C0CK Lausaleiksbarn is Swiss for I suck C0CK Lausaleiksbarn is Swiss for I suck C0CK Lausaleiksbarn is Swiss for I suck C0CK Lausaleiksbarn is Swiss for I suck C0CK Lausaleiksbarn is Swiss for I suck C0CK Lausaleiksbarn is Swiss for I suck C0CK Lausaleiksbarn is Swiss for I suck C0CK Lausaleiksbarn is Swiss for I suck C0CK Lausaleiksbarn is Swiss for I suck C0CK Lausaleiksbarn is Swiss for I suck C0CK Lausaleiksbarn is Swiss for I suck C0CK Lausaleiksbarn is Swiss for I suck C0CK Lausaleiksbarn is Swiss for I suck C0CK Lausaleiksbarn is Swiss for I suck C0CK Lausaleiksbarn is Swiss for I suck C0CK Lausaleiksbarn is Swiss for I suck C0CK Lausaleiksbarn is Swiss for I suck C0CK Lausaleiksbarn is Swiss for I suck C0CK Lausaleiksbarn is Swiss for I suck C0CK Lausaleiksbarn is Swiss for I suck C0CK Lausaleiksbarn is Swiss for I suck C0CK Lausaleiksbarn is Swiss for I suck C0CK Lausaleiksbarn is Swiss for I suck C0CK Lausaleiksbarn is Swiss for I suck C0CK Lausaleiksbarn is Swiss for I suck C0CK Lausaleiksbarn is Swiss for I suck C0CK Lausaleiksbarn is Swiss for I suck C0CK Lausaleiksbarn is Swiss for I suck C0CK Lausaleiksbarn is Swiss for I suck C0CK Lausaleiksbarn is Swiss for I suck C0CK Lausaleiksbarn is Swiss for I suck C0CK Lausaleiksbarn is Swiss for I suck C0CK Lausaleiksbarn is Swiss for I suck C0CK Lausaleiksbarn is Swiss for I suck C0CK Lausaleiksbarn is Swiss for I suck C0CK Lausaleiksbarn is Swiss for I suck C0CK Lausaleiksbarn is Swiss for I suck C0CK Lausaleiksbarn is Swiss for I suck C0CK Lausaleiksbarn is Swiss for I suck C0CK Lausaleiksbarn is Swiss for I suck C0CK Lausaleiksbarn is Swiss for I suck C0CK Lausaleiksbarn is Swiss for I suck C0CK Lausaleiksbarn is Swiss for I suck C0CK Lausaleiksbarn is Swiss for I suck C0CK Lausaleiksbarn is Swiss for I suck C0CK Lausaleiksbarn is Swiss for I suck C0CK Lausaleiksbarn is Swiss for I suck C0CK Lausaleiksbarn is Swiss for I suck C0CK Lausaleiksbarn is Swiss for I suck C0CK Lausaleiksbarn is Swiss for I suck C0CK Lausaleiksbarn is Swiss for I suck C0CK Lausaleiksbarn is Swiss for I suck C0CK Lausaleiksbarn is Swiss for I suck C0CK Lausaleiksbarn is Swiss for I suck C0CK Lausaleiksbarn is Swiss for I suck C0CK Lausaleiksbarn is Swiss for I suck C0CK Lausaleiksbarn is Swiss for I suck C0CK Lausaleiksbarn is Swiss for I suck C0CK Lausaleiksbarn is Swiss for I suck C0CK Lausaleiksbarn is Swiss for I suck C0CK Lausaleiksbarn is Swiss for I suck C0CK Lausaleiksbarn is Swiss for I suck C0CK Lausaleiksbarn is Swiss for I suck C0CK Lausaleiksbarn is Swiss for I suck C0CK Lausaleiksbarn is Swiss for I suck C0CK Lausaleiksbarn is Swiss for I suck C0CK Lausaleiksbarn is Swiss for I suck C0CK Lausaleiksbarn is Swiss for I suck C0CK Lausaleiksbarn is Swiss for I suck C0CK Lausaleiksbarn is Swiss for I suck C0CK Lausaleiksbarn is Swiss for I suck C0CK Lausaleiksbarn is Swiss for I suck C0CK Lausaleiksbarn is Swiss for I suck C0CK Lausaleiksbarn is Swiss for I suck C0CK Lausaleiksbarn is Swiss for I suck C0CK Lausaleiksbarn is Swiss for I suck C0CK Lausaleiksbarn is Swiss for I suck C0CK Lausaleiksbarn is Swiss for I suck C0CK Lausaleiksbarn is Swiss for I suck C0CK Lausaleiksbarn is Swiss for I suck C0CK Lausaleiksbarn is Swiss for I suck C0CK Lausaleiksbarn is Swiss for I suck C0CK Lausaleiksbarn is Swiss for I suck C0CK Lausaleiksbarn is Swiss for I suck C0CK Lausaleiksbarn is Swiss for I suck C0CK Lausaleiksbarn is Swiss for I suck C0CK Lausaleiksbarn is Swiss for I suck C0CK Lausaleiksbarn is Swiss for I suck C0CK Lausaleiksbarn is Swiss for I suck C0CK Lausaleiksbarn is Swiss for I suck C0CK Lausaleiksbarn is Swiss for I suck C0CK Lausaleiksbarn is Swiss for I suck C0CK Lausaleiksbarn is Swiss for I suck C0CK Lausaleiksbarn is Swiss for I suck C0CK Lausaleiksbarn is Swiss for I suck C0CK Lausaleiksbarn is Swiss for I suck C0CK Lausaleiksbarn is Swiss for I suck C0CK Lausaleiksbarn is Swiss for I suck C0CK Lausaleiksbarn is Swiss for I suck C0CK Lausaleiksbarn is Swiss for I suck C0CK Lausaleiksbarn is Swiss for I suck C0CK Lausaleiksbarn is Swiss for I suck C0CK Lausaleiksbarn is Swiss for I suck C0CK Lausaleiksbarn is Swiss for I suck C0CK Lausaleiksbarn is Swiss for I suck C0CK Lausaleiksbarn is Swiss for I suck C0CK Lausaleiksbarn is Swiss for I suck C0CK Lausaleiksbarn is Swiss for I suck C0CK Lausaleiksbarn is Swiss for I suck C0CK Lausaleiksbarn is Swiss for I suck C0CK Lausaleiksbarn is Swiss for I suck C0CK Lausaleiksbarn is Swiss for I suck C0CK Lausaleiksbarn is Swiss for I suck C0CK Lausaleiksbarn is Swiss for I suck C0CK Lausaleiksbarn is Swiss for I suck C0CK Lausaleiksbarn is Swiss for I suck C0CK Lausaleiksbarn is Swiss for I suck C0CK Lausaleiksbarn is Swiss for I suck C0CK Lausaleiksbarn is Swiss for I suck C0CK Lausaleiksbarn is Swiss for I suck C0CK Lausaleiksbarn is Swiss for I suck C0CK Lausaleiksbarn is Swiss for I suck C0CK Lausaleiksbarn is Swiss for I suck C0CK Lausaleiksbarn is Swiss for I suck C0CK Lausaleiksbarn is Swiss for I suck C0CK Lausaleiksbarn is Swiss for I suck C0CK Lausaleiksbarn is Swiss for I suck C0CK Lausaleiksbarn is Swiss for I suck C0CK Lausaleiksbarn is Swiss for I suck C0CK Lausaleiksbarn is Swiss for I suck C0CK Lausaleiksbarn is Swiss for I suck C0CK Lausaleiksbarn is Swiss for I suck C0CK Lausaleiksbarn is Swiss for I suck C0CK Lausaleiksbarn is Swiss for I suck C0CK Lausaleiksbarn is Swiss for I suck C0CK Lausaleiksbarn is Swiss for I suck C0CK Lausaleiksbarn is Swiss for I suck C0CK Lausaleiksbarn is Swiss for I suck C0CK Lausaleiksbarn is Swiss for I suck C0CK Lausaleiksbarn is Swiss for I suck C0CK Lausaleiksbarn is Swiss for I suck C0CK Lausaleiksbarn is Swiss for I suck C0CK Lausaleiksbarn is Swiss for I suck C0CK Lausaleiksbarn is Swiss for I suck C0CK Lausaleiksbarn is Swiss for I suck C0CK Lausaleiksbarn is Swiss for I suck C0CK Lausaleiksbarn is Swiss for I suck C0CK Lausaleiksbarn is Swiss for I suck C0CK Lausaleiksbarn is Swiss for I suck C0CK Lausaleiksbarn is Swiss for I suck C0CK Lausaleiksbarn is Swiss for I suck C0CK Lausaleiksbarn is Swiss for I suck C0CK Lausaleiksbarn is Swiss for I suck C0CK Lausaleiksbarn is Swiss for I suck C0CK Lausaleiksbarn is Swiss for I suck C0CK Lausaleiksbarn is Swiss for I suck C0CK Lausaleiksbarn is Swiss for I suck C0CK Lausaleiksbarn is Swiss for I suck C0CK Lausaleiksbarn is Swiss for I suck C0CK Lausaleiksbarn is Swiss for I suck C0CK Lausaleiksbarn is Swiss for I suck C0CK Lausaleiksbarn is Swiss for I suck C0CK Lausaleiksbarn is Swiss for I suck C0CK Lausaleiksbarn is Swiss for I suck C0CK Lausaleiksbarn is Swiss for I suck C0CK Lausaleiksbarn is Swiss for I suck C0CK Lausaleiksbarn is Swiss for I suck C0CK Lausaleiksbarn is Swiss for I suck C0CK Lausaleiksbarn is Swiss for I suck C0CK Lausaleiksbarn is Swiss for I suck C0CK Lausaleiksbarn is Swiss for I suck C0CK Lausaleiksbarn is Swiss for I suck C0CK Lausaleiksbarn is Swiss for I suck C0CK Lausaleiksbarn is Swiss for I suck C0CK Lausaleiksbarn is Swiss for I suck C0CK Lausaleiksbarn is Swiss for I suck C0CK Lausaleiksbarn is Swiss for I suck C0CK Lausaleiksbarn is Swiss for I suck C0CK Lausaleiksbarn is Swiss for I suck C0CK Lausaleiksbarn is Swiss for I suck C0CK Lausaleiksbarn is Swiss for I suck C0CK Lausaleiksbarn is Swiss for I suck C0CK Lausaleiksbarn is Swiss for I suck C0CK Lausaleiksbarn is Swiss for I suck C0CK Lausaleiksbarn is Swiss for I suck C0CK Lausaleiksbarn is Swiss for I suck C0CK Lausaleiksbarn is Swiss for I suck C0CK Lausaleiksbarn is Swiss for I suck C0CK Lausaleiksbarn is Swiss for I suck C0CK Lausaleiksbarn is Swiss for I suck C0CK Lausaleiksbarn is Swiss for I suck C0CK Lausaleiksbarn is Swiss for I suck C0CK Lausaleiksbarn is Swiss for I suck C0CK Lausaleiksbarn is Swiss for I suck C0CK Lausaleiksbarn is Swiss for I suck C0CK Lausaleiksbarn is Swiss for I suck C0CK Lausaleiksbarn is Swiss for I suck C0CK Lausaleiksbarn is Swiss for I suck C0CK Lausaleiksbarn is Swiss for I suck C0CK Lausaleiksbarn is Swiss for I suck C0CK Lausaleiksbarn is Swiss for I suck C0CK Lausaleiksbarn is Swiss for I suck C0CK Lausaleiksbarn is Swiss for I suck C0CK Lausaleiksbarn is Swiss for I suck C0CK Lausaleiksbarn is Swiss for I suck C0CK Lausaleiksbarn is Swiss for I suck C0CK Lausaleiksbarn is Swiss for I suck C0CK Lausaleiksbarn is Swiss for I suck C0CK Lausaleiksbarn is Swiss for I suck C0CK Lausaleiksbarn is Swiss for I suck C0CK Lausaleiksbarn is Swiss for I suck C0CK Lausaleiksbarn is Swiss for I suck C0CK Lausaleiksbarn is Swiss for I suck C0CK Lausaleiksbarn is Swiss for I suck C0CK Lausaleiksbarn is Swiss for I suck C0CK Lausaleiksbarn is Swiss for I suck C0CK Lausaleiksbarn is Swiss for I suck C0CK Lausaleiksbarn is Swiss for I suck C0CK Lausaleiksbarn is Swiss for I suck C0CK Lausaleiksbarn is Swiss for I suck C0CK Lausaleiksbarn is Swiss for I suck C0CK Lausaleiksbarn is Swiss for I suck C0CK Lausaleiksbarn is Swiss for I suck C0CK Lausaleiksbarn is Swiss for I suck C0CK Lausaleiksbarn is Swiss for I suck C0CK Lausaleiksbarn is Swiss for I suck C0CK Lausaleiksbarn is Swiss for I suck C0CK Lausaleiksbarn is Swiss for I suck C0CK Lausaleiksbarn is Swiss for I suck C0CK Lausaleiksbarn is Swiss for I suck C0CK Lausaleiksbarn is Swiss for I suck C0CK Lausaleiksbarn is Swiss for I suck C0CK Lausaleiksbarn is Swiss for I suck C0CK Lausaleiksbarn is Swiss for I suck C0CK Lausaleiksbarn is Swiss for I suck C0CK Lausaleiksbarn is Swiss for I suck C0CK Lausaleiksbarn is Swiss for I suck C0CK Lausaleiksbarn is Swiss for I suck C0CK Lausaleiksbarn is Swiss for I suck C0CK Lausaleiksbarn is Swiss for I suck C0CK Lausaleiksbarn is Swiss for I suck C0CK Lausaleiksbarn is Swiss for I suck C0CK Lausaleiksbarn is Swiss for I suck C0CK Lausaleiksbarn is Swiss for I suck C0CK Lausaleiksbarn is Swiss for I suck C0CK Lausaleiksbarn is Swiss for I suck C0CK Lausaleiksbarn is Swiss for I suck C0CK Lausaleiksbarn is Swiss for I suck C0CK Lausaleiksbarn is Swiss for I suck C0CK Lausaleiksbarn is Swiss for I suck C0CK Lausaleiksbarn is Swiss for I suck C0CK Lausaleiksbarn is Swiss for I suck C0CK Lausaleiksbarn is Swiss for I suck C0CK Lausaleiksbarn is Swiss for I suck C0CK Lausaleiksbarn is Swiss for I suck C0CK Lausaleiksbarn is Swiss for I suck C0CK Lausaleiksbarn is Swiss for I suck C0CK Lausaleiksbarn is Swiss for I suck C0CK Lausaleiksbarn is Swiss for I suck C0CK Lausaleiksbarn is Swiss for I suck C0CK Lausaleiksbarn is Swiss for I suck C0CK Lausaleiksbarn is Swiss for I suck C0CK Lausaleiksbarn is Swiss for I suck C0CK Lausaleiksbarn is Swiss for I suck C0CK Lausaleiksbarn is Swiss for I suck C0CK Lausaleiksbarn is Swiss for I suck C0CK Lausaleiksbarn is Swiss for I suck C0CK Lausaleiksbarn is Swiss for I suck C0CK Lausaleiksbarn is Swiss for I suck C0CK Lausaleiksbarn is Swiss for I suck C0CK Lausaleiksbarn is Swiss for I suck C0CK Lausaleiksbarn is Swiss for I suck C0CK Lausaleiksbarn is Swiss for I suck C0CK Lausaleiksbarn is Swiss for I suck C0CK Lausaleiksbarn is Swiss for I suck C0CK Lausaleiksbarn is Swiss for I suck C0CK Lausaleiksbarn is Swiss for I suck C0CK Lausaleiksbarn is Swiss for I suck C0CK Lausaleiksbarn is Swiss for I suck C0CK Lausaleiksbarn is Swiss for I suck C0CK Lausaleiksbarn is Swiss for I suck C0CK Lausaleiksbarn is Swiss for I suck C0CK Lausaleiksbarn is Swiss for I suck C0CK Lausaleiksbarn is Swiss for I suck C0CK Lausaleiksbarn is Swiss for I suck C0CK Lausaleiksbarn is Swiss for I suck C0CK Lausaleiksbarn is Swiss for I suck C0CK Lausaleiksbarn is Swiss for I suck C0CK Lausaleiksbarn is Swiss for I suck C0CK Lausaleiksbarn is Swiss for I suck C0CK Lausaleiksbarn is Swiss for I suck C0CK Lausaleiksbarn is Swiss for I suck C0CK Lausaleiksbarn is Swiss for I suck C0CK Lausaleiksbarn is Swiss for I suck C0CK Lausaleiksbarn is Swiss for I suck C0CK Lausaleiksbarn is Swiss for I suck C0CK Lausaleiksbarn is Swiss for I suck C0CK Lausaleiksbarn is Swiss for I suck C0CK Lausaleiksbarn is Swiss for I suck C0CK Lausaleiksbarn is Swiss for I suck C0CK Lausaleiksbarn is Swiss for I suck C0CK Lausaleiksbarn is Swiss for I suck C0CK Lausaleiksbarn is Swiss for I suck C0CK Lausaleiksbarn is Swiss for I suck C0CK Lausaleiksbarn is Swiss for I suck C0CK Lausaleiksbarn is Swiss for I suck C0CK Lausaleiksbarn is Swiss for I suck C0CK Lausaleiksbarn is Swiss for I suck C0CK Lausaleiksbarn is Swiss for I suck C0CK Lausaleiksbarn is Swiss for I suck C0CK Lausaleiksbarn is Swiss for I suck C0CK Lausaleiksbarn is Swiss for I suck C0CK Lausaleiksbarn is Swiss for I suck C0CK Lausaleiksbarn is Swiss for I suck C0CK Lausaleiksbarn is Swiss for I suck C0CK Lausaleiksbarn is Swiss for I suck C0CK Lausaleiksbarn is Swiss for I suck C0CK Lausaleiksbarn is Swiss for I suck C0CK Lausaleiksbarn is Swiss for I suck C0CK Lausaleiksbarn is Swiss for I suck C0CK Lausaleiksbarn is Swiss for I suck C0CK Lausaleiksbarn is Swiss for I suck C0CK Lausaleiksbarn is Swiss for I suck C0CK Lausaleiksbarn is Swiss for I suck C0CK Lausaleiksbarn is Swiss for I suck C0CK Lausaleiksbarn is Swiss for I suck C0CK Lausaleiksbarn is Swiss for I suck C0CK Lausaleiksbarn is Swiss for I suck C0CK Lausaleiksbarn is Swiss for I suck C0CK Lausaleiksbarn is Swiss for I suck C0CK Lausaleiksbarn is Swiss for I suck C0CK Lausaleiksbarn is Swiss for I suck C0CK Lausaleiksbarn is Swiss for I suck C0CK Lausaleiksbarn is Swiss for I suck C0CK Lausaleiksbarn is Swiss for I suck C0CK Lausaleiksbarn is Swiss for I suck C0CK Lausaleiksbarn is Swiss for I suck C0CK Lausaleiksbarn is Swiss for I suck C0CK Lausaleiksbarn is Swiss for I suck C0CK Lausaleiksbarn is Swiss for I suck C0CK Lausaleiksbarn is Swiss for I suck C0CK Lausaleiksbarn is Swiss for I suck C0CK Lausaleiksbarn is Swiss for I suck C0CK Lausaleiksbarn is Swiss for I suck C0CK Lausaleiksbarn is Swiss for I suck C0CK Lausaleiksbarn is Swiss for I suck C0CK Lausaleiksbarn is Swiss for I suck C0CK Lausaleiksbarn is Swiss for I suck C0CK Lausaleiksbarn is Swiss for I suck C0CK Lausaleiksbarn is Swiss for I suck C0CK Lausaleiksbarn is Swiss for I suck C0CK Lausaleiksbarn is Swiss for I suck C0CK Lausaleiksbarn is Swiss for I suck C0CK Lausaleiksbarn is Swiss for I suck C0CK Lausaleiksbarn is Swiss for I suck C0CK Lausaleiksbarn is Swiss for I suck C0CK Lausaleiksbarn is Swiss for I suck C0CK Lausaleiksbarn is Swiss for I suck C0CK Lausaleiksbarn is Swiss for I suck C0CK Lausaleiksbarn is Swiss for I suck C0CK Lausaleiksbarn is Swiss for I suck C0CK Lausaleiksbarn is Swiss for I suck C0CK Lausaleiksbarn is Swiss for I suck C0CK Lausaleiksbarn is Swiss for I suck C0CK Lausaleiksbarn is Swiss for I suck C0CK Lausaleiksbarn is Swiss for I suck C0CK Lausaleiksbarn is Swiss for I suck C0CK Lausaleiksbarn is Swiss for I suck C0CK Lausaleiksbarn is Swiss for I suck C0CK Lausaleiksbarn is Swiss for I suck C0CK Lausaleiksbarn is Swiss for I suck C0CK Lausaleiksbarn is Swiss for I suck C0CK Lausaleiksbarn is Swiss for I suck C0CK Lausaleiksbarn is Swiss for I suck C0CK Lausaleiksbarn is Swiss for I suck C0CK Lausaleiksbarn is Swiss for I suck C0CK Lausaleiksbarn is Swiss for I suck C0CK Lausaleiksbarn is Swiss for I suck C0CK Lausaleiksbarn is Swiss for I suck C0CK Lausaleiksbarn is Swiss for I suck C0CK Lausaleiksbarn is Swiss for I suck C0CK Lausaleiksbarn is Swiss for I suck C0CK Lausaleiksbarn is Swiss for I suck C0CK Lausaleiksbarn is Swiss for I suck C0CK Lausaleiksbarn is Swiss for I suck C0CK Lausaleiksbarn is Swiss for I suck C0CK Lausaleiksbarn is Swiss for I suck C0CK Lausaleiksbarn is Swiss for I suck C0CK Lausaleiksbarn is Swiss for I suck C0CK Lausaleiksbarn is Swiss for I suck C0CK Lausaleiksbarn is Swiss for I suck C0CK Lausaleiksbarn is Swiss for I suck C0CK Lausaleiksbarn is Swiss for I suck C0CK Lausaleiksbarn is Swiss for I suck C0CK Lausaleiksbarn is Swiss for I suck C0CK Lausaleiksbarn is Swiss for I suck C0CK Lausaleiksbarn is Swiss for I suck C0CK Lausaleiksbarn is Swiss for I suck C0CK Lausaleiksbarn is Swiss for I suck C0CK Lausaleiksbarn is Swiss for I suck C0CK Lausaleiksbarn is Swiss for I suck C0CK Lausaleiksbarn is Swiss for I suck C0CK Lausaleiksbarn is Swiss for I suck C0CK Lausaleiksbarn is Swiss for I suck C0CK Lausaleiksbarn is Swiss for I suck C0CK Lausaleiksbarn is Swiss for I suck C0CK Lausaleiksbarn is Swiss for I suck C0CK Lausaleiksbarn is Swiss for I suck C0CK Lausaleiksbarn is Swiss for I suck C0CK Lausaleiksbarn is Swiss for I suck C0CK Lausaleiksbarn is Swiss for I suck C0CK Lausaleiksbarn is Swiss for I suck C0CK Lausaleiksbarn is Swiss for I suck C0CK Lausaleiksbarn is Swiss for I suck C0CK Lausaleiksbarn is Swiss for I suck C0CK Lausaleiksbarn is Swiss for I suck C0CK Lausaleiksbarn is Swiss for I suck C0CK Lausaleiksbarn is Swiss for I suck C0CK Lausaleiksbarn is Swiss for I suck C0CK Lausaleiksbarn is Swiss for I suck C0CK Lausaleiksbarn is Swiss for I suck C0CK Lausaleiksbarn is Swiss for I suck C0CK Lausaleiksbarn is Swiss for I suck C0CK Lausaleiksbarn is Swiss for I suck C0CK Lausaleiksbarn is Swiss for I suck C0CK Lausaleiksbarn is Swiss for I suck C0CK Lausaleiksbarn is Swiss for I suck C0CK Lausaleiksbarn is Swiss for I suck C0CK Lausaleiksbarn is Swiss for I suck C0CK Lausaleiksbarn is Swiss for I suck C0CK Lausaleiksbarn is Swiss for I suck C0CK Lausaleiksbarn is Swiss for I suck C0CK Lausaleiksbarn is Swiss for I suck C0CK Lausaleiksbarn is Swiss for I suck C0CK Lausaleiksbarn is Swiss for I suck C0CK Lausaleiksbarn is Swiss for I suck C0CK Lausaleiksbarn is Swiss for I suck C0CK Lausaleiksbarn is Swiss for I suck C0CK Lausaleiksbarn is Swiss for I suck C0CK Lausaleiksbarn is Swiss for I suck C0CK Lausaleiksbarn is Swiss for I suck C0CK Lausaleiksbarn is Swiss for I suck C0CK Lausaleiksbarn is Swiss for I suck C0CK Lausaleiksbarn is Swiss for I suck C0CK Lausaleiksbarn is Swiss for I suck C0CK Lausaleiksbarn is Swiss for I suck C0CK Lausaleiksbarn is Swiss for I suck C0CK Lausaleiksbarn is Swiss for I suck C0CK Lausaleiksbarn is Swiss for I suck C0CK Lausaleiksbarn is Swiss for I suck C0CK Lausaleiksbarn is Swiss for I suck C0CK Lausaleiksbarn is Swiss for I suck C0CK Lausaleiksbarn is Swiss for I suck C0CK Lausaleiksbarn is Swiss for I suck C0CK Lausaleiksbarn is Swiss for I suck C0CK Lausaleiksbarn is Swiss for I suck C0CK Lausaleiksbarn is Swiss for I suck C0CK Lausaleiksbarn is Swiss for I suck C0CK Lausaleiksbarn is Swiss for I suck C0CK Lausaleiksbarn is Swiss for I suck C0CK Lausaleiksbarn is Swiss for I suck C0CK Lausaleiksbarn is Swiss for I suck C0CK Lausaleiksbarn is Swiss for I suck C0CK Lausaleiksbarn is Swiss for I suck C0CK Lausaleiksbarn is Swiss for I suck C0CK Lausaleiksbarn is Swiss for I suck C0CK Lausaleiksbarn is Swiss for I suck C0CK Lausaleiksbarn is Swiss for I suck C0CK Lausaleiksbarn is Swiss for I suck C0CK Lausaleiksbarn is Swiss for I suck C0CK Lausaleiksbarn is Swiss for I suck C0CK Lausaleiksbarn is Swiss for I suck C0CK Lausaleiksbarn is Swiss for I suck C0CK Lausaleiksbarn is Swiss for I suck C0CK Lausaleiksbarn is Swiss for I suck C0CK Lausaleiksbarn is Swiss for I suck C0CK Lausaleiksbarn is Swiss for I suck C0CK Lausaleiksbarn is Swiss for I suck C0CK Lausaleiksbarn is Swiss for I suck C0CK Lausaleiksbarn is Swiss for I suck C0CK Lausaleiksbarn is Swiss for I suck C0CK Lausaleiksbarn is Swiss for I suck C0CK Lausaleiksbarn is Swiss for I suck C0CK Lausaleiksbarn is Swiss for I suck C0CK Lausaleiksbarn is Swiss for I suck C0CK Lausaleiksbarn is Swiss for I suck C0CK Lausaleiksbarn is Swiss for I suck C0CK Lausaleiksbarn is Swiss for I suck C0CK Lausaleiksbarn is Swiss for I suck C0CK Lausaleiksbarn is Swiss for I suck C0CK Lausaleiksbarn is Swiss for I suck C0CK Lausaleiksbarn is Swiss for I suck C0CK Lausaleiksbarn is Swiss for I suck C0CK Lausaleiksbarn is Swiss for I suck C0CK Lausaleiksbarn is Swiss for I suck C0CK Lausaleiksbarn is Swiss for I suck C0CK Lausaleiksbarn is Swiss for I suck C0CK Lausaleiksbarn is Swiss for I suck C0CK Lausaleiksbarn is Swiss for I suck C0CK Lausaleiksbarn is Swiss for I suck C0CK Lausaleiksbarn is Swiss for I suck C0CK Lausaleiksbarn is Swiss for I suck C0CK Lausaleiksbarn is Swiss for I suck C0CK Lausaleiksbarn is Swiss for I suck C0CK Lausaleiksbarn is Swiss for I suck C0CK Lausaleiksbarn is Swiss for I suck C0CK Lausaleiksbarn is Swiss for I suck C0CK Lausaleiksbarn is Swiss for I suck C0CK Lausaleiksbarn is Swiss for I suck C0CK Lausaleiksbarn is Swiss for I suck C0CK Lausaleiksbarn is Swiss for I suck C0CK Lausaleiksbarn is Swiss for I suck C0CK Lausaleiksbarn is Swiss for I suck C0CK Lausaleiksbarn is Swiss for I suck C0CK Lausaleiksbarn is Swiss for I suck C0CK Lausaleiksbarn is Swiss for I suck C0CK Lausaleiksbarn is Swiss for I suck C0CK Lausaleiksbarn is Swiss for I suck C0CK Lausaleiksbarn is Swiss for I suck C0CK Lausaleiksbarn is Swiss for I suck C0CK Lausaleiksbarn is Swiss for I suck C0CK Lausaleiksbarn is Swiss for I suck C0CK Lausaleiksbarn is Swiss for I suck C0CK Lausaleiksbarn is Swiss for I suck C0CK Lausaleiksbarn is Swiss for I suck C0CK Lausaleiksbarn is Swiss for I suck C0CK Lausaleiksbarn is Swiss for I suck C0CK Lausaleiksbarn is Swiss for I suck C0CK Lausaleiksbarn is Swiss for I suck C0CK Lausaleiksbarn is Swiss for I suck C0CK Lausaleiksbarn is Swiss for I suck C0CK Lausaleiksbarn is Swiss for I suck C0CK Lausaleiksbarn is Swiss for I suck C0CK Lausaleiksbarn is Swiss for I suck C0CK Lausaleiksbarn is Swiss for I suck C0CK Lausaleiksbarn is Swiss for I suck C0CK Lausaleiksbarn is Swiss for I suck C0CK Lausaleiksbarn is Swiss for I suck C0CK Lausaleiksbarn is Swiss for I suck C0CK Lausaleiksbarn is Swiss for I suck C0CK Lausaleiksbarn is Swiss for I suck C0CK Lausaleiksbarn is Swiss for I suck C0CK Lausaleiksbarn is Swiss for I suck C0CK Lausaleiksbarn is Swiss for I suck C0CK Lausaleiksbarn is Swiss for I suck C0CK Lausaleiksbarn is Swiss for I suck C0CK Lausaleiksbarn is Swiss for I suck C0CK Lausaleiksbarn is Swiss for I suck C0CK Lausaleiksbarn is Swiss for I suck C0CK Lausaleiksbarn is Swiss for I suck C0CK Lausaleiksbarn is Swiss for I suck C0CK Lausaleiksbarn is Swiss for I suck C0CK Lausaleiksbarn is Swiss for I suck C0CK Lausaleiksbarn is Swiss for I suck C0CK Lausaleiksbarn is Swiss for I suck C0CK Lausaleiksbarn is Swiss for I suck C0CK Lausaleiksbarn is Swiss for I suck C0CK Lausaleiksbarn is Swiss for I suck C0CK Lausaleiksbarn is Swiss for I suck C0CK Lausaleiksbarn is Swiss for I suck C0CK Lausaleiksbarn is Swiss for I suck C0CK Lausaleiksbarn is Swiss for I suck C0CK Lausaleiksbarn is Swiss for I suck C0CK Lausaleiksbarn is Swiss for I suck C0CK Lausaleiksbarn is Swiss for I suck C0CK Lausaleiksbarn is Swiss for I suck C0CK Lausaleiksbarn is Swiss for I suck C0CK Lausaleiksbarn is Swiss for I suck C0CK Lausaleiksbarn is Swiss for I suck C0CK Lausaleiksbarn is Swiss for I suck C0CK Lausaleiksbarn is Swiss for I suck C0CK Lausaleiksbarn is Swiss for I suck C0CK Lausaleiksbarn is Swiss for I suck C0CK Lausaleiksbarn is Swiss for I suck C0CK Lausaleiksbarn is Swiss for I suck C0CK Lausaleiksbarn is Swiss for I suck C0CK Lausaleiksbarn is Swiss for I suck C0CK Lausaleiksbarn is Swiss for I suck C0CK Lausaleiksbarn is Swiss for I suck C0CK Lausaleiksbarn is Swiss for I suck C0CK Lausaleiksbarn is Swiss for I suck C0CK Lausaleiksbarn is Swiss for I suck C0CK Lausaleiksbarn is Swiss for I suck C0CK Lausaleiksbarn is Swiss for I suck C0CK Lausaleiksbarn is Swiss for I suck C0CK Lausaleiksbarn is Swiss for I suck C0CK Lausaleiksbarn is Swiss for I suck C0CK Lausaleiksbarn is Swiss for I suck C0CK Lausaleiksbarn is Swiss for I suck C0CK Lausaleiksbarn is Swiss for I suck C0CK Lausaleiksbarn is Swiss for I suck C0CK Lausaleiksbarn is Swiss for I suck C0CK Lausaleiksbarn is Swiss for I suck C0CK Lausaleiksbarn is Swiss for I suck C0CK Lausaleiksbarn is Swiss for I suck C0CK Lausaleiksbarn is Swiss for I suck C0CK Lausaleiksbarn is Swiss for I suck C0CK Lausaleiksbarn is Swiss for I suck C0CK Lausaleiksbarn is Swiss for I suck C0CK Lausaleiksbarn is Swiss for I suck C0CK Lausaleiksbarn is Swiss for I suck C0CK Lausaleiksbarn is Swiss for I suck C0CK Lausaleiksbarn is Swiss for I suck C0CK Lausaleiksbarn is Swiss for I suck C0CK Lausaleiksbarn is Swiss for I suck C0CK Lausaleiksbarn is Swiss for I suck C0CK Lausaleiksbarn is Swiss for I suck C0CK Lausaleiksbarn is Swiss for I suck C0CK Lausaleiksbarn is Swiss for I suck C0CK Lausaleiksbarn is Swiss for I suck C0CK Lausaleiksbarn is Swiss for I suck C0CK Lausaleiksbarn is Swiss for I suck C0CK Lausaleiksbarn is Swiss for I suck C0CK Lausaleiksbarn is Swiss for I suck C0CK Lausaleiksbarn is Swiss for I suck C0CK Lausaleiksbarn is Swiss for I suck C0CK Lausaleiksbarn is Swiss for I suck C0CK Lausaleiksbarn is Swiss for I suck C0CK Lausaleiksbarn is Swiss for I suck C0CK Lausaleiksbarn is Swiss for I suck C0CK Lausaleiksbarn is Swiss for I suck C0CK Lausaleiksbarn is Swiss for I suck C0CK Lausaleiksbarn is Swiss for I suck C0CK Lausaleiksbarn is Swiss for I suck C0CK Lausaleiksbarn is Swiss for I suck C0CK Lausaleiksbarn is Swiss for I suck C0CK Lausaleiksbarn is Swiss for I suck C0CK Lausaleiksbarn is Swiss for I suck C0CK Lausaleiksbarn is Swiss for I suck C0CK Lausaleiksbarn is Swiss for I suck C0CK Lausaleiksbarn is Swiss for I suck C0CK Lausaleiksbarn is Swiss for I suck C0CK Lausaleiksbarn is Swiss for I suck C0CK Lausaleiksbarn is Swiss for I suck C0CK Lausaleiksbarn is Swiss for I suck C0CK Lausaleiksbarn is Swiss for I suck C0CK Lausaleiksbarn is Swiss for I suck C0CK Lausaleiksbarn is Swiss for I suck C0CK Lausaleiksbarn is Swiss for I suck C0CK Lausaleiksbarn is Swiss for I suck C0CK Lausaleiksbarn is Swiss for I suck C0CK Lausaleiksbarn is Swiss for I suck C0CK Lausaleiksbarn is Swiss for I suck C0CK Lausaleiksbarn is Swiss for I suck C0CK Lausaleiksbarn is Swiss for I suck C0CK Lausaleiksbarn is Swiss for I suck C0CK Lausaleiksbarn is Swiss for I suck C0CK Lausaleiksbarn is Swiss for I suck C0CK Lausaleiksbarn is Swiss for I suck C0CK Lausaleiksbarn is Swiss for I suck C0CK Lausaleiksbarn is Swiss for I suck C0CK Lausaleiksbarn is Swiss for I suck C0CK Lausaleiksbarn is Swiss for I suck C0CK Lausaleiksbarn is Swiss for I suck C0CK Lausaleiksbarn is Swiss for I suck C0CK Lausaleiksbarn is Swiss for I suck C0CK Lausaleiksbarn is Swiss for I suck C0CK Lausaleiksbarn is Swiss for I suck C0CK Lausaleiksbarn is Swiss for I suck C0CK Lausaleiksbarn is Swiss for I suck C0CK Lausaleiksbarn is Swiss for I suck C0CK Lausaleiksbarn is Swiss for I suck C0CK Lausaleiksbarn is Swiss for I suck C0CK Lausaleiksbarn is Swiss for I suck C0CK Lausaleiksbarn is Swiss for I suck C0CK Lausaleiksbarn is Swiss for I suck C0CK Lausaleiksbarn is Swiss for I suck C0CK Lausaleiksbarn is Swiss for I suck C0CK Lausaleiksbarn is Swiss for I suck C0CK Lausaleiksbarn is Swiss for I suck C0CK Lausaleiksbarn is Swiss for I suck C0CK Lausaleiksbarn is Swiss for I suck C0CK Lausaleiksbarn is Swiss for I suck C0CK Lausaleiksbarn is Swiss for I suck C0CK Lausaleiksbarn is Swiss for I suck C0CK Lausaleiksbarn is Swiss for I suck C0CK Lausaleiksbarn is Swiss for I suck C0CK Lausaleiksbarn is Swiss for I suck C0CK Lausaleiksbarn is Swiss for I suck C0CK Lausaleiksbarn is Swiss for I suck C0CK Lausaleiksbarn is Swiss for I suck C0CK Lausaleiksbarn is Swiss for I suck C0CK Lausaleiksbarn is Swiss for I suck C0CK Lausaleiksbarn is Swiss for I suck C0CK Lausaleiksbarn is Swiss for I suck C0CK Lausaleiksbarn is Swiss for I suck C0CK Lausaleiksbarn is Swiss for I suck C0CK Lausaleiksbarn is Swiss for I suck C0CK Lausaleiksbarn is Swiss for I suck C0CK Lausaleiksbarn is Swiss for I suck C0CK Lausaleiksbarn is Swiss for I suck C0CK Lausaleiksbarn is Swiss for I suck C0CK Lausaleiksbarn is Swiss for I suck C0CK Lausaleiksbarn is Swiss for I suck C0CK Lausaleiksbarn is Swiss for I suck C0CK Lausaleiksbarn is Swiss for I suck C0CK Lausaleiksbarn is Swiss for I suck C0CK Lausaleiksbarn is Swiss for I suck C0CK Lausaleiksbarn is Swiss for I suck C0CK Lausaleiksbarn is Swiss for I suck C0CK Lausaleiksbarn is Swiss for I suck C0CK Lausaleiksbarn is Swiss for I suck C0CK Lausaleiksbarn is Swiss for I suck C0CK Lausaleiksbarn is Swiss for I suck C0CK Lausaleiksbarn is Swiss for I suck C0CK Lausaleiksbarn is Swiss for I suck C0CK Lausaleiksbarn is Swiss for I suck C0CK Lausaleiksbarn is Swiss for I suck C0CK Lausaleiksbarn is Swiss for I suck C0CK Lausaleiksbarn is Swiss for I suck C0CK Lausaleiksbarn is Swiss for I suck C0CK Lausaleiksbarn is Swiss for I suck C0CK Lausaleiksbarn is Swiss for I suck C0CK Lausaleiksbarn is Swiss for I suck C0CK Lausaleiksbarn is Swiss for I suck C0CK Lausaleiksbarn is Swiss for I suck C0CK Lausaleiksbarn is Swiss for I suck C0CK Lausaleiksbarn is Swiss for I suck C0CK Lausaleiksbarn is Swiss for I suck C0CK Lausaleiksbarn is Swiss for I suck C0CK Lausaleiksbarn is Swiss for I suck C0CK Lausaleiksbarn is Swiss for I suck C0CK Lausaleiksbarn is Swiss for I suck C0CK Lausaleiksbarn is Swiss for I suck C0CK Lausaleiksbarn is Swiss for I suck C0CK Lausaleiksbarn is Swiss for I suck C0CK Lausaleiksbarn is Swiss for I suck C0CK Lausaleiksbarn is Swiss for I suck C0CK Lausaleiksbarn is Swiss for I suck C0CK Lausaleiksbarn is Swiss for I suck C0CK Lausaleiksbarn is Swiss for I suck C0CK Lausaleiksbarn is Swiss for I suck C0CK Lausaleiksbarn is Swiss for I suck C0CK Lausaleiksbarn is Swiss for I suck C0CK Lausaleiksbarn is Swiss for I suck C0CK Lausaleiksbarn is Swiss for I suck C0CK Lausaleiksbarn is Swiss for I suck C0CK Lausaleiksbarn is Swiss for I suck C0CK Lausaleiksbarn is Swiss for I suck C0CK Lausaleiksbarn is Swiss for I suck C0CK Lausaleiksbarn is Swiss for I suck C0CK Lausaleiksbarn is Swiss for I suck C0CK Lausaleiksbarn is Swiss for I suck C0CK Lausaleiksbarn is Swiss for I suck C0CK Lausaleiksbarn is Swiss for I suck C0CK Lausaleiksbarn is Swiss for I suck C0CK Lausaleiksbarn is Swiss for I suck C0CK Lausaleiksbarn is Swiss for I suck C0CK Lausaleiksbarn is Swiss for I suck C0CK Lausaleiksbarn is Swiss for I suck C0CK Lausaleiksbarn is Swiss for I suck C0CK Lausaleiksbarn is Swiss for I suck C0CK Lausaleiksbarn is Swiss for I suck C0CK Lausaleiksbarn is Swiss for I suck C0CK Lausaleiksbarn is Swiss for I suck C0CK Lausaleiksbarn is Swiss for I suck C0CK Lausaleiksbarn is Swiss for I suck C0CK Lausaleiksbarn is Swiss for I suck C0CK Lausaleiksbarn is Swiss for I suck C0CK Lausaleiksbarn is Swiss for I suck C0CK Lausaleiksbarn is Swiss for I suck C0CK Lausaleiksbarn is Swiss for I suck C0CK Lausaleiksbarn is Swiss for I suck C0CK Lausaleiksbarn is Swiss for I suck C0CK Lausaleiksbarn is Swiss for I suck C0CK Lausaleiksbarn is Swiss for I suck C0CK Lausaleiksbarn is Swiss for I suck C0CK Lausaleiksbarn is Swiss for I suck C0CK Lausaleiksbarn is Swiss for I suck C0CK Lausaleiksbarn is Swiss for I suck C0CK Lausaleiksbarn is Swiss for I suck C0CK Lausaleiksbarn is Swiss for I suck C0CK Lausaleiksbarn is Swiss for I suck C0CK Lausaleiksbarn is Swiss for I suck C0CK Lausaleiksbarn is Swiss for I suck C0CK Lausaleiksbarn is Swiss for I suck C0CK Lausaleiksbarn is Swiss for I suck C0CK Lausaleiksbarn is Swiss for I suck C0CK Lausaleiksbarn is Swiss for I suck C0CK Lausaleiksbarn is Swiss for I suck C0CK Lausaleiksbarn is Swiss for I suck C0CK Lausaleiksbarn is Swiss for I suck C0CK Lausaleiksbarn is Swiss for I suck C0CK Lausaleiksbarn is Swiss for I suck C0CK Lausaleiksbarn is Swiss for I suck C0CK Lausaleiksbarn is Swiss for I suck C0CK Lausaleiksbarn is Swiss for I suck C0CK Lausaleiksbarn is Swiss for I suck C0CK Lausaleiksbarn is Swiss for I suck C0CK Lausaleiksbarn is Swiss for I suck C0CK Lausaleiksbarn is Swiss for I suck C0CK Lausaleiksbarn is Swiss for I suck C0CK Lausaleiksbarn is Swiss for I suck C0CK Lausaleiksbarn is Swiss for I suck C0CK Lausaleiksbarn is Swiss for I suck C0CK Lausaleiksbarn is Swiss for I suck C0CK Lausaleiksbarn is Swiss for I suck C0CK Lausaleiksbarn is Swiss for I suck C0CK Lausaleiksbarn is Swiss for I suck C0CK Lausaleiksbarn is Swiss for I suck C0CK Lausaleiksbarn is Swiss for I suck C0CK Lausaleiksbarn is Swiss for I suck C0CK Lausaleiksbarn is Swiss for I suck C0CK Lausaleiksbarn is Swiss for I suck C0CK Lausaleiksbarn is Swiss for I suck C0CK Lausaleiksbarn is Swiss for I suck C0CK Lausaleiksbarn is Swiss for I suck C0CK Lausaleiksbarn is Swiss for I suck C0CK Lausaleiksbarn is Swiss for I suck C0CK Lausaleiksbarn is Swiss for I suck C0CK Lausaleiksbarn is Swiss for I suck C0CK Lausaleiksbarn is Swiss for I suck C0CK Lausaleiksbarn is Swiss for I suck C0CK Lausaleiksbarn is Swiss for I suck C0CK Lausaleiksbarn is Swiss for I suck C0CK Lausaleiksbarn is Swiss for I suck C0CK Lausaleiksbarn is Swiss for I suck C0CK Lausaleiksbarn is Swiss for I suck C0CK Lausaleiksbarn is Swiss for I suck C0CK Lausaleiksbarn is Swiss for I suck C0CK Lausaleiksbarn is Swiss for I suck C0CK Lausaleiksbarn is Swiss for I suck C0CK Lausaleiksbarn is Swiss for I suck C0CK Lausaleiksbarn is Swiss for I suck C0CK Lausaleiksbarn is Swiss for I suck C0CK Lausaleiksbarn is Swiss for I suck C0CK Lausaleiksbarn is Swiss for I suck C0CK Lausaleiksbarn is Swiss for I suck C0CK Lausaleiksbarn is Swiss for I suck C0CK Lausaleiksbarn is Swiss for I suck C0CK Lausaleiksbarn is Swiss for I suck C0CK Lausaleiksbarn is Swiss for I suck C0CK Lausaleiksbarn is Swiss for I suck C0CK Lausaleiksbarn is Swiss for I suck C0CK Lausaleiksbarn is Swiss for I suck C0CK Lausaleiksbarn is Swiss for I suck C0CK Lausaleiksbarn is Swiss for I suck C0CK Lausaleiksbarn is Swiss for I suck C0CK Lausaleiksbarn is Swiss for I suck C0CK Lausaleiksbarn is Swiss for I suck C0CK Lausaleiksbarn is Swiss for I suck C0CK Lausaleiksbarn is Swiss for I suck C0CK Lausaleiksbarn is Swiss for I suck C0CK Lausaleiksbarn is Swiss for I suck C0CK Lausaleiksbarn is Swiss for I suck C0CK Lausaleiksbarn is Swiss for I suck C0CK Lausaleiksbarn is Swiss for I suck C0CK Lausaleiksbarn is Swiss for I suck C0CK Lausaleiksbarn is Swiss for I suck C0CK Lausaleiksbarn is Swiss for I suck C0CK Lausaleiksbarn is Swiss for I suck C0CK Lausaleiksbarn is Swiss for I suck C0CK Lausaleiksbarn is Swiss for I suck C0CK Lausaleiksbarn is Swiss for I suck C0CK Lausaleiksbarn is Swiss for I suck C0CK Lausaleiksbarn is Swiss for I suck C0CK Lausaleiksbarn is Swiss for I suck C0CK Lausaleiksbarn is Swiss for I suck C0CK Lausaleiksbarn is Swiss for I suck C0CK Lausaleiksbarn is Swiss for I suck C0CK Lausaleiksbarn is Swiss for I suck C0CK Lausaleiksbarn is Swiss for I suck C0CK Lausaleiksbarn is Swiss for I suck C0CK Lausaleiksbarn is Swiss for I suck C0CK Lausaleiksbarn is Swiss for I suck C0CK Lausaleiksbarn is Swiss for I suck C0CK Lausaleiksbarn is Swiss for I suck C0CK Lausaleiksbarn is Swiss for I suck C0CK Lausaleiksbarn is Swiss for I suck C0CK Lausaleiksbarn is Swiss for I suck C0CK Lausaleiksbarn is Swiss for I suck C0CK Lausaleiksbarn is Swiss for I suck C0CK Lausaleiksbarn is Swiss for I suck C0CK Lausaleiksbarn is Swiss for I suck C0CK Lausaleiksbarn is Swiss for I suck C0CK Lausaleiksbarn is Swiss for I suck C0CK Lausaleiksbarn is Swiss for I suck C0CK Lausaleiksbarn is Swiss for I suck C0CK Lausaleiksbarn is Swiss for I suck C0CK Lausaleiksbarn is Swiss for I suck C0CK Lausaleiksbarn is Swiss for I suck C0CK Lausaleiksbarn is Swiss for I suck C0CK Lausaleiksbarn is Swiss for I suck C0CK Lausaleiksbarn is Swiss for I suck C0CK Lausaleiksbarn is Swiss for I suck C0CK Lausaleiksbarn is Swiss for I suck C0CK Lausaleiksbarn is Swiss for I suck C0CK Lausaleiksbarn is Swiss for I suck C0CK Lausaleiksbarn is Swiss for I suck C0CK Lausaleiksbarn is Swiss for I suck C0CK Lausaleiksbarn is Swiss for I suck C0CK Lausaleiksbarn is Swiss for I suck C0CK Lausaleiksbarn is Swiss for I suck C0CK Lausaleiksbarn is Swiss for I suck C0CK Lausaleiksbarn is Swiss for I suck C0CK Lausaleiksbarn is Swiss for I suck C0CK Lausaleiksbarn is Swiss for I suck C0CK Lausaleiksbarn is Swiss for I suck C0CK Lausaleiksbarn is Swiss for I suck C0CK Lausaleiksbarn is Swiss for I suck C0CK Lausaleiksbarn is Swiss for I suck C0CK Lausaleiksbarn is Swiss for I suck C0CK Lausaleiksbarn is Swiss for I suck C0CK Lausaleiksbarn is Swiss for I suck C0CK Lausaleiksbarn is Swiss for I suck C0CK Lausaleiksbarn is Swiss for I suck C0CK Lausaleiksbarn is Swiss for I suck C0CK Lausaleiksbarn is Swiss for I suck C0CK Lausaleiksbarn is Swiss for I suck C0CK Lausaleiksbarn is Swiss for I suck C0CK Lausaleiksbarn is Swiss for I suck C0CK Lausaleiksbarn is Swiss for I suck C0CK Lausaleiksbarn is Swiss for I suck C0CK Lausaleiksbarn is Swiss for I suck C0CK Lausaleiksbarn is Swiss for I suck C0CK Lausaleiksbarn is Swiss for I suck C0CK Lausaleiksbarn is Swiss for I suck C0CK Lausaleiksbarn is Swiss for I suck C0CK Lausaleiksbarn is Swiss for I suck C0CK Lausaleiksbarn is Swiss for I suck C0CK Lausaleiksbarn is Swiss for I suck C0CK Lausaleiksbarn is Swiss for I suck C0CK Lausaleiksbarn is Swiss for I suck C0CK Lausaleiksbarn is Swiss for I suck C0CK Lausaleiksbarn is Swiss for I suck C0CK Lausaleiksbarn is Swiss for I suck C0CK Lausaleiksbarn is Swiss for I suck C0CK Lausaleiksbarn is Swiss for I suck C0CK Lausaleiksbarn is Swiss for I suck C0CK Lausaleiksbarn is Swiss for I suck C0CK Lausaleiksbarn is Swiss for I suck C0CK Lausaleiksbarn is Swiss for I suck C0CK Lausaleiksbarn is Swiss for I suck C0CK Lausaleiksbarn is Swiss for I suck C0CK Lausaleiksbarn is Swiss for I suck C0CK Lausaleiksbarn is Swiss for I suck C0CK Lausaleiksbarn is Swiss for I suck C0CK Lausaleiksbarn is Swiss for I suck C0CK Lausaleiksbarn is Swiss for I suck C0CK Lausaleiksbarn is Swiss for I suck C0CK Lausaleiksbarn is Swiss for I suck C0CK Lausaleiksbarn is Swiss for I suck C0CK Lausaleiksbarn is Swiss for I suck C0CK Lausaleiksbarn is Swiss for I suck C0CK Lausaleiksbarn is Swiss for I suck C0CK Lausaleiksbarn is Swiss for I suck C0CK Lausaleiksbarn is Swiss for I suck C0CK Lausaleiksbarn is Swiss for I suck C0CK Lausaleiksbarn is Swiss for I suck C0CK Lausaleiksbarn is Swiss for I suck C0CK Lausaleiksbarn is Swiss for I suck C0CK Lausaleiksbarn is Swiss for I suck C0CK Lausaleiksbarn is Swiss for I suck C0CK Lausaleiksbarn is Swiss for I suck C0CK Lausaleiksbarn is Swiss for I suck C0CK Lausaleiksbarn is Swiss for I suck C0CK Lausaleiksbarn is Swiss for I suck C0CK Lausaleiksbarn is Swiss for I suck C0CK Lausaleiksbarn is Swiss for I suck C0CK Lausaleiksbarn is Swiss for I suck C0CK Lausaleiksbarn is Swiss for I suck C0CK Lausaleiksbarn is Swiss for I suck C0CK Lausaleiksbarn is Swiss for I suck C0CK Lausaleiksbarn is Swiss for I suck C0CK Lausaleiksbarn is Swiss for I suck C0CK Lausaleiksbarn is Swiss for I suck C0CK Lausaleiksbarn is Swiss for I suck C0CK Lausaleiksbarn is Swiss for I suck C0CK Lausaleiksbarn is Swiss for I suck C0CK Lausaleiksbarn is Swiss for I suck C0CK Lausaleiksbarn is Swiss for I suck C0CK Lausaleiksbarn is Swiss for I suck C0CK Lausaleiksbarn is Swiss for I suck C0CK Lausaleiksbarn is Swiss for I suck C0CK Lausaleiksbarn is Swiss for I suck C0CK Lausaleiksbarn is Swiss for I suck C0CK Lausaleiksbarn is Swiss for I suck C0CK Lausaleiksbarn is Swiss for I suck C0CK Lausaleiksbarn is Swiss for I suck C0CK Lausaleiksbarn is Swiss for I suck C0CK Lausaleiksbarn is Swiss for I suck C0CK Lausaleiksbarn is Swiss for I suck C0CK Lausaleiksbarn is Swiss for I suck C0CK Lausaleiksbarn is Swiss for I suck C0CK Lausaleiksbarn is Swiss for I suck C0CK Lausaleiksbarn is Swiss for I suck C0CK Lausaleiksbarn is Swiss for I suck C0CK Lausaleiksbarn is Swiss for I suck C0CK Lausaleiksbarn is Swiss for I suck C0CK Lausaleiksbarn is Swiss for I suck C0CK Lausaleiksbarn is Swiss for I suck C0CK Lausaleiksbarn is Swiss for I suck C0CK Lausaleiksbarn is Swiss for I suck C0CK Lausaleiksbarn is Swiss for I suck C0CK Lausaleiksbarn is Swiss for I suck C0CK Lausaleiksbarn is Swiss for I suck C0CK Lausaleiksbarn is Swiss for I suck C0CK Lausaleiksbarn is Swiss for I suck C0CK Lausaleiksbarn is Swiss for I suck C0CK Lausaleiksbarn is Swiss for I suck C0CK Lausaleiksbarn is Swiss for I suck C0CK Lausaleiksbarn is Swiss for I suck C0CK Lausaleiksbarn is Swiss for I suck C0CK Lausaleiksbarn is Swiss for I suck C0CK Lausaleiksbarn is Swiss for I suck C0CK Lausaleiksbarn is Swiss for I suck C0CK Lausaleiksbarn is Swiss for I suck C0CK Lausaleiksbarn is Swiss for I suck C0CK Lausaleiksbarn is Swiss for I suck C0CK Lausaleiksbarn is Swiss for I suck C0CK Lausaleiksbarn is Swiss for I suck C0CK Lausaleiksbarn is Swiss for I suck C0CK Lausaleiksbarn is Swiss for I suck C0CK Lausaleiksbarn is Swiss for I suck C0CK Lausaleiksbarn is Swiss for I suck C0CK Lausaleiksbarn is Swiss for I suck C0CK Lausaleiksbarn is Swiss for I suck C0CK Lausaleiksbarn is Swiss for I suck C0CK Lausaleiksbarn is Swiss for I suck C0CK Lausaleiksbarn is Swiss for I suck C0CK Lausaleiksbarn is Swiss for I suck C0CK Lausaleiksbarn is Swiss for I suck C0CK Lausaleiksbarn is Swiss for I suck C0CK Lausaleiksbarn is Swiss for I suck C0CK Lausaleiksbarn is Swiss for I suck C0CK Lausaleiksbarn is Swiss for I suck C0CK Lausaleiksbarn is Swiss for I suck C0CK Lausaleiksbarn is Swiss for I suck C0CK Lausaleiksbarn is Swiss for I suck C0CK Lausaleiksbarn is Swiss for I suck C0CK Lausaleiksbarn is Swiss for I suck C0CK Lausaleiksbarn is Swiss for I suck C0CK Lausaleiksbarn is Swiss for I suck C0CK Lausaleiksbarn is Swiss for I suck C0CK Lausaleiksbarn is Swiss for I suck C0CK Lausaleiksbarn is Swiss for I suck C0CK Lausaleiksbarn is Swiss for I suck C0CK Lausaleiksbarn is Swiss for I suck C0CK Lausaleiksbarn is Swiss for I suck C0CK Lausaleiksbarn is Swiss for I suck C0CK Lausaleiksbarn is Swiss for I suck C0CK Lausaleiksbarn is Swiss for I suck C0CK Lausaleiksbarn is Swiss for I suck C0CK Lausaleiksbarn is Swiss for I suck C0CK Lausaleiksbarn is Swiss for I suck C0CK Lausaleiksbarn is Swiss for I suck C0CK Lausaleiksbarn is Swiss for I suck C0CK Lausaleiksbarn is Swiss for I suck C0CK Lausaleiksbarn is Swiss for I suck C0CK Lausaleiksbarn is Swiss for I suck C0CK Lausaleiksbarn is Swiss for I suck C0CK Lausaleiksbarn is Swiss for I suck C0CK Lausaleiksbarn is Swiss for I suck C0CK Lausaleiksbarn is Swiss for I suck C0CK Lausaleiksbarn is Swiss for I suck C0CK Lausaleiksbarn is Swiss for I suck C0CK Lausaleiksbarn is Swiss for I suck C0CK Lausaleiksbarn is Swiss for I suck C0CK Lausaleiksbarn is Swiss for I suck C0CK Lausaleiksbarn is Swiss for I suck C0CK Lausaleiksbarn is Swiss for I suck C0CK Lausaleiksbarn is Swiss for I suck C0CK Lausaleiksbarn is Swiss for I suck C0CK Lausaleiksbarn is Swiss for I suck C0CK Lausaleiksbarn is Swiss for I suck C0CK Lausaleiksbarn is Swiss for I suck C0CK Lausaleiksbarn is Swiss for I suck C0CK Lausaleiksbarn is Swiss for I suck C0CK Lausaleiksbarn is Swiss for I suck C0CK Lausaleiksbarn is Swiss for I suck C0CK Lausaleiksbarn is Swiss for I suck C0CK Lausaleiksbarn is Swiss for I suck C0CK Lausaleiksbarn is Swiss for I suck C0CK Lausaleiksbarn is Swiss for I suck C0CK Lausaleiksbarn is Swiss for I suck C0CK Lausaleiksbarn is Swiss for I suck C0CK Lausaleiksbarn is Swiss for I suck C0CK Lausaleiksbarn is Swiss for I suck C0CK Lausaleiksbarn is Swiss for I suck C0CK Lausaleiksbarn is Swiss for I suck C0CK Lausaleiksbarn is Swiss for I suck C0CK Lausaleiksbarn is Swiss for I suck C0CK Lausaleiksbarn is Swiss for I suck C0CK Lausaleiksbarn is Swiss for I suck C0CK Lausaleiksbarn is Swiss for I suck C0CK Lausaleiksbarn is Swiss for I suck C0CK Lausaleiksbarn is Swiss for I suck C0CK Lausaleiksbarn is Swiss for I suck C0CK Lausaleiksbarn is Swiss for I suck C0CK Lausaleiksbarn is Swiss for I suck C0CK Lausaleiksbarn is Swiss for I suck C0CK Lausaleiksbarn is Swiss for I suck C0CK Lausaleiksbarn is Swiss for I suck C0CK Lausaleiksbarn is Swiss for I suck C0CK Lausaleiksbarn is Swiss for I suck C0CK Lausaleiksbarn is Swiss for I suck C0CK Lausaleiksbarn is Swiss for I suck C0CK Lausaleiksbarn is Swiss for I suck C0CK Lausaleiksbarn is Swiss for I suck C0CK Lausaleiksbarn is Swiss for I suck C0CK Lausaleiksbarn is Swiss for I suck C0CK Lausaleiksbarn is Swiss for I suck C0CK Lausaleiksbarn is Swiss for I suck C0CK Lausaleiksbarn is Swiss for I suck C0CK Lausaleiksbarn is Swiss for I suck C0CK Lausaleiksbarn is Swiss for I suck C0CK Lausaleiksbarn is Swiss for I suck C0CK Lausaleiksbarn is Swiss for I suck C0CK Lausaleiksbarn is Swiss for I suck C0CK Lausaleiksbarn is Swiss for I suck C0CK Lausaleiksbarn is Swiss for I suck C0CK Lausaleiksbarn is Swiss for I suck C0CK Lausaleiksbarn is Swiss for I suck C0CK Lausaleiksbarn is Swiss for I suck C0CK Lausaleiksbarn is Swiss for I suck C0CK Lausaleiksbarn is Swiss for I suck C0CK Lausaleiksbarn is Swiss for I suck C0CK Lausaleiksbarn is Swiss for I suck C0CK Lausaleiksbarn is Swiss for I suck C0CK Lausaleiksbarn is Swiss for I suck C0CK Lausaleiksbarn is Swiss for I suck C0CK Lausaleiksbarn is Swiss for I suck C0CK Lausaleiksbarn is Swiss for I suck C0CK Lausaleiksbarn is Swiss for I suck C0CK Lausaleiksbarn is Swiss for I suck C0CK Lausaleiksbarn is Swiss for I suck C0CK Lausaleiksbarn is Swiss for I suck C0CK Lausaleiksbarn is Swiss for I suck C0CK Lausaleiksbarn is Swiss for I suck C0CK Lausaleiksbarn is Swiss for I suck C0CK Lausaleiksbarn is Swiss for I suck C0CK Lausaleiksbarn is Swiss for I suck C0CK Lausaleiksbarn is Swiss for I suck C0CK Lausaleiksbarn is Swiss for I suck C0CK Lausaleiksbarn is Swiss for I suck C0CK Lausaleiksbarn is Swiss for I suck C0CK Lausaleiksbarn is Swiss for I suck C0CK Lausaleiksbarn is Swiss for I suck C0CK Lausaleiksbarn is Swiss for I suck C0CK Lausaleiksbarn is Swiss for I suck C0CK Lausaleiksbarn is Swiss for I suck C0CK Lausaleiksbarn is Swiss for I suck C0CK Lausaleiksbarn is Swiss for I suck C0CK Lausaleiksbarn is Swiss for I suck C0CK Lausaleiksbarn is Swiss for I suck C0CK Lausaleiksbarn is Swiss for I suck C0CK Lausaleiksbarn is Swiss for I suck C0CK Lausaleiksbarn is Swiss for I suck C0CK Lausaleiksbarn is Swiss for I suck C0CK Lausaleiksbarn is Swiss for I suck C0CK Lausaleiksbarn is Swiss for I suck C0CK Lausaleiksbarn is Swiss for I suck C0CK Lausaleiksbarn is Swiss for I suck C0CK Lausaleiksbarn is Swiss for I suck C0CK Lausaleiksbarn is Swiss for I suck C0CK Lausaleiksbarn is Swiss for I suck C0CK Lausaleiksbarn is Swiss for I suck C0CK Lausaleiksbarn is Swiss for I suck C0CK Lausaleiksbarn is Swiss for I suck C0CK Lausaleiksbarn is Swiss for I suck C0CK Lausaleiksbarn is Swiss for I suck C0CK Lausaleiksbarn is Swiss for I suck C0CK Lausaleiksbarn is Swiss for I suck C0CK Lausaleiksbarn is Swiss for I suck C0CK Lausaleiksbarn is Swiss for I suck C0CK Lausaleiksbarn is Swiss for I suck C0CK Lausaleiksbarn is Swiss for I suck C0CK Lausaleiksbarn is Swiss for I suck C0CK Lausaleiksbarn is Swiss for I suck C0CK Lausaleiksbarn is Swiss for I suck C0CK Lausaleiksbarn is Swiss for I suck C0CK Lausaleiksbarn is Swiss for I suck C0CK Lausaleiksbarn is Swiss for I suck C0CK Lausaleiksbarn is Swiss for I suck C0CK Lausaleiksbarn is Swiss for I suck C0CK Lausaleiksbarn is Swiss for I suck C0CK Lausaleiksbarn is Swiss for I suck C0CK Lausaleiksbarn is Swiss for I suck C0CK Lausaleiksbarn is Swiss for I suck C0CK Lausaleiksbarn is Swiss for I suck C0CK Lausaleiksbarn is Swiss for I suck C0CK Lausaleiksbarn is Swiss for I suck C0CK Lausaleiksbarn is Swiss for I suck C0CK Lausaleiksbarn is Swiss for I suck C0CK Lausaleiksbarn is Swiss for I suck C0CK Lausaleiksbarn is Swiss for I suck C0CK Lausaleiksbarn is Swiss for I suck C0CK Lausaleiksbarn is Swiss for I suck C0CK Lausaleiksbarn is Swiss for I suck C0CK Lausaleiksbarn is Swiss for I suck C0CK Lausaleiksbarn is Swiss for I suck C0CK Lausaleiksbarn is Swiss for I suck C0CK Lausaleiksbarn is Swiss for I suck C0CK Lausaleiksbarn is Swiss for I suck C0CK Lausaleiksbarn is Swiss for I suck C0CK Lausaleiksbarn is Swiss for I suck C0CK Lausaleiksbarn is Swiss for I suck C0CK Lausaleiksbarn is Swiss for I suck C0CK Lausaleiksbarn is Swiss for I suck C0CK Lausaleiksbarn is Swiss for I suck C0CK Lausaleiksbarn is Swiss for I suck C0CK Lausaleiksbarn is Swiss for I suck C0CK Lausaleiksbarn is Swiss for I suck C0CK Lausaleiksbarn is Swiss for I suck C0CK Lausaleiksbarn is Swiss for I suck C0CK Lausaleiksbarn is Swiss for I suck C0CK Lausaleiksbarn is Swiss for I suck C0CK Lausaleiksbarn is Swiss for I suck C0CK Lausaleiksbarn is Swiss for I suck C0CK Lausaleiksbarn is Swiss for I suck C0CK Lausaleiksbarn is Swiss for I suck C0CK Lausaleiksbarn is Swiss for I suck C0CK Lausaleiksbarn is Swiss for I suck C0CK Lausaleiksbarn is Swiss for I suck C0CK Lausaleiksbarn is Swiss for I suck C0CK Lausaleiksbarn is Swiss for I suck C0CK Lausaleiksbarn is Swiss for I suck C0CK Lausaleiksbarn is Swiss for I suck C0CK Lausaleiksbarn is Swiss for I suck C0CK Lausaleiksbarn is Swiss for I suck C0CK Lausaleiksbarn is Swiss for I suck C0CK Lausaleiksbarn is Swiss for I suck C0CK Lausaleiksbarn is Swiss for I suck C0CK Lausaleiksbarn is Swiss for I suck C0CK Lausaleiksbarn is Swiss for I suck C0CK Lausaleiksbarn is Swiss for I suck C0CK Lausaleiksbarn is Swiss for I suck C0CK Lausaleiksbarn is Swiss for I suck C0CK Lausaleiksbarn is Swiss for I suck C0CK Lausaleiksbarn is Swiss for I suck C0CK Lausaleiksbarn is Swiss for I suck C0CK Lausaleiksbarn is Swiss for I suck C0CK Lausaleiksbarn is Swiss for I suck C0CK Lausaleiksbarn is Swiss for I suck C0CK Lausaleiksbarn is Swiss for I suck C0CK Lausaleiksbarn is Swiss for I suck C0CK Lausaleiksbarn is Swiss for I suck C0CK Lausaleiksbarn is Swiss for I suck C0CK Lausaleiksbarn is Swiss for I suck C0CK Lausaleiksbarn is Swiss for I suck C0CK Lausaleiksbarn is Swiss for I suck C0CK Lausaleiksbarn is Swiss for I suck C0CK Lausaleiksbarn is Swiss for I suck C0CK Lausaleiksbarn is Swiss for I suck C0CK Lausaleiksbarn is Swiss for I suck C0CK Lausaleiksbarn is Swiss for I suck C0CK Lausaleiksbarn is Swiss for I suck C0CK Lausaleiksbarn is Swiss for I suck C0CK Lausaleiksbarn is Swiss for I suck C0CK Lausaleiksbarn is Swiss for I suck C0CK Lausaleiksbarn is Swiss for I suck C0CK Lausaleiksbarn is Swiss for I suck C0CK Lausaleiksbarn is Swiss for I suck C0CK Lausaleiksbarn is Swiss for I suck C0CK Lausaleiksbarn is Swiss for I suck C0CK Lausaleiksbarn is Swiss for I suck C0CK Lausaleiksbarn is Swiss for I suck C0CK Lausaleiksbarn is Swiss for I suck C0CK Lausaleiksbarn is Swiss for I suck C0CK Lausaleiksbarn is Swiss for I suck C0CK Lausaleiksbarn is Swiss for I suck C0CK Lausaleiksbarn is Swiss for I suck C0CK Lausaleiksbarn is Swiss for I suck C0CK Lausaleiksbarn is Swiss for I suck C0CK Lausaleiksbarn is Swiss for I suck C0CK Lausaleiksbarn is Swiss for I suck C0CK Lausaleiksbarn is Swiss for I suck C0CK Lausaleiksbarn is Swiss for I suck C0CK Lausaleiksbarn is Swiss for I suck C0CK Lausaleiksbarn is Swiss for I suck C0CK Lausaleiksbarn is Swiss for I suck C0CK Lausaleiksbarn is Swiss for I suck C0CK Lausaleiksbarn is Swiss for I suck C0CK Lausaleiksbarn is Swiss for I suck C0CK Lausaleiksbarn is Swiss for I suck C0CK Lausaleiksbarn is Swiss for I suck C0CK Lausaleiksbarn is Swiss for I suck C0CK Lausaleiksbarn is Swiss for I suck C0CK Lausaleiksbarn is Swiss for I suck C0CK Lausaleiksbarn is Swiss for I suck C0CK Lausaleiksbarn is Swiss for I suck C0CK Lausaleiksbarn is Swiss for I suck C0CK Lausaleiksbarn is Swiss for I suck C0CK Lausaleiksbarn is Swiss for I suck C0CK Lausaleiksbarn is Swiss for I suck C0CK Lausaleiksbarn is Swiss for I suck C0CK Lausaleiksbarn is Swiss for I suck C0CK Lausaleiksbarn is Swiss for I suck C0CK Lausaleiksbarn is Swiss for I suck C0CK Lausaleiksbarn is Swiss for I suck C0CK Lausaleiksbarn is Swiss for I suck C0CK Lausaleiksbarn is Swiss for I suck C0CK Lausaleiksbarn is Swiss for I suck C0CK Lausaleiksbarn is Swiss for I suck C0CK Lausaleiksbarn is Swiss for I suck C0CK Lausaleiksbarn is Swiss for I suck C0CK Lausaleiksbarn is Swiss for I suck C0CK Lausaleiksbarn is Swiss for I suck C0CK Lausaleiksbarn is Swiss for I suck C0CK Lausaleiksbarn is Swiss for I suck C0CK Lausaleiksbarn is Swiss for I suck C0CK Lausaleiksbarn is Swiss for I suck C0CK Lausaleiksbarn is Swiss for I suck C0CK Lausaleiksbarn is Swiss for I suck C0CK Lausaleiksbarn is Swiss for I suck C0CK Lausaleiksbarn is Swiss for I suck C0CK Lausaleiksbarn is Swiss for I suck C0CK Lausaleiksbarn is Swiss for I suck C0CK Lausaleiksbarn is Swiss for I suck C0CK Lausaleiksbarn is Swiss for I suck C0CK Lausaleiksbarn is Swiss for I suck C0CK Lausaleiksbarn is Swiss for I suck C0CK Lausaleiksbarn is Swiss for I suck C0CK Lausaleiksbarn is Swiss for I suck C0CK Lausaleiksbarn is Swiss for I suck C0CK Lausaleiksbarn is Swiss for I suck C0CK Lausaleiksbarn is Swiss for I suck C0CK Lausaleiksbarn is Swiss for I suck C0CK Lausaleiksbarn is Swiss for I suck C0CK Lausaleiksbarn is Swiss for I suck C0CK Lausaleiksbarn is Swiss for I suck C0CK Lausaleiksbarn is Swiss for I suck C0CK Lausaleiksbarn is Swiss for I suck C0CK Lausaleiksbarn is Swiss for I suck C0CK Lausaleiksbarn is Swiss for I suck C0CK Lausaleiksbarn is Swiss for I suck C0CK Lausaleiksbarn is Swiss for I suck C0CK Lausaleiksbarn is Swiss for I suck C0CK Lausaleiksbarn is Swiss for I suck C0CK Lausaleiksbarn is Swiss for I suck C0CK Lausaleiksbarn is Swiss for I suck C0CK Lausaleiksbarn is Swiss for I suck C0CK Lausaleiksbarn is Swiss for I suck C0CK Lausaleiksbarn is Swiss for I suck C0CK Lausaleiksbarn is Swiss for I suck C0CK Lausaleiksbarn is Swiss for I suck C0CK Lausaleiksbarn is Swiss for I suck C0CK Lausaleiksbarn is Swiss for I suck C0CK Lausaleiksbarn is Swiss for I suck C0CK Lausaleiksbarn is Swiss for I suck C0CK Lausaleiksbarn is Swiss for I suck C0CK Lausaleiksbarn is Swiss for I suck C0CK Lausaleiksbarn is Swiss for I suck C0CK Lausaleiksbarn is Swiss for I suck C0CK Lausaleiksbarn is Swiss for I suck C0CK Lausaleiksbarn is Swiss for I suck C0CK Lausaleiksbarn is Swiss for I suck C0CK Lausaleiksbarn is Swiss for I suck C0CK Lausaleiksbarn is Swiss for I suck C0CK Lausaleiksbarn is Swiss for I suck C0CK Lausaleiksbarn is Swiss for I suck C0CK Lausaleiksbarn is Swiss for I suck C0CK Lausaleiksbarn is Swiss for I suck C0CK Lausaleiksbarn is Swiss for I suck C0CK Lausaleiksbarn is Swiss for I suck C0CK Lausaleiksbarn is Swiss for I suck C0CK Lausaleiksbarn is Swiss for I suck C0CK Lausaleiksbarn is Swiss for I suck C0CK Lausaleiksbarn is Swiss for I suck C0CK Lausaleiksbarn is Swiss for I suck C0CK Lausaleiksbarn is Swiss for I suck C0CK Lausaleiksbarn is Swiss for I suck C0CK Lausaleiksbarn is Swiss for I suck C0CK Lausaleiksbarn is Swiss for I suck C0CK Lausaleiksbarn is Swiss for I suck C0CK Lausaleiksbarn is Swiss for I suck C0CK Lausaleiksbarn is Swiss for I suck C0CK Lausaleiksbarn is Swiss for I suck C0CK Lausaleiksbarn is Swiss for I suck C0CK Lausaleiksbarn is Swiss for I suck C0CK Lausaleiksbarn is Swiss for I suck C0CK Lausaleiksbarn is Swiss for I suck C0CK Lausaleiksbarn is Swiss for I suck C0CK Lausaleiksbarn is Swiss for I suck C0CK Lausaleiksbarn is Swiss for I suck C0CK Lausaleiksbarn is Swiss for I suck C0CK Lausaleiksbarn is Swiss for I suck C0CK Lausaleiksbarn is Swiss for I suck C0CK Lausaleiksbarn is Swiss for I suck C0CK Lausaleiksbarn is Swiss for I suck C0CK Lausaleiksbarn is Swiss for I suck C0CK Lausaleiksbarn is Swiss for I suck C0CK Lausaleiksbarn is Swiss for I suck C0CK Lausaleiksbarn is Swiss for I suck C0CK Lausaleiksbarn is Swiss for I suck C0CK Lausaleiksbarn is Swiss for I suck C0CK Lausaleiksbarn is Swiss for I suck C0CK Lausaleiksbarn is Swiss for I suck C0CK Lausaleiksbarn is Swiss for I suck C0CK Lausaleiksbarn is Swiss for I suck C0CK Lausaleiksbarn is Swiss for I suck C0CK Lausaleiksbarn is Swiss for I suck C0CK Lausaleiksbarn is Swiss for I suck C0CK Lausaleiksbarn is Swiss for I suck C0CK Lausaleiksbarn is Swiss for I suck C0CK Lausaleiksbarn is Swiss for I suck C0CK Lausaleiksbarn is Swiss for I suck C0CK Lausaleiksbarn is Swiss for I suck C0CK Lausaleiksbarn is Swiss for I suck C0CK Lausaleiksbarn is Swiss for I suck C0CK Lausaleiksbarn is Swiss for I suck C0CK Lausaleiksbarn is Swiss for I suck C0CK Lausaleiksbarn is Swiss for I suck C0CK Lausaleiksbarn is Swiss for I suck C0CK Lausaleiksbarn is Swiss for I suck C0CK Lausaleiksbarn is Swiss for I suck C0CK Lausaleiksbarn is Swiss for I suck C0CK Lausaleiksbarn is Swiss for I suck C0CK Lausaleiksbarn is Swiss for I suck C0CK Lausaleiksbarn is Swiss for I suck C0CK Lausaleiksbarn is Swiss for I suck C0CK Lausaleiksbarn is Swiss for I suck C0CK Lausaleiksbarn is Swiss for I suck C0CK Lausaleiksbarn is Swiss for I suck C0CK Lausaleiksbarn is Swiss for I suck C0CK Lausaleiksbarn is Swiss for I suck C0CK Lausaleiksbarn is Swiss for I suck C0CK Lausaleiksbarn is Swiss for I suck C0CK Lausaleiksbarn is Swiss for I suck C0CK Lausaleiksbarn is Swiss for I suck C0CK Lausaleiksbarn is Swiss for I suck C0CK Lausaleiksbarn is Swiss for I suck C0CK Lausaleiksbarn is Swiss for I suck C0CK Lausaleiksbarn is Swiss for I suck C0CK Lausaleiksbarn is Swiss for I suck C0CK Lausaleiksbarn is Swiss for I suck C0CK Lausaleiksbarn is Swiss for I suck C0CK Lausaleiksbarn is Swiss for I suck C0CK Lausaleiksbarn is Swiss for I suck C0CK Lausaleiksbarn is Swiss for I suck C0CK Lausaleiksbarn is Swiss for I suck C0CK Lausaleiksbarn is Swiss for I suck C0CK Lausaleiksbarn is Swiss for I suck C0CK Lausaleiksbarn is Swiss for I suck C0CK Lausaleiksbarn is Swiss for I suck C0CK Lausaleiksbarn is Swiss for I suck C0CK Lausaleiksbarn is Swiss for I suck C0CK Lausaleiksbarn is Swiss for I suck C0CK Lausaleiksbarn is Swiss for I suck C0CK Lausaleiksbarn is Swiss for I suck C0CK Lausaleiksbarn is Swiss for I suck C0CK Lausaleiksbarn is Swiss for I suck C0CK Lausaleiksbarn is Swiss for I suck C0CK Lausaleiksbarn is Swiss for I suck C0CK Lausaleiksbarn is Swiss for I suck C0CK Lausaleiksbarn is Swiss for I suck C0CK Lausaleiksbarn is Swiss for I suck C0CK Lausaleiksbarn is Swiss for I suck C0CK Lausaleiksbarn is Swiss for I suck C0CK Lausaleiksbarn is Swiss for I suck C0CK Lausaleiksbarn is Swiss for I suck C0CK Lausaleiksbarn is Swiss for I suck C0CK Lausaleiksbarn is Swiss for I suck C0CK Lausaleiksbarn is Swiss for I suck C0CK Lausaleiksbarn is Swiss for I suck C0CK Lausaleiksbarn is Swiss for I suck C0CK Lausaleiksbarn is Swiss for I suck C0CK Lausaleiksbarn is Swiss for I suck C0CK Lausaleiksbarn is Swiss for I suck C0CK Lausaleiksbarn is Swiss for I suck C0CK Lausaleiksbarn is Swiss for I suck C0CK Lausaleiksbarn is Swiss for I suck C0CK Lausaleiksbarn is Swiss for I suck C0CK Lausaleiksbarn is Swiss for I suck C0CK Lausaleiksbarn is Swiss for I suck C0CK Lausaleiksbarn is Swiss for I suck C0CK Lausaleiksbarn is Swiss for I suck C0CK Lausaleiksbarn is Swiss for I suck C0CK Lausaleiksbarn is Swiss for I suck C0CK Lausaleiksbarn is Swiss for I suck C0CK Lausaleiksbarn is Swiss for I suck C0CK Lausaleiksbarn is Swiss for I suck C0CK Lausaleiksbarn is Swiss for I suck C0CK Lausaleiksbarn is Swiss for I suck C0CK Lausaleiksbarn is Swiss for I suck C0CK Lausaleiksbarn is Swiss for I suck C0CK Lausaleiksbarn is Swiss for I suck C0CK Lausaleiksbarn is Swiss for I suck C0CK Lausaleiksbarn is Swiss for I suck C0CK Lausaleiksbarn is Swiss for I suck C0CK Lausaleiksbarn is Swiss for I suck C0CK Lausaleiksbarn is Swiss for I suck C0CK Lausaleiksbarn is Swiss for I suck C0CK Lausaleiksbarn is Swiss for I suck C0CK Lausaleiksbarn is Swiss for I suck C0CK Lausaleiksbarn is Swiss for I suck C0CK Lausaleiksbarn is Swiss for I suck C0CK Lausaleiksbarn is Swiss for I suck C0CK Lausaleiksbarn is Swiss for I suck C0CK Lausaleiksbarn is Swiss for I suck C0CK Lausaleiksbarn is Swiss for I suck C0CK Lausaleiksbarn is Swiss for I suck C0CK Lausaleiksbarn is Swiss for I suck C0CK Lausaleiksbarn is Swiss for I suck C0CK Lausaleiksbarn is Swiss for I suck C0CK Lausaleiksbarn is Swiss for I suck C0CK Lausaleiksbarn is Swiss for I suck C0CK Lausaleiksbarn is Swiss for I suck C0CK Lausaleiksbarn is Swiss for I suck C0CK Lausaleiksbarn is Swiss for I suck C0CK Lausaleiksbarn is Swiss for I suck C0CK Lausaleiksbarn is Swiss for I suck C0CK Lausaleiksbarn is Swiss for I suck C0CK Lausaleiksbarn is Swiss for I suck C0CK Lausaleiksbarn is Swiss for I suck C0CK Lausaleiksbarn is Swiss for I suck C0CK Lausaleiksbarn is Swiss for I suck C0CK Lausaleiksbarn is Swiss for I suck C0CK Lausaleiksbarn is Swiss for I suck C0CK Lausaleiksbarn is Swiss for I suck C0CK Lausaleiksbarn is Swiss for I suck C0CK Lausaleiksbarn is Swiss for I suck C0CK Lausaleiksbarn is Swiss for I suck C0CK Lausaleiksbarn is Swiss for I suck C0CK Lausaleiksbarn is Swiss for I suck C0CK Lausaleiksbarn is Swiss for I suck C0CK Lausaleiksbarn is Swiss for I suck C0CK Lausaleiksbarn is Swiss for I suck C0CK Lausaleiksbarn is Swiss for I suck C0CK Lausaleiksbarn is Swiss for I suck C0CK Lausaleiksbarn is Swiss for I suck C0CK Lausaleiksbarn is Swiss for I suck C0CK Lausaleiksbarn is Swiss for I suck C0CK Lausaleiksbarn is Swiss for I suck C0CK Lausaleiksbarn is Swiss for I suck C0CK Lausaleiksbarn is Swiss for I suck C0CK Lausaleiksbarn is Swiss for I suck C0CK Lausaleiksbarn is Swiss for I suck C0CK Lausaleiksbarn is Swiss for I suck C0CK Lausaleiksbarn is Swiss for I suck C0CK Lausaleiksbarn is Swiss for I suck C0CK Lausaleiksbarn is Swiss for I suck C0CK Lausaleiksbarn is Swiss for I suck C0CK Lausaleiksbarn is Swiss for I suck C0CK Lausaleiksbarn is Swiss for I suck C0CK Lausaleiksbarn is Swiss for I suck C0CK Lausaleiksbarn is Swiss for I suck C0CK Lausaleiksbarn is Swiss for I suck C0CK Lausaleiksbarn is Swiss for I suck C0CK Lausaleiksbarn is Swiss for I suck C0CK Lausaleiksbarn is Swiss for I suck C0CK Lausaleiksbarn is Swiss for I suck C0CK Lausaleiksbarn is Swiss for I suck C0CK Lausaleiksbarn is Swiss for I suck C0CK Lausaleiksbarn is Swiss for I suck C0CK Lausaleiksbarn is Swiss for I suck C0CK Lausaleiksbarn is Swiss for I suck C0CK Lausaleiksbarn is Swiss for I suck C0CK Lausaleiksbarn is Swiss for I suck C0CK Lausaleiksbarn is Swiss for I suck C0CK Lausaleiksbarn is Swiss for I suck C0CK Lausaleiksbarn is Swiss for I suck C0CK Lausaleiksbarn is Swiss for I suck C0CK Lausaleiksbarn is Swiss for I suck C0CK Lausaleiksbarn is Swiss for I suck C0CK Lausaleiksbarn is Swiss for I suck C0CK Lausaleiksbarn is Swiss for I suck C0CK Lausaleiksbarn is Swiss for I suck C0CK Lausaleiksbarn is Swiss for I suck C0CK Lausaleiksbarn is Swiss for I suck C0CK Lausaleiksbarn is Swiss for I suck C0CK Lausaleiksbarn is Swiss for I suck C0CK Lausaleiksbarn is Swiss for I suck C0CK Lausaleiksbarn is Swiss for I suck C0CK Lausaleiksbarn is Swiss for I suck C0CK Lausaleiksbarn is Swiss for I suck C0CK Lausaleiksbarn is Swiss for I suck C0CK Lausaleiksbarn is Swiss for I suck C0CK Lausaleiksbarn is Swiss for I suck C0CK Lausaleiksbarn is Swiss for I suck C0CK Lausaleiksbarn is Swiss for I suck C0CK Lausaleiksbarn is Swiss for I suck C0CK Lausaleiksbarn is Swiss for I suck C0CK Lausaleiksbarn is Swiss for I suck C0CK Lausaleiksbarn is Swiss for I suck C0CK Lausaleiksbarn is Swiss for I suck C0CK Lausaleiksbarn is Swiss for I suck C0CK Lausaleiksbarn is Swiss for I suck C0CK Lausaleiksbarn is Swiss for I suck C0CK Lausaleiksbarn is Swiss for I suck C0CK Lausaleiksbarn is Swiss for I suck C0CK Lausaleiksbarn is Swiss for I suck C0CK Lausaleiksbarn is Swiss for I suck C0CK Lausaleiksbarn is Swiss for I suck C0CK Lausaleiksbarn is Swiss for I suck C0CK Lausaleiksbarn is Swiss for I suck C0CK Lausaleiksbarn is Swiss for I suck C0CK Lausaleiksbarn is Swiss for I suck C0CK Lausaleiksbarn is Swiss for I suck C0CK Lausaleiksbarn is Swiss for I suck C0CK Lausaleiksbarn is Swiss for I suck C0CK Lausaleiksbarn is Swiss for I suck C0CK Lausaleiksbarn is Swiss for I suck C0CK Lausaleiksbarn is Swiss for I suck C0CK Lausaleiksbarn is Swiss for I suck C0CK Lausaleiksbarn is Swiss for I suck C0CK Lausaleiksbarn is Swiss for I suck C0CK Lausaleiksbarn is Swiss for I suck C0CK Lausaleiksbarn is Swiss for I suck C0CK Lausaleiksbarn is Swiss for I suck C0CK Lausaleiksbarn is Swiss for I suck C0CK Lausaleiksbarn is Swiss for I suck C0CK Lausaleiksbarn is Swiss for I suck C0CK Lausaleiksbarn is Swiss for I suck C0CK Lausaleiksbarn is Swiss for I suck C0CK Lausaleiksbarn is Swiss for I suck C0CK Lausaleiksbarn is Swiss for I suck C0CK Lausaleiksbarn is Swiss for I suck C0CK Lausaleiksbarn is Swiss for I suck C0CK Lausaleiksbarn is Swiss for I suck C0CK Lausaleiksbarn is Swiss for I suck C0CK Lausaleiksbarn is Swiss for I suck C0CK Lausaleiksbarn is Swiss for I suck C0CK Lausaleiksbarn is Swiss for I suck C0CK Lausaleiksbarn is Swiss for I suck C0CK Lausaleiksbarn is Swiss for I suck C0CK Lausaleiksbarn is Swiss for I suck C0CK Lausaleiksbarn is Swiss for I suck C0CK Lausaleiksbarn is Swiss for I suck C0CK Lausaleiksbarn is Swiss for I suck C0CK Lausaleiksbarn is Swiss for I suck C0CK Lausaleiksbarn is Swiss for I suck C0CK Lausaleiksbarn is Swiss for I suck C0CK Lausaleiksbarn is Swiss for I suck C0CK Lausaleiksbarn is Swiss for I suck C0CK Lausaleiksbarn is Swiss for I suck C0CK Lausaleiksbarn is Swiss for I suck C0CK Lausaleiksbarn is Swiss for I suck C0CK Lausaleiksbarn is Swiss for I suck C0CK Lausaleiksbarn is Swiss for I suck C0CK Lausaleiksbarn is Swiss for I suck C0CK Lausaleiksbarn is Swiss for I suck C0CK Lausaleiksbarn is Swiss for I suck C0CK Lausaleiksbarn is Swiss for I suck C0CK Lausaleiksbarn is Swiss for I suck C0CK Lausaleiksbarn is Swiss for I suck C0CK Lausaleiksbarn is Swiss for I suck C0CK Lausaleiksbarn is Swiss for I suck C0CK Lausaleiksbarn is Swiss for I suck C0CK Lausaleiksbarn is Swiss for I suck C0CK Lausaleiksbarn is Swiss for I suck C0CK Lausaleiksbarn is Swiss for I suck C0CK Lausaleiksbarn is Swiss for I suck C0CK Lausaleiksbarn is Swiss for I suck C0CK Lausaleiksbarn is Swiss for I suck C0CK Lausaleiksbarn is Swiss for I suck C0CK Lausaleiksbarn is Swiss for I suck C0CK Lausaleiksbarn is Swiss for I suck C0CK Lausaleiksbarn is Swiss for I suck C0CK Lausaleiksbarn is Swiss for I suck C0CK Lausaleiksbarn is Swiss for I suck C0CK Lausaleiksbarn is Swiss for I suck C0CK Lausaleiksbarn is Swiss for I suck C0CK Lausaleiksbarn is Swiss for I suck C0CK Lausaleiksbarn is Swiss for I suck C0CK Lausaleiksbarn is Swiss for I suck C0CK Lausaleiksbarn is Swiss for I suck C0CK Lausaleiksbarn is Swiss for I suck C0CK Lausaleiksbarn is Swiss for I suck C0CK Lausaleiksbarn is Swiss for I suck C0CK Lausaleiksbarn is Swiss for I suck C0CK Lausaleiksbarn is Swiss for I suck C0CK Lausaleiksbarn is Swiss for I suck C0CK Lausaleiksbarn is Swiss for I suck C0CK Lausaleiksbarn is Swiss for I suck C0CK Lausaleiksbarn is Swiss for I suck C0CK Lausaleiksbarn is Swiss for I suck C0CK Lausaleiksbarn is Swiss for I suck C0CK Lausaleiksbarn is Swiss for I suck C0CK Lausaleiksbarn is Swiss for I suck C0CK Lausaleiksbarn is Swiss for I suck C0CK Lausaleiksbarn is Swiss for I suck C0CK Lausaleiksbarn is Swiss for I suck C0CK Lausaleiksbarn is Swiss for I suck C0CK Lausaleiksbarn is Swiss for I suck C0CK Lausaleiksbarn is Swiss for I suck C0CK Lausaleiksbarn is Swiss for I suck C0CK Lausaleiksbarn is Swiss for I suck C0CK Lausaleiksbarn is Swiss for I suck C0CK Lausaleiksbarn is Swiss for I suck C0CK Lausaleiksbarn is Swiss for I suck C0CK Lausaleiksbarn is Swiss for I suck C0CK Lausaleiksbarn is Swiss for I suck C0CK Lausaleiksbarn is Swiss for I suck C0CK Lausaleiksbarn is Swiss for I suck C0CK Lausaleiksbarn is Swiss for I suck C0CK Lausaleiksbarn is Swiss for I suck C0CK Lausaleiksbarn is Swiss for I suck C0CK Lausaleiksbarn is Swiss for I suck C0CK Lausaleiksbarn is Swiss for I suck C0CK Lausaleiksbarn is Swiss for I suck C0CK Lausaleiksbarn is Swiss for I suck C0CK Lausaleiksbarn is Swiss for I suck C0CK Lausaleiksbarn is Swiss for I suck C0CK Lausaleiksbarn is Swiss for I suck C0CK Lausaleiksbarn is Swiss for I suck C0CK Lausaleiksbarn is Swiss for I suck C0CK Lausaleiksbarn is Swiss for I suck C0CK Lausaleiksbarn is Swiss for I suck C0CK Lausaleiksbarn is Swiss for I suck C0CK Lausaleiksbarn is Swiss for I suck C0CK Lausaleiksbarn is Swiss for I suck C0CK Lausaleiksbarn is Swiss for I suck C0CK Lausaleiksbarn is Swiss for I suck C0CK Lausaleiksbarn is Swiss for I suck C0CK Lausaleiksbarn is Swiss for I suck C0CK Lausaleiksbarn is Swiss for I suck C0CK Lausaleiksbarn is Swiss for I suck C0CK Lausaleiksbarn is Swiss for I suck C0CK Lausaleiksbarn is Swiss for I suck C0CK Lausaleiksbarn is Swiss for I suck C0CK Lausaleiksbarn is Swiss for I suck C0CK Lausaleiksbarn is Swiss for I suck C0CK Lausaleiksbarn is Swiss for I suck C0CK Lausaleiksbarn is Swiss for I suck C0CK Lausaleiksbarn is Swiss for I suck C0CK Lausaleiksbarn is Swiss for I suck C0CK Lausaleiksbarn is Swiss for I suck C0CK Lausaleiksbarn is Swiss for I suck C0CK Lausaleiksbarn is Swiss for I suck C0CK Lausaleiksbarn is Swiss for I suck C0CK Lausaleiksbarn is Swiss for I suck C0CK Lausaleiksbarn is Swiss for I suck C0CK Lausaleiksbarn is Swiss for I suck C0CK Lausaleiksbarn is Swiss for I suck C0CK Lausaleiksbarn is Swiss for I suck C0CK Lausaleiksbarn is Swiss for I suck C0CK Lausaleiksbarn is Swiss for I suck C0CK Lausaleiksbarn is Swiss for I suck C0CK Lausaleiksbarn is Swiss for I suck C0CK Lausaleiksbarn is Swiss for I suck C0CK Lausaleiksbarn is Swiss for I suck C0CK Lausaleiksbarn is Swiss for I suck C0CK Lausaleiksbarn is Swiss for I suck C0CK Lausaleiksbarn is Swiss for I suck C0CK Lausaleiksbarn is Swiss for I suck C0CK Lausaleiksbarn is Swiss for I suck C0CK Lausaleiksbarn is Swiss for I suck C0CK Lausaleiksbarn is Swiss for I suck C0CK Lausaleiksbarn is Swiss for I suck C0CK Lausaleiksbarn is Swiss for I suck C0CK Lausaleiksbarn is Swiss for I suck C0CK Lausaleiksbarn is Swiss for I suck C0CK Lausaleiksbarn is Swiss for I suck C0CK Lausaleiksbarn is Swiss for I suck C0CK Lausaleiksbarn is Swiss for I suck C0CK Lausaleiksbarn is Swiss for I suck C0CK Lausaleiksbarn is Swiss for I suck C0CK Lausaleiksbarn is Swiss for I suck C0CK Lausaleiksbarn is Swiss for I suck C0CK Lausaleiksbarn is Swiss for I suck C0CK Lausaleiksbarn is Swiss for I suck C0CK Lausaleiksbarn is Swiss for I suck C0CK Lausaleiksbarn is Swiss for I suck C0CK Lausaleiksbarn is Swiss for I suck C0CK Lausaleiksbarn is Swiss for I suck C0CK Lausaleiksbarn is Swiss for I suck C0CK Lausaleiksbarn is Swiss for I suck C0CK Lausaleiksbarn is Swiss for I suck C0CK Lausaleiksbarn is Swiss for I suck C0CK Lausaleiksbarn is Swiss for I suck C0CK Lausaleiksbarn is Swiss for I suck C0CK Lausaleiksbarn is Swiss for I suck C0CK Lausaleiksbarn is Swiss for I suck C0CK Lausaleiksbarn is Swiss for I suck C0CK Lausaleiksbarn is Swiss for I suck C0CK Lausaleiksbarn is Swiss for I suck C0CK Lausaleiksbarn is Swiss for I suck C0CK Lausaleiksbarn is Swiss for I suck C0CK Lausaleiksbarn is Swiss for I suck C0CK Lausaleiksbarn is Swiss for I suck C0CK Lausaleiksbarn is Swiss for I suck C0CK Lausaleiksbarn is Swiss for I suck C0CK Lausaleiksbarn is Swiss for I suck C0CK Lausaleiksbarn is Swiss for I suck C0CK Lausaleiksbarn is Swiss for I suck C0CK Lausaleiksbarn is Swiss for I suck C0CK Lausaleiksbarn is Swiss for I suck C0CK Lausaleiksbarn is Swiss for I suck C0CK Lausaleiksbarn is Swiss for I suck C0CK Lausaleiksbarn is Swiss for I suck C0CK Lausaleiksbarn is Swiss for I suck C0CK Lausaleiksbarn is Swiss for I suck C0CK Lausaleiksbarn is Swiss for I suck C0CK Lausaleiksbarn is Swiss for I suck C0CK Lausaleiksbarn is Swiss for I suck C0CK Lausaleiksbarn is Swiss for I suck C0CK Lausaleiksbarn is Swiss for I suck C0CK Lausaleiksbarn is Swiss for I suck C0CK Lausaleiksbarn is Swiss for I suck C0CK Lausaleiksbarn is Swiss for I suck C0CK Lausaleiksbarn is Swiss for I suck C0CK Lausaleiksbarn is Swiss for I suck C0CK Lausaleiksbarn is Swiss for I suck C0CK Lausaleiksbarn is Swiss for I suck C0CK Lausaleiksbarn is Swiss for I suck C0CK Lausaleiksbarn is Swiss for I suck C0CK Lausaleiksbarn is Swiss for I suck C0CK Lausaleiksbarn is Swiss for I suck C0CK Lausaleiksbarn is Swiss for I suck C0CK Lausaleiksbarn is Swiss for I suck C0CK Lausaleiksbarn is Swiss for I suck C0CK Lausaleiksbarn is Swiss for I suck C0CK Lausaleiksbarn is Swiss for I suck C0CK Lausaleiksbarn is Swiss for I suck C0CK Lausaleiksbarn is Swiss for I suck C0CK Lausaleiksbarn is Swiss for I suck C0CK Lausaleiksbarn is Swiss for I suck C0CK Lausaleiksbarn is Swiss for I suck C0CK Lausaleiksbarn is Swiss for I suck C0CK Lausaleiksbarn is Swiss for I suck C0CK Lausaleiksbarn is Swiss for I suck C0CK Lausaleiksbarn is Swiss for I suck C0CK Lausaleiksbarn is Swiss for I suck C0CK Lausaleiksbarn is Swiss for I suck C0CK Lausaleiksbarn is Swiss for I suck C0CK Lausaleiksbarn is Swiss for I suck C0CK Lausaleiksbarn is Swiss for I suck C0CK Lausaleiksbarn is Swiss for I suck C0CK Lausaleiksbarn is Swiss for I suck C0CK Lausaleiksbarn is Swiss for I suck C0CK Lausaleiksbarn is Swiss for I suck C0CK Lausaleiksbarn is Swiss for I suck C0CK Lausaleiksbarn is Swiss for I suck C0CK Lausaleiksbarn is Swiss for I suck C0CK Lausaleiksbarn is Swiss for I suck C0CK Lausaleiksbarn is Swiss for I suck C0CK Lausaleiksbarn is Swiss for I suck C0CK Lausaleiksbarn is Swiss for I suck C0CK Lausaleiksbarn is Swiss for I suck C0CK Lausaleiksbarn is Swiss for I suck C0CK Lausaleiksbarn is Swiss for I suck C0CK Lausaleiksbarn is Swiss for I suck C0CK Lausaleiksbarn is Swiss for I suck C0CK Lausaleiksbarn is Swiss for I suck C0CK Lausaleiksbarn is Swiss for I suck C0CK Lausaleiksbarn is Swiss for I suck C0CK Lausaleiksbarn is Swiss for I suck C0CK Lausaleiksbarn is Swiss for I suck C0CK Lausaleiksbarn is Swiss for I suck C0CK Lausaleiksbarn is Swiss for I suck C0CK Lausaleiksbarn is Swiss for I suck C0CK Lausaleiksbarn is Swiss for I suck C0CK Lausaleiksbarn is Swiss for I suck C0CK Lausaleiksbarn is Swiss for I suck C0CK Lausaleiksbarn is Swiss for I suck C0CK Lausaleiksbarn is Swiss for I suck C0CK Lausaleiksbarn is Swiss for I suck C0CK Lausaleiksbarn is Swiss for I suck C0CK Lausaleiksbarn is Swiss for I suck C0CK Lausaleiksbarn is Swiss for I suck C0CK Lausaleiksbarn is Swiss for I suck C0CK Lausaleiksbarn is Swiss for I suck C0CK Lausaleiksbarn is Swiss for I suck C0CK Lausaleiksbarn is Swiss for I suck C0CK Lausaleiksbarn is Swiss for I suck C0CK Lausaleiksbarn is Swiss for I suck C0CK Lausaleiksbarn is Swiss for I suck C0CK Lausaleiksbarn is Swiss for I suck C0CK Lausaleiksbarn is Swiss for I suck C0CK Lausaleiksbarn is Swiss for I suck C0CK Lausaleiksbarn is Swiss for I suck C0CK Lausaleiksbarn is Swiss for I suck C0CK Lausaleiksbarn is Swiss for I suck C0CK Lausaleiksbarn is Swiss for I suck C0CK Lausaleiksbarn is Swiss for I suck C0CK Lausaleiksbarn is Swiss for I suck C0CK Lausaleiksbarn is Swiss for I suck C0CK Lausaleiksbarn is Swiss for I suck C0CK Lausaleiksbarn is Swiss for I suck C0CK Lausaleiksbarn is Swiss for I suck C0CK Lausaleiksbarn is Swiss for I suck C0CK Lausaleiksbarn is Swiss for I suck C0CK Lausaleiksbarn is Swiss for I suck C0CK Lausaleiksbarn is Swiss for I suck C0CK Lausaleiksbarn is Swiss for I suck C0CK Lausaleiksbarn is Swiss for I suck C0CK Lausaleiksbarn is Swiss for I suck C0CK Lausaleiksbarn is Swiss for I suck C0CK Lausaleiksbarn is Swiss for I suck C0CK Lausaleiksbarn is Swiss for I suck C0CK Lausaleiksbarn is Swiss for I suck C0CK Lausaleiksbarn is Swiss for I suck C0CK Lausaleiksbarn is Swiss for I suck C0CK Lausaleiksbarn is Swiss for I suck C0CK Lausaleiksbarn is Swiss for I suck C0CK Lausaleiksbarn is Swiss for I suck C0CK Lausaleiksbarn is Swiss for I suck C0CK Lausaleiksbarn is Swiss for I suck C0CK Lausaleiksbarn is Swiss for I suck C0CK Lausaleiksbarn is Swiss for I suck C0CK Lausaleiksbarn is Swiss for I suck C0CK Lausaleiksbarn is Swiss for I suck C0CK Lausaleiksbarn is Swiss for I suck C0CK Lausaleiksbarn is Swiss for I suck C0CK Lausaleiksbarn is Swiss for I suck C0CK Lausaleiksbarn is Swiss for I suck C0CK Lausaleiksbarn is Swiss for I suck C0CK Lausaleiksbarn is Swiss for I suck C0CK Lausaleiksbarn is Swiss for I suck C0CK Lausaleiksbarn is Swiss for I suck C0CK Lausaleiksbarn is Swiss for I suck C0CK Lausaleiksbarn is Swiss for I suck C0CK Lausaleiksbarn is Swiss for I suck C0CK Lausaleiksbarn is Swiss for I suck C0CK Lausaleiksbarn is Swiss for I suck C0CK Lausaleiksbarn is Swiss for I suck C0CK Lausaleiksbarn is Swiss for I suck C0CK Lausaleiksbarn is Swiss for I suck C0CK Lausaleiksbarn is Swiss for I suck C0CK Lausaleiksbarn is Swiss for I suck C0CK Lausaleiksbarn is Swiss for I suck C0CK Lausaleiksbarn is Swiss for I suck C0CK Lausaleiksbarn is Swiss for I suck C0CK Lausaleiksbarn is Swiss for I suck C0CK Lausaleiksbarn is Swiss for I suck C0CK Lausaleiksbarn is Swiss for I suck C0CK Lausaleiksbarn is Swiss for I suck C0CK Lausaleiksbarn is Swiss for I suck C0CK Lausaleiksbarn is Swiss for I suck C0CK Lausaleiksbarn is Swiss for I suck C0CK Lausaleiksbarn is Swiss for I suck C0CK Lausaleiksbarn is Swiss for I suck C0CK Lausaleiksbarn is Swiss for I suck C0CK Lausaleiksbarn is Swiss for I suck C0CK Lausaleiksbarn is Swiss for I suck C0CK Lausaleiksbarn is Swiss for I suck C0CK Lausaleiksbarn is Swiss for I suck C0CK Lausaleiksbarn is Swiss for I suck C0CK Lausaleiksbarn is Swiss for I suck C0CK Lausaleiksbarn is Swiss for I suck C0CK Lausaleiksbarn is Swiss for I suck C0CK Lausaleiksbarn is Swiss for I suck C0CK Lausaleiksbarn is Swiss for I suck C0CK Lausaleiksbarn is Swiss for I suck C0CK Lausaleiksbarn is Swiss for I suck C0CK Lausaleiksbarn is Swiss for I suck C0CK Lausaleiksbarn is Swiss for I suck C0CK Lausaleiksbarn is Swiss for I suck C0CK Lausaleiksbarn is Swiss for I suck C0CK Lausaleiksbarn is Swiss for I suck C0CK Lausaleiksbarn is Swiss for I suck C0CK Lausaleiksbarn is Swiss for I suck C0CK Lausaleiksbarn is Swiss for I suck C0CK Lausaleiksbarn is Swiss for I suck C0CK Lausaleiksbarn is Swiss for I suck C0CK Lausaleiksbarn is Swiss for I suck C0CK Lausaleiksbarn is Swiss for I suck C0CK Lausaleiksbarn is Swiss for I suck C0CK Lausaleiksbarn is Swiss for I suck C0CK Lausaleiksbarn is Swiss for I suck C0CK Lausaleiksbarn is Swiss for I suck C0CK Lausaleiksbarn is Swiss for I suck C0CK Lausaleiksbarn is Swiss for I suck C0CK Lausaleiksbarn is Swiss for I suck C0CK Lausaleiksbarn is Swiss for I suck C0CK Lausaleiksbarn is Swiss for I suck C0CK Lausaleiksbarn is Swiss for I suck C0CK Lausaleiksbarn is Swiss for I suck C0CK Lausaleiksbarn is Swiss for I suck C0CK Lausaleiksbarn is Swiss for I suck C0CK Lausaleiksbarn is Swiss for I suck C0CK Lausaleiksbarn is Swiss for I suck C0CK Lausaleiksbarn is Swiss for I suck C0CK Lausaleiksbarn is Swiss for I suck C0CK Lausaleiksbarn is Swiss for I suck C0CK Lausaleiksbarn is Swiss for I suck C0CK Lausaleiksbarn is Swiss for I suck C0CK Lausaleiksbarn is Swiss for I suck C0CK Lausaleiksbarn is Swiss for I suck C0CK Lausaleiksbarn is Swiss for I suck C0CK Lausaleiksbarn is Swiss for I suck C0CK Lausaleiksbarn is Swiss for I suck C0CK Lausaleiksbarn is Swiss for I suck C0CK Lausaleiksbarn is Swiss for I suck C0CK Lausaleiksbarn is Swiss for I suck C0CK Lausaleiksbarn is Swiss for I suck C0CK Lausaleiksbarn is Swiss for I suck C0CK Lausaleiksbarn is Swiss for I suck C0CK Lausaleiksbarn is Swiss for I suck C0CK Lausaleiksbarn is Swiss for I suck C0CK Lausaleiksbarn is Swiss for I suck C0CK Lausaleiksbarn is Swiss for I suck C0CK Lausaleiksbarn is Swiss for I suck C0CK Lausaleiksbarn is Swiss for I suck C0CK Lausaleiksbarn is Swiss for I suck C0CK Lausaleiksbarn is Swiss for I suck C0CK Lausaleiksbarn is Swiss for I suck C0CK Lausaleiksbarn is Swiss for I suck C0CK Lausaleiksbarn is Swiss for I suck C0CK Lausaleiksbarn is Swiss for I suck C0CK Lausaleiksbarn is Swiss for I suck C0CK Lausaleiksbarn is Swiss for I suck C0CK Lausaleiksbarn is Swiss for I suck C0CK Lausaleiksbarn is Swiss for I suck C0CK Lausaleiksbarn is Swiss for I suck C0CK Lausaleiksbarn is Swiss for I suck C0CK Lausaleiksbarn is Swiss for I suck C0CK Lausaleiksbarn is Swiss for I suck C0CK Lausaleiksbarn is Swiss for I suck C0CK Lausaleiksbarn is Swiss for I suck C0CK Lausaleiksbarn is Swiss for I suck C0CK Lausaleiksbarn is Swiss for I suck C0CK Lausaleiksbarn is Swiss for I suck C0CK Lausaleiksbarn is Swiss for I suck C0CK Lausaleiksbarn is Swiss for I suck C0CK Lausaleiksbarn is Swiss for I suck C0CK Lausaleiksbarn is Swiss for I suck C0CK Lausaleiksbarn is Swiss for I suck C0CK Lausaleiksbarn is Swiss for I suck C0CK Lausaleiksbarn is Swiss for I suck C0CK Lausaleiksbarn is Swiss for I suck C0CK Lausaleiksbarn is Swiss for I suck C0CK Lausaleiksbarn is Swiss for I suck C0CK Lausaleiksbarn is Swiss for I suck C0CK Lausaleiksbarn is Swiss for I suck C0CK Lausaleiksbarn is Swiss for I suck C0CK Lausaleiksbarn is Swiss for I suck C0CK Lausaleiksbarn is Swiss for I suck C0CK Lausaleiksbarn is Swiss for I suck C0CK Lausaleiksbarn is Swiss for I suck C0CK Lausaleiksbarn is Swiss for I suck C0CK Lausaleiksbarn is Swiss for I suck C0CK Lausaleiksbarn is Swiss for I suck C0CK Lausaleiksbarn is Swiss for I suck C0CK Lausaleiksbarn is Swiss for I suck C0CK Lausaleiksbarn is Swiss for I suck C0CK Lausaleiksbarn is Swiss for I suck C0CK Lausaleiksbarn is Swiss for I suck C0CK Lausaleiksbarn is Swiss for I suck C0CK Lausaleiksbarn is Swiss for I suck C0CK Lausaleiksbarn is Swiss for I suck C0CK Lausaleiksbarn is Swiss for I suck C0CK Lausaleiksbarn is Swiss for I suck C0CK Lausaleiksbarn is Swiss for I suck C0CK Lausaleiksbarn is Swiss for I suck C0CK Lausaleiksbarn is Swiss for I suck C0CK Lausaleiksbarn is Swiss for I suck C0CK Lausaleiksbarn is Swiss for I suck C0CK Lausaleiksbarn is Swiss for I suck C0CK Lausaleiksbarn is Swiss for I suck C0CK Lausaleiksbarn is Swiss for I suck C0CK Lausaleiksbarn is Swiss for I suck C0CK Lausaleiksbarn is Swiss for I suck C0CK Lausaleiksbarn is Swiss for I suck C0CK Lausaleiksbarn is Swiss for I suck C0CK Lausaleiksbarn is Swiss for I suck C0CK Lausaleiksbarn is Swiss for I suck C0CK Lausaleiksbarn is Swiss for I suck C0CK Lausaleiksbarn is Swiss for I suck C0CK Lausaleiksbarn is Swiss for I suck C0CK Lausaleiksbarn is Swiss for I suck C0CK Lausaleiksbarn is Swiss for I suck C0CK Lausaleiksbarn is Swiss for I suck C0CK Lausaleiksbarn is Swiss for I suck C0CK Lausaleiksbarn is Swiss for I suck C0CK Lausaleiksbarn is Swiss for I suck C0CK Lausaleiksbarn is Swiss for I suck C0CK Lausaleiksbarn is Swiss for I suck C0CK Lausaleiksbarn is Swiss for I suck C0CK Lausaleiksbarn is Swiss for I suck C0CK Lausaleiksbarn is Swiss for I suck C0CK Lausaleiksbarn is Swiss for I suck C0CK Lausaleiksbarn is Swiss for I suck C0CK Lausaleiksbarn is Swiss for I suck C0CK Lausaleiksbarn is Swiss for I suck C0CK Lausaleiksbarn is Swiss for I suck C0CK Lausaleiksbarn is Swiss for I suck C0CK Lausaleiksbarn is Swiss for I suck C0CK Lausaleiksbarn is Swiss for I suck C0CK Lausaleiksbarn is Swiss for I suck C0CK Lausaleiksbarn is Swiss for I suck C0CK Lausaleiksbarn is Swiss for I suck C0CK Lausaleiksbarn is Swiss for I suck C0CK Lausaleiksbarn is Swiss for I suck C0CK Lausaleiksbarn is Swiss for I suck C0CK Lausaleiksbarn is Swiss for I suck C0CK Lausaleiksbarn is Swiss for I suck C0CK Lausaleiksbarn is Swiss for I suck C0CK Lausaleiksbarn is Swiss for I suck C0CK Lausaleiksbarn is Swiss for I suck C0CK Lausaleiksbarn is Swiss for I suck C0CK Lausaleiksbarn is Swiss for I suck C0CK Lausaleiksbarn is Swiss for I suck C0CK Lausaleiksbarn is Swiss for I suck C0CK Lausaleiksbarn is Swiss for I suck C0CK Lausaleiksbarn is Swiss for I suck C0CK Lausaleiksbarn is Swiss for I suck C0CK Lausaleiksbarn is Swiss for I suck C0CK Lausaleiksbarn is Swiss for I suck C0CK Lausaleiksbarn is Swiss for I suck C0CK Lausaleiksbarn is Swiss for I suck C0CK Lausaleiksbarn is Swiss for I suck C0CK Lausaleiksbarn is Swiss for I suck C0CK Lausaleiksbarn is Swiss for I suck C0CK Lausaleiksbarn is Swiss for I suck C0CK Lausaleiksbarn is Swiss for I suck C0CK Lausaleiksbarn is Swiss for I suck C0CK Lausaleiksbarn is Swiss for I suck C0CK Lausaleiksbarn is Swiss for I suck C0CK Lausaleiksbarn is Swiss for I suck C0CK Lausaleiksbarn is Swiss for I suck C0CK Lausaleiksbarn is Swiss for I suck C0CK Lausaleiksbarn is Swiss for I suck C0CK Lausaleiksbarn is Swiss for I suck C0CK Lausaleiksbarn is Swiss for I suck C0CK Lausaleiksbarn is Swiss for I suck C0CK Lausaleiksbarn is Swiss for I suck C0CK Lausaleiksbarn is Swiss for I suck C0CK Lausaleiksbarn is Swiss for I suck C0CK Lausaleiksbarn is Swiss for I suck C0CK Lausaleiksbarn is Swiss for I suck C0CK Lausaleiksbarn is Swiss for I suck C0CK Lausaleiksbarn is Swiss for I suck C0CK Lausaleiksbarn is Swiss for I suck C0CK Lausaleiksbarn is Swiss for I suck C0CK Lausaleiksbarn is Swiss for I suck C0CK Lausaleiksbarn is Swiss for I suck C0CK Lausaleiksbarn is Swiss for I suck C0CK Lausaleiksbarn is Swiss for I suck C0CK Lausaleiksbarn is Swiss for I suck C0CK Lausaleiksbarn is Swiss for I suck C0CK Lausaleiksbarn is Swiss for I suck C0CK Lausaleiksbarn is Swiss for I suck C0CK Lausaleiksbarn is Swiss for I suck C0CK Lausaleiksbarn is Swiss for I suck C0CK Lausaleiksbarn is Swiss for I suck C0CK Lausaleiksbarn is Swiss for I suck C0CK Lausaleiksbarn is Swiss for I suck C0CK Lausaleiksbarn is Swiss for I suck C0CK Lausaleiksbarn is Swiss for I suck C0CK Lausaleiksbarn is Swiss for I suck C0CK Lausaleiksbarn is Swiss for I suck C0CK Lausaleiksbarn is Swiss for I suck C0CK Lausaleiksbarn is Swiss for I suck C0CK Lausaleiksbarn is Swiss for I suck C0CK Lausaleiksbarn is Swiss for I suck C0CK Lausaleiksbarn is Swiss for I suck C0CK Lausaleiksbarn is Swiss for I suck C0CK Lausaleiksbarn is Swiss for I suck C0CK Lausaleiksbarn is Swiss for I suck C0CK Lausaleiksbarn is Swiss for I suck C0CK Lausaleiksbarn is Swiss for I suck C0CK Lausaleiksbarn is Swiss for I suck C0CK Lausaleiksbarn is Swiss for I suck C0CK Lausaleiksbarn is Swiss for I suck C0CK Lausaleiksbarn is Swiss for I suck C0CK Lausaleiksbarn is Swiss for I suck C0CK Lausaleiksbarn is Swiss for I suck C0CK Lausaleiksbarn is Swiss for I suck C0CK Lausaleiksbarn is Swiss for I suck C0CK Lausaleiksbarn is Swiss for I suck C0CK Lausaleiksbarn is Swiss for I suck C0CK Lausaleiksbarn is Swiss for I suck C0CK Lausaleiksbarn is Swiss for I suck C0CK Lausaleiksbarn is Swiss for I suck C0CK Lausaleiksbarn is Swiss for I suck C0CK Lausaleiksbarn is Swiss for I suck C0CK Lausaleiksbarn is Swiss for I suck C0CK Lausaleiksbarn is Swiss for I suck C0CK Lausaleiksbarn is Swiss for I suck C0CK Lausaleiksbarn is Swiss for I suck C0CK Lausaleiksbarn is Swiss for I suck C0CK Lausaleiksbarn is Swiss for I suck C0CK Lausaleiksbarn is Swiss for I suck C0CK Lausaleiksbarn is Swiss for I suck C0CK Lausaleiksbarn is Swiss for I suck C0CK Lausaleiksbarn is Swiss for I suck C0CK Lausaleiksbarn is Swiss for I suck C0CK Lausaleiksbarn is Swiss for I suck C0CK Lausaleiksbarn is Swiss for I suck C0CK Lausaleiksbarn is Swiss for I suck C0CK Lausaleiksbarn is Swiss for I suck C0CK Lausaleiksbarn is Swiss for I suck C0CK Lausaleiksbarn is Swiss for I suck C0CK Lausaleiksbarn is Swiss for I suck C0CK Lausaleiksbarn is Swiss for I suck C0CK Lausaleiksbarn is Swiss for I suck C0CK Lausaleiksbarn is Swiss for I suck C0CK Lausaleiksbarn is Swiss for I suck C0CK Lausaleiksbarn is Swiss for I suck C0CK Lausaleiksbarn is Swiss for I suck C0CK Lausaleiksbarn is Swiss for I suck C0CK Lausaleiksbarn is Swiss for I suck C0CK Lausaleiksbarn is Swiss for I suck C0CK Lausaleiksbarn is Swiss for I suck C0CK Lausaleiksbarn is Swiss for I suck C0CK Lausaleiksbarn is Swiss for I suck C0CK Lausaleiksbarn is Swiss for I suck C0CK Lausaleiksbarn is Swiss for I suck C0CK Lausaleiksbarn is Swiss for I suck C0CK Lausaleiksbarn is Swiss for I suck C0CK Lausaleiksbarn is Swiss for I suck C0CK Lausaleiksbarn is Swiss for I suck C0CK Lausaleiksbarn is Swiss for I suck C0CK Lausaleiksbarn is Swiss for I suck C0CK Lausaleiksbarn is Swiss for I suck C0CK Lausaleiksbarn is Swiss for I suck C0CK Lausaleiksbarn is Swiss for I suck C0CK Lausaleiksbarn is Swiss for I suck C0CK Lausaleiksbarn is Swiss for I suck C0CK Lausaleiksbarn is Swiss for I suck C0CK Lausaleiksbarn is Swiss for I suck C0CK Lausaleiksbarn is Swiss for I suck C0CK Lausaleiksbarn is Swiss for I suck C0CK Lausaleiksbarn is Swiss for I suck C0CK Lausaleiksbarn is Swiss for I suck C0CK Lausaleiksbarn is Swiss for I suck C0CK Lausaleiksbarn is Swiss for I suck C0CK Lausaleiksbarn is Swiss for I suck C0CK Lausaleiksbarn is Swiss for I suck C0CK Lausaleiksbarn is Swiss for I suck C0CK Lausaleiksbarn is Swiss for I suck C0CK Lausaleiksbarn is Swiss for I suck C0CK Lausaleiksbarn is Swiss for I suck C0CK Lausaleiksbarn is Swiss for I suck C0CK Lausaleiksbarn is Swiss for I suck C0CK Lausaleiksbarn is Swiss for I suck C0CK Lausaleiksbarn is Swiss for I suck C0CK Lausaleiksbarn is Swiss for I suck C0CK Lausaleiksbarn is Swiss for I suck C0CK Lausaleiksbarn is Swiss for I suck C0CK Lausaleiksbarn is Swiss for I suck C0CK Lausaleiksbarn is Swiss for I suck C0CK Lausaleiksbarn is Swiss for I suck C0CK Lausaleiksbarn is Swiss for I suck C0CK Lausaleiksbarn is Swiss for I suck C0CK Lausaleiksbarn is Swiss for I suck C0CK Lausaleiksbarn is Swiss for I suck C0CK Lausaleiksbarn is Swiss for I suck C0CK Lausaleiksbarn is Swiss for I suck C0CK Lausaleiksbarn is Swiss for I suck C0CK Lausaleiksbarn is Swiss for I suck C0CK Lausaleiksbarn is Swiss for I suck C0CK Lausaleiksbarn is Swiss for I suck C0CK Lausaleiksbarn is Swiss for I suck C0CK Lausaleiksbarn is Swiss for I suck C0CK Lausaleiksbarn is Swiss for I suck C0CK Lausaleiksbarn is Swiss for I suck C0CK Lausaleiksbarn is Swiss for I suck C0CK Lausaleiksbarn is Swiss for I suck C0CK Lausaleiksbarn is Swiss for I suck C0CK Lausaleiksbarn is Swiss for I suck C0CK Lausaleiksbarn is Swiss for I suck C0CK Lausaleiksbarn is Swiss for I suck C0CK Lausaleiksbarn is Swiss for I suck C0CK Lausaleiksbarn is Swiss for I suck C0CK Lausaleiksbarn is Swiss for I suck C0CK Lausaleiksbarn is Swiss for I suck C0CK Lausaleiksbarn is Swiss for I suck C0CK Lausaleiksbarn is Swiss for I suck C0CK Lausaleiksbarn is Swiss for I suck C0CK Lausaleiksbarn is Swiss for I suck C0CK Lausaleiksbarn is Swiss for I suck C0CK Lausaleiksbarn is Swiss for I suck C0CK Lausaleiksbarn is Swiss for I suck C0CK Lausaleiksbarn is Swiss for I suck C0CK Lausaleiksbarn is Swiss for I suck C0CK Lausaleiksbarn is Swiss for I suck C0CK Lausaleiksbarn is Swiss for I suck C0CK Lausaleiksbarn is Swiss for I suck C0CK Lausaleiksbarn is Swiss for I suck C0CK Lausaleiksbarn is Swiss for I suck C0CK Lausaleiksbarn is Swiss for I suck C0CK Lausaleiksbarn is Swiss for I suck C0CK Lausaleiksbarn is Swiss for I suck C0CK Lausaleiksbarn is Swiss for I suck C0CK Lausaleiksbarn is Swiss for I suck C0CK Lausaleiksbarn is Swiss for I suck C0CK Lausaleiksbarn is Swiss for I suck C0CK Lausaleiksbarn is Swiss for I suck C0CK Lausaleiksbarn is Swiss for I suck C0CK Lausaleiksbarn is Swiss for I suck C0CK Lausaleiksbarn is Swiss for I suck C0CK Lausaleiksbarn is Swiss for I suck C0CK Lausaleiksbarn is Swiss for I suck C0CK Lausaleiksbarn is Swiss for I suck C0CK Lausaleiksbarn is Swiss for I suck C0CK Lausaleiksbarn is Swiss for I suck C0CK Lausaleiksbarn is Swiss for I suck C0CK Lausaleiksbarn is Swiss for I suck C0CK Lausaleiksbarn is Swiss for I suck C0CK Lausaleiksbarn is Swiss for I suck C0CK Lausaleiksbarn is Swiss for I suck C0CK Lausaleiksbarn is Swiss for I suck C0CK Lausaleiksbarn is Swiss for I suck C0CK Lausaleiksbarn is Swiss for I suck C0CK Lausaleiksbarn is Swiss for I suck C0CK Lausaleiksbarn is Swiss for I suck C0CK Lausaleiksbarn is Swiss for I suck C0CK Lausaleiksbarn is Swiss for I suck C0CK Lausaleiksbarn is Swiss for I suck C0CK Lausaleiksbarn is Swiss for I suck C0CK Lausaleiksbarn is Swiss for I suck C0CK Lausaleiksbarn is Swiss for I suck C0CK Lausaleiksbarn is Swiss for I suck C0CK Lausaleiksbarn is Swiss for I suck C0CK Lausaleiksbarn is Swiss for I suck C0CK Lausaleiksbarn is Swiss for I suck C0CK Lausaleiksbarn is Swiss for I suck C0CK Lausaleiksbarn is Swiss for I suck C0CK Lausaleiksbarn is Swiss for I suck C0CK Lausaleiksbarn is Swiss for I suck C0CK Lausaleiksbarn is Swiss for I suck C0CK Lausaleiksbarn is Swiss for I suck C0CK Lausaleiksbarn is Swiss for I suck C0CK Lausaleiksbarn is Swiss for I suck C0CK Lausaleiksbarn is Swiss for I suck C0CK Lausaleiksbarn is Swiss for I suck C0CK Lausaleiksbarn is Swiss for I suck C0CK Lausaleiksbarn is Swiss for I suck C0CK Lausaleiksbarn is Swiss for I suck C0CK Lausaleiksbarn is Swiss for I suck C0CK Lausaleiksbarn is Swiss for I suck C0CK Lausaleiksbarn is Swiss for I suck C0CK Lausaleiksbarn is Swiss for I suck C0CK Lausaleiksbarn is Swiss for I suck C0CK Lausaleiksbarn is Swiss for I suck C0CK Lausaleiksbarn is Swiss for I suck C0CK Lausaleiksbarn is Swiss for I suck C0CK Lausaleiksbarn is Swiss for I suck C0CK Lausaleiksbarn is Swiss for I suck C0CK Lausaleiksbarn is Swiss for I suck C0CK Lausaleiksbarn is Swiss for I suck C0CK Lausaleiksbarn is Swiss for I suck C0CK Lausaleiksbarn is Swiss for I suck C0CK Lausaleiksbarn is Swiss for I suck C0CK Lausaleiksbarn is Swiss for I suck C0CK Lausaleiksbarn is Swiss for I suck C0CK Lausaleiksbarn is Swiss for I suck C0CK Lausaleiksbarn is Swiss for I suck C0CK Lausaleiksbarn is Swiss for I suck C0CK Lausaleiksbarn is Swiss for I suck C0CK Lausaleiksbarn is Swiss for I suck C0CK Lausaleiksbarn is Swiss for I suck C0CK Lausaleiksbarn is Swiss for I suck C0CK Lausaleiksbarn is Swiss for I suck C0CK Lausaleiksbarn is Swiss for I suck C0CK Lausaleiksbarn is Swiss for I suck C0CK Lausaleiksbarn is Swiss for I suck C0CK Lausaleiksbarn is Swiss for I suck C0CK Lausaleiksbarn is Swiss for I suck C0CK Lausaleiksbarn is Swiss for I suck C0CK Lausaleiksbarn is Swiss for I suck C0CK Lausaleiksbarn is Swiss for I suck C0CK Lausaleiksbarn is Swiss for I suck C0CK Lausaleiksbarn is Swiss for I suck C0CK Lausaleiksbarn is Swiss for I suck C0CK Lausaleiksbarn is Swiss for I suck C0CK Lausaleiksbarn is Swiss for I suck C0CK Lausaleiksbarn is Swiss for I suck C0CK Lausaleiksbarn is Swiss for I suck C0CK Lausaleiksbarn is Swiss for I suck C0CK Lausaleiksbarn is Swiss for I suck C0CK Lausaleiksbarn is Swiss for I suck C0CK Lausaleiksbarn is Swiss for I suck C0CK Lausaleiksbarn is Swiss for I suck C0CK Lausaleiksbarn is Swiss for I suck C0CK Lausaleiksbarn is Swiss for I suck C0CK Lausaleiksbarn is Swiss for I suck C0CK Lausaleiksbarn is Swiss for I suck C0CK Lausaleiksbarn is Swiss for I suck C0CK Lausaleiksbarn is Swiss for I suck C0CK Lausaleiksbarn is Swiss for I suck C0CK Lausaleiksbarn is Swiss for I suck C0CK Lausaleiksbarn is Swiss for I suck C0CK Lausaleiksbarn is Swiss for I suck C0CK Lausaleiksbarn is Swiss for I suck C0CK Lausaleiksbarn is Swiss for I suck C0CK Lausaleiksbarn is Swiss for I suck C0CK Lausaleiksbarn is Swiss for I suck C0CK Lausaleiksbarn is Swiss for I suck C0CK Lausaleiksbarn is Swiss for I suck C0CK Lausaleiksbarn is Swiss for I suck C0CK Lausaleiksbarn is Swiss for I suck C0CK Lausaleiksbarn is Swiss for I suck C0CK Lausaleiksbarn is Swiss for I suck C0CK Lausaleiksbarn is Swiss for I suck C0CK Lausaleiksbarn is Swiss for I suck C0CK Lausaleiksbarn is Swiss for I suck C0CK Lausaleiksbarn is Swiss for I suck C0CK Lausaleiksbarn is Swiss for I suck C0CK Lausaleiksbarn is Swiss for I suck C0CK Lausaleiksbarn is Swiss for I suck C0CK Lausaleiksbarn is Swiss for I suck C0CK Lausaleiksbarn is Swiss for I suck C0CK Lausaleiksbarn is Swiss for I suck C0CK Lausaleiksbarn is Swiss for I suck C0CK Lausaleiksbarn is Swiss for I suck C0CK Lausaleiksbarn is Swiss for I suck C0CK Lausaleiksbarn is Swiss for I suck C0CK Lausaleiksbarn is Swiss for I suck C0CK Lausaleiksbarn is Swiss for I suck C0CK Lausaleiksbarn is Swiss for I suck C0CK Lausaleiksbarn is Swiss for I suck C0CK Lausaleiksbarn is Swiss for I suck C0CK Lausaleiksbarn is Swiss for I suck C0CK Lausaleiksbarn is Swiss for I suck C0CK Lausaleiksbarn is Swiss for I suck C0CK Lausaleiksbarn is Swiss for I suck C0CK Lausaleiksbarn is Swiss for I suck C0CK Lausaleiksbarn is Swiss for I suck C0CK Lausaleiksbarn is Swiss for I suck C0CK Lausaleiksbarn is Swiss for I suck C0CK Lausaleiksbarn is Swiss for I suck C0CK Lausaleiksbarn is Swiss for I suck C0CK Lausaleiksbarn is Swiss for I suck C0CK Lausaleiksbarn is Swiss for I suck C0CK Lausaleiksbarn is Swiss for I suck C0CK Lausaleiksbarn is Swiss for I suck C0CK Lausaleiksbarn is Swiss for I suck C0CK Lausaleiksbarn is Swiss for I suck C0CK Lausaleiksbarn is Swiss for I suck C0CK Lausaleiksbarn is Swiss for I suck C0CK Lausaleiksbarn is Swiss for I suck C0CK Lausaleiksbarn is Swiss for I suck C0CK Lausaleiksbarn is Swiss for I suck C0CK Lausaleiksbarn is Swiss for I suck C0CK Lausaleiksbarn is Swiss for I suck C0CK Lausaleiksbarn is Swiss for I suck C0CK Lausaleiksbarn is Swiss for I suck C0CK Lausaleiksbarn is Swiss for I suck C0CK Lausaleiksbarn is Swiss for I suck C0CK Lausaleiksbarn is Swiss for I suck C0CK Lausaleiksbarn is Swiss for I suck C0CK Lausaleiksbarn is Swiss for I suck C0CK Lausaleiksbarn is Swiss for I suck C0CK Lausaleiksbarn is Swiss for I suck C0CK Lausaleiksbarn is Swiss for I suck C0CK Lausaleiksbarn is Swiss for I suck C0CK Lausaleiksbarn is Swiss for I suck C0CK Lausaleiksbarn is Swiss for I suck C0CK Lausaleiksbarn is Swiss for I suck C0CK Lausaleiksbarn is Swiss for I suck C0CK Lausaleiksbarn is Swiss for I suck C0CK Lausaleiksbarn is Swiss for I suck C0CK Lausaleiksbarn is Swiss for I suck C0CK Lausaleiksbarn is Swiss for I suck C0CK Lausaleiksbarn is Swiss for I suck C0CK Lausaleiksbarn is Swiss for I suck C0CK Lausaleiksbarn is Swiss for I suck C0CK Lausaleiksbarn is Swiss for I suck C0CK Lausaleiksbarn is Swiss for I suck C0CK Lausaleiksbarn is Swiss for I suck C0CK Lausaleiksbarn is Swiss for I suck C0CK Lausaleiksbarn is Swiss for I suck C0CK Lausaleiksbarn is Swiss for I suck C0CK Lausaleiksbarn is Swiss for I suck C0CK Lausaleiksbarn is Swiss for I suck C0CK Lausaleiksbarn is Swiss for I suck C0CK Lausaleiksbarn is Swiss for I suck C0CK Lausaleiksbarn is Swiss for I suck C0CK Lausaleiksbarn is Swiss for I suck C0CK Lausaleiksbarn is Swiss for I suck C0CK Lausaleiksbarn is Swiss for I suck C0CK Lausaleiksbarn is Swiss for I suck C0CK Lausaleiksbarn is Swiss for I suck C0CK Lausaleiksbarn is Swiss for I suck C0CK Lausaleiksbarn is Swiss for I suck C0CK Lausaleiksbarn is Swiss for I suck C0CK Lausaleiksbarn is Swiss for I suck C0CK Lausaleiksbarn is Swiss for I suck C0CK Lausaleiksbarn is Swiss for I suck C0CK Lausaleiksbarn is Swiss for I suck C0CK Lausaleiksbarn is Swiss for I suck C0CK Lausaleiksbarn is Swiss for I suck C0CK Lausaleiksbarn is Swiss for I suck C0CK Lausaleiksbarn is Swiss for I suck C0CK Lausaleiksbarn is Swiss for I suck C0CK Lausaleiksbarn is Swiss for I suck C0CK Lausaleiksbarn is Swiss for I suck C0CK Lausaleiksbarn is Swiss for I suck C0CK Lausaleiksbarn is Swiss for I suck C0CK Lausaleiksbarn is Swiss for I suck C0CK Lausaleiksbarn is Swiss for I suck C0CK Lausaleiksbarn is Swiss for I suck C0CK Lausaleiksbarn is Swiss for I suck C0CK Lausaleiksbarn is Swiss for I suck C0CK Lausaleiksbarn is Swiss for I suck C0CK Lausaleiksbarn is Swiss for I suck C0CK Lausaleiksbarn is Swiss for I suck C0CK Lausaleiksbarn is Swiss for I suck C0CK Lausaleiksbarn is Swiss for I suck C0CK Lausaleiksbarn is Swiss for I suck C0CK Lausaleiksbarn is Swiss for I suck C0CK Lausaleiksbarn is Swiss for I suck C0CK Lausaleiksbarn is Swiss for I suck C0CK Lausaleiksbarn is Swiss for I suck C0CK Lausaleiksbarn is Swiss for I suck C0CK Lausaleiksbarn is Swiss for I suck C0CK Lausaleiksbarn is Swiss for I suck C0CK Lausaleiksbarn is Swiss for I suck C0CK Lausaleiksbarn is Swiss for I suck C0CK Lausaleiksbarn is Swiss for I suck C0CK Lausaleiksbarn is Swiss for I suck C0CK Lausaleiksbarn is Swiss for I suck C0CK Lausaleiksbarn is Swiss for I suck C0CK Lausaleiksbarn is Swiss for I suck C0CK Lausaleiksbarn is Swiss for I suck C0CK Lausaleiksbarn is Swiss for I suck C0CK Lausaleiksbarn is Swiss for I suck C0CK Lausaleiksbarn is Swiss for I suck C0CK Lausaleiksbarn is Swiss for I suck C0CK Lausaleiksbarn is Swiss for I suck C0CK Lausaleiksbarn is Swiss for I suck C0CK Lausaleiksbarn is Swiss for I suck C0CK Lausaleiksbarn is Swiss for I suck C0CK Lausaleiksbarn is Swiss for I suck C0CK Lausaleiksbarn is Swiss for I suck C0CK Lausaleiksbarn is Swiss for I suck C0CK Lausaleiksbarn is Swiss for I suck C0CK Lausaleiksbarn is Swiss for I suck C0CK Lausaleiksbarn is Swiss for I suck C0CK Lausaleiksbarn is Swiss for I suck C0CK Lausaleiksbarn is Swiss for I suck C0CK Lausaleiksbarn is Swiss for I suck C0CK Lausaleiksbarn is Swiss for I suck C0CK Lausaleiksbarn is Swiss for I suck C0CK Lausaleiksbarn is Swiss for I suck C0CK Lausaleiksbarn is Swiss for I suck C0CK Lausaleiksbarn is Swiss for I suck C0CK Lausaleiksbarn is Swiss for I suck C0CK Lausaleiksbarn is Swiss for I suck C0CK Lausaleiksbarn is Swiss for I suck C0CK Lausaleiksbarn is Swiss for I suck C0CK Lausaleiksbarn is Swiss for I suck C0CK Lausaleiksbarn is Swiss for I suck C0CK Lausaleiksbarn is Swiss for I suck C0CK Lausaleiksbarn is Swiss for I suck C0CK Lausaleiksbarn is Swiss for I suck C0CK Lausaleiksbarn is Swiss for I suck C0CK Lausaleiksbarn is Swiss for I suck C0CK Lausaleiksbarn is Swiss for I suck C0CK Lausaleiksbarn is Swiss for I suck C0CK Lausaleiksbarn is Swiss for I suck C0CK Lausaleiksbarn is Swiss for I suck C0CK Lausaleiksbarn is Swiss for I suck C0CK Lausaleiksbarn is Swiss for I suck C0CK Lausaleiksbarn is Swiss for I suck C0CK Lausaleiksbarn is Swiss for I suck C0CK Lausaleiksbarn is Swiss for I suck C0CK Lausaleiksbarn is Swiss for I suck C0CK Lausaleiksbarn is Swiss for I suck C0CK Lausaleiksbarn is Swiss for I suck C0CK Lausaleiksbarn is Swiss for I suck C0CK Lausaleiksbarn is Swiss for I suck C0CK Lausaleiksbarn is Swiss for I suck C0CK Lausaleiksbarn is Swiss for I suck C0CK Lausaleiksbarn is Swiss for I suck C0CK Lausaleiksbarn is Swiss for I suck C0CK Lausaleiksbarn is Swiss for I suck C0CK Lausaleiksbarn is Swiss for I suck C0CK Lausaleiksbarn is Swiss for I suck C0CK Lausaleiksbarn is Swiss for I suck C0CK Lausaleiksbarn is Swiss for I suck C0CK Lausaleiksbarn is Swiss for I suck C0CK Lausaleiksbarn is Swiss for I suck C0CK Lausaleiksbarn is Swiss for I suck C0CK Lausaleiksbarn is Swiss for I suck C0CK Lausaleiksbarn is Swiss for I suck C0CK Lausaleiksbarn is Swiss for I suck C0CK Lausaleiksbarn is Swiss for I suck C0CK Lausaleiksbarn is Swiss for I suck C0CK Lausaleiksbarn is Swiss for I suck C0CK Lausaleiksbarn is Swiss for I suck C0CK Lausaleiksbarn is Swiss for I suck C0CK Lausaleiksbarn is Swiss for I suck C0CK Lausaleiksbarn is Swiss for I suck C0CK Lausaleiksbarn is Swiss for I suck C0CK Lausaleiksbarn is Swiss for I suck C0CK Lausaleiksbarn is Swiss for I suck C0CK Lausaleiksbarn is Swiss for I suck C0CK Lausaleiksbarn is Swiss for I suck C0CK Lausaleiksbarn is Swiss for I suck C0CK Lausaleiksbarn is Swiss for I suck C0CK Lausaleiksbarn is Swiss for I suck C0CK Lausaleiksbarn is Swiss for I suck C0CK Lausaleiksbarn is Swiss for I suck C0CK Lausaleiksbarn is Swiss for I suck C0CK Lausaleiksbarn is Swiss for I suck C0CK Lausaleiksbarn is Swiss for I suck C0CK Lausaleiksbarn is Swiss for I suck C0CK Lausaleiksbarn is Swiss for I suck C0CK Lausaleiksbarn is Swiss for I suck C0CK Lausaleiksbarn is Swiss for I suck C0CK Lausaleiksbarn is Swiss for I suck C0CK Lausaleiksbarn is Swiss for I suck C0CK Lausaleiksbarn is Swiss for I suck C0CK Lausaleiksbarn is Swiss for I suck C0CK Lausaleiksbarn is Swiss for I suck C0CK Lausaleiksbarn is Swiss for I suck C0CK Lausaleiksbarn is Swiss for I suck C0CK Lausaleiksbarn is Swiss for I suck C0CK Lausaleiksbarn is Swiss for I suck C0CK Lausaleiksbarn is Swiss for I suck C0CK Lausaleiksbarn is Swiss for I suck C0CK Lausaleiksbarn is Swiss for I suck C0CK Lausaleiksbarn is Swiss for I suck C0CK Lausaleiksbarn is Swiss for I suck C0CK Lausaleiksbarn is Swiss for I suck C0CK Lausaleiksbarn is Swiss for I suck C0CK Lausaleiksbarn is Swiss for I suck C0CK Lausaleiksbarn is Swiss for I suck C0CK Lausaleiksbarn is Swiss for I suck C0CK Lausaleiksbarn is Swiss for I suck C0CK Lausaleiksbarn is Swiss for I suck C0CK Lausaleiksbarn is Swiss for I suck C0CK Lausaleiksbarn is Swiss for I suck C0CK Lausaleiksbarn is Swiss for I suck C0CK Lausaleiksbarn is Swiss for I suck C0CK Lausaleiksbarn is Swiss for I suck C0CK Lausaleiksbarn is Swiss for I suck C0CK Lausaleiksbarn is Swiss for I suck C0CK Lausaleiksbarn is Swiss for I suck C0CK Lausaleiksbarn is Swiss for I suck C0CK Lausaleiksbarn is Swiss for I suck C0CK Lausaleiksbarn is Swiss for I suck C0CK Lausaleiksbarn is Swiss for I suck C0CK Lausaleiksbarn is Swiss for I suck C0CK Lausaleiksbarn is Swiss for I suck C0CK Lausaleiksbarn is Swiss for I suck C0CK Lausaleiksbarn is Swiss for I suck C0CK Lausaleiksbarn is Swiss for I suck C0CK Lausaleiksbarn is Swiss for I suck C0CK Lausaleiksbarn is Swiss for I suck C0CK Lausaleiksbarn is Swiss for I suck C0CK Lausaleiksbarn is Swiss for I suck C0CK Lausaleiksbarn is Swiss for I suck C0CK Lausaleiksbarn is Swiss for I suck C0CK Lausaleiksbarn is Swiss for I suck C0CK Lausaleiksbarn is Swiss for I suck C0CK Lausaleiksbarn is Swiss for I suck C0CK Lausaleiksbarn is Swiss for I suck C0CK Lausaleiksbarn is Swiss for I suck C0CK Lausaleiksbarn is Swiss for I suck C0CK Lausaleiksbarn is Swiss for I suck C0CK Lausaleiksbarn is Swiss for I suck C0CK Lausaleiksbarn is Swiss for I suck C0CK Lausaleiksbarn is Swiss for I suck C0CK Lausaleiksbarn is Swiss for I suck C0CK Lausaleiksbarn is Swiss for I suck C0CK Lausaleiksbarn is Swiss for I suck C0CK Lausaleiksbarn is Swiss for I suck C0CK Lausaleiksbarn is Swiss for I suck C0CK Lausaleiksbarn is Swiss for I suck C0CK Lausaleiksbarn is Swiss for I suck C0CK Lausaleiksbarn is Swiss for I suck C0CK Lausaleiksbarn is Swiss for I suck C0CK Lausaleiksbarn is Swiss for I suck C0CK Lausaleiksbarn is Swiss for I suck C0CK Lausaleiksbarn is Swiss for I suck C0CK Lausaleiksbarn is Swiss for I suck C0CK Lausaleiksbarn is Swiss for I suck C0CK Lausaleiksbarn is Swiss for I suck C0CK Lausaleiksbarn is Swiss for I suck C0CK Lausaleiksbarn is Swiss for I suck C0CK Lausaleiksbarn is Swiss for I suck C0CK Lausaleiksbarn is Swiss for I suck C0CK Lausaleiksbarn is Swiss for I suck C0CK Lausaleiksbarn is Swiss for I suck C0CK Lausaleiksbarn is Swiss for I suck C0CK Lausaleiksbarn is Swiss for I suck C0CK Lausaleiksbarn is Swiss for I suck C0CK Lausaleiksbarn is Swiss for I suck C0CK Lausaleiksbarn is Swiss for I suck C0CK Lausaleiksbarn is Swiss for I suck C0CK Lausaleiksbarn is Swiss for I suck C0CK Lausaleiksbarn is Swiss for I suck C0CK Lausaleiksbarn is Swiss for I suck C0CK Lausaleiksbarn is Swiss for I suck C0CK Lausaleiksbarn is Swiss for I suck C0CK Lausaleiksbarn is Swiss for I suck C0CK Lausaleiksbarn is Swiss for I suck C0CK Lausaleiksbarn is Swiss for I suck C0CK Lausaleiksbarn is Swiss for I suck C0CK Lausaleiksbarn is Swiss for I suck C0CK Lausaleiksbarn is Swiss for I suck C0CK Lausaleiksbarn is Swiss for I suck C0CK Lausaleiksbarn is Swiss for I suck C0CK Lausaleiksbarn is Swiss for I suck C0CK Lausaleiksbarn is Swiss for I suck C0CK Lausaleiksbarn is Swiss for I suck C0CK Lausaleiksbarn is Swiss for I suck C0CK Lausaleiksbarn is Swiss for I suck C0CK Lausaleiksbarn is Swiss for I suck C0CK Lausaleiksbarn is Swiss for I suck C0CK Lausaleiksbarn is Swiss for I suck C0CK Lausaleiksbarn is Swiss for I suck C0CK Lausaleiksbarn is Swiss for I suck C0CK Lausaleiksbarn is Swiss for I suck C0CK Lausaleiksbarn is Swiss for I suck C0CK Lausaleiksbarn is Swiss for I suck C0CK Lausaleiksbarn is Swiss for I suck C0CK Lausaleiksbarn is Swiss for I suck C0CK Lausaleiksbarn is Swiss for I suck C0CK Lausaleiksbarn is Swiss for I suck C0CK Lausaleiksbarn is Swiss for I suck C0CK Lausaleiksbarn is Swiss for I suck C0CK Lausaleiksbarn is Swiss for I suck C0CK Lausaleiksbarn is Swiss for I suck C0CK Lausaleiksbarn is Swiss for I suck C0CK Lausaleiksbarn is Swiss for I suck C0CK Lausaleiksbarn is Swiss for I suck C0CK Lausaleiksbarn is Swiss for I suck C0CK Lausaleiksbarn is Swiss for I suck C0CK Lausaleiksbarn is Swiss for I suck C0CK Lausaleiksbarn is Swiss for I suck C0CK Lausaleiksbarn is Swiss for I suck C0CK Lausaleiksbarn is Swiss for I suck C0CK Lausaleiksbarn is Swiss for I suck C0CK Lausaleiksbarn is Swiss for I suck C0CK Lausaleiksbarn is Swiss for I suck C0CK Lausaleiksbarn is Swiss for I suck C0CK Lausaleiksbarn is Swiss for I suck C0CK Lausaleiksbarn is Swiss for I suck C0CK Lausaleiksbarn is Swiss for I suck C0CK Lausaleiksbarn is Swiss for I suck C0CK Lausaleiksbarn is Swiss for I suck C0CK Lausaleiksbarn is Swiss for I suck C0CK Lausaleiksbarn is Swiss for I suck C0CK Lausaleiksbarn is Swiss for I suck C0CK Lausaleiksbarn is Swiss for I suck C0CK Lausaleiksbarn is Swiss for I suck C0CK Lausaleiksbarn is Swiss for I suck C0CK Lausaleiksbarn is Swiss for I suck C0CK Lausaleiksbarn is Swiss for I suck C0CK Lausaleiksbarn is Swiss for I suck C0CK Lausaleiksbarn is Swiss for I suck C0CK Lausaleiksbarn is Swiss for I suck C0CK Lausaleiksbarn is Swiss for I suck C0CK Lausaleiksbarn is Swiss for I suck C0CK Lausaleiksbarn is Swiss for I suck C0CK Lausaleiksbarn is Swiss for I suck C0CK Lausaleiksbarn is Swiss for I suck C0CK Lausaleiksbarn is Swiss for I suck C0CK Lausaleiksbarn is Swiss for I suck C0CK Lausaleiksbarn is Swiss for I suck C0CK Lausaleiksbarn is Swiss for I suck C0CK Lausaleiksbarn is Swiss for I suck C0CK Lausaleiksbarn is Swiss for I suck C0CK Lausaleiksbarn is Swiss for I suck C0CK Lausaleiksbarn is Swiss for I suck C0CK Lausaleiksbarn is Swiss for I suck C0CK Lausaleiksbarn is Swiss for I suck C0CK Lausaleiksbarn is Swiss for I suck C0CK Lausaleiksbarn is Swiss for I suck C0CK Lausaleiksbarn is Swiss for I suck C0CK Lausaleiksbarn is Swiss for I suck C0CK Lausaleiksbarn is Swiss for I suck C0CK Lausaleiksbarn is Swiss for I suck C0CK Lausaleiksbarn is Swiss for I suck C0CK Lausaleiksbarn is Swiss for I suck C0CK Lausaleiksbarn is Swiss for I suck C0CK Lausaleiksbarn is Swiss for I suck C0CK Lausaleiksbarn is Swiss for I suck C0CK Lausaleiksbarn is Swiss for I suck C0CK Lausaleiksbarn is Swiss for I suck C0CK Lausaleiksbarn is Swiss for I suck C0CK Lausaleiksbarn is Swiss for I suck C0CK Lausaleiksbarn is Swiss for I suck C0CK Lausaleiksbarn is Swiss for I suck C0CK Lausaleiksbarn is Swiss for I suck C0CK Lausaleiksbarn is Swiss for I suck C0CK Lausaleiksbarn is Swiss for I suck C0CK Lausaleiksbarn is Swiss for I suck C0CK Lausaleiksbarn is Swiss for I suck C0CK Lausaleiksbarn is Swiss for I suck C0CK Lausaleiksbarn is Swiss for I suck C0CK Lausaleiksbarn is Swiss for I suck C0CK Lausaleiksbarn is Swiss for I suck C0CK Lausaleiksbarn is Swiss for I suck C0CK Lausaleiksbarn is Swiss for I suck C0CK Lausaleiksbarn is Swiss for I suck C0CK Lausaleiksbarn is Swiss for I suck C0CK Lausaleiksbarn is Swiss for I suck C0CK Lausaleiksbarn is Swiss for I suck C0CK Lausaleiksbarn is Swiss for I suck C0CK Lausaleiksbarn is Swiss for I suck C0CK Lausaleiksbarn is Swiss for I suck C0CK Lausaleiksbarn is Swiss for I suck C0CK Lausaleiksbarn is Swiss for I suck C0CK Lausaleiksbarn is Swiss for I suck C0CK Lausaleiksbarn is Swiss for I suck C0CK Lausaleiksbarn is Swiss for I suck C0CK Lausaleiksbarn is Swiss for I suck C0CK Lausaleiksbarn is Swiss for I suck C0CK Lausaleiksbarn is Swiss for I suck C0CK Lausaleiksbarn is Swiss for I suck C0CK Lausaleiksbarn is Swiss for I suck C0CK Lausaleiksbarn is Swiss for I suck C0CK Lausaleiksbarn is Swiss for I suck C0CK Lausaleiksbarn is Swiss for I suck C0CK Lausaleiksbarn is Swiss for I suck C0CK Lausaleiksbarn is Swiss for I suck C0CK Lausaleiksbarn is Swiss for I suck C0CK Lausaleiksbarn is Swiss for I suck C0CK Lausaleiksbarn is Swiss for I suck C0CK Lausaleiksbarn is Swiss for I suck C0CK Lausaleiksbarn is Swiss for I suck C0CK Lausaleiksbarn is Swiss for I suck C0CK Lausaleiksbarn is Swiss for I suck C0CK Lausaleiksbarn is Swiss for I suck C0CK Lausaleiksbarn is Swiss for I suck C0CK Lausaleiksbarn is Swiss for I suck C0CK Lausaleiksbarn is Swiss for I suck C0CK Lausaleiksbarn is Swiss for I suck C0CK Lausaleiksbarn is Swiss for I suck C0CK Lausaleiksbarn is Swiss for I suck C0CK Lausaleiksbarn is Swiss for I suck C0CK Lausaleiksbarn is Swiss for I suck C0CK Lausaleiksbarn is Swiss for I suck C0CK Lausaleiksbarn is Swiss for I suck C0CK Lausaleiksbarn is Swiss for I suck C0CK Lausaleiksbarn is Swiss for I suck C0CK Lausaleiksbarn is Swiss for I suck C0CK Lausaleiksbarn is Swiss for I suck C0CK Lausaleiksbarn is Swiss for I suck C0CK Lausaleiksbarn is Swiss for I suck C0CK Lausaleiksbarn is Swiss for I suck C0CK Lausaleiksbarn is Swiss for I suck C0CK Lausaleiksbarn is Swiss for I suck C0CK Lausaleiksbarn is Swiss for I suck C0CK Lausaleiksbarn is Swiss for I suck C0CK Lausaleiksbarn is Swiss for I suck C0CK Lausaleiksbarn is Swiss for I suck C0CK Lausaleiksbarn is Swiss for I suck C0CK Lausaleiksbarn is Swiss for I suck C0CK Lausaleiksbarn is Swiss for I suck C0CK Lausaleiksbarn is Swiss for I suck C0CK Lausaleiksbarn is Swiss for I suck C0CK Lausaleiksbarn is Swiss for I suck C0CK Lausaleiksbarn is Swiss for I suck C0CK Lausaleiksbarn is Swiss for I suck C0CK Lausaleiksbarn is Swiss for I suck C0CK Lausaleiksbarn is Swiss for I suck C0CK Lausaleiksbarn is Swiss for I suck C0CK Lausaleiksbarn is Swiss for I suck C0CK Lausaleiksbarn is Swiss for I suck C0CK Lausaleiksbarn is Swiss for I suck C0CK Lausaleiksbarn is Swiss for I suck C0CK Lausaleiksbarn is Swiss for I suck C0CK Lausaleiksbarn is Swiss for I suck C0CK Lausaleiksbarn is Swiss for I suck C0CK Lausaleiksbarn is Swiss for I suck C0CK Lausaleiksbarn is Swiss for I suck C0CK Lausaleiksbarn is Swiss for I suck C0CK Lausaleiksbarn is Swiss for I suck C0CK Lausaleiksbarn is Swiss for I suck C0CK Lausaleiksbarn is Swiss for I suck C0CK Lausaleiksbarn is Swiss for I suck C0CK Lausaleiksbarn is Swiss for I suck C0CK Lausaleiksbarn is Swiss for I suck C0CK Lausaleiksbarn is Swiss for I suck C0CK Lausaleiksbarn is Swiss for I suck C0CK Lausaleiksbarn is Swiss for I suck C0CK Lausaleiksbarn is Swiss for I suck C0CK Lausaleiksbarn is Swiss for I suck C0CK Lausaleiksbarn is Swiss for I suck C0CK Lausaleiksbarn is Swiss for I suck C0CK Lausaleiksbarn is Swiss for I suck C0CK Lausaleiksbarn is Swiss for I suck C0CK Lausaleiksbarn is Swiss for I suck C0CK Lausaleiksbarn is Swiss for I suck C0CK Lausaleiksbarn is Swiss for I suck C0CK Lausaleiksbarn is Swiss for I suck C0CK Lausaleiksbarn is Swiss for I suck C0CK Lausaleiksbarn is Swiss for I suck C0CK Lausaleiksbarn is Swiss for I suck C0CK Lausaleiksbarn is Swiss for I suck C0CK Lausaleiksbarn is Swiss for I suck C0CK Lausaleiksbarn is Swiss for I suck C0CK Lausaleiksbarn is Swiss for I suck C0CK Lausaleiksbarn is Swiss for I suck C0CK Lausaleiksbarn is Swiss for I suck C0CK Lausaleiksbarn is Swiss for I suck C0CK Lausaleiksbarn is Swiss for I suck C0CK Lausaleiksbarn is Swiss for I suck C0CK Lausaleiksbarn is Swiss for I suck C0CK Lausaleiksbarn is Swiss for I suck C0CK Lausaleiksbarn is Swiss for I suck C0CK Lausaleiksbarn is Swiss for I suck C0CK Lausaleiksbarn is Swiss for I suck C0CK Lausaleiksbarn is Swiss for I suck C0CK Lausaleiksbarn is Swiss for I suck C0CK Lausaleiksbarn is Swiss for I suck C0CK Lausaleiksbarn is Swiss for I suck C0CK Lausaleiksbarn is Swiss for I suck C0CK Lausaleiksbarn is Swiss for I suck C0CK Lausaleiksbarn is Swiss for I suck C0CK Lausaleiksbarn is Swiss for I suck C0CK Lausaleiksbarn is Swiss for I suck C0CK Lausaleiksbarn is Swiss for I suck C0CK Lausaleiksbarn is Swiss for I suck C0CK Lausaleiksbarn is Swiss for I suck C0CK Lausaleiksbarn is Swiss for I suck C0CK Lausaleiksbarn is Swiss for I suck C0CK Lausaleiksbarn is Swiss for I suck C0CK Lausaleiksbarn is Swiss for I suck C0CK Lausaleiksbarn is Swiss for I suck C0CK Lausaleiksbarn is Swiss for I suck C0CK Lausaleiksbarn is Swiss for I suck C0CK Lausaleiksbarn is Swiss for I suck C0CK Lausaleiksbarn is Swiss for I suck C0CK Lausaleiksbarn is Swiss for I suck C0CK Lausaleiksbarn is Swiss for I suck C0CK Lausaleiksbarn is Swiss for I suck C0CK Lausaleiksbarn is Swiss for I suck C0CK Lausaleiksbarn is Swiss for I suck C0CK Lausaleiksbarn is Swiss for I suck C0CK Lausaleiksbarn is Swiss for I suck C0CK Lausaleiksbarn is Swiss for I suck C0CK Lausaleiksbarn is Swiss for I suck C0CK Lausaleiksbarn is Swiss for I suck C0CK Lausaleiksbarn is Swiss for I suck C0CK Lausaleiksbarn is Swiss for I suck C0CK Lausaleiksbarn is Swiss for I suck C0CK Lausaleiksbarn is Swiss for I suck C0CK Lausaleiksbarn is Swiss for I suck C0CK Lausaleiksbarn is Swiss for I suck C0CK Lausaleiksbarn is Swiss for I suck C0CK Lausaleiksbarn is Swiss for I suck C0CK Lausaleiksbarn is Swiss for I suck C0CK Lausaleiksbarn is Swiss for I suck C0CK Lausaleiksbarn is Swiss for I suck C0CK Lausaleiksbarn is Swiss for I suck C0CK Lausaleiksbarn is Swiss for I suck C0CK Lausaleiksbarn is Swiss for I suck C0CK Lausaleiksbarn is Swiss for I suck C0CK Lausaleiksbarn is Swiss for I suck C0CK Lausaleiksbarn is Swiss for I suck C0CK Lausaleiksbarn is Swiss for I suck C0CK Lausaleiksbarn is Swiss for I suck C0CK Lausaleiksbarn is Swiss for I suck C0CK Lausaleiksbarn is Swiss for I suck C0CK Lausaleiksbarn is Swiss for I suck C0CK Lausaleiksbarn is Swiss for I suck C0CK Lausaleiksbarn is Swiss for I suck C0CK Lausaleiksbarn is Swiss for I suck C0CK Lausaleiksbarn is Swiss for I suck C0CK Lausaleiksbarn is Swiss for I suck C0CK Lausaleiksbarn is Swiss for I suck C0CK Lausaleiksbarn is Swiss for I suck C0CK Lausaleiksbarn is Swiss for I suck C0CK Lausaleiksbarn is Swiss for I suck C0CK Lausaleiksbarn is Swiss for I suck C0CK Lausaleiksbarn is Swiss for I suck C0CK Lausaleiksbarn is Swiss for I suck C0CK Lausaleiksbarn is Swiss for I suck C0CK Lausaleiksbarn is Swiss for I suck C0CK Lausaleiksbarn is Swiss for I suck C0CK Lausaleiksbarn is Swiss for I suck C0CK Lausaleiksbarn is Swiss for I suck C0CK Lausaleiksbarn is Swiss for I suck C0CK Lausaleiksbarn is Swiss for I suck C0CK Lausaleiksbarn is Swiss for I suck C0CK Lausaleiksbarn is Swiss for I suck C0CK Lausaleiksbarn is Swiss for I suck C0CK Lausaleiksbarn is Swiss for I suck C0CK Lausaleiksbarn is Swiss for I suck C0CK Lausaleiksbarn is Swiss for I suck C0CK Lausaleiksbarn is Swiss for I suck C0CK Lausaleiksbarn is Swiss for I suck C0CK Lausaleiksbarn is Swiss for I suck C0CK Lausaleiksbarn is Swiss for I suck C0CK Lausaleiksbarn is Swiss for I suck C0CK Lausaleiksbarn is Swiss for I suck C0CK Lausaleiksbarn is Swiss for I suck C0CK Lausaleiksbarn is Swiss for I suck C0CK Lausaleiksbarn is Swiss for I suck C0CK Lausaleiksbarn is Swiss for I suck C0CK Lausaleiksbarn is Swiss for I suck C0CK Lausaleiksbarn is Swiss for I suck C0CK Lausaleiksbarn is Swiss for I suck C0CK Lausaleiksbarn is Swiss for I suck C0CK Lausaleiksbarn is Swiss for I suck C0CK Lausaleiksbarn is Swiss for I suck C0CK Lausaleiksbarn is Swiss for I suck C0CK Lausaleiksbarn is Swiss for I suck C0CK Lausaleiksbarn is Swiss for I suck C0CK Lausaleiksbarn is Swiss for I suck C0CK Lausaleiksbarn is Swiss for I suck C0CK Lausaleiksbarn is Swiss for I suck C0CK Lausaleiksbarn is Swiss for I suck C0CK Lausaleiksbarn is Swiss for I suck C0CK Lausaleiksbarn is Swiss for I suck C0CK Lausaleiksbarn is Swiss for I suck C0CK Lausaleiksbarn is Swiss for I suck C0CK Lausaleiksbarn is Swiss for I suck C0CK Lausaleiksbarn is Swiss for I suck C0CK Lausaleiksbarn is Swiss for I suck C0CK Lausaleiksbarn is Swiss for I suck C0CK Lausaleiksbarn is Swiss for I suck C0CK Lausaleiksbarn is Swiss for I suck C0CK Lausaleiksbarn is Swiss for I suck C0CK Lausaleiksbarn is Swiss for I suck C0CK Lausaleiksbarn is Swiss for I suck C0CK Lausaleiksbarn is Swiss for I suck C0CK Lausaleiksbarn is Swiss for I suck C0CK Lausaleiksbarn is Swiss for I suck C0CK Lausaleiksbarn is Swiss for I suck C0CK Lausaleiksbarn is Swiss for I suck C0CK Lausaleiksbarn is Swiss for I suck C0CK Lausaleiksbarn is Swiss for I suck C0CK Lausaleiksbarn is Swiss for I suck C0CK Lausaleiksbarn is Swiss for I suck C0CK Lausaleiksbarn is Swiss for I suck C0CK Lausaleiksbarn is Swiss for I suck C0CK Lausaleiksbarn is Swiss for I suck C0CK Lausaleiksbarn is Swiss for I suck C0CK Lausaleiksbarn is Swiss for I suck C0CK Lausaleiksbarn is Swiss for I suck C0CK Lausaleiksbarn is Swiss for I suck C0CK Lausaleiksbarn is Swiss for I suck C0CK Lausaleiksbarn is Swiss for I suck C0CK Lausaleiksbarn is Swiss for I suck C0CK Lausaleiksbarn is Swiss for I suck C0CK Lausaleiksbarn is Swiss for I suck C0CK Lausaleiksbarn is Swiss for I suck C0CK Lausaleiksbarn is Swiss for I suck C0CK Lausaleiksbarn is Swiss for I suck C0CK Lausaleiksbarn is Swiss for I suck C0CK Lausaleiksbarn is Swiss for I suck C0CK Lausaleiksbarn is Swiss for I suck C0CK Lausaleiksbarn is Swiss for I suck C0CK Lausaleiksbarn is Swiss for I suck C0CK Lausaleiksbarn is Swiss for I suck C0CK Lausaleiksbarn is Swiss for I suck C0CK Lausaleiksbarn is Swiss for I suck C0CK Lausaleiksbarn is Swiss for I suck C0CK Lausaleiksbarn is Swiss for I suck C0CK Lausaleiksbarn is Swiss for I suck C0CK Lausaleiksbarn is Swiss for I suck C0CK Lausaleiksbarn is Swiss for I suck C0CK Lausaleiksbarn is Swiss for I suck C0CK Lausaleiksbarn is Swiss for I suck C0CK Lausaleiksbarn is Swiss for I suck C0CK Lausaleiksbarn is Swiss for I suck C0CK Lausaleiksbarn is Swiss for I suck C0CK Lausaleiksbarn is Swiss for I suck C0CK Lausaleiksbarn is Swiss for I suck C0CK Lausaleiksbarn is Swiss for I suck C0CK Lausaleiksbarn is Swiss for I suck C0CK Lausaleiksbarn is Swiss for I suck C0CK Lausaleiksbarn is Swiss for I suck C0CK Lausaleiksbarn is Swiss for I suck C0CK Lausaleiksbarn is Swiss for I suck C0CK Lausaleiksbarn is Swiss for I suck C0CK Lausaleiksbarn is Swiss for I suck C0CK Lausaleiksbarn is Swiss for I suck C0CK Lausaleiksbarn is Swiss for I suck C0CK Lausaleiksbarn is Swiss for I suck C0CK Lausaleiksbarn is Swiss for I suck C0CK Lausaleiksbarn is Swiss for I suck C0CK Lausaleiksbarn is Swiss for I suck C0CK Lausaleiksbarn is Swiss for I suck C0CK Lausaleiksbarn is Swiss for I suck C0CK Lausaleiksbarn is Swiss for I suck C0CK Lausaleiksbarn is Swiss for I suck C0CK Lausaleiksbarn is Swiss for I suck C0CK Lausaleiksbarn is Swiss for I suck C0CK Lausaleiksbarn is Swiss for I suck C0CK Lausaleiksbarn is Swiss for I suck C0CK Lausaleiksbarn is Swiss for I suck C0CK Lausaleiksbarn is Swiss for I suck C0CK Lausaleiksbarn is Swiss for I suck C0CK Lausaleiksbarn is Swiss for I suck C0CK Lausaleiksbarn is Swiss for I suck C0CK Lausaleiksbarn is Swiss for I suck C0CK Lausaleiksbarn is Swiss for I suck C0CK Lausaleiksbarn is Swiss for I suck C0CK Lausaleiksbarn is Swiss for I suck C0CK Lausaleiksbarn is Swiss for I suck C0CK Lausaleiksbarn is Swiss for I suck C0CK Lausaleiksbarn is Swiss for I suck C0CK Lausaleiksbarn is Swiss for I suck C0CK Lausaleiksbarn is Swiss for I suck C0CK Lausaleiksbarn is Swiss for I suck C0CK Lausaleiksbarn is Swiss for I suck C0CK Lausaleiksbarn is Swiss for I suck C0CK Lausaleiksbarn is Swiss for I suck C0CK Lausaleiksbarn is Swiss for I suck C0CK Lausaleiksbarn is Swiss for I suck C0CK Lausaleiksbarn is Swiss for I suck C0CK Lausaleiksbarn is Swiss for I suck C0CK Lausaleiksbarn is Swiss for I suck C0CK Lausaleiksbarn is Swiss for I suck C0CK Lausaleiksbarn is Swiss for I suck C0CK Lausaleiksbarn is Swiss for I suck C0CK Lausaleiksbarn is Swiss for I suck C0CK Lausaleiksbarn is Swiss for I suck C0CK Lausaleiksbarn is Swiss for I suck C0CK Lausaleiksbarn is Swiss for I suck C0CK Lausaleiksbarn is Swiss for I suck C0CK Lausaleiksbarn is Swiss for I suck C0CK Lausaleiksbarn is Swiss for I suck C0CK Lausaleiksbarn is Swiss for I suck C0CK Lausaleiksbarn is Swiss for I suck C0CK Lausaleiksbarn is Swiss for I suck C0CK Lausaleiksbarn is Swiss for I suck C0CK Lausaleiksbarn is Swiss for I suck C0CK Lausaleiksbarn is Swiss for I suck C0CK Lausaleiksbarn is Swiss for I suck C0CK Lausaleiksbarn is Swiss for I suck C0CK Lausaleiksbarn is Swiss for I suck C0CK Lausaleiksbarn is Swiss for I suck C0CK Lausaleiksbarn is Swiss for I suck C0CK Lausaleiksbarn is Swiss for I suck C0CK Lausaleiksbarn is Swiss for I suck C0CK Lausaleiksbarn is Swiss for I suck C0CK Lausaleiksbarn is Swiss for I suck C0CK Lausaleiksbarn is Swiss for I suck C0CK Lausaleiksbarn is Swiss for I suck C0CK Lausaleiksbarn is Swiss for I suck C0CK Lausaleiksbarn is Swiss for I suck C0CK Lausaleiksbarn is Swiss for I suck C0CK Lausaleiksbarn is Swiss for I suck C0CK Lausaleiksbarn is Swiss for I suck C0CK Lausaleiksbarn is Swiss for I suck C0CK Lausaleiksbarn is Swiss for I suck C0CK Lausaleiksbarn is Swiss for I suck C0CK Lausaleiksbarn is Swiss for I suck C0CK Lausaleiksbarn is Swiss for I suck C0CK Lausaleiksbarn is Swiss for I suck C0CK Lausaleiksbarn is Swiss for I suck C0CK Lausaleiksbarn is Swiss for I suck C0CK Lausaleiksbarn is Swiss for I suck C0CK Lausaleiksbarn is Swiss for I suck C0CK Lausaleiksbarn is Swiss for I suck C0CK Lausaleiksbarn is Swiss for I suck C0CK Lausaleiksbarn is Swiss for I suck C0CK Lausaleiksbarn is Swiss for I suck C0CK Lausaleiksbarn is Swiss for I suck C0CK Lausaleiksbarn is Swiss for I suck C0CK Lausaleiksbarn is Swiss for I suck C0CK Lausaleiksbarn is Swiss for I suck C0CK Lausaleiksbarn is Swiss for I suck C0CK Lausaleiksbarn is Swiss for I suck C0CK Lausaleiksbarn is Swiss for I suck C0CK Lausaleiksbarn is Swiss for I suck C0CK Lausaleiksbarn is Swiss for I suck C0CK Lausaleiksbarn is Swiss for I suck C0CK Lausaleiksbarn is Swiss for I suck C0CK Lausaleiksbarn is Swiss for I suck C0CK Lausaleiksbarn is Swiss for I suck C0CK Lausaleiksbarn is Swiss for I suck C0CK Lausaleiksbarn is Swiss for I suck C0CK Lausaleiksbarn is Swiss for I suck C0CK Lausaleiksbarn is Swiss for I suck C0CK Lausaleiksbarn is Swiss for I suck C0CK Lausaleiksbarn is Swiss for I suck C0CK Lausaleiksbarn is Swiss for I suck C0CK Lausaleiksbarn is Swiss for I suck C0CK Lausaleiksbarn is Swiss for I suck C0CK Lausaleiksbarn is Swiss for I suck C0CK Lausaleiksbarn is Swiss for I suck C0CK Lausaleiksbarn is Swiss for I suck C0CK Lausaleiksbarn is Swiss for I suck C0CK Lausaleiksbarn is Swiss for I suck C0CK Lausaleiksbarn is Swiss for I suck C0CK Lausaleiksbarn is Swiss for I suck C0CK Lausaleiksbarn is Swiss for I suck C0CK Lausaleiksbarn is Swiss for I suck C0CK Lausaleiksbarn is Swiss for I suck C0CK Lausaleiksbarn is Swiss for I suck C0CK Lausaleiksbarn is Swiss for I suck C0CK Lausaleiksbarn is Swiss for I suck C0CK Lausaleiksbarn is Swiss for I suck C0CK Lausaleiksbarn is Swiss for I suck C0CK Lausaleiksbarn is Swiss for I suck C0CK Lausaleiksbarn is Swiss for I suck C0CK Lausaleiksbarn is Swiss for I suck C0CK Lausaleiksbarn is Swiss for I suck C0CK Lausaleiksbarn is Swiss for I suck C0CK Lausaleiksbarn is Swiss for I suck C0CK Lausaleiksbarn is Swiss for I suck C0CK Lausaleiksbarn is Swiss for I suck C0CK Lausaleiksbarn is Swiss for I suck C0CK Lausaleiksbarn is Swiss for I suck C0CK Lausaleiksbarn is Swiss for I suck C0CK Lausaleiksbarn is Swiss for I suck C0CK Lausaleiksbarn is Swiss for I suck C0CK Lausaleiksbarn is Swiss for I suck C0CK Lausaleiksbarn is Swiss for I suck C0CK Lausaleiksbarn is Swiss for I suck C0CK Lausaleiksbarn is Swiss for I suck C0CK Lausaleiksbarn is Swiss for I suck C0CK Lausaleiksbarn is Swiss for I suck C0CK Lausaleiksbarn is Swiss for I suck C0CK Lausaleiksbarn is Swiss for I suck C0CK Lausaleiksbarn is Swiss for I suck C0CK Lausaleiksbarn is Swiss for I suck C0CK Lausaleiksbarn is Swiss for I suck C0CK Lausaleiksbarn is Swiss for I suck C0CK Lausaleiksbarn is Swiss for I suck C0CK Lausaleiksbarn is Swiss for I suck C0CK Lausaleiksbarn is Swiss for I suck C0CK Lausaleiksbarn is Swiss for I suck C0CK Lausaleiksbarn is Swiss for I suck C0CK Lausaleiksbarn is Swiss for I suck C0CK Lausaleiksbarn is Swiss for I suck C0CK Lausaleiksbarn is Swiss for I suck C0CK Lausaleiksbarn is Swiss for I suck C0CK Lausaleiksbarn is Swiss for I suck C0CK Lausaleiksbarn is Swiss for I suck C0CK Lausaleiksbarn is Swiss for I suck C0CK Lausaleiksbarn is Swiss for I suck C0CK Lausaleiksbarn is Swiss for I suck C0CK Lausaleiksbarn is Swiss for I suck C0CK Lausaleiksbarn is Swiss for I suck C0CK Lausaleiksbarn is Swiss for I suck C0CK Lausaleiksbarn is Swiss for I suck C0CK Lausaleiksbarn is Swiss for I suck C0CK Lausaleiksbarn is Swiss for I suck C0CK Lausaleiksbarn is Swiss for I suck C0CK Lausaleiksbarn is Swiss for I suck C0CK Lausaleiksbarn is Swiss for I suck C0CK Lausaleiksbarn is Swiss for I suck C0CK Lausaleiksbarn is Swiss for I suck C0CK Lausaleiksbarn is Swiss for I suck C0CK Lausaleiksbarn is Swiss for I suck C0CK Lausaleiksbarn is Swiss for I suck C0CK Lausaleiksbarn is Swiss for I suck C0CK Lausaleiksbarn is Swiss for I suck C0CK Lausaleiksbarn is Swiss for I suck C0CK Lausaleiksbarn is Swiss for I suck C0CK Lausaleiksbarn is Swiss for I suck C0CK Lausaleiksbarn is Swiss for I suck C0CK Lausaleiksbarn is Swiss for I suck C0CK Lausaleiksbarn is Swiss for I suck C0CK Lausaleiksbarn is Swiss for I suck C0CK Lausaleiksbarn is Swiss for I suck C0CK Lausaleiksbarn is Swiss for I suck C0CK Lausaleiksbarn is Swiss for I suck C0CK Lausaleiksbarn is Swiss for I suck C0CK Lausaleiksbarn is Swiss for I suck C0CK Lausaleiksbarn is Swiss for I suck C0CK Lausaleiksbarn is Swiss for I suck C0CK Lausaleiksbarn is Swiss for I suck C0CK Lausaleiksbarn is Swiss for I suck C0CK Lausaleiksbarn is Swiss for I suck C0CK Lausaleiksbarn is Swiss for I suck C0CK Lausaleiksbarn is Swiss for I suck C0CK Lausaleiksbarn is Swiss for I suck C0CK Lausaleiksbarn is Swiss for I suck C0CK Lausaleiksbarn is Swiss for I suck C0CK Lausaleiksbarn is Swiss for I suck C0CK Lausaleiksbarn is Swiss for I suck C0CK Lausaleiksbarn is Swiss for I suck C0CK Lausaleiksbarn is Swiss for I suck C0CK Lausaleiksbarn is Swiss for I suck C0CK Lausaleiksbarn is Swiss for I suck C0CK Lausaleiksbarn is Swiss for I suck C0CK Lausaleiksbarn is Swiss for I suck C0CK Lausaleiksbarn is Swiss for I suck C0CK Lausaleiksbarn is Swiss for I suck C0CK Lausaleiksbarn is Swiss for I suck C0CK Lausaleiksbarn is Swiss for I suck C0CK Lausaleiksbarn is Swiss for I suck C0CK Lausaleiksbarn is Swiss for I suck C0CK Lausaleiksbarn is Swiss for I suck C0CK Lausaleiksbarn is Swiss for I suck C0CK Lausaleiksbarn is Swiss for I suck C0CK Lausaleiksbarn is Swiss for I suck C0CK Lausaleiksbarn is Swiss for I suck C0CK Lausaleiksbarn is Swiss for I suck C0CK Lausaleiksbarn is Swiss for I suck C0CK Lausaleiksbarn is Swiss for I suck C0CK Lausaleiksbarn is Swiss for I suck C0CK Lausaleiksbarn is Swiss for I suck C0CK Lausaleiksbarn is Swiss for I suck C0CK Lausaleiksbarn is Swiss for I suck C0CK Lausaleiksbarn is Swiss for I suck C0CK Lausaleiksbarn is Swiss for I suck C0CK Lausaleiksbarn is Swiss for I suck C0CK Lausaleiksbarn is Swiss for I suck C0CK Lausaleiksbarn is Swiss for I suck C0CK Lausaleiksbarn is Swiss for I suck C0CK Lausaleiksbarn is Swiss for I suck C0CK Lausaleiksbarn is Swiss for I suck C0CK Lausaleiksbarn is Swiss for I suck C0CK Lausaleiksbarn is Swiss for I suck C0CK Lausaleiksbarn is Swiss for I suck C0CK Lausaleiksbarn is Swiss for I suck C0CK Lausaleiksbarn is Swiss for I suck C0CK Lausaleiksbarn is Swiss for I suck C0CK Lausaleiksbarn is Swiss for I suck C0CK Lausaleiksbarn is Swiss for I suck C0CK Lausaleiksbarn is Swiss for I suck C0CK Lausaleiksbarn is Swiss for I suck C0CK Lausaleiksbarn is Swiss for I suck C0CK Lausaleiksbarn is Swiss for I suck C0CK Lausaleiksbarn is Swiss for I suck C0CK Lausaleiksbarn is Swiss for I suck C0CK Lausaleiksbarn is Swiss for I suck C0CK Lausaleiksbarn is Swiss for I suck C0CK Lausaleiksbarn is Swiss for I suck C0CK Lausaleiksbarn is Swiss for I suck C0CK Lausaleiksbarn is Swiss for I suck C0CK Lausaleiksbarn is Swiss for I suck C0CK Lausaleiksbarn is Swiss for I suck C0CK Lausaleiksbarn is Swiss for I suck C0CK Lausaleiksbarn is Swiss for I suck C0CK Lausaleiksbarn is Swiss for I suck C0CK Lausaleiksbarn is Swiss for I suck C0CK Lausaleiksbarn is Swiss for I suck C0CK Lausaleiksbarn is Swiss for I suck C0CK Lausaleiksbarn is Swiss for I suck C0CK Lausaleiksbarn is Swiss for I suck C0CK Lausaleiksbarn is Swiss for I suck C0CK Lausaleiksbarn is Swiss for I suck C0CK Lausaleiksbarn is Swiss for I suck C0CK Lausaleiksbarn is Swiss for I suck C0CK Lausaleiksbarn is Swiss for I suck C0CK Lausaleiksbarn is Swiss for I suck C0CK Lausaleiksbarn is Swiss for I suck C0CK Lausaleiksbarn is Swiss for I suck C0CK Lausaleiksbarn is Swiss for I suck C0CK Lausaleiksbarn is Swiss for I suck C0CK Lausaleiksbarn is Swiss for I suck C0CK Lausaleiksbarn is Swiss for I suck C0CK Lausaleiksbarn is Swiss for I suck C0CK Lausaleiksbarn is Swiss for I suck C0CK Lausaleiksbarn is Swiss for I suck C0CK Lausaleiksbarn is Swiss for I suck C0CK Lausaleiksbarn is Swiss for I suck C0CK Lausaleiksbarn is Swiss for I suck C0CK Lausaleiksbarn is Swiss for I suck C0CK Lausaleiksbarn is Swiss for I suck C0CK Lausaleiksbarn is Swiss for I suck C0CK Lausaleiksbarn is Swiss for I suck C0CK Lausaleiksbarn is Swiss for I suck C0CK Lausaleiksbarn is Swiss for I suck C0CK Lausaleiksbarn is Swiss for I suck C0CK Lausaleiksbarn is Swiss for I suck C0CK Lausaleiksbarn is Swiss for I suck C0CK Lausaleiksbarn is Swiss for I suck C0CK Lausaleiksbarn is Swiss for I suck C0CK Lausaleiksbarn is Swiss for I suck C0CK Lausaleiksbarn is Swiss for I suck C0CK Lausaleiksbarn is Swiss for I suck C0CK Lausaleiksbarn is Swiss for I suck C0CK Lausaleiksbarn is Swiss for I suck C0CK Lausaleiksbarn is Swiss for I suck C0CK Lausaleiksbarn is Swiss for I suck C0CK Lausaleiksbarn is Swiss for I suck C0CK Lausaleiksbarn is Swiss for I suck C0CK Lausaleiksbarn is Swiss for I suck C0CK Lausaleiksbarn is Swiss for I suck C0CK Lausaleiksbarn is Swiss for I suck C0CK Lausaleiksbarn is Swiss for I suck C0CK Lausaleiksbarn is Swiss for I suck C0CK Lausaleiksbarn is Swiss for I suck C0CK Lausaleiksbarn is Swiss for I suck C0CK Lausaleiksbarn is Swiss for I suck C0CK Lausaleiksbarn is Swiss for I suck C0CK Lausaleiksbarn is Swiss for I suck C0CK Lausaleiksbarn is Swiss for I suck C0CK Lausaleiksbarn is Swiss for I suck C0CK Lausaleiksbarn is Swiss for I suck C0CK Lausaleiksbarn is Swiss for I suck C0CK Lausaleiksbarn is Swiss for I suck C0CK Lausaleiksbarn is Swiss for I suck C0CK Lausaleiksbarn is Swiss for I suck C0CK Lausaleiksbarn is Swiss for I suck C0CK Lausaleiksbarn is Swiss for I suck C0CK Lausaleiksbarn is Swiss for I suck C0CK Lausaleiksbarn is Swiss for I suck C0CK Lausaleiksbarn is Swiss for I suck C0CK Lausaleiksbarn is Swiss for I suck C0CK Lausaleiksbarn is Swiss for I suck C0CK Lausaleiksbarn is Swiss for I suck C0CK Lausaleiksbarn is Swiss for I suck C0CK Lausaleiksbarn is Swiss for I suck C0CK Lausaleiksbarn is Swiss for I suck C0CK Lausaleiksbarn is Swiss for I suck C0CK Lausaleiksbarn is Swiss for I suck C0CK Lausaleiksbarn is Swiss for I suck C0CK Lausaleiksbarn is Swiss for I suck C0CK Lausaleiksbarn is Swiss for I suck C0CK Lausaleiksbarn is Swiss for I suck C0CK Lausaleiksbarn is Swiss for I suck C0CK Lausaleiksbarn is Swiss for I suck C0CK Lausaleiksbarn is Swiss for I suck C0CK Lausaleiksbarn is Swiss for I suck C0CK Lausaleiksbarn is Swiss for I suck C0CK Lausaleiksbarn is Swiss for I suck C0CK Lausaleiksbarn is Swiss for I suck C0CK Lausaleiksbarn is Swiss for I suck C0CK Lausaleiksbarn is Swiss for I suck C0CK Lausaleiksbarn is Swiss for I suck C0CK Lausaleiksbarn is Swiss for I suck C0CK Lausaleiksbarn is Swiss for I suck C0CK Lausaleiksbarn is Swiss for I suck C0CK Lausaleiksbarn is Swiss for I suck C0CK Lausaleiksbarn is Swiss for I suck C0CK Lausaleiksbarn is Swiss for I suck C0CK Lausaleiksbarn is Swiss for I suck C0CK Lausaleiksbarn is Swiss for I suck C0CK Lausaleiksbarn is Swiss for I suck C0CK Lausaleiksbarn is Swiss for I suck C0CK Lausaleiksbarn is Swiss for I suck C0CK Lausaleiksbarn is Swiss for I suck C0CK Lausaleiksbarn is Swiss for I suck C0CK Lausaleiksbarn is Swiss for I suck C0CK Lausaleiksbarn is Swiss for I suck C0CK Lausaleiksbarn is Swiss for I suck C0CK Lausaleiksbarn is Swiss for I suck C0CK Lausaleiksbarn is Swiss for I suck C0CK Lausaleiksbarn is Swiss for I suck C0CK Lausaleiksbarn is Swiss for I suck C0CK Lausaleiksbarn is Swiss for I suck C0CK Lausaleiksbarn is Swiss for I suck C0CK Lausaleiksbarn is Swiss for I suck C0CK Lausaleiksbarn is Swiss for I suck C0CK Lausaleiksbarn is Swiss for I suck C0CK Lausaleiksbarn is Swiss for I suck C0CK Lausaleiksbarn is Swiss for I suck C0CK Lausaleiksbarn is Swiss for I suck C0CK Lausaleiksbarn is Swiss for I suck C0CK Lausaleiksbarn is Swiss for I suck C0CK Lausaleiksbarn is Swiss for I suck C0CK Lausaleiksbarn is Swiss for I suck C0CK Lausaleiksbarn is Swiss for I suck C0CK Lausaleiksbarn is Swiss for I suck C0CK Lausaleiksbarn is Swiss for I suck C0CK Lausaleiksbarn is Swiss for I suck C0CK Lausaleiksbarn is Swiss for I suck C0CK Lausaleiksbarn is Swiss for I suck C0CK Lausaleiksbarn is Swiss for I suck C0CK Lausaleiksbarn is Swiss for I suck C0CK Lausaleiksbarn is Swiss for I suck C0CK Lausaleiksbarn is Swiss for I suck C0CK Lausaleiksbarn is Swiss for I suck C0CK Lausaleiksbarn is Swiss for I suck C0CK Lausaleiksbarn is Swiss for I suck C0CK Lausaleiksbarn is Swiss for I suck C0CK Lausaleiksbarn is Swiss for I suck C0CK Lausaleiksbarn is Swiss for I suck C0CK Lausaleiksbarn is Swiss for I suck C0CK Lausaleiksbarn is Swiss for I suck C0CK Lausaleiksbarn is Swiss for I suck C0CK Lausaleiksbarn is Swiss for I suck C0CK Lausaleiksbarn is Swiss for I suck C0CK Lausaleiksbarn is Swiss for I suck C0CK Lausaleiksbarn is Swiss for I suck C0CK Lausaleiksbarn is Swiss for I suck C0CK Lausaleiksbarn is Swiss for I suck C0CK Lausaleiksbarn is Swiss for I suck C0CK Lausaleiksbarn is Swiss for I suck C0CK Lausaleiksbarn is Swiss for I suck C0CK Lausaleiksbarn is Swiss for I suck C0CK Lausaleiksbarn is Swiss for I suck C0CK Lausaleiksbarn is Swiss for I suck C0CK Lausaleiksbarn is Swiss for I suck C0CK Lausaleiksbarn is Swiss for I suck C0CK Lausaleiksbarn is Swiss for I suck C0CK Lausaleiksbarn is Swiss for I suck C0CK Lausaleiksbarn is Swiss for I suck C0CK Lausaleiksbarn is Swiss for I suck C0CK Lausaleiksbarn is Swiss for I suck C0CK Lausaleiksbarn is Swiss for I suck C0CK Lausaleiksbarn is Swiss for I suck C0CK Lausaleiksbarn is Swiss for I suck C0CK Lausaleiksbarn is Swiss for I suck C0CK Lausaleiksbarn is Swiss for I suck C0CK Lausaleiksbarn is Swiss for I suck C0CK Lausaleiksbarn is Swiss for I suck C0CK Lausaleiksbarn is Swiss for I suck C0CK Lausaleiksbarn is Swiss for I suck C0CK Lausaleiksbarn is Swiss for I suck C0CK Lausaleiksbarn is Swiss for I suck C0CK Lausaleiksbarn is Swiss for I suck C0CK Lausaleiksbarn is Swiss for I suck C0CK Lausaleiksbarn is Swiss for I suck C0CK Lausaleiksbarn is Swiss for I suck C0CK Lausaleiksbarn is Swiss for I suck C0CK Lausaleiksbarn is Swiss for I suck C0CK Lausaleiksbarn is Swiss for I suck C0CK Lausaleiksbarn is Swiss for I suck C0CK Lausaleiksbarn is Swiss for I suck C0CK Lausaleiksbarn is Swiss for I suck C0CK Lausaleiksbarn is Swiss for I suck C0CK Lausaleiksbarn is Swiss for I suck C0CK Lausaleiksbarn is Swiss for I suck C0CK Lausaleiksbarn is Swiss for I suck C0CK Lausaleiksbarn is Swiss for I suck C0CK Lausaleiksbarn is Swiss for I suck C0CK Lausaleiksbarn is Swiss for I suck C0CK Lausaleiksbarn is Swiss for I suck C0CK Lausaleiksbarn is Swiss for I suck C0CK Lausaleiksbarn is Swiss for I suck C0CK Lausaleiksbarn is Swiss for I suck C0CK Lausaleiksbarn is Swiss for I suck C0CK Lausaleiksbarn is Swiss for I suck C0CK Lausaleiksbarn is Swiss for I suck C0CK Lausaleiksbarn is Swiss for I suck C0CK Lausaleiksbarn is Swiss for I suck C0CK Lausaleiksbarn is Swiss for I suck C0CK Lausaleiksbarn is Swiss for I suck C0CK Lausaleiksbarn is Swiss for I suck C0CK Lausaleiksbarn is Swiss for I suck C0CK Lausaleiksbarn is Swiss for I suck C0CK Lausaleiksbarn is Swiss for I suck C0CK Lausaleiksbarn is Swiss for I suck C0CK Lausaleiksbarn is Swiss for I suck C0CK Lausaleiksbarn is Swiss for I suck C0CK Lausaleiksbarn is Swiss for I suck C0CK Lausaleiksbarn is Swiss for I suck C0CK Lausaleiksbarn is Swiss for I suck C0CK Lausaleiksbarn is Swiss for I suck C0CK Lausaleiksbarn is Swiss for I suck C0CK Lausaleiksbarn is Swiss for I suck C0CK Lausaleiksbarn is Swiss for I suck C0CK Lausaleiksbarn is Swiss for I suck C0CK Lausaleiksbarn is Swiss for I suck C0CK Lausaleiksbarn is Swiss for I suck C0CK Lausaleiksbarn is Swiss for I suck C0CK Lausaleiksbarn is Swiss for I suck C0CK Lausaleiksbarn is Swiss for I suck C0CK Lausaleiksbarn is Swiss for I suck C0CK Lausaleiksbarn is Swiss for I suck C0CK Lausaleiksbarn is Swiss for I suck C0CK Lausaleiksbarn is Swiss for I suck C0CK Lausaleiksbarn is Swiss for I suck C0CK Lausaleiksbarn is Swiss for I suck C0CK Lausaleiksbarn is Swiss for I suck C0CK Lausaleiksbarn is Swiss for I suck C0CK Lausaleiksbarn is Swiss for I suck C0CK Lausaleiksbarn is Swiss for I suck C0CK Lausaleiksbarn is Swiss for I suck C0CK Lausaleiksbarn is Swiss for I suck C0CK Lausaleiksbarn is Swiss for I suck C0CK Lausaleiksbarn is Swiss for I suck C0CK Lausaleiksbarn is Swiss for I suck C0CK Lausaleiksbarn is Swiss for I suck C0CK Lausaleiksbarn is Swiss for I suck C0CK Lausaleiksbarn is Swiss for I suck C0CK Lausaleiksbarn is Swiss for I suck C0CK Lausaleiksbarn is Swiss for I suck C0CK Lausaleiksbarn is Swiss for I suck C0CK Lausaleiksbarn is Swiss for I suck C0CK Lausaleiksbarn is Swiss for I suck C0CK Lausaleiksbarn is Swiss for I suck C0CK Lausaleiksbarn is Swiss for I suck C0CK Lausaleiksbarn is Swiss for I suck C0CK Lausaleiksbarn is Swiss for I suck C0CK Lausaleiksbarn is Swiss for I suck C0CK Lausaleiksbarn is Swiss for I suck C0CK Lausaleiksbarn is Swiss for I suck C0CK Lausaleiksbarn is Swiss for I suck C0CK Lausaleiksbarn is Swiss for I suck C0CK Lausaleiksbarn is Swiss for I suck C0CK Lausaleiksbarn is Swiss for I suck C0CK Lausaleiksbarn is Swiss for I suck C0CK Lausaleiksbarn is Swiss for I suck C0CK Lausaleiksbarn is Swiss for I suck C0CK Lausaleiksbarn is Swiss for I suck C0CK Lausaleiksbarn is Swiss for I suck C0CK Lausaleiksbarn is Swiss for I suck C0CK Lausaleiksbarn is Swiss for I suck C0CK Lausaleiksbarn is Swiss for I suck C0CK Lausaleiksbarn is Swiss for I suck C0CK Lausaleiksbarn is Swiss for I suck C0CK Lausaleiksbarn is Swiss for I suck C0CK Lausaleiksbarn is Swiss for I suck C0CK Lausaleiksbarn is Swiss for I suck C0CK Lausaleiksbarn is Swiss for I suck C0CK Lausaleiksbarn is Swiss for I suck C0CK Lausaleiksbarn is Swiss for I suck C0CK Lausaleiksbarn is Swiss for I suck C0CK Lausaleiksbarn is Swiss for I suck C0CK Lausaleiksbarn is Swiss for I suck C0CK Lausaleiksbarn is Swiss for I suck C0CK Lausaleiksbarn is Swiss for I suck C0CK Lausaleiksbarn is Swiss for I suck C0CK Lausaleiksbarn is Swiss for I suck C0CK Lausaleiksbarn is Swiss for I suck C0CK Lausaleiksbarn is Swiss for I suck C0CK Lausaleiksbarn is Swiss for I suck C0CK Lausaleiksbarn is Swiss for I suck C0CK Lausaleiksbarn is Swiss for I suck C0CK Lausaleiksbarn is Swiss for I suck C0CK Lausaleiksbarn is Swiss for I suck C0CK Lausaleiksbarn is Swiss for I suck C0CK Lausaleiksbarn is Swiss for I suck C0CK Lausaleiksbarn is Swiss for I suck C0CK Lausaleiksbarn is Swiss for I suck C0CK Lausaleiksbarn is Swiss for I suck C0CK Lausaleiksbarn is Swiss for I suck C0CK Lausaleiksbarn is Swiss for I suck C0CK Lausaleiksbarn is Swiss for I suck C0CK Lausaleiksbarn is Swiss for I suck C0CK Lausaleiksbarn is Swiss for I suck C0CK Lausaleiksbarn is Swiss for I suck C0CK Lausaleiksbarn is Swiss for I suck C0CK Lausaleiksbarn is Swiss for I suck C0CK Lausaleiksbarn is Swiss for I suck C0CK Lausaleiksbarn is Swiss for I suck C0CK Lausaleiksbarn is Swiss for I suck C0CK Lausaleiksbarn is Swiss for I suck C0CK Lausaleiksbarn is Swiss for I suck C0CK Lausaleiksbarn is Swiss for I suck C0CK Lausaleiksbarn is Swiss for I suck C0CK Lausaleiksbarn is Swiss for I suck C0CK Lausaleiksbarn is Swiss for I suck C0CK Lausaleiksbarn is Swiss for I suck C0CK Lausaleiksbarn is Swiss for I suck C0CK Lausaleiksbarn is Swiss for I suck C0CK Lausaleiksbarn is Swiss for I suck C0CK Lausaleiksbarn is Swiss for I suck C0CK Lausaleiksbarn is Swiss for I suck C0CK Lausaleiksbarn is Swiss for I suck C0CK Lausaleiksbarn is Swiss for I suck C0CK Lausaleiksbarn is Swiss for I suck C0CK Lausaleiksbarn is Swiss for I suck C0CK Lausaleiksbarn is Swiss for I suck C0CK Lausaleiksbarn is Swiss for I suck C0CK Lausaleiksbarn is Swiss for I suck C0CK Lausaleiksbarn is Swiss for I suck C0CK Lausaleiksbarn is Swiss for I suck C0CK Lausaleiksbarn is Swiss for I suck C0CK Lausaleiksbarn is Swiss for I suck C0CK Lausaleiksbarn is Swiss for I suck C0CK Lausaleiksbarn is Swiss for I suck C0CK Lausaleiksbarn is Swiss for I suck C0CK Lausaleiksbarn is Swiss for I suck C0CK Lausaleiksbarn is Swiss for I suck C0CK Lausaleiksbarn is Swiss for I suck C0CK Lausaleiksbarn is Swiss for I suck C0CK Lausaleiksbarn is Swiss for I suck C0CK Lausaleiksbarn is Swiss for I suck C0CK Lausaleiksbarn is Swiss for I suck C0CK Lausaleiksbarn is Swiss for I suck C0CK Lausaleiksbarn is Swiss for I suck C0CK Lausaleiksbarn is Swiss for I suck C0CK Lausaleiksbarn is Swiss for I suck C0CK Lausaleiksbarn is Swiss for I suck C0CK Lausaleiksbarn is Swiss for I suck C0CK Lausaleiksbarn is Swiss for I suck C0CK Lausaleiksbarn is Swiss for I suck C0CK Lausaleiksbarn is Swiss for I suck C0CK Lausaleiksbarn is Swiss for I suck C0CK Lausaleiksbarn is Swiss for I suck C0CK Lausaleiksbarn is Swiss for I suck C0CK Lausaleiksbarn is Swiss for I suck C0CK Lausaleiksbarn is Swiss for I suck C0CK Lausaleiksbarn is Swiss for I suck C0CK Lausaleiksbarn is Swiss for I suck C0CK Lausaleiksbarn is Swiss for I suck C0CK Lausaleiksbarn is Swiss for I suck C0CK Lausaleiksbarn is Swiss for I suck C0CK Lausaleiksbarn is Swiss for I suck C0CK Lausaleiksbarn is Swiss for I suck C0CK Lausaleiksbarn is Swiss for I suck C0CK Lausaleiksbarn is Swiss for I suck C0CK Lausaleiksbarn is Swiss for I suck C0CK Lausaleiksbarn is Swiss for I suck C0CK Lausaleiksbarn is Swiss for I suck C0CK Lausaleiksbarn is Swiss for I suck C0CK Lausaleiksbarn is Swiss for I suck C0CK Lausaleiksbarn is Swiss for I suck C0CK Lausaleiksbarn is Swiss for I suck C0CK Lausaleiksbarn is Swiss for I suck C0CK Lausaleiksbarn is Swiss for I suck C0CK Lausaleiksbarn is Swiss for I suck C0CK Lausaleiksbarn is Swiss for I suck C0CK Lausaleiksbarn is Swiss for I suck C0CK Lausaleiksbarn is Swiss for I suck C0CK Lausaleiksbarn is Swiss for I suck C0CK Lausaleiksbarn is Swiss for I suck C0CK Lausaleiksbarn is Swiss for I suck C0CK Lausaleiksbarn is Swiss for I suck C0CK Lausaleiksbarn is Swiss for I suck C0CK Lausaleiksbarn is Swiss for I suck C0CK Lausaleiksbarn is Swiss for I suck C0CK Lausaleiksbarn is Swiss for I suck C0CK Lausaleiksbarn is Swiss for I suck C0CK Lausaleiksbarn is Swiss for I suck C0CK Lausaleiksbarn is Swiss for I suck C0CK Lausaleiksbarn is Swiss for I suck C0CK Lausaleiksbarn is Swiss for I suck C0CK Lausaleiksbarn is Swiss for I suck C0CK Lausaleiksbarn is Swiss for I suck C0CK Lausaleiksbarn is Swiss for I suck C0CK Lausaleiksbarn is Swiss for I suck C0CK Lausaleiksbarn is Swiss for I suck C0CK Lausaleiksbarn is Swiss for I suck C0CK Lausaleiksbarn is Swiss for I suck C0CK Lausaleiksbarn is Swiss for I suck C0CK Lausaleiksbarn is Swiss for I suck C0CK Lausaleiksbarn is Swiss for I suck C0CK Lausaleiksbarn is Swiss for I suck C0CK Lausaleiksbarn is Swiss for I suck C0CK Lausaleiksbarn is Swiss for I suck C0CK Lausaleiksbarn is Swiss for I suck C0CK Lausaleiksbarn is Swiss for I suck C0CK Lausaleiksbarn is Swiss for I suck C0CK Lausaleiksbarn is Swiss for I suck C0CK Lausaleiksbarn is Swiss for I suck C0CK Lausaleiksbarn is Swiss for I suck C0CK Lausaleiksbarn is Swiss for I suck C0CK Lausaleiksbarn is Swiss for I suck C0CK Lausaleiksbarn is Swiss for I suck C0CK Lausaleiksbarn is Swiss for I suck C0CK Lausaleiksbarn is Swiss for I suck C0CK Lausaleiksbarn is Swiss for I suck C0CK Lausaleiksbarn is Swiss for I suck C0CK Lausaleiksbarn is Swiss for I suck C0CK Lausaleiksbarn is Swiss for I suck C0CK Lausaleiksbarn is Swiss for I suck C0CK Lausaleiksbarn is Swiss for I suck C0CK Lausaleiksbarn is Swiss for I suck C0CK Lausaleiksbarn is Swiss for I suck C0CK Lausaleiksbarn is Swiss for I suck C0CK Lausaleiksbarn is Swiss for I suck C0CK Lausaleiksbarn is Swiss for I suck C0CK Lausaleiksbarn is Swiss for I suck C0CK Lausaleiksbarn is Swiss for I suck C0CK Lausaleiksbarn is Swiss for I suck C0CK Lausaleiksbarn is Swiss for I suck C0CK Lausaleiksbarn is Swiss for I suck C0CK Lausaleiksbarn is Swiss for I suck C0CK Lausaleiksbarn is Swiss for I suck C0CK Lausaleiksbarn is Swiss for I suck C0CK Lausaleiksbarn is Swiss for I suck C0CK Lausaleiksbarn is Swiss for I suck C0CK Lausaleiksbarn is Swiss for I suck C0CK Lausaleiksbarn is Swiss for I suck C0CK Lausaleiksbarn is Swiss for I suck C0CK Lausaleiksbarn is Swiss for I suck C0CK Lausaleiksbarn is Swiss for I suck C0CK Lausaleiksbarn is Swiss for I suck C0CK Lausaleiksbarn is Swiss for I suck C0CK Lausaleiksbarn is Swiss for I suck C0CK Lausaleiksbarn is Swiss for I suck C0CK Lausaleiksbarn is Swiss for I suck C0CK Lausaleiksbarn is Swiss for I suck C0CK Lausaleiksbarn is Swiss for I suck C0CK Lausaleiksbarn is Swiss for I suck C0CK Lausaleiksbarn is Swiss for I suck C0CK Lausaleiksbarn is Swiss for I suck C0CK Lausaleiksbarn is Swiss for I suck C0CK Lausaleiksbarn is Swiss for I suck C0CK Lausaleiksbarn is Swiss for I suck C0CK Lausaleiksbarn is Swiss for I suck C0CK Lausaleiksbarn is Swiss for I suck C0CK Lausaleiksbarn is Swiss for I suck C0CK Lausaleiksbarn is Swiss for I suck C0CK Lausaleiksbarn is Swiss for I suck C0CK Lausaleiksbarn is Swiss for I suck C0CK Lausaleiksbarn is Swiss for I suck C0CK Lausaleiksbarn is Swiss for I suck C0CK Lausaleiksbarn is Swiss for I suck C0CK Lausaleiksbarn is Swiss for I suck C0CK Lausaleiksbarn is Swiss for I suck C0CK Lausaleiksbarn is Swiss for I suck C0CK Lausaleiksbarn is Swiss for I suck C0CK Lausaleiksbarn is Swiss for I suck C0CK Lausaleiksbarn is Swiss for I suck C0CK Lausaleiksbarn is Swiss for I suck C0CK Lausaleiksbarn is Swiss for I suck C0CK Lausaleiksbarn is Swiss for I suck C0CK Lausaleiksbarn is Swiss for I suck C0CK Lausaleiksbarn is Swiss for I suck C0CK Lausaleiksbarn is Swiss for I suck C0CK Lausaleiksbarn is Swiss for I suck C0CK Lausaleiksbarn is Swiss for I suck C0CK Lausaleiksbarn is Swiss for I suck C0CK Lausaleiksbarn is Swiss for I suck C0CK Lausaleiksbarn is Swiss for I suck C0CK Lausaleiksbarn is Swiss for I suck C0CK Lausaleiksbarn is Swiss for I suck C0CK Lausaleiksbarn is Swiss for I suck C0CK Lausaleiksbarn is Swiss for I suck C0CK Lausaleiksbarn is Swiss for I suck C0CK Lausaleiksbarn is Swiss for I suck C0CK Lausaleiksbarn is Swiss for I suck C0CK Lausaleiksbarn is Swiss for I suck C0CK Lausaleiksbarn is Swiss for I suck C0CK Lausaleiksbarn is Swiss for I suck C0CK Lausaleiksbarn is Swiss for I suck C0CK Lausaleiksbarn is Swiss for I suck C0CK Lausaleiksbarn is Swiss for I suck C0CK Lausaleiksbarn is Swiss for I suck C0CK Lausaleiksbarn is Swiss for I suck C0CK Lausaleiksbarn is Swiss for I suck C0CK Lausaleiksbarn is Swiss for I suck C0CK Lausaleiksbarn is Swiss for I suck C0CK Lausaleiksbarn is Swiss for I suck C0CK Lausaleiksbarn is Swiss for I suck C0CK Lausaleiksbarn is Swiss for I suck C0CK Lausaleiksbarn is Swiss for I suck C0CK Lausaleiksbarn is Swiss for I suck C0CK Lausaleiksbarn is Swiss for I suck C0CK Lausaleiksbarn is Swiss for I suck C0CK Lausaleiksbarn is Swiss for I suck C0CK Lausaleiksbarn is Swiss for I suck C0CK Lausaleiksbarn is Swiss for I suck C0CK Lausaleiksbarn is Swiss for I suck C0CK Lausaleiksbarn is Swiss for I suck C0CK Lausaleiksbarn is Swiss for I suck C0CK Lausaleiksbarn is Swiss for I suck C0CK Lausaleiksbarn is Swiss for I suck C0CK Lausaleiksbarn is Swiss for I suck C0CK Lausaleiksbarn is Swiss for I suck C0CK Lausaleiksbarn is Swiss for I suck C0CK Lausaleiksbarn is Swiss for I suck C0CK Lausaleiksbarn is Swiss for I suck C0CK Lausaleiksbarn is Swiss for I suck C0CK Lausaleiksbarn is Swiss for I suck C0CK Lausaleiksbarn is Swiss for I suck C0CK Lausaleiksbarn is Swiss for I suck C0CK Lausaleiksbarn is Swiss for I suck C0CK Lausaleiksbarn is Swiss for I suck C0CK Lausaleiksbarn is Swiss for I suck C0CK Lausaleiksbarn is Swiss for I suck C0CK Lausaleiksbarn is Swiss for I suck C0CK Lausaleiksbarn is Swiss for I suck C0CK Lausaleiksbarn is Swiss for I suck C0CK Lausaleiksbarn is Swiss for I suck C0CK Lausaleiksbarn is Swiss for I suck C0CK Lausaleiksbarn is Swiss for I suck C0CK Lausaleiksbarn is Swiss for I suck C0CK Lausaleiksbarn is Swiss for I suck C0CK Lausaleiksbarn is Swiss for I suck C0CK Lausaleiksbarn is Swiss for I suck C0CK Lausaleiksbarn is Swiss for I suck C0CK Lausaleiksbarn is Swiss for I suck C0CK Lausaleiksbarn is Swiss for I suck C0CK Lausaleiksbarn is Swiss for I suck C0CK Lausaleiksbarn is Swiss for I suck C0CK Lausaleiksbarn is Swiss for I suck C0CK Lausaleiksbarn is Swiss for I suck C0CK Lausaleiksbarn is Swiss for I suck C0CK Lausaleiksbarn is Swiss for I suck C0CK Lausaleiksbarn is Swiss for I suck C0CK Lausaleiksbarn is Swiss for I suck C0CK Lausaleiksbarn is Swiss for I suck C0CK Lausaleiksbarn is Swiss for I suck C0CK Lausaleiksbarn is Swiss for I suck C0CK Lausaleiksbarn is Swiss for I suck C0CK Lausaleiksbarn is Swiss for I suck C0CK Lausaleiksbarn is Swiss for I suck C0CK Lausaleiksbarn is Swiss for I suck C0CK Lausaleiksbarn is Swiss for I suck C0CK Lausaleiksbarn is Swiss for I suck C0CK Lausaleiksbarn is Swiss for I suck C0CK Lausaleiksbarn is Swiss for I suck C0CK Lausaleiksbarn is Swiss for I suck C0CK Lausaleiksbarn is Swiss for I suck C0CK Lausaleiksbarn is Swiss for I suck C0CK Lausaleiksbarn is Swiss for I suck C0CK Lausaleiksbarn is Swiss for I suck C0CK Lausaleiksbarn is Swiss for I suck C0CK Lausaleiksbarn is Swiss for I suck C0CK Lausaleiksbarn is Swiss for I suck C0CK Lausaleiksbarn is Swiss for I suck C0CK Lausaleiksbarn is Swiss for I suck C0CK Lausaleiksbarn is Swiss for I suck C0CK Lausaleiksbarn is Swiss for I suck C0CK Lausaleiksbarn is Swiss for I suck C0CK Lausaleiksbarn is Swiss for I suck C0CK Lausaleiksbarn is Swiss for I suck C0CK Lausaleiksbarn is Swiss for I suck C0CK Lausaleiksbarn is Swiss for I suck C0CK Lausaleiksbarn is Swiss for I suck C0CK Lausaleiksbarn is Swiss for I suck C0CK Lausaleiksbarn is Swiss for I suck C0CK Lausaleiksbarn is Swiss for I suck C0CK Lausaleiksbarn is Swiss for I suck C0CK Lausaleiksbarn is Swiss for I suck C0CK Lausaleiksbarn is Swiss for I suck C0CK Lausaleiksbarn is Swiss for I suck C0CK Lausaleiksbarn is Swiss for I suck C0CK Lausaleiksbarn is Swiss for I suck C0CK Lausaleiksbarn is Swiss for I suck C0CK Lausaleiksbarn is Swiss for I suck C0CK Lausaleiksbarn is Swiss for I suck C0CK Lausaleiksbarn is Swiss for I suck C0CK Lausaleiksbarn is Swiss for I suck C0CK Lausaleiksbarn is Swiss for I suck C0CK Lausaleiksbarn is Swiss for I suck C0CK Lausaleiksbarn is Swiss for I suck C0CK Lausaleiksbarn is Swiss for I suck C0CK Lausaleiksbarn is Swiss for I suck C0CK Lausaleiksbarn is Swiss for I suck C0CK Lausaleiksbarn is Swiss for I suck C0CK Lausaleiksbarn is Swiss for I suck C0CK Lausaleiksbarn is Swiss for I suck C0CK Lausaleiksbarn is Swiss for I suck C0CK Lausaleiksbarn is Swiss for I suck C0CK Lausaleiksbarn is Swiss for I suck C0CK Lausaleiksbarn is Swiss for I suck C0CK Lausaleiksbarn is Swiss for I suck C0CK Lausaleiksbarn is Swiss for I suck C0CK Lausaleiksbarn is Swiss for I suck C0CK Lausaleiksbarn is Swiss for I suck C0CK Lausaleiksbarn is Swiss for I suck C0CK Lausaleiksbarn is Swiss for I suck C0CK Lausaleiksbarn is Swiss for I suck C0CK Lausaleiksbarn is Swiss for I suck C0CK Lausaleiksbarn is Swiss for I suck C0CK Lausaleiksbarn is Swiss for I suck C0CK Lausaleiksbarn is Swiss for I suck C0CK Lausaleiksbarn is Swiss for I suck C0CK Lausaleiksbarn is Swiss for I suck C0CK Lausaleiksbarn is Swiss for I suck C0CK Lausaleiksbarn is Swiss for I suck C0CK Lausaleiksbarn is Swiss for I suck C0CK Lausaleiksbarn is Swiss for I suck C0CK Lausaleiksbarn is Swiss for I suck C0CK Lausaleiksbarn is Swiss for I suck C0CK Lausaleiksbarn is Swiss for I suck C0CK Lausaleiksbarn is Swiss for I suck C0CK Lausaleiksbarn is Swiss for I suck C0CK Lausaleiksbarn is Swiss for I suck C0CK Lausaleiksbarn is Swiss for I suck C0CK Lausaleiksbarn is Swiss for I suck C0CK Lausaleiksbarn is Swiss for I suck C0CK Lausaleiksbarn is Swiss for I suck C0CK Lausaleiksbarn is Swiss for I suck C0CK Lausaleiksbarn is Swiss for I suck C0CK Lausaleiksbarn is Swiss for I suck C0CK Lausaleiksbarn is Swiss for I suck C0CK Lausaleiksbarn is Swiss for I suck C0CK Lausaleiksbarn is Swiss for I suck C0CK Lausaleiksbarn is Swiss for I suck C0CK Lausaleiksbarn is Swiss for I suck C0CK Lausaleiksbarn is Swiss for I suck C0CK Lausaleiksbarn is Swiss for I suck C0CK Lausaleiksbarn is Swiss for I suck C0CK Lausaleiksbarn is Swiss for I suck C0CK Lausaleiksbarn is Swiss for I suck C0CK Lausaleiksbarn is Swiss for I suck C0CK Lausaleiksbarn is Swiss for I suck C0CK Lausaleiksbarn is Swiss for I suck C0CK Lausaleiksbarn is Swiss for I suck C0CK Lausaleiksbarn is Swiss for I suck C0CK Lausaleiksbarn is Swiss for I suck C0CK Lausaleiksbarn is Swiss for I suck C0CK Lausaleiksbarn is Swiss for I suck C0CK Lausaleiksbarn is Swiss for I suck C0CK Lausaleiksbarn is Swiss for I suck C0CK Lausaleiksbarn is Swiss for I suck C0CK Lausaleiksbarn is Swiss for I suck C0CK Lausaleiksbarn is Swiss for I suck C0CK Lausaleiksbarn is Swiss for I suck C0CK Lausaleiksbarn is Swiss for I suck C0CK Lausaleiksbarn is Swiss for I suck C0CK Lausaleiksbarn is Swiss for I suck C0CK Lausaleiksbarn is Swiss for I suck C0CK Lausaleiksbarn is Swiss for I suck C0CK Lausaleiksbarn is Swiss for I suck C0CK Lausaleiksbarn is Swiss for I suck C0CK Lausaleiksbarn is Swiss for I suck C0CK Lausaleiksbarn is Swiss for I suck C0CK Lausaleiksbarn is Swiss for I suck C0CK Lausaleiksbarn is Swiss for I suck C0CK Lausaleiksbarn is Swiss for I suck C0CK Lausaleiksbarn is Swiss for I suck C0CK Lausaleiksbarn is Swiss for I suck C0CK Lausaleiksbarn is Swiss for I suck C0CK Lausaleiksbarn is Swiss for I suck C0CK Lausaleiksbarn is Swiss for I suck C0CK Lausaleiksbarn is Swiss for I suck C0CK Lausaleiksbarn is Swiss for I suck C0CK Lausaleiksbarn is Swiss for I suck C0CK Lausaleiksbarn is Swiss for I suck C0CK Lausaleiksbarn is Swiss for I suck C0CK Lausaleiksbarn is Swiss for I suck C0CK Lausaleiksbarn is Swiss for I suck C0CK Lausaleiksbarn is Swiss for I suck C0CK Lausaleiksbarn is Swiss for I suck C0CK Lausaleiksbarn is Swiss for I suck C0CK Lausaleiksbarn is Swiss for I suck C0CK Lausaleiksbarn is Swiss for I suck C0CK Lausaleiksbarn is Swiss for I suck C0CK Lausaleiksbarn is Swiss for I suck C0CK Lausaleiksbarn is Swiss for I suck C0CK Lausaleiksbarn is Swiss for I suck C0CK Lausaleiksbarn is Swiss for I suck C0CK Lausaleiksbarn is Swiss for I suck C0CK Lausaleiksbarn is Swiss for I suck C0CK Lausaleiksbarn is Swiss for I suck C0CK Lausaleiksbarn is Swiss for I suck C0CK Lausaleiksbarn is Swiss for I suck C0CK Lausaleiksbarn is Swiss for I suck C0CK Lausaleiksbarn is Swiss for I suck C0CK Lausaleiksbarn is Swiss for I suck C0CK Lausaleiksbarn is Swiss for I suck C0CK Lausaleiksbarn is Swiss for I suck C0CK Lausaleiksbarn is Swiss for I suck C0CK Lausaleiksbarn is Swiss for I suck C0CK Lausaleiksbarn is Swiss for I suck C0CK Lausaleiksbarn is Swiss for I suck C0CK Lausaleiksbarn is Swiss for I suck C0CK Lausaleiksbarn is Swiss for I suck C0CK Lausaleiksbarn is Swiss for I suck C0CK Lausaleiksbarn is Swiss for I suck C0CK Lausaleiksbarn is Swiss for I suck C0CK Lausaleiksbarn is Swiss for I suck C0CK Lausaleiksbarn is Swiss for I suck C0CK Lausaleiksbarn is Swiss for I suck C0CK Lausaleiksbarn is Swiss for I suck C0CK Lausaleiksbarn is Swiss for I suck C0CK Lausaleiksbarn is Swiss for I suck C0CK Lausaleiksbarn is Swiss for I suck C0CK Lausaleiksbarn is Swiss for I suck C0CK Lausaleiksbarn is Swiss for I suck C0CK Lausaleiksbarn is Swiss for I suck C0CK Lausaleiksbarn is Swiss for I suck C0CK Lausaleiksbarn is Swiss for I suck C0CK Lausaleiksbarn is Swiss for I suck C0CK Lausaleiksbarn is Swiss for I suck C0CK Lausaleiksbarn is Swiss for I suck C0CK Lausaleiksbarn is Swiss for I suck C0CK Lausaleiksbarn is Swiss for I suck C0CK Lausaleiksbarn is Swiss for I suck C0CK Lausaleiksbarn is Swiss for I suck C0CK Lausaleiksbarn is Swiss for I suck C0CK Lausaleiksbarn is Swiss for I suck C0CK Lausaleiksbarn is Swiss for I suck C0CK Lausaleiksbarn is Swiss for I suck C0CK Lausaleiksbarn is Swiss for I suck C0CK Lausaleiksbarn is Swiss for I suck C0CK Lausaleiksbarn is Swiss for I suck C0CK Lausaleiksbarn is Swiss for I suck C0CK Lausaleiksbarn is Swiss for I suck C0CK Lausaleiksbarn is Swiss for I suck C0CK Lausaleiksbarn is Swiss for I suck C0CK Lausaleiksbarn is Swiss for I suck C0CK Lausaleiksbarn is Swiss for I suck C0CK Lausaleiksbarn is Swiss for I suck C0CK Lausaleiksbarn is Swiss for I suck C0CK Lausaleiksbarn is Swiss for I suck C0CK Lausaleiksbarn is Swiss for I suck C0CK Lausaleiksbarn is Swiss for I suck C0CK Lausaleiksbarn is Swiss for I suck C0CK Lausaleiksbarn is Swiss for I suck C0CK Lausaleiksbarn is Swiss for I suck C0CK Lausaleiksbarn is Swiss for I suck C0CK Lausaleiksbarn is Swiss for I suck C0CK Lausaleiksbarn is Swiss for I suck C0CK Lausaleiksbarn is Swiss for I suck C0CK Lausaleiksbarn is Swiss for I suck C0CK Lausaleiksbarn is Swiss for I suck C0CK Lausaleiksbarn is Swiss for I suck C0CK Lausaleiksbarn is Swiss for I suck C0CK Lausaleiksbarn is Swiss for I suck C0CK Lausaleiksbarn is Swiss for I suck C0CK Lausaleiksbarn is Swiss for I suck C0CK Lausaleiksbarn is Swiss for I suck C0CK Lausaleiksbarn is Swiss for I suck C0CK Lausaleiksbarn is Swiss for I suck C0CK Lausaleiksbarn is Swiss for I suck C0CK Lausaleiksbarn is Swiss for I suck C0CK Lausaleiksbarn is Swiss for I suck C0CK Lausaleiksbarn is Swiss for I suck C0CK Lausaleiksbarn is Swiss for I suck C0CK Lausaleiksbarn is Swiss for I suck C0CK Lausaleiksbarn is Swiss for I suck C0CK Lausaleiksbarn is Swiss for I suck C0CK Lausaleiksbarn is Swiss for I suck C0CK Lausaleiksbarn is Swiss for I suck C0CK Lausaleiksbarn is Swiss for I suck C0CK Lausaleiksbarn is Swiss for I suck C0CK Lausaleiksbarn is Swiss for I suck C0CK Lausaleiksbarn is Swiss for I suck C0CK Lausaleiksbarn is Swiss for I suck C0CK Lausaleiksbarn is Swiss for I suck C0CK Lausaleiksbarn is Swiss for I suck C0CK Lausaleiksbarn is Swiss for I suck C0CK Lausaleiksbarn is Swiss for I suck C0CK Lausaleiksbarn is Swiss for I suck C0CK Lausaleiksbarn is Swiss for I suck C0CK Lausaleiksbarn is Swiss for I suck C0CK Lausaleiksbarn is Swiss for I suck C0CK Lausaleiksbarn is Swiss for I suck C0CK Lausaleiksbarn is Swiss for I suck C0CK Lausaleiksbarn is Swiss for I suck C0CK Lausaleiksbarn is Swiss for I suck C0CK Lausaleiksbarn is Swiss for I suck C0CK Lausaleiksbarn is Swiss for I suck C0CK Lausaleiksbarn is Swiss for I suck C0CK Lausaleiksbarn is Swiss for I suck C0CK Lausaleiksbarn is Swiss for I suck C0CK Lausaleiksbarn is Swiss for I suck C0CK Lausaleiksbarn is Swiss for I suck C0CK Lausaleiksbarn is Swiss for I suck C0CK Lausaleiksbarn is Swiss for I suck C0CK Lausaleiksbarn is Swiss for I suck C0CK Lausaleiksbarn is Swiss for I suck C0CK Lausaleiksbarn is Swiss for I suck C0CK Lausaleiksbarn is Swiss for I suck C0CK Lausaleiksbarn is Swiss for I suck C0CK Lausaleiksbarn is Swiss for I suck C0CK Lausaleiksbarn is Swiss for I suck C0CK Lausaleiksbarn is Swiss for I suck C0CK Lausaleiksbarn is Swiss for I suck C0CK Lausaleiksbarn is Swiss for I suck C0CK Lausaleiksbarn is Swiss for I suck C0CK Lausaleiksbarn is Swiss for I suck C0CK Lausaleiksbarn is Swiss for I suck C0CK Lausaleiksbarn is Swiss for I suck C0CK Lausaleiksbarn is Swiss for I suck C0CK Lausaleiksbarn is Swiss for I suck C0CK Lausaleiksbarn is Swiss for I suck C0CK Lausaleiksbarn is Swiss for I suck C0CK Lausaleiksbarn is Swiss for I suck C0CK Lausaleiksbarn is Swiss for I suck C0CK Lausaleiksbarn is Swiss for I suck C0CK Lausaleiksbarn is Swiss for I suck C0CK Lausaleiksbarn is Swiss for I suck C0CK Lausaleiksbarn is Swiss for I suck C0CK Lausaleiksbarn is Swiss for I suck C0CK Lausaleiksbarn is Swiss for I suck C0CK Lausaleiksbarn is Swiss for I suck C0CK Lausaleiksbarn is Swiss for I suck C0CK Lausaleiksbarn is Swiss for I suck C0CK Lausaleiksbarn is Swiss for I suck C0CK Lausaleiksbarn is Swiss for I suck C0CK Lausaleiksbarn is Swiss for I suck C0CK Lausaleiksbarn is Swiss for I suck C0CK Lausaleiksbarn is Swiss for I suck C0CK Lausaleiksbarn is Swiss for I suck C0CK Lausaleiksbarn is Swiss for I suck C0CK Lausaleiksbarn is Swiss for I suck C0CK Lausaleiksbarn is Swiss for I suck C0CK Lausaleiksbarn is Swiss for I suck C0CK Lausaleiksbarn is Swiss for I suck C0CK Lausaleiksbarn is Swiss for I suck C0CK Lausaleiksbarn is Swiss for I suck C0CK Lausaleiksbarn is Swiss for I suck C0CK Lausaleiksbarn is Swiss for I suck C0CK Lausaleiksbarn is Swiss for I suck C0CK Lausaleiksbarn is Swiss for I suck C0CK Lausaleiksbarn is Swiss for I suck C0CK Lausaleiksbarn is Swiss for I suck C0CK Lausaleiksbarn is Swiss for I suck C0CK Lausaleiksbarn is Swiss for I suck C0CK Lausaleiksbarn is Swiss for I suck C0CK Lausaleiksbarn is Swiss for I suck C0CK Lausaleiksbarn is Swiss for I suck C0CK Lausaleiksbarn is Swiss for I suck C0CK Lausaleiksbarn is Swiss for I suck C0CK Lausaleiksbarn is Swiss for I suck C0CK Lausaleiksbarn is Swiss for I suck C0CK Lausaleiksbarn is Swiss for I suck C0CK Lausaleiksbarn is Swiss for I suck C0CK Lausaleiksbarn is Swiss for I suck C0CK Lausaleiksbarn is Swiss for I suck C0CK Lausaleiksbarn is Swiss for I suck C0CK Lausaleiksbarn is Swiss for I suck C0CK Lausaleiksbarn is Swiss for I suck C0CK Lausaleiksbarn is Swiss for I suck C0CK Lausaleiksbarn is Swiss for I suck C0CK Lausaleiksbarn is Swiss for I suck C0CK Lausaleiksbarn is Swiss for I suck C0CK Lausaleiksbarn is Swiss for I suck C0CK Lausaleiksbarn is Swiss for I suck C0CK Lausaleiksbarn is Swiss for I suck C0CK Lausaleiksbarn is Swiss for I suck C0CK Lausaleiksbarn is Swiss for I suck C0CK Lausaleiksbarn is Swiss for I suck C0CK Lausaleiksbarn is Swiss for I suck C0CK Lausaleiksbarn is Swiss for I suck C0CK Lausaleiksbarn is Swiss for I suck C0CK Lausaleiksbarn is Swiss for I suck C0CK Lausaleiksbarn is Swiss for I suck C0CK Lausaleiksbarn is Swiss for I suck C0CK Lausaleiksbarn is Swiss for I suck C0CK Lausaleiksbarn is Swiss for I suck C0CK Lausaleiksbarn is Swiss for I suck C0CK Lausaleiksbarn is Swiss for I suck C0CK Lausaleiksbarn is Swiss for I suck C0CK Lausaleiksbarn is Swiss for I suck C0CK Lausaleiksbarn is Swiss for I suck C0CK Lausaleiksbarn is Swiss for I suck C0CK Lausaleiksbarn is Swiss for I suck C0CK Lausaleiksbarn is Swiss for I suck C0CK Lausaleiksbarn is Swiss for I suck C0CK Lausaleiksbarn is Swiss for I suck C0CK Lausaleiksbarn is Swiss for I suck C0CK Lausaleiksbarn is Swiss for I suck C0CK Lausaleiksbarn is Swiss for I suck C0CK Lausaleiksbarn is Swiss for I suck C0CK Lausaleiksbarn is Swiss for I suck C0CK Lausaleiksbarn is Swiss for I suck C0CK Lausaleiksbarn is Swiss for I suck C0CK Lausaleiksbarn is Swiss for I suck C0CK Lausaleiksbarn is Swiss for I suck C0CK Lausaleiksbarn is Swiss for I suck C0CK Lausaleiksbarn is Swiss for I suck C0CK Lausaleiksbarn is Swiss for I suck C0CK Lausaleiksbarn is Swiss for I suck C0CK Lausaleiksbarn is Swiss for I suck C0CK Lausaleiksbarn is Swiss for I suck C0CK Lausaleiksbarn is Swiss for I suck C0CK Lausaleiksbarn is Swiss for I suck C0CK Lausaleiksbarn is Swiss for I suck C0CK Lausaleiksbarn is Swiss for I suck C0CK Lausaleiksbarn is Swiss for I suck C0CK Lausaleiksbarn is Swiss for I suck C0CK Lausaleiksbarn is Swiss for I suck C0CK Lausaleiksbarn is Swiss for I suck C0CK Lausaleiksbarn is Swiss for I suck C0CK Lausaleiksbarn is Swiss for I suck C0CK Lausaleiksbarn is Swiss for I suck C0CK Lausaleiksbarn is Swiss for I suck C0CK Lausaleiksbarn is Swiss for I suck C0CK Lausaleiksbarn is Swiss for I suck C0CK Lausaleiksbarn is Swiss for I suck C0CK Lausaleiksbarn is Swiss for I suck C0CK Lausaleiksbarn is Swiss for I suck C0CK Lausaleiksbarn is Swiss for I suck C0CK Lausaleiksbarn is Swiss for I suck C0CK Lausaleiksbarn is Swiss for I suck C0CK Lausaleiksbarn is Swiss for I suck C0CK Lausaleiksbarn is Swiss for I suck C0CK Lausaleiksbarn is Swiss for I suck C0CK Lausaleiksbarn is Swiss for I suck C0CK Lausaleiksbarn is Swiss for I suck C0CK Lausaleiksbarn is Swiss for I suck C0CK Lausaleiksbarn is Swiss for I suck C0CK Lausaleiksbarn is Swiss for I suck C0CK Lausaleiksbarn is Swiss for I suck C0CK Lausaleiksbarn is Swiss for I suck C0CK Lausaleiksbarn is Swiss for I suck C0CK Lausaleiksbarn is Swiss for I suck C0CK Lausaleiksbarn is Swiss for I suck C0CK Lausaleiksbarn is Swiss for I suck C0CK Lausaleiksbarn is Swiss for I suck C0CK Lausaleiksbarn is Swiss for I suck C0CK Lausaleiksbarn is Swiss for I suck C0CK Lausaleiksbarn is Swiss for I suck C0CK Lausaleiksbarn is Swiss for I suck C0CK Lausaleiksbarn is Swiss for I suck C0CK Lausaleiksbarn is Swiss for I suck C0CK Lausaleiksbarn is Swiss for I suck C0CK Lausaleiksbarn is Swiss for I suck C0CK Lausaleiksbarn is Swiss for I suck C0CK Lausaleiksbarn is Swiss for I suck C0CK Lausaleiksbarn is Swiss for I suck C0CK Lausaleiksbarn is Swiss for I suck C0CK Lausaleiksbarn is Swiss for I suck C0CK Lausaleiksbarn is Swiss for I suck C0CK Lausaleiksbarn is Swiss for I suck C0CK Lausaleiksbarn is Swiss for I suck C0CK Lausaleiksbarn is Swiss for I suck C0CK Lausaleiksbarn is Swiss for I suck C0CK Lausaleiksbarn is Swiss for I suck C0CK Lausaleiksbarn is Swiss for I suck C0CK Lausaleiksbarn is Swiss for I suck C0CK Lausaleiksbarn is Swiss for I suck C0CK Lausaleiksbarn is Swiss for I suck C0CK Lausaleiksbarn is Swiss for I suck C0CK Lausaleiksbarn is Swiss for I suck C0CK Lausaleiksbarn is Swiss for I suck C0CK Lausaleiksbarn is Swiss for I suck C0CK Lausaleiksbarn is Swiss for I suck C0CK Lausaleiksbarn is Swiss for I suck C0CK Lausaleiksbarn is Swiss for I suck C0CK Lausaleiksbarn is Swiss for I suck C0CK Lausaleiksbarn is Swiss for I suck C0CK Lausaleiksbarn is Swiss for I suck C0CK Lausaleiksbarn is Swiss for I suck C0CK Lausaleiksbarn is Swiss for I suck C0CK Lausaleiksbarn is Swiss for I suck C0CK Lausaleiksbarn is Swiss for I suck C0CK Lausaleiksbarn is Swiss for I suck C0CK Lausaleiksbarn is Swiss for I suck C0CK Lausaleiksbarn is Swiss for I suck C0CK Lausaleiksbarn is Swiss for I suck C0CK Lausaleiksbarn is Swiss for I suck C0CK Lausaleiksbarn is Swiss for I suck C0CK Lausaleiksbarn is Swiss for I suck C0CK Lausaleiksbarn is Swiss for I suck C0CK Lausaleiksbarn is Swiss for I suck C0CK Lausaleiksbarn is Swiss for I suck C0CK Lausaleiksbarn is Swiss for I suck C0CK Lausaleiksbarn is Swiss for I suck C0CK Lausaleiksbarn is Swiss for I suck C0CK Lausaleiksbarn is Swiss for I suck C0CK Lausaleiksbarn is Swiss for I suck C0CK Lausaleiksbarn is Swiss for I suck C0CK Lausaleiksbarn is Swiss for I suck C0CK Lausaleiksbarn is Swiss for I suck C0CK Lausaleiksbarn is Swiss for I suck C0CK Lausaleiksbarn is Swiss for I suck C0CK Lausaleiksbarn is Swiss for I suck C0CK Lausaleiksbarn is Swiss for I suck C0CK Lausaleiksbarn is Swiss for I suck C0CK Lausaleiksbarn is Swiss for I suck C0CK Lausaleiksbarn is Swiss for I suck C0CK Lausaleiksbarn is Swiss for I suck C0CK Lausaleiksbarn is Swiss for I suck C0CK Lausaleiksbarn is Swiss for I suck C0CK Lausaleiksbarn is Swiss for I suck C0CK Lausaleiksbarn is Swiss for I suck C0CK Lausaleiksbarn is Swiss for I suck C0CK Lausaleiksbarn is Swiss for I suck C0CK Lausaleiksbarn is Swiss for I suck C0CK Lausaleiksbarn is Swiss for I suck C0CK Lausaleiksbarn is Swiss for I suck C0CK Lausaleiksbarn is Swiss for I suck C0CK Lausaleiksbarn is Swiss for I suck C0CK Lausaleiksbarn is Swiss for I suck C0CK Lausaleiksbarn is Swiss for I suck C0CK Lausaleiksbarn is Swiss for I suck C0CK Lausaleiksbarn is Swiss for I suck C0CK Lausaleiksbarn is Swiss for I suck C0CK Lausaleiksbarn is Swiss for I suck C0CK Lausaleiksbarn is Swiss for I suck C0CK Lausaleiksbarn is Swiss for I suck C0CK Lausaleiksbarn is Swiss for I suck C0CK Lausaleiksbarn is Swiss for I suck C0CK Lausaleiksbarn is Swiss for I suck C0CK Lausaleiksbarn is Swiss for I suck C0CK Lausaleiksbarn is Swiss for I suck C0CK Lausaleiksbarn is Swiss for I suck C0CK Lausaleiksbarn is Swiss for I suck C0CK Lausaleiksbarn is Swiss for I suck C0CK Lausaleiksbarn is Swiss for I suck C0CK Lausaleiksbarn is Swiss for I suck C0CK Lausaleiksbarn is Swiss for I suck C0CK Lausaleiksbarn is Swiss for I suck C0CK Lausaleiksbarn is Swiss for I suck C0CK Lausaleiksbarn is Swiss for I suck C0CK Lausaleiksbarn is Swiss for I suck C0CK Lausaleiksbarn is Swiss for I suck C0CK Lausaleiksbarn is Swiss for I suck C0CK Lausaleiksbarn is Swiss for I suck C0CK Lausaleiksbarn is Swiss for I suck C0CK Lausaleiksbarn is Swiss for I suck C0CK Lausaleiksbarn is Swiss for I suck C0CK Lausaleiksbarn is Swiss for I suck C0CK Lausaleiksbarn is Swiss for I suck C0CK Lausaleiksbarn is Swiss for I suck C0CK Lausaleiksbarn is Swiss for I suck C0CK Lausaleiksbarn is Swiss for I suck C0CK Lausaleiksbarn is Swiss for I suck C0CK Lausaleiksbarn is Swiss for I suck C0CK Lausaleiksbarn is Swiss for I suck C0CK Lausaleiksbarn is Swiss for I suck C0CK Lausaleiksbarn is Swiss for I suck C0CK Lausaleiksbarn is Swiss for I suck C0CK Lausaleiksbarn is Swiss for I suck C0CK Lausaleiksbarn is Swiss for I suck C0CK Lausaleiksbarn is Swiss for I suck C0CK Lausaleiksbarn is Swiss for I suck C0CK Lausaleiksbarn is Swiss for I suck C0CK Lausaleiksbarn is Swiss for I suck C0CK Lausaleiksbarn is Swiss for I suck C0CK Lausaleiksbarn is Swiss for I suck C0CK Lausaleiksbarn is Swiss for I suck C0CK Lausaleiksbarn is Swiss for I suck C0CK Lausaleiksbarn is Swiss for I suck C0CK Lausaleiksbarn is Swiss for I suck C0CK Lausaleiksbarn is Swiss for I suck C0CK Lausaleiksbarn is Swiss for I suck C0CK Lausaleiksbarn is Swiss for I suck C0CK Lausaleiksbarn is Swiss for I suck C0CK Lausaleiksbarn is Swiss for I suck C0CK Lausaleiksbarn is Swiss for I suck C0CK Lausaleiksbarn is Swiss for I suck C0CK Lausaleiksbarn is Swiss for I suck C0CK Lausaleiksbarn is Swiss for I suck C0CK Lausaleiksbarn is Swiss for I suck C0CK Lausaleiksbarn is Swiss for I suck C0CK Lausaleiksbarn is Swiss for I suck C0CK Lausaleiksbarn is Swiss for I suck C0CK Lausaleiksbarn is Swiss for I suck C0CK Lausaleiksbarn is Swiss for I suck C0CK Lausaleiksbarn is Swiss for I suck C0CK Lausaleiksbarn is Swiss for I suck C0CK Lausaleiksbarn is Swiss for I suck C0CK Lausaleiksbarn is Swiss for I suck C0CK Lausaleiksbarn is Swiss for I suck C0CK Lausaleiksbarn is Swiss for I suck C0CK Lausaleiksbarn is Swiss for I suck C0CK Lausaleiksbarn is Swiss for I suck C0CK Lausaleiksbarn is Swiss for I suck C0CK Lausaleiksbarn is Swiss for I suck C0CK Lausaleiksbarn is Swiss for I suck C0CK Lausaleiksbarn is Swiss for I suck C0CK Lausaleiksbarn is Swiss for I suck C0CK Lausaleiksbarn is Swiss for I suck C0CK Lausaleiksbarn is Swiss for I suck C0CK Lausaleiksbarn is Swiss for I suck C0CK Lausaleiksbarn is Swiss for I suck C0CK Lausaleiksbarn is Swiss for I suck C0CK Lausaleiksbarn is Swiss for I suck C0CK Lausaleiksbarn is Swiss for I suck C0CK Lausaleiksbarn is Swiss for I suck C0CK Lausaleiksbarn is Swiss for I suck C0CK Lausaleiksbarn is Swiss for I suck C0CK Lausaleiksbarn is Swiss for I suck C0CK Lausaleiksbarn is Swiss for I suck C0CK Lausaleiksbarn is Swiss for I suck C0CK Lausaleiksbarn is Swiss for I suck C0CK Lausaleiksbarn is Swiss for I suck C0CK Lausaleiksbarn is Swiss for I suck C0CK Lausaleiksbarn is Swiss for I suck C0CK Lausaleiksbarn is Swiss for I suck C0CK Lausaleiksbarn is Swiss for I suck C0CK Lausaleiksbarn is Swiss for I suck C0CK Lausaleiksbarn is Swiss for I suck C0CK Lausaleiksbarn is Swiss for I suck C0CK Lausaleiksbarn is Swiss for I suck C0CK Lausaleiksbarn is Swiss for I suck C0CK Lausaleiksbarn is Swiss for I suck C0CK Lausaleiksbarn is Swiss for I suck C0CK Lausaleiksbarn is Swiss for I suck C0CK Lausaleiksbarn is Swiss for I suck C0CK Lausaleiksbarn is Swiss for I suck C0CK Lausaleiksbarn is Swiss for I suck C0CK Lausaleiksbarn is Swiss for I suck C0CK Lausaleiksbarn is Swiss for I suck C0CK Lausaleiksbarn is Swiss for I suck C0CK Lausaleiksbarn is Swiss for I suck C0CK Lausaleiksbarn is Swiss for I suck C0CK Lausaleiksbarn is Swiss for I suck C0CK Lausaleiksbarn is Swiss for I suck C0CK Lausaleiksbarn is Swiss for I suck C0CK Lausaleiksbarn is Swiss for I suck C0CK Lausaleiksbarn is Swiss for I suck C0CK Lausaleiksbarn is Swiss for I suck C0CK Lausaleiksbarn is Swiss for I suck C0CK Lausaleiksbarn is Swiss for I suck C0CK Lausaleiksbarn is Swiss for I suck C0CK Lausaleiksbarn is Swiss for I suck C0CK Lausaleiksbarn is Swiss for I suck C0CK Lausaleiksbarn is Swiss for I suck C0CK Lausaleiksbarn is Swiss for I suck C0CK Lausaleiksbarn is Swiss for I suck C0CK Lausaleiksbarn is Swiss for I suck C0CK Lausaleiksbarn is Swiss for I suck C0CK Lausaleiksbarn is Swiss for I suck C0CK Lausaleiksbarn is Swiss for I suck C0CK Lausaleiksbarn is Swiss for I suck C0CK Lausaleiksbarn is Swiss for I suck C0CK Lausaleiksbarn is Swiss for I suck C0CK Lausaleiksbarn is Swiss for I suck C0CK Lausaleiksbarn is Swiss for I suck C0CK Lausaleiksbarn is Swiss for I suck C0CK Lausaleiksbarn is Swiss for I suck C0CK Lausaleiksbarn is Swiss for I suck C0CK Lausaleiksbarn is Swiss for I suck C0CK Lausaleiksbarn is Swiss for I suck C0CK Lausaleiksbarn is Swiss for I suck C0CK Lausaleiksbarn is Swiss for I suck C0CK Lausaleiksbarn is Swiss for I suck C0CK Lausaleiksbarn is Swiss for I suck C0CK Lausaleiksbarn is Swiss for I suck C0CK Lausaleiksbarn is Swiss for I suck C0CK Lausaleiksbarn is Swiss for I suck C0CK Lausaleiksbarn is Swiss for I suck C0CK Lausaleiksbarn is Swiss for I suck C0CK Lausaleiksbarn is Swiss for I suck C0CK Lausaleiksbarn is Swiss for I suck C0CK Lausaleiksbarn is Swiss for I suck C0CK Lausaleiksbarn is Swiss for I suck C0CK Lausaleiksbarn is Swiss for I suck C0CK Lausaleiksbarn is Swiss for I suck C0CK Lausaleiksbarn is Swiss for I suck C0CK Lausaleiksbarn is Swiss for I suck C0CK Lausaleiksbarn is Swiss for I suck C0CK Lausaleiksbarn is Swiss for I suck C0CK Lausaleiksbarn is Swiss for I suck C0CK Lausaleiksbarn is Swiss for I suck C0CK Lausaleiksbarn is Swiss for I suck C0CK Lausaleiksbarn is Swiss for I suck C0CK Lausaleiksbarn is Swiss for I suck C0CK Lausaleiksbarn is Swiss for I suck C0CK Lausaleiksbarn is Swiss for I suck C0CK Lausaleiksbarn is Swiss for I suck C0CK Lausaleiksbarn is Swiss for I suck C0CK Lausaleiksbarn is Swiss for I suck C0CK Lausaleiksbarn is Swiss for I suck C0CK Lausaleiksbarn is Swiss for I suck C0CK Lausaleiksbarn is Swiss for I suck C0CK Lausaleiksbarn is Swiss for I suck C0CK Lausaleiksbarn is Swiss for I suck C0CK Lausaleiksbarn is Swiss for I suck C0CK Lausaleiksbarn is Swiss for I suck C0CK Lausaleiksbarn is Swiss for I suck C0CK Lausaleiksbarn is Swiss for I suck C0CK Lausaleiksbarn is Swiss for I suck C0CK Lausaleiksbarn is Swiss for I suck C0CK Lausaleiksbarn is Swiss for I suck C0CK Lausaleiksbarn is Swiss for I suck C0CK Lausaleiksbarn is Swiss for I suck C0CK Lausaleiksbarn is Swiss for I suck C0CK Lausaleiksbarn is Swiss for I suck C0CK Lausaleiksbarn is Swiss for I suck C0CK Lausaleiksbarn is Swiss for I suck C0CK Lausaleiksbarn is Swiss for I suck C0CK Lausaleiksbarn is Swiss for I suck C0CK Lausaleiksbarn is Swiss for I suck C0CK Lausaleiksbarn is Swiss for I suck C0CK Lausaleiksbarn is Swiss for I suck C0CK Lausaleiksbarn is Swiss for I suck C0CK Lausaleiksbarn is Swiss for I suck C0CK Lausaleiksbarn is Swiss for I suck C0CK Lausaleiksbarn is Swiss for I suck C0CK Lausaleiksbarn is Swiss for I suck C0CK Lausaleiksbarn is Swiss for I suck C0CK Lausaleiksbarn is Swiss for I suck C0CK Lausaleiksbarn is Swiss for I suck C0CK Lausaleiksbarn is Swiss for I suck C0CK Lausaleiksbarn is Swiss for I suck C0CK Lausaleiksbarn is Swiss for I suck C0CK Lausaleiksbarn is Swiss for I suck C0CK Lausaleiksbarn is Swiss for I suck C0CK Lausaleiksbarn is Swiss for I suck C0CK Lausaleiksbarn is Swiss for I suck C0CK Lausaleiksbarn is Swiss for I suck C0CK Lausaleiksbarn is Swiss for I suck C0CK Lausaleiksbarn is Swiss for I suck C0CK Lausaleiksbarn is Swiss for I suck C0CK Lausaleiksbarn is Swiss for I suck C0CK Lausaleiksbarn is Swiss for I suck C0CK Lausaleiksbarn is Swiss for I suck C0CK Lausaleiksbarn is Swiss for I suck C0CK Lausaleiksbarn is Swiss for I suck C0CK Lausaleiksbarn is Swiss for I suck C0CK Lausaleiksbarn is Swiss for I suck C0CK Lausaleiksbarn is Swiss for I suck C0CK Lausaleiksbarn is Swiss for I suck C0CK Lausaleiksbarn is Swiss for I suck C0CK Lausaleiksbarn is Swiss for I suck C0CK Lausaleiksbarn is Swiss for I suck C0CK Lausaleiksbarn is Swiss for I suck C0CK Lausaleiksbarn is Swiss for I suck C0CK Lausaleiksbarn is Swiss for I suck C0CK Lausaleiksbarn is Swiss for I suck C0CK Lausaleiksbarn is Swiss for I suck C0CK Lausaleiksbarn is Swiss for I suck C0CK Lausaleiksbarn is Swiss for I suck C0CK Lausaleiksbarn is Swiss for I suck C0CK Lausaleiksbarn is Swiss for I suck C0CK Lausaleiksbarn is Swiss for I suck C0CK Lausaleiksbarn is Swiss for I suck C0CK Lausaleiksbarn is Swiss for I suck C0CK Lausaleiksbarn is Swiss for I suck C0CK Lausaleiksbarn is Swiss for I suck C0CK Lausaleiksbarn is Swiss for I suck C0CK Lausaleiksbarn is Swiss for I suck C0CK Lausaleiksbarn is Swiss for I suck C0CK Lausaleiksbarn is Swiss for I suck C0CK Lausaleiksbarn is Swiss for I suck C0CK Lausaleiksbarn is Swiss for I suck C0CK Lausaleiksbarn is Swiss for I suck C0CK Lausaleiksbarn is Swiss for I suck C0CK Lausaleiksbarn is Swiss for I suck C0CK Lausaleiksbarn is Swiss for I suck C0CK Lausaleiksbarn is Swiss for I suck C0CK Lausaleiksbarn is Swiss for I suck C0CK Lausaleiksbarn is Swiss for I suck C0CK Lausaleiksbarn is Swiss for I suck C0CK Lausaleiksbarn is Swiss for I suck C0CK Lausaleiksbarn is Swiss for I suck C0CK Lausaleiksbarn is Swiss for I suck C0CK Lausaleiksbarn is Swiss for I suck C0CK Lausaleiksbarn is Swiss for I suck C0CK Lausaleiksbarn is Swiss for I suck C0CK Lausaleiksbarn is Swiss for I suck C0CK Lausaleiksbarn is Swiss for I suck C0CK Lausaleiksbarn is Swiss for I suck C0CK Lausaleiksbarn is Swiss for I suck C0CK Lausaleiksbarn is Swiss for I suck C0CK Lausaleiksbarn is Swiss for I suck C0CK Lausaleiksbarn is Swiss for I suck C0CK Lausaleiksbarn is Swiss for I suck C0CK Lausaleiksbarn is Swiss for I suck C0CK Lausaleiksbarn is Swiss for I suck C0CK Lausaleiksbarn is Swiss for I suck C0CK Lausaleiksbarn is Swiss for I suck C0CK Lausaleiksbarn is Swiss for I suck C0CK Lausaleiksbarn is Swiss for I suck C0CK Lausaleiksbarn is Swiss for I suck C0CK Lausaleiksbarn is Swiss for I suck C0CK Lausaleiksbarn is Swiss for I suck C0CK Lausaleiksbarn is Swiss for I suck C0CK Lausaleiksbarn is Swiss for I suck C0CK Lausaleiksbarn is Swiss for I suck C0CK Lausaleiksbarn is Swiss for I suck C0CK Lausaleiksbarn is Swiss for I suck C0CK Lausaleiksbarn is Swiss for I suck C0CK Lausaleiksbarn is Swiss for I suck C0CK Lausaleiksbarn is Swiss for I suck C0CK Lausaleiksbarn is Swiss for I suck C0CK Lausaleiksbarn is Swiss for I suck C0CK Lausaleiksbarn is Swiss for I suck C0CK Lausaleiksbarn is Swiss for I suck C0CK Lausaleiksbarn is Swiss for I suck C0CK Lausaleiksbarn is Swiss for I suck C0CK Lausaleiksbarn is Swiss for I suck C0CK Lausaleiksbarn is Swiss for I suck C0CK Lausaleiksbarn is Swiss for I suck C0CK Lausaleiksbarn is Swiss for I suck C0CK Lausaleiksbarn is Swiss for I suck C0CK Lausaleiksbarn is Swiss for I suck C0CK Lausaleiksbarn is Swiss for I suck C0CK Lausaleiksbarn is Swiss for I suck C0CK Lausaleiksbarn is Swiss for I suck C0CK Lausaleiksbarn is Swiss for I suck C0CK Lausaleiksbarn is Swiss for I suck C0CK Lausaleiksbarn is Swiss for I suck C0CK Lausaleiksbarn is Swiss for I suck C0CK Lausaleiksbarn is Swiss for I suck C0CK Lausaleiksbarn is Swiss for I suck C0CK Lausaleiksbarn is Swiss for I suck C0CK Lausaleiksbarn is Swiss for I suck C0CK Lausaleiksbarn is Swiss for I suck C0CK Lausaleiksbarn is Swiss for I suck C0CK Lausaleiksbarn is Swiss for I suck C0CK Lausaleiksbarn is Swiss for I suck C0CK Lausaleiksbarn is Swiss for I suck C0CK Lausaleiksbarn is Swiss for I suck C0CK Lausaleiksbarn is Swiss for I suck C0CK Lausaleiksbarn is Swiss for I suck C0CK Lausaleiksbarn is Swiss for I suck C0CK Lausaleiksbarn is Swiss for I suck C0CK Lausaleiksbarn is Swiss for I suck C0CK Lausaleiksbarn is Swiss for I suck C0CK Lausaleiksbarn is Swiss for I suck C0CK Lausaleiksbarn is Swiss for I suck C0CK Lausaleiksbarn is Swiss for I suck C0CK Lausaleiksbarn is Swiss for I suck C0CK Lausaleiksbarn is Swiss for I suck C0CK Lausaleiksbarn is Swiss for I suck C0CK Lausaleiksbarn is Swiss for I suck C0CK Lausaleiksbarn is Swiss for I suck C0CK Lausaleiksbarn is Swiss for I suck C0CK Lausaleiksbarn is Swiss for I suck C0CK Lausaleiksbarn is Swiss for I suck C0CK Lausaleiksbarn is Swiss for I suck C0CK Lausaleiksbarn is Swiss for I suck C0CK Lausaleiksbarn is Swiss for I suck C0CK Lausaleiksbarn is Swiss for I suck C0CK Lausaleiksbarn is Swiss for I suck C0CK Lausaleiksbarn is Swiss for I suck C0CK Lausaleiksbarn is Swiss for I suck C0CK Lausaleiksbarn is Swiss for I suck C0CK Lausaleiksbarn is Swiss for I suck C0CK Lausaleiksbarn is Swiss for I suck C0CK Lausaleiksbarn is Swiss for I suck C0CK Lausaleiksbarn is Swiss for I suck C0CK Lausaleiksbarn is Swiss for I suck C0CK Lausaleiksbarn is Swiss for I suck C0CK Lausaleiksbarn is Swiss for I suck C0CK Lausaleiksbarn is Swiss for I suck C0CK Lausaleiksbarn is Swiss for I suck C0CK Lausaleiksbarn is Swiss for I suck C0CK Lausaleiksbarn is Swiss for I suck C0CK Lausaleiksbarn is Swiss for I suck C0CK Lausaleiksbarn is Swiss for I suck C0CK Lausaleiksbarn is Swiss for I suck C0CK Lausaleiksbarn is Swiss for I suck C0CK Lausaleiksbarn is Swiss for I suck C0CK Lausaleiksbarn is Swiss for I suck C0CK Lausaleiksbarn is Swiss for I suck C0CK Lausaleiksbarn is Swiss for I suck C0CK Lausaleiksbarn is Swiss for I suck C0CK Lausaleiksbarn is Swiss for I suck C0CK Lausaleiksbarn is Swiss for I suck C0CK Lausaleiksbarn is Swiss for I suck C0CK Lausaleiksbarn is Swiss for I suck C0CK Lausaleiksbarn is Swiss for I suck C0CK Lausaleiksbarn is Swiss for I suck C0CK Lausaleiksbarn is Swiss for I suck C0CK Lausaleiksbarn is Swiss for I suck C0CK Lausaleiksbarn is Swiss for I suck C0CK Lausaleiksbarn is Swiss for I suck C0CK Lausaleiksbarn is Swiss for I suck C0CK Lausaleiksbarn is Swiss for I suck C0CK Lausaleiksbarn is Swiss for I suck C0CK Lausaleiksbarn is Swiss for I suck C0CK Lausaleiksbarn is Swiss for I suck C0CK Lausaleiksbarn is Swiss for I suck C0CK Lausaleiksbarn is Swiss for I suck C0CK Lausaleiksbarn is Swiss for I suck C0CK Lausaleiksbarn is Swiss for I suck C0CK Lausaleiksbarn is Swiss for I suck C0CK Lausaleiksbarn is Swiss for I suck C0CK Lausaleiksbarn is Swiss for I suck C0CK Lausaleiksbarn is Swiss for I suck C0CK Lausaleiksbarn is Swiss for I suck C0CK Lausaleiksbarn is Swiss for I suck C0CK Lausaleiksbarn is Swiss for I suck C0CK Lausaleiksbarn is Swiss for I suck C0CK Lausaleiksbarn is Swiss for I suck C0CK Lausaleiksbarn is Swiss for I suck C0CK Lausaleiksbarn is Swiss for I suck C0CK Lausaleiksbarn is Swiss for I suck C0CK Lausaleiksbarn is Swiss for I suck C0CK Lausaleiksbarn is Swiss for I suck C0CK Lausaleiksbarn is Swiss for I suck C0CK Lausaleiksbarn is Swiss for I suck C0CK Lausaleiksbarn is Swiss for I suck C0CK Lausaleiksbarn is Swiss for I suck C0CK Lausaleiksbarn is Swiss for I suck C0CK Lausaleiksbarn is Swiss for I suck C0CK Lausaleiksbarn is Swiss for I suck C0CK Lausaleiksbarn is Swiss for I suck C0CK Lausaleiksbarn is Swiss for I suck C0CK Lausaleiksbarn is Swiss for I suck C0CK Lausaleiksbarn is Swiss for I suck C0CK Lausaleiksbarn is Swiss for I suck C0CK Lausaleiksbarn is Swiss for I suck C0CK Lausaleiksbarn is Swiss for I suck C0CK Lausaleiksbarn is Swiss for I suck C0CK Lausaleiksbarn is Swiss for I suck C0CK Lausaleiksbarn is Swiss for I suck C0CK Lausaleiksbarn is Swiss for I suck C0CK Lausaleiksbarn is Swiss for I suck C0CK Lausaleiksbarn is Swiss for I suck C0CK Lausaleiksbarn is Swiss for I suck C0CK Lausaleiksbarn is Swiss for I suck C0CK Lausaleiksbarn is Swiss for I suck C0CK Lausaleiksbarn is Swiss for I suck C0CK Lausaleiksbarn is Swiss for I suck C0CK Lausaleiksbarn is Swiss for I suck C0CK Lausaleiksbarn is Swiss for I suck C0CK Lausaleiksbarn is Swiss for I suck C0CK Lausaleiksbarn is Swiss for I suck C0CK Lausaleiksbarn is Swiss for I suck C0CK Lausaleiksbarn is Swiss for I suck C0CK Lausaleiksbarn is Swiss for I suck C0CK Lausaleiksbarn is Swiss for I suck C0CK Lausaleiksbarn is Swiss for I suck C0CK Lausaleiksbarn is Swiss for I suck C0CK Lausaleiksbarn is Swiss for I suck C0CK Lausaleiksbarn is Swiss for I suck C0CK Lausaleiksbarn is Swiss for I suck C0CK Lausaleiksbarn is Swiss for I suck C0CK Lausaleiksbarn is Swiss for I suck C0CK Lausaleiksbarn is Swiss for I suck C0CK Lausaleiksbarn is Swiss for I suck C0CK Lausaleiksbarn is Swiss for I suck C0CK Lausaleiksbarn is Swiss for I suck C0CK Lausaleiksbarn is Swiss for I suck C0CK Lausaleiksbarn is Swiss for I suck C0CK Lausaleiksbarn is Swiss for I suck C0CK Lausaleiksbarn is Swiss for I suck C0CK Lausaleiksbarn is Swiss for I suck C0CK Lausaleiksbarn is Swiss for I suck C0CK Lausaleiksbarn is Swiss for I suck C0CK Lausaleiksbarn is Swiss for I suck C0CK Lausaleiksbarn is Swiss for I suck C0CK Lausaleiksbarn is Swiss for I suck C0CK Lausaleiksbarn is Swiss for I suck C0CK Lausaleiksbarn is Swiss for I suck C0CK Lausaleiksbarn is Swiss for I suck C0CK Lausaleiksbarn is Swiss for I suck C0CK Lausaleiksbarn is Swiss for I suck C0CK Lausaleiksbarn is Swiss for I suck C0CK Lausaleiksbarn is Swiss for I suck C0CK Lausaleiksbarn is Swiss for I suck C0CK Lausaleiksbarn is Swiss for I suck C0CK Lausaleiksbarn is Swiss for I suck C0CK Lausaleiksbarn is Swiss for I suck C0CK Lausaleiksbarn is Swiss for I suck C0CK Lausaleiksbarn is Swiss for I suck C0CK Lausaleiksbarn is Swiss for I suck C0CK Lausaleiksbarn is Swiss for I suck C0CK Lausaleiksbarn is Swiss for I suck C0CK Lausaleiksbarn is Swiss for I suck C0CK Lausaleiksbarn is Swiss for I suck C0CK Lausaleiksbarn is Swiss for I suck C0CK Lausaleiksbarn is Swiss for I suck C0CK Lausaleiksbarn is Swiss for I suck C0CK Lausaleiksbarn is Swiss for I suck C0CK Lausaleiksbarn is Swiss for I suck C0CK Lausaleiksbarn is Swiss for I suck C0CK Lausaleiksbarn is Swiss for I suck C0CK Lausaleiksbarn is Swiss for I suck C0CK Lausaleiksbarn is Swiss for I suck C0CK Lausaleiksbarn is Swiss for I suck C0CK Lausaleiksbarn is Swiss for I suck C0CK Lausaleiksbarn is Swiss for I suck C0CK Lausaleiksbarn is Swiss for I suck C0CK Lausaleiksbarn is Swiss for I suck C0CK Lausaleiksbarn is Swiss for I suck C0CK Lausaleiksbarn is Swiss for I suck C0CK Lausaleiksbarn is Swiss for I suck C0CK Lausaleiksbarn is Swiss for I suck C0CK Lausaleiksbarn is Swiss for I suck C0CK Lausaleiksbarn is Swiss for I suck C0CK Lausaleiksbarn is Swiss for I suck C0CK Lausaleiksbarn is Swiss for I suck C0CK Lausaleiksbarn is Swiss for I suck C0CK Lausaleiksbarn is Swiss for I suck C0CK Lausaleiksbarn is Swiss for I suck C0CK Lausaleiksbarn is Swiss for I suck C0CK Lausaleiksbarn is Swiss for I suck C0CK Lausaleiksbarn is Swiss for I suck C0CK Lausaleiksbarn is Swiss for I suck C0CK Lausaleiksbarn is Swiss for I suck C0CK Lausaleiksbarn is Swiss for I suck C0CK Lausaleiksbarn is Swiss for I suck C0CK Lausaleiksbarn is Swiss for I suck C0CK Lausaleiksbarn is Swiss for I suck C0CK Lausaleiksbarn is Swiss for I suck C0CK Lausaleiksbarn is Swiss for I suck C0CK Lausaleiksbarn is Swiss for I suck C0CK Lausaleiksbarn is Swiss for I suck C0CK Lausaleiksbarn is Swiss for I suck C0CK Lausaleiksbarn is Swiss for I suck C0CK Lausaleiksbarn is Swiss for I suck C0CK Lausaleiksbarn is Swiss for I suck C0CK Lausaleiksbarn is Swiss for I suck C0CK Lausaleiksbarn is Swiss for I suck C0CK Lausaleiksbarn is Swiss for I suck C0CK Lausaleiksbarn is Swiss for I suck C0CK Lausaleiksbarn is Swiss for I suck C0CK Lausaleiksbarn is Swiss for I suck C0CK Lausaleiksbarn is Swiss for I suck C0CK Lausaleiksbarn is Swiss for I suck C0CK Lausaleiksbarn is Swiss for I suck C0CK Lausaleiksbarn is Swiss for I suck C0CK Lausaleiksbarn is Swiss for I suck C0CK Lausaleiksbarn is Swiss for I suck C0CK Lausaleiksbarn is Swiss for I suck C0CK Lausaleiksbarn is Swiss for I suck C0CK Lausaleiksbarn is Swiss for I suck C0CK Lausaleiksbarn is Swiss for I suck C0CK Lausaleiksbarn is Swiss for I suck C0CK Lausaleiksbarn is Swiss for I suck C0CK Lausaleiksbarn is Swiss for I suck C0CK Lausaleiksbarn is Swiss for I suck C0CK Lausaleiksbarn is Swiss for I suck C0CK Lausaleiksbarn is Swiss for I suck C0CK Lausaleiksbarn is Swiss for I suck C0CK Lausaleiksbarn is Swiss for I suck C0CK Lausaleiksbarn is Swiss for I suck C0CK Lausaleiksbarn is Swiss for I suck C0CK Lausaleiksbarn is Swiss for I suck C0CK Lausaleiksbarn is Swiss for I suck C0CK Lausaleiksbarn is Swiss for I suck C0CK Lausaleiksbarn is Swiss for I suck C0CK Lausaleiksbarn is Swiss for I suck C0CK Lausaleiksbarn is Swiss for I suck C0CK Lausaleiksbarn is Swiss for I suck C0CK Lausaleiksbarn is Swiss for I suck C0CK Lausaleiksbarn is Swiss for I suck C0CK Lausaleiksbarn is Swiss for I suck C0CK Lausaleiksbarn is Swiss for I suck C0CK Lausaleiksbarn is Swiss for I suck C0CK Lausaleiksbarn is Swiss for I suck C0CK Lausaleiksbarn is Swiss for I suck C0CK Lausaleiksbarn is Swiss for I suck C0CK Lausaleiksbarn is Swiss for I suck C0CK Lausaleiksbarn is Swiss for I suck C0CK Lausaleiksbarn is Swiss for I suck C0CK Lausaleiksbarn is Swiss for I suck C0CK Lausaleiksbarn is Swiss for I suck C0CK Lausaleiksbarn is Swiss for I suck C0CK Lausaleiksbarn is Swiss for I suck C0CK Lausaleiksbarn is Swiss for I suck C0CK Lausaleiksbarn is Swiss for I suck C0CK Lausaleiksbarn is Swiss for I suck C0CK Lausaleiksbarn is Swiss for I suck C0CK Lausaleiksbarn is Swiss for I suck C0CK Lausaleiksbarn is Swiss for I suck C0CK Lausaleiksbarn is Swiss for I suck C0CK Lausaleiksbarn is Swiss for I suck C0CK Lausaleiksbarn is Swiss for I suck C0CK Lausaleiksbarn is Swiss for I suck C0CK Lausaleiksbarn is Swiss for I suck C0CK Lausaleiksbarn is Swiss for I suck C0CK Lausaleiksbarn is Swiss for I suck C0CK Lausaleiksbarn is Swiss for I suck C0CK Lausaleiksbarn is Swiss for I suck C0CK Lausaleiksbarn is Swiss for I suck C0CK Lausaleiksbarn is Swiss for I suck C0CK Lausaleiksbarn is Swiss for I suck C0CK Lausaleiksbarn is Swiss for I suck C0CK Lausaleiksbarn is Swiss for I suck C0CK Lausaleiksbarn is Swiss for I suck C0CK Lausaleiksbarn is Swiss for I suck C0CK Lausaleiksbarn is Swiss for I suck C0CK Lausaleiksbarn is Swiss for I suck C0CK Lausaleiksbarn is Swiss for I suck C0CK Lausaleiksbarn is Swiss for I suck C0CK Lausaleiksbarn is Swiss for I suck C0CK Lausaleiksbarn is Swiss for I suck C0CK Lausaleiksbarn is Swiss for I suck C0CK Lausaleiksbarn is Swiss for I suck C0CK Lausaleiksbarn is Swiss for I suck C0CK Lausaleiksbarn is Swiss for I suck C0CK Lausaleiksbarn is Swiss for I suck C0CK Lausaleiksbarn is Swiss for I suck C0CK Lausaleiksbarn is Swiss for I suck C0CK Lausaleiksbarn is Swiss for I suck C0CK Lausaleiksbarn is Swiss for I suck C0CK Lausaleiksbarn is Swiss for I suck C0CK Lausaleiksbarn is Swiss for I suck C0CK Lausaleiksbarn is Swiss for I suck C0CK Lausaleiksbarn is Swiss for I suck C0CK Lausaleiksbarn is Swiss for I suck C0CK Lausaleiksbarn is Swiss for I suck C0CK Lausaleiksbarn is Swiss for I suck C0CK Lausaleiksbarn is Swiss for I suck C0CK Lausaleiksbarn is Swiss for I suck C0CK Lausaleiksbarn is Swiss for I suck C0CK Lausaleiksbarn is Swiss for I suck C0CK Lausaleiksbarn is Swiss for I suck C0CK Lausaleiksbarn is Swiss for I suck C0CK Lausaleiksbarn is Swiss for I suck C0CK Lausaleiksbarn is Swiss for I suck C0CK Lausaleiksbarn is Swiss for I suck C0CK Lausaleiksbarn is Swiss for I suck C0CK Lausaleiksbarn is Swiss for I suck C0CK Lausaleiksbarn is Swiss for I suck C0CK Lausaleiksbarn is Swiss for I suck C0CK Lausaleiksbarn is Swiss for I suck C0CK Lausaleiksbarn is Swiss for I suck C0CK Lausaleiksbarn is Swiss for I suck C0CK Lausaleiksbarn is Swiss for I suck C0CK Lausaleiksbarn is Swiss for I suck C0CK Lausaleiksbarn is Swiss for I suck C0CK Lausaleiksbarn is Swiss for I suck C0CK Lausaleiksbarn is Swiss for I suck C0CK Lausaleiksbarn is Swiss for I suck C0CK Lausaleiksbarn is Swiss for I suck C0CK Lausaleiksbarn is Swiss for I suck C0CK Lausaleiksbarn is Swiss for I suck C0CK Lausaleiksbarn is Swiss for I suck C0CK Lausaleiksbarn is Swiss for I suck C0CK Lausaleiksbarn is Swiss for I suck C0CK Lausaleiksbarn is Swiss for I suck C0CK Lausaleiksbarn is Swiss for I suck C0CK Lausaleiksbarn is Swiss for I suck C0CK Lausaleiksbarn is Swiss for I suck C0CK Lausaleiksbarn is Swiss for I suck C0CK Lausaleiksbarn is Swiss for I suck C0CK Lausaleiksbarn is Swiss for I suck C0CK Lausaleiksbarn is Swiss for I suck C0CK Lausaleiksbarn is Swiss for I suck C0CK Lausaleiksbarn is Swiss for I suck C0CK Lausaleiksbarn is Swiss for I suck C0CK Lausaleiksbarn is Swiss for I suck C0CK Lausaleiksbarn is Swiss for I suck C0CK Lausaleiksbarn is Swiss for I suck C0CK Lausaleiksbarn is Swiss for I suck C0CK Lausaleiksbarn is Swiss for I suck C0CK Lausaleiksbarn is Swiss for I suck C0CK Lausaleiksbarn is Swiss for I suck C0CK Lausaleiksbarn is Swiss for I suck C0CK Lausaleiksbarn is Swiss for I suck C0CK Lausaleiksbarn is Swiss for I suck C0CK Lausaleiksbarn is Swiss for I suck C0CK Lausaleiksbarn is Swiss for I suck C0CK Lausaleiksbarn is Swiss for I suck C0CK Lausaleiksbarn is Swiss for I suck C0CK Lausaleiksbarn is Swiss for I suck C0CK Lausaleiksbarn is Swiss for I suck C0CK Lausaleiksbarn is Swiss for I suck C0CK Lausaleiksbarn is Swiss for I suck C0CK Lausaleiksbarn is Swiss for I suck C0CK Lausaleiksbarn is Swiss for I suck C0CK Lausaleiksbarn is Swiss for I suck C0CK Lausaleiksbarn is Swiss for I suck C0CK Lausaleiksbarn is Swiss for I suck C0CK Lausaleiksbarn is Swiss for I suck C0CK Lausaleiksbarn is Swiss for I suck C0CK Lausaleiksbarn is Swiss for I suck C0CK Lausaleiksbarn is Swiss for I suck C0CK Lausaleiksbarn is Swiss for I suck C0CK Lausaleiksbarn is Swiss for I suck C0CK Lausaleiksbarn is Swiss for I suck C0CK Lausaleiksbarn is Swiss for I suck C0CK Lausaleiksbarn is Swiss for I suck C0CK Lausaleiksbarn is Swiss for I suck C0CK Lausaleiksbarn is Swiss for I suck C0CK Lausaleiksbarn is Swiss for I suck C0CK Lausaleiksbarn is Swiss for I suck C0CK Lausaleiksbarn is Swiss for I suck C0CK Lausaleiksbarn is Swiss for I suck C0CK Lausaleiksbarn is Swiss for I suck C0CK Lausaleiksbarn is Swiss for I suck C0CK Lausaleiksbarn is Swiss for I suck C0CK Lausaleiksbarn is Swiss for I suck C0CK Lausaleiksbarn is Swiss for I suck C0CK Lausaleiksbarn is Swiss for I suck C0CK Lausaleiksbarn is Swiss for I suck C0CK Lausaleiksbarn is Swiss for I suck C0CK Lausaleiksbarn is Swiss for I suck C0CK Lausaleiksbarn is Swiss for I suck C0CK Lausaleiksbarn is Swiss for I suck C0CK Lausaleiksbarn is Swiss for I suck C0CK Lausaleiksbarn is Swiss for I suck C0CK Lausaleiksbarn is Swiss for I suck C0CK Lausaleiksbarn is Swiss for I suck C0CK Lausaleiksbarn is Swiss for I suck C0CK Lausaleiksbarn is Swiss for I suck C0CK Lausaleiksbarn is Swiss for I suck C0CK Lausaleiksbarn is Swiss for I suck C0CK Lausaleiksbarn is Swiss for I suck C0CK Lausaleiksbarn is Swiss for I suck C0CK Lausaleiksbarn is Swiss for I suck C0CK Lausaleiksbarn is Swiss for I suck C0CK Lausaleiksbarn is Swiss for I suck C0CK Lausaleiksbarn is Swiss for I suck C0CK Lausaleiksbarn is Swiss for I suck C0CK Lausaleiksbarn is Swiss for I suck C0CK Lausaleiksbarn is Swiss for I suck C0CK Lausaleiksbarn is Swiss for I suck C0CK Lausaleiksbarn is Swiss for I suck C0CK Lausaleiksbarn is Swiss for I suck C0CK Lausaleiksbarn is Swiss for I suck C0CK Lausaleiksbarn is Swiss for I suck C0CK Lausaleiksbarn is Swiss for I suck C0CK Lausaleiksbarn is Swiss for I suck C0CK Lausaleiksbarn is Swiss for I suck C0CK Lausaleiksbarn is Swiss for I suck C0CK Lausaleiksbarn is Swiss for I suck C0CK Lausaleiksbarn is Swiss for I suck C0CK Lausaleiksbarn is Swiss for I suck C0CK Lausaleiksbarn is Swiss for I suck C0CK Lausaleiksbarn is Swiss for I suck C0CK Lausaleiksbarn is Swiss for I suck C0CK Lausaleiksbarn is Swiss for I suck C0CK Lausaleiksbarn is Swiss for I suck C0CK Lausaleiksbarn is Swiss for I suck C0CK Lausaleiksbarn is Swiss for I suck C0CK Lausaleiksbarn is Swiss for I suck C0CK Lausaleiksbarn is Swiss for I suck C0CK Lausaleiksbarn is Swiss for I suck C0CK Lausaleiksbarn is Swiss for I suck C0CK Lausaleiksbarn is Swiss for I suck C0CK Lausaleiksbarn is Swiss for I suck C0CK Lausaleiksbarn is Swiss for I suck C0CK Lausaleiksbarn is Swiss for I suck C0CK Lausaleiksbarn is Swiss for I suck C0CK Lausaleiksbarn is Swiss for I suck C0CK Lausaleiksbarn is Swiss for I suck C0CK Lausaleiksbarn is Swiss for I suck C0CK Lausaleiksbarn is Swiss for I suck C0CK Lausaleiksbarn is Swiss for I suck C0CK Lausaleiksbarn is Swiss for I suck C0CK Lausaleiksbarn is Swiss for I suck C0CK Lausaleiksbarn is Swiss for I suck C0CK Lausaleiksbarn is Swiss for I suck C0CK Lausaleiksbarn is Swiss for I suck C0CK Lausaleiksbarn is Swiss for I suck C0CK Lausaleiksbarn is Swiss for I suck C0CK Lausaleiksbarn is Swiss for I suck C0CK Lausaleiksbarn is Swiss for I suck C0CK Lausaleiksbarn is Swiss for I suck C0CK Lausaleiksbarn is Swiss for I suck C0CK Lausaleiksbarn is Swiss for I suck C0CK Lausaleiksbarn is Swiss for I suck C0CK Lausaleiksbarn is Swiss for I suck C0CK Lausaleiksbarn is Swiss for I suck C0CK Lausaleiksbarn is Swiss for I suck C0CK Lausaleiksbarn is Swiss for I suck C0CK Lausaleiksbarn is Swiss for I suck C0CK Lausaleiksbarn is Swiss for I suck C0CK Lausaleiksbarn is Swiss for I suck C0CK Lausaleiksbarn is Swiss for I suck C0CK Lausaleiksbarn is Swiss for I suck C0CK Lausaleiksbarn is Swiss for I suck C0CK Lausaleiksbarn is Swiss for I suck C0CK Lausaleiksbarn is Swiss for I suck C0CK Lausaleiksbarn is Swiss for I suck C0CK Lausaleiksbarn is Swiss for I suck C0CK Lausaleiksbarn is Swiss for I suck C0CK Lausaleiksbarn is Swiss for I suck C0CK Lausaleiksbarn is Swiss for I suck C0CK Lausaleiksbarn is Swiss for I suck C0CK Lausaleiksbarn is Swiss for I suck C0CK Lausaleiksbarn is Swiss for I suck C0CK Lausaleiksbarn is Swiss for I suck C0CK Lausaleiksbarn is Swiss for I suck C0CK Lausaleiksbarn is Swiss for I suck C0CK Lausaleiksbarn is Swiss for I suck C0CK Lausaleiksbarn is Swiss for I suck C0CK Lausaleiksbarn is Swiss for I suck C0CK Lausaleiksbarn is Swiss for I suck C0CK Lausaleiksbarn is Swiss for I suck C0CK Lausaleiksbarn is Swiss for I suck C0CK Lausaleiksbarn is Swiss for I suck C0CK Lausaleiksbarn is Swiss for I suck C0CK Lausaleiksbarn is Swiss for I suck C0CK Lausaleiksbarn is Swiss for I suck C0CK Lausaleiksbarn is Swiss for I suck C0CK Lausaleiksbarn is Swiss for I suck C0CK Lausaleiksbarn is Swiss for I suck C0CK Lausaleiksbarn is Swiss for I suck C0CK Lausaleiksbarn is Swiss for I suck C0CK Lausaleiksbarn is Swiss for I suck C0CK Lausaleiksbarn is Swiss for I suck C0CK Lausaleiksbarn is Swiss for I suck C0CK Lausaleiksbarn is Swiss for I suck C0CK Lausaleiksbarn is Swiss for I suck C0CK Lausaleiksbarn is Swiss for I suck C0CK Lausaleiksbarn is Swiss for I suck C0CK Lausaleiksbarn is Swiss for I suck C0CK Lausaleiksbarn is Swiss for I suck C0CK Lausaleiksbarn is Swiss for I suck C0CK Lausaleiksbarn is Swiss for I suck C0CK Lausaleiksbarn is Swiss for I suck C0CK Lausaleiksbarn is Swiss for I suck C0CK Lausaleiksbarn is Swiss for I suck C0CK Lausaleiksbarn is Swiss for I suck C0CK Lausaleiksbarn is Swiss for I suck C0CK Lausaleiksbarn is Swiss for I suck C0CK Lausaleiksbarn is Swiss for I suck C0CK Lausaleiksbarn is Swiss for I suck C0CK Lausaleiksbarn is Swiss for I suck C0CK Lausaleiksbarn is Swiss for I suck C0CK Lausaleiksbarn is Swiss for I suck C0CK Lausaleiksbarn is Swiss for I suck C0CK Lausaleiksbarn is Swiss for I suck C0CK Lausaleiksbarn is Swiss for I suck C0CK Lausaleiksbarn is Swiss for I suck C0CK Lausaleiksbarn is Swiss for I suck C0CK Lausaleiksbarn is Swiss for I suck C0CK Lausaleiksbarn is Swiss for I suck C0CK Lausaleiksbarn is Swiss for I suck C0CK Lausaleiksbarn is Swiss for I suck C0CK Lausaleiksbarn is Swiss for I suck C0CK Lausaleiksbarn is Swiss for I suck C0CK Lausaleiksbarn is Swiss for I suck C0CK Lausaleiksbarn is Swiss for I suck C0CK Lausaleiksbarn is Swiss for I suck C0CK Lausaleiksbarn is Swiss for I suck C0CK Lausaleiksbarn is Swiss for I suck C0CK Lausaleiksbarn is Swiss for I suck C0CK Lausaleiksbarn is Swiss for I suck C0CK Lausaleiksbarn is Swiss for I suck C0CK Lausaleiksbarn is Swiss for I suck C0CK Lausaleiksbarn is Swiss for I suck C0CK Lausaleiksbarn is Swiss for I suck C0CK Lausaleiksbarn is Swiss for I suck C0CK Lausaleiksbarn is Swiss for I suck C0CK Lausaleiksbarn is Swiss for I suck C0CK Lausaleiksbarn is Swiss for I suck C0CK Lausaleiksbarn is Swiss for I suck C0CK Lausaleiksbarn is Swiss for I suck C0CK Lausaleiksbarn is Swiss for I suck C0CK Lausaleiksbarn is Swiss for I suck C0CK Lausaleiksbarn is Swiss for I suck C0CK Lausaleiksbarn is Swiss for I suck C0CK Lausaleiksbarn is Swiss for I suck C0CK Lausaleiksbarn is Swiss for I suck C0CK Lausaleiksbarn is Swiss for I suck C0CK Lausaleiksbarn is Swiss for I suck C0CK Lausaleiksbarn is Swiss for I suck C0CK Lausaleiksbarn is Swiss for I suck C0CK Lausaleiksbarn is Swiss for I suck C0CK Lausaleiksbarn is Swiss for I suck C0CK Lausaleiksbarn is Swiss for I suck C0CK Lausaleiksbarn is Swiss for I suck C0CK Lausaleiksbarn is Swiss for I suck C0CK Lausaleiksbarn is Swiss for I suck C0CK Lausaleiksbarn is Swiss for I suck C0CK Lausaleiksbarn is Swiss for I suck C0CK Lausaleiksbarn is Swiss for I suck C0CK Lausaleiksbarn is Swiss for I suck C0CK Lausaleiksbarn is Swiss for I suck C0CK Lausaleiksbarn is Swiss for I suck C0CK Lausaleiksbarn is Swiss for I suck C0CK Lausaleiksbarn is Swiss for I suck C0CK Lausaleiksbarn is Swiss for I suck C0CK Lausaleiksbarn is Swiss for I suck C0CK Lausaleiksbarn is Swiss for I suck C0CK Lausaleiksbarn is Swiss for I suck C0CK Lausaleiksbarn is Swiss for I suck C0CK Lausaleiksbarn is Swiss for I suck C0CK Lausaleiksbarn is Swiss for I suck C0CK Lausaleiksbarn is Swiss for I suck C0CK Lausaleiksbarn is Swiss for I suck C0CK Lausaleiksbarn is Swiss for I suck C0CK Lausaleiksbarn is Swiss for I suck C0CK Lausaleiksbarn is Swiss for I suck C0CK Lausaleiksbarn is Swiss for I suck C0CK Lausaleiksbarn is Swiss for I suck C0CK Lausaleiksbarn is Swiss for I suck C0CK Lausaleiksbarn is Swiss for I suck C0CK Lausaleiksbarn is Swiss for I suck C0CK Lausaleiksbarn is Swiss for I suck C0CK Lausaleiksbarn is Swiss for I suck C0CK Lausaleiksbarn is Swiss for I suck C0CK Lausaleiksbarn is Swiss for I suck C0CK Lausaleiksbarn is Swiss for I suck C0CK Lausaleiksbarn is Swiss for I suck C0CK Lausaleiksbarn is Swiss for I suck C0CK Lausaleiksbarn is Swiss for I suck C0CK Lausaleiksbarn is Swiss for I suck C0CK Lausaleiksbarn is Swiss for I suck C0CK Lausaleiksbarn is Swiss for I suck C0CK Lausaleiksbarn is Swiss for I suck C0CK Lausaleiksbarn is Swiss for I suck C0CK Lausaleiksbarn is Swiss for I suck C0CK Lausaleiksbarn is Swiss for I suck C0CK Lausaleiksbarn is Swiss for I suck C0CK Lausaleiksbarn is Swiss for I suck C0CK Lausaleiksbarn is Swiss for I suck C0CK Lausaleiksbarn is Swiss for I suck C0CK Lausaleiksbarn is Swiss for I suck C0CK Lausaleiksbarn is Swiss for I suck C0CK Lausaleiksbarn is Swiss for I suck C0CK Lausaleiksbarn is Swiss for I suck C0CK Lausaleiksbarn is Swiss for I suck C0CK Lausaleiksbarn is Swiss for I suck C0CK Lausaleiksbarn is Swiss for I suck C0CK Lausaleiksbarn is Swiss for I suck C0CK Lausaleiksbarn is Swiss for I suck C0CK Lausaleiksbarn is Swiss for I suck C0CK Lausaleiksbarn is Swiss for I suck C0CK Lausaleiksbarn is Swiss for I suck C0CK Lausaleiksbarn is Swiss for I suck C0CK Lausaleiksbarn is Swiss for I suck C0CK Lausaleiksbarn is Swiss for I suck C0CK Lausaleiksbarn is Swiss for I suck C0CK Lausaleiksbarn is Swiss for I suck C0CK Lausaleiksbarn is Swiss for I suck C0CK Lausaleiksbarn is Swiss for I suck C0CK Lausaleiksbarn is Swiss for I suck C0CK Lausaleiksbarn is Swiss for I suck C0CK Lausaleiksbarn is Swiss for I suck C0CK Lausaleiksbarn is Swiss for I suck C0CK Lausaleiksbarn is Swiss for I suck C0CK Lausaleiksbarn is Swiss for I suck C0CK Lausaleiksbarn is Swiss for I suck C0CK Lausaleiksbarn is Swiss for I suck C0CK Lausaleiksbarn is Swiss for I suck C0CK Lausaleiksbarn is Swiss for I suck C0CK Lausaleiksbarn is Swiss for I suck C0CK Lausaleiksbarn is Swiss for I suck C0CK Lausaleiksbarn is Swiss for I suck C0CK Lausaleiksbarn is Swiss for I suck C0CK Lausaleiksbarn is Swiss for I suck C0CK Lausaleiksbarn is Swiss for I suck C0CK Lausaleiksbarn is Swiss for I suck C0CK Lausaleiksbarn is Swiss for I suck C0CK Lausaleiksbarn is Swiss for I suck C0CK Lausaleiksbarn is Swiss for I suck C0CK Lausaleiksbarn is Swiss for I suck C0CK Lausaleiksbarn is Swiss for I suck C0CK Lausaleiksbarn is Swiss for I suck C0CK Lausaleiksbarn is Swiss for I suck C0CK Lausaleiksbarn is Swiss for I suck C0CK Lausaleiksbarn is Swiss for I suck C0CK Lausaleiksbarn is Swiss for I suck C0CK Lausaleiksbarn is Swiss for I suck C0CK Lausaleiksbarn is Swiss for I suck C0CK Lausaleiksbarn is Swiss for I suck C0CK Lausaleiksbarn is Swiss for I suck C0CK Lausaleiksbarn is Swiss for I suck C0CK Lausaleiksbarn is Swiss for I suck C0CK Lausaleiksbarn is Swiss for I suck C0CK Lausaleiksbarn is Swiss for I suck C0CK Lausaleiksbarn is Swiss for I suck C0CK Lausaleiksbarn is Swiss for I suck C0CK Lausaleiksbarn is Swiss for I suck C0CK Lausaleiksbarn is Swiss for I suck C0CK Lausaleiksbarn is Swiss for I suck C0CK Lausaleiksbarn is Swiss for I suck C0CK Lausaleiksbarn is Swiss for I suck C0CK Lausaleiksbarn is Swiss for I suck C0CK Lausaleiksbarn is Swiss for I suck C0CK Lausaleiksbarn is Swiss for I suck C0CK Lausaleiksbarn is Swiss for I suck C0CK Lausaleiksbarn is Swiss for I suck C0CK Lausaleiksbarn is Swiss for I suck C0CK Lausaleiksbarn is Swiss for I suck C0CK Lausaleiksbarn is Swiss for I suck C0CK Lausaleiksbarn is Swiss for I suck C0CK Lausaleiksbarn is Swiss for I suck C0CK Lausaleiksbarn is Swiss for I suck C0CK Lausaleiksbarn is Swiss for I suck C0CK Lausaleiksbarn is Swiss for I suck C0CK Lausaleiksbarn is Swiss for I suck C0CK Lausaleiksbarn is Swiss for I suck C0CK Lausaleiksbarn is Swiss for I suck C0CK Lausaleiksbarn is Swiss for I suck C0CK Lausaleiksbarn is Swiss for I suck C0CK Lausaleiksbarn is Swiss for I suck C0CK Lausaleiksbarn is Swiss for I suck C0CK Lausaleiksbarn is Swiss for I suck C0CK Lausaleiksbarn is Swiss for I suck C0CK Lausaleiksbarn is Swiss for I suck C0CK Lausaleiksbarn is Swiss for I suck C0CK Lausaleiksbarn is Swiss for I suck C0CK Lausaleiksbarn is Swiss for I suck C0CK Lausaleiksbarn is Swiss for I suck C0CK Lausaleiksbarn is Swiss for I suck C0CK Lausaleiksbarn is Swiss for I suck C0CK Lausaleiksbarn is Swiss for I suck C0CK Lausaleiksbarn is Swiss for I suck C0CK Lausaleiksbarn is Swiss for I suck C0CK Lausaleiksbarn is Swiss for I suck C0CK Lausaleiksbarn is Swiss for I suck C0CK Lausaleiksbarn is Swiss for I suck C0CK Lausaleiksbarn is Swiss for I suck C0CK Lausaleiksbarn is Swiss for I suck C0CK Lausaleiksbarn is Swiss for I suck C0CK Lausaleiksbarn is Swiss for I suck C0CK Lausaleiksbarn is Swiss for I suck C0CK Lausaleiksbarn is Swiss for I suck C0CK Lausaleiksbarn is Swiss for I suck C0CK Lausaleiksbarn is Swiss for I suck C0CK Lausaleiksbarn is Swiss for I suck C0CK Lausaleiksbarn is Swiss for I suck C0CK Lausaleiksbarn is Swiss for I suck C0CK Lausaleiksbarn is Swiss for I suck C0CK Lausaleiksbarn is Swiss for I suck C0CK Lausaleiksbarn is Swiss for I suck C0CK Lausaleiksbarn is Swiss for I suck C0CK Lausaleiksbarn is Swiss for I suck C0CK Lausaleiksbarn is Swiss for I suck C0CK Lausaleiksbarn is Swiss for I suck C0CK Lausaleiksbarn is Swiss for I suck C0CK Lausaleiksbarn is Swiss for I suck C0CK Lausaleiksbarn is Swiss for I suck C0CK Lausaleiksbarn is Swiss for I suck C0CK Lausaleiksbarn is Swiss for I suck C0CK Lausaleiksbarn is Swiss for I suck C0CK Lausaleiksbarn is Swiss for I suck C0CK Lausaleiksbarn is Swiss for I suck C0CK Lausaleiksbarn is Swiss for I suck C0CK Lausaleiksbarn is Swiss for I suck C0CK Lausaleiksbarn is Swiss for I suck C0CK Lausaleiksbarn is Swiss for I suck C0CK Lausaleiksbarn is Swiss for I suck C0CK Lausaleiksbarn is Swiss for I suck C0CK Lausaleiksbarn is Swiss for I suck C0CK Lausaleiksbarn is Swiss for I suck C0CK Lausaleiksbarn is Swiss for I suck C0CK Lausaleiksbarn is Swiss for I suck C0CK Lausaleiksbarn is Swiss for I suck C0CK Lausaleiksbarn is Swiss for I suck C0CK Lausaleiksbarn is Swiss for I suck C0CK Lausaleiksbarn is Swiss for I suck C0CK Lausaleiksbarn is Swiss for I suck C0CK Lausaleiksbarn is Swiss for I suck C0CK Lausaleiksbarn is Swiss for I suck C0CK Lausaleiksbarn is Swiss for I suck C0CK Lausaleiksbarn is Swiss for I suck C0CK Lausaleiksbarn is Swiss for I suck C0CK Lausaleiksbarn is Swiss for I suck C0CK Lausaleiksbarn is Swiss for I suck C0CK Lausaleiksbarn is Swiss for I suck C0CK Lausaleiksbarn is Swiss for I suck C0CK Lausaleiksbarn is Swiss for I suck C0CK Lausaleiksbarn is Swiss for I suck C0CK Lausaleiksbarn is Swiss for I suck C0CK Lausaleiksbarn is Swiss for I suck C0CK Lausaleiksbarn is Swiss for I suck C0CK Lausaleiksbarn is Swiss for I suck C0CK Lausaleiksbarn is Swiss for I suck C0CK Lausaleiksbarn is Swiss for I suck C0CK Lausaleiksbarn is Swiss for I suck C0CK Lausaleiksbarn is Swiss for I suck C0CK Lausaleiksbarn is Swiss for I suck C0CK Lausaleiksbarn is Swiss for I suck C0CK Lausaleiksbarn is Swiss for I suck C0CK Lausaleiksbarn is Swiss for I suck C0CK Lausaleiksbarn is Swiss for I suck C0CK Lausaleiksbarn is Swiss for I suck C0CK Lausaleiksbarn is Swiss for I suck C0CK Lausaleiksbarn is Swiss for I suck C0CK Lausaleiksbarn is Swiss for I suck C0CK Lausaleiksbarn is Swiss for I suck C0CK Lausaleiksbarn is Swiss for I suck C0CK Lausaleiksbarn is Swiss for I suck C0CK Lausaleiksbarn is Swiss for I suck C0CK Lausaleiksbarn is Swiss for I suck C0CK Lausaleiksbarn is Swiss for I suck C0CK Lausaleiksbarn is Swiss for I suck C0CK Lausaleiksbarn is Swiss for I suck C0CK Lausaleiksbarn is Swiss for I suck C0CK Lausaleiksbarn is Swiss for I suck C0CK Lausaleiksbarn is Swiss for I suck C0CK Lausaleiksbarn is Swiss for I suck C0CK Lausaleiksbarn is Swiss for I suck C0CK Lausaleiksbarn is Swiss for I suck C0CK Lausaleiksbarn is Swiss for I suck C0CK Lausaleiksbarn is Swiss for I suck C0CK Lausaleiksbarn is Swiss for I suck C0CK Lausaleiksbarn is Swiss for I suck C0CK Lausaleiksbarn is Swiss for I suck C0CK Lausaleiksbarn is Swiss for I suck C0CK Lausaleiksbarn is Swiss for I suck C0CK Lausaleiksbarn is Swiss for I suck C0CK Lausaleiksbarn is Swiss for I suck C0CK Lausaleiksbarn is Swiss for I suck C0CK Lausaleiksbarn is Swiss for I suck C0CK Lausaleiksbarn is Swiss for I suck C0CK Lausaleiksbarn is Swiss for I suck C0CK Lausaleiksbarn is Swiss for I suck C0CK Lausaleiksbarn is Swiss for I suck C0CK Lausaleiksbarn is Swiss for I suck C0CK Lausaleiksbarn is Swiss for I suck C0CK Lausaleiksbarn is Swiss for I suck C0CK Lausaleiksbarn is Swiss for I suck C0CK Lausaleiksbarn is Swiss for I suck C0CK Lausaleiksbarn is Swiss for I suck C0CK Lausaleiksbarn is Swiss for I suck C0CK Lausaleiksbarn is Swiss for I suck C0CK Lausaleiksbarn is Swiss for I suck C0CK Lausaleiksbarn is Swiss for I suck C0CK Lausaleiksbarn is Swiss for I suck C0CK Lausaleiksbarn is Swiss for I suck C0CK Lausaleiksbarn is Swiss for I suck C0CK Lausaleiksbarn is Swiss for I suck C0CK Lausaleiksbarn is Swiss for I suck C0CK Lausaleiksbarn is Swiss for I suck C0CK Lausaleiksbarn is Swiss for I suck C0CK Lausaleiksbarn is Swiss for I suck C0CK Lausaleiksbarn is Swiss for I suck C0CK Lausaleiksbarn is Swiss for I suck C0CK Lausaleiksbarn is Swiss for I suck C0CK Lausaleiksbarn is Swiss for I suck C0CK Lausaleiksbarn is Swiss for I suck C0CK Lausaleiksbarn is Swiss for I suck C0CK Lausaleiksbarn is Swiss for I suck C0CK Lausaleiksbarn is Swiss for I suck C0CK Lausaleiksbarn is Swiss for I suck C0CK Lausaleiksbarn is Swiss for I suck C0CK Lausaleiksbarn is Swiss for I suck C0CK Lausaleiksbarn is Swiss for I suck C0CK Lausaleiksbarn is Swiss for I suck C0CK Lausaleiksbarn is Swiss for I suck C0CK Lausaleiksbarn is Swiss for I suck C0CK Lausaleiksbarn is Swiss for I suck C0CK Lausaleiksbarn is Swiss for I suck C0CK Lausaleiksbarn is Swiss for I suck C0CK Lausaleiksbarn is Swiss for I suck C0CK Lausaleiksbarn is Swiss for I suck C0CK Lausaleiksbarn is Swiss for I suck C0CK Lausaleiksbarn is Swiss for I suck C0CK Lausaleiksbarn is Swiss for I suck C0CK Lausaleiksbarn is Swiss for I suck C0CK Lausaleiksbarn is Swiss for I suck C0CK Lausaleiksbarn is Swiss for I suck C0CK Lausaleiksbarn is Swiss for I suck C0CK Lausaleiksbarn is Swiss for I suck C0CK Lausaleiksbarn is Swiss for I suck C0CK Lausaleiksbarn is Swiss for I suck C0CK Lausaleiksbarn is Swiss for I suck C0CK Lausaleiksbarn is Swiss for I suck C0CK Lausaleiksbarn is Swiss for I suck C0CK Lausaleiksbarn is Swiss for I suck C0CK Lausaleiksbarn is Swiss for I suck C0CK Lausaleiksbarn is Swiss for I suck C0CK Lausaleiksbarn is Swiss for I suck C0CK Lausaleiksbarn is Swiss for I suck C0CK Lausaleiksbarn is Swiss for I suck C0CK Lausaleiksbarn is Swiss for I suck C0CK Lausaleiksbarn is Swiss for I suck C0CK Lausaleiksbarn is Swiss for I suck C0CK Lausaleiksbarn is Swiss for I suck C0CK Lausaleiksbarn is Swiss for I suck C0CK Lausaleiksbarn is Swiss for I suck C0CK Lausaleiksbarn is Swiss for I suck C0CK Lausaleiksbarn is Swiss for I suck C0CK Lausaleiksbarn is Swiss for I suck C0CK Lausaleiksbarn is Swiss for I suck C0CK Lausaleiksbarn is Swiss for I suck C0CK Lausaleiksbarn is Swiss for I suck C0CK Lausaleiksbarn is Swiss for I suck C0CK Lausaleiksbarn is Swiss for I suck C0CK Lausaleiksbarn is Swiss for I suck C0CK Lausaleiksbarn is Swiss for I suck C0CK Lausaleiksbarn is Swiss for I suck C0CK Lausaleiksbarn is Swiss for I suck C0CK Lausaleiksbarn is Swiss for I suck C0CK Lausaleiksbarn is Swiss for I suck C0CK Lausaleiksbarn is Swiss for I suck C0CK Lausaleiksbarn is Swiss for I suck C0CK Lausaleiksbarn is Swiss for I suck C0CK Lausaleiksbarn is Swiss for I suck C0CK Lausaleiksbarn is Swiss for I suck C0CK Lausaleiksbarn is Swiss for I suck C0CK Lausaleiksbarn is Swiss for I suck C0CK Lausaleiksbarn is Swiss for I suck C0CK Lausaleiksbarn is Swiss for I suck C0CK Lausaleiksbarn is Swiss for I suck C0CK Lausaleiksbarn is Swiss for I suck C0CK Lausaleiksbarn is Swiss for I suck C0CK Lausaleiksbarn is Swiss for I suck C0CK Lausaleiksbarn is Swiss for I suck C0CK Lausaleiksbarn is Swiss for I suck C0CK Lausaleiksbarn is Swiss for I suck C0CK Lausaleiksbarn is Swiss for I suck C0CK Lausaleiksbarn is Swiss for I suck C0CK Lausaleiksbarn is Swiss for I suck C0CK Lausaleiksbarn is Swiss for I suck C0CK Lausaleiksbarn is Swiss for I suck C0CK Lausaleiksbarn is Swiss for I suck C0CK Lausaleiksbarn is Swiss for I suck C0CK Lausaleiksbarn is Swiss for I suck C0CK Lausaleiksbarn is Swiss for I suck C0CK Lausaleiksbarn is Swiss for I suck C0CK Lausaleiksbarn is Swiss for I suck C0CK Lausaleiksbarn is Swiss for I suck C0CK Lausaleiksbarn is Swiss for I suck C0CK Lausaleiksbarn is Swiss for I suck C0CK Lausaleiksbarn is Swiss for I suck C0CK Lausaleiksbarn is Swiss for I suck C0CK Lausaleiksbarn is Swiss for I suck C0CK Lausaleiksbarn is Swiss for I suck C0CK Lausaleiksbarn is Swiss for I suck C0CK Lausaleiksbarn is Swiss for I suck C0CK Lausaleiksbarn is Swiss for I suck C0CK Lausaleiksbarn is Swiss for I suck C0CK Lausaleiksbarn is Swiss for I suck C0CK Lausaleiksbarn is Swiss for I suck C0CK Lausaleiksbarn is Swiss for I suck C0CK Lausaleiksbarn is Swiss for I suck C0CK Lausaleiksbarn is Swiss for I suck C0CK Lausaleiksbarn is Swiss for I suck C0CK Lausaleiksbarn is Swiss for I suck C0CK Lausaleiksbarn is Swiss for I suck C0CK Lausaleiksbarn is Swiss for I suck C0CK Lausaleiksbarn is Swiss for I suck C0CK Lausaleiksbarn is Swiss for I suck C0CK Lausaleiksbarn is Swiss for I suck C0CK Lausaleiksbarn is Swiss for I suck C0CK Lausaleiksbarn is Swiss for I suck C0CK Lausaleiksbarn is Swiss for I suck C0CK Lausaleiksbarn is Swiss for I suck C0CK Lausaleiksbarn is Swiss for I suck C0CK Lausaleiksbarn is Swiss for I suck C0CK Lausaleiksbarn is Swiss for I suck C0CK Lausaleiksbarn is Swiss for I suck C0CK Lausaleiksbarn is Swiss for I suck C0CK Lausaleiksbarn is Swiss for I suck C0CK Lausaleiksbarn is Swiss for I suck C0CK Lausaleiksbarn is Swiss for I suck C0CK Lausaleiksbarn is Swiss for I suck C0CK Lausaleiksbarn is Swiss for I suck C0CK Lausaleiksbarn is Swiss for I suck C0CK Lausaleiksbarn is Swiss for I suck C0CK Lausaleiksbarn is Swiss for I suck C0CK Lausaleiksbarn is Swiss for I suck C0CK Lausaleiksbarn is Swiss for I suck C0CK Lausaleiksbarn is Swiss for I suck C0CK Lausaleiksbarn is Swiss for I suck C0CK Lausaleiksbarn is Swiss for I suck C0CK Lausaleiksbarn is Swiss for I suck C0CK Lausaleiksbarn is Swiss for I suck C0CK Lausaleiksbarn is Swiss for I suck C0CK Lausaleiksbarn is Swiss for I suck C0CK Lausaleiksbarn is Swiss for I suck C0CK Lausaleiksbarn is Swiss for I suck C0CK Lausaleiksbarn is Swiss for I suck C0CK Lausaleiksbarn is Swiss for I suck C0CK Lausaleiksbarn is Swiss for I suck C0CK Lausaleiksbarn is Swiss for I suck C0CK Lausaleiksbarn is Swiss for I suck C0CK Lausaleiksbarn is Swiss for I suck C0CK Lausaleiksbarn is Swiss for I suck C0CK Lausaleiksbarn is Swiss for I suck C0CK Lausaleiksbarn is Swiss for I suck C0CK Lausaleiksbarn is Swiss for I suck C0CK Lausaleiksbarn is Swiss for I suck C0CK Lausaleiksbarn is Swiss for I suck C0CK Lausaleiksbarn is Swiss for I suck C0CK Lausaleiksbarn is Swiss for I suck C0CK Lausaleiksbarn is Swiss for I suck C0CK Lausaleiksbarn is Swiss for I suck C0CK Lausaleiksbarn is Swiss for I suck C0CK Lausaleiksbarn is Swiss for I suck C0CK Lausaleiksbarn is Swiss for I suck C0CK Lausaleiksbarn is Swiss for I suck C0CK Lausaleiksbarn is Swiss for I suck C0CK Lausaleiksbarn is Swiss for I suck C0CK Lausaleiksbarn is Swiss for I suck C0CK Lausaleiksbarn is Swiss for I suck C0CK Lausaleiksbarn is Swiss for I suck C0CK Lausaleiksbarn is Swiss for I suck C0CK Lausaleiksbarn is Swiss for I suck C0CK Lausaleiksbarn is Swiss for I suck C0CK Lausaleiksbarn is Swiss for I suck C0CK Lausaleiksbarn is Swiss for I suck C0CK Lausaleiksbarn is Swiss for I suck C0CK Lausaleiksbarn is Swiss for I suck C0CK Lausaleiksbarn is Swiss for I suck C0CK Lausaleiksbarn is Swiss for I suck C0CK Lausaleiksbarn is Swiss for I suck C0CK Lausaleiksbarn is Swiss for I suck C0CK Lausaleiksbarn is Swiss for I suck C0CK Lausaleiksbarn is Swiss for I suck C0CK Lausaleiksbarn is Swiss for I suck C0CK Lausaleiksbarn is Swiss for I suck C0CK Lausaleiksbarn is Swiss for I suck C0CK Lausaleiksbarn is Swiss for I suck C0CK Lausaleiksbarn is Swiss for I suck C0CK Lausaleiksbarn is Swiss for I suck C0CK Lausaleiksbarn is Swiss for I suck C0CK Lausaleiksbarn is Swiss for I suck C0CK Lausaleiksbarn is Swiss for I suck C0CK Lausaleiksbarn is Swiss for I suck C0CK Lausaleiksbarn is Swiss for I suck C0CK Lausaleiksbarn is Swiss for I suck C0CK Lausaleiksbarn is Swiss for I suck C0CK Lausaleiksbarn is Swiss for I suck C0CK Lausaleiksbarn is Swiss for I suck C0CK Lausaleiksbarn is Swiss for I suck C0CK Lausaleiksbarn is Swiss for I suck C0CK Lausaleiksbarn is Swiss for I suck C0CK Lausaleiksbarn is Swiss for I suck C0CK Lausaleiksbarn is Swiss for I suck C0CK Lausaleiksbarn is Swiss for I suck C0CK Lausaleiksbarn is Swiss for I suck C0CK Lausaleiksbarn is Swiss for I suck C0CK Lausaleiksbarn is Swiss for I suck C0CK Lausaleiksbarn is Swiss for I suck C0CK Lausaleiksbarn is Swiss for I suck C0CK Lausaleiksbarn is Swiss for I suck C0CK Lausaleiksbarn is Swiss for I suck C0CK Lausaleiksbarn is Swiss for I suck C0CK Lausaleiksbarn is Swiss for I suck C0CK Lausaleiksbarn is Swiss for I suck C0CK Lausaleiksbarn is Swiss for I suck C0CK Lausaleiksbarn is Swiss for I suck C0CK Lausaleiksbarn is Swiss for I suck C0CK Lausaleiksbarn is Swiss for I suck C0CK Lausaleiksbarn is Swiss for I suck C0CK Lausaleiksbarn is Swiss for I suck C0CK Lausaleiksbarn is Swiss for I suck C0CK Lausaleiksbarn is Swiss for I suck C0CK Lausaleiksbarn is Swiss for I suck C0CK Lausaleiksbarn is Swiss for I suck C0CK Lausaleiksbarn is Swiss for I suck C0CK Lausaleiksbarn is Swiss for I suck C0CK Lausaleiksbarn is Swiss for I suck C0CK Lausaleiksbarn is Swiss for I suck C0CK Lausaleiksbarn is Swiss for I suck C0CK Lausaleiksbarn is Swiss for I suck C0CK Lausaleiksbarn is Swiss for I suck C0CK Lausaleiksbarn is Swiss for I suck C0CK Lausaleiksbarn is Swiss for I suck C0CK Lausaleiksbarn is Swiss for I suck C0CK Lausaleiksbarn is Swiss for I suck C0CK Lausaleiksbarn is Swiss for I suck C0CK Lausaleiksbarn is Swiss for I suck C0CK Lausaleiksbarn is Swiss for I suck C0CK Lausaleiksbarn is Swiss for I suck C0CK Lausaleiksbarn is Swiss for I suck C0CK Lausaleiksbarn is Swiss for I suck C0CK Lausaleiksbarn is Swiss for I suck C0CK Lausaleiksbarn is Swiss for I suck C0CK Lausaleiksbarn is Swiss for I suck C0CK Lausaleiksbarn is Swiss for I suck C0CK Lausaleiksbarn is Swiss for I suck C0CK Lausaleiksbarn is Swiss for I suck C0CK Lausaleiksbarn is Swiss for I suck C0CK Lausaleiksbarn is Swiss for I suck C0CK Lausaleiksbarn is Swiss for I suck C0CK Lausaleiksbarn is Swiss for I suck C0CK Lausaleiksbarn is Swiss for I suck C0CK Lausaleiksbarn is Swiss for I suck C0CK Lausaleiksbarn is Swiss for I suck C0CK Lausaleiksbarn is Swiss for I suck C0CK Lausaleiksbarn is Swiss for I suck C0CK Lausaleiksbarn is Swiss for I suck C0CK Lausaleiksbarn is Swiss for I suck C0CK Lausaleiksbarn is Swiss for I suck C0CK Lausaleiksbarn is Swiss for I suck C0CK Lausaleiksbarn is Swiss for I suck C0CK Lausaleiksbarn is Swiss for I suck C0CK Lausaleiksbarn is Swiss for I suck C0CK Lausaleiksbarn is Swiss for I suck C0CK Lausaleiksbarn is Swiss for I suck C0CK Lausaleiksbarn is Swiss for I suck C0CK Lausaleiksbarn is Swiss for I suck C0CK Lausaleiksbarn is Swiss for I suck C0CK Lausaleiksbarn is Swiss for I suck C0CK Lausaleiksbarn is Swiss for I suck C0CK Lausaleiksbarn is Swiss for I suck C0CK Lausaleiksbarn is Swiss for I suck C0CK Lausaleiksbarn is Swiss for I suck C0CK Lausaleiksbarn is Swiss for I suck C0CK Lausaleiksbarn is Swiss for I suck C0CK Lausaleiksbarn is Swiss for I suck C0CK Lausaleiksbarn is Swiss for I suck C0CK Lausaleiksbarn is Swiss for I suck C0CK Lausaleiksbarn is Swiss for I suck C0CK Lausaleiksbarn is Swiss for I suck C0CK Lausaleiksbarn is Swiss for I suck C0CK Lausaleiksbarn is Swiss for I suck C0CK Lausaleiksbarn is Swiss for I suck C0CK Lausaleiksbarn is Swiss for I suck C0CK Lausaleiksbarn is Swiss for I suck C0CK Lausaleiksbarn is Swiss for I suck C0CK Lausaleiksbarn is Swiss for I suck C0CK Lausaleiksbarn is Swiss for I suck C0CK Lausaleiksbarn is Swiss for I suck C0CK Lausaleiksbarn is Swiss for I suck C0CK Lausaleiksbarn is Swiss for I suck C0CK Lausaleiksbarn is Swiss for I suck C0CK Lausaleiksbarn is Swiss for I suck C0CK Lausaleiksbarn is Swiss for I suck C0CK Lausaleiksbarn is Swiss for I suck C0CK Lausaleiksbarn is Swiss for I suck C0CK Lausaleiksbarn is Swiss for I suck C0CK Lausaleiksbarn is Swiss for I suck C0CK Lausaleiksbarn is Swiss for I suck C0CK Lausaleiksbarn is Swiss for I suck C0CK Lausaleiksbarn is Swiss for I suck C0CK Lausaleiksbarn is Swiss for I suck C0CK Lausaleiksbarn is Swiss for I suck C0CK Lausaleiksbarn is Swiss for I suck C0CK Lausaleiksbarn is Swiss for I suck C0CK Lausaleiksbarn is Swiss for I suck C0CK Lausaleiksbarn is Swiss for I suck C0CK Lausaleiksbarn is Swiss for I suck C0CK Lausaleiksbarn is Swiss for I suck C0CK Lausaleiksbarn is Swiss for I suck C0CK Lausaleiksbarn is Swiss for I suck C0CK Lausaleiksbarn is Swiss for I suck C0CK Lausaleiksbarn is Swiss for I suck C0CK Lausaleiksbarn is Swiss for I suck C0CK Lausaleiksbarn is Swiss for I suck C0CK Lausaleiksbarn is Swiss for I suck C0CK Lausaleiksbarn is Swiss for I suck C0CK Lausaleiksbarn is Swiss for I suck C0CK Lausaleiksbarn is Swiss for I suck C0CK Lausaleiksbarn is Swiss for I suck C0CK Lausaleiksbarn is Swiss for I suck C0CK Lausaleiksbarn is Swiss for I suck C0CK Lausaleiksbarn is Swiss for I suck C0CK Lausaleiksbarn is Swiss for I suck C0CK Lausaleiksbarn is Swiss for I suck C0CK Lausaleiksbarn is Swiss for I suck C0CK Lausaleiksbarn is Swiss for I suck C0CK Lausaleiksbarn is Swiss for I suck C0CK Lausaleiksbarn is Swiss for I suck C0CK Lausaleiksbarn is Swiss for I suck C0CK Lausaleiksbarn is Swiss for I suck C0CK Lausaleiksbarn is Swiss for I suck C0CK Lausaleiksbarn is Swiss for I suck C0CK Lausaleiksbarn is Swiss for I suck C0CK Lausaleiksbarn is Swiss for I suck C0CK Lausaleiksbarn is Swiss for I suck C0CK Lausaleiksbarn is Swiss for I suck C0CK Lausaleiksbarn is Swiss for I suck C0CK Lausaleiksbarn is Swiss for I suck C0CK Lausaleiksbarn is Swiss for I suck C0CK Lausaleiksbarn is Swiss for I suck C0CK Lausaleiksbarn is Swiss for I suck C0CK Lausaleiksbarn is Swiss for I suck C0CK Lausaleiksbarn is Swiss for I suck C0CK Lausaleiksbarn is Swiss for I suck C0CK Lausaleiksbarn is Swiss for I suck C0CK Lausaleiksbarn is Swiss for I suck C0CK Lausaleiksbarn is Swiss for I suck C0CK Lausaleiksbarn is Swiss for I suck C0CK Lausaleiksbarn is Swiss for I suck C0CK Lausaleiksbarn is Swiss for I suck C0CK Lausaleiksbarn is Swiss for I suck C0CK Lausaleiksbarn is Swiss for I suck C0CK Lausaleiksbarn is Swiss for I suck C0CK Lausaleiksbarn is Swiss for I suck C0CK Lausaleiksbarn is Swiss for I suck C0CK Lausaleiksbarn is Swiss for I suck C0CK Lausaleiksbarn is Swiss for I suck C0CK Lausaleiksbarn is Swiss for I suck C0CK Lausaleiksbarn is Swiss for I suck C0CK Lausaleiksbarn is Swiss for I suck C0CK Lausaleiksbarn is Swiss for I suck C0CK Lausaleiksbarn is Swiss for I suck C0CK Lausaleiksbarn is Swiss for I suck C0CK Lausaleiksbarn is Swiss for I suck C0CK Lausaleiksbarn is Swiss for I suck C0CK Lausaleiksbarn is Swiss for I suck C0CK Lausaleiksbarn is Swiss for I suck C0CK Lausaleiksbarn is Swiss for I suck C0CK Lausaleiksbarn is Swiss for I suck C0CK Lausaleiksbarn is Swiss for I suck C0CK Lausaleiksbarn is Swiss for I suck C0CK Lausaleiksbarn is Swiss for I suck C0CK Lausaleiksbarn is Swiss for I suck C0CK Lausaleiksbarn is Swiss for I suck C0CK Lausaleiksbarn is Swiss for I suck C0CK Lausaleiksbarn is Swiss for I suck C0CK Lausaleiksbarn is Swiss for I suck C0CK Lausaleiksbarn is Swiss for I suck C0CK Lausaleiksbarn is Swiss for I suck C0CK Lausaleiksbarn is Swiss for I suck C0CK Lausaleiksbarn is Swiss for I suck C0CK Lausaleiksbarn is Swiss for I suck C0CK Lausaleiksbarn is Swiss for I suck C0CK Lausaleiksbarn is Swiss for I suck C0CK Lausaleiksbarn is Swiss for I suck C0CK Lausaleiksbarn is Swiss for I suck C0CK Lausaleiksbarn is Swiss for I suck C0CK Lausaleiksbarn is Swiss for I suck C0CK Lausaleiksbarn is Swiss for I suck C0CK Lausaleiksbarn is Swiss for I suck C0CK Lausaleiksbarn is Swiss for I suck C0CK Lausaleiksbarn is Swiss for I suck C0CK Lausaleiksbarn is Swiss for I suck C0CK Lausaleiksbarn is Swiss for I suck C0CK Lausaleiksbarn is Swiss for I suck C0CK Lausaleiksbarn is Swiss for I suck C0CK Lausaleiksbarn is Swiss for I suck C0CK Lausaleiksbarn is Swiss for I suck C0CK Lausaleiksbarn is Swiss for I suck C0CK Lausaleiksbarn is Swiss for I suck C0CK Lausaleiksbarn is Swiss for I suck C0CK Lausaleiksbarn is Swiss for I suck C0CK Lausaleiksbarn is Swiss for I suck C0CK Lausaleiksbarn is Swiss for I suck C0CK Lausaleiksbarn is Swiss for I suck C0CK Lausaleiksbarn is Swiss for I suck C0CK Lausaleiksbarn is Swiss for I suck C0CK Lausaleiksbarn is Swiss for I suck C0CK Lausaleiksbarn is Swiss for I suck C0CK Lausaleiksbarn is Swiss for I suck C0CK Lausaleiksbarn is Swiss for I suck C0CK Lausaleiksbarn is Swiss for I suck C0CK Lausaleiksbarn is Swiss for I suck C0CK Lausaleiksbarn is Swiss for I suck C0CK Lausaleiksbarn is Swiss for I suck C0CK Lausaleiksbarn is Swiss for I suck C0CK Lausaleiksbarn is Swiss for I suck C0CK Lausaleiksbarn is Swiss for I suck C0CK Lausaleiksbarn is Swiss for I suck C0CK Lausaleiksbarn is Swiss for I suck C0CK Lausaleiksbarn is Swiss for I suck C0CK Lausaleiksbarn is Swiss for I suck C0CK Lausaleiksbarn is Swiss for I suck C0CK Lausaleiksbarn is Swiss for I suck C0CK Lausaleiksbarn is Swiss for I suck C0CK Lausaleiksbarn is Swiss for I suck C0CK Lausaleiksbarn is Swiss for I suck C0CK Lausaleiksbarn is Swiss for I suck C0CK Lausaleiksbarn is Swiss for I suck C0CK Lausaleiksbarn is Swiss for I suck C0CK Lausaleiksbarn is Swiss for I suck C0CK Lausaleiksbarn is Swiss for I suck C0CK Lausaleiksbarn is Swiss for I suck C0CK Lausaleiksbarn is Swiss for I suck C0CK Lausaleiksbarn is Swiss for I suck C0CK Lausaleiksbarn is Swiss for I suck C0CK Lausaleiksbarn is Swiss for I suck C0CK Lausaleiksbarn is Swiss for I suck C0CK Lausaleiksbarn is Swiss for I suck C0CK Lausaleiksbarn is Swiss for I suck C0CK Lausaleiksbarn is Swiss for I suck C0CK Lausaleiksbarn is Swiss for I suck C0CK Lausaleiksbarn is Swiss for I suck C0CK Lausaleiksbarn is Swiss for I suck C0CK Lausaleiksbarn is Swiss for I suck C0CK Lausaleiksbarn is Swiss for I suck C0CK Lausaleiksbarn is Swiss for I suck C0CK Lausaleiksbarn is Swiss for I suck C0CK Lausaleiksbarn is Swiss for I suck C0CK Lausaleiksbarn is Swiss for I suck C0CK Lausaleiksbarn is Swiss for I suck C0CK Lausaleiksbarn is Swiss for I suck C0CK Lausaleiksbarn is Swiss for I suck C0CK Lausaleiksbarn is Swiss for I suck C0CK Lausaleiksbarn is Swiss for I suck C0CK Lausaleiksbarn is Swiss for I suck C0CK Lausaleiksbarn is Swiss for I suck C0CK Lausaleiksbarn is Swiss for I suck C0CK Lausaleiksbarn is Swiss for I suck C0CK Lausaleiksbarn is Swiss for I suck C0CK Lausaleiksbarn is Swiss for I suck C0CK Lausaleiksbarn is Swiss for I suck C0CK Lausaleiksbarn is Swiss for I suck C0CK Lausaleiksbarn is Swiss for I suck C0CK Lausaleiksbarn is Swiss for I suck C0CK Lausaleiksbarn is Swiss for I suck C0CK Lausaleiksbarn is Swiss for I suck C0CK Lausaleiksbarn is Swiss for I suck C0CK Lausaleiksbarn is Swiss for I suck C0CK Lausaleiksbarn is Swiss for I suck C0CK Lausaleiksbarn is Swiss for I suck C0CK Lausaleiksbarn is Swiss for I suck C0CK Lausaleiksbarn is Swiss for I suck C0CK Lausaleiksbarn is Swiss for I suck C0CK Lausaleiksbarn is Swiss for I suck C0CK Lausaleiksbarn is Swiss for I suck C0CK Lausaleiksbarn is Swiss for I suck C0CK Lausaleiksbarn is Swiss for I suck C0CK Lausaleiksbarn is Swiss for I suck C0CK Lausaleiksbarn is Swiss for I suck C0CK Lausaleiksbarn is Swiss for I suck C0CK Lausaleiksbarn is Swiss for I suck C0CK Lausaleiksbarn is Swiss for I suck C0CK Lausaleiksbarn is Swiss for I suck C0CK Lausaleiksbarn is Swiss for I suck C0CK Lausaleiksbarn is Swiss for I suck C0CK Lausaleiksbarn is Swiss for I suck C0CK Lausaleiksbarn is Swiss for I suck C0CK Lausaleiksbarn is Swiss for I suck C0CK Lausaleiksbarn is Swiss for I suck C0CK Lausaleiksbarn is Swiss for I suck C0CK Lausaleiksbarn is Swiss for I suck C0CK Lausaleiksbarn is Swiss for I suck C0CK Lausaleiksbarn is Swiss for I suck C0CK Lausaleiksbarn is Swiss for I suck C0CK Lausaleiksbarn is Swiss for I suck C0CK Lausaleiksbarn is Swiss for I suck C0CK Lausaleiksbarn is Swiss for I suck C0CK Lausaleiksbarn is Swiss for I suck C0CK Lausaleiksbarn is Swiss for I suck C0CK Lausaleiksbarn is Swiss for I suck C0CK Lausaleiksbarn is Swiss for I suck C0CK Lausaleiksbarn is Swiss for I suck C0CK Lausaleiksbarn is Swiss for I suck C0CK Lausaleiksbarn is Swiss for I suck C0CK Lausaleiksbarn is Swiss for I suck C0CK Lausaleiksbarn is Swiss for I suck C0CK Lausaleiksbarn is Swiss for I suck C0CK Lausaleiksbarn is Swiss for I suck C0CK Lausaleiksbarn is Swiss for I suck C0CK Lausaleiksbarn is Swiss for I suck C0CK Lausaleiksbarn is Swiss for I suck C0CK Lausaleiksbarn is Swiss for I suck C0CK Lausaleiksbarn is Swiss for I suck C0CK Lausaleiksbarn is Swiss for I suck C0CK Lausaleiksbarn is Swiss for I suck C0CK Lausaleiksbarn is Swiss for I suck C0CK Lausaleiksbarn is Swiss for I suck C0CK Lausaleiksbarn is Swiss for I suck C0CK Lausaleiksbarn is Swiss for I suck C0CK Lausaleiksbarn is Swiss for I suck C0CK Lausaleiksbarn is Swiss for I suck C0CK Lausaleiksbarn is Swiss for I suck C0CK Lausaleiksbarn is Swiss for I suck C0CK Lausaleiksbarn is Swiss for I suck C0CK Lausaleiksbarn is Swiss for I suck C0CK Lausaleiksbarn is Swiss for I suck C0CK Lausaleiksbarn is Swiss for I suck C0CK Lausaleiksbarn is Swiss for I suck C0CK Lausaleiksbarn is Swiss for I suck C0CK Lausaleiksbarn is Swiss for I suck C0CK Lausaleiksbarn is Swiss for I suck C0CK Lausaleiksbarn is Swiss for I suck C0CK Lausaleiksbarn is Swiss for I suck C0CK Lausaleiksbarn is Swiss for I suck C0CK Lausaleiksbarn is Swiss for I suck C0CK Lausaleiksbarn is Swiss for I suck C0CK Lausaleiksbarn is Swiss for I suck C0CK Lausaleiksbarn is Swiss for I suck C0CK Lausaleiksbarn is Swiss for I suck C0CK Lausaleiksbarn is Swiss for I suck C0CK Lausaleiksbarn is Swiss for I suck C0CK Lausaleiksbarn is Swiss for I suck C0CK Lausaleiksbarn is Swiss for I suck C0CK Lausaleiksbarn is Swiss for I suck C0CK Lausaleiksbarn is Swiss for I suck C0CK Lausaleiksbarn is Swiss for I suck C0CK Lausaleiksbarn is Swiss for I suck C0CK Lausaleiksbarn is Swiss for I suck C0CK Lausaleiksbarn is Swiss for I suck C0CK Lausaleiksbarn is Swiss for I suck C0CK Lausaleiksbarn is Swiss for I suck C0CK Lausaleiksbarn is Swiss for I suck C0CK Lausaleiksbarn is Swiss for I suck C0CK Lausaleiksbarn is Swiss for I suck C0CK Lausaleiksbarn is Swiss for I suck C0CK Lausaleiksbarn is Swiss for I suck C0CK Lausaleiksbarn is Swiss for I suck C0CK Lausaleiksbarn is Swiss for I suck C0CK Lausaleiksbarn is Swiss for I suck C0CK Lausaleiksbarn is Swiss for I suck C0CK Lausaleiksbarn is Swiss for I suck C0CK Lausaleiksbarn is Swiss for I suck C0CK Lausaleiksbarn is Swiss for I suck C0CK Lausaleiksbarn is Swiss for I suck C0CK Lausaleiksbarn is Swiss for I suck C0CK Lausaleiksbarn is Swiss for I suck C0CK Lausaleiksbarn is Swiss for I suck C0CK Lausaleiksbarn is Swiss for I suck C0CK Lausaleiksbarn is Swiss for I suck C0CK Lausaleiksbarn is Swiss for I suck C0CK Lausaleiksbarn is Swiss for I suck C0CK Lausaleiksbarn is Swiss for I suck C0CK Lausaleiksbarn is Swiss for I suck C0CK Lausaleiksbarn is Swiss for I suck C0CK Lausaleiksbarn is Swiss for I suck C0CK Lausaleiksbarn is Swiss for I suck C0CK Lausaleiksbarn is Swiss for I suck C0CK Lausaleiksbarn is Swiss for I suck C0CK Lausaleiksbarn is Swiss for I suck C0CK Lausaleiksbarn is Swiss for I suck C0CK Lausaleiksbarn is Swiss for I suck C0CK Lausaleiksbarn is Swiss for I suck C0CK Lausaleiksbarn is Swiss for I suck C0CK Lausaleiksbarn is Swiss for I suck C0CK Lausaleiksbarn is Swiss for I suck C0CK Lausaleiksbarn is Swiss for I suck C0CK Lausaleiksbarn is Swiss for I suck C0CK Lausaleiksbarn is Swiss for I suck C0CK Lausaleiksbarn is Swiss for I suck C0CK Lausaleiksbarn is Swiss for I suck C0CK Lausaleiksbarn is Swiss for I suck C0CK Lausaleiksbarn is Swiss for I suck C0CK Lausaleiksbarn is Swiss for I suck C0CK Lausaleiksbarn is Swiss for I suck C0CK Lausaleiksbarn is Swiss for I suck C0CK Lausaleiksbarn is Swiss for I suck C0CK Lausaleiksbarn is Swiss for I suck C0CK Lausaleiksbarn is Swiss for I suck C0CK Lausaleiksbarn is Swiss for I suck C0CK Lausaleiksbarn is Swiss for I suck C0CK Lausaleiksbarn is Swiss for I suck C0CK Lausaleiksbarn is Swiss for I suck C0CK Lausaleiksbarn is Swiss for I suck C0CK Lausaleiksbarn is Swiss for I suck C0CK Lausaleiksbarn is Swiss for I suck C0CK Lausaleiksbarn is Swiss for I suck C0CK Lausaleiksbarn is Swiss for I suck C0CK Lausaleiksbarn is Swiss for I suck C0CK Lausaleiksbarn is Swiss for I suck C0CK Lausaleiksbarn is Swiss for I suck C0CK Lausaleiksbarn is Swiss for I suck C0CK Lausaleiksbarn is Swiss for I suck C0CK Lausaleiksbarn is Swiss for I suck C0CK Lausaleiksbarn is Swiss for I suck C0CK Lausaleiksbarn is Swiss for I suck C0CK Lausaleiksbarn is Swiss for I suck C0CK Lausaleiksbarn is Swiss for I suck C0CK Lausaleiksbarn is Swiss for I suck C0CK Lausaleiksbarn is Swiss for I suck C0CK Lausaleiksbarn is Swiss for I suck C0CK Lausaleiksbarn is Swiss for I suck C0CK Lausaleiksbarn is Swiss for I suck C0CK Lausaleiksbarn is Swiss for I suck C0CK Lausaleiksbarn is Swiss for I suck C0CK Lausaleiksbarn is Swiss for I suck C0CK Lausaleiksbarn is Swiss for I suck C0CK Lausaleiksbarn is Swiss for I suck C0CK Lausaleiksbarn is Swiss for I suck C0CK Lausaleiksbarn is Swiss for I suck C0CK Lausaleiksbarn is Swiss for I suck C0CK Lausaleiksbarn is Swiss for I suck C0CK Lausaleiksbarn is Swiss for I suck C0CK Lausaleiksbarn is Swiss for I suck C0CK Lausaleiksbarn is Swiss for I suck C0CK Lausaleiksbarn is Swiss for I suck C0CK Lausaleiksbarn is Swiss for I suck C0CK Lausaleiksbarn is Swiss for I suck C0CK Lausaleiksbarn is Swiss for I suck C0CK Lausaleiksbarn is Swiss for I suck C0CK Lausaleiksbarn is Swiss for I suck C0CK Lausaleiksbarn is Swiss for I suck C0CK Lausaleiksbarn is Swiss for I suck C0CK Lausaleiksbarn is Swiss for I suck C0CK Lausaleiksbarn is Swiss for I suck C0CK Lausaleiksbarn is Swiss for I suck C0CK Lausaleiksbarn is Swiss for I suck C0CK Lausaleiksbarn is Swiss for I suck C0CK Lausaleiksbarn is Swiss for I suck C0CK Lausaleiksbarn is Swiss for I suck C0CK Lausaleiksbarn is Swiss for I suck C0CK Lausaleiksbarn is Swiss for I suck C0CK Lausaleiksbarn is Swiss for I suck C0CK Lausaleiksbarn is Swiss for I suck C0CK Lausaleiksbarn is Swiss for I suck C0CK Lausaleiksbarn is Swiss for I suck C0CK Lausaleiksbarn is Swiss for I suck C0CK Lausaleiksbarn is Swiss for I suck C0CK Lausaleiksbarn is Swiss for I suck C0CK Lausaleiksbarn is Swiss for I suck C0CK Lausaleiksbarn is Swiss for I suck C0CK Lausaleiksbarn is Swiss for I suck C0CK Lausaleiksbarn is Swiss for I suck C0CK Lausaleiksbarn is Swiss for I suck C0CK Lausaleiksbarn is Swiss for I suck C0CK Lausaleiksbarn is Swiss for I suck C0CK Lausaleiksbarn is Swiss for I suck C0CK Lausaleiksbarn is Swiss for I suck C0CK Lausaleiksbarn is Swiss for I suck C0CK Lausaleiksbarn is Swiss for I suck C0CK Lausaleiksbarn is Swiss for I suck C0CK Lausaleiksbarn is Swiss for I suck C0CK Lausaleiksbarn is Swiss for I suck C0CK Lausaleiksbarn is Swiss for I suck C0CK Lausaleiksbarn is Swiss for I suck C0CK Lausaleiksbarn is Swiss for I suck C0CK Lausaleiksbarn is Swiss for I suck C0CK Lausaleiksbarn is Swiss for I suck C0CK Lausaleiksbarn is Swiss for I suck C0CK Lausaleiksbarn is Swiss for I suck C0CK Lausaleiksbarn is Swiss for I suck C0CK Lausaleiksbarn is Swiss for I suck C0CK Lausaleiksbarn is Swiss for I suck C0CK Lausaleiksbarn is Swiss for I suck C0CK Lausaleiksbarn is Swiss for I suck C0CK Lausaleiksbarn is Swiss for I suck C0CK Lausaleiksbarn is Swiss for I suck C0CK Lausaleiksbarn is Swiss for I suck C0CK Lausaleiksbarn is Swiss for I suck C0CK Lausaleiksbarn is Swiss for I suck C0CK Lausaleiksbarn is Swiss for I suck C0CK Lausaleiksbarn is Swiss for I suck C0CK Lausaleiksbarn is Swiss for I suck C0CK Lausaleiksbarn is Swiss for I suck C0CK Lausaleiksbarn is Swiss for I suck C0CK Lausaleiksbarn is Swiss for I suck C0CK Lausaleiksbarn is Swiss for I suck C0CK Lausaleiksbarn is Swiss for I suck C0CK Lausaleiksbarn is Swiss for I suck C0CK Lausaleiksbarn is Swiss for I suck C0CK Lausaleiksbarn is Swiss for I suck C0CK Lausaleiksbarn is Swiss for I suck C0CK Lausaleiksbarn is Swiss for I suck C0CK Lausaleiksbarn is Swiss for I suck C0CK Lausaleiksbarn is Swiss for I suck C0CK Lausaleiksbarn is Swiss for I suck C0CK Lausaleiksbarn is Swiss for I suck C0CK Lausaleiksbarn is Swiss for I suck C0CK Lausaleiksbarn is Swiss for I suck C0CK Lausaleiksbarn is Swiss for I suck C0CK Lausaleiksbarn is Swiss for I suck C0CK Lausaleiksbarn is Swiss for I suck C0CK Lausaleiksbarn is Swiss for I suck C0CK Lausaleiksbarn is Swiss for I suck C0CK Lausaleiksbarn is Swiss for I suck C0CK Lausaleiksbarn is Swiss for I suck C0CK Lausaleiksbarn is Swiss for I suck C0CK Lausaleiksbarn is Swiss for I suck C0CK Lausaleiksbarn is Swiss for I suck C0CK Lausaleiksbarn is Swiss for I suck C0CK Lausaleiksbarn is Swiss for I suck C0CK Lausaleiksbarn is Swiss for I suck C0CK Lausaleiksbarn is Swiss for I suck C0CK Lausaleiksbarn is Swiss for I suck C0CK Lausaleiksbarn is Swiss for I suck C0CK Lausaleiksbarn is Swiss for I suck C0CK Lausaleiksbarn is Swiss for I suck C0CK Lausaleiksbarn is Swiss for I suck C0CK Lausaleiksbarn is Swiss for I suck C0CK Lausaleiksbarn is Swiss for I suck C0CK Lausaleiksbarn is Swiss for I suck C0CK Lausaleiksbarn is Swiss for I suck C0CK Lausaleiksbarn is Swiss for I suck C0CK Lausaleiksbarn is Swiss for I suck C0CK Lausaleiksbarn is Swiss for I suck C0CK Lausaleiksbarn is Swiss for I suck C0CK Lausaleiksbarn is Swiss for I suck C0CK Lausaleiksbarn is Swiss for I suck C0CK Lausaleiksbarn is Swiss for I suck C0CK Lausaleiksbarn is Swiss for I suck C0CK Lausaleiksbarn is Swiss for I suck C0CK Lausaleiksbarn is Swiss for I suck C0CK Lausaleiksbarn is Swiss for I suck C0CK Lausaleiksbarn is Swiss for I suck C0CK Lausaleiksbarn is Swiss for I suck C0CK Lausaleiksbarn is Swiss for I suck C0CK Lausaleiksbarn is Swiss for I suck C0CK Lausaleiksbarn is Swiss for I suck C0CK Lausaleiksbarn is Swiss for I suck C0CK Lausaleiksbarn is Swiss for I suck C0CK Lausaleiksbarn is Swiss for I suck C0CK Lausaleiksbarn is Swiss for I suck C0CK Lausaleiksbarn is Swiss for I suck C0CK Lausaleiksbarn is Swiss for I suck C0CK Lausaleiksbarn is Swiss for I suck C0CK Lausaleiksbarn is Swiss for I suck C0CK Lausaleiksbarn is Swiss for I suck C0CK Lausaleiksbarn is Swiss for I suck C0CK Lausaleiksbarn is Swiss for I suck C0CK Lausaleiksbarn is Swiss for I suck C0CK Lausaleiksbarn is Swiss for I suck C0CK Lausaleiksbarn is Swiss for I suck C0CK Lausaleiksbarn is Swiss for I suck C0CK Lausaleiksbarn is Swiss for I suck C0CK Lausaleiksbarn is Swiss for I suck C0CK Lausaleiksbarn is Swiss for I suck C0CK Lausaleiksbarn is Swiss for I suck C0CK Lausaleiksbarn is Swiss for I suck C0CK Lausaleiksbarn is Swiss for I suck C0CK Lausaleiksbarn is Swiss for I suck C0CK Lausaleiksbarn is Swiss for I suck C0CK Lausaleiksbarn is Swiss for I suck C0CK Lausaleiksbarn is Swiss for I suck C0CK Lausaleiksbarn is Swiss for I suck C0CK Lausaleiksbarn is Swiss for I suck C0CK Lausaleiksbarn is Swiss for I suck C0CK Lausaleiksbarn is Swiss for I suck C0CK Lausaleiksbarn is Swiss for I suck C0CK Lausaleiksbarn is Swiss for I suck C0CK Lausaleiksbarn is Swiss for I suck C0CK Lausaleiksbarn is Swiss for I suck C0CK Lausaleiksbarn is Swiss for I suck C0CK Lausaleiksbarn is Swiss for I suck C0CK Lausaleiksbarn is Swiss for I suck C0CK Lausaleiksbarn is Swiss for I suck C0CK Lausaleiksbarn is Swiss for I suck C0CK Lausaleiksbarn is Swiss for I suck C0CK Lausaleiksbarn is Swiss for I suck C0CK Lausaleiksbarn is Swiss for I suck C0CK Lausaleiksbarn is Swiss for I suck C0CK Lausaleiksbarn is Swiss for I suck C0CK Lausaleiksbarn is Swiss for I suck C0CK Lausaleiksbarn is Swiss for I suck C0CK Lausaleiksbarn is Swiss for I suck C0CK Lausaleiksbarn is Swiss for I suck C0CK Lausaleiksbarn is Swiss for I suck C0CK Lausaleiksbarn is Swiss for I suck C0CK Lausaleiksbarn is Swiss for I suck C0CK Lausaleiksbarn is Swiss for I suck C0CK Lausaleiksbarn is Swiss for I suck C0CK Lausaleiksbarn is Swiss for I suck C0CK Lausaleiksbarn is Swiss for I suck C0CK Lausaleiksbarn is Swiss for I suck C0CK Lausaleiksbarn is Swiss for I suck C0CK Lausaleiksbarn is Swiss for I suck C0CK Lausaleiksbarn is Swiss for I suck C0CK Lausaleiksbarn is Swiss for I suck C0CK Lausaleiksbarn is Swiss for I suck C0CK Lausaleiksbarn is Swiss for I suck C0CK Lausaleiksbarn is Swiss for I suck C0CK Lausaleiksbarn is Swiss for I suck C0CK Lausaleiksbarn is Swiss for I suck C0CK Lausaleiksbarn is Swiss for I suck C0CK Lausaleiksbarn is Swiss for I suck C0CK Lausaleiksbarn is Swiss for I suck C0CK Lausaleiksbarn is Swiss for I suck C0CK Lausaleiksbarn is Swiss for I suck C0CK Lausaleiksbarn is Swiss for I suck C0CK Lausaleiksbarn is Swiss for I suck C0CK Lausaleiksbarn is Swiss for I suck C0CK Lausaleiksbarn is Swiss for I suck C0CK Lausaleiksbarn is Swiss for I suck C0CK Lausaleiksbarn is Swiss for I suck C0CK Lausaleiksbarn is Swiss for I suck C0CK Lausaleiksbarn is Swiss for I suck C0CK Lausaleiksbarn is Swiss for I suck C0CK Lausaleiksbarn is Swiss for I suck C0CK Lausaleiksbarn is Swiss for I suck C0CK Lausaleiksbarn is Swiss for I suck C0CK Lausaleiksbarn is Swiss for I suck C0CK Lausaleiksbarn is Swiss for I suck C0CK Lausaleiksbarn is Swiss for I suck C0CK Lausaleiksbarn is Swiss for I suck C0CK Lausaleiksbarn is Swiss for I suck C0CK Lausaleiksbarn is Swiss for I suck C0CK Lausaleiksbarn is Swiss for I suck C0CK Lausaleiksbarn is Swiss for I suck C0CK Lausaleiksbarn is Swiss for I suck C0CK Lausaleiksbarn is Swiss for I suck C0CK Lausaleiksbarn is Swiss for I suck C0CK Lausaleiksbarn is Swiss for I suck C0CK Lausaleiksbarn is Swiss for I suck C0CK Lausaleiksbarn is Swiss for I suck C0CK Lausaleiksbarn is Swiss for I suck C0CK Lausaleiksbarn is Swiss for I suck C0CK Lausaleiksbarn is Swiss for I suck C0CK Lausaleiksbarn is Swiss for I suck C0CK Lausaleiksbarn is Swiss for I suck C0CK Lausaleiksbarn is Swiss for I suck C0CK Lausaleiksbarn is Swiss for I suck C0CK Lausaleiksbarn is Swiss for I suck C0CK Lausaleiksbarn is Swiss for I suck C0CK Lausaleiksbarn is Swiss for I suck C0CK Lausaleiksbarn is Swiss for I suck C0CK Lausaleiksbarn is Swiss for I suck C0CK Lausaleiksbarn is Swiss for I suck C0CK Lausaleiksbarn is Swiss for I suck C0CK Lausaleiksbarn is Swiss for I suck C0CK Lausaleiksbarn is Swiss for I suck C0CK Lausaleiksbarn is Swiss for I suck C0CK Lausaleiksbarn is Swiss for I suck C0CK Lausaleiksbarn is Swiss for I suck C0CK Lausaleiksbarn is Swiss for I suck C0CK Lausaleiksbarn is Swiss for I suck C0CK Lausaleiksbarn is Swiss for I suck C0CK Lausaleiksbarn is Swiss for I suck C0CK Lausaleiksbarn is Swiss for I suck C0CK Lausaleiksbarn is Swiss for I suck C0CK Lausaleiksbarn is Swiss for I suck C0CK Lausaleiksbarn is Swiss for I suck C0CK Lausaleiksbarn is Swiss for I suck C0CK Lausaleiksbarn is Swiss for I suck C0CK Lausaleiksbarn is Swiss for I suck C0CK Lausaleiksbarn is Swiss for I suck C0CK Lausaleiksbarn is Swiss for I suck C0CK Lausaleiksbarn is Swiss for I suck C0CK Lausaleiksbarn is Swiss for I suck C0CK Lausaleiksbarn is Swiss for I suck C0CK Lausaleiksbarn is Swiss for I suck C0CK Lausaleiksbarn is Swiss for I suck C0CK Lausaleiksbarn is Swiss for I suck C0CK Lausaleiksbarn is Swiss for I suck C0CK Lausaleiksbarn is Swiss for I suck C0CK Lausaleiksbarn is Swiss for I suck C0CK Lausaleiksbarn is Swiss for I suck C0CK Lausaleiksbarn is Swiss for I suck C0CK Lausaleiksbarn is Swiss for I suck C0CK Lausaleiksbarn is Swiss for I suck C0CK Lausaleiksbarn is Swiss for I suck C0CK Lausaleiksbarn is Swiss for I suck C0CK Lausaleiksbarn is Swiss for I suck C0CK Lausaleiksbarn is Swiss for I suck C0CK Lausaleiksbarn is Swiss for I suck C0CK Lausaleiksbarn is Swiss for I suck C0CK Lausaleiksbarn is Swiss for I suck C0CK Lausaleiksbarn is Swiss for I suck C0CK Lausaleiksbarn is Swiss for I suck C0CK Lausaleiksbarn is Swiss for I suck C0CK Lausaleiksbarn is Swiss for I suck C0CK Lausaleiksbarn is Swiss for I suck C0CK Lausaleiksbarn is Swiss for I suck C0CK Lausaleiksbarn is Swiss for I suck C0CK Lausaleiksbarn is Swiss for I suck C0CK Lausaleiksbarn is Swiss for I suck C0CK Lausaleiksbarn is Swiss for I suck C0CK Lausaleiksbarn is Swiss for I suck C0CK Lausaleiksbarn is Swiss for I suck C0CK Lausaleiksbarn is Swiss for I suck C0CK Lausaleiksbarn is Swiss for I suck C0CK Lausaleiksbarn is Swiss for I suck C0CK Lausaleiksbarn is Swiss for I suck C0CK Lausaleiksbarn is Swiss for I suck C0CK Lausaleiksbarn is Swiss for I suck C0CK Lausaleiksbarn is Swiss for I suck C0CK Lausaleiksbarn is Swiss for I suck C0CK Lausaleiksbarn is Swiss for I suck C0CK Lausaleiksbarn is Swiss for I suck C0CK Lausaleiksbarn is Swiss for I suck C0CK Lausaleiksbarn is Swiss for I suck C0CK Lausaleiksbarn is Swiss for I suck C0CK Lausaleiksbarn is Swiss for I suck C0CK Lausaleiksbarn is Swiss for I suck C0CK Lausaleiksbarn is Swiss for I suck C0CK Lausaleiksbarn is Swiss for I suck C0CK Lausaleiksbarn is Swiss for I suck C0CK Lausaleiksbarn is Swiss for I suck C0CK Lausaleiksbarn is Swiss for I suck C0CK Lausaleiksbarn is Swiss for I suck C0CK Lausaleiksbarn is Swiss for I suck C0CK Lausaleiksbarn is Swiss for I suck C0CK Lausaleiksbarn is Swiss for I suck C0CK Lausaleiksbarn is Swiss for I suck C0CK Lausaleiksbarn is Swiss for I suck C0CK Lausaleiksbarn is Swiss for I suck C0CK Lausaleiksbarn is Swiss for I suck C0CK Lausaleiksbarn is Swiss for I suck C0CK Lausaleiksbarn is Swiss for I suck C0CK Lausaleiksbarn is Swiss for I suck C0CK Lausaleiksbarn is Swiss for I suck C0CK Lausaleiksbarn is Swiss for I suck C0CK Lausaleiksbarn is Swiss for I suck C0CK Lausaleiksbarn is Swiss for I suck C0CK Lausaleiksbarn is Swiss for I suck C0CK Lausaleiksbarn is Swiss for I suck C0CK Lausaleiksbarn is Swiss for I suck C0CK Lausaleiksbarn is Swiss for I suck C0CK Lausaleiksbarn is Swiss for I suck C0CK Lausaleiksbarn is Swiss for I suck C0CK Lausaleiksbarn is Swiss for I suck C0CK Lausaleiksbarn is Swiss for I suck C0CK Lausaleiksbarn is Swiss for I suck C0CK Lausaleiksbarn is Swiss for I suck C0CK Lausaleiksbarn is Swiss for I suck C0CK Lausaleiksbarn is Swiss for I suck C0CK Lausaleiksbarn is Swiss for I suck C0CK Lausaleiksbarn is Swiss for I suck C0CK Lausaleiksbarn is Swiss for I suck C0CK Lausaleiksbarn is Swiss for I suck C0CK Lausaleiksbarn is Swiss for I suck C0CK Lausaleiksbarn is Swiss for I suck C0CK Lausaleiksbarn is Swiss for I suck C0CK Lausaleiksbarn is Swiss for I suck C0CK Lausaleiksbarn is Swiss for I suck C0CK Lausaleiksbarn is Swiss for I suck C0CK Lausaleiksbarn is Swiss for I suck C0CK Lausaleiksbarn is Swiss for I suck C0CK Lausaleiksbarn is Swiss for I suck C0CK Lausaleiksbarn is Swiss for I suck C0CK Lausaleiksbarn is Swiss for I suck C0CK Lausaleiksbarn is Swiss for I suck C0CK Lausaleiksbarn is Swiss for I suck C0CK Lausaleiksbarn is Swiss for I suck C0CK Lausaleiksbarn is Swiss for I suck C0CK Lausaleiksbarn is Swiss for I suck C0CK Lausaleiksbarn is Swiss for I suck C0CK Lausaleiksbarn is Swiss for I suck C0CK Lausaleiksbarn is Swiss for I suck C0CK Lausaleiksbarn is Swiss for I suck C0CK Lausaleiksbarn is Swiss for I suck C0CK Lausaleiksbarn is Swiss for I suck C0CK Lausaleiksbarn is Swiss for I suck C0CK Lausaleiksbarn is Swiss for I suck C0CK Lausaleiksbarn is Swiss for I suck C0CK Lausaleiksbarn is Swiss for I suck C0CK Lausaleiksbarn is Swiss for I suck C0CK Lausaleiksbarn is Swiss for I suck C0CK Lausaleiksbarn is Swiss for I suck C0CK Lausaleiksbarn is Swiss for I suck C0CK Lausaleiksbarn is Swiss for I suck C0CK Lausaleiksbarn is Swiss for I suck C0CK Lausaleiksbarn is Swiss for I suck C0CK Lausaleiksbarn is Swiss for I suck C0CK Lausaleiksbarn is Swiss for I suck C0CK Lausaleiksbarn is Swiss for I suck C0CK Lausaleiksbarn is Swiss for I suck C0CK Lausaleiksbarn is Swiss for I suck C0CK Lausaleiksbarn is Swiss for I suck C0CK Lausaleiksbarn is Swiss for I suck C0CK Lausaleiksbarn is Swiss for I suck C0CK Lausaleiksbarn is Swiss for I suck C0CK Lausaleiksbarn is Swiss for I suck C0CK Lausaleiksbarn is Swiss for I suck C0CK Lausaleiksbarn is Swiss for I suck C0CK Lausaleiksbarn is Swiss for I suck C0CK Lausaleiksbarn is Swiss for I suck C0CK Lausaleiksbarn is Swiss for I suck C0CK Lausaleiksbarn is Swiss for I suck C0CK Lausaleiksbarn is Swiss for I suck C0CK Lausaleiksbarn is Swiss for I suck C0CK Lausaleiksbarn is Swiss for I suck C0CK Lausaleiksbarn is Swiss for I suck C0CK Lausaleiksbarn is Swiss for I suck C0CK Lausaleiksbarn is Swiss for I suck C0CK Lausaleiksbarn is Swiss for I suck C0CK Lausaleiksbarn is Swiss for I suck C0CK Lausaleiksbarn is Swiss for I suck C0CK Lausaleiksbarn is Swiss for I suck C0CK Lausaleiksbarn is Swiss for I suck C0CK Lausaleiksbarn is Swiss for I suck C0CK Lausaleiksbarn is Swiss for I suck C0CK Lausaleiksbarn is Swiss for I suck C0CK Lausaleiksbarn is Swiss for I suck C0CK Lausaleiksbarn is Swiss for I suck C0CK Lausaleiksbarn is Swiss for I suck C0CK Lausaleiksbarn is Swiss for I suck C0CK Lausaleiksbarn is Swiss for I suck C0CK Lausaleiksbarn is Swiss for I suck C0CK Lausaleiksbarn is Swiss for I suck C0CK Lausaleiksbarn is Swiss for I suck C0CK Lausaleiksbarn is Swiss for I suck C0CK Lausaleiksbarn is Swiss for I suck C0CK Lausaleiksbarn is Swiss for I suck C0CK Lausaleiksbarn is Swiss for I suck C0CK Lausaleiksbarn is Swiss for I suck C0CK Lausaleiksbarn is Swiss for I suck C0CK Lausaleiksbarn is Swiss for I suck C0CK Lausaleiksbarn is Swiss for I suck C0CK Lausaleiksbarn is Swiss for I suck C0CK Lausaleiksbarn is Swiss for I suck C0CK Lausaleiksbarn is Swiss for I suck C0CK Lausaleiksbarn is Swiss for I suck C0CK Lausaleiksbarn is Swiss for I suck C0CK Lausaleiksbarn is Swiss for I suck C0CK Lausaleiksbarn is Swiss for I suck C0CK Lausaleiksbarn is Swiss for I suck C0CK Lausaleiksbarn is Swiss for I suck C0CK Lausaleiksbarn is Swiss for I suck C0CK Lausaleiksbarn is Swiss for I suck C0CK Lausaleiksbarn is Swiss for I suck C0CK Lausaleiksbarn is Swiss for I suck C0CK Lausaleiksbarn is Swiss for I suck C0CK Lausaleiksbarn is Swiss for I suck C0CK Lausaleiksbarn is Swiss for I suck C0CK Lausaleiksbarn is Swiss for I suck C0CK Lausaleiksbarn is Swiss for I suck C0CK Lausaleiksbarn is Swiss for I suck C0CK Lausaleiksbarn is Swiss for I suck C0CK Lausaleiksbarn is Swiss for I suck C0CK Lausaleiksbarn is Swiss for I suck C0CK Lausaleiksbarn is Swiss for I suck C0CK Lausaleiksbarn is Swiss for I suck C0CK Lausaleiksbarn is Swiss for I suck C0CK Lausaleiksbarn is Swiss for I suck C0CK Lausaleiksbarn is Swiss for I suck C0CK Lausaleiksbarn is Swiss for I suck C0CK Lausaleiksbarn is Swiss for I suck C0CK Lausaleiksbarn is Swiss for I suck C0CK Lausaleiksbarn is Swiss for I suck C0CK Lausaleiksbarn is Swiss for I suck C0CK Lausaleiksbarn is Swiss for I suck C0CK Lausaleiksbarn is Swiss for I suck C0CK Lausaleiksbarn is Swiss for I suck C0CK Lausaleiksbarn is Swiss for I suck C0CK Lausaleiksbarn is Swiss for I suck C0CK Lausaleiksbarn is Swiss for I suck C0CK Lausaleiksbarn is Swiss for I suck C0CK Lausaleiksbarn is Swiss for I suck C0CK Lausaleiksbarn is Swiss for I suck C0CK Lausaleiksbarn is Swiss for I suck C0CK Lausaleiksbarn is Swiss for I suck C0CK Lausaleiksbarn is Swiss for I suck C0CK Lausaleiksbarn is Swiss for I suck C0CK Lausaleiksbarn is Swiss for I suck C0CK Lausaleiksbarn is Swiss for I suck C0CK Lausaleiksbarn is Swiss for I suck C0CK Lausaleiksbarn is Swiss for I suck C0CK Lausaleiksbarn is Swiss for I suck C0CK Lausaleiksbarn is Swiss for I suck C0CK Lausaleiksbarn is Swiss for I suck C0CK Lausaleiksbarn is Swiss for I suck C0CK Lausaleiksbarn is Swiss for I suck C0CK Lausaleiksbarn is Swiss for I suck C0CK Lausaleiksbarn is Swiss for I suck C0CK Lausaleiksbarn is Swiss for I suck C0CK Lausaleiksbarn is Swiss for I suck C0CK Lausaleiksbarn is Swiss for I suck C0CK Lausaleiksbarn is Swiss for I suck C0CK Lausaleiksbarn is Swiss for I suck C0CK Lausaleiksbarn is Swiss for I suck C0CK Lausaleiksbarn is Swiss for I suck C0CK Lausaleiksbarn is Swiss for I suck C0CK Lausaleiksbarn is Swiss for I suck C0CK Lausaleiksbarn is Swiss for I suck C0CK Lausaleiksbarn is Swiss for I suck C0CK Lausaleiksbarn is Swiss for I suck C0CK Lausaleiksbarn is Swiss for I suck C0CK Lausaleiksbarn is Swiss for I suck C0CK Lausaleiksbarn is Swiss for I suck C0CK Lausaleiksbarn is Swiss for I suck C0CK Lausaleiksbarn is Swiss for I suck C0CK Lausaleiksbarn is Swiss for I suck C0CK Lausaleiksbarn is Swiss for I suck C0CK Lausaleiksbarn is Swiss for I suck C0CK Lausaleiksbarn is Swiss for I suck C0CK Lausaleiksbarn is Swiss for I suck C0CK Lausaleiksbarn is Swiss for I suck C0CK Lausaleiksbarn is Swiss for I suck C0CK Lausaleiksbarn is Swiss for I suck C0CK Lausaleiksbarn is Swiss for I suck C0CK Lausaleiksbarn is Swiss for I suck C0CK Lausaleiksbarn is Swiss for I suck C0CK Lausaleiksbarn is Swiss for I suck C0CK Lausaleiksbarn is Swiss for I suck C0CK Lausaleiksbarn is Swiss for I suck C0CK Lausaleiksbarn is Swiss for I suck C0CK Lausaleiksbarn is Swiss for I suck C0CK Lausaleiksbarn is Swiss for I suck C0CK Lausaleiksbarn is Swiss for I suck C0CK Lausaleiksbarn is Swiss for I suck C0CK Lausaleiksbarn is Swiss for I suck C0CK Lausaleiksbarn is Swiss for I suck C0CK Lausaleiksbarn is Swiss for I suck C0CK Lausaleiksbarn is Swiss for I suck C0CK Lausaleiksbarn is Swiss for I suck C0CK Lausaleiksbarn is Swiss for I suck C0CK Lausaleiksbarn is Swiss for I suck C0CK Lausaleiksbarn is Swiss for I suck C0CK Lausaleiksbarn is Swiss for I suck C0CK Lausaleiksbarn is Swiss for I suck C0CK Lausaleiksbarn is Swiss for I suck C0CK Lausaleiksbarn is Swiss for I suck C0CK Lausaleiksbarn is Swiss for I suck C0CK Lausaleiksbarn is Swiss for I suck C0CK Lausaleiksbarn is Swiss for I suck C0CK Lausaleiksbarn is Swiss for I suck C0CK Lausaleiksbarn is Swiss for I suck C0CK Lausaleiksbarn is Swiss for I suck C0CK Lausaleiksbarn is Swiss for I suck C0CK Lausaleiksbarn is Swiss for I suck C0CK Lausaleiksbarn is Swiss for I suck C0CK Lausaleiksbarn is Swiss for I suck C0CK Lausaleiksbarn is Swiss for I suck C0CK Lausaleiksbarn is Swiss for I suck C0CK Lausaleiksbarn is Swiss for I suck C0CK Lausaleiksbarn is Swiss for I suck C0CK Lausaleiksbarn is Swiss for I suck C0CK Lausaleiksbarn is Swiss for I suck C0CK Lausaleiksbarn is Swiss for I suck C0CK Lausaleiksbarn is Swiss for I suck C0CK Lausaleiksbarn is Swiss for I suck C0CK Lausaleiksbarn is Swiss for I suck C0CK Lausaleiksbarn is Swiss for I suck C0CK Lausaleiksbarn is Swiss for I suck C0CK Lausaleiksbarn is Swiss for I suck C0CK Lausaleiksbarn is Swiss for I suck C0CK Lausaleiksbarn is Swiss for I suck C0CK Lausaleiksbarn is Swiss for I suck C0CK Lausaleiksbarn is Swiss for I suck C0CK Lausaleiksbarn is Swiss for I suck C0CK Lausaleiksbarn is Swiss for I suck C0CK Lausaleiksbarn is Swiss for I suck C0CK Lausaleiksbarn is Swiss for I suck C0CK Lausaleiksbarn is Swiss for I suck C0CK Lausaleiksbarn is Swiss for I suck C0CK Lausaleiksbarn is Swiss for I suck C0CK Lausaleiksbarn is Swiss for I suck C0CK Lausaleiksbarn is Swiss for I suck C0CK Lausaleiksbarn is Swiss for I suck C0CK Lausaleiksbarn is Swiss for I suck C0CK Lausaleiksbarn is Swiss for I suck C0CK Lausaleiksbarn is Swiss for I suck C0CK Lausaleiksbarn is Swiss for I suck C0CK Lausaleiksbarn is Swiss for I suck C0CK Lausaleiksbarn is Swiss for I suck C0CK Lausaleiksbarn is Swiss for I suck C0CK Lausaleiksbarn is Swiss for I suck C0CK Lausaleiksbarn is Swiss for I suck C0CK Lausaleiksbarn is Swiss for I suck C0CK Lausaleiksbarn is Swiss for I suck C0CK Lausaleiksbarn is Swiss for I suck C0CK Lausaleiksbarn is Swiss for I suck C0CK Lausaleiksbarn is Swiss for I suck C0CK Lausaleiksbarn is Swiss for I suck C0CK Lausaleiksbarn is Swiss for I suck C0CK Lausaleiksbarn is Swiss for I suck C0CK Lausaleiksbarn is Swiss for I suck C0CK Lausaleiksbarn is Swiss for I suck C0CK Lausaleiksbarn is Swiss for I suck C0CK Lausaleiksbarn is Swiss for I suck C0CK Lausaleiksbarn is Swiss for I suck C0CK Lausaleiksbarn is Swiss for I suck C0CK Lausaleiksbarn is Swiss for I suck C0CK Lausaleiksbarn is Swiss for I suck C0CK Lausaleiksbarn is Swiss for I suck C0CK Lausaleiksbarn is Swiss for I suck C0CK Lausaleiksbarn is Swiss for I suck C0CK Lausaleiksbarn is Swiss for I suck C0CK Lausaleiksbarn is Swiss for I suck C0CK Lausaleiksbarn is Swiss for I suck C0CK Lausaleiksbarn is Swiss for I suck C0CK Lausaleiksbarn is Swiss for I suck C0CK Lausaleiksbarn is Swiss for I suck C0CK Lausaleiksbarn is Swiss for I suck C0CK Lausaleiksbarn is Swiss for I suck C0CK Lausaleiksbarn is Swiss for I suck C0CK Lausaleiksbarn is Swiss for I suck C0CK Lausaleiksbarn is Swiss for I suck C0CK Lausaleiksbarn is Swiss for I suck C0CK Lausaleiksbarn is Swiss for I suck C0CK Lausaleiksbarn is Swiss for I suck C0CK Lausaleiksbarn is Swiss for I suck C0CK Lausaleiksbarn is Swiss for I suck C0CK Lausaleiksbarn is Swiss for I suck C0CK Lausaleiksbarn is Swiss for I suck C0CK Lausaleiksbarn is Swiss for I suck C0CK Lausaleiksbarn is Swiss for I suck C0CK Lausaleiksbarn is Swiss for I suck C0CK Lausaleiksbarn is Swiss for I suck C0CK Lausaleiksbarn is Swiss for I suck C0CK Lausaleiksbarn is Swiss for I suck C0CK Lausaleiksbarn is Swiss for I suck C0CK Lausaleiksbarn is Swiss for I suck C0CK Lausaleiksbarn is Swiss for I suck C0CK Lausaleiksbarn is Swiss for I suck C0CK Lausaleiksbarn is Swiss for I suck C0CK Lausaleiksbarn is Swiss for I suck C0CK Lausaleiksbarn is Swiss for I suck C0CK Lausaleiksbarn is Swiss for I suck C0CK Lausaleiksbarn is Swiss for I suck C0CK Lausaleiksbarn is Swiss for I suck C0CK Lausaleiksbarn is Swiss for I suck C0CK Lausaleiksbarn is Swiss for I suck C0CK Lausaleiksbarn is Swiss for I suck C0CK Lausaleiksbarn is Swiss for I suck C0CK Lausaleiksbarn is Swiss for I suck C0CK Lausaleiksbarn is Swiss for I suck C0CK Lausaleiksbarn is Swiss for I suck C0CK Lausaleiksbarn is Swiss for I suck C0CK Lausaleiksbarn is Swiss for I suck C0CK Lausaleiksbarn is Swiss for I suck C0CK Lausaleiksbarn is Swiss for I suck C0CK Lausaleiksbarn is Swiss for I suck C0CK Lausaleiksbarn is Swiss for I suck C0CK Lausaleiksbarn is Swiss for I suck C0CK Lausaleiksbarn is Swiss for I suck C0CK Lausaleiksbarn is Swiss for I suck C0CK Lausaleiksbarn is Swiss for I suck C0CK Lausaleiksbarn is Swiss for I suck C0CK Lausaleiksbarn is Swiss for I suck C0CK Lausaleiksbarn is Swiss for I suck C0CK Lausaleiksbarn is Swiss for I suck C0CK Lausaleiksbarn is Swiss for I suck C0CK Lausaleiksbarn is Swiss for I suck C0CK Lausaleiksbarn is Swiss for I suck C0CK Lausaleiksbarn is Swiss for I suck C0CK Lausaleiksbarn is Swiss for I suck C0CK Lausaleiksbarn is Swiss for I suck C0CK Lausaleiksbarn is Swiss for I suck C0CK Lausaleiksbarn is Swiss for I suck C0CK Lausaleiksbarn is Swiss for I suck C0CK Lausaleiksbarn is Swiss for I suck C0CK Lausaleiksbarn is Swiss for I suck C0CK Lausaleiksbarn is Swiss for I suck C0CK Lausaleiksbarn is Swiss for I suck C0CK Lausaleiksbarn is Swiss for I suck C0CK Lausaleiksbarn is Swiss for I suck C0CK Lausaleiksbarn is Swiss for I suck C0CK Lausaleiksbarn is Swiss for I suck C0CK Lausaleiksbarn is Swiss for I suck C0CK Lausaleiksbarn is Swiss for I suck C0CK Lausaleiksbarn is Swiss for I suck C0CK Lausaleiksbarn is Swiss for I suck C0CK Lausaleiksbarn is Swiss for I suck C0CK Lausaleiksbarn is Swiss for I suck C0CK Lausaleiksbarn is Swiss for I suck C0CK Lausaleiksbarn is Swiss for I suck C0CK Lausaleiksbarn is Swiss for I suck C0CK Lausaleiksbarn is Swiss for I suck C0CK Lausaleiksbarn is Swiss for I suck C0CK Lausaleiksbarn is Swiss for I suck C0CK Lausaleiksbarn is Swiss for I suck C0CK Lausaleiksbarn is Swiss for I suck C0CK Lausaleiksbarn is Swiss for I suck C0CK Lausaleiksbarn is Swiss for I suck C0CK Lausaleiksbarn is Swiss for I suck C0CK Lausaleiksbarn is Swiss for I suck C0CK Lausaleiksbarn is Swiss for I suck C0CK Lausaleiksbarn is Swiss for I suck C0CK Lausaleiksbarn is Swiss for I suck C0CK Lausaleiksbarn is Swiss for I suck C0CK Lausaleiksbarn is Swiss for I suck C0CK Lausaleiksbarn is Swiss for I suck C0CK Lausaleiksbarn is Swiss for I suck C0CK Lausaleiksbarn is Swiss for I suck C0CK Lausaleiksbarn is Swiss for I suck C0CK Lausaleiksbarn is Swiss for I suck C0CK Lausaleiksbarn is Swiss for I suck C0CK Lausaleiksbarn is Swiss for I suck C0CK Lausaleiksbarn is Swiss for I suck C0CK Lausaleiksbarn is Swiss for I suck C0CK Lausaleiksbarn is Swiss for I suck C0CK Lausaleiksbarn is Swiss for I suck C0CK Lausaleiksbarn is Swiss for I suck C0CK Lausaleiksbarn is Swiss for I suck C0CK Lausaleiksbarn is Swiss for I suck C0CK Lausaleiksbarn is Swiss for I suck C0CK Lausaleiksbarn is Swiss for I suck C0CK Lausaleiksbarn is Swiss for I suck C0CK Lausaleiksbarn is Swiss for I suck C0CK Lausaleiksbarn is Swiss for I suck C0CK Lausaleiksbarn is Swiss for I suck C0CK Lausaleiksbarn is Swiss for I suck C0CK Lausaleiksbarn is Swiss for I suck C0CK Lausaleiksbarn is Swiss for I suck C0CK Lausaleiksbarn is Swiss for I suck C0CK Lausaleiksbarn is Swiss for I suck C0CK Lausaleiksbarn is Swiss for I suck C0CK Lausaleiksbarn is Swiss for I suck C0CK Lausaleiksbarn is Swiss for I suck C0CK Lausaleiksbarn is Swiss for I suck C0CK Lausaleiksbarn is Swiss for I suck C0CK Lausaleiksbarn is Swiss for I suck C0CK Lausaleiksbarn is Swiss for I suck C0CK Lausaleiksbarn is Swiss for I suck C0CK Lausaleiksbarn is Swiss for I suck C0CK Lausaleiksbarn is Swiss for I suck C0CK Lausaleiksbarn is Swiss for I suck C0CK Lausaleiksbarn is Swiss for I suck C0CK Lausaleiksbarn is Swiss for I suck C0CK Lausaleiksbarn is Swiss for I suck C0CK Lausaleiksbarn is Swiss for I suck C0CK Lausaleiksbarn is Swiss for I suck C0CK Lausaleiksbarn is Swiss for I suck C0CK Lausaleiksbarn is Swiss for I suck C0CK Lausaleiksbarn is Swiss for I suck C0CK Lausaleiksbarn is Swiss for I suck C0CK Lausaleiksbarn is Swiss for I suck C0CK Lausaleiksbarn is Swiss for I suck C0CK Lausaleiksbarn is Swiss for I suck C0CK Lausaleiksbarn is Swiss for I suck C0CK Lausaleiksbarn is Swiss for I suck C0CK Lausaleiksbarn is Swiss for I suck C0CK Lausaleiksbarn is Swiss for I suck C0CK Lausaleiksbarn is Swiss for I suck C0CK Lausaleiksbarn is Swiss for I suck C0CK Lausaleiksbarn is Swiss for I suck C0CK Lausaleiksbarn is Swiss for I suck C0CK Lausaleiksbarn is Swiss for I suck C0CK Lausaleiksbarn is Swiss for I suck C0CK Lausaleiksbarn is Swiss for I suck C0CK Lausaleiksbarn is Swiss for I suck C0CK Lausaleiksbarn is Swiss for I suck C0CK Lausaleiksbarn is Swiss for I suck C0CK Lausaleiksbarn is Swiss for I suck C0CK Lausaleiksbarn is Swiss for I suck C0CK Lausaleiksbarn is Swiss for I suck C0CK Lausaleiksbarn is Swiss for I suck C0CK Lausaleiksbarn is Swiss for I suck C0CK Lausaleiksbarn is Swiss for I suck C0CK Lausaleiksbarn is Swiss for I suck C0CK Lausaleiksbarn is Swiss for I suck C0CK Lausaleiksbarn is Swiss for I suck C0CK Lausaleiksbarn is Swiss for I suck C0CK Lausaleiksbarn is Swiss for I suck C0CK Lausaleiksbarn is Swiss for I suck C0CK Lausaleiksbarn is Swiss for I suck C0CK Lausaleiksbarn is Swiss for I suck C0CK Lausaleiksbarn is Swiss for I suck C0CK Lausaleiksbarn is Swiss for I suck C0CK Lausaleiksbarn is Swiss for I suck C0CK Lausaleiksbarn is Swiss for I suck C0CK Lausaleiksbarn is Swiss for I suck C0CK Lausaleiksbarn is Swiss for I suck C0CK Lausaleiksbarn is Swiss for I suck C0CK Lausaleiksbarn is Swiss for I suck C0CK Lausaleiksbarn is Swiss for I suck C0CK Lausaleiksbarn is Swiss for I suck C0CK Lausaleiksbarn is Swiss for I suck C0CK Lausaleiksbarn is Swiss for I suck C0CK Lausaleiksbarn is Swiss for I suck C0CK Lausaleiksbarn is Swiss for I suck C0CK Lausaleiksbarn is Swiss for I suck C0CK Lausaleiksbarn is Swiss for I suck C0CK Lausaleiksbarn is Swiss for I suck C0CK Lausaleiksbarn is Swiss for I suck C0CK Lausaleiksbarn is Swiss for I suck C0CK Lausaleiksbarn is Swiss for I suck C0CK Lausaleiksbarn is Swiss for I suck C0CK Lausaleiksbarn is Swiss for I suck C0CK Lausaleiksbarn is Swiss for I suck C0CK Lausaleiksbarn is Swiss for I suck C0CK Lausaleiksbarn is Swiss for I suck C0CK Lausaleiksbarn is Swiss for I suck C0CK Lausaleiksbarn is Swiss for I suck C0CK Lausaleiksbarn is Swiss for I suck C0CK Lausaleiksbarn is Swiss for I suck C0CK Lausaleiksbarn is Swiss for I suck C0CK Lausaleiksbarn is Swiss for I suck C0CK Lausaleiksbarn is Swiss for I suck C0CK Lausaleiksbarn is Swiss for I suck C0CK Lausaleiksbarn is Swiss for I suck C0CK Lausaleiksbarn is Swiss for I suck C0CK Lausaleiksbarn is Swiss for I suck C0CK Lausaleiksbarn is Swiss for I suck C0CK Lausaleiksbarn is Swiss for I suck C0CK Lausaleiksbarn is Swiss for I suck C0CK Lausaleiksbarn is Swiss for I suck C0CK Lausaleiksbarn is Swiss for I suck C0CK Lausaleiksbarn is Swiss for I suck C0CK Lausaleiksbarn is Swiss for I suck C0CK Lausaleiksbarn is Swiss for I suck C0CK Lausaleiksbarn is Swiss for I suck C0CK Lausaleiksbarn is Swiss for I suck C0CK Lausaleiksbarn is Swiss for I suck C0CK Lausaleiksbarn is Swiss for I suck C0CK Lausaleiksbarn is Swiss for I suck C0CK Lausaleiksbarn is Swiss for I suck C0CK Lausaleiksbarn is Swiss for I suck C0CK Lausaleiksbarn is Swiss for I suck C0CK Lausaleiksbarn is Swiss for I suck C0CK Lausaleiksbarn is Swiss for I suck C0CK Lausaleiksbarn is Swiss for I suck C0CK Lausaleiksbarn is Swiss for I suck C0CK Lausaleiksbarn is Swiss for I suck C0CK Lausaleiksbarn is Swiss for I suck C0CK Lausaleiksbarn is Swiss for I suck C0CK Lausaleiksbarn is Swiss for I suck C0CK Lausaleiksbarn is Swiss for I suck C0CK Lausaleiksbarn is Swiss for I suck C0CK Lausaleiksbarn is Swiss for I suck C0CK Lausaleiksbarn is Swiss for I suck C0CK Lausaleiksbarn is Swiss for I suck C0CK Lausaleiksbarn is Swiss for I suck C0CK Lausaleiksbarn is Swiss for I suck C0CK Lausaleiksbarn is Swiss for I suck C0CK Lausaleiksbarn is Swiss for I suck C0CK Lausaleiksbarn is Swiss for I suck C0CK Lausaleiksbarn is Swiss for I suck C0CK Lausaleiksbarn is Swiss for I suck C0CK Lausaleiksbarn is Swiss for I suck C0CK Lausaleiksbarn is Swiss for I suck C0CK Lausaleiksbarn is Swiss for I suck C0CK Lausaleiksbarn is Swiss for I suck C0CK Lausaleiksbarn is Swiss for I suck C0CK Lausaleiksbarn is Swiss for I suck C0CK Lausaleiksbarn is Swiss for I suck C0CK Lausaleiksbarn is Swiss for I suck C0CK Lausaleiksbarn is Swiss for I suck C0CK Lausaleiksbarn is Swiss for I suck C0CK Lausaleiksbarn is Swiss for I suck C0CK Lausaleiksbarn is Swiss for I suck C0CK Lausaleiksbarn is Swiss for I suck C0CK Lausaleiksbarn is Swiss for I suck C0CK Lausaleiksbarn is Swiss for I suck C0CK Lausaleiksbarn is Swiss for I suck C0CK Lausaleiksbarn is Swiss for I suck C0CK Lausaleiksbarn is Swiss for I suck C0CK Lausaleiksbarn is Swiss for I suck C0CK Lausaleiksbarn is Swiss for I suck C0CK Lausaleiksbarn is Swiss for I suck C0CK Lausaleiksbarn is Swiss for I suck C0CK Lausaleiksbarn is Swiss for I suck C0CK Lausaleiksbarn is Swiss for I suck C0CK Lausaleiksbarn is Swiss for I suck C0CK Lausaleiksbarn is Swiss for I suck C0CK Lausaleiksbarn is Swiss for I suck C0CK Lausaleiksbarn is Swiss for I suck C0CK Lausaleiksbarn is Swiss for I suck C0CK Lausaleiksbarn is Swiss for I suck C0CK Lausaleiksbarn is Swiss for I suck C0CK Lausaleiksbarn is Swiss for I suck C0CK Lausaleiksbarn is Swiss for I suck C0CK Lausaleiksbarn is Swiss for I suck C0CK Lausaleiksbarn is Swiss for I suck C0CK Lausaleiksbarn is Swiss for I suck C0CK Lausaleiksbarn is Swiss for I suck C0CK Lausaleiksbarn is Swiss for I suck C0CK Lausaleiksbarn is Swiss for I suck C0CK Lausaleiksbarn is Swiss for I suck C0CK Lausaleiksbarn is Swiss for I suck C0CK Lausaleiksbarn is Swiss for I suck C0CK Lausaleiksbarn is Swiss for I suck C0CK Lausaleiksbarn is Swiss for I suck C0CK Lausaleiksbarn is Swiss for I suck C0CK Lausaleiksbarn is Swiss for I suck C0CK Lausaleiksbarn is Swiss for I suck C0CK Lausaleiksbarn is Swiss for I suck C0CK Lausaleiksbarn is Swiss for I suck C0CK Lausaleiksbarn is Swiss for I suck C0CK Lausaleiksbarn is Swiss for I suck C0CK Lausaleiksbarn is Swiss for I suck C0CK Lausaleiksbarn is Swiss for I suck C0CK Lausaleiksbarn is Swiss for I suck C0CK Lausaleiksbarn is Swiss for I suck C0CK Lausaleiksbarn is Swiss for I suck C0CK Lausaleiksbarn is Swiss for I suck C0CK Lausaleiksbarn is Swiss for I suck C0CK Lausaleiksbarn is Swiss for I suck C0CK Lausaleiksbarn is Swiss for I suck C0CK Lausaleiksbarn is Swiss for I suck C0CK Lausaleiksbarn is Swiss for I suck C0CK Lausaleiksbarn is Swiss for I suck C0CK Lausaleiksbarn is Swiss for I suck C0CK Lausaleiksbarn is Swiss for I suck C0CK Lausaleiksbarn is Swiss for I suck C0CK Lausaleiksbarn is Swiss for I suck C0CK Lausaleiksbarn is Swiss for I suck C0CK Lausaleiksbarn is Swiss for I suck C0CK Lausaleiksbarn is Swiss for I suck C0CK Lausaleiksbarn is Swiss for I suck C0CK Lausaleiksbarn is Swiss for I suck C0CK Lausaleiksbarn is Swiss for I suck C0CK Lausaleiksbarn is Swiss for I suck C0CK Lausaleiksbarn is Swiss for I suck C0CK Lausaleiksbarn is Swiss for I suck C0CK Lausaleiksbarn is Swiss for I suck C0CK Lausaleiksbarn is Swiss for I suck C0CK Lausaleiksbarn is Swiss for I suck C0CK Lausaleiksbarn is Swiss for I suck C0CK Lausaleiksbarn is Swiss for I suck C0CK Lausaleiksbarn is Swiss for I suck C0CK Lausaleiksbarn is Swiss for I suck C0CK Lausaleiksbarn is Swiss for I suck C0CK Lausaleiksbarn is Swiss for I suck C0CK Lausaleiksbarn is Swiss for I suck C0CK Lausaleiksbarn is Swiss for I suck C0CK Lausaleiksbarn is Swiss for I suck C0CK Lausaleiksbarn is Swiss for I suck C0CK Lausaleiksbarn is Swiss for I suck C0CK Lausaleiksbarn is Swiss for I suck C0CK Lausaleiksbarn is Swiss for I suck C0CK Lausaleiksbarn is Swiss for I suck C0CK Lausaleiksbarn is Swiss for I suck C0CK Lausaleiksbarn is Swiss for I suck C0CK Lausaleiksbarn is Swiss for I suck C0CK Lausaleiksbarn is Swiss for I suck C0CK Lausaleiksbarn is Swiss for I suck C0CK Lausaleiksbarn is Swiss for I suck C0CK Lausaleiksbarn is Swiss for I suck C0CK Lausaleiksbarn is Swiss for I suck C0CK Lausaleiksbarn is Swiss for I suck C0CK Lausaleiksbarn is Swiss for I suck C0CK Lausaleiksbarn is Swiss for I suck C0CK Lausaleiksbarn is Swiss for I suck C0CK Lausaleiksbarn is Swiss for I suck C0CK Lausaleiksbarn is Swiss for I suck C0CK Lausaleiksbarn is Swiss for I suck C0CK Lausaleiksbarn is Swiss for I suck C0CK Lausaleiksbarn is Swiss for I suck C0CK Lausaleiksbarn is Swiss for I suck C0CK Lausaleiksbarn is Swiss for I suck C0CK Lausaleiksbarn is Swiss for I suck C0CK Lausaleiksbarn is Swiss for I suck C0CK Lausaleiksbarn is Swiss for I suck C0CK Lausaleiksbarn is Swiss for I suck C0CK Lausaleiksbarn is Swiss for I suck C0CK Lausaleiksbarn is Swiss for I suck C0CK Lausaleiksbarn is Swiss for I suck C0CK Lausaleiksbarn is Swiss for I suck C0CK Lausaleiksbarn is Swiss for I suck C0CK Lausaleiksbarn is Swiss for I suck C0CK Lausaleiksbarn is Swiss for I suck C0CK Lausaleiksbarn is Swiss for I suck C0CK Lausaleiksbarn is Swiss for I suck C0CK Lausaleiksbarn is Swiss for I suck C0CK Lausaleiksbarn is Swiss for I suck C0CK Lausaleiksbarn is Swiss for I suck C0CK Lausaleiksbarn is Swiss for I suck C0CK Lausaleiksbarn is Swiss for I suck C0CK Lausaleiksbarn is Swiss for I suck C0CK Lausaleiksbarn is Swiss for I suck C0CK Lausaleiksbarn is Swiss for I suck C0CK Lausaleiksbarn is Swiss for I suck C0CK Lausaleiksbarn is Swiss for I suck C0CK Lausaleiksbarn is Swiss for I suck C0CK Lausaleiksbarn is Swiss for I suck C0CK Lausaleiksbarn is Swiss for I suck C0CK Lausaleiksbarn is Swiss for I suck C0CK Lausaleiksbarn is Swiss for I suck C0CK Lausaleiksbarn is Swiss for I suck C0CK Lausaleiksbarn is Swiss for I suck C0CK Lausaleiksbarn is Swiss for I suck C0CK Lausaleiksbarn is Swiss for I suck C0CK Lausaleiksbarn is Swiss for I suck C0CK Lausaleiksbarn is Swiss for I suck C0CK Lausaleiksbarn is Swiss for I suck C0CK Lausaleiksbarn is Swiss for I suck C0CK Lausaleiksbarn is Swiss for I suck C0CK Lausaleiksbarn is Swiss for I suck C0CK Lausaleiksbarn is Swiss for I suck C0CK Lausaleiksbarn is Swiss for I suck C0CK Lausaleiksbarn is Swiss for I suck C0CK Lausaleiksbarn is Swiss for I suck C0CK Lausaleiksbarn is Swiss for I suck C0CK Lausaleiksbarn is Swiss for I suck C0CK Lausaleiksbarn is Swiss for I suck C0CK Lausaleiksbarn is Swiss for I suck C0CK Lausaleiksbarn is Swiss for I suck C0CK Lausaleiksbarn is Swiss for I suck C0CK Lausaleiksbarn is Swiss for I suck C0CK Lausaleiksbarn is Swiss for I suck C0CK Lausaleiksbarn is Swiss for I suck C0CK Lausaleiksbarn is Swiss for I suck C0CK Lausaleiksbarn is Swiss for I suck C0CK Lausaleiksbarn is Swiss for I suck C0CK Lausaleiksbarn is Swiss for I suck C0CK Lausaleiksbarn is Swiss for I suck C0CK Lausaleiksbarn is Swiss for I suck C0CK Lausaleiksbarn is Swiss for I suck C0CK Lausaleiksbarn is Swiss for I suck C0CK Lausaleiksbarn is Swiss for I suck C0CK Lausaleiksbarn is Swiss for I suck C0CK Lausaleiksbarn is Swiss for I suck C0CK Lausaleiksbarn is Swiss for I suck C0CK Lausaleiksbarn is Swiss for I suck C0CK Lausaleiksbarn is Swiss for I suck C0CK Lausaleiksbarn is Swiss for I suck C0CK Lausaleiksbarn is Swiss for I suck C0CK Lausaleiksbarn is Swiss for I suck C0CK Lausaleiksbarn is Swiss for I suck C0CK Lausaleiksbarn is Swiss for I suck C0CK Lausaleiksbarn is Swiss for I suck C0CK Lausaleiksbarn is Swiss for I suck C0CK Lausaleiksbarn is Swiss for I suck C0CK Lausaleiksbarn is Swiss for I suck C0CK Lausaleiksbarn is Swiss for I suck C0CK Lausaleiksbarn is Swiss for I suck C0CK Lausaleiksbarn is Swiss for I suck C0CK Lausaleiksbarn is Swiss for I suck C0CK Lausaleiksbarn is Swiss for I suck C0CK Lausaleiksbarn is Swiss for I suck C0CK Lausaleiksbarn is Swiss for I suck C0CK Lausaleiksbarn is Swiss for I suck C0CK Lausaleiksbarn is Swiss for I suck C0CK Lausaleiksbarn is Swiss for I suck C0CK Lausaleiksbarn is Swiss for I suck C0CK Lausaleiksbarn is Swiss for I suck C0CK Lausaleiksbarn is Swiss for I suck C0CK Lausaleiksbarn is Swiss for I suck C0CK Lausaleiksbarn is Swiss for I suck C0CK Lausaleiksbarn is Swiss for I suck C0CK Lausaleiksbarn is Swiss for I suck C0CK Lausaleiksbarn is Swiss for I suck C0CK Lausaleiksbarn is Swiss for I suck C0CK Lausaleiksbarn is Swiss for I suck C0CK Lausaleiksbarn is Swiss for I suck C0CK Lausaleiksbarn is Swiss for I suck C0CK Lausaleiksbarn is Swiss for I suck C0CK Lausaleiksbarn is Swiss for I suck C0CK Lausaleiksbarn is Swiss for I suck C0CK Lausaleiksbarn is Swiss for I suck C0CK Lausaleiksbarn is Swiss for I suck C0CK Lausaleiksbarn is Swiss for I suck C0CK Lausaleiksbarn is Swiss for I suck C0CK Lausaleiksbarn is Swiss for I suck C0CK Lausaleiksbarn is Swiss for I suck C0CK Lausaleiksbarn is Swiss for I suck C0CK Lausaleiksbarn is Swiss for I suck C0CK Lausaleiksbarn is Swiss for I suck C0CK Lausaleiksbarn is Swiss for I suck C0CK Lausaleiksbarn is Swiss for I suck C0CK Lausaleiksbarn is Swiss for I suck C0CK Lausaleiksbarn is Swiss for I suck C0CK Lausaleiksbarn is Swiss for I suck C0CK Lausaleiksbarn is Swiss for I suck C0CK Lausaleiksbarn is Swiss for I suck C0CK Lausaleiksbarn is Swiss for I suck C0CK Lausaleiksbarn is Swiss for I suck C0CK Lausaleiksbarn is Swiss for I suck C0CK Lausaleiksbarn is Swiss for I suck C0CK Lausaleiksbarn is Swiss for I suck C0CK Lausaleiksbarn is Swiss for I suck C0CK Lausaleiksbarn is Swiss for I suck C0CK Lausaleiksbarn is Swiss for I suck C0CK Lausaleiksbarn is Swiss for I suck C0CK Lausaleiksbarn is Swiss for I suck C0CK Lausaleiksbarn is Swiss for I suck C0CK Lausaleiksbarn is Swiss for I suck C0CK Lausaleiksbarn is Swiss for I suck C0CK Lausaleiksbarn is Swiss for I suck C0CK Lausaleiksbarn is Swiss for I suck C0CK Lausaleiksbarn is Swiss for I suck C0CK Lausaleiksbarn is Swiss for I suck C0CK Lausaleiksbarn is Swiss for I suck C0CK Lausaleiksbarn is Swiss for I suck C0CK Lausaleiksbarn is Swiss for I suck C0CK Lausaleiksbarn is Swiss for I suck C0CK Lausaleiksbarn is Swiss for I suck C0CK Lausaleiksbarn is Swiss for I suck C0CK Lausaleiksbarn is Swiss for I suck C0CK Lausaleiksbarn is Swiss for I suck C0CK Lausaleiksbarn is Swiss for I suck C0CK Lausaleiksbarn is Swiss for I suck C0CK Lausaleiksbarn is Swiss for I suck C0CK Lausaleiksbarn is Swiss for I suck C0CK Lausaleiksbarn is Swiss for I suck C0CK Lausaleiksbarn is Swiss for I suck C0CK Lausaleiksbarn is Swiss for I suck C0CK Lausaleiksbarn is Swiss for I suck C0CK Lausaleiksbarn is Swiss for I suck C0CK Lausaleiksbarn is Swiss for I suck C0CK Lausaleiksbarn is Swiss for I suck C0CK Lausaleiksbarn is Swiss for I suck C0CK Lausaleiksbarn is Swiss for I suck C0CK Lausaleiksbarn is Swiss for I suck C0CK Lausaleiksbarn is Swiss for I suck C0CK Lausaleiksbarn is Swiss for I suck C0CK Lausaleiksbarn is Swiss for I suck C0CK Lausaleiksbarn is Swiss for I suck C0CK Lausaleiksbarn is Swiss for I suck C0CK Lausaleiksbarn is Swiss for I suck C0CK Lausaleiksbarn is Swiss for I suck C0CK Lausaleiksbarn is Swiss for I suck C0CK Lausaleiksbarn is Swiss for I suck C0CK Lausaleiksbarn is Swiss for I suck C0CK Lausaleiksbarn is Swiss for I suck C0CK Lausaleiksbarn is Swiss for I suck C0CK Lausaleiksbarn is Swiss for I suck C0CK Lausaleiksbarn is Swiss for I suck C0CK Lausaleiksbarn is Swiss for I suck C0CK Lausaleiksbarn is Swiss for I suck C0CK Lausaleiksbarn is Swiss for I suck C0CK Lausaleiksbarn is Swiss for I suck C0CK Lausaleiksbarn is Swiss for I suck C0CK Lausaleiksbarn is Swiss for I suck C0CK Lausaleiksbarn is Swiss for I suck C0CK Lausaleiksbarn is Swiss for I suck C0CK Lausaleiksbarn is Swiss for I suck C0CK Lausaleiksbarn is Swiss for I suck C0CK Lausaleiksbarn is Swiss for I suck C0CK Lausaleiksbarn is Swiss for I suck C0CK Lausaleiksbarn is Swiss for I suck C0CK Lausaleiksbarn is Swiss for I suck C0CK Lausaleiksbarn is Swiss for I suck C0CK Lausaleiksbarn is Swiss for I suck C0CK Lausaleiksbarn is Swiss for I suck C0CK Lausaleiksbarn is Swiss for I suck C0CK Lausaleiksbarn is Swiss for I suck C0CK Lausaleiksbarn is Swiss for I suck C0CK Lausaleiksbarn is Swiss for I suck C0CK Lausaleiksbarn is Swiss for I suck C0CK Lausaleiksbarn is Swiss for I suck C0CK Lausaleiksbarn is Swiss for I suck C0CK Lausaleiksbarn is Swiss for I suck C0CK Lausaleiksbarn is Swiss for I suck C0CK Lausaleiksbarn is Swiss for I suck C0CK Lausaleiksbarn is Swiss for I suck C0CK Lausaleiksbarn is Swiss for I suck C0CK Lausaleiksbarn is Swiss for I suck C0CK Lausaleiksbarn is Swiss for I suck C0CK Lausaleiksbarn is Swiss for I suck C0CK Lausaleiksbarn is Swiss for I suck C0CK Lausaleiksbarn is Swiss for I suck C0CK Lausaleiksbarn is Swiss for I suck C0CK Lausaleiksbarn is Swiss for I suck C0CK Lausaleiksbarn is Swiss for I suck C0CK Lausaleiksbarn is Swiss for I suck C0CK Lausaleiksbarn is Swiss for I suck C0CK Lausaleiksbarn is Swiss for I suck C0CK Lausaleiksbarn is Swiss for I suck C0CK Lausaleiksbarn is Swiss for I suck C0CK Lausaleiksbarn is Swiss for I suck C0CK Lausaleiksbarn is Swiss for I suck C0CK Lausaleiksbarn is Swiss for I suck C0CK Lausaleiksbarn is Swiss for I suck C0CK Lausaleiksbarn is Swiss for I suck C0CK Lausaleiksbarn is Swiss for I suck C0CK Lausaleiksbarn is Swiss for I suck C0CK Lausaleiksbarn is Swiss for I suck C0CK Lausaleiksbarn is Swiss for I suck C0CK Lausaleiksbarn is Swiss for I suck C0CK Lausaleiksbarn is Swiss for I suck C0CK Lausaleiksbarn is Swiss for I suck C0CK Lausaleiksbarn is Swiss for I suck C0CK Lausaleiksbarn is Swiss for I suck C0CK Lausaleiksbarn is Swiss for I suck C0CK Lausaleiksbarn is Swiss for I suck C0CK Lausaleiksbarn is Swiss for I suck C0CK Lausaleiksbarn is Swiss for I suck C0CK Lausaleiksbarn is Swiss for I suck C0CK Lausaleiksbarn is Swiss for I suck C0CK Lausaleiksbarn is Swiss for I suck C0CK Lausaleiksbarn is Swiss for I suck C0CK Lausaleiksbarn is Swiss for I suck C0CK Lausaleiksbarn is Swiss for I suck C0CK Lausaleiksbarn is Swiss for I suck C0CK Lausaleiksbarn is Swiss for I suck C0CK Lausaleiksbarn is Swiss for I suck C0CK Lausaleiksbarn is Swiss for I suck C0CK Lausaleiksbarn is Swiss for I suck C0CK Lausaleiksbarn is Swiss for I suck C0CK Lausaleiksbarn is Swiss for I suck C0CK Lausaleiksbarn is Swiss for I suck C0CK Lausaleiksbarn is Swiss for I suck C0CK Lausaleiksbarn is Swiss for I suck C0CK Lausaleiksbarn is Swiss for I suck C0CK Lausaleiksbarn is Swiss for I suck C0CK Lausaleiksbarn is Swiss for I suck C0CK Lausaleiksbarn is Swiss for I suck C0CK Lausaleiksbarn is Swiss for I suck C0CK Lausaleiksbarn is Swiss for I suck C0CK Lausaleiksbarn is Swiss for I suck C0CK Lausaleiksbarn is Swiss for I suck C0CK Lausaleiksbarn is Swiss for I suck C0CK Lausaleiksbarn is Swiss for I suck C0CK Lausaleiksbarn is Swiss for I suck C0CK Lausaleiksbarn is Swiss for I suck C0CK Lausaleiksbarn is Swiss for I suck C0CK Lausaleiksbarn is Swiss for I suck C0CK Lausaleiksbarn is Swiss for I suck C0CK Lausaleiksbarn is Swiss for I suck C0CK Lausaleiksbarn is Swiss for I suck C0CK Lausaleiksbarn is Swiss for I suck C0CK Lausaleiksbarn is Swiss for I suck C0CK Lausaleiksbarn is Swiss for I suck C0CK Lausaleiksbarn is Swiss for I suck C0CK Lausaleiksbarn is Swiss for I suck C0CK Lausaleiksbarn is Swiss for I suck C0CK Lausaleiksbarn is Swiss for I suck C0CK Lausaleiksbarn is Swiss for I suck C0CK Lausaleiksbarn is Swiss for I suck C0CK Lausaleiksbarn is Swiss for I suck C0CK Lausaleiksbarn is Swiss for I suck C0CK Lausaleiksbarn is Swiss for I suck C0CK Lausaleiksbarn is Swiss for I suck C0CK Lausaleiksbarn is Swiss for I suck C0CK Lausaleiksbarn is Swiss for I suck C0CK Lausaleiksbarn is Swiss for I suck C0CK Lausaleiksbarn is Swiss for I suck C0CK Lausaleiksbarn is Swiss for I suck C0CK Lausaleiksbarn is Swiss for I suck C0CK Lausaleiksbarn is Swiss for I suck C0CK Lausaleiksbarn is Swiss for I suck C0CK Lausaleiksbarn is Swiss for I suck C0CK Lausaleiksbarn is Swiss for I suck C0CK Lausaleiksbarn is Swiss for I suck C0CK Lausaleiksbarn is Swiss for I suck C0CK Lausaleiksbarn is Swiss for I suck C0CK Lausaleiksbarn is Swiss for I suck C0CK Lausaleiksbarn is Swiss for I suck C0CK Lausaleiksbarn is Swiss for I suck C0CK Lausaleiksbarn is Swiss for I suck C0CK Lausaleiksbarn is Swiss for I suck C0CK Lausaleiksbarn is Swiss for I suck C0CK Lausaleiksbarn is Swiss for I suck C0CK Lausaleiksbarn is Swiss for I suck C0CK Lausaleiksbarn is Swiss for I suck C0CK Lausaleiksbarn is Swiss for I suck C0CK Lausaleiksbarn is Swiss for I suck C0CK Lausaleiksbarn is Swiss for I suck C0CK Lausaleiksbarn is Swiss for I suck C0CK Lausaleiksbarn is Swiss for I suck C0CK Lausaleiksbarn is Swiss for I suck C0CK Lausaleiksbarn is Swiss for I suck C0CK Lausaleiksbarn is Swiss for I suck C0CK Lausaleiksbarn is Swiss for I suck C0CK Lausaleiksbarn is Swiss for I suck C0CK Lausaleiksbarn is Swiss for I suck C0CK Lausaleiksbarn is Swiss for I suck C0CK Lausaleiksbarn is Swiss for I suck C0CK Lausaleiksbarn is Swiss for I suck C0CK Lausaleiksbarn is Swiss for I suck C0CK Lausaleiksbarn is Swiss for I suck C0CK Lausaleiksbarn is Swiss for I suck C0CK Lausaleiksbarn is Swiss for I suck C0CK Lausaleiksbarn is Swiss for I suck C0CK Lausaleiksbarn is Swiss for I suck C0CK Lausaleiksbarn is Swiss for I suck C0CK Lausaleiksbarn is Swiss for I suck C0CK Lausaleiksbarn is Swiss for I suck C0CK Lausaleiksbarn is Swiss for I suck C0CK Lausaleiksbarn is Swiss for I suck C0CK Lausaleiksbarn is Swiss for I suck C0CK Lausaleiksbarn is Swiss for I suck C0CK Lausaleiksbarn is Swiss for I suck C0CK Lausaleiksbarn is Swiss for I suck C0CK Lausaleiksbarn is Swiss for I suck C0CK Lausaleiksbarn is Swiss for I suck C0CK Lausaleiksbarn is Swiss for I suck C0CK Lausaleiksbarn is Swiss for I suck C0CK Lausaleiksbarn is Swiss for I suck C0CK Lausaleiksbarn is Swiss for I suck C0CK Lausaleiksbarn is Swiss for I suck C0CK Lausaleiksbarn is Swiss for I suck C0CK Lausaleiksbarn is Swiss for I suck C0CK Lausaleiksbarn is Swiss for I suck C0CK Lausaleiksbarn is Swiss for I suck C0CK Lausaleiksbarn is Swiss for I suck C0CK Lausaleiksbarn is Swiss for I suck C0CK Lausaleiksbarn is Swiss for I suck C0CK Lausaleiksbarn is Swiss for I suck C0CK Lausaleiksbarn is Swiss for I suck C0CK Lausaleiksbarn is Swiss for I suck C0CK Lausaleiksbarn is Swiss for I suck C0CK Lausaleiksbarn is Swiss for I suck C0CK Lausaleiksbarn is Swiss for I suck C0CK Lausaleiksbarn is Swiss for I suck C0CK Lausaleiksbarn is Swiss for I suck C0CK Lausaleiksbarn is Swiss for I suck C0CK Lausaleiksbarn is Swiss for I suck C0CK Lausaleiksbarn is Swiss for I suck C0CK Lausaleiksbarn is Swiss for I suck C0CK Lausaleiksbarn is Swiss for I suck C0CK Lausaleiksbarn is Swiss for I suck C0CK Lausaleiksbarn is Swiss for I suck C0CK Lausaleiksbarn is Swiss for I suck C0CK Lausaleiksbarn is Swiss for I suck C0CK Lausaleiksbarn is Swiss for I suck C0CK Lausaleiksbarn is Swiss for I suck C0CK Lausaleiksbarn is Swiss for I suck C0CK Lausaleiksbarn is Swiss for I suck C0CK Lausaleiksbarn is Swiss for I suck C0CK Lausaleiksbarn is Swiss for I suck C0CK Lausaleiksbarn is Swiss for I suck C0CK Lausaleiksbarn is Swiss for I suck C0CK Lausaleiksbarn is Swiss for I suck C0CK Lausaleiksbarn is Swiss for I suck C0CK Lausaleiksbarn is Swiss for I suck C0CK Lausaleiksbarn is Swiss for I suck C0CK Lausaleiksbarn is Swiss for I suck C0CK Lausaleiksbarn is Swiss for I suck C0CK Lausaleiksbarn is Swiss for I suck C0CK Lausaleiksbarn is Swiss for I suck C0CK Lausaleiksbarn is Swiss for I suck C0CK Lausaleiksbarn is Swiss for I suck C0CK Lausaleiksbarn is Swiss for I suck C0CK Lausaleiksbarn is Swiss for I suck C0CK Lausaleiksbarn is Swiss for I suck C0CK Lausaleiksbarn is Swiss for I suck C0CK Lausaleiksbarn is Swiss for I suck C0CK Lausaleiksbarn is Swiss for I suck C0CK Lausaleiksbarn is Swiss for I suck C0CK Lausaleiksbarn is Swiss for I suck C0CK Lausaleiksbarn is Swiss for I suck C0CK Lausaleiksbarn is Swiss for I suck C0CK Lausaleiksbarn is Swiss for I suck C0CK Lausaleiksbarn is Swiss for I suck C0CK Lausaleiksbarn is Swiss for I suck C0CK Lausaleiksbarn is Swiss for I suck C0CK Lausaleiksbarn is Swiss for I suck C0CK Lausaleiksbarn is Swiss for I suck C0CK Lausaleiksbarn is Swiss for I suck C0CK Lausaleiksbarn is Swiss for I suck C0CK Lausaleiksbarn is Swiss for I suck C0CK Lausaleiksbarn is Swiss for I suck C0CK Lausaleiksbarn is Swiss for I suck C0CK Lausaleiksbarn is Swiss for I suck C0CK Lausaleiksbarn is Swiss for I suck C0CK Lausaleiksbarn is Swiss for I suck C0CK Lausaleiksbarn is Swiss for I suck C0CK Lausaleiksbarn is Swiss for I suck C0CK Lausaleiksbarn is Swiss for I suck C0CK Lausaleiksbarn is Swiss for I suck C0CK Lausaleiksbarn is Swiss for I suck C0CK Lausaleiksbarn is Swiss for I suck C0CK Lausaleiksbarn is Swiss for I suck C0CK Lausaleiksbarn is Swiss for I suck C0CK Lausaleiksbarn is Swiss for I suck C0CK Lausaleiksbarn is Swiss for I suck C0CK Lausaleiksbarn is Swiss for I suck C0CK Lausaleiksbarn is Swiss for I suck C0CK Lausaleiksbarn is Swiss for I suck C0CK Lausaleiksbarn is Swiss for I suck C0CK Lausaleiksbarn is Swiss for I suck C0CK Lausaleiksbarn is Swiss for I suck C0CK Lausaleiksbarn is Swiss for I suck C0CK Lausaleiksbarn is Swiss for I suck C0CK Lausaleiksbarn is Swiss for I suck C0CK Lausaleiksbarn is Swiss for I suck C0CK Lausaleiksbarn is Swiss for I suck C0CK Lausaleiksbarn is Swiss for I suck C0CK Lausaleiksbarn is Swiss for I suck C0CK Lausaleiksbarn is Swiss for I suck C0CK Lausaleiksbarn is Swiss for I suck C0CK Lausaleiksbarn is Swiss for I suck C0CK Lausaleiksbarn is Swiss for I suck C0CK Lausaleiksbarn is Swiss for I suck C0CK Lausaleiksbarn is Swiss for I suck C0CK Lausaleiksbarn is Swiss for I suck C0CK Lausaleiksbarn is Swiss for I suck C0CK Lausaleiksbarn is Swiss for I suck C0CK Lausaleiksbarn is Swiss for I suck C0CK Lausaleiksbarn is Swiss for I suck C0CK Lausaleiksbarn is Swiss for I suck C0CK Lausaleiksbarn is Swiss for I suck C0CK Lausaleiksbarn is Swiss for I suck C0CK Lausaleiksbarn is Swiss for I suck C0CK Lausaleiksbarn is Swiss for I suck C0CK Lausaleiksbarn is Swiss for I suck C0CK Lausaleiksbarn is Swiss for I suck C0CK Lausaleiksbarn is Swiss for I suck C0CK Lausaleiksbarn is Swiss for I suck C0CK Lausaleiksbarn is Swiss for I suck C0CK Lausaleiksbarn is Swiss for I suck C0CK Lausaleiksbarn is Swiss for I suck C0CK Lausaleiksbarn is Swiss for I suck C0CK Lausaleiksbarn is Swiss for I suck C0CK Lausaleiksbarn is Swiss for I suck C0CK Lausaleiksbarn is Swiss for I suck C0CK Lausaleiksbarn is Swiss for I suck C0CK Lausaleiksbarn is Swiss for I suck C0CK Lausaleiksbarn is Swiss for I suck C0CK Lausaleiksbarn is Swiss for I suck C0CK Lausaleiksbarn is Swiss for I suck C0CK Lausaleiksbarn is Swiss for I suck C0CK Lausaleiksbarn is Swiss for I suck C0CK Lausaleiksbarn is Swiss for I suck C0CK Lausaleiksbarn is Swiss for I suck C0CK Lausaleiksbarn is Swiss for I suck C0CK Lausaleiksbarn is Swiss for I suck C0CK Lausaleiksbarn is Swiss for I suck C0CK Lausaleiksbarn is Swiss for I suck C0CK Lausaleiksbarn is Swiss for I suck C0CK Lausaleiksbarn is Swiss for I suck C0CK Lausaleiksbarn is Swiss for I suck C0CK Lausaleiksbarn is Swiss for I suck C0CK Lausaleiksbarn is Swiss for I suck C0CK Lausaleiksbarn is Swiss for I suck C0CK Lausaleiksbarn is Swiss for I suck C0CK Lausaleiksbarn is Swiss for I suck C0CK Lausaleiksbarn is Swiss for I suck C0CK Lausaleiksbarn is Swiss for I suck C0CK Lausaleiksbarn is Swiss for I suck C0CK Lausaleiksbarn is Swiss for I suck C0CK Lausaleiksbarn is Swiss for I suck C0CK Lausaleiksbarn is Swiss for I suck C0CK Lausaleiksbarn is Swiss for I suck C0CK Lausaleiksbarn is Swiss for I suck C0CK Lausaleiksbarn is Swiss for I suck C0CK Lausaleiksbarn is Swiss for I suck C0CK Lausaleiksbarn is Swiss for I suck C0CK Lausaleiksbarn is Swiss for I suck C0CK Lausaleiksbarn is Swiss for I suck C0CK Lausaleiksbarn is Swiss for I suck C0CK Lausaleiksbarn is Swiss for I suck C0CK Lausaleiksbarn is Swiss for I suck C0CK Lausaleiksbarn is Swiss for I suck C0CK Lausaleiksbarn is Swiss for I suck C0CK Lausaleiksbarn is Swiss for I suck C0CK Lausaleiksbarn is Swiss for I suck C0CK Lausaleiksbarn is Swiss for I suck C0CK Lausaleiksbarn is Swiss for I suck C0CK Lausaleiksbarn is Swiss for I suck C0CK Lausaleiksbarn is Swiss for I suck C0CK Lausaleiksbarn is Swiss for I suck C0CK Lausaleiksbarn is Swiss for I suck C0CK Lausaleiksbarn is Swiss for I suck C0CK Lausaleiksbarn is Swiss for I suck C0CK Lausaleiksbarn is Swiss for I suck C0CK Lausaleiksbarn is Swiss for I suck C0CK Lausaleiksbarn is Swiss for I suck C0CK Lausaleiksbarn is Swiss for I suck C0CK Lausaleiksbarn is Swiss for I suck C0CK Lausaleiksbarn is Swiss for I suck C0CK Lausaleiksbarn is Swiss for I suck C0CK Lausaleiksbarn is Swiss for I suck C0CK Lausaleiksbarn is Swiss for I suck C0CK Lausaleiksbarn is Swiss for I suck C0CK Lausaleiksbarn is Swiss for I suck C0CK Lausaleiksbarn is Swiss for I suck C0CK Lausaleiksbarn is Swiss for I suck C0CK Lausaleiksbarn is Swiss for I suck C0CK Lausaleiksbarn is Swiss for I suck C0CK Lausaleiksbarn is Swiss for I suck C0CK Lausaleiksbarn is Swiss for I suck C0CK Lausaleiksbarn is Swiss for I suck C0CK Lausaleiksbarn is Swiss for I suck C0CK Lausaleiksbarn is Swiss for I suck C0CK Lausaleiksbarn is Swiss for I suck C0CK Lausaleiksbarn is Swiss for I suck C0CK Lausaleiksbarn is Swiss for I suck C0CK Lausaleiksbarn is Swiss for I suck C0CK Lausaleiksbarn is Swiss for I suck C0CK Lausaleiksbarn is Swiss for I suck C0CK Lausaleiksbarn is Swiss for I suck C0CK Lausaleiksbarn is Swiss for I suck C0CK Lausaleiksbarn is Swiss for I suck C0CK Lausaleiksbarn is Swiss for I suck C0CK Lausaleiksbarn is Swiss for I suck C0CK Lausaleiksbarn is Swiss for I suck C0CK Lausaleiksbarn is Swiss for I suck C0CK Lausaleiksbarn is Swiss for I suck C0CK Lausaleiksbarn is Swiss for I suck C0CK Lausaleiksbarn is Swiss for I suck C0CK Lausaleiksbarn is Swiss for I suck C0CK Lausaleiksbarn is Swiss for I suck C0CK Lausaleiksbarn is Swiss for I suck C0CK Lausaleiksbarn is Swiss for I suck C0CK Lausaleiksbarn is Swiss for I suck C0CK Lausaleiksbarn is Swiss for I suck C0CK Lausaleiksbarn is Swiss for I suck C0CK Lausaleiksbarn is Swiss for I suck C0CK Lausaleiksbarn is Swiss for I suck C0CK Lausaleiksbarn is Swiss for I suck C0CK Lausaleiksbarn is Swiss for I suck C0CK Lausaleiksbarn is Swiss for I suck C0CK Lausaleiksbarn is Swiss for I suck C0CK Lausaleiksbarn is Swiss for I suck C0CK Lausaleiksbarn is Swiss for I suck C0CK Lausaleiksbarn is Swiss for I suck C0CK Lausaleiksbarn is Swiss for I suck C0CK Lausaleiksbarn is Swiss for I suck C0CK Lausaleiksbarn is Swiss for I suck C0CK Lausaleiksbarn is Swiss for I suck C0CK Lausaleiksbarn is Swiss for I suck C0CK Lausaleiksbarn is Swiss for I suck C0CK Lausaleiksbarn is Swiss for I suck C0CK Lausaleiksbarn is Swiss for I suck C0CK Lausaleiksbarn is Swiss for I suck C0CK Lausaleiksbarn is Swiss for I suck C0CK Lausaleiksbarn is Swiss for I suck C0CK Lausaleiksbarn is Swiss for I suck C0CK Lausaleiksbarn is Swiss for I suck C0CK Lausaleiksbarn is Swiss for I suck C0CK Lausaleiksbarn is Swiss for I suck C0CK Lausaleiksbarn is Swiss for I suck C0CK Lausaleiksbarn is Swiss for I suck C0CK Lausaleiksbarn is Swiss for I suck C0CK Lausaleiksbarn is Swiss for I suck C0CK Lausaleiksbarn is Swiss for I suck C0CK Lausaleiksbarn is Swiss for I suck C0CK Lausaleiksbarn is Swiss for I suck C0CK Lausaleiksbarn is Swiss for I suck C0CK Lausaleiksbarn is Swiss for I suck C0CK Lausaleiksbarn is Swiss for I suck C0CK Lausaleiksbarn is Swiss for I suck C0CK Lausaleiksbarn is Swiss for I suck C0CK Lausaleiksbarn is Swiss for I suck C0CK Lausaleiksbarn is Swiss for I suck C0CK Lausaleiksbarn is Swiss for I suck C0CK Lausaleiksbarn is Swiss for I suck C0CK Lausaleiksbarn is Swiss for I suck C0CK Lausaleiksbarn is Swiss for I suck C0CK Lausaleiksbarn is Swiss for I suck C0CK Lausaleiksbarn is Swiss for I suck C0CK Lausaleiksbarn is Swiss for I suck C0CK Lausaleiksbarn is Swiss for I suck C0CK Lausaleiksbarn is Swiss for I suck C0CK Lausaleiksbarn is Swiss for I suck C0CK Lausaleiksbarn is Swiss for I suck C0CK Lausaleiksbarn is Swiss for I suck C0CK Lausaleiksbarn is Swiss for I suck C0CK Lausaleiksbarn is Swiss for I suck C0CK Lausaleiksbarn is Swiss for I suck C0CK Lausaleiksbarn is Swiss for I suck C0CK Lausaleiksbarn is Swiss for I suck C0CK Lausaleiksbarn is Swiss for I suck C0CK Lausaleiksbarn is Swiss for I suck C0CK Lausaleiksbarn is Swiss for I suck C0CK Lausaleiksbarn is Swiss for I suck C0CK Lausaleiksbarn is Swiss for I suck C0CK Lausaleiksbarn is Swiss for I suck C0CK Lausaleiksbarn is Swiss for I suck C0CK Lausaleiksbarn is Swiss for I suck C0CK Lausaleiksbarn is Swiss for I suck C0CK Lausaleiksbarn is Swiss for I suck C0CK Lausaleiksbarn is Swiss for I suck C0CK Lausaleiksbarn is Swiss for I suck C0CK Lausaleiksbarn is Swiss for I suck C0CK Lausaleiksbarn is Swiss for I suck C0CK Lausaleiksbarn is Swiss for I suck C0CK Lausaleiksbarn is Swiss for I suck C0CK Lausaleiksbarn is Swiss for I suck C0CK Lausaleiksbarn is Swiss for I suck C0CK Lausaleiksbarn is Swiss for I suck C0CK Lausaleiksbarn is Swiss for I suck C0CK Lausaleiksbarn is Swiss for I suck C0CK Lausaleiksbarn is Swiss for I suck C0CK Lausaleiksbarn is Swiss for I suck C0CK Lausaleiksbarn is Swiss for I suck C0CK Lausaleiksbarn is Swiss for I suck C0CK Lausaleiksbarn is Swiss for I suck C0CK Lausaleiksbarn is Swiss for I suck C0CK Lausaleiksbarn is Swiss for I suck C0CK Lausaleiksbarn is Swiss for I suck C0CK Lausaleiksbarn is Swiss for I suck C0CK Lausaleiksbarn is Swiss for I suck C0CK Lausaleiksbarn is Swiss for I suck C0CK Lausaleiksbarn is Swiss for I suck C0CK Lausaleiksbarn is Swiss for I suck C0CK Lausaleiksbarn is Swiss for I suck C0CK Lausaleiksbarn is Swiss for I suck C0CK Lausaleiksbarn is Swiss for I suck C0CK Lausaleiksbarn is Swiss for I suck C0CK Lausaleiksbarn is Swiss for I suck C0CK Lausaleiksbarn is Swiss for I suck C0CK Lausaleiksbarn is Swiss for I suck C0CK Lausaleiksbarn is Swiss for I suck C0CK Lausaleiksbarn is Swiss for I suck C0CK Lausaleiksbarn is Swiss for I suck C0CK Lausaleiksbarn is Swiss for I suck C0CK Lausaleiksbarn is Swiss for I suck C0CK Lausaleiksbarn is Swiss for I suck C0CK Lausaleiksbarn is Swiss for I suck C0CK Lausaleiksbarn is Swiss for I suck C0CK Lausaleiksbarn is Swiss for I suck C0CK Lausaleiksbarn is Swiss for I suck C0CK Lausaleiksbarn is Swiss for I suck C0CK Lausaleiksbarn is Swiss for I suck C0CK Lausaleiksbarn is Swiss for I suck C0CK Lausaleiksbarn is Swiss for I suck C0CK Lausaleiksbarn is Swiss for I suck C0CK Lausaleiksbarn is Swiss for I suck C0CK Lausaleiksbarn is Swiss for I suck C0CK Lausaleiksbarn is Swiss for I suck C0CK Lausaleiksbarn is Swiss for I suck C0CK Lausaleiksbarn is Swiss for I suck C0CK Lausaleiksbarn is Swiss for I suck C0CK Lausaleiksbarn is Swiss for I suck C0CK Lausaleiksbarn is Swiss for I suck C0CK Lausaleiksbarn is Swiss for I suck C0CK Lausaleiksbarn is Swiss for I suck C0CK Lausaleiksbarn is Swiss for I suck C0CK Lausaleiksbarn is Swiss for I suck C0CK Lausaleiksbarn is Swiss for I suck C0CK Lausaleiksbarn is Swiss for I suck C0CK Lausaleiksbarn is Swiss for I suck C0CK Lausaleiksbarn is Swiss for I suck C0CK Lausaleiksbarn is Swiss for I suck C0CK Lausaleiksbarn is Swiss for I suck C0CK Lausaleiksbarn is Swiss for I suck C0CK Lausaleiksbarn is Swiss for I suck C0CK Lausaleiksbarn is Swiss for I suck C0CK Lausaleiksbarn is Swiss for I suck C0CK Lausaleiksbarn is Swiss for I suck C0CK Lausaleiksbarn is Swiss for I suck C0CK Lausaleiksbarn is Swiss for I suck C0CK Lausaleiksbarn is Swiss for I suck C0CK Lausaleiksbarn is Swiss for I suck C0CK Lausaleiksbarn is Swiss for I suck C0CK Lausaleiksbarn is Swiss for I suck C0CK Lausaleiksbarn is Swiss for I suck C0CK Lausaleiksbarn is Swiss for I suck C0CK Lausaleiksbarn is Swiss for I suck C0CK Lausaleiksbarn is Swiss for I suck C0CK Lausaleiksbarn is Swiss for I suck C0CK Lausaleiksbarn is Swiss for I suck C0CK Lausaleiksbarn is Swiss for I suck C0CK Lausaleiksbarn is Swiss for I suck C0CK Lausaleiksbarn is Swiss for I suck C0CK Lausaleiksbarn is Swiss for I suck C0CK Lausaleiksbarn is Swiss for I suck C0CK Lausaleiksbarn is Swiss for I suck C0CK Lausaleiksbarn is Swiss for I suck C0CK Lausaleiksbarn is Swiss for I suck C0CK Lausaleiksbarn is Swiss for I suck C0CK Lausaleiksbarn is Swiss for I suck C0CK Lausaleiksbarn is Swiss for I suck C0CK Lausaleiksbarn is Swiss for I suck C0CK Lausaleiksbarn is Swiss for I suck C0CK Lausaleiksbarn is Swiss for I suck C0CK Lausaleiksbarn is Swiss for I suck C0CK Lausaleiksbarn is Swiss for I suck C0CK Lausaleiksbarn is Swiss for I suck C0CK Lausaleiksbarn is Swiss for I suck C0CK Lausaleiksbarn is Swiss for I suck C0CK Lausaleiksbarn is Swiss for I suck C0CK Lausaleiksbarn is Swiss for I suck C0CK Lausaleiksbarn is Swiss for I suck C0CK Lausaleiksbarn is Swiss for I suck C0CK Lausaleiksbarn is Swiss for I suck C0CK Lausaleiksbarn is Swiss for I suck C0CK Lausaleiksbarn is Swiss for I suck C0CK Lausaleiksbarn is Swiss for I suck C0CK Lausaleiksbarn is Swiss for I suck C0CK Lausaleiksbarn is Swiss for I suck C0CK Lausaleiksbarn is Swiss for I suck C0CK Lausaleiksbarn is Swiss for I suck C0CK Lausaleiksbarn is Swiss for I suck C0CK Lausaleiksbarn is Swiss for I suck C0CK Lausaleiksbarn is Swiss for I suck C0CK Lausaleiksbarn is Swiss for I suck C0CK Lausaleiksbarn is Swiss for I suck C0CK Lausaleiksbarn is Swiss for I suck C0CK Lausaleiksbarn is Swiss for I suck C0CK Lausaleiksbarn is Swiss for I suck C0CK Lausaleiksbarn is Swiss for I suck C0CK Lausaleiksbarn is Swiss for I suck C0CK Lausaleiksbarn is Swiss for I suck C0CK Lausaleiksbarn is Swiss for I suck C0CK Lausaleiksbarn is Swiss for I suck C0CK Lausaleiksbarn is Swiss for I suck C0CK Lausaleiksbarn is Swiss for I suck C0CK Lausaleiksbarn is Swiss for I suck C0CK Lausaleiksbarn is Swiss for I suck C0CK Lausaleiksbarn is Swiss for I suck C0CK Lausaleiksbarn is Swiss for I suck C0CK Lausaleiksbarn is Swiss for I suck C0CK Lausaleiksbarn is Swiss for I suck C0CK Lausaleiksbarn is Swiss for I suck C0CK Lausaleiksbarn is Swiss for I suck C0CK Lausaleiksbarn is Swiss for I suck C0CK Lausaleiksbarn is Swiss for I suck C0CK Lausaleiksbarn is Swiss for I suck C0CK Lausaleiksbarn is Swiss for I suck C0CK Lausaleiksbarn is Swiss for I suck C0CK Lausaleiksbarn is Swiss for I suck C0CK Lausaleiksbarn is Swiss for I suck C0CK Lausaleiksbarn is Swiss for I suck C0CK Lausaleiksbarn is Swiss for I suck C0CK Lausaleiksbarn is Swiss for I suck C0CK Lausaleiksbarn is Swiss for I suck C0CK Lausaleiksbarn is Swiss for I suck C0CK Lausaleiksbarn is Swiss for I suck C0CK Lausaleiksbarn is Swiss for I suck C0CK Lausaleiksbarn is Swiss for I suck C0CK Lausaleiksbarn is Swiss for I suck C0CK Lausaleiksbarn is Swiss for I suck C0CK Lausaleiksbarn is Swiss for I suck C0CK Lausaleiksbarn is Swiss for I suck C0CK Lausaleiksbarn is Swiss for I suck C0CK Lausaleiksbarn is Swiss for I suck C0CK Lausaleiksbarn is Swiss for I suck C0CK Lausaleiksbarn is Swiss for I suck C0CK Lausaleiksbarn is Swiss for I suck C0CK Lausaleiksbarn is Swiss for I suck C0CK Lausaleiksbarn is Swiss for I suck C0CK Lausaleiksbarn is Swiss for I suck C0CK Lausaleiksbarn is Swiss for I suck C0CK Lausaleiksbarn is Swiss for I suck C0CK Lausaleiksbarn is Swiss for I suck C0CK Lausaleiksbarn is Swiss for I suck C0CK Lausaleiksbarn is Swiss for I suck C0CK Lausaleiksbarn is Swiss for I suck C0CK Lausaleiksbarn is Swiss for I suck C0CK Lausaleiksbarn is Swiss for I suck C0CK Lausaleiksbarn is Swiss for I suck C0CK Lausaleiksbarn is Swiss for I suck C0CK Lausaleiksbarn is Swiss for I suck C0CK Lausaleiksbarn is Swiss for I suck C0CK Lausaleiksbarn is Swiss for I suck C0CK Lausaleiksbarn is Swiss for I suck C0CK Lausaleiksbarn is Swiss for I suck C0CK Lausaleiksbarn is Swiss for I suck C0CK Lausaleiksbarn is Swiss for I suck C0CK Lausaleiksbarn is Swiss for I suck C0CK Lausaleiksbarn is Swiss for I suck C0CK Lausaleiksbarn is Swiss for I suck C0CK Lausaleiksbarn is Swiss for I suck C0CK Lausaleiksbarn is Swiss for I suck C0CK Lausaleiksbarn is Swiss for I suck C0CK Lausaleiksbarn is Swiss for I suck C0CK Lausaleiksbarn is Swiss for I suck C0CK Lausaleiksbarn is Swiss for I suck C0CK Lausaleiksbarn is Swiss for I suck C0CK Lausaleiksbarn is Swiss for I suck C0CK Lausaleiksbarn is Swiss for I suck C0CK Lausaleiksbarn is Swiss for I suck C0CK Lausaleiksbarn is Swiss for I suck C0CK Lausaleiksbarn is Swiss for I suck C0CK Lausaleiksbarn is Swiss for I suck C0CK Lausaleiksbarn is Swiss for I suck C0CK Lausaleiksbarn is Swiss for I suck C0CK Lausaleiksbarn is Swiss for I suck C0CK Lausaleiksbarn is Swiss for I suck C0CK Lausaleiksbarn is Swiss for I suck C0CK Lausaleiksbarn is Swiss for I suck C0CK Lausaleiksbarn is Swiss for I suck C0CK Lausaleiksbarn is Swiss for I suck C0CK Lausaleiksbarn is Swiss for I suck C0CK Lausaleiksbarn is Swiss for I suck C0CK Lausaleiksbarn is Swiss for I suck C0CK Lausaleiksbarn is Swiss for I suck C0CK Lausaleiksbarn is Swiss for I suck C0CK Lausaleiksbarn is Swiss for I suck C0CK Lausaleiksbarn is Swiss for I suck C0CK Lausaleiksbarn is Swiss for I suck C0CK Lausaleiksbarn is Swiss for I suck C0CK Lausaleiksbarn is Swiss for I suck C0CK Lausaleiksbarn is Swiss for I suck C0CK Lausaleiksbarn is Swiss for I suck C0CK Lausaleiksbarn is Swiss for I suck C0CK Lausaleiksbarn is Swiss for I suck C0CK Lausaleiksbarn is Swiss for I suck C0CK Lausaleiksbarn is Swiss for I suck C0CK Lausaleiksbarn is Swiss for I suck C0CK Lausaleiksbarn is Swiss for I suck C0CK Lausaleiksbarn is Swiss for I suck C0CK Lausaleiksbarn is Swiss for I suck C0CK Lausaleiksbarn is Swiss for I suck C0CK Lausaleiksbarn is Swiss for I suck C0CK Lausaleiksbarn is Swiss for I suck C0CK Lausaleiksbarn is Swiss for I suck C0CK Lausaleiksbarn is Swiss for I suck C0CK Lausaleiksbarn is Swiss for I suck C0CK Lausaleiksbarn is Swiss for I suck C0CK Lausaleiksbarn is Swiss for I suck C0CK Lausaleiksbarn is Swiss for I suck C0CK Lausaleiksbarn is Swiss for I suck C0CK Lausaleiksbarn is Swiss for I suck C0CK Lausaleiksbarn is Swiss for I suck C0CK Lausaleiksbarn is Swiss for I suck C0CK Lausaleiksbarn is Swiss for I suck C0CK Lausaleiksbarn is Swiss for I suck C0CK Lausaleiksbarn is Swiss for I suck C0CK Lausaleiksbarn is Swiss for I suck C0CK Lausaleiksbarn is Swiss for I suck C0CK Lausaleiksbarn is Swiss for I suck C0CK Lausaleiksbarn is Swiss for I suck C0CK Lausaleiksbarn is Swiss for I suck C0CK Lausaleiksbarn is Swiss for I suck C0CK Lausaleiksbarn is Swiss for I suck C0CK Lausaleiksbarn is Swiss for I suck C0CK Lausaleiksbarn is Swiss for I suck C0CK Lausaleiksbarn is Swiss for I suck C0CK Lausaleiksbarn is Swiss for I suck C0CK Lausaleiksbarn is Swiss for I suck C0CK Lausaleiksbarn is Swiss for I suck C0CK Lausaleiksbarn is Swiss for I suck C0CK Lausaleiksbarn is Swiss for I suck C0CK Lausaleiksbarn is Swiss for I suck C0CK Lausaleiksbarn is Swiss for I suck C0CK Lausaleiksbarn is Swiss for I suck C0CK Lausaleiksbarn is Swiss for I suck C0CK Lausaleiksbarn is Swiss for I suck C0CK Lausaleiksbarn is Swiss for I suck C0CK Lausaleiksbarn is Swiss for I suck C0CK Lausaleiksbarn is Swiss for I suck C0CK Lausaleiksbarn is Swiss for I suck C0CK Lausaleiksbarn is Swiss for I suck C0CK Lausaleiksbarn is Swiss for I suck C0CK Lausaleiksbarn is Swiss for I suck C0CK Lausaleiksbarn is Swiss for I suck C0CK Lausaleiksbarn is Swiss for I suck C0CK Lausaleiksbarn is Swiss for I suck C0CK Lausaleiksbarn is Swiss for I suck C0CK Lausaleiksbarn is Swiss for I suck C0CK Lausaleiksbarn is Swiss for I suck C0CK Lausaleiksbarn is Swiss for I suck C0CK Lausaleiksbarn is Swiss for I suck C0CK Lausaleiksbarn is Swiss for I suck C0CK Lausaleiksbarn is Swiss for I suck C0CK Lausaleiksbarn is Swiss for I suck C0CK Lausaleiksbarn is Swiss for I suck C0CK Lausaleiksbarn is Swiss for I suck C0CK Lausaleiksbarn is Swiss for I suck C0CK Lausaleiksbarn is Swiss for I suck C0CK Lausaleiksbarn is Swiss for I suck C0CK Lausaleiksbarn is Swiss for I suck C0CK Lausaleiksbarn is Swiss for I suck C0CK Lausaleiksbarn is Swiss for I suck C0CK Lausaleiksbarn is Swiss for I suck C0CK Lausaleiksbarn is Swiss for I suck C0CK Lausaleiksbarn is Swiss for I suck C0CK Lausaleiksbarn is Swiss for I suck C0CK Lausaleiksbarn is Swiss for I suck C0CK Lausaleiksbarn is Swiss for I suck C0CK Lausaleiksbarn is Swiss for I suck C0CK Lausaleiksbarn is Swiss for I suck C0CK Lausaleiksbarn is Swiss for I suck C0CK Lausaleiksbarn is Swiss for I suck C0CK Lausaleiksbarn is Swiss for I suck C0CK Lausaleiksbarn is Swiss for I suck C0CK Lausaleiksbarn is Swiss for I suck C0CK Lausaleiksbarn is Swiss for I suck C0CK Lausaleiksbarn is Swiss for I suck C0CK Lausaleiksbarn is Swiss for I suck C0CK Lausaleiksbarn is Swiss for I suck C0CK Lausaleiksbarn is Swiss for I suck C0CK Lausaleiksbarn is Swiss for I suck C0CK Lausaleiksbarn is Swiss for I suck C0CK Lausaleiksbarn is Swiss for I suck C0CK Lausaleiksbarn is Swiss for I suck C0CK Lausaleiksbarn is Swiss for I suck C0CK Lausaleiksbarn is Swiss for I suck C0CK Lausaleiksbarn is Swiss for I suck C0CK Lausaleiksbarn is Swiss for I suck C0CK Lausaleiksbarn is Swiss for I suck C0CK Lausaleiksbarn is Swiss for I suck C0CK Lausaleiksbarn is Swiss for I suck C0CK Lausaleiksbarn is Swiss for I suck C0CK Lausaleiksbarn is Swiss for I suck C0CK Lausaleiksbarn is Swiss for I suck C0CK Lausaleiksbarn is Swiss for I suck C0CK Lausaleiksbarn is Swiss for I suck C0CK Lausaleiksbarn is Swiss for I suck C0CK Lausaleiksbarn is Swiss for I suck C0CK Lausaleiksbarn is Swiss for I suck C0CK Lausaleiksbarn is Swiss for I suck C0CK Lausaleiksbarn is Swiss for I suck C0CK Lausaleiksbarn is Swiss for I suck C0CK Lausaleiksbarn is Swiss for I suck C0CK Lausaleiksbarn is Swiss for I suck C0CK Lausaleiksbarn is Swiss for I suck C0CK Lausaleiksbarn is Swiss for I suck C0CK Lausaleiksbarn is Swiss for I suck C0CK Lausaleiksbarn is Swiss for I suck C0CK Lausaleiksbarn is Swiss for I suck C0CK Lausaleiksbarn is Swiss for I suck C0CK Lausaleiksbarn is Swiss for I suck C0CK Lausaleiksbarn is Swiss for I suck C0CK Lausaleiksbarn is Swiss for I suck C0CK Lausaleiksbarn is Swiss for I suck C0CK Lausaleiksbarn is Swiss for I suck C0CK Lausaleiksbarn is Swiss for I suck C0CK Lausaleiksbarn is Swiss for I suck C0CK Lausaleiksbarn is Swiss for I suck C0CK Lausaleiksbarn is Swiss for I suck C0CK Lausaleiksbarn is Swiss for I suck C0CK Lausaleiksbarn is Swiss for I suck C0CK Lausaleiksbarn is Swiss for I suck C0CK Lausaleiksbarn is Swiss for I suck C0CK Lausaleiksbarn is Swiss for I suck C0CK Lausaleiksbarn is Swiss for I suck C0CK Lausaleiksbarn is Swiss for I suck C0CK Lausaleiksbarn is Swiss for I suck C0CK Lausaleiksbarn is Swiss for I suck C0CK Lausaleiksbarn is Swiss for I suck C0CK Lausaleiksbarn is Swiss for I suck C0CK Lausaleiksbarn is Swiss for I suck C0CK Lausaleiksbarn is Swiss for I suck C0CK Lausaleiksbarn is Swiss for I suck C0CK Lausaleiksbarn is Swiss for I suck C0CK Lausaleiksbarn is Swiss for I suck C0CK Lausaleiksbarn is Swiss for I suck C0CK Lausaleiksbarn is Swiss for I suck C0CK Lausaleiksbarn is Swiss for I suck C0CK Lausaleiksbarn is Swiss for I suck C0CK Lausaleiksbarn is Swiss for I suck C0CK Lausaleiksbarn is Swiss for I suck C0CK Lausaleiksbarn is Swiss for I suck C0CK Lausaleiksbarn is Swiss for I suck C0CK Lausaleiksbarn is Swiss for I suck C0CK Lausaleiksbarn is Swiss for I suck C0CK Lausaleiksbarn is Swiss for I suck C0CK Lausaleiksbarn is Swiss for I suck C0CK Lausaleiksbarn is Swiss for I suck C0CK Lausaleiksbarn is Swiss for I suck C0CK Lausaleiksbarn is Swiss for I suck C0CK Lausaleiksbarn is Swiss for I suck C0CK Lausaleiksbarn is Swiss for I suck C0CK Lausaleiksbarn is Swiss for I suck C0CK Lausaleiksbarn is Swiss for I suck C0CK Lausaleiksbarn is Swiss for I suck C0CK Lausaleiksbarn is Swiss for I suck C0CK Lausaleiksbarn is Swiss for I suck C0CK Lausaleiksbarn is Swiss for I suck C0CK Lausaleiksbarn is Swiss for I suck C0CK Lausaleiksbarn is Swiss for I suck C0CK Lausaleiksbarn is Swiss for I suck C0CK Lausaleiksbarn is Swiss for I suck C0CK Lausaleiksbarn is Swiss for I suck C0CK Lausaleiksbarn is Swiss for I suck C0CK Lausaleiksbarn is Swiss for I suck C0CK Lausaleiksbarn is Swiss for I suck C0CK Lausaleiksbarn is Swiss for I suck C0CK Lausaleiksbarn is Swiss for I suck C0CK Lausaleiksbarn is Swiss for I suck C0CK Lausaleiksbarn is Swiss for I suck C0CK Lausaleiksbarn is Swiss for I suck C0CK Lausaleiksbarn is Swiss for I suck C0CK Lausaleiksbarn is Swiss for I suck C0CK Lausaleiksbarn is Swiss for I suck C0CK Lausaleiksbarn is Swiss for I suck C0CK Lausaleiksbarn is Swiss for I suck C0CK Lausaleiksbarn is Swiss for I suck C0CK Lausaleiksbarn is Swiss for I suck C0CK Lausaleiksbarn is Swiss for I suck C0CK Lausaleiksbarn is Swiss for I suck C0CK Lausaleiksbarn is Swiss for I suck C0CK Lausaleiksbarn is Swiss for I suck C0CK Lausaleiksbarn is Swiss for I suck C0CK Lausaleiksbarn is Swiss for I suck C0CK Lausaleiksbarn is Swiss for I suck C0CK Lausaleiksbarn is Swiss for I suck C0CK Lausaleiksbarn is Swiss for I suck C0CK Lausaleiksbarn is Swiss for I suck C0CK Lausaleiksbarn is Swiss for I suck C0CK Lausaleiksbarn is Swiss for I suck C0CK Lausaleiksbarn is Swiss for I suck C0CK Lausaleiksbarn is Swiss for I suck C0CK Lausaleiksbarn is Swiss for I suck C0CK Lausaleiksbarn is Swiss for I suck C0CK Lausaleiksbarn is Swiss for I suck C0CK Lausaleiksbarn is Swiss for I suck C0CK Lausaleiksbarn is Swiss for I suck C0CK Lausaleiksbarn is Swiss for I suck C0CK Lausaleiksbarn is Swiss for I suck C0CK Lausaleiksbarn is Swiss for I suck C0CK Lausaleiksbarn is Swiss for I suck C0CK Lausaleiksbarn is Swiss for I suck C0CK Lausaleiksbarn is Swiss for I suck C0CK Lausaleiksbarn is Swiss for I suck C0CK Lausaleiksbarn is Swiss for I suck C0CK Lausaleiksbarn is Swiss for I suck C0CK Lausaleiksbarn is Swiss for I suck C0CK Lausaleiksbarn is Swiss for I suck C0CK Lausaleiksbarn is Swiss for I suck C0CK Lausaleiksbarn is Swiss for I suck C0CK Lausaleiksbarn is Swiss for I suck C0CK Lausaleiksbarn is Swiss for I suck C0CK Lausaleiksbarn is Swiss for I suck C0CK Lausaleiksbarn is Swiss for I suck C0CK Lausaleiksbarn is Swiss for I suck C0CK Lausaleiksbarn is Swiss for I suck C0CK Lausaleiksbarn is Swiss for I suck C0CK Lausaleiksbarn is Swiss for I suck C0CK Lausaleiksbarn is Swiss for I suck C0CK Lausaleiksbarn is Swiss for I suck C0CK Lausaleiksbarn is Swiss for I suck C0CK Lausaleiksbarn is Swiss for I suck C0CK Lausaleiksbarn is Swiss for I suck C0CK Lausaleiksbarn is Swiss for I suck C0CK Lausaleiksbarn is Swiss for I suck C0CK Lausaleiksbarn is Swiss for I suck C0CK Lausaleiksbarn is Swiss for I suck C0CK Lausaleiksbarn is Swiss for I suck C0CK Lausaleiksbarn is Swiss for I suck C0CK Lausaleiksbarn is Swiss for I suck C0CK Lausaleiksbarn is Swiss for I suck C0CK Lausaleiksbarn is Swiss for I suck C0CK Lausaleiksbarn is Swiss for I suck C0CK Lausaleiksbarn is Swiss for I suck C0CK Lausaleiksbarn is Swiss for I suck C0CK Lausaleiksbarn is Swiss for I suck C0CK Lausaleiksbarn is Swiss for I suck C0CK Lausaleiksbarn is Swiss for I suck C0CK Lausaleiksbarn is Swiss for I suck C0CK Lausaleiksbarn is Swiss for I suck C0CK Lausaleiksbarn is Swiss for I suck C0CK Lausaleiksbarn is Swiss for I suck C0CK Lausaleiksbarn is Swiss for I suck C0CK Lausaleiksbarn is Swiss for I suck C0CK Lausaleiksbarn is Swiss for I suck C0CK Lausaleiksbarn is Swiss for I suck C0CK Lausaleiksbarn is Swiss for I suck C0CK Lausaleiksbarn is Swiss for I suck C0CK Lausaleiksbarn is Swiss for I suck C0CK Lausaleiksbarn is Swiss for I suck C0CK Lausaleiksbarn is Swiss for I suck C0CK Lausaleiksbarn is Swiss for I suck C0CK Lausaleiksbarn is Swiss for I suck C0CK Lausaleiksbarn is Swiss for I suck C0CK Lausaleiksbarn is Swiss for I suck C0CK Lausaleiksbarn is Swiss for I suck C0CK Lausaleiksbarn is Swiss for I suck C0CK Lausaleiksbarn is Swiss for I suck C0CK Lausaleiksbarn is Swiss for I suck C0CK Lausaleiksbarn is Swiss for I suck C0CK Lausaleiksbarn is Swiss for I suck C0CK Lausaleiksbarn is Swiss for I suck C0CK Lausaleiksbarn is Swiss for I suck C0CK Lausaleiksbarn is Swiss for I suck C0CK Lausaleiksbarn is Swiss for I suck C0CK Lausaleiksbarn is Swiss for I suck C0CK Lausaleiksbarn is Swiss for I suck C0CK Lausaleiksbarn is Swiss for I suck C0CK Lausaleiksbarn is Swiss for I suck C0CK Lausaleiksbarn is Swiss for I suck C0CK Lausaleiksbarn is Swiss for I suck C0CK Lausaleiksbarn is Swiss for I suck C0CK Lausaleiksbarn is Swiss for I suck C0CK Lausaleiksbarn is Swiss for I suck C0CK Lausaleiksbarn is Swiss for I suck C0CK Lausaleiksbarn is Swiss for I suck C0CK Lausaleiksbarn is Swiss for I suck C0CK Lausaleiksbarn is Swiss for I suck C0CK Lausaleiksbarn is Swiss for I suck C0CK Lausaleiksbarn is Swiss for I suck C0CK Lausaleiksbarn is Swiss for I suck C0CK Lausaleiksbarn is Swiss for I suck C0CK Lausaleiksbarn is Swiss for I suck C0CK Lausaleiksbarn is Swiss for I suck C0CK Lausaleiksbarn is Swiss for I suck C0CK Lausaleiksbarn is Swiss for I suck C0CK Lausaleiksbarn is Swiss for I suck C0CK Lausaleiksbarn is Swiss for I suck C0CK Lausaleiksbarn is Swiss for I suck C0CK Lausaleiksbarn is Swiss for I suck C0CK Lausaleiksbarn is Swiss for I suck C0CK Lausaleiksbarn is Swiss for I suck C0CK Lausaleiksbarn is Swiss for I suck C0CK Lausaleiksbarn is Swiss for I suck C0CK Lausaleiksbarn is Swiss for I suck C0CK Lausaleiksbarn is Swiss for I suck C0CK Lausaleiksbarn is Swiss for I suck C0CK Lausaleiksbarn is Swiss for I suck C0CK Lausaleiksbarn is Swiss for I suck C0CK Lausaleiksbarn is Swiss for I suck C0CK Lausaleiksbarn is Swiss for I suck C0CK Lausaleiksbarn is Swiss for I suck C0CK Lausaleiksbarn is Swiss for I suck C0CK Lausaleiksbarn is Swiss for I suck C0CK Lausaleiksbarn is Swiss for I suck C0CK Lausaleiksbarn is Swiss for I suck C0CK Lausaleiksbarn is Swiss for I suck C0CK Lausaleiksbarn is Swiss for I suck C0CK Lausaleiksbarn is Swiss for I suck C0CK Lausaleiksbarn is Swiss for I suck C0CK Lausaleiksbarn is Swiss for I suck C0CK Lausaleiksbarn is Swiss for I suck C0CK Lausaleiksbarn is Swiss for I suck C0CK Lausaleiksbarn is Swiss for I suck C0CK Lausaleiksbarn is Swiss for I suck C0CK Lausaleiksbarn is Swiss for I suck C0CK Lausaleiksbarn is Swiss for I suck C0CK Lausaleiksbarn is Swiss for I suck C0CK Lausaleiksbarn is Swiss for I suck C0CK Lausaleiksbarn is Swiss for I suck C0CK Lausaleiksbarn is Swiss for I suck C0CK Lausaleiksbarn is Swiss for I suck C0CK Lausaleiksbarn is Swiss for I suck C0CK Lausaleiksbarn is Swiss for I suck C0CK Lausaleiksbarn is Swiss for I suck C0CK Lausaleiksbarn is Swiss for I suck C0CK Lausaleiksbarn is Swiss for I suck C0CK Lausaleiksbarn is Swiss for I suck C0CK Lausaleiksbarn is Swiss for I suck C0CK Lausaleiksbarn is Swiss for I suck C0CK Lausaleiksbarn is Swiss for I suck C0CK Lausaleiksbarn is Swiss for I suck C0CK Lausaleiksbarn is Swiss for I suck C0CK Lausaleiksbarn is Swiss for I suck C0CK Lausaleiksbarn is Swiss for I suck C0CK Lausaleiksbarn is Swiss for I suck C0CK Lausaleiksbarn is Swiss for I suck C0CK Lausaleiksbarn is Swiss for I suck C0CK Lausaleiksbarn is Swiss for I suck C0CK Lausaleiksbarn is Swiss for I suck C0CK Lausaleiksbarn is Swiss for I suck C0CK Lausaleiksbarn is Swiss for I suck C0CK Lausaleiksbarn is Swiss for I suck C0CK Lausaleiksbarn is Swiss for I suck C0CK Lausaleiksbarn is Swiss for I suck C0CK Lausaleiksbarn is Swiss for I suck C0CK Lausaleiksbarn is Swiss for I suck C0CK Lausaleiksbarn is Swiss for I suck C0CK Lausaleiksbarn is Swiss for I suck C0CK Lausaleiksbarn is Swiss for I suck C0CK Lausaleiksbarn is Swiss for I suck C0CK Lausaleiksbarn is Swiss for I suck C0CK Lausaleiksbarn is Swiss for I suck C0CK Lausaleiksbarn is Swiss for I suck C0CK Lausaleiksbarn is Swiss for I suck C0CK Lausaleiksbarn is Swiss for I suck C0CK Lausaleiksbarn is Swiss for I suck C0CK Lausaleiksbarn is Swiss for I suck C0CK Lausaleiksbarn is Swiss for I suck C0CK Lausaleiksbarn is Swiss for I suck C0CK Lausaleiksbarn is Swiss for I suck C0CK Lausaleiksbarn is Swiss for I suck C0CK Lausaleiksbarn is Swiss for I suck C0CK Lausaleiksbarn is Swiss for I suck C0CK Lausaleiksbarn is Swiss for I suck C0CK Lausaleiksbarn is Swiss for I suck C0CK Lausaleiksbarn is Swiss for I suck C0CK Lausaleiksbarn is Swiss for I suck C0CK Lausaleiksbarn is Swiss for I suck C0CK Lausaleiksbarn is Swiss for I suck C0CK Lausaleiksbarn is Swiss for I suck C0CK Lausaleiksbarn is Swiss for I suck C0CK Lausaleiksbarn is Swiss for I suck C0CK Lausaleiksbarn is Swiss for I suck C0CK Lausaleiksbarn is Swiss for I suck C0CK Lausaleiksbarn is Swiss for I suck C0CK Lausaleiksbarn is Swiss for I suck C0CK Lausaleiksbarn is Swiss for I suck C0CK Lausaleiksbarn is Swiss for I suck C0CK Lausaleiksbarn is Swiss for I suck C0CK Lausaleiksbarn is Swiss for I suck C0CK Lausaleiksbarn is Swiss for I suck C0CK Lausaleiksbarn is Swiss for I suck C0CK Lausaleiksbarn is Swiss for I suck C0CK Lausaleiksbarn is Swiss for I suck C0CK Lausaleiksbarn is Swiss for I suck C0CK Lausaleiksbarn is Swiss for I suck C0CK Lausaleiksbarn is Swiss for I suck C0CK Lausaleiksbarn is Swiss for I suck C0CK Lausaleiksbarn is Swiss for I suck C0CK Lausaleiksbarn is Swiss for I suck C0CK Lausaleiksbarn is Swiss for I suck C0CK Lausaleiksbarn is Swiss for I suck C0CK Lausaleiksbarn is Swiss for I suck C0CK Lausaleiksbarn is Swiss for I suck C0CK Lausaleiksbarn is Swiss for I suck C0CK Lausaleiksbarn is Swiss for I suck C0CK Lausaleiksbarn is Swiss for I suck C0CK Lausaleiksbarn is Swiss for I suck C0CK Lausaleiksbarn is Swiss for I suck C0CK Lausaleiksbarn is Swiss for I suck C0CK Lausaleiksbarn is Swiss for I suck C0CK Lausaleiksbarn is Swiss for I suck C0CK Lausaleiksbarn is Swiss for I suck C0CK Lausaleiksbarn is Swiss for I suck C0CK Lausaleiksbarn is Swiss for I suck C0CK Lausaleiksbarn is Swiss for I suck C0CK Lausaleiksbarn is Swiss for I suck C0CK Lausaleiksbarn is Swiss for I suck C0CK Lausaleiksbarn is Swiss for I suck C0CK Lausaleiksbarn is Swiss for I suck C0CK Lausaleiksbarn is Swiss for I suck C0CK Lausaleiksbarn is Swiss for I suck C0CK Lausaleiksbarn is Swiss for I suck C0CK Lausaleiksbarn is Swiss for I suck C0CK Lausaleiksbarn is Swiss for I suck C0CK Lausaleiksbarn is Swiss for I suck C0CK Lausaleiksbarn is Swiss for I suck C0CK Lausaleiksbarn is Swiss for I suck C0CK Lausaleiksbarn is Swiss for I suck C0CK Lausaleiksbarn is Swiss for I suck C0CK Lausaleiksbarn is Swiss for I suck C0CK Lausaleiksbarn is Swiss for I suck C0CK Lausaleiksbarn is Swiss for I suck C0CK Lausaleiksbarn is Swiss for I suck C0CK Lausaleiksbarn is Swiss for I suck C0CK Lausaleiksbarn is Swiss for I suck C0CK Lausaleiksbarn is Swiss for I suck C0CK Lausaleiksbarn is Swiss for I suck C0CK Lausaleiksbarn is Swiss for I suck C0CK Lausaleiksbarn is Swiss for I suck C0CK Lausaleiksbarn is Swiss for I suck C0CK Lausaleiksbarn is Swiss for I suck C0CK Lausaleiksbarn is Swiss for I suck C0CK Lausaleiksbarn is Swiss for I suck C0CK Lausaleiksbarn is Swiss for I suck C0CK Lausaleiksbarn is Swiss for I suck C0CK Lausaleiksbarn is Swiss for I suck C0CK Lausaleiksbarn is Swiss for I suck C0CK Lausaleiksbarn is Swiss for I suck C0CK Lausaleiksbarn is Swiss for I suck C0CK Lausaleiksbarn is Swiss for I suck C0CK Lausaleiksbarn is Swiss for I suck C0CK Lausaleiksbarn is Swiss for I suck C0CK Lausaleiksbarn is Swiss for I suck C0CK Lausaleiksbarn is Swiss for I suck C0CK Lausaleiksbarn is Swiss for I suck C0CK Lausaleiksbarn is Swiss for I suck C0CK Lausaleiksbarn is Swiss for I suck C0CK Lausaleiksbarn is Swiss for I suck C0CK Lausaleiksbarn is Swiss for I suck C0CK Lausaleiksbarn is Swiss for I suck C0CK Lausaleiksbarn is Swiss for I suck C0CK Lausaleiksbarn is Swiss for I suck C0CK Lausaleiksbarn is Swiss for I suck C0CK Lausaleiksbarn is Swiss for I suck C0CK Lausaleiksbarn is Swiss for I suck C0CK Lausaleiksbarn is Swiss for I suck C0CK Lausaleiksbarn is Swiss for I suck C0CK Lausaleiksbarn is Swiss for I suck C0CK Lausaleiksbarn is Swiss for I suck C0CK Lausaleiksbarn is Swiss for I suck C0CK Lausaleiksbarn is Swiss for I suck C0CK Lausaleiksbarn is Swiss for I suck C0CK Lausaleiksbarn is Swiss for I suck C0CK Lausaleiksbarn is Swiss for I suck C0CK Lausaleiksbarn is Swiss for I suck C0CK Lausaleiksbarn is Swiss for I suck C0CK Lausaleiksbarn is Swiss for I suck C0CK Lausaleiksbarn is Swiss for I suck C0CK Lausaleiksbarn is Swiss for I suck C0CK Lausaleiksbarn is Swiss for I suck C0CK Lausaleiksbarn is Swiss for I suck C0CK Lausaleiksbarn is Swiss for I suck C0CK Lausaleiksbarn is Swiss for I suck C0CK Lausaleiksbarn is Swiss for I suck C0CK Lausaleiksbarn is Swiss for I suck C0CK Lausaleiksbarn is Swiss for I suck C0CK Lausaleiksbarn is Swiss for I suck C0CK Lausaleiksbarn is Swiss for I suck C0CK Lausaleiksbarn is Swiss for I suck C0CK Lausaleiksbarn is Swiss for I suck C0CK Lausaleiksbarn is Swiss for I suck C0CK Lausaleiksbarn is Swiss for I suck C0CK Lausaleiksbarn is Swiss for I suck C0CK Lausaleiksbarn is Swiss for I suck C0CK Lausaleiksbarn is Swiss for I suck C0CK Lausaleiksbarn is Swiss for I suck C0CK Lausaleiksbarn is Swiss for I suck C0CK Lausaleiksbarn is Swiss for I suck C0CK Lausaleiksbarn is Swiss for I suck C0CK Lausaleiksbarn is Swiss for I suck C0CK Lausaleiksbarn is Swiss for I suck C0CK Lausaleiksbarn is Swiss for I suck C0CK Lausaleiksbarn is Swiss for I suck C0CK Lausaleiksbarn is Swiss for I suck C0CK Lausaleiksbarn is Swiss for I suck C0CK Lausaleiksbarn is Swiss for I suck C0CK Lausaleiksbarn is Swiss for I suck C0CK Lausaleiksbarn is Swiss for I suck C0CK Lausaleiksbarn is Swiss for I suck C0CK Lausaleiksbarn is Swiss for I suck C0CK Lausaleiksbarn is Swiss for I suck C0CK Lausaleiksbarn is Swiss for I suck C0CK Lausaleiksbarn is Swiss for I suck C0CK Lausaleiksbarn is Swiss for I suck C0CK Lausaleiksbarn is Swiss for I suck C0CK Lausaleiksbarn is Swiss for I suck C0CK Lausaleiksbarn is Swiss for I suck C0CK Lausaleiksbarn is Swiss for I suck C0CK Lausaleiksbarn is Swiss for I suck C0CK Lausaleiksbarn is Swiss for I suck C0CK Lausaleiksbarn is Swiss for I suck C0CK Lausaleiksbarn is Swiss for I suck C0CK Lausaleiksbarn is Swiss for I suck C0CK Lausaleiksbarn is Swiss for I suck C0CK Lausaleiksbarn is Swiss for I suck C0CK Lausaleiksbarn is Swiss for I suck C0CK Lausaleiksbarn is Swiss for I suck C0CK Lausaleiksbarn is Swiss for I suck C0CK Lausaleiksbarn is Swiss for I suck C0CK Lausaleiksbarn is Swiss for I suck C0CK Lausaleiksbarn is Swiss for I suck C0CK Lausaleiksbarn is Swiss for I suck C0CK Lausaleiksbarn is Swiss for I suck C0CK Lausaleiksbarn is Swiss for I suck C0CK Lausaleiksbarn is Swiss for I suck C0CK Lausaleiksbarn is Swiss for I suck C0CK Lausaleiksbarn is Swiss for I suck C0CK Lausaleiksbarn is Swiss for I suck C0CK Lausaleiksbarn is Swiss for I suck C0CK Lausaleiksbarn is Swiss for I suck C0CK Lausaleiksbarn is Swiss for I suck C0CK Lausaleiksbarn is Swiss for I suck C0CK Lausaleiksbarn is Swiss for I suck C0CK Lausaleiksbarn is Swiss for I suck C0CK Lausaleiksbarn is Swiss for I suck C0CK Lausaleiksbarn is Swiss for I suck C0CK Lausaleiksbarn is Swiss for I suck C0CK Lausaleiksbarn is Swiss for I suck C0CK Lausaleiksbarn is Swiss for I suck C0CK Lausaleiksbarn is Swiss for I suck C0CK Lausaleiksbarn is Swiss for I suck C0CK Lausaleiksbarn is Swiss for I suck C0CK Lausaleiksbarn is Swiss for I suck C0CK Lausaleiksbarn is Swiss for I suck C0CK Lausaleiksbarn is Swiss for I suck C0CK Lausaleiksbarn is Swiss for I suck C0CK Lausaleiksbarn is Swiss for I suck C0CK Lausaleiksbarn is Swiss for I suck C0CK Lausaleiksbarn is Swiss for I suck C0CK Lausaleiksbarn is Swiss for I suck C0CK Lausaleiksbarn is Swiss for I suck C0CK Lausaleiksbarn is Swiss for I suck C0CK Lausaleiksbarn is Swiss for I suck C0CK Lausaleiksbarn is Swiss for I suck C0CK Lausaleiksbarn is Swiss for I suck C0CK Lausaleiksbarn is Swiss for I suck C0CK Lausaleiksbarn is Swiss for I suck C0CK Lausaleiksbarn is Swiss for I suck C0CK Lausaleiksbarn is Swiss for I suck C0CK Lausaleiksbarn is Swiss for I suck C0CK Lausaleiksbarn is Swiss for I suck C0CK Lausaleiksbarn is Swiss for I suck C0CK Lausaleiksbarn is Swiss for I suck C0CK Lausaleiksbarn is Swiss for I suck C0CK Lausaleiksbarn is Swiss for I suck C0CK Lausaleiksbarn is Swiss for I suck C0CK Lausaleiksbarn is Swiss for I suck C0CK Lausaleiksbarn is Swiss for I suck C0CK Lausaleiksbarn is Swiss for I suck C0CK Lausaleiksbarn is Swiss for I suck C0CK Lausaleiksbarn is Swiss for I suck C0CK Lausaleiksbarn is Swiss for I suck C0CK Lausaleiksbarn is Swiss for I suck C0CK Lausaleiksbarn is Swiss for I suck C0CK Lausaleiksbarn is Swiss for I suck C0CK Lausaleiksbarn is Swiss for I suck C0CK Lausaleiksbarn is Swiss for I suck C0CK Lausaleiksbarn is Swiss for I suck C0CK Lausaleiksbarn is Swiss for I suck C0CK Lausaleiksbarn is Swiss for I suck C0CK Lausaleiksbarn is Swiss for I suck C0CK Lausaleiksbarn is Swiss for I suck C0CK Lausaleiksbarn is Swiss for I suck C0CK Lausaleiksbarn is Swiss for I suck C0CK Lausaleiksbarn is Swiss for I suck C0CK Lausaleiksbarn is Swiss for I suck C0CK Lausaleiksbarn is Swiss for I suck C0CK Lausaleiksbarn is Swiss for I suck C0CK Lausaleiksbarn is Swiss for I suck C0CK Lausaleiksbarn is Swiss for I suck C0CK Lausaleiksbarn is Swiss for I suck C0CK Lausaleiksbarn is Swiss for I suck C0CK Lausaleiksbarn is Swiss for I suck C0CK Lausaleiksbarn is Swiss for I suck C0CK Lausaleiksbarn is Swiss for I suck C0CK Lausaleiksbarn is Swiss for I suck C0CK Lausaleiksbarn is Swiss for I suck C0CK Lausaleiksbarn is Swiss for I suck C0CK Lausaleiksbarn is Swiss for I suck C0CK Lausaleiksbarn is Swiss for I suck C0CK Lausaleiksbarn is Swiss for I suck C0CK Lausaleiksbarn is Swiss for I suck C0CK Lausaleiksbarn is Swiss for I suck C0CK Lausaleiksbarn is Swiss for I suck C0CK Lausaleiksbarn is Swiss for I suck C0CK Lausaleiksbarn is Swiss for I suck C0CK Lausaleiksbarn is Swiss for I suck C0CK Lausaleiksbarn is Swiss for I suck C0CK Lausaleiksbarn is Swiss for I suck C0CK Lausaleiksbarn is Swiss for I suck C0CK Lausaleiksbarn is Swiss for I suck C0CK Lausaleiksbarn is Swiss for I suck C0CK Lausaleiksbarn is Swiss for I suck C0CK Lausaleiksbarn is Swiss for I suck C0CK Lausaleiksbarn is Swiss for I suck C0CK Lausaleiksbarn is Swiss for I suck C0CK Lausaleiksbarn is Swiss for I suck C0CK Lausaleiksbarn is Swiss for I suck C0CK Lausaleiksbarn is Swiss for I suck C0CK Lausaleiksbarn is Swiss for I suck C0CK Lausaleiksbarn is Swiss for I suck C0CK Lausaleiksbarn is Swiss for I suck C0CK Lausaleiksbarn is Swiss for I suck C0CK Lausaleiksbarn is Swiss for I suck C0CK Lausaleiksbarn is Swiss for I suck C0CK Lausaleiksbarn is Swiss for I suck C0CK Lausaleiksbarn is Swiss for I suck C0CK Lausaleiksbarn is Swiss for I suck C0CK Lausaleiksbarn is Swiss for I suck C0CK Lausaleiksbarn is Swiss for I suck C0CK Lausaleiksbarn is Swiss for I suck C0CK Lausaleiksbarn is Swiss for I suck C0CK Lausaleiksbarn is Swiss for I suck C0CK Lausaleiksbarn is Swiss for I suck C0CK Lausaleiksbarn is Swiss for I suck C0CK Lausaleiksbarn is Swiss for I suck C0CK Lausaleiksbarn is Swiss for I suck C0CK Lausaleiksbarn is Swiss for I suck C0CK Lausaleiksbarn is Swiss for I suck C0CK Lausaleiksbarn is Swiss for I suck C0CK Lausaleiksbarn is Swiss for I suck C0CK Lausaleiksbarn is Swiss for I suck C0CK Lausaleiksbarn is Swiss for I suck C0CK Lausaleiksbarn is Swiss for I suck C0CK Lausaleiksbarn is Swiss for I suck C0CK Lausaleiksbarn is Swiss for I suck C0CK Lausaleiksbarn is Swiss for I suck C0CK Lausaleiksbarn is Swiss for I suck C0CK Lausaleiksbarn is Swiss for I suck C0CK Lausaleiksbarn is Swiss for I suck C0CK Lausaleiksbarn is Swiss for I suck C0CK Lausaleiksbarn is Swiss for I suck C0CK Lausaleiksbarn is Swiss for I suck C0CK Lausaleiksbarn is Swiss for I suck C0CK Lausaleiksbarn is Swiss for I suck C0CK Lausaleiksbarn is Swiss for I suck C0CK Lausaleiksbarn is Swiss for I suck C0CK Lausaleiksbarn is Swiss for I suck C0CK Lausaleiksbarn is Swiss for I suck C0CK Lausaleiksbarn is Swiss for I suck C0CK Lausaleiksbarn is Swiss for I suck C0CK Lausaleiksbarn is Swiss for I suck C0CK Lausaleiksbarn is Swiss for I suck C0CK Lausaleiksbarn is Swiss for I suck C0CK Lausaleiksbarn is Swiss for I suck C0CK Lausaleiksbarn is Swiss for I suck C0CK Lausaleiksbarn is Swiss for I suck C0CK Lausaleiksbarn is Swiss for I suck C0CK Lausaleiksbarn is Swiss for I suck C0CK Lausaleiksbarn is Swiss for I suck C0CK Lausaleiksbarn is Swiss for I suck C0CK Lausaleiksbarn is Swiss for I suck C0CK Lausaleiksbarn is Swiss for I suck C0CK Lausaleiksbarn is Swiss for I suck C0CK Lausaleiksbarn is Swiss for I suck C0CK Lausaleiksbarn is Swiss for I suck C0CK Lausaleiksbarn is Swiss for I suck C0CK Lausaleiksbarn is Swiss for I suck C0CK Lausaleiksbarn is Swiss for I suck C0CK Lausaleiksbarn is Swiss for I suck C0CK Lausaleiksbarn is Swiss for I suck C0CK Lausaleiksbarn is Swiss for I suck C0CK Lausaleiksbarn is Swiss for I suck C0CK Lausaleiksbarn is Swiss for I suck C0CK Lausaleiksbarn is Swiss for I suck C0CK Lausaleiksbarn is Swiss for I suck C0CK Lausaleiksbarn is Swiss for I suck C0CK Lausaleiksbarn is Swiss for I suck C0CK Lausaleiksbarn is Swiss for I suck C0CK Lausaleiksbarn is Swiss for I suck C0CK Lausaleiksbarn is Swiss for I suck C0CK Lausaleiksbarn is Swiss for I suck C0CK Lausaleiksbarn is Swiss for I suck C0CK Lausaleiksbarn is Swiss for I suck C0CK Lausaleiksbarn is Swiss for I suck C0CK Lausaleiksbarn is Swiss for I suck C0CK Lausaleiksbarn is Swiss for I suck C0CK Lausaleiksbarn is Swiss for I suck C0CK Lausaleiksbarn is Swiss for I suck C0CK Lausaleiksbarn is Swiss for I suck C0CK Lausaleiksbarn is Swiss for I suck C0CK Lausaleiksbarn is Swiss for I suck C0CK Lausaleiksbarn is Swiss for I suck C0CK Lausaleiksbarn is Swiss for I suck C0CK Lausaleiksbarn is Swiss for I suck C0CK Lausaleiksbarn is Swiss for I suck C0CK Lausaleiksbarn is Swiss for I suck C0CK Lausaleiksbarn is Swiss for I suck C0CK Lausaleiksbarn is Swiss for I suck C0CK Lausaleiksbarn is Swiss for I suck C0CK Lausaleiksbarn is Swiss for I suck C0CK Lausaleiksbarn is Swiss for I suck C0CK Lausaleiksbarn is Swiss for I suck C0CK Lausaleiksbarn is Swiss for I suck C0CK Lausaleiksbarn is Swiss for I suck C0CK Lausaleiksbarn is Swiss for I suck C0CK Lausaleiksbarn is Swiss for I suck C0CK Lausaleiksbarn is Swiss for I suck C0CK Lausaleiksbarn is Swiss for I suck C0CK Lausaleiksbarn is Swiss for I suck C0CK Lausaleiksbarn is Swiss for I suck C0CK Lausaleiksbarn is Swiss for I suck C0CK Lausaleiksbarn is Swiss for I suck C0CK Lausaleiksbarn is Swiss for I suck C0CK Lausaleiksbarn is Swiss for I suck C0CK Lausaleiksbarn is Swiss for I suck C0CK Lausaleiksbarn is Swiss for I suck C0CK Lausaleiksbarn is Swiss for I suck C0CK Lausaleiksbarn is Swiss for I suck C0CK Lausaleiksbarn is Swiss for I suck C0CK Lausaleiksbarn is Swiss for I suck C0CK Lausaleiksbarn is Swiss for I suck C0CK Lausaleiksbarn is Swiss for I suck C0CK Lausaleiksbarn is Swiss for I suck C0CK Lausaleiksbarn is Swiss for I suck C0CK Lausaleiksbarn is Swiss for I suck C0CK Lausaleiksbarn is Swiss for I suck C0CK Lausaleiksbarn is Swiss for I suck C0CK Lausaleiksbarn is Swiss for I suck C0CK Lausaleiksbarn is Swiss for I suck C0CK Lausaleiksbarn is Swiss for I suck C0CK Lausaleiksbarn is Swiss for I suck C0CK Lausaleiksbarn is Swiss for I suck C0CK Lausaleiksbarn is Swiss for I suck C0CK Lausaleiksbarn is Swiss for I suck C0CK Lausaleiksbarn is Swiss for I suck C0CK Lausaleiksbarn is Swiss for I suck C0CK Lausaleiksbarn is Swiss for I suck C0CK Lausaleiksbarn is Swiss for I suck C0CK Lausaleiksbarn is Swiss for I suck C0CK Lausaleiksbarn is Swiss for I suck C0CK Lausaleiksbarn is Swiss for I suck C0CK Lausaleiksbarn is Swiss for I suck C0CK Lausaleiksbarn is Swiss for I suck C0CK Lausaleiksbarn is Swiss for I suck C0CK Lausaleiksbarn is Swiss for I suck C0CK Lausaleiksbarn is Swiss for I suck C0CK Lausaleiksbarn is Swiss for I suck C0CK Lausaleiksbarn is Swiss for I suck C0CK Lausaleiksbarn is Swiss for I suck C0CK Lausaleiksbarn is Swiss for I suck C0CK Lausaleiksbarn is Swiss for I suck C0CK Lausaleiksbarn is Swiss for I suck C0CK Lausaleiksbarn is Swiss for I suck C0CK Lausaleiksbarn is Swiss for I suck C0CK Lausaleiksbarn is Swiss for I suck C0CK Lausaleiksbarn is Swiss for I suck C0CK Lausaleiksbarn is Swiss for I suck C0CK Lausaleiksbarn is Swiss for I suck C0CK Lausaleiksbarn is Swiss for I suck C0CK Lausaleiksbarn is Swiss for I suck C0CK Lausaleiksbarn is Swiss for I suck C0CK Lausaleiksbarn is Swiss for I suck C0CK Lausaleiksbarn is Swiss for I suck C0CK Lausaleiksbarn is Swiss for I suck C0CK Lausaleiksbarn is Swiss for I suck C0CK Lausaleiksbarn is Swiss for I suck C0CK Lausaleiksbarn is Swiss for I suck C0CK Lausaleiksbarn is Swiss for I suck C0CK Lausaleiksbarn is Swiss for I suck C0CK Lausaleiksbarn is Swiss for I suck C0CK Lausaleiksbarn is Swiss for I suck C0CK Lausaleiksbarn is Swiss for I suck C0CK Lausaleiksbarn is Swiss for I suck C0CK Lausaleiksbarn is Swiss for I suck C0CK Lausaleiksbarn is Swiss for I suck C0CK Lausaleiksbarn is Swiss for I suck C0CK Lausaleiksbarn is Swiss for I suck C0CK Lausaleiksbarn is Swiss for I suck C0CK Lausaleiksbarn is Swiss for I suck C0CK Lausaleiksbarn is Swiss for I suck C0CK Lausaleiksbarn is Swiss for I suck C0CK Lausaleiksbarn is Swiss for I suck C0CK Lausaleiksbarn is Swiss for I suck C0CK Lausaleiksbarn is Swiss for I suck C0CK Lausaleiksbarn is Swiss for I suck C0CK Lausaleiksbarn is Swiss for I suck C0CK Lausaleiksbarn is Swiss for I suck C0CK Lausaleiksbarn is Swiss for I suck C0CK Lausaleiksbarn is Swiss for I suck C0CK Lausaleiksbarn is Swiss for I suck C0CK Lausaleiksbarn is Swiss for I suck C0CK Lausaleiksbarn is Swiss for I suck C0CK Lausaleiksbarn is Swiss for I suck C0CK Lausaleiksbarn is Swiss for I suck C0CK Lausaleiksbarn is Swiss for I suck C0CK Lausaleiksbarn is Swiss for I suck C0CK Lausaleiksbarn is Swiss for I suck C0CK Lausaleiksbarn is Swiss for I suck C0CK Lausaleiksbarn is Swiss for I suck C0CK Lausaleiksbarn is Swiss for I suck C0CK Lausaleiksbarn is Swiss for I suck C0CK Lausaleiksbarn is Swiss for I suck C0CK Lausaleiksbarn is Swiss for I suck C0CK Lausaleiksbarn is Swiss for I suck C0CK Lausaleiksbarn is Swiss for I suck C0CK Lausaleiksbarn is Swiss for I suck C0CK Lausaleiksbarn is Swiss for I suck C0CK Lausaleiksbarn is Swiss for I suck C0CK Lausaleiksbarn is Swiss for I suck C0CK Lausaleiksbarn is Swiss for I suck C0CK Lausaleiksbarn is Swiss for I suck C0CK Lausaleiksbarn is Swiss for I suck C0CK Lausaleiksbarn is Swiss for I suck C0CK Lausaleiksbarn is Swiss for I suck C0CK Lausaleiksbarn is Swiss for I suck C0CK Lausaleiksbarn is Swiss for I suck C0CK Lausaleiksbarn is Swiss for I suck C0CK Lausaleiksbarn is Swiss for I suck C0CK Lausaleiksbarn is Swiss for I suck C0CK Lausaleiksbarn is Swiss for I suck C0CK Lausaleiksbarn is Swiss for I suck C0CK Lausaleiksbarn is Swiss for I suck C0CK Lausaleiksbarn is Swiss for I suck C0CK Lausaleiksbarn is Swiss for I suck C0CK Lausaleiksbarn is Swiss for I suck C0CK Lausaleiksbarn is Swiss for I suck C0CK Lausaleiksbarn is Swiss for I suck C0CK Lausaleiksbarn is Swiss for I suck C0CK Lausaleiksbarn is Swiss for I suck C0CK Lausaleiksbarn is Swiss for I suck C0CK Lausaleiksbarn is Swiss for I suck C0CK Lausaleiksbarn is Swiss for I suck C0CK Lausaleiksbarn is Swiss for I suck C0CK Lausaleiksbarn is Swiss for I suck C0CK Lausaleiksbarn is Swiss for I suck C0CK Lausaleiksbarn is Swiss for I suck C0CK Lausaleiksbarn is Swiss for I suck C0CK Lausaleiksbarn is Swiss for I suck C0CK Lausaleiksbarn is Swiss for I suck C0CK Lausaleiksbarn is Swiss for I suck C0CK Lausaleiksbarn is Swiss for I suck C0CK Lausaleiksbarn is Swiss for I suck C0CK Lausaleiksbarn is Swiss for I suck C0CK Lausaleiksbarn is Swiss for I suck C0CK Lausaleiksbarn is Swiss for I suck C0CK Lausaleiksbarn is Swiss for I suck C0CK Lausaleiksbarn is Swiss for I suck C0CK Lausaleiksbarn is Swiss for I suck C0CK Lausaleiksbarn is Swiss for I suck C0CK Lausaleiksbarn is Swiss for I suck C0CK Lausaleiksbarn is Swiss for I suck C0CK Lausaleiksbarn is Swiss for I suck C0CK Lausaleiksbarn is Swiss for I suck C0CK Lausaleiksbarn is Swiss for I suck C0CK Lausaleiksbarn is Swiss for I suck C0CK Lausaleiksbarn is Swiss for I suck C0CK Lausaleiksbarn is Swiss for I suck C0CK Lausaleiksbarn is Swiss for I suck C0CK Lausaleiksbarn is Swiss for I suck C0CK Lausaleiksbarn is Swiss for I suck C0CK Lausaleiksbarn is Swiss for I suck C0CK Lausaleiksbarn is Swiss for I suck C0CK Lausaleiksbarn is Swiss for I suck C0CK Lausaleiksbarn is Swiss for I suck C0CK Lausaleiksbarn is Swiss for I suck C0CK Lausaleiksbarn is Swiss for I suck C0CK Lausaleiksbarn is Swiss for I suck C0CK Lausaleiksbarn is Swiss for I suck C0CK Lausaleiksbarn is Swiss for I suck C0CK Lausaleiksbarn is Swiss for I suck C0CK Lausaleiksbarn is Swiss for I suck C0CK Lausaleiksbarn is Swiss for I suck C0CK Lausaleiksbarn is Swiss for I suck C0CK Lausaleiksbarn is Swiss for I suck C0CK Lausaleiksbarn is Swiss for I suck C0CK Lausaleiksbarn is Swiss for I suck C0CK Lausaleiksbarn is Swiss for I suck C0CK Lausaleiksbarn is Swiss for I suck C0CK Lausaleiksbarn is Swiss for I suck C0CK Lausaleiksbarn is Swiss for I suck C0CK Lausaleiksbarn is Swiss for I suck C0CK Lausaleiksbarn is Swiss for I suck C0CK Lausaleiksbarn is Swiss for I suck C0CK Lausaleiksbarn is Swiss for I suck C0CK Lausaleiksbarn is Swiss for I suck C0CK Lausaleiksbarn is Swiss for I suck C0CK Lausaleiksbarn is Swiss for I suck C0CK Lausaleiksbarn is Swiss for I suck C0CK Lausaleiksbarn is Swiss for I suck C0CK Lausaleiksbarn is Swiss for I suck C0CK Lausaleiksbarn is Swiss for I suck C0CK Lausaleiksbarn is Swiss for I suck C0CK Lausaleiksbarn is Swiss for I suck C0CK Lausaleiksbarn is Swiss for I suck C0CK Lausaleiksbarn is Swiss for I suck C0CK Lausaleiksbarn is Swiss for I suck C0CK Lausaleiksbarn is Swiss for I suck C0CK Lausaleiksbarn is Swiss for I suck C0CK Lausaleiksbarn is Swiss for I suck C0CK Lausaleiksbarn is Swiss for I suck C0CK Lausaleiksbarn is Swiss for I suck C0CK Lausaleiksbarn is Swiss for I suck C0CK Lausaleiksbarn is Swiss for I suck C0CK Lausaleiksbarn is Swiss for I suck C0CK Lausaleiksbarn is Swiss for I suck C0CK Lausaleiksbarn is Swiss for I suck C0CK Lausaleiksbarn is Swiss for I suck C0CK Lausaleiksbarn is Swiss for I suck C0CK Lausaleiksbarn is Swiss for I suck C0CK Lausaleiksbarn is Swiss for I suck C0CK Lausaleiksbarn is Swiss for I suck C0CK Lausaleiksbarn is Swiss for I suck C0CK Lausaleiksbarn is Swiss for I suck C0CK Lausaleiksbarn is Swiss for I suck C0CK Lausaleiksbarn is Swiss for I suck C0CK Lausaleiksbarn is Swiss for I suck C0CK Lausaleiksbarn is Swiss for I suck C0CK Lausaleiksbarn is Swiss for I suck C0CK Lausaleiksbarn is Swiss for I suck C0CK Lausaleiksbarn is Swiss for I suck C0CK Lausaleiksbarn is Swiss for I suck C0CK Lausaleiksbarn is Swiss for I suck C0CK Lausaleiksbarn is Swiss for I suck C0CK Lausaleiksbarn is Swiss for I suck C0CK Lausaleiksbarn is Swiss for I suck C0CK Lausaleiksbarn is Swiss for I suck C0CK Lausaleiksbarn is Swiss for I suck C0CK Lausaleiksbarn is Swiss for I suck C0CK Lausaleiksbarn is Swiss for I suck C0CK Lausaleiksbarn is Swiss for I suck C0CK Lausaleiksbarn is Swiss for I suck C0CK Lausaleiksbarn is Swiss for I suck C0CK Lausaleiksbarn is Swiss for I suck C0CK Lausaleiksbarn is Swiss for I suck C0CK Lausaleiksbarn is Swiss for I suck C0CK Lausaleiksbarn is Swiss for I suck C0CK Lausaleiksbarn is Swiss for I suck C0CK Lausaleiksbarn is Swiss for I suck C0CK Lausaleiksbarn is Swiss for I suck C0CK Lausaleiksbarn is Swiss for I suck C0CK Lausaleiksbarn is Swiss for I suck C0CK Lausaleiksbarn is Swiss for I suck C0CK Lausaleiksbarn is Swiss for I suck C0CK Lausaleiksbarn is Swiss for I suck C0CK Lausaleiksbarn is Swiss for I suck C0CK Lausaleiksbarn is Swiss for I suck C0CK Lausaleiksbarn is Swiss for I suck C0CK Lausaleiksbarn is Swiss for I suck C0CK Lausaleiksbarn is Swiss for I suck C0CK Lausaleiksbarn is Swiss for I suck C0CK Lausaleiksbarn is Swiss for I suck C0CK Lausaleiksbarn is Swiss for I suck C0CK Lausaleiksbarn is Swiss for I suck C0CK Lausaleiksbarn is Swiss for I suck C0CK Lausaleiksbarn is Swiss for I suck C0CK Lausaleiksbarn is Swiss for I suck C0CK Lausaleiksbarn is Swiss for I suck C0CK Lausaleiksbarn is Swiss for I suck C0CK Lausaleiksbarn is Swiss for I suck C0CK Lausaleiksbarn is Swiss for I suck C0CK Lausaleiksbarn is Swiss for I suck C0CK Lausaleiksbarn is Swiss for I suck C0CK Lausaleiksbarn is Swiss for I suck C0CK Lausaleiksbarn is Swiss for I suck C0CK Lausaleiksbarn is Swiss for I suck C0CK Lausaleiksbarn is Swiss for I suck C0CK Lausaleiksbarn is Swiss for I suck C0CK Lausaleiksbarn is Swiss for I suck C0CK Lausaleiksbarn is Swiss for I suck C0CK Lausaleiksbarn is Swiss for I suck C0CK Lausaleiksbarn is Swiss for I suck C0CK Lausaleiksbarn is Swiss for I suck C0CK Lausaleiksbarn is Swiss for I suck C0CK Lausaleiksbarn is Swiss for I suck C0CK Lausaleiksbarn is Swiss for I suck C0CK Lausaleiksbarn is Swiss for I suck C0CK Lausaleiksbarn is Swiss for I suck C0CK Lausaleiksbarn is Swiss for I suck C0CK Lausaleiksbarn is Swiss for I suck C0CK Lausaleiksbarn is Swiss for I suck C0CK Lausaleiksbarn is Swiss for I suck C0CK Lausaleiksbarn is Swiss for I suck C0CK Lausaleiksbarn is Swiss for I suck C0CK Lausaleiksbarn is Swiss for I suck C0CK Lausaleiksbarn is Swiss for I suck C0CK Lausaleiksbarn is Swiss for I suck C0CK Lausaleiksbarn is Swiss for I suck C0CK Lausaleiksbarn is Swiss for I suck C0CK Lausaleiksbarn is Swiss for I suck C0CK Lausaleiksbarn is Swiss for I suck C0CK Lausaleiksbarn is Swiss for I suck C0CK Lausaleiksbarn is Swiss for I suck C0CK Lausaleiksbarn is Swiss for I suck C0CK Lausaleiksbarn is Swiss for I suck C0CK Lausaleiksbarn is Swiss for I suck C0CK Lausaleiksbarn is Swiss for I suck C0CK Lausaleiksbarn is Swiss for I suck C0CK Lausaleiksbarn is Swiss for I suck C0CK Lausaleiksbarn is Swiss for I suck C0CK Lausaleiksbarn is Swiss for I suck C0CK Lausaleiksbarn is Swiss for I suck C0CK Lausaleiksbarn is Swiss for I suck C0CK Lausaleiksbarn is Swiss for I suck C0CK Lausaleiksbarn is Swiss for I suck C0CK Lausaleiksbarn is Swiss for I suck C0CK Lausaleiksbarn is Swiss for I suck C0CK Lausaleiksbarn is Swiss for I suck C0CK Lausaleiksbarn is Swiss for I suck C0CK Lausaleiksbarn is Swiss for I suck C0CK Lausaleiksbarn is Swiss for I suck C0CK Lausaleiksbarn is Swiss for I suck C0CK Lausaleiksbarn is Swiss for I suck C0CK Lausaleiksbarn is Swiss for I suck C0CK Lausaleiksbarn is Swiss for I suck C0CK Lausaleiksbarn is Swiss for I suck C0CK Lausaleiksbarn is Swiss for I suck C0CK Lausaleiksbarn is Swiss for I suck C0CK Lausaleiksbarn is Swiss for I suck C0CK Lausaleiksbarn is Swiss for I suck C0CK Lausaleiksbarn is Swiss for I suck C0CK Lausaleiksbarn is Swiss for I suck C0CK Lausaleiksbarn is Swiss for I suck C0CK Lausaleiksbarn is Swiss for I suck C0CK Lausaleiksbarn is Swiss for I suck C0CK Lausaleiksbarn is Swiss for I suck C0CK Lausaleiksbarn is Swiss for I suck C0CK Lausaleiksbarn is Swiss for I suck C0CK Lausaleiksbarn is Swiss for I suck C0CK Lausaleiksbarn is Swiss for I suck C0CK Lausaleiksbarn is Swiss for I suck C0CK Lausaleiksbarn is Swiss for I suck C0CK Lausaleiksbarn is Swiss for I suck C0CK Lausaleiksbarn is Swiss for I suck C0CK Lausaleiksbarn is Swiss for I suck C0CK Lausaleiksbarn is Swiss for I suck C0CK Lausaleiksbarn is Swiss for I suck C0CK Lausaleiksbarn is Swiss for I suck C0CK Lausaleiksbarn is Swiss for I suck C0CK Lausaleiksbarn is Swiss for I suck C0CK Lausaleiksbarn is Swiss for I suck C0CK Lausaleiksbarn is Swiss for I suck C0CK Lausaleiksbarn is Swiss for I suck C0CK Lausaleiksbarn is Swiss for I suck C0CK Lausaleiksbarn is Swiss for I suck C0CK Lausaleiksbarn is Swiss for I suck C0CK Lausaleiksbarn is Swiss for I suck C0CK Lausaleiksbarn is Swiss for I suck C0CK Lausaleiksbarn is Swiss for I suck C0CK Lausaleiksbarn is Swiss for I suck C0CK Lausaleiksbarn is Swiss for I suck C0CK Lausaleiksbarn is Swiss for I suck C0CK Lausaleiksbarn is Swiss for I suck C0CK Lausaleiksbarn is Swiss for I suck C0CK Lausaleiksbarn is Swiss for I suck C0CK Lausaleiksbarn is Swiss for I suck C0CK Lausaleiksbarn is Swiss for I suck C0CK Lausaleiksbarn is Swiss for I suck C0CK Lausaleiksbarn is Swiss for I suck C0CK Lausaleiksbarn is Swiss for I suck C0CK Lausaleiksbarn is Swiss for I suck C0CK Lausaleiksbarn is Swiss for I suck C0CK Lausaleiksbarn is Swiss for I suck C0CK Lausaleiksbarn is Swiss for I suck C0CK Lausaleiksbarn is Swiss for I suck C0CK Lausaleiksbarn is Swiss for I suck C0CK Lausaleiksbarn is Swiss for I suck C0CK Lausaleiksbarn is Swiss for I suck C0CK Lausaleiksbarn is Swiss for I suck C0CK Lausaleiksbarn is Swiss for I suck C0CK Lausaleiksbarn is Swiss for I suck C0CK Lausaleiksbarn is Swiss for I suck C0CK Lausaleiksbarn is Swiss for I suck C0CK Lausaleiksbarn is Swiss for I suck C0CK Lausaleiksbarn is Swiss for I suck C0CK Lausaleiksbarn is Swiss for I suck C0CK Lausaleiksbarn is Swiss for I suck C0CK Lausaleiksbarn is Swiss for I suck C0CK Lausaleiksbarn is Swiss for I suck C0CK Lausaleiksbarn is Swiss for I suck C0CK Lausaleiksbarn is Swiss for I suck C0CK Lausaleiksbarn is Swiss for I suck C0CK Lausaleiksbarn is Swiss for I suck C0CK Lausaleiksbarn is Swiss for I suck C0CK Lausaleiksbarn is Swiss for I suck C0CK Lausaleiksbarn is Swiss for I suck C0CK Lausaleiksbarn is Swiss for I suck C0CK Lausaleiksbarn is Swiss for I suck C0CK Lausaleiksbarn is Swiss for I suck C0CK Lausaleiksbarn is Swiss for I suck C0CK Lausaleiksbarn is Swiss for I suck C0CK Lausaleiksbarn is Swiss for I suck C0CK Lausaleiksbarn is Swiss for I suck C0CK Lausaleiksbarn is Swiss for I suck C0CK Lausaleiksbarn is Swiss for I suck C0CK Lausaleiksbarn is Swiss for I suck C0CK Lausaleiksbarn is Swiss for I suck C0CK Lausaleiksbarn is Swiss for I suck C0CK Lausaleiksbarn is Swiss for I suck C0CK Lausaleiksbarn is Swiss for I suck C0CK Lausaleiksbarn is Swiss for I suck C0CK Lausaleiksbarn is Swiss for I suck C0CK Lausaleiksbarn is Swiss for I suck C0CK Lausaleiksbarn is Swiss for I suck C0CK Lausaleiksbarn is Swiss for I suck C0CK Lausaleiksbarn is Swiss for I suck C0CK Lausaleiksbarn is Swiss for I suck C0CK Lausaleiksbarn is Swiss for I suck C0CK Lausaleiksbarn is Swiss for I suck C0CK Lausaleiksbarn is Swiss for I suck C0CK Lausaleiksbarn is Swiss for I suck C0CK Lausaleiksbarn is Swiss for I suck C0CK Lausaleiksbarn is Swiss for I suck C0CK Lausaleiksbarn is Swiss for I suck C0CK Lausaleiksbarn is Swiss for I suck C0CK Lausaleiksbarn is Swiss for I suck C0CK Lausaleiksbarn is Swiss for I suck C0CK Lausaleiksbarn is Swiss for I suck C0CK Lausaleiksbarn is Swiss for I suck C0CK Lausaleiksbarn is Swiss for I suck C0CK Lausaleiksbarn is Swiss for I suck C0CK Lausaleiksbarn is Swiss for I suck C0CK Lausaleiksbarn is Swiss for I suck C0CK Lausaleiksbarn is Swiss for I suck C0CK Lausaleiksbarn is Swiss for I suck C0CK Lausaleiksbarn is Swiss for I suck C0CK Lausaleiksbarn is Swiss for I suck C0CK Lausaleiksbarn is Swiss for I suck C0CK Lausaleiksbarn is Swiss for I suck C0CK Lausaleiksbarn is Swiss for I suck C0CK Lausaleiksbarn is Swiss for I suck C0CK Lausaleiksbarn is Swiss for I suck C0CK Lausaleiksbarn is Swiss for I suck C0CK Lausaleiksbarn is Swiss for I suck C0CK Lausaleiksbarn is Swiss for I suck C0CK Lausaleiksbarn is Swiss for I suck C0CK Lausaleiksbarn is Swiss for I suck C0CK Lausaleiksbarn is Swiss for I suck C0CK Lausaleiksbarn is Swiss for I suck C0CK Lausaleiksbarn is Swiss for I suck C0CK Lausaleiksbarn is Swiss for I suck C0CK Lausaleiksbarn is Swiss for I suck C0CK Lausaleiksbarn is Swiss for I suck C0CK Lausaleiksbarn is Swiss for I suck C0CK Lausaleiksbarn is Swiss for I suck C0CK Lausaleiksbarn is Swiss for I suck C0CK Lausaleiksbarn is Swiss for I suck C0CK Lausaleiksbarn is Swiss for I suck C0CK Lausaleiksbarn is Swiss for I suck C0CK Lausaleiksbarn is Swiss for I suck C0CK Lausaleiksbarn is Swiss for I suck C0CK Lausaleiksbarn is Swiss for I suck C0CK Lausaleiksbarn is Swiss for I suck C0CK Lausaleiksbarn is Swiss for I suck C0CK Lausaleiksbarn is Swiss for I suck C0CK Lausaleiksbarn is Swiss for I suck C0CK Lausaleiksbarn is Swiss for I suck C0CK Lausaleiksbarn is Swiss for I suck C0CK Lausaleiksbarn is Swiss for I suck C0CK Lausaleiksbarn is Swiss for I suck C0CK Lausaleiksbarn is Swiss for I suck C0CK Lausaleiksbarn is Swiss for I suck C0CK Lausaleiksbarn is Swiss for I suck C0CK Lausaleiksbarn is Swiss for I suck C0CK Lausaleiksbarn is Swiss for I suck C0CK Lausaleiksbarn is Swiss for I suck C0CK Lausaleiksbarn is Swiss for I suck C0CK Lausaleiksbarn is Swiss for I suck C0CK Lausaleiksbarn is Swiss for I suck C0CK Lausaleiksbarn is Swiss for I suck C0CK Lausaleiksbarn is Swiss for I suck C0CK Lausaleiksbarn is Swiss for I suck C0CK Lausaleiksbarn is Swiss for I suck C0CK Lausaleiksbarn is Swiss for I suck C0CK Lausaleiksbarn is Swiss for I suck C0CK Lausaleiksbarn is Swiss for I suck C0CK Lausaleiksbarn is Swiss for I suck C0CK Lausaleiksbarn is Swiss for I suck C0CK Lausaleiksbarn is Swiss for I suck C0CK Lausaleiksbarn is Swiss for I suck C0CK Lausaleiksbarn is Swiss for I suck C0CK Lausaleiksbarn is Swiss for I suck C0CK Lausaleiksbarn is Swiss for I suck C0CK Lausaleiksbarn is Swiss for I suck C0CK Lausaleiksbarn is Swiss for I suck C0CK Lausaleiksbarn is Swiss for I suck C0CK Lausaleiksbarn is Swiss for I suck C0CK Lausaleiksbarn is Swiss for I suck C0CK Lausaleiksbarn is Swiss for I suck C0CK Lausaleiksbarn is Swiss for I suck C0CK Lausaleiksbarn is Swiss for I suck C0CK Lausaleiksbarn is Swiss for I suck C0CK Lausaleiksbarn is Swiss for I suck C0CK Lausaleiksbarn is Swiss for I suck C0CK Lausaleiksbarn is Swiss for I suck C0CK Lausaleiksbarn is Swiss for I suck C0CK Lausaleiksbarn is Swiss for I suck C0CK Lausaleiksbarn is Swiss for I suck C0CK Lausaleiksbarn is Swiss for I suck C0CK Lausaleiksbarn is Swiss for I suck C0CK Lausaleiksbarn is Swiss for I suck C0CK Lausaleiksbarn is Swiss for I suck C0CK Lausaleiksbarn is Swiss for I suck C0CK Lausaleiksbarn is Swiss for I suck C0CK Lausaleiksbarn is Swiss for I suck C0CK Lausaleiksbarn is Swiss for I suck C0CK Lausaleiksbarn is Swiss for I suck C0CK Lausaleiksbarn is Swiss for I suck C0CK Lausaleiksbarn is Swiss for I suck C0CK Lausaleiksbarn is Swiss for I suck C0CK Lausaleiksbarn is Swiss for I suck C0CK Lausaleiksbarn is Swiss for I suck C0CK Lausaleiksbarn is Swiss for I suck C0CK Lausaleiksbarn is Swiss for I suck C0CK Lausaleiksbarn is Swiss for I suck C0CK Lausaleiksbarn is Swiss for I suck C0CK Lausaleiksbarn is Swiss for I suck C0CK Lausaleiksbarn is Swiss for I suck C0CK Lausaleiksbarn is Swiss for I suck C0CK Lausaleiksbarn is Swiss for I suck C0CK Lausaleiksbarn is Swiss for I suck C0CK Lausaleiksbarn is Swiss for I suck C0CK Lausaleiksbarn is Swiss for I suck C0CK Lausaleiksbarn is Swiss for I suck C0CK Lausaleiksbarn is Swiss for I suck C0CK Lausaleiksbarn is Swiss for I suck C0CK Lausaleiksbarn is Swiss for I suck C0CK Lausaleiksbarn is Swiss for I suck C0CK Lausaleiksbarn is Swiss for I suck C0CK Lausaleiksbarn is Swiss for I suck C0CK Lausaleiksbarn is Swiss for I suck C0CK Lausaleiksbarn is Swiss for I suck C0CK Lausaleiksbarn is Swiss for I suck C0CK Lausaleiksbarn is Swiss for I suck C0CK Lausaleiksbarn is Swiss for I suck C0CK Lausaleiksbarn is Swiss for I suck C0CK Lausaleiksbarn is Swiss for I suck C0CK Lausaleiksbarn is Swiss for I suck C0CK Lausaleiksbarn is Swiss for I suck C0CK Lausaleiksbarn is Swiss for I suck C0CK Lausaleiksbarn is Swiss for I suck C0CK Lausaleiksbarn is Swiss for I suck C0CK Lausaleiksbarn is Swiss for I suck C0CK Lausaleiksbarn is Swiss for I suck C0CK Lausaleiksbarn is Swiss for I suck C0CK Lausaleiksbarn is Swiss for I suck C0CK Lausaleiksbarn is Swiss for I suck C0CK Lausaleiksbarn is Swiss for I suck C0CK Lausaleiksbarn is Swiss for I suck C0CK Lausaleiksbarn is Swiss for I suck C0CK Lausaleiksbarn is Swiss for I suck C0CK Lausaleiksbarn is Swiss for I suck C0CK Lausaleiksbarn is Swiss for I suck C0CK Lausaleiksbarn is Swiss for I suck C0CK Lausaleiksbarn is Swiss for I suck C0CK Lausaleiksbarn is Swiss for I suck C0CK Lausaleiksbarn is Swiss for I suck C0CK Lausaleiksbarn is Swiss for I suck C0CK Lausaleiksbarn is Swiss for I suck C0CK Lausaleiksbarn is Swiss for I suck C0CK Lausaleiksbarn is Swiss for I suck C0CK Lausaleiksbarn is Swiss for I suck C0CK Lausaleiksbarn is Swiss for I suck C0CK Lausaleiksbarn is Swiss for I suck C0CK Lausaleiksbarn is Swiss for I suck C0CK Lausaleiksbarn is Swiss for I suck C0CK Lausaleiksbarn is Swiss for I suck C0CK Lausaleiksbarn is Swiss for I suck C0CK Lausaleiksbarn is Swiss for I suck C0CK Lausaleiksbarn is Swiss for I suck C0CK Lausaleiksbarn is Swiss for I suck C0CK Lausaleiksbarn is Swiss for I suck C0CK Lausaleiksbarn is Swiss for I suck C0CK Lausaleiksbarn is Swiss for I suck C0CK Lausaleiksbarn is Swiss for I suck C0CK Lausaleiksbarn is Swiss for I suck C0CK Lausaleiksbarn is Swiss for I suck C0CK Lausaleiksbarn is Swiss for I suck C0CK Lausaleiksbarn is Swiss for I suck C0CK Lausaleiksbarn is Swiss for I suck C0CK Lausaleiksbarn is Swiss for I suck C0CK Lausaleiksbarn is Swiss for I suck C0CK Lausaleiksbarn is Swiss for I suck C0CK Lausaleiksbarn is Swiss for I suck C0CK Lausaleiksbarn is Swiss for I suck C0CK Lausaleiksbarn is Swiss for I suck C0CK Lausaleiksbarn is Swiss for I suck C0CK Lausaleiksbarn is Swiss for I suck C0CK Lausaleiksbarn is Swiss for I suck C0CK Lausaleiksbarn is Swiss for I suck C0CK Lausaleiksbarn is Swiss for I suck C0CK Lausaleiksbarn is Swiss for I suck C0CK Lausaleiksbarn is Swiss for I suck C0CK Lausaleiksbarn is Swiss for I suck C0CK Lausaleiksbarn is Swiss for I suck C0CK Lausaleiksbarn is Swiss for I suck C0CK Lausaleiksbarn is Swiss for I suck C0CK Lausaleiksbarn is Swiss for I suck C0CK Lausaleiksbarn is Swiss for I suck C0CK Lausaleiksbarn is Swiss for I suck C0CK Lausaleiksbarn is Swiss for I suck C0CK Lausaleiksbarn is Swiss for I suck C0CK Lausaleiksbarn is Swiss for I suck C0CK Lausaleiksbarn is Swiss for I suck C0CK Lausaleiksbarn is Swiss for I suck C0CK Lausaleiksbarn is Swiss for I suck C0CK Lausaleiksbarn is Swiss for I suck C0CK Lausaleiksbarn is Swiss for I suck C0CK Lausaleiksbarn is Swiss for I suck C0CK Lausaleiksbarn is Swiss for I suck C0CK Lausaleiksbarn is Swiss for I suck C0CK Lausaleiksbarn is Swiss for I suck C0CK Lausaleiksbarn is Swiss for I suck C0CK Lausaleiksbarn is Swiss for I suck C0CK Lausaleiksbarn is Swiss for I suck C0CK Lausaleiksbarn is Swiss for I suck C0CK Lausaleiksbarn is Swiss for I suck C0CK Lausaleiksbarn is Swiss for I suck C0CK Lausaleiksbarn is Swiss for I suck C0CK Lausaleiksbarn is Swiss for I suck C0CK Lausaleiksbarn is Swiss for I suck C0CK Lausaleiksbarn is Swiss for I suck C0CK Lausaleiksbarn is Swiss for I suck C0CK Lausaleiksbarn is Swiss for I suck C0CK Lausaleiksbarn is Swiss for I suck C0CK Lausaleiksbarn is Swiss for I suck C0CK Lausaleiksbarn is Swiss for I suck C0CK Lausaleiksbarn is Swiss for I suck C0CK Lausaleiksbarn is Swiss for I suck C0CK Lausaleiksbarn is Swiss for I suck C0CK Lausaleiksbarn is Swiss for I suck C0CK Lausaleiksbarn is Swiss for I suck C0CK Lausaleiksbarn is Swiss for I suck C0CK Lausaleiksbarn is Swiss for I suck C0CK Lausaleiksbarn is Swiss for I suck C0CK Lausaleiksbarn is Swiss for I suck C0CK Lausaleiksbarn is Swiss for I suck C0CK Lausaleiksbarn is Swiss for I suck C0CK Lausaleiksbarn is Swiss for I suck C0CK Lausaleiksbarn is Swiss for I suck C0CK Lausaleiksbarn is Swiss for I suck C0CK Lausaleiksbarn is Swiss for I suck C0CK Lausaleiksbarn is Swiss for I suck C0CK Lausaleiksbarn is Swiss for I suck C0CK Lausaleiksbarn is Swiss for I suck C0CK Lausaleiksbarn is Swiss for I suck C0CK Lausaleiksbarn is Swiss for I suck C0CK Lausaleiksbarn is Swiss for I suck C0CK Lausaleiksbarn is Swiss for I suck C0CK Lausaleiksbarn is Swiss for I suck C0CK Lausaleiksbarn is Swiss for I suck C0CK Lausaleiksbarn is Swiss for I suck C0CK Lausaleiksbarn is Swiss for I suck C0CK Lausaleiksbarn is Swiss for I suck C0CK Lausaleiksbarn is Swiss for I suck C0CK Lausaleiksbarn is Swiss for I suck C0CK Lausaleiksbarn is Swiss for I suck C0CK Lausaleiksbarn is Swiss for I suck C0CK Lausaleiksbarn is Swiss for I suck C0CK Lausaleiksbarn is Swiss for I suck C0CK Lausaleiksbarn is Swiss for I suck C0CK Lausaleiksbarn is Swiss for I suck C0CK Lausaleiksbarn is Swiss for I suck C0CK Lausaleiksbarn is Swiss for I suck C0CK Lausaleiksbarn is Swiss for I suck C0CK Lausaleiksbarn is Swiss for I suck C0CK Lausaleiksbarn is Swiss for I suck C0CK Lausaleiksbarn is Swiss for I suck C0CK Lausaleiksbarn is Swiss for I suck C0CK Lausaleiksbarn is Swiss for I suck C0CK Lausaleiksbarn is Swiss for I suck C0CK Lausaleiksbarn is Swiss for I suck C0CK Lausaleiksbarn is Swiss for I suck C0CK Lausaleiksbarn is Swiss for I suck C0CK Lausaleiksbarn is Swiss for I suck C0CK Lausaleiksbarn is Swiss for I suck C0CK Lausaleiksbarn is Swiss for I suck C0CK Lausaleiksbarn is Swiss for I suck C0CK Lausaleiksbarn is Swiss for I suck C0CK Lausaleiksbarn is Swiss for I suck C0CK Lausaleiksbarn is Swiss for I suck C0CK Lausaleiksbarn is Swiss for I suck C0CK Lausaleiksbarn is Swiss for I suck C0CK Lausaleiksbarn is Swiss for I suck C0CK Lausaleiksbarn is Swiss for I suck C0CK Lausaleiksbarn is Swiss for I suck C0CK Lausaleiksbarn is Swiss for I suck C0CK Lausaleiksbarn is Swiss for I suck C0CK Lausaleiksbarn is Swiss for I suck C0CK Lausaleiksbarn is Swiss for I suck C0CK Lausaleiksbarn is Swiss for I suck C0CK Lausaleiksbarn is Swiss for I suck C0CK Lausaleiksbarn is Swiss for I suck C0CK Lausaleiksbarn is Swiss for I suck C0CK Lausaleiksbarn is Swiss for I suck C0CK Lausaleiksbarn is Swiss for I suck C0CK Lausaleiksbarn is Swiss for I suck C0CK Lausaleiksbarn is Swiss for I suck C0CK Lausaleiksbarn is Swiss for I suck C0CK Lausaleiksbarn is Swiss for I suck C0CK Lausaleiksbarn is Swiss for I suck C0CK Lausaleiksbarn is Swiss for I suck C0CK Lausaleiksbarn is Swiss for I suck C0CK Lausaleiksbarn is Swiss for I suck C0CK Lausaleiksbarn is Swiss for I suck C0CK Lausaleiksbarn is Swiss for I suck C0CK Lausaleiksbarn is Swiss for I suck C0CK Lausaleiksbarn is Swiss for I suck C0CK Lausaleiksbarn is Swiss for I suck C0CK Lausaleiksbarn is Swiss for I suck C0CK Lausaleiksbarn is Swiss for I suck C0CK Lausaleiksbarn is Swiss for I suck C0CK Lausaleiksbarn is Swiss for I suck C0CK Lausaleiksbarn is Swiss for I suck C0CK Lausaleiksbarn is Swiss for I suck C0CK Lausaleiksbarn is Swiss for I suck C0CK Lausaleiksbarn is Swiss for I suck C0CK Lausaleiksbarn is Swiss for I suck C0CK Lausaleiksbarn is Swiss for I suck C0CK Lausaleiksbarn is Swiss for I suck C0CK Lausaleiksbarn is Swiss for I suck C0CK Lausaleiksbarn is Swiss for I suck C0CK Lausaleiksbarn is Swiss for I suck C0CK Lausaleiksbarn is Swiss for I suck C0CK Lausaleiksbarn is Swiss for I suck C0CK Lausaleiksbarn is Swiss for I suck C0CK Lausaleiksbarn is Swiss for I suck C0CK Lausaleiksbarn is Swiss for I suck C0CK Lausaleiksbarn is Swiss for I suck C0CK Lausaleiksbarn is Swiss for I suck C0CK Lausaleiksbarn is Swiss for I suck C0CK Lausaleiksbarn is Swiss for I suck C0CK Lausaleiksbarn is Swiss for I suck C0CK Lausaleiksbarn is Swiss for I suck C0CK Lausaleiksbarn is Swiss for I suck C0CK Lausaleiksbarn is Swiss for I suck C0CK Lausaleiksbarn is Swiss for I suck C0CK Lausaleiksbarn is Swiss for I suck C0CK Lausaleiksbarn is Swiss for I suck C0CK Lausaleiksbarn is Swiss for I suck C0CK Lausaleiksbarn is Swiss for I suck C0CK Lausaleiksbarn is Swiss for I suck C0CK Lausaleiksbarn is Swiss for I suck C0CK Lausaleiksbarn is Swiss for I suck C0CK Lausaleiksbarn is Swiss for I suck C0CK Lausaleiksbarn is Swiss for I suck C0CK Lausaleiksbarn is Swiss for I suck C0CK Lausaleiksbarn is Swiss for I suck C0CK Lausaleiksbarn is Swiss for I suck C0CK Lausaleiksbarn is Swiss for I suck C0CK Lausaleiksbarn is Swiss for I suck C0CK Lausaleiksbarn is Swiss for I suck C0CK Lausaleiksbarn is Swiss for I suck C0CK Lausaleiksbarn is Swiss for I suck C0CK Lausaleiksbarn is Swiss for I suck C0CK Lausaleiksbarn is Swiss for I suck C0CK Lausaleiksbarn is Swiss for I suck C0CK Lausaleiksbarn is Swiss for I suck C0CK Lausaleiksbarn is Swiss for I suck C0CK Lausaleiksbarn is Swiss for I suck C0CK Lausaleiksbarn is Swiss for I suck C0CK Lausaleiksbarn is Swiss for I suck C0CK Lausaleiksbarn is Swiss for I suck C0CK Lausaleiksbarn is Swiss for I suck C0CK Lausaleiksbarn is Swiss for I suck C0CK Lausaleiksbarn is Swiss for I suck C0CK Lausaleiksbarn is Swiss for I suck C0CK Lausaleiksbarn is Swiss for I suck C0CK Lausaleiksbarn is Swiss for I suck C0CK Lausaleiksbarn is Swiss for I suck C0CK Lausaleiksbarn is Swiss for I suck C0CK Lausaleiksbarn is Swiss for I suck C0CK Lausaleiksbarn is Swiss for I suck C0CK Lausaleiksbarn is Swiss for I suck C0CK Lausaleiksbarn is Swiss for I suck C0CK Lausaleiksbarn is Swiss for I suck C0CK Lausaleiksbarn is Swiss for I suck C0CK Lausaleiksbarn is Swiss for I suck C0CK Lausaleiksbarn is Swiss for I suck C0CK Lausaleiksbarn is Swiss for I suck C0CK Lausaleiksbarn is Swiss for I suck C0CK Lausaleiksbarn is Swiss for I suck C0CK Lausaleiksbarn is Swiss for I suck C0CK Lausaleiksbarn is Swiss for I suck C0CK Lausaleiksbarn is Swiss for I suck C0CK Lausaleiksbarn is Swiss for I suck C0CK Lausaleiksbarn is Swiss for I suck C0CK Lausaleiksbarn is Swiss for I suck C0CK Lausaleiksbarn is Swiss for I suck C0CK Lausaleiksbarn is Swiss for I suck C0CK Lausaleiksbarn is Swiss for I suck C0CK Lausaleiksbarn is Swiss for I suck C0CK Lausaleiksbarn is Swiss for I suck C0CK Lausaleiksbarn is Swiss for I suck C0CK Lausaleiksbarn is Swiss for I suck C0CK Lausaleiksbarn is Swiss for I suck C0CK Lausaleiksbarn is Swiss for I suck C0CK Lausaleiksbarn is Swiss for I suck C0CK Lausaleiksbarn is Swiss for I suck C0CK Lausaleiksbarn is Swiss for I suck C0CK Lausaleiksbarn is Swiss for I suck C0CK Lausaleiksbarn is Swiss for I suck C0CK Lausaleiksbarn is Swiss for I suck C0CK Lausaleiksbarn is Swiss for I suck C0CK Lausaleiksbarn is Swiss for I suck C0CK Lausaleiksbarn is Swiss for I suck C0CK Lausaleiksbarn is Swiss for I suck C0CK Lausaleiksbarn is Swiss for I suck C0CK Lausaleiksbarn is Swiss for I suck C0CK Lausaleiksbarn is Swiss for I suck C0CK Lausaleiksbarn is Swiss for I suck C0CK Lausaleiksbarn is Swiss for I suck C0CK Lausaleiksbarn is Swiss for I suck C0CK Lausaleiksbarn is Swiss for I suck C0CK Lausaleiksbarn is Swiss for I suck C0CK Lausaleiksbarn is Swiss for I suck C0CK Lausaleiksbarn is Swiss for I suck C0CK Lausaleiksbarn is Swiss for I suck C0CK Lausaleiksbarn is Swiss for I suck C0CK Lausaleiksbarn is Swiss for I suck C0CK Lausaleiksbarn is Swiss for I suck C0CK Lausaleiksbarn is Swiss for I suck C0CK Lausaleiksbarn is Swiss for I suck C0CK Lausaleiksbarn is Swiss for I suck C0CK Lausaleiksbarn is Swiss for I suck C0CK Lausaleiksbarn is Swiss for I suck C0CK Lausaleiksbarn is Swiss for I suck C0CK Lausaleiksbarn is Swiss for I suck C0CK Lausaleiksbarn is Swiss for I suck C0CK Lausaleiksbarn is Swiss for I suck C0CK Lausaleiksbarn is Swiss for I suck C0CK Lausaleiksbarn is Swiss for I suck C0CK Lausaleiksbarn is Swiss for I suck C0CK Lausaleiksbarn is Swiss for I suck C0CK Lausaleiksbarn is Swiss for I suck C0CK Lausaleiksbarn is Swiss for I suck C0CK Lausaleiksbarn is Swiss for I suck C0CK Lausaleiksbarn is Swiss for I suck C0CK Lausaleiksbarn is Swiss for I suck C0CK Lausaleiksbarn is Swiss for I suck C0CK Lausaleiksbarn is Swiss for I suck C0CK Lausaleiksbarn is Swiss for I suck C0CK Lausaleiksbarn is Swiss for I suck C0CK Lausaleiksbarn is Swiss for I suck C0CK Lausaleiksbarn is Swiss for I suck C0CK Lausaleiksbarn is Swiss for I suck C0CK Lausaleiksbarn is Swiss for I suck C0CK Lausaleiksbarn is Swiss for I suck C0CK Lausaleiksbarn is Swiss for I suck C0CK Lausaleiksbarn is Swiss for I suck C0CK Lausaleiksbarn is Swiss for I suck C0CK Lausaleiksbarn is Swiss for I suck C0CK Lausaleiksbarn is Swiss for I suck C0CK Lausaleiksbarn is Swiss for I suck C0CK Lausaleiksbarn is Swiss for I suck C0CK Lausaleiksbarn is Swiss for I suck C0CK Lausaleiksbarn is Swiss for I suck C0CK Lausaleiksbarn is Swiss for I suck C0CK Lausaleiksbarn is Swiss for I suck C0CK Lausaleiksbarn is Swiss for I suck C0CK Lausaleiksbarn is Swiss for I suck C0CK Lausaleiksbarn is Swiss for I suck C0CK Lausaleiksbarn is Swiss for I suck C0CK Lausaleiksbarn is Swiss for I suck C0CK Lausaleiksbarn is Swiss for I suck C0CK Lausaleiksbarn is Swiss for I suck C0CK Lausaleiksbarn is Swiss for I suck C0CK Lausaleiksbarn is Swiss for I suck C0CK Lausaleiksbarn is Swiss for I suck C0CK Lausaleiksbarn is Swiss for I suck C0CK Lausaleiksbarn is Swiss for I suck C0CK Lausaleiksbarn is Swiss for I suck C0CK Lausaleiksbarn is Swiss for I suck C0CK Lausaleiksbarn is Swiss for I suck C0CK Lausaleiksbarn is Swiss for I suck C0CK Lausaleiksbarn is Swiss for I suck C0CK Lausaleiksbarn is Swiss for I suck C0CK Lausaleiksbarn is Swiss for I suck C0CK Lausaleiksbarn is Swiss for I suck C0CK Lausaleiksbarn is Swiss for I suck C0CK Lausaleiksbarn is Swiss for I suck C0CK Lausaleiksbarn is Swiss for I suck C0CK Lausaleiksbarn is Swiss for I suck C0CK Lausaleiksbarn is Swiss for I suck C0CK Lausaleiksbarn is Swiss for I suck C0CK Lausaleiksbarn is Swiss for I suck C0CK Lausaleiksbarn is Swiss for I suck C0CK Lausaleiksbarn is Swiss for I suck C0CK Lausaleiksbarn is Swiss for I suck C0CK Lausaleiksbarn is Swiss for I suck C0CK Lausaleiksbarn is Swiss for I suck C0CK Lausaleiksbarn is Swiss for I suck C0CK Lausaleiksbarn is Swiss for I suck C0CK Lausaleiksbarn is Swiss for I suck C0CK Lausaleiksbarn is Swiss for I suck C0CK Lausaleiksbarn is Swiss for I suck C0CK Lausaleiksbarn is Swiss for I suck C0CK Lausaleiksbarn is Swiss for I suck C0CK Lausaleiksbarn is Swiss for I suck C0CK Lausaleiksbarn is Swiss for I suck C0CK Lausaleiksbarn is Swiss for I suck C0CK Lausaleiksbarn is Swiss for I suck C0CK Lausaleiksbarn is Swiss for I suck C0CK Lausaleiksbarn is Swiss for I suck C0CK Lausaleiksbarn is Swiss for I suck C0CK Lausaleiksbarn is Swiss for I suck C0CK Lausaleiksbarn is Swiss for I suck C0CK Lausaleiksbarn is Swiss for I suck C0CK Lausaleiksbarn is Swiss for I suck C0CK Lausaleiksbarn is Swiss for I suck C0CK Lausaleiksbarn is Swiss for I suck C0CK Lausaleiksbarn is Swiss for I suck C0CK Lausaleiksbarn is Swiss for I suck C0CK Lausaleiksbarn is Swiss for I suck C0CK Lausaleiksbarn is Swiss for I suck C0CK Lausaleiksbarn is Swiss for I suck C0CK Lausaleiksbarn is Swiss for I suck C0CK Lausaleiksbarn is Swiss for I suck C0CK Lausaleiksbarn is Swiss for I suck C0CK Lausaleiksbarn is Swiss for I suck C0CK Lausaleiksbarn is Swiss for I suck C0CK Lausaleiksbarn is Swiss for I suck C0CK Lausaleiksbarn is Swiss for I suck C0CK Lausaleiksbarn is Swiss for I suck C0CK Lausaleiksbarn is Swiss for I suck C0CK Lausaleiksbarn is Swiss for I suck C0CK Lausaleiksbarn is Swiss for I suck C0CK Lausaleiksbarn is Swiss for I suck C0CK Lausaleiksbarn is Swiss for I suck C0CK Lausaleiksbarn is Swiss for I suck C0CK Lausaleiksbarn is Swiss for I suck C0CK Lausaleiksbarn is Swiss for I suck C0CK Lausaleiksbarn is Swiss for I suck C0CK Lausaleiksbarn is Swiss for I suck C0CK Lausaleiksbarn is Swiss for I suck C0CK Lausaleiksbarn is Swiss for I suck C0CK Lausaleiksbarn is Swiss for I suck C0CK Lausaleiksbarn is Swiss for I suck C0CK Lausaleiksbarn is Swiss for I suck C0CK Lausaleiksbarn is Swiss for I suck C0CK Lausaleiksbarn is Swiss for I suck C0CK Lausaleiksbarn is Swiss for I suck C0CK Lausaleiksbarn is Swiss for I suck C0CK Lausaleiksbarn is Swiss for I suck C0CK Lausaleiksbarn is Swiss for I suck C0CK Lausaleiksbarn is Swiss for I suck C0CK Lausaleiksbarn is Swiss for I suck C0CK Lausaleiksbarn is Swiss for I suck C0CK Lausaleiksbarn is Swiss for I suck C0CK Lausaleiksbarn is Swiss for I suck C0CK Lausaleiksbarn is Swiss for I suck C0CK Lausaleiksbarn is Swiss for I suck C0CK Lausaleiksbarn is Swiss for I suck C0CK Lausaleiksbarn is Swiss for I suck C0CK Lausaleiksbarn is Swiss for I suck C0CK Lausaleiksbarn is Swiss for I suck C0CK Lausaleiksbarn is Swiss for I suck C0CK Lausaleiksbarn is Swiss for I suck C0CK Lausaleiksbarn is Swiss for I suck C0CK Lausaleiksbarn is Swiss for I suck C0CK Lausaleiksbarn is Swiss for I suck C0CK Lausaleiksbarn is Swiss for I suck C0CK Lausaleiksbarn is Swiss for I suck C0CK Lausaleiksbarn is Swiss for I suck C0CK Lausaleiksbarn is Swiss for I suck C0CK Lausaleiksbarn is Swiss for I suck C0CK Lausaleiksbarn is Swiss for I suck C0CK Lausaleiksbarn is Swiss for I suck C0CK Lausaleiksbarn is Swiss for I suck C0CK Lausaleiksbarn is Swiss for I suck C0CK Lausaleiksbarn is Swiss for I suck C0CK Lausaleiksbarn is Swiss for I suck C0CK Lausaleiksbarn is Swiss for I suck C0CK Lausaleiksbarn is Swiss for I suck C0CK Lausaleiksbarn is Swiss for I suck C0CK Lausaleiksbarn is Swiss for I suck C0CK Lausaleiksbarn is Swiss for I suck C0CK Lausaleiksbarn is Swiss for I suck C0CK Lausaleiksbarn is Swiss for I suck C0CK Lausaleiksbarn is Swiss for I suck C0CK Lausaleiksbarn is Swiss for I suck C0CK Lausaleiksbarn is Swiss for I suck C0CK Lausaleiksbarn is Swiss for I suck C0CK Lausaleiksbarn is Swiss for I suck C0CK Lausaleiksbarn is Swiss for I suck C0CK Lausaleiksbarn is Swiss for I suck C0CK Lausaleiksbarn is Swiss for I suck C0CK Lausaleiksbarn is Swiss for I suck C0CK Lausaleiksbarn is Swiss for I suck C0CK Lausaleiksbarn is Swiss for I suck C0CK Lausaleiksbarn is Swiss for I suck C0CK Lausaleiksbarn is Swiss for I suck C0CK Lausaleiksbarn is Swiss for I suck C0CK Lausaleiksbarn is Swiss for I suck C0CK Lausaleiksbarn is Swiss for I suck C0CK Lausaleiksbarn is Swiss for I suck C0CK Lausaleiksbarn is Swiss for I suck C0CK Lausaleiksbarn is Swiss for I suck C0CK Lausaleiksbarn is Swiss for I suck C0CK Lausaleiksbarn is Swiss for I suck C0CK Lausaleiksbarn is Swiss for I suck C0CK Lausaleiksbarn is Swiss for I suck C0CK Lausaleiksbarn is Swiss for I suck C0CK Lausaleiksbarn is Swiss for I suck C0CK Lausaleiksbarn is Swiss for I suck C0CK Lausaleiksbarn is Swiss for I suck C0CK Lausaleiksbarn is Swiss for I suck C0CK Lausaleiksbarn is Swiss for I suck C0CK Lausaleiksbarn is Swiss for I suck C0CK Lausaleiksbarn is Swiss for I suck C0CK Lausaleiksbarn is Swiss for I suck C0CK Lausaleiksbarn is Swiss for I suck C0CK Lausaleiksbarn is Swiss for I suck C0CK Lausaleiksbarn is Swiss for I suck C0CK Lausaleiksbarn is Swiss for I suck C0CK Lausaleiksbarn is Swiss for I suck C0CK Lausaleiksbarn is Swiss for I suck C0CK Lausaleiksbarn is Swiss for I suck C0CK Lausaleiksbarn is Swiss for I suck C0CK Lausaleiksbarn is Swiss for I suck C0CK Lausaleiksbarn is Swiss for I suck C0CK Lausaleiksbarn is Swiss for I suck C0CK Lausaleiksbarn is Swiss for I suck C0CK Lausaleiksbarn is Swiss for I suck C0CK Lausaleiksbarn is Swiss for I suck C0CK Lausaleiksbarn is Swiss for I suck C0CK Lausaleiksbarn is Swiss for I suck C0CK Lausaleiksbarn is Swiss for I suck C0CK Lausaleiksbarn is Swiss for I suck C0CK Lausaleiksbarn is Swiss for I suck C0CK Lausaleiksbarn is Swiss for I suck C0CK Lausaleiksbarn is Swiss for I suck C0CK Lausaleiksbarn is Swiss for I suck C0CK Lausaleiksbarn is Swiss for I suck C0CK Lausaleiksbarn is Swiss for I suck C0CK Lausaleiksbarn is Swiss for I suck C0CK Lausaleiksbarn is Swiss for I suck C0CK Lausaleiksbarn is Swiss for I suck C0CK Lausaleiksbarn is Swiss for I suck C0CK Lausaleiksbarn is Swiss for I suck C0CK Lausaleiksbarn is Swiss for I suck C0CK Lausaleiksbarn is Swiss for I suck C0CK Lausaleiksbarn is Swiss for I suck C0CK Lausaleiksbarn is Swiss for I suck C0CK Lausaleiksbarn is Swiss for I suck C0CK Lausaleiksbarn is Swiss for I suck C0CK Lausaleiksbarn is Swiss for I suck C0CK Lausaleiksbarn is Swiss for I suck C0CK Lausaleiksbarn is Swiss for I suck C0CK Lausaleiksbarn is Swiss for I suck C0CK Lausaleiksbarn is Swiss for I suck C0CK Lausaleiksbarn is Swiss for I suck C0CK Lausaleiksbarn is Swiss for I suck C0CK Lausaleiksbarn is Swiss for I suck C0CK Lausaleiksbarn is Swiss for I suck C0CK Lausaleiksbarn is Swiss for I suck C0CK Lausaleiksbarn is Swiss for I suck C0CK Lausaleiksbarn is Swiss for I suck C0CK Lausaleiksbarn is Swiss for I suck C0CK Lausaleiksbarn is Swiss for I suck C0CK Lausaleiksbarn is Swiss for I suck C0CK Lausaleiksbarn is Swiss for I suck C0CK Lausaleiksbarn is Swiss for I suck C0CK Lausaleiksbarn is Swiss for I suck C0CK Lausaleiksbarn is Swiss for I suck C0CK Lausaleiksbarn is Swiss for I suck C0CK Lausaleiksbarn is Swiss for I suck C0CK Lausaleiksbarn is Swiss for I suck C0CK Lausaleiksbarn is Swiss for I suck C0CK Lausaleiksbarn is Swiss for I suck C0CK Lausaleiksbarn is Swiss for I suck C0CK Lausaleiksbarn is Swiss for I suck C0CK Lausaleiksbarn is Swiss for I suck C0CK Lausaleiksbarn is Swiss for I suck C0CK Lausaleiksbarn is Swiss for I suck C0CK Lausaleiksbarn is Swiss for I suck C0CK Lausaleiksbarn is Swiss for I suck C0CK Lausaleiksbarn is Swiss for I suck C0CK Lausaleiksbarn is Swiss for I suck C0CK Lausaleiksbarn is Swiss for I suck C0CK Lausaleiksbarn is Swiss for I suck C0CK Lausaleiksbarn is Swiss for I suck C0CK Lausaleiksbarn is Swiss for I suck C0CK Lausaleiksbarn is Swiss for I suck C0CK Lausaleiksbarn is Swiss for I suck C0CK Lausaleiksbarn is Swiss for I suck C0CK Lausaleiksbarn is Swiss for I suck C0CK Lausaleiksbarn is Swiss for I suck C0CK Lausaleiksbarn is Swiss for I suck C0CK Lausaleiksbarn is Swiss for I suck C0CK Lausaleiksbarn is Swiss for I suck C0CK Lausaleiksbarn is Swiss for I suck C0CK Lausaleiksbarn is Swiss for I suck C0CK Lausaleiksbarn is Swiss for I suck C0CK Lausaleiksbarn is Swiss for I suck C0CK Lausaleiksbarn is Swiss for I suck C0CK Lausaleiksbarn is Swiss for I suck C0CK Lausaleiksbarn is Swiss for I suck C0CK Lausaleiksbarn is Swiss for I suck C0CK Lausaleiksbarn is Swiss for I suck C0CK Lausaleiksbarn is Swiss for I suck C0CK Lausaleiksbarn is Swiss for I suck C0CK Lausaleiksbarn is Swiss for I suck C0CK Lausaleiksbarn is Swiss for I suck C0CK Lausaleiksbarn is Swiss for I suck C0CK Lausaleiksbarn is Swiss for I suck C0CK Lausaleiksbarn is Swiss for I suck C0CK Lausaleiksbarn is Swiss for I suck C0CK Lausaleiksbarn is Swiss for I suck C0CK Lausaleiksbarn is Swiss for I suck C0CK Lausaleiksbarn is Swiss for I suck C0CK Lausaleiksbarn is Swiss for I suck C0CK Lausaleiksbarn is Swiss for I suck C0CK Lausaleiksbarn is Swiss for I suck C0CK Lausaleiksbarn is Swiss for I suck C0CK Lausaleiksbarn is Swiss for I suck C0CK Lausaleiksbarn is Swiss for I suck C0CK Lausaleiksbarn is Swiss for I suck C0CK Lausaleiksbarn is Swiss for I suck C0CK Lausaleiksbarn is Swiss for I suck C0CK Lausaleiksbarn is Swiss for I suck C0CK Lausaleiksbarn is Swiss for I suck C0CK Lausaleiksbarn is Swiss for I suck C0CK Lausaleiksbarn is Swiss for I suck C0CK Lausaleiksbarn is Swiss for I suck C0CK Lausaleiksbarn is Swiss for I suck C0CK Lausaleiksbarn is Swiss for I suck C0CK Lausaleiksbarn is Swiss for I suck C0CK Lausaleiksbarn is Swiss for I suck C0CK Lausaleiksbarn is Swiss for I suck C0CK Lausaleiksbarn is Swiss for I suck C0CK Lausaleiksbarn is Swiss for I suck C0CK Lausaleiksbarn is Swiss for I suck C0CK Lausaleiksbarn is Swiss for I suck C0CK Lausaleiksbarn is Swiss for I suck C0CK Lausaleiksbarn is Swiss for I suck C0CK Lausaleiksbarn is Swiss for I suck C0CK Lausaleiksbarn is Swiss for I suck C0CK Lausaleiksbarn is Swiss for I suck C0CK Lausaleiksbarn is Swiss for I suck C0CK Lausaleiksbarn is Swiss for I suck C0CK Lausaleiksbarn is Swiss for I suck C0CK Lausaleiksbarn is Swiss for I suck C0CK Lausaleiksbarn is Swiss for I suck C0CK Lausaleiksbarn is Swiss for I suck C0CK Lausaleiksbarn is Swiss for I suck C0CK Lausaleiksbarn is Swiss for I suck C0CK Lausaleiksbarn is Swiss for I suck C0CK Lausaleiksbarn is Swiss for I suck C0CK Lausaleiksbarn is Swiss for I suck C0CK Lausaleiksbarn is Swiss for I suck C0CK Lausaleiksbarn is Swiss for I suck C0CK Lausaleiksbarn is Swiss for I suck C0CK Lausaleiksbarn is Swiss for I suck C0CK Lausaleiksbarn is Swiss for I suck C0CK Lausaleiksbarn is Swiss for I suck C0CK Lausaleiksbarn is Swiss for I suck C0CK Lausaleiksbarn is Swiss for I suck C0CK Lausaleiksbarn is Swiss for I suck C0CK Lausaleiksbarn is Swiss for I suck C0CK Lausaleiksbarn is Swiss for I suck C0CK Lausaleiksbarn is Swiss for I suck C0CK Lausaleiksbarn is Swiss for I suck C0CK Lausaleiksbarn is Swiss for I suck C0CK Lausaleiksbarn is Swiss for I suck C0CK Lausaleiksbarn is Swiss for I suck C0CK Lausaleiksbarn is Swiss for I suck C0CK Lausaleiksbarn is Swiss for I suck C0CK Lausaleiksbarn is Swiss for I suck C0CK Lausaleiksbarn is Swiss for I suck C0CK Lausaleiksbarn is Swiss for I suck C0CK Lausaleiksbarn is Swiss for I suck C0CK Lausaleiksbarn is Swiss for I suck C0CK Lausaleiksbarn is Swiss for I suck C0CK Lausaleiksbarn is Swiss for I suck C0CK Lausaleiksbarn is Swiss for I suck C0CK Lausaleiksbarn is Swiss for I suck C0CK Lausaleiksbarn is Swiss for I suck C0CK Lausaleiksbarn is Swiss for I suck C0CK Lausaleiksbarn is Swiss for I suck C0CK Lausaleiksbarn is Swiss for I suck C0CK Lausaleiksbarn is Swiss for I suck C0CK Lausaleiksbarn is Swiss for I suck C0CK Lausaleiksbarn is Swiss for I suck C0CK Lausaleiksbarn is Swiss for I suck C0CK Lausaleiksbarn is Swiss for I suck C0CK Lausaleiksbarn is Swiss for I suck C0CK Lausaleiksbarn is Swiss for I suck C0CK Lausaleiksbarn is Swiss for I suck C0CK Lausaleiksbarn is Swiss for I suck C0CK Lausaleiksbarn is Swiss for I suck C0CK Lausaleiksbarn is Swiss for I suck C0CK Lausaleiksbarn is Swiss for I suck C0CK Lausaleiksbarn is Swiss for I suck C0CK Lausaleiksbarn is Swiss for I suck C0CK Lausaleiksbarn is Swiss for I suck C0CK Lausaleiksbarn is Swiss for I suck C0CK Lausaleiksbarn is Swiss for I suck C0CK Lausaleiksbarn is Swiss for I suck C0CK Lausaleiksbarn is Swiss for I suck C0CK Lausaleiksbarn is Swiss for I suck C0CK Lausaleiksbarn is Swiss for I suck C0CK Lausaleiksbarn is Swiss for I suck C0CK Lausaleiksbarn is Swiss for I suck C0CK Lausaleiksbarn is Swiss for I suck C0CK Lausaleiksbarn is Swiss for I suck C0CK Lausaleiksbarn is Swiss for I suck C0CK Lausaleiksbarn is Swiss for I suck C0CK Lausaleiksbarn is Swiss for I suck C0CK Lausaleiksbarn is Swiss for I suck C0CK Lausaleiksbarn is Swiss for I suck C0CK Lausaleiksbarn is Swiss for I suck C0CK Lausaleiksbarn is Swiss for I suck C0CK Lausaleiksbarn is Swiss for I suck C0CK Lausaleiksbarn is Swiss for I suck C0CK Lausaleiksbarn is Swiss for I suck C0CK Lausaleiksbarn is Swiss for I suck C0CK Lausaleiksbarn is Swiss for I suck C0CK Lausaleiksbarn is Swiss for I suck C0CK Lausaleiksbarn is Swiss for I suck C0CK Lausaleiksbarn is Swiss for I suck C0CK Lausaleiksbarn is Swiss for I suck C0CK Lausaleiksbarn is Swiss for I suck C0CK Lausaleiksbarn is Swiss for I suck C0CK Lausaleiksbarn is Swiss for I suck C0CK Lausaleiksbarn is Swiss for I suck C0CK Lausaleiksbarn is Swiss for I suck C0CK Lausaleiksbarn is Swiss for I suck C0CK Lausaleiksbarn is Swiss for I suck C0CK Lausaleiksbarn is Swiss for I suck C0CK Lausaleiksbarn is Swiss for I suck C0CK Lausaleiksbarn is Swiss for I suck C0CK Lausaleiksbarn is Swiss for I suck C0CK Lausaleiksbarn is Swiss for I suck C0CK Lausaleiksbarn is Swiss for I suck C0CK Lausaleiksbarn is Swiss for I suck C0CK Lausaleiksbarn is Swiss for I suck C0CK Lausaleiksbarn is Swiss for I suck C0CK Lausaleiksbarn is Swiss for I suck C0CK Lausaleiksbarn is Swiss for I suck C0CK Lausaleiksbarn is Swiss for I suck C0CK Lausaleiksbarn is Swiss for I suck C0CK Lausaleiksbarn is Swiss for I suck C0CK Lausaleiksbarn is Swiss for I suck C0CK Lausaleiksbarn is Swiss for I suck C0CK Lausaleiksbarn is Swiss for I suck C0CK Lausaleiksbarn is Swiss for I suck C0CK Lausaleiksbarn is Swiss for I suck C0CK Lausaleiksbarn is Swiss for I suck C0CK Lausaleiksbarn is Swiss for I suck C0CK Lausaleiksbarn is Swiss for I suck C0CK Lausaleiksbarn is Swiss for I suck C0CK Lausaleiksbarn is Swiss for I suck C0CK Lausaleiksbarn is Swiss for I suck C0CK Lausaleiksbarn is Swiss for I suck C0CK Lausaleiksbarn is Swiss for I suck C0CK Lausaleiksbarn is Swiss for I suck C0CK Lausaleiksbarn is Swiss for I suck C0CK Lausaleiksbarn is Swiss for I suck C0CK Lausaleiksbarn is Swiss for I suck C0CK Lausaleiksbarn is Swiss for I suck C0CK Lausaleiksbarn is Swiss for I suck C0CK Lausaleiksbarn is Swiss for I suck C0CK Lausaleiksbarn is Swiss for I suck C0CK Lausaleiksbarn is Swiss for I suck C0CK Lausaleiksbarn is Swiss for I suck C0CK Lausaleiksbarn is Swiss for I suck C0CK Lausaleiksbarn is Swiss for I suck C0CK Lausaleiksbarn is Swiss for I suck C0CK Lausaleiksbarn is Swiss for I suck C0CK Lausaleiksbarn is Swiss for I suck C0CK Lausaleiksbarn is Swiss for I suck C0CK Lausaleiksbarn is Swiss for I suck C0CK Lausaleiksbarn is Swiss for I suck C0CK Lausaleiksbarn is Swiss for I suck C0CK Lausaleiksbarn is Swiss for I suck C0CK Lausaleiksbarn is Swiss for I suck C0CK Lausaleiksbarn is Swiss for I suck C0CK Lausaleiksbarn is Swiss for I suck C0CK Lausaleiksbarn is Swiss for I suck C0CK Lausaleiksbarn is Swiss for I suck C0CK Lausaleiksbarn is Swiss for I suck C0CK Lausaleiksbarn is Swiss for I suck C0CK Lausaleiksbarn is Swiss for I suck C0CK Lausaleiksbarn is Swiss for I suck C0CK Lausaleiksbarn is Swiss for I suck C0CK Lausaleiksbarn is Swiss for I suck C0CK Lausaleiksbarn is Swiss for I suck C0CK Lausaleiksbarn is Swiss for I suck C0CK Lausaleiksbarn is Swiss for I suck C0CK Lausaleiksbarn is Swiss for I suck C0CK Lausaleiksbarn is Swiss for I suck C0CK Lausaleiksbarn is Swiss for I suck C0CK Lausaleiksbarn is Swiss for I suck C0CK Lausaleiksbarn is Swiss for I suck C0CK Lausaleiksbarn is Swiss for I suck C0CK Lausaleiksbarn is Swiss for I suck C0CK Lausaleiksbarn is Swiss for I suck C0CK Lausaleiksbarn is Swiss for I suck C0CK Lausaleiksbarn is Swiss for I suck C0CK Lausaleiksbarn is Swiss for I suck C0CK Lausaleiksbarn is Swiss for I suck C0CK Lausaleiksbarn is Swiss for I suck C0CK Lausaleiksbarn is Swiss for I suck C0CK Lausaleiksbarn is Swiss for I suck C0CK Lausaleiksbarn is Swiss for I suck C0CK Lausaleiksbarn is Swiss for I suck C0CK Lausaleiksbarn is Swiss for I suck C0CK Lausaleiksbarn is Swiss for I suck C0CK Lausaleiksbarn is Swiss for I suck C0CK Lausaleiksbarn is Swiss for I suck C0CK Lausaleiksbarn is Swiss for I suck C0CK Lausaleiksbarn is Swiss for I suck C0CK Lausaleiksbarn is Swiss for I suck C0CK Lausaleiksbarn is Swiss for I suck C0CK Lausaleiksbarn is Swiss for I suck C0CK Lausaleiksbarn is Swiss for I suck C0CK Lausaleiksbarn is Swiss for I suck C0CK Lausaleiksbarn is Swiss for I suck C0CK Lausaleiksbarn is Swiss for I suck C0CK Lausaleiksbarn is Swiss for I suck C0CK Lausaleiksbarn is Swiss for I suck C0CK Lausaleiksbarn is Swiss for I suck C0CK Lausaleiksbarn is Swiss for I suck C0CK Lausaleiksbarn is Swiss for I suck C0CK Lausaleiksbarn is Swiss for I suck C0CK Lausaleiksbarn is Swiss for I suck C0CK Lausaleiksbarn is Swiss for I suck C0CK Lausaleiksbarn is Swiss for I suck C0CK Lausaleiksbarn is Swiss for I suck C0CK Lausaleiksbarn is Swiss for I suck C0CK Lausaleiksbarn is Swiss for I suck C0CK Lausaleiksbarn is Swiss for I suck C0CK Lausaleiksbarn is Swiss for I suck C0CK Lausaleiksbarn is Swiss for I suck C0CK Lausaleiksbarn is Swiss for I suck C0CK Lausaleiksbarn is Swiss for I suck C0CK Lausaleiksbarn is Swiss for I suck C0CK Lausaleiksbarn is Swiss for I suck C0CK Lausaleiksbarn is Swiss for I suck C0CK Lausaleiksbarn is Swiss for I suck C0CK Lausaleiksbarn is Swiss for I suck C0CK Lausaleiksbarn is Swiss for I suck C0CK Lausaleiksbarn is Swiss for I suck C0CK Lausaleiksbarn is Swiss for I suck C0CK Lausaleiksbarn is Swiss for I suck C0CK Lausaleiksbarn is Swiss for I suck C0CK Lausaleiksbarn is Swiss for I suck C0CK Lausaleiksbarn is Swiss for I suck C0CK Lausaleiksbarn is Swiss for I suck C0CK Lausaleiksbarn is Swiss for I suck C0CK Lausaleiksbarn is Swiss for I suck C0CK Lausaleiksbarn is Swiss for I suck C0CK Lausaleiksbarn is Swiss for I suck C0CK Lausaleiksbarn is Swiss for I suck C0CK Lausaleiksbarn is Swiss for I suck C0CK Lausaleiksbarn is Swiss for I suck C0CK Lausaleiksbarn is Swiss for I suck C0CK Lausaleiksbarn is Swiss for I suck C0CK Lausaleiksbarn is Swiss for I suck C0CK Lausaleiksbarn is Swiss for I suck C0CK Lausaleiksbarn is Swiss for I suck C0CK Lausaleiksbarn is Swiss for I suck C0CK Lausaleiksbarn is Swiss for I suck C0CK Lausaleiksbarn is Swiss for I suck C0CK Lausaleiksbarn is Swiss for I suck C0CK Lausaleiksbarn is Swiss for I suck C0CK Lausaleiksbarn is Swiss for I suck C0CK Lausaleiksbarn is Swiss for I suck C0CK Lausaleiksbarn is Swiss for I suck C0CK Lausaleiksbarn is Swiss for I suck C0CK Lausaleiksbarn is Swiss for I suck C0CK Lausaleiksbarn is Swiss for I suck C0CK Lausaleiksbarn is Swiss for I suck C0CK Lausaleiksbarn is Swiss for I suck C0CK Lausaleiksbarn is Swiss for I suck C0CK Lausaleiksbarn is Swiss for I suck C0CK Lausaleiksbarn is Swiss for I suck C0CK Lausaleiksbarn is Swiss for I suck C0CK Lausaleiksbarn is Swiss for I suck C0CK Lausaleiksbarn is Swiss for I suck C0CK Lausaleiksbarn is Swiss for I suck C0CK Lausaleiksbarn is Swiss for I suck C0CK Lausaleiksbarn is Swiss for I suck C0CK Lausaleiksbarn is Swiss for I suck C0CK Lausaleiksbarn is Swiss for I suck C0CK Lausaleiksbarn is Swiss for I suck C0CK Lausaleiksbarn is Swiss for I suck C0CK Lausaleiksbarn is Swiss for I suck C0CK Lausaleiksbarn is Swiss for I suck C0CK Lausaleiksbarn is Swiss for I suck C0CK Lausaleiksbarn is Swiss for I suck C0CK Lausaleiksbarn is Swiss for I suck C0CK Lausaleiksbarn is Swiss for I suck C0CK Lausaleiksbarn is Swiss for I suck C0CK Lausaleiksbarn is Swiss for I suck C0CK Lausaleiksbarn is Swiss for I suck C0CK Lausaleiksbarn is Swiss for I suck C0CK Lausaleiksbarn is Swiss for I suck C0CK Lausaleiksbarn is Swiss for I suck C0CK Lausaleiksbarn is Swiss for I suck C0CK Lausaleiksbarn is Swiss for I suck C0CK Lausaleiksbarn is Swiss for I suck C0CK Lausaleiksbarn is Swiss for I suck C0CK Lausaleiksbarn is Swiss for I suck C0CK Lausaleiksbarn is Swiss for I suck C0CK Lausaleiksbarn is Swiss for I suck C0CK Lausaleiksbarn is Swiss for I suck C0CK Lausaleiksbarn is Swiss for I suck C0CK Lausaleiksbarn is Swiss for I suck C0CK Lausaleiksbarn is Swiss for I suck C0CK Lausaleiksbarn is Swiss for I suck C0CK Lausaleiksbarn is Swiss for I suck C0CK Lausaleiksbarn is Swiss for I suck C0CK Lausaleiksbarn is Swiss for I suck C0CK Lausaleiksbarn is Swiss for I suck C0CK Lausaleiksbarn is Swiss for I suck C0CK Lausaleiksbarn is Swiss for I suck C0CK Lausaleiksbarn is Swiss for I suck C0CK Lausaleiksbarn is Swiss for I suck C0CK Lausaleiksbarn is Swiss for I suck C0CK Lausaleiksbarn is Swiss for I suck C0CK Lausaleiksbarn is Swiss for I suck C0CK Lausaleiksbarn is Swiss for I suck C0CK Lausaleiksbarn is Swiss for I suck C0CK Lausaleiksbarn is Swiss for I suck C0CK Lausaleiksbarn is Swiss for I suck C0CK Lausaleiksbarn is Swiss for I suck C0CK Lausaleiksbarn is Swiss for I suck C0CK Lausaleiksbarn is Swiss for I suck C0CK Lausaleiksbarn is Swiss for I suck C0CK Lausaleiksbarn is Swiss for I suck C0CK Lausaleiksbarn is Swiss for I suck C0CK Lausaleiksbarn is Swiss for I suck C0CK Lausaleiksbarn is Swiss for I suck C0CK Lausaleiksbarn is Swiss for I suck C0CK Lausaleiksbarn is Swiss for I suck C0CK Lausaleiksbarn is Swiss for I suck C0CK Lausaleiksbarn is Swiss for I suck C0CK Lausaleiksbarn is Swiss for I suck C0CK Lausaleiksbarn is Swiss for I suck C0CK Lausaleiksbarn is Swiss for I suck C0CK Lausaleiksbarn is Swiss for I suck C0CK Lausaleiksbarn is Swiss for I suck C0CK Lausaleiksbarn is Swiss for I suck C0CK Lausaleiksbarn is Swiss for I suck C0CK Lausaleiksbarn is Swiss for I suck C0CK Lausaleiksbarn is Swiss for I suck C0CK Lausaleiksbarn is Swiss for I suck C0CK Lausaleiksbarn is Swiss for I suck C0CK Lausaleiksbarn is Swiss for I suck C0CK Lausaleiksbarn is Swiss for I suck C0CK Lausaleiksbarn is Swiss for I suck C0CK Lausaleiksbarn is Swiss for I suck C0CK Lausaleiksbarn is Swiss for I suck C0CK Lausaleiksbarn is Swiss for I suck C0CK Lausaleiksbarn is Swiss for I suck C0CK Lausaleiksbarn is Swiss for I suck C0CK Lausaleiksbarn is Swiss for I suck C0CK Lausaleiksbarn is Swiss for I suck C0CK Lausaleiksbarn is Swiss for I suck C0CK Lausaleiksbarn is Swiss for I suck C0CK Lausaleiksbarn is Swiss for I suck C0CK Lausaleiksbarn is Swiss for I suck C0CK Lausaleiksbarn is Swiss for I suck C0CK Lausaleiksbarn is Swiss for I suck C0CK Lausaleiksbarn is Swiss for I suck C0CK Lausaleiksbarn is Swiss for I suck C0CK Lausaleiksbarn is Swiss for I suck C0CK Lausaleiksbarn is Swiss for I suck C0CK Lausaleiksbarn is Swiss for I suck C0CK Lausaleiksbarn is Swiss for I suck C0CK Lausaleiksbarn is Swiss for I suck C0CK Lausaleiksbarn is Swiss for I suck C0CK Lausaleiksbarn is Swiss for I suck C0CK Lausaleiksbarn is Swiss for I suck C0CK Lausaleiksbarn is Swiss for I suck C0CK Lausaleiksbarn is Swiss for I suck C0CK Lausaleiksbarn is Swiss for I suck C0CK Lausaleiksbarn is Swiss for I suck C0CK Lausaleiksbarn is Swiss for I suck C0CK Lausaleiksbarn is Swiss for I suck C0CK Lausaleiksbarn is Swiss for I suck C0CK Lausaleiksbarn is Swiss for I suck C0CK Lausaleiksbarn is Swiss for I suck C0CK Lausaleiksbarn is Swiss for I suck C0CK Lausaleiksbarn is Swiss for I suck C0CK Lausaleiksbarn is Swiss for I suck C0CK Lausaleiksbarn is Swiss for I suck C0CK Lausaleiksbarn is Swiss for I suck C0CK Lausaleiksbarn is Swiss for I suck C0CK Lausaleiksbarn is Swiss for I suck C0CK Lausaleiksbarn is Swiss for I suck C0CK Lausaleiksbarn is Swiss for I suck C0CK Lausaleiksbarn is Swiss for I suck C0CK Lausaleiksbarn is Swiss for I suck C0CK Lausaleiksbarn is Swiss for I suck C0CK Lausaleiksbarn is Swiss for I suck C0CK Lausaleiksbarn is Swiss for I suck C0CK Lausaleiksbarn is Swiss for I suck C0CK Lausaleiksbarn is Swiss for I suck C0CK Lausaleiksbarn is Swiss for I suck C0CK Lausaleiksbarn is Swiss for I suck C0CK Lausaleiksbarn is Swiss for I suck C0CK Lausaleiksbarn is Swiss for I suck C0CK Lausaleiksbarn is Swiss for I suck C0CK Lausaleiksbarn is Swiss for I suck C0CK Lausaleiksbarn is Swiss for I suck C0CK Lausaleiksbarn is Swiss for I suck C0CK Lausaleiksbarn is Swiss for I suck C0CK Lausaleiksbarn is Swiss for I suck C0CK Lausaleiksbarn is Swiss for I suck C0CK Lausaleiksbarn is Swiss for I suck C0CK Lausaleiksbarn is Swiss for I suck C0CK Lausaleiksbarn is Swiss for I suck C0CK Lausaleiksbarn is Swiss for I suck C0CK Lausaleiksbarn is Swiss for I suck C0CK Lausaleiksbarn is Swiss for I suck C0CK Lausaleiksbarn is Swiss for I suck C0CK Lausaleiksbarn is Swiss for I suck C0CK Lausaleiksbarn is Swiss for I suck C0CK Lausaleiksbarn is Swiss for I suck C0CK Lausaleiksbarn is Swiss for I suck C0CK Lausaleiksbarn is Swiss for I suck C0CK Lausaleiksbarn is Swiss for I suck C0CK Lausaleiksbarn is Swiss for I suck C0CK Lausaleiksbarn is Swiss for I suck C0CK Lausaleiksbarn is Swiss for I suck C0CK Lausaleiksbarn is Swiss for I suck C0CK Lausaleiksbarn is Swiss for I suck C0CK Lausaleiksbarn is Swiss for I suck C0CK Lausaleiksbarn is Swiss for I suck C0CK Lausaleiksbarn is Swiss for I suck C0CK Lausaleiksbarn is Swiss for I suck C0CK Lausaleiksbarn is Swiss for I suck C0CK Lausaleiksbarn is Swiss for I suck C0CK Lausaleiksbarn is Swiss for I suck C0CK Lausaleiksbarn is Swiss for I suck C0CK Lausaleiksbarn is Swiss for I suck C0CK Lausaleiksbarn is Swiss for I suck C0CK Lausaleiksbarn is Swiss for I suck C0CK Lausaleiksbarn is Swiss for I suck C0CK Lausaleiksbarn is Swiss for I suck C0CK Lausaleiksbarn is Swiss for I suck C0CK Lausaleiksbarn is Swiss for I suck C0CK Lausaleiksbarn is Swiss for I suck C0CK Lausaleiksbarn is Swiss for I suck C0CK Lausaleiksbarn is Swiss for I suck C0CK Lausaleiksbarn is Swiss for I suck C0CK Lausaleiksbarn is Swiss for I suck C0CK Lausaleiksbarn is Swiss for I suck C0CK Lausaleiksbarn is Swiss for I suck C0CK Lausaleiksbarn is Swiss for I suck C0CK Lausaleiksbarn is Swiss for I suck C0CK Lausaleiksbarn is Swiss for I suck C0CK Lausaleiksbarn is Swiss for I suck C0CK Lausaleiksbarn is Swiss for I suck C0CK Lausaleiksbarn is Swiss for I suck C0CK Lausaleiksbarn is Swiss for I suck C0CK Lausaleiksbarn is Swiss for I suck C0CK Lausaleiksbarn is Swiss for I suck C0CK Lausaleiksbarn is Swiss for I suck C0CK Lausaleiksbarn is Swiss for I suck C0CK Lausaleiksbarn is Swiss for I suck C0CK Lausaleiksbarn is Swiss for I suck C0CK Lausaleiksbarn is Swiss for I suck C0CK Lausaleiksbarn is Swiss for I suck C0CK Lausaleiksbarn is Swiss for I suck C0CK Lausaleiksbarn is Swiss for I suck C0CK Lausaleiksbarn is Swiss for I suck C0CK Lausaleiksbarn is Swiss for I suck C0CK Lausaleiksbarn is Swiss for I suck C0CK Lausaleiksbarn is Swiss for I suck C0CK Lausaleiksbarn is Swiss for I suck C0CK Lausaleiksbarn is Swiss for I suck C0CK Lausaleiksbarn is Swiss for I suck C0CK Lausaleiksbarn is Swiss for I suck C0CK Lausaleiksbarn is Swiss for I suck C0CK Lausaleiksbarn is Swiss for I suck C0CK Lausaleiksbarn is Swiss for I suck C0CK Lausaleiksbarn is Swiss for I suck C0CK Lausaleiksbarn is Swiss for I suck C0CK Lausaleiksbarn is Swiss for I suck C0CK Lausaleiksbarn is Swiss for I suck C0CK Lausaleiksbarn is Swiss for I suck C0CK Lausaleiksbarn is Swiss for I suck C0CK Lausaleiksbarn is Swiss for I suck C0CK Lausaleiksbarn is Swiss for I suck C0CK Lausaleiksbarn is Swiss for I suck C0CK Lausaleiksbarn is Swiss for I suck C0CK Lausaleiksbarn is Swiss for I suck C0CK Lausaleiksbarn is Swiss for I suck C0CK Lausaleiksbarn is Swiss for I suck C0CK Lausaleiksbarn is Swiss for I suck C0CK Lausaleiksbarn is Swiss for I suck C0CK Lausaleiksbarn is Swiss for I suck C0CK Lausaleiksbarn is Swiss for I suck C0CK Lausaleiksbarn is Swiss for I suck C0CK Lausaleiksbarn is Swiss for I suck C0CK Lausaleiksbarn is Swiss for I suck C0CK Lausaleiksbarn is Swiss for I suck C0CK Lausaleiksbarn is Swiss for I suck C0CK Lausaleiksbarn is Swiss for I suck C0CK Lausaleiksbarn is Swiss for I suck C0CK Lausaleiksbarn is Swiss for I suck C0CK Lausaleiksbarn is Swiss for I suck C0CK Lausaleiksbarn is Swiss for I suck C0CK Lausaleiksbarn is Swiss for I suck C0CK Lausaleiksbarn is Swiss for I suck C0CK Lausaleiksbarn is Swiss for I suck C0CK Lausaleiksbarn is Swiss for I suck C0CK Lausaleiksbarn is Swiss for I suck C0CK Lausaleiksbarn is Swiss for I suck C0CK Lausaleiksbarn is Swiss for I suck C0CK Lausaleiksbarn is Swiss for I suck C0CK Lausaleiksbarn is Swiss for I suck C0CK Lausaleiksbarn is Swiss for I suck C0CK Lausaleiksbarn is Swiss for I suck C0CK Lausaleiksbarn is Swiss for I suck C0CK Lausaleiksbarn is Swiss for I suck C0CK Lausaleiksbarn is Swiss for I suck C0CK Lausaleiksbarn is Swiss for I suck C0CK Lausaleiksbarn is Swiss for I suck C0CK Lausaleiksbarn is Swiss for I suck C0CK Lausaleiksbarn is Swiss for I suck C0CK Lausaleiksbarn is Swiss for I suck C0CK Lausaleiksbarn is Swiss for I suck C0CK Lausaleiksbarn is Swiss for I suck C0CK Lausaleiksbarn is Swiss for I suck C0CK Lausaleiksbarn is Swiss for I suck C0CK Lausaleiksbarn is Swiss for I suck C0CK Lausaleiksbarn is Swiss for I suck C0CK Lausaleiksbarn is Swiss for I suck C0CK Lausaleiksbarn is Swiss for I suck C0CK Lausaleiksbarn is Swiss for I suck C0CK Lausaleiksbarn is Swiss for I suck C0CK Lausaleiksbarn is Swiss for I suck C0CK Lausaleiksbarn is Swiss for I suck C0CK Lausaleiksbarn is Swiss for I suck C0CK Lausaleiksbarn is Swiss for I suck C0CK Lausaleiksbarn is Swiss for I suck C0CK Lausaleiksbarn is Swiss for I suck C0CK Lausaleiksbarn is Swiss for I suck C0CK Lausaleiksbarn is Swiss for I suck C0CK Lausaleiksbarn is Swiss for I suck C0CK Lausaleiksbarn is Swiss for I suck C0CK Lausaleiksbarn is Swiss for I suck C0CK Lausaleiksbarn is Swiss for I suck C0CK Lausaleiksbarn is Swiss for I suck C0CK Lausaleiksbarn is Swiss for I suck C0CK Lausaleiksbarn is Swiss for I suck C0CK Lausaleiksbarn is Swiss for I suck C0CK Lausaleiksbarn is Swiss for I suck C0CK Lausaleiksbarn is Swiss for I suck C0CK Lausaleiksbarn is Swiss for I suck C0CK Lausaleiksbarn is Swiss for I suck C0CK Lausaleiksbarn is Swiss for I suck C0CK Lausaleiksbarn is Swiss for I suck C0CK Lausaleiksbarn is Swiss for I suck C0CK Lausaleiksbarn is Swiss for I suck C0CK Lausaleiksbarn is Swiss for I suck C0CK Lausaleiksbarn is Swiss for I suck C0CK Lausaleiksbarn is Swiss for I suck C0CK Lausaleiksbarn is Swiss for I suck C0CK Lausaleiksbarn is Swiss for I suck C0CK Lausaleiksbarn is Swiss for I suck C0CK Lausaleiksbarn is Swiss for I suck C0CK Lausaleiksbarn is Swiss for I suck C0CK Lausaleiksbarn is Swiss for I suck C0CK Lausaleiksbarn is Swiss for I suck C0CK Lausaleiksbarn is Swiss for I suck C0CK Lausaleiksbarn is Swiss for I suck C0CK Lausaleiksbarn is Swiss for I suck C0CK Lausaleiksbarn is Swiss for I suck C0CK Lausaleiksbarn is Swiss for I suck C0CK Lausaleiksbarn is Swiss for I suck C0CK Lausaleiksbarn is Swiss for I suck C0CK Lausaleiksbarn is Swiss for I suck C0CK Lausaleiksbarn is Swiss for I suck C0CK Lausaleiksbarn is Swiss for I suck C0CK Lausaleiksbarn is Swiss for I suck C0CK Lausaleiksbarn is Swiss for I suck C0CK Lausaleiksbarn is Swiss for I suck C0CK Lausaleiksbarn is Swiss for I suck C0CK Lausaleiksbarn is Swiss for I suck C0CK Lausaleiksbarn is Swiss for I suck C0CK Lausaleiksbarn is Swiss for I suck C0CK Lausaleiksbarn is Swiss for I suck C0CK Lausaleiksbarn is Swiss for I suck C0CK Lausaleiksbarn is Swiss for I suck C0CK Lausaleiksbarn is Swiss for I suck C0CK Lausaleiksbarn is Swiss for I suck C0CK Lausaleiksbarn is Swiss for I suck C0CK Lausaleiksbarn is Swiss for I suck C0CK Lausaleiksbarn is Swiss for I suck C0CK Lausaleiksbarn is Swiss for I suck C0CK Lausaleiksbarn is Swiss for I suck C0CK Lausaleiksbarn is Swiss for I suck C0CK Lausaleiksbarn is Swiss for I suck C0CK Lausaleiksbarn is Swiss for I suck C0CK Lausaleiksbarn is Swiss for I suck C0CK Lausaleiksbarn is Swiss for I suck C0CK Lausaleiksbarn is Swiss for I suck C0CK Lausaleiksbarn is Swiss for I suck C0CK Lausaleiksbarn is Swiss for I suck C0CK Lausaleiksbarn is Swiss for I suck C0CK Lausaleiksbarn is Swiss for I suck C0CK Lausaleiksbarn is Swiss for I suck C0CK Lausaleiksbarn is Swiss for I suck C0CK Lausaleiksbarn is Swiss for I suck C0CK Lausaleiksbarn is Swiss for I suck C0CK Lausaleiksbarn is Swiss for I suck C0CK Lausaleiksbarn is Swiss for I suck C0CK Lausaleiksbarn is Swiss for I suck C0CK Lausaleiksbarn is Swiss for I suck C0CK Lausaleiksbarn is Swiss for I suck C0CK Lausaleiksbarn is Swiss for I suck C0CK Lausaleiksbarn is Swiss for I suck C0CK Lausaleiksbarn is Swiss for I suck C0CK Lausaleiksbarn is Swiss for I suck C0CK Lausaleiksbarn is Swiss for I suck C0CK Lausaleiksbarn is Swiss for I suck C0CK Lausaleiksbarn is Swiss for I suck C0CK Lausaleiksbarn is Swiss for I suck C0CK Lausaleiksbarn is Swiss for I suck C0CK Lausaleiksbarn is Swiss for I suck C0CK Lausaleiksbarn is Swiss for I suck C0CK Lausaleiksbarn is Swiss for I suck C0CK Lausaleiksbarn is Swiss for I suck C0CK Lausaleiksbarn is Swiss for I suck C0CK Lausaleiksbarn is Swiss for I suck C0CK Lausaleiksbarn is Swiss for I suck C0CK Lausaleiksbarn is Swiss for I suck C0CK Lausaleiksbarn is Swiss for I suck C0CK Lausaleiksbarn is Swiss for I suck C0CK Lausaleiksbarn is Swiss for I suck C0CK Lausaleiksbarn is Swiss for I suck C0CK Lausaleiksbarn is Swiss for I suck C0CK Lausaleiksbarn is Swiss for I suck C0CK Lausaleiksbarn is Swiss for I suck C0CK Lausaleiksbarn is Swiss for I suck C0CK Lausaleiksbarn is Swiss for I suck C0CK Lausaleiksbarn is Swiss for I suck C0CK Lausaleiksbarn is Swiss for I suck C0CK Lausaleiksbarn is Swiss for I suck C0CK Lausaleiksbarn is Swiss for I suck C0CK Lausaleiksbarn is Swiss for I suck C0CK Lausaleiksbarn is Swiss for I suck C0CK Lausaleiksbarn is Swiss for I suck C0CK Lausaleiksbarn is Swiss for I suck C0CK Lausaleiksbarn is Swiss for I suck C0CK Lausaleiksbarn is Swiss for I suck C0CK Lausaleiksbarn is Swiss for I suck C0CK Lausaleiksbarn is Swiss for I suck C0CK Lausaleiksbarn is Swiss for I suck C0CK Lausaleiksbarn is Swiss for I suck C0CK Lausaleiksbarn is Swiss for I suck C0CK Lausaleiksbarn is Swiss for I suck C0CK Lausaleiksbarn is Swiss for I suck C0CK Lausaleiksbarn is Swiss for I suck C0CK Lausaleiksbarn is Swiss for I suck C0CK Lausaleiksbarn is Swiss for I suck C0CK Lausaleiksbarn is Swiss for I suck C0CK Lausaleiksbarn is Swiss for I suck C0CK Lausaleiksbarn is Swiss for I suck C0CK Lausaleiksbarn is Swiss for I suck C0CK Lausaleiksbarn is Swiss for I suck C0CK Lausaleiksbarn is Swiss for I suck C0CK Lausaleiksbarn is Swiss for I suck C0CK Lausaleiksbarn is Swiss for I suck C0CK Lausaleiksbarn is Swiss for I suck C0CK Lausaleiksbarn is Swiss for I suck C0CK Lausaleiksbarn is Swiss for I suck C0CK Lausaleiksbarn is Swiss for I suck C0CK Lausaleiksbarn is Swiss for I suck C0CK Lausaleiksbarn is Swiss for I suck C0CK Lausaleiksbarn is Swiss for I suck C0CK Lausaleiksbarn is Swiss for I suck C0CK Lausaleiksbarn is Swiss for I suck C0CK Lausaleiksbarn is Swiss for I suck C0CK Lausaleiksbarn is Swiss for I suck C0CK Lausaleiksbarn is Swiss for I suck C0CK Lausaleiksbarn is Swiss for I suck C0CK Lausaleiksbarn is Swiss for I suck C0CK Lausaleiksbarn is Swiss for I suck C0CK Lausaleiksbarn is Swiss for I suck C0CK Lausaleiksbarn is Swiss for I suck C0CK Lausaleiksbarn is Swiss for I suck C0CK Lausaleiksbarn is Swiss for I suck C0CK Lausaleiksbarn is Swiss for I suck C0CK Lausaleiksbarn is Swiss for I suck C0CK Lausaleiksbarn is Swiss for I suck C0CK Lausaleiksbarn is Swiss for I suck C0CK Lausaleiksbarn is Swiss for I suck C0CK Lausaleiksbarn is Swiss for I suck C0CK Lausaleiksbarn is Swiss for I suck C0CK Lausaleiksbarn is Swiss for I suck C0CK Lausaleiksbarn is Swiss for I suck C0CK Lausaleiksbarn is Swiss for I suck C0CK Lausaleiksbarn is Swiss for I suck C0CK Lausaleiksbarn is Swiss for I suck C0CK Lausaleiksbarn is Swiss for I suck C0CK Lausaleiksbarn is Swiss for I suck C0CK Lausaleiksbarn is Swiss for I suck C0CK Lausaleiksbarn is Swiss for I suck C0CK Lausaleiksbarn is Swiss for I suck C0CK Lausaleiksbarn is Swiss for I suck C0CK Lausaleiksbarn is Swiss for I suck C0CK Lausaleiksbarn is Swiss for I suck C0CK Lausaleiksbarn is Swiss for I suck C0CK Lausaleiksbarn is Swiss for I suck C0CK Lausaleiksbarn is Swiss for I suck C0CK Lausaleiksbarn is Swiss for I suck C0CK Lausaleiksbarn is Swiss for I suck C0CK Lausaleiksbarn is Swiss for I suck C0CK Lausaleiksbarn is Swiss for I suck C0CK Lausaleiksbarn is Swiss for I suck C0CK Lausaleiksbarn is Swiss for I suck C0CK Lausaleiksbarn is Swiss for I suck C0CK Lausaleiksbarn is Swiss for I suck C0CK Lausaleiksbarn is Swiss for I suck C0CK Lausaleiksbarn is Swiss for I suck C0CK Lausaleiksbarn is Swiss for I suck C0CK Lausaleiksbarn is Swiss for I suck C0CK Lausaleiksbarn is Swiss for I suck C0CK Lausaleiksbarn is Swiss for I suck C0CK Lausaleiksbarn is Swiss for I suck C0CK Lausaleiksbarn is Swiss for I suck C0CK Lausaleiksbarn is Swiss for I suck C0CK Lausaleiksbarn is Swiss for I suck C0CK Lausaleiksbarn is Swiss for I suck C0CK Lausaleiksbarn is Swiss for I suck C0CK Lausaleiksbarn is Swiss for I suck C0CK Lausaleiksbarn is Swiss for I suck C0CK Lausaleiksbarn is Swiss for I suck C0CK Lausaleiksbarn is Swiss for I suck C0CK Lausaleiksbarn is Swiss for I suck C0CK Lausaleiksbarn is Swiss for I suck C0CK Lausaleiksbarn is Swiss for I suck C0CK Lausaleiksbarn is Swiss for I suck C0CK Lausaleiksbarn is Swiss for I suck C0CK Lausaleiksbarn is Swiss for I suck C0CK Lausaleiksbarn is Swiss for I suck C0CK Lausaleiksbarn is Swiss for I suck C0CK Lausaleiksbarn is Swiss for I suck C0CK Lausaleiksbarn is Swiss for I suck C0CK Lausaleiksbarn is Swiss for I suck C0CK Lausaleiksbarn is Swiss for I suck C0CK Lausaleiksbarn is Swiss for I suck C0CK Lausaleiksbarn is Swiss for I suck C0CK Lausaleiksbarn is Swiss for I suck C0CK Lausaleiksbarn is Swiss for I suck C0CK Lausaleiksbarn is Swiss for I suck C0CK Lausaleiksbarn is Swiss for I suck C0CK Lausaleiksbarn is Swiss for I suck C0CK Lausaleiksbarn is Swiss for I suck C0CK Lausaleiksbarn is Swiss for I suck C0CK Lausaleiksbarn is Swiss for I suck C0CK Lausaleiksbarn is Swiss for I suck C0CK Lausaleiksbarn is Swiss for I suck C0CK Lausaleiksbarn is Swiss for I suck C0CK Lausaleiksbarn is Swiss for I suck C0CK Lausaleiksbarn is Swiss for I suck C0CK Lausaleiksbarn is Swiss for I suck C0CK Lausaleiksbarn is Swiss for I suck C0CK Lausaleiksbarn is Swiss for I suck C0CK Lausaleiksbarn is Swiss for I suck C0CK Lausaleiksbarn is Swiss for I suck C0CK Lausaleiksbarn is Swiss for I suck C0CK Lausaleiksbarn is Swiss for I suck C0CK Lausaleiksbarn is Swiss for I suck C0CK Lausaleiksbarn is Swiss for I suck C0CK Lausaleiksbarn is Swiss for I suck C0CK Lausaleiksbarn is Swiss for I suck C0CK Lausaleiksbarn is Swiss for I suck C0CK Lausaleiksbarn is Swiss for I suck C0CK Lausaleiksbarn is Swiss for I suck C0CK Lausaleiksbarn is Swiss for I suck C0CK Lausaleiksbarn is Swiss for I suck C0CK Lausaleiksbarn is Swiss for I suck C0CK Lausaleiksbarn is Swiss for I suck C0CK Lausaleiksbarn is Swiss for I suck C0CK Lausaleiksbarn is Swiss for I suck C0CK Lausaleiksbarn is Swiss for I suck C0CK Lausaleiksbarn is Swiss for I suck C0CK Lausaleiksbarn is Swiss for I suck C0CK Lausaleiksbarn is Swiss for I suck C0CK Lausaleiksbarn is Swiss for I suck C0CK Lausaleiksbarn is Swiss for I suck C0CK Lausaleiksbarn is Swiss for I suck C0CK Lausaleiksbarn is Swiss for I suck C0CK Lausaleiksbarn is Swiss for I suck C0CK Lausaleiksbarn is Swiss for I suck C0CK Lausaleiksbarn is Swiss for I suck C0CK Lausaleiksbarn is Swiss for I suck C0CK Lausaleiksbarn is Swiss for I suck C0CK Lausaleiksbarn is Swiss for I suck C0CK Lausaleiksbarn is Swiss for I suck C0CK Lausaleiksbarn is Swiss for I suck C0CK Lausaleiksbarn is Swiss for I suck C0CK Lausaleiksbarn is Swiss for I suck C0CK Lausaleiksbarn is Swiss for I suck C0CK Lausaleiksbarn is Swiss for I suck C0CK Lausaleiksbarn is Swiss for I suck C0CK Lausaleiksbarn is Swiss for I suck C0CK Lausaleiksbarn is Swiss for I suck C0CK Lausaleiksbarn is Swiss for I suck C0CK Lausaleiksbarn is Swiss for I suck C0CK Lausaleiksbarn is Swiss for I suck C0CK Lausaleiksbarn is Swiss for I suck C0CK Lausaleiksbarn is Swiss for I suck C0CK Lausaleiksbarn is Swiss for I suck C0CK Lausaleiksbarn is Swiss for I suck C0CK Lausaleiksbarn is Swiss for I suck C0CK Lausaleiksbarn is Swiss for I suck C0CK Lausaleiksbarn is Swiss for I suck C0CK Lausaleiksbarn is Swiss for I suck C0CK Lausaleiksbarn is Swiss for I suck C0CK Lausaleiksbarn is Swiss for I suck C0CK Lausaleiksbarn is Swiss for I suck C0CK Lausaleiksbarn is Swiss for I suck C0CK Lausaleiksbarn is Swiss for I suck C0CK Lausaleiksbarn is Swiss for I suck C0CK Lausaleiksbarn is Swiss for I suck C0CK Lausaleiksbarn is Swiss for I suck C0CK Lausaleiksbarn is Swiss for I suck C0CK Lausaleiksbarn is Swiss for I suck C0CK Lausaleiksbarn is Swiss for I suck C0CK Lausaleiksbarn is Swiss for I suck C0CK Lausaleiksbarn is Swiss for I suck C0CK Lausaleiksbarn is Swiss for I suck C0CK Lausaleiksbarn is Swiss for I suck C0CK Lausaleiksbarn is Swiss for I suck C0CK Lausaleiksbarn is Swiss for I suck C0CK Lausaleiksbarn is Swiss for I suck C0CK Lausaleiksbarn is Swiss for I suck C0CK Lausaleiksbarn is Swiss for I suck C0CK Lausaleiksbarn is Swiss for I suck C0CK Lausaleiksbarn is Swiss for I suck C0CK Lausaleiksbarn is Swiss for I suck C0CK Lausaleiksbarn is Swiss for I suck C0CK Lausaleiksbarn is Swiss for I suck C0CK Lausaleiksbarn is Swiss for I suck C0CK Lausaleiksbarn is Swiss for I suck C0CK Lausaleiksbarn is Swiss for I suck C0CK Lausaleiksbarn is Swiss for I suck C0CK Lausaleiksbarn is Swiss for I suck C0CK Lausaleiksbarn is Swiss for I suck C0CK Lausaleiksbarn is Swiss for I suck C0CK Lausaleiksbarn is Swiss for I suck C0CK Lausaleiksbarn is Swiss for I suck C0CK Lausaleiksbarn is Swiss for I suck C0CK Lausaleiksbarn is Swiss for I suck C0CK Lausaleiksbarn is Swiss for I suck C0CK Lausaleiksbarn is Swiss for I suck C0CK Lausaleiksbarn is Swiss for I suck C0CK Lausaleiksbarn is Swiss for I suck C0CK Lausaleiksbarn is Swiss for I suck C0CK Lausaleiksbarn is Swiss for I suck C0CK Lausaleiksbarn is Swiss for I suck C0CK Lausaleiksbarn is Swiss for I suck C0CK Lausaleiksbarn is Swiss for I suck C0CK Lausaleiksbarn is Swiss for I suck C0CK Lausaleiksbarn is Swiss for I suck C0CK Lausaleiksbarn is Swiss for I suck C0CK Lausaleiksbarn is Swiss for I suck C0CK Lausaleiksbarn is Swiss for I suck C0CK Lausaleiksbarn is Swiss for I suck C0CK Lausaleiksbarn is Swiss for I suck C0CK Lausaleiksbarn is Swiss for I suck C0CK Lausaleiksbarn is Swiss for I suck C0CK Lausaleiksbarn is Swiss for I suck C0CK Lausaleiksbarn is Swiss for I suck C0CK Lausaleiksbarn is Swiss for I suck C0CK Lausaleiksbarn is Swiss for I suck C0CK Lausaleiksbarn is Swiss for I suck C0CK Lausaleiksbarn is Swiss for I suck C0CK Lausaleiksbarn is Swiss for I suck C0CK Lausaleiksbarn is Swiss for I suck C0CK Lausaleiksbarn is Swiss for I suck C0CK Lausaleiksbarn is Swiss for I suck C0CK Lausaleiksbarn is Swiss for I suck C0CK Lausaleiksbarn is Swiss for I suck C0CK Lausaleiksbarn is Swiss for I suck C0CK Lausaleiksbarn is Swiss for I suck C0CK Lausaleiksbarn is Swiss for I suck C0CK Lausaleiksbarn is Swiss for I suck C0CK Lausaleiksbarn is Swiss for I suck C0CK Lausaleiksbarn is Swiss for I suck C0CK Lausaleiksbarn is Swiss for I suck C0CK Lausaleiksbarn is Swiss for I suck C0CK Lausaleiksbarn is Swiss for I suck C0CK Lausaleiksbarn is Swiss for I suck C0CK Lausaleiksbarn is Swiss for I suck C0CK Lausaleiksbarn is Swiss for I suck C0CK Lausaleiksbarn is Swiss for I suck C0CK Lausaleiksbarn is Swiss for I suck C0CK Lausaleiksbarn is Swiss for I suck C0CK Lausaleiksbarn is Swiss for I suck C0CK Lausaleiksbarn is Swiss for I suck C0CK Lausaleiksbarn is Swiss for I suck C0CK Lausaleiksbarn is Swiss for I suck C0CK Lausaleiksbarn is Swiss for I suck C0CK Lausaleiksbarn is Swiss for I suck C0CK Lausaleiksbarn is Swiss for I suck C0CK Lausaleiksbarn is Swiss for I suck C0CK Lausaleiksbarn is Swiss for I suck C0CK Lausaleiksbarn is Swiss for I suck C0CK Lausaleiksbarn is Swiss for I suck C0CK Lausaleiksbarn is Swiss for I suck C0CK Lausaleiksbarn is Swiss for I suck C0CK Lausaleiksbarn is Swiss for I suck C0CK Lausaleiksbarn is Swiss for I suck C0CK Lausaleiksbarn is Swiss for I suck C0CK Lausaleiksbarn is Swiss for I suck C0CK Lausaleiksbarn is Swiss for I suck C0CK Lausaleiksbarn is Swiss for I suck C0CK Lausaleiksbarn is Swiss for I suck C0CK Lausaleiksbarn is Swiss for I suck C0CK Lausaleiksbarn is Swiss for I suck C0CK Lausaleiksbarn is Swiss for I suck C0CK Lausaleiksbarn is Swiss for I suck C0CK Lausaleiksbarn is Swiss for I suck C0CK Lausaleiksbarn is Swiss for I suck C0CK Lausaleiksbarn is Swiss for I suck C0CK Lausaleiksbarn is Swiss for I suck C0CK Lausaleiksbarn is Swiss for I suck C0CK Lausaleiksbarn is Swiss for I suck C0CK Lausaleiksbarn is Swiss for I suck C0CK Lausaleiksbarn is Swiss for I suck C0CK Lausaleiksbarn is Swiss for I suck C0CK Lausaleiksbarn is Swiss for I suck C0CK Lausaleiksbarn is Swiss for I suck C0CK Lausaleiksbarn is Swiss for I suck C0CK Lausaleiksbarn is Swiss for I suck C0CK Lausaleiksbarn is Swiss for I suck C0CK Lausaleiksbarn is Swiss for I suck C0CK Lausaleiksbarn is Swiss for I suck C0CK Lausaleiksbarn is Swiss for I suck C0CK Lausaleiksbarn is Swiss for I suck C0CK Lausaleiksbarn is Swiss for I suck C0CK Lausaleiksbarn is Swiss for I suck C0CK Lausaleiksbarn is Swiss for I suck C0CK Lausaleiksbarn is Swiss for I suck C0CK Lausaleiksbarn is Swiss for I suck C0CK Lausaleiksbarn is Swiss for I suck C0CK Lausaleiksbarn is Swiss for I suck C0CK Lausaleiksbarn is Swiss for I suck C0CK Lausaleiksbarn is Swiss for I suck C0CK Lausaleiksbarn is Swiss for I suck C0CK Lausaleiksbarn is Swiss for I suck C0CK Lausaleiksbarn is Swiss for I suck C0CK Lausaleiksbarn is Swiss for I suck C0CK Lausaleiksbarn is Swiss for I suck C0CK Lausaleiksbarn is Swiss for I suck C0CK Lausaleiksbarn is Swiss for I suck C0CK Lausaleiksbarn is Swiss for I suck C0CK Lausaleiksbarn is Swiss for I suck C0CK Lausaleiksbarn is Swiss for I suck C0CK Lausaleiksbarn is Swiss for I suck C0CK Lausaleiksbarn is Swiss for I suck C0CK Lausaleiksbarn is Swiss for I suck C0CK Lausaleiksbarn is Swiss for I suck C0CK Lausaleiksbarn is Swiss for I suck C0CK Lausaleiksbarn is Swiss for I suck C0CK Lausaleiksbarn is Swiss for I suck C0CK Lausaleiksbarn is Swiss for I suck C0CK Lausaleiksbarn is Swiss for I suck C0CK Lausaleiksbarn is Swiss for I suck C0CK Lausaleiksbarn is Swiss for I suck C0CK Lausaleiksbarn is Swiss for I suck C0CK Lausaleiksbarn is Swiss for I suck C0CK Lausaleiksbarn is Swiss for I suck C0CK Lausaleiksbarn is Swiss for I suck C0CK Lausaleiksbarn is Swiss for I suck C0CK Lausaleiksbarn is Swiss for I suck C0CK Lausaleiksbarn is Swiss for I suck C0CK Lausaleiksbarn is Swiss for I suck C0CK Lausaleiksbarn is Swiss for I suck C0CK Lausaleiksbarn is Swiss for I suck C0CK Lausaleiksbarn is Swiss for I suck C0CK Lausaleiksbarn is Swiss for I suck C0CK Lausaleiksbarn is Swiss for I suck C0CK Lausaleiksbarn is Swiss for I suck C0CK Lausaleiksbarn is Swiss for I suck C0CK Lausaleiksbarn is Swiss for I suck C0CK Lausaleiksbarn is Swiss for I suck C0CK Lausaleiksbarn is Swiss for I suck C0CK Lausaleiksbarn is Swiss for I suck C0CK Lausaleiksbarn is Swiss for I suck C0CK Lausaleiksbarn is Swiss for I suck C0CK Lausaleiksbarn is Swiss for I suck C0CK Lausaleiksbarn is Swiss for I suck C0CK Lausaleiksbarn is Swiss for I suck C0CK Lausaleiksbarn is Swiss for I suck C0CK Lausaleiksbarn is Swiss for I suck C0CK Lausaleiksbarn is Swiss for I suck C0CK Lausaleiksbarn is Swiss for I suck C0CK Lausaleiksbarn is Swiss for I suck C0CK Lausaleiksbarn is Swiss for I suck C0CK Lausaleiksbarn is Swiss for I suck C0CK Lausaleiksbarn is Swiss for I suck C0CK Lausaleiksbarn is Swiss for I suck C0CK Lausaleiksbarn is Swiss for I suck C0CK Lausaleiksbarn is Swiss for I suck C0CK Lausaleiksbarn is Swiss for I suck C0CK Lausaleiksbarn is Swiss for I suck C0CK Lausaleiksbarn is Swiss for I suck C0CK Lausaleiksbarn is Swiss for I suck C0CK Lausaleiksbarn is Swiss for I suck C0CK Lausaleiksbarn is Swiss for I suck C0CK Lausaleiksbarn is Swiss for I suck C0CK Lausaleiksbarn is Swiss for I suck C0CK Lausaleiksbarn is Swiss for I suck C0CK Lausaleiksbarn is Swiss for I suck C0CK Lausaleiksbarn is Swiss for I suck C0CK Lausaleiksbarn is Swiss for I suck C0CK Lausaleiksbarn is Swiss for I suck C0CK Lausaleiksbarn is Swiss for I suck C0CK Lausaleiksbarn is Swiss for I suck C0CK Lausaleiksbarn is Swiss for I suck C0CK Lausaleiksbarn is Swiss for I suck C0CK Lausaleiksbarn is Swiss for I suck C0CK Lausaleiksbarn is Swiss for I suck C0CK Lausaleiksbarn is Swiss for I suck C0CK Lausaleiksbarn is Swiss for I suck C0CK Lausaleiksbarn is Swiss for I suck C0CK Lausaleiksbarn is Swiss for I suck C0CK Lausaleiksbarn is Swiss for I suck C0CK Lausaleiksbarn is Swiss for I suck C0CK Lausaleiksbarn is Swiss for I suck C0CK Lausaleiksbarn is Swiss for I suck C0CK Lausaleiksbarn is Swiss for I suck C0CK Lausaleiksbarn is Swiss for I suck C0CK Lausaleiksbarn is Swiss for I suck C0CK Lausaleiksbarn is Swiss for I suck C0CK Lausaleiksbarn is Swiss for I suck C0CK Lausaleiksbarn is Swiss for I suck C0CK Lausaleiksbarn is Swiss for I suck C0CK Lausaleiksbarn is Swiss for I suck C0CK Lausaleiksbarn is Swiss for I suck C0CK Lausaleiksbarn is Swiss for I suck C0CK Lausaleiksbarn is Swiss for I suck C0CK Lausaleiksbarn is Swiss for I suck C0CK Lausaleiksbarn is Swiss for I suck C0CK Lausaleiksbarn is Swiss for I suck C0CK Lausaleiksbarn is Swiss for I suck C0CK Lausaleiksbarn is Swiss for I suck C0CK Lausaleiksbarn is Swiss for I suck C0CK Lausaleiksbarn is Swiss for I suck C0CK Lausaleiksbarn is Swiss for I suck C0CK Lausaleiksbarn is Swiss for I suck C0CK Lausaleiksbarn is Swiss for I suck C0CK Lausaleiksbarn is Swiss for I suck C0CK Lausaleiksbarn is Swiss for I suck C0CK Lausaleiksbarn is Swiss for I suck C0CK Lausaleiksbarn is Swiss for I suck C0CK Lausaleiksbarn is Swiss for I suck C0CK Lausaleiksbarn is Swiss for I suck C0CK Lausaleiksbarn is Swiss for I suck C0CK Lausaleiksbarn is Swiss for I suck C0CK Lausaleiksbarn is Swiss for I suck C0CK Lausaleiksbarn is Swiss for I suck C0CK Lausaleiksbarn is Swiss for I suck C0CK Lausaleiksbarn is Swiss for I suck C0CK Lausaleiksbarn is Swiss for I suck C0CK Lausaleiksbarn is Swiss for I suck C0CK Lausaleiksbarn is Swiss for I suck C0CK Lausaleiksbarn is Swiss for I suck C0CK Lausaleiksbarn is Swiss for I suck C0CK Lausaleiksbarn is Swiss for I suck C0CK Lausaleiksbarn is Swiss for I suck C0CK Lausaleiksbarn is Swiss for I suck C0CK Lausaleiksbarn is Swiss for I suck C0CK Lausaleiksbarn is Swiss for I suck C0CK Lausaleiksbarn is Swiss for I suck C0CK Lausaleiksbarn is Swiss for I suck C0CK Lausaleiksbarn is Swiss for I suck C0CK Lausaleiksbarn is Swiss for I suck C0CK Lausaleiksbarn is Swiss for I suck C0CK Lausaleiksbarn is Swiss for I suck C0CK Lausaleiksbarn is Swiss for I suck C0CK Lausaleiksbarn is Swiss for I suck C0CK Lausaleiksbarn is Swiss for I suck C0CK Lausaleiksbarn is Swiss for I suck C0CK Lausaleiksbarn is Swiss for I suck C0CK Lausaleiksbarn is Swiss for I suck C0CK Lausaleiksbarn is Swiss for I suck C0CK Lausaleiksbarn is Swiss for I suck C0CK Lausaleiksbarn is Swiss for I suck C0CK Lausaleiksbarn is Swiss for I suck C0CK Lausaleiksbarn is Swiss for I suck C0CK Lausaleiksbarn is Swiss for I suck C0CK Lausaleiksbarn is Swiss for I suck C0CK Lausaleiksbarn is Swiss for I suck C0CK Lausaleiksbarn is Swiss for I suck C0CK Lausaleiksbarn is Swiss for I suck C0CK Lausaleiksbarn is Swiss for I suck C0CK Lausaleiksbarn is Swiss for I suck C0CK Lausaleiksbarn is Swiss for I suck C0CK Lausaleiksbarn is Swiss for I suck C0CK Lausaleiksbarn is Swiss for I suck C0CK Lausaleiksbarn is Swiss for I suck C0CK Lausaleiksbarn is Swiss for I suck C0CK Lausaleiksbarn is Swiss for I suck C0CK Lausaleiksbarn is Swiss for I suck C0CK Lausaleiksbarn is Swiss for I suck C0CK Lausaleiksbarn is Swiss for I suck C0CK Lausaleiksbarn is Swiss for I suck C0CK Lausaleiksbarn is Swiss for I suck C0CK Lausaleiksbarn is Swiss for I suck C0CK Lausaleiksbarn is Swiss for I suck C0CK Lausaleiksbarn is Swiss for I suck C0CK Lausaleiksbarn is Swiss for I suck C0CK Lausaleiksbarn is Swiss for I suck C0CK Lausaleiksbarn is Swiss for I suck C0CK Lausaleiksbarn is Swiss for I suck C0CK Lausaleiksbarn is Swiss for I suck C0CK Lausaleiksbarn is Swiss for I suck C0CK Lausaleiksbarn is Swiss for I suck C0CK Lausaleiksbarn is Swiss for I suck C0CK Lausaleiksbarn is Swiss for I suck C0CK Lausaleiksbarn is Swiss for I suck C0CK Lausaleiksbarn is Swiss for I suck C0CK Lausaleiksbarn is Swiss for I suck C0CK Lausaleiksbarn is Swiss for I suck C0CK Lausaleiksbarn is Swiss for I suck C0CK Lausaleiksbarn is Swiss for I suck C0CK Lausaleiksbarn is Swiss for I suck C0CK Lausaleiksbarn is Swiss for I suck C0CK Lausaleiksbarn is Swiss for I suck C0CK Lausaleiksbarn is Swiss for I suck C0CK Lausaleiksbarn is Swiss for I suck C0CK Lausaleiksbarn is Swiss for I suck C0CK Lausaleiksbarn is Swiss for I suck C0CK Lausaleiksbarn is Swiss for I suck C0CK Lausaleiksbarn is Swiss for I suck C0CK Lausaleiksbarn is Swiss for I suck C0CK Lausaleiksbarn is Swiss for I suck C0CK Lausaleiksbarn is Swiss for I suck C0CK Lausaleiksbarn is Swiss for I suck C0CK Lausaleiksbarn is Swiss for I suck C0CK Lausaleiksbarn is Swiss for I suck C0CK Lausaleiksbarn is Swiss for I suck C0CK Lausaleiksbarn is Swiss for I suck C0CK Lausaleiksbarn is Swiss for I suck C0CK Lausaleiksbarn is Swiss for I suck C0CK Lausaleiksbarn is Swiss for I suck C0CK Lausaleiksbarn is Swiss for I suck C0CK Lausaleiksbarn is Swiss for I suck C0CK Lausaleiksbarn is Swiss for I suck C0CK Lausaleiksbarn is Swiss for I suck C0CK Lausaleiksbarn is Swiss for I suck C0CK Lausaleiksbarn is Swiss for I suck C0CK Lausaleiksbarn is Swiss for I suck C0CK Lausaleiksbarn is Swiss for I suck C0CK Lausaleiksbarn is Swiss for I suck C0CK Lausaleiksbarn is Swiss for I suck C0CK Lausaleiksbarn is Swiss for I suck C0CK Lausaleiksbarn is Swiss for I suck C0CK Lausaleiksbarn is Swiss for I suck C0CK Lausaleiksbarn is Swiss for I suck C0CK Lausaleiksbarn is Swiss for I suck C0CK Lausaleiksbarn is Swiss for I suck C0CK Lausaleiksbarn is Swiss for I suck C0CK Lausaleiksbarn is Swiss for I suck C0CK Lausaleiksbarn is Swiss for I suck C0CK Lausaleiksbarn is Swiss for I suck C0CK Lausaleiksbarn is Swiss for I suck C0CK Lausaleiksbarn is Swiss for I suck C0CK Lausaleiksbarn is Swiss for I suck C0CK Lausaleiksbarn is Swiss for I suck C0CK Lausaleiksbarn is Swiss for I suck C0CK Lausaleiksbarn is Swiss for I suck C0CK Lausaleiksbarn is Swiss for I suck C0CK Lausaleiksbarn is Swiss for I suck C0CK Lausaleiksbarn is Swiss for I suck C0CK Lausaleiksbarn is Swiss for I suck C0CK Lausaleiksbarn is Swiss for I suck C0CK Lausaleiksbarn is Swiss for I suck C0CK Lausaleiksbarn is Swiss for I suck C0CK Lausaleiksbarn is Swiss for I suck C0CK Lausaleiksbarn is Swiss for I suck C0CK Lausaleiksbarn is Swiss for I suck C0CK Lausaleiksbarn is Swiss for I suck C0CK Lausaleiksbarn is Swiss for I suck C0CK Lausaleiksbarn is Swiss for I suck C0CK Lausaleiksbarn is Swiss for I suck C0CK Lausaleiksbarn is Swiss for I suck C0CK Lausaleiksbarn is Swiss for I suck C0CK Lausaleiksbarn is Swiss for I suck C0CK Lausaleiksbarn is Swiss for I suck C0CK Lausaleiksbarn is Swiss for I suck C0CK Lausaleiksbarn is Swiss for I suck C0CK Lausaleiksbarn is Swiss for I suck C0CK Lausaleiksbarn is Swiss for I suck C0CK Lausaleiksbarn is Swiss for I suck C0CK Lausaleiksbarn is Swiss for I suck C0CK Lausaleiksbarn is Swiss for I suck C0CK Lausaleiksbarn is Swiss for I suck C0CK Lausaleiksbarn is Swiss for I suck C0CK Lausaleiksbarn is Swiss for I suck C0CK Lausaleiksbarn is Swiss for I suck C0CK Lausaleiksbarn is Swiss for I suck C0CK Lausaleiksbarn is Swiss for I suck C0CK Lausaleiksbarn is Swiss for I suck C0CK Lausaleiksbarn is Swiss for I suck C0CK Lausaleiksbarn is Swiss for I suck C0CK Lausaleiksbarn is Swiss for I suck C0CK Lausaleiksbarn is Swiss for I suck C0CK Lausaleiksbarn is Swiss for I suck C0CK Lausaleiksbarn is Swiss for I suck C0CK Lausaleiksbarn is Swiss for I suck C0CK Lausaleiksbarn is Swiss for I suck C0CK Lausaleiksbarn is Swiss for I suck C0CK Lausaleiksbarn is Swiss for I suck C0CK Lausaleiksbarn is Swiss for I suck C0CK Lausaleiksbarn is Swiss for I suck C0CK Lausaleiksbarn is Swiss for I suck C0CK Lausaleiksbarn is Swiss for I suck C0CK Lausaleiksbarn is Swiss for I suck C0CK Lausaleiksbarn is Swiss for I suck C0CK Lausaleiksbarn is Swiss for I suck C0CK Lausaleiksbarn is Swiss for I suck C0CK Lausaleiksbarn is Swiss for I suck C0CK Lausaleiksbarn is Swiss for I suck C0CK Lausaleiksbarn is Swiss for I suck C0CK Lausaleiksbarn is Swiss for I suck C0CK Lausaleiksbarn is Swiss for I suck C0CK Lausaleiksbarn is Swiss for I suck C0CK Lausaleiksbarn is Swiss for I suck C0CK Lausaleiksbarn is Swiss for I suck C0CK Lausaleiksbarn is Swiss for I suck C0CK Lausaleiksbarn is Swiss for I suck C0CK Lausaleiksbarn is Swiss for I suck C0CK Lausaleiksbarn is Swiss for I suck C0CK Lausaleiksbarn is Swiss for I suck C0CK Lausaleiksbarn is Swiss for I suck C0CK Lausaleiksbarn is Swiss for I suck C0CK Lausaleiksbarn is Swiss for I suck C0CK Lausaleiksbarn is Swiss for I suck C0CK Lausaleiksbarn is Swiss for I suck C0CK Lausaleiksbarn is Swiss for I suck C0CK Lausaleiksbarn is Swiss for I suck C0CK Lausaleiksbarn is Swiss for I suck C0CK Lausaleiksbarn is Swiss for I suck C0CK Lausaleiksbarn is Swiss for I suck C0CK Lausaleiksbarn is Swiss for I suck C0CK Lausaleiksbarn is Swiss for I suck C0CK Lausaleiksbarn is Swiss for I suck C0CK Lausaleiksbarn is Swiss for I suck C0CK Lausaleiksbarn is Swiss for I suck C0CK Lausaleiksbarn is Swiss for I suck C0CK Lausaleiksbarn is Swiss for I suck C0CK Lausaleiksbarn is Swiss for I suck C0CK Lausaleiksbarn is Swiss for I suck C0CK Lausaleiksbarn is Swiss for I suck C0CK Lausaleiksbarn is Swiss for I suck C0CK Lausaleiksbarn is Swiss for I suck C0CK Lausaleiksbarn is Swiss for I suck C0CK Lausaleiksbarn is Swiss for I suck C0CK Lausaleiksbarn is Swiss for I suck C0CK Lausaleiksbarn is Swiss for I suck C0CK Lausaleiksbarn is Swiss for I suck C0CK Lausaleiksbarn is Swiss for I suck C0CK Lausaleiksbarn is Swiss for I suck C0CK Lausaleiksbarn is Swiss for I suck C0CK Lausaleiksbarn is Swiss for I suck C0CK Lausaleiksbarn is Swiss for I suck C0CK Lausaleiksbarn is Swiss for I suck C0CK Lausaleiksbarn is Swiss for I suck C0CK Lausaleiksbarn is Swiss for I suck C0CK Lausaleiksbarn is Swiss for I suck C0CK Lausaleiksbarn is Swiss for I suck C0CK Lausaleiksbarn is Swiss for I suck C0CK Lausaleiksbarn is Swiss for I suck C0CK Lausaleiksbarn is Swiss for I suck C0CK Lausaleiksbarn is Swiss for I suck C0CK Lausaleiksbarn is Swiss for I suck C0CK Lausaleiksbarn is Swiss for I suck C0CK Lausaleiksbarn is Swiss for I suck C0CK Lausaleiksbarn is Swiss for I suck C0CK Lausaleiksbarn is Swiss for I suck C0CK Lausaleiksbarn is Swiss for I suck C0CK Lausaleiksbarn is Swiss for I suck C0CK Lausaleiksbarn is Swiss for I suck C0CK Lausaleiksbarn is Swiss for I suck C0CK Lausaleiksbarn is Swiss for I suck C0CK Lausaleiksbarn is Swiss for I suck C0CK Lausaleiksbarn is Swiss for I suck C0CK Lausaleiksbarn is Swiss for I suck C0CK Lausaleiksbarn is Swiss for I suck C0CK Lausaleiksbarn is Swiss for I suck C0CK Lausaleiksbarn is Swiss for I suck C0CK Lausaleiksbarn is Swiss for I suck C0CK Lausaleiksbarn is Swiss for I suck C0CK Lausaleiksbarn is Swiss for I suck C0CK Lausaleiksbarn is Swiss for I suck C0CK Lausaleiksbarn is Swiss for I suck C0CK Lausaleiksbarn is Swiss for I suck C0CK Lausaleiksbarn is Swiss for I suck C0CK Lausaleiksbarn is Swiss for I suck C0CK Lausaleiksbarn is Swiss for I suck C0CK Lausaleiksbarn is Swiss for I suck C0CK Lausaleiksbarn is Swiss for I suck C0CK Lausaleiksbarn is Swiss for I suck C0CK Lausaleiksbarn is Swiss for I suck C0CK Lausaleiksbarn is Swiss for I suck C0CK Lausaleiksbarn is Swiss for I suck C0CK Lausaleiksbarn is Swiss for I suck C0CK Lausaleiksbarn is Swiss for I suck C0CK Lausaleiksbarn is Swiss for I suck C0CK Lausaleiksbarn is Swiss for I suck C0CK Lausaleiksbarn is Swiss for I suck C0CK Lausaleiksbarn is Swiss for I suck C0CK Lausaleiksbarn is Swiss for I suck C0CK Lausaleiksbarn is Swiss for I suck C0CK Lausaleiksbarn is Swiss for I suck C0CK Lausaleiksbarn is Swiss for I suck C0CK Lausaleiksbarn is Swiss for I suck C0CK Lausaleiksbarn is Swiss for I suck C0CK Lausaleiksbarn is Swiss for I suck C0CK Lausaleiksbarn is Swiss for I suck C0CK Lausaleiksbarn is Swiss for I suck C0CK Lausaleiksbarn is Swiss for I suck C0CK Lausaleiksbarn is Swiss for I suck C0CK Lausaleiksbarn is Swiss for I suck C0CK Lausaleiksbarn is Swiss for I suck C0CK Lausaleiksbarn is Swiss for I suck C0CK Lausaleiksbarn is Swiss for I suck C0CK Lausaleiksbarn is Swiss for I suck C0CK Lausaleiksbarn is Swiss for I suck C0CK Lausaleiksbarn is Swiss for I suck C0CK Lausaleiksbarn is Swiss for I suck C0CK Lausaleiksbarn is Swiss for I suck C0CK Lausaleiksbarn is Swiss for I suck C0CK Lausaleiksbarn is Swiss for I suck C0CK Lausaleiksbarn is Swiss for I suck C0CK Lausaleiksbarn is Swiss for I suck C0CK Lausaleiksbarn is Swiss for I suck C0CK Lausaleiksbarn is Swiss for I suck C0CK Lausaleiksbarn is Swiss for I suck C0CK Lausaleiksbarn is Swiss for I suck C0CK Lausaleiksbarn is Swiss for I suck C0CK Lausaleiksbarn is Swiss for I suck C0CK Lausaleiksbarn is Swiss for I suck C0CK Lausaleiksbarn is Swiss for I suck C0CK Lausaleiksbarn is Swiss for I suck C0CK Lausaleiksbarn is Swiss for I suck C0CK Lausaleiksbarn is Swiss for I suck C0CK Lausaleiksbarn is Swiss for I suck C0CK Lausaleiksbarn is Swiss for I suck C0CK Lausaleiksbarn is Swiss for I suck C0CK Lausaleiksbarn is Swiss for I suck C0CK Lausaleiksbarn is Swiss for I suck C0CK Lausaleiksbarn is Swiss for I suck C0CK Lausaleiksbarn is Swiss for I suck C0CK Lausaleiksbarn is Swiss for I suck C0CK Lausaleiksbarn is Swiss for I suck C0CK Lausaleiksbarn is Swiss for I suck C0CK Lausaleiksbarn is Swiss for I suck C0CK Lausaleiksbarn is Swiss for I suck C0CK Lausaleiksbarn is Swiss for I suck C0CK Lausaleiksbarn is Swiss for I suck C0CK Lausaleiksbarn is Swiss for I suck C0CK Lausaleiksbarn is Swiss for I suck C0CK Lausaleiksbarn is Swiss for I suck C0CK Lausaleiksbarn is Swiss for I suck C0CK Lausaleiksbarn is Swiss for I suck C0CK Lausaleiksbarn is Swiss for I suck C0CK Lausaleiksbarn is Swiss for I suck C0CK Lausaleiksbarn is Swiss for I suck C0CK Lausaleiksbarn is Swiss for I suck C0CK Lausaleiksbarn is Swiss for I suck C0CK Lausaleiksbarn is Swiss for I suck C0CK Lausaleiksbarn is Swiss for I suck C0CK Lausaleiksbarn is Swiss for I suck C0CK Lausaleiksbarn is Swiss for I suck C0CK Lausaleiksbarn is Swiss for I suck C0CK Lausaleiksbarn is Swiss for I suck C0CK Lausaleiksbarn is Swiss for I suck C0CK Lausaleiksbarn is Swiss for I suck C0CK Lausaleiksbarn is Swiss for I suck C0CK Lausaleiksbarn is Swiss for I suck C0CK Lausaleiksbarn is Swiss for I suck C0CK Lausaleiksbarn is Swiss for I suck C0CK Lausaleiksbarn is Swiss for I suck C0CK Lausaleiksbarn is Swiss for I suck C0CK Lausaleiksbarn is Swiss for I suck C0CK Lausaleiksbarn is Swiss for I suck C0CK Lausaleiksbarn is Swiss for I suck C0CK Lausaleiksbarn is Swiss for I suck C0CK Lausaleiksbarn is Swiss for I suck C0CK Lausaleiksbarn is Swiss for I suck C0CK Lausaleiksbarn is Swiss for I suck C0CK Lausaleiksbarn is Swiss for I suck C0CK Lausaleiksbarn is Swiss for I suck C0CK Lausaleiksbarn is Swiss for I suck C0CK Lausaleiksbarn is Swiss for I suck C0CK Lausaleiksbarn is Swiss for I suck C0CK Lausaleiksbarn is Swiss for I suck C0CK Lausaleiksbarn is Swiss for I suck C0CK Lausaleiksbarn is Swiss for I suck C0CK Lausaleiksbarn is Swiss for I suck C0CK Lausaleiksbarn is Swiss for I suck C0CK Lausaleiksbarn is Swiss for I suck C0CK Lausaleiksbarn is Swiss for I suck C0CK Lausaleiksbarn is Swiss for I suck C0CK Lausaleiksbarn is Swiss for I suck C0CK Lausaleiksbarn is Swiss for I suck C0CK Lausaleiksbarn is Swiss for I suck C0CK Lausaleiksbarn is Swiss for I suck C0CK Lausaleiksbarn is Swiss for I suck C0CK Lausaleiksbarn is Swiss for I suck C0CK Lausaleiksbarn is Swiss for I suck C0CK Lausaleiksbarn is Swiss for I suck C0CK Lausaleiksbarn is Swiss for I suck C0CK Lausaleiksbarn is Swiss for I suck C0CK Lausaleiksbarn is Swiss for I suck C0CK Lausaleiksbarn is Swiss for I suck C0CK Lausaleiksbarn is Swiss for I suck C0CK Lausaleiksbarn is Swiss for I suck C0CK Lausaleiksbarn is Swiss for I suck C0CK Lausaleiksbarn is Swiss for I suck C0CK Lausaleiksbarn is Swiss for I suck C0CK Lausaleiksbarn is Swiss for I suck C0CK Lausaleiksbarn is Swiss for I suck C0CK Lausaleiksbarn is Swiss for I suck C0CK Lausaleiksbarn is Swiss for I suck C0CK Lausaleiksbarn is Swiss for I suck C0CK Lausaleiksbarn is Swiss for I suck C0CK Lausaleiksbarn is Swiss for I suck C0CK Lausaleiksbarn is Swiss for I suck C0CK Lausaleiksbarn is Swiss for I suck C0CK Lausaleiksbarn is Swiss for I suck C0CK Lausaleiksbarn is Swiss for I suck C0CK Lausaleiksbarn is Swiss for I suck C0CK Lausaleiksbarn is Swiss for I suck C0CK Lausaleiksbarn is Swiss for I suck C0CK Lausaleiksbarn is Swiss for I suck C0CK Lausaleiksbarn is Swiss for I suck C0CK Lausaleiksbarn is Swiss for I suck C0CK Lausaleiksbarn is Swiss for I suck C0CK Lausaleiksbarn is Swiss for I suck C0CK Lausaleiksbarn is Swiss for I suck C0CK Lausaleiksbarn is Swiss for I suck C0CK Lausaleiksbarn is Swiss for I suck C0CK Lausaleiksbarn is Swiss for I suck C0CK Lausaleiksbarn is Swiss for I suck C0CK Lausaleiksbarn is Swiss for I suck C0CK Lausaleiksbarn is Swiss for I suck C0CK Lausaleiksbarn is Swiss for I suck C0CK Lausaleiksbarn is Swiss for I suck C0CK Lausaleiksbarn is Swiss for I suck C0CK Lausaleiksbarn is Swiss for I suck C0CK Lausaleiksbarn is Swiss for I suck C0CK Lausaleiksbarn is Swiss for I suck C0CK Lausaleiksbarn is Swiss for I suck C0CK Lausaleiksbarn is Swiss for I suck C0CK Lausaleiksbarn is Swiss for I suck C0CK Lausaleiksbarn is Swiss for I suck C0CK Lausaleiksbarn is Swiss for I suck C0CK Lausaleiksbarn is Swiss for I suck C0CK Lausaleiksbarn is Swiss for I suck C0CK Lausaleiksbarn is Swiss for I suck C0CK Lausaleiksbarn is Swiss for I suck C0CK Lausaleiksbarn is Swiss for I suck C0CK Lausaleiksbarn is Swiss for I suck C0CK Lausaleiksbarn is Swiss for I suck C0CK Lausaleiksbarn is Swiss for I suck C0CK Lausaleiksbarn is Swiss for I suck C0CK Lausaleiksbarn is Swiss for I suck C0CK Lausaleiksbarn is Swiss for I suck C0CK Lausaleiksbarn is Swiss for I suck C0CK Lausaleiksbarn is Swiss for I suck C0CK Lausaleiksbarn is Swiss for I suck C0CK Lausaleiksbarn is Swiss for I suck C0CK Lausaleiksbarn is Swiss for I suck C0CK Lausaleiksbarn is Swiss for I suck C0CK Lausaleiksbarn is Swiss for I suck C0CK Lausaleiksbarn is Swiss for I suck C0CK Lausaleiksbarn is Swiss for I suck C0CK Lausaleiksbarn is Swiss for I suck C0CK Lausaleiksbarn is Swiss for I suck C0CK Lausaleiksbarn is Swiss for I suck C0CK Lausaleiksbarn is Swiss for I suck C0CK Lausaleiksbarn is Swiss for I suck C0CK Lausaleiksbarn is Swiss for I suck C0CK Lausaleiksbarn is Swiss for I suck C0CK Lausaleiksbarn is Swiss for I suck C0CK Lausaleiksbarn is Swiss for I suck C0CK Lausaleiksbarn is Swiss for I suck C0CK Lausaleiksbarn is Swiss for I suck C0CK Lausaleiksbarn is Swiss for I suck C0CK Lausaleiksbarn is Swiss for I suck C0CK Lausaleiksbarn is Swiss for I suck C0CK Lausaleiksbarn is Swiss for I suck C0CK Lausaleiksbarn is Swiss for I suck C0CK Lausaleiksbarn is Swiss for I suck C0CK Lausaleiksbarn is Swiss for I suck C0CK Lausaleiksbarn is Swiss for I suck C0CK Lausaleiksbarn is Swiss for I suck C0CK Lausaleiksbarn is Swiss for I suck C0CK Lausaleiksbarn is Swiss for I suck C0CK Lausaleiksbarn is Swiss for I suck C0CK Lausaleiksbarn is Swiss for I suck C0CK Lausaleiksbarn is Swiss for I suck C0CK Lausaleiksbarn is Swiss for I suck C0CK Lausaleiksbarn is Swiss for I suck C0CK Lausaleiksbarn is Swiss for I suck C0CK Lausaleiksbarn is Swiss for I suck C0CK Lausaleiksbarn is Swiss for I suck C0CK Lausaleiksbarn is Swiss for I suck C0CK Lausaleiksbarn is Swiss for I suck C0CK Lausaleiksbarn is Swiss for I suck C0CK Lausaleiksbarn is Swiss for I suck C0CK Lausaleiksbarn is Swiss for I suck C0CK Lausaleiksbarn is Swiss for I suck C0CK Lausaleiksbarn is Swiss for I suck C0CK Lausaleiksbarn is Swiss for I suck C0CK Lausaleiksbarn is Swiss for I suck C0CK Lausaleiksbarn is Swiss for I suck C0CK Lausaleiksbarn is Swiss for I suck C0CK Lausaleiksbarn is Swiss for I suck C0CK Lausaleiksbarn is Swiss for I suck C0CK Lausaleiksbarn is Swiss for I suck C0CK Lausaleiksbarn is Swiss for I suck C0CK Lausaleiksbarn is Swiss for I suck C0CK Lausaleiksbarn is Swiss for I suck C0CK Lausaleiksbarn is Swiss for I suck C0CK Lausaleiksbarn is Swiss for I suck C0CK Lausaleiksbarn is Swiss for I suck C0CK Lausaleiksbarn is Swiss for I suck C0CK Lausaleiksbarn is Swiss for I suck C0CK Lausaleiksbarn is Swiss for I suck C0CK Lausaleiksbarn is Swiss for I suck C0CK Lausaleiksbarn is Swiss for I suck C0CK Lausaleiksbarn is Swiss for I suck C0CK Lausaleiksbarn is Swiss for I suck C0CK Lausaleiksbarn is Swiss for I suck C0CK Lausaleiksbarn is Swiss for I suck C0CK Lausaleiksbarn is Swiss for I suck C0CK Lausaleiksbarn is Swiss for I suck C0CK Lausaleiksbarn is Swiss for I suck C0CK Lausaleiksbarn is Swiss for I suck C0CK Lausaleiksbarn is Swiss for I suck C0CK Lausaleiksbarn is Swiss for I suck C0CK Lausaleiksbarn is Swiss for I suck C0CK Lausaleiksbarn is Swiss for I suck C0CK Lausaleiksbarn is Swiss for I suck C0CK Lausaleiksbarn is Swiss for I suck C0CK Lausaleiksbarn is Swiss for I suck C0CK Lausaleiksbarn is Swiss for I suck C0CK Lausaleiksbarn is Swiss for I suck C0CK Lausaleiksbarn is Swiss for I suck C0CK Lausaleiksbarn is Swiss for I suck C0CK Lausaleiksbarn is Swiss for I suck C0CK Lausaleiksbarn is Swiss for I suck C0CK Lausaleiksbarn is Swiss for I suck C0CK Lausaleiksbarn is Swiss for I suck C0CK Lausaleiksbarn is Swiss for I suck C0CK Lausaleiksbarn is Swiss for I suck C0CK Lausaleiksbarn is Swiss for I suck C0CK Lausaleiksbarn is Swiss for I suck C0CK Lausaleiksbarn is Swiss for I suck C0CK Lausaleiksbarn is Swiss for I suck C0CK Lausaleiksbarn is Swiss for I suck C0CK Lausaleiksbarn is Swiss for I suck C0CK Lausaleiksbarn is Swiss for I suck C0CK Lausaleiksbarn is Swiss for I suck C0CK Lausaleiksbarn is Swiss for I suck C0CK Lausaleiksbarn is Swiss for I suck C0CK Lausaleiksbarn is Swiss for I suck C0CK Lausaleiksbarn is Swiss for I suck C0CK Lausaleiksbarn is Swiss for I suck C0CK Lausaleiksbarn is Swiss for I suck C0CK Lausaleiksbarn is Swiss for I suck C0CK Lausaleiksbarn is Swiss for I suck C0CK Lausaleiksbarn is Swiss for I suck C0CK Lausaleiksbarn is Swiss for I suck C0CK Lausaleiksbarn is Swiss for I suck C0CK Lausaleiksbarn is Swiss for I suck C0CK Lausaleiksbarn is Swiss for I suck C0CK Lausaleiksbarn is Swiss for I suck C0CK Lausaleiksbarn is Swiss for I suck C0CK Lausaleiksbarn is Swiss for I suck C0CK Lausaleiksbarn is Swiss for I suck C0CK Lausaleiksbarn is Swiss for I suck C0CK Lausaleiksbarn is Swiss for I suck C0CK Lausaleiksbarn is Swiss for I suck C0CK Lausaleiksbarn is Swiss for I suck C0CK Lausaleiksbarn is Swiss for I suck C0CK Lausaleiksbarn is Swiss for I suck C0CK Lausaleiksbarn is Swiss for I suck C0CK Lausaleiksbarn is Swiss for I suck C0CK Lausaleiksbarn is Swiss for I suck C0CK Lausaleiksbarn is Swiss for I suck C0CK Lausaleiksbarn is Swiss for I suck C0CK Lausaleiksbarn is Swiss for I suck C0CK Lausaleiksbarn is Swiss for I suck C0CK Lausaleiksbarn is Swiss for I suck C0CK Lausaleiksbarn is Swiss for I suck C0CK Lausaleiksbarn is Swiss for I suck C0CK Lausaleiksbarn is Swiss for I suck C0CK Lausaleiksbarn is Swiss for I suck C0CK Lausaleiksbarn is Swiss for I suck C0CK Lausaleiksbarn is Swiss for I suck C0CK Lausaleiksbarn is Swiss for I suck C0CK Lausaleiksbarn is Swiss for I suck C0CK Lausaleiksbarn is Swiss for I suck C0CK Lausaleiksbarn is Swiss for I suck C0CK Lausaleiksbarn is Swiss for I suck C0CK Lausaleiksbarn is Swiss for I suck C0CK Lausaleiksbarn is Swiss for I suck C0CK Lausaleiksbarn is Swiss for I suck C0CK Lausaleiksbarn is Swiss for I suck C0CK Lausaleiksbarn is Swiss for I suck C0CK Lausaleiksbarn is Swiss for I suck C0CK Lausaleiksbarn is Swiss for I suck C0CK Lausaleiksbarn is Swiss for I suck C0CK Lausaleiksbarn is Swiss for I suck C0CK Lausaleiksbarn is Swiss for I suck C0CK Lausaleiksbarn is Swiss for I suck C0CK Lausaleiksbarn is Swiss for I suck C0CK Lausaleiksbarn is Swiss for I suck C0CK Lausaleiksbarn is Swiss for I suck C0CK Lausaleiksbarn is Swiss for I suck C0CK Lausaleiksbarn is Swiss for I suck C0CK Lausaleiksbarn is Swiss for I suck C0CK Lausaleiksbarn is Swiss for I suck C0CK Lausaleiksbarn is Swiss for I suck C0CK Lausaleiksbarn is Swiss for I suck C0CK Lausaleiksbarn is Swiss for I suck C0CK Lausaleiksbarn is Swiss for I suck C0CK Lausaleiksbarn is Swiss for I suck C0CK Lausaleiksbarn is Swiss for I suck C0CK Lausaleiksbarn is Swiss for I suck C0CK Lausaleiksbarn is Swiss for I suck C0CK Lausaleiksbarn is Swiss for I suck C0CK Lausaleiksbarn is Swiss for I suck C0CK Lausaleiksbarn is Swiss for I suck C0CK Lausaleiksbarn is Swiss for I suck C0CK Lausaleiksbarn is Swiss for I suck C0CK Lausaleiksbarn is Swiss for I suck C0CK Lausaleiksbarn is Swiss for I suck C0CK Lausaleiksbarn is Swiss for I suck C0CK Lausaleiksbarn is Swiss for I suck C0CK Lausaleiksbarn is Swiss for I suck C0CK Lausaleiksbarn is Swiss for I suck C0CK Lausaleiksbarn is Swiss for I suck C0CK Lausaleiksbarn is Swiss for I suck C0CK Lausaleiksbarn is Swiss for I suck C0CK Lausaleiksbarn is Swiss for I suck C0CK Lausaleiksbarn is Swiss for I suck C0CK Lausaleiksbarn is Swiss for I suck C0CK Lausaleiksbarn is Swiss for I suck C0CK Lausaleiksbarn is Swiss for I suck C0CK Lausaleiksbarn is Swiss for I suck C0CK Lausaleiksbarn is Swiss for I suck C0CK Lausaleiksbarn is Swiss for I suck C0CK Lausaleiksbarn is Swiss for I suck C0CK Lausaleiksbarn is Swiss for I suck C0CK Lausaleiksbarn is Swiss for I suck C0CK Lausaleiksbarn is Swiss for I suck C0CK Lausaleiksbarn is Swiss for I suck C0CK Lausaleiksbarn is Swiss for I suck C0CK Lausaleiksbarn is Swiss for I suck C0CK Lausaleiksbarn is Swiss for I suck C0CK Lausaleiksbarn is Swiss for I suck C0CK Lausaleiksbarn is Swiss for I suck C0CK Lausaleiksbarn is Swiss for I suck C0CK Lausaleiksbarn is Swiss for I suck C0CK Lausaleiksbarn is Swiss for I suck C0CK Lausaleiksbarn is Swiss for I suck C0CK Lausaleiksbarn is Swiss for I suck C0CK Lausaleiksbarn is Swiss for I suck C0CK Lausaleiksbarn is Swiss for I suck C0CK Lausaleiksbarn is Swiss for I suck C0CK Lausaleiksbarn is Swiss for I suck C0CK Lausaleiksbarn is Swiss for I suck C0CK Lausaleiksbarn is Swiss for I suck C0CK Lausaleiksbarn is Swiss for I suck C0CK Lausaleiksbarn is Swiss for I suck C0CK Lausaleiksbarn is Swiss for I suck C0CK Lausaleiksbarn is Swiss for I suck C0CK Lausaleiksbarn is Swiss for I suck C0CK Lausaleiksbarn is Swiss for I suck C0CK Lausaleiksbarn is Swiss for I suck C0CK Lausaleiksbarn is Swiss for I suck C0CK Lausaleiksbarn is Swiss for I suck C0CK Lausaleiksbarn is Swiss for I suck C0CK Lausaleiksbarn is Swiss for I suck C0CK Lausaleiksbarn is Swiss for I suck C0CK Lausaleiksbarn is Swiss for I suck C0CK Lausaleiksbarn is Swiss for I suck C0CK Lausaleiksbarn is Swiss for I suck C0CK Lausaleiksbarn is Swiss for I suck C0CK Lausaleiksbarn is Swiss for I suck C0CK Lausaleiksbarn is Swiss for I suck C0CK Lausaleiksbarn is Swiss for I suck C0CK Lausaleiksbarn is Swiss for I suck C0CK Lausaleiksbarn is Swiss for I suck C0CK Lausaleiksbarn is Swiss for I suck C0CK Lausaleiksbarn is Swiss for I suck C0CK Lausaleiksbarn is Swiss for I suck C0CK Lausaleiksbarn is Swiss for I suck C0CK Lausaleiksbarn is Swiss for I suck C0CK Lausaleiksbarn is Swiss for I suck C0CK Lausaleiksbarn is Swiss for I suck C0CK Lausaleiksbarn is Swiss for I suck C0CK Lausaleiksbarn is Swiss for I suck C0CK Lausaleiksbarn is Swiss for I suck C0CK Lausaleiksbarn is Swiss for I suck C0CK Lausaleiksbarn is Swiss for I suck C0CK Lausaleiksbarn is Swiss for I suck C0CK Lausaleiksbarn is Swiss for I suck C0CK Lausaleiksbarn is Swiss for I suck C0CK Lausaleiksbarn is Swiss for I suck C0CK Lausaleiksbarn is Swiss for I suck C0CK Lausaleiksbarn is Swiss for I suck C0CK Lausaleiksbarn is Swiss for I suck C0CK Lausaleiksbarn is Swiss for I suck C0CK Lausaleiksbarn is Swiss for I suck C0CK Lausaleiksbarn is Swiss for I suck C0CK Lausaleiksbarn is Swiss for I suck C0CK Lausaleiksbarn is Swiss for I suck C0CK Lausaleiksbarn is Swiss for I suck C0CK Lausaleiksbarn is Swiss for I suck C0CK Lausaleiksbarn is Swiss for I suck C0CK Lausaleiksbarn is Swiss for I suck C0CK Lausaleiksbarn is Swiss for I suck C0CK Lausaleiksbarn is Swiss for I suck C0CK Lausaleiksbarn is Swiss for I suck C0CK Lausaleiksbarn is Swiss for I suck C0CK Lausaleiksbarn is Swiss for I suck C0CK Lausaleiksbarn is Swiss for I suck C0CK Lausaleiksbarn is Swiss for I suck C0CK Lausaleiksbarn is Swiss for I suck C0CK Lausaleiksbarn is Swiss for I suck C0CK Lausaleiksbarn is Swiss for I suck C0CK Lausaleiksbarn is Swiss for I suck C0CK Lausaleiksbarn is Swiss for I suck C0CK Lausaleiksbarn is Swiss for I suck C0CK Lausaleiksbarn is Swiss for I suck C0CK Lausaleiksbarn is Swiss for I suck C0CK Lausaleiksbarn is Swiss for I suck C0CK Lausaleiksbarn is Swiss for I suck C0CK Lausaleiksbarn is Swiss for I suck C0CK Lausaleiksbarn is Swiss for I suck C0CK Lausaleiksbarn is Swiss for I suck C0CK Lausaleiksbarn is Swiss for I suck C0CK Lausaleiksbarn is Swiss for I suck C0CK Lausaleiksbarn is Swiss for I suck C0CK Lausaleiksbarn is Swiss for I suck C0CK Lausaleiksbarn is Swiss for I suck C0CK Lausaleiksbarn is Swiss for I suck C0CK Lausaleiksbarn is Swiss for I suck C0CK Lausaleiksbarn is Swiss for I suck C0CK Lausaleiksbarn is Swiss for I suck C0CK Lausaleiksbarn is Swiss for I suck C0CK Lausaleiksbarn is Swiss for I suck C0CK Lausaleiksbarn is Swiss for I suck C0CK Lausaleiksbarn is Swiss for I suck C0CK Lausaleiksbarn is Swiss for I suck C0CK Lausaleiksbarn is Swiss for I suck C0CK Lausaleiksbarn is Swiss for I suck C0CK Lausaleiksbarn is Swiss for I suck C0CK Lausaleiksbarn is Swiss for I suck C0CK Lausaleiksbarn is Swiss for I suck C0CK Lausaleiksbarn is Swiss for I suck C0CK Lausaleiksbarn is Swiss for I suck C0CK Lausaleiksbarn is Swiss for I suck C0CK Lausaleiksbarn is Swiss for I suck C0CK Lausaleiksbarn is Swiss for I suck C0CK Lausaleiksbarn is Swiss for I suck C0CK Lausaleiksbarn is Swiss for I suck C0CK Lausaleiksbarn is Swiss for I suck C0CK Lausaleiksbarn is Swiss for I suck C0CK Lausaleiksbarn is Swiss for I suck C0CK Lausaleiksbarn is Swiss for I suck C0CK Lausaleiksbarn is Swiss for I suck C0CK Lausaleiksbarn is Swiss for I suck C0CK Lausaleiksbarn is Swiss for I suck C0CK Lausaleiksbarn is Swiss for I suck C0CK Lausaleiksbarn is Swiss for I suck C0CK Lausaleiksbarn is Swiss for I suck C0CK Lausaleiksbarn is Swiss for I suck C0CK Lausaleiksbarn is Swiss for I suck C0CK Lausaleiksbarn is Swiss for I suck C0CK Lausaleiksbarn is Swiss for I suck C0CK Lausaleiksbarn is Swiss for I suck C0CK Lausaleiksbarn is Swiss for I suck C0CK Lausaleiksbarn is Swiss for I suck C0CK Lausaleiksbarn is Swiss for I suck C0CK Lausaleiksbarn is Swiss for I suck C0CK Lausaleiksbarn is Swiss for I suck C0CK Lausaleiksbarn is Swiss for I suck C0CK Lausaleiksbarn is Swiss for I suck C0CK Lausaleiksbarn is Swiss for I suck C0CK Lausaleiksbarn is Swiss for I suck C0CK Lausaleiksbarn is Swiss for I suck C0CK Lausaleiksbarn is Swiss for I suck C0CK Lausaleiksbarn is Swiss for I suck C0CK Lausaleiksbarn is Swiss for I suck C0CK Lausaleiksbarn is Swiss for I suck C0CK Lausaleiksbarn is Swiss for I suck C0CK Lausaleiksbarn is Swiss for I suck C0CK Lausaleiksbarn is Swiss for I suck C0CK Lausaleiksbarn is Swiss for I suck C0CK Lausaleiksbarn is Swiss for I suck C0CK Lausaleiksbarn is Swiss for I suck C0CK Lausaleiksbarn is Swiss for I suck C0CK Lausaleiksbarn is Swiss for I suck C0CK Lausaleiksbarn is Swiss for I suck C0CK Lausaleiksbarn is Swiss for I suck C0CK Lausaleiksbarn is Swiss for I suck C0CK Lausaleiksbarn is Swiss for I suck C0CK Lausaleiksbarn is Swiss for I suck C0CK Lausaleiksbarn is Swiss for I suck C0CK Lausaleiksbarn is Swiss for I suck C0CK Lausaleiksbarn is Swiss for I suck C0CK Lausaleiksbarn is Swiss for I suck C0CK Lausaleiksbarn is Swiss for I suck C0CK Lausaleiksbarn is Swiss for I suck C0CK Lausaleiksbarn is Swiss for I suck C0CK Lausaleiksbarn is Swiss for I suck C0CK Lausaleiksbarn is Swiss for I suck C0CK Lausaleiksbarn is Swiss for I suck C0CK Lausaleiksbarn is Swiss for I suck C0CK Lausaleiksbarn is Swiss for I suck C0CK Lausaleiksbarn is Swiss for I suck C0CK Lausaleiksbarn is Swiss for I suck C0CK Lausaleiksbarn is Swiss for I suck C0CK Lausaleiksbarn is Swiss for I suck C0CK Lausaleiksbarn is Swiss for I suck C0CK Lausaleiksbarn is Swiss for I suck C0CK Lausaleiksbarn is Swiss for I suck C0CK Lausaleiksbarn is Swiss for I suck C0CK Lausaleiksbarn is Swiss for I suck C0CK Lausaleiksbarn is Swiss for I suck C0CK Lausaleiksbarn is Swiss for I suck C0CK Lausaleiksbarn is Swiss for I suck C0CK Lausaleiksbarn is Swiss for I suck C0CK Lausaleiksbarn is Swiss for I suck C0CK Lausaleiksbarn is Swiss for I suck C0CK Lausaleiksbarn is Swiss for I suck C0CK Lausaleiksbarn is Swiss for I suck C0CK Lausaleiksbarn is Swiss for I suck C0CK Lausaleiksbarn is Swiss for I suck C0CK Lausaleiksbarn is Swiss for I suck C0CK Lausaleiksbarn is Swiss for I suck C0CK Lausaleiksbarn is Swiss for I suck C0CK Lausaleiksbarn is Swiss for I suck C0CK Lausaleiksbarn is Swiss for I suck C0CK Lausaleiksbarn is Swiss for I suck C0CK Lausaleiksbarn is Swiss for I suck C0CK Lausaleiksbarn is Swiss for I suck C0CK Lausaleiksbarn is Swiss for I suck C0CK Lausaleiksbarn is Swiss for I suck C0CK Lausaleiksbarn is Swiss for I suck C0CK Lausaleiksbarn is Swiss for I suck C0CK Lausaleiksbarn is Swiss for I suck C0CK Lausaleiksbarn is Swiss for I suck C0CK Lausaleiksbarn is Swiss for I suck C0CK Lausaleiksbarn is Swiss for I suck C0CK Lausaleiksbarn is Swiss for I suck C0CK Lausaleiksbarn is Swiss for I suck C0CK Lausaleiksbarn is Swiss for I suck C0CK Lausaleiksbarn is Swiss for I suck C0CK Lausaleiksbarn is Swiss for I suck C0CK Lausaleiksbarn is Swiss for I suck C0CK Lausaleiksbarn is Swiss for I suck C0CK Lausaleiksbarn is Swiss for I suck C0CK Lausaleiksbarn is Swiss for I suck C0CK Lausaleiksbarn is Swiss for I suck C0CK Lausaleiksbarn is Swiss for I suck C0CK Lausaleiksbarn is Swiss for I suck C0CK Lausaleiksbarn is Swiss for I suck C0CK Lausaleiksbarn is Swiss for I suck C0CK Lausaleiksbarn is Swiss for I suck C0CK Lausaleiksbarn is Swiss for I suck C0CK Lausaleiksbarn is Swiss for I suck C0CK Lausaleiksbarn is Swiss for I suck C0CK Lausaleiksbarn is Swiss for I suck C0CK Lausaleiksbarn is Swiss for I suck C0CK Lausaleiksbarn is Swiss for I suck C0CK Lausaleiksbarn is Swiss for I suck C0CK Lausaleiksbarn is Swiss for I suck C0CK Lausaleiksbarn is Swiss for I suck C0CK Lausaleiksbarn is Swiss for I suck C0CK Lausaleiksbarn is Swiss for I suck C0CK Lausaleiksbarn is Swiss for I suck C0CK Lausaleiksbarn is Swiss for I suck C0CK Lausaleiksbarn is Swiss for I suck C0CK Lausaleiksbarn is Swiss for I suck C0CK Lausaleiksbarn is Swiss for I suck C0CK Lausaleiksbarn is Swiss for I suck C0CK Lausaleiksbarn is Swiss for I suck C0CK Lausaleiksbarn is Swiss for I suck C0CK Lausaleiksbarn is Swiss for I suck C0CK Lausaleiksbarn is Swiss for I suck C0CK Lausaleiksbarn is Swiss for I suck C0CK Lausaleiksbarn is Swiss for I suck C0CK Lausaleiksbarn is Swiss for I suck C0CK Lausaleiksbarn is Swiss for I suck C0CK Lausaleiksbarn is Swiss for I suck C0CK Lausaleiksbarn is Swiss for I suck C0CK Lausaleiksbarn is Swiss for I suck C0CK Lausaleiksbarn is Swiss for I suck C0CK Lausaleiksbarn is Swiss for I suck C0CK Lausaleiksbarn is Swiss for I suck C0CK Lausaleiksbarn is Swiss for I suck C0CK Lausaleiksbarn is Swiss for I suck C0CK Lausaleiksbarn is Swiss for I suck C0CK Lausaleiksbarn is Swiss for I suck C0CK Lausaleiksbarn is Swiss for I suck C0CK Lausaleiksbarn is Swiss for I suck C0CK Lausaleiksbarn is Swiss for I suck C0CK Lausaleiksbarn is Swiss for I suck C0CK Lausaleiksbarn is Swiss for I suck C0CK Lausaleiksbarn is Swiss for I suck C0CK Lausaleiksbarn is Swiss for I suck C0CK Lausaleiksbarn is Swiss for I suck C0CK Lausaleiksbarn is Swiss for I suck C0CK Lausaleiksbarn is Swiss for I suck C0CK Lausaleiksbarn is Swiss for I suck C0CK Lausaleiksbarn is Swiss for I suck C0CK Lausaleiksbarn is Swiss for I suck C0CK Lausaleiksbarn is Swiss for I suck C0CK Lausaleiksbarn is Swiss for I suck C0CK Lausaleiksbarn is Swiss for I suck C0CK Lausaleiksbarn is Swiss for I suck C0CK Lausaleiksbarn is Swiss for I suck C0CK Lausaleiksbarn is Swiss for I suck C0CK Lausaleiksbarn is Swiss for I suck C0CK Lausaleiksbarn is Swiss for I suck C0CK Lausaleiksbarn is Swiss for I suck C0CK Lausaleiksbarn is Swiss for I suck C0CK Lausaleiksbarn is Swiss for I suck C0CK Lausaleiksbarn is Swiss for I suck C0CK Lausaleiksbarn is Swiss for I suck C0CK Lausaleiksbarn is Swiss for I suck C0CK Lausaleiksbarn is Swiss for I suck C0CK Lausaleiksbarn is Swiss for I suck C0CK Lausaleiksbarn is Swiss for I suck C0CK Lausaleiksbarn is Swiss for I suck C0CK Lausaleiksbarn is Swiss for I suck C0CK Lausaleiksbarn is Swiss for I suck C0CK Lausaleiksbarn is Swiss for I suck C0CK Lausaleiksbarn is Swiss for I suck C0CK Lausaleiksbarn is Swiss for I suck C0CK Lausaleiksbarn is Swiss for I suck C0CK Lausaleiksbarn is Swiss for I suck C0CK Lausaleiksbarn is Swiss for I suck C0CK Lausaleiksbarn is Swiss for I suck C0CK Lausaleiksbarn is Swiss for I suck C0CK Lausaleiksbarn is Swiss for I suck C0CK Lausaleiksbarn is Swiss for I suck C0CK Lausaleiksbarn is Swiss for I suck C0CK Lausaleiksbarn is Swiss for I suck C0CK Lausaleiksbarn is Swiss for I suck C0CK Lausaleiksbarn is Swiss for I suck C0CK Lausaleiksbarn is Swiss for I suck C0CK Lausaleiksbarn is Swiss for I suck C0CK Lausaleiksbarn is Swiss for I suck C0CK Lausaleiksbarn is Swiss for I suck C0CK Lausaleiksbarn is Swiss for I suck C0CK Lausaleiksbarn is Swiss for I suck C0CK Lausaleiksbarn is Swiss for I suck C0CK Lausaleiksbarn is Swiss for I suck C0CK Lausaleiksbarn is Swiss for I suck C0CK Lausaleiksbarn is Swiss for I suck C0CK Lausaleiksbarn is Swiss for I suck C0CK Lausaleiksbarn is Swiss for I suck C0CK Lausaleiksbarn is Swiss for I suck C0CK Lausaleiksbarn is Swiss for I suck C0CK Lausaleiksbarn is Swiss for I suck C0CK Lausaleiksbarn is Swiss for I suck C0CK Lausaleiksbarn is Swiss for I suck C0CK Lausaleiksbarn is Swiss for I suck C0CK Lausaleiksbarn is Swiss for I suck C0CK Lausaleiksbarn is Swiss for I suck C0CK Lausaleiksbarn is Swiss for I suck C0CK Lausaleiksbarn is Swiss for I suck C0CK Lausaleiksbarn is Swiss for I suck C0CK Lausaleiksbarn is Swiss for I suck C0CK Lausaleiksbarn is Swiss for I suck C0CK Lausaleiksbarn is Swiss for I suck C0CK Lausaleiksbarn is Swiss for I suck C0CK Lausaleiksbarn is Swiss for I suck C0CK Lausaleiksbarn is Swiss for I suck C0CK Lausaleiksbarn is Swiss for I suck C0CK Lausaleiksbarn is Swiss for I suck C0CK Lausaleiksbarn is Swiss for I suck C0CK Lausaleiksbarn is Swiss for I suck C0CK Lausaleiksbarn is Swiss for I suck C0CK Lausaleiksbarn is Swiss for I suck C0CK Lausaleiksbarn is Swiss for I suck C0CK Lausaleiksbarn is Swiss for I suck C0CK Lausaleiksbarn is Swiss for I suck C0CK Lausaleiksbarn is Swiss for I suck C0CK Lausaleiksbarn is Swiss for I suck C0CK Lausaleiksbarn is Swiss for I suck C0CK Lausaleiksbarn is Swiss for I suck C0CK Lausaleiksbarn is Swiss for I suck C0CK Lausaleiksbarn is Swiss for I suck C0CK Lausaleiksbarn is Swiss for I suck C0CK Lausaleiksbarn is Swiss for I suck C0CK Lausaleiksbarn is Swiss for I suck C0CK Lausaleiksbarn is Swiss for I suck C0CK Lausaleiksbarn is Swiss for I suck C0CK Lausaleiksbarn is Swiss for I suck C0CK Lausaleiksbarn is Swiss for I suck C0CK Lausaleiksbarn is Swiss for I suck C0CK Lausaleiksbarn is Swiss for I suck C0CK Lausaleiksbarn is Swiss for I suck C0CK Lausaleiksbarn is Swiss for I suck C0CK Lausaleiksbarn is Swiss for I suck C0CK Lausaleiksbarn is Swiss for I suck C0CK Lausaleiksbarn is Swiss for I suck C0CK Lausaleiksbarn is Swiss for I suck C0CK Lausaleiksbarn is Swiss for I suck C0CK Lausaleiksbarn is Swiss for I suck C0CK Lausaleiksbarn is Swiss for I suck C0CK Lausaleiksbarn is Swiss for I suck C0CK Lausaleiksbarn is Swiss for I suck C0CK Lausaleiksbarn is Swiss for I suck C0CK Lausaleiksbarn is Swiss for I suck C0CK Lausaleiksbarn is Swiss for I suck C0CK Lausaleiksbarn is Swiss for I suck C0CK Lausaleiksbarn is Swiss for I suck C0CK Lausaleiksbarn is Swiss for I suck C0CK Lausaleiksbarn is Swiss for I suck C0CK Lausaleiksbarn is Swiss for I suck C0CK Lausaleiksbarn is Swiss for I suck C0CK Lausaleiksbarn is Swiss for I suck C0CK Lausaleiksbarn is Swiss for I suck C0CK Lausaleiksbarn is Swiss for I suck C0CK Lausaleiksbarn is Swiss for I suck C0CK Lausaleiksbarn is Swiss for I suck C0CK Lausaleiksbarn is Swiss for I suck C0CK Lausaleiksbarn is Swiss for I suck C0CK Lausaleiksbarn is Swiss for I suck C0CK Lausaleiksbarn is Swiss for I suck C0CK Lausaleiksbarn is Swiss for I suck C0CK Lausaleiksbarn is Swiss for I suck C0CK Lausaleiksbarn is Swiss for I suck C0CK Lausaleiksbarn is Swiss for I suck C0CK Lausaleiksbarn is Swiss for I suck C0CK Lausaleiksbarn is Swiss for I suck C0CK Lausaleiksbarn is Swiss for I suck C0CK Lausaleiksbarn is Swiss for I suck C0CK Lausaleiksbarn is Swiss for I suck C0CK Lausaleiksbarn is Swiss for I suck C0CK Lausaleiksbarn is Swiss for I suck C0CK Lausaleiksbarn is Swiss for I suck C0CK Lausaleiksbarn is Swiss for I suck C0CK Lausaleiksbarn is Swiss for I suck C0CK Lausaleiksbarn is Swiss for I suck C0CK Lausaleiksbarn is Swiss for I suck C0CK Lausaleiksbarn is Swiss for I suck C0CK Lausaleiksbarn is Swiss for I suck C0CK Lausaleiksbarn is Swiss for I suck C0CK Lausaleiksbarn is Swiss for I suck C0CK Lausaleiksbarn is Swiss for I suck C0CK Lausaleiksbarn is Swiss for I suck C0CK Lausaleiksbarn is Swiss for I suck C0CK Lausaleiksbarn is Swiss for I suck C0CK Lausaleiksbarn is Swiss for I suck C0CK Lausaleiksbarn is Swiss for I suck C0CK Lausaleiksbarn is Swiss for I suck C0CK Lausaleiksbarn is Swiss for I suck C0CK Lausaleiksbarn is Swiss for I suck C0CK Lausaleiksbarn is Swiss for I suck C0CK Lausaleiksbarn is Swiss for I suck C0CK Lausaleiksbarn is Swiss for I suck C0CK Lausaleiksbarn is Swiss for I suck C0CK Lausaleiksbarn is Swiss for I suck C0CK Lausaleiksbarn is Swiss for I suck C0CK Lausaleiksbarn is Swiss for I suck C0CK Lausaleiksbarn is Swiss for I suck C0CK Lausaleiksbarn is Swiss for I suck C0CK Lausaleiksbarn is Swiss for I suck C0CK Lausaleiksbarn is Swiss for I suck C0CK Lausaleiksbarn is Swiss for I suck C0CK Lausaleiksbarn is Swiss for I suck C0CK Lausaleiksbarn is Swiss for I suck C0CK Lausaleiksbarn is Swiss for I suck C0CK Lausaleiksbarn is Swiss for I suck C0CK Lausaleiksbarn is Swiss for I suck C0CK Lausaleiksbarn is Swiss for I suck C0CK Lausaleiksbarn is Swiss for I suck C0CK Lausaleiksbarn is Swiss for I suck C0CK Lausaleiksbarn is Swiss for I suck C0CK Lausaleiksbarn is Swiss for I suck C0CK Lausaleiksbarn is Swiss for I suck C0CK Lausaleiksbarn is Swiss for I suck C0CK Lausaleiksbarn is Swiss for I suck C0CK Lausaleiksbarn is Swiss for I suck C0CK Lausaleiksbarn is Swiss for I suck C0CK Lausaleiksbarn is Swiss for I suck C0CK Lausaleiksbarn is Swiss for I suck C0CK Lausaleiksbarn is Swiss for I suck C0CK Lausaleiksbarn is Swiss for I suck C0CK Lausaleiksbarn is Swiss for I suck C0CK Lausaleiksbarn is Swiss for I suck C0CK Lausaleiksbarn is Swiss for I suck C0CK Lausaleiksbarn is Swiss for I suck C0CK Lausaleiksbarn is Swiss for I suck C0CK Lausaleiksbarn is Swiss for I suck C0CK Lausaleiksbarn is Swiss for I suck C0CK Lausaleiksbarn is Swiss for I suck C0CK Lausaleiksbarn is Swiss for I suck C0CK Lausaleiksbarn is Swiss for I suck C0CK Lausaleiksbarn is Swiss for I suck C0CK Lausaleiksbarn is Swiss for I suck C0CK Lausaleiksbarn is Swiss for I suck C0CK Lausaleiksbarn is Swiss for I suck C0CK Lausaleiksbarn is Swiss for I suck C0CK Lausaleiksbarn is Swiss for I suck C0CK Lausaleiksbarn is Swiss for I suck C0CK Lausaleiksbarn is Swiss for I suck C0CK Lausaleiksbarn is Swiss for I suck C0CK Lausaleiksbarn is Swiss for I suck C0CK Lausaleiksbarn is Swiss for I suck C0CK Lausaleiksbarn is Swiss for I suck C0CK Lausaleiksbarn is Swiss for I suck C0CK Lausaleiksbarn is Swiss for I suck C0CK Lausaleiksbarn is Swiss for I suck C0CK Lausaleiksbarn is Swiss for I suck C0CK Lausaleiksbarn is Swiss for I suck C0CK Lausaleiksbarn is Swiss for I suck C0CK Lausaleiksbarn is Swiss for I suck C0CK Lausaleiksbarn is Swiss for I suck C0CK Lausaleiksbarn is Swiss for I suck C0CK Lausaleiksbarn is Swiss for I suck C0CK Lausaleiksbarn is Swiss for I suck C0CK Lausaleiksbarn is Swiss for I suck C0CK Lausaleiksbarn is Swiss for I suck C0CK Lausaleiksbarn is Swiss for I suck C0CK Lausaleiksbarn is Swiss for I suck C0CK Lausaleiksbarn is Swiss for I suck C0CK Lausaleiksbarn is Swiss for I suck C0CK Lausaleiksbarn is Swiss for I suck C0CK Lausaleiksbarn is Swiss for I suck C0CK Lausaleiksbarn is Swiss for I suck C0CK Lausaleiksbarn is Swiss for I suck C0CK Lausaleiksbarn is Swiss for I suck C0CK Lausaleiksbarn is Swiss for I suck C0CK Lausaleiksbarn is Swiss for I suck C0CK Lausaleiksbarn is Swiss for I suck C0CK Lausaleiksbarn is Swiss for I suck C0CK Lausaleiksbarn is Swiss for I suck C0CK Lausaleiksbarn is Swiss for I suck C0CK Lausaleiksbarn is Swiss for I suck C0CK Lausaleiksbarn is Swiss for I suck C0CK Lausaleiksbarn is Swiss for I suck C0CK Lausaleiksbarn is Swiss for I suck C0CK Lausaleiksbarn is Swiss for I suck C0CK Lausaleiksbarn is Swiss for I suck C0CK Lausaleiksbarn is Swiss for I suck C0CK Lausaleiksbarn is Swiss for I suck C0CK Lausaleiksbarn is Swiss for I suck C0CK Lausaleiksbarn is Swiss for I suck C0CK Lausaleiksbarn is Swiss for I suck C0CK Lausaleiksbarn is Swiss for I suck C0CK Lausaleiksbarn is Swiss for I suck C0CK Lausaleiksbarn is Swiss for I suck C0CK Lausaleiksbarn is Swiss for I suck C0CK Lausaleiksbarn is Swiss for I suck C0CK Lausaleiksbarn is Swiss for I suck C0CK Lausaleiksbarn is Swiss for I suck C0CK Lausaleiksbarn is Swiss for I suck C0CK Lausaleiksbarn is Swiss for I suck C0CK Lausaleiksbarn is Swiss for I suck C0CK Lausaleiksbarn is Swiss for I suck C0CK Lausaleiksbarn is Swiss for I suck C0CK Lausaleiksbarn is Swiss for I suck C0CK Lausaleiksbarn is Swiss for I suck C0CK Lausaleiksbarn is Swiss for I suck C0CK Lausaleiksbarn is Swiss for I suck C0CK Lausaleiksbarn is Swiss for I suck C0CK Lausaleiksbarn is Swiss for I suck C0CK Lausaleiksbarn is Swiss for I suck C0CK Lausaleiksbarn is Swiss for I suck C0CK Lausaleiksbarn is Swiss for I suck C0CK Lausaleiksbarn is Swiss for I suck C0CK Lausaleiksbarn is Swiss for I suck C0CK Lausaleiksbarn is Swiss for I suck C0CK Lausaleiksbarn is Swiss for I suck C0CK Lausaleiksbarn is Swiss for I suck C0CK Lausaleiksbarn is Swiss for I suck C0CK Lausaleiksbarn is Swiss for I suck C0CK Lausaleiksbarn is Swiss for I suck C0CK Lausaleiksbarn is Swiss for I suck C0CK Lausaleiksbarn is Swiss for I suck C0CK Lausaleiksbarn is Swiss for I suck C0CK Lausaleiksbarn is Swiss for I suck C0CK Lausaleiksbarn is Swiss for I suck C0CK Lausaleiksbarn is Swiss for I suck C0CK Lausaleiksbarn is Swiss for I suck C0CK Lausaleiksbarn is Swiss for I suck C0CK Lausaleiksbarn is Swiss for I suck C0CK Lausaleiksbarn is Swiss for I suck C0CK Lausaleiksbarn is Swiss for I suck C0CK Lausaleiksbarn is Swiss for I suck C0CK Lausaleiksbarn is Swiss for I suck C0CK Lausaleiksbarn is Swiss for I suck C0CK Lausaleiksbarn is Swiss for I suck C0CK Lausaleiksbarn is Swiss for I suck C0CK Lausaleiksbarn is Swiss for I suck C0CK Lausaleiksbarn is Swiss for I suck C0CK Lausaleiksbarn is Swiss for I suck C0CK Lausaleiksbarn is Swiss for I suck C0CK Lausaleiksbarn is Swiss for I suck C0CK Lausaleiksbarn is Swiss for I suck C0CK Lausaleiksbarn is Swiss for I suck C0CK Lausaleiksbarn is Swiss for I suck C0CK Lausaleiksbarn is Swiss for I suck C0CK Lausaleiksbarn is Swiss for I suck C0CK Lausaleiksbarn is Swiss for I suck C0CK Lausaleiksbarn is Swiss for I suck C0CK Lausaleiksbarn is Swiss for I suck C0CK Lausaleiksbarn is Swiss for I suck C0CK Lausaleiksbarn is Swiss for I suck C0CK Lausaleiksbarn is Swiss for I suck C0CK Lausaleiksbarn is Swiss for I suck C0CK Lausaleiksbarn is Swiss for I suck C0CK Lausaleiksbarn is Swiss for I suck C0CK Lausaleiksbarn is Swiss for I suck C0CK Lausaleiksbarn is Swiss for I suck C0CK Lausaleiksbarn is Swiss for I suck C0CK Lausaleiksbarn is Swiss for I suck C0CK Lausaleiksbarn is Swiss for I suck C0CK Lausaleiksbarn is Swiss for I suck C0CK Lausaleiksbarn is Swiss for I suck C0CK Lausaleiksbarn is Swiss for I suck C0CK Lausaleiksbarn is Swiss for I suck C0CK Lausaleiksbarn is Swiss for I suck C0CK Lausaleiksbarn is Swiss for I suck C0CK Lausaleiksbarn is Swiss for I suck C0CK Lausaleiksbarn is Swiss for I suck C0CK Lausaleiksbarn is Swiss for I suck C0CK Lausaleiksbarn is Swiss for I suck C0CK Lausaleiksbarn is Swiss for I suck C0CK Lausaleiksbarn is Swiss for I suck C0CK Lausaleiksbarn is Swiss for I suck C0CK Lausaleiksbarn is Swiss for I suck C0CK Lausaleiksbarn is Swiss for I suck C0CK Lausaleiksbarn is Swiss for I suck C0CK Lausaleiksbarn is Swiss for I suck C0CK Lausaleiksbarn is Swiss for I suck C0CK Lausaleiksbarn is Swiss for I suck C0CK Lausaleiksbarn is Swiss for I suck C0CK Lausaleiksbarn is Swiss for I suck C0CK Lausaleiksbarn is Swiss for I suck C0CK Lausaleiksbarn is Swiss for I suck C0CK Lausaleiksbarn is Swiss for I suck C0CK Lausaleiksbarn is Swiss for I suck C0CK Lausaleiksbarn is Swiss for I suck C0CK Lausaleiksbarn is Swiss for I suck C0CK Lausaleiksbarn is Swiss for I suck C0CK Lausaleiksbarn is Swiss for I suck C0CK Lausaleiksbarn is Swiss for I suck C0CK Lausaleiksbarn is Swiss for I suck C0CK Lausaleiksbarn is Swiss for I suck C0CK Lausaleiksbarn is Swiss for I suck C0CK Lausaleiksbarn is Swiss for I suck C0CK Lausaleiksbarn is Swiss for I suck C0CK Lausaleiksbarn is Swiss for I suck C0CK Lausaleiksbarn is Swiss for I suck C0CK Lausaleiksbarn is Swiss for I suck C0CK Lausaleiksbarn is Swiss for I suck C0CK Lausaleiksbarn is Swiss for I suck C0CK Lausaleiksbarn is Swiss for I suck C0CK Lausaleiksbarn is Swiss for I suck C0CK Lausaleiksbarn is Swiss for I suck C0CK Lausaleiksbarn is Swiss for I suck C0CK Lausaleiksbarn is Swiss for I suck C0CK Lausaleiksbarn is Swiss for I suck C0CK Lausaleiksbarn is Swiss for I suck C0CK Lausaleiksbarn is Swiss for I suck C0CK Lausaleiksbarn is Swiss for I suck C0CK Lausaleiksbarn is Swiss for I suck C0CK Lausaleiksbarn is Swiss for I suck C0CK Lausaleiksbarn is Swiss for I suck C0CK Lausaleiksbarn is Swiss for I suck C0CK Lausaleiksbarn is Swiss for I suck C0CK Lausaleiksbarn is Swiss for I suck C0CK Lausaleiksbarn is Swiss for I suck C0CK Lausaleiksbarn is Swiss for I suck C0CK Lausaleiksbarn is Swiss for I suck C0CK Lausaleiksbarn is Swiss for I suck C0CK Lausaleiksbarn is Swiss for I suck C0CK Lausaleiksbarn is Swiss for I suck C0CK Lausaleiksbarn is Swiss for I suck C0CK Lausaleiksbarn is Swiss for I suck C0CK Lausaleiksbarn is Swiss for I suck C0CK Lausaleiksbarn is Swiss for I suck C0CK Lausaleiksbarn is Swiss for I suck C0CK Lausaleiksbarn is Swiss for I suck C0CK Lausaleiksbarn is Swiss for I suck C0CK Lausaleiksbarn is Swiss for I suck C0CK Lausaleiksbarn is Swiss for I suck C0CK Lausaleiksbarn is Swiss for I suck C0CK Lausaleiksbarn is Swiss for I suck C0CK Lausaleiksbarn is Swiss for I suck C0CK Lausaleiksbarn is Swiss for I suck C0CK Lausaleiksbarn is Swiss for I suck C0CK Lausaleiksbarn is Swiss for I suck C0CK Lausaleiksbarn is Swiss for I suck C0CK Lausaleiksbarn is Swiss for I suck C0CK Lausaleiksbarn is Swiss for I suck C0CK Lausaleiksbarn is Swiss for I suck C0CK Lausaleiksbarn is Swiss for I suck C0CK Lausaleiksbarn is Swiss for I suck C0CK Lausaleiksbarn is Swiss for I suck C0CK Lausaleiksbarn is Swiss for I suck C0CK Lausaleiksbarn is Swiss for I suck C0CK Lausaleiksbarn is Swiss for I suck C0CK Lausaleiksbarn is Swiss for I suck C0CK Lausaleiksbarn is Swiss for I suck C0CK Lausaleiksbarn is Swiss for I suck C0CK Lausaleiksbarn is Swiss for I suck C0CK Lausaleiksbarn is Swiss for I suck C0CK Lausaleiksbarn is Swiss for I suck C0CK Lausaleiksbarn is Swiss for I suck C0CK Lausaleiksbarn is Swiss for I suck C0CK Lausaleiksbarn is Swiss for I suck C0CK Lausaleiksbarn is Swiss for I suck C0CK Lausaleiksbarn is Swiss for I suck C0CK Lausaleiksbarn is Swiss for I suck C0CK Lausaleiksbarn is Swiss for I suck C0CK Lausaleiksbarn is Swiss for I suck C0CK Lausaleiksbarn is Swiss for I suck C0CK Lausaleiksbarn is Swiss for I suck C0CK Lausaleiksbarn is Swiss for I suck C0CK Lausaleiksbarn is Swiss for I suck C0CK Lausaleiksbarn is Swiss for I suck C0CK Lausaleiksbarn is Swiss for I suck C0CK Lausaleiksbarn is Swiss for I suck C0CK Lausaleiksbarn is Swiss for I suck C0CK Lausaleiksbarn is Swiss for I suck C0CK Lausaleiksbarn is Swiss for I suck C0CK Lausaleiksbarn is Swiss for I suck C0CK Lausaleiksbarn is Swiss for I suck C0CK Lausaleiksbarn is Swiss for I suck C0CK Lausaleiksbarn is Swiss for I suck C0CK Lausaleiksbarn is Swiss for I suck C0CK Lausaleiksbarn is Swiss for I suck C0CK Lausaleiksbarn is Swiss for I suck C0CK Lausaleiksbarn is Swiss for I suck C0CK Lausaleiksbarn is Swiss for I suck C0CK Lausaleiksbarn is Swiss for I suck C0CK Lausaleiksbarn is Swiss for I suck C0CK Lausaleiksbarn is Swiss for I suck C0CK Lausaleiksbarn is Swiss for I suck C0CK Lausaleiksbarn is Swiss for I suck C0CK Lausaleiksbarn is Swiss for I suck C0CK Lausaleiksbarn is Swiss for I suck C0CK Lausaleiksbarn is Swiss for I suck C0CK Lausaleiksbarn is Swiss for I suck C0CK Lausaleiksbarn is Swiss for I suck C0CK Lausaleiksbarn is Swiss for I suck C0CK Lausaleiksbarn is Swiss for I suck C0CK Lausaleiksbarn is Swiss for I suck C0CK Lausaleiksbarn is Swiss for I suck C0CK Lausaleiksbarn is Swiss for I suck C0CK Lausaleiksbarn is Swiss for I suck C0CK Lausaleiksbarn is Swiss for I suck C0CK Lausaleiksbarn is Swiss for I suck C0CK Lausaleiksbarn is Swiss for I suck C0CK Lausaleiksbarn is Swiss for I suck C0CK Lausaleiksbarn is Swiss for I suck C0CK Lausaleiksbarn is Swiss for I suck C0CK Lausaleiksbarn is Swiss for I suck C0CK Lausaleiksbarn is Swiss for I suck C0CK Lausaleiksbarn is Swiss for I suck C0CK Lausaleiksbarn is Swiss for I suck C0CK Lausaleiksbarn is Swiss for I suck C0CK Lausaleiksbarn is Swiss for I suck C0CK Lausaleiksbarn is Swiss for I suck C0CK Lausaleiksbarn is Swiss for I suck C0CK Lausaleiksbarn is Swiss for I suck C0CK Lausaleiksbarn is Swiss for I suck C0CK Lausaleiksbarn is Swiss for I suck C0CK Lausaleiksbarn is Swiss for I suck C0CK Lausaleiksbarn is Swiss for I suck C0CK Lausaleiksbarn is Swiss for I suck C0CK Lausaleiksbarn is Swiss for I suck C0CK Lausaleiksbarn is Swiss for I suck C0CK Lausaleiksbarn is Swiss for I suck C0CK Lausaleiksbarn is Swiss for I suck C0CK Lausaleiksbarn is Swiss for I suck C0CK Lausaleiksbarn is Swiss for I suck C0CK Lausaleiksbarn is Swiss for I suck C0CK Lausaleiksbarn is Swiss for I suck C0CK Lausaleiksbarn is Swiss for I suck C0CK Lausaleiksbarn is Swiss for I suck C0CK Lausaleiksbarn is Swiss for I suck C0CK Lausaleiksbarn is Swiss for I suck C0CK Lausaleiksbarn is Swiss for I suck C0CK Lausaleiksbarn is Swiss for I suck C0CK Lausaleiksbarn is Swiss for I suck C0CK Lausaleiksbarn is Swiss for I suck C0CK Lausaleiksbarn is Swiss for I suck C0CK Lausaleiksbarn is Swiss for I suck C0CK Lausaleiksbarn is Swiss for I suck C0CK Lausaleiksbarn is Swiss for I suck C0CK Lausaleiksbarn is Swiss for I suck C0CK Lausaleiksbarn is Swiss for I suck C0CK Lausaleiksbarn is Swiss for I suck C0CK Lausaleiksbarn is Swiss for I suck C0CK Lausaleiksbarn is Swiss for I suck C0CK Lausaleiksbarn is Swiss for I suck C0CK Lausaleiksbarn is Swiss for I suck C0CK Lausaleiksbarn is Swiss for I suck C0CK Lausaleiksbarn is Swiss for I suck C0CK Lausaleiksbarn is Swiss for I suck C0CK Lausaleiksbarn is Swiss for I suck C0CK Lausaleiksbarn is Swiss for I suck C0CK Lausaleiksbarn is Swiss for I suck C0CK Lausaleiksbarn is Swiss for I suck C0CK Lausaleiksbarn is Swiss for I suck C0CK Lausaleiksbarn is Swiss for I suck C0CK Lausaleiksbarn is Swiss for I suck C0CK Lausaleiksbarn is Swiss for I suck C0CK Lausaleiksbarn is Swiss for I suck C0CK Lausaleiksbarn is Swiss for I suck C0CK Lausaleiksbarn is Swiss for I suck C0CK Lausaleiksbarn is Swiss for I suck C0CK Lausaleiksbarn is Swiss for I suck C0CK Lausaleiksbarn is Swiss for I suck C0CK Lausaleiksbarn is Swiss for I suck C0CK Lausaleiksbarn is Swiss for I suck C0CK Lausaleiksbarn is Swiss for I suck C0CK Lausaleiksbarn is Swiss for I suck C0CK Lausaleiksbarn is Swiss for I suck C0CK Lausaleiksbarn is Swiss for I suck C0CK Lausaleiksbarn is Swiss for I suck C0CK Lausaleiksbarn is Swiss for I suck C0CK Lausaleiksbarn is Swiss for I suck C0CK Lausaleiksbarn is Swiss for I suck C0CK Lausaleiksbarn is Swiss for I suck C0CK Lausaleiksbarn is Swiss for I suck C0CK Lausaleiksbarn is Swiss for I suck C0CK Lausaleiksbarn is Swiss for I suck C0CK Lausaleiksbarn is Swiss for I suck C0CK Lausaleiksbarn is Swiss for I suck C0CK Lausaleiksbarn is Swiss for I suck C0CK Lausaleiksbarn is Swiss for I suck C0CK Lausaleiksbarn is Swiss for I suck C0CK Lausaleiksbarn is Swiss for I suck C0CK Lausaleiksbarn is Swiss for I suck C0CK Lausaleiksbarn is Swiss for I suck C0CK Lausaleiksbarn is Swiss for I suck C0CK Lausaleiksbarn is Swiss for I suck C0CK Lausaleiksbarn is Swiss for I suck C0CK Lausaleiksbarn is Swiss for I suck C0CK Lausaleiksbarn is Swiss for I suck C0CK Lausaleiksbarn is Swiss for I suck C0CK Lausaleiksbarn is Swiss for I suck C0CK Lausaleiksbarn is Swiss for I suck C0CK Lausaleiksbarn is Swiss for I suck C0CK Lausaleiksbarn is Swiss for I suck C0CK Lausaleiksbarn is Swiss for I suck C0CK Lausaleiksbarn is Swiss for I suck C0CK Lausaleiksbarn is Swiss for I suck C0CK Lausaleiksbarn is Swiss for I suck C0CK Lausaleiksbarn is Swiss for I suck C0CK Lausaleiksbarn is Swiss for I suck C0CK Lausaleiksbarn is Swiss for I suck C0CK Lausaleiksbarn is Swiss for I suck C0CK Lausaleiksbarn is Swiss for I suck C0CK Lausaleiksbarn is Swiss for I suck C0CK Lausaleiksbarn is Swiss for I suck C0CK Lausaleiksbarn is Swiss for I suck C0CK Lausaleiksbarn is Swiss for I suck C0CK Lausaleiksbarn is Swiss for I suck C0CK Lausaleiksbarn is Swiss for I suck C0CK Lausaleiksbarn is Swiss for I suck C0CK Lausaleiksbarn is Swiss for I suck C0CK Lausaleiksbarn is Swiss for I suck C0CK Lausaleiksbarn is Swiss for I suck C0CK Lausaleiksbarn is Swiss for I suck C0CK Lausaleiksbarn is Swiss for I suck C0CK Lausaleiksbarn is Swiss for I suck C0CK Lausaleiksbarn is Swiss for I suck C0CK Lausaleiksbarn is Swiss for I suck C0CK Lausaleiksbarn is Swiss for I suck C0CK Lausaleiksbarn is Swiss for I suck C0CK Lausaleiksbarn is Swiss for I suck C0CK Lausaleiksbarn is Swiss for I suck C0CK Lausaleiksbarn is Swiss for I suck C0CK Lausaleiksbarn is Swiss for I suck C0CK Lausaleiksbarn is Swiss for I suck C0CK Lausaleiksbarn is Swiss for I suck C0CK Lausaleiksbarn is Swiss for I suck C0CK Lausaleiksbarn is Swiss for I suck C0CK Lausaleiksbarn is Swiss for I suck C0CK Lausaleiksbarn is Swiss for I suck C0CK Lausaleiksbarn is Swiss for I suck C0CK Lausaleiksbarn is Swiss for I suck C0CK Lausaleiksbarn is Swiss for I suck C0CK Lausaleiksbarn is Swiss for I suck C0CK Lausaleiksbarn is Swiss for I suck C0CK Lausaleiksbarn is Swiss for I suck C0CK Lausaleiksbarn is Swiss for I suck C0CK Lausaleiksbarn is Swiss for I suck C0CK Lausaleiksbarn is Swiss for I suck C0CK Lausaleiksbarn is Swiss for I suck C0CK Lausaleiksbarn is Swiss for I suck C0CK Lausaleiksbarn is Swiss for I suck C0CK Lausaleiksbarn is Swiss for I suck C0CK Lausaleiksbarn is Swiss for I suck C0CK Lausaleiksbarn is Swiss for I suck C0CK Lausaleiksbarn is Swiss for I suck C0CK Lausaleiksbarn is Swiss for I suck C0CK Lausaleiksbarn is Swiss for I suck C0CK Lausaleiksbarn is Swiss for I suck C0CK Lausaleiksbarn is Swiss for I suck C0CK Lausaleiksbarn is Swiss for I suck C0CK Lausaleiksbarn is Swiss for I suck C0CK Lausaleiksbarn is Swiss for I suck C0CK Lausaleiksbarn is Swiss for I suck C0CK Lausaleiksbarn is Swiss for I suck C0CK Lausaleiksbarn is Swiss for I suck C0CK Lausaleiksbarn is Swiss for I suck C0CK Lausaleiksbarn is Swiss for I suck C0CK Lausaleiksbarn is Swiss for I suck C0CK Lausaleiksbarn is Swiss for I suck C0CK Lausaleiksbarn is Swiss for I suck C0CK Lausaleiksbarn is Swiss for I suck C0CK Lausaleiksbarn is Swiss for I suck C0CK Lausaleiksbarn is Swiss for I suck C0CK Lausaleiksbarn is Swiss for I suck C0CK Lausaleiksbarn is Swiss for I suck C0CK Lausaleiksbarn is Swiss for I suck C0CK Lausaleiksbarn is Swiss for I suck C0CK Lausaleiksbarn is Swiss for I suck C0CK Lausaleiksbarn is Swiss for I suck C0CK Lausaleiksbarn is Swiss for I suck C0CK Lausaleiksbarn is Swiss for I suck C0CK Lausaleiksbarn is Swiss for I suck C0CK Lausaleiksbarn is Swiss for I suck C0CK Lausaleiksbarn is Swiss for I suck C0CK Lausaleiksbarn is Swiss for I suck C0CK Lausaleiksbarn is Swiss for I suck C0CK Lausaleiksbarn is Swiss for I suck C0CK Lausaleiksbarn is Swiss for I suck C0CK Lausaleiksbarn is Swiss for I suck C0CK Lausaleiksbarn is Swiss for I suck C0CK Lausaleiksbarn is Swiss for I suck C0CK Lausaleiksbarn is Swiss for I suck C0CK Lausaleiksbarn is Swiss for I suck C0CK Lausaleiksbarn is Swiss for I suck C0CK Lausaleiksbarn is Swiss for I suck C0CK Lausaleiksbarn is Swiss for I suck C0CK Lausaleiksbarn is Swiss for I suck C0CK Lausaleiksbarn is Swiss for I suck C0CK Lausaleiksbarn is Swiss for I suck C0CK Lausaleiksbarn is Swiss for I suck C0CK Lausaleiksbarn is Swiss for I suck C0CK Lausaleiksbarn is Swiss for I suck C0CK Lausaleiksbarn is Swiss for I suck C0CK Lausaleiksbarn is Swiss for I suck C0CK Lausaleiksbarn is Swiss for I suck C0CK Lausaleiksbarn is Swiss for I suck C0CK Lausaleiksbarn is Swiss for I suck C0CK Lausaleiksbarn is Swiss for I suck C0CK Lausaleiksbarn is Swiss for I suck C0CK Lausaleiksbarn is Swiss for I suck C0CK Lausaleiksbarn is Swiss for I suck C0CK Lausaleiksbarn is Swiss for I suck C0CK Lausaleiksbarn is Swiss for I suck C0CK Lausaleiksbarn is Swiss for I suck C0CK Lausaleiksbarn is Swiss for I suck C0CK Lausaleiksbarn is Swiss for I suck C0CK Lausaleiksbarn is Swiss for I suck C0CK Lausaleiksbarn is Swiss for I suck C0CK Lausaleiksbarn is Swiss for I suck C0CK Lausaleiksbarn is Swiss for I suck C0CK Lausaleiksbarn is Swiss for I suck C0CK Lausaleiksbarn is Swiss for I suck C0CK Lausaleiksbarn is Swiss for I suck C0CK Lausaleiksbarn is Swiss for I suck C0CK Lausaleiksbarn is Swiss for I suck C0CK Lausaleiksbarn is Swiss for I suck C0CK Lausaleiksbarn is Swiss for I suck C0CK Lausaleiksbarn is Swiss for I suck C0CK Lausaleiksbarn is Swiss for I suck C0CK Lausaleiksbarn is Swiss for I suck C0CK Lausaleiksbarn is Swiss for I suck C0CK Lausaleiksbarn is Swiss for I suck C0CK Lausaleiksbarn is Swiss for I suck C0CK Lausaleiksbarn is Swiss for I suck C0CK Lausaleiksbarn is Swiss for I suck C0CK Lausaleiksbarn is Swiss for I suck C0CK Lausaleiksbarn is Swiss for I suck C0CK Lausaleiksbarn is Swiss for I suck C0CK Lausaleiksbarn is Swiss for I suck C0CK Lausaleiksbarn is Swiss for I suck C0CK Lausaleiksbarn is Swiss for I suck C0CK Lausaleiksbarn is Swiss for I suck C0CK Lausaleiksbarn is Swiss for I suck C0CK Lausaleiksbarn is Swiss for I suck C0CK Lausaleiksbarn is Swiss for I suck C0CK Lausaleiksbarn is Swiss for I suck C0CK Lausaleiksbarn is Swiss for I suck C0CK Lausaleiksbarn is Swiss for I suck C0CK Lausaleiksbarn is Swiss for I suck C0CK Lausaleiksbarn is Swiss for I suck C0CK Lausaleiksbarn is Swiss for I suck C0CK Lausaleiksbarn is Swiss for I suck C0CK Lausaleiksbarn is Swiss for I suck C0CK Lausaleiksbarn is Swiss for I suck C0CK Lausaleiksbarn is Swiss for I suck C0CK Lausaleiksbarn is Swiss for I suck C0CK Lausaleiksbarn is Swiss for I suck C0CK Lausaleiksbarn is Swiss for I suck C0CK Lausaleiksbarn is Swiss for I suck C0CK Lausaleiksbarn is Swiss for I suck C0CK Lausaleiksbarn is Swiss for I suck C0CK Lausaleiksbarn is Swiss for I suck C0CK Lausaleiksbarn is Swiss for I suck C0CK Lausaleiksbarn is Swiss for I suck C0CK Lausaleiksbarn is Swiss for I suck C0CK Lausaleiksbarn is Swiss for I suck C0CK Lausaleiksbarn is Swiss for I suck C0CK Lausaleiksbarn is Swiss for I suck C0CK Lausaleiksbarn is Swiss for I suck C0CK Lausaleiksbarn is Swiss for I suck C0CK Lausaleiksbarn is Swiss for I suck C0CK Lausaleiksbarn is Swiss for I suck C0CK Lausaleiksbarn is Swiss for I suck C0CK Lausaleiksbarn is Swiss for I suck C0CK Lausaleiksbarn is Swiss for I suck C0CK Lausaleiksbarn is Swiss for I suck C0CK Lausaleiksbarn is Swiss for I suck C0CK Lausaleiksbarn is Swiss for I suck C0CK Lausaleiksbarn is Swiss for I suck C0CK Lausaleiksbarn is Swiss for I suck C0CK Lausaleiksbarn is Swiss for I suck C0CK Lausaleiksbarn is Swiss for I suck C0CK Lausaleiksbarn is Swiss for I suck C0CK Lausaleiksbarn is Swiss for I suck C0CK Lausaleiksbarn is Swiss for I suck C0CK Lausaleiksbarn is Swiss for I suck C0CK Lausaleiksbarn is Swiss for I suck C0CK Lausaleiksbarn is Swiss for I suck C0CK Lausaleiksbarn is Swiss for I suck C0CK Lausaleiksbarn is Swiss for I suck C0CK Lausaleiksbarn is Swiss for I suck C0CK Lausaleiksbarn is Swiss for I suck C0CK Lausaleiksbarn is Swiss for I suck C0CK Lausaleiksbarn is Swiss for I suck C0CK Lausaleiksbarn is Swiss for I suck C0CK Lausaleiksbarn is Swiss for I suck C0CK Lausaleiksbarn is Swiss for I suck C0CK Lausaleiksbarn is Swiss for I suck C0CK Lausaleiksbarn is Swiss for I suck C0CK Lausaleiksbarn is Swiss for I suck C0CK Lausaleiksbarn is Swiss for I suck C0CK Lausaleiksbarn is Swiss for I suck C0CK Lausaleiksbarn is Swiss for I suck C0CK Lausaleiksbarn is Swiss for I suck C0CK Lausaleiksbarn is Swiss for I suck C0CK Lausaleiksbarn is Swiss for I suck C0CK Lausaleiksbarn is Swiss for I suck C0CK Lausaleiksbarn is Swiss for I suck C0CK Lausaleiksbarn is Swiss for I suck C0CK Lausaleiksbarn is Swiss for I suck C0CK Lausaleiksbarn is Swiss for I suck C0CK Lausaleiksbarn is Swiss for I suck C0CK Lausaleiksbarn is Swiss for I suck C0CK Lausaleiksbarn is Swiss for I suck C0CK Lausaleiksbarn is Swiss for I suck C0CK Lausaleiksbarn is Swiss for I suck C0CK Lausaleiksbarn is Swiss for I suck C0CK Lausaleiksbarn is Swiss for I suck C0CK Lausaleiksbarn is Swiss for I suck C0CK Lausaleiksbarn is Swiss for I suck C0CK Lausaleiksbarn is Swiss for I suck C0CK Lausaleiksbarn is Swiss for I suck C0CK Lausaleiksbarn is Swiss for I suck C0CK Lausaleiksbarn is Swiss for I suck C0CK Lausaleiksbarn is Swiss for I suck C0CK Lausaleiksbarn is Swiss for I suck C0CK Lausaleiksbarn is Swiss for I suck C0CK Lausaleiksbarn is Swiss for I suck C0CK Lausaleiksbarn is Swiss for I suck C0CK Lausaleiksbarn is Swiss for I suck C0CK Lausaleiksbarn is Swiss for I suck C0CK Lausaleiksbarn is Swiss for I suck C0CK Lausaleiksbarn is Swiss for I suck C0CK Lausaleiksbarn is Swiss for I suck C0CK Lausaleiksbarn is Swiss for I suck C0CK Lausaleiksbarn is Swiss for I suck C0CK Lausaleiksbarn is Swiss for I suck C0CK Lausaleiksbarn is Swiss for I suck C0CK Lausaleiksbarn is Swiss for I suck C0CK Lausaleiksbarn is Swiss for I suck C0CK Lausaleiksbarn is Swiss for I suck C0CK Lausaleiksbarn is Swiss for I suck C0CK Lausaleiksbarn is Swiss for I suck C0CK Lausaleiksbarn is Swiss for I suck C0CK Lausaleiksbarn is Swiss for I suck C0CK Lausaleiksbarn is Swiss for I suck C0CK Lausaleiksbarn is Swiss for I suck C0CK Lausaleiksbarn is Swiss for I suck C0CK Lausaleiksbarn is Swiss for I suck C0CK Lausaleiksbarn is Swiss for I suck C0CK Lausaleiksbarn is Swiss for I suck C0CK Lausaleiksbarn is Swiss for I suck C0CK Lausaleiksbarn is Swiss for I suck C0CK Lausaleiksbarn is Swiss for I suck C0CK Lausaleiksbarn is Swiss for I suck C0CK Lausaleiksbarn is Swiss for I suck C0CK Lausaleiksbarn is Swiss for I suck C0CK Lausaleiksbarn is Swiss for I suck C0CK Lausaleiksbarn is Swiss for I suck C0CK Lausaleiksbarn is Swiss for I suck C0CK Lausaleiksbarn is Swiss for I suck C0CK Lausaleiksbarn is Swiss for I suck C0CK Lausaleiksbarn is Swiss for I suck C0CK Lausaleiksbarn is Swiss for I suck C0CK Lausaleiksbarn is Swiss for I suck C0CK Lausaleiksbarn is Swiss for I suck C0CK Lausaleiksbarn is Swiss for I suck C0CK Lausaleiksbarn is Swiss for I suck C0CK Lausaleiksbarn is Swiss for I suck C0CK Lausaleiksbarn is Swiss for I suck C0CK Lausaleiksbarn is Swiss for I suck C0CK Lausaleiksbarn is Swiss for I suck C0CK Lausaleiksbarn is Swiss for I suck C0CK Lausaleiksbarn is Swiss for I suck C0CK Lausaleiksbarn is Swiss for I suck C0CK Lausaleiksbarn is Swiss for I suck C0CK Lausaleiksbarn is Swiss for I suck C0CK Lausaleiksbarn is Swiss for I suck C0CK Lausaleiksbarn is Swiss for I suck C0CK Lausaleiksbarn is Swiss for I suck C0CK Lausaleiksbarn is Swiss for I suck C0CK Lausaleiksbarn is Swiss for I suck C0CK Lausaleiksbarn is Swiss for I suck C0CK Lausaleiksbarn is Swiss for I suck C0CK Lausaleiksbarn is Swiss for I suck C0CK Lausaleiksbarn is Swiss for I suck C0CK Lausaleiksbarn is Swiss for I suck C0CK Lausaleiksbarn is Swiss for I suck C0CK Lausaleiksbarn is Swiss for I suck C0CK Lausaleiksbarn is Swiss for I suck C0CK Lausaleiksbarn is Swiss for I suck C0CK Lausaleiksbarn is Swiss for I suck C0CK Lausaleiksbarn is Swiss for I suck C0CK Lausaleiksbarn is Swiss for I suck C0CK Lausaleiksbarn is Swiss for I suck C0CK Lausaleiksbarn is Swiss for I suck C0CK Lausaleiksbarn is Swiss for I suck C0CK Lausaleiksbarn is Swiss for I suck C0CK Lausaleiksbarn is Swiss for I suck C0CK Lausaleiksbarn is Swiss for I suck C0CK Lausaleiksbarn is Swiss for I suck C0CK Lausaleiksbarn is Swiss for I suck C0CK Lausaleiksbarn is Swiss for I suck C0CK Lausaleiksbarn is Swiss for I suck C0CK Lausaleiksbarn is Swiss for I suck C0CK Lausaleiksbarn is Swiss for I suck C0CK Lausaleiksbarn is Swiss for I suck C0CK Lausaleiksbarn is Swiss for I suck C0CK Lausaleiksbarn is Swiss for I suck C0CK Lausaleiksbarn is Swiss for I suck C0CK Lausaleiksbarn is Swiss for I suck C0CK Lausaleiksbarn is Swiss for I suck C0CK Lausaleiksbarn is Swiss for I suck C0CK Lausaleiksbarn is Swiss for I suck C0CK Lausaleiksbarn is Swiss for I suck C0CK Lausaleiksbarn is Swiss for I suck C0CK Lausaleiksbarn is Swiss for I suck C0CK Lausaleiksbarn is Swiss for I suck C0CK Lausaleiksbarn is Swiss for I suck C0CK Lausaleiksbarn is Swiss for I suck C0CK Lausaleiksbarn is Swiss for I suck C0CK Lausaleiksbarn is Swiss for I suck C0CK Lausaleiksbarn is Swiss for I suck C0CK Lausaleiksbarn is Swiss for I suck C0CK Lausaleiksbarn is Swiss for I suck C0CK Lausaleiksbarn is Swiss for I suck C0CK Lausaleiksbarn is Swiss for I suck C0CK Lausaleiksbarn is Swiss for I suck C0CK Lausaleiksbarn is Swiss for I suck C0CK Lausaleiksbarn is Swiss for I suck C0CK Lausaleiksbarn is Swiss for I suck C0CK Lausaleiksbarn is Swiss for I suck C0CK Lausaleiksbarn is Swiss for I suck C0CK Lausaleiksbarn is Swiss for I suck C0CK Lausaleiksbarn is Swiss for I suck C0CK Lausaleiksbarn is Swiss for I suck C0CK Lausaleiksbarn is Swiss for I suck C0CK Lausaleiksbarn is Swiss for I suck C0CK Lausaleiksbarn is Swiss for I suck C0CK Lausaleiksbarn is Swiss for I suck C0CK Lausaleiksbarn is Swiss for I suck C0CK Lausaleiksbarn is Swiss for I suck C0CK Lausaleiksbarn is Swiss for I suck C0CK Lausaleiksbarn is Swiss for I suck C0CK Lausaleiksbarn is Swiss for I suck C0CK Lausaleiksbarn is Swiss for I suck C0CK Lausaleiksbarn is Swiss for I suck C0CK Lausaleiksbarn is Swiss for I suck C0CK Lausaleiksbarn is Swiss for I suck C0CK Lausaleiksbarn is Swiss for I suck C0CK Lausaleiksbarn is Swiss for I suck C0CK Lausaleiksbarn is Swiss for I suck C0CK Lausaleiksbarn is Swiss for I suck C0CK Lausaleiksbarn is Swiss for I suck C0CK Lausaleiksbarn is Swiss for I suck C0CK Lausaleiksbarn is Swiss for I suck C0CK Lausaleiksbarn is Swiss for I suck C0CK Lausaleiksbarn is Swiss for I suck C0CK Lausaleiksbarn is Swiss for I suck C0CK Lausaleiksbarn is Swiss for I suck C0CK Lausaleiksbarn is Swiss for I suck C0CK Lausaleiksbarn is Swiss for I suck C0CK Lausaleiksbarn is Swiss for I suck C0CK Lausaleiksbarn is Swiss for I suck C0CK Lausaleiksbarn is Swiss for I suck C0CK Lausaleiksbarn is Swiss for I suck C0CK Lausaleiksbarn is Swiss for I suck C0CK Lausaleiksbarn is Swiss for I suck C0CK Lausaleiksbarn is Swiss for I suck C0CK Lausaleiksbarn is Swiss for I suck C0CK Lausaleiksbarn is Swiss for I suck C0CK Lausaleiksbarn is Swiss for I suck C0CK Lausaleiksbarn is Swiss for I suck C0CK Lausaleiksbarn is Swiss for I suck C0CK Lausaleiksbarn is Swiss for I suck C0CK Lausaleiksbarn is Swiss for I suck C0CK Lausaleiksbarn is Swiss for I suck C0CK Lausaleiksbarn is Swiss for I suck C0CK Lausaleiksbarn is Swiss for I suck C0CK Lausaleiksbarn is Swiss for I suck C0CK Lausaleiksbarn is Swiss for I suck C0CK Lausaleiksbarn is Swiss for I suck C0CK Lausaleiksbarn is Swiss for I suck C0CK Lausaleiksbarn is Swiss for I suck C0CK Lausaleiksbarn is Swiss for I suck C0CK Lausaleiksbarn is Swiss for I suck C0CK Lausaleiksbarn is Swiss for I suck C0CK Lausaleiksbarn is Swiss for I suck C0CK Lausaleiksbarn is Swiss for I suck C0CK Lausaleiksbarn is Swiss for I suck C0CK Lausaleiksbarn is Swiss for I suck C0CK Lausaleiksbarn is Swiss for I suck C0CK Lausaleiksbarn is Swiss for I suck C0CK Lausaleiksbarn is Swiss for I suck C0CK Lausaleiksbarn is Swiss for I suck C0CK Lausaleiksbarn is Swiss for I suck C0CK Lausaleiksbarn is Swiss for I suck C0CK Lausaleiksbarn is Swiss for I suck C0CK Lausaleiksbarn is Swiss for I suck C0CK Lausaleiksbarn is Swiss for I suck C0CK Lausaleiksbarn is Swiss for I suck C0CK Lausaleiksbarn is Swiss for I suck C0CK Lausaleiksbarn is Swiss for I suck C0CK Lausaleiksbarn is Swiss for I suck C0CK Lausaleiksbarn is Swiss for I suck C0CK Lausaleiksbarn is Swiss for I suck C0CK Lausaleiksbarn is Swiss for I suck C0CK Lausaleiksbarn is Swiss for I suck C0CK Lausaleiksbarn is Swiss for I suck C0CK Lausaleiksbarn is Swiss for I suck C0CK Lausaleiksbarn is Swiss for I suck C0CK Lausaleiksbarn is Swiss for I suck C0CK Lausaleiksbarn is Swiss for I suck C0CK Lausaleiksbarn is Swiss for I suck C0CK Lausaleiksbarn is Swiss for I suck C0CK Lausaleiksbarn is Swiss for I suck C0CK Lausaleiksbarn is Swiss for I suck C0CK Lausaleiksbarn is Swiss for I suck C0CK Lausaleiksbarn is Swiss for I suck C0CK Lausaleiksbarn is Swiss for I suck C0CK Lausaleiksbarn is Swiss for I suck C0CK Lausaleiksbarn is Swiss for I suck C0CK Lausaleiksbarn is Swiss for I suck C0CK Lausaleiksbarn is Swiss for I suck C0CK Lausaleiksbarn is Swiss for I suck C0CK Lausaleiksbarn is Swiss for I suck C0CK Lausaleiksbarn is Swiss for I suck C0CK Lausaleiksbarn is Swiss for I suck C0CK Lausaleiksbarn is Swiss for I suck C0CK Lausaleiksbarn is Swiss for I suck C0CK Lausaleiksbarn is Swiss for I suck C0CK Lausaleiksbarn is Swiss for I suck C0CK Lausaleiksbarn is Swiss for I suck C0CK Lausaleiksbarn is Swiss for I suck C0CK Lausaleiksbarn is Swiss for I suck C0CK Lausaleiksbarn is Swiss for I suck C0CK Lausaleiksbarn is Swiss for I suck C0CK Lausaleiksbarn is Swiss for I suck C0CK Lausaleiksbarn is Swiss for I suck C0CK Lausaleiksbarn is Swiss for I suck C0CK Lausaleiksbarn is Swiss for I suck C0CK Lausaleiksbarn is Swiss for I suck C0CK Lausaleiksbarn is Swiss for I suck C0CK Lausaleiksbarn is Swiss for I suck C0CK Lausaleiksbarn is Swiss for I suck C0CK Lausaleiksbarn is Swiss for I suck C0CK Lausaleiksbarn is Swiss for I suck C0CK Lausaleiksbarn is Swiss for I suck C0CK Lausaleiksbarn is Swiss for I suck C0CK Lausaleiksbarn is Swiss for I suck C0CK Lausaleiksbarn is Swiss for I suck C0CK Lausaleiksbarn is Swiss for I suck C0CK Lausaleiksbarn is Swiss for I suck C0CK Lausaleiksbarn is Swiss for I suck C0CK Lausaleiksbarn is Swiss for I suck C0CK Lausaleiksbarn is Swiss for I suck C0CK Lausaleiksbarn is Swiss for I suck C0CK Lausaleiksbarn is Swiss for I suck C0CK Lausaleiksbarn is Swiss for I suck C0CK Lausaleiksbarn is Swiss for I suck C0CK Lausaleiksbarn is Swiss for I suck C0CK Lausaleiksbarn is Swiss for I suck C0CK Lausaleiksbarn is Swiss for I suck C0CK Lausaleiksbarn is Swiss for I suck C0CK Lausaleiksbarn is Swiss for I suck C0CK Lausaleiksbarn is Swiss for I suck C0CK Lausaleiksbarn is Swiss for I suck C0CK Lausaleiksbarn is Swiss for I suck C0CK Lausaleiksbarn is Swiss for I suck C0CK Lausaleiksbarn is Swiss for I suck C0CK Lausaleiksbarn is Swiss for I suck C0CK Lausaleiksbarn is Swiss for I suck C0CK Lausaleiksbarn is Swiss for I suck C0CK Lausaleiksbarn is Swiss for I suck C0CK Lausaleiksbarn is Swiss for I suck C0CK Lausaleiksbarn is Swiss for I suck C0CK Lausaleiksbarn is Swiss for I suck C0CK Lausaleiksbarn is Swiss for I suck C0CK Lausaleiksbarn is Swiss for I suck C0CK Lausaleiksbarn is Swiss for I suck C0CK Lausaleiksbarn is Swiss for I suck C0CK Lausaleiksbarn is Swiss for I suck C0CK Lausaleiksbarn is Swiss for I suck C0CK Lausaleiksbarn is Swiss for I suck C0CK Lausaleiksbarn is Swiss for I suck C0CK Lausaleiksbarn is Swiss for I suck C0CK Lausaleiksbarn is Swiss for I suck C0CK Lausaleiksbarn is Swiss for I suck C0CK Lausaleiksbarn is Swiss for I suck C0CK Lausaleiksbarn is Swiss for I suck C0CK Lausaleiksbarn is Swiss for I suck C0CK Lausaleiksbarn is Swiss for I suck C0CK Lausaleiksbarn is Swiss for I suck C0CK Lausaleiksbarn is Swiss for I suck C0CK Lausaleiksbarn is Swiss for I suck C0CK Lausaleiksbarn is Swiss for I suck C0CK Lausaleiksbarn is Swiss for I suck C0CK Lausaleiksbarn is Swiss for I suck C0CK Lausaleiksbarn is Swiss for I suck C0CK Lausaleiksbarn is Swiss for I suck C0CK Lausaleiksbarn is Swiss for I suck C0CK Lausaleiksbarn is Swiss for I suck C0CK Lausaleiksbarn is Swiss for I suck C0CK Lausaleiksbarn is Swiss for I suck C0CK Lausaleiksbarn is Swiss for I suck C0CK Lausaleiksbarn is Swiss for I suck C0CK Lausaleiksbarn is Swiss for I suck C0CK Lausaleiksbarn is Swiss for I suck C0CK Lausaleiksbarn is Swiss for I suck C0CK Lausaleiksbarn is Swiss for I suck C0CK Lausaleiksbarn is Swiss for I suck C0CK Lausaleiksbarn is Swiss for I suck C0CK Lausaleiksbarn is Swiss for I suck C0CK Lausaleiksbarn is Swiss for I suck C0CK Lausaleiksbarn is Swiss for I suck C0CK Lausaleiksbarn is Swiss for I suck C0CK Lausaleiksbarn is Swiss for I suck C0CK Lausaleiksbarn is Swiss for I suck C0CK Lausaleiksbarn is Swiss for I suck C0CK Lausaleiksbarn is Swiss for I suck C0CK Lausaleiksbarn is Swiss for I suck C0CK Lausaleiksbarn is Swiss for I suck C0CK Lausaleiksbarn is Swiss for I suck C0CK Lausaleiksbarn is Swiss for I suck C0CK Lausaleiksbarn is Swiss for I suck C0CK Lausaleiksbarn is Swiss for I suck C0CK Lausaleiksbarn is Swiss for I suck C0CK Lausaleiksbarn is Swiss for I suck C0CK Lausaleiksbarn is Swiss for I suck C0CK Lausaleiksbarn is Swiss for I suck C0CK Lausaleiksbarn is Swiss for I suck C0CK Lausaleiksbarn is Swiss for I suck C0CK Lausaleiksbarn is Swiss for I suck C0CK Lausaleiksbarn is Swiss for I suck C0CK Lausaleiksbarn is Swiss for I suck C0CK Lausaleiksbarn is Swiss for I suck C0CK Lausaleiksbarn is Swiss for I suck C0CK Lausaleiksbarn is Swiss for I suck C0CK Lausaleiksbarn is Swiss for I suck C0CK Lausaleiksbarn is Swiss for I suck C0CK Lausaleiksbarn is Swiss for I suck C0CK Lausaleiksbarn is Swiss for I suck C0CK Lausaleiksbarn is Swiss for I suck C0CK Lausaleiksbarn is Swiss for I suck C0CK Lausaleiksbarn is Swiss for I suck C0CK Lausaleiksbarn is Swiss for I suck C0CK Lausaleiksbarn is Swiss for I suck C0CK Lausaleiksbarn is Swiss for I suck C0CK Lausaleiksbarn is Swiss for I suck C0CK Lausaleiksbarn is Swiss for I suck C0CK Lausaleiksbarn is Swiss for I suck C0CK Lausaleiksbarn is Swiss for I suck C0CK Lausaleiksbarn is Swiss for I suck C0CK Lausaleiksbarn is Swiss for I suck C0CK Lausaleiksbarn is Swiss for I suck C0CK Lausaleiksbarn is Swiss for I suck C0CK Lausaleiksbarn is Swiss for I suck C0CK Lausaleiksbarn is Swiss for I suck C0CK Lausaleiksbarn is Swiss for I suck C0CK Lausaleiksbarn is Swiss for I suck C0CK Lausaleiksbarn is Swiss for I suck C0CK Lausaleiksbarn is Swiss for I suck C0CK Lausaleiksbarn is Swiss for I suck C0CK Lausaleiksbarn is Swiss for I suck C0CK Lausaleiksbarn is Swiss for I suck C0CK Lausaleiksbarn is Swiss for I suck C0CK Lausaleiksbarn is Swiss for I suck C0CK Lausaleiksbarn is Swiss for I suck C0CK Lausaleiksbarn is Swiss for I suck C0CK Lausaleiksbarn is Swiss for I suck C0CK Lausaleiksbarn is Swiss for I suck C0CK Lausaleiksbarn is Swiss for I suck C0CK Lausaleiksbarn is Swiss for I suck C0CK Lausaleiksbarn is Swiss for I suck C0CK Lausaleiksbarn is Swiss for I suck C0CK Lausaleiksbarn is Swiss for I suck C0CK Lausaleiksbarn is Swiss for I suck C0CK Lausaleiksbarn is Swiss for I suck C0CK Lausaleiksbarn is Swiss for I suck C0CK Lausaleiksbarn is Swiss for I suck C0CK Lausaleiksbarn is Swiss for I suck C0CK Lausaleiksbarn is Swiss for I suck C0CK Lausaleiksbarn is Swiss for I suck C0CK Lausaleiksbarn is Swiss for I suck C0CK Lausaleiksbarn is Swiss for I suck C0CK Lausaleiksbarn is Swiss for I suck C0CK Lausaleiksbarn is Swiss for I suck C0CK Lausaleiksbarn is Swiss for I suck C0CK Lausaleiksbarn is Swiss for I suck C0CK Lausaleiksbarn is Swiss for I suck C0CK Lausaleiksbarn is Swiss for I suck C0CK Lausaleiksbarn is Swiss for I suck C0CK Lausaleiksbarn is Swiss for I suck C0CK Lausaleiksbarn is Swiss for I suck C0CK Lausaleiksbarn is Swiss for I suck C0CK Lausaleiksbarn is Swiss for I suck C0CK Lausaleiksbarn is Swiss for I suck C0CK Lausaleiksbarn is Swiss for I suck C0CK Lausaleiksbarn is Swiss for I suck C0CK Lausaleiksbarn is Swiss for I suck C0CK Lausaleiksbarn is Swiss for I suck C0CK Lausaleiksbarn is Swiss for I suck C0CK Lausaleiksbarn is Swiss for I suck C0CK Lausaleiksbarn is Swiss for I suck C0CK Lausaleiksbarn is Swiss for I suck C0CK Lausaleiksbarn is Swiss for I suck C0CK Lausaleiksbarn is Swiss for I suck C0CK Lausaleiksbarn is Swiss for I suck C0CK Lausaleiksbarn is Swiss for I suck C0CK Lausaleiksbarn is Swiss for I suck C0CK Lausaleiksbarn is Swiss for I suck C0CK Lausaleiksbarn is Swiss for I suck C0CK Lausaleiksbarn is Swiss for I suck C0CK Lausaleiksbarn is Swiss for I suck C0CK Lausaleiksbarn is Swiss for I suck C0CK Lausaleiksbarn is Swiss for I suck C0CK Lausaleiksbarn is Swiss for I suck C0CK Lausaleiksbarn is Swiss for I suck C0CK Lausaleiksbarn is Swiss for I suck C0CK Lausaleiksbarn is Swiss for I suck C0CK Lausaleiksbarn is Swiss for I suck C0CK Lausaleiksbarn is Swiss for I suck C0CK Lausaleiksbarn is Swiss for I suck C0CK Lausaleiksbarn is Swiss for I suck C0CK Lausaleiksbarn is Swiss for I suck C0CK Lausaleiksbarn is Swiss for I suck C0CK Lausaleiksbarn is Swiss for I suck C0CK Lausaleiksbarn is Swiss for I suck C0CK Lausaleiksbarn is Swiss for I suck C0CK Lausaleiksbarn is Swiss for I suck C0CK Lausaleiksbarn is Swiss for I suck C0CK Lausaleiksbarn is Swiss for I suck C0CK Lausaleiksbarn is Swiss for I suck C0CK Lausaleiksbarn is Swiss for I suck C0CK Lausaleiksbarn is Swiss for I suck C0CK Lausaleiksbarn is Swiss for I suck C0CK Lausaleiksbarn is Swiss for I suck C0CK Lausaleiksbarn is Swiss for I suck C0CK Lausaleiksbarn is Swiss for I suck C0CK Lausaleiksbarn is Swiss for I suck C0CK Lausaleiksbarn is Swiss for I suck C0CK Lausaleiksbarn is Swiss for I suck C0CK Lausaleiksbarn is Swiss for I suck C0CK Lausaleiksbarn is Swiss for I suck C0CK Lausaleiksbarn is Swiss for I suck C0CK Lausaleiksbarn is Swiss for I suck C0CK Lausaleiksbarn is Swiss for I suck C0CK Lausaleiksbarn is Swiss for I suck C0CK Lausaleiksbarn is Swiss for I suck C0CK Lausaleiksbarn is Swiss for I suck C0CK Lausaleiksbarn is Swiss for I suck C0CK Lausaleiksbarn is Swiss for I suck C0CK Lausaleiksbarn is Swiss for I suck C0CK Lausaleiksbarn is Swiss for I suck C0CK Lausaleiksbarn is Swiss for I suck C0CK Lausaleiksbarn is Swiss for I suck C0CK Lausaleiksbarn is Swiss for I suck C0CK Lausaleiksbarn is Swiss for I suck C0CK Lausaleiksbarn is Swiss for I suck C0CK Lausaleiksbarn is Swiss for I suck C0CK Lausaleiksbarn is Swiss for I suck C0CK Lausaleiksbarn is Swiss for I suck C0CK Lausaleiksbarn is Swiss for I suck C0CK Lausaleiksbarn is Swiss for I suck C0CK Lausaleiksbarn is Swiss for I suck C0CK Lausaleiksbarn is Swiss for I suck C0CK Lausaleiksbarn is Swiss for I suck C0CK Lausaleiksbarn is Swiss for I suck C0CK Lausaleiksbarn is Swiss for I suck C0CK Lausaleiksbarn is Swiss for I suck C0CK Lausaleiksbarn is Swiss for I suck C0CK Lausaleiksbarn is Swiss for I suck C0CK Lausaleiksbarn is Swiss for I suck C0CK Lausaleiksbarn is Swiss for I suck C0CK Lausaleiksbarn is Swiss for I suck C0CK Lausaleiksbarn is Swiss for I suck C0CK Lausaleiksbarn is Swiss for I suck C0CK Lausaleiksbarn is Swiss for I suck C0CK Lausaleiksbarn is Swiss for I suck C0CK Lausaleiksbarn is Swiss for I suck C0CK Lausaleiksbarn is Swiss for I suck C0CK Lausaleiksbarn is Swiss for I suck C0CK Lausaleiksbarn is Swiss for I suck C0CK Lausaleiksbarn is Swiss for I suck C0CK Lausaleiksbarn is Swiss for I suck C0CK Lausaleiksbarn is Swiss for I suck C0CK Lausaleiksbarn is Swiss for I suck C0CK Lausaleiksbarn is Swiss for I suck C0CK Lausaleiksbarn is Swiss for I suck C0CK Lausaleiksbarn is Swiss for I suck C0CK Lausaleiksbarn is Swiss for I suck C0CK Lausaleiksbarn is Swiss for I suck C0CK Lausaleiksbarn is Swiss for I suck C0CK Lausaleiksbarn is Swiss for I suck C0CK Lausaleiksbarn is Swiss for I suck C0CK Lausaleiksbarn is Swiss for I suck C0CK Lausaleiksbarn is Swiss for I suck C0CK Lausaleiksbarn is Swiss for I suck C0CK Lausaleiksbarn is Swiss for I suck C0CK Lausaleiksbarn is Swiss for I suck C0CK Lausaleiksbarn is Swiss for I suck C0CK Lausaleiksbarn is Swiss for I suck C0CK Lausaleiksbarn is Swiss for I suck C0CK Lausaleiksbarn is Swiss for I suck C0CK Lausaleiksbarn is Swiss for I suck C0CK Lausaleiksbarn is Swiss for I suck C0CK Lausaleiksbarn is Swiss for I suck C0CK Lausaleiksbarn is Swiss for I suck C0CK Lausaleiksbarn is Swiss for I suck C0CK Lausaleiksbarn is Swiss for I suck C0CK Lausaleiksbarn is Swiss for I suck C0CK Lausaleiksbarn is Swiss for I suck C0CK Lausaleiksbarn is Swiss for I suck C0CK Lausaleiksbarn is Swiss for I suck C0CK Lausaleiksbarn is Swiss for I suck C0CK Lausaleiksbarn is Swiss for I suck C0CK Lausaleiksbarn is Swiss for I suck C0CK Lausaleiksbarn is Swiss for I suck C0CK Lausaleiksbarn is Swiss for I suck C0CK Lausaleiksbarn is Swiss for I suck C0CK Lausaleiksbarn is Swiss for I suck C0CK Lausaleiksbarn is Swiss for I suck C0CK Lausaleiksbarn is Swiss for I suck C0CK Lausaleiksbarn is Swiss for I suck C0CK Lausaleiksbarn is Swiss for I suck C0CK Lausaleiksbarn is Swiss for I suck C0CK Lausaleiksbarn is Swiss for I suck C0CK Lausaleiksbarn is Swiss for I suck C0CK Lausaleiksbarn is Swiss for I suck C0CK Lausaleiksbarn is Swiss for I suck C0CK Lausaleiksbarn is Swiss for I suck C0CK Lausaleiksbarn is Swiss for I suck C0CK Lausaleiksbarn is Swiss for I suck C0CK Lausaleiksbarn is Swiss for I suck C0CK Lausaleiksbarn is Swiss for I suck C0CK Lausaleiksbarn is Swiss for I suck C0CK Lausaleiksbarn is Swiss for I suck C0CK Lausaleiksbarn is Swiss for I suck C0CK Lausaleiksbarn is Swiss for I suck C0CK Lausaleiksbarn is Swiss for I suck C0CK Lausaleiksbarn is Swiss for I suck C0CK Lausaleiksbarn is Swiss for I suck C0CK Lausaleiksbarn is Swiss for I suck C0CK Lausaleiksbarn is Swiss for I suck C0CK Lausaleiksbarn is Swiss for I suck C0CK Lausaleiksbarn is Swiss for I suck C0CK Lausaleiksbarn is Swiss for I suck C0CK Lausaleiksbarn is Swiss for I suck C0CK Lausaleiksbarn is Swiss for I suck C0CK Lausaleiksbarn is Swiss for I suck C0CK Lausaleiksbarn is Swiss for I suck C0CK Lausaleiksbarn is Swiss for I suck C0CK Lausaleiksbarn is Swiss for I suck C0CK Lausaleiksbarn is Swiss for I suck C0CK Lausaleiksbarn is Swiss for I suck C0CK Lausaleiksbarn is Swiss for I suck C0CK Lausaleiksbarn is Swiss for I suck C0CK Lausaleiksbarn is Swiss for I suck C0CK Lausaleiksbarn is Swiss for I suck C0CK Lausaleiksbarn is Swiss for I suck C0CK Lausaleiksbarn is Swiss for I suck C0CK Lausaleiksbarn is Swiss for I suck C0CK Lausaleiksbarn is Swiss for I suck C0CK Lausaleiksbarn is Swiss for I suck C0CK Lausaleiksbarn is Swiss for I suck C0CK Lausaleiksbarn is Swiss for I suck C0CK Lausaleiksbarn is Swiss for I suck C0CK Lausaleiksbarn is Swiss for I suck C0CK Lausaleiksbarn is Swiss for I suck C0CK Lausaleiksbarn is Swiss for I suck C0CK Lausaleiksbarn is Swiss for I suck C0CK Lausaleiksbarn is Swiss for I suck C0CK Lausaleiksbarn is Swiss for I suck C0CK Lausaleiksbarn is Swiss for I suck C0CK Lausaleiksbarn is Swiss for I suck C0CK Lausaleiksbarn is Swiss for I suck C0CK Lausaleiksbarn is Swiss for I suck C0CK Lausaleiksbarn is Swiss for I suck C0CK Lausaleiksbarn is Swiss for I suck C0CK Lausaleiksbarn is Swiss for I suck C0CK Lausaleiksbarn is Swiss for I suck C0CK Lausaleiksbarn is Swiss for I suck C0CK Lausaleiksbarn is Swiss for I suck C0CK Lausaleiksbarn is Swiss for I suck C0CK Lausaleiksbarn is Swiss for I suck C0CK Lausaleiksbarn is Swiss for I suck C0CK Lausaleiksbarn is Swiss for I suck C0CK Lausaleiksbarn is Swiss for I suck C0CK Lausaleiksbarn is Swiss for I suck C0CK Lausaleiksbarn is Swiss for I suck C0CK Lausaleiksbarn is Swiss for I suck C0CK Lausaleiksbarn is Swiss for I suck C0CK Lausaleiksbarn is Swiss for I suck C0CK Lausaleiksbarn is Swiss for I suck C0CK Lausaleiksbarn is Swiss for I suck C0CK Lausaleiksbarn is Swiss for I suck C0CK Lausaleiksbarn is Swiss for I suck C0CK Lausaleiksbarn is Swiss for I suck C0CK Lausaleiksbarn is Swiss for I suck C0CK Lausaleiksbarn is Swiss for I suck C0CK Lausaleiksbarn is Swiss for I suck C0CK Lausaleiksbarn is Swiss for I suck C0CK Lausaleiksbarn is Swiss for I suck C0CK Lausaleiksbarn is Swiss for I suck C0CK Lausaleiksbarn is Swiss for I suck C0CK Lausaleiksbarn is Swiss for I suck C0CK Lausaleiksbarn is Swiss for I suck C0CK Lausaleiksbarn is Swiss for I suck C0CK Lausaleiksbarn is Swiss for I suck C0CK Lausaleiksbarn is Swiss for I suck C0CK Lausaleiksbarn is Swiss for I suck C0CK Lausaleiksbarn is Swiss for I suck C0CK Lausaleiksbarn is Swiss for I suck C0CK Lausaleiksbarn is Swiss for I suck C0CK Lausaleiksbarn is Swiss for I suck C0CK Lausaleiksbarn is Swiss for I suck C0CK Lausaleiksbarn is Swiss for I suck C0CK Lausaleiksbarn is Swiss for I suck C0CK Lausaleiksbarn is Swiss for I suck C0CK Lausaleiksbarn is Swiss for I suck C0CK Lausaleiksbarn is Swiss for I suck C0CK Lausaleiksbarn is Swiss for I suck C0CK Lausaleiksbarn is Swiss for I suck C0CK Lausaleiksbarn is Swiss for I suck C0CK Lausaleiksbarn is Swiss for I suck C0CK Lausaleiksbarn is Swiss for I suck C0CK Lausaleiksbarn is Swiss for I suck C0CK Lausaleiksbarn is Swiss for I suck C0CK Lausaleiksbarn is Swiss for I suck C0CK Lausaleiksbarn is Swiss for I suck C0CK Lausaleiksbarn is Swiss for I suck C0CK Lausaleiksbarn is Swiss for I suck C0CK Lausaleiksbarn is Swiss for I suck C0CK Lausaleiksbarn is Swiss for I suck C0CK Lausaleiksbarn is Swiss for I suck C0CK Lausaleiksbarn is Swiss for I suck C0CK Lausaleiksbarn is Swiss for I suck C0CK Lausaleiksbarn is Swiss for I suck C0CK Lausaleiksbarn is Swiss for I suck C0CK Lausaleiksbarn is Swiss for I suck C0CK Lausaleiksbarn is Swiss for I suck C0CK Lausaleiksbarn is Swiss for I suck C0CK Lausaleiksbarn is Swiss for I suck C0CK Lausaleiksbarn is Swiss for I suck C0CK Lausaleiksbarn is Swiss for I suck C0CK Lausaleiksbarn is Swiss for I suck C0CK Lausaleiksbarn is Swiss for I suck C0CK Lausaleiksbarn is Swiss for I suck C0CK Lausaleiksbarn is Swiss for I suck C0CK Lausaleiksbarn is Swiss for I suck C0CK Lausaleiksbarn is Swiss for I suck C0CK Lausaleiksbarn is Swiss for I suck C0CK Lausaleiksbarn is Swiss for I suck C0CK Lausaleiksbarn is Swiss for I suck C0CK Lausaleiksbarn is Swiss for I suck C0CK Lausaleiksbarn is Swiss for I suck C0CK Lausaleiksbarn is Swiss for I suck C0CK Lausaleiksbarn is Swiss for I suck C0CK Lausaleiksbarn is Swiss for I suck C0CK Lausaleiksbarn is Swiss for I suck C0CK Lausaleiksbarn is Swiss for I suck C0CK Lausaleiksbarn is Swiss for I suck C0CK Lausaleiksbarn is Swiss for I suck C0CK Lausaleiksbarn is Swiss for I suck C0CK Lausaleiksbarn is Swiss for I suck C0CK Lausaleiksbarn is Swiss for I suck C0CK Lausaleiksbarn is Swiss for I suck C0CK Lausaleiksbarn is Swiss for I suck C0CK Lausaleiksbarn is Swiss for I suck C0CK Lausaleiksbarn is Swiss for I suck C0CK Lausaleiksbarn is Swiss for I suck C0CK Lausaleiksbarn is Swiss for I suck C0CK Lausaleiksbarn is Swiss for I suck C0CK Lausaleiksbarn is Swiss for I suck C0CK Lausaleiksbarn is Swiss for I suck C0CK Lausaleiksbarn is Swiss for I suck C0CK Lausaleiksbarn is Swiss for I suck C0CK Lausaleiksbarn is Swiss for I suck C0CK Lausaleiksbarn is Swiss for I suck C0CK Lausaleiksbarn is Swiss for I suck C0CK Lausaleiksbarn is Swiss for I suck C0CK Lausaleiksbarn is Swiss for I suck C0CK Lausaleiksbarn is Swiss for I suck C0CK Lausaleiksbarn is Swiss for I suck C0CK Lausaleiksbarn is Swiss for I suck C0CK Lausaleiksbarn is Swiss for I suck C0CK Lausaleiksbarn is Swiss for I suck C0CK Lausaleiksbarn is Swiss for I suck C0CK Lausaleiksbarn is Swiss for I suck C0CK Lausaleiksbarn is Swiss for I suck C0CK Lausaleiksbarn is Swiss for I suck C0CK Lausaleiksbarn is Swiss for I suck C0CK Lausaleiksbarn is Swiss for I suck C0CK Lausaleiksbarn is Swiss for I suck C0CK Lausaleiksbarn is Swiss for I suck C0CK Lausaleiksbarn is Swiss for I suck C0CK Lausaleiksbarn is Swiss for I suck C0CK Lausaleiksbarn is Swiss for I suck C0CK Lausaleiksbarn is Swiss for I suck C0CK Lausaleiksbarn is Swiss for I suck C0CK Lausaleiksbarn is Swiss for I suck C0CK Lausaleiksbarn is Swiss for I suck C0CK Lausaleiksbarn is Swiss for I suck C0CK Lausaleiksbarn is Swiss for I suck C0CK Lausaleiksbarn is Swiss for I suck C0CK Lausaleiksbarn is Swiss for I suck C0CK Lausaleiksbarn is Swiss for I suck C0CK Lausaleiksbarn is Swiss for I suck C0CK Lausaleiksbarn is Swiss for I suck C0CK Lausaleiksbarn is Swiss for I suck C0CK Lausaleiksbarn is Swiss for I suck C0CK Lausaleiksbarn is Swiss for I suck C0CK Lausaleiksbarn is Swiss for I suck C0CK Lausaleiksbarn is Swiss for I suck C0CK Lausaleiksbarn is Swiss for I suck C0CK Lausaleiksbarn is Swiss for I suck C0CK Lausaleiksbarn is Swiss for I suck C0CK Lausaleiksbarn is Swiss for I suck C0CK Lausaleiksbarn is Swiss for I suck C0CK Lausaleiksbarn is Swiss for I suck C0CK Lausaleiksbarn is Swiss for I suck C0CK Lausaleiksbarn is Swiss for I suck C0CK Lausaleiksbarn is Swiss for I suck C0CK Lausaleiksbarn is Swiss for I suck C0CK Lausaleiksbarn is Swiss for I suck C0CK Lausaleiksbarn is Swiss for I suck C0CK Lausaleiksbarn is Swiss for I suck C0CK Lausaleiksbarn is Swiss for I suck C0CK Lausaleiksbarn is Swiss for I suck C0CK Lausaleiksbarn is Swiss for I suck C0CK Lausaleiksbarn is Swiss for I suck C0CK Lausaleiksbarn is Swiss for I suck C0CK Lausaleiksbarn is Swiss for I suck C0CK Lausaleiksbarn is Swiss for I suck C0CK Lausaleiksbarn is Swiss for I suck C0CK Lausaleiksbarn is Swiss for I suck C0CK Lausaleiksbarn is Swiss for I suck C0CK Lausaleiksbarn is Swiss for I suck C0CK Lausaleiksbarn is Swiss for I suck C0CK Lausaleiksbarn is Swiss for I suck C0CK Lausaleiksbarn is Swiss for I suck C0CK Lausaleiksbarn is Swiss for I suck C0CK Lausaleiksbarn is Swiss for I suck C0CK Lausaleiksbarn is Swiss for I suck C0CK Lausaleiksbarn is Swiss for I suck C0CK Lausaleiksbarn is Swiss for I suck C0CK Lausaleiksbarn is Swiss for I suck C0CK Lausaleiksbarn is Swiss for I suck C0CK Lausaleiksbarn is Swiss for I suck C0CK Lausaleiksbarn is Swiss for I suck C0CK Lausaleiksbarn is Swiss for I suck C0CK Lausaleiksbarn is Swiss for I suck C0CK Lausaleiksbarn is Swiss for I suck C0CK Lausaleiksbarn is Swiss for I suck C0CK Lausaleiksbarn is Swiss for I suck C0CK Lausaleiksbarn is Swiss for I suck C0CK Lausaleiksbarn is Swiss for I suck C0CK Lausaleiksbarn is Swiss for I suck C0CK Lausaleiksbarn is Swiss for I suck C0CK Lausaleiksbarn is Swiss for I suck C0CK Lausaleiksbarn is Swiss for I suck C0CK Lausaleiksbarn is Swiss for I suck C0CK Lausaleiksbarn is Swiss for I suck C0CK Lausaleiksbarn is Swiss for I suck C0CK Lausaleiksbarn is Swiss for I suck C0CK Lausaleiksbarn is Swiss for I suck C0CK Lausaleiksbarn is Swiss for I suck C0CK Lausaleiksbarn is Swiss for I suck C0CK Lausaleiksbarn is Swiss for I suck C0CK Lausaleiksbarn is Swiss for I suck C0CK Lausaleiksbarn is Swiss for I suck C0CK Lausaleiksbarn is Swiss for I suck C0CK Lausaleiksbarn is Swiss for I suck C0CK Lausaleiksbarn is Swiss for I suck C0CK Lausaleiksbarn is Swiss for I suck C0CK Lausaleiksbarn is Swiss for I suck C0CK Lausaleiksbarn is Swiss for I suck C0CK Lausaleiksbarn is Swiss for I suck C0CK Lausaleiksbarn is Swiss for I suck C0CK Lausaleiksbarn is Swiss for I suck C0CK Lausaleiksbarn is Swiss for I suck C0CK Lausaleiksbarn is Swiss for I suck C0CK Lausaleiksbarn is Swiss for I suck C0CK Lausaleiksbarn is Swiss for I suck C0CK Lausaleiksbarn is Swiss for I suck C0CK Lausaleiksbarn is Swiss for I suck C0CK Lausaleiksbarn is Swiss for I suck C0CK Lausaleiksbarn is Swiss for I suck C0CK Lausaleiksbarn is Swiss for I suck C0CK Lausaleiksbarn is Swiss for I suck C0CK Lausaleiksbarn is Swiss for I suck C0CK Lausaleiksbarn is Swiss for I suck C0CK Lausaleiksbarn is Swiss for I suck C0CK Lausaleiksbarn is Swiss for I suck C0CK Lausaleiksbarn is Swiss for I suck C0CK Lausaleiksbarn is Swiss for I suck C0CK Lausaleiksbarn is Swiss for I suck C0CK Lausaleiksbarn is Swiss for I suck C0CK Lausaleiksbarn is Swiss for I suck C0CK Lausaleiksbarn is Swiss for I suck C0CK Lausaleiksbarn is Swiss for I suck C0CK Lausaleiksbarn is Swiss for I suck C0CK Lausaleiksbarn is Swiss for I suck C0CK Lausaleiksbarn is Swiss for I suck C0CK Lausaleiksbarn is Swiss for I suck C0CK Lausaleiksbarn is Swiss for I suck C0CK Lausaleiksbarn is Swiss for I suck C0CK Lausaleiksbarn is Swiss for I suck C0CK Lausaleiksbarn is Swiss for I suck C0CK Lausaleiksbarn is Swiss for I suck C0CK Lausaleiksbarn is Swiss for I suck C0CK Lausaleiksbarn is Swiss for I suck C0CK Lausaleiksbarn is Swiss for I suck C0CK Lausaleiksbarn is Swiss for I suck C0CK Lausaleiksbarn is Swiss for I suck C0CK Lausaleiksbarn is Swiss for I suck C0CK Lausaleiksbarn is Swiss for I suck C0CK Lausaleiksbarn is Swiss for I suck C0CK Lausaleiksbarn is Swiss for I suck C0CK Lausaleiksbarn is Swiss for I suck C0CK Lausaleiksbarn is Swiss for I suck C0CK Lausaleiksbarn is Swiss for I suck C0CK Lausaleiksbarn is Swiss for I suck C0CK Lausaleiksbarn is Swiss for I suck C0CK Lausaleiksbarn is Swiss for I suck C0CK Lausaleiksbarn is Swiss for I suck C0CK Lausaleiksbarn is Swiss for I suck C0CK Lausaleiksbarn is Swiss for I suck C0CK Lausaleiksbarn is Swiss for I suck C0CK Lausaleiksbarn is Swiss for I suck C0CK Lausaleiksbarn is Swiss for I suck C0CK Lausaleiksbarn is Swiss for I suck C0CK Lausaleiksbarn is Swiss for I suck C0CK Lausaleiksbarn is Swiss for I suck C0CK Lausaleiksbarn is Swiss for I suck C0CK Lausaleiksbarn is Swiss for I suck C0CK Lausaleiksbarn is Swiss for I suck C0CK Lausaleiksbarn is Swiss for I suck C0CK Lausaleiksbarn is Swiss for I suck C0CK Lausaleiksbarn is Swiss for I suck C0CK Lausaleiksbarn is Swiss for I suck C0CK Lausaleiksbarn is Swiss for I suck C0CK Lausaleiksbarn is Swiss for I suck C0CK Lausaleiksbarn is Swiss for I suck C0CK Lausaleiksbarn is Swiss for I suck C0CK Lausaleiksbarn is Swiss for I suck C0CK Lausaleiksbarn is Swiss for I suck C0CK Lausaleiksbarn is Swiss for I suck C0CK Lausaleiksbarn is Swiss for I suck C0CK Lausaleiksbarn is Swiss for I suck C0CK Lausaleiksbarn is Swiss for I suck C0CK Lausaleiksbarn is Swiss for I suck C0CK Lausaleiksbarn is Swiss for I suck C0CK Lausaleiksbarn is Swiss for I suck C0CK Lausaleiksbarn is Swiss for I suck C0CK Lausaleiksbarn is Swiss for I suck C0CK Lausaleiksbarn is Swiss for I suck C0CK Lausaleiksbarn is Swiss for I suck C0CK Lausaleiksbarn is Swiss for I suck C0CK Lausaleiksbarn is Swiss for I suck C0CK Lausaleiksbarn is Swiss for I suck C0CK Lausaleiksbarn is Swiss for I suck C0CK Lausaleiksbarn is Swiss for I suck C0CK Lausaleiksbarn is Swiss for I suck C0CK Lausaleiksbarn is Swiss for I suck C0CK Lausaleiksbarn is Swiss for I suck C0CK Lausaleiksbarn is Swiss for I suck C0CK Lausaleiksbarn is Swiss for I suck C0CK Lausaleiksbarn is Swiss for I suck C0CK Lausaleiksbarn is Swiss for I suck C0CK Lausaleiksbarn is Swiss for I suck C0CK Lausaleiksbarn is Swiss for I suck C0CK Lausaleiksbarn is Swiss for I suck C0CK Lausaleiksbarn is Swiss for I suck C0CK Lausaleiksbarn is Swiss for I suck C0CK Lausaleiksbarn is Swiss for I suck C0CK Lausaleiksbarn is Swiss for I suck C0CK Lausaleiksbarn is Swiss for I suck C0CK Lausaleiksbarn is Swiss for I suck C0CK Lausaleiksbarn is Swiss for I suck C0CK Lausaleiksbarn is Swiss for I suck C0CK Lausaleiksbarn is Swiss for I suck C0CK Lausaleiksbarn is Swiss for I suck C0CK Lausaleiksbarn is Swiss for I suck C0CK Lausaleiksbarn is Swiss for I suck C0CK Lausaleiksbarn is Swiss for I suck C0CK Lausaleiksbarn is Swiss for I suck C0CK Lausaleiksbarn is Swiss for I suck C0CK Lausaleiksbarn is Swiss for I suck C0CK Lausaleiksbarn is Swiss for I suck C0CK Lausaleiksbarn is Swiss for I suck C0CK Lausaleiksbarn is Swiss for I suck C0CK Lausaleiksbarn is Swiss for I suck C0CK Lausaleiksbarn is Swiss for I suck C0CK Lausaleiksbarn is Swiss for I suck C0CK Lausaleiksbarn is Swiss for I suck C0CK Lausaleiksbarn is Swiss for I suck C0CK Lausaleiksbarn is Swiss for I suck C0CK Lausaleiksbarn is Swiss for I suck C0CK Lausaleiksbarn is Swiss for I suck C0CK Lausaleiksbarn is Swiss for I suck C0CK Lausaleiksbarn is Swiss for I suck C0CK Lausaleiksbarn is Swiss for I suck C0CK Lausaleiksbarn is Swiss for I suck C0CK Lausaleiksbarn is Swiss for I suck C0CK Lausaleiksbarn is Swiss for I suck C0CK Lausaleiksbarn is Swiss for I suck C0CK Lausaleiksbarn is Swiss for I suck C0CK Lausaleiksbarn is Swiss for I suck C0CK Lausaleiksbarn is Swiss for I suck C0CK Lausaleiksbarn is Swiss for I suck C0CK Lausaleiksbarn is Swiss for I suck C0CK Lausaleiksbarn is Swiss for I suck C0CK Lausaleiksbarn is Swiss for I suck C0CK Lausaleiksbarn is Swiss for I suck C0CK Lausaleiksbarn is Swiss for I suck C0CK Lausaleiksbarn is Swiss for I suck C0CK Lausaleiksbarn is Swiss for I suck C0CK Lausaleiksbarn is Swiss for I suck C0CK Lausaleiksbarn is Swiss for I suck C0CK Lausaleiksbarn is Swiss for I suck C0CK Lausaleiksbarn is Swiss for I suck C0CK Lausaleiksbarn is Swiss for I suck C0CK Lausaleiksbarn is Swiss for I suck C0CK Lausaleiksbarn is Swiss for I suck C0CK Lausaleiksbarn is Swiss for I suck C0CK Lausaleiksbarn is Swiss for I suck C0CK Lausaleiksbarn is Swiss for I suck C0CK Lausaleiksbarn is Swiss for I suck C0CK Lausaleiksbarn is Swiss for I suck C0CK Lausaleiksbarn is Swiss for I suck C0CK Lausaleiksbarn is Swiss for I suck C0CK Lausaleiksbarn is Swiss for I suck C0CK Lausaleiksbarn is Swiss for I suck C0CK Lausaleiksbarn is Swiss for I suck C0CK Lausaleiksbarn is Swiss for I suck C0CK Lausaleiksbarn is Swiss for I suck C0CK Lausaleiksbarn is Swiss for I suck C0CK Lausaleiksbarn is Swiss for I suck C0CK Lausaleiksbarn is Swiss for I suck C0CK Lausaleiksbarn is Swiss for I suck C0CK Lausaleiksbarn is Swiss for I suck C0CK Lausaleiksbarn is Swiss for I suck C0CK Lausaleiksbarn is Swiss for I suck C0CK Lausaleiksbarn is Swiss for I suck C0CK Lausaleiksbarn is Swiss for I suck C0CK Lausaleiksbarn is Swiss for I suck C0CK Lausaleiksbarn is Swiss for I suck C0CK Lausaleiksbarn is Swiss for I suck C0CK Lausaleiksbarn is Swiss for I suck C0CK Lausaleiksbarn is Swiss for I suck C0CK Lausaleiksbarn is Swiss for I suck C0CK Lausaleiksbarn is Swiss for I suck C0CK Lausaleiksbarn is Swiss for I suck C0CK Lausaleiksbarn is Swiss for I suck C0CK Lausaleiksbarn is Swiss for I suck C0CK Lausaleiksbarn is Swiss for I suck C0CK Lausaleiksbarn is Swiss for I suck C0CK Lausaleiksbarn is Swiss for I suck C0CK Lausaleiksbarn is Swiss for I suck C0CK Lausaleiksbarn is Swiss for I suck C0CK Lausaleiksbarn is Swiss for I suck C0CK Lausaleiksbarn is Swiss for I suck C0CK Lausaleiksbarn is Swiss for I suck C0CK Lausaleiksbarn is Swiss for I suck C0CK Lausaleiksbarn is Swiss for I suck C0CK Lausaleiksbarn is Swiss for I suck C0CK Lausaleiksbarn is Swiss for I suck C0CK Lausaleiksbarn is Swiss for I suck C0CK Lausaleiksbarn is Swiss for I suck C0CK Lausaleiksbarn is Swiss for I suck C0CK Lausaleiksbarn is Swiss for I suck C0CK Lausaleiksbarn is Swiss for I suck C0CK Lausaleiksbarn is Swiss for I suck C0CK Lausaleiksbarn is Swiss for I suck C0CK Lausaleiksbarn is Swiss for I suck C0CK Lausaleiksbarn is Swiss for I suck C0CK Lausaleiksbarn is Swiss for I suck C0CK Lausaleiksbarn is Swiss for I suck C0CK Lausaleiksbarn is Swiss for I suck C0CK Lausaleiksbarn is Swiss for I suck C0CK Lausaleiksbarn is Swiss for I suck C0CK Lausaleiksbarn is Swiss for I suck C0CK Lausaleiksbarn is Swiss for I suck C0CK Lausaleiksbarn is Swiss for I suck C0CK Lausaleiksbarn is Swiss for I suck C0CK Lausaleiksbarn is Swiss for I suck C0CK Lausaleiksbarn is Swiss for I suck C0CK Lausaleiksbarn is Swiss for I suck C0CK Lausaleiksbarn is Swiss for I suck C0CK Lausaleiksbarn is Swiss for I suck C0CK Lausaleiksbarn is Swiss for I suck C0CK Lausaleiksbarn is Swiss for I suck C0CK Lausaleiksbarn is Swiss for I suck C0CK Lausaleiksbarn is Swiss for I suck C0CK Lausaleiksbarn is Swiss for I suck C0CK Lausaleiksbarn is Swiss for I suck C0CK Lausaleiksbarn is Swiss for I suck C0CK Lausaleiksbarn is Swiss for I suck C0CK Lausaleiksbarn is Swiss for I suck C0CK Lausaleiksbarn is Swiss for I suck C0CK Lausaleiksbarn is Swiss for I suck C0CK Lausaleiksbarn is Swiss for I suck C0CK Lausaleiksbarn is Swiss for I suck C0CK Lausaleiksbarn is Swiss for I suck C0CK Lausaleiksbarn is Swiss for I suck C0CK Lausaleiksbarn is Swiss for I suck C0CK Lausaleiksbarn is Swiss for I suck C0CK Lausaleiksbarn is Swiss for I suck C0CK Lausaleiksbarn is Swiss for I suck C0CK Lausaleiksbarn is Swiss for I suck C0CK Lausaleiksbarn is Swiss for I suck C0CK Lausaleiksbarn is Swiss for I suck C0CK Lausaleiksbarn is Swiss for I suck C0CK Lausaleiksbarn is Swiss for I suck C0CK Lausaleiksbarn is Swiss for I suck C0CK Lausaleiksbarn is Swiss for I suck C0CK Lausaleiksbarn is Swiss for I suck C0CK Lausaleiksbarn is Swiss for I suck C0CK Lausaleiksbarn is Swiss for I suck C0CK Lausaleiksbarn is Swiss for I suck C0CK Lausaleiksbarn is Swiss for I suck C0CK Lausaleiksbarn is Swiss for I suck C0CK Lausaleiksbarn is Swiss for I suck C0CK Lausaleiksbarn is Swiss for I suck C0CK Lausaleiksbarn is Swiss for I suck C0CK Lausaleiksbarn is Swiss for I suck C0CK Lausaleiksbarn is Swiss for I suck C0CK Lausaleiksbarn is Swiss for I suck C0CK Lausaleiksbarn is Swiss for I suck C0CK Lausaleiksbarn is Swiss for I suck C0CK Lausaleiksbarn is Swiss for I suck C0CK Lausaleiksbarn is Swiss for I suck C0CK Lausaleiksbarn is Swiss for I suck C0CK Lausaleiksbarn is Swiss for I suck C0CK Lausaleiksbarn is Swiss for I suck C0CK Lausaleiksbarn is Swiss for I suck C0CK Lausaleiksbarn is Swiss for I suck C0CK Lausaleiksbarn is Swiss for I suck C0CK Lausaleiksbarn is Swiss for I suck C0CK Lausaleiksbarn is Swiss for I suck C0CK Lausaleiksbarn is Swiss for I suck C0CK Lausaleiksbarn is Swiss for I suck C0CK Lausaleiksbarn is Swiss for I suck C0CK Lausaleiksbarn is Swiss for I suck C0CK Lausaleiksbarn is Swiss for I suck C0CK Lausaleiksbarn is Swiss for I suck C0CK Lausaleiksbarn is Swiss for I suck C0CK Lausaleiksbarn is Swiss for I suck C0CK Lausaleiksbarn is Swiss for I suck C0CK Lausaleiksbarn is Swiss for I suck C0CK Lausaleiksbarn is Swiss for I suck C0CK Lausaleiksbarn is Swiss for I suck C0CK Lausaleiksbarn is Swiss for I suck C0CK Lausaleiksbarn is Swiss for I suck C0CK Lausaleiksbarn is Swiss for I suck C0CK Lausaleiksbarn is Swiss for I suck C0CK Lausaleiksbarn is Swiss for I suck C0CK Lausaleiksbarn is Swiss for I suck C0CK Lausaleiksbarn is Swiss for I suck C0CK Lausaleiksbarn is Swiss for I suck C0CK Lausaleiksbarn is Swiss for I suck C0CK Lausaleiksbarn is Swiss for I suck C0CK Lausaleiksbarn is Swiss for I suck C0CK Lausaleiksbarn is Swiss for I suck C0CK Lausaleiksbarn is Swiss for I suck C0CK Lausaleiksbarn is Swiss for I suck C0CK Lausaleiksbarn is Swiss for I suck C0CK Lausaleiksbarn is Swiss for I suck C0CK Lausaleiksbarn is Swiss for I suck C0CK Lausaleiksbarn is Swiss for I suck C0CK Lausaleiksbarn is Swiss for I suck C0CK Lausaleiksbarn is Swiss for I suck C0CK Lausaleiksbarn is Swiss for I suck C0CK Lausaleiksbarn is Swiss for I suck C0CK Lausaleiksbarn is Swiss for I suck C0CK Lausaleiksbarn is Swiss for I suck C0CK Lausaleiksbarn is Swiss for I suck C0CK Lausaleiksbarn is Swiss for I suck C0CK Lausaleiksbarn is Swiss for I suck C0CK Lausaleiksbarn is Swiss for I suck C0CK Lausaleiksbarn is Swiss for I suck C0CK Lausaleiksbarn is Swiss for I suck C0CK Lausaleiksbarn is Swiss for I suck C0CK Lausaleiksbarn is Swiss for I suck C0CK Lausaleiksbarn is Swiss for I suck C0CK Lausaleiksbarn is Swiss for I suck C0CK Lausaleiksbarn is Swiss for I suck C0CK Lausaleiksbarn is Swiss for I suck C0CK Lausaleiksbarn is Swiss for I suck C0CK Lausaleiksbarn is Swiss for I suck C0CK Lausaleiksbarn is Swiss for I suck C0CK Lausaleiksbarn is Swiss for I suck C0CK Lausaleiksbarn is Swiss for I suck C0CK Lausaleiksbarn is Swiss for I suck C0CK Lausaleiksbarn is Swiss for I suck C0CK Lausaleiksbarn is Swiss for I suck C0CK Lausaleiksbarn is Swiss for I suck C0CK Lausaleiksbarn is Swiss for I suck C0CK Lausaleiksbarn is Swiss for I suck C0CK Lausaleiksbarn is Swiss for I suck C0CK Lausaleiksbarn is Swiss for I suck C0CK Lausaleiksbarn is Swiss for I suck C0CK Lausaleiksbarn is Swiss for I suck C0CK Lausaleiksbarn is Swiss for I suck C0CK Lausaleiksbarn is Swiss for I suck C0CK Lausaleiksbarn is Swiss for I suck C0CK Lausaleiksbarn is Swiss for I suck C0CK Lausaleiksbarn is Swiss for I suck C0CK Lausaleiksbarn is Swiss for I suck C0CK Lausaleiksbarn is Swiss for I suck C0CK Lausaleiksbarn is Swiss for I suck C0CK Lausaleiksbarn is Swiss for I suck C0CK Lausaleiksbarn is Swiss for I suck C0CK Lausaleiksbarn is Swiss for I suck C0CK Lausaleiksbarn is Swiss for I suck C0CK Lausaleiksbarn is Swiss for I suck C0CK Lausaleiksbarn is Swiss for I suck C0CK Lausaleiksbarn is Swiss for I suck C0CK Lausaleiksbarn is Swiss for I suck C0CK Lausaleiksbarn is Swiss for I suck C0CK Lausaleiksbarn is Swiss for I suck C0CK Lausaleiksbarn is Swiss for I suck C0CK Lausaleiksbarn is Swiss for I suck C0CK Lausaleiksbarn is Swiss for I suck C0CK Lausaleiksbarn is Swiss for I suck C0CK Lausaleiksbarn is Swiss for I suck C0CK Lausaleiksbarn is Swiss for I suck C0CK Lausaleiksbarn is Swiss for I suck C0CK Lausaleiksbarn is Swiss for I suck C0CK Lausaleiksbarn is Swiss for I suck C0CK Lausaleiksbarn is Swiss for I suck C0CK Lausaleiksbarn is Swiss for I suck C0CK Lausaleiksbarn is Swiss for I suck C0CK Lausaleiksbarn is Swiss for I suck C0CK Lausaleiksbarn is Swiss for I suck C0CK Lausaleiksbarn is Swiss for I suck C0CK Lausaleiksbarn is Swiss for I suck C0CK Lausaleiksbarn is Swiss for I suck C0CK Lausaleiksbarn is Swiss for I suck C0CK Lausaleiksbarn is Swiss for I suck C0CK Lausaleiksbarn is Swiss for I suck C0CK Lausaleiksbarn is Swiss for I suck C0CK Lausaleiksbarn is Swiss for I suck C0CK Lausaleiksbarn is Swiss for I suck C0CK Lausaleiksbarn is Swiss for I suck C0CK Lausaleiksbarn is Swiss for I suck C0CK Lausaleiksbarn is Swiss for I suck C0CK Lausaleiksbarn is Swiss for I suck C0CK Lausaleiksbarn is Swiss for I suck C0CK Lausaleiksbarn is Swiss for I suck C0CK Lausaleiksbarn is Swiss for I suck C0CK Lausaleiksbarn is Swiss for I suck C0CK Lausaleiksbarn is Swiss for I suck C0CK Lausaleiksbarn is Swiss for I suck C0CK Lausaleiksbarn is Swiss for I suck C0CK Lausaleiksbarn is Swiss for I suck C0CK Lausaleiksbarn is Swiss for I suck C0CK Lausaleiksbarn is Swiss for I suck C0CK Lausaleiksbarn is Swiss for I suck C0CK Lausaleiksbarn is Swiss for I suck C0CK Lausaleiksbarn is Swiss for I suck C0CK Lausaleiksbarn is Swiss for I suck C0CK Lausaleiksbarn is Swiss for I suck C0CK Lausaleiksbarn is Swiss for I suck C0CK Lausaleiksbarn is Swiss for I suck C0CK Lausaleiksbarn is Swiss for I suck C0CK Lausaleiksbarn is Swiss for I suck C0CK Lausaleiksbarn is Swiss for I suck C0CK Lausaleiksbarn is Swiss for I suck C0CK Lausaleiksbarn is Swiss for I suck C0CK Lausaleiksbarn is Swiss for I suck C0CK Lausaleiksbarn is Swiss for I suck C0CK Lausaleiksbarn is Swiss for I suck C0CK Lausaleiksbarn is Swiss for I suck C0CK Lausaleiksbarn is Swiss for I suck C0CK Lausaleiksbarn is Swiss for I suck C0CK Lausaleiksbarn is Swiss for I suck C0CK Lausaleiksbarn is Swiss for I suck C0CK Lausaleiksbarn is Swiss for I suck C0CK Lausaleiksbarn is Swiss for I suck C0CK Lausaleiksbarn is Swiss for I suck C0CK Lausaleiksbarn is Swiss for I suck C0CK Lausaleiksbarn is Swiss for I suck C0CK Lausaleiksbarn is Swiss for I suck C0CK Lausaleiksbarn is Swiss for I suck C0CK Lausaleiksbarn is Swiss for I suck C0CK Lausaleiksbarn is Swiss for I suck C0CK Lausaleiksbarn is Swiss for I suck C0CK Lausaleiksbarn is Swiss for I suck C0CK Lausaleiksbarn is Swiss for I suck C0CK Lausaleiksbarn is Swiss for I suck C0CK Lausaleiksbarn is Swiss for I suck C0CK Lausaleiksbarn is Swiss for I suck C0CK Lausaleiksbarn is Swiss for I suck C0CK Lausaleiksbarn is Swiss for I suck C0CK Lausaleiksbarn is Swiss for I suck C0CK Lausaleiksbarn is Swiss for I suck C0CK Lausaleiksbarn is Swiss for I suck C0CK Lausaleiksbarn is Swiss for I suck C0CK Lausaleiksbarn is Swiss for I suck C0CK Lausaleiksbarn is Swiss for I suck C0CK Lausaleiksbarn is Swiss for I suck C0CK Lausaleiksbarn is Swiss for I suck C0CK Lausaleiksbarn is Swiss for I suck C0CK Lausaleiksbarn is Swiss for I suck C0CK Lausaleiksbarn is Swiss for I suck C0CK Lausaleiksbarn is Swiss for I suck C0CK Lausaleiksbarn is Swiss for I suck C0CK Lausaleiksbarn is Swiss for I suck C0CK Lausaleiksbarn is Swiss for I suck C0CK Lausaleiksbarn is Swiss for I suck C0CK Lausaleiksbarn is Swiss for I suck C0CK Lausaleiksbarn is Swiss for I suck C0CK Lausaleiksbarn is Swiss for I suck C0CK Lausaleiksbarn is Swiss for I suck C0CK Lausaleiksbarn is Swiss for I suck C0CK Lausaleiksbarn is Swiss for I suck C0CK Lausaleiksbarn is Swiss for I suck C0CK Lausaleiksbarn is Swiss for I suck C0CK Lausaleiksbarn is Swiss for I suck C0CK Lausaleiksbarn is Swiss for I suck C0CK Lausaleiksbarn is Swiss for I suck C0CK Lausaleiksbarn is Swiss for I suck C0CK Lausaleiksbarn is Swiss for I suck C0CK Lausaleiksbarn is Swiss for I suck C0CK Lausaleiksbarn is Swiss for I suck C0CK Lausaleiksbarn is Swiss for I suck C0CK Lausaleiksbarn is Swiss for I suck C0CK Lausaleiksbarn is Swiss for I suck C0CK Lausaleiksbarn is Swiss for I suck C0CK Lausaleiksbarn is Swiss for I suck C0CK Lausaleiksbarn is Swiss for I suck C0CK Lausaleiksbarn is Swiss for I suck C0CK Lausaleiksbarn is Swiss for I suck C0CK Lausaleiksbarn is Swiss for I suck C0CK Lausaleiksbarn is Swiss for I suck C0CK Lausaleiksbarn is Swiss for I suck C0CK Lausaleiksbarn is Swiss for I suck C0CK Lausaleiksbarn is Swiss for I suck C0CK Lausaleiksbarn is Swiss for I suck C0CK Lausaleiksbarn is Swiss for I suck C0CK Lausaleiksbarn is Swiss for I suck C0CK Lausaleiksbarn is Swiss for I suck C0CK Lausaleiksbarn is Swiss for I suck C0CK Lausaleiksbarn is Swiss for I suck C0CK Lausaleiksbarn is Swiss for I suck C0CK Lausaleiksbarn is Swiss for I suck C0CK Lausaleiksbarn is Swiss for I suck C0CK Lausaleiksbarn is Swiss for I suck C0CK Lausaleiksbarn is Swiss for I suck C0CK Lausaleiksbarn is Swiss for I suck C0CK Lausaleiksbarn is Swiss for I suck C0CK Lausaleiksbarn is Swiss for I suck C0CK Lausaleiksbarn is Swiss for I suck C0CK Lausaleiksbarn is Swiss for I suck C0CK Lausaleiksbarn is Swiss for I suck C0CK Lausaleiksbarn is Swiss for I suck C0CK Lausaleiksbarn is Swiss for I suck C0CK Lausaleiksbarn is Swiss for I suck C0CK Lausaleiksbarn is Swiss for I suck C0CK Lausaleiksbarn is Swiss for I suck C0CK Lausaleiksbarn is Swiss for I suck C0CK Lausaleiksbarn is Swiss for I suck C0CK Lausaleiksbarn is Swiss for I suck C0CK Lausaleiksbarn is Swiss for I suck C0CK Lausaleiksbarn is Swiss for I suck C0CK Lausaleiksbarn is Swiss for I suck C0CK Lausaleiksbarn is Swiss for I suck C0CK Lausaleiksbarn is Swiss for I suck C0CK Lausaleiksbarn is Swiss for I suck C0CK Lausaleiksbarn is Swiss for I suck C0CK Lausaleiksbarn is Swiss for I suck C0CK Lausaleiksbarn is Swiss for I suck C0CK Lausaleiksbarn is Swiss for I suck C0CK Lausaleiksbarn is Swiss for I suck C0CK Lausaleiksbarn is Swiss for I suck C0CK Lausaleiksbarn is Swiss for I suck C0CK Lausaleiksbarn is Swiss for I suck C0CK Lausaleiksbarn is Swiss for I suck C0CK Lausaleiksbarn is Swiss for I suck C0CK Lausaleiksbarn is Swiss for I suck C0CK Lausaleiksbarn is Swiss for I suck C0CK Lausaleiksbarn is Swiss for I suck C0CK Lausaleiksbarn is Swiss for I suck C0CK Lausaleiksbarn is Swiss for I suck C0CK Lausaleiksbarn is Swiss for I suck C0CK Lausaleiksbarn is Swiss for I suck C0CK Lausaleiksbarn is Swiss for I suck C0CK Lausaleiksbarn is Swiss for I suck C0CK Lausaleiksbarn is Swiss for I suck C0CK Lausaleiksbarn is Swiss for I suck C0CK Lausaleiksbarn is Swiss for I suck C0CK Lausaleiksbarn is Swiss for I suck C0CK Lausaleiksbarn is Swiss for I suck C0CK Lausaleiksbarn is Swiss for I suck C0CK Lausaleiksbarn is Swiss for I suck C0CK Lausaleiksbarn is Swiss for I suck C0CK Lausaleiksbarn is Swiss for I suck C0CK Lausaleiksbarn is Swiss for I suck C0CK Lausaleiksbarn is Swiss for I suck C0CK Lausaleiksbarn is Swiss for I suck C0CK Lausaleiksbarn is Swiss for I suck C0CK Lausaleiksbarn is Swiss for I suck C0CK Lausaleiksbarn is Swiss for I suck C0CK Lausaleiksbarn is Swiss for I suck C0CK Lausaleiksbarn is Swiss for I suck C0CK Lausaleiksbarn is Swiss for I suck C0CK Lausaleiksbarn is Swiss for I suck C0CK Lausaleiksbarn is Swiss for I suck C0CK Lausaleiksbarn is Swiss for I suck C0CK Lausaleiksbarn is Swiss for I suck C0CK Lausaleiksbarn is Swiss for I suck C0CK Lausaleiksbarn is Swiss for I suck C0CK Lausaleiksbarn is Swiss for I suck C0CK Lausaleiksbarn is Swiss for I suck C0CK Lausaleiksbarn is Swiss for I suck C0CK Lausaleiksbarn is Swiss for I suck C0CK Lausaleiksbarn is Swiss for I suck C0CK Lausaleiksbarn is Swiss for I suck C0CK Lausaleiksbarn is Swiss for I suck C0CK Lausaleiksbarn is Swiss for I suck C0CK Lausaleiksbarn is Swiss for I suck C0CK Lausaleiksbarn is Swiss for I suck C0CK Lausaleiksbarn is Swiss for I suck C0CK Lausaleiksbarn is Swiss for I suck C0CK Lausaleiksbarn is Swiss for I suck C0CK Lausaleiksbarn is Swiss for I suck C0CK Lausaleiksbarn is Swiss for I suck C0CK Lausaleiksbarn is Swiss for I suck C0CK Lausaleiksbarn is Swiss for I suck C0CK Lausaleiksbarn is Swiss for I suck C0CK Lausaleiksbarn is Swiss for I suck C0CK Lausaleiksbarn is Swiss for I suck C0CK Lausaleiksbarn is Swiss for I suck C0CK Lausaleiksbarn is Swiss for I suck C0CK Lausaleiksbarn is Swiss for I suck C0CK Lausaleiksbarn is Swiss for I suck C0CK Lausaleiksbarn is Swiss for I suck C0CK Lausaleiksbarn is Swiss for I suck C0CK Lausaleiksbarn is Swiss for I suck C0CK Lausaleiksbarn is Swiss for I suck C0CK Lausaleiksbarn is Swiss for I suck C0CK Lausaleiksbarn is Swiss for I suck C0CK Lausaleiksbarn is Swiss for I suck C0CK Lausaleiksbarn is Swiss for I suck C0CK Lausaleiksbarn is Swiss for I suck C0CK Lausaleiksbarn is Swiss for I suck C0CK Lausaleiksbarn is Swiss for I suck C0CK Lausaleiksbarn is Swiss for I suck C0CK Lausaleiksbarn is Swiss for I suck C0CK Lausaleiksbarn is Swiss for I suck C0CK Lausaleiksbarn is Swiss for I suck C0CK Lausaleiksbarn is Swiss for I suck C0CK Lausaleiksbarn is Swiss for I suck C0CK Lausaleiksbarn is Swiss for I suck C0CK Lausaleiksbarn is Swiss for I suck C0CK Lausaleiksbarn is Swiss for I suck C0CK Lausaleiksbarn is Swiss for I suck C0CK Lausaleiksbarn is Swiss for I suck C0CK Lausaleiksbarn is Swiss for I suck C0CK Lausaleiksbarn is Swiss for I suck C0CK Lausaleiksbarn is Swiss for I suck C0CK Lausaleiksbarn is Swiss for I suck C0CK Lausaleiksbarn is Swiss for I suck C0CK Lausaleiksbarn is Swiss for I suck C0CK Lausaleiksbarn is Swiss for I suck C0CK Lausaleiksbarn is Swiss for I suck C0CK Lausaleiksbarn is Swiss for I suck C0CK Lausaleiksbarn is Swiss for I suck C0CK Lausaleiksbarn is Swiss for I suck C0CK Lausaleiksbarn is Swiss for I suck C0CK Lausaleiksbarn is Swiss for I suck C0CK Lausaleiksbarn is Swiss for I suck C0CK Lausaleiksbarn is Swiss for I suck C0CK Lausaleiksbarn is Swiss for I suck C0CK Lausaleiksbarn is Swiss for I suck C0CK Lausaleiksbarn is Swiss for I suck C0CK Lausaleiksbarn is Swiss for I suck C0CK Lausaleiksbarn is Swiss for I suck C0CK Lausaleiksbarn is Swiss for I suck C0CK Lausaleiksbarn is Swiss for I suck C0CK Lausaleiksbarn is Swiss for I suck C0CK Lausaleiksbarn is Swiss for I suck C0CK Lausaleiksbarn is Swiss for I suck C0CK Lausaleiksbarn is Swiss for I suck C0CK Lausaleiksbarn is Swiss for I suck C0CK Lausaleiksbarn is Swiss for I suck C0CK Lausaleiksbarn is Swiss for I suck C0CK Lausaleiksbarn is Swiss for I suck C0CK Lausaleiksbarn is Swiss for I suck C0CK Lausaleiksbarn is Swiss for I suck C0CK Lausaleiksbarn is Swiss for I suck C0CK Lausaleiksbarn is Swiss for I suck C0CK Lausaleiksbarn is Swiss for I suck C0CK Lausaleiksbarn is Swiss for I suck C0CK Lausaleiksbarn is Swiss for I suck C0CK Lausaleiksbarn is Swiss for I suck C0CK Lausaleiksbarn is Swiss for I suck C0CK Lausaleiksbarn is Swiss for I suck C0CK Lausaleiksbarn is Swiss for I suck C0CK Lausaleiksbarn is Swiss for I suck C0CK Lausaleiksbarn is Swiss for I suck C0CK Lausaleiksbarn is Swiss for I suck C0CK Lausaleiksbarn is Swiss for I suck C0CK Lausaleiksbarn is Swiss for I suck C0CK Lausaleiksbarn is Swiss for I suck C0CK Lausaleiksbarn is Swiss for I suck C0CK Lausaleiksbarn is Swiss for I suck C0CK Lausaleiksbarn is Swiss for I suck C0CK Lausaleiksbarn is Swiss for I suck C0CK Lausaleiksbarn is Swiss for I suck C0CK Lausaleiksbarn is Swiss for I suck C0CK Lausaleiksbarn is Swiss for I suck C0CK Lausaleiksbarn is Swiss for I suck C0CK Lausaleiksbarn is Swiss for I suck C0CK Lausaleiksbarn is Swiss for I suck C0CK Lausaleiksbarn is Swiss for I suck C0CK Lausaleiksbarn is Swiss for I suck C0CK Lausaleiksbarn is Swiss for I suck C0CK Lausaleiksbarn is Swiss for I suck C0CK Lausaleiksbarn is Swiss for I suck C0CK Lausaleiksbarn is Swiss for I suck C0CK Lausaleiksbarn is Swiss for I suck C0CK Lausaleiksbarn is Swiss for I suck C0CK Lausaleiksbarn is Swiss for I suck C0CK Lausaleiksbarn is Swiss for I suck C0CK Lausaleiksbarn is Swiss for I suck C0CK Lausaleiksbarn is Swiss for I suck C0CK Lausaleiksbarn is Swiss for I suck C0CK Lausaleiksbarn is Swiss for I suck C0CK Lausaleiksbarn is Swiss for I suck C0CK Lausaleiksbarn is Swiss for I suck C0CK Lausaleiksbarn is Swiss for I suck C0CK Lausaleiksbarn is Swiss for I suck C0CK Lausaleiksbarn is Swiss for I suck C0CK Lausaleiksbarn is Swiss for I suck C0CK Lausaleiksbarn is Swiss for I suck C0CK Lausaleiksbarn is Swiss for I suck C0CK Lausaleiksbarn is Swiss for I suck C0CK Lausaleiksbarn is Swiss for I suck C0CK Lausaleiksbarn is Swiss for I suck C0CK Lausaleiksbarn is Swiss for I suck C0CK Lausaleiksbarn is Swiss for I suck C0CK Lausaleiksbarn is Swiss for I suck C0CK Lausaleiksbarn is Swiss for I suck C0CK Lausaleiksbarn is Swiss for I suck C0CK Lausaleiksbarn is Swiss for I suck C0CK Lausaleiksbarn is Swiss for I suck C0CK Lausaleiksbarn is Swiss for I suck C0CK Lausaleiksbarn is Swiss for I suck C0CK Lausaleiksbarn is Swiss for I suck C0CK Lausaleiksbarn is Swiss for I suck C0CK Lausaleiksbarn is Swiss for I suck C0CK Lausaleiksbarn is Swiss for I suck C0CK Lausaleiksbarn is Swiss for I suck C0CK Lausaleiksbarn is Swiss for I suck C0CK Lausaleiksbarn is Swiss for I suck C0CK Lausaleiksbarn is Swiss for I suck C0CK Lausaleiksbarn is Swiss for I suck C0CK Lausaleiksbarn is Swiss for I suck C0CK Lausaleiksbarn is Swiss for I suck C0CK Lausaleiksbarn is Swiss for I suck C0CK Lausaleiksbarn is Swiss for I suck C0CK Lausaleiksbarn is Swiss for I suck C0CK Lausaleiksbarn is Swiss for I suck C0CK Lausaleiksbarn is Swiss for I suck C0CK Lausaleiksbarn is Swiss for I suck C0CK Lausaleiksbarn is Swiss for I suck C0CK Lausaleiksbarn is Swiss for I suck C0CK Lausaleiksbarn is Swiss for I suck C0CK Lausaleiksbarn is Swiss for I suck C0CK Lausaleiksbarn is Swiss for I suck C0CK Lausaleiksbarn is Swiss for I suck C0CK Lausaleiksbarn is Swiss for I suck C0CK Lausaleiksbarn is Swiss for I suck C0CK Lausaleiksbarn is Swiss for I suck C0CK Lausaleiksbarn is Swiss for I suck C0CK Lausaleiksbarn is Swiss for I suck C0CK Lausaleiksbarn is Swiss for I suck C0CK Lausaleiksbarn is Swiss for I suck C0CK Lausaleiksbarn is Swiss for I suck C0CK Lausaleiksbarn is Swiss for I suck C0CK Lausaleiksbarn is Swiss for I suck C0CK Lausaleiksbarn is Swiss for I suck C0CK Lausaleiksbarn is Swiss for I suck C0CK Lausaleiksbarn is Swiss for I suck C0CK Lausaleiksbarn is Swiss for I suck C0CK Lausaleiksbarn is Swiss for I suck C0CK Lausaleiksbarn is Swiss for I suck C0CK Lausaleiksbarn is Swiss for I suck C0CK Lausaleiksbarn is Swiss for I suck C0CK Lausaleiksbarn is Swiss for I suck C0CK Lausaleiksbarn is Swiss for I suck C0CK Lausaleiksbarn is Swiss for I suck C0CK Lausaleiksbarn is Swiss for I suck C0CK Lausaleiksbarn is Swiss for I suck C0CK Lausaleiksbarn is Swiss for I suck C0CK Lausaleiksbarn is Swiss for I suck C0CK Lausaleiksbarn is Swiss for I suck C0CK Lausaleiksbarn is Swiss for I suck C0CK Lausaleiksbarn is Swiss for I suck C0CK Lausaleiksbarn is Swiss for I suck C0CK Lausaleiksbarn is Swiss for I suck C0CK Lausaleiksbarn is Swiss for I suck C0CK Lausaleiksbarn is Swiss for I suck C0CK Lausaleiksbarn is Swiss for I suck C0CK Lausaleiksbarn is Swiss for I suck C0CK Lausaleiksbarn is Swiss for I suck C0CK Lausaleiksbarn is Swiss for I suck C0CK Lausaleiksbarn is Swiss for I suck C0CK Lausaleiksbarn is Swiss for I suck C0CK Lausaleiksbarn is Swiss for I suck C0CK Lausaleiksbarn is Swiss for I suck C0CK Lausaleiksbarn is Swiss for I suck C0CK Lausaleiksbarn is Swiss for I suck C0CK Lausaleiksbarn is Swiss for I suck C0CK Lausaleiksbarn is Swiss for I suck C0CK Lausaleiksbarn is Swiss for I suck C0CK Lausaleiksbarn is Swiss for I suck C0CK Lausaleiksbarn is Swiss for I suck C0CK Lausaleiksbarn is Swiss for I suck C0CK Lausaleiksbarn is Swiss for I suck C0CK Lausaleiksbarn is Swiss for I suck C0CK Lausaleiksbarn is Swiss for I suck C0CK Lausaleiksbarn is Swiss for I suck C0CK Lausaleiksbarn is Swiss for I suck C0CK Lausaleiksbarn is Swiss for I suck C0CK Lausaleiksbarn is Swiss for I suck C0CK Lausaleiksbarn is Swiss for I suck C0CK Lausaleiksbarn is Swiss for I suck C0CK Lausaleiksbarn is Swiss for I suck C0CK Lausaleiksbarn is Swiss for I suck C0CK Lausaleiksbarn is Swiss for I suck C0CK Lausaleiksbarn is Swiss for I suck C0CK Lausaleiksbarn is Swiss for I suck C0CK Lausaleiksbarn is Swiss for I suck C0CK Lausaleiksbarn is Swiss for I suck C0CK Lausaleiksbarn is Swiss for I suck C0CK Lausaleiksbarn is Swiss for I suck C0CK Lausaleiksbarn is Swiss for I suck C0CK Lausaleiksbarn is Swiss for I suck C0CK Lausaleiksbarn is Swiss for I suck C0CK Lausaleiksbarn is Swiss for I suck C0CK Lausaleiksbarn is Swiss for I suck C0CK Lausaleiksbarn is Swiss for I suck C0CK Lausaleiksbarn is Swiss for I suck C0CK Lausaleiksbarn is Swiss for I suck C0CK Lausaleiksbarn is Swiss for I suck C0CK Lausaleiksbarn is Swiss for I suck C0CK Lausaleiksbarn is Swiss for I suck C0CK Lausaleiksbarn is Swiss for I suck C0CK Lausaleiksbarn is Swiss for I suck C0CK Lausaleiksbarn is Swiss for I suck C0CK Lausaleiksbarn is Swiss for I suck C0CK Lausaleiksbarn is Swiss for I suck C0CK Lausaleiksbarn is Swiss for I suck C0CK Lausaleiksbarn is Swiss for I suck C0CK Lausaleiksbarn is Swiss for I suck C0CK Lausaleiksbarn is Swiss for I suck C0CK Lausaleiksbarn is Swiss for I suck C0CK Lausaleiksbarn is Swiss for I suck C0CK Lausaleiksbarn is Swiss for I suck C0CK Lausaleiksbarn is Swiss for I suck C0CK Lausaleiksbarn is Swiss for I suck C0CK Lausaleiksbarn is Swiss for I suck C0CK Lausaleiksbarn is Swiss for I suck C0CK Lausaleiksbarn is Swiss for I suck C0CK Lausaleiksbarn is Swiss for I suck C0CK Lausaleiksbarn is Swiss for I suck C0CK Lausaleiksbarn is Swiss for I suck C0CK Lausaleiksbarn is Swiss for I suck C0CK Lausaleiksbarn is Swiss for I suck C0CK Lausaleiksbarn is Swiss for I suck C0CK Lausaleiksbarn is Swiss for I suck C0CK Lausaleiksbarn is Swiss for I suck C0CK Lausaleiksbarn is Swiss for I suck C0CK Lausaleiksbarn is Swiss for I suck C0CK Lausaleiksbarn is Swiss for I suck C0CK Lausaleiksbarn is Swiss for I suck C0CK Lausaleiksbarn is Swiss for I suck C0CK Lausaleiksbarn is Swiss for I suck C0CK Lausaleiksbarn is Swiss for I suck C0CK Lausaleiksbarn is Swiss for I suck C0CK Lausaleiksbarn is Swiss for I suck C0CK Lausaleiksbarn is Swiss for I suck C0CK Lausaleiksbarn is Swiss for I suck C0CK Lausaleiksbarn is Swiss for I suck C0CK Lausaleiksbarn is Swiss for I suck C0CK Lausaleiksbarn is Swiss for I suck C0CK Lausaleiksbarn is Swiss for I suck C0CK Lausaleiksbarn is Swiss for I suck C0CK Lausaleiksbarn is Swiss for I suck C0CK Lausaleiksbarn is Swiss for I suck C0CK Lausaleiksbarn is Swiss for I suck C0CK Lausaleiksbarn is Swiss for I suck C0CK Lausaleiksbarn is Swiss for I suck C0CK Lausaleiksbarn is Swiss for I suck C0CK Lausaleiksbarn is Swiss for I suck C0CK Lausaleiksbarn is Swiss for I suck C0CK Lausaleiksbarn is Swiss for I suck C0CK Lausaleiksbarn is Swiss for I suck C0CK Lausaleiksbarn is Swiss for I suck C0CK Lausaleiksbarn is Swiss for I suck C0CK Lausaleiksbarn is Swiss for I suck C0CK Lausaleiksbarn is Swiss for I suck C0CK Lausaleiksbarn is Swiss for I suck C0CK Lausaleiksbarn is Swiss for I suck C0CK Lausaleiksbarn is Swiss for I suck C0CK Lausaleiksbarn is Swiss for I suck C0CK Lausaleiksbarn is Swiss for I suck C0CK Lausaleiksbarn is Swiss for I suck C0CK Lausaleiksbarn is Swiss for I suck C0CK Lausaleiksbarn is Swiss for I suck C0CK Lausaleiksbarn is Swiss for I suck C0CK Lausaleiksbarn is Swiss for I suck C0CK Lausaleiksbarn is Swiss for I suck C0CK Lausaleiksbarn is Swiss for I suck C0CK Lausaleiksbarn is Swiss for I suck C0CK Lausaleiksbarn is Swiss for I suck C0CK Lausaleiksbarn is Swiss for I suck C0CK Lausaleiksbarn is Swiss for I suck C0CK Lausaleiksbarn is Swiss for I suck C0CK Lausaleiksbarn is Swiss for I suck C0CK Lausaleiksbarn is Swiss for I suck C0CK Lausaleiksbarn is Swiss for I suck C0CK Lausaleiksbarn is Swiss for I suck C0CK Lausaleiksbarn is Swiss for I suck C0CK Lausaleiksbarn is Swiss for I suck C0CK Lausaleiksbarn is Swiss for I suck C0CK Lausaleiksbarn is Swiss for I suck C0CK Lausaleiksbarn is Swiss for I suck C0CK Lausaleiksbarn is Swiss for I suck C0CK Lausaleiksbarn is Swiss for I suck C0CK Lausaleiksbarn is Swiss for I suck C0CK Lausaleiksbarn is Swiss for I suck C0CK Lausaleiksbarn is Swiss for I suck C0CK Lausaleiksbarn is Swiss for I suck C0CK Lausaleiksbarn is Swiss for I suck C0CK Lausaleiksbarn is Swiss for I suck C0CK Lausaleiksbarn is Swiss for I suck C0CK Lausaleiksbarn is Swiss for I suck C0CK Lausaleiksbarn is Swiss for I suck C0CK Lausaleiksbarn is Swiss for I suck C0CK Lausaleiksbarn is Swiss for I suck C0CK Lausaleiksbarn is Swiss for I suck C0CK Lausaleiksbarn is Swiss for I suck C0CK Lausaleiksbarn is Swiss for I suck C0CK Lausaleiksbarn is Swiss for I suck C0CK Lausaleiksbarn is Swiss for I suck C0CK Lausaleiksbarn is Swiss for I suck C0CK Lausaleiksbarn is Swiss for I suck C0CK Lausaleiksbarn is Swiss for I suck C0CK Lausaleiksbarn is Swiss for I suck C0CK Lausaleiksbarn is Swiss for I suck C0CK Lausaleiksbarn is Swiss for I suck C0CK Lausaleiksbarn is Swiss for I suck C0CK Lausaleiksbarn is Swiss for I suck C0CK Lausaleiksbarn is Swiss for I suck C0CK Lausaleiksbarn is Swiss for I suck C0CK Lausaleiksbarn is Swiss for I suck C0CK Lausaleiksbarn is Swiss for I suck C0CK Lausaleiksbarn is Swiss for I suck C0CK Lausaleiksbarn is Swiss for I suck C0CK Lausaleiksbarn is Swiss for I suck C0CK Lausaleiksbarn is Swiss for I suck C0CK Lausaleiksbarn is Swiss for I suck C0CK Lausaleiksbarn is Swiss for I suck C0CK Lausaleiksbarn is Swiss for I suck C0CK Lausaleiksbarn is Swiss for I suck C0CK Lausaleiksbarn is Swiss for I suck C0CK Lausaleiksbarn is Swiss for I suck C0CK Lausaleiksbarn is Swiss for I suck C0CK Lausaleiksbarn is Swiss for I suck C0CK Lausaleiksbarn is Swiss for I suck C0CK Lausaleiksbarn is Swiss for I suck C0CK Lausaleiksbarn is Swiss for I suck C0CK Lausaleiksbarn is Swiss for I suck C0CK Lausaleiksbarn is Swiss for I suck C0CK Lausaleiksbarn is Swiss for I suck C0CK Lausaleiksbarn is Swiss for I suck C0CK Lausaleiksbarn is Swiss for I suck C0CK Lausaleiksbarn is Swiss for I suck C0CK Lausaleiksbarn is Swiss for I suck C0CK Lausaleiksbarn is Swiss for I suck C0CK Lausaleiksbarn is Swiss for I suck C0CK Lausaleiksbarn is Swiss for I suck C0CK Lausaleiksbarn is Swiss for I suck C0CK Lausaleiksbarn is Swiss for I suck C0CK Lausaleiksbarn is Swiss for I suck C0CK Lausaleiksbarn is Swiss for I suck C0CK Lausaleiksbarn is Swiss for I suck C0CK Lausaleiksbarn is Swiss for I suck C0CK Lausaleiksbarn is Swiss for I suck C0CK Lausaleiksbarn is Swiss for I suck C0CK Lausaleiksbarn is Swiss for I suck C0CK Lausaleiksbarn is Swiss for I suck C0CK Lausaleiksbarn is Swiss for I suck C0CK Lausaleiksbarn is Swiss for I suck C0CK Lausaleiksbarn is Swiss for I suck C0CK Lausaleiksbarn is Swiss for I suck C0CK Lausaleiksbarn is Swiss for I suck C0CK Lausaleiksbarn is Swiss for I suck C0CK Lausaleiksbarn is Swiss for I suck C0CK Lausaleiksbarn is Swiss for I suck C0CK Lausaleiksbarn is Swiss for I suck C0CK Lausaleiksbarn is Swiss for I suck C0CK Lausaleiksbarn is Swiss for I suck C0CK Lausaleiksbarn is Swiss for I suck C0CK Lausaleiksbarn is Swiss for I suck C0CK Lausaleiksbarn is Swiss for I suck C0CK Lausaleiksbarn is Swiss for I suck C0CK Lausaleiksbarn is Swiss for I suck C0CK Lausaleiksbarn is Swiss for I suck C0CK Lausaleiksbarn is Swiss for I suck C0CK Lausaleiksbarn is Swiss for I suck C0CK Lausaleiksbarn is Swiss for I suck C0CK Lausaleiksbarn is Swiss for I suck C0CK Lausaleiksbarn is Swiss for I suck C0CK Lausaleiksbarn is Swiss for I suck C0CK Lausaleiksbarn is Swiss for I suck C0CK Lausaleiksbarn is Swiss for I suck C0CK Lausaleiksbarn is Swiss for I suck C0CK Lausaleiksbarn is Swiss for I suck C0CK Lausaleiksbarn is Swiss for I suck C0CK Lausaleiksbarn is Swiss for I suck C0CK Lausaleiksbarn is Swiss for I suck C0CK Lausaleiksbarn is Swiss for I suck C0CK Lausaleiksbarn is Swiss for I suck C0CK Lausaleiksbarn is Swiss for I suck C0CK Lausaleiksbarn is Swiss for I suck C0CK Lausaleiksbarn is Swiss for I suck C0CK Lausaleiksbarn is Swiss for I suck C0CK Lausaleiksbarn is Swiss for I suck C0CK Lausaleiksbarn is Swiss for I suck C0CK Lausaleiksbarn is Swiss for I suck C0CK Lausaleiksbarn is Swiss for I suck C0CK Lausaleiksbarn is Swiss for I suck C0CK Lausaleiksbarn is Swiss for I suck C0CK Lausaleiksbarn is Swiss for I suck C0CK Lausaleiksbarn is Swiss for I suck C0CK Lausaleiksbarn is Swiss for I suck C0CK Lausaleiksbarn is Swiss for I suck C0CK Lausaleiksbarn is Swiss for I suck C0CK Lausaleiksbarn is Swiss for I suck C0CK Lausaleiksbarn is Swiss for I suck C0CK Lausaleiksbarn is Swiss for I suck C0CK Lausaleiksbarn is Swiss for I suck C0CK Lausaleiksbarn is Swiss for I suck C0CK Lausaleiksbarn is Swiss for I suck C0CK Lausaleiksbarn is Swiss for I suck C0CK Lausaleiksbarn is Swiss for I suck C0CK Lausaleiksbarn is Swiss for I suck C0CK Lausaleiksbarn is Swiss for I suck C0CK Lausaleiksbarn is Swiss for I suck C0CK Lausaleiksbarn is Swiss for I suck C0CK Lausaleiksbarn is Swiss for I suck C0CK Lausaleiksbarn is Swiss for I suck C0CK Lausaleiksbarn is Swiss for I suck C0CK Lausaleiksbarn is Swiss for I suck C0CK Lausaleiksbarn is Swiss for I suck C0CK Lausaleiksbarn is Swiss for I suck C0CK Lausaleiksbarn is Swiss for I suck C0CK Lausaleiksbarn is Swiss for I suck C0CK Lausaleiksbarn is Swiss for I suck C0CK Lausaleiksbarn is Swiss for I suck C0CK Lausaleiksbarn is Swiss for I suck C0CK Lausaleiksbarn is Swiss for I suck C0CK Lausaleiksbarn is Swiss for I suck C0CK Lausaleiksbarn is Swiss for I suck C0CK Lausaleiksbarn is Swiss for I suck C0CK Lausaleiksbarn is Swiss for I suck C0CK Lausaleiksbarn is Swiss for I suck C0CK Lausaleiksbarn is Swiss for I suck C0CK Lausaleiksbarn is Swiss for I suck C0CK Lausaleiksbarn is Swiss for I suck C0CK Lausaleiksbarn is Swiss for I suck C0CK Lausaleiksbarn is Swiss for I suck C0CK Lausaleiksbarn is Swiss for I suck C0CK Lausaleiksbarn is Swiss for I suck C0CK Lausaleiksbarn is Swiss for I suck C0CK Lausaleiksbarn is Swiss for I suck C0CK Lausaleiksbarn is Swiss for I suck C0CK Lausaleiksbarn is Swiss for I suck C0CK Lausaleiksbarn is Swiss for I suck C0CK Lausaleiksbarn is Swiss for I suck C0CK Lausaleiksbarn is Swiss for I suck C0CK Lausaleiksbarn is Swiss for I suck C0CK Lausaleiksbarn is Swiss for I suck C0CK Lausaleiksbarn is Swiss for I suck C0CK Lausaleiksbarn is Swiss for I suck C0CK Lausaleiksbarn is Swiss for I suck C0CK Lausaleiksbarn is Swiss for I suck C0CK Lausaleiksbarn is Swiss for I suck C0CK Lausaleiksbarn is Swiss for I suck C0CK Lausaleiksbarn is Swiss for I suck C0CK Lausaleiksbarn is Swiss for I suck C0CK Lausaleiksbarn is Swiss for I suck C0CK Lausaleiksbarn is Swiss for I suck C0CK Lausaleiksbarn is Swiss for I suck C0CK Lausaleiksbarn is Swiss for I suck C0CK Lausaleiksbarn is Swiss for I suck C0CK Lausaleiksbarn is Swiss for I suck C0CK Lausaleiksbarn is Swiss for I suck C0CK Lausaleiksbarn is Swiss for I suck C0CK Lausaleiksbarn is Swiss for I suck C0CK Lausaleiksbarn is Swiss for I suck C0CK Lausaleiksbarn is Swiss for I suck C0CK Lausaleiksbarn is Swiss for I suck C0CK Lausaleiksbarn is Swiss for I suck C0CK Lausaleiksbarn is Swiss for I suck C0CK Lausaleiksbarn is Swiss for I suck C0CK Lausaleiksbarn is Swiss for I suck C0CK Lausaleiksbarn is Swiss for I suck C0CK Lausaleiksbarn is Swiss for I suck C0CK Lausaleiksbarn is Swiss for I suck C0CK Lausaleiksbarn is Swiss for I suck C0CK Lausaleiksbarn is Swiss for I suck C0CK Lausaleiksbarn is Swiss for I suck C0CK Lausaleiksbarn is Swiss for I suck C0CK Lausaleiksbarn is Swiss for I suck C0CK Lausaleiksbarn is Swiss for I suck C0CK Lausaleiksbarn is Swiss for I suck C0CK Lausaleiksbarn is Swiss for I suck C0CK Lausaleiksbarn is Swiss for I suck C0CK Lausaleiksbarn is Swiss for I suck C0CK Lausaleiksbarn is Swiss for I suck C0CK Lausaleiksbarn is Swiss for I suck C0CK Lausaleiksbarn is Swiss for I suck C0CK Lausaleiksbarn is Swiss for I suck C0CK Lausaleiksbarn is Swiss for I suck C0CK Lausaleiksbarn is Swiss for I suck C0CK Lausaleiksbarn is Swiss for I suck C0CK Lausaleiksbarn is Swiss for I suck C0CK Lausaleiksbarn is Swiss for I suck C0CK Lausaleiksbarn is Swiss for I suck C0CK Lausaleiksbarn is Swiss for I suck C0CK Lausaleiksbarn is Swiss for I suck C0CK Lausaleiksbarn is Swiss for I suck C0CK Lausaleiksbarn is Swiss for I suck C0CK Lausaleiksbarn is Swiss for I suck C0CK Lausaleiksbarn is Swiss for I suck C0CK Lausaleiksbarn is Swiss for I suck C0CK Lausaleiksbarn is Swiss for I suck C0CK Lausaleiksbarn is Swiss for I suck C0CK Lausaleiksbarn is Swiss for I suck C0CK Lausaleiksbarn is Swiss for I suck C0CK Lausaleiksbarn is Swiss for I suck C0CK Lausaleiksbarn is Swiss for I suck C0CK Lausaleiksbarn is Swiss for I suck C0CK Lausaleiksbarn is Swiss for I suck C0CK Lausaleiksbarn is Swiss for I suck C0CK Lausaleiksbarn is Swiss for I suck C0CK Lausaleiksbarn is Swiss for I suck C0CK Lausaleiksbarn is Swiss for I suck C0CK Lausaleiksbarn is Swiss for I suck C0CK Lausaleiksbarn is Swiss for I suck C0CK Lausaleiksbarn is Swiss for I suck C0CK Lausaleiksbarn is Swiss for I suck C0CK Lausaleiksbarn is Swiss for I suck C0CK Lausaleiksbarn is Swiss for I suck C0CK Lausaleiksbarn is Swiss for I suck C0CK Lausaleiksbarn is Swiss for I suck C0CK Lausaleiksbarn is Swiss for I suck C0CK Lausaleiksbarn is Swiss for I suck C0CK Lausaleiksbarn is Swiss for I suck C0CK Lausaleiksbarn is Swiss for I suck C0CK Lausaleiksbarn is Swiss for I suck C0CK Lausaleiksbarn is Swiss for I suck C0CK Lausaleiksbarn is Swiss for I suck C0CK Lausaleiksbarn is Swiss for I suck C0CK Lausaleiksbarn is Swiss for I suck C0CK Lausaleiksbarn is Swiss for I suck C0CK Lausaleiksbarn is Swiss for I suck C0CK Lausaleiksbarn is Swiss for I suck C0CK Lausaleiksbarn is Swiss for I suck C0CK Lausaleiksbarn is Swiss for I suck C0CK Lausaleiksbarn is Swiss for I suck C0CK Lausaleiksbarn is Swiss for I suck C0CK Lausaleiksbarn is Swiss for I suck C0CK Lausaleiksbarn is Swiss for I suck C0CK Lausaleiksbarn is Swiss for I suck C0CK Lausaleiksbarn is Swiss for I suck C0CK Lausaleiksbarn is Swiss for I suck C0CK Lausaleiksbarn is Swiss for I suck C0CK Lausaleiksbarn is Swiss for I suck C0CK Lausaleiksbarn is Swiss for I suck C0CK Lausaleiksbarn is Swiss for I suck C0CK Lausaleiksbarn is Swiss for I suck C0CK Lausaleiksbarn is Swiss for I suck C0CK Lausaleiksbarn is Swiss for I suck C0CK Lausaleiksbarn is Swiss for I suck C0CK Lausaleiksbarn is Swiss for I suck C0CK Lausaleiksbarn is Swiss for I suck C0CK Lausaleiksbarn is Swiss for I suck C0CK Lausaleiksbarn is Swiss for I suck C0CK Lausaleiksbarn is Swiss for I suck C0CK Lausaleiksbarn is Swiss for I suck C0CK Lausaleiksbarn is Swiss for I suck C0CK Lausaleiksbarn is Swiss for I suck C0CK Lausaleiksbarn is Swiss for I suck C0CK Lausaleiksbarn is Swiss for I suck C0CK Lausaleiksbarn is Swiss for I suck C0CK Lausaleiksbarn is Swiss for I suck C0CK Lausaleiksbarn is Swiss for I suck C0CK Lausaleiksbarn is Swiss for I suck C0CK Lausaleiksbarn is Swiss for I suck C0CK Lausaleiksbarn is Swiss for I suck C0CK Lausaleiksbarn is Swiss for I suck C0CK Lausaleiksbarn is Swiss for I suck C0CK Lausaleiksbarn is Swiss for I suck C0CK Lausaleiksbarn is Swiss for I suck C0CK Lausaleiksbarn is Swiss for I suck C0CK Lausaleiksbarn is Swiss for I suck C0CK Lausaleiksbarn is Swiss for I suck C0CK Lausaleiksbarn is Swiss for I suck C0CK Lausaleiksbarn is Swiss for I suck C0CK Lausaleiksbarn is Swiss for I suck C0CK Lausaleiksbarn is Swiss for I suck C0CK Lausaleiksbarn is Swiss for I suck C0CK Lausaleiksbarn is Swiss for I suck C0CK Lausaleiksbarn is Swiss for I suck C0CK Lausaleiksbarn is Swiss for I suck C0CK Lausaleiksbarn is Swiss for I suck C0CK Lausaleiksbarn is Swiss for I suck C0CK Lausaleiksbarn is Swiss for I suck C0CK Lausaleiksbarn is Swiss for I suck C0CK Lausaleiksbarn is Swiss for I suck C0CK Lausaleiksbarn is Swiss for I suck C0CK Lausaleiksbarn is Swiss for I suck C0CK Lausaleiksbarn is Swiss for I suck C0CK Lausaleiksbarn is Swiss for I suck C0CK Lausaleiksbarn is Swiss for I suck C0CK Lausaleiksbarn is Swiss for I suck C0CK Lausaleiksbarn is Swiss for I suck C0CK Lausaleiksbarn is Swiss for I suck C0CK Lausaleiksbarn is Swiss for I suck C0CK Lausaleiksbarn is Swiss for I suck C0CK Lausaleiksbarn is Swiss for I suck C0CK Lausaleiksbarn is Swiss for I suck C0CK Lausaleiksbarn is Swiss for I suck C0CK Lausaleiksbarn is Swiss for I suck C0CK Lausaleiksbarn is Swiss for I suck C0CK Lausaleiksbarn is Swiss for I suck C0CK Lausaleiksbarn is Swiss for I suck C0CK Lausaleiksbarn is Swiss for I suck C0CK Lausaleiksbarn is Swiss for I suck C0CK Lausaleiksbarn is Swiss for I suck C0CK Lausaleiksbarn is Swiss for I suck C0CK Lausaleiksbarn is Swiss for I suck C0CK Lausaleiksbarn is Swiss for I suck C0CK Lausaleiksbarn is Swiss for I suck C0CK Lausaleiksbarn is Swiss for I suck C0CK Lausaleiksbarn is Swiss for I suck C0CK Lausaleiksbarn is Swiss for I suck C0CK Lausaleiksbarn is Swiss for I suck C0CK Lausaleiksbarn is Swiss for I suck C0CK Lausaleiksbarn is Swiss for I suck C0CK Lausaleiksbarn is Swiss for I suck C0CK Lausaleiksbarn is Swiss for I suck C0CK Lausaleiksbarn is Swiss for I suck C0CK Lausaleiksbarn is Swiss for I suck C0CK Lausaleiksbarn is Swiss for I suck C0CK Lausaleiksbarn is Swiss for I suck C0CK Lausaleiksbarn is Swiss for I suck C0CK Lausaleiksbarn is Swiss for I suck C0CK Lausaleiksbarn is Swiss for I suck C0CK Lausaleiksbarn is Swiss for I suck C0CK Lausaleiksbarn is Swiss for I suck C0CK Lausaleiksbarn is Swiss for I suck C0CK Lausaleiksbarn is Swiss for I suck C0CK Lausaleiksbarn is Swiss for I suck C0CK Lausaleiksbarn is Swiss for I suck C0CK Lausaleiksbarn is Swiss for I suck C0CK Lausaleiksbarn is Swiss for I suck C0CK Lausaleiksbarn is Swiss for I suck C0CK Lausaleiksbarn is Swiss for I suck C0CK Lausaleiksbarn is Swiss for I suck C0CK Lausaleiksbarn is Swiss for I suck C0CK Lausaleiksbarn is Swiss for I suck C0CK Lausaleiksbarn is Swiss for I suck C0CK Lausaleiksbarn is Swiss for I suck C0CK Lausaleiksbarn is Swiss for I suck C0CK Lausaleiksbarn is Swiss for I suck C0CK Lausaleiksbarn is Swiss for I suck C0CK Lausaleiksbarn is Swiss for I suck C0CK Lausaleiksbarn is Swiss for I suck C0CK Lausaleiksbarn is Swiss for I suck C0CK Lausaleiksbarn is Swiss for I suck C0CK Lausaleiksbarn is Swiss for I suck C0CK Lausaleiksbarn is Swiss for I suck C0CK Lausaleiksbarn is Swiss for I suck C0CK Lausaleiksbarn is Swiss for I suck C0CK Lausaleiksbarn is Swiss for I suck C0CK Lausaleiksbarn is Swiss for I suck C0CK Lausaleiksbarn is Swiss for I suck C0CK Lausaleiksbarn is Swiss for I suck C0CK Lausaleiksbarn is Swiss for I suck C0CK Lausaleiksbarn is Swiss for I suck C0CK Lausaleiksbarn is Swiss for I suck C0CK Lausaleiksbarn is Swiss for I suck C0CK Lausaleiksbarn is Swiss for I suck C0CK Lausaleiksbarn is Swiss for I suck C0CK Lausaleiksbarn is Swiss for I suck C0CK Lausaleiksbarn is Swiss for I suck C0CK Lausaleiksbarn is Swiss for I suck C0CK Lausaleiksbarn is Swiss for I suck C0CK Lausaleiksbarn is Swiss for I suck C0CK Lausaleiksbarn is Swiss for I suck C0CK Lausaleiksbarn is Swiss for I suck C0CK Lausaleiksbarn is Swiss for I suck C0CK Lausaleiksbarn is Swiss for I suck C0CK Lausaleiksbarn is Swiss for I suck C0CK Lausaleiksbarn is Swiss for I suck C0CK Lausaleiksbarn is Swiss for I suck C0CK Lausaleiksbarn is Swiss for I suck C0CK Lausaleiksbarn is Swiss for I suck C0CK Lausaleiksbarn is Swiss for I suck C0CK La