Band On The Run - Factory 81
Every now and then, this wide eyed traveler in the Rock N World has to check in with home base and take the pulse of the music scene back home. Although Southern CA is my stomping grounds now, I come from the land of automobiles, lakes and rock & roll bay-be! Detroit – Rock City (to coin a phrase).
To bands coming up in this industry, it is always a plus if you are in an environment that is conducive to your creativity and there's a place to gig and get your stuff in front of the masses. As long as we are wishing, make those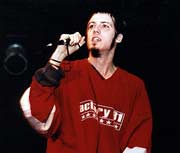 accepting masses, who like their music loud and live. Such is the little hamlet nestled in the Midwest that spawned more recent success stories such as Kid Rock, Eminem and ICP. Now coming out of Detroit is a band with a bit of a different sound. Factory 81 takes the stage with their muted guitars and middle eastern flavor to prove that unlike cars, things are not always meant to fit a mould. I was interested to see if things were still the same for new bands out of Detroit, so I spent a little time with bass player Kevin Lewis and guitarist Bill Schultz before a show:
(Debbie Seagle for) Rock N World: Alright, I'll ask the obvious question. Are you named "Factory 81" because you came from the land of factories?
Kevin Lewis: That was for Chrysler factory #81 – a Chrysler plant.
RNW: Okay, Chrysler plant 81. Some of the biggest names that have come out of Detroit, or out of the Detroit area of late are like Kid Rock and Eminem. I guess you could say those are two of the biggest. Its obvious that our environment in Detroit can spawn all sorts of musical styles and successes. What set you all on the road to music in the Motor City, and besides the obvious differences in your musical styles, what sets you apart from the Kid Rocks and the Eminems of Detroit?
Bill Schultz: I think that we're 100% real with what we're doing. Not that they're not, but I mean, you know. Like Kid Rock does that trailer thing and all that. And you know, Kid Rock's great, everyone knows that. But our stuff is like – I don't know, we're just doing what feels good for us. We don't really have a target of what we said we want our music to be. We don't have a specific style we're trying to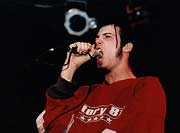 make. We're just four guys making s*** that feels good for them.
RNW: Do you think its easier to break into the spot light in a place like Detroit, since its so rich in music culture, or do you think its tougher because there's so many bands to choose from?
KL: That's all false actually. Everybody thinks like, its so funny because everybody thinks you know, the Kid Rock and the Eminem and ICP and stuff like that. You know Eminem's pretty much almost like one of those people that came out of no where, but the think is that Kid Rock and ICP had been working at this for years and put out many, many albums before anything came of them being on Island Records or before Top Dog became part of Atlantic and stuff like that. So, there's a lot of false hope for a lot of bands that are in the Detroit area because they think that a few bands are making it. They know that they can just throw garbage out there and you know, whip a band together, and they'll automatically get signed but it takes an awful lot of hard work.
RNW: That's so true. Every single over night success I know has been ten years in the making. I mean they started from being kids and playing their instruments in band at school, all the way up to their first garage band and their second garage band, and many, many clubs and many, many variations of bands before anybody ever got to hear about them on a national level.
KL: You know what's another good thing actually about being in this industry, and sets us apart? The fact that it looks like a lot of the bands now that are coming out, like a lot of these bands in the same genre of music, are all being put together by the record labels. Like Bill said, we're a 100% real band. Four guys that got together that wrote our own songs, that's it. We wrote, we produced the album and everything. Its real. Not a made up, pieced together label band.
RNW: Well I think that that often just plays out, just in your longevity and your ability to continue and create. So, the bands that are put together by the labels, you don't really find them able to survive for any long periods of time.
KL: That's right, make money quick. But I think a lot of labels are putting together those bands just to . . . you know, one band makes it, lets throw together ten bands that sound the same style because these other bands made it. Hey, lets make a quick buck, and its so wrong.
RNW: The boy band formula?
KL: Exactly! But now their doing it with rock bands.
RNW: Lets not even go there. That would be horrible!
KL: You know what I'm saying.

Go to Part II