Go Back to Part I

RNW: I've listened to your CD, I've read the lyrics, I know Nate does the lyrics writing, right?
KL: Right.
RNW: But, one of you being the guitarist and the other being the bassist, when Nate brings you these lyrics, you're creating this music around them, is that correct?
KL: No, actually, that's not correct.
RNW: So you're creating the music and then he's creating the lyrics?
BS: Right. That's basically how it is. Everything is also written together. There's not one person who writes the music, or two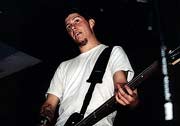 people. Its four people that write these songs. Usually it will be something like either me or Kevin will come up with a riff or something. Then Nate jumps in and the three of us start forming a certain layout to the song. Like maybe we'll get a verse, then a chorus will start going. That kind of thing. Then we'll start with some chords and then Andy will just come over the top of it, start laying down some melodies. Stuff like that. Let the song develop itself.
KL: Like sometimes there's cases where we worked almost as two separate entities. Like we're writing the music all together and then he (Nate) might have already had lyrics which could have been stored, it could have been a poem. It could have been whatever. He might have had that in a notebook and the emotion of the song, the emotion of the music struck a chord and for some reason he starting about the experience, which he already had written down. So, there are some times where it works in that case, but he never comes with the lyrics and then we go "oh, lets write a song emotionally around that." It never works that way.
RNW: Now, your lyrical style and your melodic style have a very definate middle eastern flavor to it. Do either of you or any of you have a middle eastern heritage and is that how you come by that, or did you guys kind of fall into that? How did that develop?
KL: No one really has middle eastern heritage, I think Nathan just tries to draw from a lot of different influences. I mean I think he really doesn't even listen to the kind of stuff that we're doing. He listens to a lot of stuff like Bjork and Tori Amos and Lauren Hill. Stuff like Miles Davis, Charlie Parker. I mean he just draws from a lot of different things and its typical. He likes a lot of the middle eastern type culture and its not that its his nationality, but there's different things that interest him.
BS: It helps because it helps also separate us from, like you were asking before you know, what separates us from a lot of bands. Its good though because you have that generic sound and you're just lost in the mix, but there's a lot of people that come up to us and one of the first questions that they ask is, does anybody in your band have middle eastern background? Does any body have anything to do with the middle east because there's a lot of that in the music?
RNW: Most definitely. But I think its really cool and it does kind of set you apart and I like that. It kind of gets you out in front of the crowd, so to speak, and gives you an edge so that's cool.
BS: That's what you need.
RNW: Yeah, you need every edge you can get. What are the key messages, if you can think of any, that the band has consciously thought of, that you are trying to get across in this project "Mankind?"
KL: I think the key message of anything is probably like, if you look at the liner notes, there not all lyrics. Most of them are poems and stories and I think its just, I think the whole message is that you look at the songs how you view them instead of here's the lyrics and you agree with this point of view. You're suppose to listen to it yourself and get your own point of view out of it. Its kind of like, think for yourself, really. A lot of those issues that are in the songs are real issues, they're not made up issues. They're real situations that have happened and real things.
BS: For the most part, we don't have a specific message we're trying to portray. People have different ideas of what they think songs mean, but yet it works better for them a lot of times, you know.
RNW: Well, you know, part of the beauty of music, and what makes music and actual language is the fact that people can take it and use it how they will – make it apply to them.
KL: You hear stories all the time of how people relate to the music. How people, they come to you and they say you know, man, that song touched me in this way because I had this going on in my life and you're just like, me personally, I don't even know what most of the lyrics are, actually, to the songs. Its so strange because you get an outsider's point of view on what – you're so passionate about writing and stuff, and its really interesting actually. I'm really glad that we actually didn't put all of the lyrics in there.
RNW: It does kind of make it more of a "fit the situation" type of a thing. Can you tell me a little bit about how you guys were signed to Mojo Records, how that all came about, and why don't you even back up a little bit more and tell me how you all came together and what the road was to getting this record deal.
KL: A s***-load of hard work man!
RNW: End of story.
BS: Me and Kevin have been playing together for about eight years or so now. We kind of met through a mutual friend and kind of got a band going. Nothing like this you know, but basically through time, we brought members in and out and it kind of became Factory 81. You know, right about the time that Nate joined the band about three and a half years ago, four years ago. Basically there was just a lot of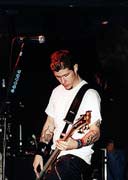 playing as many shows as we can in the Detroit area, trying to build a following. We had done some shows at a high school in the Metro Detroit area, a couple of times acually, a benefit show for the arts programs in the schools, so we played there a couple times and that really spread the name around a lot. It was a chance for us to play in front of a lot of kids, and then after that, the smart thing that we did, a lot of the other bands were just playing the bars, doing over 21 shows, but we were fortunate enough after having done those high school shows, we kind of just stuck to doing all ages shows. So all those kids that had seen us got to come see us again and again you know.

Go to Part III