At Ozzfest, the light at the end of the tunnel is - The DeadLights!
by Debbie Seagle
RNW: You have a beautiful voice.
Duke: Oh thank you. You know I have the entire, I have this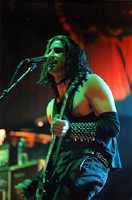 problem of self hatred and I donít like anything about myself and its really hard for me to say that Iím good at something or something like that but I guess thatís a good motivator too because you always want to get better.
RNW: Well those cheering crowds out there must be proving you wrong I would think.
Duke: Yeah, its definitely a trip. Definitely a trip.
RNW: That is one of the reasons that we perform, right? We perform to purge emotions and things like that, but we also perform for acceptance, right?
Duke: Acceptance and acknowledgment from your peers. No one can really deny that. There are certain people motivated by ego, like a lot of people are and I try to keep that in check in my every day life, you know? I know that the ego is the one thing that dominates the music industry.
RNW: I was going to say that youíre probably in the worst business of all for that (laughs).
Duke: Yeah, definitely, definitely! But you know, as long as you know that and youíre aware of that, then you can control it, you know?
RNW: Well, what about landing your slot on Ozzfest? Now, I know that had to have made you happy.
Duke: Yeah, a new opportunity, I guess its kind of making me feel like Iíve, weíve actually achieved something in the band, which is cool. But you know, along with that comes a whole lot more, a lot of problems can arise, a whole new cliff to climb, you know? We have to sell records and we have to think about that kind of stuff and its like, you know. Yeah its really a good achievement but it hasnít gone to my head so far. Nobody in the band is letting it get to their head. Weíre all just staying focused and keeping our minds on the music, trying to make our live set as aggressive as we can. I think everybody in this band is pretty much driven by revenge. (laughs)
RNW: Really?
Duke: Yeah, weíve all been s*** on so much in our entire lives cause like now its pay back time.
RNW: Are you talking about musically or personally?
Duke: Musically, personally, all around. I donít know, its kind of a harsh way to live when youíre driven by revenge, but its really, it lights a fire under your ass, you know what Iím sayin?
RNW: Yeah!
Duke: By the same token, its an all or nothing kind of thing. When youíre living for revenge, if you donít get it, youíre a failure. You know what Iím sayin?
RNW: That makes you even meaner!
Duke: Yeah, totally!
RNW: Thereís inspiration for songs right there . . .
Duke: Oh yeah, definitely. Thatís probably one of the things that keeps us going the most is just our constant drive to get back at people that have s*** on us.
RNW: And you know, really, I see that a lot in your performance. In your live performance.
Duke: Thank you.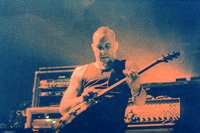 RNW: Its very dark, you guys come across as, like, dungeon masters, but then afterwards, at the after party at your Paladium gig, all of your guys are just . . . sweethearts (laughs). I hate to say it because I donít want to ruin your image but . . .
Duke: Well, you know, I like to be polite with people, you know, Iím just that way. I have respect for people, everyone in general, because thatís just the way Iíd like to be treated. But you know, of course you run into people in your life that donít have that same kind of mindset and those are the people we want to crush (laughs).
RNW: OOOOO!
Duke: Yeah, so Iím really a nice guy. Everyone in the band, we try to be nice guys and we try not to have attitudes or anything like that toward people, because its actually the people that give us what weíve got and its the people that have aligned themselves with us that make us what we are and what weíre trying to be. We never want to be rude to our fans or try and get this rock star mentality or anything like that.
RNW: Well, let me ask you this, what do you think of when you hear the term "rock star?" Have you been called a rock star?
Duke: I think those rock stars are people that have been pampered their whole life and never really had to deal with an adversity and just donít know how to treat other people. When I hear the words "rock star," I think of a pompous kind of guy who thinks that the world owes him something. And usually a lot of people with attitudes are like that. I aspire never really to be like that. I want to try and keep the band guy on the stage, you know? Keep that on the stage and when I get off stage, thatís what I will do.
RNW: So "rock star" would not be a compliment to you? If someone were to call you a rock star, or do you prefer "musician?"
Duke: Yeah, I prefer "musician" over "rock star."
RNW: I think I would too.
Duke: But you know, for one thing, Iíd have to have a lot of money to be a rock star, I think.
RNW: Thatís probably a prerequisite, I would think. You have to have the entourage and, you know.
Duke: Yeah, totally.
RNW: Money, the whole business, shades. You absolutely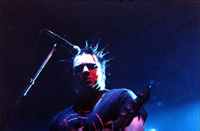 have to have a cool pair of shades (laughing), especially at Ozzfest. Now, to me, as a musician, if someone were to come up to me and say, you know what? Youíve got a gig with Ozzfest, I would be totally beside myself and excited. Iíd be calling my mom, Iíd be calling all my friends saying, "Hey! Iím going to be on Ozzfest!" Was there that kind of excitement for you guys when you found out?
Duke: Yeah, Iím not going to say that we werenít excited about it. Definitely, naturally its like an achievement. Its a milestone and thereís a lot of great . . . its the last Ozzfest and actually its the first Ozzfest that Iíll ever see, so thatís kind of cool that the first one Iíve been to is the one Iím playing at. I donít know, its going to be really cool, I mean, we need to be in front of a lot of people and thatís what Iím looking forward to and everyone in the band is looking forward to. Getting our point across to as many people as we can. Ozzfest, what better forum than that?
RNW: Youíre definitely going to be getting a lot of attention!
Duke: Its a great launching pad for up and coming bands and especially this year. Thereís a lot of great up and coming bands that are gonna get, theyíre pretty much getting the start of their career off of this.
RNW: The line-up is great.
Duke: And like Ozzy, heís pretty much metal, you know? The godfather of all metal, so thatís pretty cool to actually have Ozzy and Sharon (Osbourne) be the ones that put us on this gig. Thatís really cool.
RNW: Thatís like the ultimate nod, isnít it?
Duke: Exactly. I donít see what higher source you could go to for approval (laughs).
RNW: Yeah, I wouldnít be looking for anything higher than that. Iíd be stopping right there. So how do you get ready for Ozzfest? Like, Iím thinking geez, I need to buy some new clothes, Iím going to get a new tattoo, I want to . . . how do you prepare for something thatís going to be this all out jam for the next couple of months?
Duke: With us, weíve been staying on the road. Weíre doing this tour with Disturbed right now and its kind of to keep us busy between Type O Negative, the last one we did was Type O Negative, and Ozzfest. Weíre keeping our chops all tight and trying to stay healthy so we can give the people the show theyíre looking for.
RNW: A lot of people on the road right now are getting sick.
Duke: We donít want to sell people short so, weíre just trying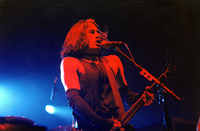 to make our performance as tight as we possibly can and then as musically correct as we can. Weíre not into partying. We go out and have a blast and have a good time for our selves. Weíre trying to really create a show for people and weíre giving people back what theyíre asking for just by giving us their support.
RNW: Youíre also going to get to probably jam, or at least kick back with a lot of really cool performers that you might not have been with before.
Duke: Yeah, totally. Like Pantera for instance!
RNW: The ideas that you are going to be exchanging with all of the other musicians and the creative juices that are going to be going through that whole group . . .
RNW: Well I see nothing but good things coming down the road for you guys and unfortunately, Ozzfest is not coming to my neck of the woods on the West Coast until the very end.
Duke: Thatís when I finally get to come home, one of these days.
RNW: Youíre from L.A., right?
Duke: Yeah, I live in Huntington Beach.
RNW: Well, Iím not going to keep you too much longer because I know you probably want to get out of the heat over there (in Arizona). I hope youíre doing something to stay healthy on the road. We want to hear good reports. I hate that Iím going to have to just sit and listen to everybody enjoying Ozzfest until the very end, but I will be in San Bernardino (CA) and Iím looking forward to seeing you guys.
Duke: Cool, look forward to seeing you too!
---

Visit the official DeadLights web site
---

View the DeadLights' tour schedule
---

Listen to all the songs and purchase the DeadLights CD plus checkout the killer T-shirts
---
FAN SPEAK/Fan Comments for The DeadLights:
Fanspeak removed due to spam and abuse