At Ozzfest, the light at the end of the tunnel is - The DeadLights!
by Debbie Seagle
In our quest to bring you news from the Ozzfest front, we caught up with second stage act "The DeadLights" in Arizona, shortly before the start of Ozzfest 2000. Their self titled debut is a unique combination of compelling lyrics, heavy crackling guitars and driving rhythms that sometimes take a twist in uncharacteristic directions. Their name was influenced by a Stephen King novel, signifying the name of the lights at the end of the tunnel after a near death experience, but their vibe is no death march. Suffice to say that it packs enough adrenaline to RAISE the dead! It can be viscous or it can be eerie, but its the kind of stuff that Ozzfest dreams are made of and that has bought them a ticket to see the wizard. Lets get with lead singer Duke to see what's the haps:
---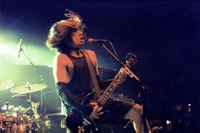 (Debbie Seagle for) Rock N World: The reason I wanted to talk to you today is because I think everybody in the rock and metal world of music is really getting kind of excited about Ozzfest 2000.
Duke: Yes!
RNW: And you landed a slot on the tour, you lucky dog.
Duke: Yeah.
RNW: So I want to talk to you about that and how that came about and what have you, but first, I wanted to talk a little bit about your self titled CD.
Duke: Okay.
RNW: The CD has been getting nods from the fans for the musicianship and the live performances go way beyond that in your energy and your bandís really dark, heavy, crunchy kind of sound. I love it, I think its a kickin CD.
Duke: Thank you.
RNW: Real good mix of different kinds of stuff, moods and emotions in the songs.
Duke: Well, weíre trying to keep it pretty eclectic with all that kind of stuff because I think one of the keys to longevity is being able to change things up a little bit as you go. And with this band, weíve got our heavy side, which is the main side of us, but thereís also different facets, different ways we can express ourselves.
RNW: Like with "Falling Down?"
Duke: Yeah! We actually had opportunities lately to play that like, live on the radio and stuff. Weíve been doing a lot of it and a few other songs acoustically too and its really cool. You know we werenít, we didnít intend on putting an acoustic song on the record, but in pre-production weíd sit around and jam our acoustics and warm up our voices and stuff like that. And we were sitting around during our stuff one day in pre-production, we did like three or four acoustic songs and Sylvia Matthews was there watching us do it and she was like, man why donít you try an acoustic song on the record?
RNW: Thatís one of my favorites. That song is just so totally in the groove. I was playing your CD one day, just kind of going over it and getting a feel for it and when it got to that song Iím like, Iím storming around the house "Who changed the damn CD?" (laughing)
Duke: Exactly!
RNW: Who took my CD out? Iím listening to that! Then I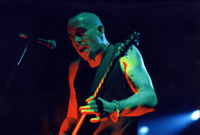 looked and said okay, thatís the DeadLights, all right. It was different but I really liked it. To me it had almost a marine feel to it.
Duke: Yeah, its like a lot of different things with that song, but its supposed to be like an acceptance of tragedy. It doesnít directly refer to it, but I was kind of thinking of people who get really screwed in life. Like, lets say people who get AIDS or people who have people die, stuff like that. And its just like an acceptance of all the bad things that can happen to you in life. Thatís kind of why I said "We All Fall Down." To me it doesnít matter. Everyoneís got this negative story and I donít really hold too much importance in this life, you know. And everybodyís got such sad things going on, you know? Its just kind of like an acceptance of negativity I guess.
RNW: But isnít it ironic that I donít get a negative or a tragic feeling at all from the music? Without listening to the lyrics . . . when I hear the music, I feel like rolling waves and being out on the open ocean.
Duke: Well, see, thatís a common theme amongst all the songs. I tried to sink in all the darker side of it by making some of the music really uplifting like "Sweet Oblivion" for instance. Like the music is kind of like an uplifting kind of happy type song, but the song itself is about a love affair with death. About a person who is so fed up with life that heís fallen in love with death as a personified being. And his only way of proving his love for death is by killing himself. So its like, "Meet me in the bathroom and Iíll show you everything." Its kind of like, Iíll give you my ultimate token of my affection when I go in the bathroom and I slice my wrists to be with you. So its like making a love song out of a love affair with death. Its almost like a sick idea when you think about it, but people listening to that go wow, it seems kind of happy and its uplifting but its about death!
RNW: Yeah, and the vocals are all different too on the tracks. I notice that you do a little bit of that primal stuff in there. I'm really exploring that now.
Duke: Yeah, screaming?
RNW: A-huh. And I often wonder, when you are a song writer and you are working on a piece, how do you decide when the time is really right for something like that - when you really want to accentuate a part in a song. How do you decide when thatís the right presentation of it, rather than a quiet vocal?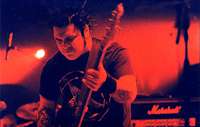 Duke: I think a lot of it is really reactionary. When you are a vocalist, you will hear a certain sound or melody and its how you react to it. Like it will trigger it. Like with me, if Iím with something soft, something mellow, Iíll react to it with a soft, mellow melody and if its something really heavy that kind of pounds you, then Iíll get all caught up in that and start screaming. So its really reactionary.
RNW: So you are reacting more to the music than the lyrics?
Duke: Exactly. The lyrics just kind of come. Usually the lyrics come after the song is already laid down. So I kind of let the mood of the song carry me along. Some of the lyrics Iíve had sitting around, I fit it in like puzzle pieces, but I think the best ones are ones when Iím just, you know, just come up with it on the spot like, its almost like brain storming. Then you get your truest ideas when you just let it all flow.
RNW: And everybody has a different way they like to do that. Some do lyrics first and some, you know, bring in a riff and work them into a piece of music or whatever, but its really interesting the way the lyrics would spark what you sing in a specific way. The songs on your CD are all extremely emotional and I imagine they are tied to some personal experiences, maybe they are maybe theyíre not. Maybe just things youíve wondered about or what have you, but now that things are going so well for you and youíve gotten all the exposure with your Ozzfest tour and youíve done tours with Megadeth and Coal Chamber and your fan base is building, it just kind of seems like everything is going really well for the DeadLights right now. Do you think that youíre going to find it a little more difficult, say with your next project, to write about things like the apocalypse and suicide?
Duke: Well, I mean, Iím such a pessimist, I donít know. When things are going well for me, thatís when I think theyíre at their worst almost, you know? Iím always looking at how things can fall apart. Iím never really looking at how things are going to stay together and I donít know if thatís like a blessing or a curse, but I donít know. Its not really possible for me to get too happy about stuff.
RNW: Really? Come on.
Duke: Yeah, really, really! I donít know why. Maybe its because of all the horror movies I watched as a child.
RNW: Oh, so youíre the Stephen King fan, is that it?
Duke: Yeah I am, actually. Iím a really big fan of his books, but Iím not a big fan of his movies.
RNW: So you like to read?
Duke: Yeah, I like to read but I think a lot of his movies are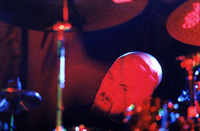 just made to cheesily, like when you read the books theyíre so amazing and I feel almost like I know Stephen King just because of his prose, his really conversational type way of writing. Iím not really a big fan of the movies. I donít think movies can really accurately portray the books are. Thereís just not enough time in a movie to make a good movie out of a book, you know?
RNW: Yeah, you could say that about an awful lot of good books. It is really difficult to turn it into something thatís an hour and a half, two hour movie.
I wanted to ask you about the art work on the CD. Youíve got some very interesting art work on there. Whoís got the thing for teeth, first of all?
Duke: Thatís just like, I thought it was cool. What that is, its like a color chart for teeth from a dental thing. It just kind of made me think of how people are almost manufactured in todayís society and how people can recreate themselves and cut themselves apart to fit into whatever kind of image they want. Its kind of cool when you think about it like, to me its almost like, I know its just a color chart for teeth but it kind of looks like reserve body parts or something like that, you know? You can just go in and pick up new teeth or you can go in and get your breasts augmented or something like that. And the cover is like a baby face but kind of ghostly and the colors of the moon. So I wanted to keep a theme that was almost suggestive of abortion, dead fetuses, things like that because that was kind of the idea behind the conception of the band in a lot of things. Its almost like a fetus that was meant to be aborted but somehow survived and it just kind of went from there with that kind of outlook on life.
RNW: Wow, that is dark. Now is that, opening up the CD, youíve got the dollís head, this picture really creeps me out, I have to say. This is like totally, Stephen King, make the hair stand up on the back of your neck type of stuff. The doll head with the hose sticking out of its mouth? How did you come up with that?
Duke: We had a really cool photographer, this girl named Jana Leon and we just kind of talked to her about what I was just saying. Like the fetuses, aborted babies, body parts and stuff like that. It was almost like the face of the baby getting sustenance from this weird tube-like thing. Its just imagery that really worked. And then a few of the ideas are just images that Jana came up with. I mean working with her was really cool. Sheís got a really creepy mindset, just like we do (laughs).
RNW: So, have you worked on any more songs? Is there a new project starting up?
Duke: Well, right now weíve got a lot of touring planned for us, but Iím always working on songs. Weíve got a lot of old material too, that we wanted to put on this record but we didnít because it was, the timing wasnít right for it or whatever, but the next record is going to be a pretty intense thing. Its going to stretch the boundaries even more than what weíve already done. Weíre going to songs that are heavier, songs that are more melodic. So, I just want to constantly expand and constantly get bigger. And thereíll be like a twist, you know? The whole sound will be altered just a little bit and its going to be like that every record.
RNW: Are you going to experiment with different instruments and stuff?
Duke: Oh yeah, see, I donít want to keep rewriting the same record. Weíre going to try as a band to change that as much as we can.
RNW: What about vocals? Anything different planned for vocals?
Duke: Um, you know, like I said, its all reactionary. Its going to, I think just the more I use my voice, it gets a little better.Continue >>>