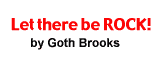 ---
AC/DC w/ Slash's Snakepit
Glen Helen Blockbuster Pavilion, San Bernardino, Ca. Saturday 9/16/00
---

Whoever came up with the saying "Rock is Dead" would surely have a hard time convincing the as-far-as-the-eyes-can-see crowd at the Blockbuster Pavilion that there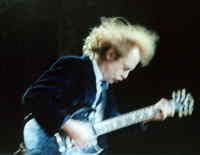 was even the smallest shred of truth to that statement. Rock n' Roll is alive and well and it's never gone away, nor is it going to go away any time soon. The thing that people need to understand is that the oversaturation of music by the "shoegazer" alternative bands in the 90's, fooled a lot of people into believing that sparse songwriting was a viable form of music, and that songs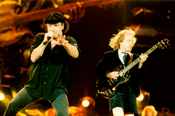 sounded cooler stripped down without any of the dynamics provided by solid riffing and the kind of guitar leads that suck the life right out of you and leave you gasping for breath. It's obvious that a lot of these 90's bands used this as an excuse for their lack of musical proficiency and good old Rock n' Roll showmanship. Thank God for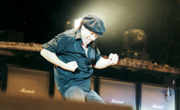 AC/DC being the Vanguards of Rock n' Roll that they are, and for their good sense to bring a band as great as Slash's Snakepit along for this tour.

The clock struck 8 and the lights went down. The emcee announced to the crowd in a no bulls*** manner, "Are You Ready? Ladies and Gentlemen, from the mean streets of Yucaipa, SLASH'S SNAKEPIT!!!" A single spotlight hit the right side of the stage and there he was, the man himself, in his black leather and trademark top hat with a Les Paul slung low. Slash wasted no time getting the attention of the audience with the opening riffs to "Life's Sweet Drug" off of the upcoming release "Ain't Life Grand". The rest of the band mercilessly kicked into the song right on cue, and damn it sounded good! Slash has assembled an ace group of musicians for this second incarnation of Slash's Snakepit. Former Virginia based vocalist Rod Jackson is a very capable front man who has what you'd call a classic "Barrelhouse Blues" voice. It's very powerful, kick ass stuff when combined with an onstage persona that's a mix of David Lee Roth, Clint Eastwood, and Jim Dandy Mangrum from Black Oak Arkansas. All I can say is, Rod Jackson is one Bad Mutha! I'd like to see Axl "Get in the Ring" with this guy!

Guitarist Keri Kelli is in a choice position with this band. Slash gives Keri plenty of opportunity to shine as his rhythm/lead guitarist and puts his own guitar hero status on hold to get the best results out of the new guys. Keri, along with bassist Johnny Blackout does a great job of covering the whole stage with high-energy style. I especially like Johnny Blackouts way of stalking the stage from end to end and then picking a spot as close to the crowd as he can get, just so he can egg them on to rock-out harder. Matt Laug is incredible on drums and has that Bonham sound where the bass drum goes BOOM and the snare cracks loudly like a shot straight from a cannon. The band played almost every song off the upcoming release "Ain't Life Grand" including the title track, "Shine", "Mean Bone", and "Back to the Moment". In addition to those songs, about three quarters of the way into it we were treated to "Mr. Brownstone" slowed down a couple of beats per minute, giving it a real cool groove oriented feel. Rod Jackson does a great job of NOT singing it like Axl sings it and makes the song his own by singing it the way Rod does.

Continued
---