Go Back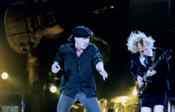 This was the first time I'd ever seen AC/DC live and it was just as awesome an experience as I could have ever hoped for it to be. I remember being a 16 year old kid and going to South Coast Movie Theater to see the AC/DC movie "Let there be Rock", which sadly came out about the time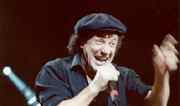 Bon Scott died. I was hooked right then and there and went right out and bought "Highway to Hell". In the years that followed I either bought or somehow accumulated every other AC/DC album there was. Although "Back in Black" is a great album, I've always favored the Bon Scott era AC/DC. I was not at all disappointed at this show regardless of people writing off AC/DC as old, washed-up, or has-beens. I saw the band on Saturday Night Live a couple of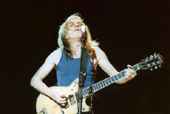 months ago with WWF Superstar "The Rock" hosting the show, and although I was left feeling a little disappointed at Angus and the rest of the bands inability to really go-off on television, I never wrote them off as old, washed-up, or has-beens. Has-beens? Hell no! AC/DC is as Rock n' Roll as Rock n' Roll gets! From the opening chords of the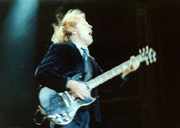 show opener "You Shook Me All Night Long", every person in the place was up on their feet and never sat back down. From there, they continued the Rock n' Roll assault with the title track from their latest release "Stiff Upper Lip" complete with clips from the video and the unveiling of a GIGANTIC forty-foot tall statue of Angus. (That for the remainder of the show grew horns anytime a song with an "evil" subject matter was played.)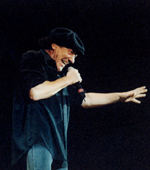 Did I just say I favored Bon Scott era AC/DC? Well, I do. But I have to tip my hat to Brian Johnson because he really does the older stuff justice and does Bon proud. All the while singing the songs in his very own, distinctively more grimacing than Bon voice. As a matter of fact, the two and a half-hour set consisted mostly of Bon Scott era material, which was fine by me (and thousands of cheering fans -ed.) Having been the AC/DC frontman for twenty years now, Brian understands that the fans love the songs that Bon sang as much as they love his own. He doesn't shy away from the bands past; he embraces it with a level of respect and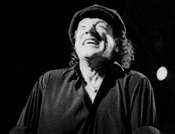 appreciation that would make Bon proud. He showed that appreciation with a lighting packed rendition of "The Jack" which energized the crowd to new heights when Brian asked them to sing along. There might be something more powerful than 20,000 to 30,000 people shouting "She's got the Jack" at the top of their lungs, but I sure haven't heard it yet.
Angus has not slowed down one bit and still commands the stage with his demonic, otherworldly energy and natural ability to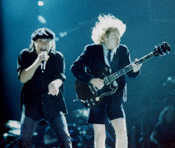 entertain the largest crowds any Rock n' Roll band has ever had any business entertaining. The rhythm section of Malcolm Young on rhythm guitar, Cliff Williams on bass, and original drummer Phil Rudd (Welcome back Phil) lay down their signature blues based rhythm to round out the AC/DC sound. While the set consisted of mostly AC/DC classics, the band did manage to squeeze in three songs off of their latest album including "Stiff Upper Lip", "I feel safe in New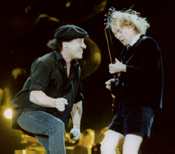 York City", and a powerful rocker I hadn't heard yet called "Meltdown". Another thing I noticed was just how cohesive the set of songs they're playing on this tour really are. The new songs sound great right there alongside the classics like "Shoot to Thrill", "Rock and Roll ain't Noise Pollution", "The Jack", "Bad Boy Boogie", "Hell ain't a Bad Place to Be", "Dirty Deeds", "Hells Bells" (complete with the huge bronze AC/DC bell and Brian swinging from it), and "Highway to Hell". For the first encore they pulled out a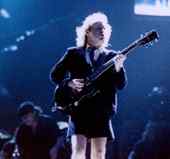 real gem from their bag of tricks and rocked us with "TNT". Then they delivered the final knockout during their foot stomping performance of "For Those About to Rock" with cannons exploding from the stage when Brian hit the lyric "Twenty one gun salute…FIRE!"
We left The Blockbuster Pavilion with our ears ringing, drenched in sweat, unable to talk right,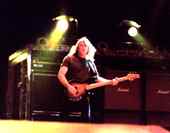 equilibrium and cerebellum all out of whack, and these stupid ear-to-ear grins on our faces. Uh huh baby! We really got our Rock On! You betcha!
More AC/DC
The official AC/DC site is located @ www.acdcband.com. Get logged-on, tuned-in, and turned-on to this legendary band.
Total AC/DC: the ultimate web directory for AC/DC! Check it out!
---
Preview all the songs from Stiff Upper Lip and order your copy online at the iconoSTORE!
---
Plus check out the other cool merch like a 2001 calander, Baseball Hats and t-shirts, plus great prices on the entire AC/DC catalog
More Slash's Snakepit
For tour dates, news, and anything else related to Slash's Snakepit check out www.snakepit.org.
---
Purchase the Slash's Snakepit debut or listen to MP3 samples
---

Photos by Keavin Wiggins. Copyright 2000 Iconoclast Entertainment Group. May not be used without permission all rights reserved.

---
FAN SPEAK/Fan Comments for AC/DC:
Fanspeak removed due to spam and abuse