Third Eye Blind Hits the Road with
"Dragons & Astronauts"
Backstage Pass Special by Debbie Seagle

The house lights went down and the back lighting from the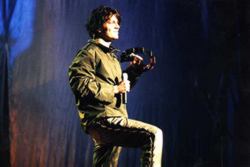 stage began showing the silhouettes of the dudes that are 3EB as they emerged from below the stage. I had asked my self, " Dude, is this a KISS show?" Even the fact that they were playing to a sold out crowd for a second night at this medium sized theatre couldn't keep the band from giving a show that was larger than life. Once Stephen Jenkins stepped foot on stage he owned the crowd. Against my will I found myself tapping my feet to the beat of the music and enjoying songs I had never heard before. I'm a big fan of live performance, I've seen scores of bands who sound great on disc but are horrible live. 3EB is not one of them. The fans and even non-fans, such as myself, got every penny's worth from this show. 3EB delivered a top notch, high energy performance.
I saw some serious musical skills displayed by Arion Salazar, Brad Hargreaves, and Tony Fredianelli. Tony looked totally comfortable for someone who was slid into this high profile slot just before the start of a tour. The rhythm provided by Arion and Brad gave him solid support to work with and along with Stephan, their cohesion as a band was apparent.
She's right, these guys aren't the semi-talented pop band I had previously perceived them as.
This certainly is a change of heart on your part, isn't it? I thought you said they were just a "doot, doot, doot" band?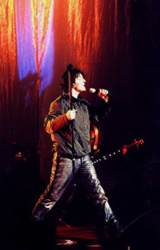 I finally got you off my back about not seeing Tonic live, now I am gonna hear about how I was wrong about Third Eye Blind forever. O.K. they aren't a "chick band". What the hell, I'll throw you a bone - I do trust your taste in music most of the time, and I admit it, you were right and I was wrong. It happens about once a decade or so.
I love being right . . . stay tuned y'all, cause I will be catching up to Arion Salazar for a great talk as they move further on down the road in Wonderland . . . which in my reality is - the Rock N World!

---

Get Third Eye Blind Tour Information
---

See Third Eye Blind Videos
---

Hear Third Eye Blind Sounds
---

Purchase the "Blue" CD
---
FAN SPEAK :
Fanspeak removed due to spam and abuse