An Interview with Arion Salazar
of Third Eye Blind
Backstage Pass Special by Debbie Seagle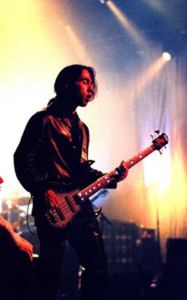 After taking in a concert on the Third Eye Blind "Dragons & Astronauts" tour in Los Angeles, I was anxious to keep my appointment with bassist Arion (pronounced a-ryan) Salazar for a phone interview. Within the span of a few short days the band had pulled up stakes, moved entirely across the USA and landed in Orlando, Florida, where they were to perform at the Hard Rock Live venue that night. The way we hooked up was almost like a James Bond movie. I dialed Arion up on his cell phone and apparently interrupted a covert operation that he was carrying out with guitarist Tony Fredianelli. The two were sneaking around the back of the Hard Rock Café, trying to figure out how to get in without walking through the front door like a couple of tourists. After posing for a photo with some fans and joking a bit about getting a large fruity drink with a paper umbrella in it and a t-shirt, Arion let Tony continue the mission alone so he could have a seat and talk to me (us) for a while . . .

Debbie: First of all, congratulations on the California Music Award nominations you guys got.
Arion: Thank you very much.
D: You seem to be in pretty good company and youíll probably end up walking away with an armful again this year (the band took home 3 awards last year).
A: You know what? We canít be there and it really sucks because weíre on tour. It would cool to go hang out and check the whole thing out but who knows if we would be walking out with anything. Maybe weíll be getting mailed something.
D: I think thatís more like it, but you are in quite a few categories. I was pretty impressed to see that.
A: Its really cool to be acknowledged like that, Iíve got to say we are really stoked.
D: Its amazing how many really fantastic musicians come out of California. Its great that we are in California and that you grew up in California. You were around all of that. It definitely gives you a leg up.
A: It does, and I also feel like coming from San Francisco, well not from San Francisco, coming from the Bay Area, which Iím from Oakland, I was exposed to a lot of music growing up that I think is indigenous to living there. By that I mean, living there in San Francisco, its so culturally diverse and you know, like I heard the Sex Pistols the year they came out. And somehow I donít think the guy - it just would have been rough for the guy in Marietta, Ohio to have heard that at that time, you know, at my age.
D: I grew up in Detroit, so I also had the benefit of a lot of rock too, and Motown when I was growing up, and it is really a good beginning.
A: Yeah, when you come from someplace with a great musical history it is. I feel very blessed for that.
D: Well, thank you for taking some time out from your Hard Rock thing today to talk to me. You guys have a huge stage production. Were you able to bring all that stuff with you, and were you able to set all that up to do your show today?
A: You know, Iím not sure. I havenít been in the venue yet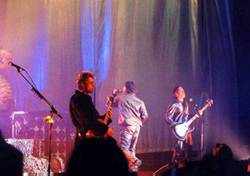 today. From time to time we have to scale it down, as we play bigger venues and smaller venues, so some nights instead of having two dragons on stage - two huge fire breathing dragons - we only have one.
D: Well, I saw you at the Wiltern Theatre in Los Angeles and the production was fantastic.
A: Thank you!
D: Did the band have the ideas for the stage designs and the lighting, or were those from production people?
A: It was kind of a joint effort. Stephen had ideas and then we got with a stage designer who had some ideas of his own. This guy who does really cool stages for No Doubt. Did you see the No Doubt tour with the orange - the rotting glowing orange up in the tree?
D: Iíve seen photographs of it.
A: Well he did that, and heís done some Marilyn Manson and heís a really good cat. And yeah, Iím really proud of what weíre doing now. Weíve got this lighting rig that looks kind of like a space station and Iím super stoked. I think that thing is amazing.
D: It is. Iím a photographer and I can tell you, for a photographer it is absolutely gorgeous. Not just the colors, but the silhouettes when you are standing on the risers when the white lights are coming up from underneath you - it makes fabulous photographs.
A: Thank you.
D: So you are on the road right now with Tonic opening up for you, right?
A: Right.
D: And that will last through April, ending up somewhere in the Great White North (Canada), right?
A: Thatís right.
D: Where do you go from there?
A: Weíre going to do a bunch of stage shows, head up to the Great White North - Itís a beauty way to go - and then weíre going to do a little promotional trip in Europe, which means we wonít actually be playing. Weíll just go and do some TV and radio and get the ball rolling. Our album is not out there yet. Weíll start that happening and then I think the band is going to go to Japan after that.
D: That should make you happy. I understand you are very much into Japanese culture.
A: I am, Iím very excited. I love to go to Japan. Iíve been there a couple of times on my own, outside of the band.
D: You need to play Budokan!
A: Oh, that would be great! Live at Budokan, that would be amazing. Unfortunately, it will probably be a few years before that happens.
D: Maybe not too long. Maybe not as long as you think.
A: You never know.
D: Any interesting road stories to report?
A: Ah, man, stuff happens all the time. But the terrible thing is, the more interesting they are, the kind of more inebriated you are when theyíre happening, therefore, the harder it is to remember it to recite it to someone afterwards.
D: (laughs)
A: We have bizarre things happen, like radio stations give contests to get, or give prizes away to people. And the prizes are (in his announcer voice) "Front row seats at the Third Eye Blind show" or "Meet the band, have dinner with the band." Like they have these wacky contests. We went to this one place where this girl had to eat 27 live worms to get front row seats.
D: Nooooo! Oh dude, that's so nasty!
A: And this poor thing, I was just like, I asked her if she brushed her teeth afterwards and she did, so I had to give her a big hug, cause thatís amazing man, that is dedication.
D: Thatís nasty!
A: Its nasty as well . . .
D: You do have some dedicated fans, donít you?
A: So, I thought that was pretty bizarre. Iíll never be able to forget that . . .
All photos taken by Debbie Seagle - Copyright © 2000 Grove Quest Productions. All rights reserved.