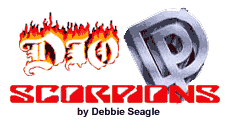 Scorpions/Deep Purple/Dio - August 2, 2002 - Coors Amphitheatre - Chula Vista, CA
One does not take preparations for a classic hard rock show like Scorpions/Deep Purple/Dio lightly. This triple threat involves careful planning to put you in the appropriate mood to enjoy the festivities to their fullest. Plug in your lava lamp while you are getting ready. Squeeze your big butt or beer belly into your old leather pants or your tightest, ripped up jeans and choose a shirt that displays just the right amount of attitude. Your hair has to be either very straight and flat or very big and nasty. Throw on a bunch of clunky silver jewelry, make sure there's plenty of juice in your zippo lighter and if you are brave enough, tuck your joint in your sock for later. You are now ready to dive deep into the 1970s and 80's hard rock culture and let your mind expand with the force of some of the mind blowing sounds that forged many of the great bands of today.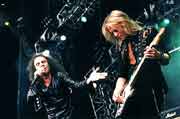 The sound explosion started the night out with Dio. Ronnie James Dio is a wonder of nature. For the life of me, I can never figure out how such a tiny guy can create such an awesome, explosive sound. Ronnie has all the components down right. The shroud of black everywhere, the leather, the smoke and dragons. It makes me proud to be a classic rock fan. Not only is his voice still powerful and mesmerizing, but his band is TIGHT and the dark guitar rock is showcased to perfection by his new guitarist Doug Aldrich. Each song in the set was a 10 minute epic that left you almost too drained to clap when it was over. Hits like "Long Live Rock & Roll" with a pummeling guitar solo, "Holy Diver" and "Man On The Silver Mountain" made this concert worth the price of admission, along with new works like "Push" off their latest album, Killing The Dragon.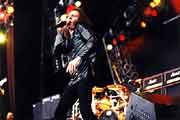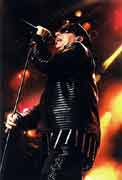 Word has it that the Scorpions and Deep Purple were switching off the headlining spot on this tour. This night, the Scorpions were up next and they took the momentum from Dio's set and took it even further. The Scorpions do not know the meaning of "subtle," much to the delight of their audiences. Picture this: there was a light rig around the drum riser that was so bright when it flashed that you could toast sandwiches in the first three rows. It was a mandatory SPF 45 concert from that point on. The Scorpions are so unapologetically eager and energetic and their music is so contagious that you can't help but get to your feet and feel like you want to be a part of it. From "There's No One Like You" to "Big City Nights" there is fist pumping and head bobbing everywhere you look. Even so, the band had the audience in their power enough to slow them down with a mellow "Still Loving You" (I know I bought my lighter for something) and rev it up again for the final "Rock You Like A Hurricane." There was also a patriotic moment for us Americans when drummer James Kottak performed a marathon solo and ended by jumping to the top of his kit and displaying an American flag on his shirt while screaming "God Bless America!" Finish all this off with Klaus' familiar "Thaaaaaaaank Youuuuuuuu!" and you have a kick ass Scorpions set.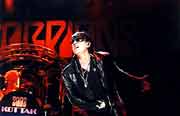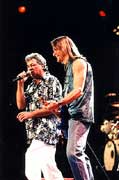 Last up was the classic enigma Deep Purple. I was unprepared to see what I saw after two hard-hitting, guitar-splitting sets that preceded this one. When Deep Purple took the stage, there was lead singer Ian Gillian wearing white pants and a Hawaiian shirt. All I could think of was who let Jimmy Buffet in here? This is a hard rock concert. Now, I'm not saying that Deep Purple didn't have their musical chops on display, because guitarist Steve Morse was so on the mark it wasn't funny. He was turned on and tuned in and letting the riffs fly. There were also some brilliant solos by keys man Don Airey and the whole band rocked, but I couldn't get past Ian's get up and even their great rendition of "My Woman From Tokyo" couldn't bring back my hard rockin mood. Maybe its just me, but I don't like to mix milk with a tequila shot.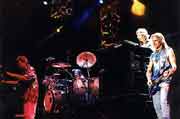 More Dio



More Scorpions


More Deep Purple


Debbie Seagle is the Special Features editor for Rocknworld.com and the iconoFAN Network
photo by Debbie Seagle
Copyright 2002 - Groove Quest Productions
Iconoclast Entertainment Group
All Rights Reserved