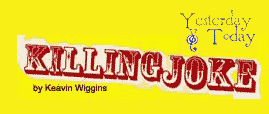 If you ask fans which groups have left an indelible mark on hard rock, you will most likely hear names like AC/DC, Black Sabbath, Iron Maiden, Deep Purple, Led Zeppelin and Judas Priest. Ask the same question of veteran hard rock and metal musicians and you will most likely hear the same names mentioned but more times than not you'll hear them mention groups like Kings-X and Killing Joke.
In fact, Killing Joke is legendary in hard rock circles for their moving music and the thought provoking and eccentric lyrical styling of Jaz Coleman. Coleman is a textbook study of an enigmatic frontman. Convention be damned; Jaz has always done things his own way and always will. That fact is evident on every single piece of music Killing Joke has produced over their twenty-plus year career.
The true beginnings of the band are hard to nail down due to Jaz's colorful personality and tendency to offer offbeat answers to questions. You sometimes have to approach his answers with tongue firmly planted in cheek and read between the lines but the truth is always there under Jaz's imaginative responses.
Or is it? Killing Joke's history borders on the mythological when told through the creative dialog of Jaz Coleman. That is readily evident in the historical bio printed on the group's homepage (killingjoke.com). It is through that retelling that much of this article will be based. It might not be 100% fact but guided by Coleman's colorful character the tale is engaging.
History of Killing Joke from KillingJoke.com
(author unknown)
Killing Joke started on the unemployment line. Whether fact or fiction, it was while waiting in line at a British unemployment office in late 78 early '79, that singer/keyboardist Jeremy "Jaz" Coleman ran into a friend and started discussing his musical aspirations. Upon hearing Coleman speak, the friend said, "I have someone you should meet," and later brought him to a London flat, where drummer Paul Ferguson was waiting. According to Coleman, without speaking, the two realized they were destined to play music together, music that Ferguson would later describe as the "sound of the earth vomiting."
In order to flesh out their musical ideas, Coleman and Ferguson placed an ad in a local music paper stating: "Want to be part of the Killing Joke? Total Publicity - Total Anonymity - Total Exploitation". Shortly thereafter, guitarist Kenneth "Geordie" Walker and Martin "Youth" Glover joined the band and Killing Joke was alive. Taking their name from a British phrase referring to an ironic or paradoxical situation or event, they started writing songs, performing in concert and soon gained quite a reputation throughout London, performing such early numbers as "Malicious Boogie," "Wardance," "Pssyche," "Turn to Red," "Nuclear Boy," and even a cover of the Pistols' "Bodies." According to Jaz, Killing Joke was formed with specific intentions: "define the exquisite beauty of the atomic age in terms of style, sound and form.
After releasing the four-song Nervous System/Turn to Red EP on their own Malicious Damage label via E'G Records, Killing Joke released their first full-length album, "Killing Joke," in 1979. Black and white, anonymous, an apocalyptic sonic boom. Shrouded in an electronic cloud and featuring tribal drumming, pulsing bass, and a unique rhythmic guitar sound, the album spawned the song "Change," which became an underground club favorite on both sides of the Atlantic. "It's aggressive music," said Ferguson, "it's not polite entertainment...we've got songs in the dance charts here [U.S.], and that pleases me. As far as I'm concerned, Killing Joke is dance music. I'm not at all displeased with getting into the disco charts. I think it shows great hope for the world."
Killing Joke wrote all of the songs for their next album, "what's THIS for....!," while in the studio. According to Geordie, this process was a bit difficult, as the group had a year's worth of material for the first album before they actually recorded. Released in late 1981, "what's THIS for...!" found Killing Joke focused and developing their own sound. From the seven minute "Madness" to "Tension" and "The Fall of Because", the new album continued KJ's prediction of the end of rationale and reason, and a return to a more primitive man. The album also hinted at the perverse humor behind KJ. The tourist/housewife watching a nuclear explosion and lyrics such as "I wonder who chose the colour scheme? It's very nice!" made listeners wonder who was this anonymous group that chided us to "Follow the Leaders."
After a worldwide tour, Killing Joke ventured to Germany to record with veteran producer Conny Plank. The first time KJ worked with an outside producer, the result was "Revelations", which was released in 1982. Another anonymous sonic blast, the album featured the driving "Empire Song," but also revealed many of the seemingly personal and record company pressures the group was under. "Land of--better change your tune now, Milk and--oh so negative, Honey--and we're so content now, Land of Milk and Honey."
Unsure of their musical direction and faced with another daunting world tour, the group cracked. Jaz, who was allegedly on the verge of a nervous breakdown, left the group and ventured to Iceland, which he claimed was the place to be when the "big one" was dropped. Geordie joined him in Iceland, where he recorded briefly with an Icelandic band called Peyr, while Youth and Big Paul, formed their own group, Brilliant, presumably named after the title of the b-side to the Empire Song single. However, before Brilliant could release a single, Big Paul left the group. Verbal sparring intensified in the English music newspapers, and Youth, along with various other players, finally released a single "That's What Good Friends Are For," an obvious jab at his former mates. From Iceland, Jaz labeled Brilliant a group that made "money music" and dismissed them.
Possibly motivated by Brilliant, Jaz rejoined Geordie and Big Paul, who together recruited unknown bass player Paul Raven. They toured Europe and the US in 1982, allowing Raven to cut his teeth on American stages. Several shows in Toronto were recorded during this tour and released as the 10-inch "HA, Killing Joke Live."
Killing Joke then signed with marketers Polydor and seemed to make an contrived attempt to appeal to more record buyers, a move Jaz had blasted Youth for. The result was 1983's "Fire Dances" which was a landmark in that it was the first time a band photo appeared as part of the album artwork. A mixed bag, Jaz proclaimed the album "their best ever" (which he seemed to do upon the release of each new album) and "Let's All Go (To The Fire Dances)" was trotted out as the first single. The album contained several gems, including "Frenzy" and "Harlequin."
The group then seemed to reach another low in 1983 with the release of the 12-inch "Me or You" in which the group seems to be asking, in between choruses of "woo hoo," whether it is the band or the audience that has to change in order for their records to sell.
After a brief silence, Killing Joke returned in 1984 with a pair of 12-inch singles, "A New Day" and "Eighties," which got more airplay than any of their other singles. Playing in front of large US and Soviet flags, the group toured and seemed to be trying to project a new image by wearing coordinated black outfits, and Geordie and Raven wearing these large rubber and metal, KISS-like, boots.
Capitalizing upon the success of "Eighties," the group then released "Nighttime," which was recorded in Berlin and featured the song "Love Like Blood," which propelled Killing Joke back onto the dance floors in the US and Europe. A scant eight songs, which included the previously released "Eighties," the album featured more melodic keyboards and more of Geordie's fine guitar playing on songs like "Kings and Queens" and "Europe."
On their sixth full-length album, "Brighter Than A Thousands Suns," (named after a Japanese description of the atomic blast), Killing Joke scored a few big hits and even bigger album photos! Hits such as "Adorations" and "Sanity" got modest airplay, while songs like "Chessboards" and "Rubicon" kept the faithful interested. That was 1986.
Then things cracked again. During the recording of what was supposed to be a Jaz Coleman solo record, Virgin Records/E'G Records grabbed the demos featuring just Jaz and Geordie and planned to release them as a full-length Killing Joke album, in what seemed like an attempt to bleed the Killing Joke moniker of any last revenue. Jaz hastily finished the tracks, and 1988's "Outside The Gate" was released. While uneven, the album was underrated and features "America," which takes a sarcastic poke at a country and culture that he seemed to be courting on the last two albums. Outside the Gate has interesting time signatures, while One Jump Ahead features some rap-like lyric delivery.
The album appeared, then disappeared, and so did Killing Joke. A lawsuit ensued with the record companies over the release of the album, draining the group's spirit and cash.
Like a cat using up another life, Killing Joke returned once again in 1989. While reading a local music paper in New York, I noticed an ad for a concert by an English band that featured a joker. Hmmm...Killing Joke had returned! But without a record contract. In an attempt to garner a new contract and pay off large legal bills, the group embarked on a short US tour playing small clubs. They also brought along a guitar case full of new songs, a new drummer (Martin Atkins, formerly of PiL and Brian Brain) and an unknown bassist, Taif (who was part of Lloyd Cole's live band). (British music newspapers originally announced that the new bassist was former Smiths bassist Andy Rourke, who did join but was quickly sacked or left for unknown reasons. Atkins was quoted as saying: "He was a total bastard.") A low-budget affair, the tour also included long-time roadie and mate, Fil, and keyboardist John Bechdel.
Feasting on sandwiches and traveling by van, the group played intense sets that featured almost all new songs. In the New York area, they played three dates and held a spoken word (speech) performance in Greenwich Village, where Jaz seemed to rail against the record companies that had eaten up and spit out the group. Fans were invited to this speech, which was filmed by MTV's 120 Minutes, and afterwards Jaz spoke of buying out the rights to the Killing Joke name, which he shared with Big Paul, and of the difficulties the group faced. It seems that the group had trouble even getting record company execs to come to the gigs.
At this point, Killing Joke tried a grass roots approach to popularity by forming the Organization of the Distant Island Charter, a fan group which was based out of Atkins' hometown of Chicago that sold KJ shirts, buttons, bumper stickers. They even sold a video of a performance in Miami and offered a spoken word/musical vinyl album called "The Courtald Talks."
Finally, in 1990 the group was signed to a one-record deal by Noise Entertainment, a division of the German conglomerate, BMG, who thought they were buying credibility in the alternative music market, and released one of their best albums, "Dirt, Extremities and Various Repressed Emotions." Reflecting their desperate state, the album is an avalanche of disgust, anger, sarcasm and loathing, in short, all the ingredients needed for a great album. And it was real. No lip gloss and mousse. Just crunching guitar, great drumming by Atkins, and Jaz yelping and screaming at anyone who would listen. The group played a few European shows (one of which I caught at London's Finsbury Park) after the album was released, with Raven on bass. Then nothing.
With two strong personalities in the band, Coleman and Atkins, it was reported that tensions grew until the band dispersed. In what was widely reported as a coup by Atkins to rid the group of Coleman, Atkins invited Raven and Geordie, along with former KJ drummer Big Paul, keyboardist Bechdel and singer Chris Connelly, to join him and record an album for Atkins' Invisible label under the name Murder Inc. Recorded in Minnesota, the album featured Geordie's inimitable guitar sound and the pounding of Atkins and Ferguson. It was released, then rereleased, and then gone. The group fizzled without ever touring in support of the album.
Over the next few years, the group, though never having officially disbanded, splintered, with each member pursuing other musical interests. Jaz released an album of Egyptian-influenced popular music, "Songs from the Victorious City," which he recorded with the Art of Noise's Anne Dudley. He also worked on his own classical symphonic music pieces and relocated to New Zealand. Geordie got married and moved to his wife's hometown of Detroit. He also auditioned for Faith No More as the replacement for sacked guitarist Jim Martin, but decided to pass on the opportunity. Paul Raven founded The Hellfire Club, and then joined the ranks of New York metal outfit Prong. Martin Atkins was busy touring and recording with his new band, Pigface. Had the last laugh been heard?
Not yet. 1992 would be the start of the next phase in the Killing Joke. That year, Virgin commissioned the Killing Joke "Best Of" compilation called "Laugh? I Nearly Bought One," and Geordie was brought in to make sure the right tracks were included. Geordie called Youth to see if he had any old photos for the album artwork. Since his stint in KJ, Youth recorded a few albums with Brilliant (including one with Jimmy Cauty of KLF fame), and had become a much sought-after producer, working with many techno/dance bands and pop acts such as PM Dawn, Blue Nile, Crowded House and the Orb (which features former KJ roadie Alex Patterson). The two started reminiscing and, according to Geordie, Youth was "'like oh we should reform then.' I thought he was joking."
Within a short time, and presumably using some of Youth's record company clout, Killing Joke was signed by Zoo Entertainment, another BMG division, and work commenced on a new album. "Pandemonium" was recorded and mixed during the spring, summer and and fall of 1994 in New Zealand's York Studios, which Jaz co-owns, and Youth's Butterfly Studio in Brixton. With Youth also producing, the album featured drumming by Geoff Dugmore (not a full-time band member) and vocal tracks recorded in the King's Chamber in the Great Pyramid in Egypt. Fusing their old sound with a more metallic edge, the band enjoyed their greatest success as the song "Millenium" received major airplay on US radio stations. They toured through much of 1994 and part of 1995, playing to a mix of older fans and young kids who thought KJ was some "new" band.
The band's latest release is "Democracy" and 1996/97 tour plans are being finalized.
It appears that the preceding history was written in 1996. Fans had to wait a long time after the 1995 release of "Democracy" to get their hands on a new studio album from Killing Joke. But to many the wait has been worth it once the self-titled album appeared on record store shelves during the summer of 2003.
There was a lot of excitement built up when it was learned that Jaz and Co. were going into the studio to record a new album, that excitement only intensified when it was learned that Dave Grohl would be laying down the drum tracks for the record.
The results speak for themselves. The fan and critics are almost unanimous in their praise of the album. While most veteran musicians mellow with age, Killing Joke return with a heavier sound that shows they are ready to take on any of today's younger bands (and win).
Some may lament that rock is dead in 2003, but it only takes one listen to "Killing Joke" to laugh off that assumption. Through their entire career they have seen the bar raised to new dizzying heights, when people felt they couldn't possibly top themselves. But "Killing Joke" just proves that when you put the right creative personalities together, the magic manifests. It's hard to believe that after all these years that Killing Joke could indeed be one of those rare exceptions to the rules of rock music. Unlike most veteran bands, but like fine wine, Killing Joke just seems to get better with age.


Listen to samples and Purchase Killing Joke Music online!