.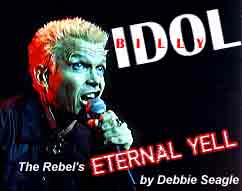 .
We interrupt our regularly scheduled Yesterday & Today profile for a special live review from Debbie of Billy Idol and where he is today. It's been a long road from his days in Generation X, calling the guys in Led Zeppelin "dinosaur wankers" in a London pub to hit chart topping glory with "White Wedding" and "Rebel Yell" to his song of the attraction of youth with "Rock The Cradle of Love" to his cameo in Wedding Singer to this year's sold-out Story Tellers Tour. So plug in and find out how Billy is still rockin with the best of them in the year 2002. Enjoy!
.
Story Tellers Tour - July 21, 2002 - Viejas Outdoor Concert Venue - Live Review by Debbie Seagle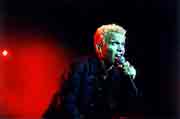 Punk rockers who mourned the death of Joey Ramone take heart. The punk scene is still alive and well in the capable hands of the one and only Billy Idol. At the age of 46 he is on tour for the second year of his comeback trail and going strong. Spikey, snarly and still qualifying as every mum's worst nightmare, Billy springs onto stage with his rebellious swagger and his fists pumping in the air. Who hasn't practiced that snarl in the mirror or along side his mannequin in Madame Tussaud's Wax Museum? Okay, I have, and I'm damn good at it!

With his long time guitarist Steve Stevens at his side once more, its as though the years haven't even passed since the 80's punk scene and this "Story Tellers" tour has played to sold out audiences all across the US, proving that he is still on his game and still the Price of Pissed Off.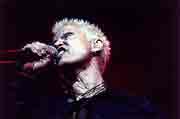 Beginning with the hit "Cradle of Love" the audience at this particular show was pumped and ready to ride the wave with Billy. This was all well and good, and the crowd was almost moving in unison to the beats, but things really got heated up when he launched into "Dancing With Myself" and "White Wedding." Steve Stevens showed he still has the chops to strut with a jaw dropping solo during the old Generation X tune "Man In The Kill Box." From there on out, there was no turning back. This 90 minute set was an aerobic exercise for anyone within ear shot.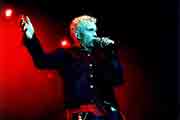 Not to shatter his image, but Billy Idol seemed very happy to be back before American crowds and very accommodating. On several occasions I observed him lean down to the edge of the stage and sign someone's vinyl while he was still performing. Not that many artists do that any more. But I guess if you have had the kind of career Idol has, you can relax and just go with the flow, which always seems to reap the best results. Take his announcement that it was time for a little Rocka-Billy-Idol, followed by "To Be A Lover." A change of pace but not a beat skipped in the action. Take this package and wrap it up with a "Rebel Yell" and a middle finger salute and you have a perfect punk party.
.

Live Photos
.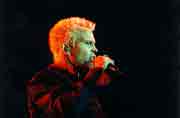 .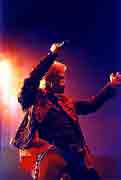 .


.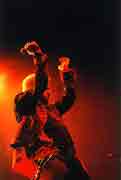 .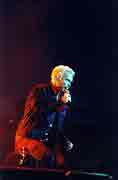 .

Do you want more?

.
Purchase Billy Idol music online and hear samples!

Visit the official Billy Idoli site for all the latest

Debbie Seagle is the Special Features Editor for the iconoFAN Network

Photos by Debbie Seagle - Copyright 2002
All Rights Reserved




.