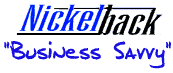 by Debbie Seagle
I caught my first glimpse of Nickelback by accident when they were playing on a bill with another band that I was covering earlier this year and was immediately impressed by their aggressive and confident vibe. When I am reviewing a band I am always aware of their audience response as they change tempo or interact with them and what I saw on that night was what made me telephone their label and the Rock N World editor to let them know we had another "Best of the New Breed" band on our hands. This assessment was based on their musical ability and stage presence alone, but once I spoke with lead singer Chad Kroeger, I realized they had even more to bring to the table than their edgy, heavy rocking songs.
If there are any budding musicians listening out there in the Rock N World, get a paper and pencil, because you will want to take some notes here. Canadian musicians, your success could depend on Chad's tips! His business savvy and the band's superior chops are what landed them the record deal they wanted and the attention that they deserve.
So it all began in Vancouver, British Columbia. Chad (vocals, guitar), brother Mike (bass) and friends Ryan (drums) and Ryan (guitar, vox) developed their style of energetic, hard biting rock that is somewhat reminiscent of Led Zeppelin's mastery. Chad's "HEAR ME!" vocals make him the consummate front man. He has no problem getting your attention, whether he is testing the limits of his microphone or maniacally whispering his invitation to join them in the world of Nickelback. The guitars are heavy and distorted, the rhythms are clean head-bangers and their latest CD, "The State" is a tasty and diverse selection of songs you will automatically sing along to. This band is headed for big things and it has nothing to do with luck. Their course is charted and they have no intention of wavering. Get to know them here and be very impressive at parties when people ask you if you've ever heard of Nickelback and you give them the insider's word . . .

---
The Interview: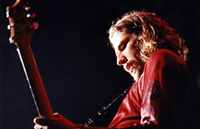 RNW: Youíve enjoyed a lot of commercial success in Canada, obviously. You were named "Best New Rock Group, Canadian Radio Music Awards" how long ago? About a year ago?
Chad: Yeah, about that.
RNW: Thatís pretty cool. Are you headed for a Juno (Canadian equivalent of a Grammy), do you think?
Chad: I have no idea. Thereís actually seven people I think that decide whether or not you get a Juno.
RNW: Only seven?
Chad: Its a small committee. A lot of people think that it goes to a poll and they might poll ten or a hundred people from every city.
RNW: Thatís kind of what I thought.
Chad: No, its seven people, I think, that decide whether or not you get a Juno.
RNW: Okay. And Sarah McLachlin has it all sewn up and . . .
Chad: Iím sure. Whether or not those seven people like Nickelback, I have no idea and it doesnít really, you know. Its not of great importance to me.
RNW: I actually caught like, a couple minutes of your set when you were with Three Doors Down.
Chad: In?
RNW: At Caneís in San Diego. That little beach venue. I think I recall hearing you say something like "Iíve got 45 minutes to make you love this band, " or something like that?
Chad: No, I think I said something like "I have 45 minutes for me to drill the name of my band into your head."
RNW: Okay.
Chad: Whether they like us or not, I canít do anything about that.
RNW: I think you did a good job of doing it on that night.
Chad: Cool, then I did my job.
RNW: There ya go. You pretty much rocked. Do you enjoy being a front man?
Chad: Yes! Yep, I like the ability, I like getting the chance to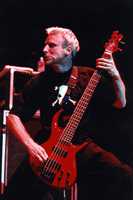 sway people, you know? A lot of people donít use that. They donít utilize it, they just play their songs and get off the stage and thatís that.
RNW: Yeah, you have to have people buying into your music and what itís about. Not just hearing a song on the radio, donít you think? A live performance is really key to building a fan base.
Chad: It can be. I think, I know the Spice Girls sold a lot of records and I donít think anyone ever said that they were amazing live. So, its just one more thing on top. You can sell a lot of records without even touring if you can get radio stations across the country to play you enough, but if youíve got both, if youíve got good songs that stick in peopleís heads and they come to see you play and they see that you can pull it off live, then youíve got two chunks of ammunition instead of just one.
RNW: You need everything in your arsenal these days, donít you?