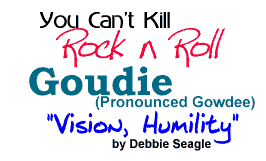 Highly melodic, hard rocking and catchy as hell. Goudie's debut album, "Peep Show" signals a major talent which just might end up being one of 2000's most important new arrivals. A little something different and fresh is what you will find in this band. Their sound lies somewhere between Radiohead's ethereal grace and the New York Dolls' city grit and flash.
With roots in Houston, Texas, Johnny Goudie eventually ended up in Austin where he met up with bassist Einar, guitarist Jimmy Messer and drummer Bill Lefler. Playing the Texas music scene and honing their craft, one of their demo tapes came to the attention of The Music Company's Dan McCarroll, who thought so highly of it that he put it in front of The Music Company's main man Lars Ulrich for a listen. Liking what heard, Lars signed the band immediately and they began the long path towards the completion and release of "Peep Show."
Goudie was first brought to the attention of Rock N World when we were invited to sit in on an artist showcase at the famous Viper Room in West Hollywood. I was asked to photograph and review the band and found myself just standing there, digging the music. Their 30 minute set was just a get-to-know-you offering on the part of The Music Company, but what I know now, I like, and I'm betting a lot of other people will too. Johnny Goudie's vocals are a mind altering drug that winds its way through some of the most innovative musical arrangements we have heard in a long time.
You may have already heard more than a few people talking about this unique new presence on the national music scene. They were a smash hit at the SXSW 2000 music conference this year, and caused a bit of a stir when Limp Bizkit frontman Fred Durst caught wind of a t-shirt worn by Johnny Goudie during their Viper Room debut that referenced him. Suffice to say, they have been seen and heard, by all the right people in this business!
If I weren't already impressed enough with their music, when I caught up with Johnny Goudie and bassist Einar the day after their showcase at the Viper Room, I found them to be extremely cool, down to earth people who have made their music their life and are thankful and thoughtful about what it means to them. Their vision and humility are two stand out qualities that have earned them a spot in the Best of the New Breed category. Come find out the whole scoop in their own words . . .
---
The Interview: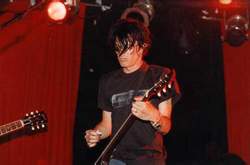 (Debbie Seagle of) Rock N World: First of all, I thought the showcase yesterday was great.
Johnny Goudie: Oh, thank you!
RNW: So I wanted to compliment you, it was cool. Your vocals were outstanding, I liked the effects you used, the octaves. You probably have a wild ride ahead of you when the CD comes out.
J.G.: Oh thank you, we sure hope so.
RNW: Yeah, that's going to be a lot of fun. Now the new CD "Peep Show" comes out on July 11th. Is that still on target?
J.G.: Yes.
RNW: Okay, I understand its been a while in the making, in that you perfected it during session in Austin. Can you tell me a little bit about how that went, what your process was every day for laying down the tracks?
J.G.: For recording in Austin?
RNW: Yeah.
J.G.: Well, what we would do is every day we would come in, and the night before we would have talked about what we feel like doing the next day. We would come in every day and it was us, the four of us, an engineer (a guy that we had worked a bunch with on demos and we were really, really, really, really good friends with) a guy named Mike McCarthy and he co-produced the record with us, as well as engineered it. Dan McCarroll our A&R guy we wanted there because, we wanted; a- we trusted him, he'd made records before, he played on Aimee Mann records, Michael Penn records, on the Sheryl Crow, the Globe Sessions record and all this s***. So he knows records, we trusted him. He understood where we were coming from and what we were trying to get and was a huge fan of our demos, so what we wanted to do was, to avoid any sort of complications, having to redo anything, when we went to record in Austin, we brought him with us.
RNW: Kind of an insurance policy, huh?
J.G.: In a way, and in another way, personally we are so close because in between the record that we started in California and the record we made in Austin we fired our management and we took on that responsibility ourselves for dealing with Dan, Tim and Lars ourselves and that's where we got to the point where they trusted us enough to go and produce this record ourselves. And, we were the ones that really wanted Dan there to be able to – because we trusted him and he had made records that we loved and records that we really, really, really, really loved liked the Grays album, um especially, we were all really huge fans of this band. And Dan McCarroll was there every single day of the entire process. More than any other of us were there.
RNW: And also, are you guys all from Texas?
J.G.: Yeah, we all live in Texas and we've all lived there on and off in our lives. Some of us all our lives, some of us not.
RNW: So it was probably a better vibe for you there anyway, huh?
J.G.: Of course, yeah. It was nice, ya know. We'd go eat at our favorite restaurants.
RNW: So you were at home, you felt comfortable there.
J.G.: Yeah, we knew were to get pot.
RNW: Well, you know, that's always good for the ol creativity so you gotta know where that's at.
J.G.: Yeah, its upstairs on the shelf. Anyway, so we then finished this record and realized we had made this, sort of, very personal, very insanely recorded, not exactly pro-tool level, you know what I mean? Like there was noise, there was hiss, there was out of key vocals, there was buzzes, there was all this s*** but that was stuff that we loved from, you know, Beatles records and Dylan records. All the records we think are cool, you know, the Stones records.
RNW: Yeah, I was going to say, you don't want to get rid of all that.
J.G.: No, we didn't want to get rid of all that, but we also wanted to really enhance it so Dan McCarrolll came up with the idea of working with a gentleman by the name of Jack Joseph Puig. I don't know if you are familiar with his work.
RNW: Oh yeah!
J.G.: You are?
RNW: Yeah. He worked with Tonic.
J.G.: Okay, so, we didn't know, we thought maybe we were selling out to the man using him at that point, maybe he was like this big machine guy, although he has made these Jellyfish records and the Grays record that we loved.
RNW: You don't feel that way now though, do you?
J.G.: I didn't feel that way after being in his presence for ten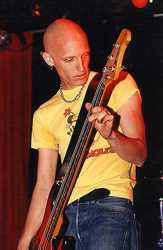 minutes and I must say that we got extremely close. Unfortunately the whole band wasn't here to do this but in this band everyone is trusting enough to understand that no one's got their own interest in mind for this record or the music of our band. This is a very collaborative band. Its very equal, its very communal.
RNW: I did get that sense from you yesterday.
J.G.: Good. Its important to know that because that's kind of like the basis of our creativity, that we all really like each other and we're really lucky to be in this band together with people that we really do love and we hang out with outside of this band, you know? This is like, we feel like we had these bands you know, when we were growning up like U2 and R.E.M., which are bands that are still around, not that we view ourselves that great, but you understand that any band that wants to go out there, we want to have that sort of career. We would love to have that. And you realize that in those bands, the basis of what keeps those people together is that they really care about each other and they're the right combination.
RNW: That's right.
J.G.: They're the right combination of push from you band mates, of support, and there's enough challenge from your band mates, which is also very helpful, and we accept all of that. Really try and keep a healthy thing going on with us. We actually don't even work on that, its just there.
Einar: Everyone's just naturally has enough respect for each other that the restraint to let everything just sort of happen and not kind of jump on each other's toes, it just kind of, its just there.
RNW: So you feel you can be on a bus together for a year and not kill each other?
J.G.: You know, we've been in the studio or in a van or in our lawyer's office or anywhere. In someone's house or someone's backyard enough for the last three years that I don't think we're going to go anywhere, you know?
RNW: Well, when I started to do my research on the band, I didn't come up with a whole lot of information on you guys – the band members. Can you tell me a little bit about how you all came together? Was it because of similar influences and tastes in music? Did some of you jam together in other bands? Were you high school buddies?
J.G.: Yeah. All of that stuff. Einar and Bill Lefler knew each other in high school. Einar and I knew each other from the scene in Houston, you know, in the early 90s playing clubs and he ended up getting into a band with a really good friend of mine so I ended up hanging out with him. And it kind of fell together, it was very, we knew each other. We'd met each other and talked, you know, all of us before we ever played together. Einar and I knew each other for years before we played together. When we did, we realized from the first day we ever recorded anything that we had a special chemistry, that it felt good to do this. And then over years of trying to find other people that felt the same way, it was just very, very difficult for us. We ended up making some demos and working with our drummer Bill Lefler and that felt really great and then Jimmy Messer, our guitar player was working in this publishing company where we were making these demos and found out that we needed a guitar player and really felt like he identified with the music and maybe that was something he could get into. Something that he would have something to offer to and when we got together we all realized that we agreed on the certain direction that we were going to go. It wasn't like we started with the direction. It was like, we started making music and started being creative together and it just went this way and we really enjoyed it and we all felt like it was really special. We'd all been in tons of bands before and it never felt like that, so we just took advantage of it and decided to, you know, take this as seriously, what we're going to do as seriously as we possibly could. And, at the same time, we all just want to – not like we're some kind of good time band or some bulls*** thing like that – we're in this to have a f***ing blast. And we love what we do and that's enough to get up and play. Even if it is 30 minutes and the people that run the Viper Room are a**holes.
RNW: (laughing) Strike that! Strike that from the record!
J.G.: No, you don't have to strike it.
RNW: Okay, we'll leave it in then. f*** em all, right? Why not?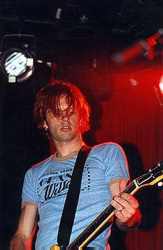 J.G.: Alright, so it doesn't really matter. We're lucky to get to do what we do. We're 500 times luckier that somebody decided to give us a bunch of money to help us develop our thing. Be able to do our thing on the biggest possible level that we can. Which is what we're doing now and we've gotten to make this record ourselves and so we feel empowered and now we're just ready to sell it so we can get on to the next one.
RNW: So you've got the leg-up and now the rest is up to you. That's pretty exciting.
J.G.: Yes, its very exciting. We're very, very excited about this whole thing.
RNW: Now Johnny, are you the primary song writer?
J.G.: Um, I would say that on a lyrical level I have the most to say and in other bands I was the primary song writer. We're all, I mean there's a song on the album that I didn't write at all. There are other songs that I had little parts in but not a lot. For the most part I think I have the most to say lyrically, so that kind of like falls on my shoulders and I also may have a melodic drive but the song writing is – everybody has an equal say and equal input. And when the song is finished, we all kind of agree if its good or bad and I don't mean that some of us, some days some might feel, we try put our egos into it is basically what I'm saying. Like, if I have a good idea and I can write the song like the song "Sugar Daddy," I can write it. I wrote it, I wrote it by myself I didn't, you know what I mean? Its not about "Oh I can' t write this song without the other guys being there" and its like that with everyone, you know? You just go off and hang out with a friend of yours and you write a great song and it f***in belongs in our band then that's it, you know what I mean?
RNW: So you write the lyrics or sit down with a guitar . . . ?
J.G.: A lot of the times, but, you know, sometimes other people do, or we'll write them together.
RNW: Yeah, cause it work different, I've found. Most bands just have their own way of doing it. Sometimes somebody will just bring a piece of music in and the guys will just get together and jam until they have a three minute piece of music and then the person who is the primary song writer will just go "okay, I'm hearing this and here's kind of what I'm thinking" and start just penciling out some lyrics. Other times somebody will bring lyrics to the band and say "here's something I wrote. What does this inspire in you?" Somebody will start playing something on the guitar and somebody else will join in. So what's happened with you folks with writing these tracks (from Peep Show)?
Einar: All of those have happened.
J.G.: Well that's what I'm saying, its like someone who only f***s in one position, you know what I mean? I mean we do it anywhere we can get a song from we get it. If its Einar and his grandpa writing some barber shop song that would make a great bridge in one of our songs, that would be fantastic. We'll do anything for a song. We enjoy writing with other people. Its not like there's some sacred Goudie thing. Its like, when we write a song, or when one of us writes a song with someone outside the band, we feel like perhaps they're adding to our dimensions, you know what I mean?
RNW: A-huh.
J.G.: We don't want to loses that. Like, we realize our uniqueness and our uniqueness is our playing and the fact that if one of us is writing a song, or even our interpretation of a cover song, as long as the song is great, our presence will be there when its played. You know what I mean? So there's no jealousy.
RNW: So every song is by the group? See, I haven't gotten an insert for the CD, I got the demo. Usually I'll take a look and I'll see who's got the song writing credits, etc.
J.G.: Well, when you see it you'll see. Our four names all over the place, and then every once in a while different people.
Click here for the conclusion and your chance to hear Goudies music and win a T-shirt
All photographs Copyright© 2000 Groove Quest Productions All rights reserved.