by Keavin Wiggins
Tired of the primal screams of nu-metal? Had enough of the monotony of rap-core? Sick of hearing the same drop-d tuned guitar riffs played ad nausium? If you answered yes to any of these questions, than Planet X may just be what the doctor ordered.
Progressive rock has a long and impressive history. From the virtuoso styling of Yes in the 70's to the power and melody of Rush in the 80's and then the explosive sounds of Dream Theater in the 90's. Progressive rock has provided a venue for exceptional musicians to strut their stuff.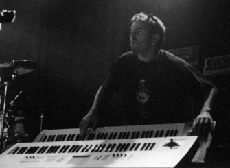 It's now 2000 and fans are craving something new from the progressive rock circles. In walks Derek Sherinian to save the day. Derek's resume reads like a who's who of legendary rock n rollers. He played keyboards for KISS and Alice Cooper and joined the ranks of Dream Theater in 1994. While many music fans may be giving in to the temptation to yawn right about now, let us assure you that Derek's style and playing is nothing to fall asleep over. He has a rare cultivated style and talent that has paved the way for keyboards as a lead instrument in progressive rock. That's right, he holds his own and often outshines the lead guitarist when given the opportunity to showcase what he is capable of.
Last year after leaving Dream Theater, Derek set out to create a band all his own, "after 10 years of playing in other people's bands, it's a pleasure to be playing my own music." That creation was the instrumental band Planet X.
With Planet X, Derek wanted to bring together a band that features the crème de la crème of progressive rock musicians. He didn't have to look far. Legendary axeman Tony MacAlpine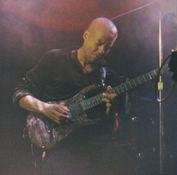 provides the virtuoso guitar needed for this progressive rock outfit. The final ingredient needed to round out this potent recipe was a world class drummer. So Derek found Virgil Donati. A man who is renowned as one the best technical drummers in music today. Together they created a masterpiece of modern music with their debut album, "Universe".
While it may appear that Planet X is the Derek Sherinian solo project, he states clearly that this is a working band not a mere project. All three of the groups core musicians are essential to it's powerful sound. MacAlpine reflects "All of us are composers. This band is a vital entity for today's music lovers and enthusiasts. It's quite original." Indeed it is! As we witnessed at a recent show at the legendary Whiskey Ago Go in West Hollywood.
To hear the Planet X album on your CD player is one thing, but seeing them in action at a live performance is quite another. At the outset the listener is treated to some of the world's most technical, yet melodic music. Tony MacAlpine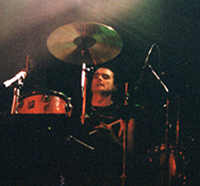 shines as expected, laying out solo's and leads like he was born with a guitar in his hands. All the while Virgil Donati's drumming makes it virtually impossible to sit through another inane drum solo from a mediocre drummer again, because after seeing Donati play you can hear and see what is possible from what many consider a mere background instrument.
Sherinian's performance is one of the many high points of Planet X's live shows. When listening to the album, many of the explosive leads you think are coming from MacAlpine's guitar are actually coming from the ebony and ivory at Derek's finger tips. When playing live, Derek sets up his keyboard at an angle facing away from him and towards the crowd, so it is hard to miss his lightning fast fingers as they dance across the keys creating some of the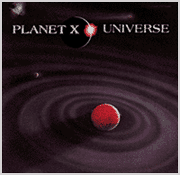 most incredible musical magic this reviewer has ever heard.
Planet X is an instrumental band, after hearing and seeing them live it is easy to understand why. No vocalist in his right mind would try to outshine these musicians. That is just as well, because the music quite simply, speaks for itself!
Find out for yourself!
You can catch Planet X on the road this summer and fall as they perform a series of dates with Fates Warning and several appearances on their own.
If you are in the Los Angeles area, you will have the opportunity to attend a very special birthday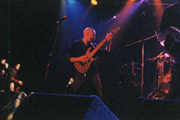 bash for Derek on Aug. 25th at the Baked Potato in Hollywood. After Planet X performs, Derek will be joined by some of his well known friends in an all-star jam.
Details on the tour, news, sound samples, photos and more are available at the Planet X Official Site, or Derek's Official home on the web.
You can order your copy of Universe right now online and discover what all the fuss is about. Wait there is more, the band is selling a
limited number of signed copies of the CD from their web site.